Here we share our Spanish style homes exterior paint colors guide including the ideal shades, design details, the best paint products, and how to make the house appealing.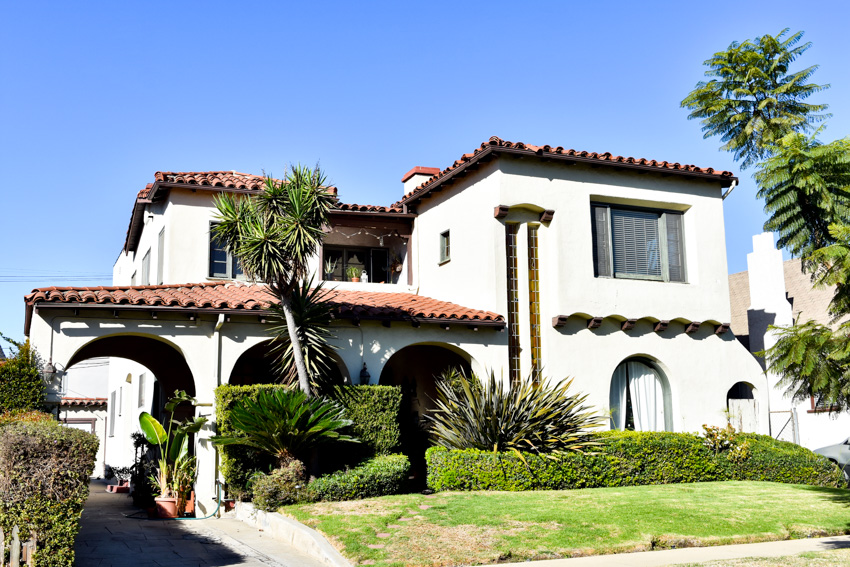 Spanish-style homes are pretty standard in North America, and you can find them in almost every region. While Spanish architecture has a variety of styles, some aspects are universal to all of them.
Rustic villas, quiet settings for a siesta, and exuberant, colorful celebrations are all inspirations for typical Spanish design homes. In the Spanish way of life, people spend a lot of time outside.
This lifestyle is reflected in their homes, which incorporate aspects from the outdoors into the interior design.
What Color Are Spanish-Style Homes?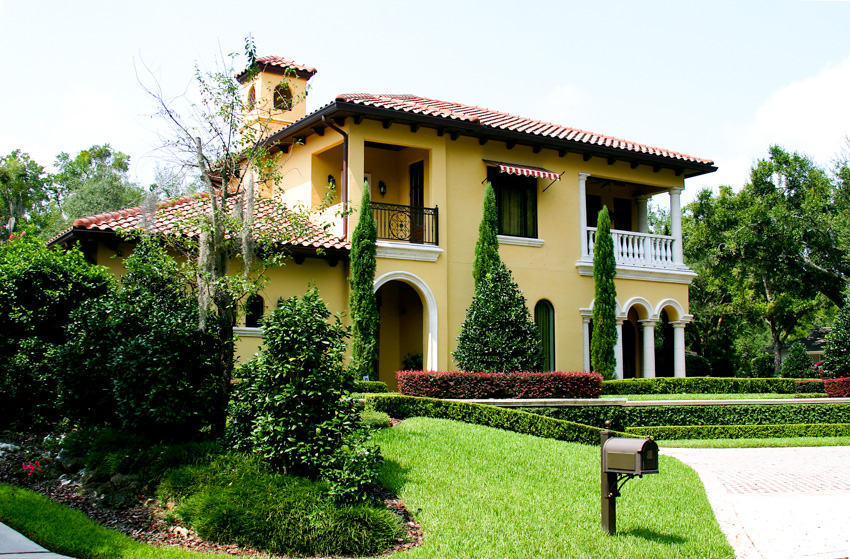 The majority of Spanish-style homes have one thing in common: they are rustic but classy. The traditional color palette of terracotta tones of orange, red, and deep brown reflects this.
It is a popular aesthetic because it gives off a warm, inviting vibe that helps everyone feel at ease.
Subdued palettes, lively or bold colors, and muted or earthy tones of Spanish homes are just a few examples of color lessons learned from culture and natural choices. The most prevalent palettes we see in this style of home are rich tones like:
Reds And Oranges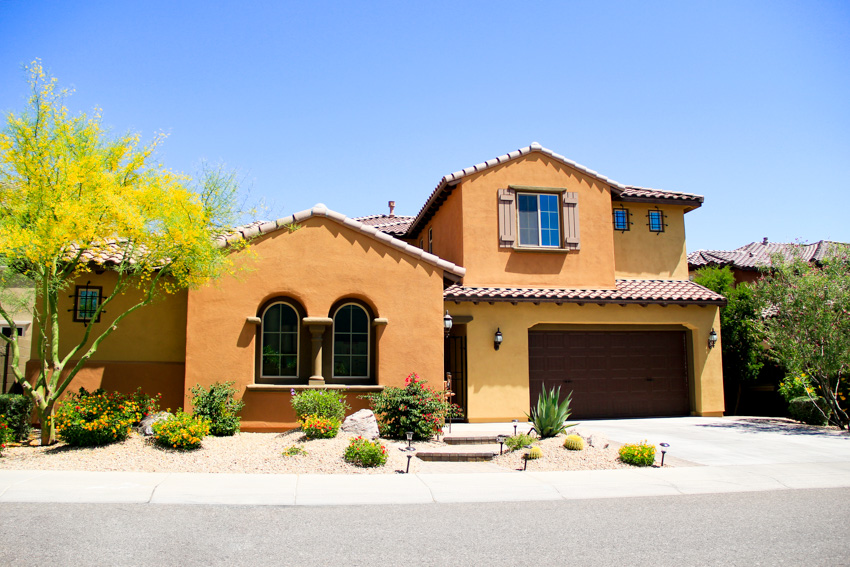 When it comes to Spanish style homes exterior paint colors, reds and oranges are the most popular. They are in decorative items like paintings and other works of art.
You can complete a red or orange Spanish color palette with a white or beige accent or backdrop.
Blues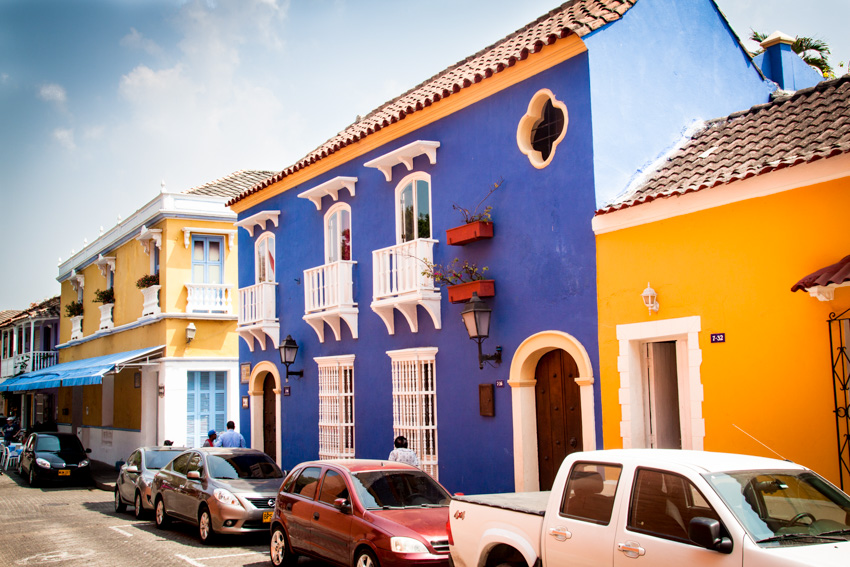 Spain's colors are vibrant and exotic, as evidenced by the blue-tinted Spanish style, which resembles the sky and ocean waves.
Dark blue hues complement or contrast other Spanish style homes exterior paint colors such as golds and reds. Blue is a beautiful wall color that contrasts nicely with light furniture, flooring, and accessories.
Greens And Golds
The dark greens used in Spanish homes depict organic greenery and grass from the outside. You can apply it to walls and furniture to create a soothing atmosphere.
Furniture, decorative objects, and floors, on the other hand, are mostly made of gold.
White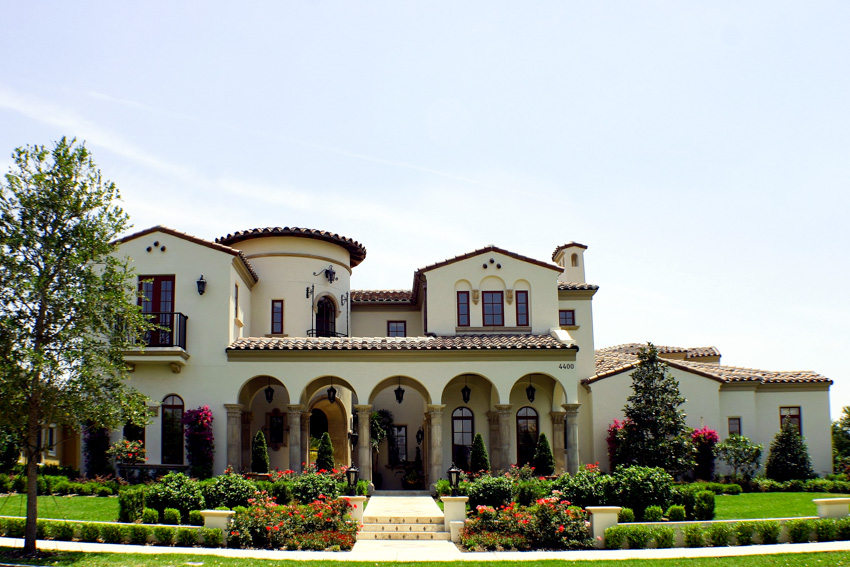 White is a crucial color choice for the exterior of Spanish homes. This traditional exterior paint hue exudes luxury and makes homes appear larger, bolder, and more appealing.
It draws attention to other features such as arched entrances and wooden doors.
Yellow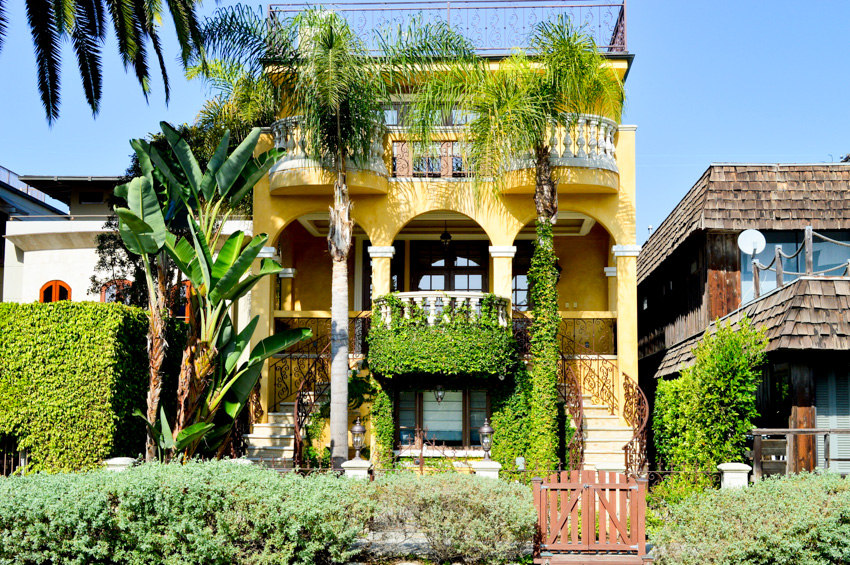 Yellow is a bright, crisp exterior paint color. It's like a ray of sunshine that complements the prominent roof and various tones, tints, and colors seen in Spanish-style homes. This color is associated with happiness and well-being by many people.
Other colors include peach, beige, purple, pink, and brown. These bright and warm hues go nicely with the homes' natural characteristics, such as earthy floors with stone, rock, or ceramic tiles.
Think natural textures like leather and textured fabrics, as well as vibrant colors, when it comes to accessories and furnishings.
Ceramics and stone, ornate iron pieces, metal embellishments, and carved wooden panels are also common elements in Spanish design.
You can also balance things out with a warm base in off-white, apricot, burnt sienna, or gold on your walls. Use neutral tones like off-white or cream for your ceiling color to showcase any fantastic elements like wood beams. (If you want to bring out the warmth in your other colors, use a white with a warmer base.)
Spanish-Inspired Design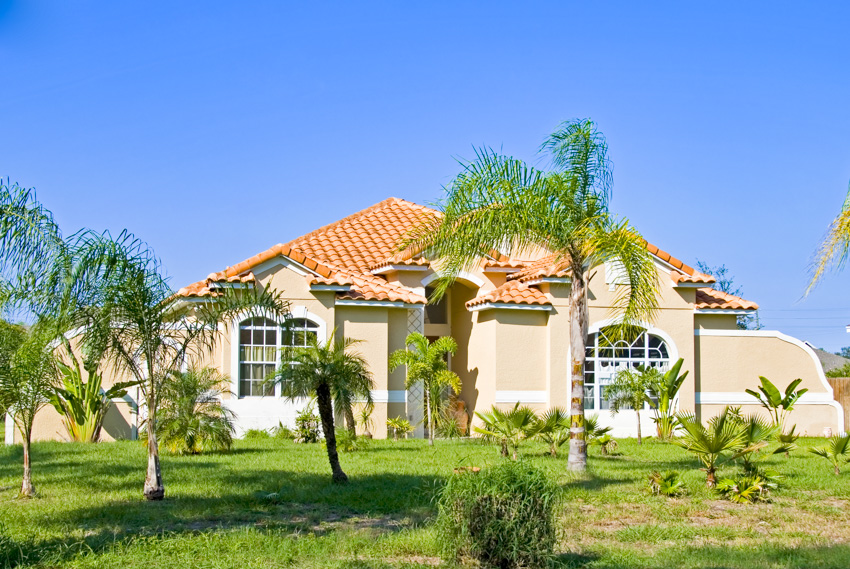 Painting the front door blue, according to Spanish mythology, prevents evil spirits from entering the house.
This exciting conversation starter, combined with the fact that blue goes well with the desert-inspired colors already stated, makes blue a good choice for the front entrance of this style of home. Other popular colors include green, aqua, magenta, and golden yellow.
Sueos, a sun-washed blue whose name means "dreams," is one of our favorite shades of Azul (Spanish for blue). If you need more colors, go ahead and add them.
Just make sure there's a rationale for the extra color. Adding color to draw attention to your home's entryway or best features, for example, is usually acceptable.
Best Spanish Exterior Paint Colors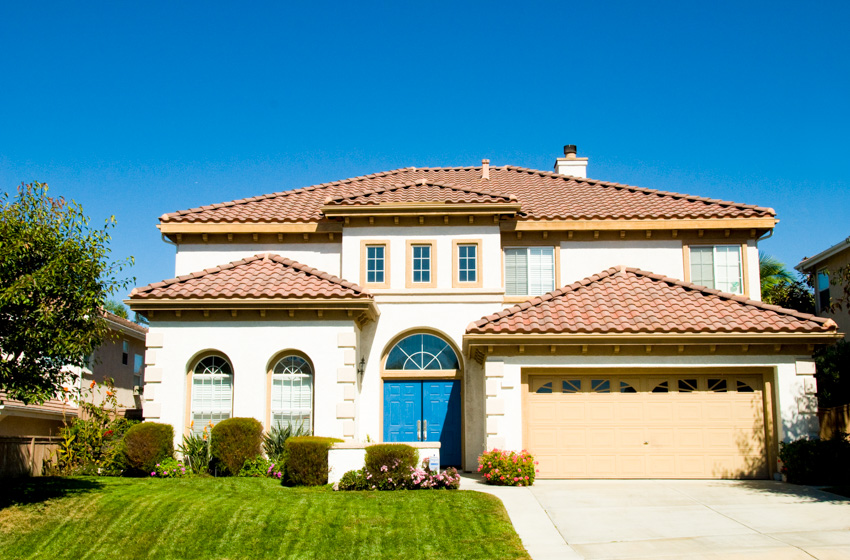 In America, Spanish Revival architecture has a lengthy history. Many renaissance periods have occurred throughout the last 100 years. In California, the Spanish Colonial renaissance began in the 1890s and peaked in the 1910s and 1920s.
A variety of complementary colors, such as red and green, are used in the Spanish-style color palette, producing both contrast and stability. You can use these different color schemes for the body, trim, and accents.
White Dove (OC-17)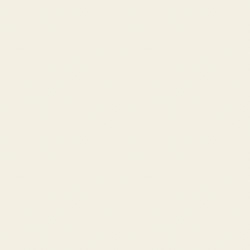 Benjamin Moore White Dove (OC-17)
It's essential to choose the proper off-white for the Spanish house's exterior. Benjamin Moore's White Dove is a delicate white with a hint of golden overtones that will look fantastic!
This white is famous and constantly ranks among the top ten most popular colors since it's not too sterile and has almost no yellow. It completely changed the atmosphere in the house. The white dove is a color that works equally well indoors and out.
It also retains enough warmth to avoid being too chilly. Designers commonly advise White Dove for the luxurious atmosphere of a Spanish style home.
San Miguel Blue (DET569)

Dunn-Edwards San Miguel Blue (DET569)
We love the concept of a Spanish blue door. Although exterior walls in Spanish are often in pale, neutral tones, a tile roof, window, doorway trim, and porch coverings or awnings can be painted in any color.
The classic Mediterranean color combination of royal blue by Dunn-Edwards pays homage to both Greek and Spanish architecture.
Benjamin Moore Terra Cotta Tile 2090-30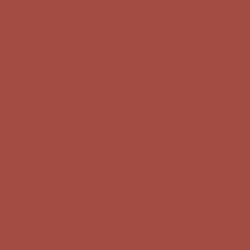 Benjamin Moore Terra Cotta Tile (2090-30)
Mediterranean elements include red tile roofs and stucco. Roof tiles in the color red are prominent in Spanish-style homes. Choosing the correct color to complement your red roof tiles enhances your home's beauty and curb appeal while also setting the tone for who you are as the owner.
We recommend keeping your color scheme on the same side of the color wheel as your roof. Benjamin Moore's terracotta tile is the finest choice for these homes.
Red terracotta tiles bring a vintage elegance with their unique color, style, and durability. For example, it might complement stone or brick siding, making it more compatible with current Spanish design homes. Read more about stucco vs siding here.

How To Make A Spanish-Style Appeal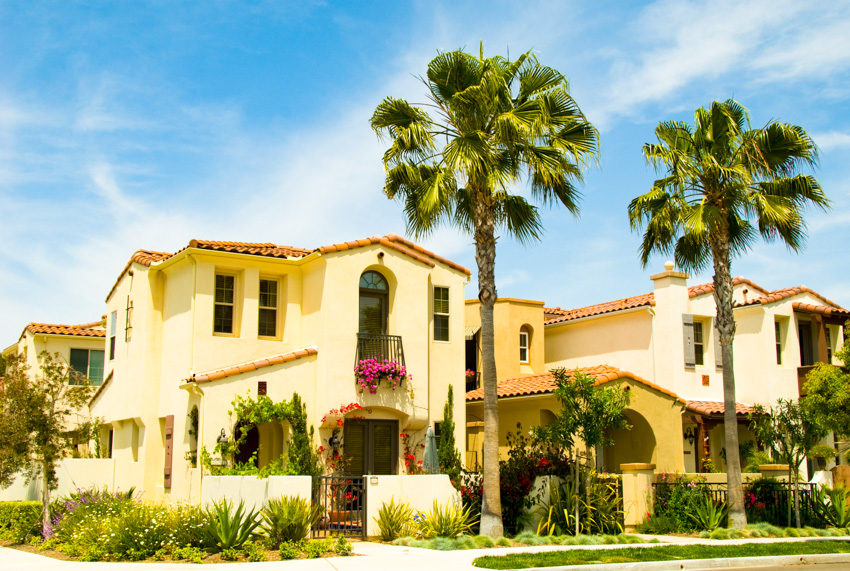 Using natural stone to go full-on southwest can be magnificent. Avoid going overboard with the 'theme'; instead, strive for subtle clues of this style rather than an overpowering effect.
There are many ways to enhance the attractiveness of your Spanish-style home beyond its façade. Here are some suggestions:
Tip #1: Use natural features and a mix of subtle and bold color choices to create an outdoor setting that radiates warmth throughout the year.
Tip #2: To create a vivid and peaceful place, combine the Arizona or New Mexico laid-back atmosphere of soothing sunset oranges and muted reds with bold yellows and turquoise blues.
Tip #3: When it comes to wood tones in fence designs, furniture, and other locations, pay attention to the hues. In this design, natural components such as stone or pottery are also welcome additions. These would be ideal for use in outdoor spaces.
Tip #4: Install a gorgeous fireplace and a couple of red cushions against teak wood to keep the warmth blazing all year. These small details will make the outside environment feel cozy, inviting, and never dull.
The relaxed hacienda lifestyle will motivate you to enjoy the Southwestern or Spanish design, bathed in the magnificent color palette of a desert home. This classic style will remind you of sunsets, warm fireplaces, and nature's best when done well.
Spanish-style homes have some of the best architecture in the world. That's why many people still draw inspiration from its architectural framework today, bringing the rich Spanish culture that created the memories to life.
See more related content in our article about the different exterior house colors that sell on this page.