Welcome to our stucco house ultimate design guide including colors, cost, maintenance and finish styles.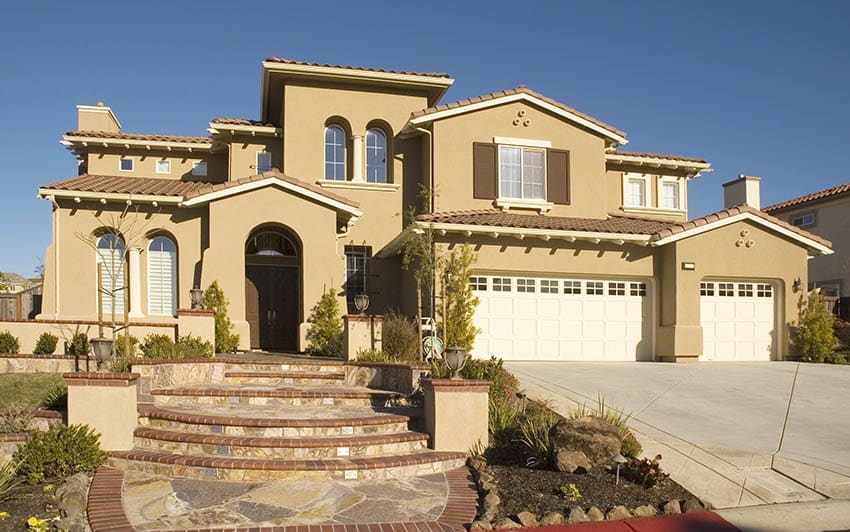 A stucco house finish is typically associated with the Southwestern United States, Spain, Mexico, and other Mediterranean locations. Today, this cement-like finish made with sand, Portland cement, lime, and water is popular in almost any geographical location and applies well over masonry and wood-sheathed houses.
Read this ultimate design guide to learn the aspects of a stucco house including purchasing an existing stucco house, stucco maintenance, durability, finish types, painting stucco, and much more.
What is a Stucco House?
Stucco houses include stucco siding applied over the base exterior of a house. There are numerous options when using stucco to side a house including varying textures, colors, and even the type of stucco material.
Because stucco is seamless, houses with a stucco finish are resistant to damage from rain or snow, while other sidings with numerous seams may let in damaging moisture. As long as homeowners maintain stucco properly to prevent cracks, it's a sturdy and durable siding option.
House Styles That Use Stucco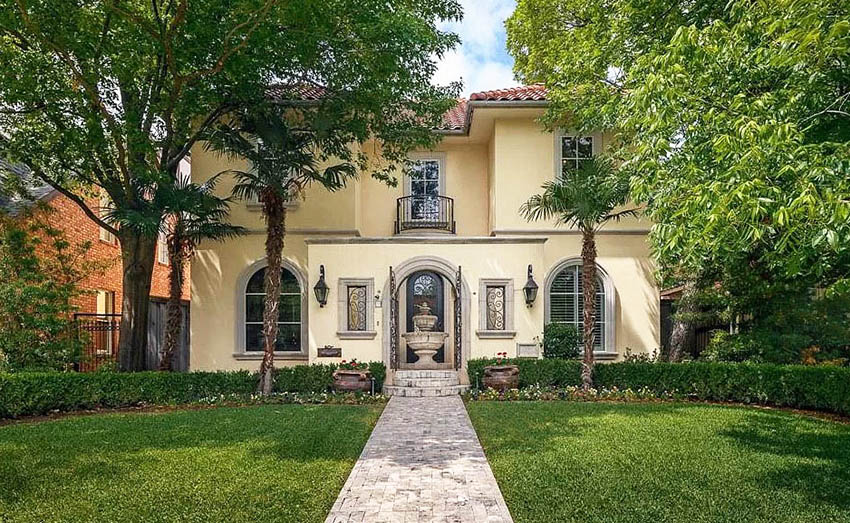 Numerous Mediterranean-styled houses are finished in stucco. These home designs often include arches, front columns, turrets, (a small, vertical tower), tall arched windows, and bay windows.
Often, these houses have a mottled stucco finish, which is a smooth final layer of stucco created by using a pool trowel. Modern houses also make use of the versatility of stucco often combining stucco with cedar and other types of wood as accents.
A contemporary house designed completely with line edges and boxy features takes on a striking flair with a stucco finish.
Benefits of a Stucco House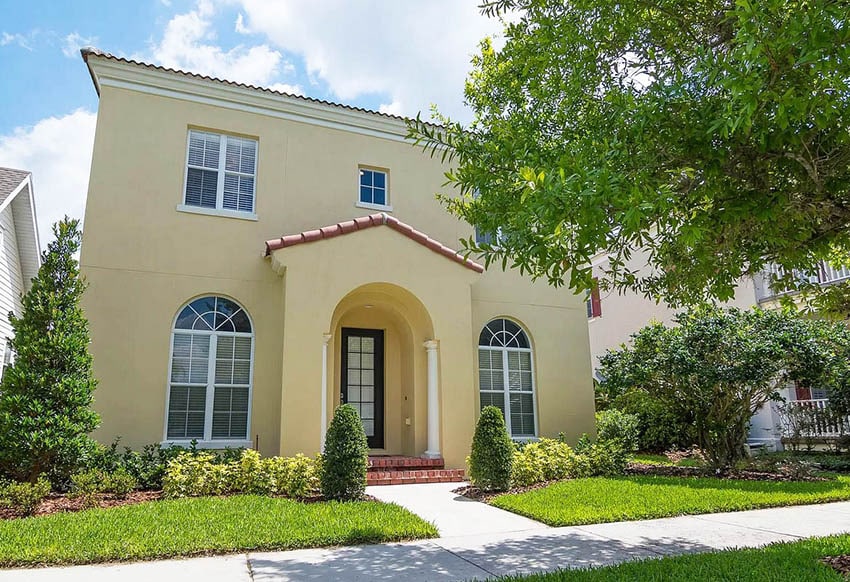 The use of stucco siding includes many benefits.
Fire resistant – Stucco finishes are fire-resistant. A one-inch coating protects a house from fire penetrating the inside wall for up to an hour, meeting strict fire codes for multi-family homes or houses built close to each other.
Durable & long lasting – It's a durable finish for any home and lasts for decades compared to traditional home siding options.
Lower energy bills – Homeowners with stucco siding enjoy lower energy bills. Traditional Stucco with an R-value of 0.20 per inch, does not have a high R-value in itself, but aids to keep out air leaks.
Newer synthetic stucco involves a foam insulation board, coat of synthetic stucco layer, fiberglass mesh, and a finishing top coat.
Synthetic stucco, known as an external insulation and finishing system, EIFS, has an R-value of approximately 5.6. When interior insulation is included, the R-value equals 16 and higher.
Stucco House Colors
Many new and chic stucco colors are available to match almost any style home along with the traditional colors and adobe look. As stucco grows in popularity, so do the various colors.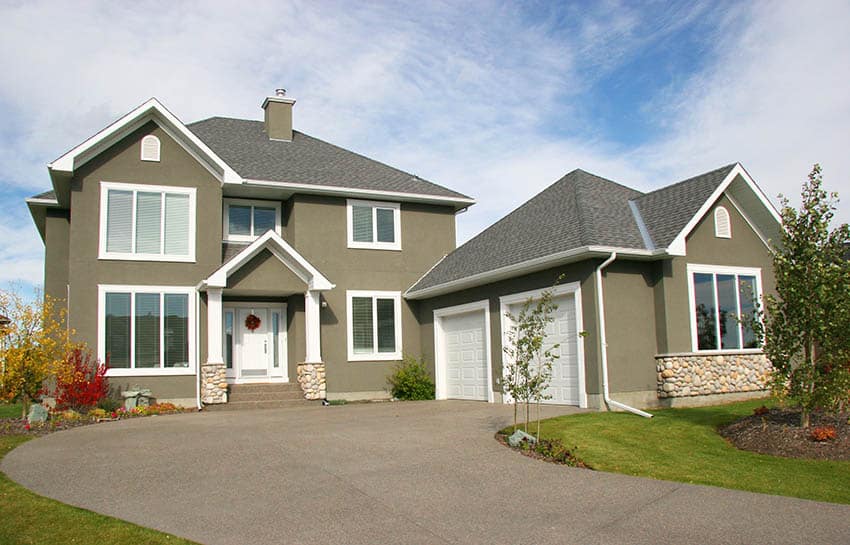 With Portland cement being the main ingredient of stucco mixtures, basic stucco is gray or white. For colored stucco, pigment or tint is added to the base mix. Stucco, with a pigment added, saves money on a house needing a new coat of paint later.
Tan or a sandy color is traditional on older stucco homes. Yellow and gold toned-down hues are popular, along with a light yellow-tinted white.
White is deceptive and comes in countless versions meaning homeowners wanting to have true white need to look for white with gray tones instead of pink or blue.
Forest greens and pale, sage colors are popular for homes in wooded areas, and ocean blues, light blues, and gray-blue are favored for homes along the ocean.
Modern Stucco House Colors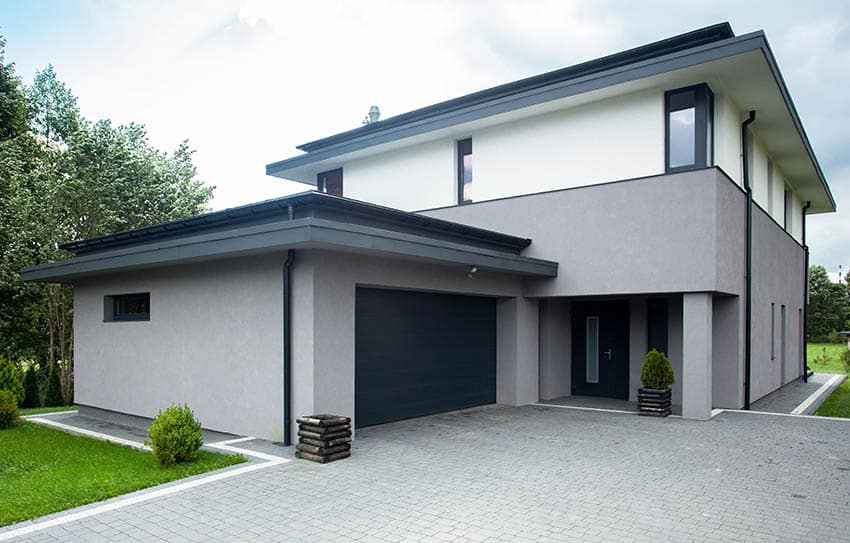 Modern stucco house colors today include base colors paired with different trim colors such as pewter or a gray base with white trim, a stark black base with white trim, or a pure white base with black trim.
Ocean colors like misty blue with deep, dark blue trim are popular on contemporary, clean-lined home designs.
Many ultra-modern homes use two shades of color stucco such as tan with gold or light blue with a darker blue. These colors are divided by opposite or facing walls of the house.
Stucco House Finishes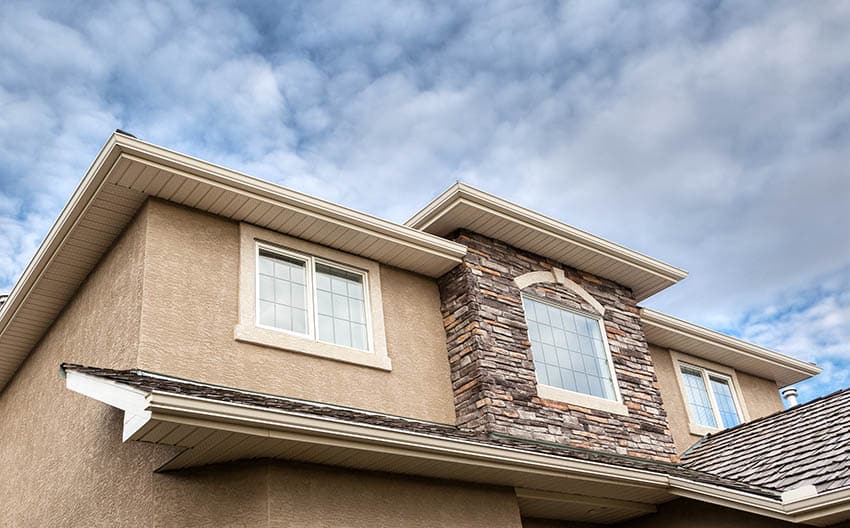 When using stucco for a house's siding, there are quite a few finishes for homeowners to choose. The style and colors of a home, along with any stone or wood highlights, match better with different stucco textures.
Dash Finish (Roughcast Style)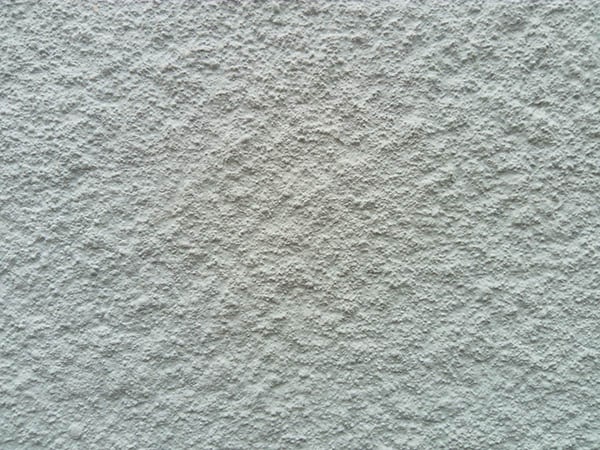 Dash finish is a gravel-looking stucco that is popular with homeowners, matching any style home, and works with traditional and synthetic stucco.
For larger applications a dash finish is sprayed on using anywhere from one to three coats. It can be applied by hand with a trowel for smaller areas if necessary.
To get a heavy texture while spraying with a hopper gun, one should use a larger amount of texture material and less airflow. For a medium texture application an even amount of texture and air should be applied. For a fine texture one can use more air pressure.
When it comes to maintenance this is a style of texture that can be easily patched as long as the color can be matched correctly.
Sand Finish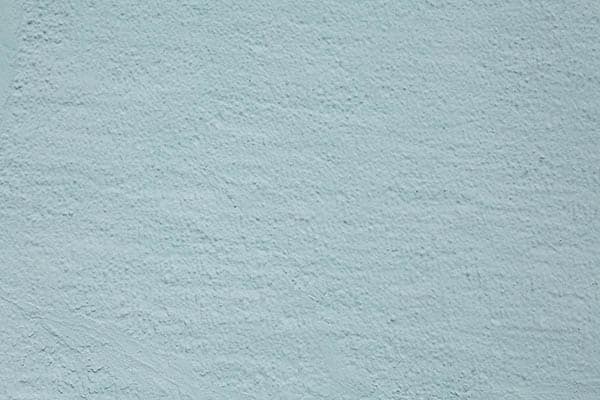 A sand finish is common on commercial buildings and also known as a float finish because a foam float, similar to a grout float, is used to apply the stucco. This finish only requires one coat for complete coverage making it a quick process.
The surface texture is sand-like and has different grains such as coarse, medium, and fine. A float finish hides imperfections better than other finishes.
Both synthetic/acrylic or traditional types of stucco texture can be used to create a sand/float finish. It is typically applied using a trowel, however it can be applied with a spray and then troweled to get the desired results.
Sand finish can be easy to patch as long as one can match the original color.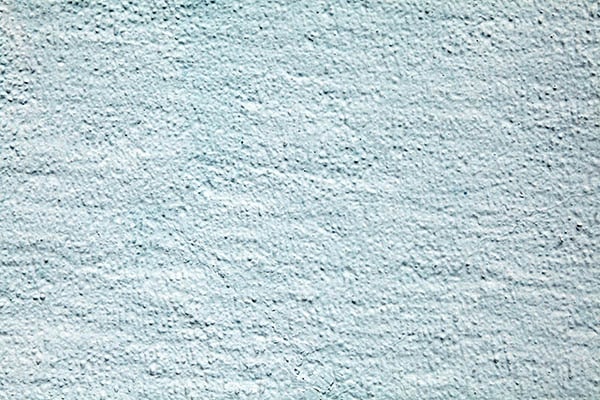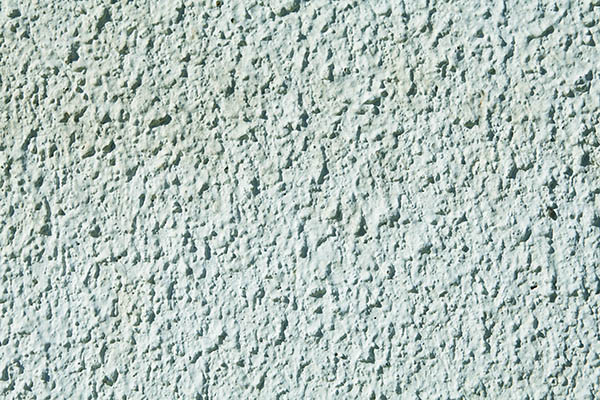 Cat Face Finish (Montalvo)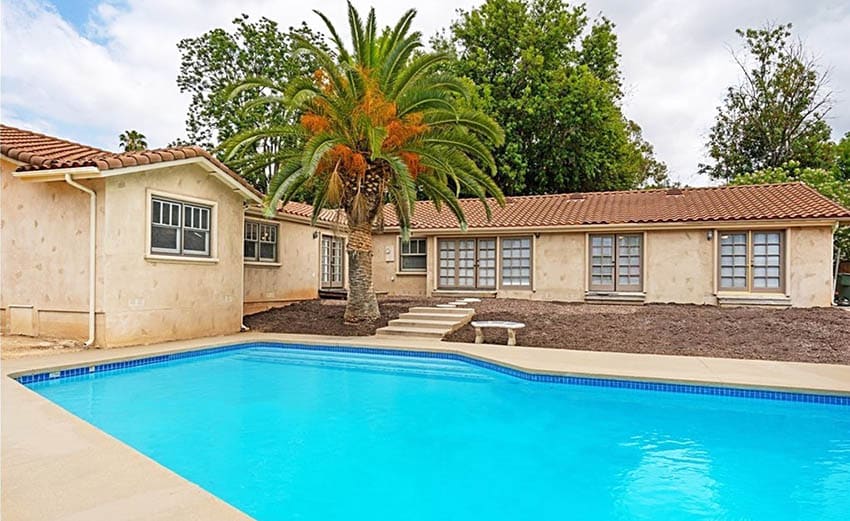 This finish, also referred to as a Montalvo or California finish, creates a pattern with a smooth surface dotted with different-sized rough areas called "inclusions." These rough spots appear as cat faces looking through the texture.
To achieve this finish, the first coat is a rough coat, and the topcoat is smooth with spots left uncovered to reveal the rough undercoat. This finish works with traditional and synthetic stucco.
Skip-Trowel Texture (Lace)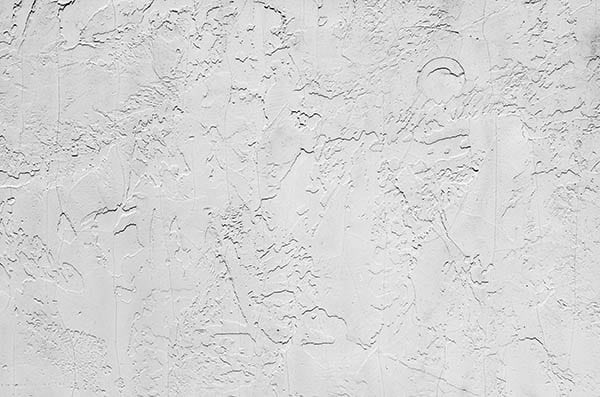 Typical stucco brings to mind a skip-trowel texture also known as lace. It's a rough finish created with two coats, the first being a base coat, and the second being the finished texture coat.
The stucco can be applied by hand, or sprayed on, and is flattened with a trowel into a lace pattern. A skip trowel texture is well suited for hiding imperfections and can be applied in fine, medium or coarse grain patterns.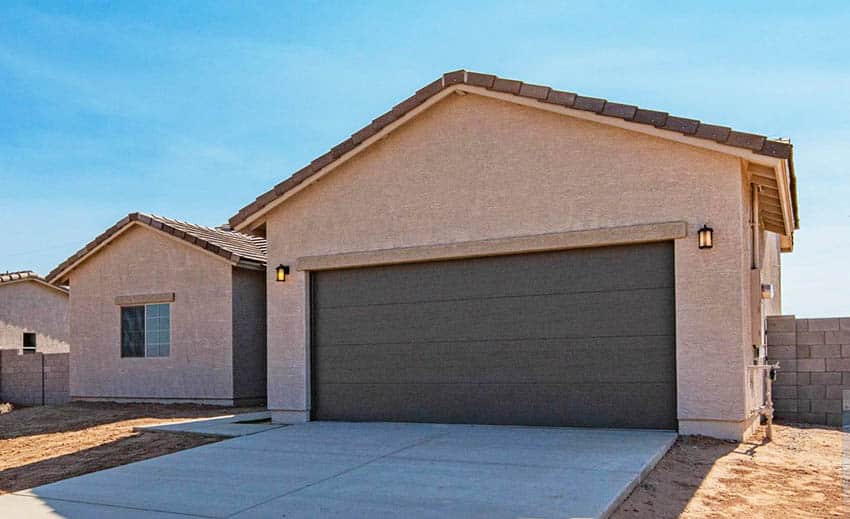 Smooth Finish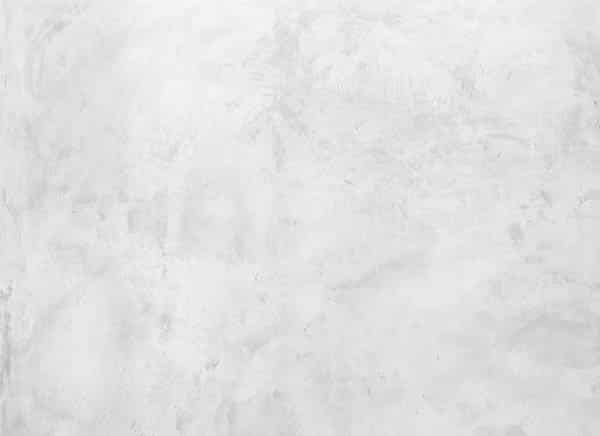 A smooth finish is the most difficult finish to create but is an increasingly popular surface. A pool trowel creates a smooth, final layer, aesthetically pleasing, and easy to find in a wide choice of colors.
Synthetic stucco works better with this finish than traditional stucco. To get a mottled design one can add colors to the wall during application.
This finish can crack more than many of the alternatives and may be a little more challenging to patch.
Santa Barbara Finish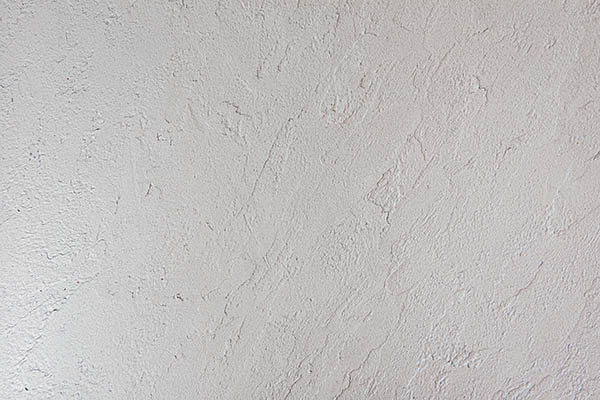 A Santa Barbara finish contains fine sand particles creating an Adobe look once applied. Colored sand allows variations in the finish, which is very smooth.
This finish will not work with synthetic stucco, only traditional stucco mix. Typically two coats of texture are applied using a pool trowel. The finished product provides a traditional style look.
Worm Finish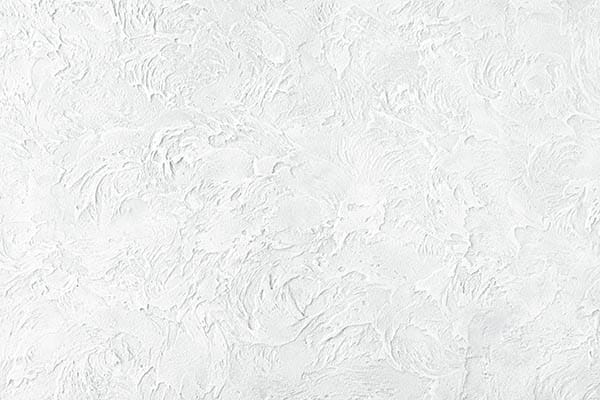 This finish, called a putz or swirl finish, was, at one time, very popular but not often used today.The result is an interesting visual design .
When a trowel moves over fresh stucco, indents and lines appear resembling worms.The application is performed by hand and creating by rubbing a plastic trowel in circular directions. The process creates a different design each time.
Stucco with this type of finish is difficult to patch when it cracks.
Types of Stucco Houses
Many homes have mixed materials for siding, such as wood and stucco or brick and stucco. These different siding options create dimension and appeal for almost any style home. Different materials on a home's exterior create a personal statement of the owner's design preferences.
Brick and Stucco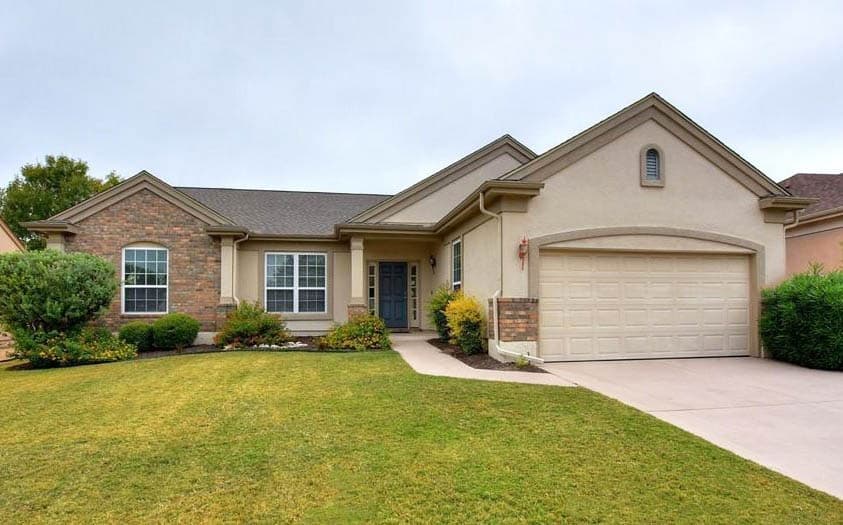 Brick siding combined with stucco makes for stunning combinations. A gabled home with gray stucco, a red brick center build-out, and dark brown shutters presents an affluent look.
For a cape cod, gray stucco with black brick halfway up from the ground allows this shorter-style house being tall and stately.
A bungalow on the lake that has a gray stucco finish with a hint of blue, and dormers covered with gray brick gives a charming and welcoming look.
Stucco and Siding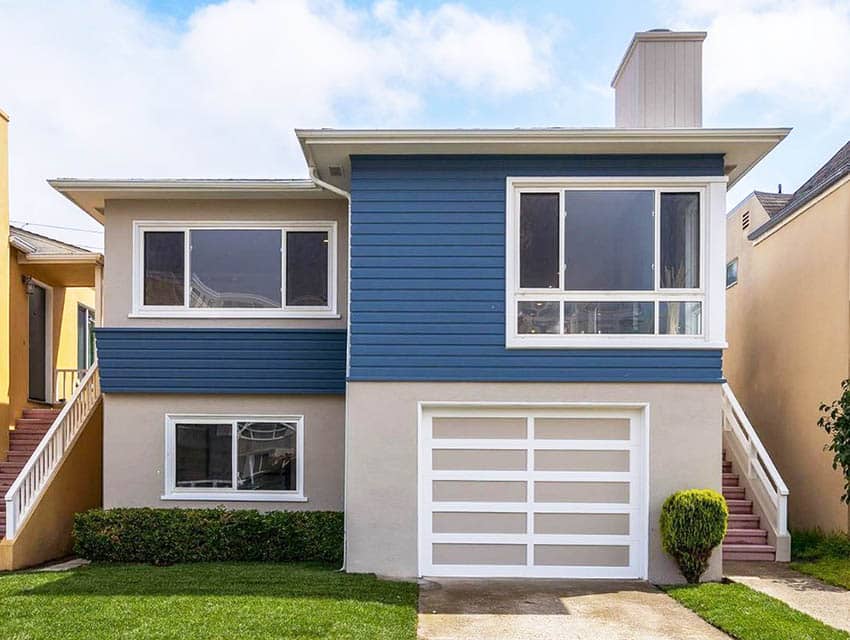 When a homeowner decides to switch out siding for stucco, it doesn't mean they have to remove all the siding. Often, homeowners combine the two options creating an eye-catching design. Vinyl siding, the most common siding used in home building, is inexpensive and long-lasting.
Most manufacturers stay away from dark colors when producing vinyl siding to prevent heat from causing the vinyl to buckle or warp.
Vinyl comes in lighter colors and hues and when combining stucco with vinyl siding, it's best to either match the color or use a shade or two lighter or darker for the stucco. Read more about stucco vs siding here.
Stone and Stucco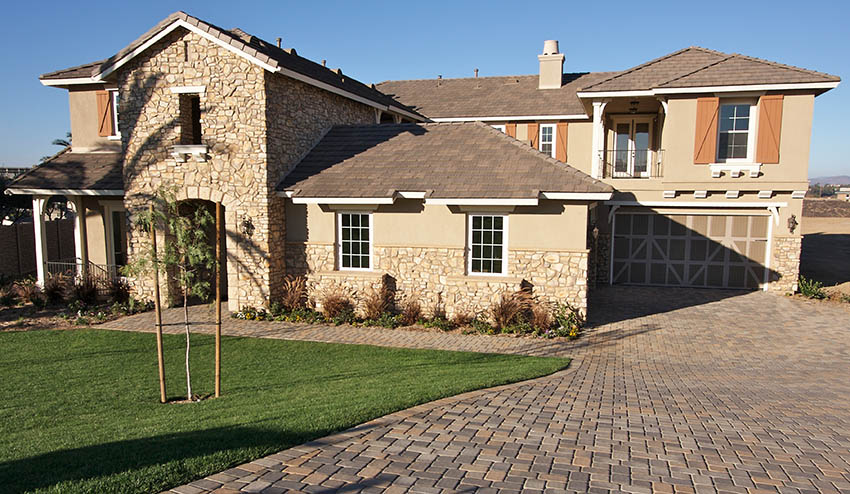 Some contractors refer to stone and stucco siding combined as stone style. The smoother stucco textures along with the multi-faceted textures of stone flow together well and offer a sophisticated look.
Stone and stucco are both masonry products making the application process almost seamless. Choosing the color for the stucco and the type of stone can be overwhelming. Most contractors are ready to assist you with these choices.
Many homeowners use stone for the bottom one-third or half of the siding and stucco for the upper part, especially in peaks and gables.
Stucco and Wood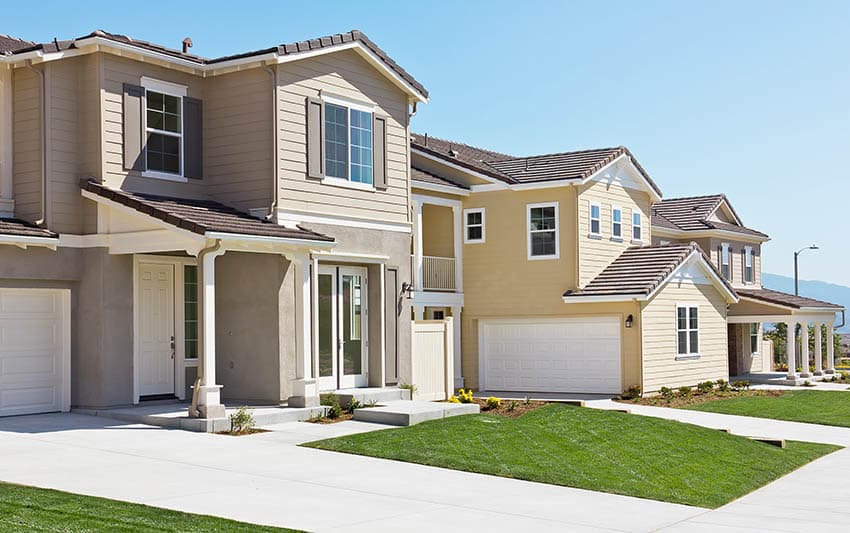 When homeowners think of siding, they tend to limit themselves to one material. When desiring wood siding, they find the cost is too high, and the wood requires a lot of maintenance. Combining stucco and wood siding is a way to reduce the expense, reduce the upkeep, and create an exterior with an admirable home design.
Stucco and wood siding is perfect for homes in natural environments such as thick forestry or woodlands. Typically, the stucco makes up the bottom part of the home, and the wood the upper area of the home's outside walls. Still, any choices of walls or sides work with this complementing pair of siding materials.
Two of the most popular types of materials used for interior walls are drywall and plaster. Plaster is similar to stucco but is used primarily for the interior. Read more about stucco vs plaster here.
Cost to Stucco a House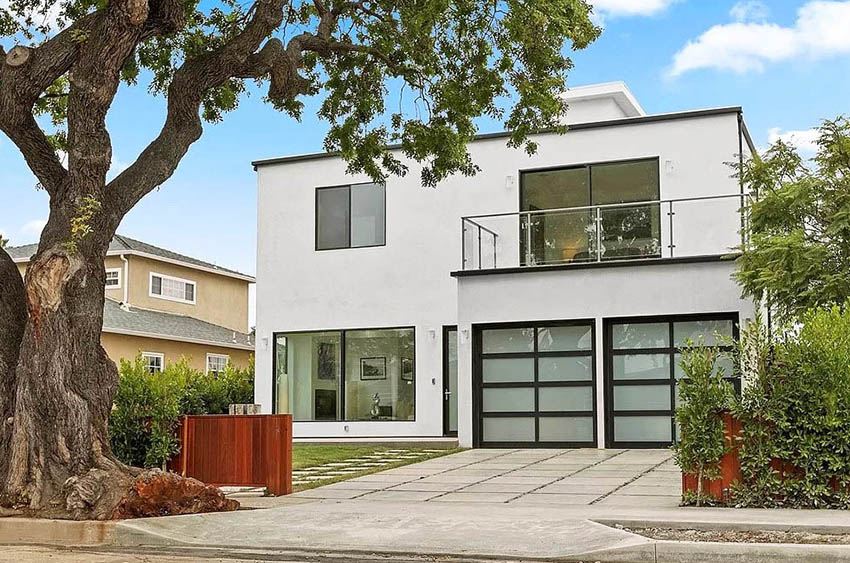 Stucco presents many great options for siding, but it is more costly than many other siding choices. This durable siding offers benefits to offset the additional cost, such as long-life, the flexibility of color choices, textures, and added protection against fire risks.
The average cost to stucco a house in the U.S is $4 to $10 per square foot. Read more about the cost to stucco a house on this article.
How to Stucco a House (Application Process)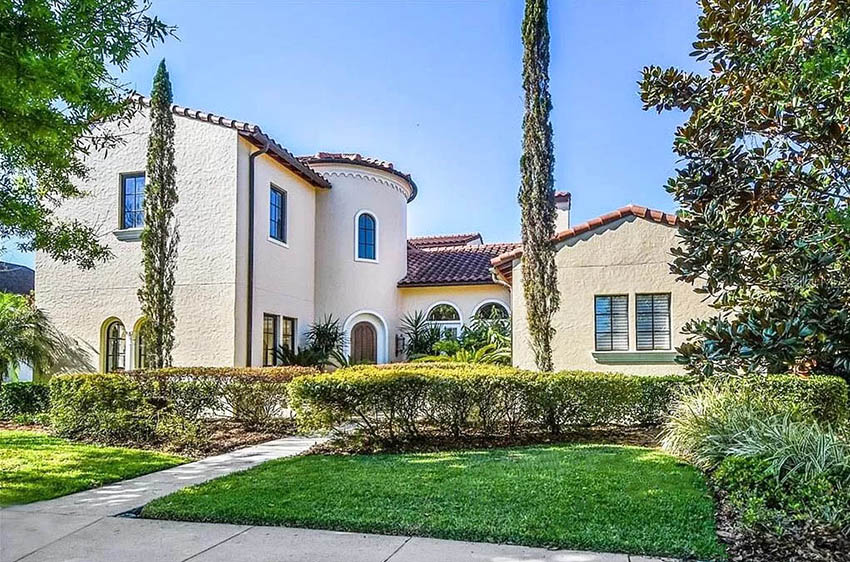 Applying stucco to a house is time consuming and typically done in several layers. Be sure the stucco has a rigid surface such as plywood, particleboard, cement board, or exterior grade gypsum sheathing.
Some contractors will apply stucco on a frame only by driving nails into the studs, equally spaced, and stringing wire tightly between the nails. The stucco sits on metal lath connected to the wire. Although this is possible, the result is a weak wall of stucco and not recommended.
The surface is then covered with building paper, a rain screen, Tyvek drain wrap, or 15 lb roofing felt. Once covered, the contractor attaches metal or wood lath to the wall and adds several types of hardware including metal control joints that prevent future cracking.
The surface is now ready for the stucco material, applied with a trowel. In between each layer of stucco, the material must dry completely so no moisture remains trapped between layers. Most stucco requires two coats, but it's typical for a contractor to use three.
Traditional Stucco – Traditional stucco involves a first and second scratch coat, with horizontal lines scored into it using a notched trowel, known as pricking-up coats. The second coat called the brown coat, allows the finishing coat to have a surface to bind with. These coats build up the thickness of the stucco. The third coat is the finishing surface applied with different types of trowels to create a textured finish.
One Coat Stucco – Newer stucco includes One Coat Stucco that's made from Portland cement and sand-like traditional stucco but includes fibers and special chemicals making it very efficient. One Coat Stucco is pliable allowing easier application. It comes premixed in many colors and takes well to acrylic paint. It's resistant to cracking because of its flexibility.
Two Coat Stucco – If applying stucco to brick, stone, concrete, or masonry, it's not necessary for a second brown coat. The hard surfaces do not require additional stucco to build up a base and don't require placement of lath. The finishing coat goes on top of the initial layer designed with whichever texture the homeowner chooses.
Synthetic Stucco – Synthetic stucco contains acrylic resin instead of cement and lime. This makes it more resistant to moisture damage and very flexible; it moves enough to prevent cracks from soft ground or a shifting foundation. Synthetic stucco goes directly over foam board instead of lath and dries quickly.
Painting Stucco House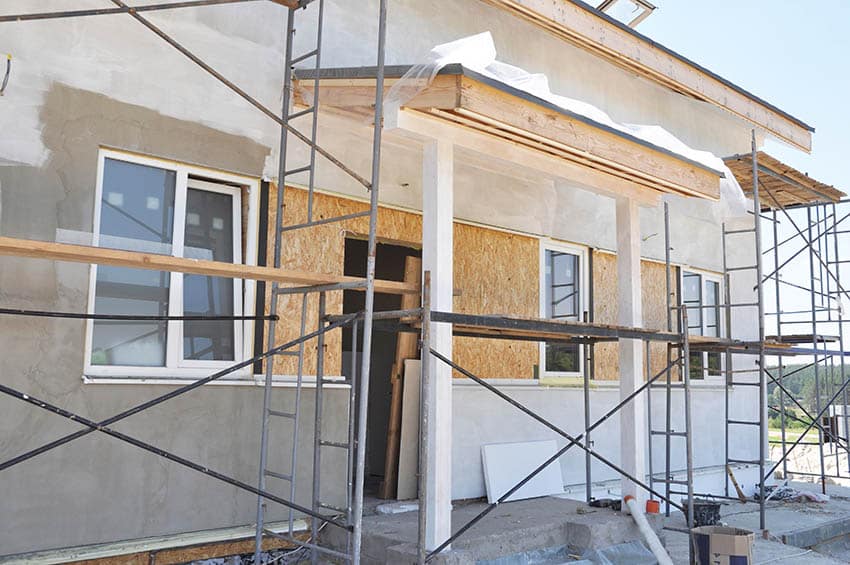 Stucco is easy to care for, but years of wear may reveal cracks, chips, staining, or tarnish. Regular maintenance prevents stucco from needing repair but, even stucco in good shape may need refreshing or a new color to match your home's new style.
Painting stucco is a great way to revive your home's exterior finish. Do a good examination of the stucco, looking for areas that need repair before painting. It's recommended that stucco be repainted every 5 to 10 years.
Look for chips and small areas that are peeling or cracked. A stucco repair kit usually provides the supplies needed to do minor repairs. Stucco material is included in these kits to fill in cracks and rough areas.
If there is more damage than a stucco kit can handle, it may be better to hire a professional. When the repairs are completed, let the stucco sit for 7 to 10 days for all the areas to dry and cure completely. Any moist areas will come off if painted too soon.
The next few tasks involve pressure washing the stucco to remove dirt and grime, locating any mold and removing it with a mold removal solution, and finally, applying a primer meant for the type of existing stucco. For example, stained stucco requires a stain-blocking primer. Let the primer dry completely before painting. Don't rush the drying times; stucco is prone to moisture damage if not left to properly dry.
When painting the stucco, choose between using brushes and a roller or a paint sprayer. Painting the stucco by hand is feasible when the texture is smooth, such as a sand or smooth finish. For stucco with a rough finish or numerous lines such as a worm finish or a cat face finish, spraying ensures all the uneven surfaces are covered. Once the painting is done, let it dry completely and enjoy the new look.
Cost to Paint a Stucco House
Painting stucco is a do-it-yourself job or a hired professional. The high cost of labor may deter homeowners from hiring a professional. The table below shows the different averages to paint a stucco house. These costs will vary according to the location of the home, cost of supplies, equipment rental, any fees involved for cleanup.
PAINT/SUPPLIES LABOR REPAIRS CLEANUP TOTAL
Do-it-Yourself Cost
Paint supplies: $2,000
Labor: 0
Repairs: $200
Cleanup: 0
Total: $2,200
Professional Cost
Paint supplies: $4,000
Labor: $4,500
Repairs: $1,400
Cleanup: $750
Total: $10,650
Stucco Maintenance & Care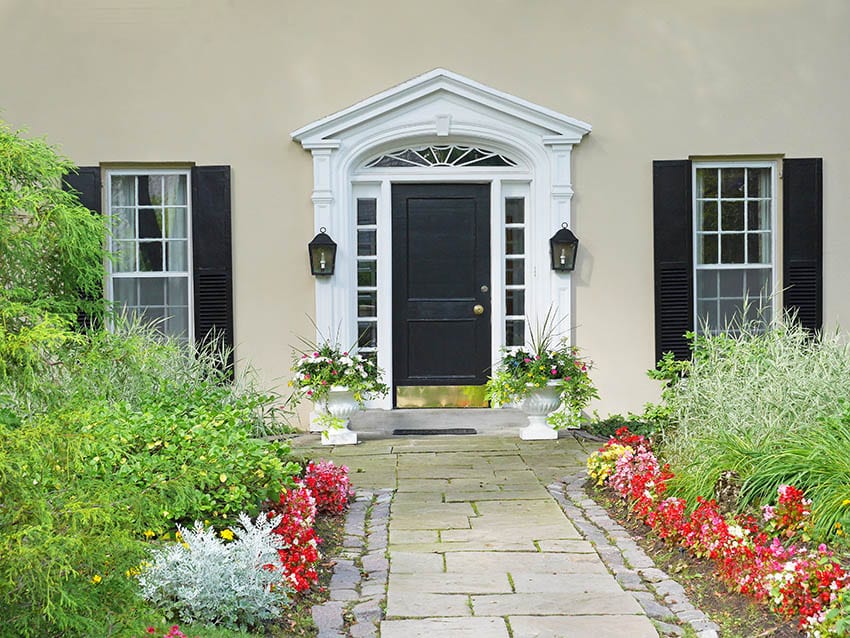 Exterior stucco siding that is solid, and sealed properly, does not require a lot of maintenance. The important thing is to do regular cleaning and inspections. Look for damages that could allow moisture to get behind the surface and cause extensive chipping and mold.
How to Clean Stucco House
Stucco exteriors need to be washed two to three times each year. Washing preserved the integrity of the stucco surface and is as easy as using a garden hose or pressure washer. A garden hose works well for smooth stucco finishes but may not remove all the dirt and dust embedded in a rough texture. Use a deck scrub broom to remove stubborn dirt. Be careful not to apply too much pressure with the broom to avoid damaging the stucco.
A pressure washer is faster and involves less labor. Many home pressure washers have an attachment to fill with soap if the stucco is very dirty. Although a pressure washer needs to have around 1500 PSI, use care when spraying the stucco. A fine spray may leave lines on the surface, or a fanned out spray could dislodge grains of sand. Test a hidden area of the stucco first to determine the correct distance and width of spray to use.
Yearly Inspection
Inspect stucco each year, twice a year, if feasible. Any cracks, holes, chips, or damage require immediate attention to prevent further damage.
Stucco House Problems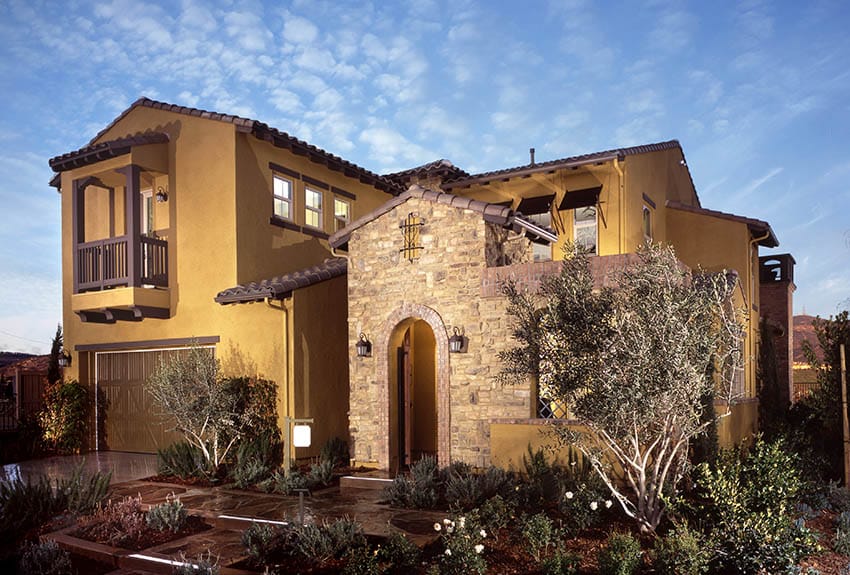 Stucco siding may be durable and long-lasting, but problems occur without proper installation or regular maintenance. The biggest enemies of stucco are water, mold, and termites. These issues, if not corrected right away, eat away the stucco behind the scenes damaging the stucco so badly it needs replacing.
Soft soil or sand under a home's foundation is another problem for stucco. A light shift in the ground that causes the home's foundation to shift will cause cracks.
Small or large, any crack needs a quick repair. The moisture attracts termites to the dark, damp crevices behind the stucco, and colonies will eat away interior studs and framing. Other damage may occur, such as ruined insulation and mold eventually entering the inside of the home.
Is it a Risk to Buy a Stucco House?
When purchasing a stucco house, be sure to have the stucco inspected by a professional. While the stucco may only reveal small blemishes on the surface, there may be extensive damage underneath. Look for badly patched areas: Messy patches with uneven surfaces, a mismatched finish, and a different color indicate a professional did not do the repair.
The risk that comes when buying a stucco house may deter mortgage companies from approving a loan. Having a thorough inspection satisfies the inspector and the new homeowner, knowing there won't be extensive repairs or structural failures shortly after the purchase.
How Long Does Stucco Last on a House?
Stucco will last for decades on a home exterior; from 50 to 80 years. The proper installation, maintenance, inspections, and repairs result in a long-lasting and beautiful exterior that enhances the presentation and value of a home.
For more related ideas visit our ceiling texture designs article here.