In this guide we'll cover awning vs casement window differences including benefits, price and design.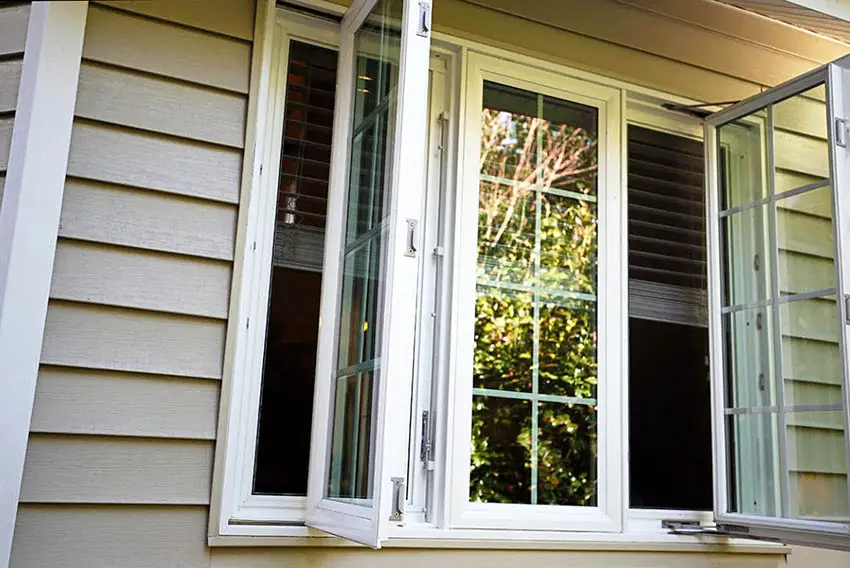 Windows can quickly be divided into two categories — fixed, and venting. A fixed window lets light in, but no air — it does not have an opening mechanism.
Venting windows are either 'hung' (panes that slide up and down on runners installed in the sides of the window) or 'cranked' (equipped with a hand-turned crank that rotates the pane of glass outward and holds it in place until cranked closed again).
Awning and casement windows are both 'cranked' windows. Another name for these types of windows is 'hinged'. This means that one side of the window has been fitted with hinges so that it can swing open. If the hinges have been mounted at the top of the window, this is called an 'awning window'.
If the hinges have been mounted on the side of the window (either left or right), this is called a 'casement window'. In addition to the hinges, both awning and casement windows are opened and closed via the use of a hand-crank.
Hinged windows are celebrated for their beautiful view. With no sashes or window rails necessary, most hinged windows are a single cut piece of glass. There's nothing to stop your eye from settling on the view outside the window.
Some people prefer the look of a between-the-glass grid. This style, also called a window grille, is available in both awning and casement windows.
When laying out the window design for your casement or awning windows, take note of where the crank would be situated. Is it in an accessible place? Will there be room to rotate your wrist and elbow in order to turn the crank? Your installer should be able to assist you with these considerations.
The Difference between Awning and Casement Windows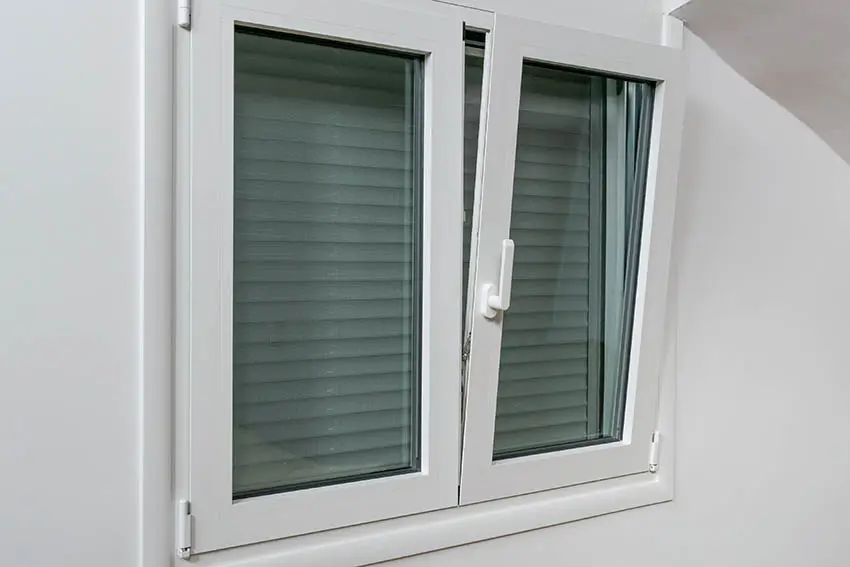 The decision to use awning or casement windows happens much earlier than you might think.
Window sizes and locations are planned out in the design phase. Care is taken to find appropriate locations that will take advantage of the light and views on the property. The size of the space dedicated to the window dictates what the style of the window will be.
When the window is portrait shaped — taller than it is wide — it's meant for a casement window. A landscape-oriented window shape will require an awning window. This is an engineering requirement. The opening mechanism of the window must support the weight of the sash and the glass as it swings away from the exterior wall.
The drawback of an awning window is that the weight of the sash limits the size. The largest awning window available is smaller than the average casement window. However, slider, fixed, casement, and awning windows can all be combined to create custom light and ventilation solutions, whatever your need.
Benefits of Awning Windows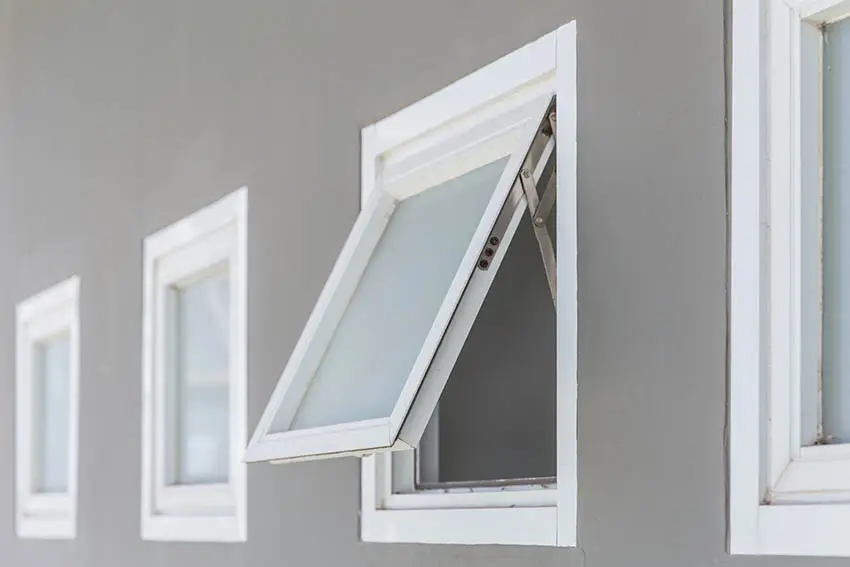 One of the benefits of an awning window can be seen in its name. When cranked open, the window itself acts as a transparent awning. One frustrating thing about living in a rainy location is the constant threat of rain-soaked floors. Awning windows circumvent that concern.
Additionally, they allow you to enjoy ventilation and fresh air, even when rain has you trapped in the house.
Awning windows are reasonably energy efficient. They have good ventilation properties. The diagonal slant of the glass can be adjusted to usher in any passing breeze.
Awning windows are generally used where the window is wider than it is tall. They are a popular choice for installation at ground level, bringing light and air into finished basement spaces.
Awning windows are also perfect for hard to reach, landscape-oriented spaces like above the kitchen sink. A sashed, silled, or sliding window would be awkward to open and close, and a casement window is the wrong shape, but an awning window is easy and convenient to access while cooking or doing the dishes. Read more about windows above the kitchen sink here.
Benefits of Casement Windows
The primary benefit of a casement window is it's wide opening. Most models open to at least ninety degrees, meaning the glass is completely out of sight when viewed head on. This creates a feeling of spaciousness that is important to many homeowners.
A casement window is unmatched for visibility when opened or closed. Casement windows are also widely hailed as the most energy efficient window option. When partially open (four to five inches), it has a unique ventilation property. The window actually catches wind from outside and directs it into the house — the same way a sail catches and redirects wind.
In extremely windy weather, it is important that casement windows be adjusted according to the direction and strength of the wind. A wide-open casement window in the face of a strong wind could suffer damage to the hinge mechanism.
Awning Windows vs Casement Windows Price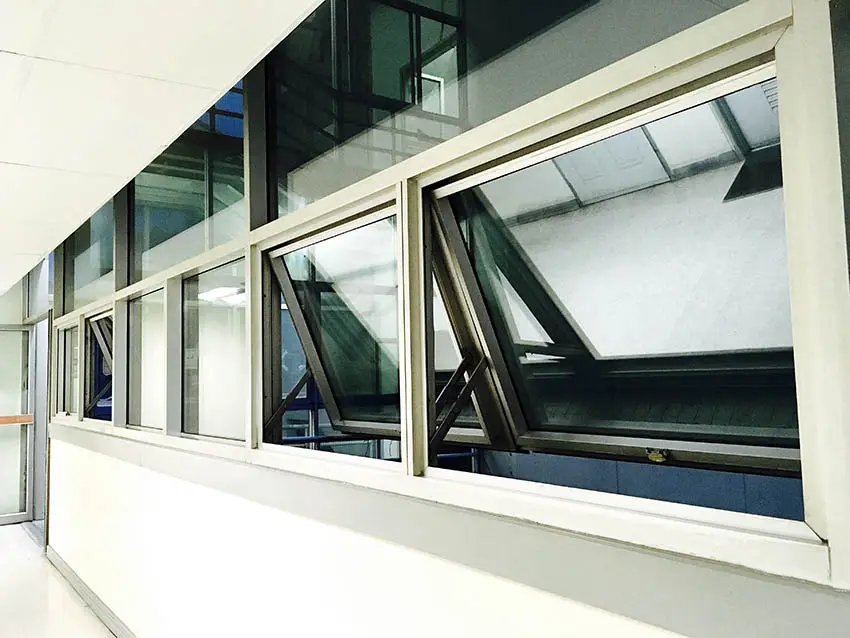 Since awning windows are usually smaller in size than casement windows, it's no surprise that they come with a smaller price tag. Expect to spend between $400-600 per awning window. Casement windows are more expensive — at least $500 per window, with prices up to $800.
To come up with a reasonable estimate for installing or replacing windows, you need to calculate the cost of the materials and the cost of the labor to install your chosen windows. There should be no significant difference in the labor charges for installing an awning window vs a casement window.
Most of the time, price isn't the deciding factor when it comes to an awning vs casement window. The construction demands of the building, including duct work, plumbing, and electrical wires, dictate the available space for windows. If that space is wider than it is tall, choose an awning window. If it's taller than it is wide, use a casement window.
When to Choose Awning over Casement Windows
The choice of window style has implications beyond the interior of your home. Your landscaping choices will need to maintain sufficient space around each window for it to fully close and open.
Casement windows generally require more space than awning windows. However, awning windows are much likelier to be at ground level, where plant life is the thickest. Regardless of which style you choose, make sure your landscape complements the final results.
For more related ideas visit our kitchen bay windows gallery.