Welcome to our gallery of kitchen windows over sink design ideas including window treatments, types of windows to use, decor options & more.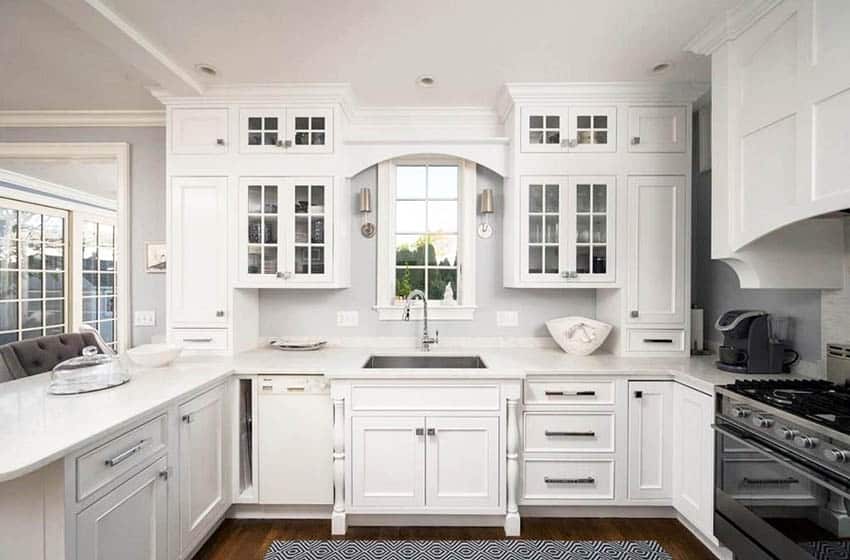 A great place to have a window in the kitchen is above the sink. This not only allows for a good amount of light to the kitchen, but it also gives access to viewing outdoors while standing at the sink.
Getting light into the kitchen is important, but most wall space is wanted to be taken up by cabinets and countertops. This is why putting a window over a sink is a fantastic help for both the light and space challenge, because you shouldn't put cabinetry over the sink anyways. This is due to the splashing and the space needed for faucets and backsplashes.
As for viewing, a window over the sink can be super helpful if children are playing outside and the user is washing the dishes or making dinner while still being able to keep an eye on the children.
Having a kitchen sink window can be an open invitation to creativity. This is an opportunity to take a small window and make a large impact. The window needs to be above the sink so that all the plumbing can be properly taken care of, but other than that there are not too many limits on what you can choose.
Kitchen Sink Window Ideas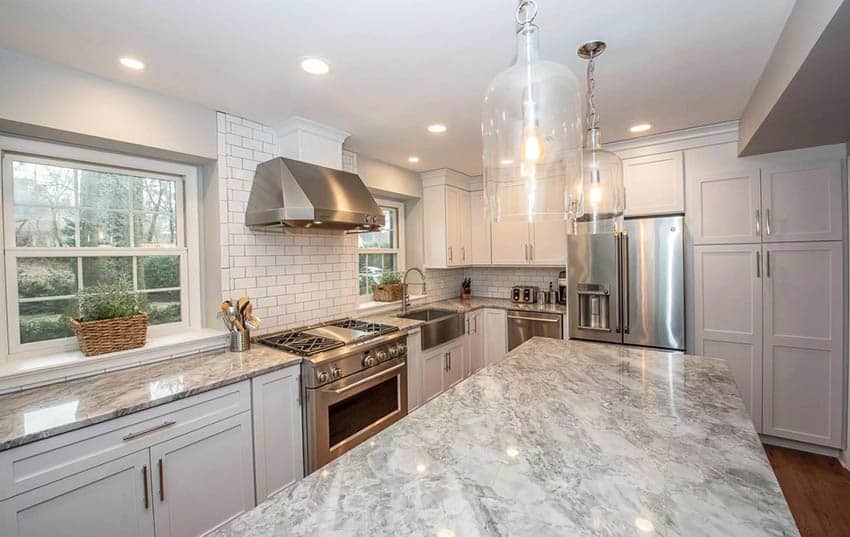 An inviting way to bring a touch of the outdoors in to your kitchen is to use your window sill for a variety of little plants (right near the sink so you shouldn't forget to water them.) Instead of using plants one could also add decor items to this space. Try soaps or decorative jars, whatever you like to see while doing dishes!
When coming up with ideas different shapes and colors are a great place to start. Sometimes a simple square correlates with the design of the kitchen and overall home. Other times trying a circle, hexagon, triangle, or any other shape can reflect a shape throughout the home or kitchen.
When it comes to color the same thing can be said – keeping it simple with white, beige or gray can be all you need for this useful piece of the kitchen. If you are feeling like you need something to pop or take notice in the kitchen this is a good spot to add and accent color to the trim.
Another cool thing to do – if you are not planning on using the window to look out of – is turning the glass into a stained glass piece of art. This lets light in and makes for a beautiful backdrop.
Over the Sink Kitchen Window Treatments
If you thought the ideas for the window themselves were limitless, wait until you see the options for the window treatments. A few of the basics are discussed below.
Window Curtains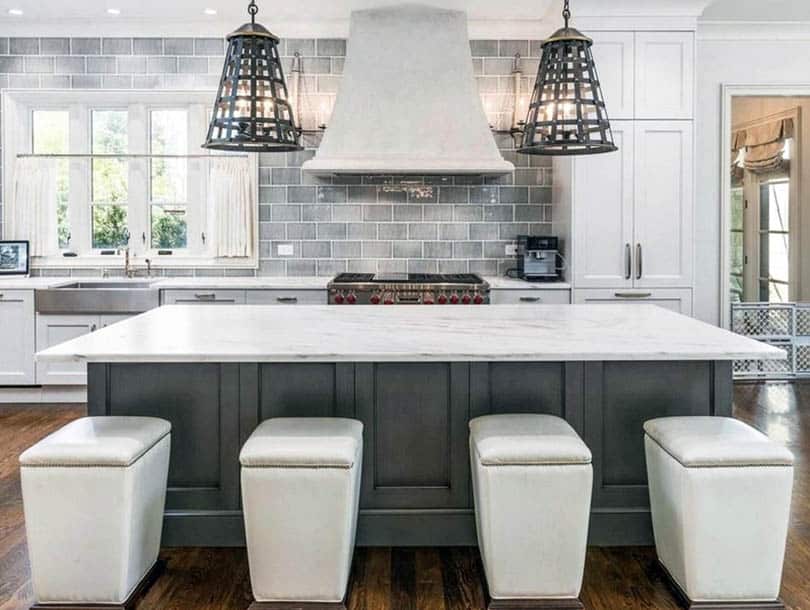 Curtains can be a fashionable way to ensure privacy when needed and still allow light in when wanted. Curtains can come in a variety of shapes, sizes, materials and colors. The material itself is important to thing about since it is right above the sink. This could mean that the curtains get splashed. Having a washable or wipe-able material allows for sanitary conditions throughout.
When it comes to shape and sizes there are the options of length, whether the goal is just a decorative valance or curtains the can fully cover the window. Colors choice depends on the selections made above, as well as the current style or desired style of the kitchen so that it properly coordinates.
Window Blinds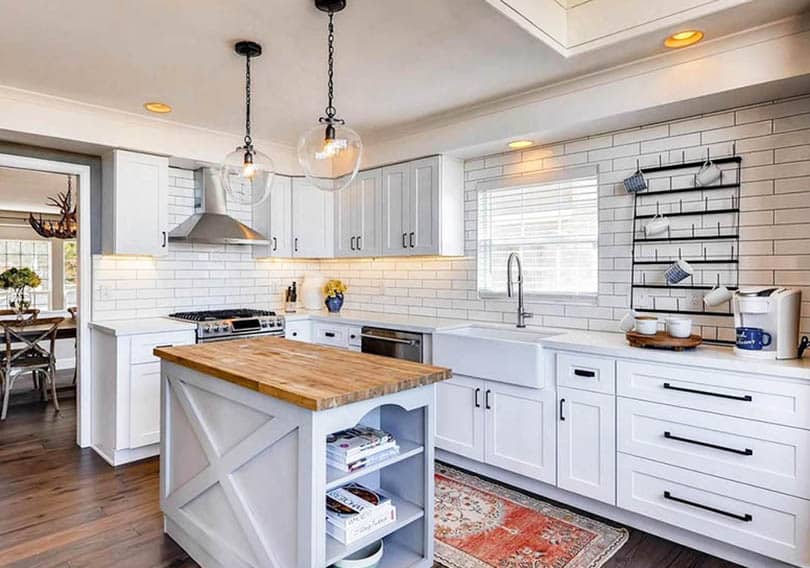 While blinds may seem like the more boring option, sometimes they are the more practical option. The blinds are typically a white or beige to blend in, which in some cases is best, if there is a different focal point in the kitchen. Blinds are a little harder to do when the window is an unusual shape, and in those situations sticking with curtains may be best. Blinds are typically made out of a wipe able material which should be alright over the sink.
Window Roller Shades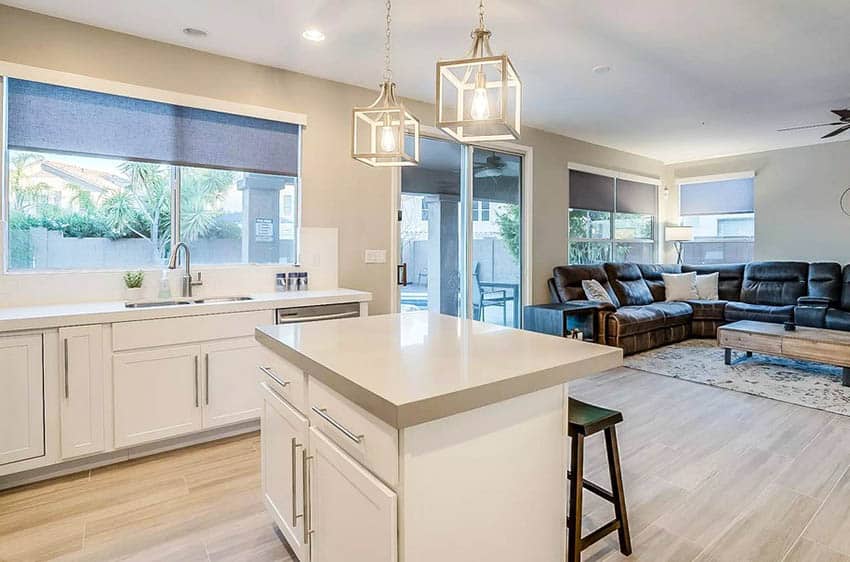 Window roller shades are relatively inexpensive, durable and can match practically all styles of decor. These cost about $35 to $60 per window and are a good idea for blocking excessive sunlight and adding privacy.
Lighting Over Kitchen Sink with Window
Lighting over the kitchen sink is important, even if there is a window there. This is because the window does not always let light in, because the sun is not always shining and you will often need extra light for meal prep. For the late night cleaning or the winter months it is good to have an alternate source of lighting above the sink.
Recessed lights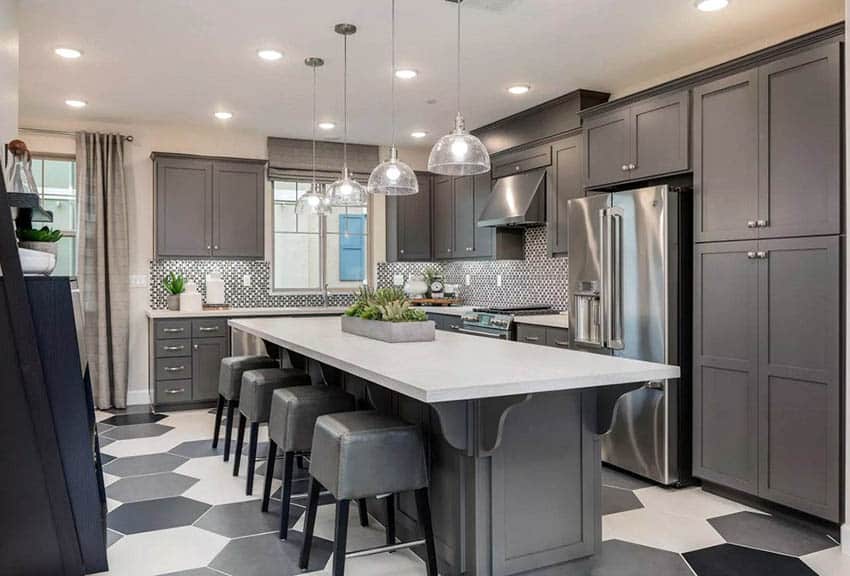 The most frequently used type of lighting for above the kitchen sink is recessed lights. The National Kitchen and Bath Association suggests installing a basic recessed light fixture for this purpose. This type of lighting fixture will give you an unobstructed view through your window as well as plenty of illumination where you need it.
For the type of light bulb itself it is recommended to use 50 to 90 watt halogen bulb. If you have a double basin or larger sink a higher wattage will most likely be needed. Recessed lighting is usually controlled by a switch next to the sink along with the switch for the garbage disposal (if there is one).
When installing lights over the sink its important to center them directly over the sink to prevent shadows. This holds true fro both recessed and pendant lighting.
Sconce Lighting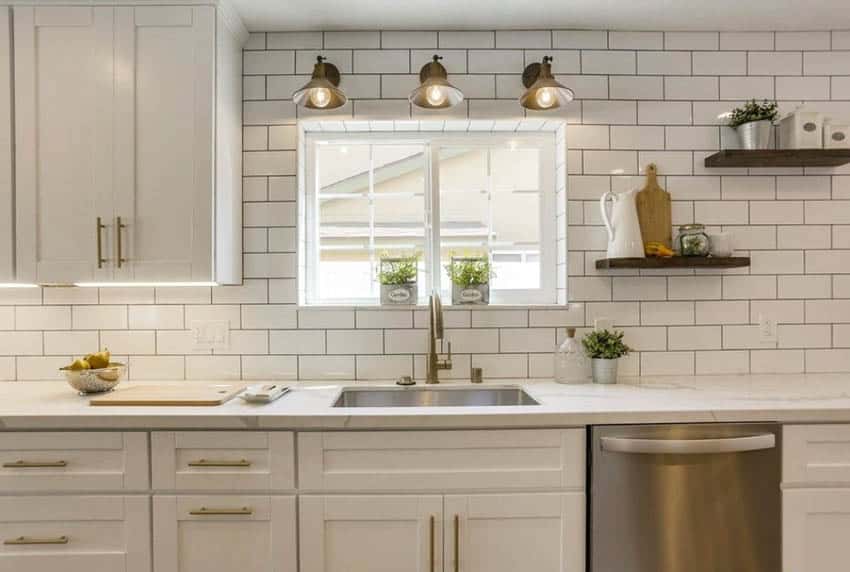 Sconce light fixtures can direct the light to your work area and provide an excellent way to tie in the fixture to match with other kitchen cabinet hardware.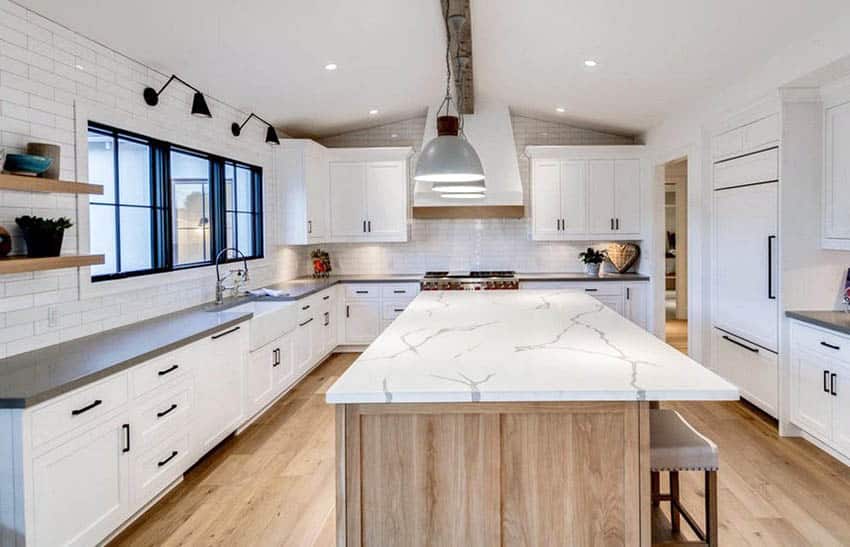 This kitchen uses two articulating sconce light fixtures to provide a vintage look while matching the window frames, and other finishes.
Pendant lights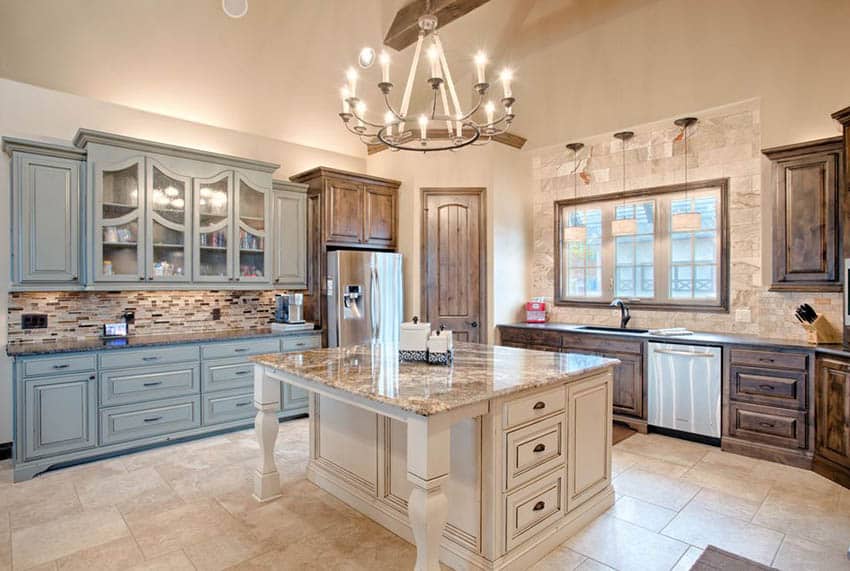 Pendant lights can also be positioned above a sink with great results. When placing hanging lights above the sink and countertops a distance of 30 to 40 inches is most often used with 30 inches being the best. This distance is measured from the countertop surface to the bottom of the light fixture.
One good tip is to select a pendant fixture that conceals the light bulb from the sides to avoid any harsh glare. A 60 watt halogen bulb provides the right amount of brightness for this task.
Kitchen Pass Through Window Above Sink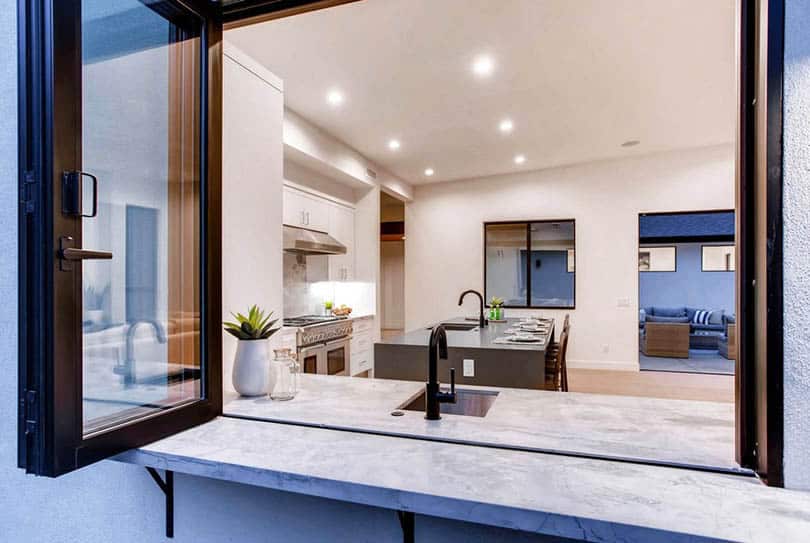 A kitchen pass through window located above the sink is useful for easily passing food from the backyard grill to the kitchen. Pass through windows can also be found connecting dining rooms and living rooms.
The size of a pass through window you want will depend on how close your cabinets are to each other. Generally these types of windows are at least 16″ wide with the height reaching 12 to 15″ below the ceiling.
The cost to buy and install one of these windows can range anywhere from $500 to $1000 or more depending on the type of pass through window you choose and its size.
Bay Window Kitchen Sink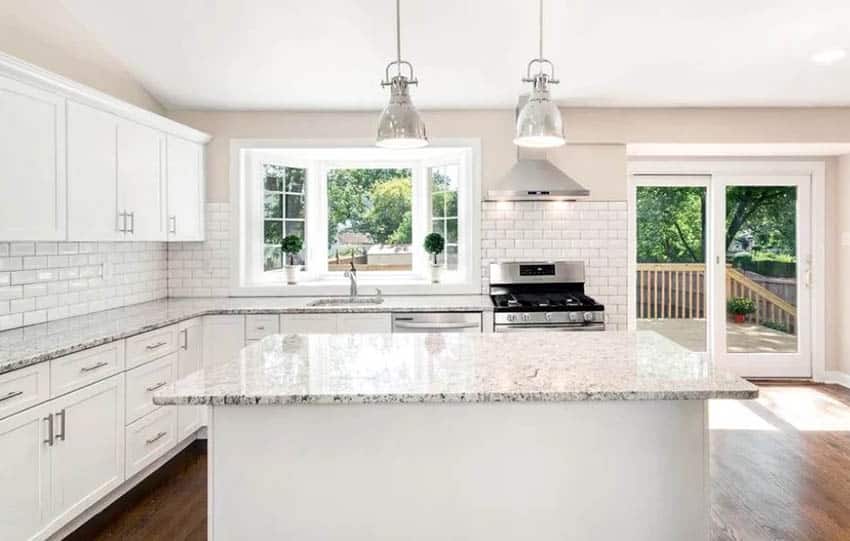 One of the handiest things about having a kitchen sink window is that you often have a ledge to place things like house plants or soaps on. With a small bay window up above the sink it gives a pretty large ledge for all sorts of plants to soak up the sun and for trinkets to help decorate the home.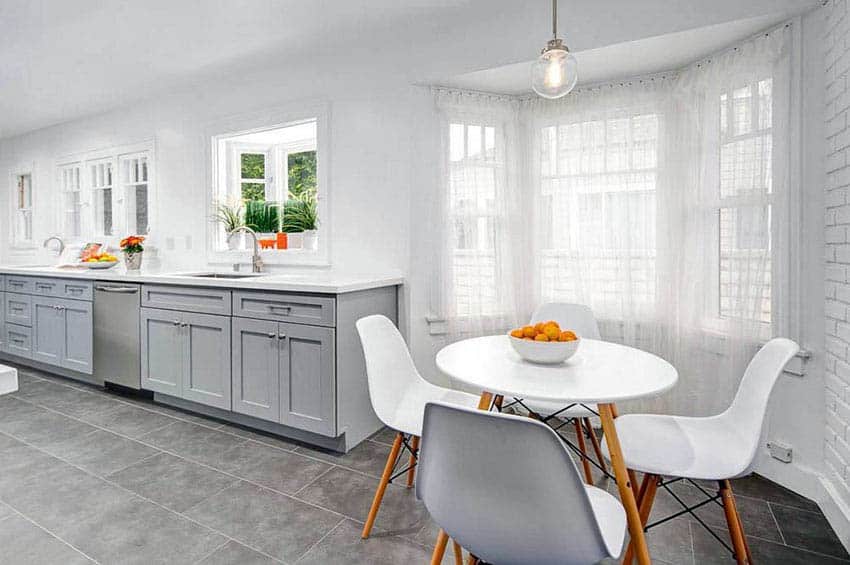 The bay window itself is a beautiful window style, adding interest and optimizing the light by having three planes open even with the small amount of space available.
Picture Windows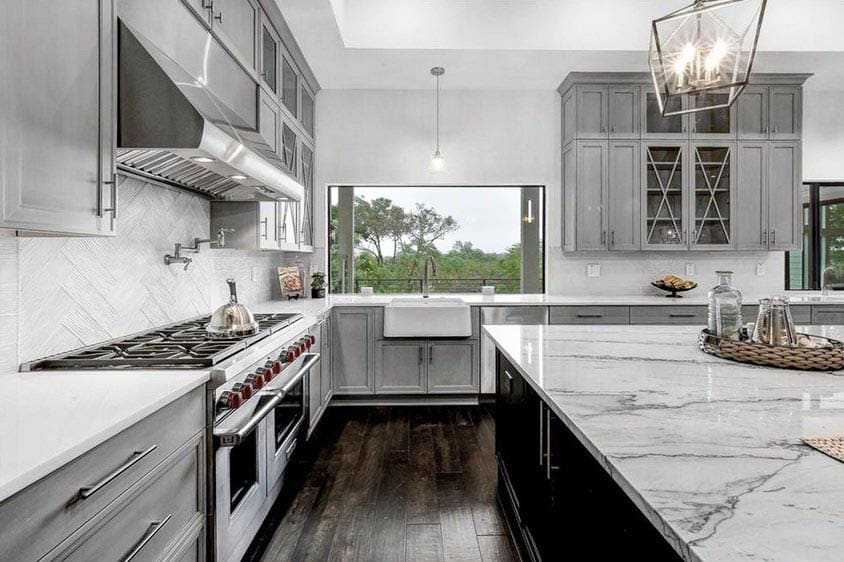 Large picture windows above the kitchen sink offer unobstructed views and are perfect for those watching young children play or just admiring the outdoors while one cleans the dishes. These often are priced between $300 and $1200 to buy and have installed by a professional.
Casement Window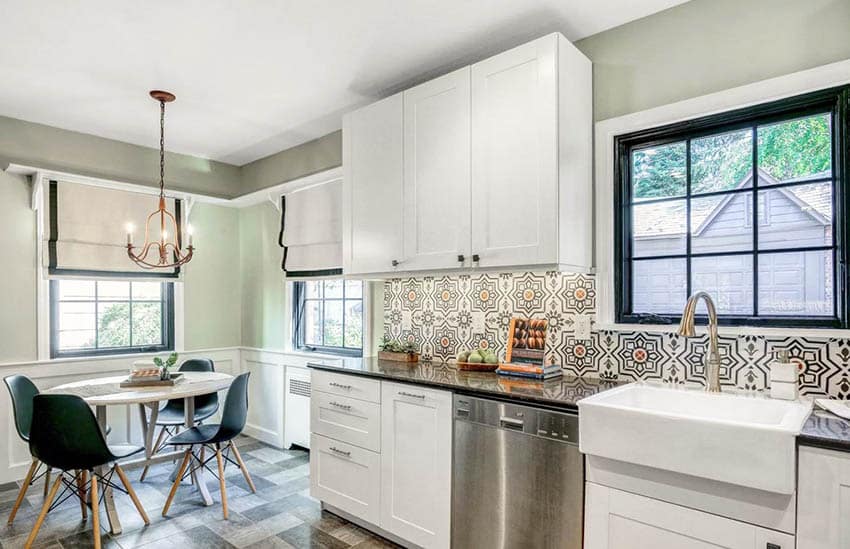 Casement windows are attached to the frame with hinged on the side and can be opened with a crank. They are energy efficient and work well in windows where you can not push the sash directly up to open. The average casement window costs between $300 to $500 to buy and have installed.
Colonial Grid Windows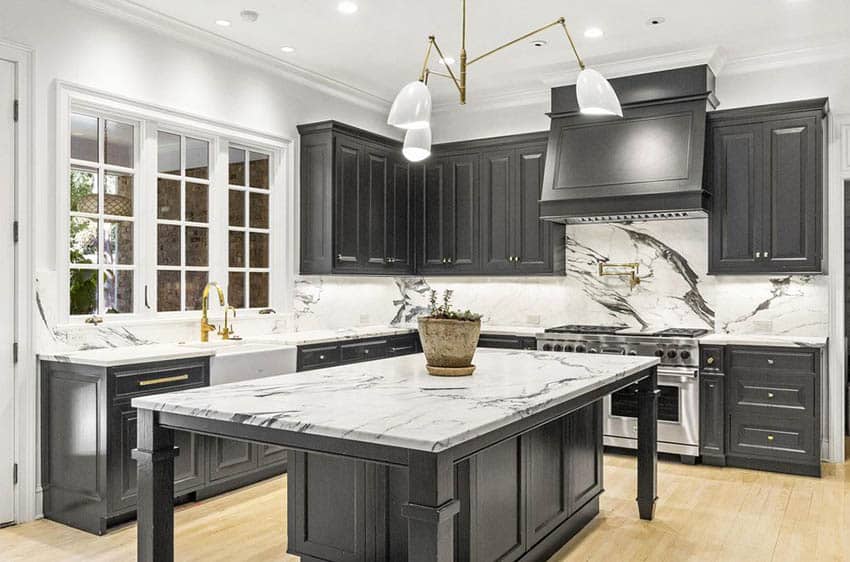 Windows with a colonial style design are also referred to as Muntins. Colonial grids divide up single or casement windows and hold small panes of glass called lights in place. These were used in homes primarily until the middle of the 19th century when it was more expensive to produce larger panes of glass for windows. For this reason they are often used in homes desiring a Colonial style.
Small Kitchen Windows Over Sink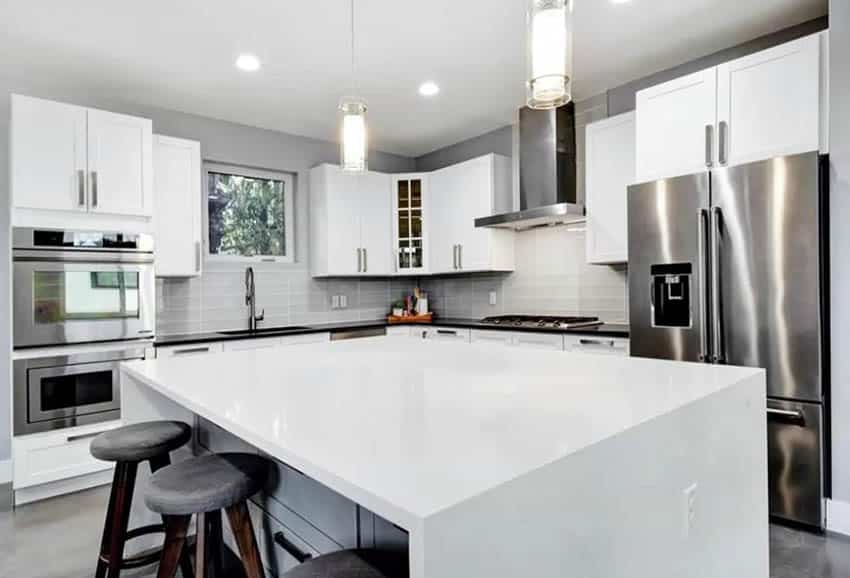 Due to the nature of the space above the sink, most of the window used above the sink would be considered small. There are some windows that are exceptionally small – not even using up all the space above the sink.
These are often used for more of a decorative accent than for capturing light or seeing outdoors. In kitchens with tall ceilings, small windows are often raised and unable to be opened. Sometimes they are coordinated with other windows in the home to make the exterior look symmetrical. For kitchens with limited or small windows, additional lighting is often required.
Decorating Above a Kitchen Window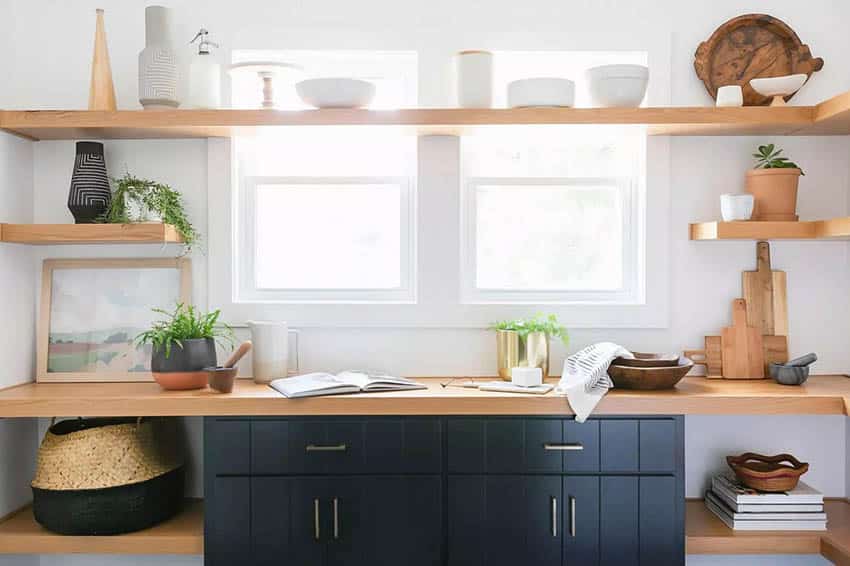 Spicing up the window above sink can be done in many ways. Something as simple as adding some of the above mentioned window treatments with a decorative materials, or something as complex as adding string lights, artwork or shelves and cabinetry above the window.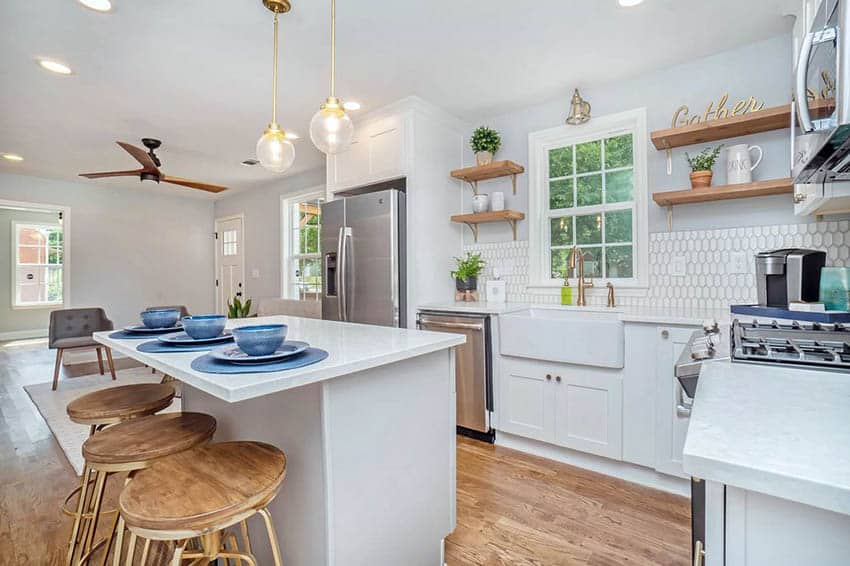 Adding a shelf above the window or to either side can be an additional spot for decorative items or useful items. See more farmhouse kitchen designs here.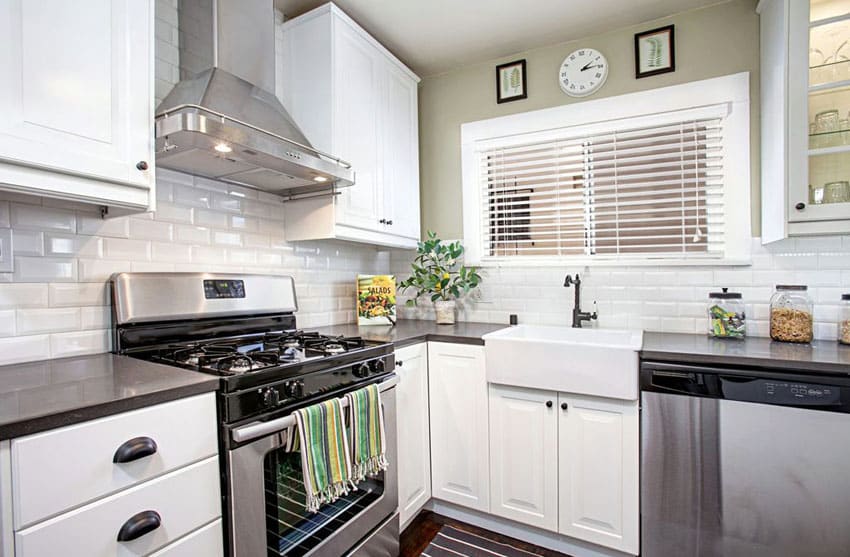 A good item to put above the sink window is a clock, as that is often the location one will be facing when cooking or cleaning in the kitchen, and it is a likely place that there will not be cabinets or appliances.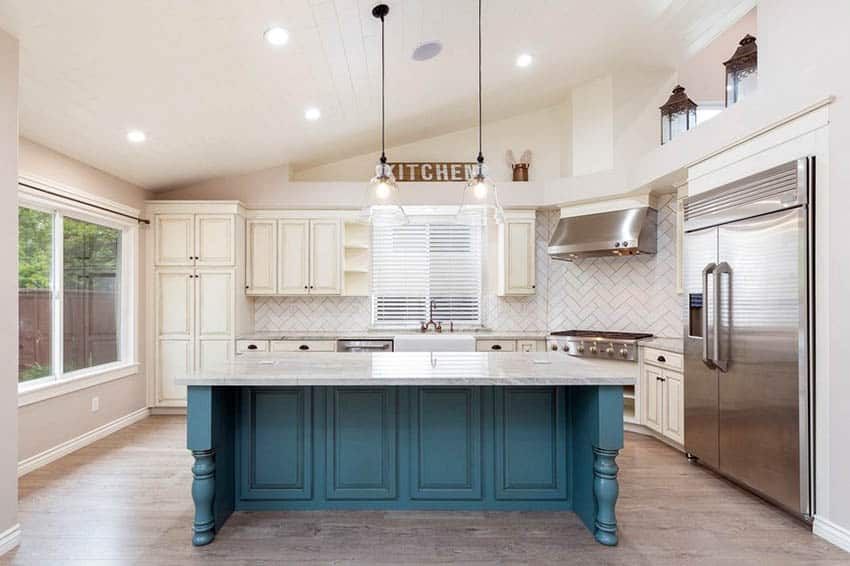 Or just try hanging a rustic style sign on the wall to complete your design. This kitchen has a wall niche above the window that can be used to display decor items. A custom made wood kitchen sign gives a homey touch while the apron sink, neutral color scheme and hardwood flooring gives a farmhouse vibe.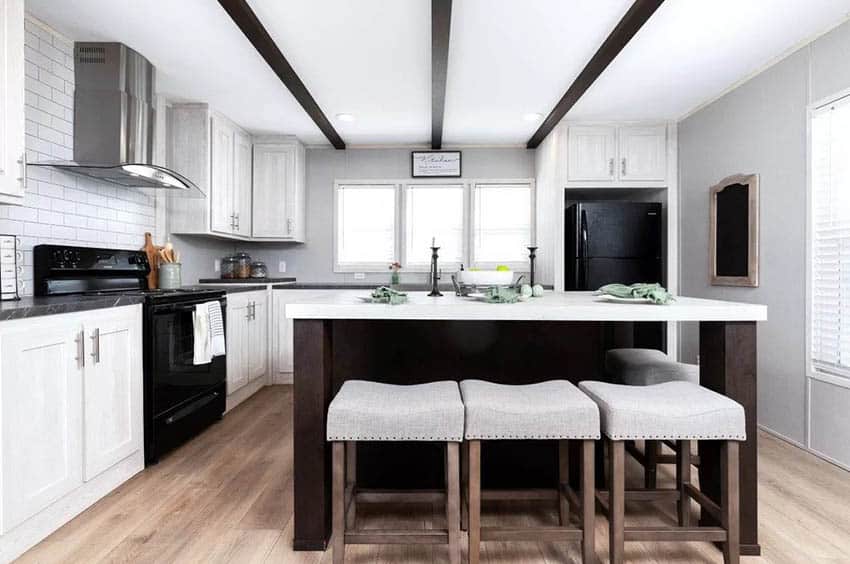 Useful items such as additional soaps or cleaning supplies can be placed in attractive containers with great results. What do you put over a kitchen sink window? Whatever is most useful or aesthetically pleasing to you is what can go up there, there are no right or wrong answers.
Decorating Below a Kitchen Window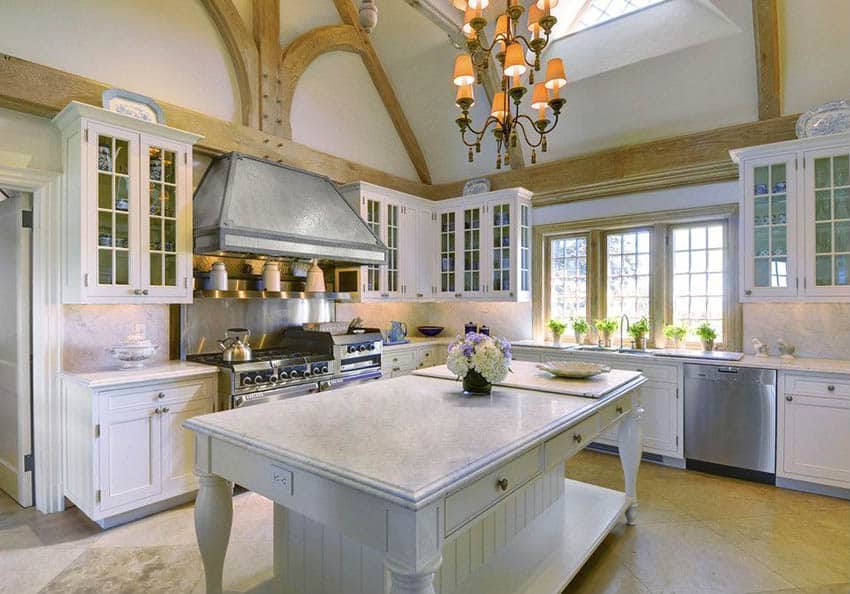 This white country kitchen uses a row of potted plants below the picture windows for a colorful backdrop.
Kitchen Window Shelf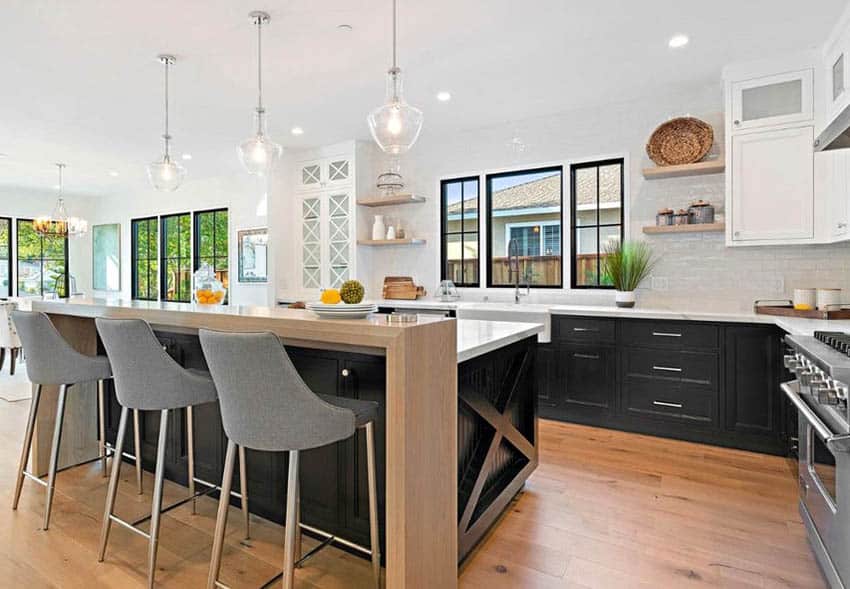 As mentioned above there is an option to put a shelf above the window. Not only is this an additional space to place items, but it is also creating a light barrier, directing the light downward versus all the way up to the ceiling where it is likely less needed.
Shelving on either side of the window is another option that can let you display some of your favorite decor items. Kitchens with open shelving can be used to add visual interest or keep useful items within easy reach.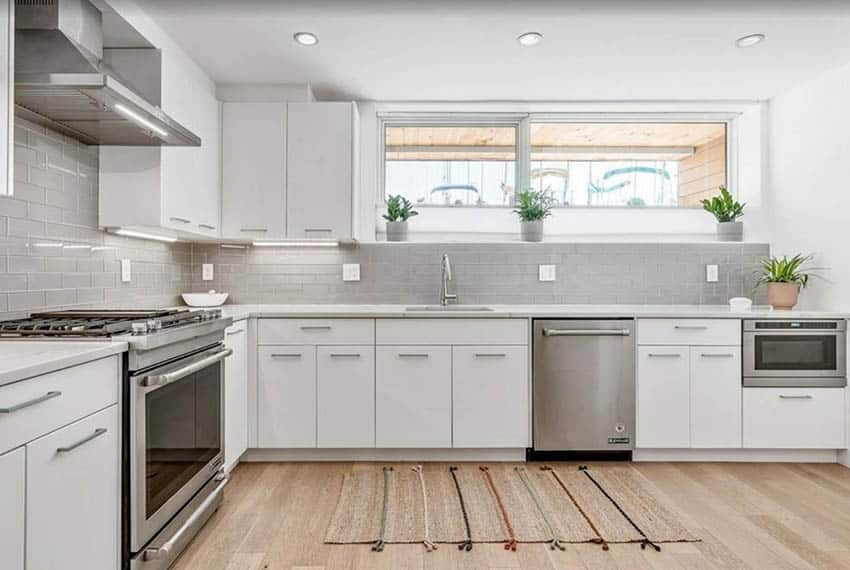 Not yet mentioned is the option for building a shelf under the window. With most windows there is a window sill that leaves a bit of a ledge, and with bay windows there is a large sill that items can be placed on. By adding a shelf underneath the window you give a larger ledge, closer to the sink to place useful items on. It is important that this is not made of a material that does not react well with water or soaps, as it will likely get some back splash. It is also important to not get too close to the sink and faucet with the shelf that it renders it inoperable, or that you bump into it every time you try to use the sink.
What size window goes over a kitchen sink?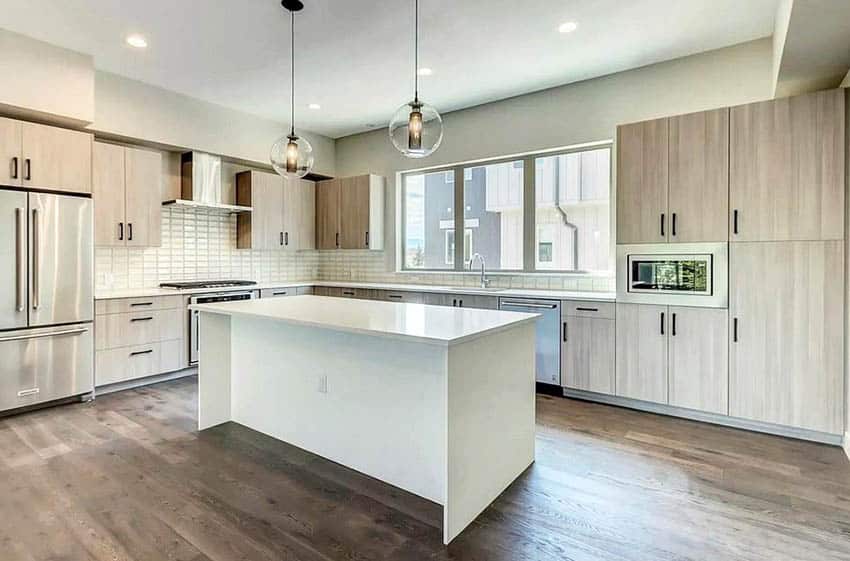 There is no required size of window, all you need is the space. Typically a window above the kitchen sink is the same height as the cabinets on either side of the sink – to give a cohesive look and keep the eye line the same. From there measure the area between each cabinet and that is how large the window can be.
Just because the window can be that size, does not mean it has to be. For unusually sized, or geometric design windows they are better being smaller than the overall space available. On top of that, if you wanted any of the shelves or art above or below that window, then you do not want the window to take up the entire space with them.
Leave enough room for the item you want and a few inches above and below the item so that it is not right on top of the window. It is also good to remember that he window has trim around it on each side, taking up a few inches on each side of the window.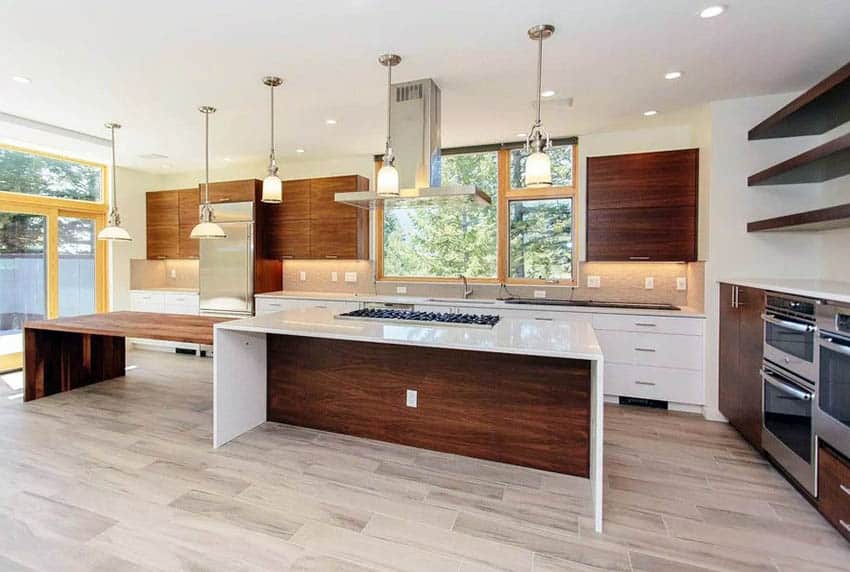 What can you put above a kitchen sink with no windows?
You can put virtually anything over a sink with no windows. The only thing to keep in mind is that there is the potential of splashing if you put whatever item too close to the sink. That could sway the opinion of what you put up there – but it would not stop me. You could put up art, clocks, pictures, lights, cabinets, shelves, etc, if it fits in the space it can likely go above the sink.
If you need help designing your space there are a number of kitchen design software to choose from. These can enable you to create your own floor plan including adding cabinets, sink, windows and appliances to get the exact look you want. this can be very useful before purchasing any materials, performing any remodeling work or hiring a contractor.