See French country kitchen backsplash designs including what this style is, the best colors to use, French country backsplash ideas, and tile designs to consider.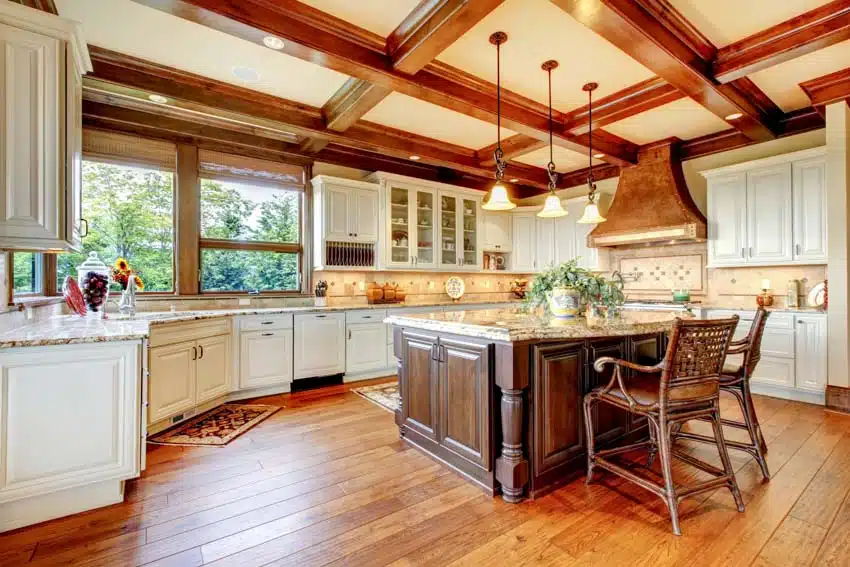 From the classic blue and white to the iconic Fleur de Lis patterns, the enduring appeal of French country kitchen backsplash is a charming backdrop that adds the rustic comforts of the countryside and timeless elegance.
What Is The French Country Kitchen Style?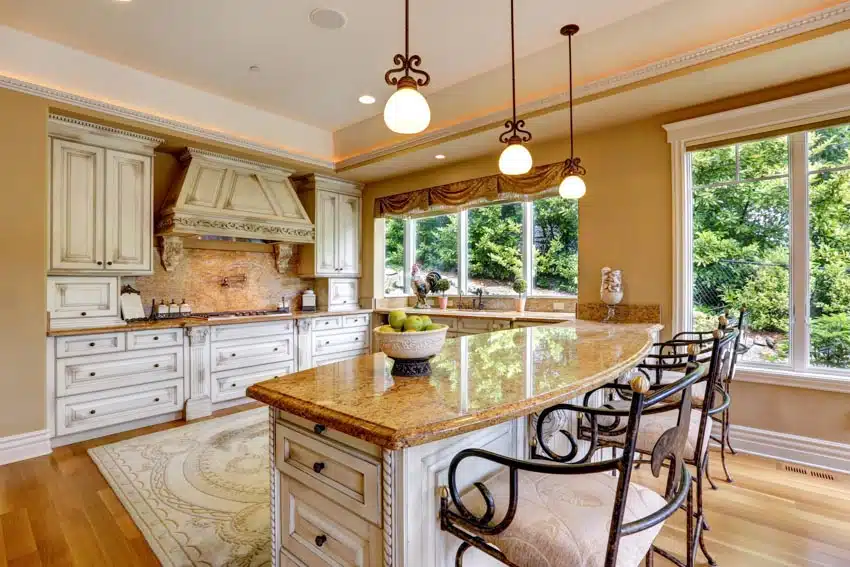 The French country kitchen style is a traditional theme that combines the Classic French décor with rustic elements of country homes. The main formula balances off the refined elegance of the European style with a more relaxed atmosphere. The result is a cozy and airy kitchen interior with a feeling of a space that's lived-in.
The French country is definitely not about less is more, as it showcases decorative elements with organic patterns and motifs such as the iconic sunflowers, lavender, or olives. Pastel colors soften these layered prints with whitewashed wood and neutral tones.
Aside from patterns, the French style incorporates vintage-inspired luminaires and furniture, wrought iron metal or copper, fancy oven hoods, open shelving, and a wood center island topped with marble counters.
Architecturally, the French country kitchen style features exposed beams, symmetrical spaces, high ceilings, plastered walls, and natural materials such as stone, bricks, and wood.
French country kitchen style is usually mistaken for the farmhouse style. The major difference is that the French country farmhouse has a feminine and chic vibe with curvy features compared to the farmhouse style, which showcases cleaner lines and a more casual style. Think expanse of shiplap wall cladding and a subway kitchen backsplash.
French Country Backsplash Ideas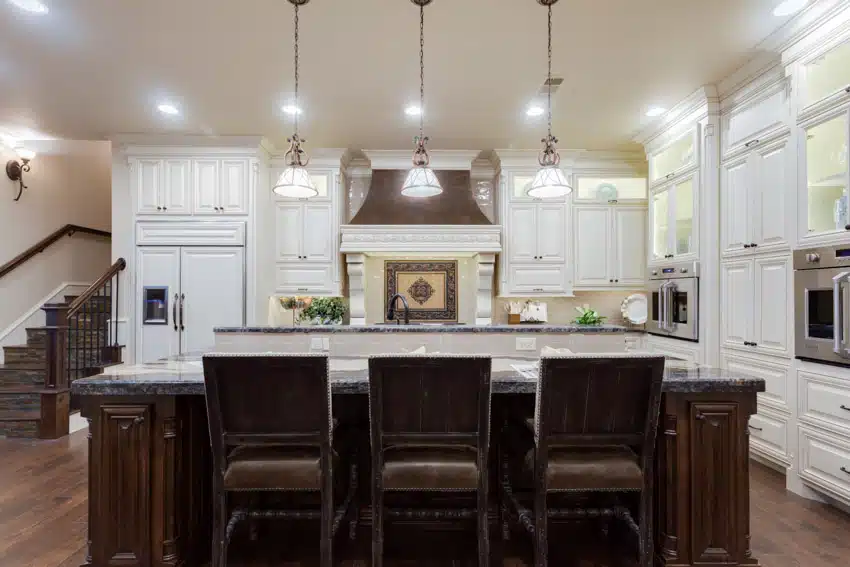 Blue and White Patterned Tiles: Another distinctly French décor is the blue and white patterned tiles. The strong blue accents are inspired by the Mediterranean and Southern France.
Create a section of random blue and white organic patterns or create a rhythmic element with alternating patterns for a larger area.
Rounded Cross-Inspired pattern: Choose small black rounded cross patterns on a white backdrop behind the sink to create that monochromatic look.
Simple and elegant, that can make more room for patterned textiles. Small cross patterns can also fill in long and expansive walls adding the decorative element without overwhelming the look.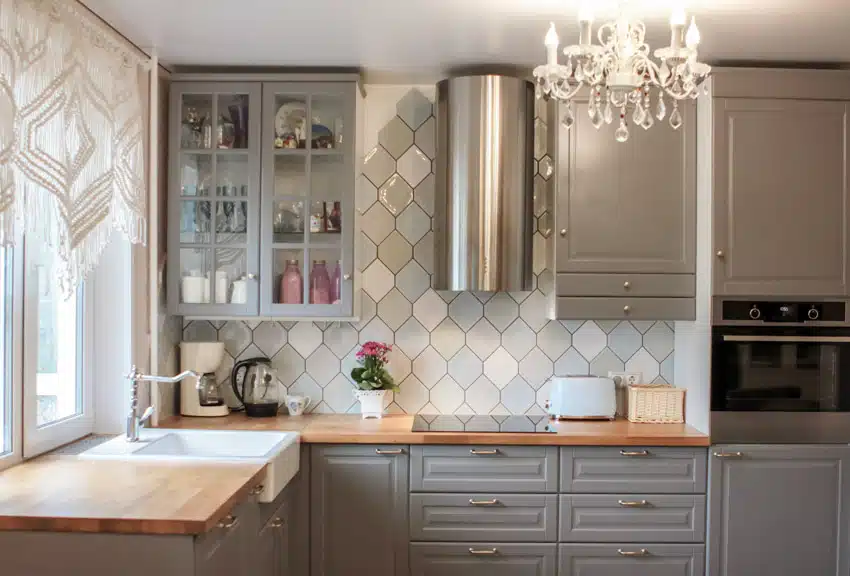 Mirrors: When you've got a small but charming French country kitchen, a backsplash mirror can give open up the space while you've got an opportunity to give more fanciful details on your furniture. Hooded vents can benefit from a mirrored backsplash, as well as it reflects and captures light.
Retro-inspired Checkered: A surprising collaboration from the traditional and modern styles, the retro-inspired checkered backsplash does make a statement while allowing the curvy elements to shine through a French country-inspired kitchen.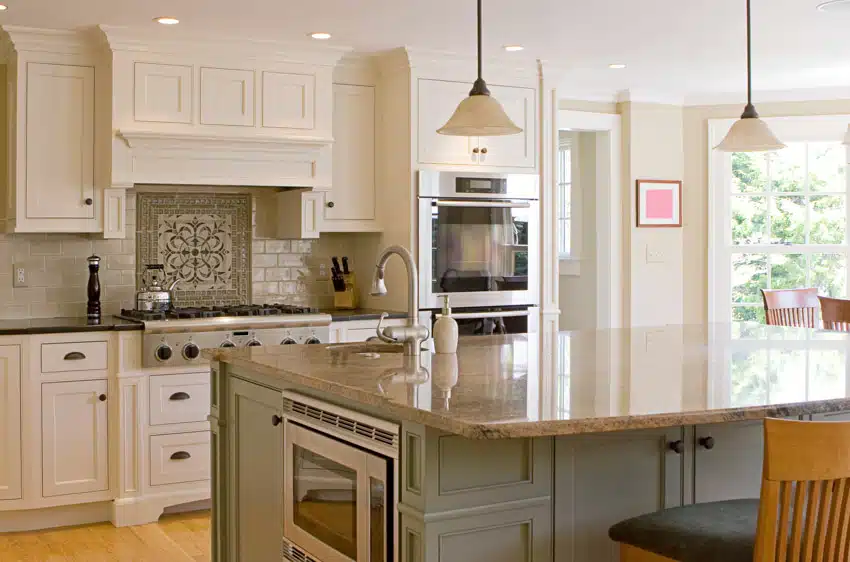 Fleur de Lis Backsplash Tiles: The fleur de Lis icon is a distinctive symbol often seen in many French interiors with origins from the French monarchs and inspired by the lily flower.
Either oriented vertically or horizontally, the Fleur de Lis tiles create an eye-catching backdrop to your French country-inspired kitchen. To have that three-dimensional effect use bronze or brass metal tiles embossed with the symbol.
Embossed Floral Pattern with Mosaic Border. It adds a three-dimensional effect to the wall space and can be in a monochromatic hue for intricate designs or layer the focal point with metal or glass mosaics for an eye-catching feature.
French Country Tile Backsplash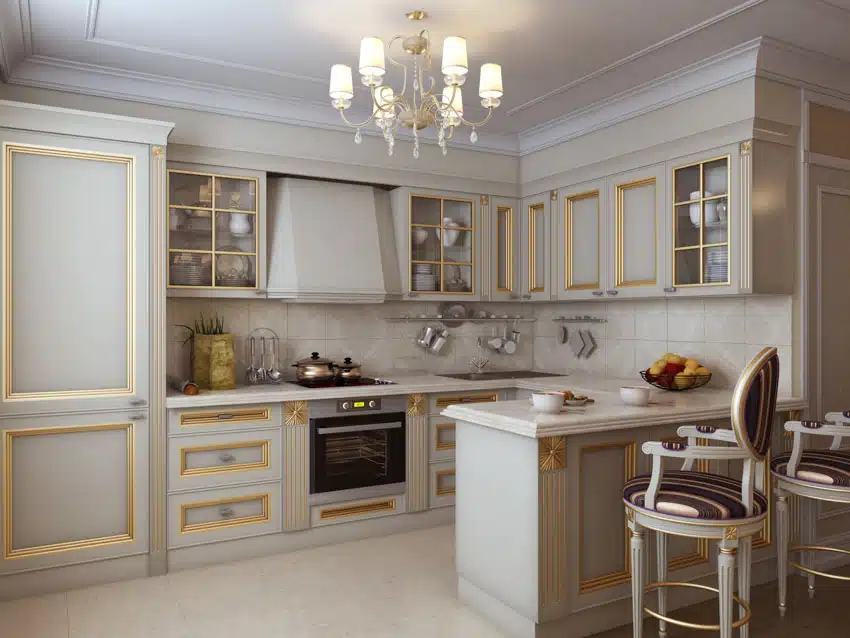 Here we share the different types of French country tile backsplashes.
Painted Backsplash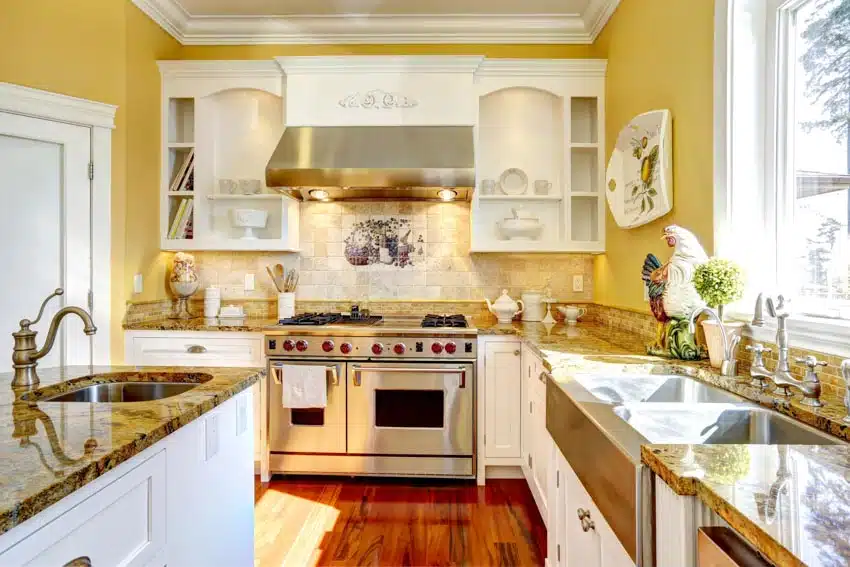 Most traditional French country-painted tiles are inspired by countryside scenes such as chalets, landscapes, farm animals, flower gardens, or daily activities. The artisan feel of painted tile types of kitchen backsplash successfully adds that charm of the countryside.
Adding this customized touch can be a perfect focal point in the kitchen. Frame the mural with arched molding to further put the image forward in a kitchen setting.
Patterned Tile Backsplash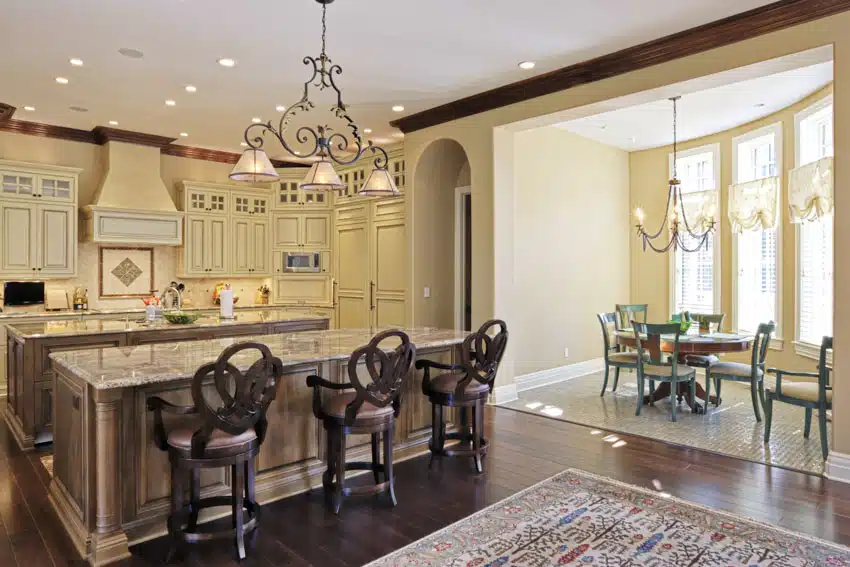 The French patterned tiles are the perfect backdrop to energize your French country kitchen. From simple black and white crosses to intricate lavender flower bouquets, the patterned tiles are a versatile option.
Aside from Fleur de Lis, checkered and cross patterns, lantern patterns in curved or diamond shapes are also a favorite tile pattern. The mosaic tile patterns rarely have straight or rigid lines and will showcase soft curves and feminine designs. Murals are another popular French country-inspired feature.
French Country Kitchen with Brick Backsplash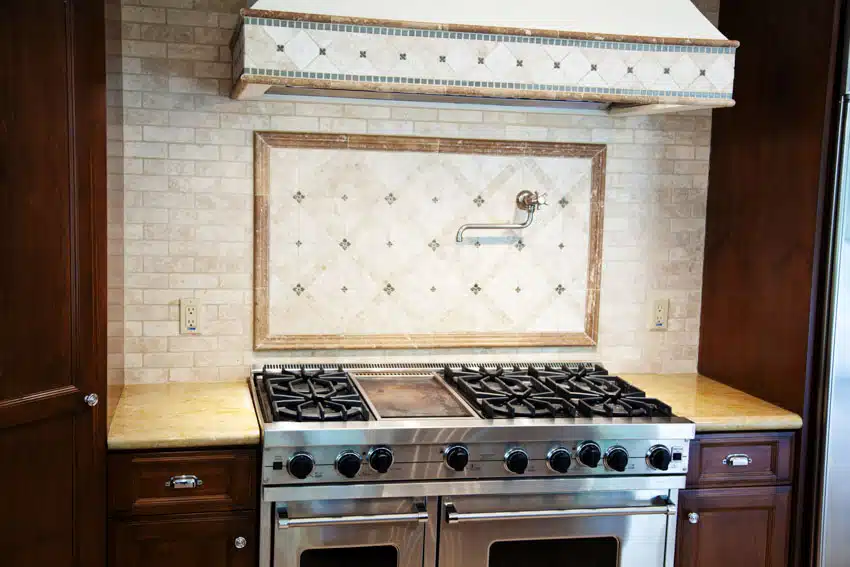 A humbling element to a fanciful interior, a brick backsplash is not only striking but a practical material, especially when placed behind a stove or cooking range, as it can withstand extreme temperatures.
The red brick with gray or white in a fading finish is a popular backsplash for the French country kitchen as well as the completely whitewashed version.
Modern French Country Backsplash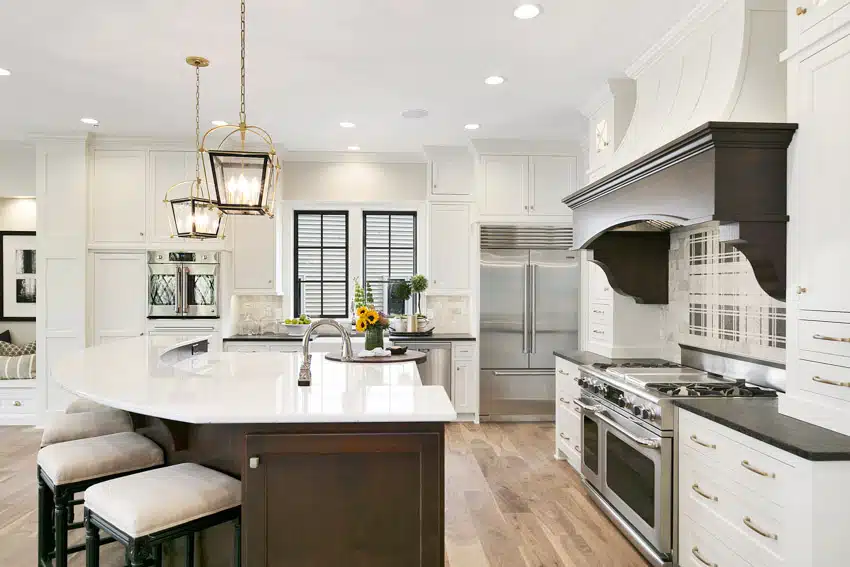 Today's French country-inspired kitchen also features a blend of the old and new, while a mix of wood, leather, glass, and cotton creates a layered interior design.
Neutral tones, mostly white, light gray, and peach, and the whitewashed look are popular elements for the modern French country backsplash.
Incorporating other patterns from modern styles are also popular such as adding subway tiles as surrounding tile around a framed mural or a purely white ceramic arabesque tile.
French Country Kitchen Colors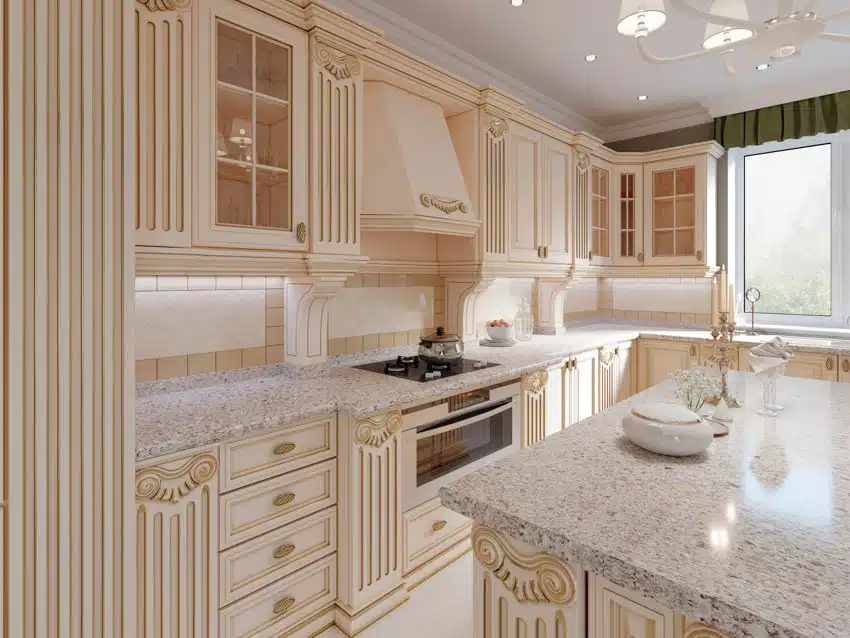 The French Country kitchen color palette starts with pale shades of off-white, yellows, and pink but can also incorporate eye-catching tones that are not saturated, such as gold, deep green, or red. Think Provencal herbs, southern skies, twisted vines, and small flowers as inspiration.
The lighter and neutral tones give the space that feminine touch and airy feel, while the bold colors emphasize details and focal points in a kitchen. French Country kitchen colors, when combined well, can create a seamlessly elegant yet welcoming space.
1. Neutral Hues: White, cream, taupe, and gray. These neutrals cover most of the interior elements, and we see white as a dominant color used in different wall or ceiling design types, as well as accents.
2. Natural Materials: Includes light wood, exposed stones, and mostly white or gray organic shades.
3. Accents and Contrasts: Stronger colors such as gold, copper, or pink are common warm colors. Cool tones can also be incorporated, such as green, lavender, blue or purple.
• Creamy Whites
• Cornflower Blue
• Cream
• Gray
• Linen
• Taupe
• Beige
• Chocolate
• Red Ocher
• Lavender
• French Blue
• Yellow Ocher
• Light Green
• Pale Pink
• Cameo
See more related content in our article about mosaic tile kitchen backsplash on this page.