Welcome to our gallery of metal kitchen backsplash ideas including popular designs & patterns.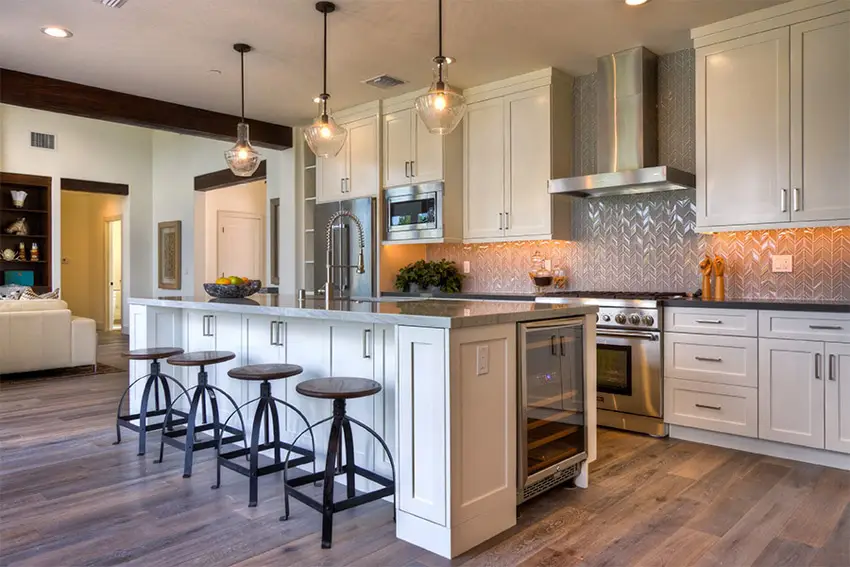 Metal kitchen backsplash is a modern design statement that can be used as a focal point due to its stylish luster and sheen. The metal's natural reflective quality makes the whole kitchen feel more spacious.
For homeowners dreaming of a perfect modern kitchen design scheme, incorporating a metal backsplash on their kitchen walls is a way to add interest and elegance all together.
Add a splash of modern styling to your kitchen design scheme with these metal kitchen backsplash ideas and love how it will pair perfectly to your space.
Kitchen With Metal Tile Backsplash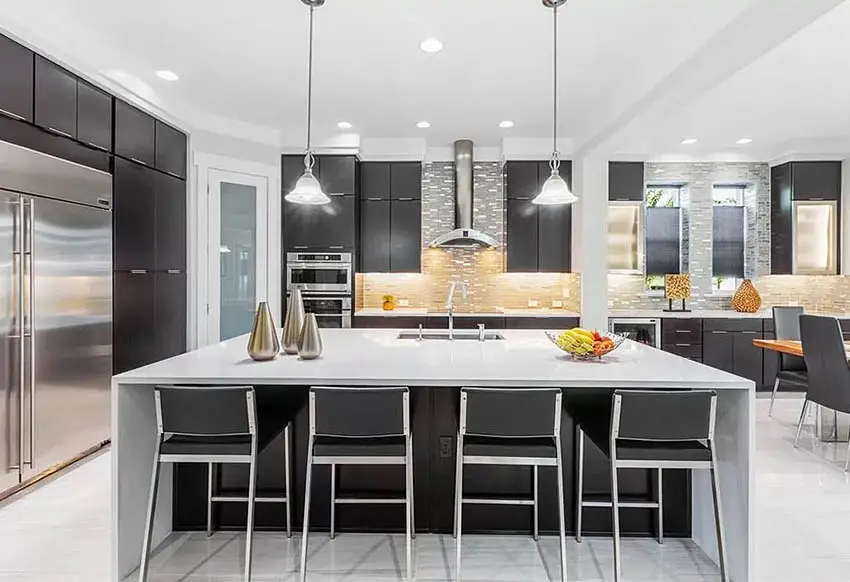 Metal tile backsplash performs beautifully with its bold, sleek and stylish features. This interlocking chic pattern constitutes a fresh look to this contemporary kitchen design style. Its neutral colors, clean lines and striking appearance are ideal for modern spaces.
Metallic Backsplash in Herringbone Pattern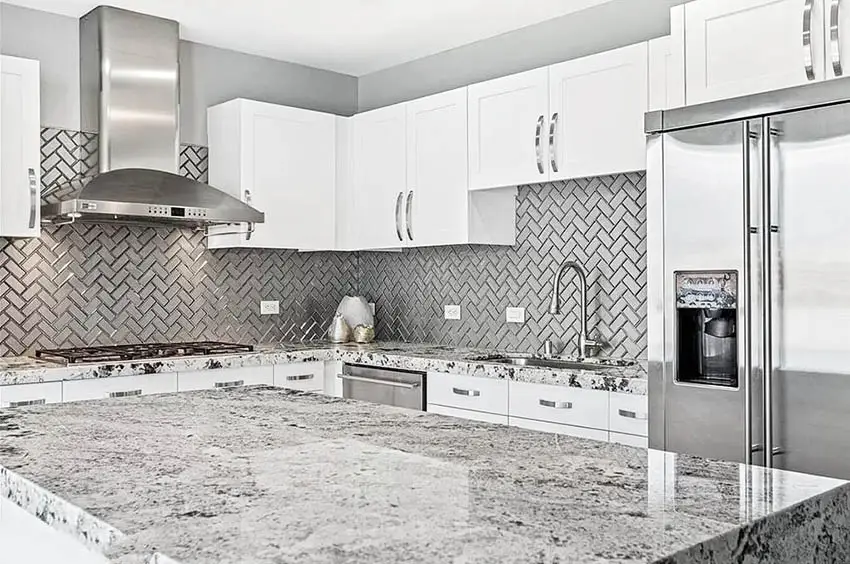 Herringbone metallic backsplash is a hot design today and used to create an elegant accent wall. This stylish open space kitchen layout features white raised panel cabinets with metallic backsplash in herringbone pattern which adds a touch of sophistication to the space.
Shiny Metal Tile Backsplash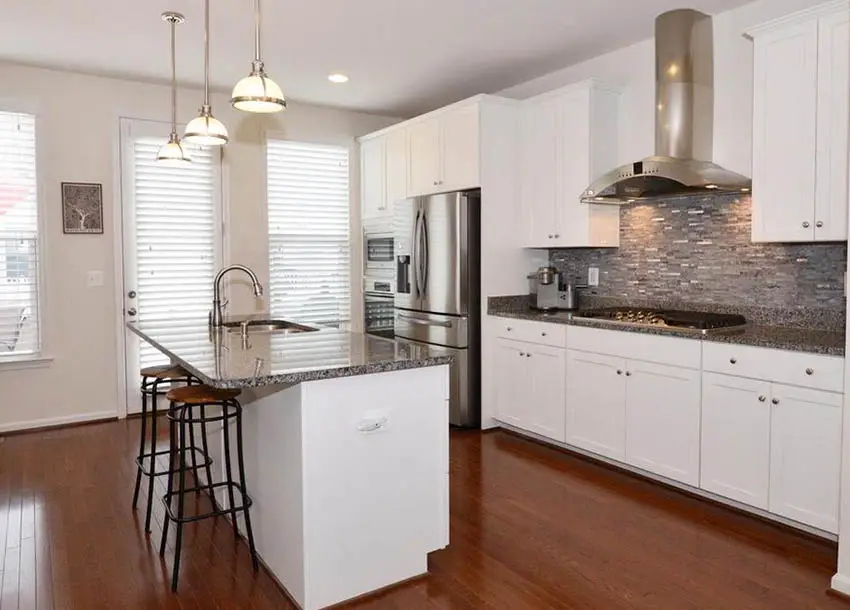 Its rich hue, subtle metallic shimmer and distinctive beveled edge offers light-reflecting qualities and coordinates well with any type of countertop and flooring.
Decorative Metal Backsplash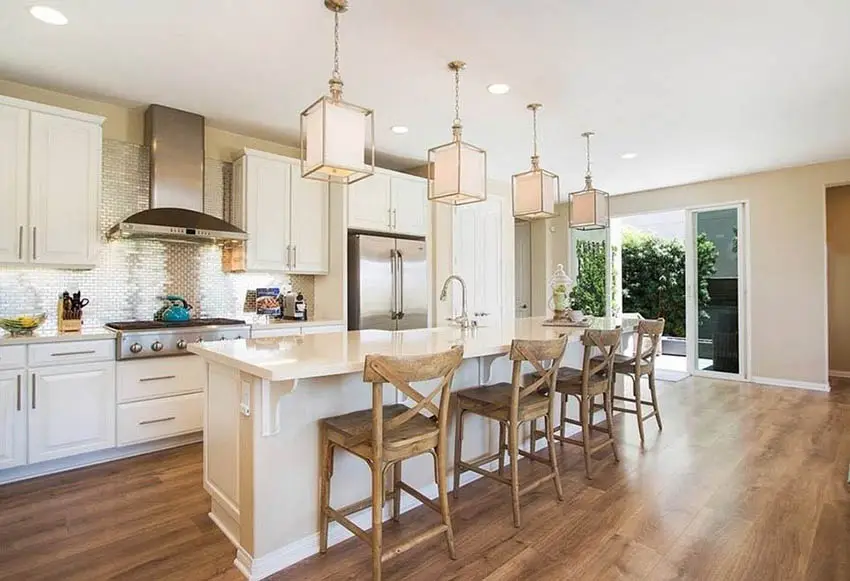 Decorative metal backsplash are unique metallic surfacing materials which are usually engraved and polished on aluminum sheets to create permanent beautiful, decorative metal finishes.
Its durable features is attained by applying a UV cured clear-coating that makes it scratch resistant and doesn't fades or discolor when applied with most cleaners and solvent.
One of the best choice for a kitchen backsplash since it is easy to install and maintain. Indeed, it will provide a lifetime protection for the kitchen wall especially behind the range or cook-top area.
Metal Mosaic Backsplash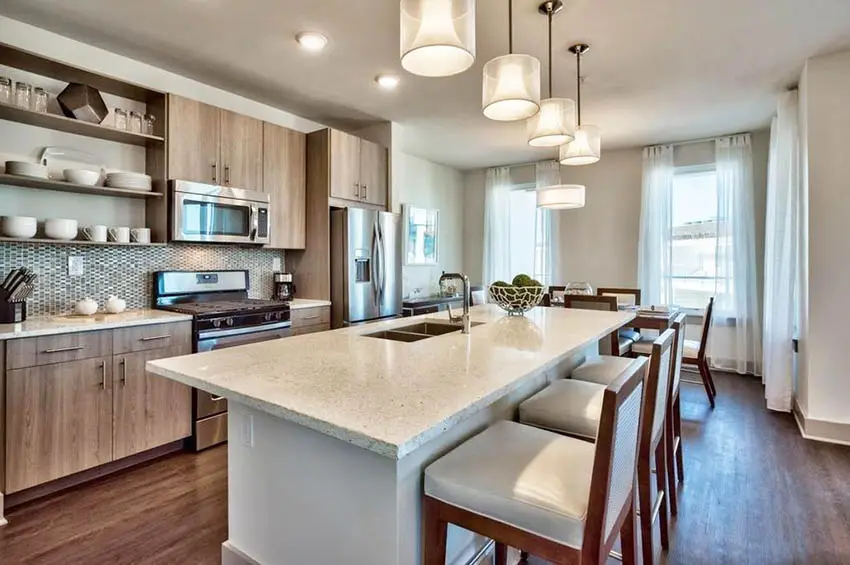 Metal mosaic backsplash is among the most popular materials in the market today and the best choice for the stylish homeowners and designers. These metal mosaic is a versatile and durable material and can easily be tinted with all sorts of hues.
It offers a unique texture and its lining allows designers to meld intersecting lines in order to create supremely beautiful and distinctive patterns.
The mosaic tile does not require the use of grout since it is mounted on a mesh making it easier to install even in a DIY project.
Metal Subway Tile Backsplash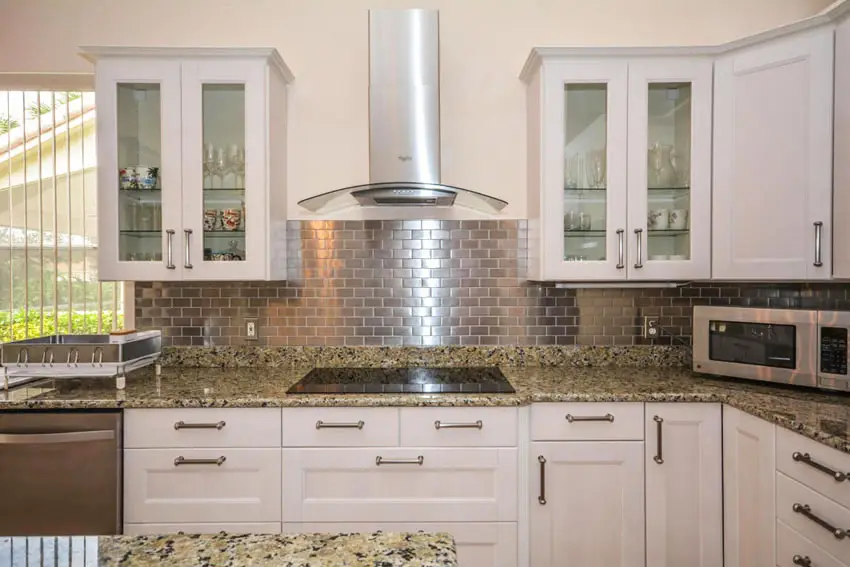 Bringing a timeless beauty to any traditional, industrial and contemporary kitchen setting, a metal subway tile backsplash is perfect for this residential kitchen.
This type of backsplash creates a pleasing visual interest and it reflects other colors and textures around it. Below the mini metal stainless steel subway tile is a 4 inch backsplash that continues up from the granite countertops.
Kitchen With Metal Backsplash Panels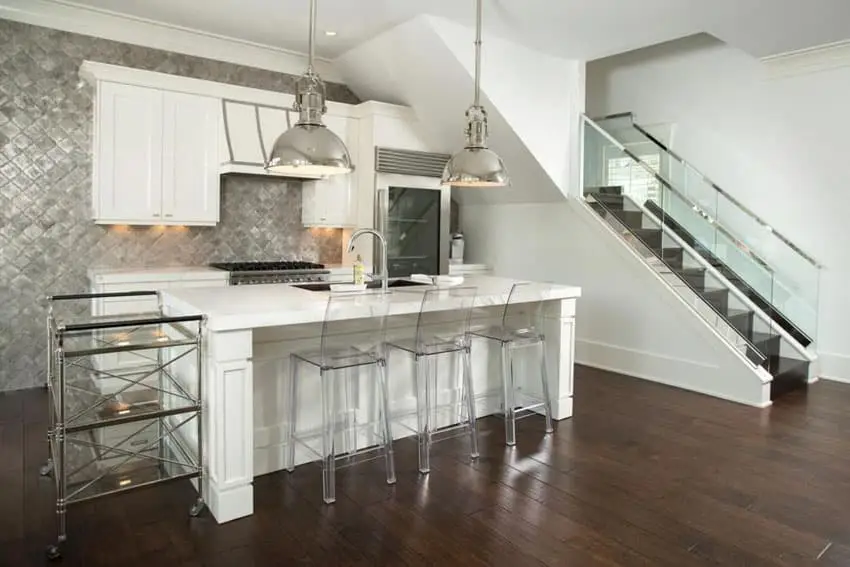 Metal backsplash panels in kitchens are a creative way to add textural interest, accent, brightness and depth into a design especially if the cabinetry, walls and countertop is dominated by a monochromatic color scheme.
This modern kitchen offers an industrial vibe with a metallic kitchen backsplash which can be both stylish and functional.
Unlike wood and ceramic tile, metallic backsplash is non-porous and it is unlikely that dirt and molds are to accumulate. Metallic kitchen backsplash are also eco-friendly since they are often fabricated from recycled metal.
Metallic Kitchen Backsplash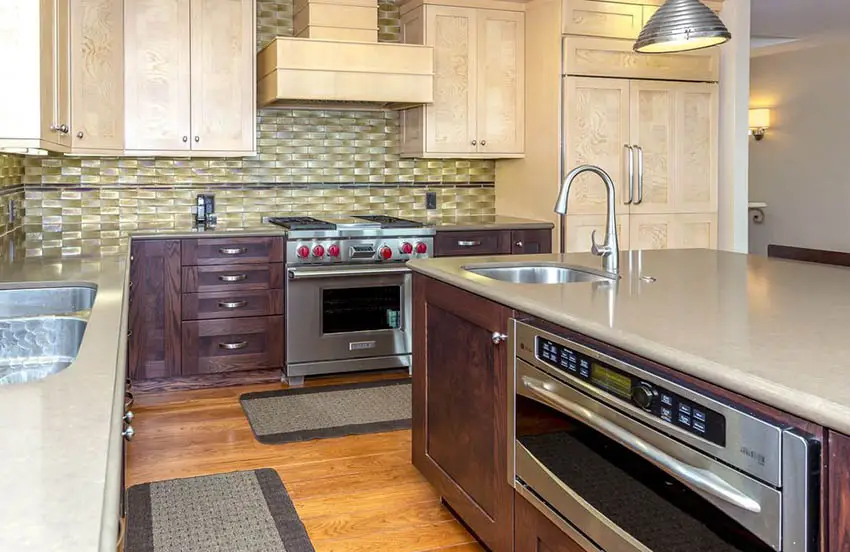 This metallic backsplash features a brushed finish in a brick pattern which compliments well with the two-tone cabinetry and contemporary kitchen design style. It also adds sophistication and compliments both larger and smaller areas of this kitchen due to the size of the pattern.
Copper Subway Tile Backsplash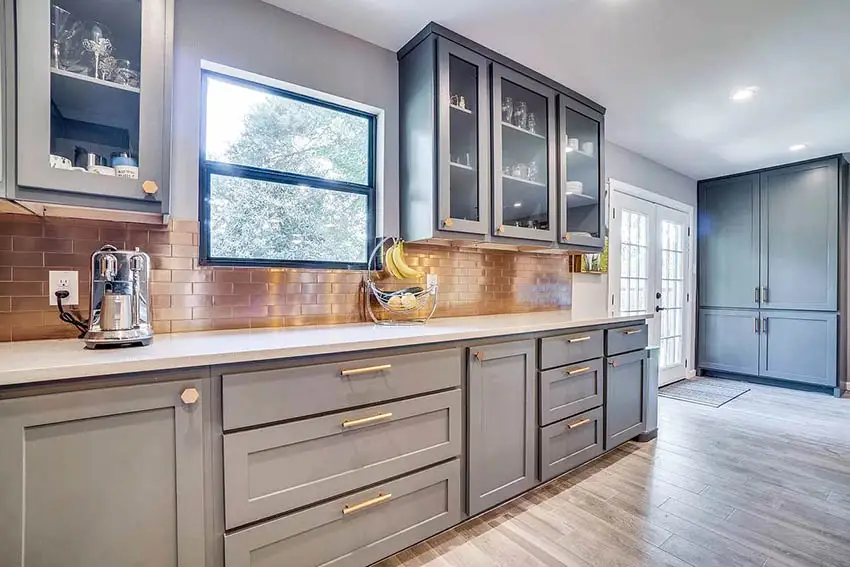 Copper is becoming a popular material choice for kitchen backsplash due to its unique high-end look. This copper subway tile backsplash is a hip geometric design which is a perfect complement for a contemporary kitchen.
It combines strength and beauty while the textured backsplash reflects light and adds glamour to the space.
Copper backsplash can age and evolve with rustic appeal after some time due to exposure to air and moisture. It can even develop natural waves and patterns within the metal as well as deepening in color over time.
Brushed Metal Subway Tile Backsplash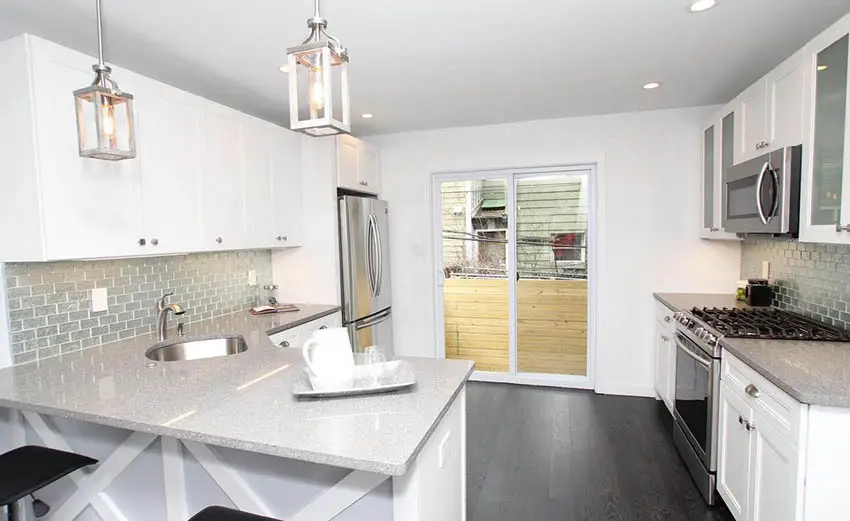 The arrangement of these brushed metal subway tile backsplash infuses luminous dimension and subtle shine which is ideal for any kitchen design since it adds an accent feature and a perfect choice for the space.
It can feature a very distinct uniqueness for an outstanding focal element and perfect for a kitchen backsplash. See more types of subway tile backsplash here.
Modern Kitchen with Metal Look Backsplash Tiles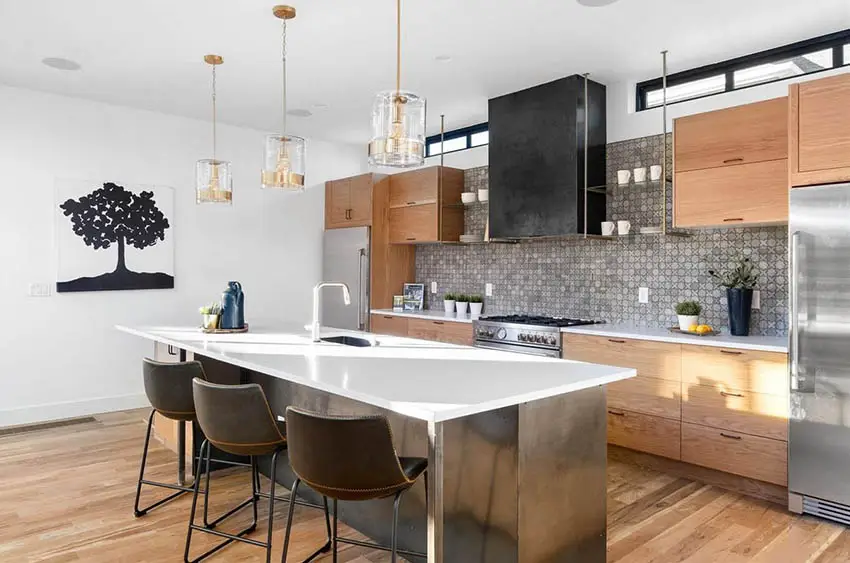 A shiny metal look backsplash tiles for a modern kitchen calls more attention to this kitchen space and offers a great looking centerpiece.
The textured look finish helps hides scratches and dents from heavy duty use of this state-of-the art kitchen.
Rectangular Sheet Metal Backsplash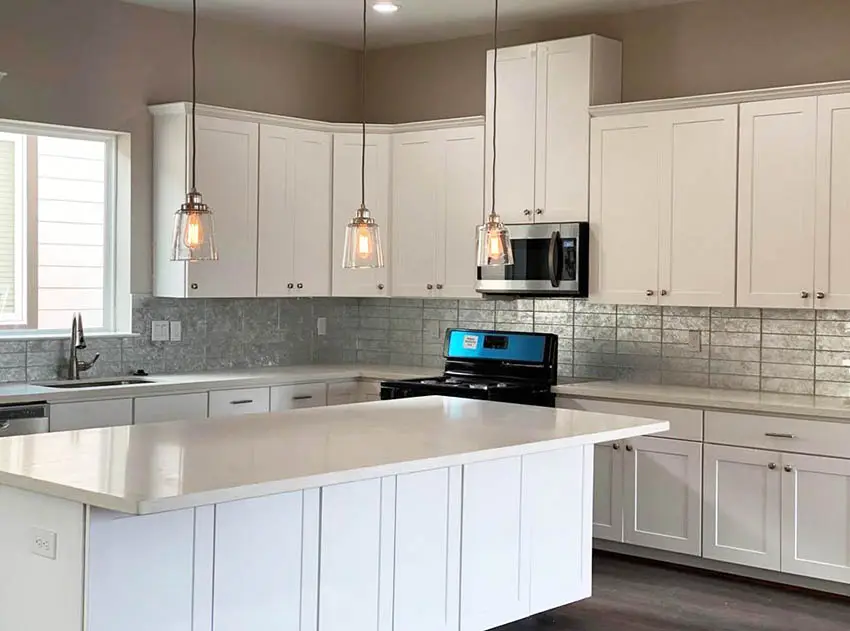 Rectangular sheet metal backsplash is a cool, contemporary way to feature a touch of modern appeal to a kitchen.
These metal sheet backsplash are a perfect choice to add flair as well functionality to your overall kitchen design.
Vertical Metal Backsplash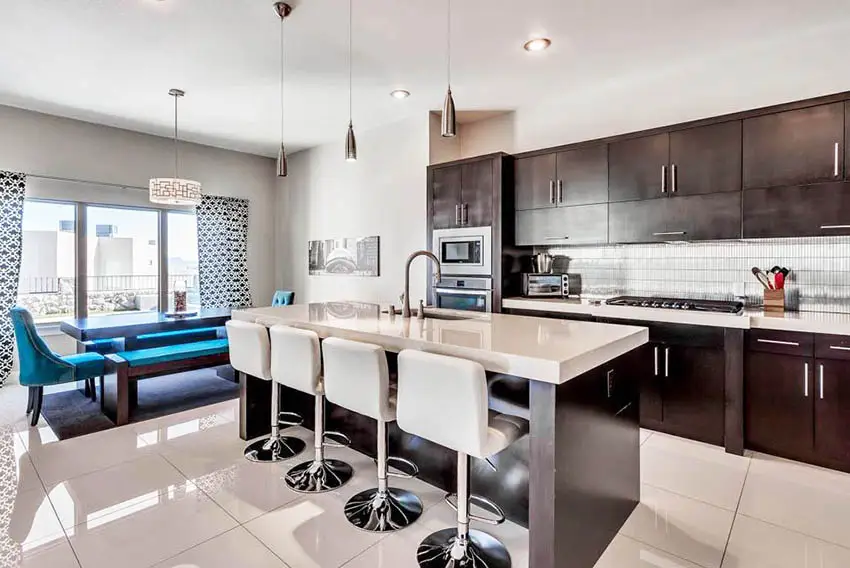 Combining different tile shapes or installing metal backsplash in a traditional stacked style such as a vertical metal backsplash gives a high impact modern look for that eye-catching appeal for any kitchen design scheme.
Horizontal Stainless Steel Backsplash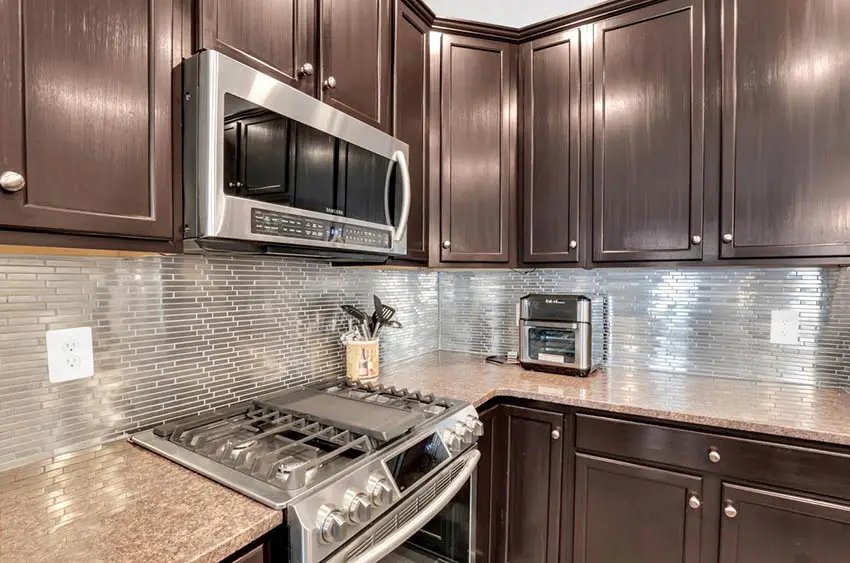 For a homeowner who desires uniformity with lines in their kitchen and dining area, these horizontal stainless backsplash carries the appearance of a straight line from the cabinetry and furniture all the way to the kitchen.
Using horizontal stainless steel backsplash forms consistency and adds a focal point to the kitchen area.
Peel and Stick Brushed Metal Backsplash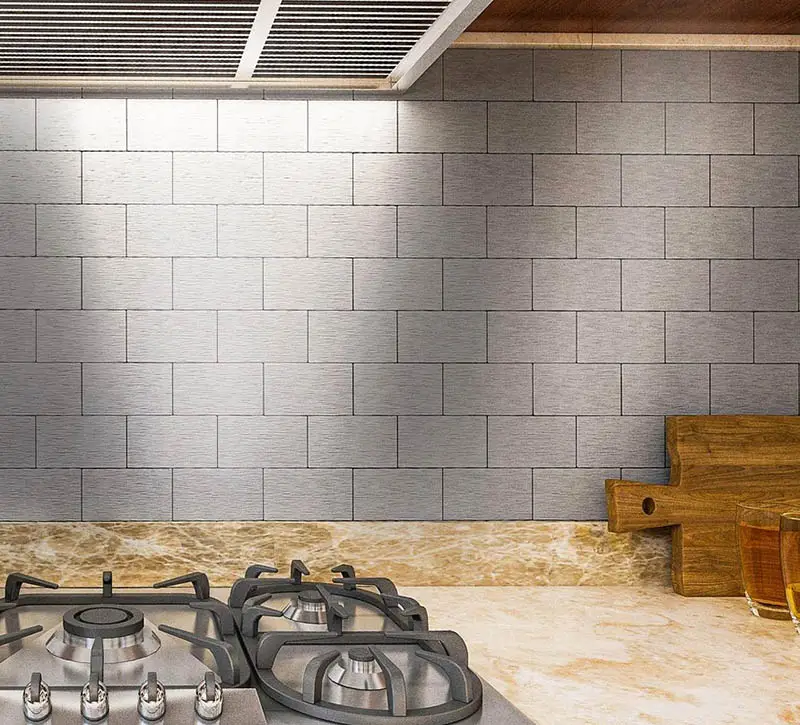 Peel and stick brushed metal backsplash is one of the innovative materials to use in the kitchen since they are lightweight, usually made with aluminum and extremely simple to install.
Each sheet has brushed aluminum matted surface making it the best choice if you want to modernize your kitchen instantly at a good price that will surely fit the budget.
See our gallery of peel and stick backsplash here.
Raised Cobblestone Aluminum Backsplash
This cobblestone aluminum mosaic tiles is light weight and less dense than stainless steel which makes it easier to cut. Its circular brushed aluminum finish gives an added texture to the design and creates an accent on your kitchen wall.
Its 3D raised pattern provides excellent support and durability. Installation is easy since there are no gaps between the mosaic pieces therefore you don't need a grout or sealant to finish the installation.
Peel and Stick Stainless Steel Backsplash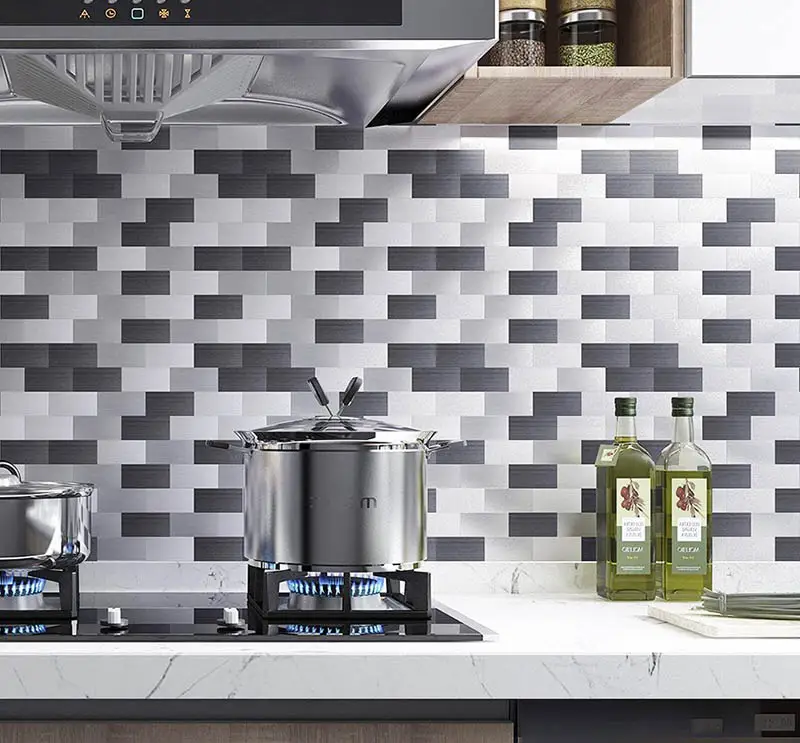 Peel and stick stainless steel backsplash combines stainless steel tiles and the latest peel stick technology for an easy installation.
One advantage of using this self-adhesive stainless steel backsplash is the ability to install it on the wall without using cement or setting material which in turn can save a lot of time in the installation process.
U Shaped Kitchen With Stainless Steel Subway Tile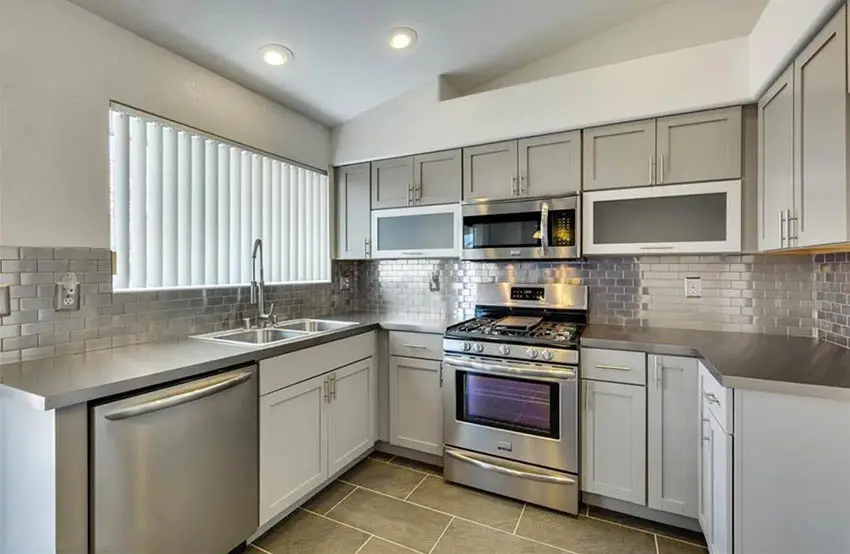 The stainless steel subway tile establishes a slight twist on traditional ceramic subway tile and gives this U-shaped kitchen an industrial edge.
This shiny silver subway tile makes a neutral monochrome kitchen standout and sparkle.
Kitchen With White Stainless Steel Backsplash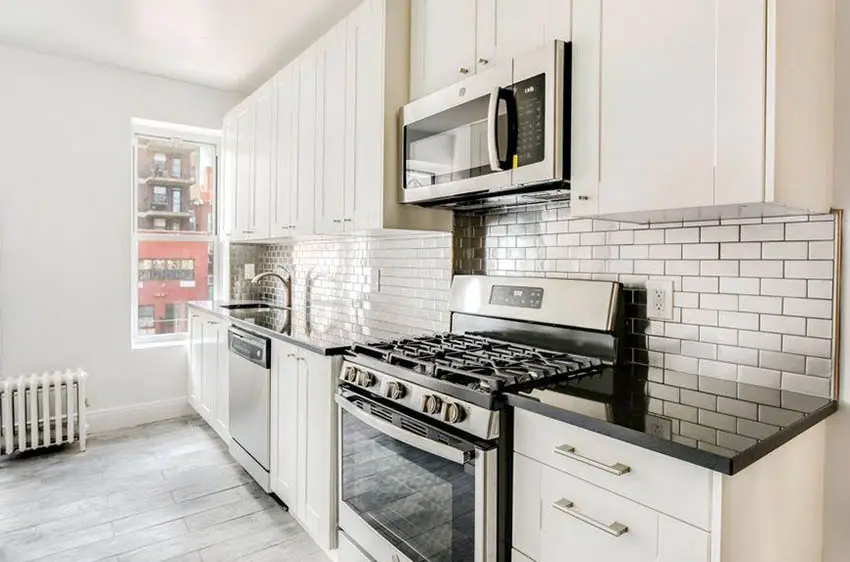 There are variety of metal backsplashes to choose from and stainless steel is a popular choice because of its dazzling reflectivity.
Having a reflective stainless steel backsplash works well when incorporated with a white color scheme design and provides low-maintenance in keeping the kitchen area clean.
Stainless steel is very stylish and has the elements of durability and high-quality material.
Kitchen With Sheet Metal Backsplash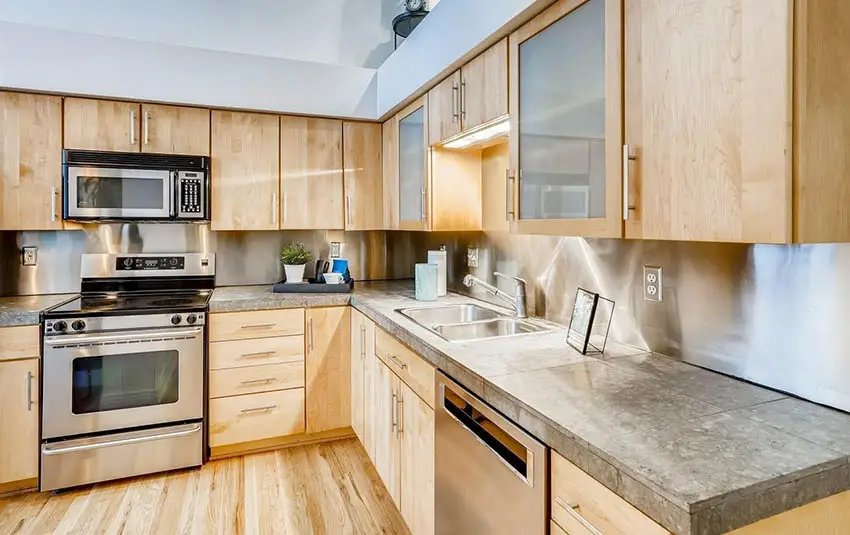 Metal sheet backsplash is more affordable compared to other backsplash materials such as stone. Since it is made of light material, sheet metal backsplash are manageable to install, easy to clean and very durable. Its clear surface helps to spot dirt easily and doesn't absorbs stains.
Solid Sheet Stainless Steel Backsplash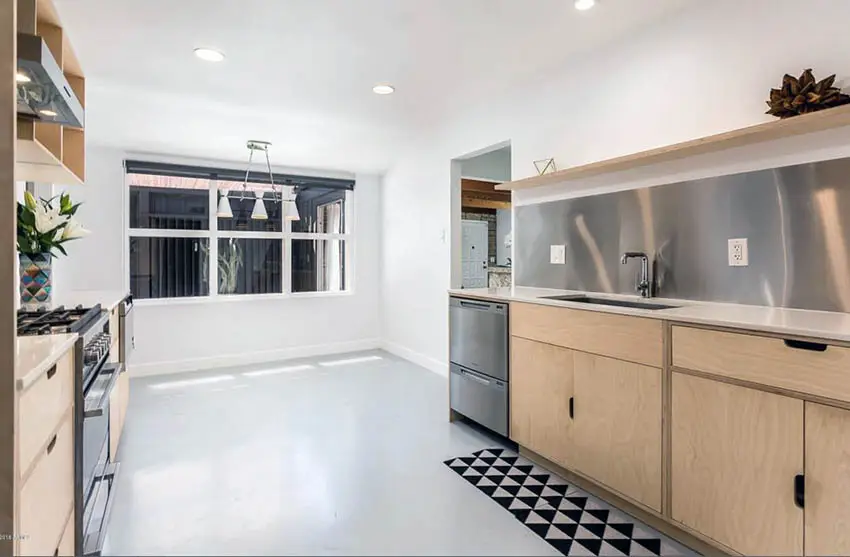 Stainless steel backsplash absorbs and reflects light elegantly. A solid sheet stainless steel backsplash can have the illusion to make the kitchen area appear larger and gives the entire kitchen a luxurious, high-end ambiance.
Kitchen With Square Stainless Steel Backsplash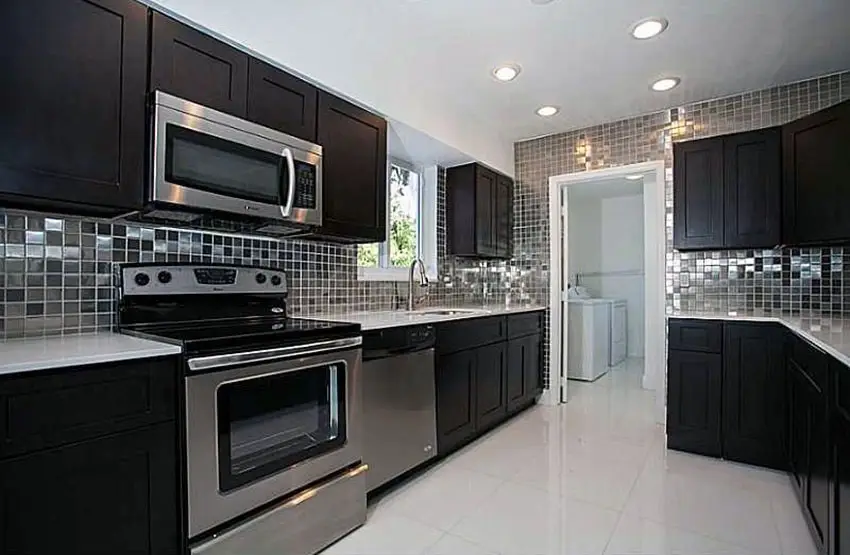 This square stainless steel backsplash provides a subway tile look while creating a checkerboard finish making this kitchen chic and glam.
Stainless steel creates a highly polished and refined reflective quality which makes the space instantly larger.
Modern Kitchen With Metallic Backsplash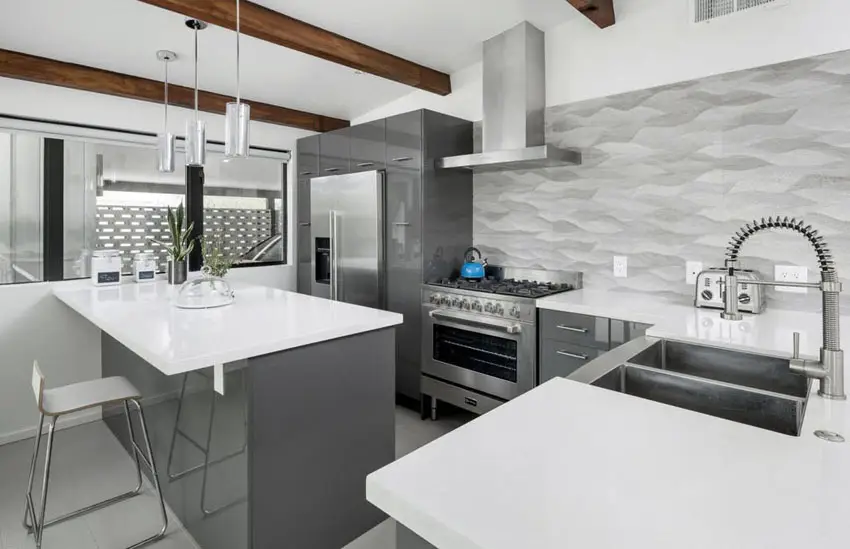 Nothing affirms modernity than that of the glitter and gleam of a metal backsplash, it is the perfect element that adds a splash of modern design style. Its sleek and clean lines of structured pattern is simple yet eye-catching.
The grey wavy textured tile shown above offers visual interest and the large mirror wall panel helps create the feel of a larger space.
Mirror Metal Backsplash Tiles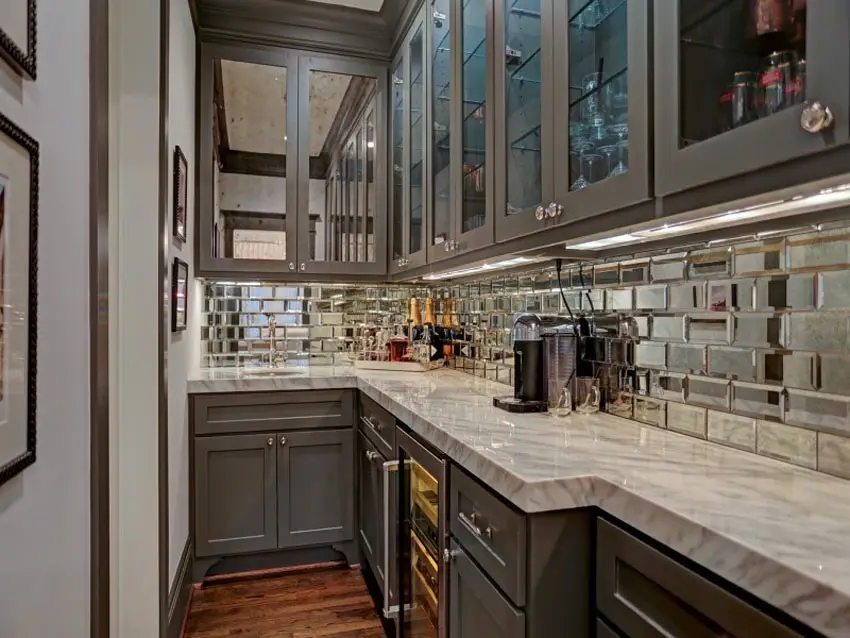 Mirror metal backsplash tiles are designed based on glass tiles. Mirror and metal work together as it combines a variety of textures and color to create a new dimension of bright stylish glass mirror with the look and feel of soft toned metal giving your backsplash tiles a fascinating and stunning surface.
The combination of these two materials gives a reflective finish, creating an illusion for a small kitchen space to appear and feels larger. The interesting stepped design of the cabinet storage allows the dishwasher to be sunken back to allow access through the narrow passage.
Cast Metal Kitchen Backsplash
Cast metal creates a unique kitchen wall accents and kitchen backsplash. These cast metal kitchen backsplash are usually cast in aluminum and come in an array of different metal finishes such as copper and oil rubbed bronze.
These design detail is usually placed above the cooktop or sink can be the centerpiece of your kitchen and adds an artistic element and character to the space.
Corrugated Metal Backsplash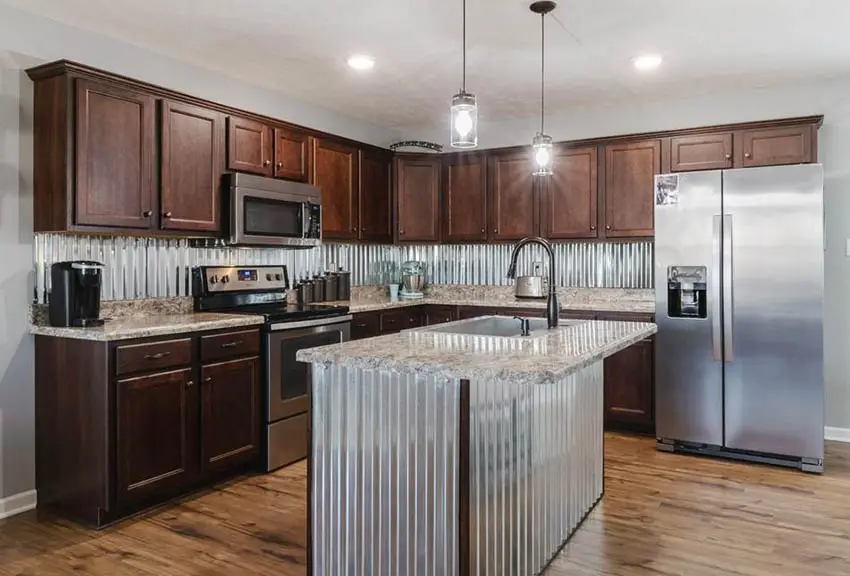 Corrugated metal a glitzy yet inexpensive way to create a distinctive kitchen backsplash.
This type of backsplash is easily installed with the use of adhesive which is usually strong enough to attach the corrugated metal backsplash to the wall and secured by decorative nails.
The only problems sometimes lies in creating the cutouts for the receptacles and light switches.
Corrugated Brass Backsplash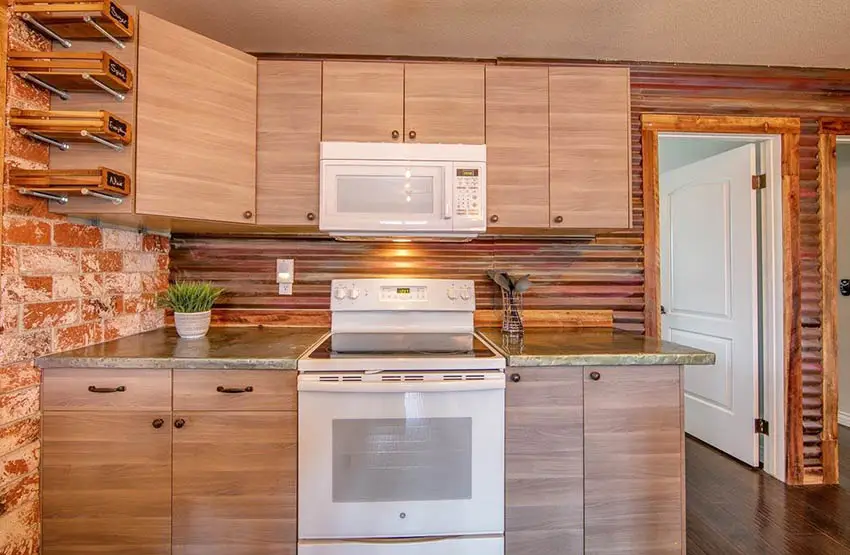 Be creative and convert waste materials into new products such as a corrugated brass backsplash which can now be a focal point in your kitchen creating an industrial chic look.
Its metallic sheen creates high shine and a dimensional character. This cool toned corrugated brass has tonal shading which adds depth and uniqueness to the design style.
Copper Mosaic Kitchen Backsplash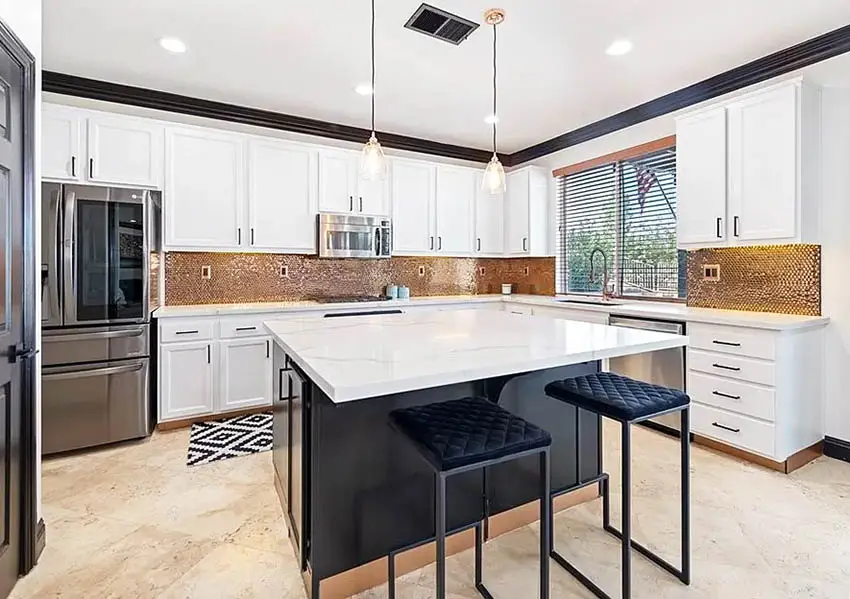 A copper mosaic backsplash can make a big impression when paired with white cabinetry. This kitchen designs features white Calacatta quartz countertops and a black island contrasted by white cabinets with black hardware.
Glass and Copper Backsplash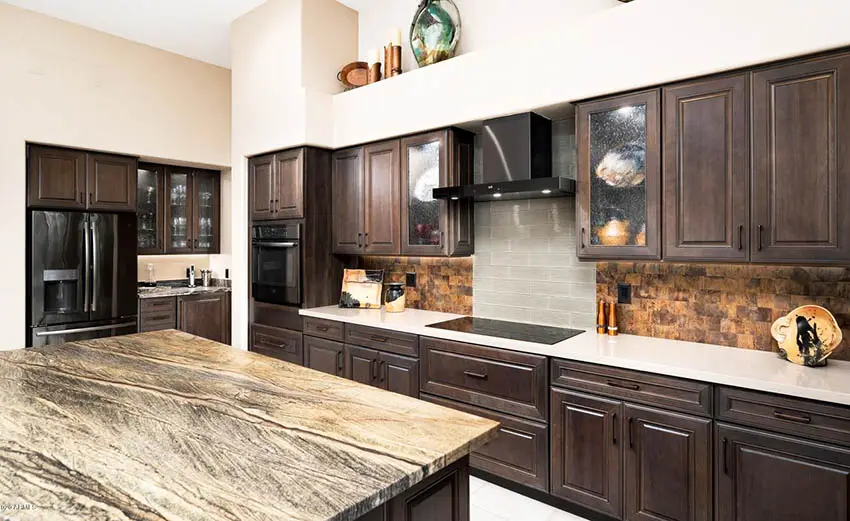 An exceptional mix of glass and copper backsplash makes kitchen look more refined, luxurious and has a chic touch to perfectly fit any design theme such as modern, industrial, and rustic with a glam. The metallic shade of copper combined with glass when lighted up will reflect elegantly and create a luxurious contrasting look.
Rustic yet refined – this kitchen backsplash has in itself a dramatic and unique combination of textures, colors and materials creating a genuinely distinctive and stunning kitchen.
The metallic subway tiles by the cooker is a perfect choice since it provide both a clean and traditional look which compliments very well with the dark cabinets and white countertop.
Hammered Copper Backsplash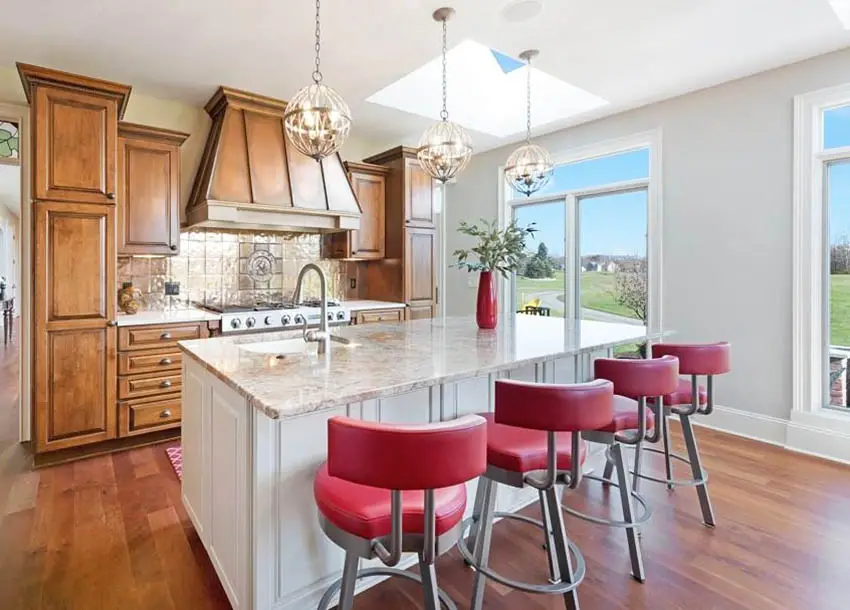 A hammered copper backsplash can bring a touch of a rustic design in to your kitchen space. Using hand-crafted copper panels that offer reflectivity and can help brighten the backdrop when paired with wood cabinets.
The eat-in kitchen island with oversized bar stools is great for a family with a lot of kids or for entertaining.
Metallic Copper Sheet Backsplash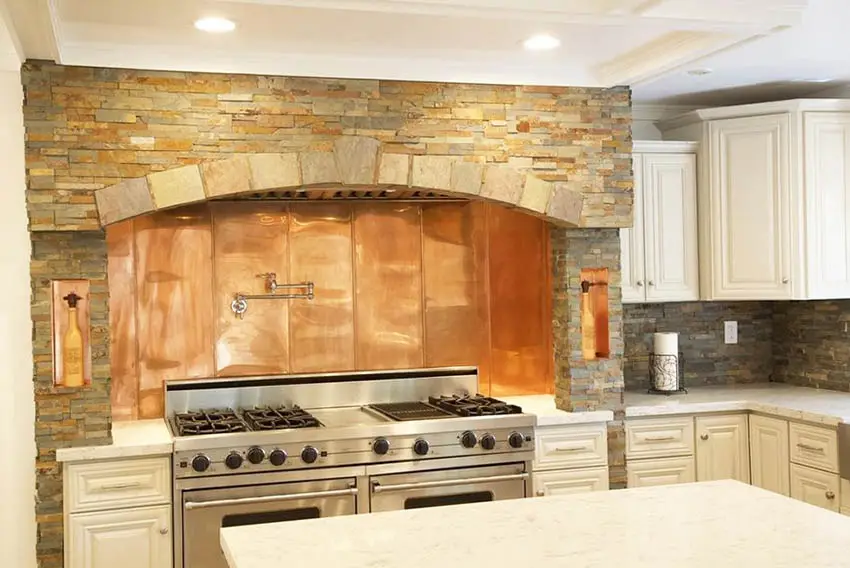 Metallic copper sheet backsplash is the simplest form of copper backsplash but very elegant. Though durable, copper is a soft metal and can easily be worked on into different patterns and designs to create magnificent visual interest.
Rustic Copper Sheet Backsplash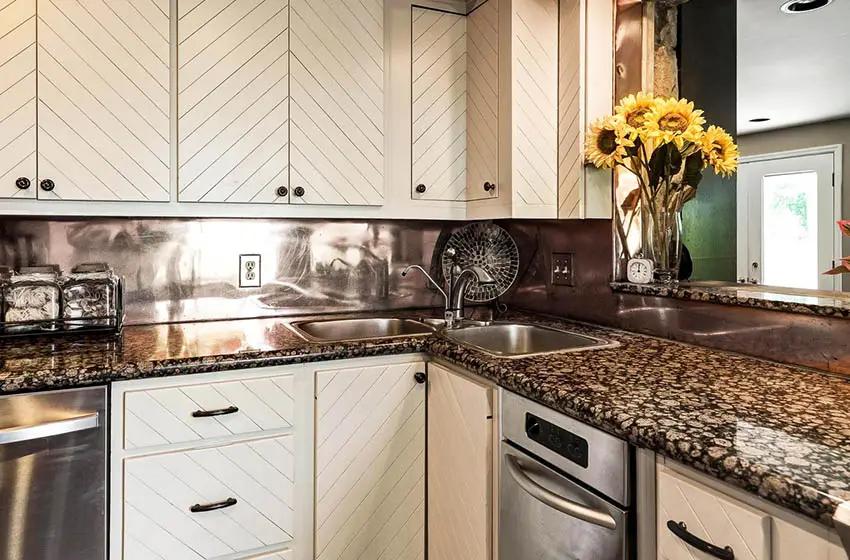 The warm appeal of copper is becoming a hot trend in home kitchen designs. Homeowners and designers are embracing the impressive allure of copper and incorporating it to the design schemes in order to revitalize a kitchen space.
Rustic copper sheet backsplash is a sleek, stylish and authentic rustic charm to take on a classic kitchen design style. It resembles a seasoned appearance which adds warmth to the space.
The brushed finish of this metallic sheet backsplash is a good choice to match that of the appliances in this kitchen since they have very similar polished surface.
This sleek silver metal backsplash in highly polished brushed finish is also easier to keep clean and compliment well with the bold color and shine of the stone countertop.
Stainless Steel backsplash Behind Stove Top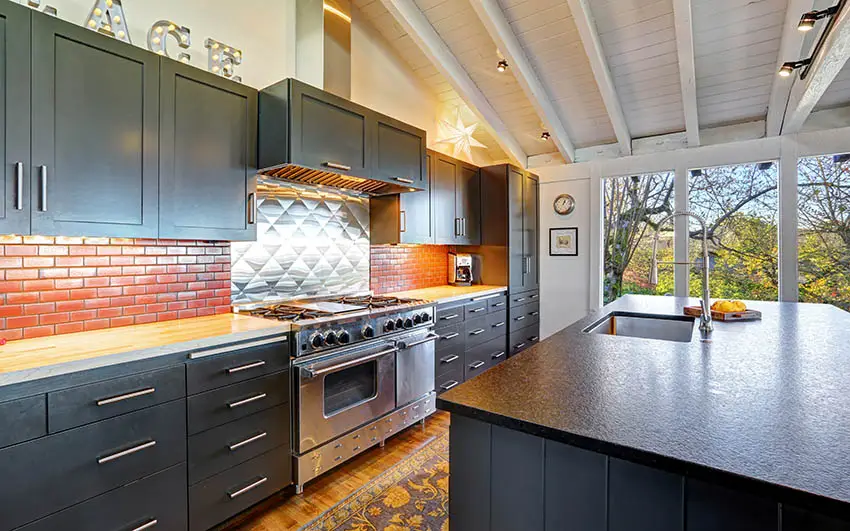 By installing a stainless steel backsplash behind a stove not only creates a modern look but it is hygienic enough to prevent bacteria from spreading. The quilted finish backsplash offers a more retro look to accentuate the cooking zone.
Kitchen With Tin Backsplash and Ceiling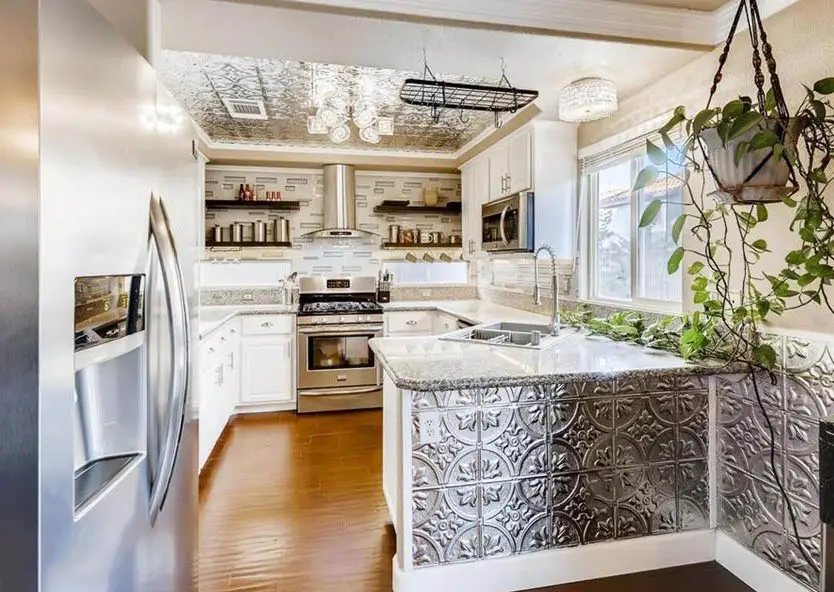 There are several areas in your kitchen where you can actually install a tin tile backsplash – for a vintage inspired kitchen design, tin tiles can be installed in the ceiling to give an ornate appearance using intricate and elegant patterns.
Additionally, there are variety of decorative tin backsplash to choose from – intricate flowing patterns, flat and simple geometric shapes are just some decorative features of a tin backsplash. See more tile pattern ideas here.
Kitchen With Tin Backsplash Behind Sink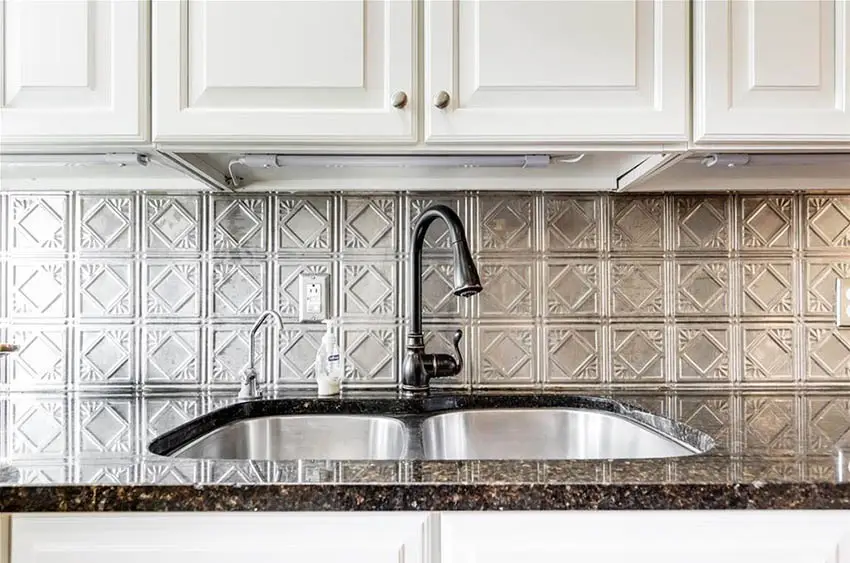 Homeowners may also choose to install tin backsplash behind the sink area covering just enough wall surface to create a wet-free space and prevent possible damage from water that is splashed around the sink.
Tin backsplash have a high-sheen similar to steel-like appearance; but more of a matte finish which makes it less reflective in its qualities. It features high durability as well as extreme low maintenance.
White Kitchen With Tin Backsplash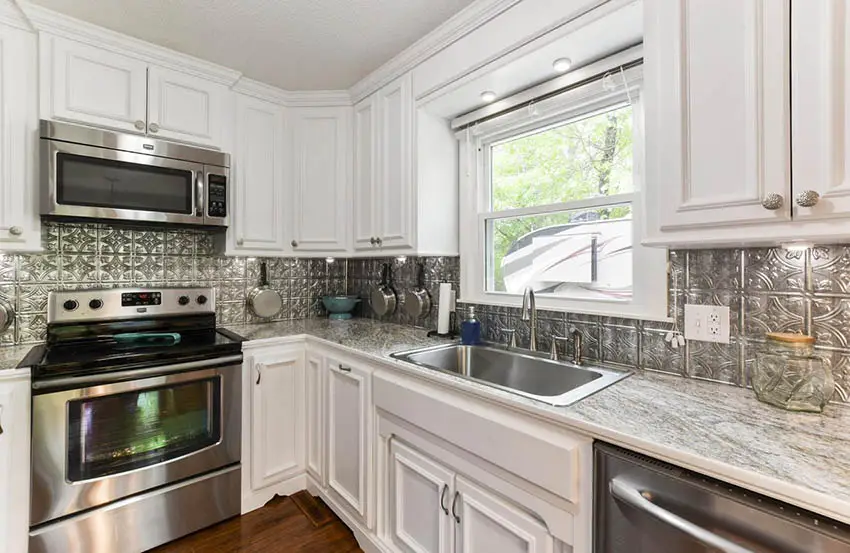 Tin backsplash is a great metallic element to incorporate in any kitchen improvements. Kitchen with tin backsplash have a unique visual appeal and perfect for a white and contemporary design theme.
Due to its pliable element, stamping tin with a personalized or decorative pattern is simple yet it can have an exceptional transformation for your kitchen.
Decorative Tin Backsplash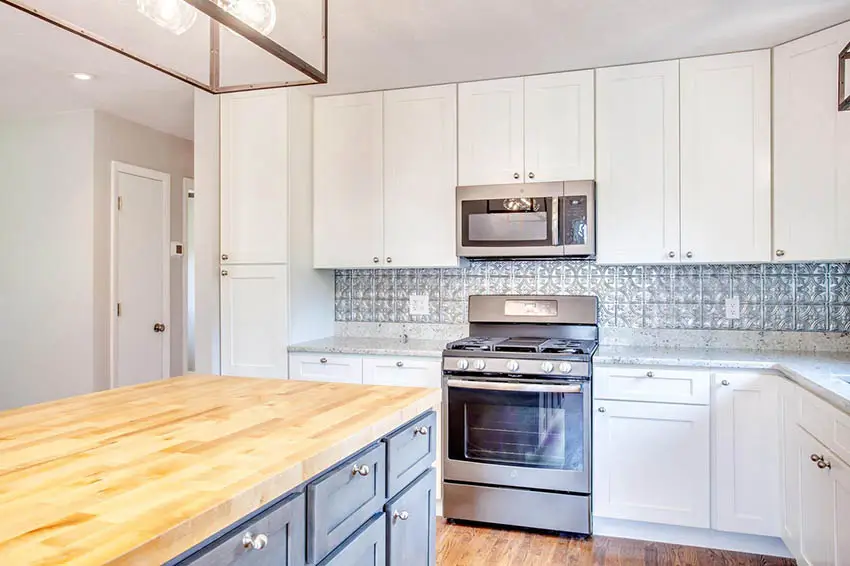 Decorative tin backsplash is becoming a very popular trend nowadays, specifically the pressed tin backsplashes which can really transform an entire kitchen to a distinctive chic look.
This design features Shaker cabinet storage with a contrasting gray island with butcher block countertops and a tin panel backsplash.
Modern Metal and Glass Backsplash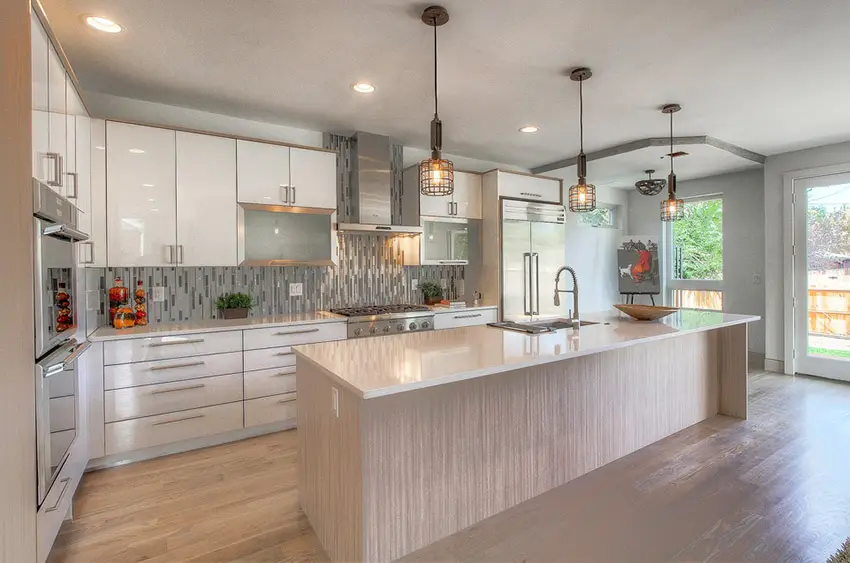 The merging of metal and glass for a backsplash is an impressive design idea which creates a very unique, elegant and modern aesthetics.
These modern metal and glass backsplash options are very versatile due to their several different shapes, sizes and color. You can position the tile horizontally or vertically with different results.
A vertical design can help elongate the space to appear higher. Running the tiles to the ceiling also has the interesting effect of drawing the eyes upward to add the illusion of height .
This combination of materials is an exceptional design concept inspired to provide a new look and trendy style at traditional mosaic tile design or to a decorative tile backsplash.
Small Stainless Steel Kitchen Backsplash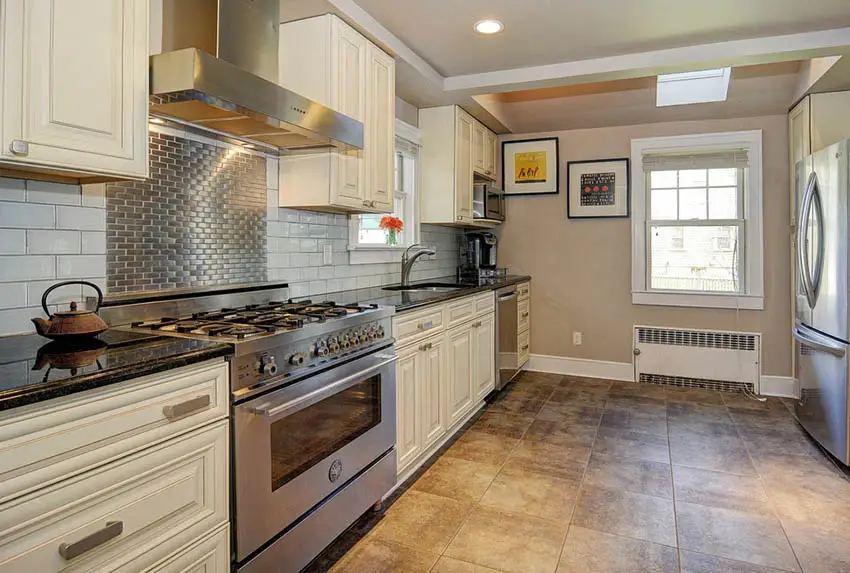 Stainless steel is widely used as the base of a lot of different kitchen appliances because it provides protection for the wall against water, heat and splashes of oil when cooking.
It also works well as a backsplash material sink or above the stove top. Stainless steel makes one of the best choices for a backsplash.
Small Modern Kitchen with Gold Metal Hexagon Backsplash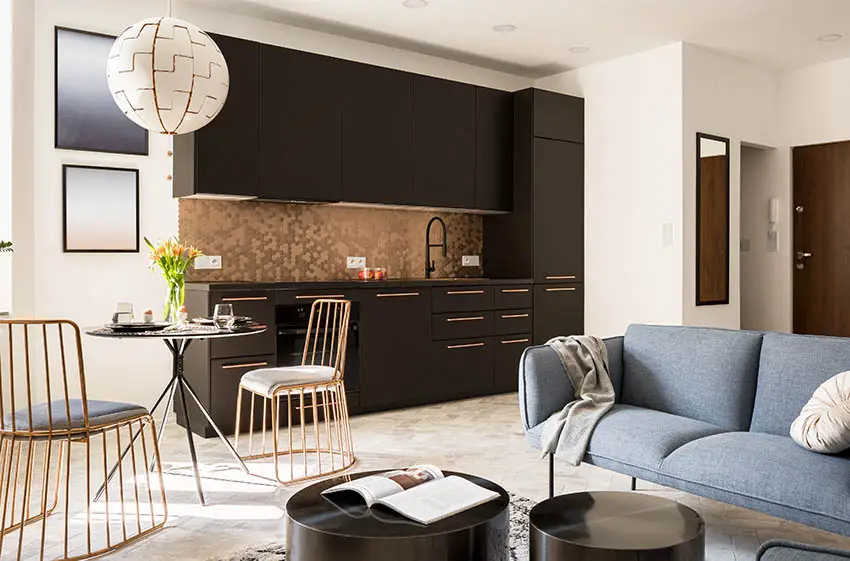 Keeping things simple and subtle are the main elements of modern design, by incorporating a tile pattern in a kitchen backsplash one can draw attention and brings drama to your kitchen.
The uniqueness of a patterned stainless steel kitchen backsplash creates a sleek-modern look and fresh atmosphere when combined with natural stone countertop.
For more kitchen backsplash designs visit our gallery page.