Here's our guide to the differences between a closet vs. wardrobe including which is the best storage solution for your bedroom.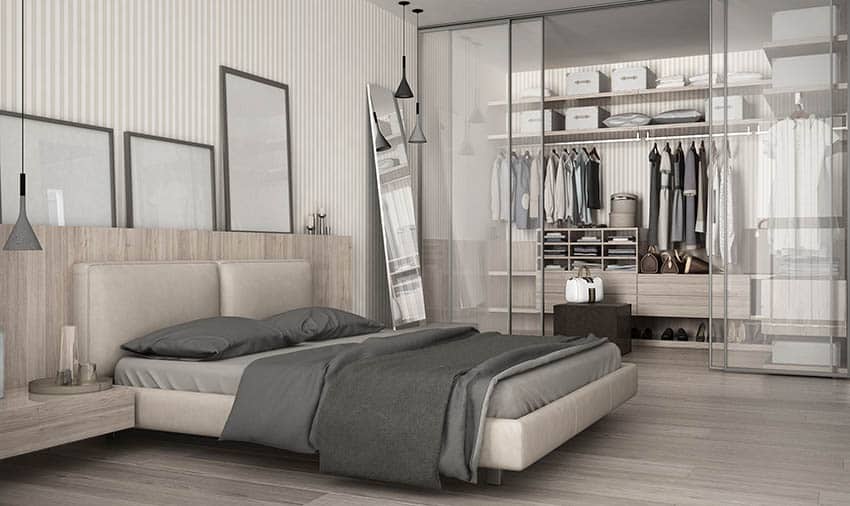 When designing your dream bedroom, aside from your perfect bed and your ideal lighting, you need to make an important decision when it comes to storage space. Namely, you need to decide between having a closet or having a wardrobe.
There are advantages and disadvantages to these two common types of bedroom storage features and we are going to be discussing some of them in this post to help decide you decide on where to come down on the agreement between closet vs. wardrobe.
What is the Difference Between a Closet and a Wardrobe?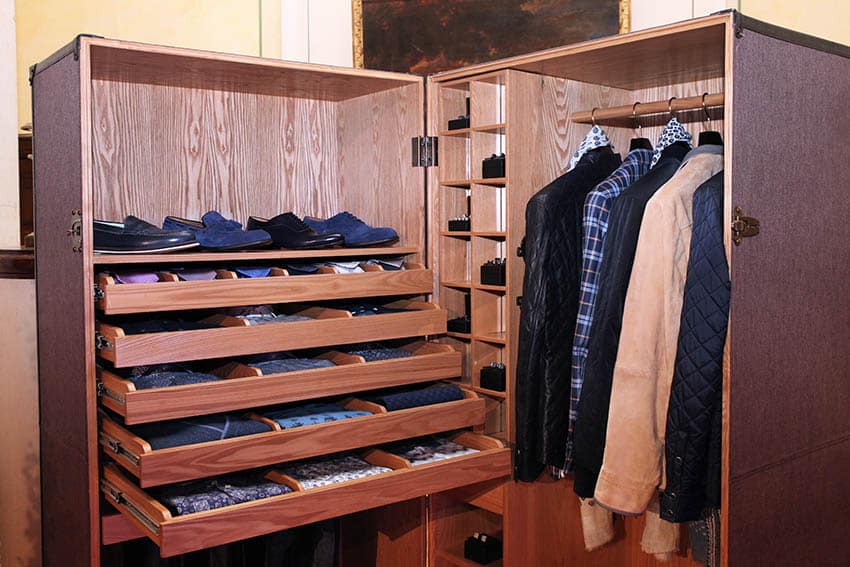 A closet and a wardrobe are both basically storage features that are commonly found in a bedroom and used to store clothing.
Basically, the point of having a closet or a wardrobe in a room is so that you will have a place where you can store things that you want out of the way, but near at hand.
Instead of cluttering the room, the items are safely tucked away in an area where you can easily find them. All you need to do is open the closet or wardrobe doors.
Seeing as both a closet and a wardrobe have the same function, you might be wondering, why do I need to choose? What is the difference between a closet and a wardrobe?
The difference basically comes in how a closet and wardrobe are constructed or "brought into" a room.
A closet is an architectural feature. It is an enclosed space, often with a closet door that is built into the room. A wardrobe, on the other hand is a free-standing piece of furniture that is brought into a room.
Built-in Wardrobe vs Closet, Which is Better?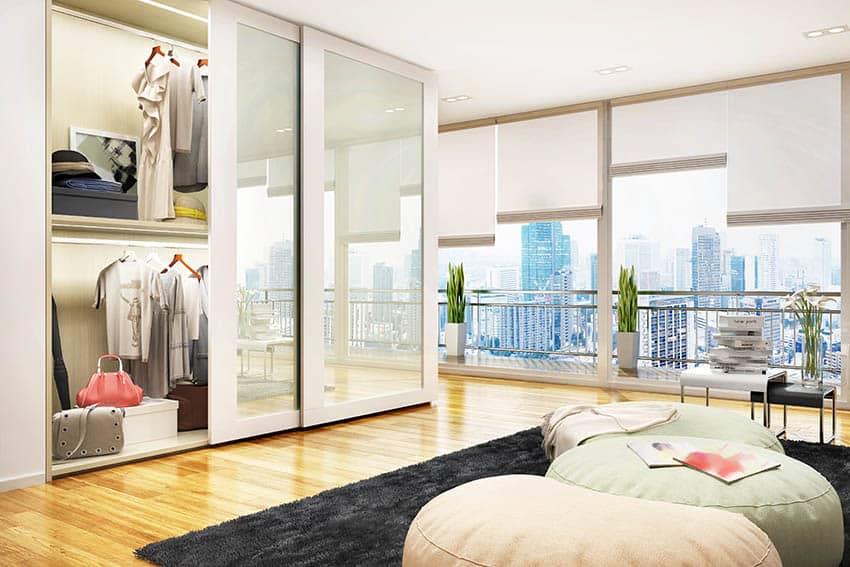 As we said, a wardrobe is considered a piece of furniture and traditionally free standing. There are, however, what are known as built-in wardrobes which are added to a room during the design stage.
A built-in wardrobe is a bit more expensive to install than a free standing wardrobe as it needs to be designed and custom built to fit the space available in your room.
A built-in wardrobe is similar to a walk-in closet in the sense that they are recessed spaces built into a room's walls to create what is essentially a small "extra" room for storage. The larger built-in wardrobes or walk-in closets can also actually be used as dressing rooms as well. Read more about walk-in closet sizes on this page.
The advantage of a built-in wardrobe is that it can increase the movable space in your room compared to a free-standing wardrobe, which will stick out from the walls. It is also customizable, so you can design one that will fit your storage needs.
A built-in wardrobe, however, may not be feasible if you live in an apartment or in a small home. In this case, you are better off looking for a property that either already has built-in closet space, or just space to add a small reach-in closet.
A reach-in closet is a storage space where you can access the items within by just opening the door and reaching in.
A reach-in closet is usually recessed into the walls of a room but it doesn't need as big a "recess" or space as a built-in wardrobe or walk-in closet.
If you are renovating a room and want to add a reach-in closet, however, you will probably still need to knock down a portion of the wall. Read more about closet height standards here.
Space Considerations
If you don't have the space or the budget to construct a reach-in closet, you can also just consider having wall-to-wall cabinets built or installed in your room.
These types of cabinets are built to fit snuggly along your walls so they don't require as much room as a built-in wardrobe or even a free standing wardrobe.
Wall to Wall Cabinets vs Wardrobe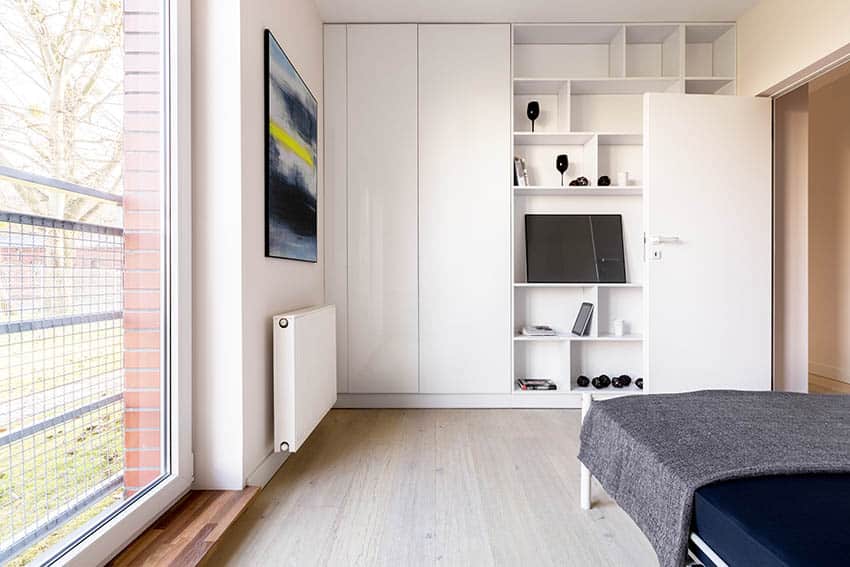 Wall-to-wall cabinets are almost as customizable as built-in wardrobes, you can decide on the storage options you want – shelves, hanger space, drawers, shoe racks – and how many of these options you need.
Wall-to-wall cabinets are cheaper than a built-in wardrobe, a walk-in closet, and a reach-in closet as they require less material and are less labor intensive.
However, they might be a little more expensive than a free-standing wardrobe, because they are still a construction job.
In the end, whatever type of wardrobe or cabinet you decide to have in your room is entirely up to your personal needs, and style.
Much like every other aspect of your bedroom, your storage solutions need to contribute to making the space a place you would love to relax in and that will allow you to dream sweet dreams.
To create your own bedroom layouts there are closet design software that can help you plan the cabinets, shelving and finishes. Some of these programs are free to use and can help you visualize your bedroom before purchasing any materials or hiring a contractor.