Here we share our home theater wall color guide including which color you should use for the ceiling, which to use in a media room, and why these rooms are either red or black.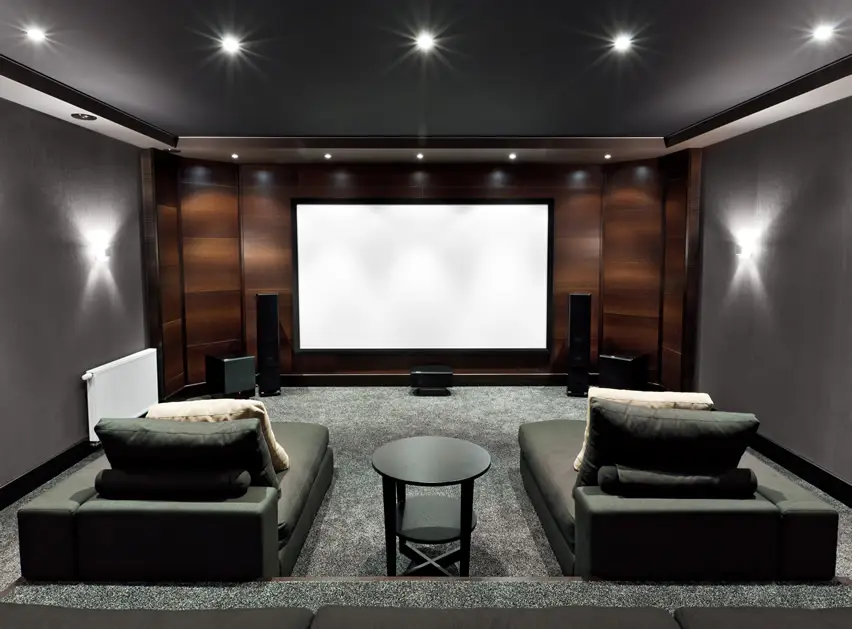 One major element to take seriously with your home theater and get right is the paint color for the walls and ceiling. The mood is everything in a home theater. This is something that can be achieved with the right color mix.
A goal you should always have is to always make the space look like it's going to pop out. The basic rule of thumb would be for you to always opt for dark colors and veer away from bright or glaring ones.
Dark colors are great because they will help cut down on the light coming from your screen or your projector. Light colors such as white should be avoided at all times as they end up hurting the eyes.
There are a few things you need to consider when you are picking out the right color for your home theater walls. Think of the style you would like to achieve as well as what your options are in terms of space, furniture, and accessories.
Very few builders build homes specifically with the intent of turning it into a home theater so you will most likely have structures such as windows that might affect the overall movie viewing experience.
You also have to consider that there will be a lot of work ahead. You have to think about wires being run all over the place, getting the right subwoofers, speakers, screen placement, and so on. You need to be well educated about room acoustics on top of that and the upgrades are endless.
But if there is one thing that can be quite controllable, it would have to be your wall and ceiling paint colors. Read on to find out more.

What Color Should I Paint My Home Theater Ceiling?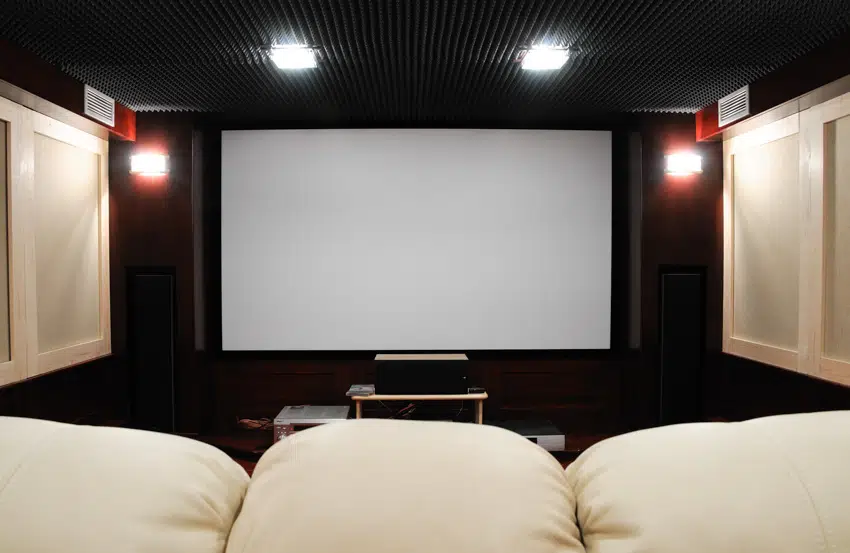 Black. There is just no argument surrounding it when choosing a home theater wall color.
Black is a color absorber. It blocks out light and glare which can be quite common in a home theater space. Painting your home theater ceiling, walls, and basically, any space, particularly near the screen, will solve your problems in a jiffy.
But we get it. Black on black can seem a little heavy and outdated at times. And yes, you're right. There are other options available.
Brown is associated with warmth and comfort and if you're shooting for that in your home theater, it definitely isn't a bad compromise. Aside from painting your home theater ceiling brown, you can also go for browns in your furniture and other theater elements for that relaxed vibe.
Go for the particularly dark shades of red to invoke a sense of luxury. Although this is a tricky color to play around with, it can be done.
Interior designers would usually restrict the use of reds to just the dark shades when painting the home theater ceiling. Red also makes it easy to manipulate any room in your home into looking like a real home theater system if done right. Read more about the pros and cons of painting ceiling same as walls here.
What Is The Best Paint Color For A Media Room?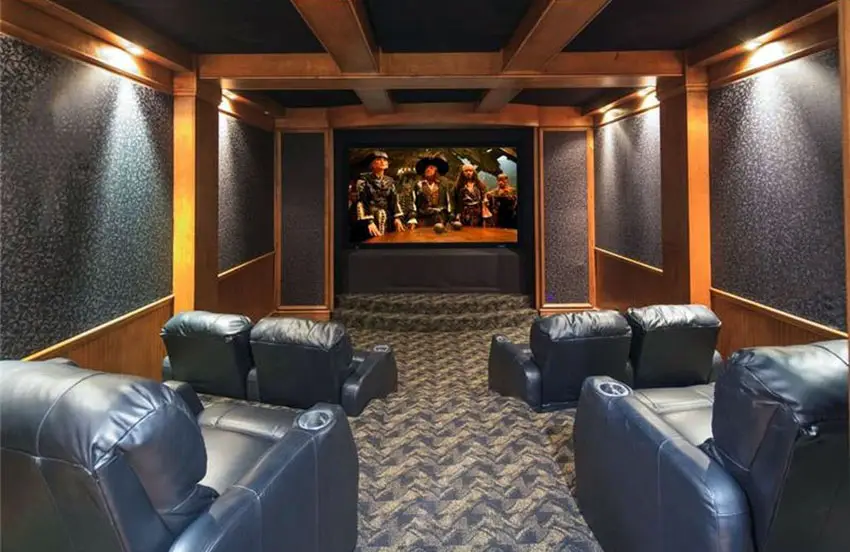 At this point in time, you're going to think that we're starting to sound redundant but that's just how it is. Media rooms look great in dark colors. So yes, black is still the runaway winner for this as it's the darkest one out there. And we get it, dark colors like black aren't the prettiest ones out there but that's just the thing.
Save the aesthetics for the other rooms in the house. For the media room, you have to keep the viewing experience top of mind all of the time.
If you aren't too fond of black, there are a lot of dark grays and browns for you to choose from. Go with colors that complement the rest of the other elements you have in the room. See our top paint colors for home theaters here.

Always go with a flat finish. You need to understand that you need to limit the reflective qualities in your walls. Light travels around the room and it may interfere with the picture quality and the colors either on your TV screen or projector wall. Opting for a flat finish limits that.
Stay away from bright colors like yellow, green, or blue at all costs. They may distort the pictures and colors and might affect the overall viewing experience. Read more about our guide on choosing paint colors that flow from room to room here.
Why Are Many Media Rooms Black?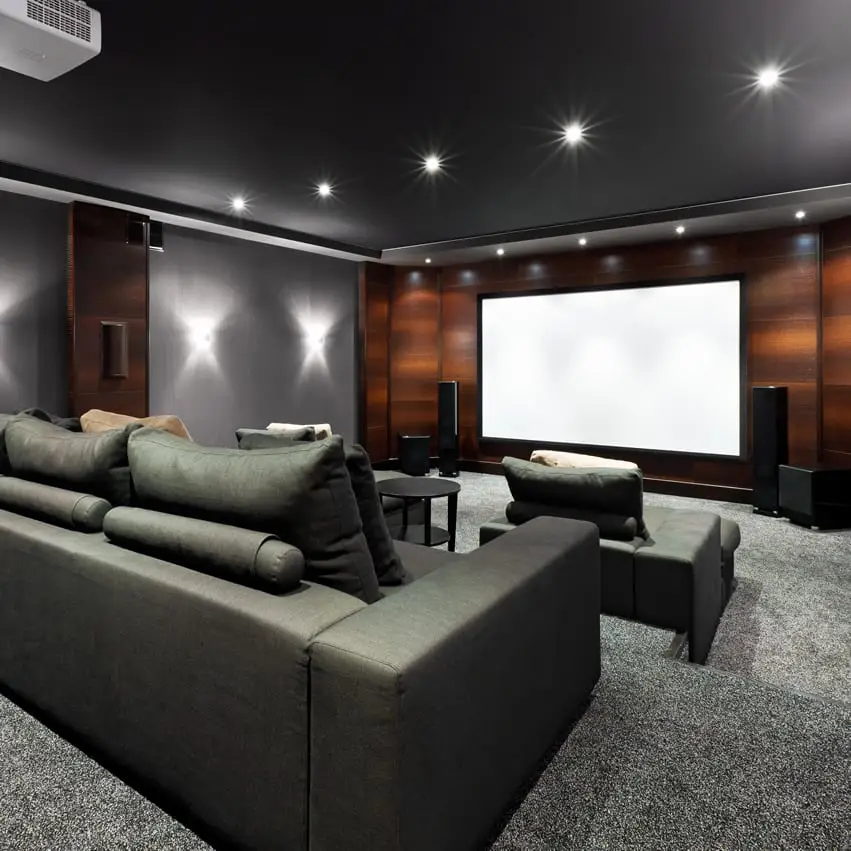 Take your cue from the commercial movie theaters. They are all black for a reason. Black is less distracting. It takes the attention away from the rest of the other areas in the room, making sure that it settles on the screen and nowhere else. This is also a great way to ensure that the screen won't reflect on the walls as all elements of light are blocked out.
Media rooms in the home are all about replicating the movie theater experience you've always loved. Always keep in mind that screens, especially big ones meant for media rooms and home theaters, tend to reflect their surroundings.
This means that if you go for a brightly colored room, it has the tendency to reflect onto the screen. This can be quite annoying and distracting even with the lights turned off. Read more about our guide about accent wall colors here.
Why Are Theater Rooms Red?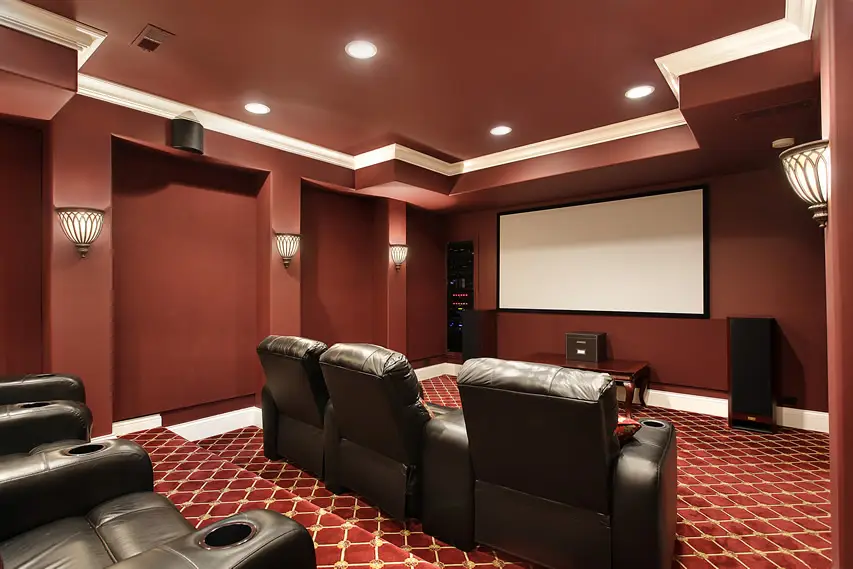 There are two words to explain this home theater wall color. Contrast ratio.
You'll probably notice that most of the theaters you've been in have either black or dark red walls. This is because red reflects very little light.
Errant lights bouncing off of the walls can cause dark portions of the screen images to appear lighter than they actually are and affect the contrast ratio. This refers to the ratio between the darkest and lightest parts of the images that are being projected.
A lot of people tend to find flat black unattractive so a matte dark red can be a great substitute as it effectively repels light while at the same time makes the room look stunning with the lights on.
See more related content at our article about incredible home theater design ideas and decor on this page.