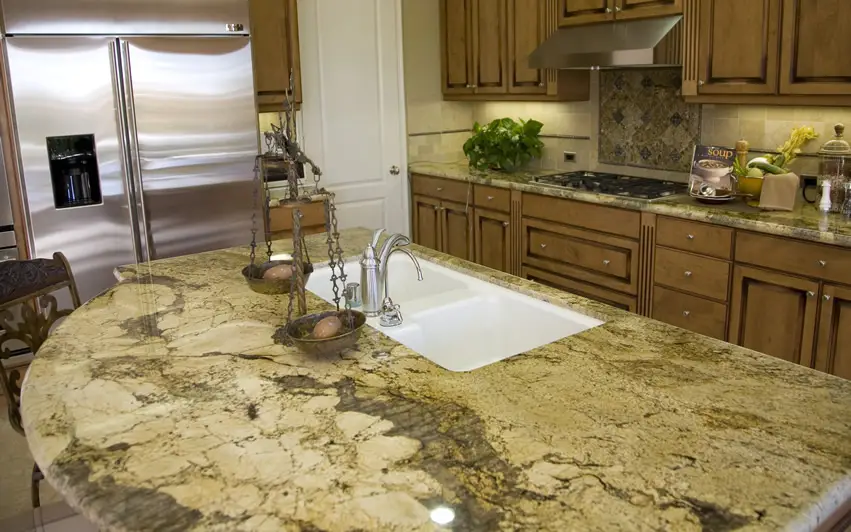 The beauty of granite colors, its durability and versatility make this natural stone one of the most sought after materials used in interior design. There are many different types of materials used for kitchen countertops, such as quartz, marble, and copper.
However, granite is one that remains the most popular for new home construction and kitchen remodel projects in both residential and commercial areas. Granite countertops are beautiful, coming in various hues and patterns, durable, and easy to clean and maintain.
They are available in a wide range of colors, from whites to darker hues, which can be used to complement any style of kitchen cabinet. Other considerations are how thick you want your granite slab to be, its edging, polish detail, and whether you opt for a marble or quartz pattern.
For a full breakdown of granite countertops and their costs check out our ultimate guide. Generally, the prices of granite countertops can range from $50 to $100 per square foot depending largely on the type you select, and your counter surface area.
Based on information collected from homeowners, the total cost for new granite installations typically ranges from $2000 to $3200. The purchase of granite counters often includes fabrication and installation.
Many sellers of natural stone, including marble and quartz, refer to different granite countertop levels. They can range from levels 1 to levels 3 and basically indicate how readily available or abundant a specific type of granite, such as white or copper-toned, is to find.
Granite countertop levels I and II are more affordable than Level III. Level 3 granite countertops are more rare and thus more expensive to purchase.
Those who are price conscious granite buyers, such as those who own condos and apartments, often save money by purchasing prefabricated granite. This type is often mass-produced in countries like China or India.
Prefabricated stone, including marble and quartz options, comes in standard widths and has one type of edge choice. Custom slab granite, on the other hand, provides fewer seams, offers many different widths, and can be shaped to your exact specifications.
Pictures of Granite Colors
Choosing granite colors for your kitchen is rarely an easy choice. Pictures don't exactly represent the true colors and beauty you'll find when you view granite, marble, or quartz countertops in person.
Below are some popular types of granite countertops colors. With the wide variety of granite available, you're sure to find the right color for your kitchen based on its style, size and cabinet colors.
White Granite
White granite is really not as plain white as one would think. It's actually loaded with flecks and veins of different colors depending on the style you choose. White granite is a great choice for smaller kitchen spaces because it can make an area look bigger, and lighter.
In addition to offering a beautiful contrast, a white counter pairs well with dark kitchen cabinets, creating a touch of elegance in your family's kitchen space. Visit this page to see the white granite countertops picture gallery, where you can explore various options and get tips on choosing the right quality stone for your kitchen.
To ensure you make the right choice, consider visiting a showroom where you can see and feel the different types of granite countertops in person. This allows you to experience the options more closely, as many people prefer to see the actual products before making a decision.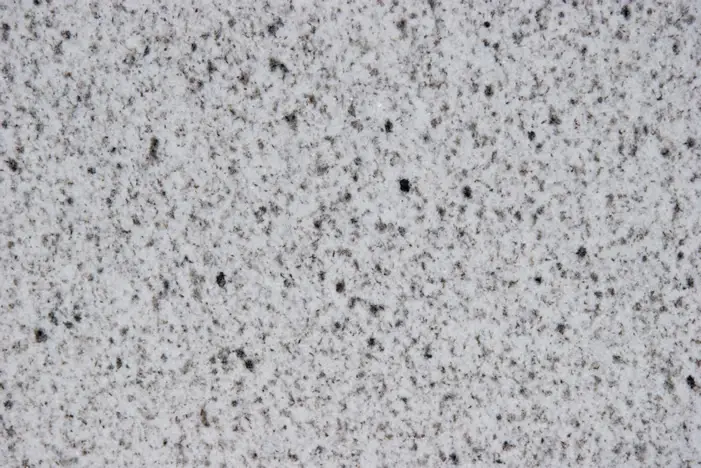 Bethel White Granite Kitchen Slab Bethel white granite hails from the small town of Bethel Vermont's granite quarry.
This quality stone features a brilliant, even grain and pure color that makes it highly sought after for building projects, lifting the blues of any space with its pristine appearance.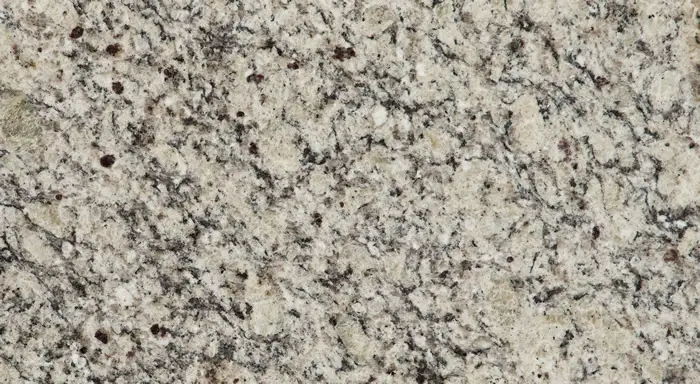 Brazilian Venetian Ice White Granite Slab Venetian ice is a type of granite quarried from Brazil. It is characterized by its golden color with white and brown minerals and colors mixed in along with numerous black or dark red flecks.
Venetian Ice is a mid-range cost wise granite that has a beautiful natural golden color that is often used in kitchens and islands, and can complement either white or dark cabinetry. Its water-resistant properties make it a popular choice among many people.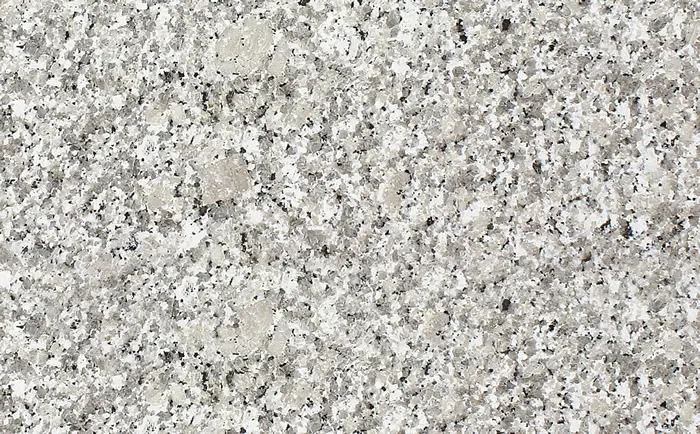 Kashmir white granite has small flecks of grays and cream colors throughout. It is known for it's beautiful appearance, however is known for being a more porous stone. For this reason it's advised to have the surface sealed to avoid staining and re-seal the surface every six months.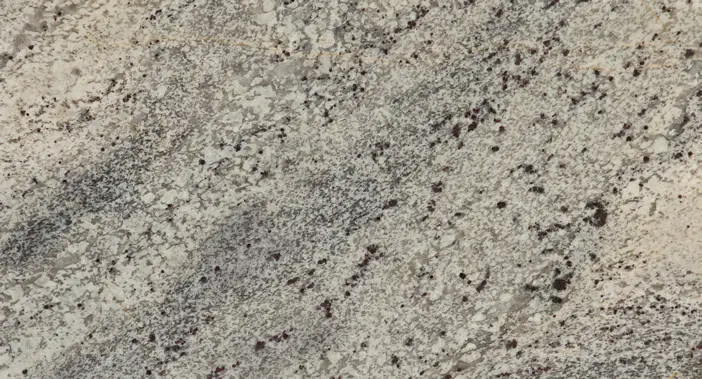 Classic White Granite can vary wildly depending on the stone yard. There are many different varieties of white granite with some yards even calling it quartzite. When used in kitchens these counters are light and bright and due to it mostly white appearance can help make a smaller space look bigger.
Beige & Gold Granite
For many homeowners beige granite is a timeless choice that provides plenty of decorating flexibility since it matches well with many color combination. Beige granite can be combined with wood cabinetry or both light and dark color cabinets.
Beige granite countertops are also versatile when it comes to working well with a variety of kitchen designs, such as traditional, country and contemporary. Visit this page to see the beige granite countertops picture gallery.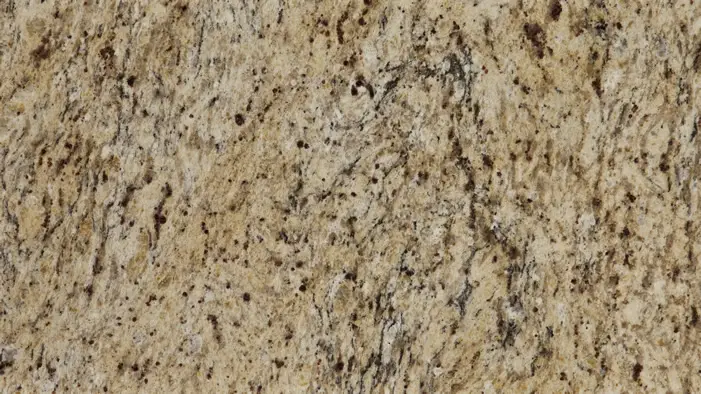 Santa Cecelia granite is imported from Brazil and is characterized by its warm gold and brown coloring with dark gray veins. This natural stone is considered a medium variation granite with a beige background.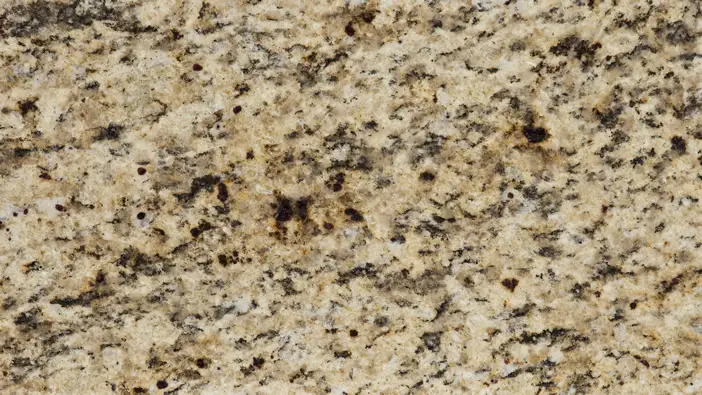 Giallo Ornamental Gold Granite is a Brazillian stone that is occasionally called Giallo Santo, Amarello Ornamental, or Juparana Gold. While having a white to beige base color it is heavily accented with brown, black and gray flecks. This type has medium variations from different slabs.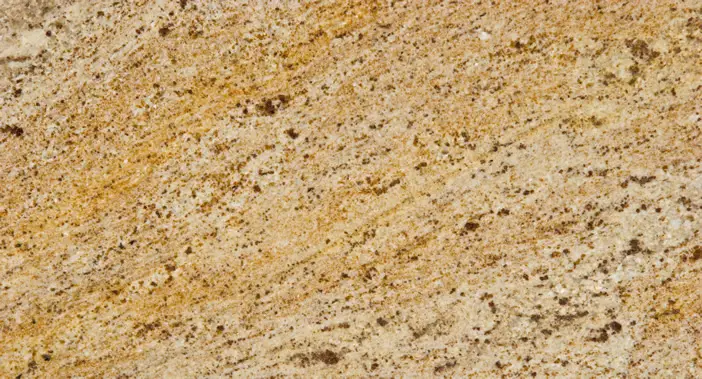 Millenium Gold Granite also called Millenium Cream is imported from India and is a light color stone with gold and grey veins. It has medium variations from slab to slab and is known to be durable, low maintenance and come with a polish finish.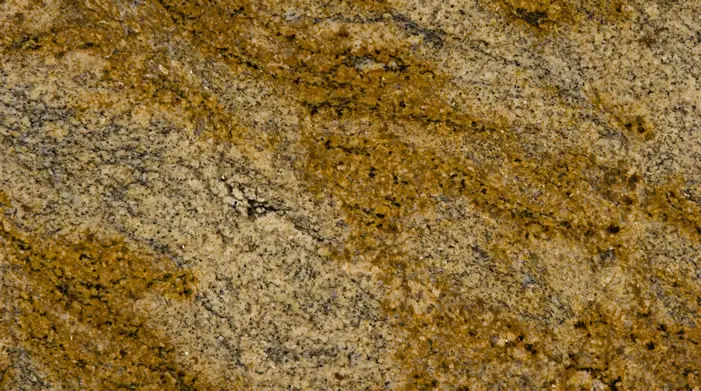 Giallo Renoir Granite Slab Giallo Renoir granite is frequently imported from Brazil and has a rich golden color with lighter yellow and deep brown flecks.
Depending on the slab you select, it can vary from lighter yellow to golden in color. This granite features elegance in the form of ivory streaks, giving it added depth and visual interest.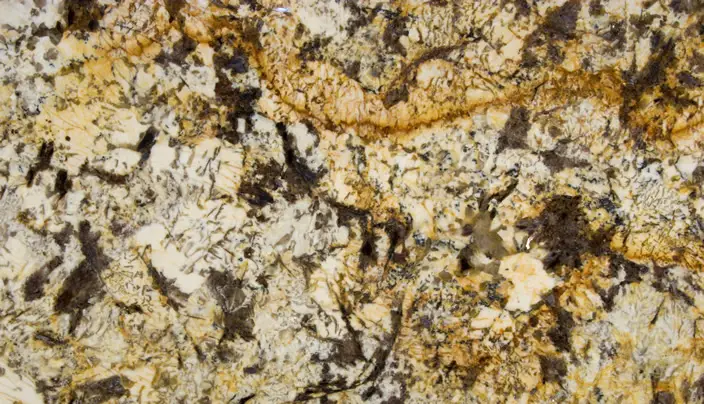 Fireworks Granite Slabs come from Brazil and have a beautiful yellow background with white, gold, grey, and black marbling. This stone is suitable for kitchen countertops or flooring and is sure to make a great impression for your home remodeling projects.
The blue pearl-like speckles add an extra touch of elegance to this already stunning granite. See more types of flooring here.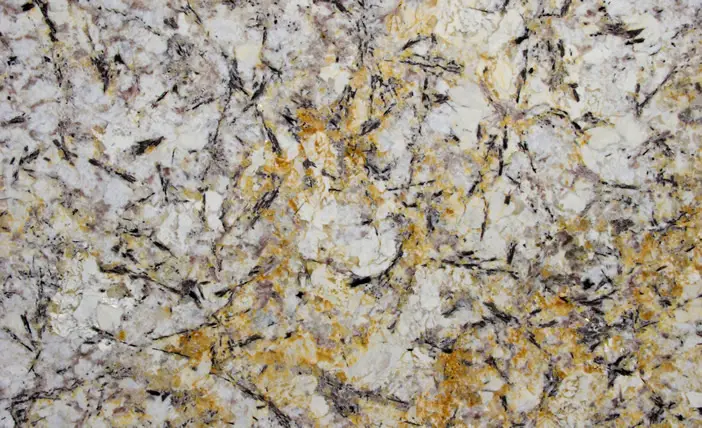 Gold and Silver Granite Slabs often come from Brazil and feature primarily an overall gold background with white and grey interspersed with black.
The presence of golds and silver speckles throughout the stone enhances its beauty. This type is an attractive low budget stone that is often used in bathroom vanities and kitchens.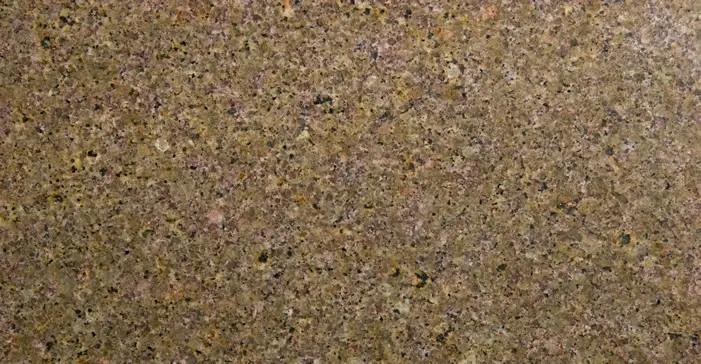 Sunrise Yellow Granite Slab is quarried in India with a medium beige background with specks of black, white, and pink colors. It makes a great addition to help brighten up a kitchen space. The ivory and gold streaks featured in this stone add an extra layer of depth and luxury to your design.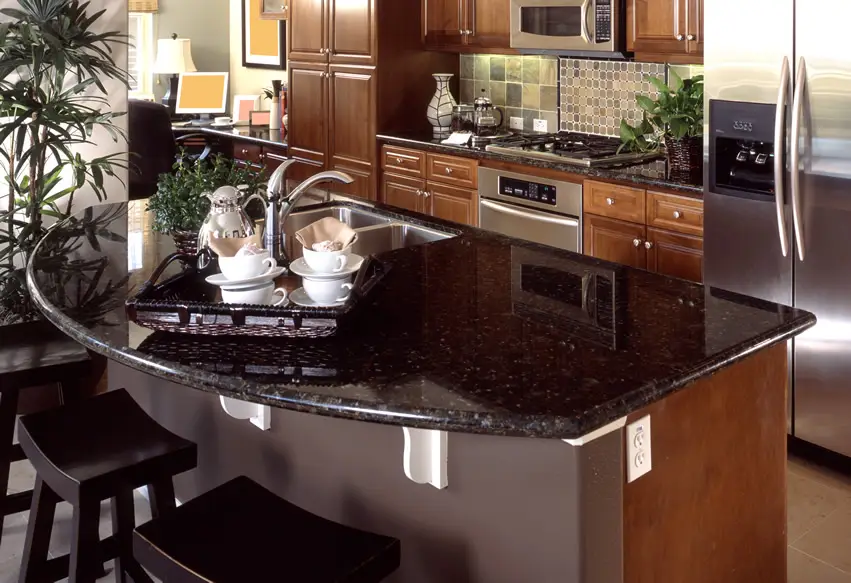 The beauty of granite countertops colors are its wide variety of choices, long-standing durability, and ability to incorporate elements such as stones and speckles for extra depth. These reasons make it an ideal choice for the majority of kitchen designs.
In addition, granite has not gone out of style and continues to be highly sought after for use in new home remodel projects. Above is an example of a dark granite kitchen countertop.
Black Granite
To make a dramatic statement many homeowners opt for using black or gray granite counters. Dark color granite's' compliment light wood and white cabinetry the best and are often used in traditional and contemporary kitchen designs.
A big pro about many darker granite counters is they tend to be denser, and less likely to absorb stains making them easier to maintain. See the black granite countertops gallery here.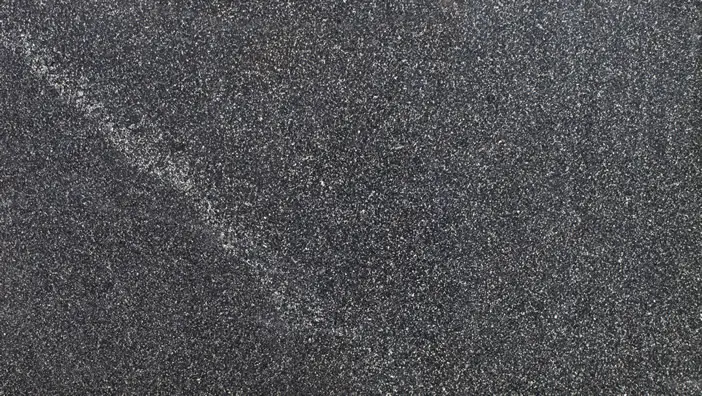 Bengal black granite is flecked with grey, green and white stones. Mined in South India this granite is non-porous, hard, and known for its polished surface and durability.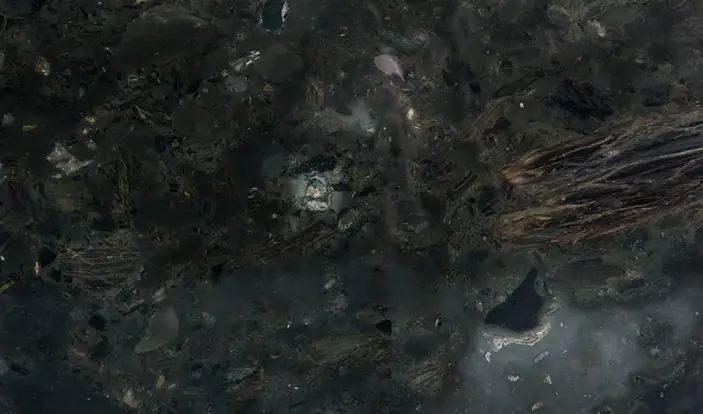 There are several different variations of Volcano Black Granite depending on the location it originates from. In the image above is featured Volcano Black Granite from from Brazil.
The Brazilian variation is noted for its long pronounced veining and elegant blue pearl-like speckles, while the slabs imported from India have a very different pebbled texture.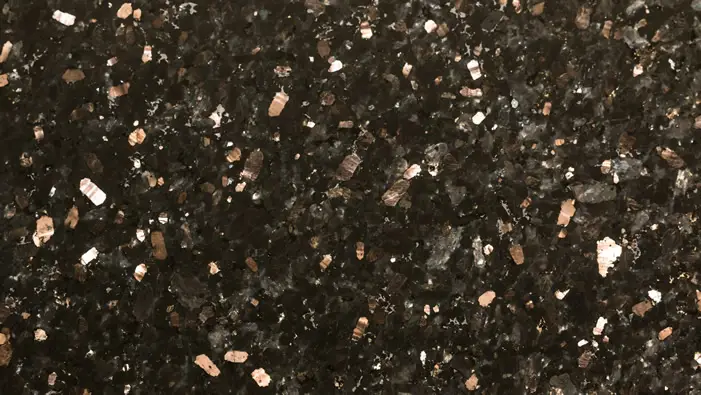 Black Galaxy Polished Granite offers a sleek, contemporary look your kitchen countertops. It has a polished high sheen with shimmering golden flakes throughout and a moderate variation between slabs.
It is typically imported from India and is a popular choice for lower cost building projects. The presence of stones and other elegant features make this granite a versatile option for various designs.
Brown Granite
Brown is one of the most popular granite color choices due to the warm feeling it provides.Brown granite, with its coffee brown swirls and durable surfaces, is often used to create a rustic/country kitchen design and matches perfectly with a variety of wood cabinet shades to create an inviting atmosphere.
The material's resistance to scratches and easy cleaning make it an excellent choice for backsplashes as well. However, many interior designers feel that browns match best with lighter color cabinetry for a rustic kitchen look.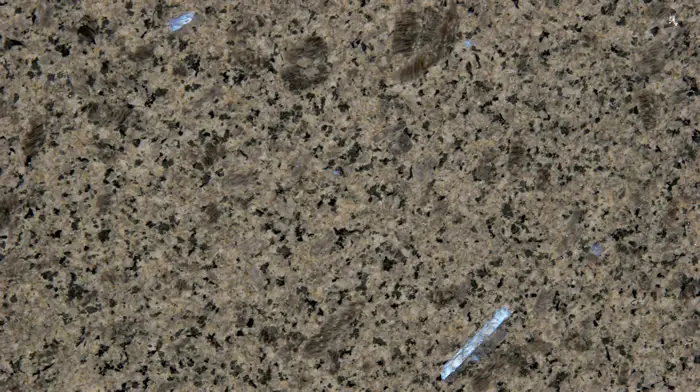 Desert Eyes is a brown color granite quarried from Saudi Arabia. Desert Eyes is medium-grained with dark flakes and a dark beige background. From slab to slab there is a wide variation of colors and veining.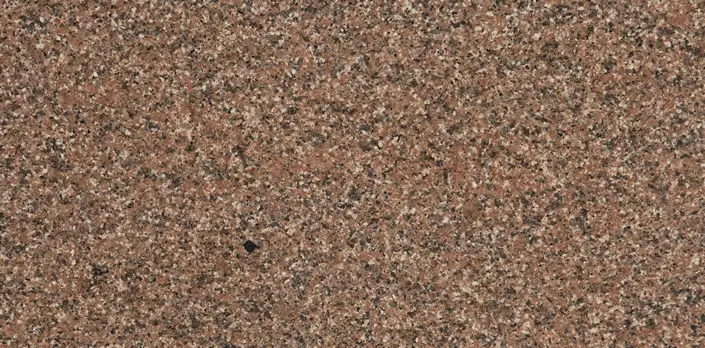 Brown Sao Paulo Granite is from Brazil and has average granulation. It is similar to Golden Caju, and Dourado Caju which are two others that are mined in the smae general area.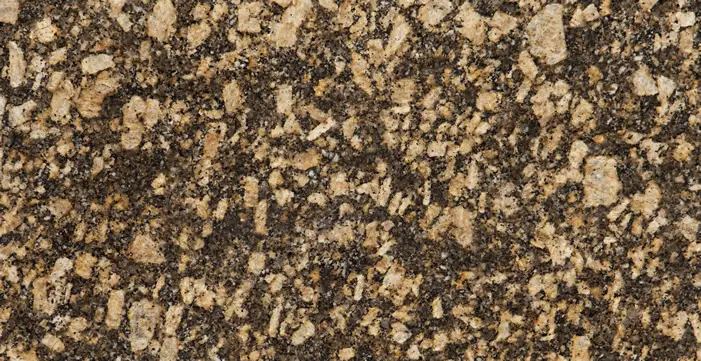 Giallo Boreal is a brown granite quarried in Brazil with a dark beige background and lighter colors randomly speckled throughout. It is also similar to Amarillo Boreal Granite, and Amarillo Gold.
Jewel-Toned Granite
Jewel-Toned Granite – This rich color tone granite are called Jewel tones because they resemble precious or semi-precious gemstones.
They often have a distinctive bold look with a high level of color saturation. Popular colors of jewel tones include ruby red, turquoise blue, emerald green, sapphire blue, topaz yellow, and amethyst purple to name a few.
Blue Granite
Blue Granite – Blue minerals embedded in the granite gives it a unique and exotic look. Kitchens designed with blue granite are very popular and likely to spark a conversation due to their reflective appearance and striking appeal.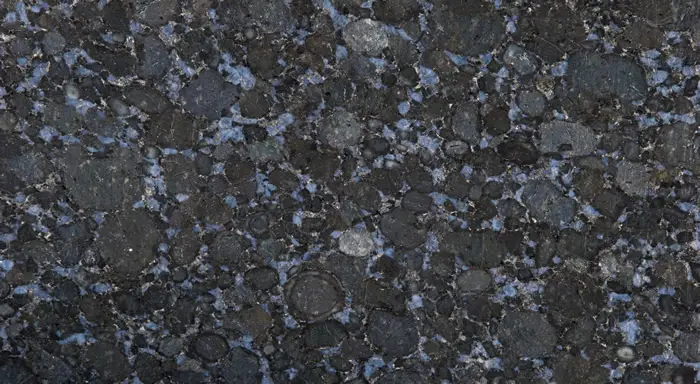 Blue Star Granite is quarried in China and is known for its striking blue coloration combined with patches of white and beige with larger patches of greys and black inter-spaced with beautiful blue striations.
Flash Blue Granite is mined in India and is known for its distinct cobble and Pebble characteristics with low variations between slabs. It is widely used for countertops, as well as in flooring and for wall/backsplashes. Another name for this tone is Montevedo.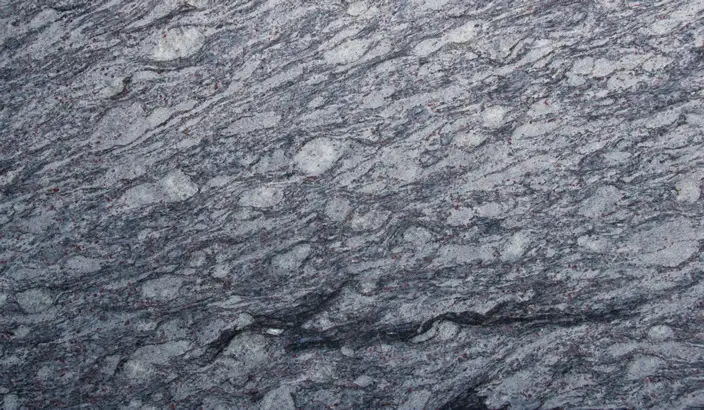 Lavender Blue Granite sometimes referred to as Orion Blue, or Orissa Blue is mined in India. The stone has several different variations and due to its durability is used extensively in countertops, flooring, and in wall cladding.
Red Granite
Red granite offers a vast selection of shades to make a bold statement and add a sense of energy to your kitchen space.
Red granite countertops are not as popular as other choices but they certainly make an eye-catching statement. They are often paired with light colored cabinets with a muted paint color pallette to create a stunning kitchen design.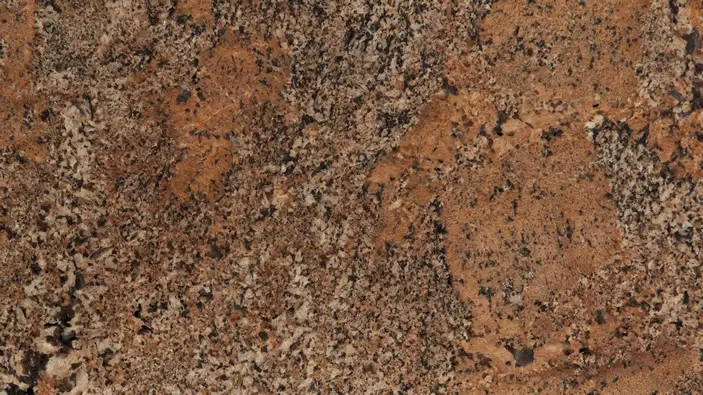 Bordeaux granite has a rich red color mixed with gray, gold, brown, and beige veining. It is a popular choice because of it's warm tones and bold look that compliments cherry stained cabinetry.
Green Granite
Kitchens designed with green granite evoke a sense of tranquility and relaxation. Not only are these types of countertops stimulating to the eyes, they bring a sense of nature to your kitchen area.
Green matches well with a variety of wood cabinet colors and can give your indoor space the high end look you desire. Visit this page to see the green granite countertops gallery.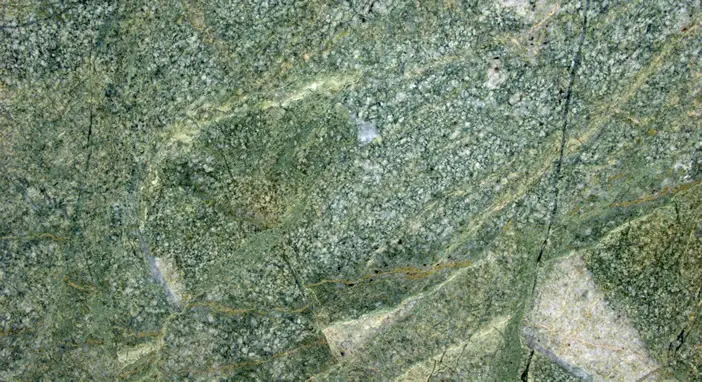 Costa Esmerelda Granite is best described as an absolutely beautiful addition to any kitchen. Its deep rich and exciting colors makes it a popular choice for discriminating home owners.
It is a durable stone that doesn't show fingerprints well, and is not prone to staining. One of the unique characteristics of these slabs are the fissures that run throughout.
These fissures give the stone its uniqueness, however not everyone will appreciate this look. There can be a lot of variation between stone slabs with darker and lighter slabs coming from the same quarry.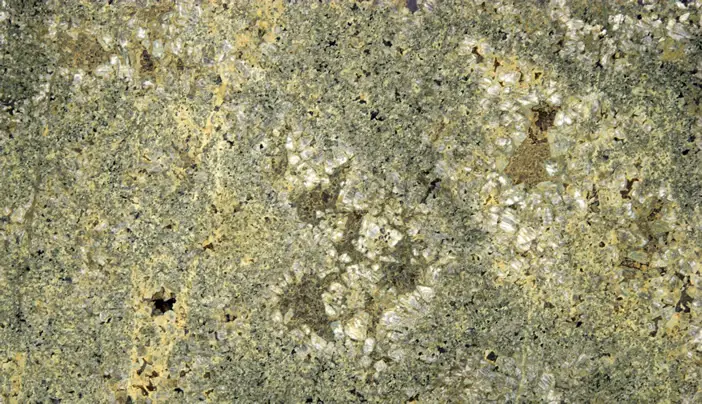 Sea Foam Green Granite is an exotic stone quarried in Brazil and used for countertops, flooring and walls. The stone offers medium variation between slabs. It is known as a difficult stone to find, mine and produce, thus it ranges on the higher side price wise.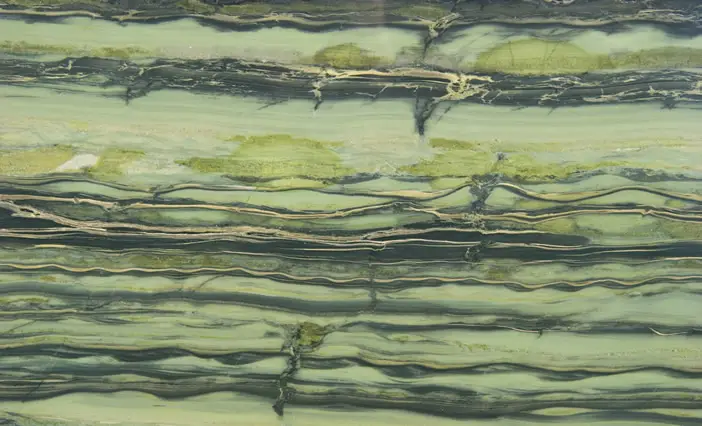 Verde Bamboo Granite is quarried in Brazil and has stunning striations of greens, beige, black and cream coloring. It is often used in both exterior and interior applications.
Beautiful granite colors such as the Green Pearl granite pictured above are also called jewel-toned for their exotic look. Jewel tone granite has an impressive appearance that is often paired with muted color cabinetry to keep the design from being too overwhelming.
Green Pearl Granite is mined primarily in India and has low amounts of variations between slab pieces. This stone matches well with lighter cabinets and wall colors.
Granite Edge Styles
Choosing an edge for your granite countertop is an important decision that must be made before you have the stone fabricated and installed in your kitchen.
Popular edge styles are the straight, bullnose, 1/2 bevel and 3/4 bevel. The straight edge is also called the eased edge or flat edge and is considered the free option.
Upgraded edge styles often require more time to polish and thus are more expensive. Some upgrade options are the ogee, deep ogee, knife edge, extreme bevel, inverted extreme bevel, and the full bullnose.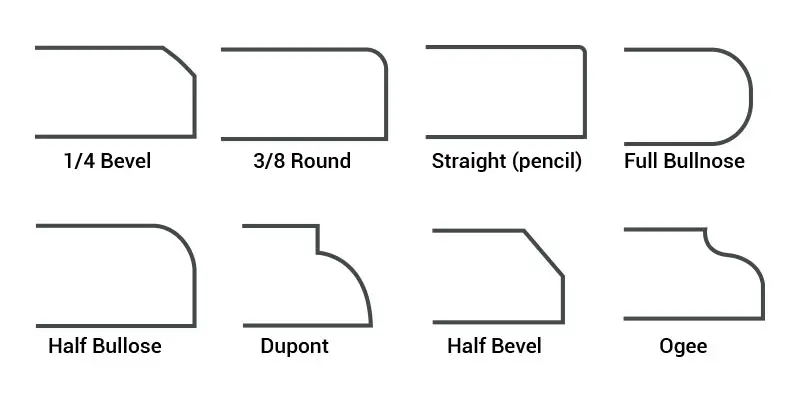 Visit our granite countertops gallery for more ideas for your next kitchen remodel or redesign. To add granite colors to your own kitchen design, check out our page sharing popular interior design software to try out different ideas.