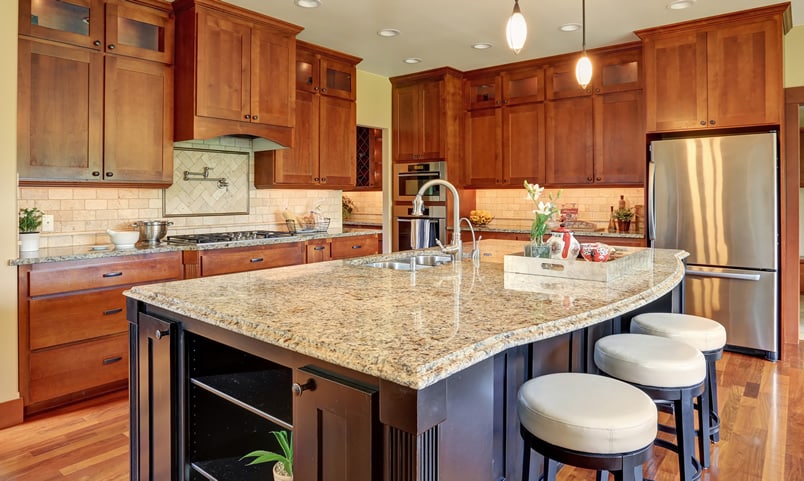 With so many different types of kitchen countertops it can be a challenge to find the one that best suits your kitchen. Your kitchen counter is your main work space and can be a focal point of your kitchen. Below are different types of kitchen countertops to help you select the best options and materials for your  home design.
Granite – Granite kitchen countertops are scratch-resistant (when sealed and treated), heat-resistant, stain-resistant and offers natural protection against mold and mildew. Granite also offers you an extensive natural color palette to choose from. Granite can come in white, gold, gray, tan, metallic, black, red, green and blue – and even in combinations of these colors.
A honed granite counter has a soft, matte finish with a smooth surface and very if any reflection in the stone. Like granite counters, a honed granite counter is very durable and resists scratching, cracking and chipping. Honed granite is also heat-resistant.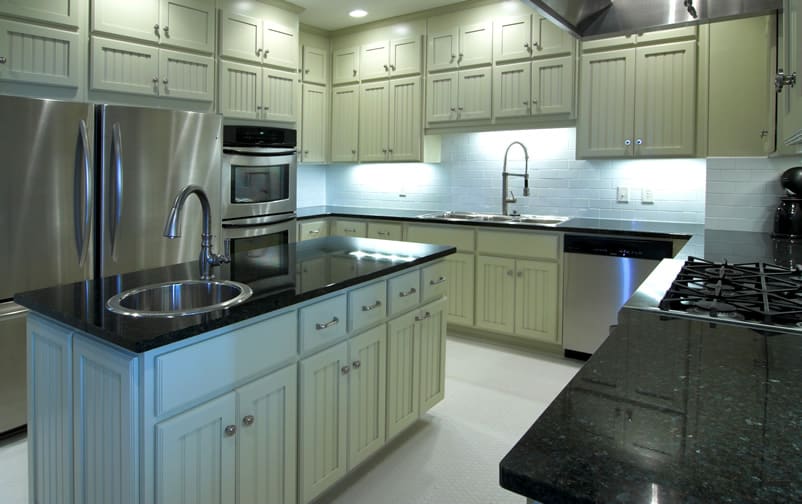 Polished granite – The glossy sheen of a polished granite countertop is a high-end looking addition to your kitchen. It also provides you with an extremely durable prep surface.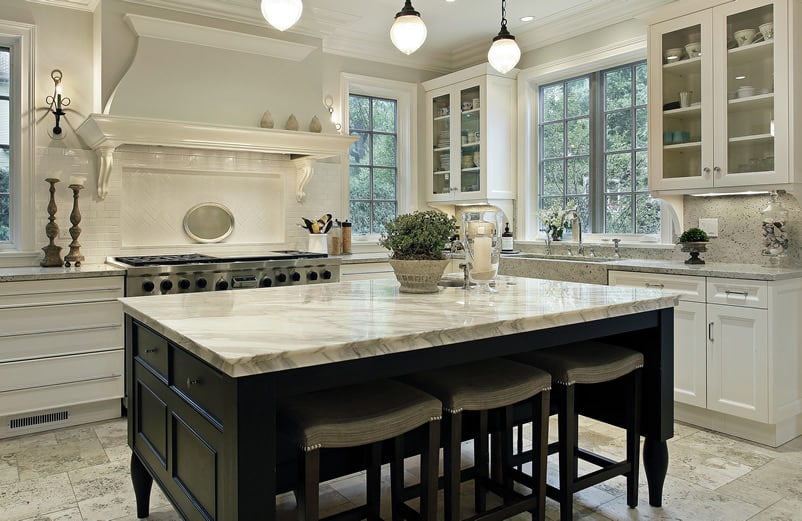 Marble – The smooth natural gloss and the distinctive veining of marble make it a beautiful material to use in a kitchen counter. As long as you take special care with acidic substances, the creamy surface of marble should last you a long time.
There are several advantages and disadvantages to installing marble kitchen countertops in your home. Lets start off with the benefits. For starters marble looks great in the kitchen. It offers a classic beauty you will definitely enjoy. Additionally marble is naturally cool and not a big heat conductor. So if you do a lot of baking that's a big plus. Marble is also heat resistant. Finally it is widely available for purchase.
Now on the negative side marble is a softer stone which is prone to stains an scratches. Sealing can help protect your stone surface, hover etching can still be a problem. And that brings us to maintenance which the above mentioned sealing should be done about once a year depending on how busy you are in the kitchen.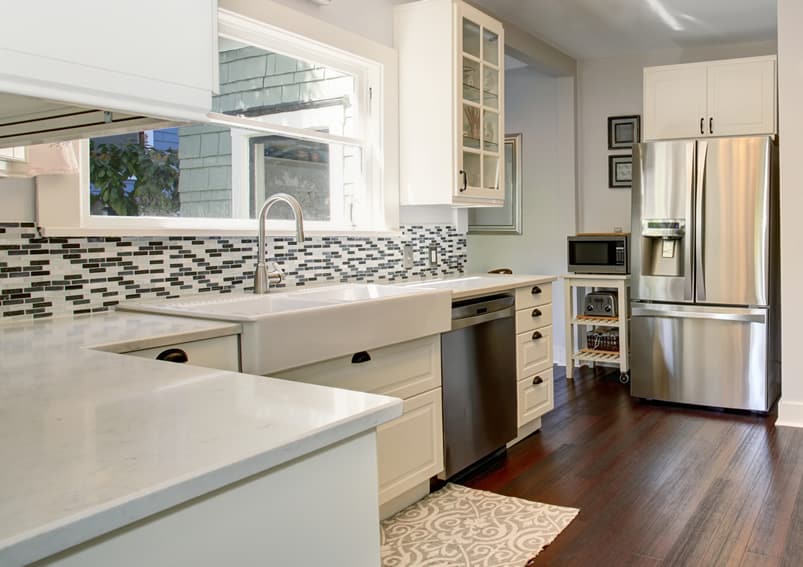 Quartz – Quartz is one of the hardest surfaces on earth and is naturally non-porous and scratch resistant. It's pretty too, with multi-dimensional gem-like coloring in a variety of shades Quartz has anti-microbial properties inhibit the growth of bacteria, mold and mildew.
Some of the benefits of a quartz kitchen countertops over granite are the following. To start with quartz has a very uniform and controlled appearance. Slabs are produced and crafted with a lot of evenness through the stone. They are also very strong naturally, and when combined with a resin binder can be stronger than both granite and marble. This stone is also non-porous unlike granite or marble which makes it very stain resistant and easy to use and maintain.
Laminate – Laminate counters are tough, affordable and easy to care for – just wipe them down with soap and water. Laminate comes in a variety of designs, patterns colors making it easy to find a counter that will complement your kitchen design.
Just a few reasons home owners choose laminate is due in large part to the low cost, how long lasting, as well as how low maintenance, and easy to clean it is. Laminate is still used in 80% of European homes and for good reason.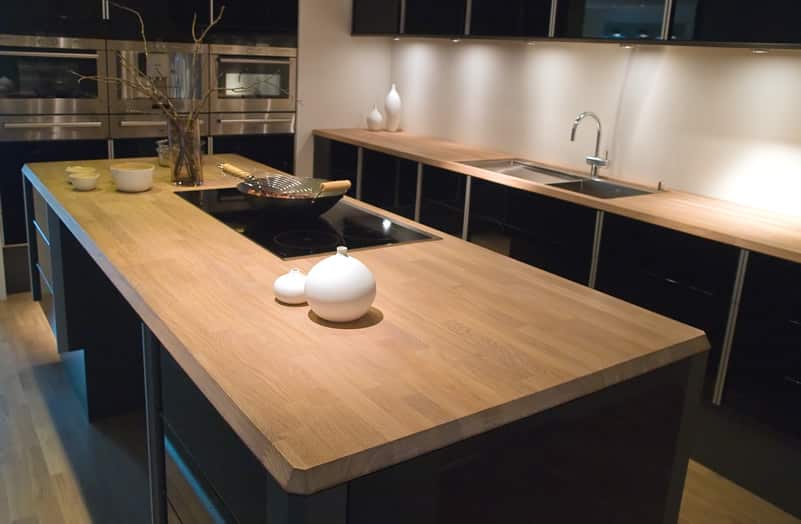 Wood – The warm, natural appeal of wood counters lends a cozy, homey touch to kitchens. Wood is also highly heat-resistant so you don't have to worry about putting hot pots or pans on a wood counter. One caveat to consider is wood does require a lot of maintenance in the kitchen area. Sealing is mandatory with a product like Aqua spar and will need to be done regularly to keep your wood counters looking attractive for years to come.
Installing wood kitchen countertops can be less expensive than many other types of materials. In addition wood has natural, anti-bacterial benefits when sealed properly. Although one drawback of wood is it will need to be sealed several times a year depending on the finish. Wood also must be kept dry, which will keep you on your toes after a spill or watchful of the sink areas.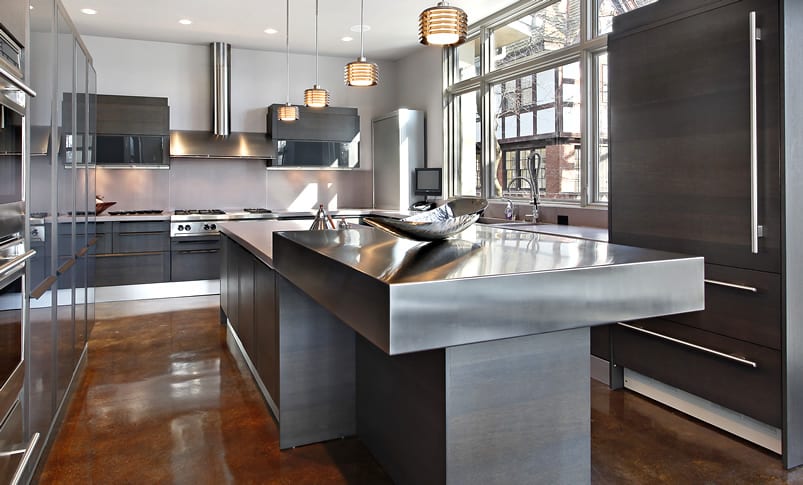 Stainless steel – Stainless Steel counters are a favorite of serious chefs and cooks. Stainless steel inhibits bacteria build-up making these countertops the most hygienic available. This ultra-heat resistant material doesn't stain and is easy to clean and sanitize. Something to consider is stainless does scratch easily and is quite expensive. However, installing a brushed stainless steel counter can help cut down on any scratches.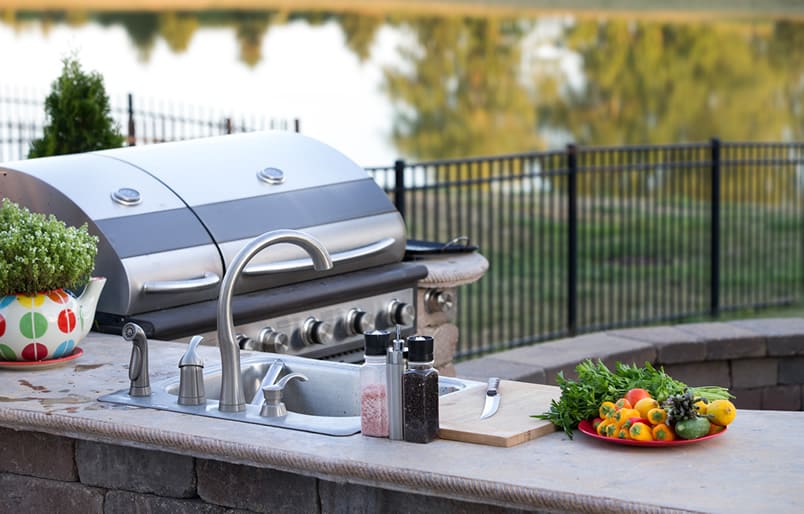 Concrete – Concrete counters come precast into flat, smooth workspaces surfaces. Concrete countertops are an energy efficient option as they can help control kitchen temperatures– concrete captures heat and releases it when things cool down. Concrete mostly resembles natural stone but a variety of colors can be achieved by adding pigments to the concrete mix.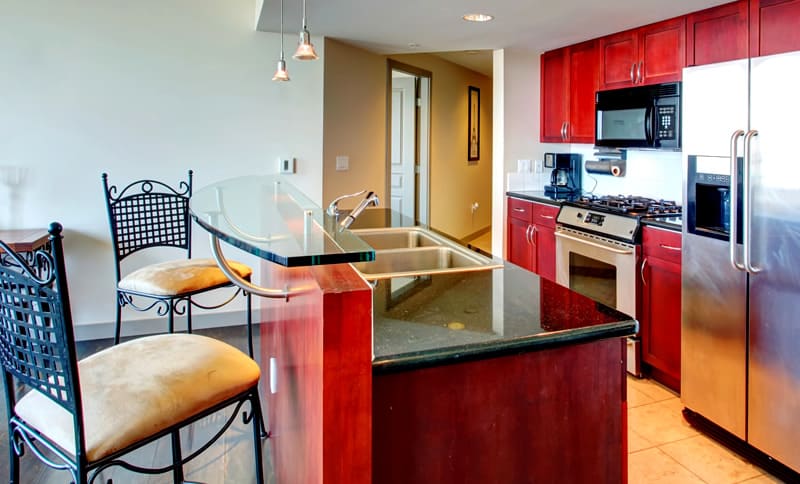 Glass – A glass counter is a sleek and streamlined addition to any kitchen. Glass can be cut into almost any shape and texture and also comes in a variety of colors. Glass is easy to keep clean and its non-porous surface is stain-resistant and hygienic.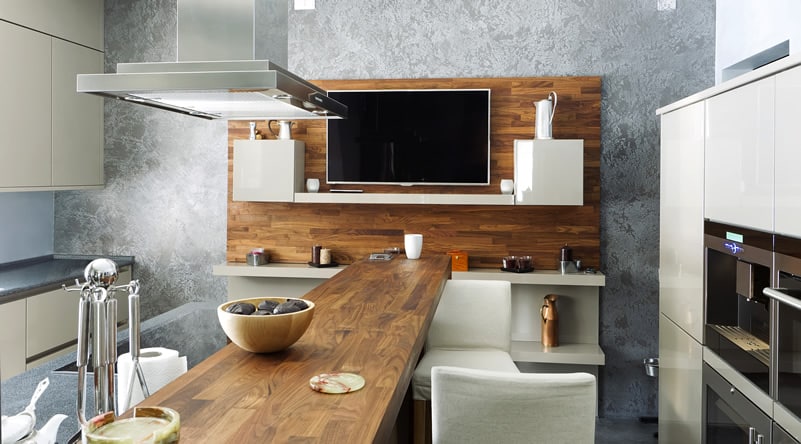 Recycled materials – Recycled countertops are mainly composed of a mix of sustainable materials such as glass, wood, paper, plastic and cement. An eco-friendly choice, a recycled counter is also durable and easy to clean. Coming in a wide range of colors and textures, a recycled counter can easily fit almost any kitchen design.
The Best Kitchen Countertops Infographic: