On this page we cover honed granite countertops including their comparison to polished and leather granite, cost, maintenance, and the best types of honed granite for your kitchen countertops.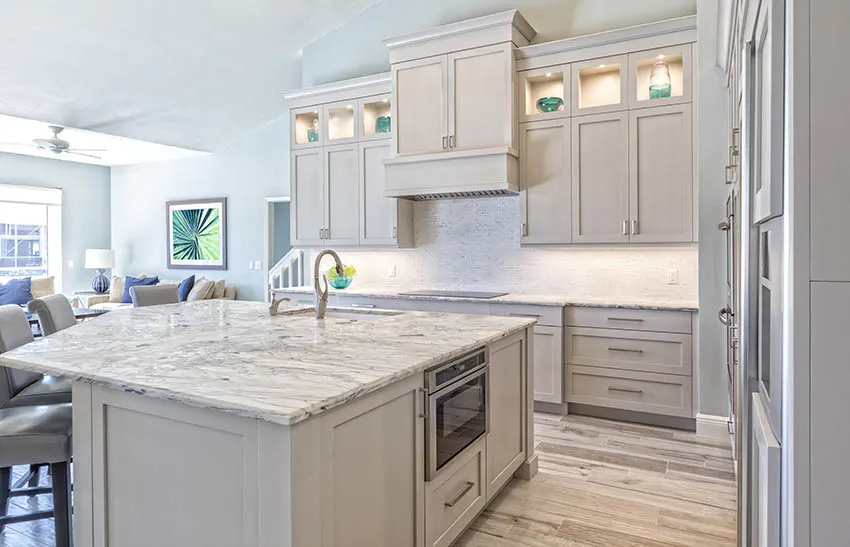 Honed granite countertops have a unique look and offer to bring something different to the kitchen. This is why they've become so popular over the years. If you have never really been acquainted to this material before, then you should prepare to be impressed.
This natural stone is unpolished. It's characteristic for its low-gloss shine, that's technically categorized as matte. Honed granite has a much softer, natural feel to it compared to polished granite. This is something that you'll only be able to really appreciate more once you actually run your hand across its surface area.
What Is Honed Granite?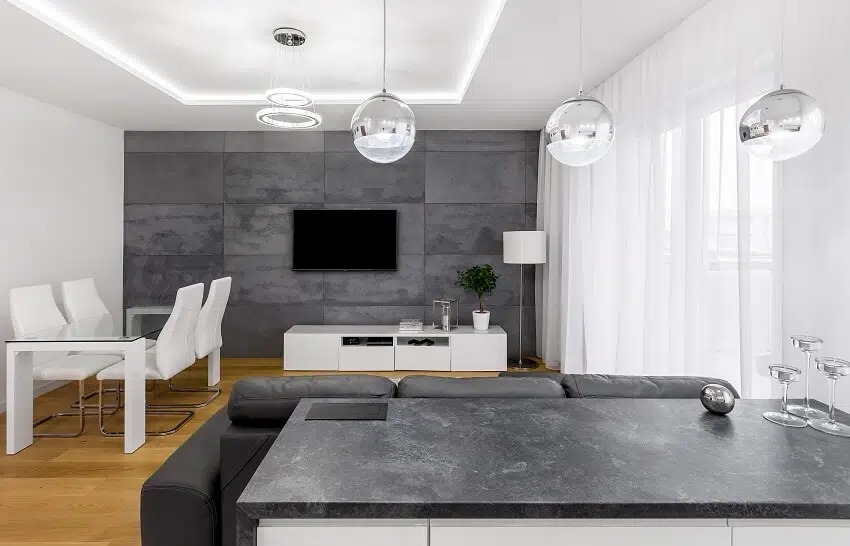 The appeal of honed granite lies on the fact that it offers a very casual and aged look. It's unique, comfortable, and eclectic. It's considered as fashionable and even elegant.
If you want to increase the overall appeal and value of your home, then honed granite countertops should definitely be considered. Before you run out and get one slab for your kitchen countertops though, there are a few things that you ought to know before you go ahead and make that investment.
Its look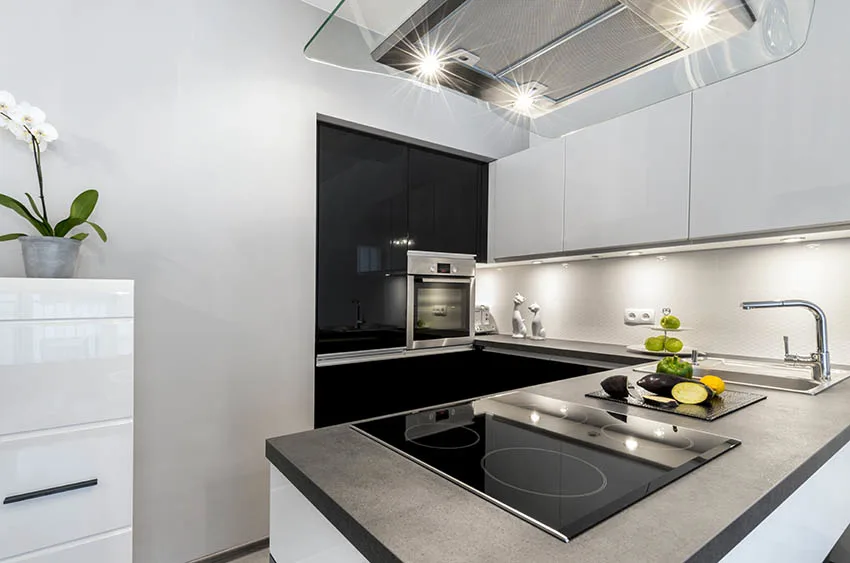 Honed granite has a very matte look and feel. How this is done is that the manufacturers would usually stop the finish process just right before the surface area of the granite turns shiny.
The result of such a process is a very low sheen and plain look for the stone's surface. On the other hand, polished granite is much shinier and is actually more popular compared to honed granite.
You need to understand that honed granite has both the texture and the color of stone and isn't nearly as vibrant as polished granite. If you're into bright and bold granite colors, this might not be a material for you to consider. It is, however, available in a wide range of colors from grays to blacks to off whites and so on.
If you want to incorporate this in your home, make it a point to go to the actual physical store to see what's available. This is because every slab of honed granite is different and never make a decision based off of a sample.
Hone granite requires sealing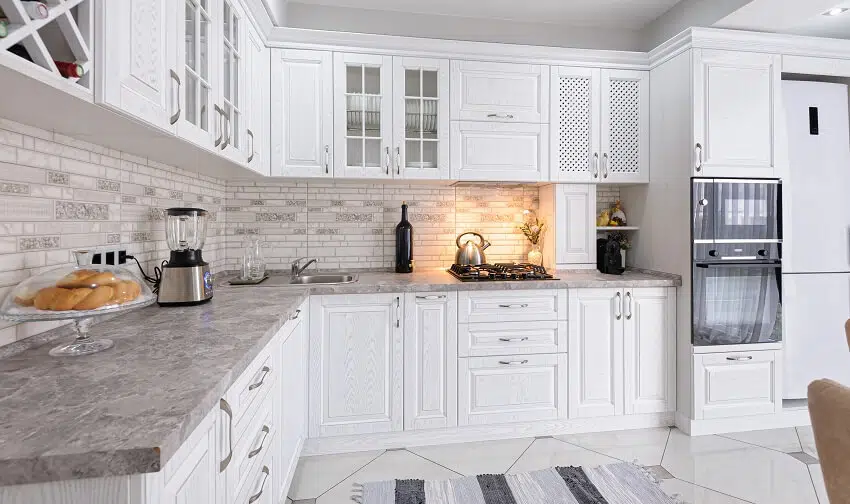 This is one characteristic that it shares with polished granite. It's recommended that honed granite should be sealed every 2 to 3 months. Although this may initially sound like a lot of work in the beginning, the cons far outweigh the pros because honed granite brings in a look that's unlike any other.
Make it a point to use soft cloth when applying your sealant. The strokes should be slow and long. Take your time while you're spreading the sealant out and not rush the process. This will promote absorption of the substance on the stone's surface.
Make sure that you give it adequate time to dry out in between layers. You would have to put in more than one coat to make sure that the entire honed granite countertop is properly sealed.
Maintenance is absolutely important
Honed granite is a material that requires far more maintenance compared to polished granite. Aside from the requirement to get it resealed every few months, you would also have to look out for issues such as dust, grease, or even handprints on the countertop surface.
You would have to clean it regularly with a soft cloth and some water with a little bit of detergent or dish soap. This is just as well as countertops need to be spotless anyway in order for it to be sanitary enough to place foot items on.
Honed granite can be stained
This is because of the fact that the material is more porous compared to polished granite. It makes it so much easier to stain so beverages such as red wine, sodas, and other juices or even oils can ruin the surface of the stone if you aren't careful.
Make sure to clean up any spills or messes right away as neglecting these messes can leave to stained surfaces that may end up being permanent in the long run.
It's more expensive compared to polished granite
Because of the fact that polished granite requires more work to manufacture, most people would make the assumption that this naturally makes polished granite more expensive than honed granite. This is incorrect. The reason why honed granite is more expensive is because of its scarcity.
It isn't as readily available in the market compared to polished granite. The price is mostly based off of the color of the material and the thickness of the honed granite countertop. The pattern of the slab's surface is also to be accounted for and weighs in on its actual price.
Although polished granite is more popular, honed granite presents something a little more different for your countertops in the kitchen. And granted, it's more expensive, can be more easily stained and requires more maintenance, it's still worth it.
Honed Vs Polished Granite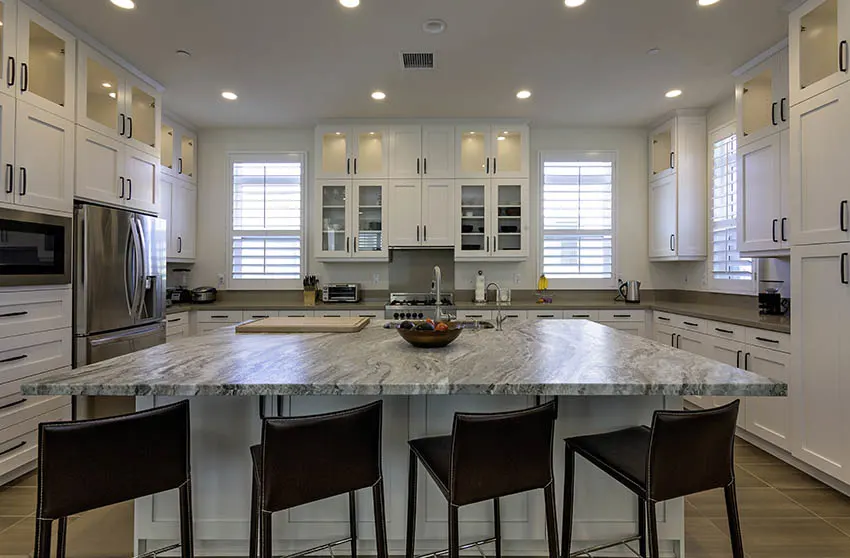 Granite in itself is a smart and elegant choice for your kitchen countertop. There are huge differences though with the kind of finish that you actually go for when it comes to these granite surfaces.
They can come in different textures and sheen and they each have their own appeal as well as pros and cons that you need to be aware of in order for you to make a conscious and educated choice about the particular type of granite surface that will suit you and your home best.
The main difference between honed and polished granite starts off with the surface texture. The honed granite is produced when the manufacturer stops the finishing process just right before the surface turns shiny, leaving it with a matte and semi satin appearance.
Polished granite, on the other hand, is further buffed with polishing pads, leaving the surface glossy and even reflective.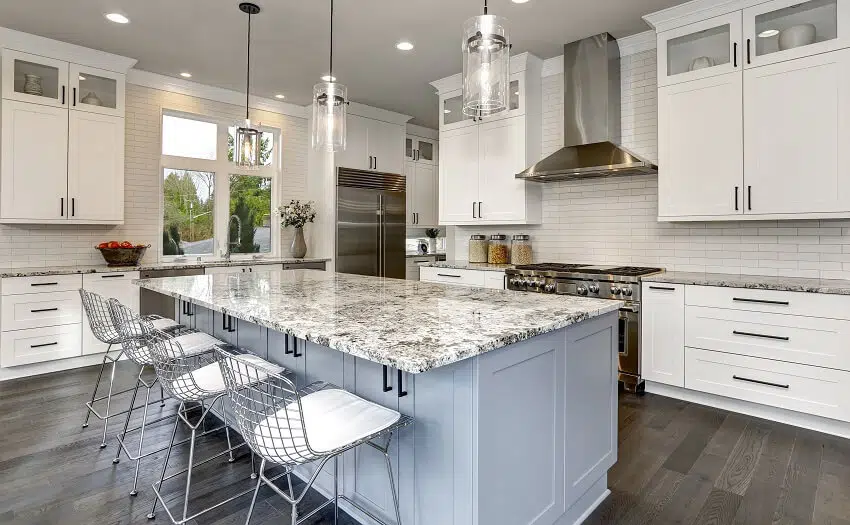 As for the looks, polished granite looks very sophisticated and classy and this is its main selling point. It has a mirror-like reflective surface that really showcases the unique quality of the stone as well as reflects light back.
Honed granite, on the other hand, has a much lower sheen in its surface area and a much softer look. Its appeal is in its subtlety and coziness.
For the maintenance, polished granite has closed pores, making it very stain resistant. It does not readily absorb liquids and stains and does not require frequent resealing as it repels moisture as is.
Honed granite, on the other hand, is a little more porous which means that you can't let spills sit too long or it will absorb into the stone and end up staining it permanently. You would also need to constantly reseal it at a frequency of around every 2 to 3 months because of that.
For the cost, hone granite is more expensive compared to polished granite for the mere fact that polished granite is more readily available as it's more popular.
There's a bit of a scarcity in the market for honed granite and it oftentimes requires a special order as it's an uncommon finish so that's why it can come at a much higher price tag.
Honed Vs Leathered Granite
Leathered granite features a somewhat soft sheen that isn't as shiny as polished granite but isn't as matte as honed granite either. It somewhat sits between the two.
Leathered also showcases a texture that's dimple-like and subtle and this can be achieved through the use of diamond tipped brushes that are usually combed through the granite surface. Read more about leathered granite countertops here.
Honed granite is much more matte and much more textured to the touch. And the manufacturing process just entails getting it buffed just right before the stone turns shiny.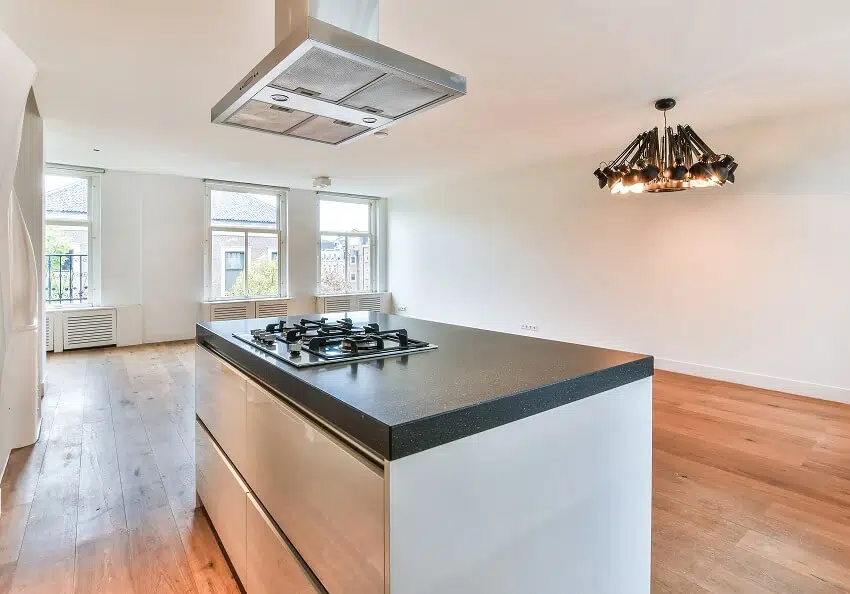 Leathered granite is way more stain resistant compared to honed granite. It can hide water spots and smudges more than polished granite as well. If you're looking for the perfect balance between honed and polished granite, it definitely has to be leathered granite.
The only downside to leathered granite is that since it has a non-reflective surface, it can definitely have your kitchen space feel small so we don't really recommend it if you don't have the luxury of space in your home. It also has a dimpled or textured surface which makes cleaning it a little more challenging.
Types Of Honed Granite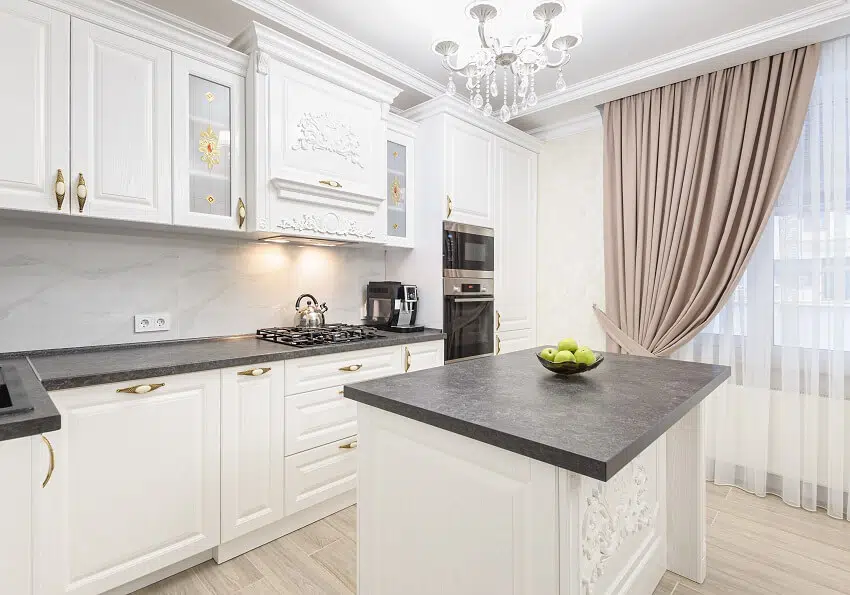 To further break down your understanding of honed granite, we've researched the several types of honed granite materials available in the market right now and how they differ from each other down below.
Flamed Honed Granite
A flamed finish for honed granite means that this was a surface created through the use of hot flame. The heat applied on the material stresses it out enough to cause it to pop crystals out. This also results to a very rough texture because of the crystallization process.
River Washed Honed Granite
To achieve this particular finish for honed granite, the slab needs to be flamed first. After that, it goes through the river washing process wherein the rough texture out of the flaming process is bring smoothed out. This results to a smoothed out surface that has no reflective properties.
Honed Quartz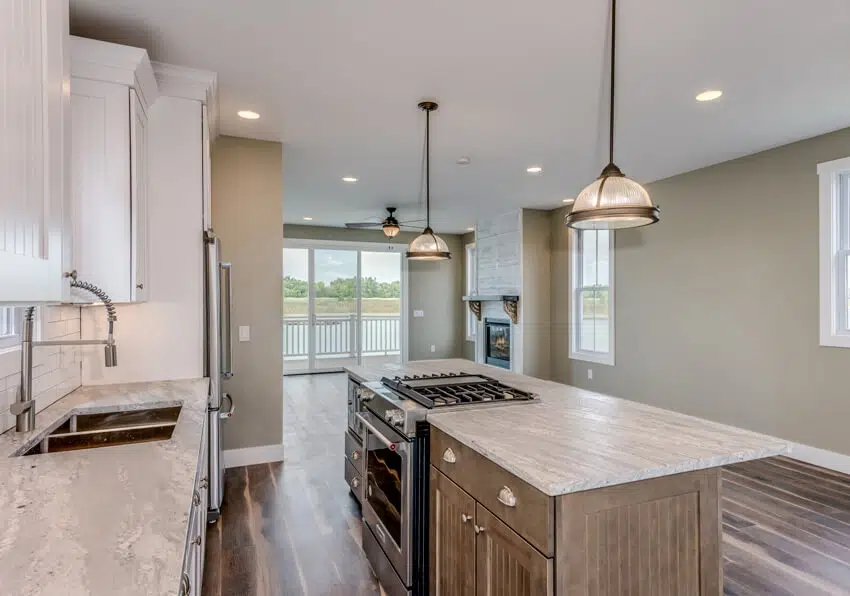 This particular surface quality for honed granite requires a bit more maintenance: daily, to be exact. This means that it can be a bit laborious.
Marks, dust, fingerprints, and the like can easily show up on the surface which is why you need to constantly get it cleaned to make sure that it stays sanitary especially since the countertop is something that you place most of your food items in.
Black Absolute Honed Granite
This honed granite type has a smooth yet non reflective surface. It has a look that's warmer and softer compared to its polished black granite counterpart.
These types of black granite countertops are also more porous so it's highly recommended that it isn't exposed to chemicals or acids. You can clean this finish off with the use of soft scrubs.
Is Honed Granite More Expensive Than Polished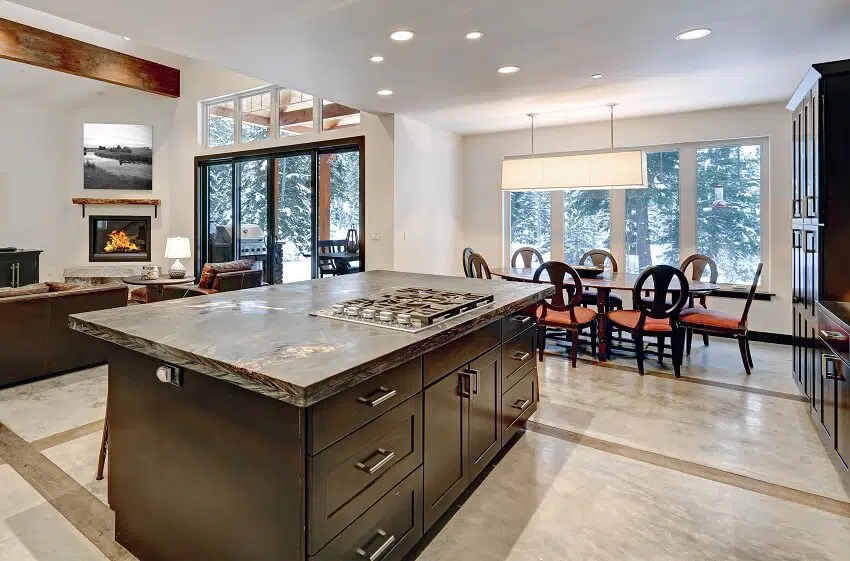 Yes. This is the direct answer to it. If you go ahead and take a look at the manufacturing process, you'll initially find it confusing. After all, polished granite is so much more time consuming and labor intensive to actually produce.
However, the variable that comes into play when it comes to the pricing differences of honed and polished granite is the basic law of supply and demand. Because there is a high supply for polished granite surfaces because of their popularity, it levels out the playing field for their prices.
Honed granite isn't readily produced in the market which means that its supply is low. This drives its price up, making honed granite way more expensive than polished granite to obtain.
Honed Granite Maintenance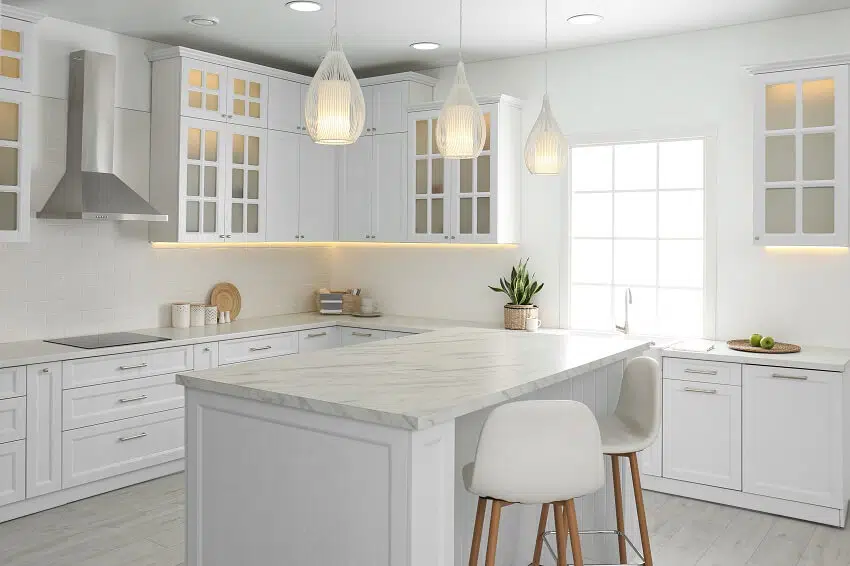 Honed granite requires a special bit of attention to actually maintain because the surface isn't reflective and isn't exactly stain free. If you would like to maintain the integrity of its surface, there are certain things that you would need to do to preserve it in the best possible way.
Let's start off with its daily care. You need to clean honed granite countertops daily by wiping the surface down with a damp cloth. Then go in with a second wipe using a new rag or towel to try it off. This will prevent water spots from forming.
If you would like to go in for a deeper clean, you can opt to use some dishwashing soap and warm water. You may also opt for other cleaning products but you just need to make sure that they aren't abrasive nor acidic so as not to ruin the natural stone. Check out our guide on how to clean granite countertops.
Rinse it all out with some water and wipe the surface down with a soft cloth after so that it doesn't get water marks and so that it doesn't get scratched as well. You may also purchases natural stone cleaners that have a bit of sealant so that you can seal as you clean.
As an additional note, you need to make sure that you don't use cleaners that have ammonia. This particular chemical will ruin the protective sealer on your honed granite. Cleaners that contain acids should also be avoided at all costs.
You have to remember that honed granite is a porous surface. What this means is that it can absorb water and stains from other types of liquids. If you do get spills or messes, blot them out instead of wiping them off. Wiping will spread the liquid even more and might end up spreading the potential stain.
Reseal honed granite constantly to keep it protected from liquids and other substances that might cause permanent stains on its surface.
Best Way To Clean Honed Granite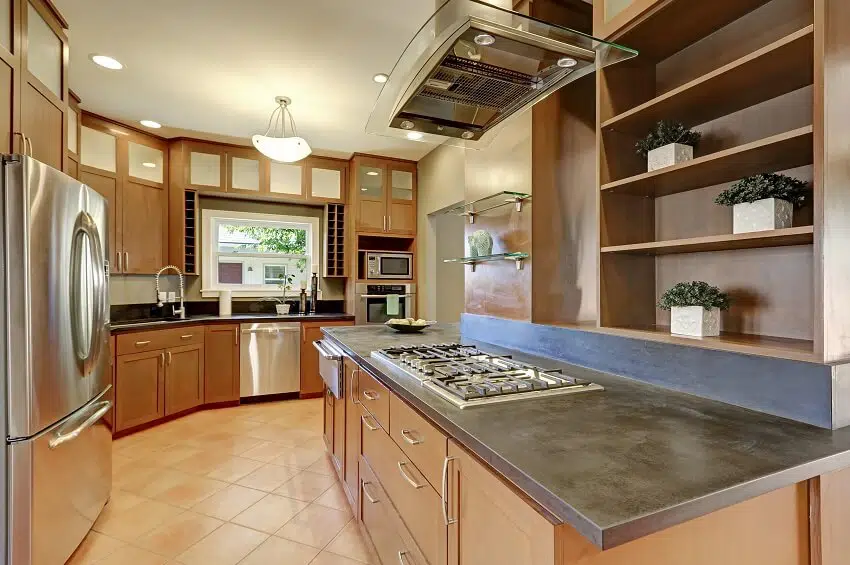 The best way to clean or maintain honed granite countertops is by investing in 2two basic things: a soft bristled brush and a recommended stone cleanser.
Soaps and other unchecked cleansers might have acids and ammonia that will end up damaging the natural stone. Stone cleansers are really meant to preserve it and some might even come with sealing substance to maintain and protect it even more.
Spray the cleanser on the stone's surface and gently scrub the dirt and other debris away with the use of a soft bristled brush.
Once done, wipe off all the excesses with either a disinfecting wipe or a wet cloth. Make sure that you finish off with a clean soft cloth to avoid any hard water stains left by water droplets that have been left to dry on the surface.
Although honed granite maintenance takes more work compared to maintaining polished granite, it's a small price to pay to take care of your investment. Honed granite is a unique take on kitchen countertops and it's a type of look that you don't really get to see every day.
If you like the concept of uniqueness or going for something that isn't commonly seen in most homes, honed granite is worth the higher upfront price as well as the ongoing maintenance requirement that comes along with it.
Visit our guide on green granite countertops for more related content.