In this bar sink dimensions guide you'll see the standard sizes for different types of bar sinks, measurements for drains & faucets, and the best bar sink size.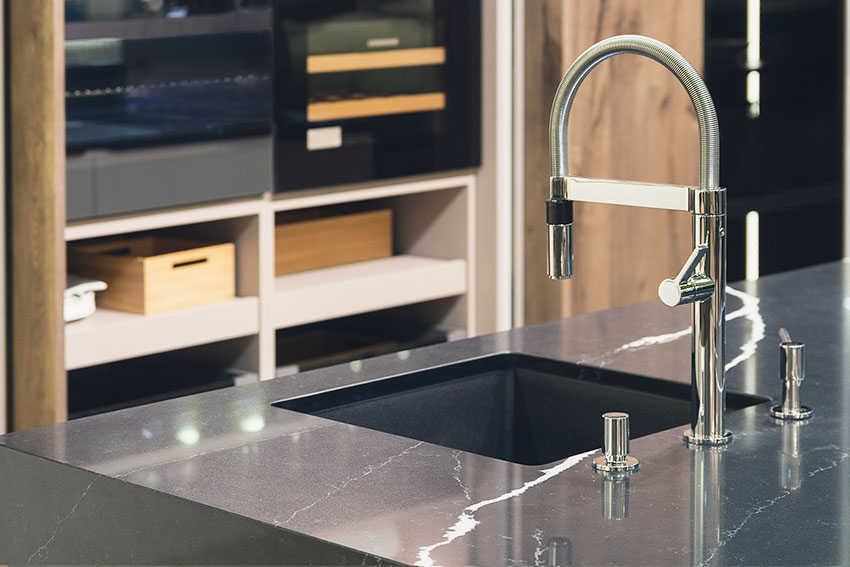 Bar sinks are also known as prep or entertaining sinks since they are smaller than the standard sinks homeowners typically see in a kitchen. These secondary sinks are everywhere, available in many sizes and shapes specifications according to anyone's needs and interior space design.
A bar sink is an excellent addition for their convenience if a homeowner does a lot of cooking in the kitchen. Bar sinks can also be installed in an outdoor kitchen for backyard parties since they can quickly be filled with ice to keep all the bottled drinks and beverages cool and accessible for every guest to enjoy.
Standard Wet Bar Sink Size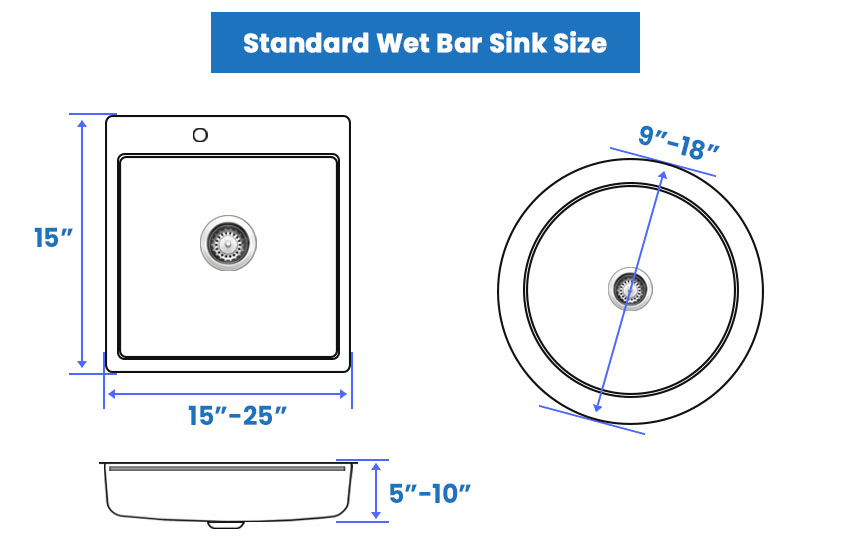 The standard kitchen sink is somewhere between 22 to 33 inches or 56 to 84 centimeters wide, and bar sinks are usually smaller than kitchen sinks both in length and width.
Generally, standard bar sinks are 15 to 25 inches or 38 to 64 centimeters in length. They have a width of about 15 inches or 38 centimeters and are 5 to 10 inches or 13 to 25 centimeters in depth.
There are also other shapes for bar sinks, and one of the average round standard sink sizes often utilized is 9 to 18 inches or 23 to 46 centimeters in diameter.
Undermount Bar Sink Sizes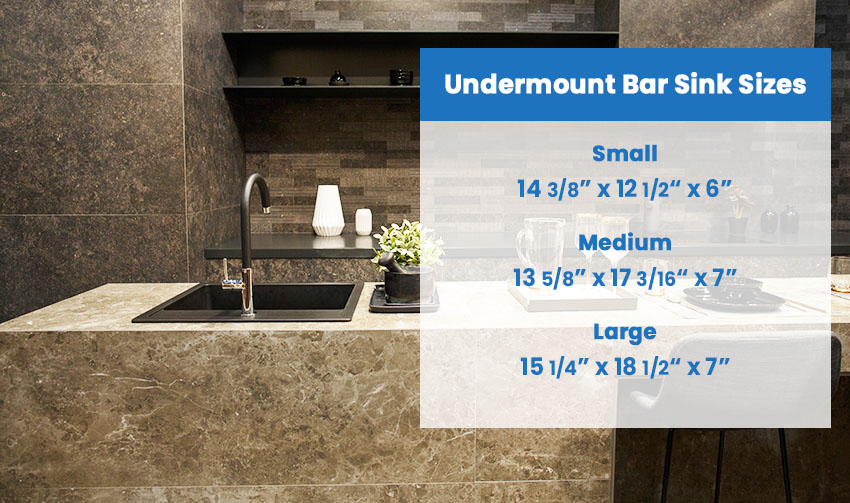 One of the most famous installation options for bar sinks is undermount bar sinks. These sinks are affixed on the underside of a countertop with the use of ledges on a ready cut-out hole in the countertop.
The sink edges are then glued to be secured in place, and it is recommended to have a professional install the sink because some undermount sinks can be heavier than others.
Undermount sinks are available in many shapes and sizes, but the standard rectangular ones with taller lengths are popular. Small rectangular undermount sinks are 14 3/8 by 12 1/2 inches or 37 by 32 centimeters with a depth of 6 inches or 15 centimeters.
Medium ones are 13 5/8 by 17 3/16 inches or 35 by 44 centimeters with a depth of 7 inches or 18 centimeters. Large ones are 15 1/4 by 18 1/2 inches or 39 by 47 centimeters with a depth of 7 inches or 18 centimeters.
Small Bar Sink Sizes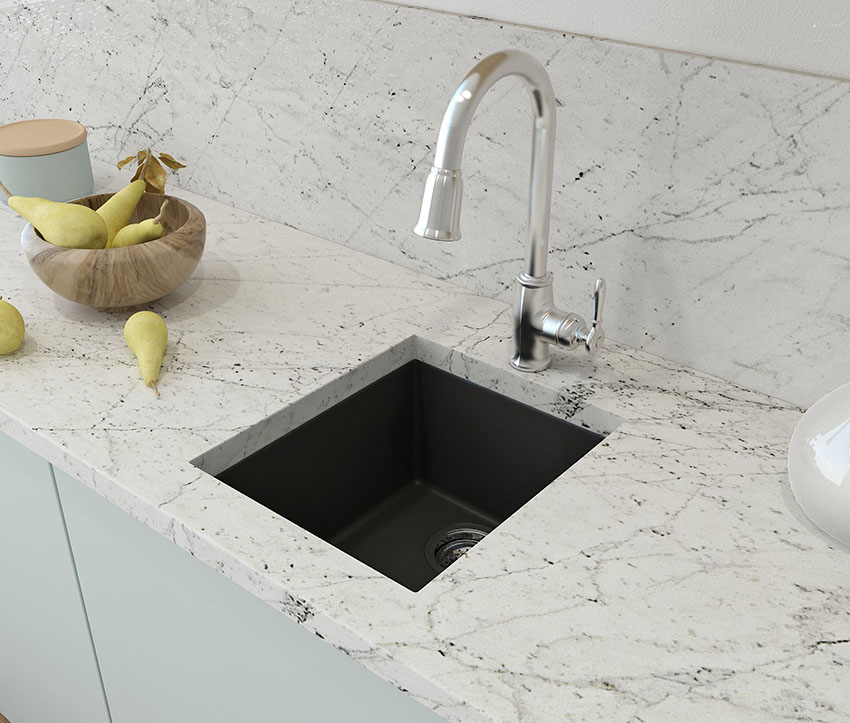 See this bar sink at Home Depot [sponsored link]
Bar sinks are already smaller than any average sink, but there are also variations in sizes when it comes to bar sinks, and homeowners who want the smallest bar sink possible can have that.
Most small bar sinks will be made of stainless steel or copper, and standard rectangular and square bar sinks are usually 15 to 25 inches or 38 to 64 centimeters long, with a width of 15 inches or 38 centimeters and a depth of 5 to 6 inches or 13 to 15 centimeters.
Shallow Depth Bar Sink
Another consideration before buying the perfect bar sink for any home is its depth since the bar sink depth is dependent on the space available beneath the sink.
For countertops with a lot of space in the bottom for the basin, it can hold a bar sink with a sizable depth, but shallower basins are also available for people with little space underneath their countertops.
Whether searching for a rectangular, circular, or square bar sink, the usual depth will vary from 5 to 7 inches or about 13 to 18 centimeters, with 5 inches being the shallowest.
Prep Sink Dimensions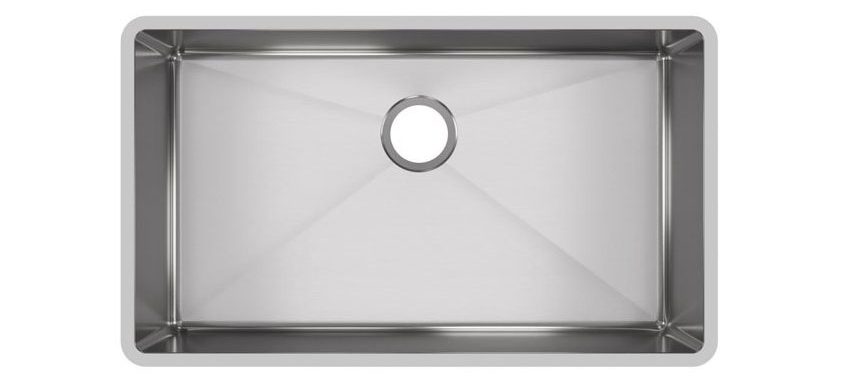 See this sink at Home Depot [sponsored link]
Prep sinks are usually found in many restaurant kitchens or kitchen islands. They are great for preparing vegetables or fruit salads and other vegetarian meals to ensure that they are prepared away from meat products, which usually require a more oversized sink to prepare.
A prep sink usually measures 48 to 72 inches or 122 to 183 centimeters in length, with a width ranging from 24 to 36 inches or 61 to 91 centimeters.
Some prep sinks can be customized to meet any specific requirement, which is usually the case for the food business industry. See pictures of kitchen islands with sinks here.

Bar Sink Cabinet Size
Another thing to consider before buying a bar sink is measuring the countertop area or base cabinet that will hold the bar sink. If this is done, the sink should be 3 inches or 8 centimeters smaller than the actual base countertop anchoring it.
To illustrate, for a standard 20 by 15 inches or 51 by 98 centimeters cabinet, deduct 3 inches or 8 centimeters on both sides. The bar sink should be 17 by 12 inches or about 43 by 30 centimeters. Read more about kitchen cabinet dimensions on this page.

Bar Sink Drain Size
A small bar sink means less drainage, and the precut hole for drainage will usually be small. The rule is ensuring that the drain doesn't have a bigger diameter than the sink hole, which is generally just 1 1/4 inches or 3 centimeters.
The perfect drain for this bar sinkhole size is 1 1/2 inches or 4 centimeters, with a waste line for emptying that is usually 2 inches or 5 centimeters in diameter. Sometimes, an adapter will be needed to ensure trap arm connection to the waste line.
What Size Faucet For Bar Sink?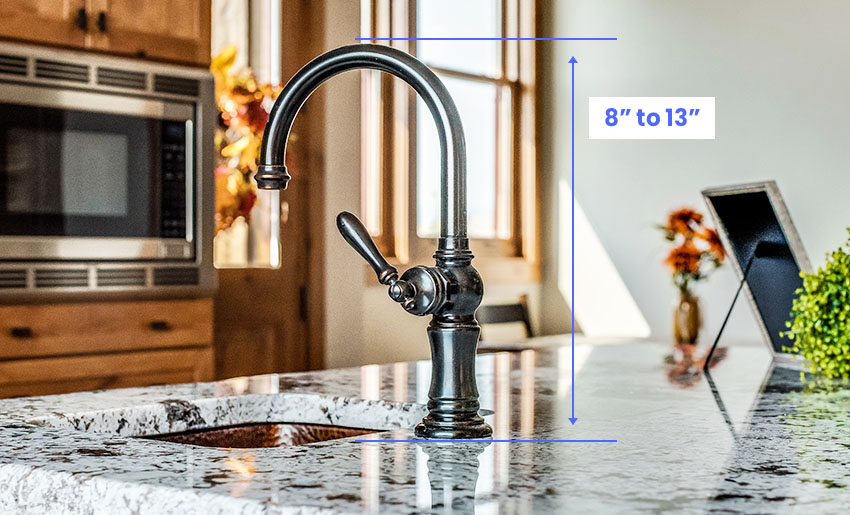 The correct faucet size can make or break the perfect bar sink, so choosing the right size is also needed to ensure the maximum use of the bar sink.
The typical bar sink faucet has a spout height ranging from 8 to 13 inches or 20 to 33 centimeters. Any higher faucet spout height used for a bar sink will guarantee to splash once the water runs.
Best Size For Bar Sink
Bar sinks come in many sizes and shapes to fit any homeowner's needs, but if they are confused about what size to get, it is always safe to return to standard sizes.
The most common are the rectangular bar sinks with a width of 9 inches or 23 centimeters, a length of 18 inches or 46 centimeters, with a depth ranging from 6 to 10 inches or 15 to 25 centimeters.
Circular bar sinks are also standard, with a diameter ranging from 9 to 18 inches or 23 to 46 centimeters and a depth from 7 to 10 inches or 18 to 25 centimeters.
Visit our utility sink dimensions guide for more related content.