These hexagon backsplash designs include what it is, the different styles, materials, kitchen ideas, and where to use hexagon tile backsplash in the home.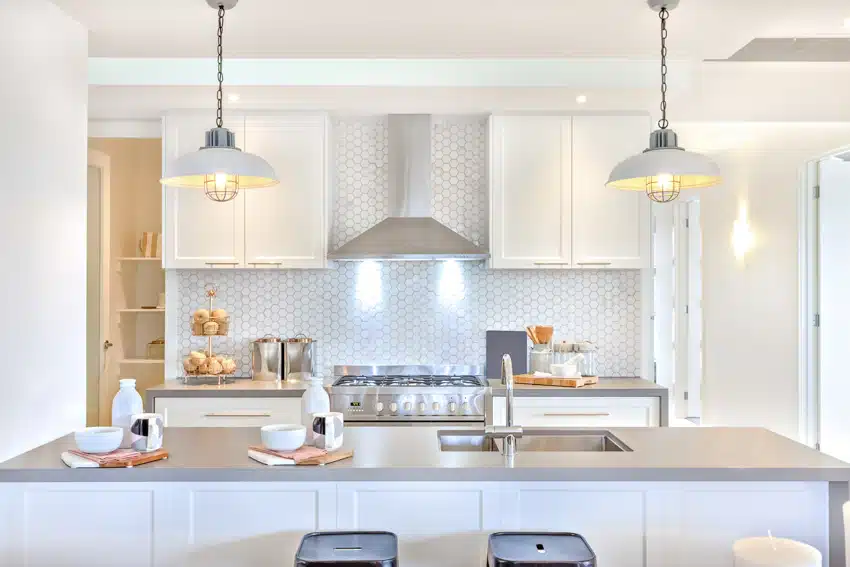 Stylish and versatile, a simple update with a hexagon backsplash in your kitchen or bathroom can create a stunning backdrop for your interior. With the timeless piece, you get a lot of design possibilities. From the exciting three-color combination layout to gradient hexagon tiles, there's always that perfect hexagon backsplash design to match your taste.
While subway tiles have been the go-to tile option for contemporary interiors, we're seeing a resurgence of the 1900s hexagon shape in homes and commercial spaces.
The hex appeal has always goes down with the organic form, as we are innately attracted to nature's design, such as earthen colors and textures. In addition, the geometric shape conveys a modern yet familiar quality making this kind of backsplash an ideal design element to include in any built environment.
What Is A Hexagon Backsplash?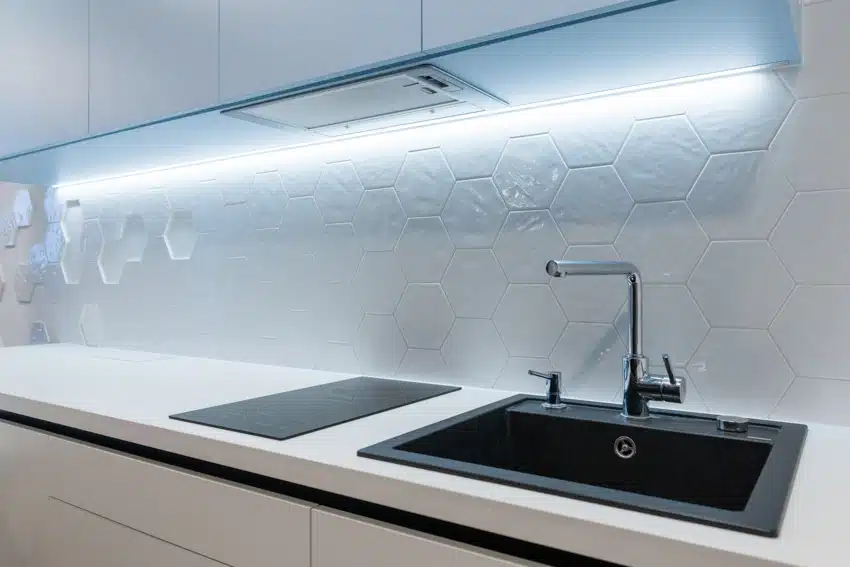 A hexagon backsplash is a kitchen wall cladding that uses six-sided (hexagon shape) tiles laid out to resemble a honeycomb pattern. The most common version of the backsplash design has equilateral sides with several other variations, such as elongated hexagon tiles or picket tiles. The geometric, patterned backsplash creates an attractive background while protecting your walls from grime and moisture.
Hexagon tiles come in many shapes and sizes with different tile patterns. The first hexagon tiles were introduced during the 1920s Arts and Crafts movement, a time when people were tired of the stale look of white finishes.
The first commercial hexagon tiles came in 1″ size and were mainly used in bathrooms. Today, and modern hexagon tiles come in standard sizes where the medium to large sizes are the mostly used. The 4″, 6″, and 8″ are common standard sizes.
Hexagon Tile Backsplash
Here we share the popular types of hexagon tile backsplash designs.
Elongated Hexagon Backsplash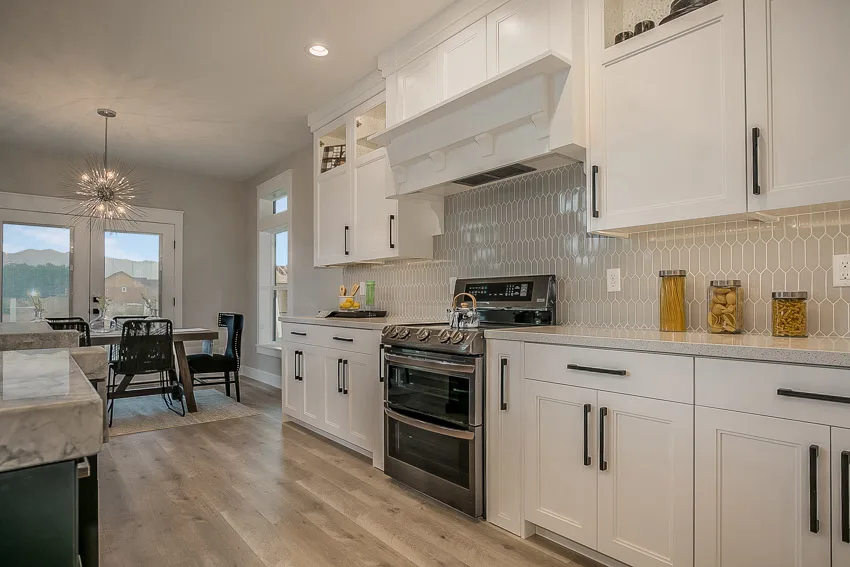 These are elongated versions of the equilateral hexagon with the two parallel sides having a shorter length. The elongated hexagon tile shapes can add directionality when installed on a vertical, horizontal, or diagonal matter.
If you love subway tiles and want a twist to the traditional tile, the elongated hexagon tile is the perfect option. The hexagon tile variation has softer corners and angles but still looks fascinating on a backsplash countertop. A variation of the elongated hexagon tiles is the picket tiles. They are distinguished by the ends having shorter sides, thus resembling the look of a picket fence.
Hexagon Mosaic Backsplash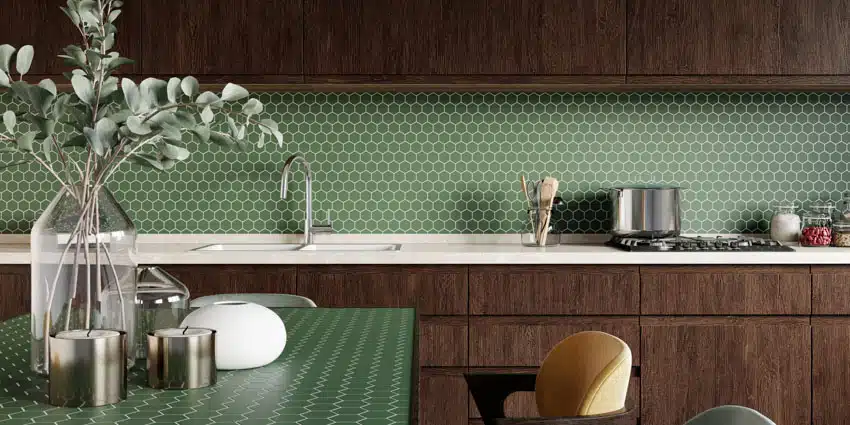 From bold to mesmerizing, there's a huge range of hexagon tiles to choose from. You can elevate the look of your interior with simple to complex tile layouts. Like any other mosaic tiling, you'll have small tiles (around 2 inches by 2 inches or less) laid together to compose a larger pattern.
If you've got a knack for creativity or just simply what a unique pattern to add personality to your kitchen, a hexagon mosaic backsplash is a perfect choice. Explore either with the color or texture of your hexagon tile. You can go with bold contrasting colors, such as a yellow and black combination, or create artistic mosaics that form images.
Large Hexagon Backsplash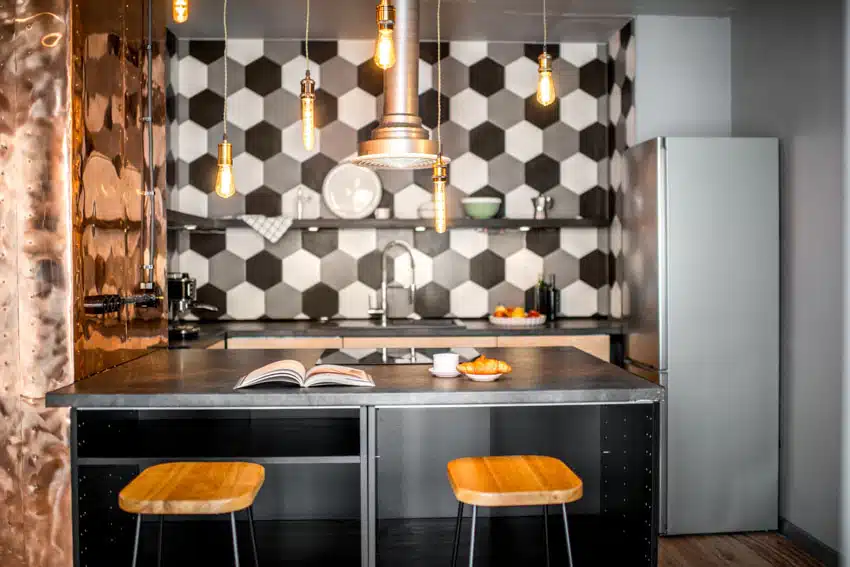 A hot trend since recent years, the large hexagon formats can visually expand a space and create continuity. Similar to color and light, large format tiles create a feeling of spaciousness as lesser tile pieces are used.
Since grout lines are created between tile pieces, these break the line of sight, making the wall look busy. Large hexagon tiles will have lesser grouting lines and thus provides a clean and continuous look.
A backsplash with large hexagon tiles works well with small to medium-sized kitchens or bathroom layouts since it creates a uniform backdrop creating an illusion of space. From subtle to strong contrasts, expansive interiors can also utilize the large format tiles by creating a zone defined by the use of different textures or colors of your hexagon tiles.
Easier installation is another advantage of choosing large hexagon tiles, as there is lesser time spent in the layout process. Moreover, the smaller grout lines in between mean fewer areas for grime and dirt to accumulate, making the large hexagon backsplash a more hygienic choice.
Small Hexagon Backsplash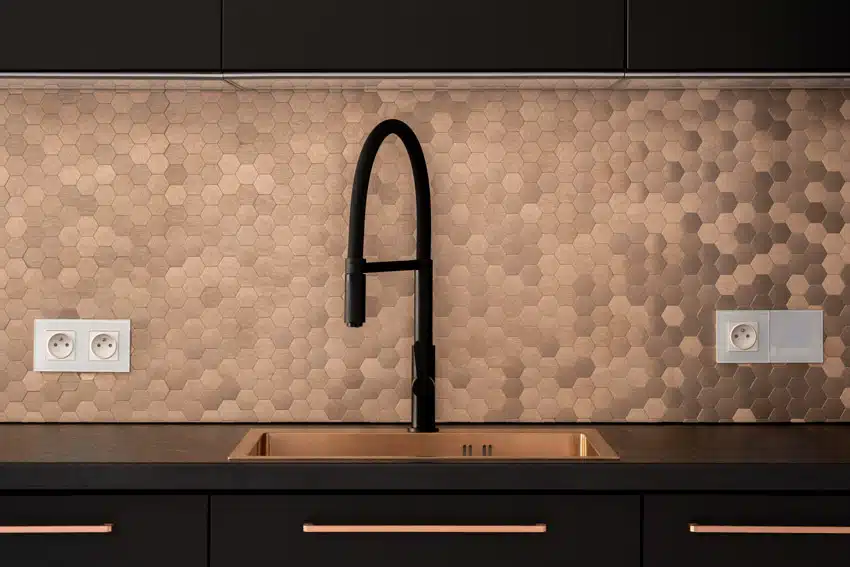 Choosing the right design for your small hexagon backsplash can do wonders for your compact spaces. For instance, a small bathroom with a small hexagon tile cladding can help create continuity between the sink, cabinets, toilet, and fixtures.
A small backsplash can work with modest bathroom sizes, especially if aiming for a patterned image. Hexagon mosaic tiles, a more elaborate version of your small hexagon tiles, can be used to create a feature wall for your kitchen or bathroom area. For large areas, a small hexagon backsplash can zone down areas as well.
3D Hexagon Tile Backsplash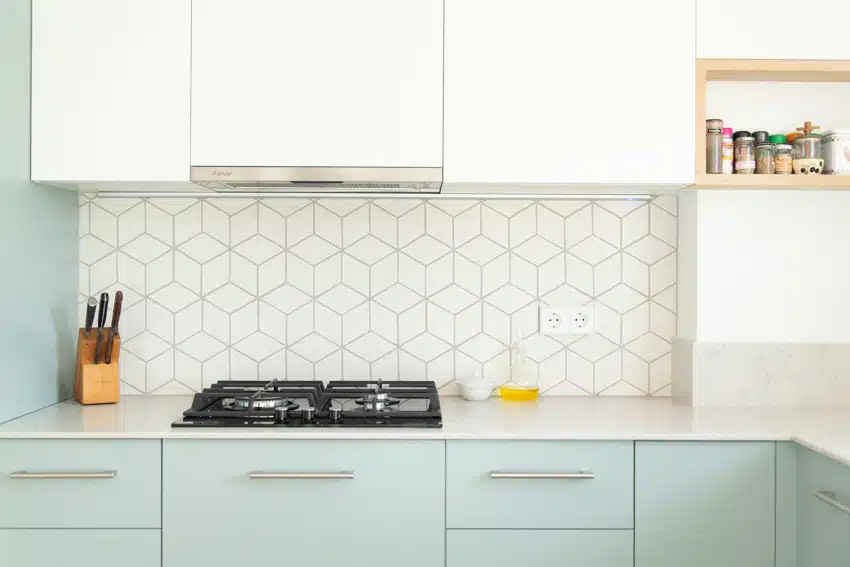 When it comes to backsplashes, having dimensions can give the impression of a more sophisticated and complete look. The 3D hexagon tile backsplash provides that depth and texture which perfectly suits interiors with minimal features. With carefully planned lighting design, the 3D hexagon tile can be a stunning feature wall.
Another benefit of hexagon tile backsplash is that they can hide imperfections on wall surfaces such as gaps and look cleaner for longer.
In addition to hiding imperfections, there are 3D hexagon tiles with acoustic buffering properties where the tiles diffuse and absorb sound waves. These 3D tiles are usually made from extra-absorbent felt, though not advisable for damp areas.
Matte Hexagon Backsplash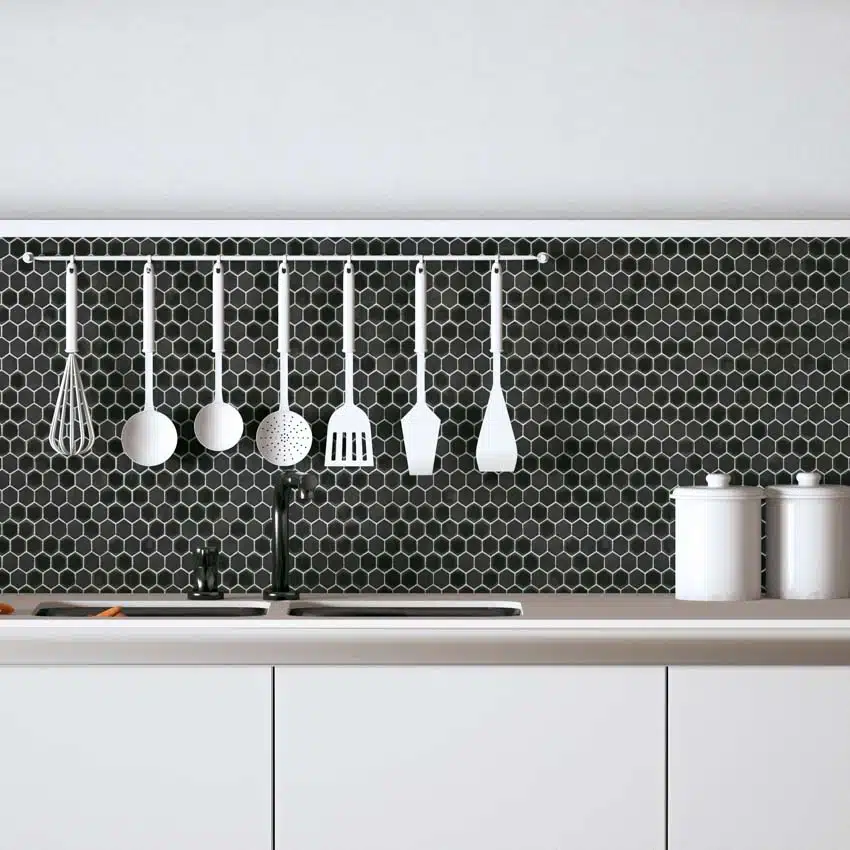 The matte versions of material finishes are trendy Today, and like matte hardware and furniture, the matte hexagon backsplash can effortlessly give an interior an updated look.
There's a sense of sophistication and modern quality to a matte finish, and practicality, as well as a matte hexagon backsplash, allows the richness of the texture to come forward on its own. The subtlety of one visual perception focuses on the natural graining or veining, allowing the viewer to appreciate the organic material.
This effect creates a more calming and relaxed aesthetic. A matte tile backsplash demands less maintenance as it conceals soap marks, water droplets, or smudges smoothly.
Hexagon Tile Backsplash Materials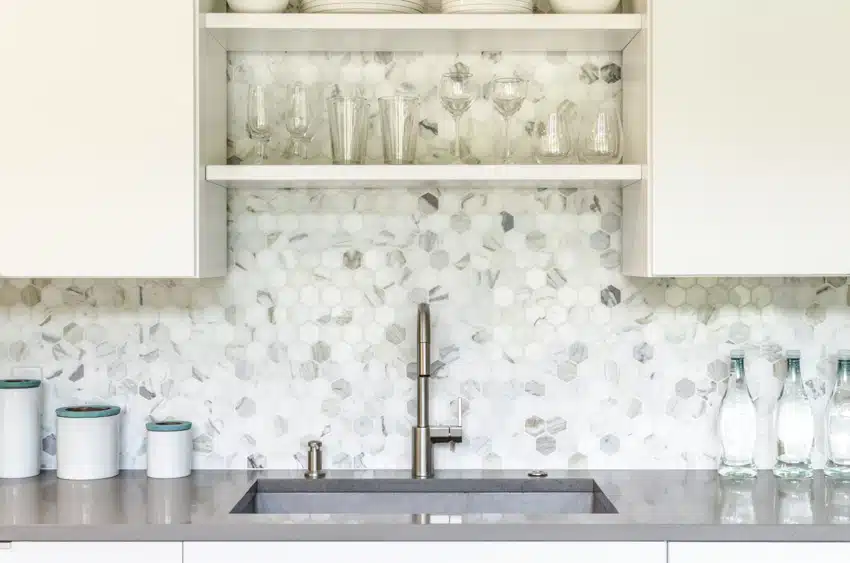 There are a wide range of materials to choose from when it comes to hexagon tile backsplash, each with a unique feature.
• Marble Hexagon Backsplash: Conveys an eloquent and natural quality, the marble hexagon backsplash has that translucent property with the beautiful wispy veining.
There are a number of variations in your marble hexagon backsplash; one is laying out different marble tiles, with each having a unique design creating a collage of patterns. A popular type of marble backsplash tile is Calacatta, distinguished by its very white field with large and bold gray veining.
• Porcelain Tile Hexagon Backsplash: If you want the opulence of quarried stone but want to save on material costs and spend less on maintenance, the porcelain tile hexagon backsplash is a great option.
Moreover, in general, porcelain tiles are durable, and the material is widely available in many designs. The porcelain tile hexagon backsplash can have a simulated look of any organic texture, such as wood or natural stone.
• Ceramic Tile Hexagon Backsplash: One of the most widely used tile materials is ceramic, and a ceramic hexagon-shaped tile backsplash is a more affordable option while still having a level of durability.
When covering a large area, a ceramic tile hexagon backsplash costs less than porcelain and is even cheaper than natural stone. A square foot of hexagon ceramic tile costs around $5 to $10.
Ceramic tile, in general, is cheaper than porcelain due to the use of less refined clay, but a good quality ceramic tile can last up to 15 to 20 years. Moreover, you can replace ceramic tiles easily but get extra pieces of your hexagon ceramic tile when purchasing your backsplash installation.
• Glass Hexagon Backsplash. A glass hexagon backsplash provides an opulent quality to an interior as gloss and color create a layered effect when hit when natural or artificial lighting. Incorporating the dimensionality of the hexagon shape combined with the additional layer of texture can create an eye-catching backdrop to any interior.
If your interior lacks brightness, a glass backsplash with hexagon-shaped tiles is perfect for increasing light, especially if you have deep shelves or counters. Recycled glass hexagon tiles are also available in the market, where stunning colors and designs can elevate an interior look at an affordable cost.
• Copper Hexagon Backsplash: The rich reddish-brown hues of copper hexagon backsplash are the perfect statement wall. Select different shades of copper hexagon tiles and lay them out randomly to create an interesting visual effect on your countertop.
The copper backsplash can work both on a contemporary or traditional interior but loves neutral colors such as black or white as it highlights the metallic quality of the material.
• Hexagon Peel and Stick Backsplash: For a quick transformation of your kitchen or bathroom wall, a hexagon peel-and-stick backsplash is a great option, as it comes with an adhesive backing.
The self-adhesive hexagon tile is usually made from vinyl material with a 0.3 to 0.5 thickness. The hexagon vinyl tiles come in a huge range of designs, with the most popular simulating the look of natural stone or wood. The hexagon peel and stick backsplash are removable and can be installed over existing tiles.
Hexagon Backsplash Ideas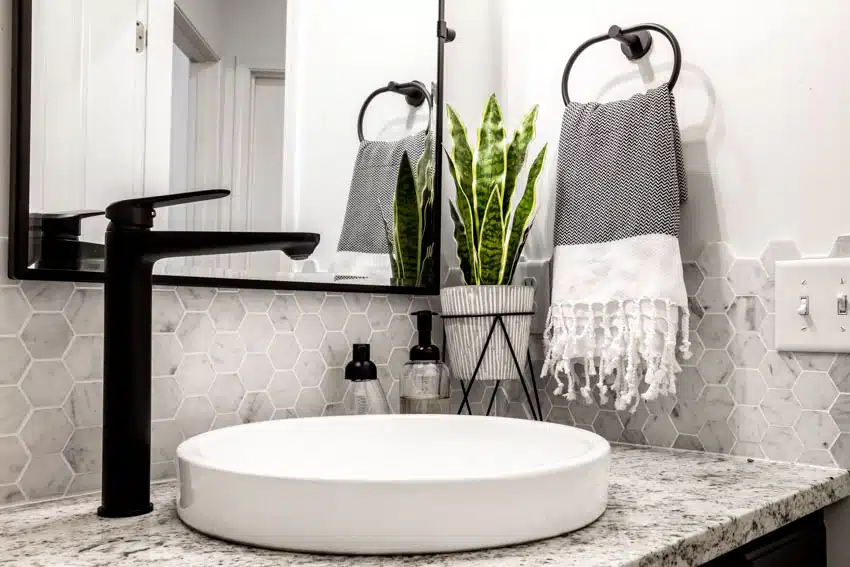 • Matte and Gloss Combination: The backsplash in kitchens and bathrooms is usually the first element you notice, as it covers much of the visual space. For this reason, a stunning matte and gloss combination can be an impressive feature.
Layout a matte hexagon tile with several glossy hexagon tiles at random. A copper or white porcelain hexagon tile is the perfect material option for this backsplash style, as it creates an interesting play of the sheen and rustic effects of the material.
• Gradient or Ombre Hexagon Tiles: The gradient effect on design elements creates an interesting visual presentation of colors on a particular material, as seen on certain types of curtains and furniture.
Choose pastel colors or soft neutrals as colors for the gradient hexagon backsplash. This subtle layer of colors can create a relaxing mood in an interior.
• Material Transition: Combining two different materials on one wall can be a challenging design option, especially when transitioning from one material to the other.
Like transitioning wood to stone in flooring applications, you can smoothly switch from a wood cladding, for instance, to the hexagon tile by leaving the hexagon tile shape intact instead of cutting the wood floors to fit the shape of your backsplash.
• Create a Pattern: From a simple four-petal flower to an elaborate landscape, the hexagon tile is an opportunity for the creative. With the many tile layouts and variations, you can create silhouettes, monochromatic designs, or a colorful landscape and other unique backdrops for your kitchen and bathroom.
• Two-Tone Look: Choose two colors to be laid out randomly on your backsplash, and this creates visual interest without overwhelming the space with color. There are also hexagon tiles that come in more than one color.
For instance, a two-color hexagon tile would have half in a different color. A bold and subtle color can add contrast. At the same time, a beige and brown combination allows you to add a layer to your monochromatic look.
• Mirror Hexagonal Tiles: Brighten up spaces with hexagonal mirror tiles. The glossy material can be a great addition to a bathroom area as it is easier to clean and creates an illusion of space. The hexagonal mirror tiles can be installed on each side of a mirror behind a vanity. They can be either inlaid or installed offset from the wall.
• Gold Grouting: If you've decided on a plain color for your hexagon tiles but still want to add a hint of edginess, metallic colored grouting and add flavor to your monochromatic wall. Gold and brass colors work well with a black, blue, or teal-colored hexagon tile. Match the gold grouting with brass fixtures or accents.
• Floor & Wall Hexagon Tiles: Define spaces by installing hexagonal tiles on an area of the floor where the honeycomb patterns continues over half of the wall. The sectioned area creates a cozy area and effectively defines spaces, especially for open-plan kitchens and dining.
• Picket Tiles: Installed in a horizontal orientation, the elongated and pointed version of the hexagon tiles can be the alluring backdrop for a bathtub and have a relaxing quality. Choose white grouting to allow the color to pop in the background and also creates a cleaner look.
Modern Hexagon Kitchen Backsplash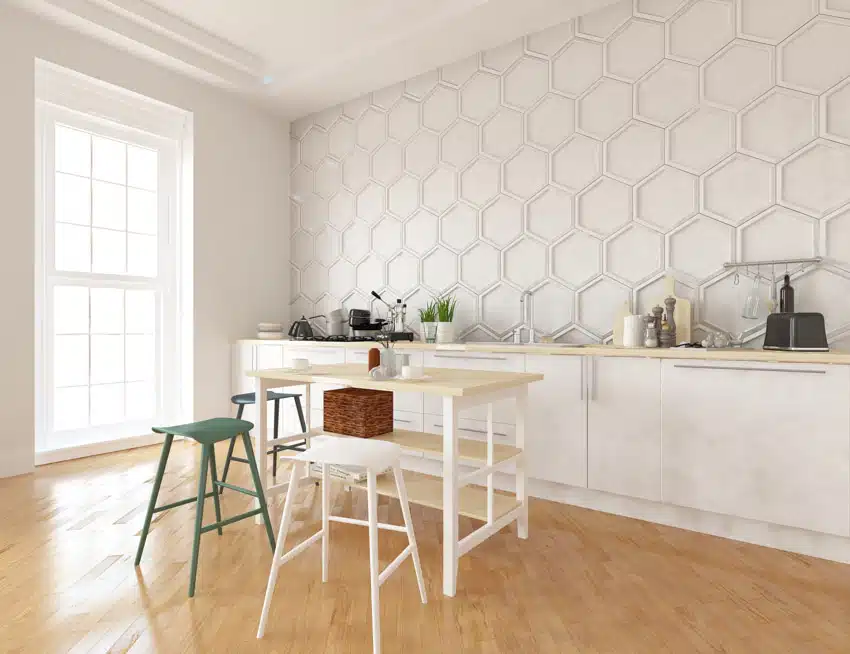 Geometric shapes such as the honeycomb pattern can easily convey a modern contemporary interior. With pops of color or bold patterns, a kitchen backsplash can create a stunning backdrop to match a brutalist concrete island or a black shaker cabinet.
At the same time, white hexagon tiles create a relaxing and subdued look. A groutless layout can create a clean look, while small details such as a beveled hexagon tile give just the right amount of dimension to the hex tiles.
Hexagon Backsplash Kitchen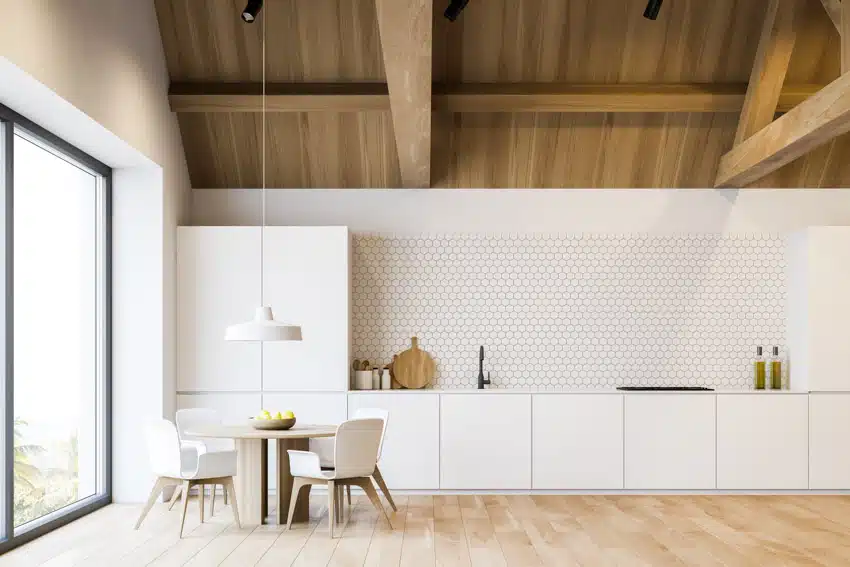 Practicality and longevity are most desirable when selecting the best backsplash tile in a kitchen setting. With its organic shape, the hexagon backsplash is seen to be a continuing fixture to the contemporary interior which means replacing your hexagon tiles won't be anytime soon.
If you're reluctant to switch to hex tiles and need more directionality, an elongated hexagon tile layout for your kitchen backsplash is a great option, as they can be laid out horizontally or vertically.
Maintenance is another quality to consider when choosing your backsplash tiles, and with a wide range of materials available, you can choose a tile that's easy to clean and wipe off dust or grime.
Matte hexagon tiles, for instance, do not show dried water droplets or smudges easily. A glass tile backsplash using hexagons is a great option as you can easily wipe off food or liquid spills without worrying about staining.
Hexagon Backsplash Bathroom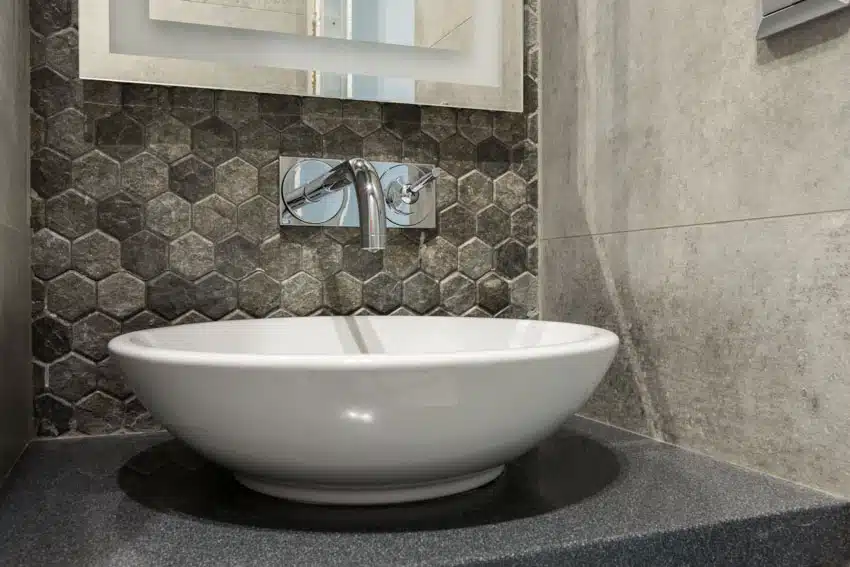 A bathroom interior has a few elements to display a creative feature, and the backsplash is the perfect canvass to add visual interest. Prevent a clinical look in your bathroom while maintaining a simple aesthetic with this kind of backsplash in white or off-white color.
You can also choose to install only a section of your wall. For instance, a two-layer hexagon bathroom backsplash behind your vanity can still add an edgy look to your bathroom.
Create an ombre effect by combining the darkest to lightest neutral. Install the darkest hexagon tiles on the top edge of your countertop and continue to layer each row with the next lighter shade. This creates an ombre effect, with white as typically the lightest color.
Hexagon Backsplash Shower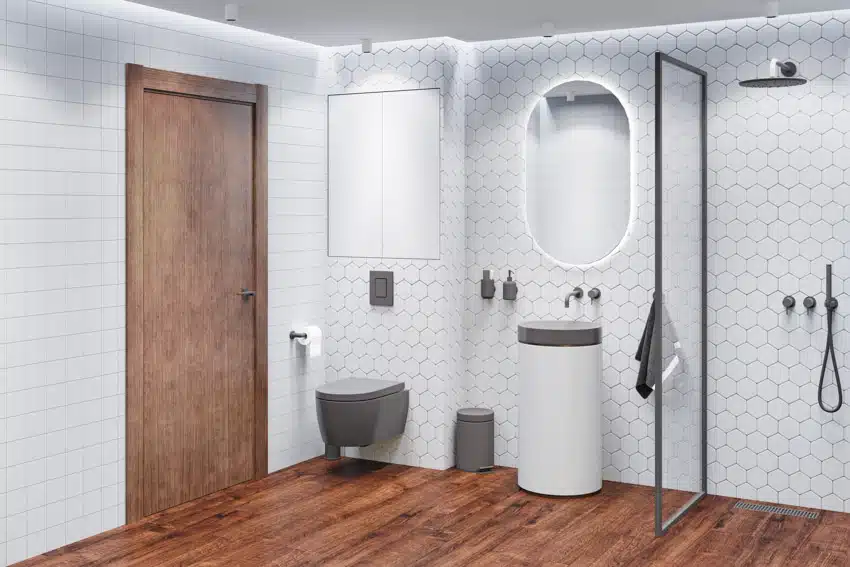 It's easy to create an atmosphere and character in your shower area. Have hexagon tiles installed on your floors, and continue the honeycomb layout to your shower wall. The continuity of the tiles creates a cohesive look and can visually appear more expansive than it looks.
Create an illusion of height with a hexagon listello tile design among rectangular tiles. You can also showcase a shower niche by installing mosaic hexagon tiles to emphasize depth. Aside from listellos, a horizontal accent with hexagon tiles can break a monotonous bathroom tiling.
See more related content in our article about the best brick backsplash ideas on this page.