See pictures of kitchen cabinets with glass doors including what they are, different types, pros and cons, glass styles, and cabinet door design ideas.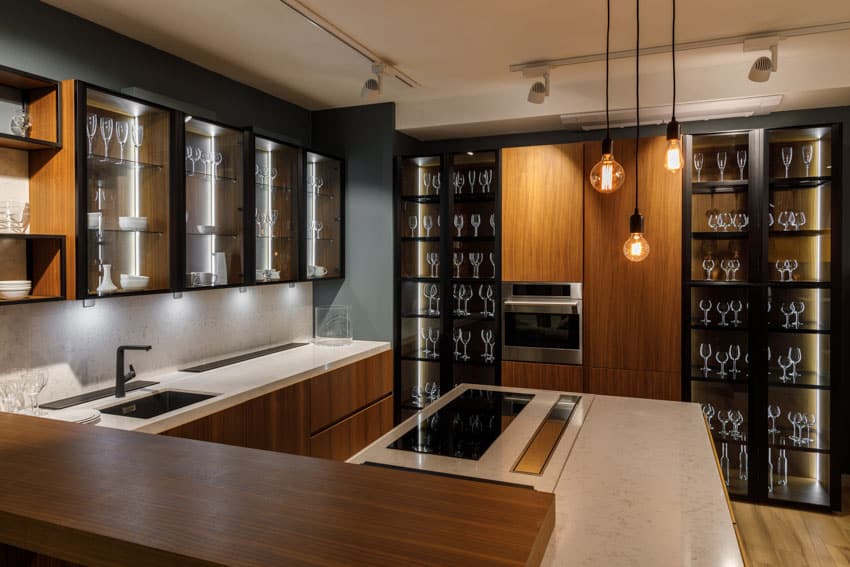 Whether you are remodeling your current kitchen or building a new one, kitchen cabinets with glass doors can lend an artistic and creative accent to your kitchen décor. There are numerous advantages to installing glass doors to your kitchen cabinets, the most noticeable of which is that you can see what is inside.
This adds a fashionable aesthetic by displaying eye-pleasing glass and dinnerware, and it is also quite efficient. There is no need to unnecessarily search for multiple kitchen cabinets. In this article, we will discuss all of the necessary details you need to know about kitchen cabinets with glass doors and why it is a great addition to your well-loved kitchens.
Glass Kitchen Cabinet Doors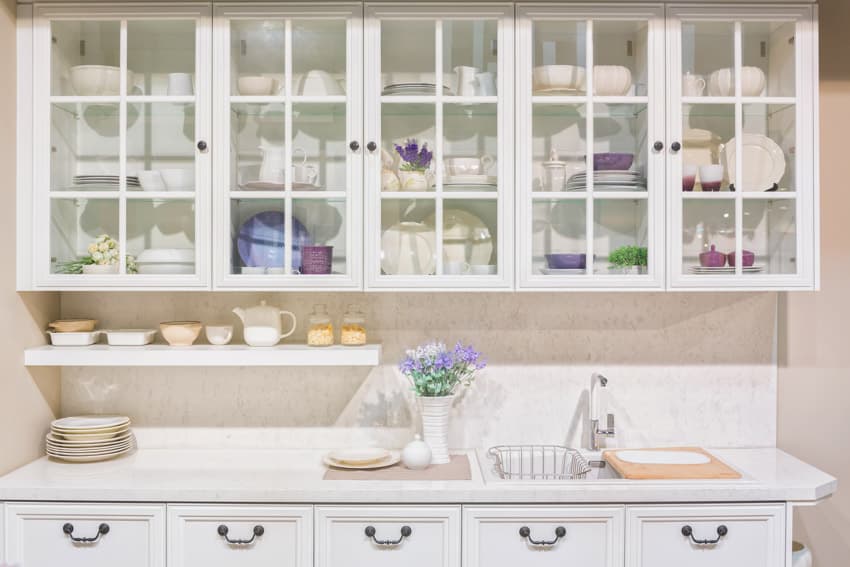 Glass cabinet kitchen doors add refinement and sophistication to any kitchen design. By trying to break up the humdrum of repeating cabinet fronts, they give both aesthetic and utilitarian appeal, allowing you to boldly display elegant dishware or prized treasures. A traditional designer's trick, glass cabinets and kitchen doors provide the illusion of depth, making smaller spaces appear larger.
You can also select from a wide range of glass kitchen cabinet doors. There are designs to match almost any kitchen cabinet design, ranging from entirely transparent and translucent to marginally opaque, patterned, etched, frosted, or grooved glass.
Each type of glass used for kitchen cabinet doors has its distinct characteristics and is usually available in two varieties: tempered glass and annealed glass. Nonetheless, your kitchen products, cabinet capacity, and privacy quality are some important factors that can help you decide which glass front kitchen cabinet door is best for you.
When installing glass kitchen cabinet doors, you should also take into account their position as well as the characteristics of your household. Glass kitchen cabinet doors on lower kitchen cabinets, for instance, could be at frequent risk if you have one or more children or a large dog in the house.
If you are concerned about the durability in particular areas, other solutions such as clear or opaque plastics are obtainable. However, you must first choose the sort of glass you want for your kitchen cabinet doors.
Glass kitchen cabinet doors can be transparent, frosted, etched, or textured, and they are all lovely in their own sense. We highly suggest textured glass for semi-transparency so that you can still show off your ornamental elements without fully showcasing them.
On the other hand, frosted glass mainly covers the objects you keep in your kitchen cabinets and only makes their outline visible. You can learn more about the many types of glass-door kitchen cabinets below to help you make an informed decision.
Types Of Glass Door Kitchen Cabinets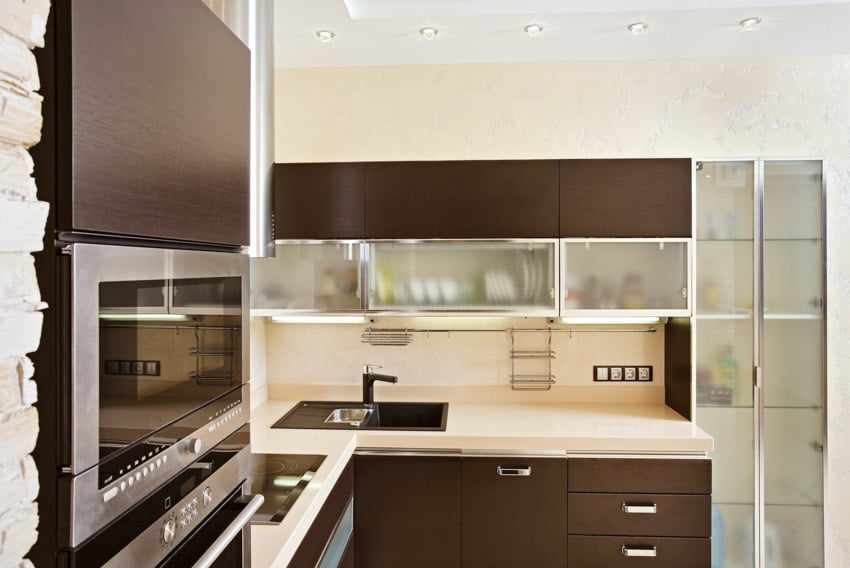 Here we share the different types of glass door cabinets for kitchens.
Glass Inserts For Kitchen Cabinets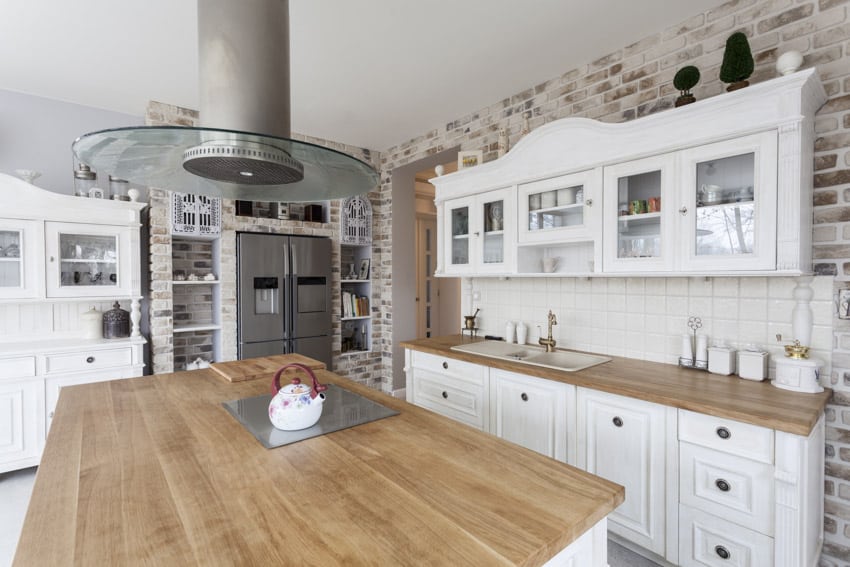 Selecting glass inserts for your kitchen cabinets is among the best methods to make your space simply appealing while also adding openness. Glass cabinet inserts are an excellent middle ground between solid cabinetry as well as open shelving. They keep dust and grime out while also helping to aesthetically open up a kitchen and showcase desirable dishware and other accessories.
Transparent tempered glass inserts for cabinets can end up making your kitchen space appear considerably brighter and bigger. The goal is to present decorative objects inside cabinets in the most appealing way possible. And when kitchen lighting reaches the smooth and shining glass surface of a cabinet glass insert, it creates the appearance of additional space and reflects more brightness.
Here are some of the glass inserts you can try for your kitchen cabinets:
• Seeded Glass Insert: Seeded glass inserts are an extremely unique product with a complex appearance. This glass insert option is available in a variety of configurations, each with its particular feature and charm.
The end result is made up of bubbles that are distinctively frozen in time during the process of manufacturing. This glass insert is ideal for formal and antique kitchen designs. These seeded glass products, on the other hand, can lend a charmingly subtle reference to the old civilization in any modern kitchen design.
• Fluted Glass Insert: Fluted glass, often known as ribbed glass, is a straight textured glass insert that comes in a variety of designs and sizes. A half-inch fluted glass is suitable for a wide-set pattern. This product lets light pass through while providing a moderate level of obscurity in your kitchen cabinet.
• Restoration Glass Insert: A restoration window glass insert is a component used to restore or recreate antique kitchen cabinets. These wavy glass objects are made in the same way that early glass was made. In certain circumstances, modern technology is used to imitate the style of glass manufactured in previous generations.
Decorative Glass Inserts For Kitchen Cabinets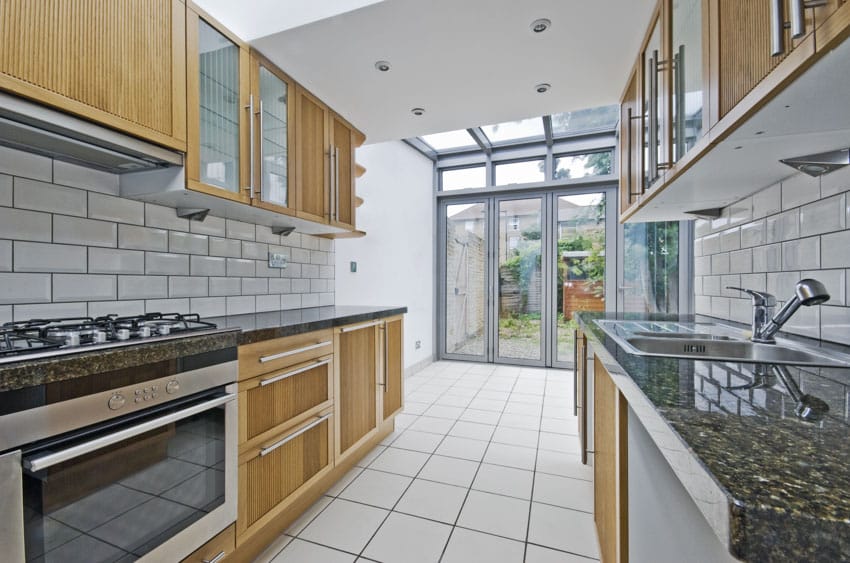 Decorative cabinet glass inserts can give a one-of-a-kind touch of artistry to your kitchen cabinets. There are numerous variations available, such as patterned glass, colored glass, and printed glass.
Furthermore, decorative glass inserts can be used to create any style and accentuate any design. Such glass inserts are incredibly flexible, and contingent on your cabinets and glass type, they can feel utterly either modern or more ancient.
Installing a decorative glass insert is one of those slight adjustments you can do for your kitchen cabinets but can dramatically improve the appearance of your kitchen design. Here are some of the types of decorative glass inserts that will make your glass kitchen cabinet look more modern or traditional.
• Colored Glass Insert: The colored glass inserts typically have a variety of tints printed directly onto the glass. Gentle hues highlight the decorative glass's design and obscurity. You can create a unique glass insert by experimenting with different hues and opacities.
• Patterned Glass Insert: Patterned glass inserts are a wonderful alternative to the more common transparent and frosted glass alternatives for your kitchen cabinets. Patterned glass inserts are available in a number of styles, with delicate textures and a smooth, yet precise fluidity, bringing light to medium opacity to your kitchen cabinets.
• Chicken Wire Glass Insert: The typical chicken wire glass insert gives kitchen cabinets an ancient farmhouse feel. Traditional wire glass could be excessively heavy and thick as kitchen cabinet inserts. Hence, digitally produced chicken wire glass would be an excellent substitute.
Textured Glass For Kitchen Cabinets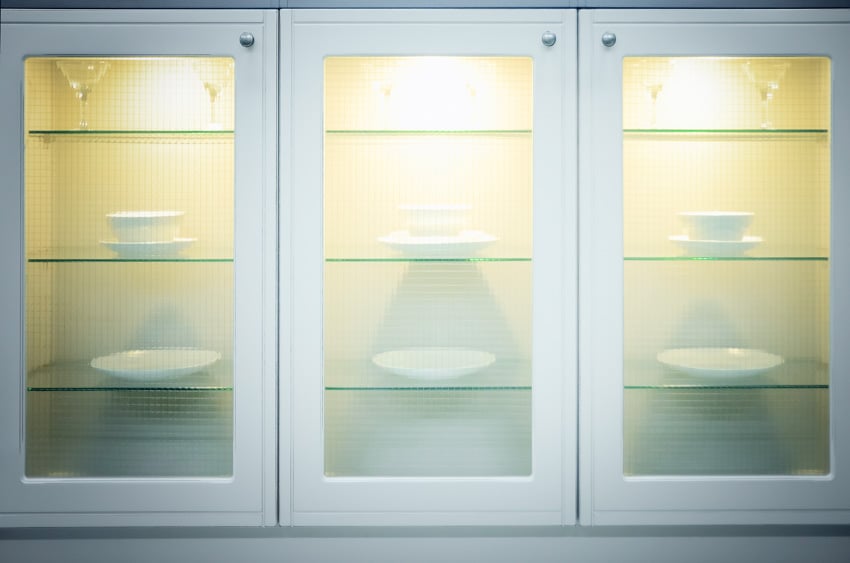 Textured glass for kitchen cabinets is exactly what it implies: textured glass that has been molded or engraved for aesthetic and textural interest. It can be grooved, pebbled, ribbed, beveled, or layered in different ways.
It is indeed widely known not just because it provides a sense of interest but also because it assists in blurring the gradients of cabinet debris within, and it effectively covers streaks and smears.
Different types of patterns are embossed on textured glass. Textured glass, resembling frosted glass, offers limited transparency based on how thick the texture is.
This glass can be found in both traditional and contemporary settings. Leaded glass with a rough surface adds an antique sense to kitchen cabinets, while glue-chip glass is a kind of textured art glass with a frosted or fern-like design.
Frosted Glass Kitchen Cabinets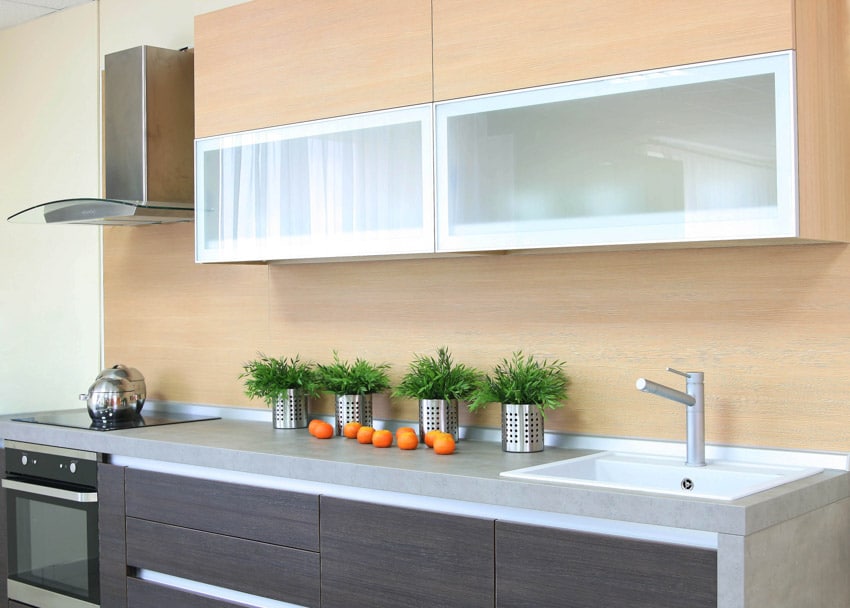 Frosted glass, often known as acid-etched glass, provides a sophisticated and stylish aesthetic on your kitchen cabinets. It supplies your cabinets with a polished yet personalized touch. Frosted glass is obtainable in a variety of opacity and designs.
The vast majority of objects behind the glass will only be visible as silhouettes. Despite having a significantly warped view, frosted glass cabinets maintain a minimal level of transparency, enabling colors and shapes to still peek through.
To acquire its translucent appearance, frosted glass is usually blasted with grit or sand. Since it filters the objects it displays, you can most likely get away with a mess of containers or a pile of non-matching melamine.
Additionally, frosted glass can be etched with personalized patterns to provide a unique touch of elegance. In fact, frosted glass doors complement stainless steel cabinet hardware and finishes, as well as the crisp and modern finishes of contemporary kitchen cabinets quite well.
Black Glass Kitchen Cabinets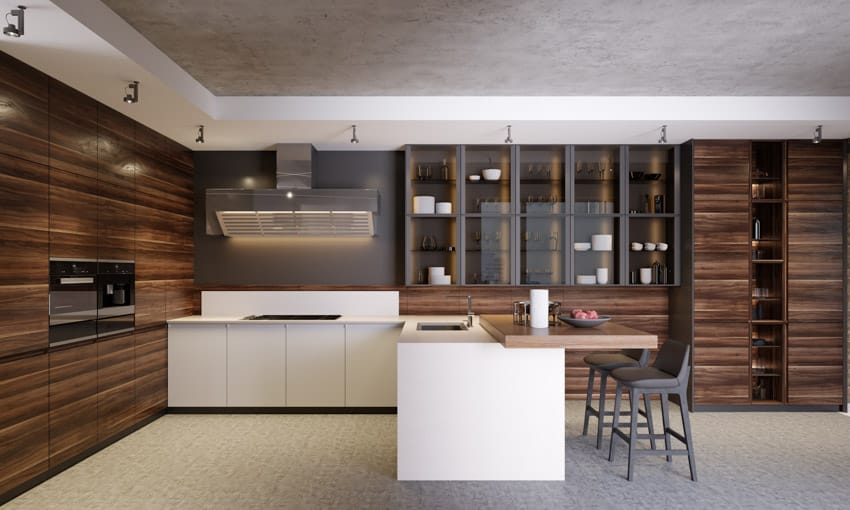 Black glazed kitchen cabinet doors are an excellent choice for decorative doors on wall cabinets. They are the ideal method to display your finest dinnerware or tableware while keeping them well-hidden and clear of dust and damage.
Black glass kitchen cabinet doors will offer a modern twist to your minimalist kitchen design and will look fashionable in any kitchen. In addition, these black glass cabinet doors are an excellent way to obscure the interiors of your cabinet.
You will not have to worry about your unorganized dishes, condiments, and other kitchen objects because the black glass will hide them well while maintaining the exterior's elegance.
Stained Glass Kitchen Cabinet Doors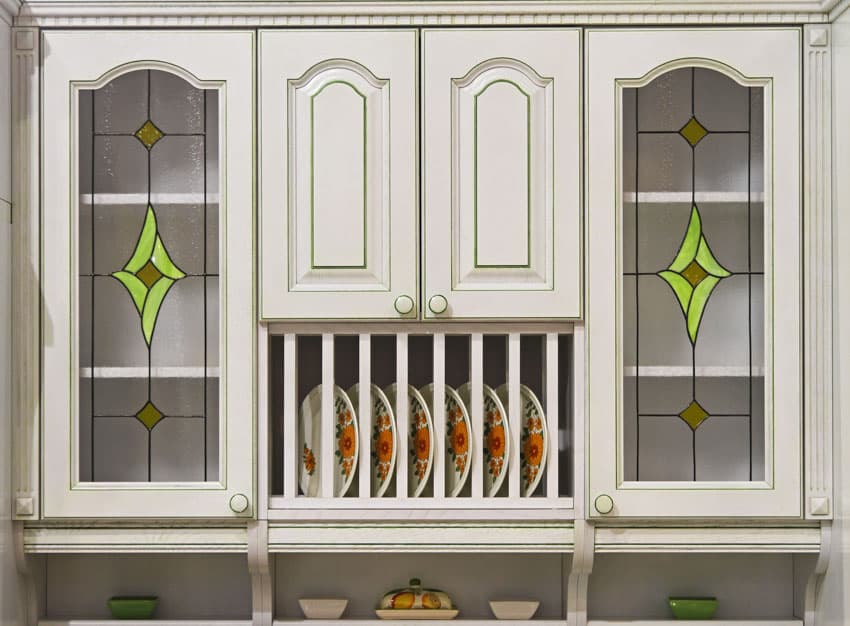 Stained glass in kitchen cabinet doors provides the appearance of transcendence. Stained glass panels are typically kept together by thin strips of lead that make up a pattern.
This craftsman-style glass is a trademark of craftsman-style home designs and is frequently found in old buildings across the United States.
Moreover, most of the stained glass panels used for kitchen cabinets are also created by soldering colorful glass pieces together with copper foil. Stained glass cabinet doors have the same historic feel as leaded glass and give kitchen cabinets a one-of-a-kind look.
Glass Kitchen Cabinet Ideas

Here we share the best glass cabinet ideas for kitchens.
Frameless Glass Kitchen Cabinet Doors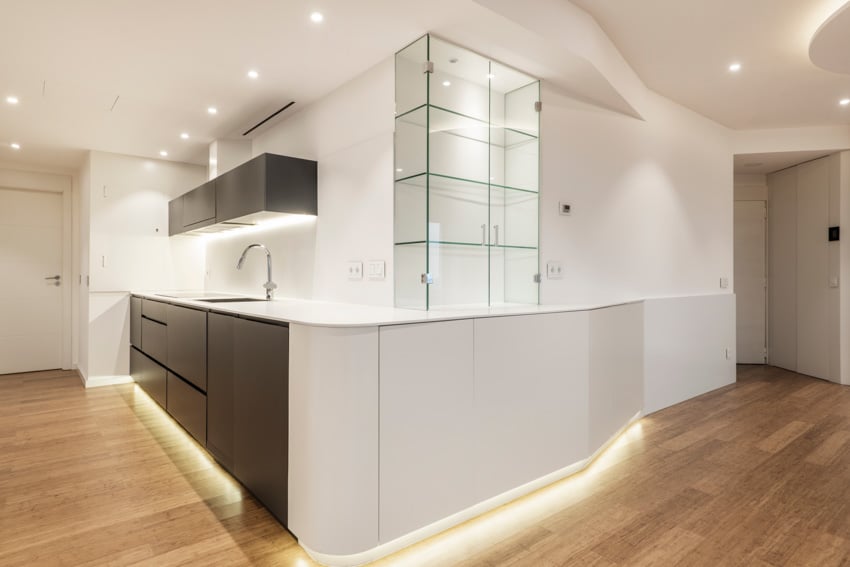 If you want a contemporary appearance and feel for your kitchen remodeling, frameless glass cabinet doors could be a great option. The virtually smooth edges of frameless glass kitchen cabinets' drawers and doors assist produce a clean visual style in a kitchen that framed kitchen cabinets cannot achieve because their frame is constantly seen.
A plethora of kitchens, shops, closets, and office spaces benefit from frameless glass doors' clear look. Frameless glass cabinet doors are usually available in low-iron transparent, satin, and custom frosted glass to complement any design aesthetic, from contemporary to classic.
One advantage of frameless kitchen cabinet doors with glass is their ease of installation. Because there is no center stile to obstruct the area, you can simply slide the shelves into the kitchen cabinets. Although this may not appear to be a key problem, you can try fitting a large shelf into a framed cabinet, and you will quickly see how limited the access is.
Frameless glass kitchen cabinets are ideal for users who value storage space. Because there is no face frame to produce a lip around the kitchen cabinet openings, you will have plenty of extra storage room for anything you want to place in your cabinets.
Upper Kitchen Cabinets With Glass Doors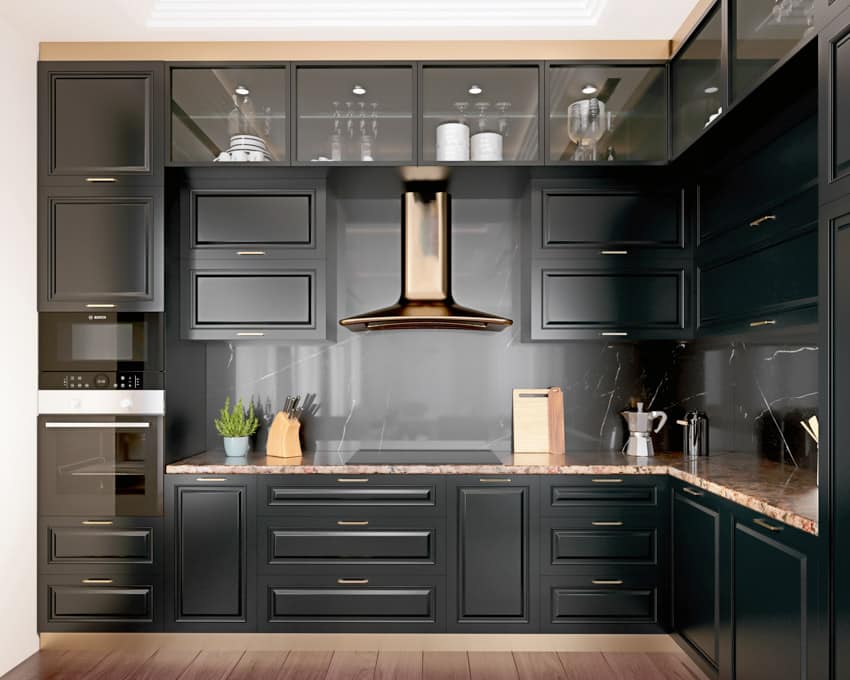 Transparent glass cabinet systems elegantly exhibit your upper cabinet products. Although this may appear to some to be a bad option, others see it as a benefit.
Upper kitchen cabinets with clear glass cabinet doors let you show off your tableware while keeping it safe. Furthermore, glass is suitable for minimalist décor and is an excellent option for small kitchens.
Modern Style Glass Kitchen Cabinets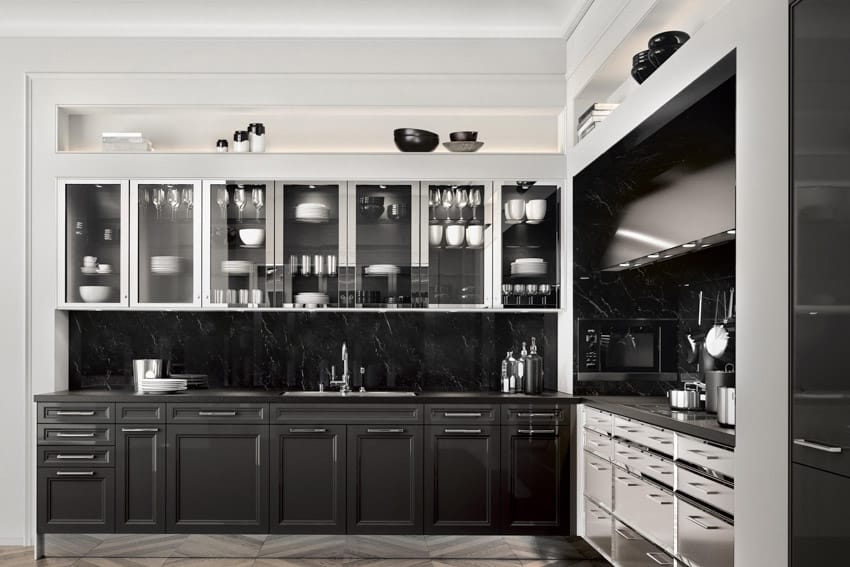 Here are the different modern-style glass kitchen cabinets you might want to incorporate into your kitchen design:
Kitchen Cabinets with Sliding Doors and Etched Glass: An etched glass kitchen cabinet is an excellent modern solution if you want a glass cabinet but do not want to see the contents inside. Another aspect that must not be overlooked to complete the modern look is the sliding glass door.
You receive the openness and elegance of a glass cabinet without sacrificing your contents' protection. The combination of the elegance of glass and the warmth of wood framing gives the kitchen the ultimate modern look. For more pop of color, interior lighting can be used inside the cabinet.
Kitchen Cabinets Made of Glass and Steel: Steel and glass cabinets are the ideal complement to a minimalist and modern kitchen. To emphasize the cabinet's size, it must be constructed up to the ceiling. Glass and steel are a timeless mix that works beautifully together. The exhibition of the pricey dinnerware adds to the cabinet's luxurious appearance.
Tinted Glass Kitchen Cabinet: Designers appreciate how the tinted glass provides the kitchen with a balance of modern and classic ambiance. It need not be dull just because it is a glass cabinet. Green is nature's vibrant color.
A green glass that matches the countertop has a modernist feel to it. If you want to go all out, you can consider installing handles and accessories that complement the color. A black-tinted glass is also a good option if you want something inconspicuous. You can also decorate the glass cabinet with overlay designs.
White Kitchen Cabinets With Glass Doors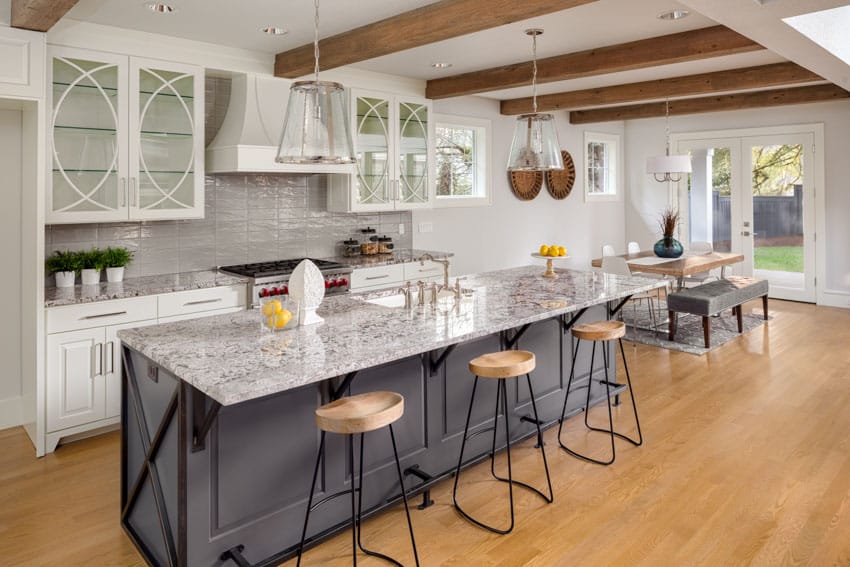 White is the most popular kitchen cabinet color, and that is for a good reason – white signifies neatness, minimalism, and style. The pristine white cabinets contrasted with the exquisite and gleaming appearance of glass design transform your kitchen into a timeless and bright space.
Indeed, white kitchen cabinets with glass doors can withstand the ravages of time due to their uncontested status. Although other kitchen trends come and go, white cabinets that are paired with glass doors have consistently been an ideal selection for modern kitchen designs.
The capability of white cabinets with glass doors to bounce lighting and render your kitchen appear big and open is one of the primary reasons why they boost resale value. You will create a terrific and inviting place to work and gather with natural light flooding in and reflecting off your white cabinets and glass doors.
Black Kitchen Cabinets With Glass Doors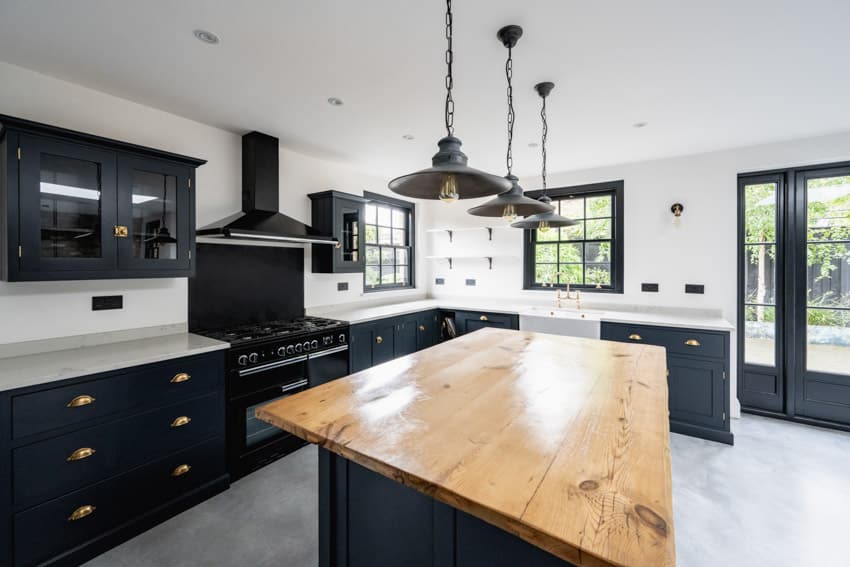 The combination of black cabinet framing, as well as glass doors, exudes elegance, luxury, and sophistication. Because most kitchens are lighter in color, black kitchen cabinets with glass doors might help you produce a stunning contrast.
The colors in the remainder of your kitchen as well as how much you would like your cabinets to pop out will influence which shade of black will prove to be beneficial for your kitchen cabinets with glass doors.
Black looks very good with angular cabinet designs. A lighter shade of black can also work with more classic cabinets with glass doors, particularly if your kitchen walls and counters are lighter in color.
Glass Kitchen Cabinets Pros And Cons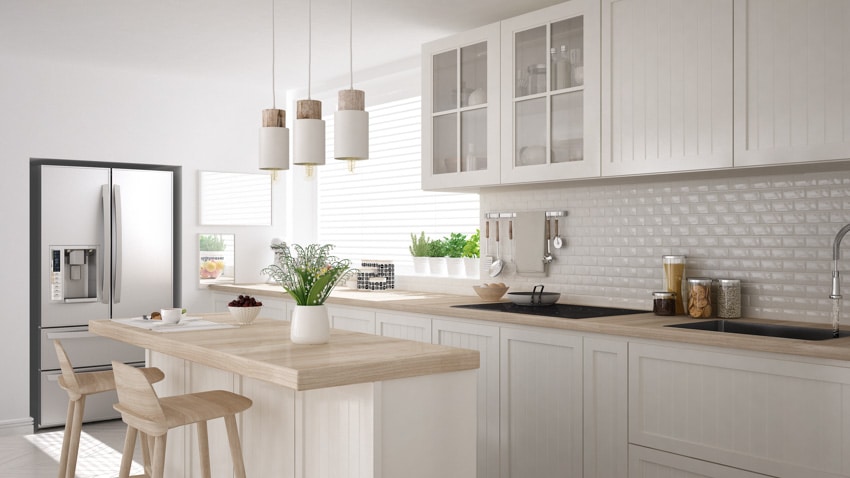 Here we share the advantages and disadvantages of glass kitchen cabinets.
Pros Of Glass Kitchen Cabinets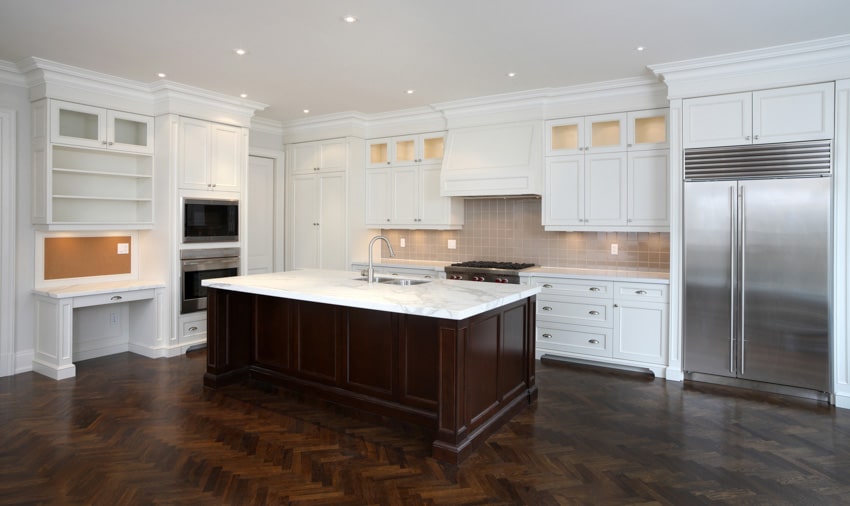 Glass Kitchen Cabinets Enhance Openness: One of the most popular reasons why a lot of homeowners install glass kitchen cabinets in their modern kitchen is to make the space feel more open.
The glass can make the cabinetry appear less weighty, making the kitchen appear airier and wider. The glass panels, resembling mirrors, bounce light all across the space, making it feel brighter and more refreshing.
Glass Kitchen Cabinets Allow You To Showcase Your Beautiful Kitchen Items: Glass kitchen cabinets are the perfect cabinet option if you have a collection of gorgeous dishes.
Glass cabinets are fantastic because they allow you to exhibit your interesting and extraordinary dishes while still offering secure storage. Many homeowners would choose a few cabinets with glass fronts solely to showcase their rare glasses and dishes.
They Increase the Elegance and Interest of Your Kitchen Decor: If you want to start making your kitchen feel more exclusive and high-end, installing a few glass-front cabinets would be a terrific method to do so.
Glass cabinets come in a variety of forms such as plain, etched, colored, frosted, and leaded glass. You may significantly improve the look of the space and add an extra layer of interest that distinguishes your kitchen from others contingent on the type of glass cabinet doors you select.
Glass Kitchen Cabinets Are Very Simple to Clean: Glass kitchen cabinets, as opposed to solid wood kitchen cabinets, are waterproof and stain-resistant, rendering them simpler to keep clean. However, if it becomes oily, you just spritz it with a glass cleaner before cleaning it with a soft, clean cloth to restore its clarity.
Cons Of Glass Kitchen Cabinets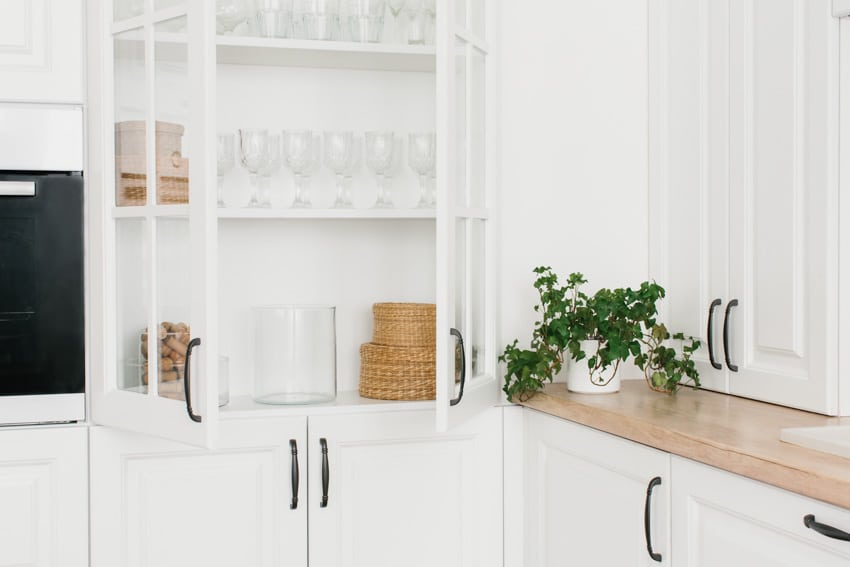 Glass Kitchen Cabinets Make Clutter Noticeable: Although glass cabinet doors enable you to showcase interesting kitchen objects, this only works if you have attractive and organized items to display. Many individuals own mismatched types of plates or other objects that they would rather not have on display.
Glass cabinets make it difficult to hide clutter, thus carefully consider if you want to exhibit objects before placing them there. You may always use frosted or etched glass to achieve the openness of glass cabinets while still obscuring the items.
Can be Costly: It might be difficult to manage your budget while creating a customized home. Kitchens are among the most pricey spaces in a house and have an important role in general home design.
Glass kitchen cabinets can be rather pricey, despite their attractive appearance. The cost is a major reason why homeowners opt for ordinary wooden cabinets or perhaps a handful of selected glass front doors only.
Glass Doors are Fragile: This should come as no surprise that glass can be easily shattered. Glass cabinet doors are more prone to breakage than regular cabinet doors.
They are also susceptible to cracking and fracturing, so you must handle them with caution. If your household is inclined to slam cabinet doors closed, installing them might not be the wisest option.
How Much Do Glass Front Cabinet Doors Cost?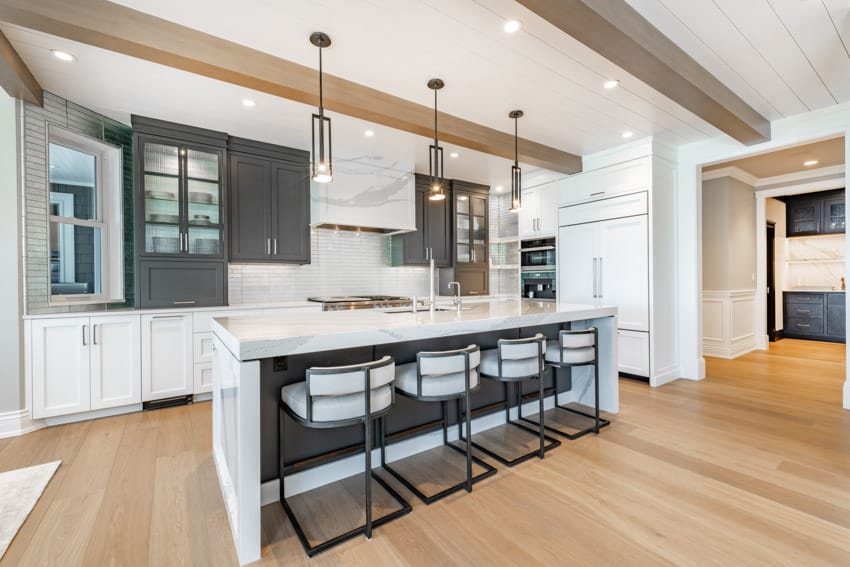 A glass cabinet door costs approximately $200 to $250 on average. Prices are also influenced by certifications. The National Kitchen Cabinet Association (NKCA) certifies some cabinet producers, indicating that the cabinets have fulfilled industry requirements for durability and functionality. These models, however, are frequently more expensive.
Nonetheless, the cost of glass doors for kitchen cabinets may vary depending on the size as well as the quality and number of glass panels you want in the door.
Glass fronts are generally thought to be pricey due to the features they include. The benefit is that the glass enhances the appearance of your kitchen cabinet, providing you with a wonderful and appealing kitchen.
How Much Does It Cost To Put Glass In Cabinet Doors?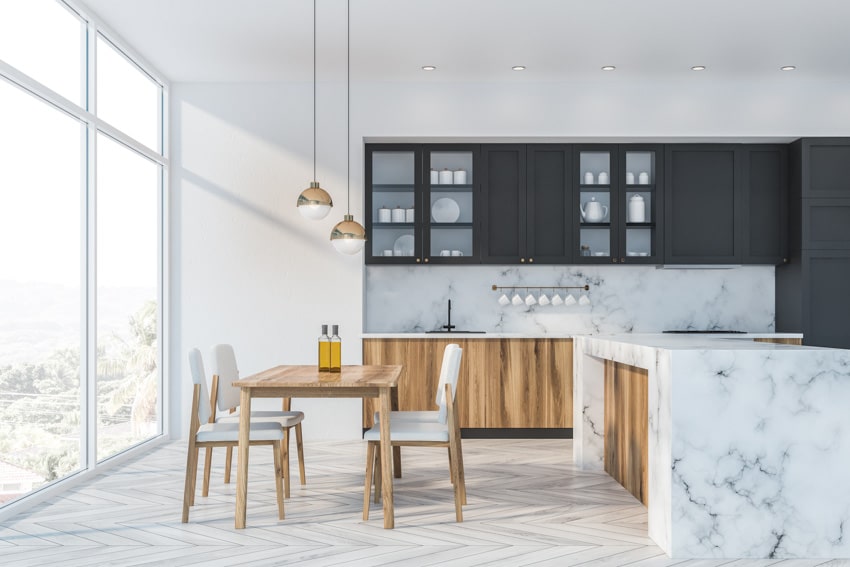 A basic glass insert typically costs between $10 and $25 per square foot. However, the price you pay is totally determined by the number and quality of glass inserts you require. Depending on the size, style, and installation, you can also expect a glass insert to run around $50 to $100.
You should be aware that installing cabinet door glass is a time-consuming task. It is also time-consuming and demands a great deal of concentration and patience. The entire installation process normally costs households around $2,000 to $9,000 on average, with the average being $5,000.
If you have a spacious kitchen with multiple cabinets, installing glass inserts might be a costly process. This renovation project might rapidly become prohibitively expensive due to the cost of the glass and labor. Having said that, there are several options for lowering installation costs.
Here are some pointers to get you started.
• The tempered glass might be a wise option, but it is also the most expensive. Kitchen cabinets, particularly upper cabinets, are not problematic. This means that annealed glass can be used instead of tempered glass. As a result, this is an excellent approach to saving money without endangering your remodeling project.
• Select glass inserts for bigger cabinets if you are planning to install them. Since there are so many types of cabinet glass doors to consider, updating numerous small cabinets will eventually cost more.
• You can undoubtedly complete this project by yourself if you have some handyman skills. But make sure you have the proper equipment as well as sufficient preparation and labor time. Patience is also required for this DIY project. Just remember to put on your protective eyewear to avoid any mishaps, and everything will be fine.
• You do not need to reupholster all of your cabinets for this kitchen renovation. You can decide to position a handful of them in key areas, like corners for glass inserts. Moreover, a minor paint job may always be used to enhance the rest of the cabinets.
Does Glass In Cabinet Doors Need To Be Tempered?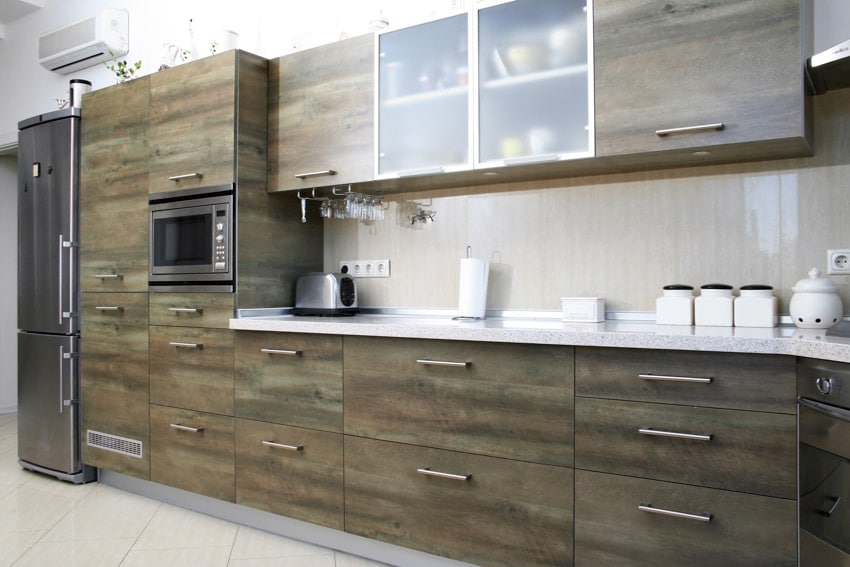 Cabinet glass inserts, in principle, are not required to be tempered. In a standard household kitchen, most cabinet glass is at eye level and out of risky situations. Tempering is usually required for glass when installed on the floor or in food establishments.
Many cabinet makers will just tell you to get a regular glass to fit in the vacant frame doors they supply you. Any artistic glass that you may be interested in is normally non-tempered.
However, tempering can still be an option when utilizing glass as a door, particularly if it will be installed at a height below the waist. Tempered glass, on the other hand, is not requisite in kitchen cabinets, particularly upper cabinets.
What To Put In Glass Kitchen Cabinets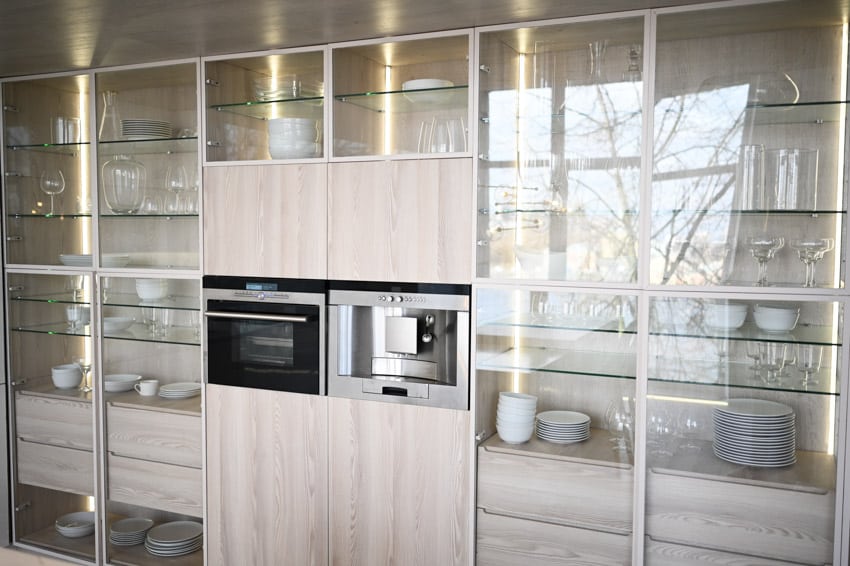 A glass cabinet can accommodate a wide range of objects. You can include objects like:
• Dishes
• Cups (Coffee Mugs, Tea Cups)
• Wine Glasses
• Drinking Glasses
• Containers Filled With Beans, Cereal, Coffee Beans
• Bowls
• Trays
• Baking Utensils
• Creamer
• Display Items; Ornaments
• Stack of Cookbooks
However, you have to remember that the goal is to keep these items properly organized and beautifully stacked so that the cabinet does not appear chaotic or overcrowded.
You must not overpack these cabinets as they may rapidly get cluttered. The fewer objects you add, the better these cabinets will appear.
See more related content in our article about wood veneer kitchen cabinets on this page.