Here's our wine cooler dimensions guide including standard, built-in, under cabinet and mini wine cooler dimensions and how it differs from a wine fridge.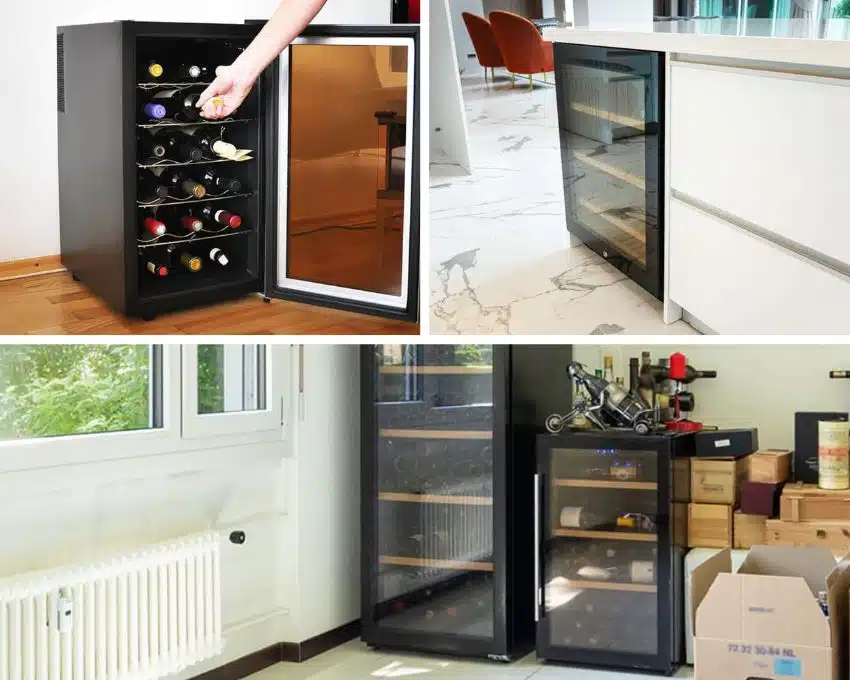 As the wine collection increases, the more pressing the need is for a wine cooler, especially for homeowners fond of drinking and entertaining friends. Wine coolers are an excellent investment, and often, homes with wine cellars increase value, but having a wine cellar at home is not an option for a ten-bottle collection, and that is where wine coolers will come into play.
Wine coolers are available in many sizes, but they are also distinguishable according to where the wine cooler's location is going to be. The dimensions will vary according to capacity and bottle dimensions which are usually not the same across wine brands and manufacturers.
Standard Wine Cooler Dimensions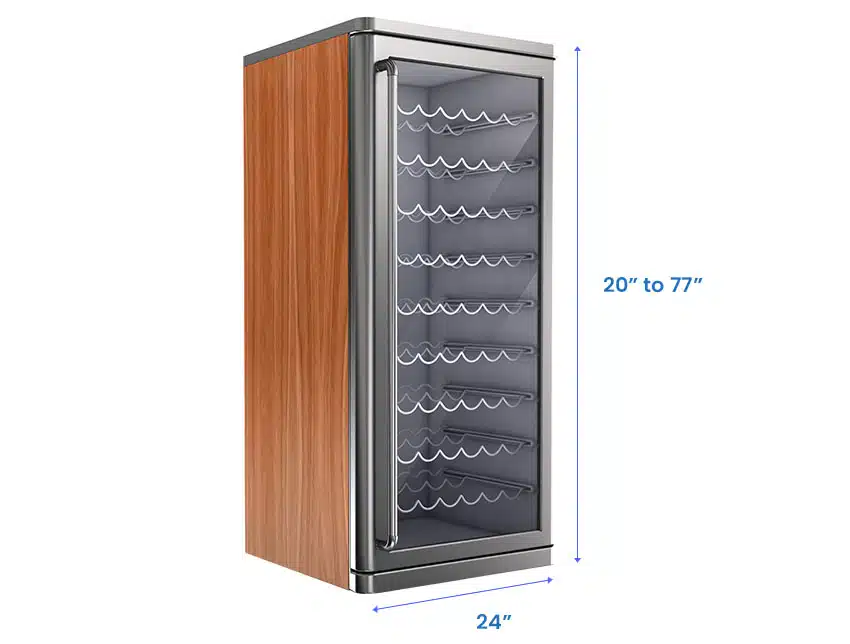 When you think of wine coolers, the picture that would come to mind is the freestanding ones that are quintessentially a feature of most kitchens in architectural and interior design magazine spreads.
The way a freestanding wine cooler works is that it vents out hot air in the process of refrigeration making it essential not to put anything on top of a wine cooler.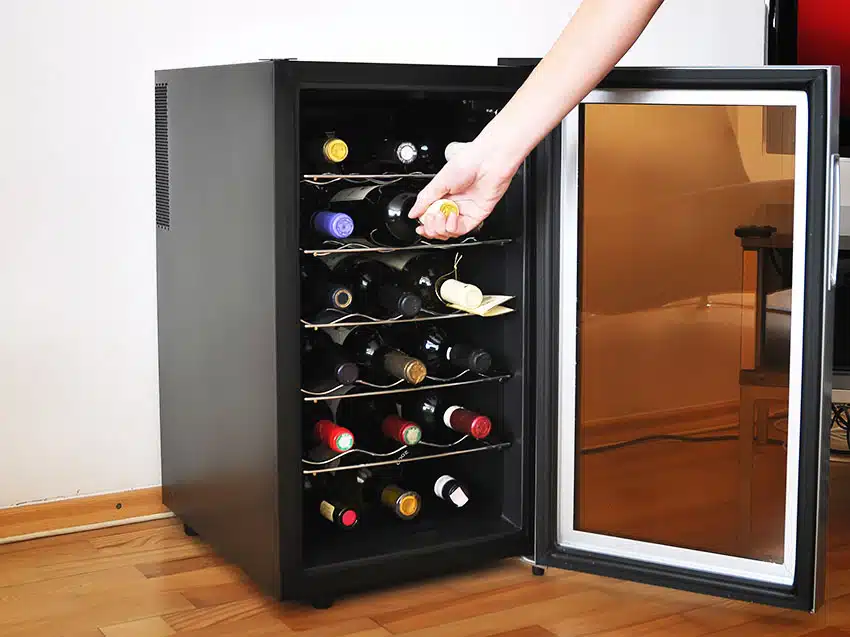 Widths for these types of wine coolers will start at 24 inches or about 61 centimeters from side to side. At the same time, heights will vary from the smaller 20 inches or 51 centimeters to the taller 77 inches or approximately 196 centimeters.
The weights will vary, but we checked several of the the most popular wine coolers available and they averaged the following: 33″ high x 23″ wide model was 104 pounds, 50″ high x 24″ wide model was 188 pounds, 79″ high x 32″ wide model was 304 pounds.
Built In Wine Cooler Dimensions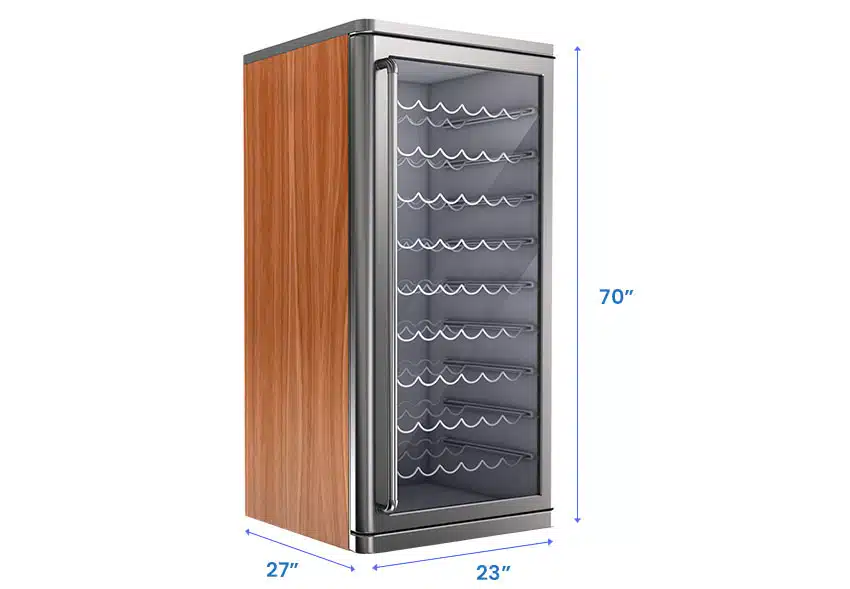 Built-in wine coolers are the best option to get. They will offer a lot of flexibility in terms of cabinetry. These are also often the full-height options that will range in price according to the features they will have and what bottle capacities the homeowners are looking for.
Double depth, some requiring nesting-necks, is common in the larger sizes, and adds inconvenience vis-a-vis the behind bottles. – How and Why to Build a Wine Cellar, Richard M. Gold
If the standard is for 32 bottles, a built-in wine cooler can fit up to 166 bottles of wine. They can be as tall as 70 inches or 177 centimeters from top to bottom, with a width of 23 inches or around 60 centimeters and a fridge depth of 27 inches or approximately 68 centimeters.
Under Cabinet Wine Cooler Dimensions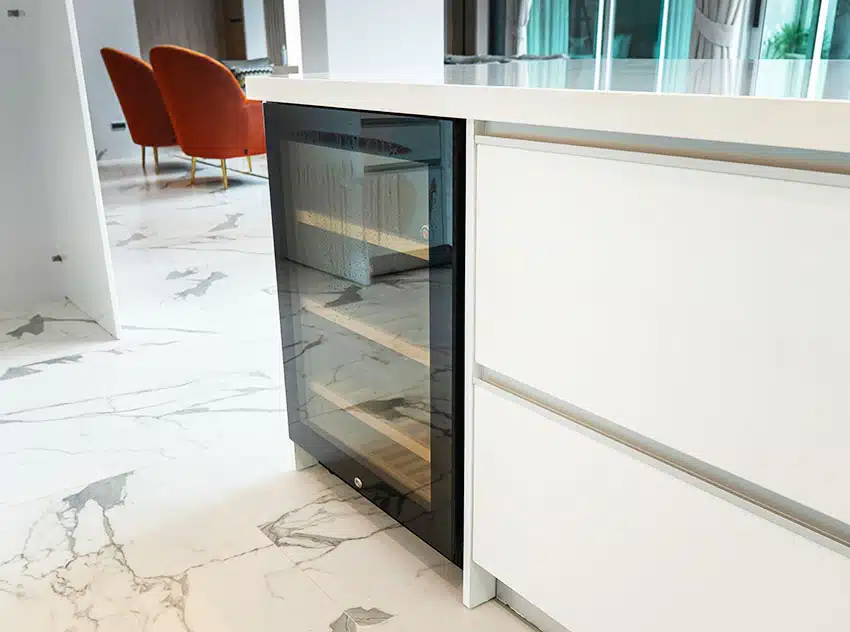 Under cabinet wine coolers are the less flexible ones since their dimensions should be exact enough that they should fit the allocated space. They are often measured according to their width, which is standard depending on a specific cabinet width.
The first size is the 150 mm wine cooler that will be wide enough to fit a single bottle in a compartment. There is also the bigger 600 mm under cabinet wine coolers that will hold around 38 to 50 wine bottles with one or a couple of dual zones for a more optimized cooling option for specific wines.
Mini Wine Cooler Dimensions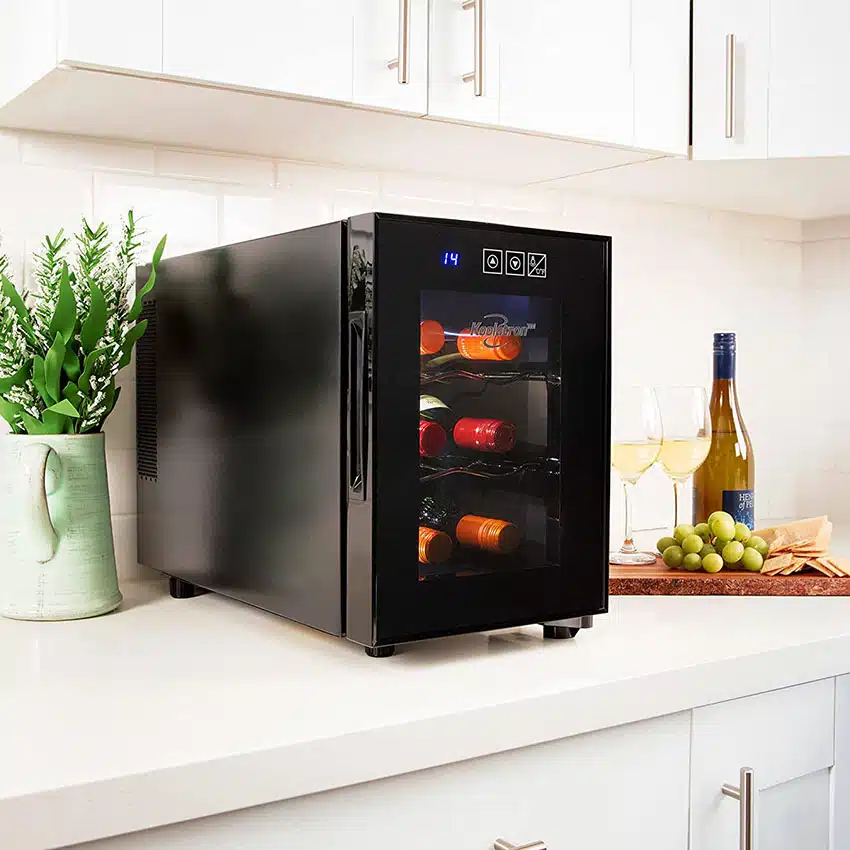 See this wine cooler at Amazon [sponsored link]
Compact homes like boats or recreational vehicles (RVs) will need a wine cooler that is more compact than the standard freestanding ones, which makes mini wine coolers perfect for this purpose. Mini wine coolers are great for smaller spaces and are available in many widths and capacities, depending on their needs.
Typically, a mini wine cooler is designed so it would fit a standard countertop or base cabinet width of 15 inches or about 38 centimeters. Heights will vary according to bottle capacity, and they can get a mini wine cooler that will hold six wines at one time from a wine cooler that will hold 32 wine bottles.
What Size Wine Cooler Do You Need?
The best way to figure out what wine cooler size anyone needs is by taking into consideration their exact wine storage needs. Another great way is to approximate or estimate how many bottles need to be cooled at a given period, all at once.
If the homeowners have a bottle or three of wine they want to cool, the best wine cooler to get is the four-bottle wine cooler big enough to cool a bottle or two for special occasions. Such compact units are available with dimensions of 6 by 15 by 20 inches or about 15 by 38 by 51 centimeters.
The next size will be perfect as a display case for a collection of eight wine bottles which offer more versatility and are sized 10 by 20 by 18 inches or 25 by 51 by 46 centimeters.
For people fond of drinking more than one type of wine, the best wine cooler to get is the one that offers dual-zone units. Such wine coolers will allow two different refrigeration temperatures, which is excellent for more than one type of wine. These units are more extensive at 10 by 20 by 25 inches or around 25 by 51 by 64 centimeters.
For small restaurants and bistros, there is a need for more oversized wine coolers to satisfy clientele, and this is where the 32-bottle wine coolers will come in. These wine coolers are great for this purpose and will have the dimensions of 15 by 23 by 35 inches or 39 by 58 by 89 centimeters overall.
Difference Between Wine Cooler And Wine Fridge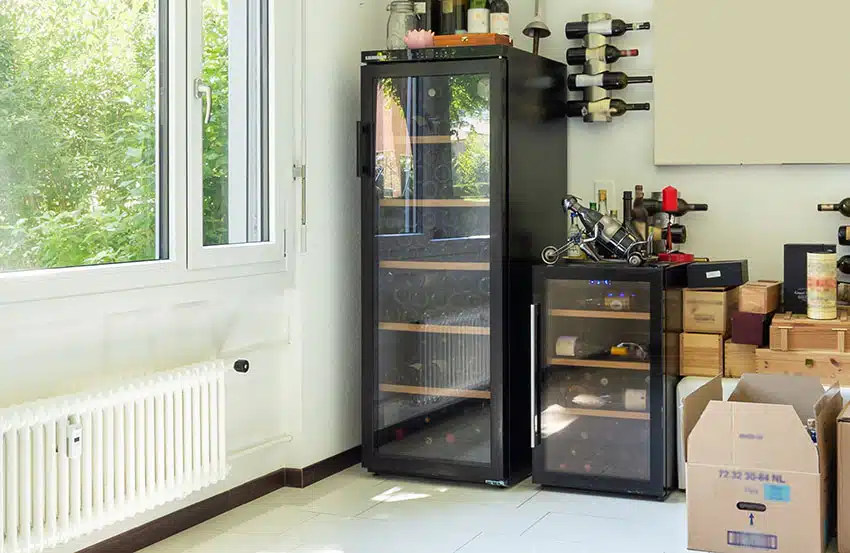 If the names are considered, there isn't much difference when it comes to wine cooler versus wine fridge, and function is also another similarity because both are used to ensure that wines are chilled.
The difference between the two is often confused since they are used interchangeably. Still, there are differences, and knowing what makes one different from the other will help anyone looking for wine refrigeration narrow down their choices.
Essentially, in terms of size, wine coolers are generally smaller in dimension compared to the wine fridge. They are also the most portable option since many only have the capacity to hold at least 10 to 18 bottles of wine.
On the other hand, wine fridges are more extensive and can hold up to 30 bottles of wine in a given time. These make them a great option to have if wine cellars are not an option.
Generally, homeowners have the option to choose between the two, and space capacity and how extensive the wine collection is are factors in deciding between wine refrigeration.
Visit our wine closet ideas for more related content.