Here we share our guide to tv size for bedroom guide including measuring tips, popular dimensions and details for the best viewing distance.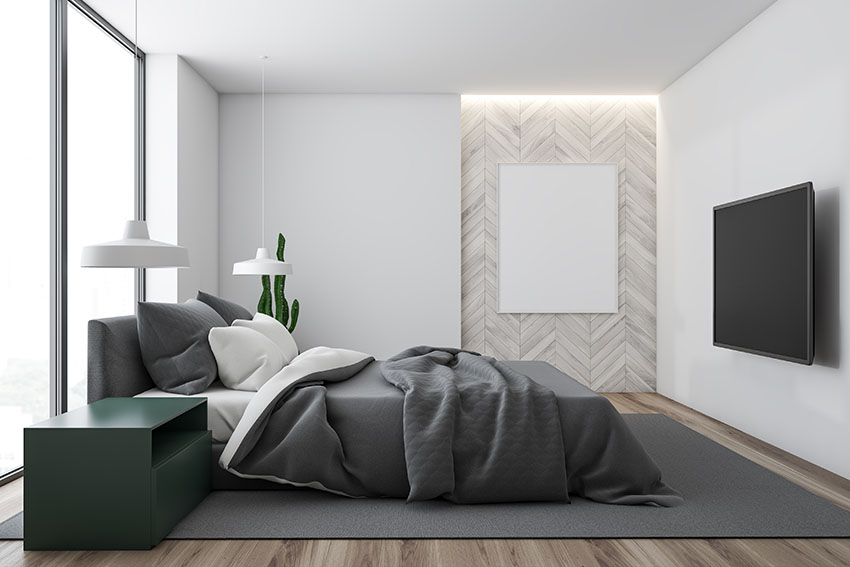 Plenty of homeowners prefer bigger-sized TVs as they offer a more immersive and realistic viewing experience. However, you have to remember that large TVs aren't always a great option. Viewing distance, resolution, and comfort are the three important factors to consider when choosing the TV size for a room.
Indeed, not all rooms can accommodate a large TV. For example, if you have a small-sized bedroom, it's not recommended to put in a 65-inch TV as it can ruin your viewing experience.
It'll be hard for you to watch your favorite series or movies comfortably. However, in this article, we'll talk about how to choose the right TV size for the bedroom.
Choosing What Size TV for Bedroom Tips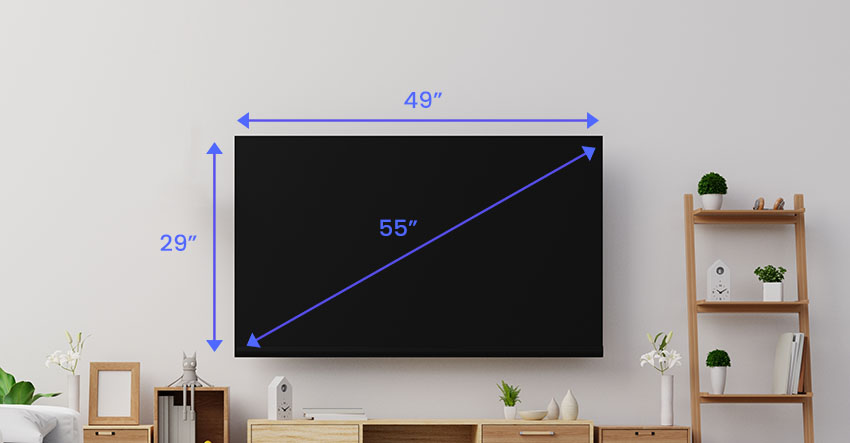 Screen size
The sizes of TV screens are measured in a diagonal direction. For example, a 55-inch TV screen does have a measurement of 55 inches starting from the opposite lower corner to its upper corner. However, its factual dimensions are different. Approximately, it has a width of 49 inches and a height of 29 inches.
If your bedroom is standard-sized (10 x 10 or 10 x 11), a 40 to 55-inch TV may be ideal enough to provide a comfortable watching experience. Master bedrooms (16 x 16) may accommodate a 70 to 85-inch TV. Read more about standard master bedroom sizes here.

TV screen resolution
It's quite important to also check the TV's screen resolution. A higher TV resolution means you can watch it closer without noticing too many pixels. Indeed, it is not eye-hurting to watch on a 4K TV (3840 x 2160) even at a much closer distance.
On the other hand, you couldn't watch and sit closer to a 1080p TV because that's going to hurt your eyes. Plus, the pixels on the TV screen become more obvious. TVs with 1080p screen resolution work better if they're viewed with further distance.
Considering the TV screen resolution is crucial when it comes to choosing the screen size of your TV. Since you're able to sit and closely watch your favorite shows or films on a 4k TV, you won't be pressured to install a very large TV just to fill your viewing capacity.
TV stand size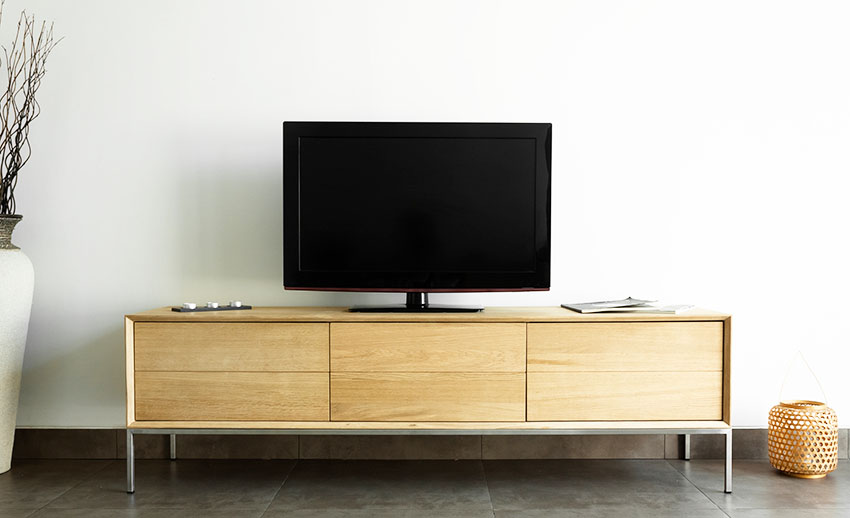 Before purchasing your prospective TV, it's also advantageous if you are going to place the TV on a rack with the included stand or mount it on your wall and hang it.
If you wish to place your TV on a table or rack, you must also consider the size of the TV's attached stand. Usually, the legs of the TV stand do have a similar length to the TV, but oftentimes, they are much wider than the TV screen. So, if the TV stand is thin, the legs are probably not going to fit on it properly.
TV Position
If you decide to use the stand that came with the TV set on a rack or table, the set will be placed at a much closer distance to the viewer's position, resulting in a shorter viewing stretch. So, you must ascertain the exact depth of the TV stand as well as the furniture you're planning to place the TV set on.
On the other hand, you can also hang the TV on your wall to increase the viewing stretch. It's also advantageous as it can help save some space. Plus, it looks more organized.
Find out the viewing distance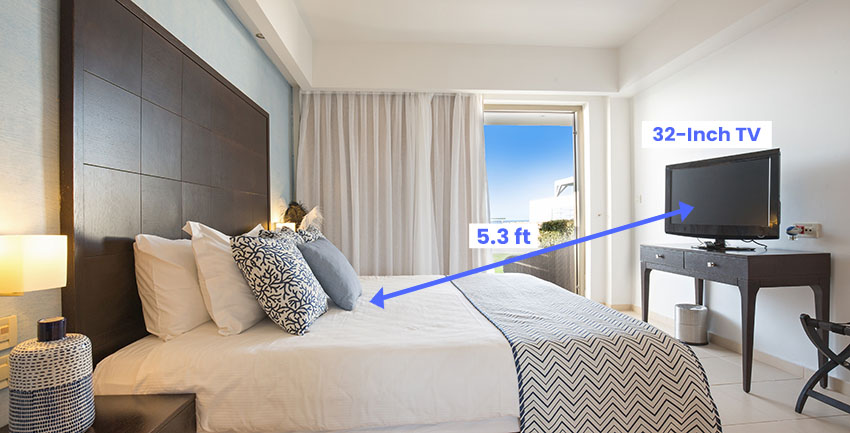 You should identify the distance between your bed and the place where you would install or position your TV. Generally speaking, the distance of your 1080p TV to your viewing position is 2 to 3 times the size of the TV screen.
For instance, if the size of your TV screen is 42 inches and has a resolution of 42 inches, its distance to your bed or any viewing position should be 84 inches. That will provide an immersive and comfortable viewing experience. If that is still hurting your eyes, you can increase the distance to 90 or 100 inches for added eye safety and comfort.
However, it is quite a different story when we are talking about 4K TVs. No doubt, the viewing distance of a 4K TV to your viewing position is much easier to determine. For instance, if you're placing a 55-inch 4K TV in your bedroom, its distance to your bed should be 55 inches. Moreover, a 65-inch 4K TV should also be 65 inches away from your viewing position.
It is not wrong to increase the viewing distance when you're using a 4K TV, but you might not be able to see the more appealing and finer details on the screen since you're viewing it in a far distance.
Here is a detailed guide for you to know the minimum viewing distance for every TV size: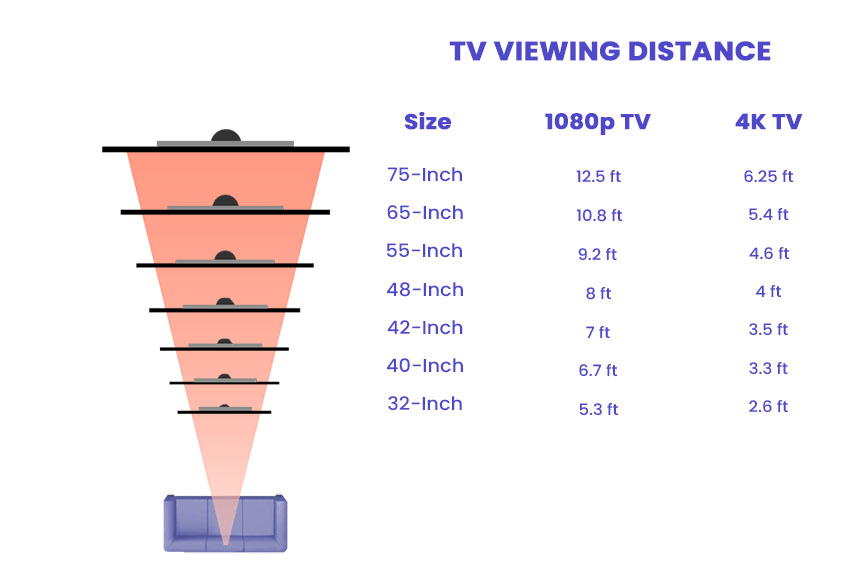 32-inch 1080p TV – 5.3 feet (64 inches)
32-inch 4K TV – 2.6 feet (32 inches)
40-inch 1080p TV – 6.7 feet (80 inches)
40-inch 4K TV – 3.3 feet (40 inches)
42-inch 1080p TV – 7 feet (84 inches)
42-inch 4K TV – 3.5 feet (42 inches)
48-inch 1080p TV – 8 feet (96 inches)
48-inch 4K TV – 4 feet (48 inches)
55-inch 1080p TV – 9.2 feet (110 inches)
55-inch 4K TV – 4.6 feet (55 inches)
65-inch 1080p TV – 10.8 feet (130 inches)
65-inch 4K TV – 5.4 feet (65 inches)
75-inch 1080p TV – 12.5 feet (150 inches)
75-inch 4K TV – 6.25 feet (75 inches)
TV Viewing Distance Calculator
This TV viewing distance calculator can help you find the ideal viewing distance for your television. To use it, simply select whether you have an HDTV or 4K UHD TV, then enter your TV size. The range provided is an estimation of how far you should sit from the screen for optimal results.
Best Size TV for Bedroom (Popular Choice)
40 to 55-inch TVs are the most popular selection by homeowners for their bedrooms. Bedrooms that have dimensions of 10 x 10, 10 x 11, 11 x 12, or 12 x 12 can accommodate 40 to 55-inch TVs very well.
They are some of the most popular TV sizes because movies and series look much more immersive and realistic when they are viewed from the bed.
However, some homeowners also prefer buying a 32-inch TV for their bedrooms, either because they have smaller bedroom sizes or they think it is more practical to buy it as it is much cheaper than bigger-sized TVs.
However, the final decision will be yours. Just follow the tips and guidelines that we have discussed and you'll find the best TV size for your bedroom.
For more related content, visit TV in garage design tips here.