Welcome to our bedroom size guide including standard room dimensions and measurements for different bedroom designs.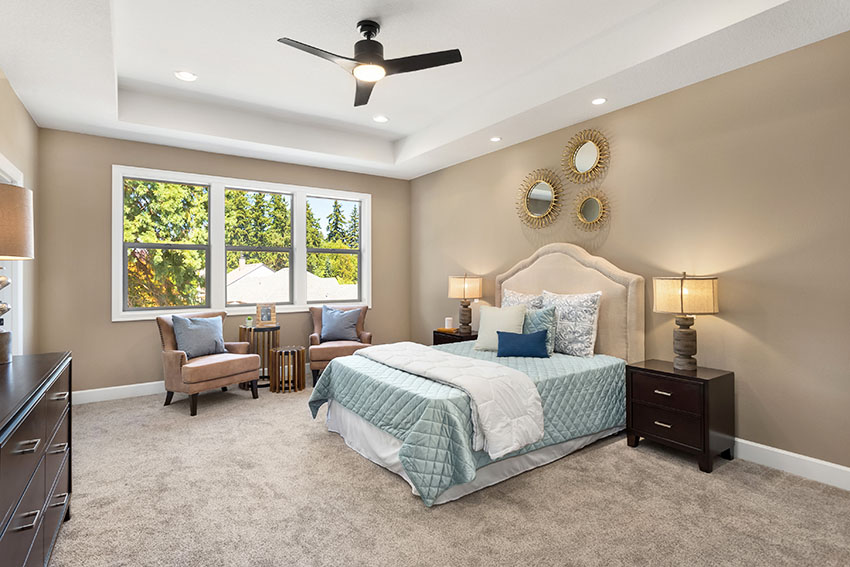 The bedroom is a personal space in the home. It is a place where we can just be ourselves, a place away from the outside world where we can relax and zone out. We spend one-third of our whole lives sleeping, thus making the bedroom one of the most important places in our lives.
There are different kinds of bedrooms, small and large; some serve its sole function of being just a place to sleep while other bedrooms contain a person's whole life. No matter how big or small your bedroom is, it is important to keep it proportionate with enough space to move around in easily.
Here we guide you through different room dimensions to assist you with your home building or renovations.
Average Bedroom Size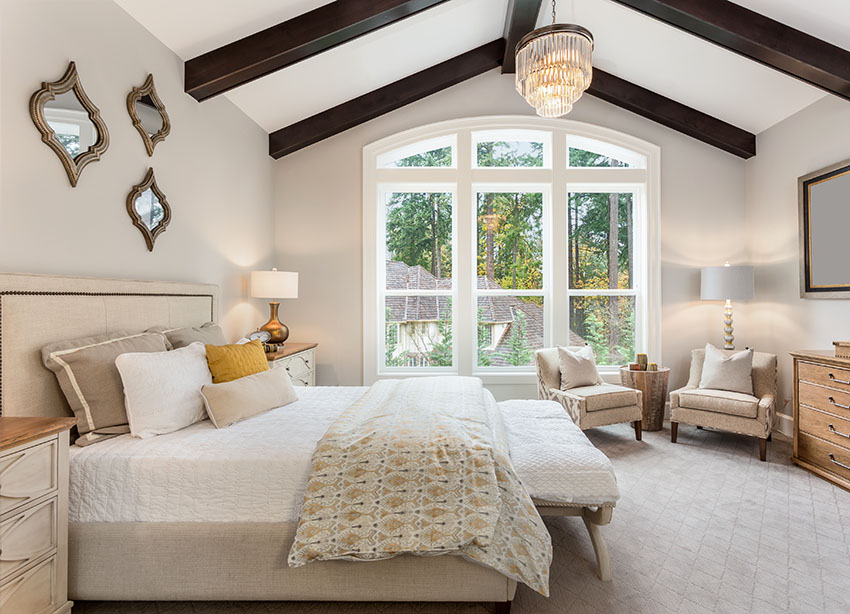 An average bedroom has a bed, a wardrobe, a dressing table or a study desk, and two or a single bedside table or locker. With that, the average bedroom size is dependent on the size of your bed.
Since a double size bed is usual for standard rooms, the average room size to accommodate a double size bed, two bedside tables, and a small wardrobe is 9 ft. by 9 ft. and 6 inches.
For a room to accommodate a whole wall wardrobe and a desk or a dressing table, a space that is 10 ft. 6 inches by 11 ft. and 6 inches would be perfect.
Average Master Bedroom Size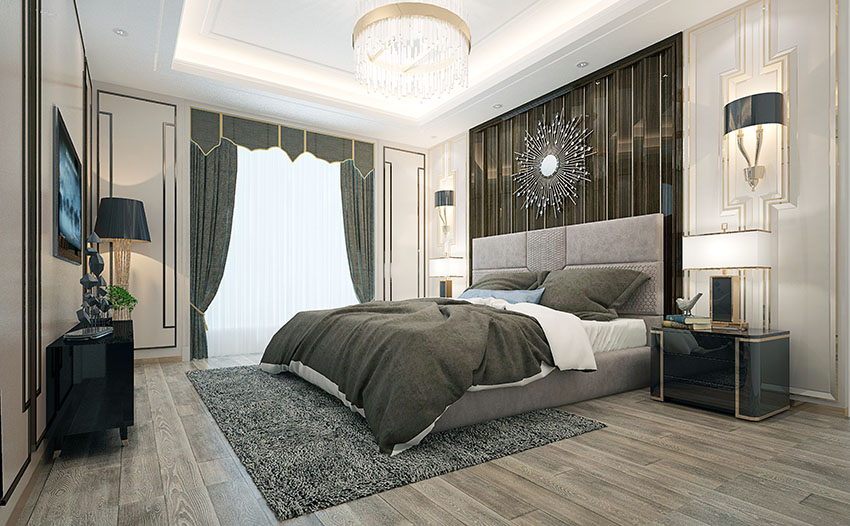 The master's bedroom or the primary bedroom has the most extensive square footage room in the house. It can accommodate a bigger bed — a queen or a king and could likely even have an en-suite bathroom.
The average size for a primary bedroom is 15 ft. by 15 ft. Still, it could be bigger to fit the homeowner's needs, whether additional pieces of furniture like a chaise or even a two-seater sofa or extra closet storage units.
Check out our master bedroom size article for more in-depth guide.
Standard Bedroom Size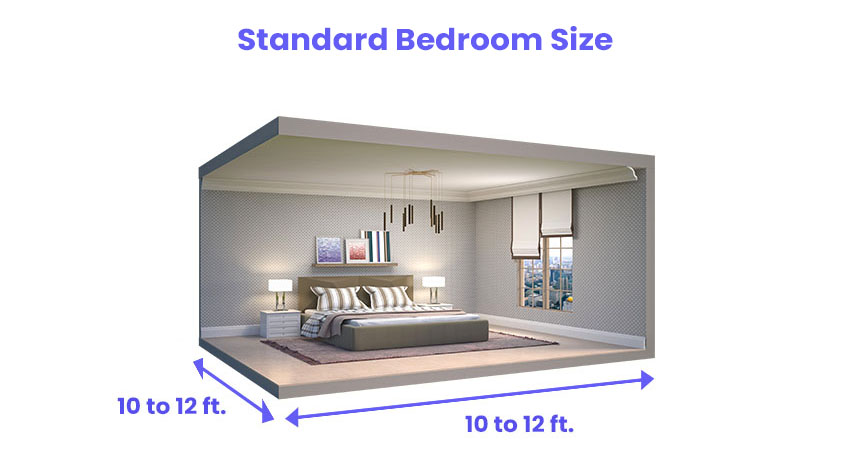 Standard bedrooms are often occupied by children or teenagers in the home, thus making them smaller than the primary bedroom. These rooms are also often the ones turned into home offices or a study and even home gyms, or guest rooms.
Depending on what the homeowners are using this room for, the standard size can range between 10 ft. x 10 ft. to 12 ft. x 12 ft.
It's always smart to decorate around the biggest furniture you are planning to designate this room for. If you use bunk beds, a 10 ft. x 10 ft. twins' room will look bigger and have more space to add furniture. Situating the bunk beds near the wall could make room for two study desks with chairs.
Large Bedroom Dimensions
Ultimately, the size of your bedroom would depend on the size of your house. The dimensions for the primary bedrooms could seem minuscule for you. Besides the house size, the size of the bed would also be another factor.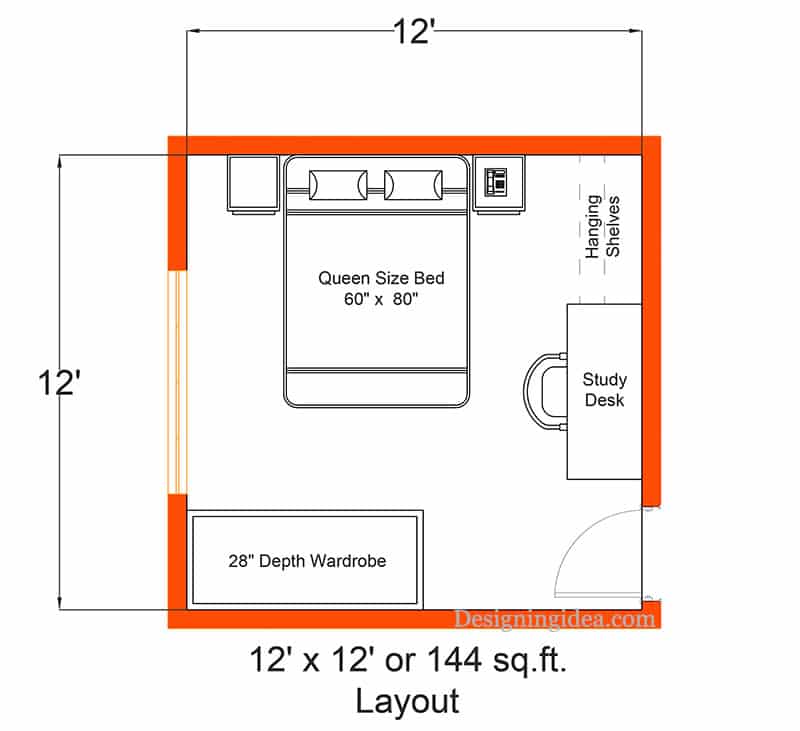 A California King is the biggest bed size outside the realm of custom mattresses, with a size of 72 x 84 inches. If you plan to have that for your bed, a room of 12 x 12 feet would fit it nicely, but you can go bigger to accommodate a walk-in closet and an en-suite bath.
There should be a 36 inches clearance space around the bed to be able to move about comfortably. All in all, amounting to a room of about 14 feet and three inches in width and 10 feet in length.
Large rooms with a sitting area, a comfort room with a tub and a shower, and a walk-in closet with built-in parallel shelves and extra storage could amount to space as ample as 22 ft. by 20 ft.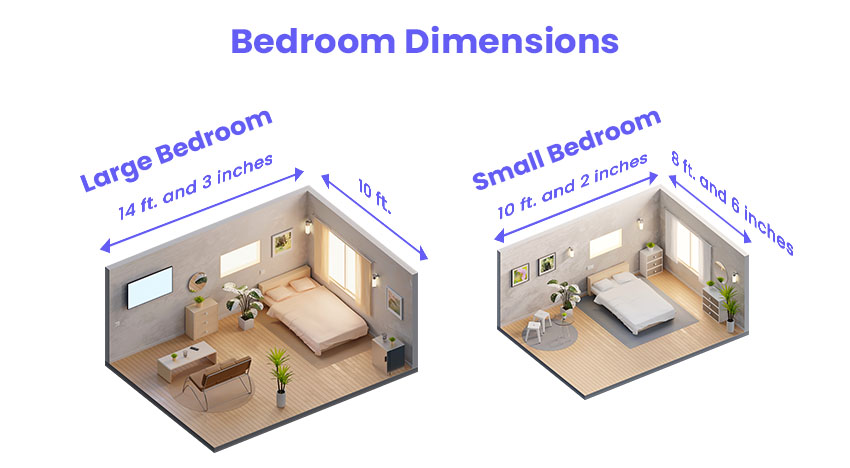 Small Bedroom Dimensions
Small bedroom dimensions are dependent on the size of small single beds. The average size of a small single bed used by kids and for studio living is 3 feet in width and 6 ft. 2 inches in length. A longer size for taller people has 3 feet in width and 6 ft. 8 inches in length.
A small room with a single bed can have an area of 10 feet 2 inches in length and 8 feet 6 inches in width that would fit a single bed, a small wardrobe on the foot of the bed, and a study table or vanity on the side—leaving enough space for a beanbag or two.
Minimum Bedroom Size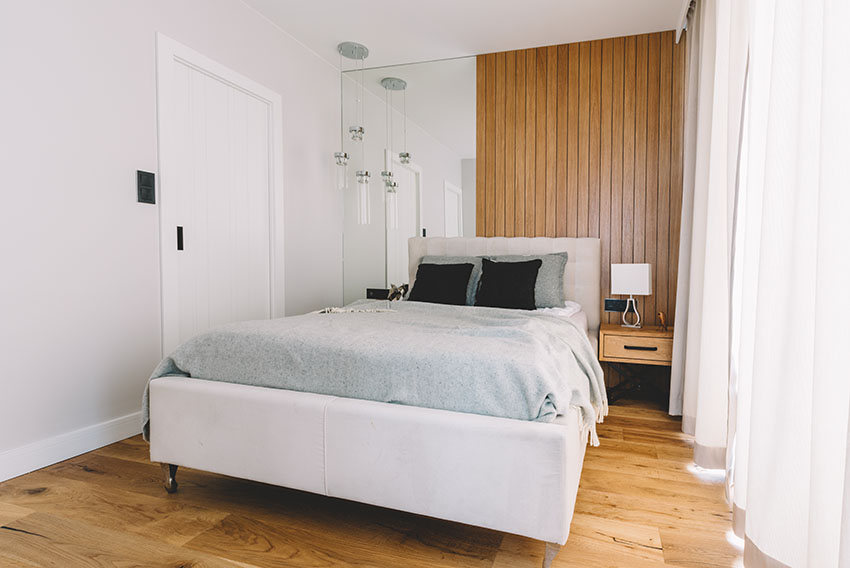 For providing the minimum bedroom size, we decided to base it on the standard bed sizes: a twin, a double, a queen-size bed, and a king-size bed.
For a twin-size bed with dimensions of 38 by 75 inches, a minimum room size of 7×7 or 49 square feet is most appropriate.
A double bed that is 53 by 75 inches can be accommodated in a room with a minimum size of 9 x 9.6 or 85.5 square feet.
For a queen-size bed that is 60 by 80 inches, a minimum room size of 9.6 x 10 or 96 square feet can accommodate it comfortably.
A king-size bed with dimensions of 76 by 80 inches can fit in a room with a minimum size of 9.6 x 11.6 or 109 square feet. Read more about our guide to bed sizes here.
Standard Bedroom Size For a Master Bedroom
While the average size for a master bedroom is 225 square feet, the ideal size can range from 200 to 250 square feet, which can easily fit a home that has around 2000 to 2500 square feet.
Larger-sized homes can accommodate larger master bedrooms with an area of 300 to 350 square feet. More expansive master bedrooms with higher ceilings than the typical 8 feet height can accommodate 350 to 420 square feet.
| | | |
| --- | --- | --- |
| Master Bedroom Size | House Area (sq.ft) | Bedroom Area (sq. feet) |
| Small | 1000 | 180 |
| Average | 2000 | 224 |
| Standard | 2000 to 2500 | 250 to 310 |
| Large | 2500 to 2999 | 300 to 350 |
| Extra Large | 3000 and up | 350 to 420 |
| Apartment/Condo | | 120 |
| | |
| --- | --- |
| Master Bedroom Type | Bedroom Area (sq. feet) |
| Standard Master Bedroom | 250 to 310 |
| Suite Master Bedroom | 400 to 650 |
| Split Master Bedroom | 288 to 500 |
| Dual Master Bedroom | 300 to over 500 |
| Garden Master Bedroom | 350 to 420 |
| Loft Master Bedroom | 120 |
| | |
Master Bedroom Types
Standard Master Bedroom. These are typical master bedrooms for residential homes and usually have an attached bathroom and walk-in closet.
Suite Master Bedroom. A more luxurious master bedroom than your standard version due to the larger square footage and added features such as a lounge, fireplace, private balcony, etc.
Split Master Bedroom. The split master bedroom is for couples who prefer separate sleeping areas. This master bedroom usually will have its own bathroom and closet area.
Dual Master Bedroom. Similar to the split master bedroom, the dual master bedroom will have each with their own bedrooms but this time share the same bathroom and closet, usually having bedrooms with identical square footage and design.
Garden Master Bedroom. As the term implies, this master bedroom is found at the ground floor level and can access an exclusive garden or outdoor space.
Loft Master Bedroom. The loft master bedroom is located in a loft space or in the attic. The location provides unusual room shapes and architectural features such as sloping ceilings or exposed beams.
Standard Bedroom Size for a Guest Room
The standard bedroom size for a guest room is 100 to 200 square feet with minimum dimensions of 10 feet by 10 feet. However, there are many considerations when sizing up your guest room, such as the desired level of comfort, the available space, the average number of guests, and what other features are required for the guest room.
Guest Room Type
Bedroom Area (sq. feet)

(minimum)

Ideal Dimensions (feet)
Standard Guest Room
100 to 200
10 x 10
Family Guest Room
200 to 300
12 x 12 (min)
Home Office Guest Room
100
10 x 10
Luxury Guest Room
250 to 300
12 x 20, 14 x 24, 15 x 15, 18 x 18
Multipurpose Guest Room
150 to 200
12 x 12
Walk-in Closet Size

16
4 x 4
*It is important to include an area for storage units where guests' belongings are secured.
Standard Guest Room. This is your typical guest room that can accommodate 1 to 2 guests, common in residential homes and commercial hotels. A single or double bed, bedside tables, dressers, chairs, and a small table are generally included.
Family Guest Room. As the term implies, it accommodates families or groups of people, which usually include a queen-sized bed or bunk bed, seating area, and extra play area for the kids.
Home Office Guest Room. The home office guest room is a flexible space where guests could stay but also serve as a home office. This guest room usually includes a sleeper sofa, working desk, office chair, and other office furniture.
Luxury Guest Room. The deluxe version of your guest room usually includes a larger king-sized bed, high-end bedding, a lounge area, a terrace, and other added amenities such as a fireplace or office. This type of guest room has a premium on relaxation, comfort, and privacy for guests.
Multipurpose Guest Room. Another flexible space that can serve as a home gym, media room, or craft area when not in use. A sofa can be converted into a bed, or a murphy bed can be easily drawn down when needed.
Standard Bedroom Size for a Kid's Room
| | | |
| --- | --- | --- |
| Age Group | Bedroom Area (sq. feet) | Ideal Dimensions (feet) |
| Infants and Toddlers | 100 or more | 8 x 12.5 |
| Preschoolers and Elementary | 120 to 150 | 10 x 12 |
| Middle and High School | 150 to 200 | 12 x 12 |
| Standard (Average U.S. Kids) | 100 | 10 x 10 |
| | | |
Infants and toddlers. The recommended size of 8 feet by 12.5 feet accommodates a crib or toddler bed, changing table, and other furnishings.
Preschoolers and Elementary. A twin or full-size bed can be accommodated, along with a closet, play area, and storage for toys.
Middle and High School. The recommended size of 12 feet x 12 feet provides enough space for a full-sized bed or a twin bed, closet, study desk, and bookshelves.
Tip: Beds are best positioned diagonally from the entry door, at the far corner, against either of the two walls. This bed orientation allows the sleeper to have a full view if someone enters a bedroom.
Considerations When Determining the Best Bedroom Size
• Know the number and type of users. As a rule of thumb, 70 square feet of space is needed per person in a room.
• Determine the needs of your guests. Is a study desk or kitchenette needed? These added amenities affect not only the size of the area but the layout of the furniture as well.
• Visualize the bedroom layout. Best to create a floor plan. If there is existing furniture to be used, these should be accounted for at the initial stage of planning.
• Be mindful of architectural details such as an existing fireplace, beams, doors, or windows, and determine how to plan around these elements.
• When planning for the depth of closets or cabinets, be sure to consider the door swing. If planning for a tight space, consider sliding or curtain doors.
• For a flexible guest room, make sure furniture and cabinets are easily moved or stored away when needed.
Standard Bedroom Door Size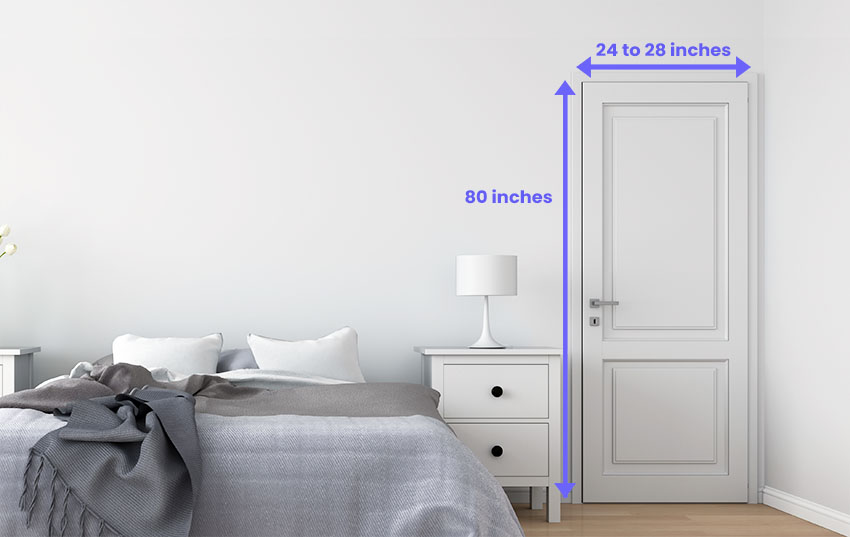 Standard bedroom door sizes have a width of 32 inches and a height of 80 inches. This length can accommodate a tall person entering a room with the comfort and hassle of having to stoop.
With this standard height in mind, it is the homemakers' choice if they want a door broader or longer to integrate with a high ceiling house or whatnot.
There are also bedrooms with doors that open to a balcony; this opens the avenue for experimentation on door sizes and styles.
Examples are barn doors or French doors that are dependent on the size of your space. For closet doors, the usual size ranges from 24 to 30 inches.
See more related content at our article about bedroom window sizes here.