In this guide we share the standard closet door sizes for regular, sliding, bifold and linen doors.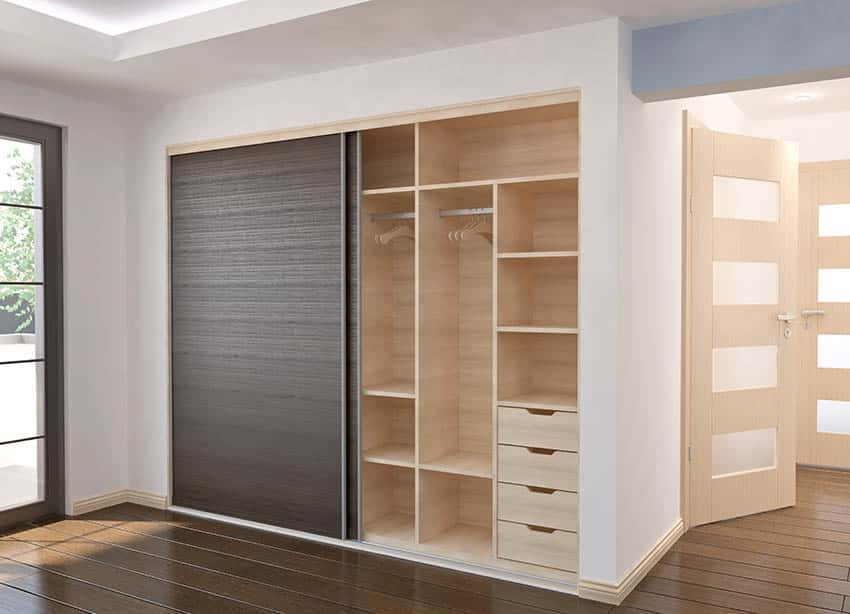 When it comes to closet door sizes, you can't just rely on the same measurements as every other door or doorway in the house. What you need for your closet door is unique to its function and the type of closet door that you want.
Here, we'll break down everything you need to know about closet door sizes.
Standard Closet Door Size
When it comes to closet doors, you aren't working with the same measurements as, for example, an interior doorway as an entry and exit point. Closet doors have their own unique dimensions. That being said, not every closet door is the same size as the last.
Still, it can be incredibly helpful to know what the general or standard size of a closet door should be. The average measurement is at 30 inches wide and 80 inches tall.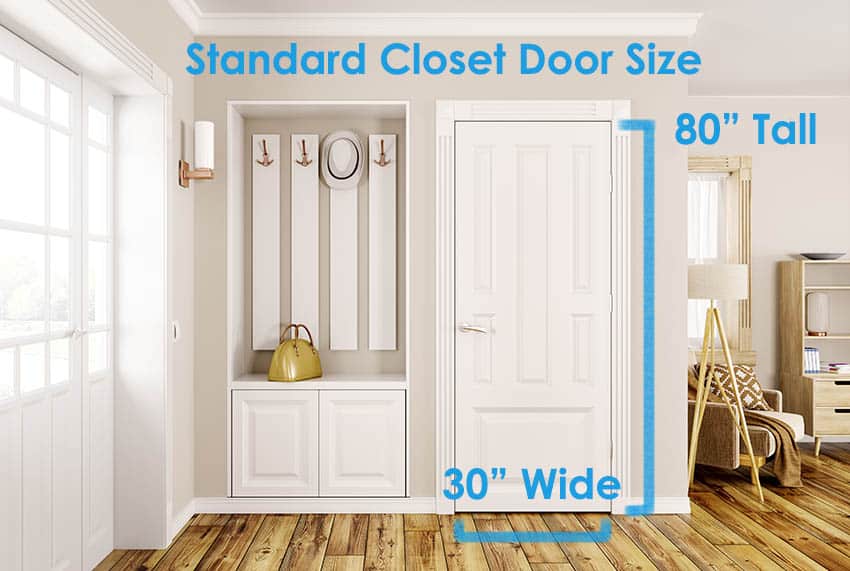 The size of your closet door can vary depending on the architecture of the room and the type of closet door you have.
For instance, a simple door that opens like a door or out of a room will likely take up less space than a set of sliding doors would. By considering the space you have and the type of doors you want, you can start to plan out your closet a little more clearly.
Sliding Closet Door Sizes
If you want a wider door frame or easier access into your closet, you can opt for a sliding closet door. Instead of swinging open on a hinge, these types of closet doors slide along a track to open.
Of course, this means you'll have to account for a different set of measurements than if you had a narrower closet door.
Standard Sliding Closet Door Size
When it comes to the standard sliding closet door size, there's actually a bit of variation. The standard height, though, is always about 80 inches.
The variation comes in discussing the width of your sliding closet door. This allows you to use this style of door in varying areas of different sizes.
The standard widths that sliding closet doors typically come in are 24 inches, 28 inches, 30 inches, 32 inches, or 36 inches. Read more about different types of sliding doors here.
Bifold Closet Doors Size
Bifold closet doors swing are made up of panels. These panels are on tracks and hinges to slide open while folding in on themselves, much like an accordion.
Because of this design, when you are considering bifold closet doors, you should think about whether you have the space for how far they'll jut out when they're open.
Standard BiFold Closet Door Size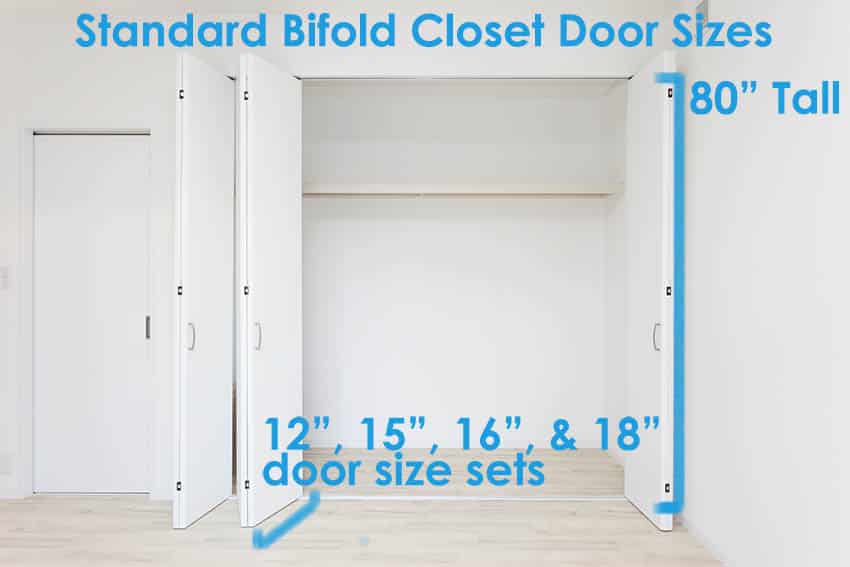 There are a number of different sizes for bifold closet doors. This includes not only the standard width of the closet itself but the number and size of each panel as well.
The narrower options are two-panel doors that open to one side rather than in the center. The standard measurements for a pair of panels depends on the width of the panel. Pairs of panels in 12-inch, 15-inch, 16-inch, and 18-inch sets are popular choices with a height of 80″.
The other option you have is a four-panel bifold door. Each opening section would be made up of two panels that push to one side.
Pushing both doors open in opposite directions gives you wider access to the interior of your closet. When using a four-panel design, the panel widths are typically 12 inches, 15 inches, or 18 inches.
Linen Closet Door Size
Aside from closets in bedrooms, there are other, specific closets in the house. For example, your linen closet in your hallways usually isn't as large as a bedroom closet. So, what measurements should you expect for this?
Like many of the other types of closet doors we've looked at, linen closets actually have varying widths.
The narrowest that the standard size falls into is a width of 28 inches. From there, the width increases every two inches up to a width of 36 inches. Remember, the width of your linen closet interior can never be smaller than your linen closet door width.
How to Measure Closet Door Size
There are two main measurements that you'll need to measure your closet doors: height and width.
So, when you're measuring the size of a closet door or closet door opening, you need to make sure you have both of these measurements.
As for taking the height, it's best to measure the height of both the left and right sides of your closet door.
Also consider the type of flooring you have in the room. Large carpet may get in the way of the door closing properly. I this case you may want to reduce the size of the door slightly.
If you have an especially wide closet door – like a sliding door – it's a good idea to take the height in the center of the door frame as well.