Here's our tile size for small bathroom guide sharing the best wall and floor tile dimensions, and choosing between small or large tile for small bathrooms.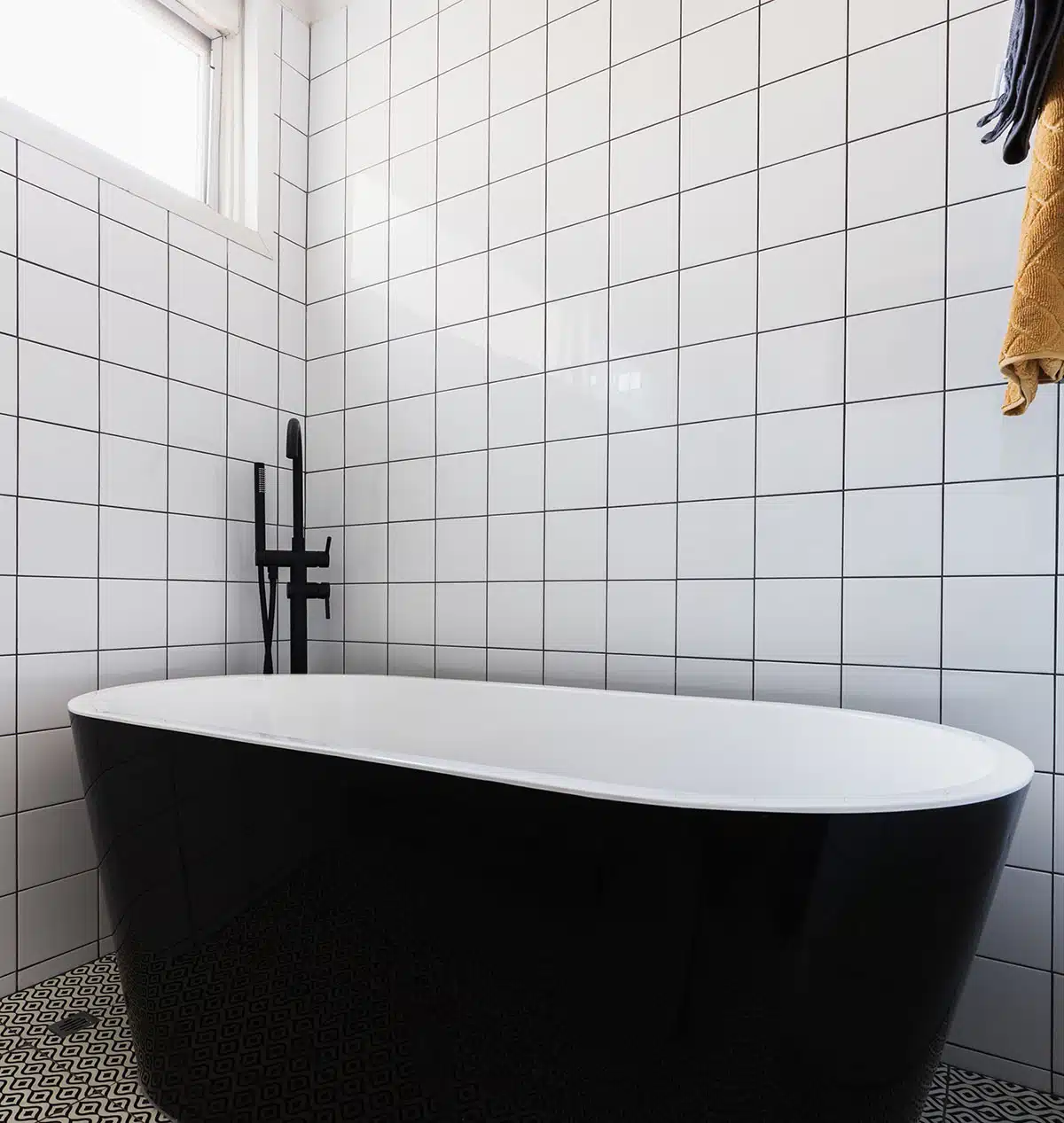 The challenge of designing and renovating a tiny space is always present, and this problem is evident when given the task to retile a small bathroom. Retiling a small bathroom requires careful planning and consideration since functionality should not be sacrificed for the visual look of the room.
When designing a small bathroom, one way any homeowner or any designer could create the illusion of space is by carefully considering what size of tile to use for a specific bathroom. Tile size can aid functionality as well as looks. With this, homeowners can ensure that their bathrooms are practical and have a sense of flair with the design.
Small Bathroom Floor Tile Size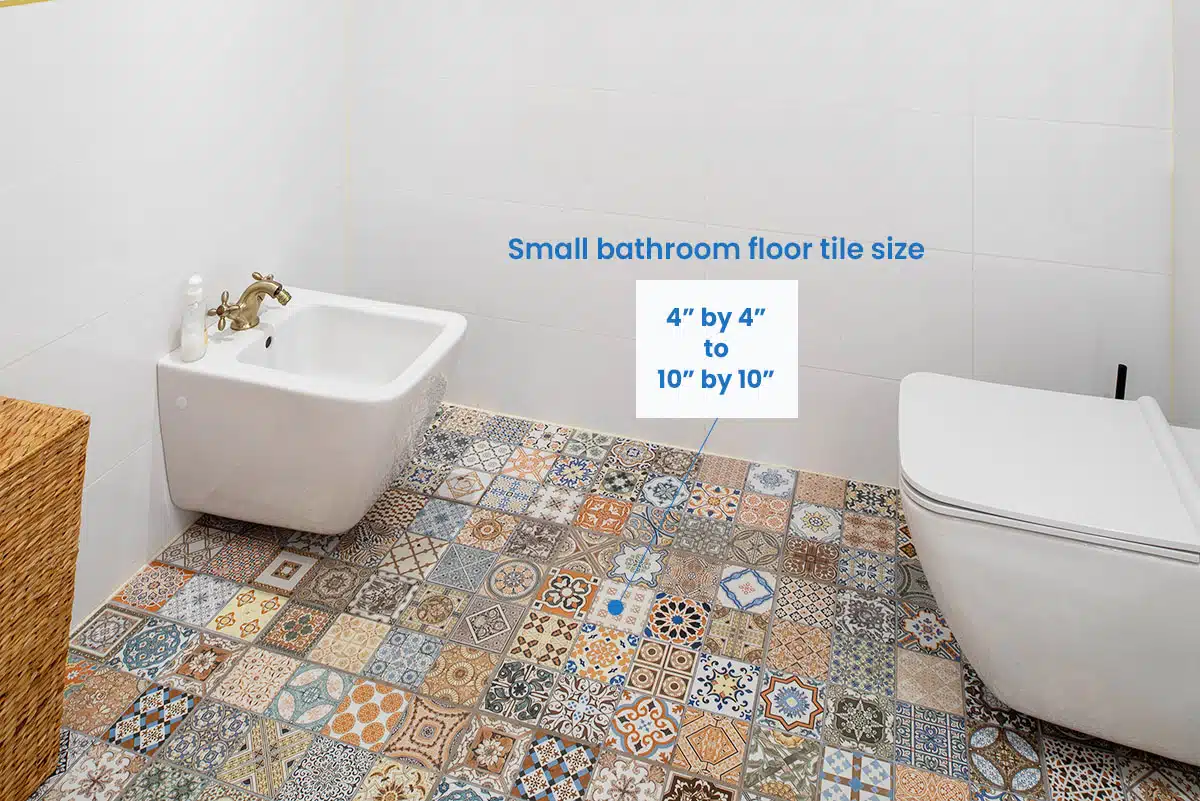 The most common tile size for smaller bathrooms is also small bathroom floor tiles. They give a sense of style but also add that functionality which is always a plus on any homeowner's list.
Choosing the right size can affect everything from the overall look to how hard or easy the room can be maintained.
A choice a homeowner could make is choosing bigger tiles. More extensive tiles have the benefit of having fewer grout lines, which gives the smaller space a seamless look creating an illusion of bigger floor space.
Some of the best choices are mosaic tiles with the size of 4 by 4 to 10 by 10 inches or around 10 by 10 to 30 by 30 centimeters.
What Is The Best Size Tile To Use In A Small Shower?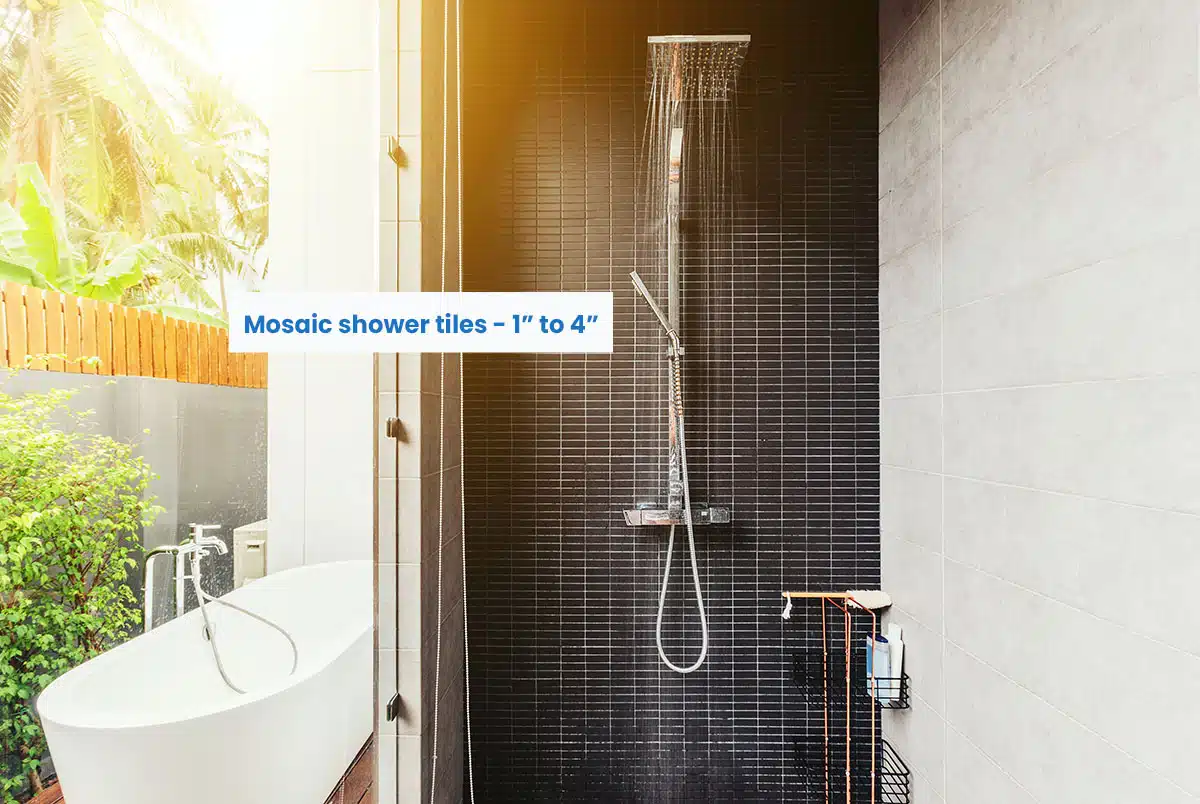 Utility, overall look, and upkeep are all factors considered when deciding what tile to use for a small shower. The standard tile size commonly utilized for this function is small to medium-sized mosaic tiles around 1 to 4 inches or 1 to 10 centimeters.
This is the standard since it offers the flexibility required to tile hard-to-tile areas like corners and around fixtures.
Another choice is to use larger tiles to create an illusion of a larger shower area. Larger tiles are any tiles 4 by 4 inches or 10 by 10 centimeters and up.
These tiles will look bigger in a space because of fewer or thinner grout lines, adding to the illusion of a larger shower area.
Tile size requires careful consideration with guidance to choose and other practical factors. Choosing larger tiles will create a fuller look but will add to the work since it will require a more complicated installation process, like cutting.
On the other hand, smaller tiles with consideration to type and color can sometimes overwhelm the space, especially for more minimalist homeowners.
Small Shower Walls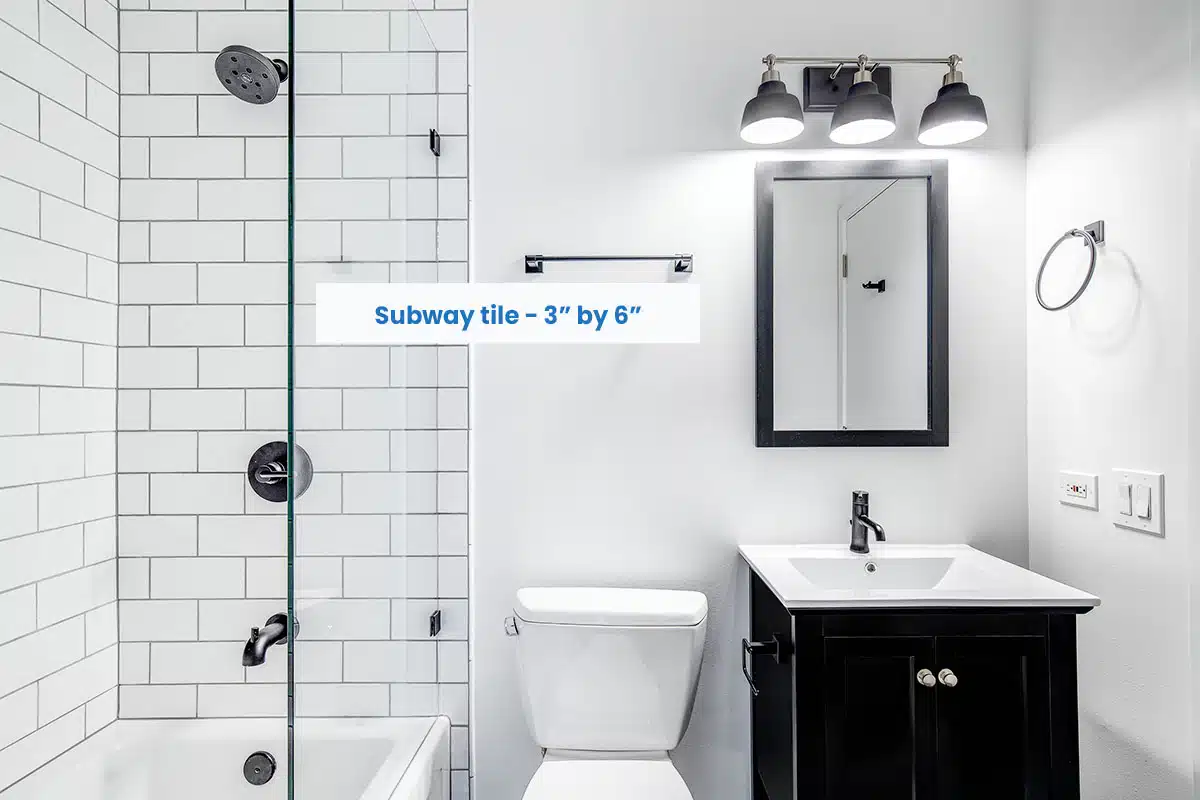 One of the more popular tile choices for small shower walls is mosaic tiles. This is mainly due to how easy and flexible they are regarding installation. Their size is also what makes them popular since they can be stacked in many patterns to satisfy any homeowner's aesthetic requirements.
The size for these tiles starts at 1/2 inch to 2 inches or around 1 to 5 centimeters.
Another shower wall tile that is hugely popular for its classic and simple appearance is subway tiles. They are rectangular tiles measuring about 3 by 6 inches or 8 by 15 centimeters.
Placement will dictate whether it will give the walls a boost in length or height. They can have a vertical or horizontal orientation.
Most interior designers agree that a horizontal placement can make a smaller layout look more spacious, and provide a wider feel. Meanwhile, a vertical placement can help elevate the height of the ceiling at the expense of making the room feel tighter.
Another choice is the grout color. Generally, for a smaller space a lighter color grout that matches the tile will help keep the design lighter and brighter which will translate into the appearance of a larger space.
When it comes to vanity backsplash on the wall, small mosaic tiles of 1″ x 1″ or 2″ x 2″ can be used to create an intricate tile layout. However, this will result in more grout lines to have to clean near an area that frequently gets hit with water.
Another option is a medium 4″ x 4″ backsplash tile that provides an excellent middle ground. Larger format tiles can be 12″ x 12″ or more and can help expand the look of the bathroom layout visually and offer less grout lines to clean.
Is It Better To Use Small Or Large Tiles In A Small Bathroom?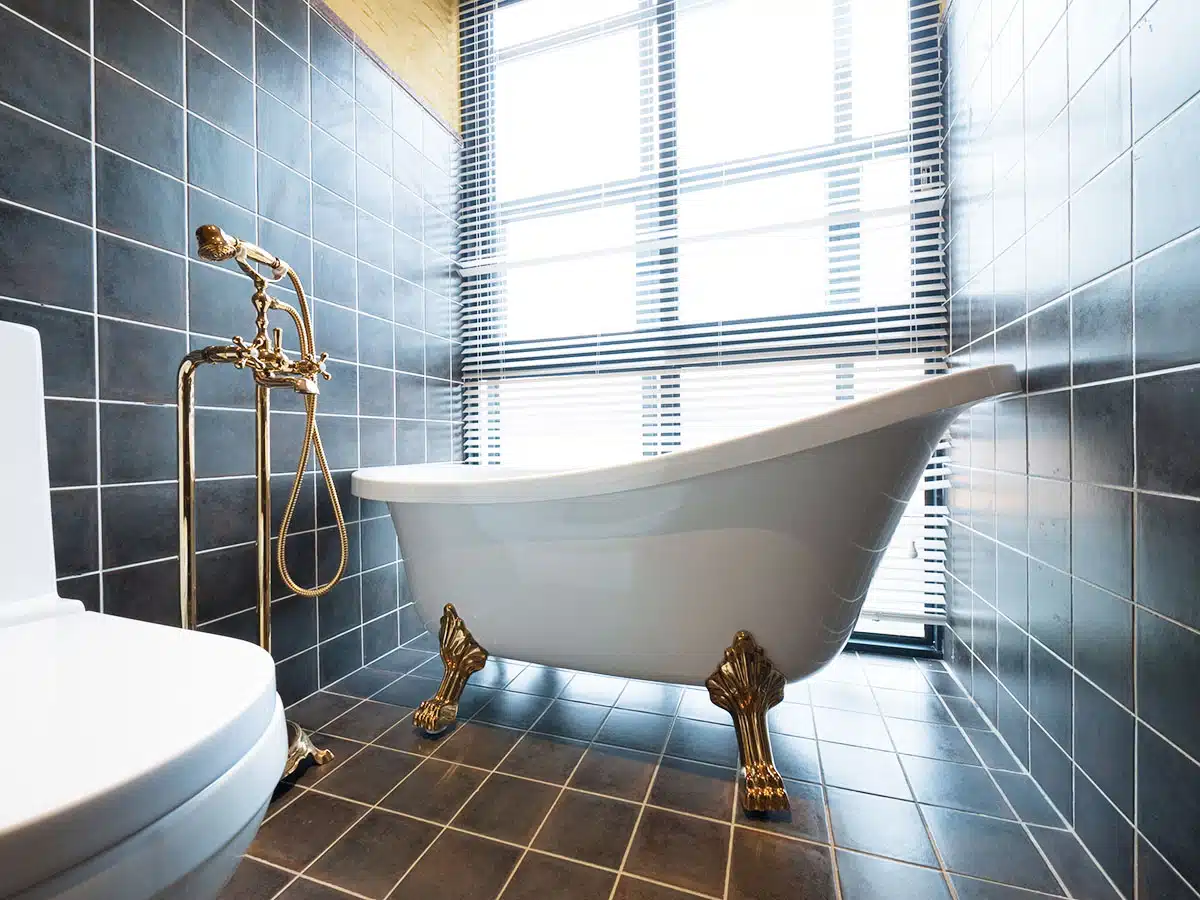 Choosing between small or larger tiles for a small space like a bathroom will include many variables but ultimately, it will depend on the homeowner's preference.
Both tile sizes have their attributes, and going, either way, will depend on what the homeowners are prioritizing.
Smaller tiles will provide the aesthetic and flexibility if the homeowners are looking for that. Their sizes create more freedom when it comes to design since they offer more options for colors and patterns.
On the other hand, their flexibility is evident in how easy they are to install even in hard-to-tile areas like curves and corners.
Traction is also another benefit of smaller tiles since they have more grout lines which are usually rougher than the tiled surface, it will provide a more stable showering area and cause less accidental slipping.
Larger tiles around 12 by 12 inches or 30 by 30 centimeters or larger can be utilized by homeowners looking to make it seem that their smaller bathrooms are larger.
These tiles are the best choice since it widens the floor or wall area to make it look more spacious. Because of their fewer or thinner grout lines, larger tiles give the illusion of openness which is integral when designing a space to make it look larger.
Maintenance is another benefit of larger tiles since fewer grout lines will mean less dirt and grime will collect. This is also the best option for homeowners more prone to the clean and minimal look for their spaces.
What Floor Tile Makes A Small Bathroom Look Bigger?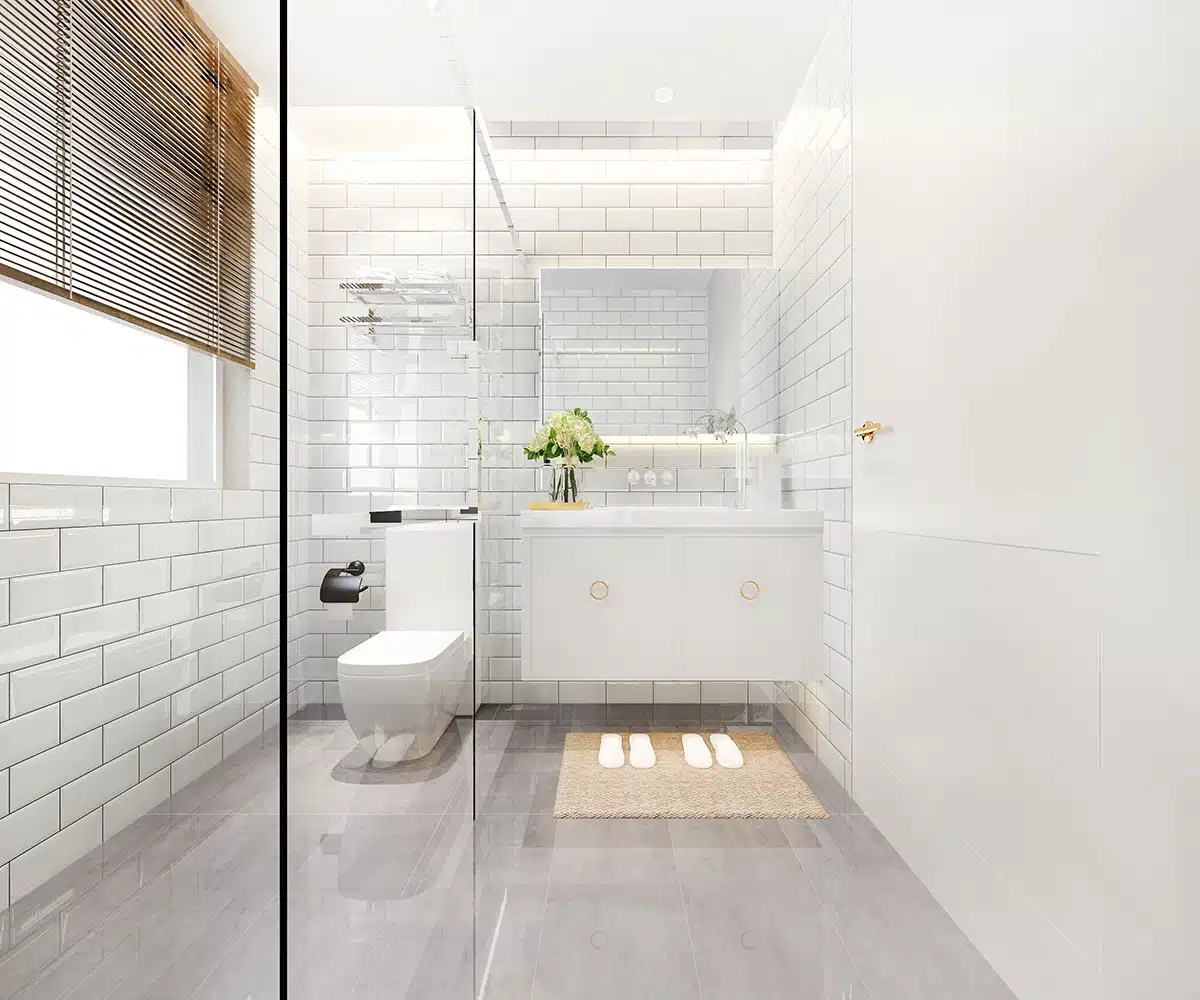 Now that it is seen that something as mundane as floor tile can significantly contribute to the ambiance of a small bathroom, it is integral to pick the best one for the space.
Larger tiles at 12 by 24 inches or about 30 by 61 centimeters will enlarge a space like a small bathroom because of the thinner or fewer grout lines. Think of it like a countertop where a full marble slab will look more seamless compared to a piece by piece.
Another easy trick is opting for white, pastel, cream, and soft neutral tile materials that have reflective qualities that contribute to the brightness of the space, and give the effect of being more prominent.
This is also the case for wall tiles. The more light reflection is made in a small space, the bigger the space will appear to be.
Another method most interior designers employ is creating the illusion of space with the strategic placing of tiles.
Subway tiles are a number choice for this. Install them in the usual horizontal pattern, and the room will look wider, while vertically installing them will give the impression that the bathroom has higher walls.
Do you have experience using tiles in a small bathroom renovation project? Share your favorite tile pattern for floors and bathroom walls for our readers in the comments. See more related content in our article about the types of bathroom tiles on this page.