This image gallery of mosaic tile shower wall designs shares what it is, different types, pros & cons, application, installation, grout ideas and mosaic tile cleaning tips.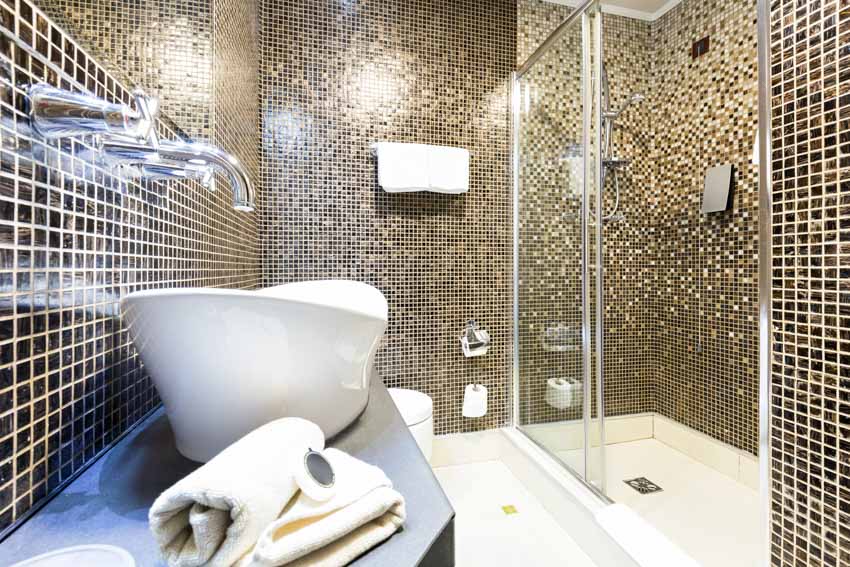 A trendy and stunning way you can spruce up your bathroom is by installing a mosaic tile shower wall. The visual appeal that a mosaic style can add to a room is immense and extremely notable, whether you use it on flooring, countertops, or walls.
Mosaics started as meticulously applying tiny tiles individually to create a complex yet masterful pattern. These patterns are often large and intricate and installing them takes a bit of expertise and hard work. Today though, it's different since many patterns are premade and you won't have to individually install the small tiles.
Before you go ahead and finalize your decision on mosaic tiles for your shower wall, make sure first that you know every tiny detail there is about them. Let's start with the basics.
What Is A Mosaic Tile Wall?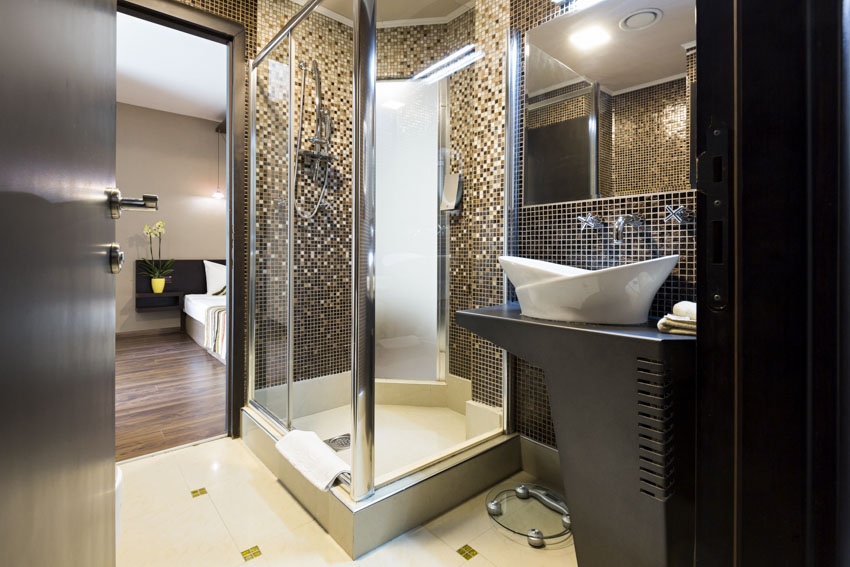 Mosaic tiles were introduced during the rise of the Roman empire and were used to show wealth and power in society back then. It was in the 1980s though when the style became popular for its interesting design and quirky concept.
Despite its exhausting installation style, these tiles became a trend that many homeowners choose to have in their houses. And since today's mosaic tiles are more convenient and easier to install, they are even more desirable to have.
Technically, mosaic tiles can be made from a variety of materials with their technique and styled pattern being the focal point of this type of tile. The most common though is the ceramic mosaic tile, which comes in the form of 2-inch small square ceramic tiles.
These squares are then put together in a fiberglass sheet and arranged in such a way that grout seams will be placed between them. While the square is the common shape of mosaic tiles, it can also have other geometric shapes like rectangles.
These mosaic sheets can either have one color or different colors altogether. Depending on the aesthetics and vibe you want to produce, you can go both ways and even create a specific pattern.
Mosaic Tiles Application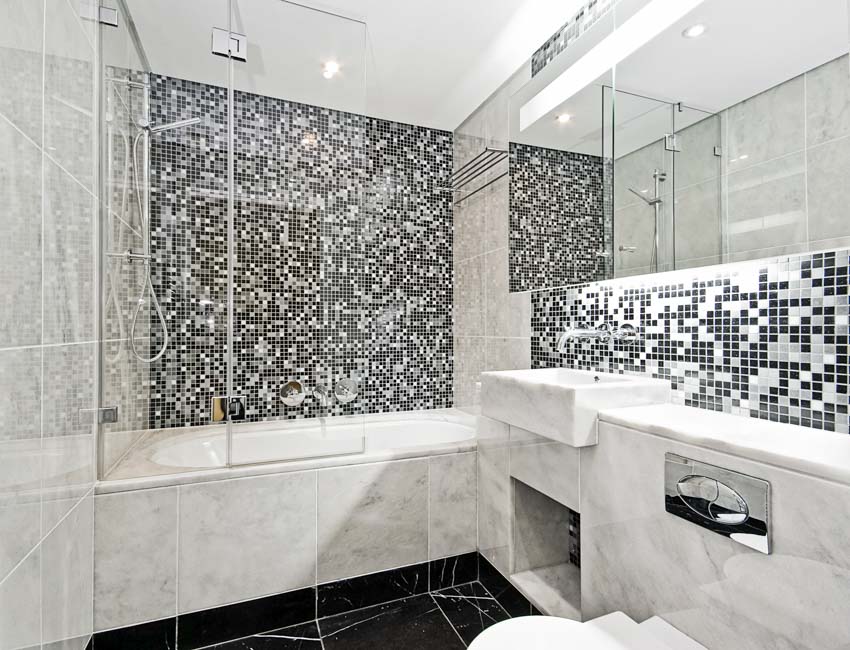 When it comes to the application of mosaic tiles, they have already become popular materials and styles for walls and flooring even way back in the early 1980s. With their resistance to water and wear and tear, they've become a favorite for bathroom installation where the materials are regularly exposed to moisture.
More than that, with the small mosaic tiles, the design is able to accommodate the drains and slopes of shower floors better. There's also better slip resistance with the existence of more grout with the mosaic tiles.
And with mosaic tile types of shower walls, you have the freedom to create the pattern you want to often see. Unusual materials can also be added to the mix, from plates to small buttons.
Types Of Mosaic Shower Wall Tile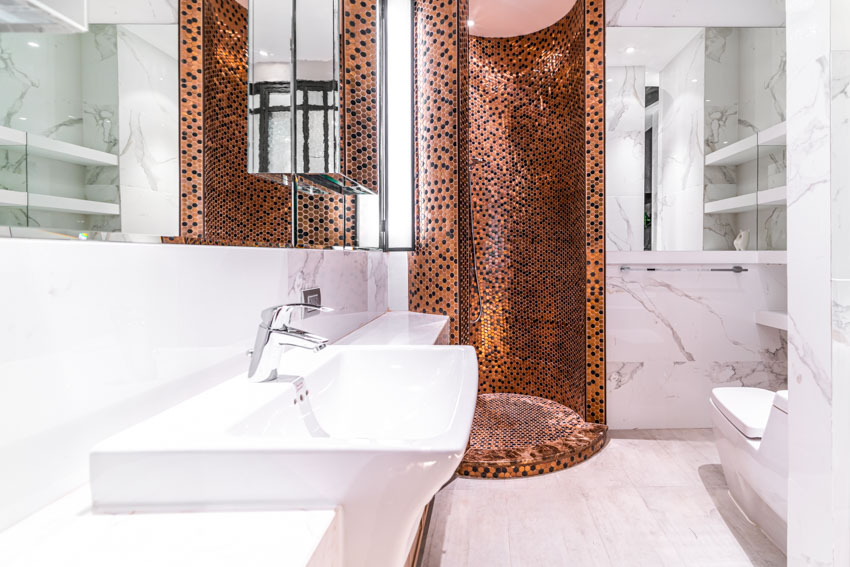 Modern mosaic tiles come in pre-attached tiles in convenient sheets in varying colors, patterns, and styles. This means that in designing and installing your mosaic shower wall tiles, you have many options to choose from. You also get to have a wide selection when it comes to the materials the tiles are made from.
Some of the popular materials that are attached to mesh sheets for installation are the following:
• Ceramic
• Porcelain
• Glass
• Natural stone (Marble, Granite, Slate, & Travertine)
• Unglazed terracotta
• Metal
• Pebbles

More than just the standard installation of tiles using mortar, you also have the choice to use peel-and-stick mosaic tiles instead for more convenient installation and renovation of your shower walls.
To help you explore some of the options to install mosaic tiles for your shower walls, here are some things you need to know about these types.
Glass Mosaic Tile For Shower Walls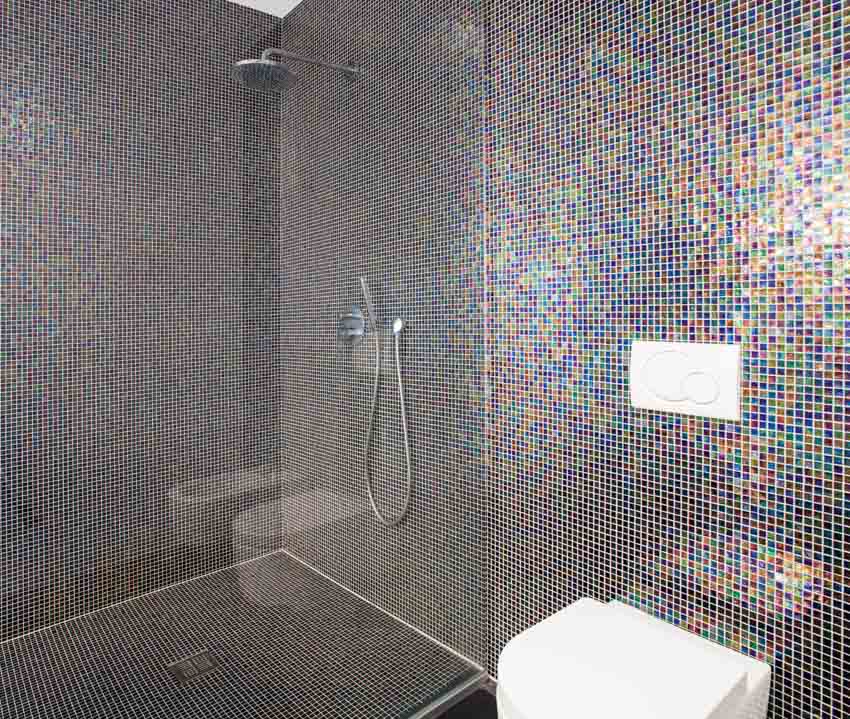 Glass has always been a luxurious material featuring elegant aesthetics. This is the same way if you choose a mosaic look when entertaining glass tile shower ideas. Some glass mosaic tiles even look like crystals that will spruce up your bathroom into a stunning shower area.
Glass mosaic tiles also come in a variety of styles and colors. You also have the choice among the following options:
• Opaque or Translucent
• Glossy or Frosted
• Smooth or Textured
This type of mosaic tile is ideal for your shower walls, especially since glass can withstand moisture. Glass is an excellent choice for your shower since the area is regularly exposed to moisture. You can combine the glass tiles with stone blends, as well as wooden and metallic elements, depending on your preference.
Porcelain Mosaic Tile For Shower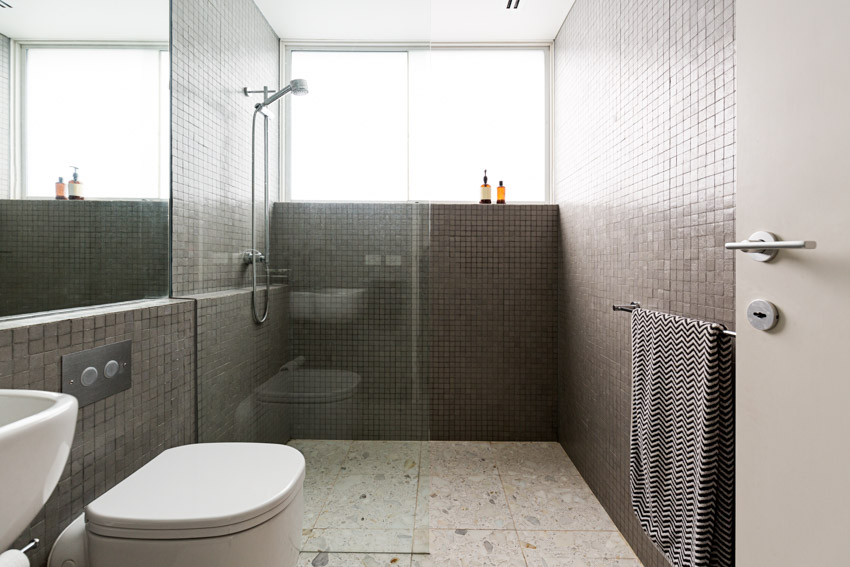 Another elegant choice for your shower walls is the porcelain mosaic tile. Similar to glass when it comes to its reaction to moisture, porcelain is another material worth considering for your shower area. The difference though is that while glass is resistant to moisture, porcelain repels moisture instead.
Adding porcelain mosaic tiles to your shower walls will elevate the area in terms of aesthetics and vibe. The downside with porcelain though is that it's not as durable and sturdy as glass and may even be more expensive with limited selections you can skim through.
Porcelain tiles are also very difficult to cut and work with so you might need to hire a professional to do the job for you.
Ceramic Mosaic Tile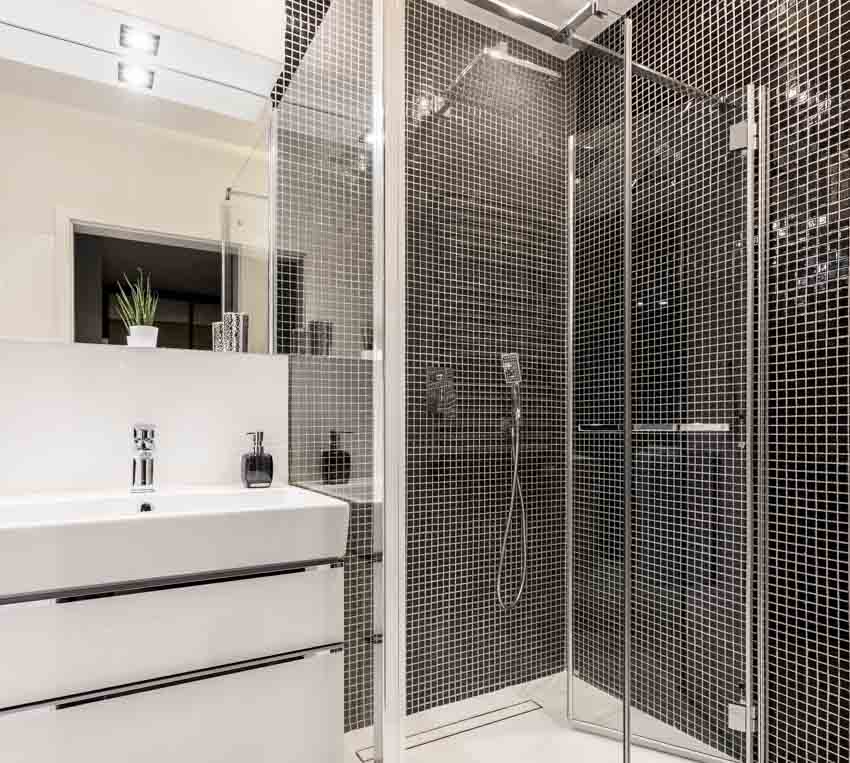 Ceramic tiles are the standard tiles usually used in the construction and renovation of homes because of how easy it is to work with this material (Despite needing a tile saw or a standard tile cutter).
Considering it's soft to cut, creating shapes and curves in ceramic tiles is not just possible but easy to accomplish too so you can cut and design them however you want.
Compared to the first two materials discussed though, ceramic tiles absorb moisture readily and easily, making them a mismatch for your shower walls.
This is the reason why it is necessary to glaze the top of the surface and properly seal it to prevent moisture absorption. With ceramic's permeability, this is a necessity.
Mosaic Tile Shower Wall Ideas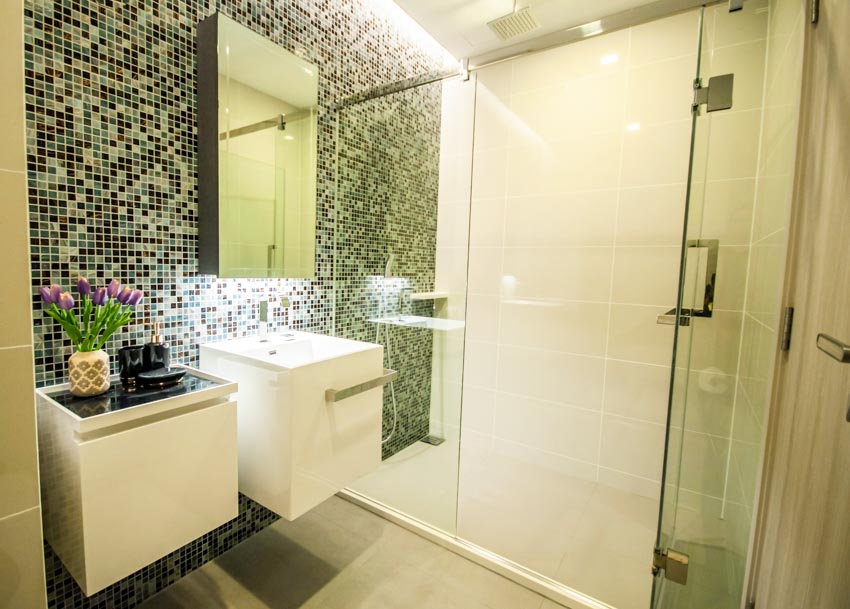 More than just the different types of mosaic tiles based on the materials they are made from, you can also take into account the styles, designs, and ideas you can apply when using mosaic tiles.
This is actually one of the most fun and exciting parts of this project since you get to be as creative as you want to be. You can match different materials and colors, as well as create or follow a creative pattern that can add value to your shower walls.
To have a place to start if you don't have a pattern picked out yet, you can check these ideas.
Waterfall Mosaic Tile Shower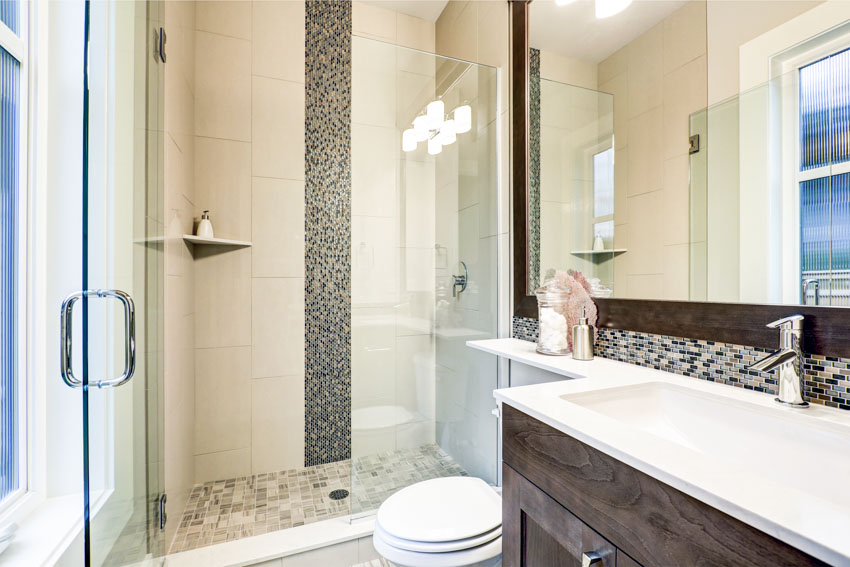 When you come across waterfall mosaic tiles, you're actually considering a striking aesthetic that can spruce up your shower.
This particular style creates visual flow and dynamics, making it an ideal choice for areas and rooms that need some movement. So if your bathroom shower area feels too monotonous and boring, this change in your shower walls may be considered.
Waterfall mosaic tile shower walls can also brighten the area if you choose a combination of beige and white colors and pair them with something metallic like bronze.
When they are paired with stone and glass, they offer a subtle vibe that will play well with those in need of modern bathroom design ideas.
Mosaic Tile Shower Accents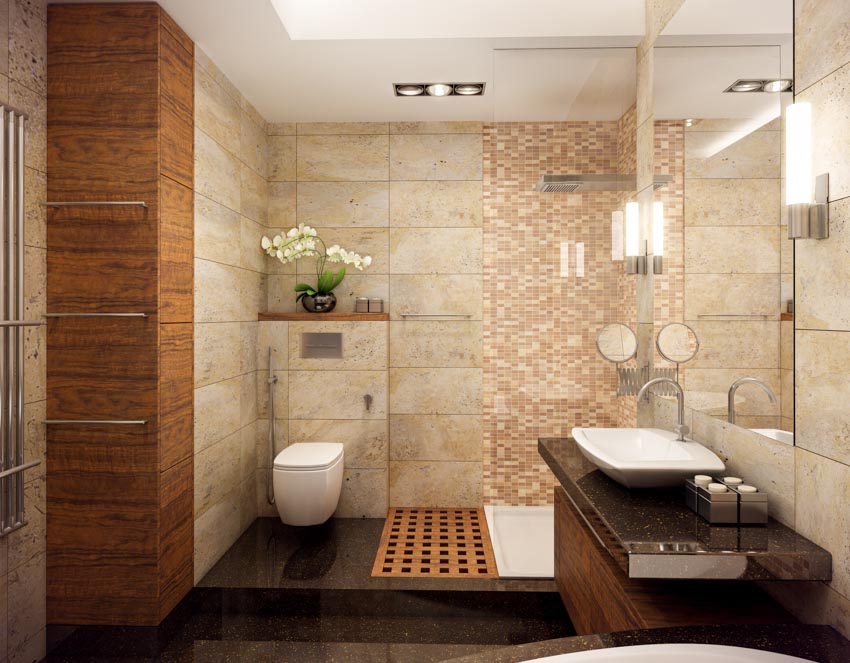 If you want to build a focus wall in your shower and create a masterpiece, you can make a mosaic tile shower accent wall. In this case, you have the freedom to design the wall however you want and the mosaic tiles will make it easy and convenient for you to create those designs.
One thing you can consider to make your shower pop is to go bold with your shower walls while remaining simple and plain for the flooring.
A classic tile design of mosaic tiles is enough to make the shower walls stand out. If you want something different, try forming unique graphics and fun patterns instead. See more pictures of mosaic tile shower floors here.

Herringbone Mosaic Tile Shower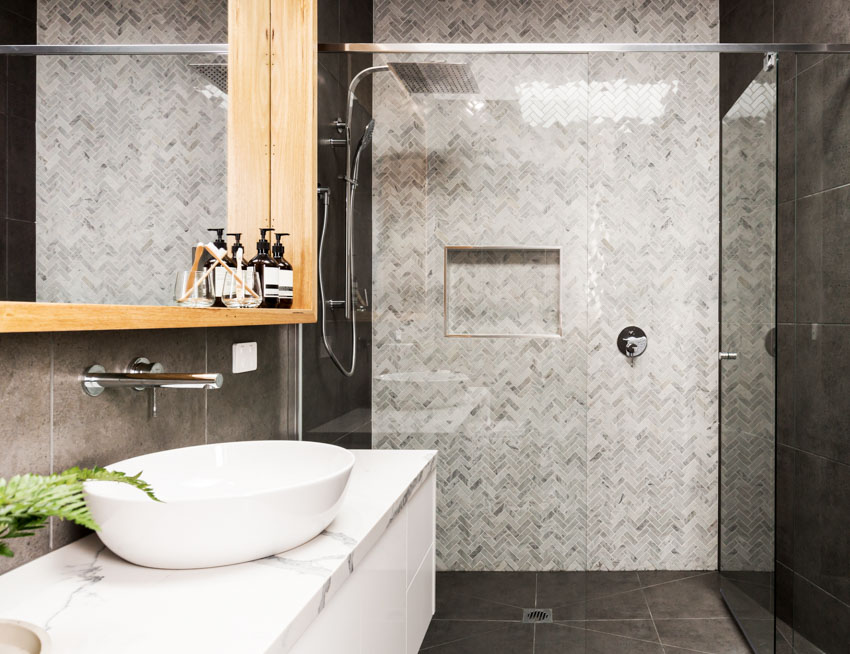 Herringbone is a popular dynamic pattern and style that remains to be popular among homeowners and construction experts. The timeless pattern makes use of rectangular tiles that are arranged in a way where a fish or "herring" pattern is created.
You can use herringbone mosaic tiles for your shower walls if you're looking for something different and unique. While technically not new, the pattern may add something fresh-looking to your shower area.
If you want the dynamic look of herringbone mosaic tiles but want them more subtle on your shower walls, choose neutral colors like white, beige, and cream. If you want something loud and eye-catchy, go for bold colors like red and black.
Mosaic Tile Shower Niche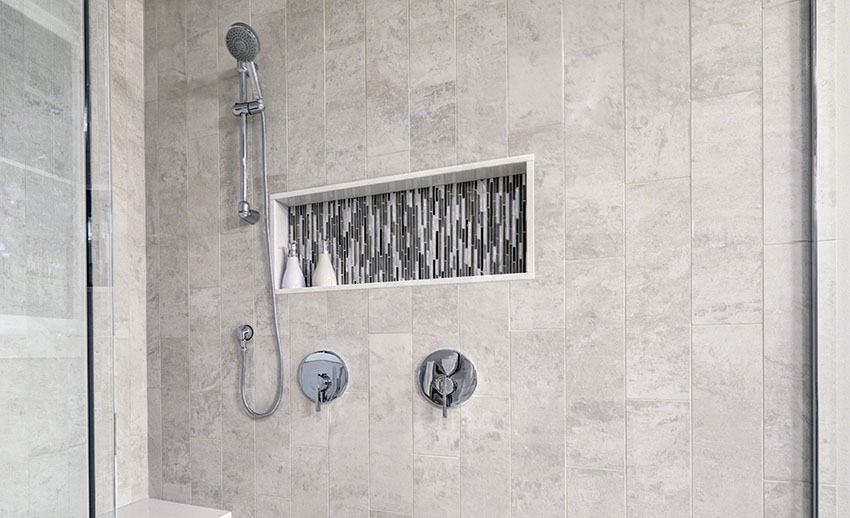 A shower niche is a hollowed storage space (usually rectangular) nestled on the wall like a cubbyhole that's often used to keep bathroom items organized or add decorative elements to the shower.
If you have a niche in your shower and you're planning on renovating the walls with mosaic tiles, make sure to consider what you will do with the niche. And there are two options you can consider.
You can either renovate it similarly to the rest of the walls, with the mosaic tiles designing the niche or you can make it stand out by choosing a different tile for it, adding more texture to the wall not just because of its hollowed look.
Mosaic Tile Shower Wall Pros And Cons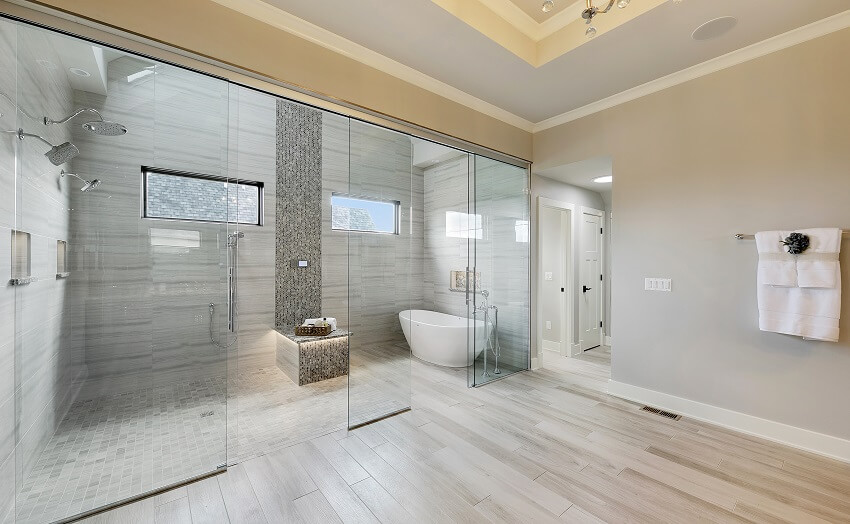 Having a mosaic tile shower wall can have both positive and negative effects on your home. Understanding the possibility of these two is the best way to determine if mosaic tile shower walls are the ideal option for your renovation project.
Pros of Mosaic Tile Showers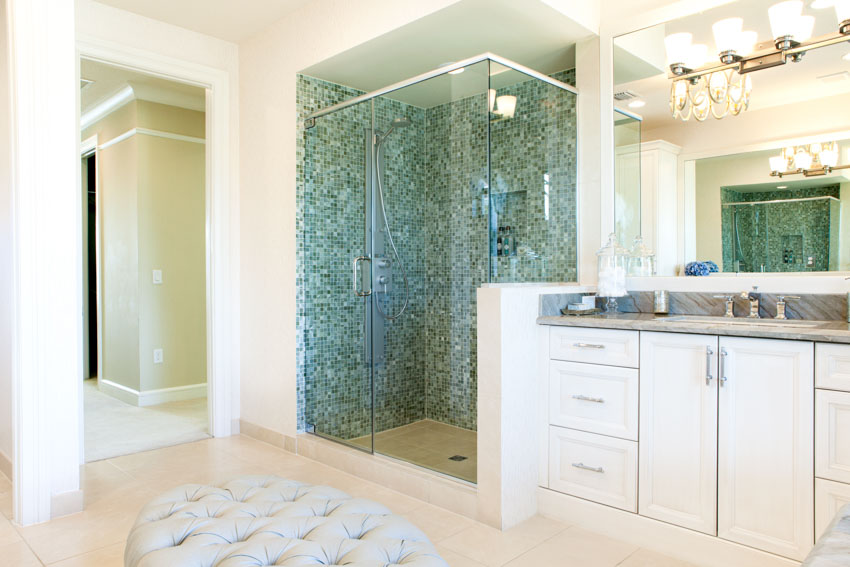 The different advantages you can get with choosing mosaic tiles for your shower walls are what make them worth considering and installing. Here are the notable benefits you will surely enjoy with mosaic tiles.
Aesthetically Pleasing: Mosaic tiles are aesthetically superior and this has been proven way back in history, especially since they are even used as a symbol of wealth and station in the Roman Empire.
The beauty of these patterned tiles has graced temples and mansions. And today, they can easily transform your design from plain and simple to an elegant luxury shower. The intricacy of the designs can only be limited by your imagination.
Waterproof, Dirt-resistant, & Wear-resistant: Mosaic tiles are popular for having strong resistance to daily wear and tear, as well as to other harmful elements like moisture, dirt, and stain.
This makes them ideal to be installed in the shower area where exposure to moisture is a regular occurrence. They won't fall off the wall and turn yellow when exposed to too much water.
High Durability: Highly durable, mosaic tiles can withstand daily wear and severe damage. They can withstand an average household's demands for quite a long time. This means that they can be a great investment since not only will they last for a long time but will also look stunning for years to come.
Colorful & Highly Decorative: The great thing about mosaic tiles is that they are flexible and highly customizable and so you can use the patterns you prefer when you install them. You can even combine colors and shapes if that's what you prefer, as well as materials if needed.
Easy to Clean & Maintain: Mosaic tiles are also very easy to clean since they have smooth surfaces. With this glossy surface, dirt doesn't get stuck in the crevices. This is the same way when it comes to mold and mildew.
With these low maintenance shower walls, you just need to wipe the tiles with warm and soapy water to clean them. Very little is required when it comes to the maintenance of these mosaic tiles.
Environmentally Friendly: Mosaic tiles are considered green products and environmentally friendly because most of them are made from natural materials and are individually handmade rather than being artificially produced through a process that can be harmful to the environment.
Cons of Mosaic Tile Showers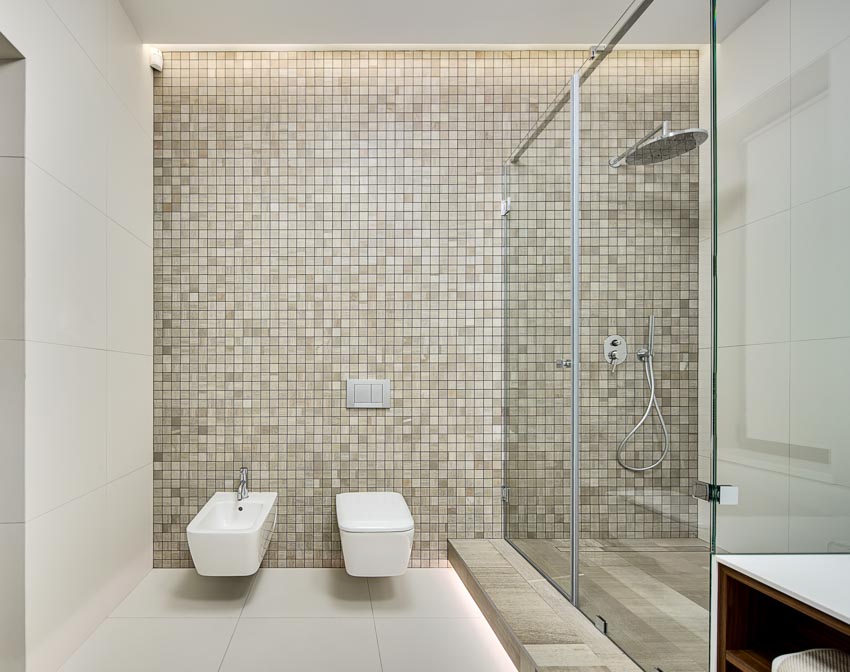 Besides the advantages you are sure to enjoy when using mosaic tiles for your shower walls, there are always drawbacks you need to know about. Check out these disadvantages of mosaic tiles as shower walls.
Varied & Challenging Installation: The installation of mosaic tiles is widely varied in the sense that they can be very easy if you won't be dealing with intricate patterns but they can also be challenging and complex if you will have to work with the small tiles individually and even in different shapes and colors just to successfully produce the pattern you're envisioning.
Can Be Expensive: While it will rely on the materials they are made of, mosaic tiles can come expensive, especially for pre-arranged ones on their respective mesh sheets. The installation fee is also not cheap, especially if you're making a professional do some intricate images and patterns.
Can Be Slippery: With a glossy and smooth surface, it's not surprising that mosaic tiles can be slippery underfoot. With the shower walls though, you have less to worry about.
Possible Scratches & Damages: Mosaic tiles are strong and durable but they are not a hundred percent resistant to damage. In fact, they are prone to scratches (especially if you have children and pets at home) and may require replacement if too much damage has been done to them.
Mosaic Tile Wall Installation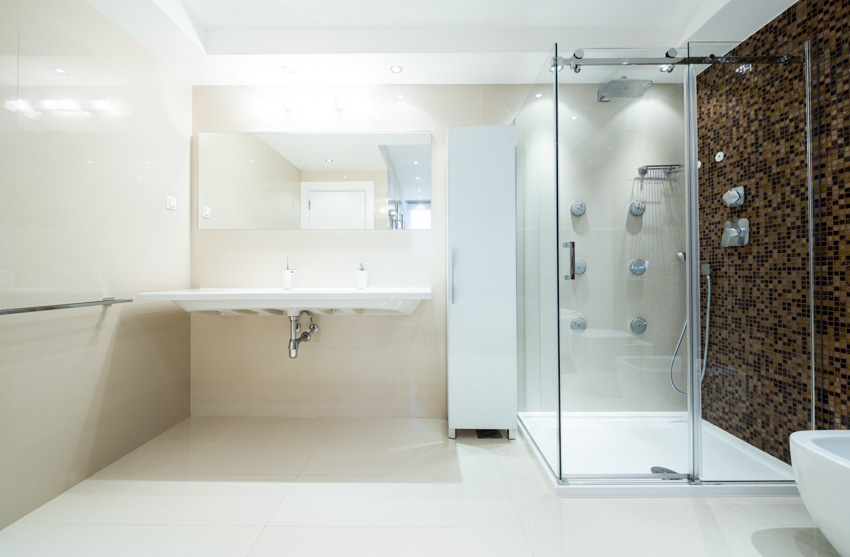 Compared to standard tiles, installing mosaics are easier since you don't need to handle special equipment just to cut tiles like done with regular ones. Cutting mesh sheet of mosaic tiles is way easier.
Here are simple steps to install mosaic tile.
• Step 1: Prepare the surface of the shower walls. Before installing the mesh sheet, make sure that the surface is smooth and flat, as well as clean and dry.
• Step 2: Plan the layout of sheets on the walls. Arrange the sheets of tiles in the positions you want them to before installing them.
• Step 3: Apply a thin-set mortar to the cement board. Rather than using adhesives, use mortar instead for the installation.
• Step 4: Lay the tiles on the surface. Start at the very center of the walls going outwards.
• Step 5: Install trim or accent tiles. Use baseboard tiles, bullnose liners, or cove tiles.
• Step 6: Grout the tiles. Make sure to wait for the mortar to set before grouting and then cleaning the tiles.
Do You Need To Seal Mosaic Tiles In The Shower?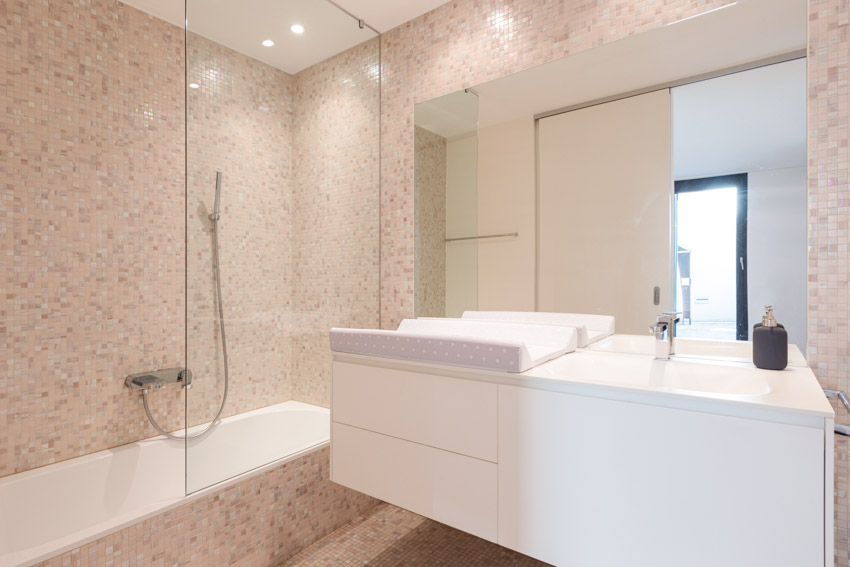 Yes, it is highly recommended that you seal your mosaic tiles if you choose to install them on your shower walls. Depending on the material they are made of, those with highly porous surfaces like ceramics and natural stones will need to be sealed before and after the installation. This will prevent staining after a long time.
Other materials though like porcelain and glass only need to be sealed after the installation, particularly the grout lines since they are naturally porous.
Sealing them will protect the underlayment from moisture and water damage. This is very important for mosaic tiles installed in shower areas since they are regularly exposed to moisture.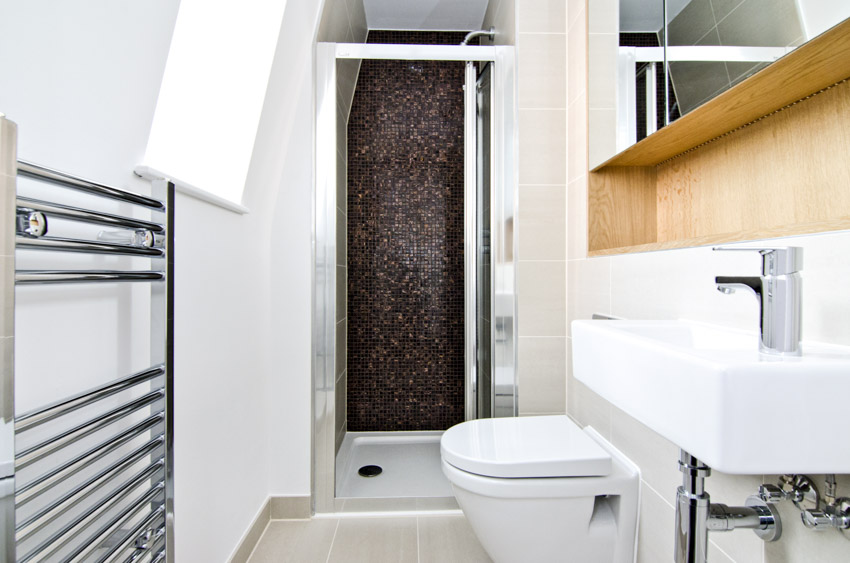 Dark brown penny tile shower with beige porcelain tile walls.
Do Mosaic Tiles Need Grout?
Yes, when installing mosaic tiles, especially in shower areas, you will need to grout them to protect them against moisture and dirt.
Since they tend to be uneven with the small tiles involved in the installation, grouting them will level the tiles and produce an even finish that will add value to the aesthetics of your shower walls.
When grouting mosaic tiles, you can apply the sealer using a roller or brush. Make sure that you cover the entire surface and wipe away excess as you brush along all parts. Allow the surface to dry completely and penetrate the tiles.
What Is The Best Grout For Mosaic Tiles In The Shower?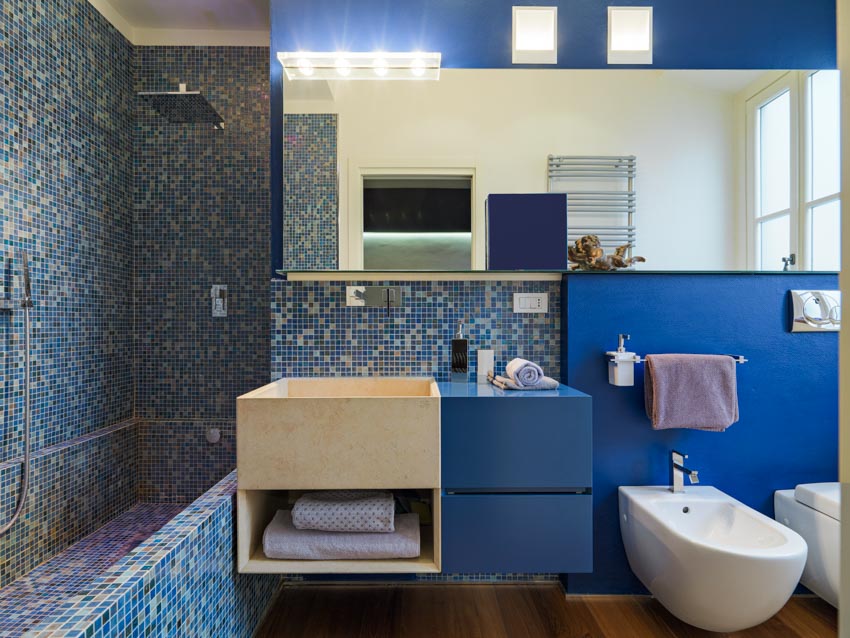 Mosaic tiles need grouting to further protect the material, especially if you're planning to install them on your shower walls and be exposed daily to moisture.
This is why it's necessary to carefully choose your grout, especially since the small tiles of mosaics need grout that won't damage the surface. Make sure you also take into account the thickness of the tiles, the gaps between them, and the area covered by the entire mosaics.
If you will install them in areas always exposed to moisture like the shower, you will need thinset as a bonding agent.
For the grout, epoxy grout is highly recommended for mosaic tiles to provide a more stable foundation that's also resistant to cracking and staining brought by weather and temperature changes.
Since regular sanded grout can be abrasive to mosaics its a good idea to use unsanded grout. This is especially true for glass mosaics that are more prone to scratches. Sanded grout should also never be used for tile joints smaller than 1/8 of an inch.
Cleaning Mosaic Tiles In Shower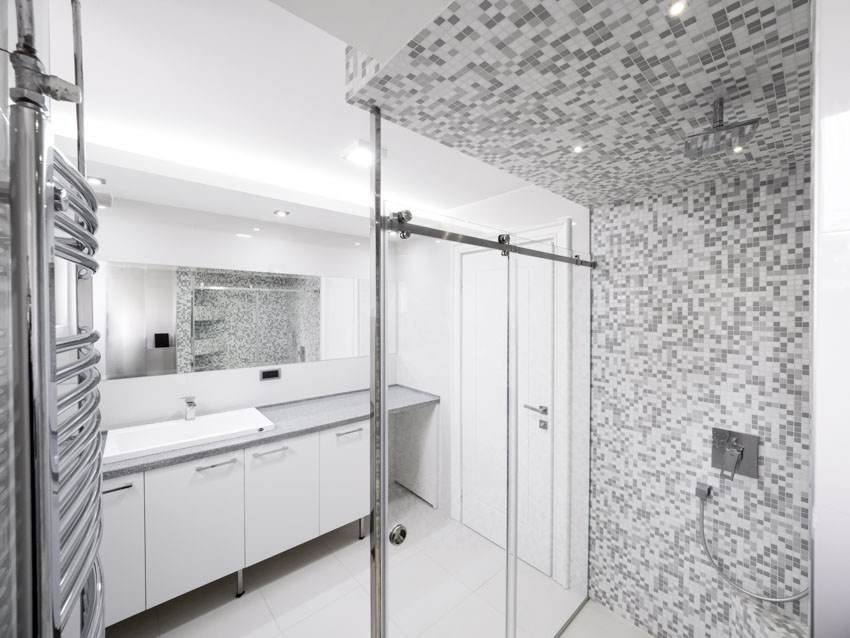 Mosaic tiles come in a variety of materials, shapes, colors, and styles. And most of the time, you will need to take these factors into account when cleaning the mosaic tiles in your shower.
To give you a general idea of what to do when cleaning mosaic tiles, here are simple steps to follow.
Step 1: Create your cleaning solution
There are different types of cleaning solutions you can use on your mosaic tiles. Here are some solutions you can mix at home, including the following:
• General Cleaning: Household detergent solution (1 tablespoon detergent + 2 cups of water)
• For Heavy Soap Scum & Water Marks: TSP cleaner (1 tablespoon Trisodium Phosphate cleaner + ½ gallon of hot water)
• For Grout: Bleach solution (¾ cup of bleach + 1 gallon of water)
Step 2: Spray the solutions onto the tiles
Spray the respective solutions onto the tiles and let them rest on the surface to fully settle on the tiles. Pay special attention to areas with watermarks and soap scum and let its respective solution soak for 5 minutes before rinsing thoroughly with clear water. Get a soft rag and wipe the surface dry.
Step 3: Start cleaning the grouts between the mosaic tiles
Get a soft-bristled brush, dip it in the bleach solution, and start scrubbing the grout clean until you see it brighten.
Step 4: Rinse the tiles completely: Thoroughly rinse the tiles using clear water after all the scrubbing and wiping. Make sure that you cover all areas. Get a soft towel and wipe the surface completely dry to avoid water spotting on the surface of your mosaic tiles.
See more related content in our article about laminate shower walls on this page.