Here we share 21 kitchen cabinet alternatives along with their pros and cons, including bookcases, shelves, hanging racks, dressers, pull-out pantries, and other storage ideas.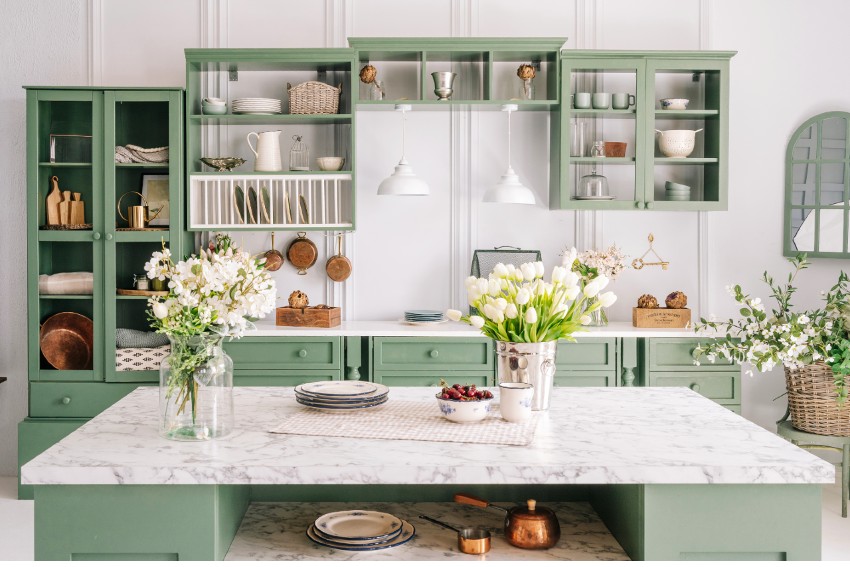 Kitchen storage space continues to be necessary regardless of design fads. Thankfully, even if you don't have room for kitchen cabinets, some excellent alternatives are rapidly rising in popularity.
Many do this by doing away with the conventional top kitchen cabinets, which may seem heavy and eat up a lot of space. Read on for a detailed guide on the numerous kitchen cabinet alternatives.
Portable Kitchen Cart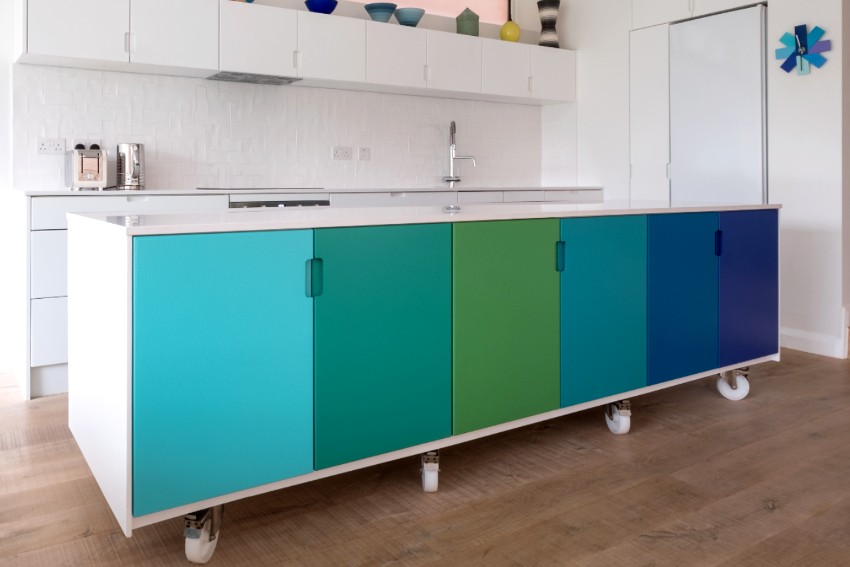 An excellent replacement for conventional kitchen cupboards is a portable kitchen cart. These kitchen carts are available in various designs, and some may even include breadboards, towel racks, and caster wheels. You may use them as portable islands, additional counter space, or storage.
However, this storage is only adequate if your kitchen has enough floor space to accommodate it. Kitchen carts may also be challenging to maintain clean and, if not utilized correctly, can potentially harm your flooring.
Pros:
• Portable storage
• Inexpensive
• Can double as a coffee cart
• Flexible counter space where you need it
Cons:
• Potentially harm your flooring
• May move unexpectedly
• May damage flooring
Hutch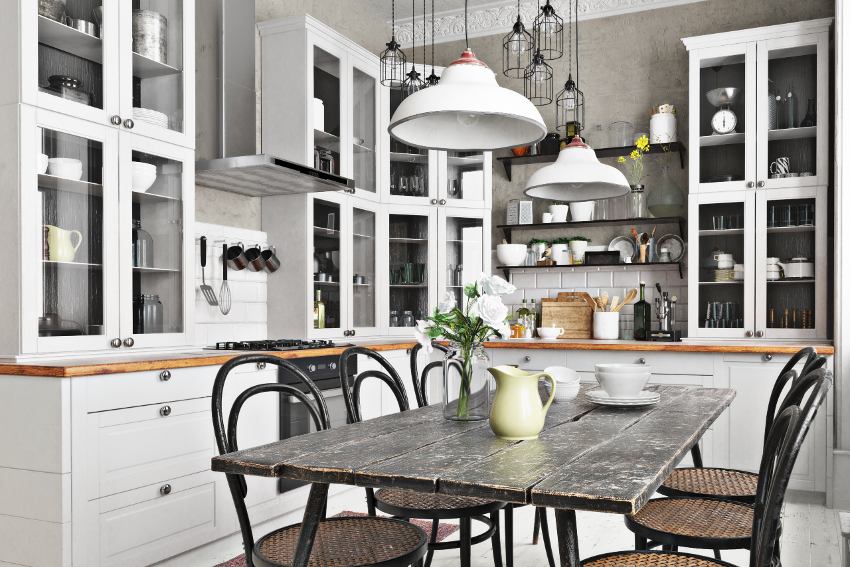 Hutches have become a storage option in kitchens in recent years. They provide a lot of storage, visible and concealed in the cabinets. Whether you pick an antique or something more contemporary, this option for kitchen cabinets may give your kitchen a unique design.
However, hutches often occupy a significant amount of floor area and may be difficult to move since they are large and heavy. Hutches may cost a lot, depending on their size and the kind of wood used in construction.
Pros:
• Provides both visible and concealed storage
• Offers a lot of storage
• Can fit large and bulkier items

Cons:
• Challenging to move since they are large and heavy
• Mostly a traditional design style only

Sideboard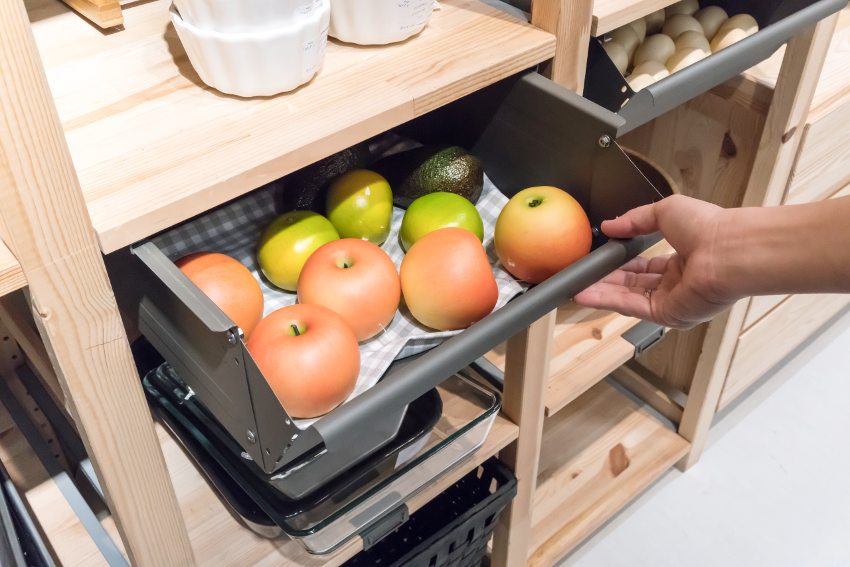 A sideboard is a kind of cabinet positioned against a wall in a dining area. Although you may also keep serving platters and utensils in sideboards, they are often used to keep dishes and linens. Sideboards are a fantastic alternative if you have a tiny kitchen or little counter space.
If you're on a tight budget, sideboards might be an excellent replacement for kitchen cabinets. However, sideboards are not as sturdy as cabinets and more susceptible to damage from heat and moisture.
Pros:
• Fantastic for tiny kitchens
• Can often have cupboards and drawers
• Can be moved where needed

Cons:
• Not very sturdy
• Less storage than a buffet

Bookcase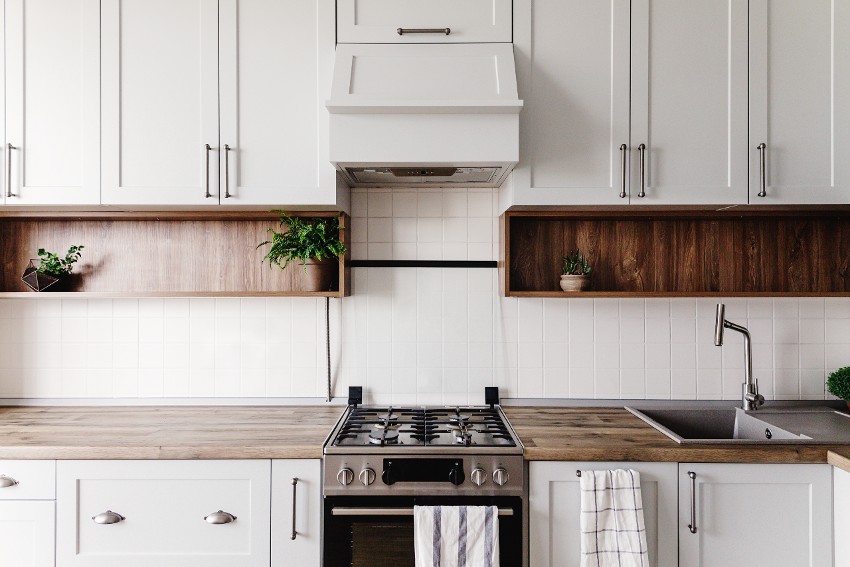 Similar to wooden and metal racks, you may use a bookcase instead of conventional kitchen cabinets. You may utilize a tall, broad bookcase to form a temporary open pantry or closet.
Since acquiring bookshelves in various pricing ranges is so simple, using one as a kitchen cabinet substitute is a terrific option for individuals on a low budget.
To lessen the chance of toppling, secure your bookshelf to the wall. However, a bookshelf may not be the most excellent option for smaller kitchens since it could be hard to justify giving up floor space.
Pros:
• Adaptable and easy to customize
• Inexpensive
• Can paint to match your room design

Cons:
• It may topple over if not secured properly
• May look cheap

Cubbies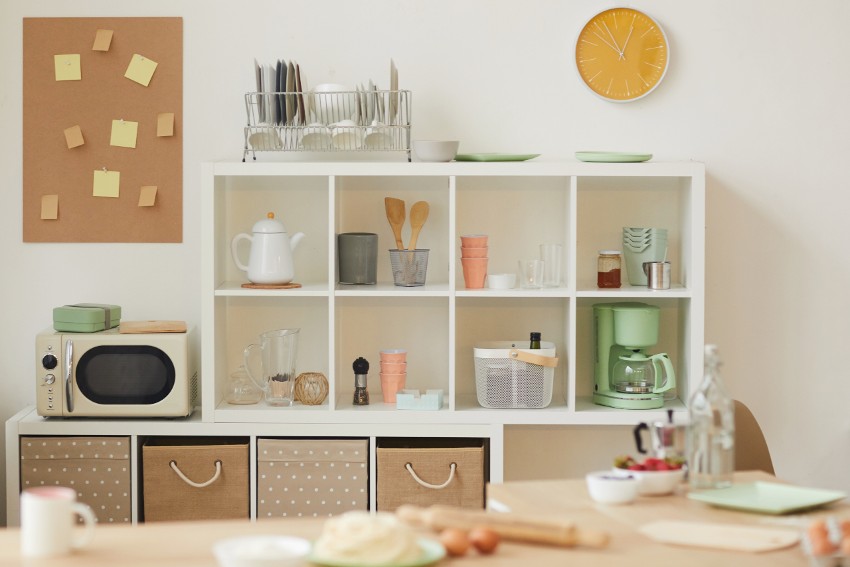 Cubbies are very adaptable and a great space-saving appliance for your kitchen. You will need wooden planks to construct the shape of these little cages by nailing them together. They come in various sizes and forms and are relatively economical as well.
However, the most significant disadvantage of using cubbies is the additional work required to make the objects on display orderly and pleasant to the eye. Cubbies may also be challenging to keep clean since dust and debris can collect in their crevices.
Pros:
• You may use it for both decor and storage
• Inexpensive
• Most types can be painted

Con:
• It tends to overcrowd the kitchen if the display is cluttered
• Can look out of place in the kitchen

Box Shelves With Baskets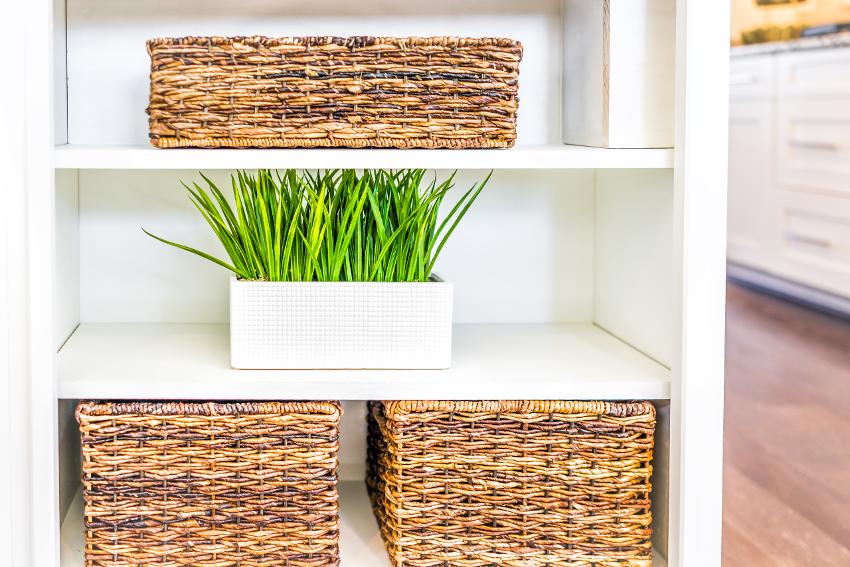 Instead of having to sift through a collection of disorganized items on a shelf, using shelves with baskets makes it simple to take out a basket and locate the specific item you need. When you want to improve the look of your kitchen without committing to repaint the walls or replace the countertop, baskets are lovely and an easy choice.
However, it might be inconvenient always to have to raise down a basket to grab anything out of it. Depending on the material you choose for the basket, you may need to rinse or wash it often to prevent stains or dirt from building up.
Pros:
• Inexpensive substitute for cabinets
• Can hide items
• Baskets can be stylish decor pieces

Cons:
• Baskets tend to gather dirt and germs if not properly cleaned
• May not be easy to keep items organized properly

Storage Lockers
Lockers are a terrific method to increase storage without taking up too much room in your kitchen. And they can even add a little charm if you choose the proper style. Storage lockers provide a wide variety of shelves, making them simple to organize.
However, their size might be challenging to install and transport. Storage lockers are not ideal if you work with a limited budget since they may be rather expensive to locate and purchase. Depending on their look and how well they're maintained, they could need a lot of cleaning and preparation.
Best Pro:
• Sleek design and simple to organize
Con:
• Not easy to install because of their size
Storage Racks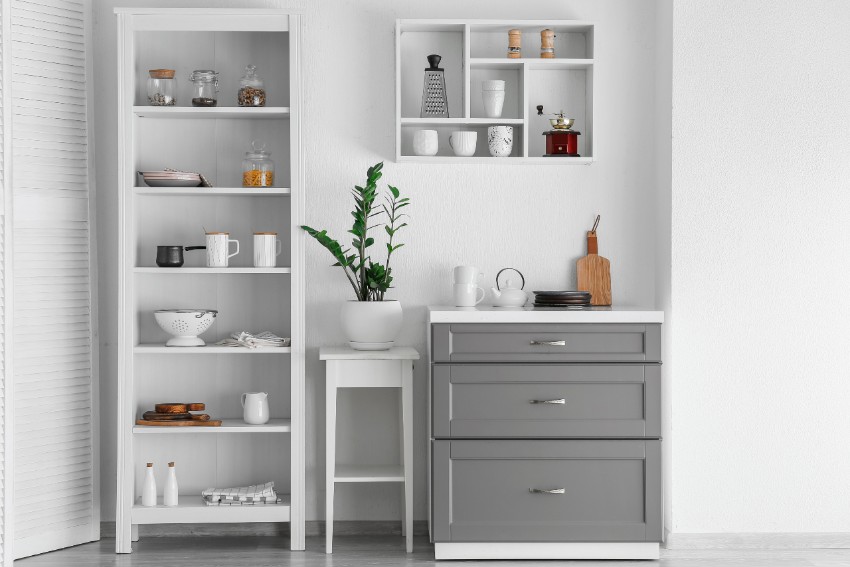 Storage racks have been efficient as kitchen cabinet substitutes and allow you to be creative with arranging your dishes, pots, pans, and other kitchenware. These racks are mainly well known for their durability; some even include canisters for easy transport.
These, however, may not fit in with all typical kitchens and could seem odd. If you want to give your kitchen an industrial, business-like aspect, use a storage rack.
Best Pro:
• Things are easier to find
Con:
• It does not fit in all kitchen designs
Floating Shelving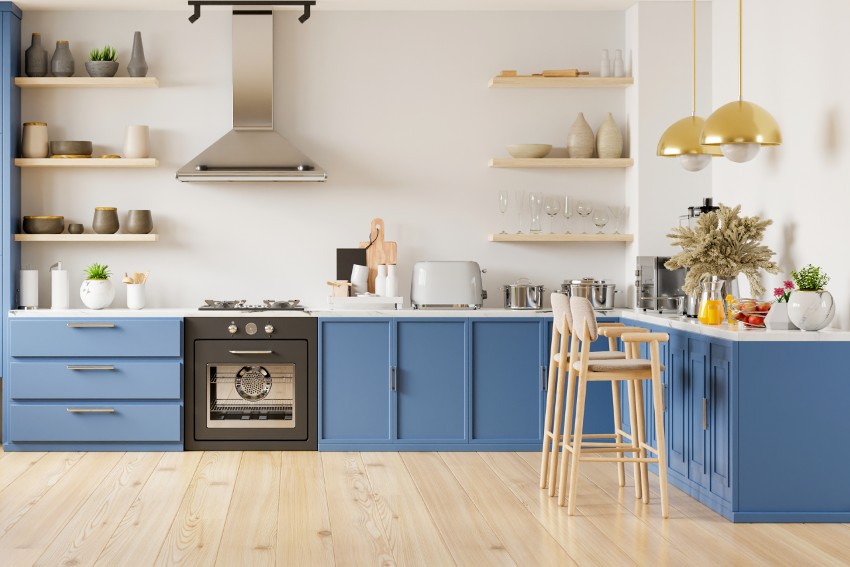 Floating shelves are the best option for open, breezy kitchen layouts or ones with few or no top cabinets. Choosing floating shelves is a terrific way to show off your dishware collection and often costs a lot less than choosing classic upper cabinets.
But of course, this may not be ideal for you if you reside in an earthquake-prone region. Since the dishes will be completely exposed, you'll also need to clean and dust often. You may also check our guide to floating kitchen cabinets here.
Pros:
• Among the most cost-effective choices for kitchen shelves
• Popular style that fits in with kitchen designs
• DIY friendly

Cons:
• It may not be as capable and stable, supporting heavy loads
• May only be practical for storing decor items
• Can look cluttered if not styled properly

Shelving With Brackets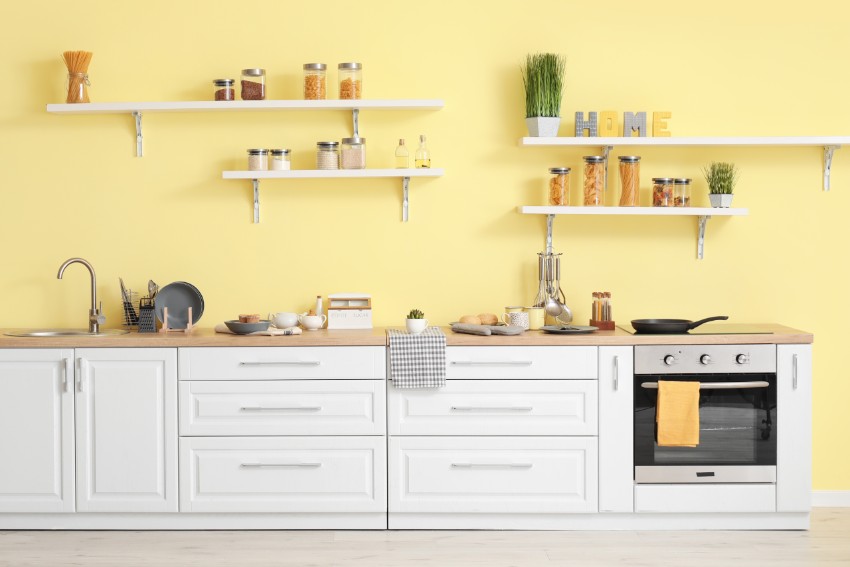 As an alternative to floating shelves, you may pick a kitchen shelf with brackets to improve stability and provide a distinct aesthetic to your kitchen. You have a limitless selection of shelf types, materials, colors, and finishes for this alternative. Shelves are often composed of sturdy materials like steel, wood, bamboo, glass, or plastic.
You may use these shelves to showcase kitchenware and other decorations. However, shelves might get packed. Open shelves with too many objects on them show clutter and disarray.
Pros:
• Limitless selection of shelf types
• Inexpensive option
• DIY solution

Cons:
• Open shelves may show clutter
• May not look cheap in the kitchen

Recessed Shelves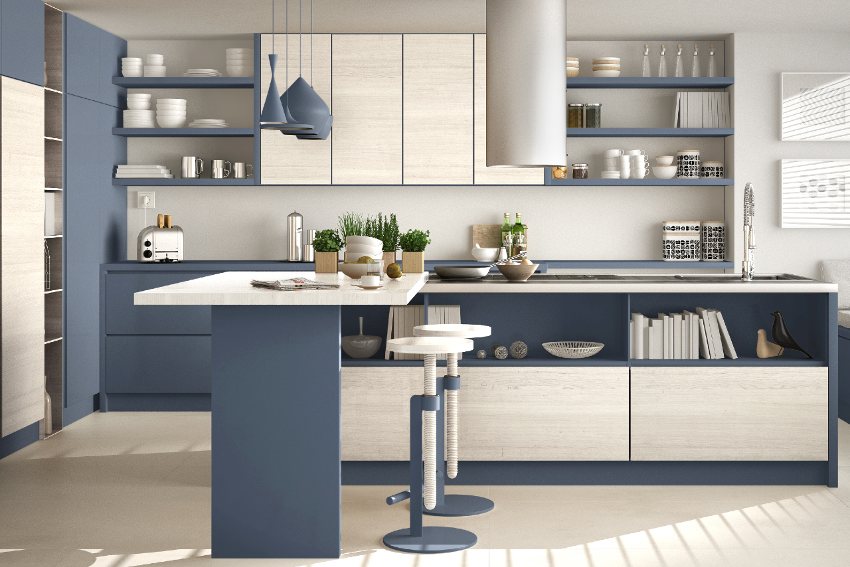 Recessed shelves are a fantastic method to increase storage in your kitchen without taking up important counter space. They may also aid in decluttering your countertops. They offer your kitchen a tidy, minimalist appearance and are ideal for storing little goods or showcasing artwork.
Recessed shelves might be challenging to clean and cost more than other types of storage because they need unique cabinets that are deep enough to hold the shelves. You may want to look into other storage options if money is tight.
Pros:
• It does not take up too much counter space
• Good option for saving money
• DIY solution

Cons:
• Costs more than other alternative storage
• Can look cluttered if not styled properly

Suspended Shelving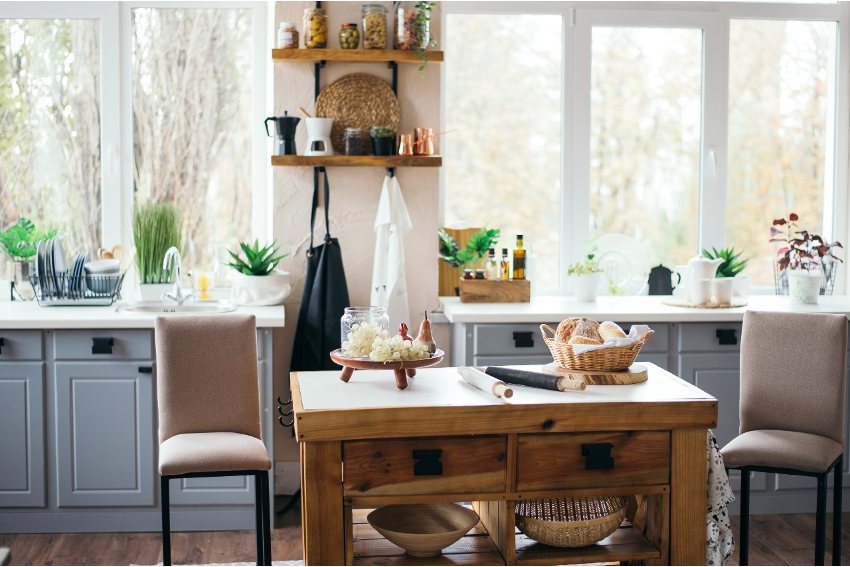 Suspended shelves are excellent for tiny kitchens because they free up room on the counters. You can utilize them to store heavy cooking utensils like pots and pans. It is ideal for houses with plaster walls.
However, it may be challenging to install, so it's better to hire an expert for installation. Grease and dust tend to gather on the dishes you have kept, making it challenging to keep the things on your hanging shelves clean.
Best Pro:
• Excellent for tiny kitchens
Con:
• Challenging to install
Slatted Shelving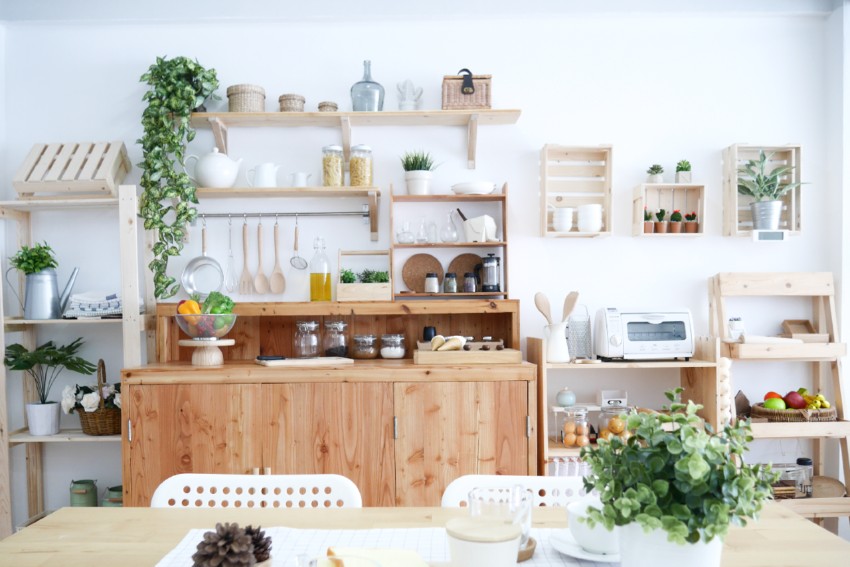 Slatted shelves provide a sleek, contemporary design that completely transforms the atmosphere of your kitchen and is simple to maintain. Slatted shelves are functional shelving units that you can use to store anything from pots to condiments in the kitchen.
On the other hand, slatted shelves must match your kitchen backsplash or countertop to avoid seeming out of place.
Best Pro:
• Sleek and contemporary design
Con:
• It may look out of place if it doesn't match your kitchen backsplash
Find out more about the types of shelves with different materials and styles here.
Hanging Racks
Thanks to hanging racks, your nonstick pans will be easy to reach for cooking and simple to dry. Hanging racks are fantastic for hanging pots and pans that won't fit in your oven or drawers.
If you've ever shared an apartment with just one cupboard, you understand how beneficial this kitchen storage solution is. However, as displayed in the open, pots and other equipment may accumulate dust.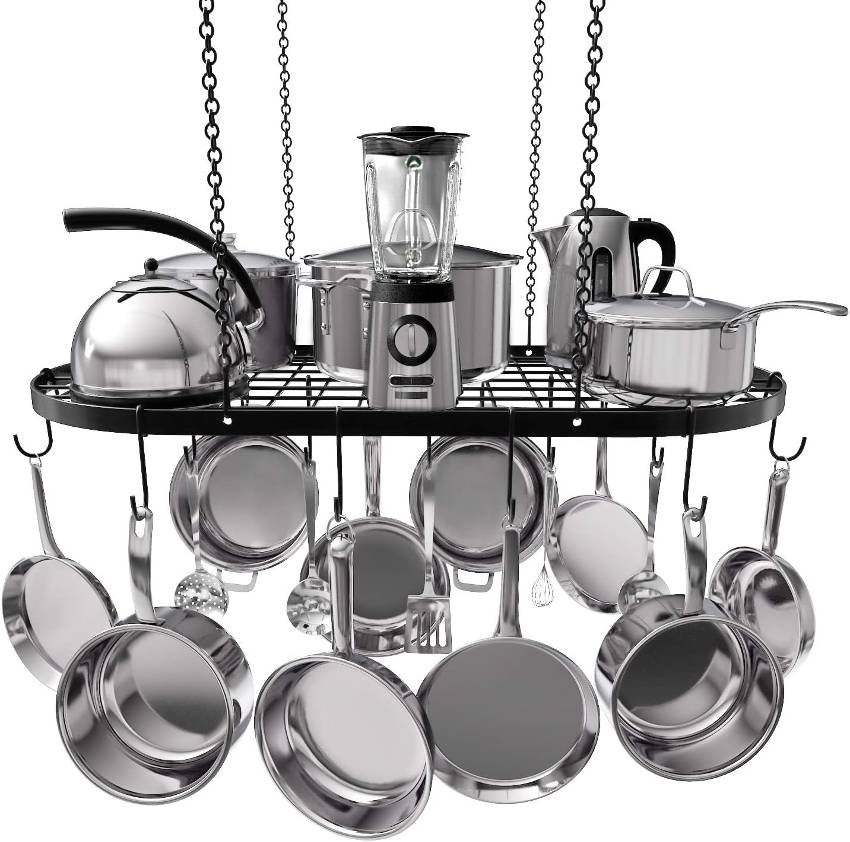 See this hanging rack organizer at Amazon [Sponsored link]
Best Pro:
• Kitchen equipment is easy to reach and dry
Con:
• Dust may accumulate on the displayed utensils
Wall & Ceiling Mounted Racks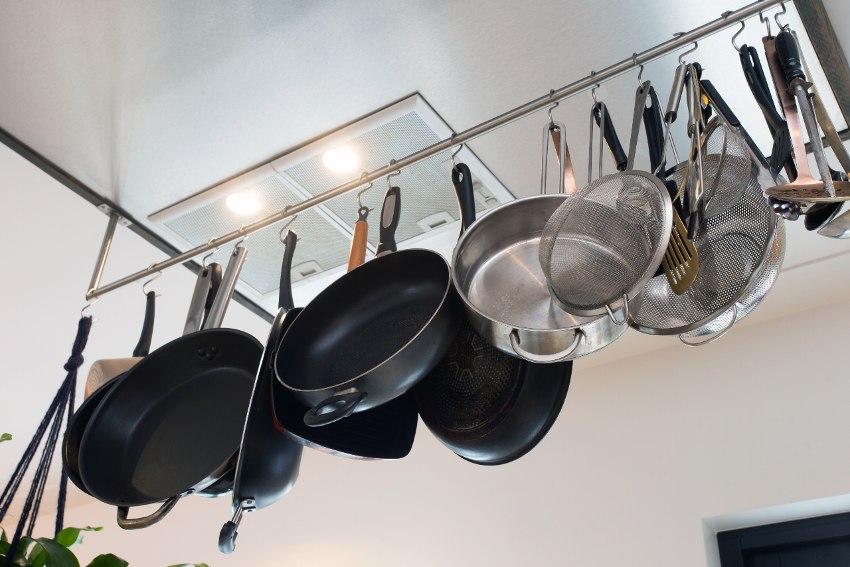 A rack mounted on the wall is another best storage option. As it frees up room and makes reaching your pots and pans simpler, this is a perfect substitute for utilizing cabinets. They allow extra space to keep your kitchen goods and make it simple and fast to get to them.
Wall and ceiling-mounted racks may not be safe and need extra care when utilized to avoid equipment falling.
Best Pro:
• Practical and efficient
Con:
• May be unsafe
Bar with Hanging Attachments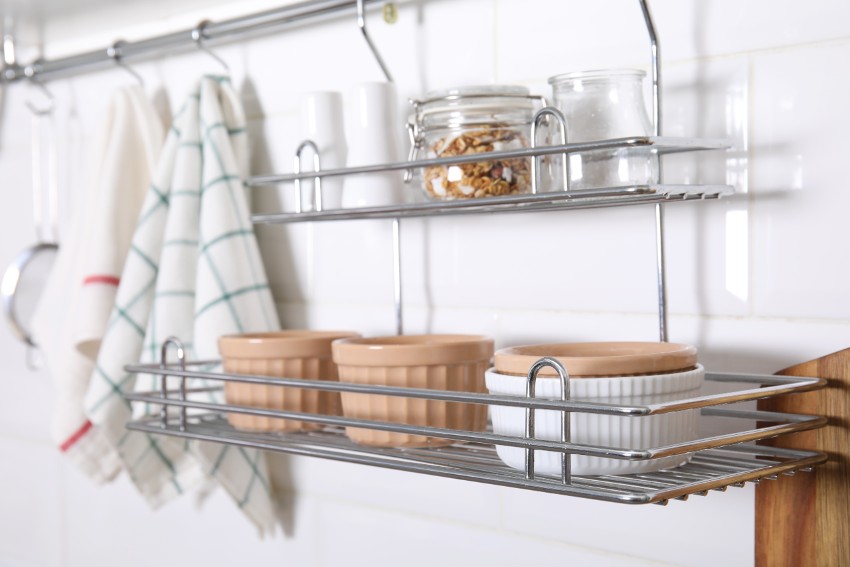 Bars are an excellent alternative to kitchen cabinets since it requires little space and serves many functions. It may serve as additional counter space, a hook for pans, or even a breakfast bar. A bar with hanging attachments looks excellent in a minimalist house.
However, a kitchen with too many hanging things on the bar at once will look visually congested.
Best Pro:
• Serves numerous storage functions
Con:
• Only suitable for hanging equipment
Pegboard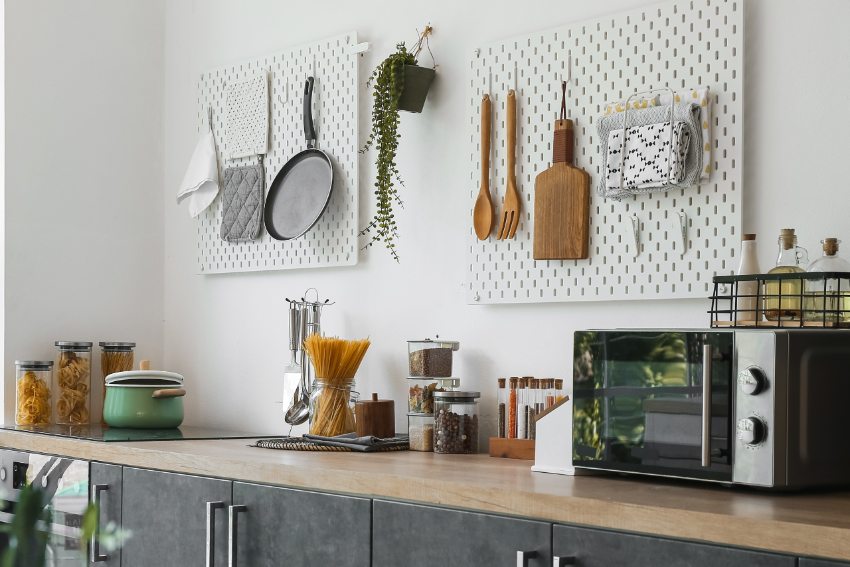 From hanging pots and pans to making a stylish backsplash, pegboards are suitable in the kitchen in several ways. The best part is that it is affordable and straightforward to install.
A pegboard can be a fantastic addition to your kitchen if you're ready to put in the time and work. However, keeping the pegs in position and finding accessories that fit the pegboard may be challenging.
Best Pro:
• Affordable and straightforward to install
Con:
• Keeping the pegs in position and finding accessories are challenging
Sliding Door Pantry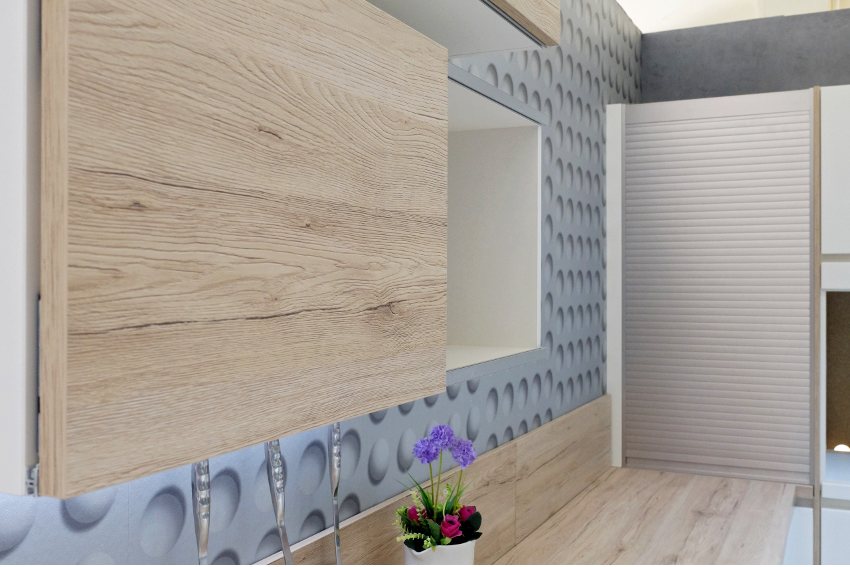 The sliding door pantry is an excellent kitchen cabinet substitute that provides flair and functionality. Two sliding doors in the pantry are ideal for storing food, plates, and other kitchen utensils. It is a terrific method to keep your kitchen tidy and fashionable at the same time.
Consider sliding doors for your reach-in or a walk-in pantry for more room. It also hides any storage disarray. However, these cabinets may also cost more than conventional ones.
Best Pro:
• Hides any storage disarray
Con:
• Cost more than the conventional ones
Pull Out Pantry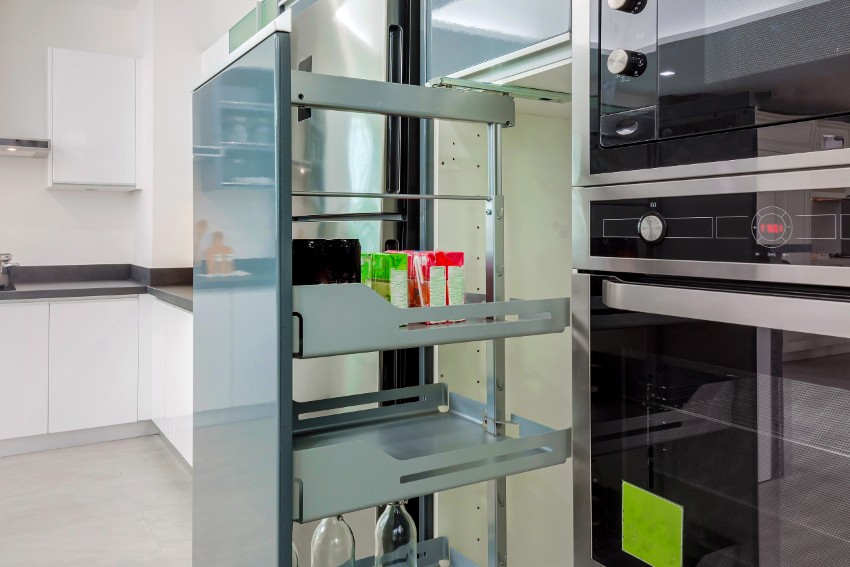 Small kitchens may benefit significantly from having a pull-out pantry and a thin organizing cart on wheels. The pull-out pantry is ideal for keeping spices, food cans, and other cooking utensils. To fit in the open areas in your kitchen, you can either buy these goods from a merchant or make one yourself.
However, the drawbacks are weight limitations, depth variability, and having to pack the shelves carefully to get everything to fit.
Best Pro:
• Simple to install
Con:
• It has weight limitations
Countertop Shelves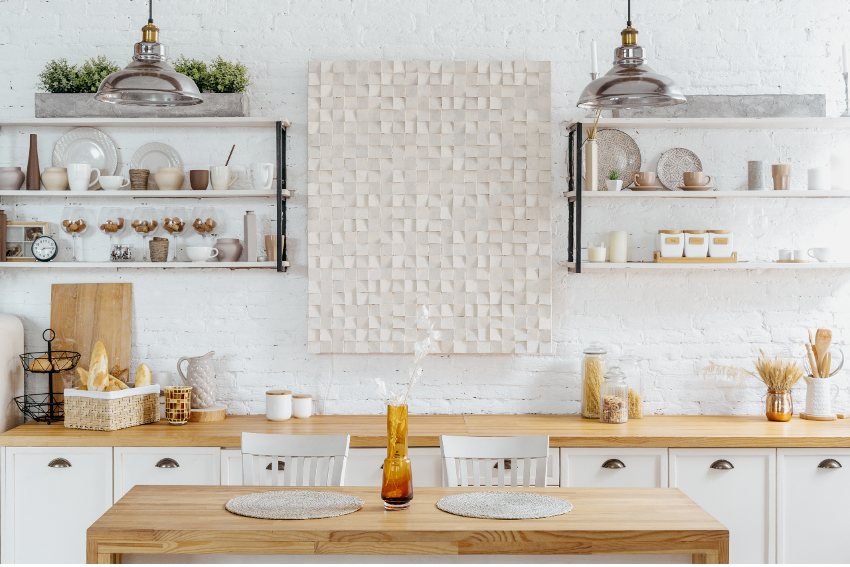 Using countertop shelves is a fantastic option to increase your kitchen's storage. They are available at most home improvement shops and are simple to install. They may be helpful in odd locations that might otherwise go unused.
Like all other open-shelf solutions, you should ensure the items displayed are arranged pleasingly to the eye and spotless at all times.
Best Pro:
• Quite helpful and convenient in odd locations that are unused
Con:
• Needs tidying often
Dresser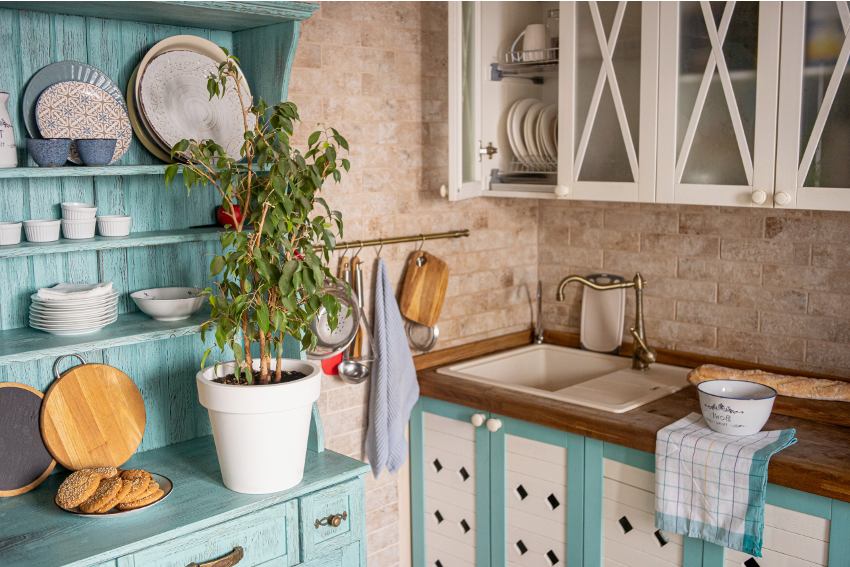 Whether new or recycled, dressers may be a terrific option in a tiny kitchen since they can double as a countertop, workplace, and storage unit. A dresser in your kitchen also serves as a buffet or sideboard, which is an additional bonus.
However, a dresser may appear utterly out of place, depending on the style and decor of your kitchen. You can also paint and stain it to get your desired look. Additionally, you may replace the hardware with something that better fits the design you want.
Best Pro:
• It can double as a countertop, workplace, and storage unit within
• Many different types of dressers and styles to use

Con:
• It may appear out of place depending on your decor
Repurposed Crates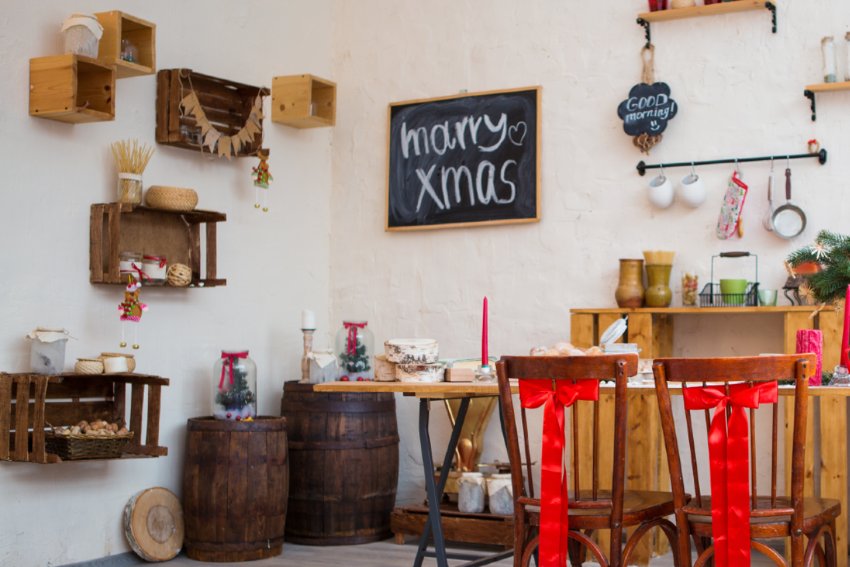 Stacking repurposed crates in your kitchen is a simple way to save money. You can quickly make a ton of helpful storage crates by aligning the base of the crate flat against the wall and stacking many on top of one another.
On the other hand, the contents of the containers may pop out during earthquakes. Dusting often is crucial to maintaining the cleanliness of your kitchenware. Using strong anchors or screws to secure your crates is vital so they won't budge or fall off.
Best Pro:
• Economical and environmentally-friendly
Con:
• Prone to dusting and shatter
Visit our guide to kitchen cabinet styles for more related ideas.