In this gallery of kitchen island storage ideas, we share popular options including cabinet doors, wide drawers, integrated appliances, open shelves, and slide out cutting boards.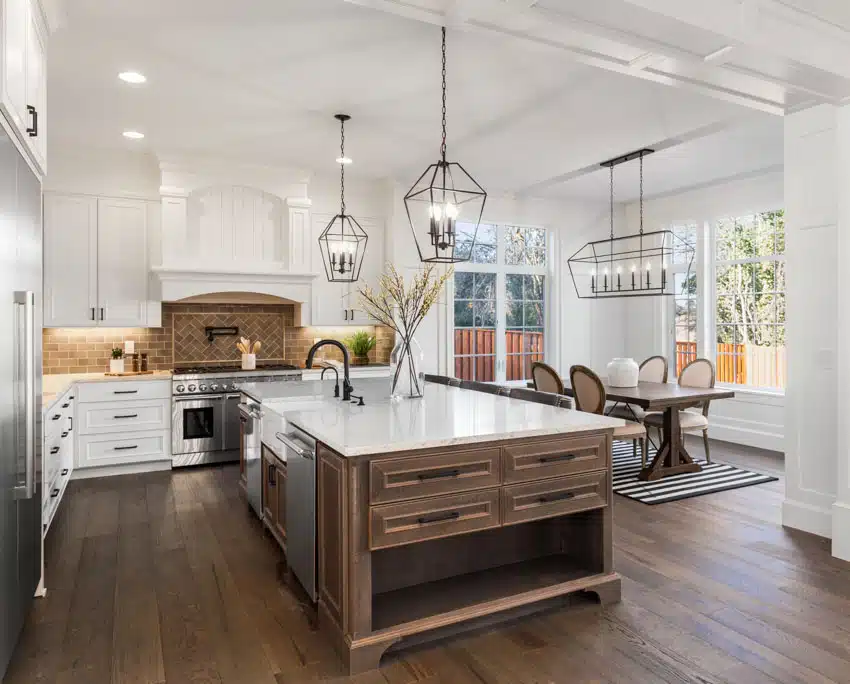 Professional interior designers know that a kitchen island with useful storage solutions can help homeowners in creating a very streamlined, efficient, and well-organized space in the kitchen.
The best kitchen island designs can completely change the way you manage your house. It's so convenient to have a multifunctional design element in the kitchen that acts as an inviting location to relax, eat, drink, prepare meals, and store kitchen supplies. In fact, cleverly designed kitchen island storage ideas are essential for making the most of this vital space.
When developing a kitchen island, you must consider everything from cabinets, drawers, shelves, and the inclusion of major appliances. We have managed to gather some excellent kitchen island designs that feature a wide range of storage solutions to assist you in your project.
Island Cabinet Doors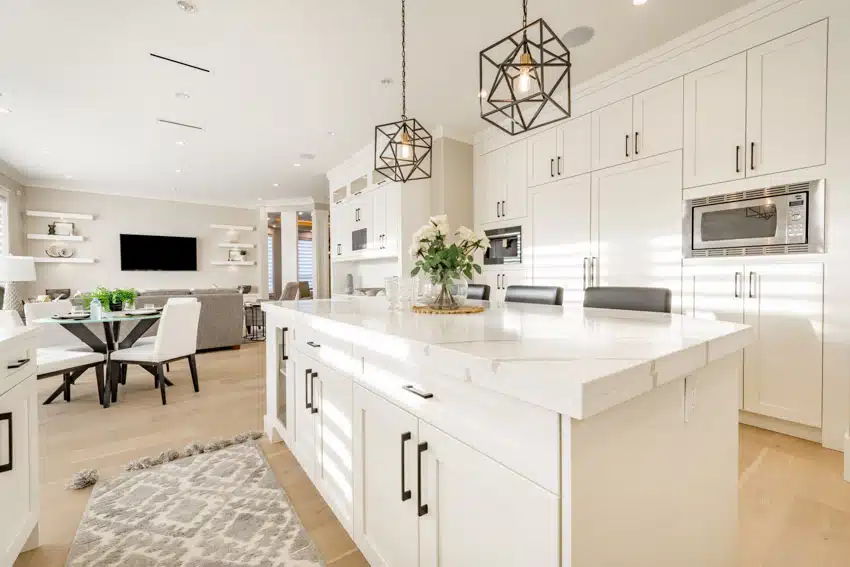 Island cabinet doors are indeed an excellent option for a kitchen island storage system as they combine efficiency and elegance. These storage solutions may be tailored to complement any kitchen island design thanks to their wide range of materials, patterns, styles, and finishes.
They are also ideal for storing larger objects including various pieces of cooking equipment, which might be hard to put in other kitchen cabinets. Kitchen island cabinet doors are essential for storing various objects and completing the aesthetic of the kitchen space.
There are several island cabinet door styles available, varying from those with clear fronts to those that have opaque fronts, which only partly display the kitchen objects that are placed inside the island cabinet.
Moreover, wooden cabinet door types range from those with a straight-line front to those with ancient-inspired details. Such island cabinet doors may also be stained or painted in a variety of colors and treatments, making them a versatile choice for any kitchen style.
On the other hand, opaque and glass-front island cabinet doors are another attractive option, particularly for homeowners who want to display vibrantly colored kitchen products or valuable dinnerware items, such as luxurious plates and utensils.
Antique wooden cabinet doors can also provide a rustic, down-to-earth flavor to a kitchen island space for an eccentric effect.
Nonetheless, you have to remember that the design of the island cabinet door you select must complement the entire look and feel of the kitchen.
You have to pick an island cabinet door that maximizes the use of the kitchen island and accompany it with handles and other cabinet hardware pieces that complement the layout.
Extra Deep & Wide Drawers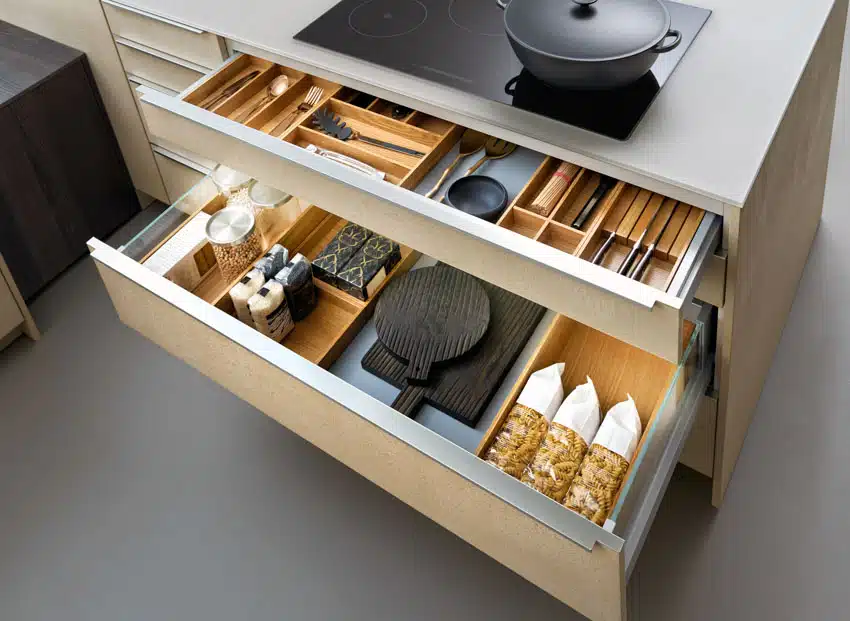 Extra deep and wide drawers in a kitchen island are frequently the solution for bulky objects like food or kitchenware. With a deep drawer that has a raised back as well as closed sides, you can arrange kitchenware such as pans and pots without worrying about their toppling over or slipping away.
Nevertheless, if you intend to store heavy objects, make sure the drawers and hardware are built to withstand the substantial weight. You can also install organizers or thin dividers to keep lids upright to save even more storage room. This will help keep every kitchen object in its respective place and prevent them from getting disorganized whenever the drawer is opened or closed.
Truly, thin drawer dividers are incredibly useful for arranging cutlery and utensils, whereas organizers help in keeping smaller objects like aromatic herbs and spice collections orderly and visible.
Soft-close drawers may additionally be applied to your kitchen island's extra deep and wide drawer storage solution. This will minimize banging as well as the damage that occurs on the drawer and the things inside.
Installing light sources is another method for enhancing the functionality of extra deep and wide drawers in your kitchen island. Under-cabinet light fixtures can be mounted below the cabinets that encircle the island, brightening the drawers and facilitating the ability to identify the contents.
Integrated Appliances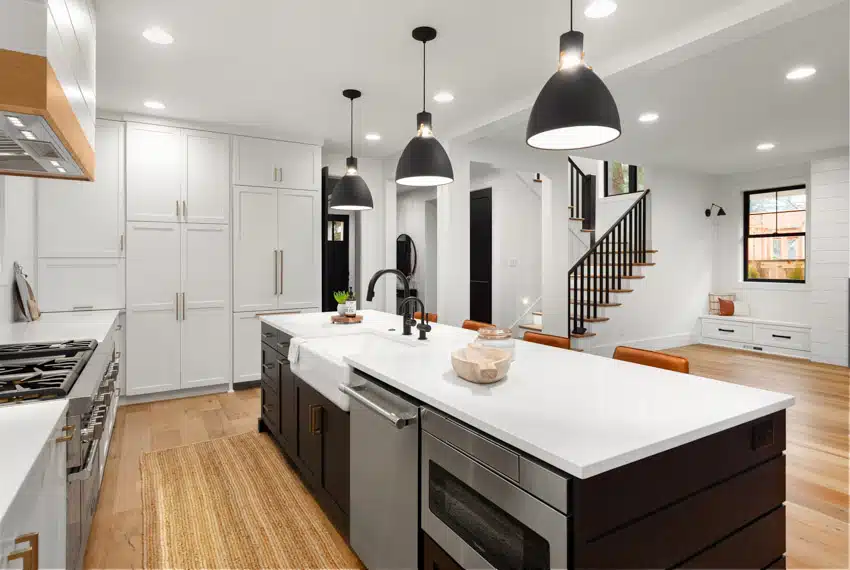 When used frequently, appliances like a coffee maker, oven, fridge, toaster and kettle can be placed in the kitchen in an unappealing manner. A wonderful way to save space in the kitchen involves having everything built-in or integrated into modern kitchen islands.
Modern kitchens are efficient and easy to use, and they simplify the tasks of cooking and cleaning. Huge appliances such as dishwashers, burners, and refrigerators may now be effortlessly integrated into the kitchen thanks to advances in technology. There may be more storage space for other food preparation requirements if large appliances are integrated.
Furthermore, you can conserve counter space by integrating appliances like a microwave or dryer onto the island. Remember that it must be supplied with the necessary electrical parts.
Additionally, you have to examine how the cabinet doors will open. Ensure that the integrated appliances are placed in a location where the doors will not clash with anything.
On The Counter Storage Options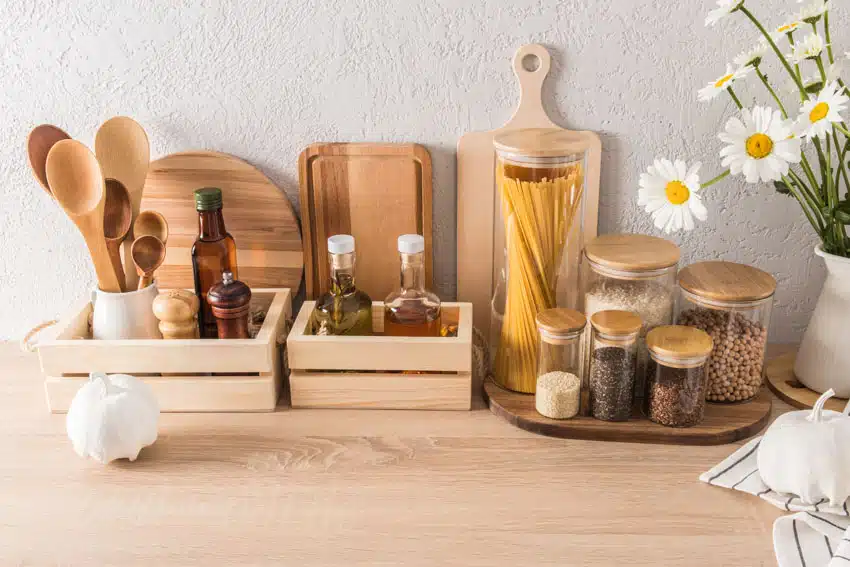 On-the-counter storage is a practical method to keep regularly used kitchen things within reaching distance, minimizing clutter and increasing kitchen productivity. This kitchen island storage idea covers elements like utensil holders.
Its purpose is to keep commonly used utensils well-arranged and accessible. They can be made out of different materials including wood, ceramic, or stainless steel, and can be positioned on the counter close to the stovetop.
A bread container is another common on-the-counter storage solution. Bread containers are offered in an array of designs and can be a smart way to store bread as well as other baked items fresh and reachable.
A countertop spice rack is yet another interesting storage idea. These can go on the island surface as well. Countertop spice racks may serve as a fashionable way to arrange your spices, making it easier to access what you need for your food-prepping activities.
Also, you are not required to hide all of your kitchen equipment in order to maintain convenience. It is indeed a wise idea to simply leave pots and skillets, as well as commonly used condiments, out on the counter, particularly if you cook daily.
To avoid a cluttered appearance, you can place them in your preferred vases or plastic containers. This storage solution not only maximizes your available counter space but is also cost-effective and productive.
Open Shelving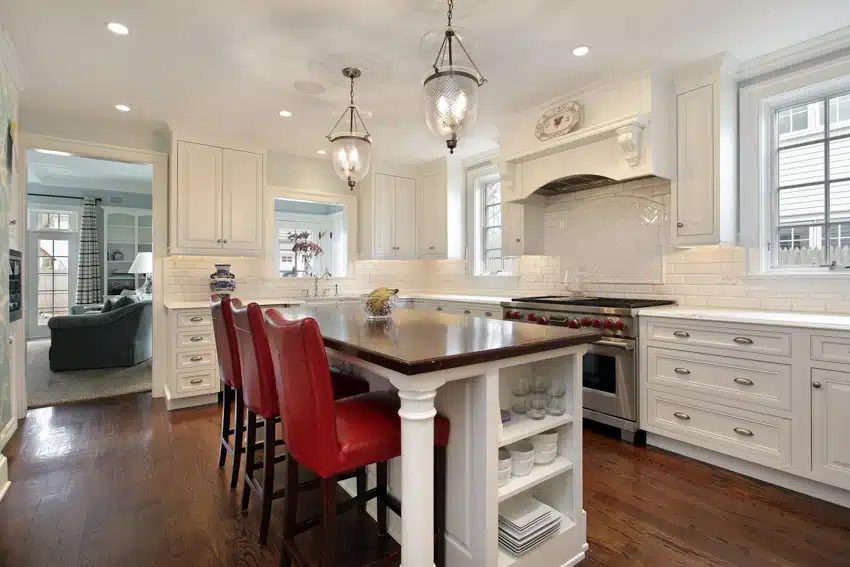 Currently, the open-shelving kitchen island storage idea is widespread in newer houses. They are a popular design option in fashionable open-concept eateries, which is the style that some people want in their houses.
They are not only adaptable and cost-effective but they are also an excellent opportunity to experiment with new organizational strategies.
Homeowners can change the appearance of their kitchen simply by decorating their open shelves such as showcasing plants or fancy cutlery. One option is to keep less-used cookware on the upper shelves and frequent kitchen items on the lower open shelves.
Because they may be installed on any wall as well as in oddly shaped spaces, open shelves greatly assist in maximizing kitchen space. However, keep in mind that your kitchen island should always be used for the best combination of storage and presentation.
You have to wisely use open shelving to display attractive objects such as historical serving dishes, vibrant cookbooks, or creative baking pans. Closed storage, which includes drawers, can be combined with this storage solution for more functional things such as silverware, making it one of the unique kitchen island ideas you can consider.
Mixing and matching materials and colors are some ways to maximize the benefits of open shelving. You can, for instance, incorporate wood with metal to achieve an industrial style, or use glass shelves to achieve a more contemporary and minimalist effect.
Take into account the general aesthetic of your kitchen when choosing materials and colors, and pick a layout that coordinates with the existing kitchen island design.
Bookshelves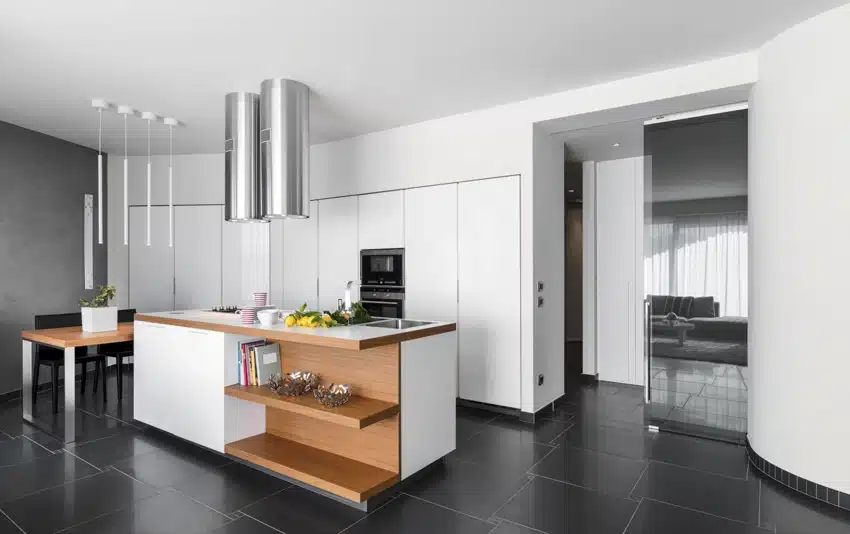 Cookbooks are often a necessity in kitchens. And although bookshelves are frequently applied in living rooms or workstations, they may also be an eye-catching and utilitarian addition to any kitchen, especially the kitchen island.
Adding bookshelves on the kitchen island may add an eye-catching design element, and you can even easily store your recipe books in these.
Nonetheless, you have to be cognizant of taking the size and design of your kitchen into account when choosing a bookshelf design.
For instance, a smaller bookshelf may function nicely in a small-sized kitchen, whereas a larger one can serve as a central focus in a large-sized kitchen. Plus, you can look for a bookshelf style that matches the existing decor and primary color of your kitchen.
Cookbooks, ornamental dinnerware, and compact houseplants may all be used to make an eye-catching exhibit on a kitchen island bookshelf. You can even try utilizing risers to provide height and aesthetic appeal to smaller objects.
Furthermore, do not be hesitant when it comes to experimenting with various colors and textures and adding charm and individuality to your room with decorative things like sculptures or vases.
Slide Out Cutting Board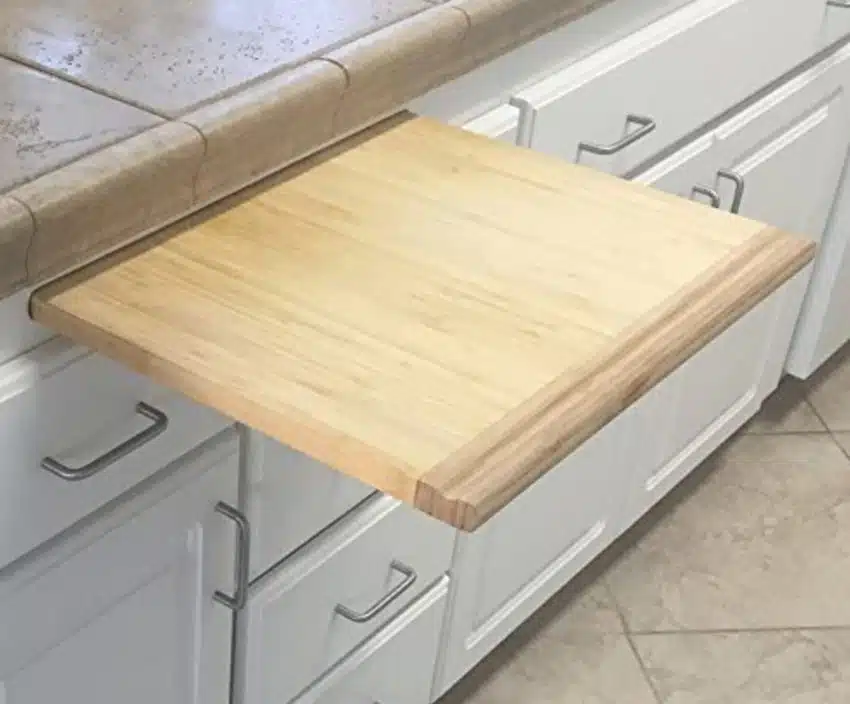 See this slide-out cutting board at Amazon [sponsored link]
Slide-out cutting boards are indeed a space-saving feature in both traditional and contemporary kitchen islands. This built-in wooden board that glides out from underneath your kitchen island counter may be used to cut vegetables, fruits, meat, and other goods.
This is primarily crafted to blend in with the kitchen island, giving you quick access to it anytime you need to use it. In fact, slide-out cutting boards greatly save counter space, which is one of its significant advantages.
Rather than taking up valuable counter space with a conventional cutting board, a slide-out cutting board could be quickly stowed away when not needed, leaving your kitchen neat and orderly.
Interestingly, a slide-out cutting board is also suitable for some other applications apart from food preparation. It can be utilized for rolling or flattening dough as well as other culinary chores like arranging a charcuterie board.
Pull Out Spice Rack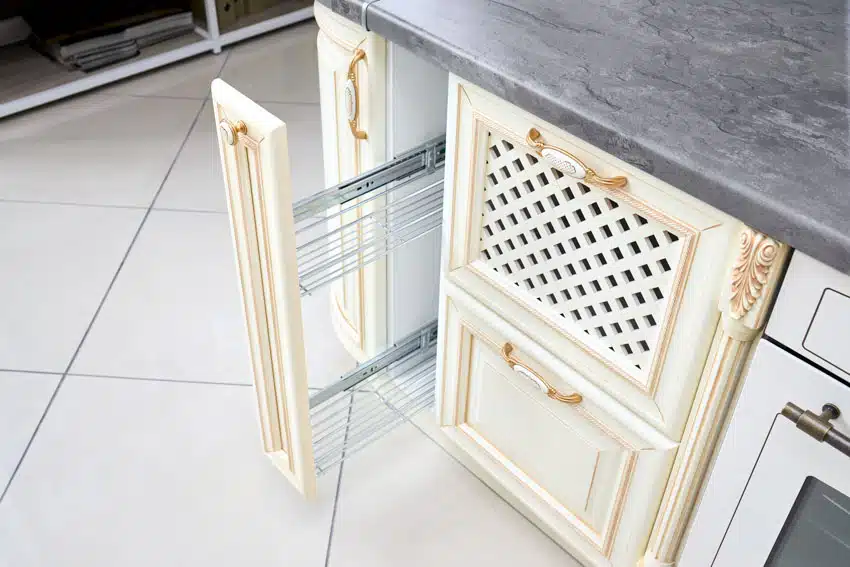 Using pull-out spice racks to boost accessibility in kitchen island cabinets would be a smart idea. Pull-outs are ideal for keeping small objects like spice bottles or jars of baking soda and oils. By doing so, these objects would be less prone to get misplaced in the depths of large cabinets.
Additionally, one of the primary advantages of pull-out spice racks is that they greatly assist in maximizing the storage capacity on your kitchen island.
You can allocate crucial cabinet and counter space for other cooking utensils by having your spices well-sorted in a tidy and convenient manner.
However, you need to take into account labeling each spice jar for ease of identification to improve the usefulness of your pull-out spice rack on your kitchen island.
You may also organize spices by category or purpose to make it easier to locate the spices you need whenever preparing food.
Telescoping Drawers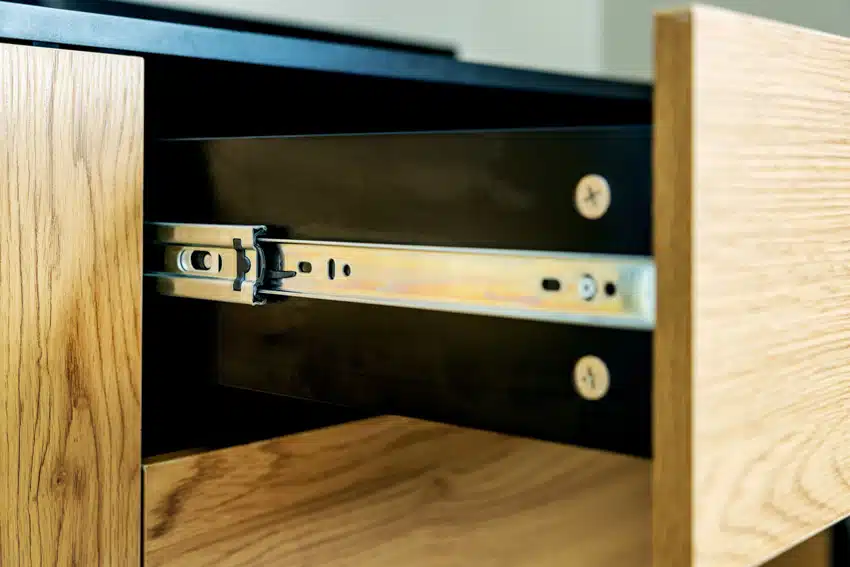 Telescoping drawer slides may be essential components as they enable drawers to slide all of their components efficiently. Telescoping drawers have become an excellent storage option for kitchen islands since they facilitate access to objects that might otherwise be hard to find.
Such drawers extend beyond the countertop of the island and are often used to store pans, pots, as well as other cooking items. Custom-made telescoping drawers that may be adjusted to match your kitchen island decor and structure are also available.
Storage Hooks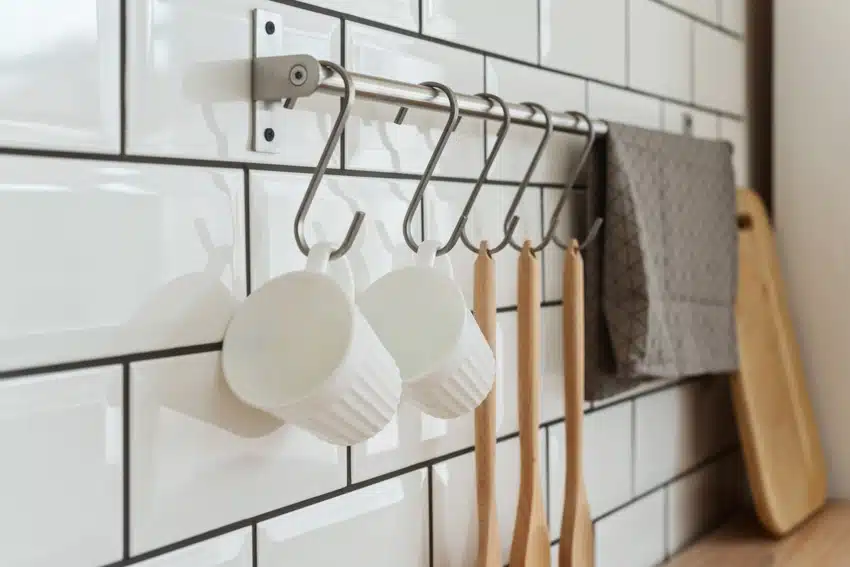 Storage hooks are quite a low-cost do-it-yourself solution for hanging baking equipment pieces, towels, pots, and pans to make things more reachable while clearing up significant counter space. Externally, you can add these hooks to the base of your existing kitchen island to increase storage capacity.
Furthermore, you may hang essential cooking utensils like spatulas, tongs, kitchen scissors, peelers, ladles, and even measuring containers using a diverse range of hooks including S-hooks or magnetized hooks.
You may also hang dishcloths and potholders from them. Indeed, you can keep your kitchen tidy and clutter-free by employing storage hooks, while somehow adding a decorative accent to the layout of your kitchen island.
Hanging Pot & Pan Rack
You can install a hanging pot and pan rack if your kitchen island storage is limited. They will arrange your pans and pots, as well as certain utensils, in a wonderful presentation.
By having a dedicated hook for each of your favorite pans, you will not need to search around on your cabinet, piling and unstacking pans and covers each time you want to take your non-stick cooking pan.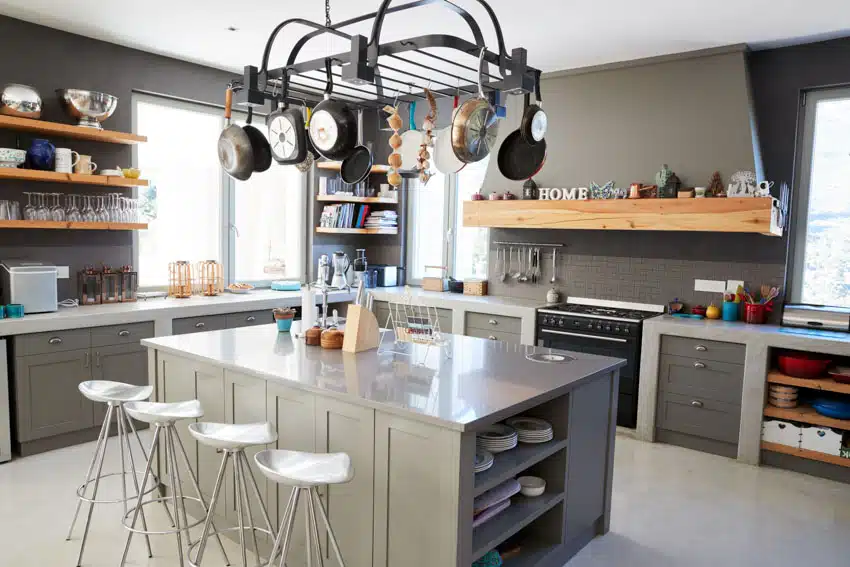 One of the most significant advantages of a hanging pot and pan rack is its ability to free up essential cabinet and counter space. And by having to hang them, you can keep them well-ventilated and dry, reducing mildew and rust development.
Hanging pot and pan racks are available in a variety of styles, lengths, widths, and materials, which allows you to select the ideal one for your kitchen island's décor.
Utensil Drawers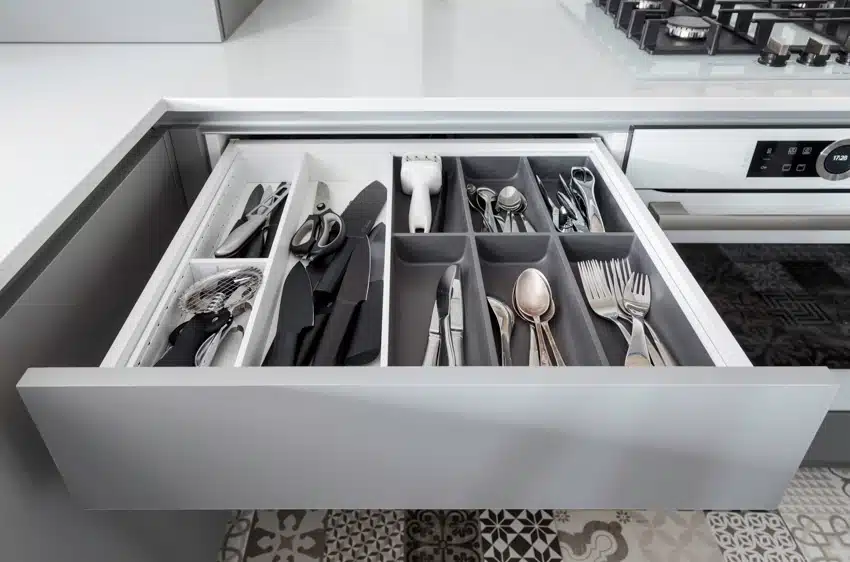 When it pertains to innovative kitchen storage ideas, the objective is to keep everything organized and readily accessible. You have probably struggled for a spoon, fork, or knife only to find yourself in a confused mess of utensils.
Vertical utensil drawer slots, fortunately, assist in categorizing various utensils in neat divisions so that you can readily locate them.
Yes, utensil drawers can be tailored to your exact requirements, with dividers and partitions to keep essential utensils neatly divided.
Rather than occupying valuable counter space using a utensil holder, you can effortlessly place all your utensils in a smooth-sliding drawer, allocating the counter for preparing meals and other cooking-related activities.
Furthermore, utensil drawers hold a broad spectrum of utensils such as little spoons and whisks along with bigger serving utensils and spatulas.
Several utensil drawers even include slots for knives, which provide a safe and structured storage system for your cutting tools.
Slim Cabinets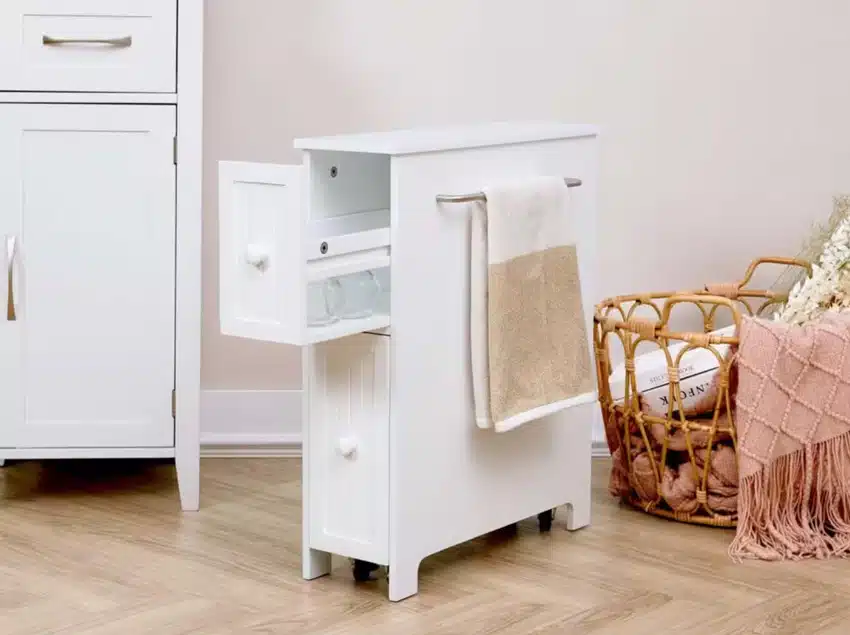 See this narrow kitchen cabinet at Home Depot [sponsored link]
A slim cabinet installed on a kitchen island counter is a novel solution to make use of the vacant space beside the counter seats. Truly, you can use innovative and slim cabinet designs if you are designing a compact kitchen island.
They will make your kitchen more efficient and convenient to use. They are typically used to store kitchen items such as compact appliances like food processors, baking sheets, canned goods, and other small containers.
Slim kitchen island cabinets are meant to fit into tight locations like between appliances or in constricted kitchen spaces where standard-sized cabinets might not integrate.
These cabinets are available in a variety of widths, depths, and lengths, enabling you to select the ideal configuration for your kitchen island.
Furthermore, certain slim cupboards include glass doors, which allow you to exhibit dishes or glassware while adding an elegant and fashionable accent to your current kitchen island atmosphere.
Hidden Storage Compartment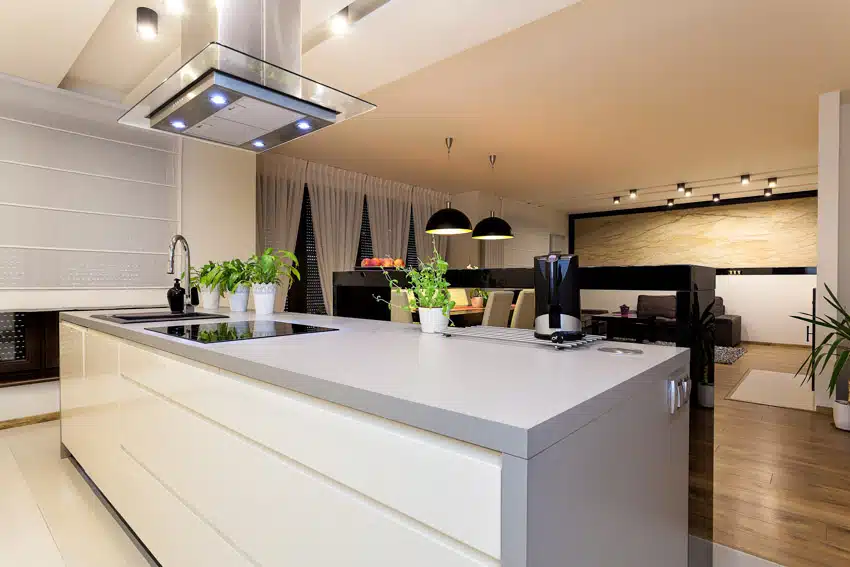 Hidden storage compartments can be included in a variety of kitchen components which include cabinets, islands, or even benches. They are normally designed to be obscured from full daylight, giving an unobtrusive storage system that does not interfere with the appearance of the kitchen.
Despite the popularity of open shelving, numerous homeowners and interior designers still prefer the minimalist look, which includes the primary use of hidden storage compartments.
Minimalist-style homes have a modern and attractive appearance. Even so, simplifying your kitchen does not necessitate the removal of necessary types of appliances and utensils.
Employing hidden storage compartments to safely hide every object that is supposed to be on your kitchen island counter is one method for designing a minimalist kitchen without tossing away your valuable items.
For a streamlined aesthetic, you can experiment with materials such as glass, porcelain, and subtle color schemes.
Another benefit of hidden storage compartments is that they might be tailored to your particular requirements.
You can, for instance, add a hidden storage compartment within a kitchen island to contain baking trays and chopping boards, or a hidden compartment in a kitchen island cabinet to keep rarely used spices or other kitchen cleaning tools or disinfectants.
Portable Island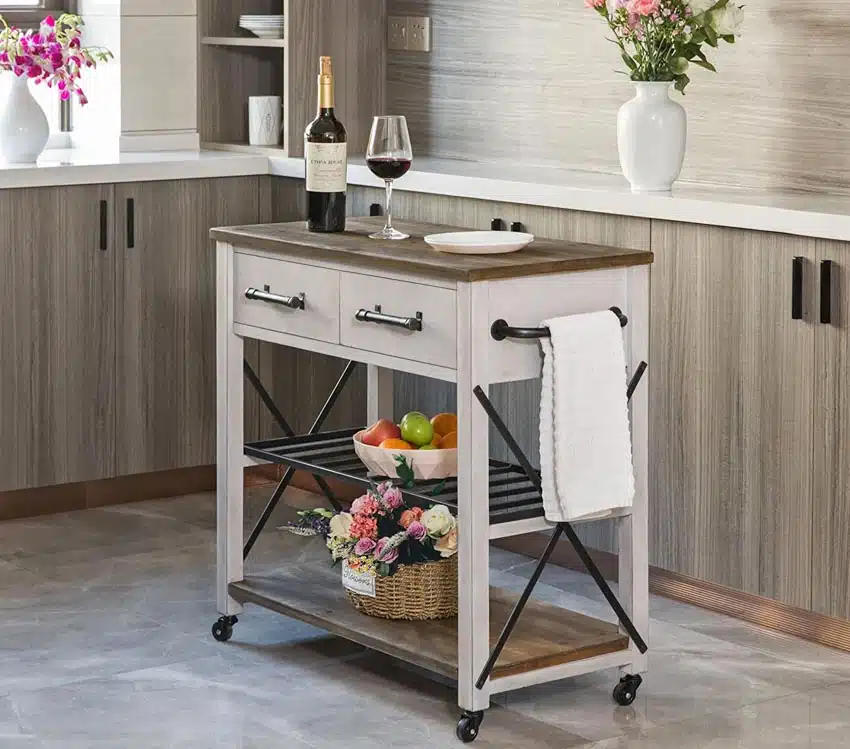 See this portable kitchen island at Amazon [sponsored link]
Numerous portable kitchen islands, such as carts or utilitarian sideboards, have many places for storage and meal preparation capabilities.
These islands are usually on wheels and may be relocated effortlessly. A portable island is frequently suitable for a homeowner with a limited budget or schedule to renovate a kitchen space.
A counter-height table with wheels or casters affixed to the legs provides for diner-style sitting area within the kitchen as an innovative solution for portable kitchen islands. With a material like butcher block one can have another cutting surface for meal preparation.

Additional DIY solutions could include transforming a dresser into a portable kitchen island by adding wheels as well as a working platform.
If you are going to install wheels in a pre-installed drawer, be certain that at least two of them are equipped with locks to prevent your portable island from randomly moving or rolling around.
Hooks for placing utensils or compact pots, as well as a dish towel rack, are common components in portable kitchen island layouts. These subtle features make it possible to consolidate kitchen work in one area, facilitating simple cleanup and maintenance.
Pull Out Produce Racks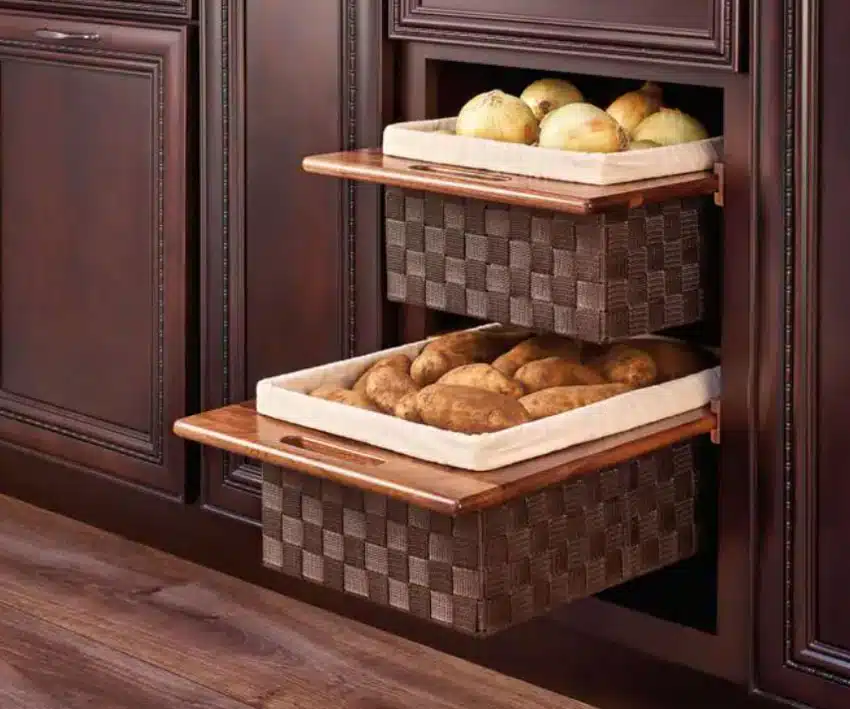 See this pull-out-woven-basket at Home Depot [sponsored link]
Pull-out produce racks are a unique storage island option for kitchens looking to maximize storage space while managing to keep fresh produce controlled, neat, and accessible.
These racks are often found at the base of the kitchen island and can be adjusted to accommodate the dimensions and amount of produce items that must be preserved.
Among the primary advantages of pull-out produce racks are that they can assist with keeping your vegetables and fruit longer in their fresh state.
Storage shelving racks promote adequate airflow and preservation, hence preventing spoiling and extending the lifespan of vegetables and fruits.
You can maintain the cleanliness and visibility of your produce with pull-out produce racks, making it easy to monitor what has to be consumed before it expires or spoils.
Built-In Wine Storage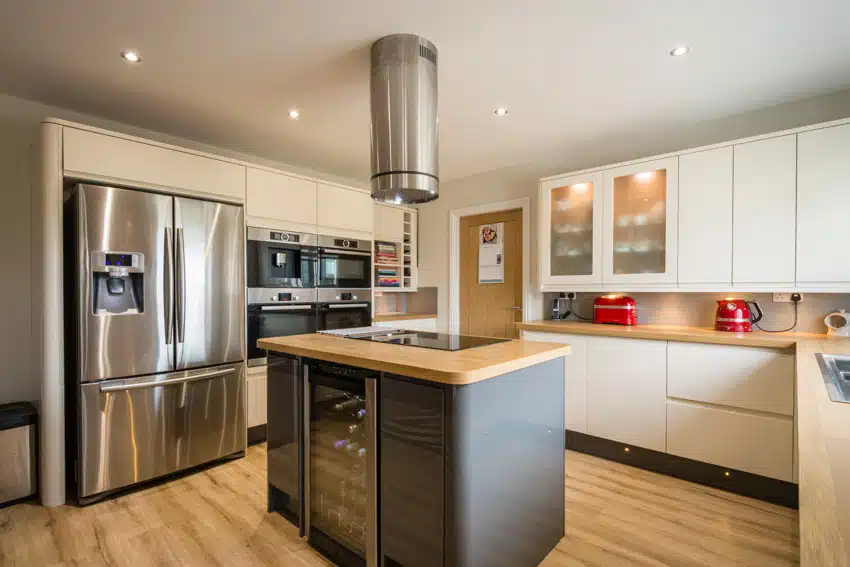 Providing a dedicated space for built-in wine storage can upgrade your kitchen island to serve as a major socialization and entertainment zone, which some would claim is a luxurious and necessary addition to the kitchen.
Ideally, you can install shelves on your island for the presentation and storage of wine glasses as well as your preferred wines for a one-of-a-kind home bar design.
Interestingly, built-in wine coolers are elegantly constructed to blend into the island base, providing a smart and coherent effect. This storage option can help preserve your wine bottles from sun exposure, humidity, and direct heat, all of which can degrade wine flavor and aroma.
Island Column Storage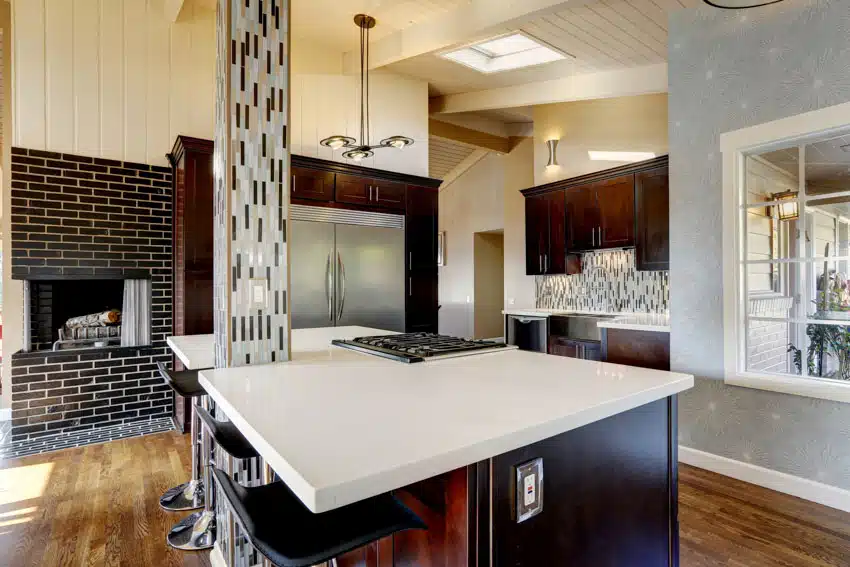 Some kitchen islands with columns emphasize a furniture-style appearance. Column-style corners on a kitchen island serve a purpose other than decoration.
A push mechanism usually opens the recessed panel to expose concealed cookbook storage. You may take into account installing hidden storage for pet food and containers that must be easily accessible during mealtime.
Decorative Plate Racks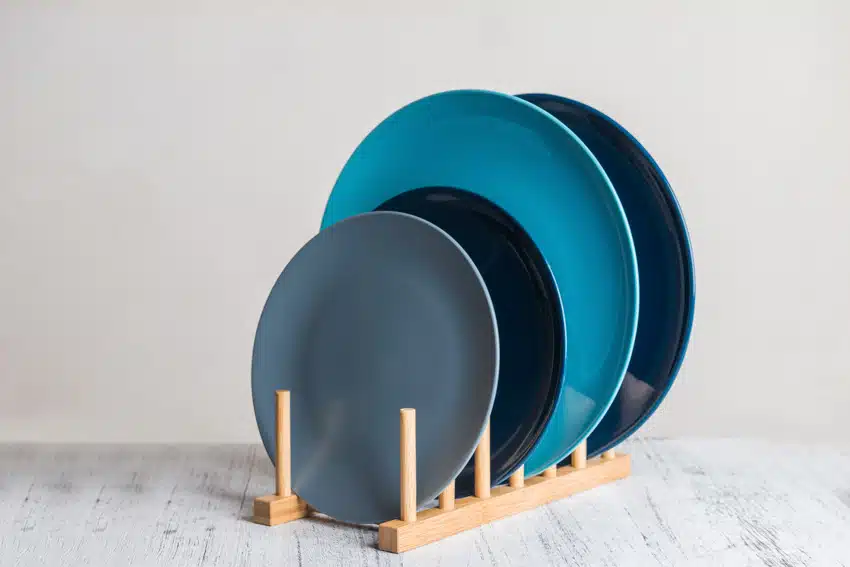 Preferably, you can also use a decorative plate rack to make the front of your kitchen island a centerpiece. You can showcase a festive collection, seasonal staples, or precious plates in these racks. These racks are usually wall-mounted or integrated into a kitchen island.
Moreover, a decorative plate rack provides a one-of-a-kind and eye-catching feature to the style of your kitchen island, which can also be considered among the kitchen island centerpieces you can consider.
These racks are available in a range of materials, textures, and patterns, making it possible for you to select one that enhances the decor of your kitchen. Try to match your cabinet hardware finishes with the holder for a cohesive design.

Plus, this type of rack can also be used to store more than just plates. For example, you can also display bowls or platters on them, allowing you to establish a custom-tailored and one-of-a-kind display that shows your character and taste.
Bench Seating With Storage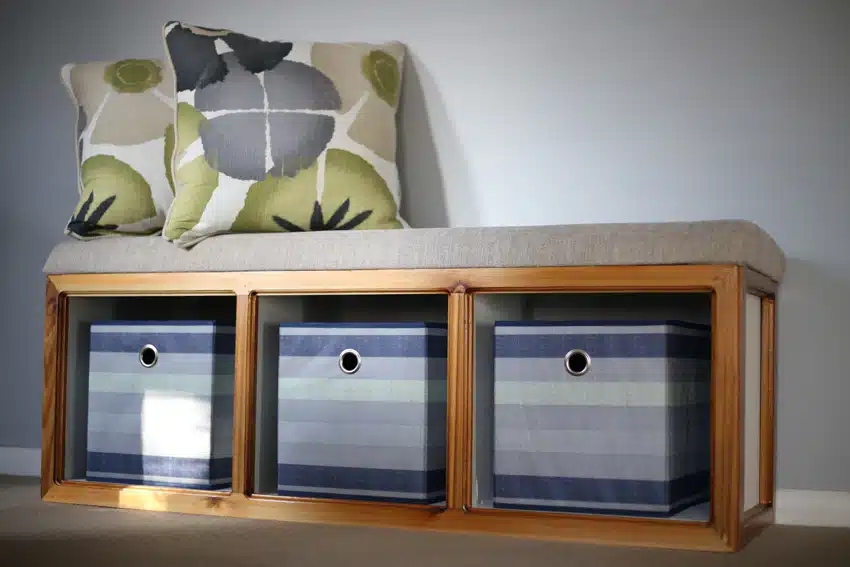 Bench seating with storage is an innovative, versatile, creative, and useful storage solution for kitchens looking to maximize space.
This kitchen island storage idea allows individuals to include extra seating on the kitchen island while also creating an obscured storage space underneath.
This area can be used for keeping linens, tablecloths, recipe books, as well as other kitchen necessities to free up island counter space.
Floating Island Countertop With Storage Underneath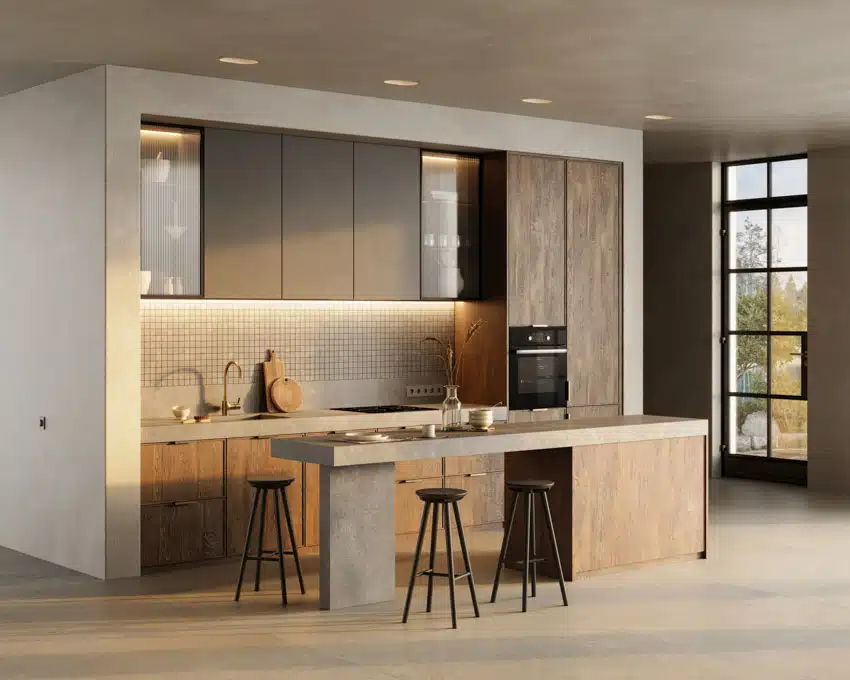 A floating kitchen island countertop with storage underneath is a streamlined, modernized, and minimalist storage option for tiny kitchens.
This storage arrangement features a 'floating' countertop that makes it look like it is floating in mid-air while offering a discrete storage area beneath.
This section is ideal when it comes to hiding kitchen appliances or other essentials while maintaining a minimalist aesthetic.
Linen Baskets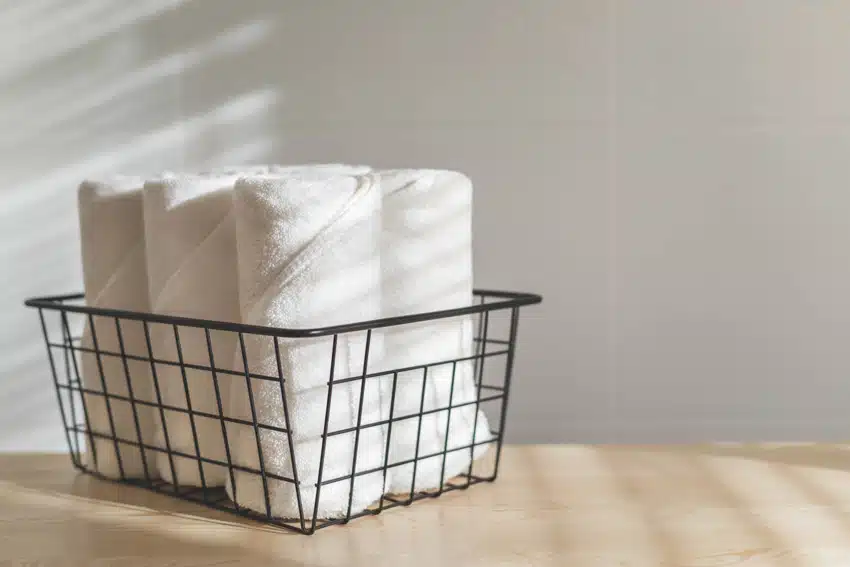 Linen baskets are just a simple storage system for kitchen islands that are supposed to hold and arrange linens.
These baskets can be positioned on a shelf or in an island cabinet to properly contain your linens while making them visible and reachable.
Countertop Tiered Baskets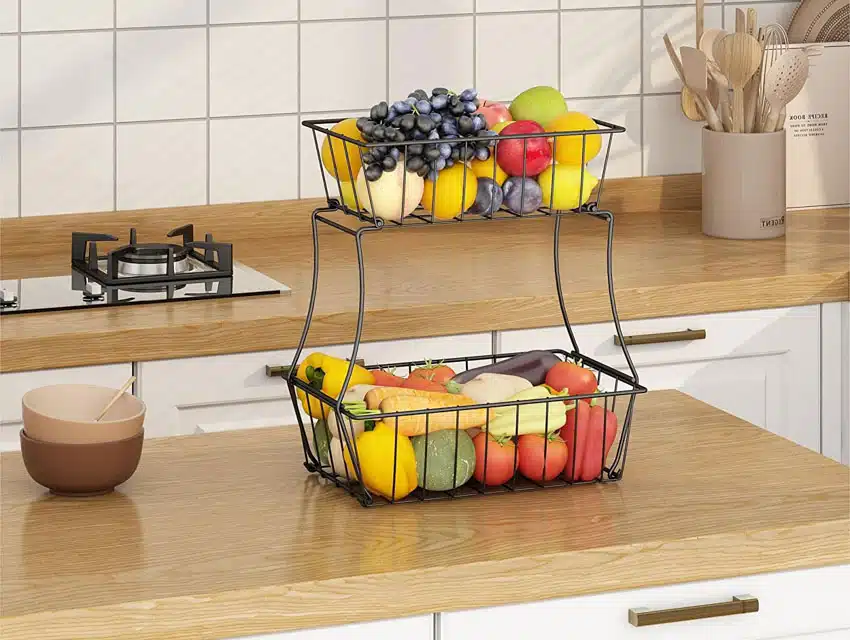 See this countertop tiered basket at Amazon [sponsored link]
Using countertop tiered baskets is also a wise storage idea, and they add a fashionable and useful storage solution.
They help preserve fruits and veggies and make them seem visually appealing and properly arranged. These baskets have multiple tiers that make it possible to hold an assortment of fresh goods.
How To Add Storage To An Island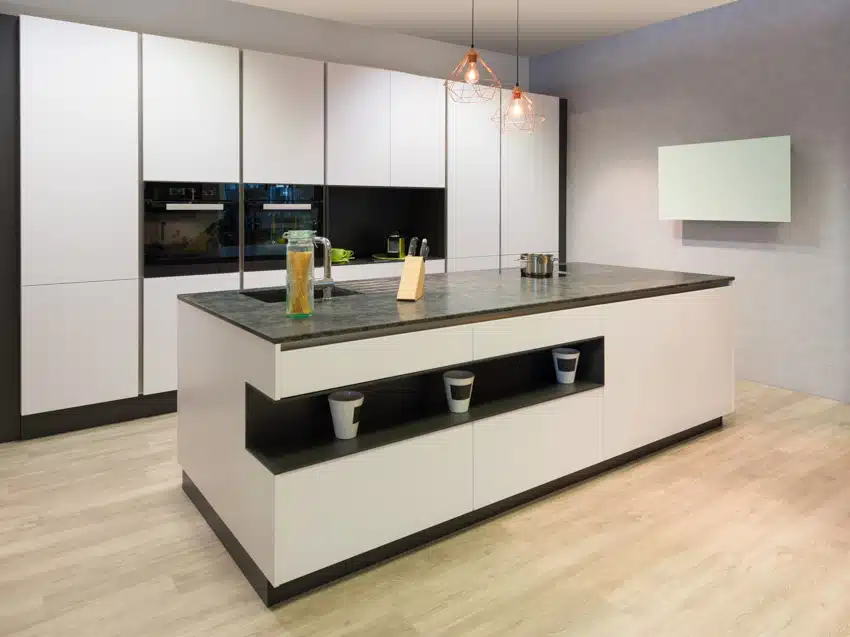 Here are multiple ways how to add storage to a kitchen island:
• Set up open shelves
• Add a series of drawers
• Use cabinet doors
• Install an integrated cutting board
• Consider adding a spice rack
• Make use of hooks.
• Establish a pull-out trash bin
• Incorporate a tiered basket
• Install integrated appliances
• Make a useful bookshelf under your island counter
• Take into account adding integrated column storage
• Include a produce storage container
• Install decorative plate racks
• Add a wine rack
• Purchase a portable storage island
See more related content in our article about how to decorate a kitchen island on this page.