Here we share our kitchen island centerpieces guide including what to put, the ideal accessories, placemat tips, decor suggestions, and modern ideas.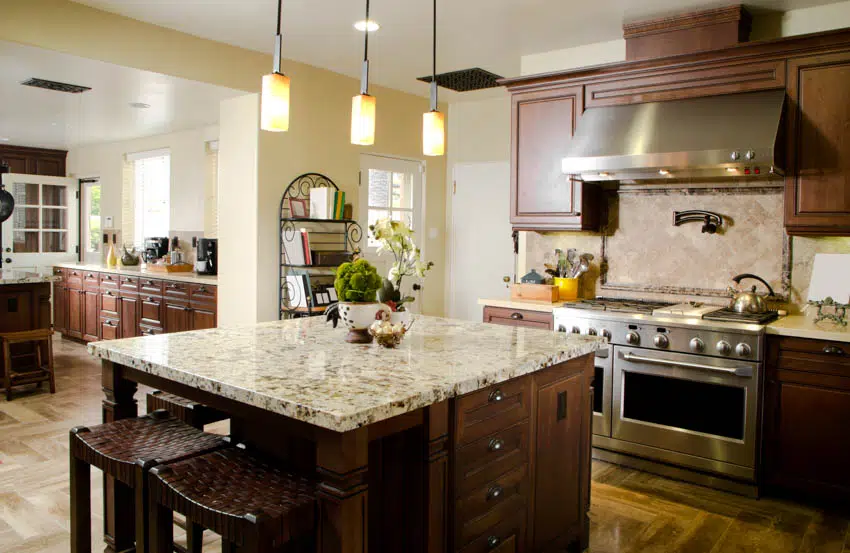 Nothing makes a table more exciting, elegant, and trendy than a centerpiece. It's also applicable to your kitchen island. Centerpieces are not just for the dining tables anymore.
Your kitchen island can also now benefit from centerpieces and be dressed up whenever you want it to. Yes, you don't have to wait for holidays or any occasion just to dress up your kitchen island!
When considering the centerpieces you can use for your kitchen island, you can use your creative side and show your personality in it. Let's not forget the fact that you can change it according to season and occasion, which may be a challenge but can be incredibly fun!
The next question would be – what can you put as a centerpiece?
What Do You Put In The Middle Of An Island Countertop?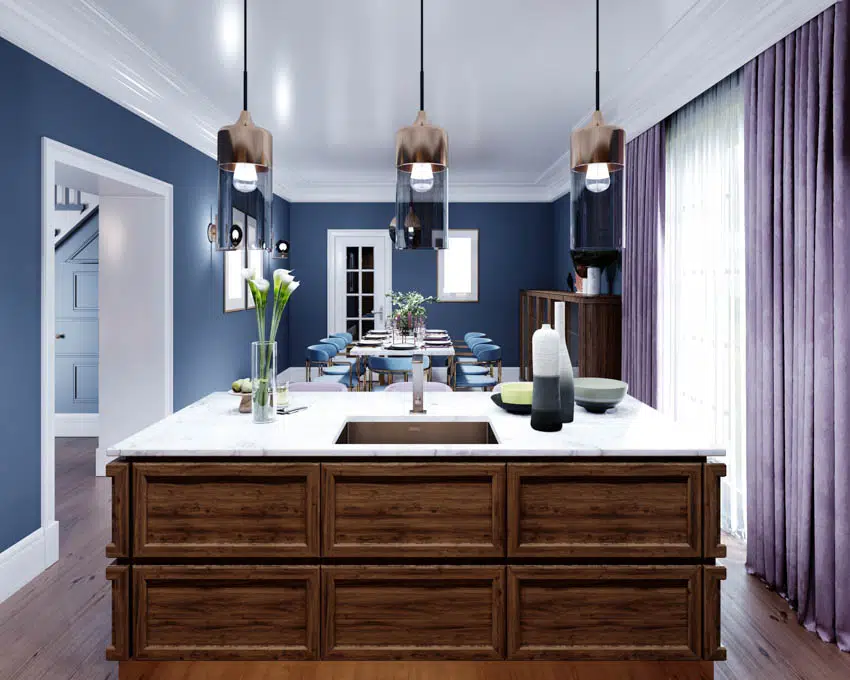 A centerpiece is the only straight answer for what to put in the middle of a kitchen island countertop. Traditionally, centerpieces are accessories and decor found in the middle of a formal dining table.
It was part of a formal table setting. A formal English centerpiece includes epergne (an ornamental centerpiece that comes with flowers or fruits), a long tray, candles, and even sculptures.
You put a centerpiece in the middle of a table for decor and it is meant to set the theme and vibe of the room and the occasion (if there is one). Here's some of the best centerpieces to use:
• Vases (With seasonal flowers)
• Large Bowl with decor items
• Candles
• Canisters
• Dishes
• Cookbooks
• Serving Tray with vegetables or fruit
• Linens (Patterned napkins & matching/colorful placemats)
• Houseplants (Herbs or indoor plants)
Some of the formal events and seasonal occasions where centerpieces are instrumental include:
• Staging a House for Potential Buyers
• Holidays
• Weddings
• Engagement parties
• Birthdays
• Baby showers
• Anniversary parties
You can also use centerpieces for different seasons just to spice up the room, like a pumpkin on Halloween and a small Christmas tree on Christmas.
And yes, you don't have to be limited to the dining table. You can go all out even to the kitchen, especially your kitchen island.
What Should I Put In My Centerpiece?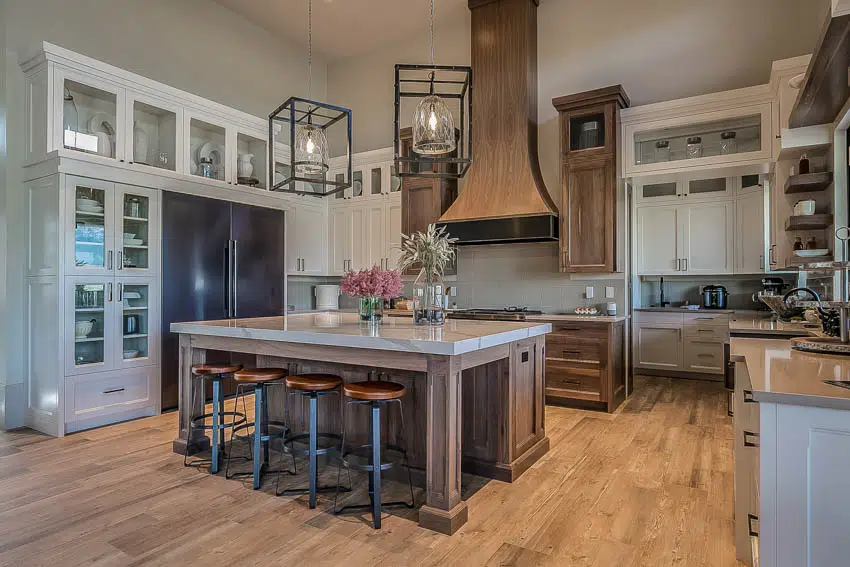 When it comes to centerpieces for your kitchen island you have a lot of choices. And yes, you can place a centerpiece in your kitchen to lift up the mood and vibe of the place! Simply putting an object at the center of your kitchen island can transform its look and ambiance.
When choosing what to put in your centerpiece, make sure to consider your kitchen island and your kitchen in general.
What is your kitchen's theme? What color palettes are you using for your kitchen? You should even consider the kitchen island size and shape and whether you're using it as a double-duty for seating or not.
Countertop Decor Accessories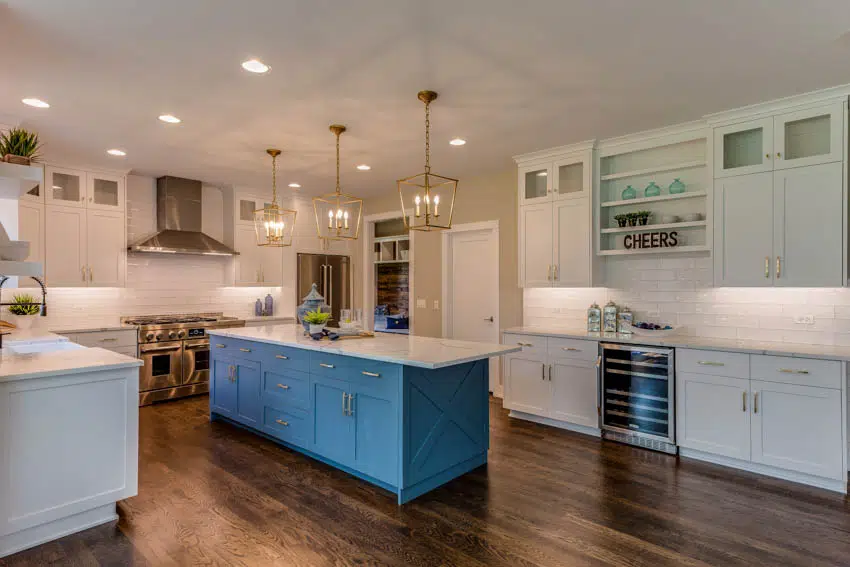 There are a variety of kitchen island decor accessories you can use if you can run your mind wild. Here are some of the items and accessories you can use as centerpieces.
You can use them as they are or you can mix and match them with other objects. Be creative!
Here are the materials you can have on your hand to use as a centerpiece: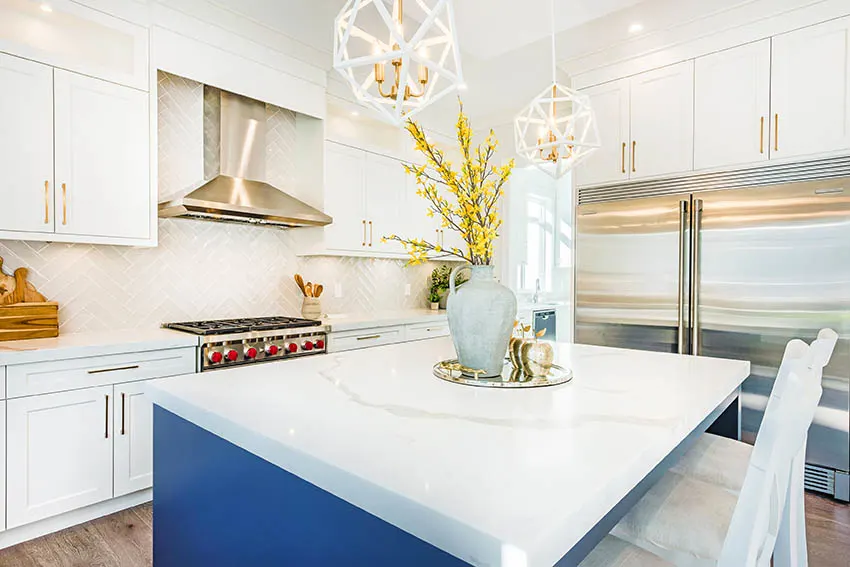 • Vase: one of the most classic centerpieces used. You can use one or more than one, depending on your design. There are trendy-looking vases and classic vases. Choose the one that will support the theme you had in mind.
• Large Bowl: makes for a great centerpiece, especially since you can use it to hold fruits and vegetables, for additional texture and a more refreshing look
• Candle: adds aesthetic value to your kitchen by adding warmth through its light and producing a pleasant smell, improving the ambiance of the room
• Canisters: look great on display and you don't have to always keep them in your pantry so put your sugar, salt, and pepper on the kitchen island! Put out canisters in odd numbers (either 3 or 5)
• Dishes: are elements of the kitchen and displaying them on your kitchen island is one of the ways you can use them as centerpieces. Use your most decorative pieces and don't waste their looks!
• Cookbooks: use cookbooks on your kitchen island as you use magazines for your coffee table. The popping colors of the magazine's color will add aesthetics to your kitchen's vibe
• Tray: more than a large bowl, you can also use a tray as a centerpiece and at the same time put some vegetables or fruits in it
• Linens: use patterned napkins and colorful cloth neatly folded on the kitchen island to add appeal and texture to the look
And these are only a few selections you can try. There are so many more items, accessories, and decor you could try out.
Should You Put Placemats On An Island?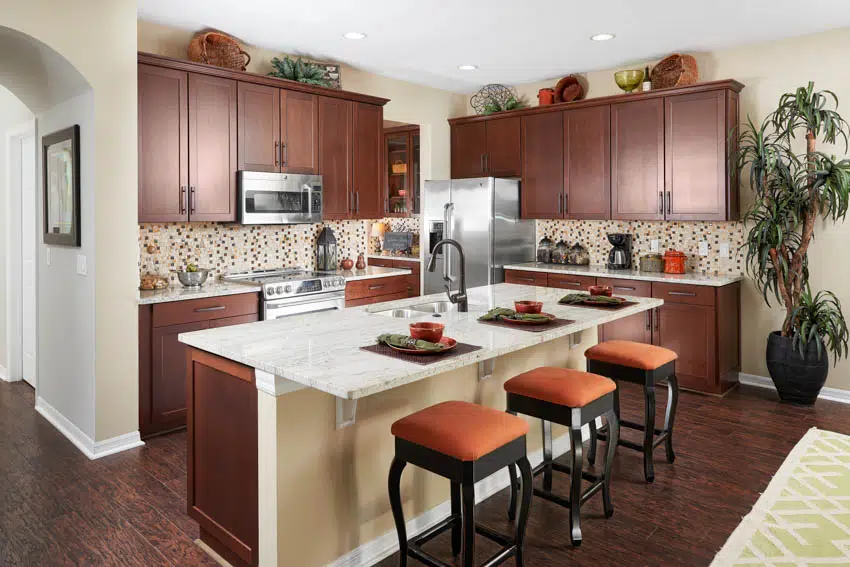 You can put placemats on your kitchen island if it works double-duty as eat-in seating. If it does not, the placemats you put may look out of place on the kitchen island.
It will also be unnecessary if you're not planning on a formal dining set-up on your kitchen island in the first place.
If you still want to put placemats on your kitchen island, one thing you can consider is to match it up with something. You can put trendy-looking placement and then follow it up with a stylish large bowl as a centerpiece.
How Do I Decorate My Countertop?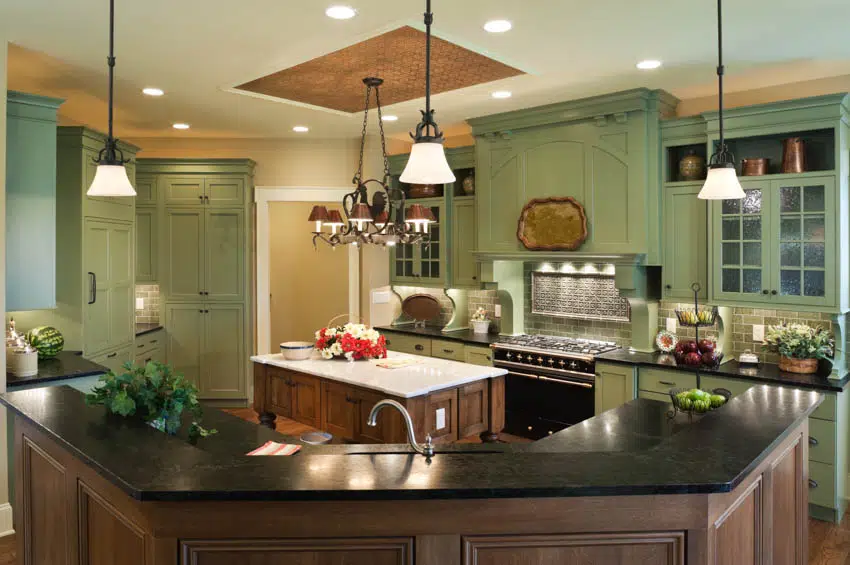 If you're serious about using a centerpiece for your kitchen island, you should decide on how to decorate your kitchen island. It can be challenging but exciting at the same time. To guide you with this little project, here are some tips you can follow.
Do not overthink your design: whatever you have in mind on how to decorate your kitchen island, do it! Make the decision simple and follow the style you've fixed your mind to.
This goes the same way with the accessories you plan to use for your kitchen island. Keep it simple and do not overthink when choosing what centerpiece to use.
Decide on a theme and stick with it: once you chose a theme for your kitchen, stick with it and make sure your kitchen island supports that theme.
You can choose a color to go for and stick with the different shades of that color to accent your kitchen.
Make use of what you have: if you are keeping a pretty set of kitchenware in the cabinet, take it out. You can display it and use it for additional aesthetics in the kitchen. You can either display it on a shelf or put it as a centerpiece.
Use what's available in the current season: fruits and flowers are great items for centerpieces so check out what's available in the current season and place them in a vase or a large bowl on your kitchen island.
Centerpiece Island Decor Ideas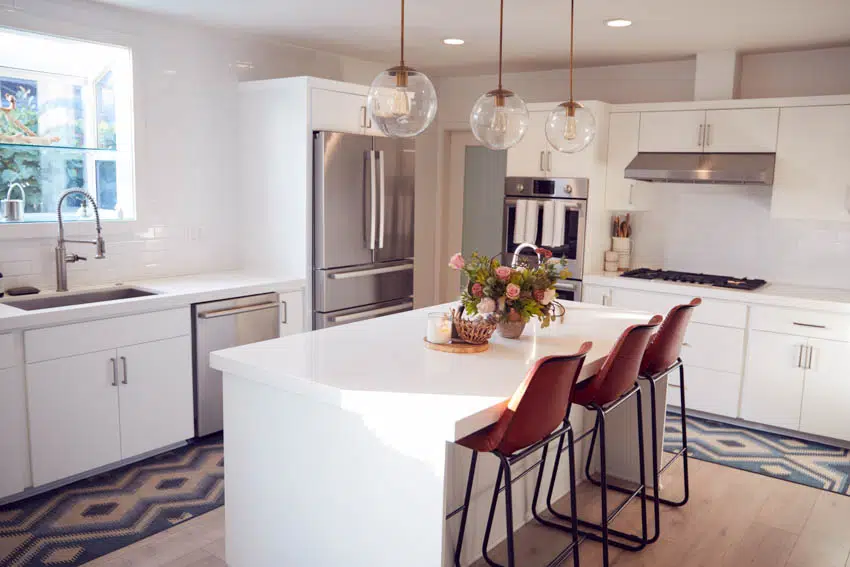 There are multiple ways you could have a unique kitchen island. Decorating your it can transform a plain old kitchen into a warm and exciting center of activity at home. A few tips can go a long way in designing your kitchen island.
Size, Shape, and Placement Of The Island Matters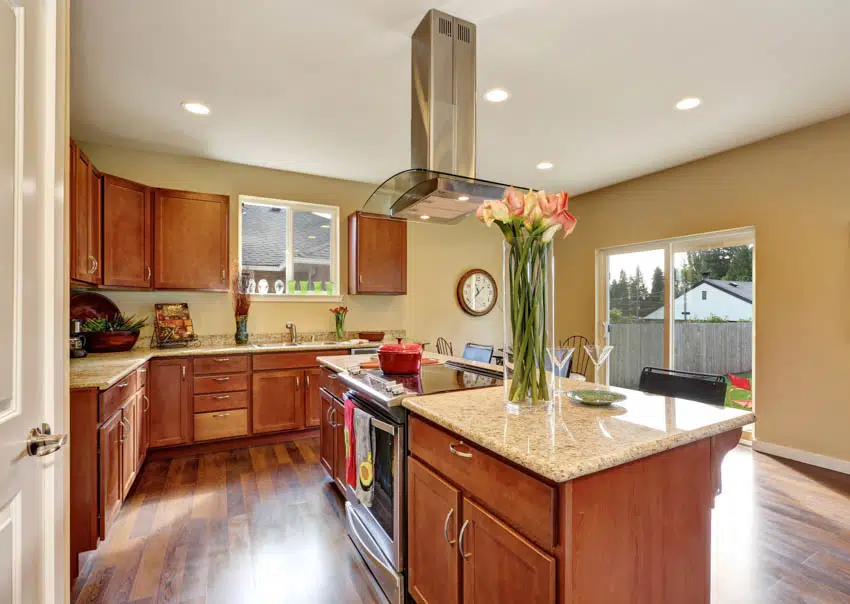 Before worrying about your kitchen island's centerpiece, these three elements come first. All these factors are important in setting the theme and ambiance you want your kitchen to have.
Decide on these elements first and the vibe you want it to have. That is where your entire decor will be focused on.
The shape of your kitchen island will affect what you put in for your centerpieces. A round-shaped kitchen island can accommodate a single centerpiece. And since the centerpiece is minimal, you can use tall ones for more texture.
A square kitchen island will need more creativity to fill in the space it offers. This is the same way with a rectangular kitchen island.
Decide On Island Functions & Appliances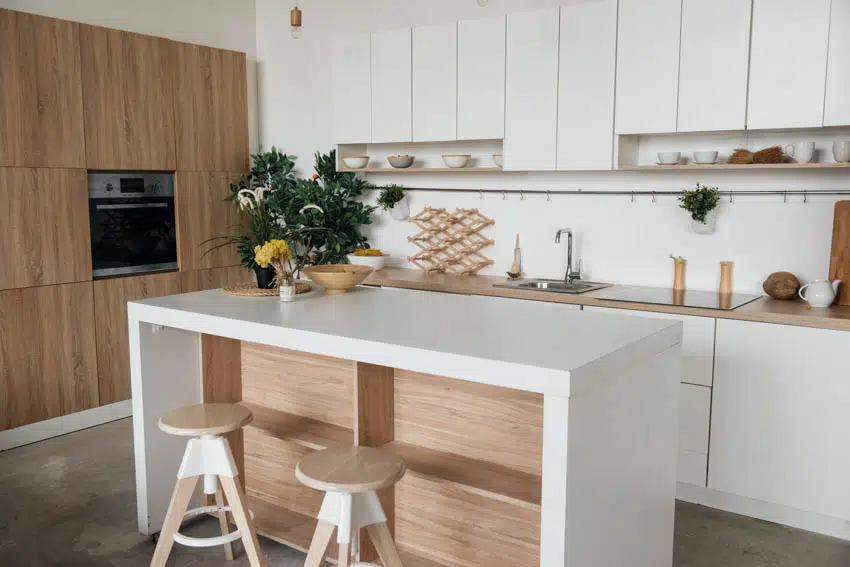 Would you want your kitchen island to simply be a place for food preparation? Does it work as double-duty seating?
Would you be using the kitchen island as a workstation? These should be considered when planning on what accessories and decor you use for your kitchen island.
Are there appliances on top of the kitchen island? Will you even have enough space for a centerpiece? Check out how much space you can work with when you choose to place kitchen appliances on the island.
Get Creative When Decorating Your Kitchen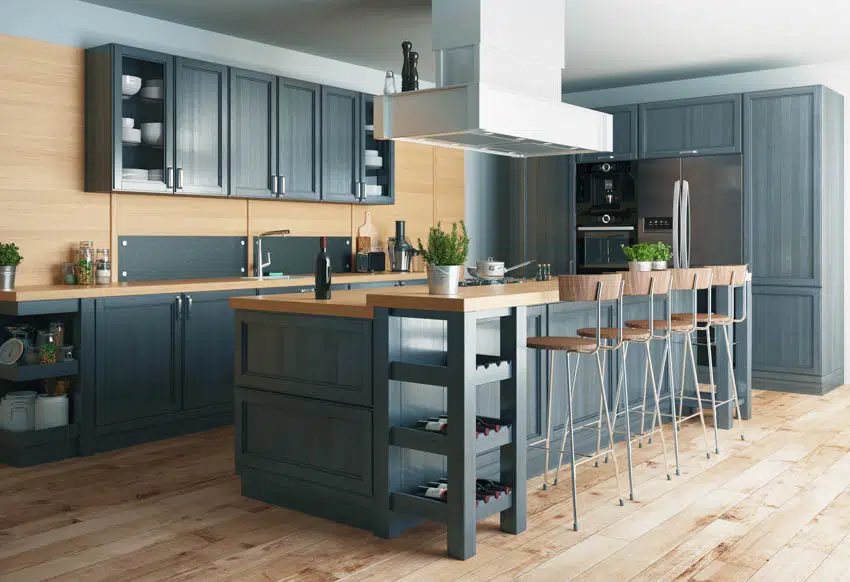 Don't just place a vase on your kitchen island and call it a day. Get creative in decorating your kitchen island! You can go for more than just a vase of flowers, especially if you plan a different vibe for your kitchen.
Kitchen Design Centerpiece Tips
1. Don't be afraid to mix low and tall centerpieces (Low centerpieces add value to the room and tall centerpieces add texture and elegance)
2. Let your creativity lead the way and try out items and decor you've never tried before (Try mason jars for a more rustic feel if you haven't tried it yet)
3. Make use of what's available seasonal for your centerpiece, whether it be fruits or flowers – this can help you save money in the process
4. Try out the following trends for your centerpieces and decor:
• A large bowl of colorful fruits
• Placemats with place settings (But only if there is a formal dining happening)
• A tray of candles (Lighted or not will depend on you)
• A vase of seasonal flowers
• Herbs and indoor plants
Modern Kitchen Decor Ideas
Now, let's turn up the creativity just a bit. Besides the classic centerpieces, you can try, there are also modern kitchen island decor ideas that are just waiting for your touch. If you're more of a modern person than a traditional one, here are some ideas that can catch your eye.
• Leatherwrapped vases: Allows the floral arrangement to be the center stage rather than the vase. Use more than one of these vases and turn your kitchen into a refreshing indoor flower garden
• Candle Bowl: Go for something big yet elegant by installing a shallow candle bowl at the center of your kitchen island. Light it up during meals but make sure to choose an unscented candle to fully appreciate the smell of your food
• Colored Glass: Get your colorful glassware out and choose the best glasses to house a single-stemmed flower or tea lights for additional ambiance
• Citrus Blooms: If you're not a flower person, why not try out citrus blooms as a display? Put them in a try and pair them with green leaves for a more natural look.
• Fruits Baskets: Let's get back to basic if you want and display a basket filled with different fruits. Not only is it aesthetically pleasing but you also get to always have access to fresh food whenever you want to.
Make sure to choose seasonal fruits for a more in-season look! See more related content at our article about how to decorate kitchen counters on this page.