Here we share the most expensive countertops including some of their pros & cons and what you can expect to pay.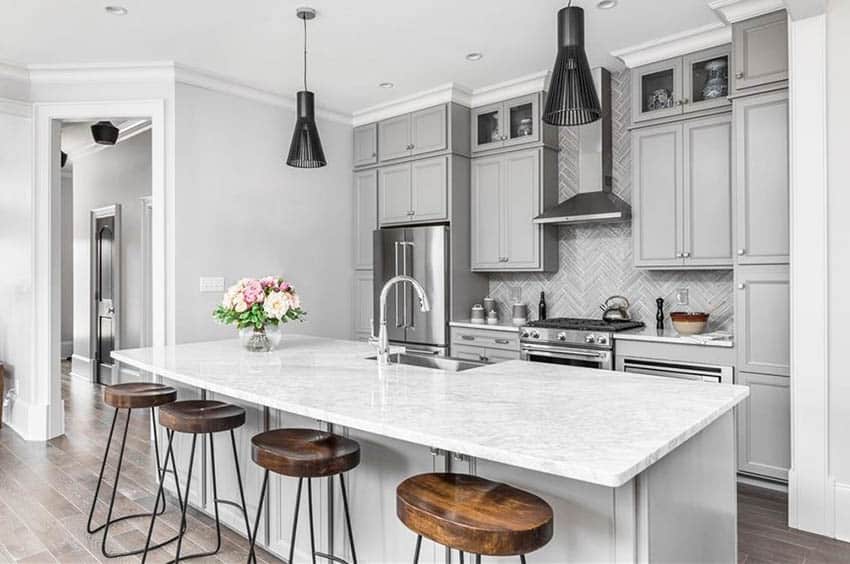 There are a wide variety of options for material when it comes to countertops. Within that there are a number or patterns, designs, and colors you can select from. The best place to start is at the budget stage, how much do you want to spend, or how much can you spend?
Once you select that it takes you to the right general idea of materials you can use.  It is also important to remember that you need not just the piece of countertop, but also the installation cost that come with it. Typically, but not always, the price of the installation will rise with the price of the material. Often the heaviness of the material as well as the time it will take are big contributors to the price of the installation.
Typically the higher end materials are not something you want to test for the first do it yourself project in your new house, because e if you did not want to pay for it once, I am sure you do not want to have to pay for it twice just for it to be done right. Tiles often take more time, while slabs are often heavier.
While there are a ton of low cost choices when it comes to countertops, there are also some great choices in the higher end of the countertop market. The higher price tag comes with plenty of pros and cons. Often higher costing materials are higher quality materials. This can be in durability, clean ability, or even the life of the product.
Most of the time with these you get what you pay for. Some materials do not have the best durability levels, but you pay for the looks. In places that aren't frequently used, but are more for display, these can be important, just be ready to pay for it. There are ways to get the best of both world though, a lot of these higher end options have the choice to be made into tiles instead of just slabs, this can often bring the price tag down, while still getting the style or the quality that you desire.
Some of the most popular, higher end options are listed and described below.
Quartz Countertops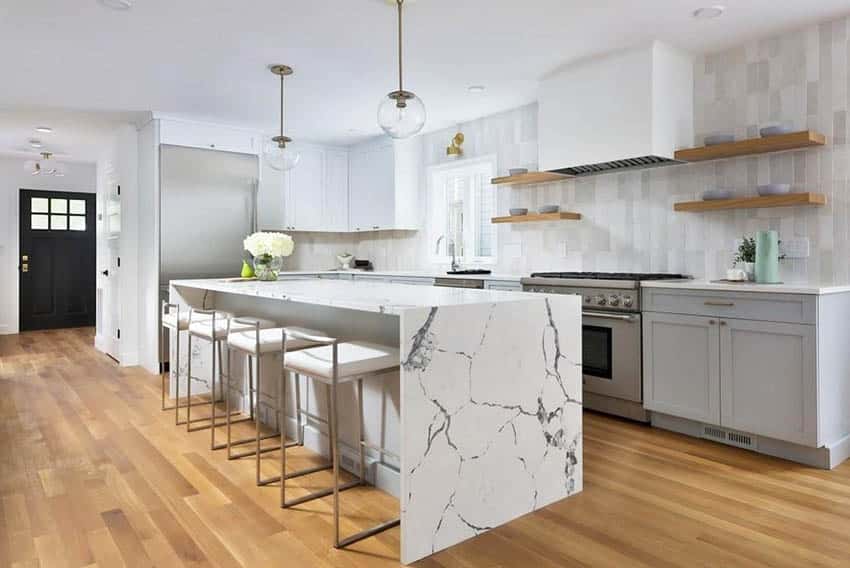 Quartz countertops can be engineered and are majority natural quartz, with a few other materials mixed in for the best color and design options. That being said, quartz countertops can come in a wide array of colors and patterns, and can be custom made to how you want or need the countertop.
Customization and difficulty levels can cause the price range to vary on the higher side of the scale. Luckily, after the first initial payment, there is not much in maintenance costs that are needed for quartz countertops, just keep them clean and they will last. The durability on quartz countertops is phenomenal – they will often last a lifetime. To keep costs down there are also tile installations available instead of the slabs.
Quartz countertops can run anywhere from $55 per square foot to $155 per square foot, not including installation.
Granite Countertops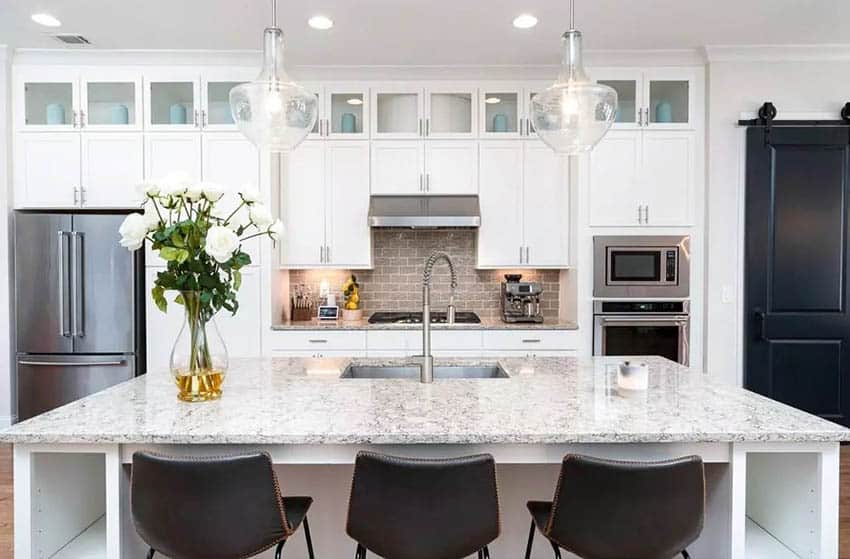 Granite countertops are a great choice, and while they are on the expensive side, in recent times the prices have gone down, making the end price tag quite a bit more reasonable.
Granite does requires some maintenance, including regular sealing. This does require some dollars each time sealing needs to be done. Without sealing the granite can be chipped. As long as that is taken care of the surface is extremely durable as well as heat resistant.
Granite countertops have a wide variety of colors and patterns to choose from, making them extremely versatile. If trying to keep the cost down, try selecting granite tiles instead of larger slabs. This makes both the material and the installation costs drop. Due to the weight on granite, it is best to look into professional installation.
Granite countertops can run anywhere from $45 per square foot to $200 per square foot, not including installation.
Marble Countertops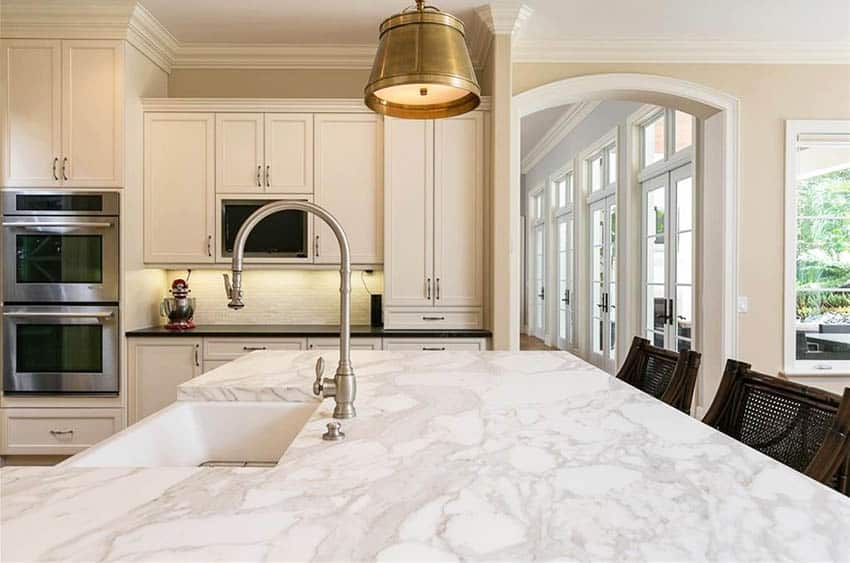 Marble countertops are the most expensive stone for countertops, but the immaculate appearance reflects the hefty bill.  Using marble takes a kitchen from drab to fab in a second. These are often used in places that are not used very frequently.
Marble can chip, stain and needs a lot of maintenance. This is the price one has to have for the beauty that comes with marble. If still wanting to use this product, but want a little lower of the price tag – try using a lower grade of marble or even incorporating tiles instead of larger slabs a marble.
Marble countertops can run anywhere from $75 per square foot to $250 per square foot, not including installation.
Wood Countertops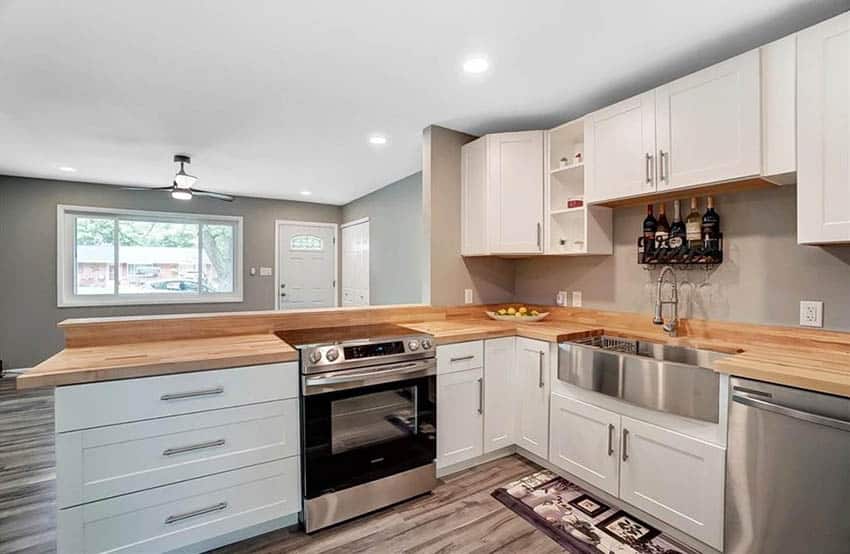 Real wood countertops can bring a natural element in to the design that looks gorgeous. However, wood can require a good amount of maintenance to maintain its beauty. Wood countertops require oiling periodically such as every 2 to 3 years. It's also necessary to clean up spills and wipe up excess water immediately to prevent the wood grain from absorbing any stains.
There are many types of wood countertops to choose from. Some of the most popular are oak, maple and walnut with more exotic types being teak, cherry and tigerwood.
The price of wood countertops can change depending on the type of wood. Butcher block wood countertops tend to cost from $35 to $85 per square ft.
Laminate Countertops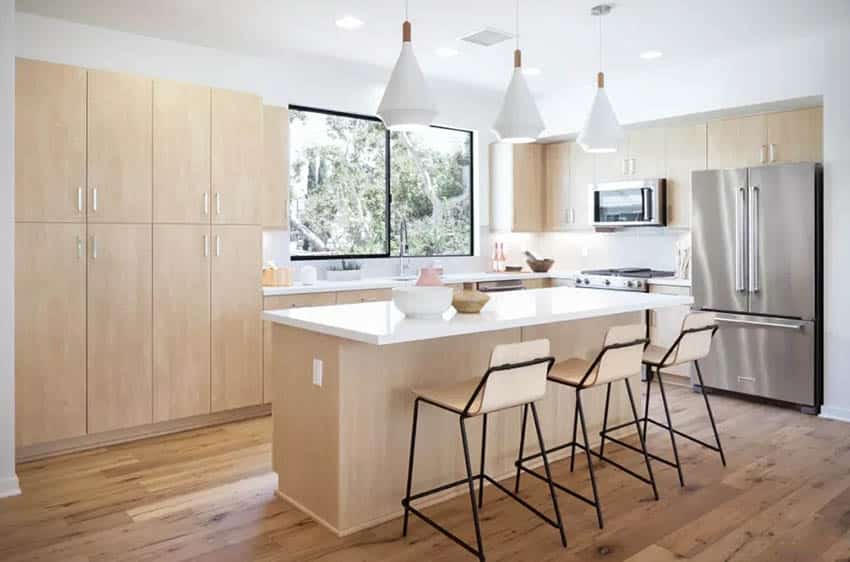 Laminate countertops are the cheapest option and are durable, low maintenance and easier to install than other types of countertops.
With these pros do come some cons such as life span being about 10 years before needing replacement. They are also susceptible to scorching from hot pans and scratching from day to day use. In addition laminate while made to look like real stone has very uniform patterns and a limited color palette.
Laminate kitchen countertops cost from $10 to $40 per square ft, without installation.
Soapstone Countertops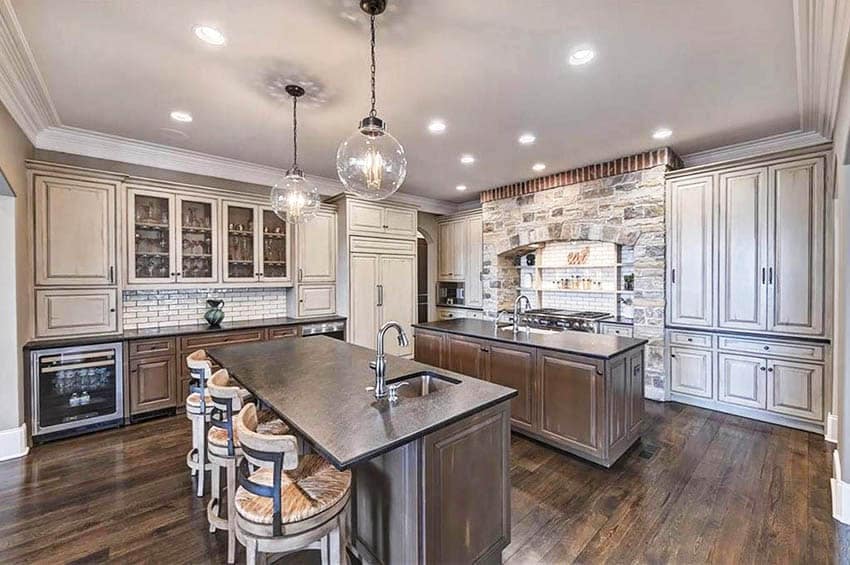 Soapstone countertops tend to be darker and richer in color and have a relatively smooth texture. Due to the darker color, stains are not too much of a problem, as well as the stain resistant qualities. This makes for a light maintenance routine, despite the need   to be polished with mineral oil routinely.  Unfortunately these are susceptible to scratching and damages. These are delicate pieces must be professionally installed.
Soapstone countertops can run anywhere from $70 per square foot to $120 per square foot, not including installation.
Stainless Steel Countertops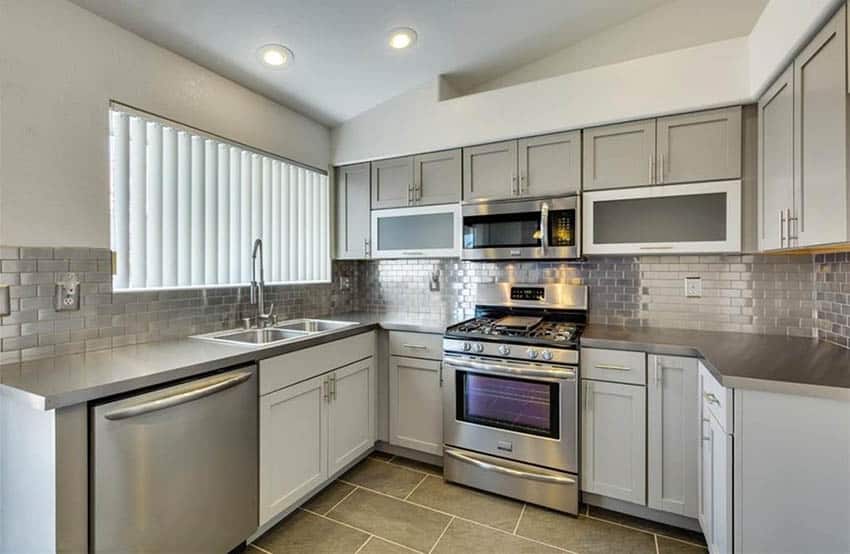 Stainless steel countertops are on the lower end of the high end expensive countertops. Stainless steel is best used in commercial settings, but also is used in residential kitchens. This type of countertop is resistant to heat as well as extremely easy to clean. Unfortunately stainless steel is very easily scratched, and can attract fingerprints.
Stainless Steel countertops can run anywhere from $80 per square foot to $100 per square foot, not including installation.
Concrete Countertops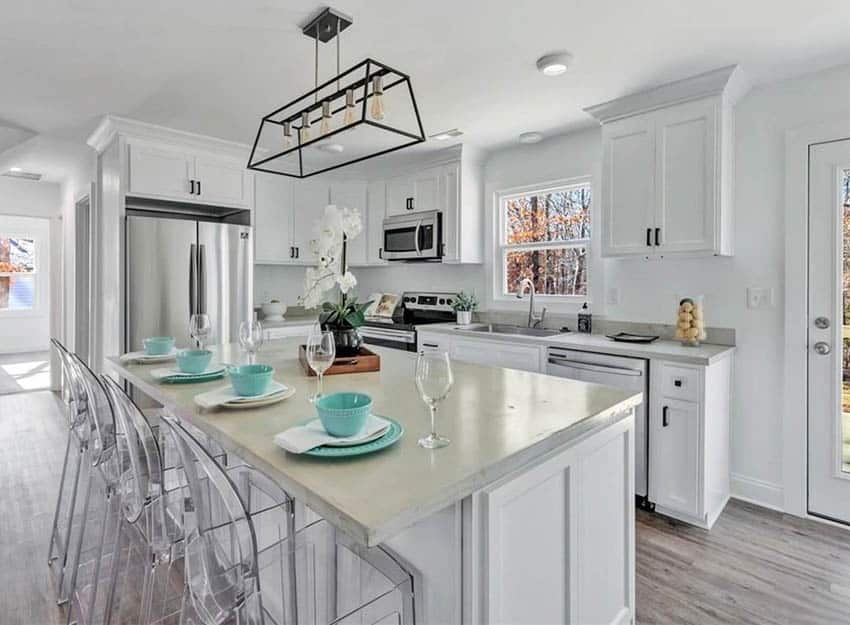 Concrete countertops are lean towards contemporary design. The design is typically pretty simplistic and straightforward. This makes them extremely versatile, especially since they can easily be colored to what you may want with varying dyes or stains.
Concrete is pretty easy to cut or shape, so custom items do not shoot the price up too much. Unfortunately concrete countertops are going to be very heavy, sending installation prices up, and meaning it is important to make sure the countertop have the correct supports underneath to hold the weight.
While concrete countertops can be labor intensive you can save substantially by doing the pouring and installation yourself. For a DIY project concrete counters are a very affordable option.
Concrete countertops can run anywhere from $100 per square foot to $150 per square foot, not including installation.
Recycled Glass Countertops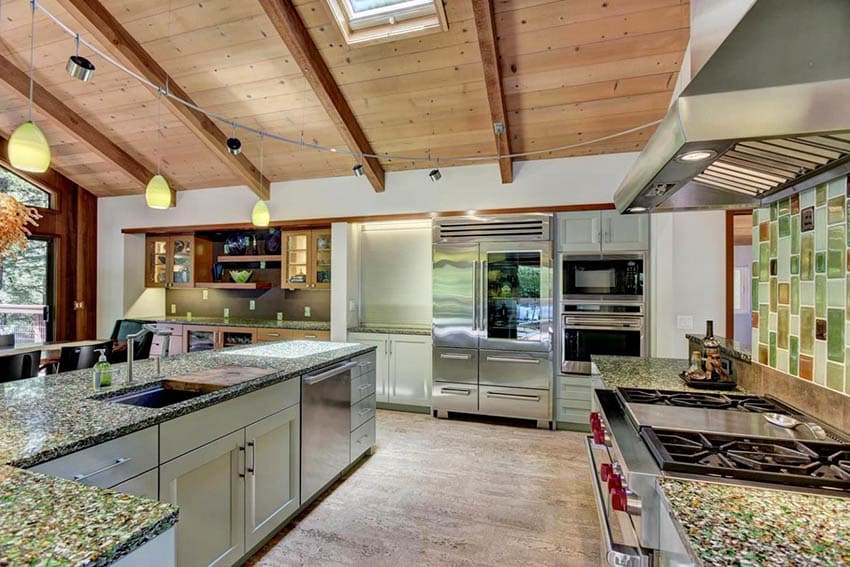 Recycled glass countertops are the most environmentally friendly options when it comes to kitchen countertop materials. Unfortunately, while being environmentally conscious you also have to pay for it. As recycled glass countertops are the most expensive type of kitchen countertop material.
This type of countertops used recycled class mixed with cement to create a very durable surface. With the concrete component and being the base of the countertop, it will take on a majority of the same qualities that a plain concrete countertop have (please see above for details) . One big difference is the appearance, obviously with bits of recycled glass thrown in; the visual will be a bit different, typically with a unique look.
These are often customizable with the color of glass as well as the size of the pieces. Sometimes the custom work will be more expensive, and this product can be a little more difficult to find as it is not as common as some of the above mentioned countertop types.
High quality recycled glass is one of the most expensive countertops and can run anywhere from $100 per square foot to $160 per square foot, not including installation. See our gallery of glass kitchen countertops here.
Kitchen Countertops Cheapest to Most Expensive
Here's our quick breakdown of the most affordable countertop to the least (without installation included.)
Laminate countertops cost from $10 to $40 per square ft.
Wood countertops cost from $35 to $85 per square ft.
Granite countertops cost from $45 to $200 per square foot.
Quartz countertops cost from $55 to $155 per square foot.
Soapstone countertops cost from $70 to $120 per square foot.
Marble countertops cost from $75 to $250 per square foot.
Stainless Steel countertops cost from $80 to $100 per square foot.
Concrete countertops cost $100 to $150 per square foot. (DIY can be substantially cheaper)
Recycled glass countertops cost from $100 to $160 per square foot
If you are creating your own interior design you can experiment with many different types of countertops by using one of the kitchen design software programs. Some of these programs provide close-up and three dimensional views that can help you visualize how different finishes and materials will look in your space.