Here we share our backsplash ideas for granite countertops with tips on how to choose, tile shapes, and kitchen designs for different countertop colors.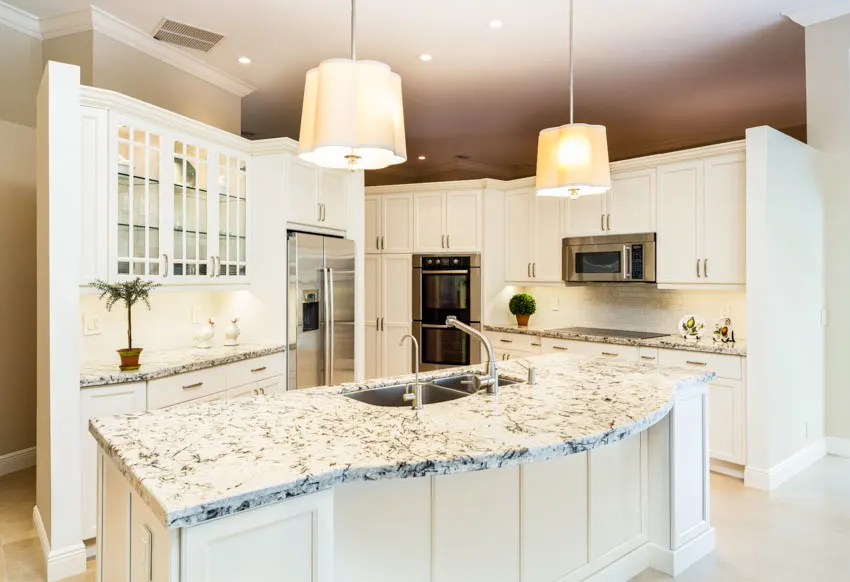 How to match granite countertops with a backsplash is a common question among homeowners who are redecorating or redesigning their kitchen space. Even kitchens with preexisting countertops often get upgrades to granite designs.
This is because granite is one of the most popular and beautiful natural stone materials for both modern and traditional kitchens. They come in many different patterns, shapes, and even colors so their design options are versatile.
Having a granite countertop provides your kitchen with a striking and dramatic focal point that can elevate the look and feel of the entire space.
Once you've gotten your hands on a magnificent-looking slab of natural stone, the next natural challenge would have to be the backsplash you need to pair with it.
This isn't exactly easy to do. Granite has a lot of busy patterns and not all backsplash materials and designs may pair well with it. Here are some great ideas for how to choose the right backsplash for your granite countertops in the kitchen.
How To Choose Kitchen Backsplash For Granite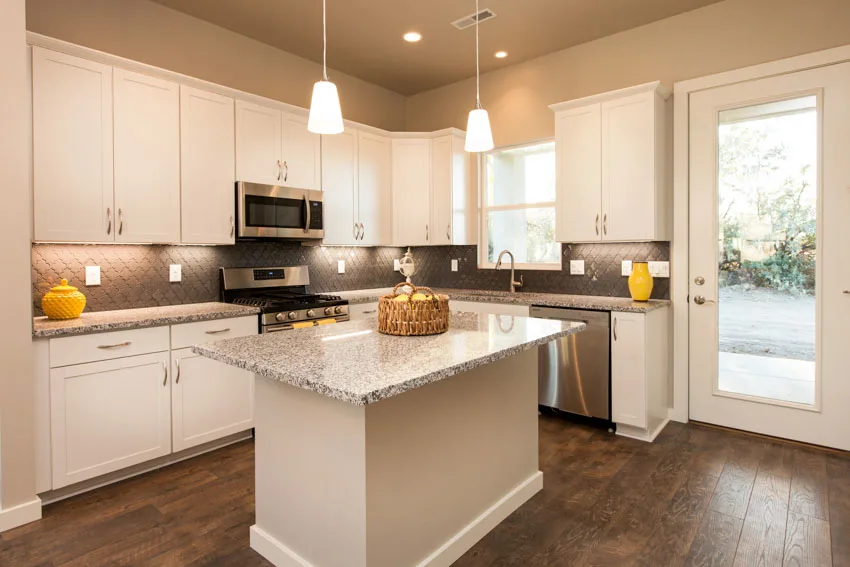 Here are some things you need first to consider before you choose your backsplash:
• Budget: The first thing you need to keep in mind would be this. Having a pre-determined budget for material and installation will help narrow down your choices
• Kitchen usage & maintenance: How do you use your kitchen? What do you usually cook and how much effort or time are you willing to give for maintenance? Just like the countertop, depending on the material, a different care method is required to keep it pristine.
• Style: What style of kitchen do you have? Do you have any color schemes in mind? Different interior styles and themes will require different material types, colors, and tile patterns, so if you have a style or theme in mind, this will also help narrow down your choices
Each and every single slab of granite has its own unique set of patterns and aesthetics and you won't be able to make any decisions merely based on generalities.
Here are a few basic ideas to make the process a little easier for you to do.
Always choose your granite countertop first: You need to make your granite countertop the focal point of interest for your kitchen space so you need to start with that.
Given that granite slabs are typically unique or one-of-a-kind, this will eliminate a lot of backsplash options right from the get-go. You need backsplash materials and designs that match the specific granite countertop you have installed in your kitchen.
You need to decide on how much backsplash material you actually need: Do you need a full height backsplash or would you like to opt for a low profile one? You can always choose between covering just a portion of your kitchen wall to installing a full ceiling-height backsplash.
It would be best for you to consult with the professional interior designer you're working with to assess the best backsplash ideas for granite countertops. It all depends on the look and feel that you would like to achieve.
Take your backsplash measurements meticulously and make sure that every square inch of the tentative backsplash is fully accounted for.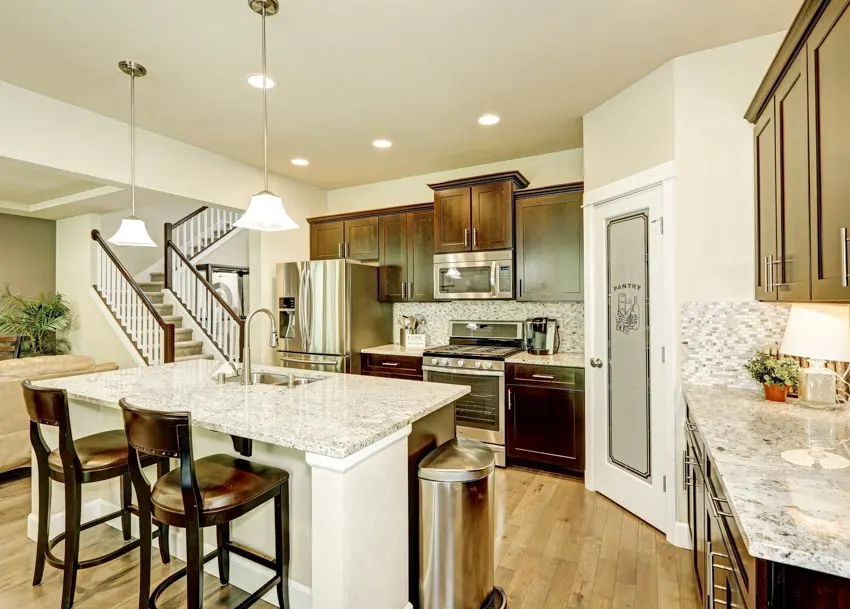 Decide on what you would like to focus on in your kitchen: Do you want a design that's a little more passive or static or would you like to go for something a little more busy and dynamic?
You can consider applying quality kitchen wall accent ideas on your backsplash or turn to the actual granite countertop as the focal point of the kitchen. What's important is that ultimately, you're selecting an option that would enhance your entire kitchen look at the end of the day.
Now on to choosing your actual backsplash material: Go with something that marries both form and function. When picking out a material to use for your backsplash, make sure that you go with not only something that looks great, but also something that you will be able to easily maintain.
The aspects you need to take a look at would be the pricing, the ease of maintenance, the durability, and the overall visual effect that it will provide. And of course, it's great to consider your personal style and preferences and how well it will pair up with your specific choice of granite slab.
Match opposites: Light granite colors matched with a dark backsplash and vice versa can be a powerful thing to have in the kitchen. This combination is something that creates balance in your kitchen and will keep you from coming up with something that may be a little too visually overwhelming at the end of the day.
Think of special details you can match: Granite countertops are rich with special characteristics. It pays to take a closer look at your granite slab to identify any unique colors, swirls, or patterns that you can use to anchor your kitchen design.
Pairing these special traits up with your backsplash could result in a very cohesive and amazingly well-put-together effect.
Go with glass tiles: Glass tiles are perfect when paired up with granite countertops in the kitchen because they offer glossy and clean, almost transparent-looking features. The kind of look this delivers is something contemporary.
This creates a backsplash surface that's very slick and clean. Its subtle and subdued look is bound to let your granite countertop shine and take center stage. Glass is very easy to clean. Grease and other food debris that usually accumulate in backsplashes will easily slide off.
Consider traditional ceramic tile: Look for swirls or other veining patterns in your granite slab and match it up with a ceramic tile design of your choice.
When deciding on which tiles to buy, it certainly wouldn't hurt to take actual tile samples home with you so that you can directly juxtapose them with your actual granite slab in the kitchen.
Dare to go bold with travertine backsplash tile: Another option is for you to go big by using travertine tiles for your backsplash material. You will want to pick travertine tiles with patterns and veining that complement that on your granite slab. Go with colors that will really make your granite pop. Patience is key so take your time and choose your tiles well.
Amp up the elegance with a marble backsplash: Think about it. It's two types of high-end materials in one kitchen space. A granite slab for your countertop and then another marble slab for your backsplash.
Try to go for marble types of kitchen backsplash that don't really have any active patterns. Go for something subdued enough to allow your granite to take all the visual attention so that it doesn't get too overwhelming.
This kitchen pairs Baltic brown granite countertops with a beige glass tile backsplash with excellent results.
Get a solid look with subway tiles: Granite is a busy look so pairing it up with solid, stable, and clean-looking subway tiles will give balance to the overall look. This will allow your granite to pop up but still allow you to end up with something sophisticated and classy.
If you want to go for a look that's more modern and stylish, then a subway tile backsplash is definitely the way to go. Subway tiles are one of the more popular choices and it isn't hard to see why. White subway tiles, in particular, are pretty popular because they can go with any granite veining or pattern due to the neutral backdrop they provide.
Go granite on granite: There's no written rule out there that says you can't have a granite backsplash paired up with a granite countertop. If you love the natural stone's look so much, you can always go for an all-out and cohesive coverage.
There's a certain appeal to the visual singularity it can bring in. granite is a very easy surface to clean and for backsplashes that catch a lot of dirt, it can be a dream material to have.
Take note though that granite is a heavy material so don't go for something thicker than 4 inches for slabs that you're planning to adhere to the wall.
Backsplash To Match Granite Tips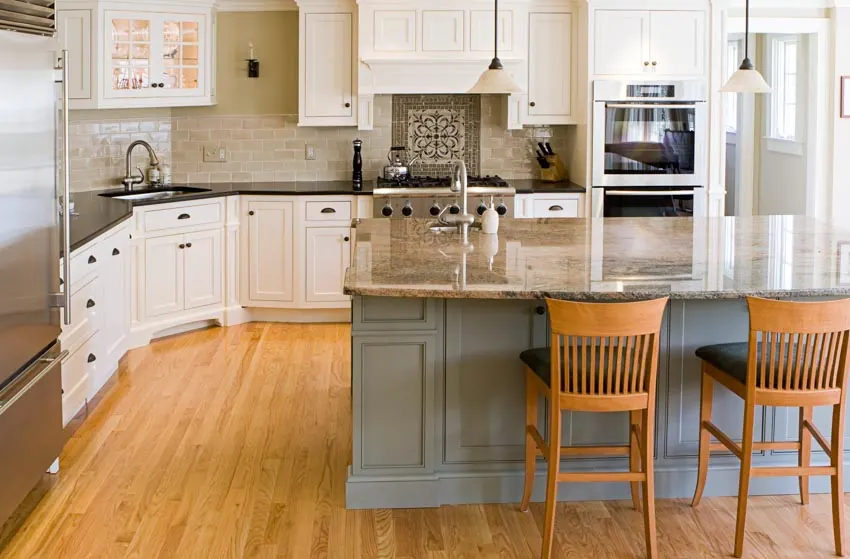 Here are some of the most common backsplash materials:
1. Ceramic or Porcelain tiles: These are very accessible materials with a really wide range of colors, sizes, patterns, and textures.
2. Glass Tiles: a popular choice for modern-style kitchens, these tiles offer a unique color and shine that is only achievable with this type of material. These also come in a variety of colors, sizes, patterns, and shapes.
3. Mosaic tiles: These tiles are usually made up of smaller tiles (they can be stone, ceramic, glass, etc) cut up in various shapes and sizes, pre-arranged on a mesh backing. This is a quick and easy way to add patterned tiles to your backsplash without manually having to lay it out.
4. Natural stone: If budget is not an issue, you can also use natural stone tiles, or even the same granite material on your countertop to your backsplash.
After determining the above considerations, you'll have more definite choices. Granite countertops are gorgeous in themselves and usually have very subtle patterns so they are not too hard to pair with appropriate types of kitchen backsplash.
Here are some ideas depending on the combination you have in mind:
Backsplash Tile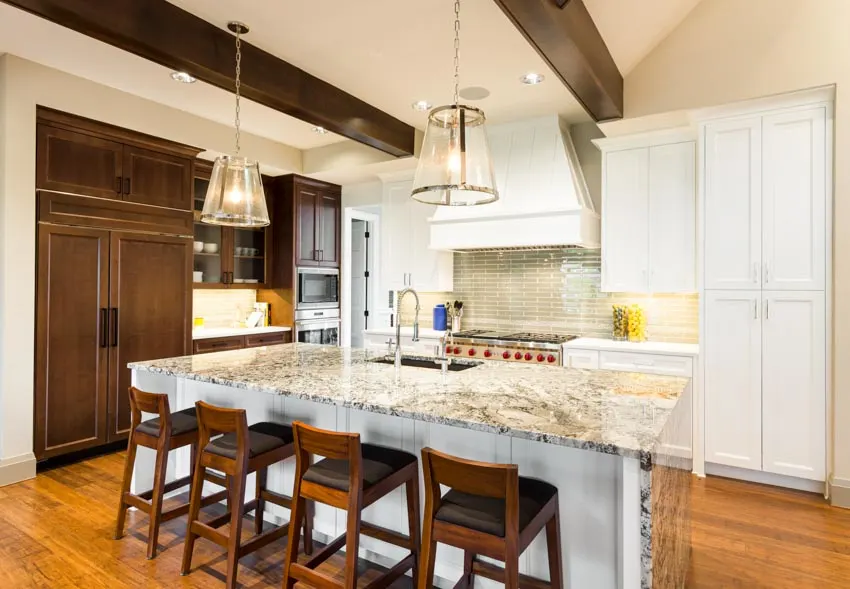 There are plenty of great backsplash ideas for granite countertops. There are square format tiles, penny tiles, picket tiles, hexagon tiles, subway tiles, or tiles arranged in different patterns such as the herringbone arrangement.
The sky's the limit when it comes to this and you only need to decide on whether you would like to go with a backsplash that gives a neutral background that will allow your granite countertop to shine or something that complements it artistically.
If you don't want your kitchen to be too intimidating or dark, pair your dark granite countertop with a lighter-colored backsplash to make it look brighter.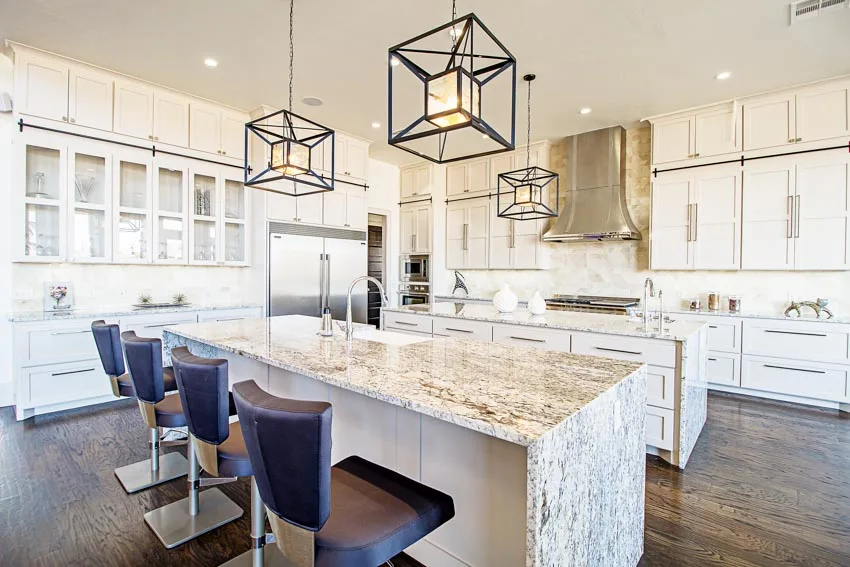 For a more homogenous look, why not try to match the color of the granite with the backsplash tiles? In this country-style kitchen, the quartz backsplash color tone matches the cream shade used in the countertop, creating a clean and uniform color scheme.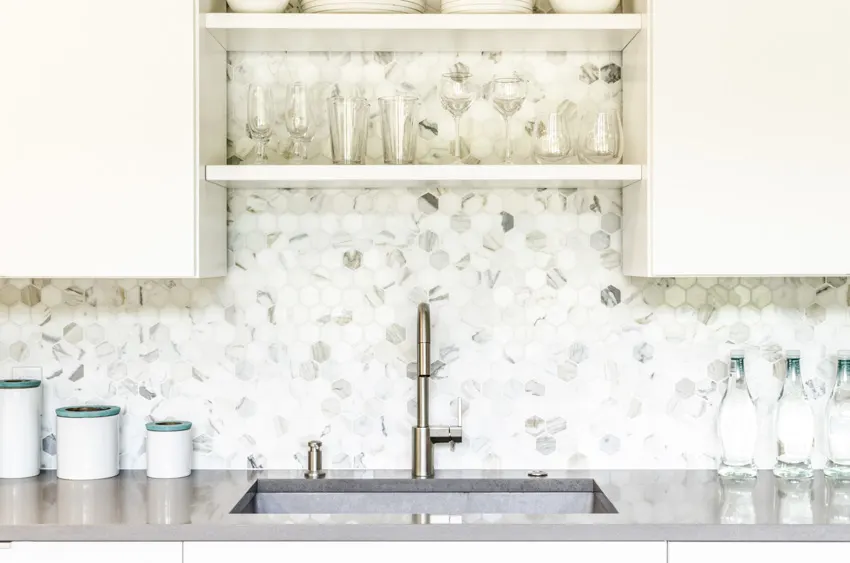 Patterned mosaic tiles can easily elevate the look of your kitchen. If you have a very simple/plain granite countertop, how about pairing it with honeycomb pattern marble mosaic tiles? It gives the classic elegance of marble, yet exudes a fun, modern look with its unique pattern. See more types of tile shapes here.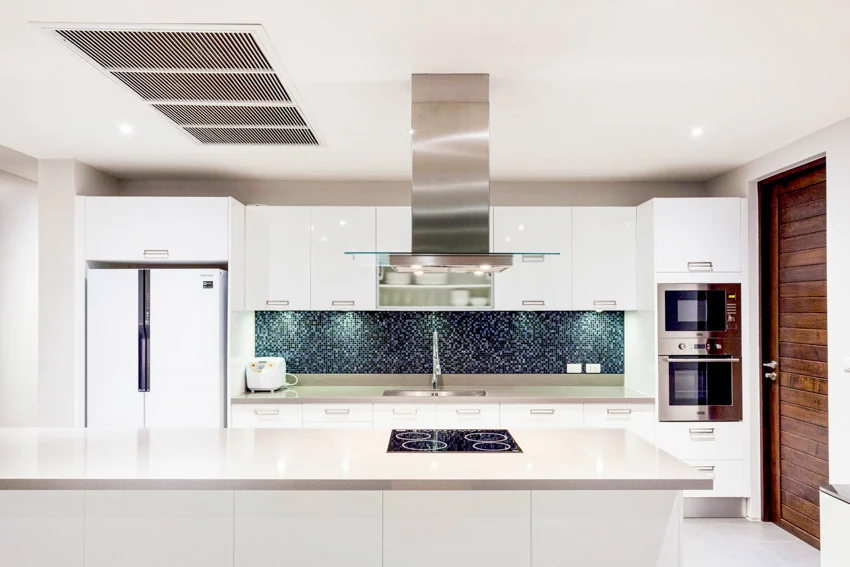 While it's pretty common to see light-colored backsplash tiles, you can also choose darker materials for your backsplash. In this modern kitchen, navy blue mosaic tiles and white cabinets with granite countertops result in a very bold contrast that brings your eyes' attention to the center of the kitchen.
Backsplash Ideas For Light Granite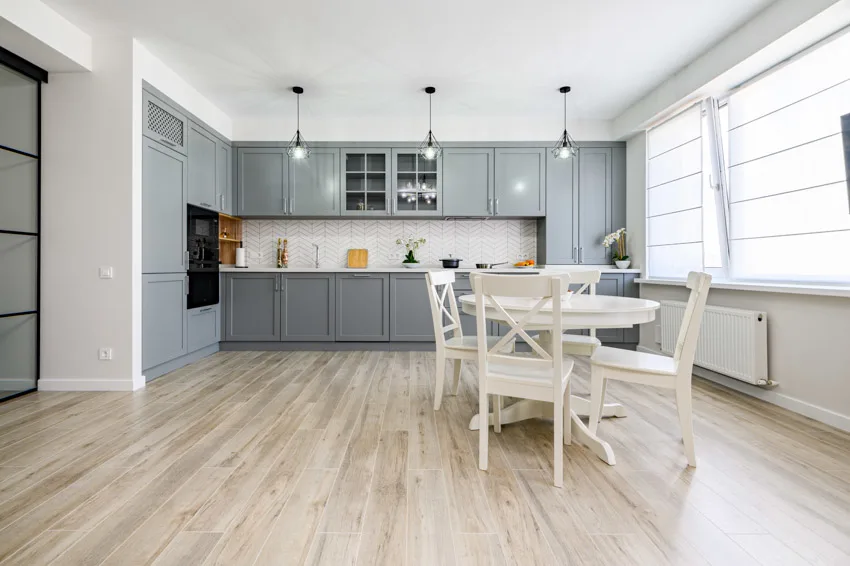 Light granite types of kitchen countertops usually also go with a light backsplash. This contemporary kitchen uses white herringbone pattern ceramic tiles to match the white granite countertop. Ceramic tiles are cost-effective and easy to find, so it is a great option for those on a budget.
Also, using a catchy pattern like the herringbone to your tile layout helps add texture to the surface, adding a little contrast, despite being the same color.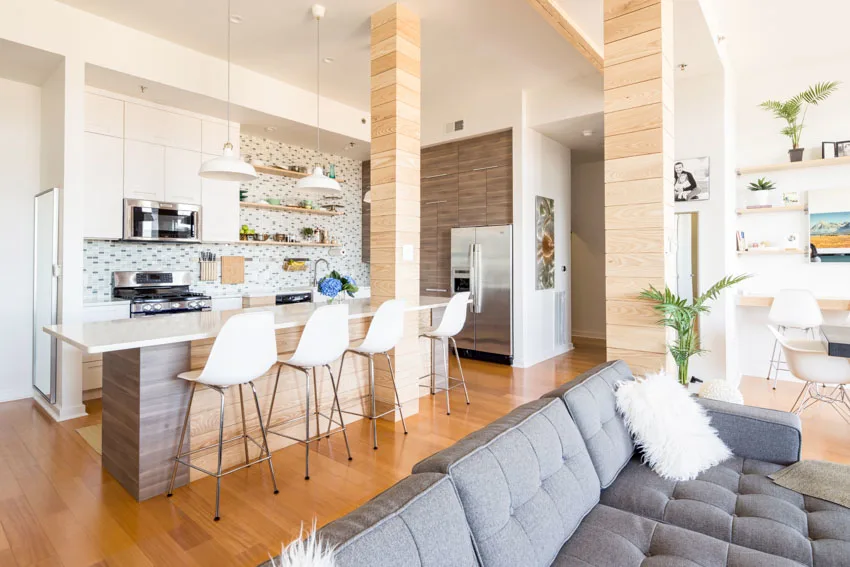 If you don't want to go all white and want to add a pop color to go with your light granite countertop, glass mosaic tiles are an easy way to give your backsplash more color and texture.
For this modern kitchen, subtle green/blue/white color combo mosaic glass tiles were used to complement the cream-colored granite countertop. Mosaic tiles are easy to find and easy to install but do note that they are usually a bit more expensive than regular ceramic tiles.
Backsplash Ideas For White Cabinets And Granite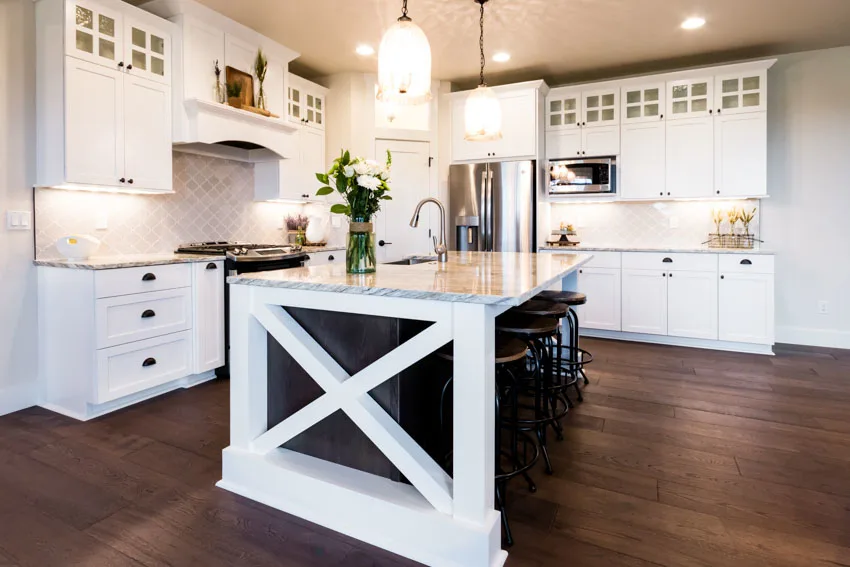 An all-white tile backsplash: This will give your kitchen a contemporary look while at the same time, giving you an all-around white coverage for your kitchen, making it appear bright and airy.
Brick backsplash: Brick is traditional and has an old-world charm and when paired with white cabinets and granite countertops, this will create a rustic old farmhouse look for your kitchen area.
Colored glass tiles: This will provide a striking contrast and a splash of color to your all-white kitchen décor application.
Black natural stone backsplash: Black and white bring in a sharp contrast that's eclectic and dramatic. This will allow your backsplash to really stand out from the layout.
Gray backsplash: Gray is a versatile color that also acts as a neutral. It can work with any color scheme but can work particularly well for an all-white décor scheme. This is the way to go if you want a little bit of contrast without going overboard.
White with gold touches; A white and gold patterned backsplash can be the focal point of an all-white kitchen with a contemporary design. This accent wall is eye-catching without introducing too many busy elements to your kitchen layout.
Backsplash For Black Granite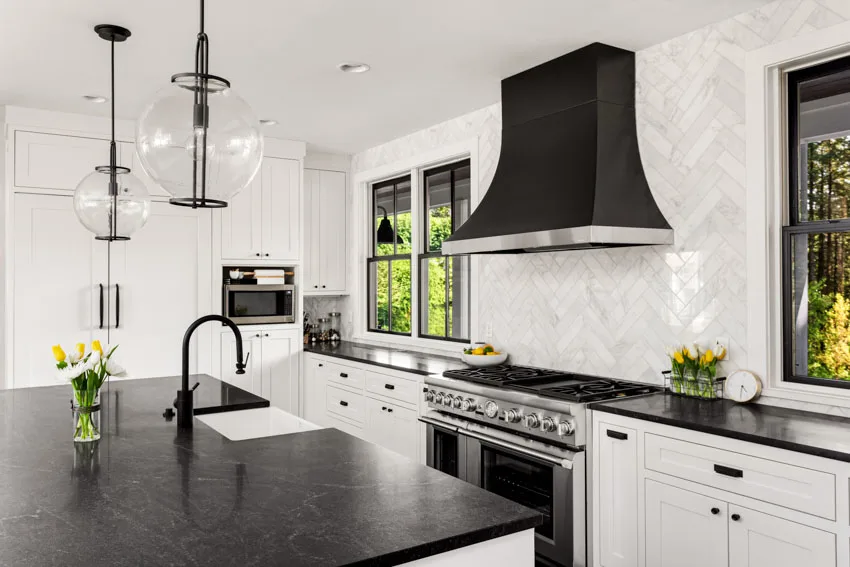 Here are some of the best backsplash options if you decided to go for a black granite countertop:
• White and gray marble backsplash
• Neutral-colored classic stone tiles
• Black granite backsplash for continuity
• Gray or white glossy subway tiles
Backsplash For Black Granite And White Cabinets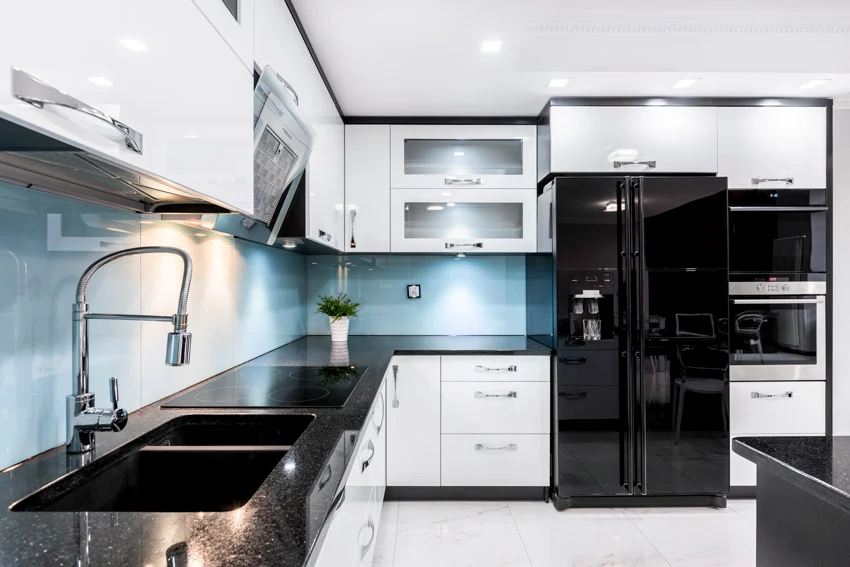 Here are some options you can choose from for your backsplash if you have a black granite countertop paired with white cabinets:
• White subway tiles with dark-colored grout
• Black subway tiles with light-colored grout
• All black subway tiles
• All white subway tiles
• Neutral colored square format tiles
• Light-colored marble slab
• Similarly veined black granite slab
• Elongated hexagonal tiles in grey and other cool colors
• Arabesque tiles for a Spanish décor feel
• Travertine tiles for texture
• Penny tiles for old-world charm
• Herringbone patterned tiles facing upwards for an illusion of added wall height
• Glass tiles for a splash of personality
Backsplash Ideas For Dark Granite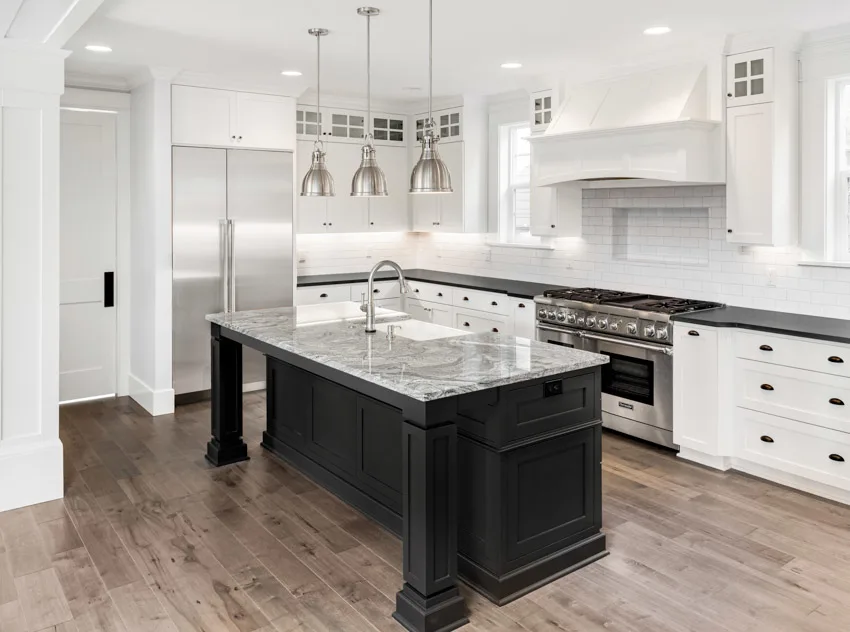 A classic pair with black, or any dark granite countertop: white subway tiles. You can almost never go wrong with white subway tiles as they can match any color of the countertop.
This is among the kitchen backsplash ideas with granite countertops that are low in cost. Do note that it does take longer to layout ceramic tiles, so while you save a bit on material costs, you might have to compensate with labor costs.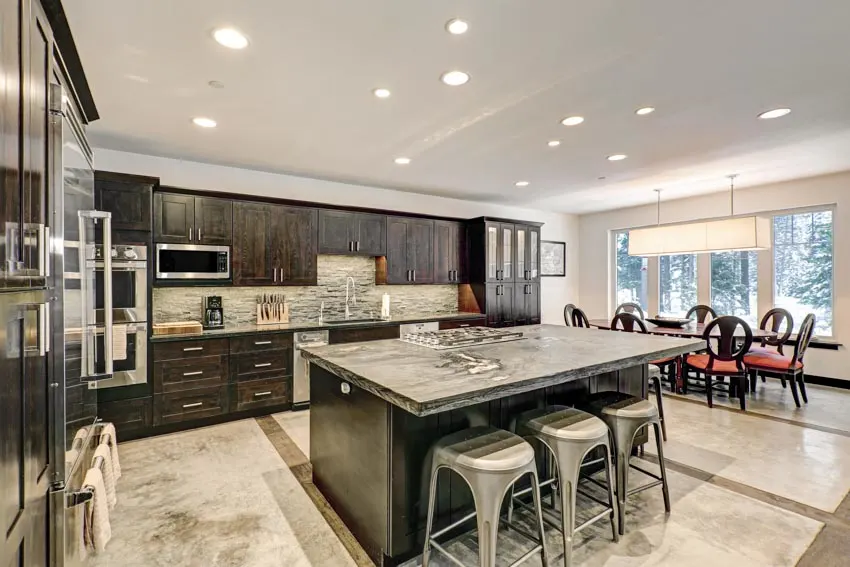 Slate tiles are a unique and uncommon material for backsplash, mostly because of their rough texture that can be difficult to maintain.
However, for certain looks and themes, this is the perfect texture that will add just the right amount of gritty, industrial feel to the kitchen, but still, maintain an elegant feel. Slate tiles especially look good with gray-toned dark granite countertops.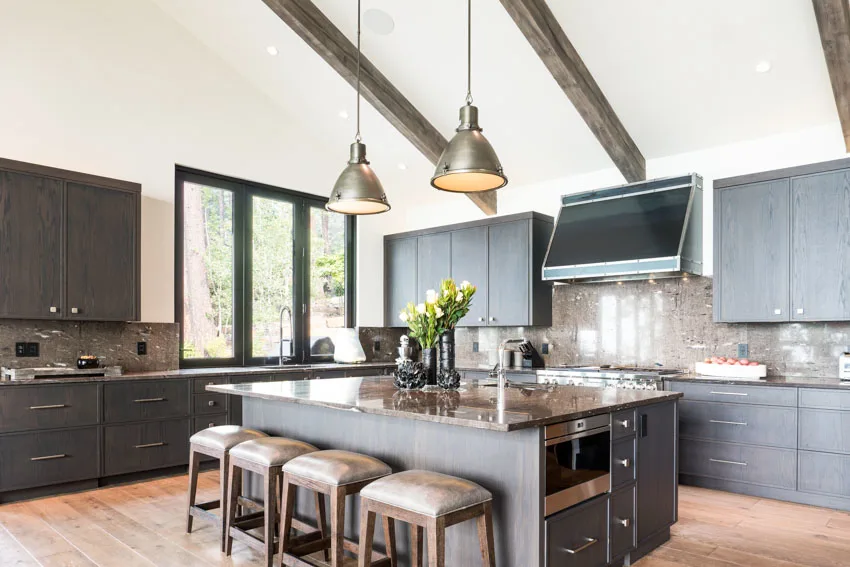 Although not exactly the cheapest option, you can always just use the same color and material for both the countertop and the backsplash. See this modern kitchen for example, as it uses a dark brown granite counter for both its countertop and backsplash.
The uniform color and pattern give it a very elegant look, and functionally, because of less grouting and flatter, smoother surface, this backsplash is easier to keep clean and maintain.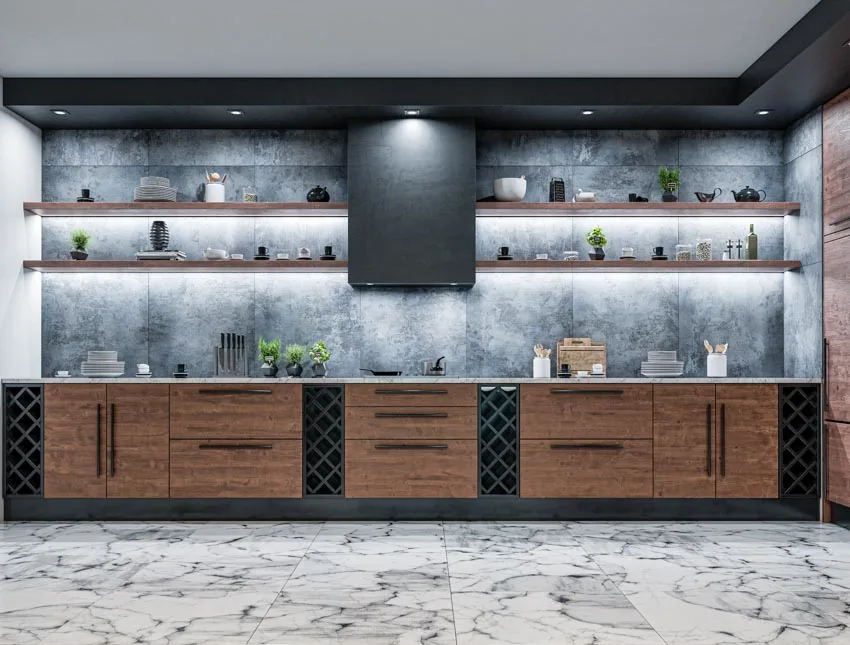 The market is saturated with tons of material options, especially ceramic tiles. Modern ceramic tiles have improved greatly in quality over the years, and some manage to look as elegant as most expensive materials.
Take these backsplash tiles for example; they use large concrete finish ceramic tiles, creating the perfect texture for an industrial-style kitchen.
Backsplash With Speckled Granite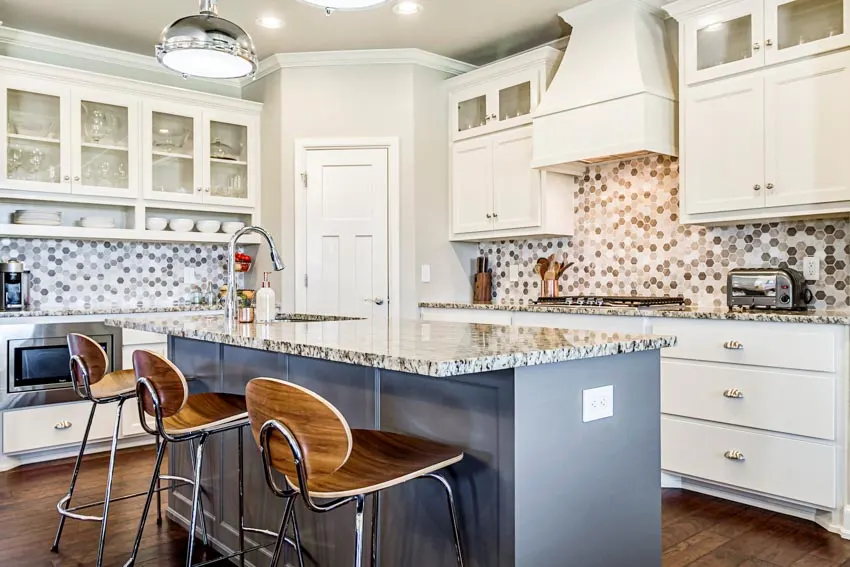 Granite countertops with bold speckle patterns can be a little daunting to match a backsplash with, but you can always go the easy route by matching the color of the granite with your backsplash material.
In this classic kitchen design, the cream speckled granite was paired with honeycomb pattern ceramic backsplash tiles with a combination of colors that matches the tone of the granite, creating a cohesive look that doesn't outpower the unique granite counters, yet makes a statement of its own.
Speckled granite counters can also be paired with a matching tile tone for the backsplash, but with a softer, more subtle pattern to that, they don't clash. See out types of tile layouts on this page.
Backsplash For Brown Granite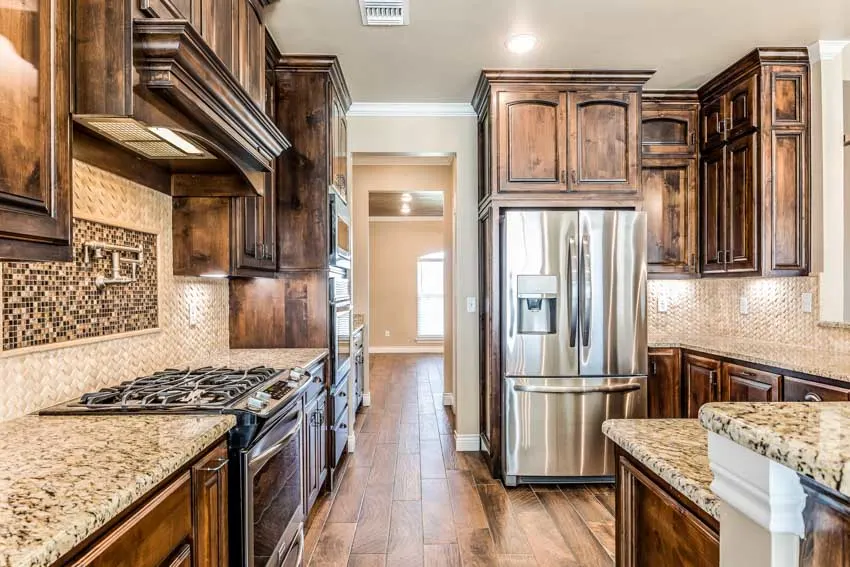 For brown granite countertops, you can play around with colors such as gray, beige, blue, white, or even brown as well for your backsplash colors.
All of these shades can complement your brown granite countertop extremely well as they all play on more or less the same placement in the color wheel and they have the same undertone.
Undertones are essential in ensuring that the colors you bring together don't clash. This allows you to come up with a kitchen design that's cohesive and goes well with each other.
Always think of your backsplash as a transitional medium between your countertop and your kitchen cabinets so consider your cabinetry color scheme as well.
Backsplash Ideas For Fantasy Brown Granite Countertops: Fantasy brown granite is a designer's dream come true. It's characterized by a dreamy swirl of neutrals that happens to be just the perfect mix of grays and browns. It's unique and not one single slab is the same.
Here are some of the best backsplash ideas to pair with it.
• Glass tiles: These can often offer a contemporary design style when paired with granite.

• Gray-blue tiles: This will make the gray veins in the granite pop out.
• White subway tiles: This can make the kitchen space crisp and bright while at the same time still give it a soft touch.
• Brick subway tiles: The features are warm and rustic and they can blend well with a soft color palette for the kitchen décor.
Read more about different beige granite countertops on this page.
Best Backsplash For Busy Granite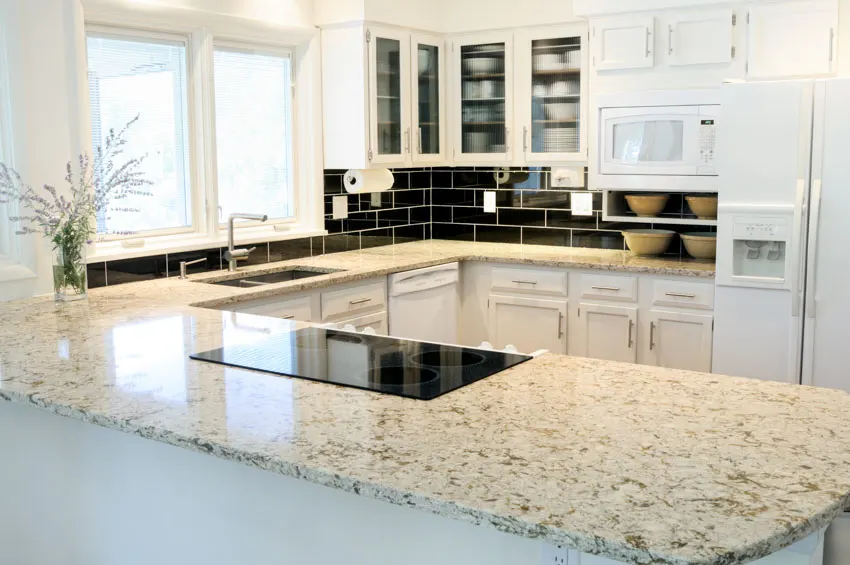 The yellow gold and white of this granite countertop are contrasted nicely by the stark black subway tiles.
If you have a particularly busy-looking granite countertop, the best thing to do when looking for a backsplash is to go for a solid-colored one. Don't stress out too much about opting for a printed or patterned tile.
This is because you would have to go through the added stress of looking for veining and undertone in the granite that could match up with the tile.
Go for a solid backsplash with busy granite instead because there's a pretty good chance that you won't find the perfect patterned tile that will pair up well with your design.

See more related content in our article about frosted glass backsplash on this page.