Our gallery of country kitchen cabinets features a variety of cabinet door styles to help you select the one that's perfect for your interior design.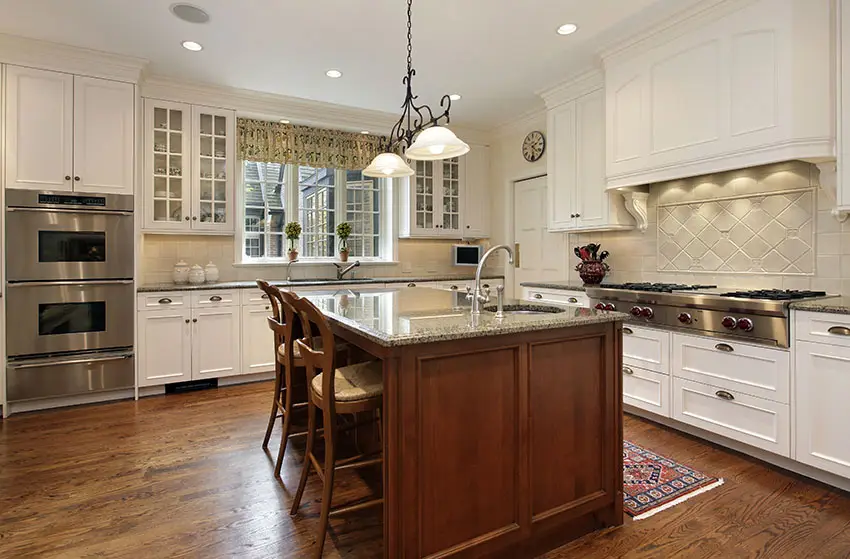 Country style kitchens are best known for the comfort and warmth that they bring to homes. Kitchens which are inspired by the countryside are very nostalgic of homelike coziness, bountiful big family meals and joyous celebrations. It reminds you of your grandmother's kitchen, where culinary traditions are treasured or a comforting rural summer home, where you can enjoy the cheery morning sunlight passing through clear glass windows as you smell the sweet aroma of a fresh pot of coffee.
This kind of design is centered around an inviting warmth that makes guests and family constantly feel welcomed to dine and drink, while putting them in a relaxed mood. In summary, country style kitchens remind you of what it's like to be 'at home".
It is also meant to be lived in, rather than to be showcased as a "display kitchen. It has a distinct down to earth appeal and homespun look, which is brought about by practical design features and comforting design elements.
Country kitchens fall under the traditional style and are characterized by being rustic, old world yet very timeless. Its inspiration may range from the rural French countryside, to a rustic farmhouse design, or an opulent English country home. Other popular country style kitchens are Tuscan country, cottage and country garden. Each of these themes are defined by specific details and finishing touches which make their overall unique, but the foundation still remains solidly "country like" in character.
Wooden cabinetry is considered to be the main feature for country style kitchens. Being one of the major facets of a classic country kitchen, incorporating the right cabinetry design needs proper attention to detail, finishing and color. Below we explore some of the key design features of country cabinets to help you decide whether their warmth and comfort is the right fit for your home. (For the complete list of the most popular kitchen cabinet styles visit our gallery page)

Country Kitchen Cabinets Design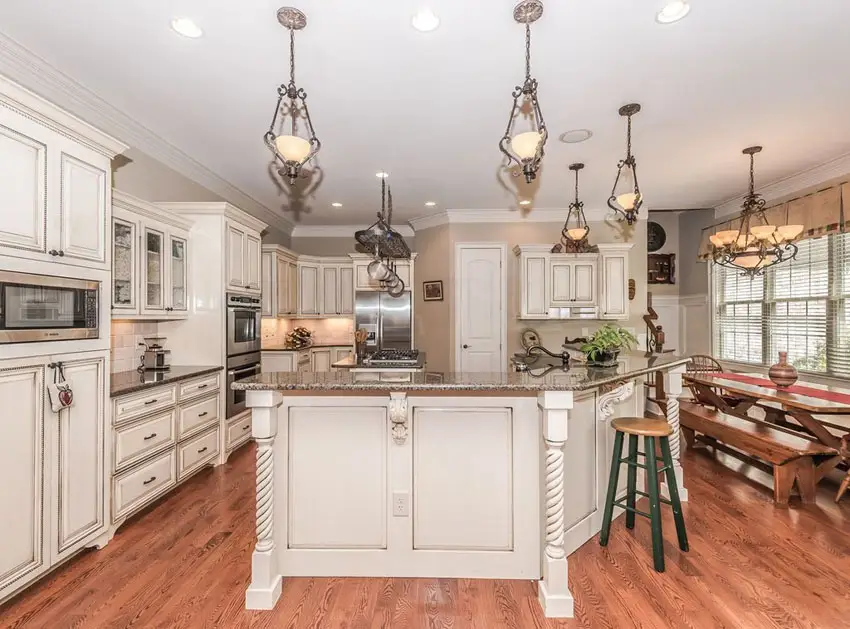 As mentioned earlier, this cabinetry style fall under the traditional kitchen cabinet style and is characterized by a timeless appearance, natural comfort and lived in feel. This type of cabinetry gives off a warm and inviting atmosphere. Unlike modern kitchens which are characterized by a sleek surfaces and a smooth streamlined design, country cabinets are highly ornamental and rustic.
Characteristics of Country kitchen cabinets design
Here are some other characteristics of this cabinetry type
A homespun feel – To project the "lived in" look and comforting home-like feel, these cabinets incorporate handcrafted details that are rustic and simple.
Organic and natural – The style aims to bring the outdoors in through the use of natural materials for cabinetry such as solid hardwoods or repurposed / reclaimed wood.
A clean look – Although ornamented, this cabinetry design is dominated by simple shapes. Often misconceived as crude looking or unsophisticated, this cabinet type has a very clean appeal because of the dominant use of differing shades of white in its color palette.
Makes use of simple details – This cabinetry design is more ornate compared to other traditional styles when it comes to the design elements present in the space. But as for the cabinetry, the details are typically simple and placed along the central panel of the cabinet door or drawer face. For French or English country-inspired cabinet styles, detailing and decorative trims are considered to be major features – think of chunky pilasters, fine carvings and highly decorative details.
A neutral color palette with rich, bright accents – Neutral colors such as white, off white, beiges and shades of brown are abundantly used in these cabinets. Colors that remind us of nature are also very popular cabinet colors. They are generally a combination of bright cool hues and warm wooden tones.
Timeless – Country kitchens, in general, have a long lasting character that is proven to stand up to the test of time. No matter what the current trend is, this cabinetry design has remarkable staying power which offers a classic look for homes.
Materials used for Country kitchen cabinets design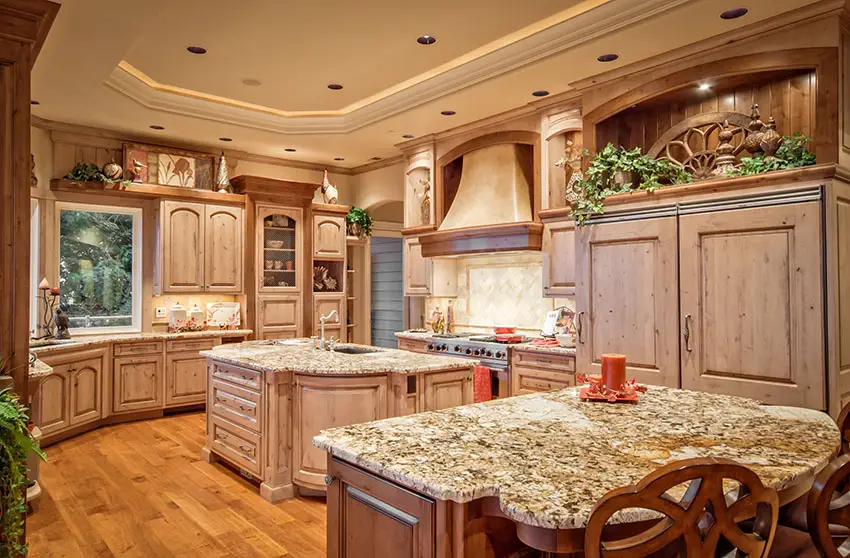 The use of natural surfaces and materials is another key facet of country cabinets. Materials for these cabinets are usually durable, sturdy and long lasting. It typically makes use of solid wood as the primary material. Pines, cherry, oak, maple and hickory are some of the popular wood species for this cabinetry style
Knotty woods, such as pine, are also a classic favorite for these cabinets. Their natural graining pattern and rich details give it a down home vibe. Maple is also another great choice for this cabinetry design because of its light color and bright appearance. Maple is a clear-grained wood with a creamy color. Cherry is also another durable material that can be used for this cabinetry style. Its deep, dark color works for both French and English country cabinets.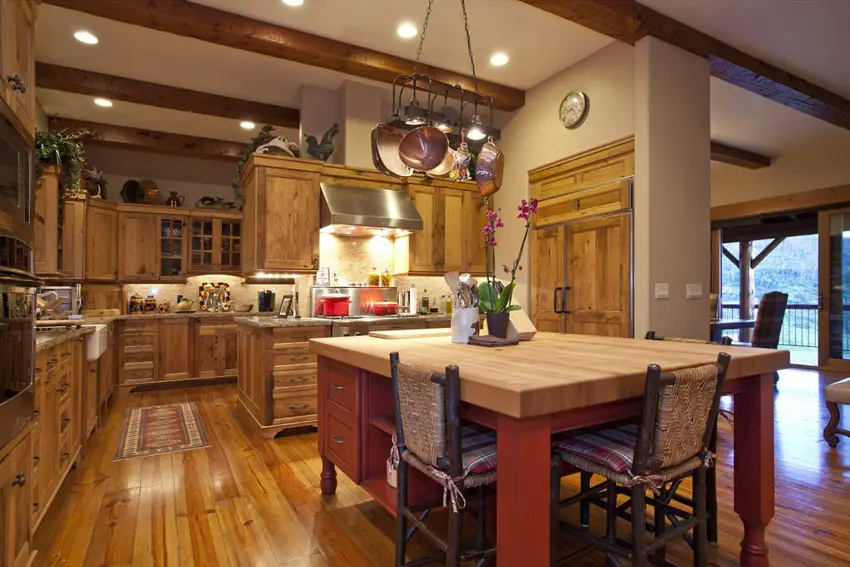 Distressed wood or reclaimed wood can also be used. Whether for cabinet doors or for open shelving units, distressed wood provides for a more rustic appeal. It can also be used as a decorative wooden hood cover for concealing range hood and exhaust pipes.
You can learn more about the species of wood used for traditional kitchen cabinets design here.
Finishes for Country kitchen cabinet design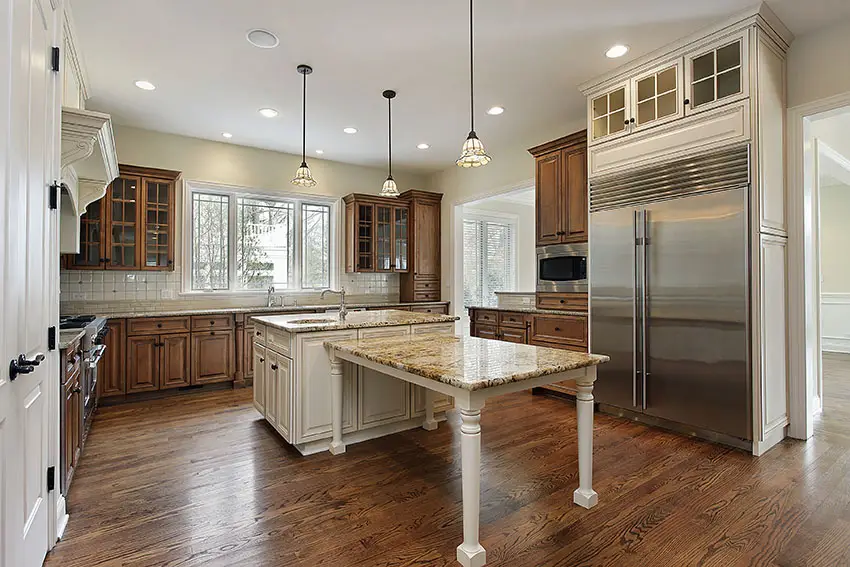 The signature look of country kitchen cabinets includes natural wood in stain or painted finish. However, there are plenty of other finishes to choose from such as distressing or glazing, to name a few.
The natural color of wood is allowed to take center stage in this cabinet style. Darker wood are usually used if you want to create a more formal vibe, while lighter wood are often used to project a more casual effect. They are either left in their natural color or enhanced with stains to show off their graining pattern more.
Another popular finish are paints in varying shades of white. White, off-white, creamy beige painted cabinets can either be left in plain or distressed finish. Distressing and weathering are used for these cabinets if a more antique-looking design is desired. Distressing involves the application of an antique glaze over a sanded cabinet surface to create a timeworn appearance.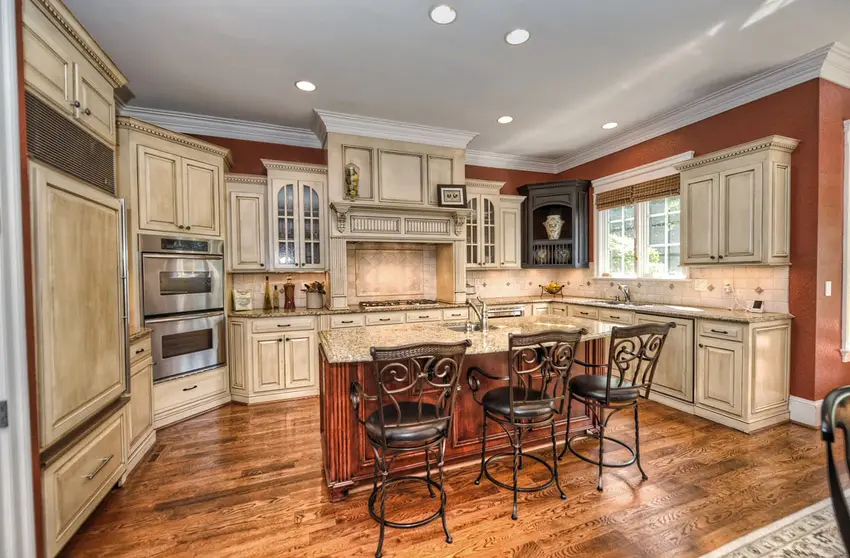 For French country inspired kitchen cabinets which require a richer and more ornate appearance. Painted cabinets may be enhanced through the use of glazing. Glazing involves the application of glaze – a transparent or semi-transparent liquid that acts as a top coat for a stained or painted cabinet, giving it the traditional, antique look of patina. Glazing can instantly transform these cabinets into a time worn look. It also works well, particularly for this cabinet style, which has a lot of decorative trims since it highlights the details by giving it a shadow like effect.
In some cases, both the stained finish and painted finish are combined to create a more appealing cabinet design. One unique finishing treatment that works for country and farmhouse style kitchens are the mismatched cabinetry. Since true country houses make use of what's available, it does not focus on color coordinated elements The overhead cabinets, for example, may be finished with a different color form the base cabinets, or alternatively, a contrasting island is used.
Hardware styles for Country kitchen cabinets design (types and finishes)
Cabinet hardware such as handles and knobs are a highly important features for country-style kitchen cabinets. These small details make a big impact in creating that hand spun, rustic and timeworn appeal for this cabinetry design
In general, traditional inspired cabinet hardware can be used for these cabinets. Finish with antique knobs and handles.

In terms of cabinet hardware finishes, go for antique brass, pewter and brushed nickel cabinet handles as they have a vintage feel. Oil rubbed bronze is another well fitting choice as it has an aged appearance and dark chocolate brown color which works well for both dark and light-colored cabinets. While, if you want a reddish tone to complement white or beige country cabinets, try old copper finish and pair it with matching faucets and fixtures. On the other hand, if you want to take the weathered look and antique vibe to a greater level, opt for Antique iron as it has imperfections and blemishes which suggest a timeworn feel, while its color can dramatically change from light to dark depending on its exposure to light.
If you want a simpler yet functional hardware which blends seamlessly with wooden cabinets, try round wooden peg knobs in natural finish and allow them to contrast with dark wood or painted country kitchen cabinets. Wrought iron and black color cabinet hardware are also another option if you want to produce a subtle contrast for white cabinets.
When it comes to cabinet hardware design, pulls and handles usually have period style inspirations which are ornamented with engravings or intricate motifs like flowers, leaves and scallops. Unlike modern hardware, which has angular forms, the profiles of country style kitchen cabinet hardwares are more graceful. Some other choices for cabinet hardware are knobs, bin and cup pulls and handles with decorative plates.
As mentioned earlier, this kitchen style do not focus on highly coordinated or "matching" decor. To add more interest, drawer pulls and handles for these cabinets may also be mismatched.
Decorative Details in Country kitchen cabinet design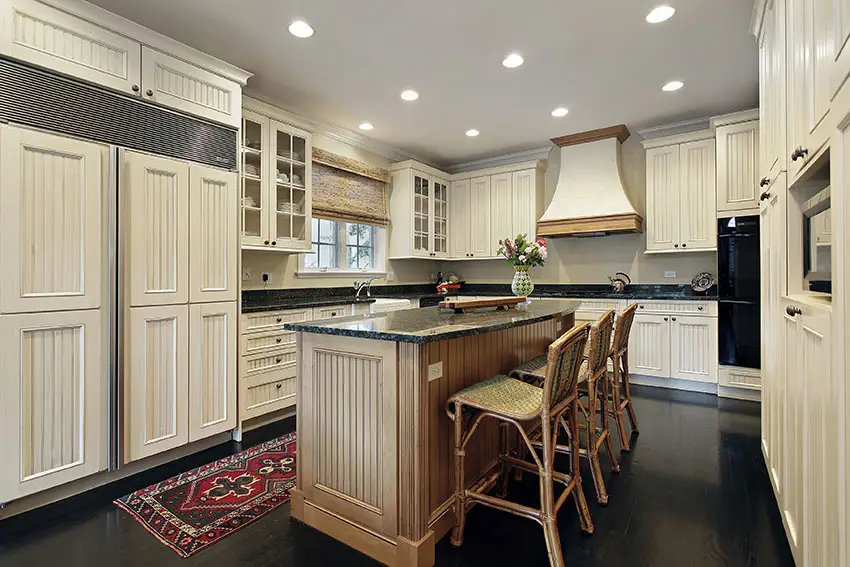 Country style kitchen cabinets are not only characterized by their distinct warmth and comfort, wooden cabinetry, light and bright colors, but also through the use of simple decorative details such as wooden trims or carvings.
The design features decorative moldings which are typically placed along the borders of the cabinet doors central panel, between the overhead cabinets and the ceiling or at the ends of the cabinet ends. Beadboard panels and raised panels are also common for this type of cabinetry. Essentially, any design detail that is used for traditional cabinets, may be used for this cabinetry style.
Depending on the design inspiration that it follows, the decorative details for country style kitchens may either be simple or more intricate. French country style cabinets, for example, may incorporate floral appliques or details which have a pastoral motif. While farmhouse cabinets have simpler and more charming features like a plain decorative trim.
Country Style Kitchen Cabinet Doors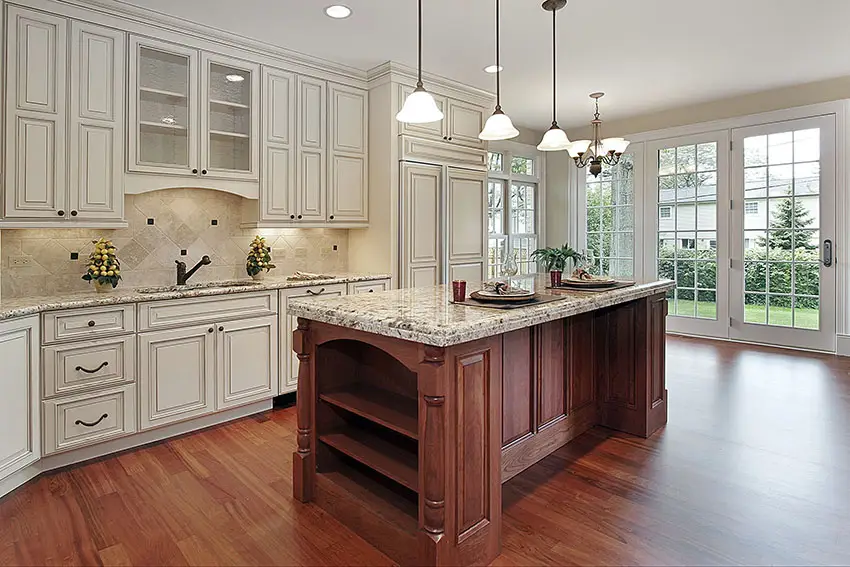 Any traditional cabinet door design works for country style kitchens. Traditional cabinet door styles may be mixed and matched to give a kitchen a distinct "country" feel. These traditional cabinet door styles include raised panel doors, recessed panel doors, shaker style doors, beadboard panel doors and accent doors. The design that you choose will greatly depend on the inspiration that you have, whether it may be farmhouse, cottage, English or French country.
For example, French country style cabinet doors have a highly ornate and intricate appearance. So typically, their designs are more rich and filled with details such as carvings, decorative trims, and motifs. Raised panel doors or cabinet doors which have a bordered central panel that is slightly higher than the rest of the cabinet face components, are common features for this style of cabinetry.
Alternatively, recessed panel doors, or those that have a bordered central panel that is below the rest of the cabinet door face components, can also be used. Cathedral-style doors are typically used for overhead cabinets, while the base cabinets are typically dressed in a less ornate design. Moldings and cornices can also be placed above cabinetry to give them added detail and decor.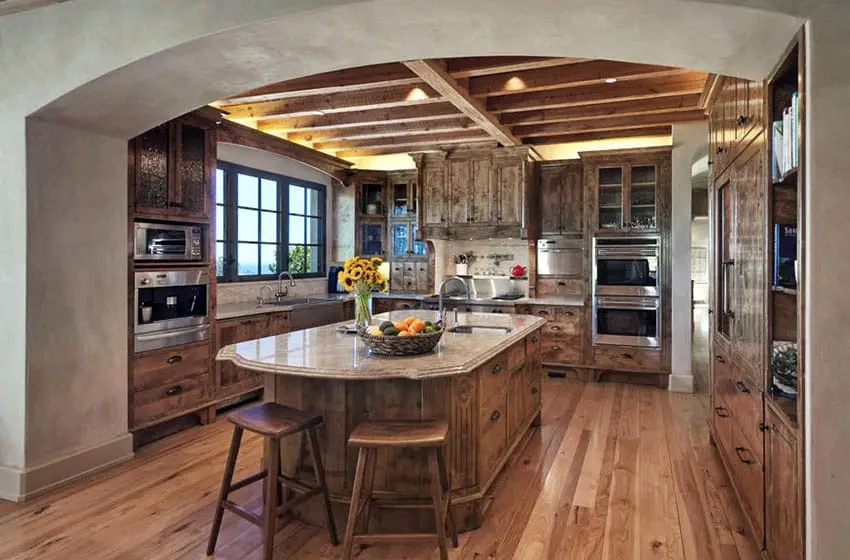 Country farmhouse style kitchen cabinets, on the other hand, have a more toned down appearance, thus the cabinet door designs are less formal and simpler. Shaker style cabinet doors are one of the iconic trademarks of farmhouse kitchen settings. Shaker style kitchen cabinets are a five piece door that has a recessed center panel. Although it can be found in modern and contemporary settings, Shaker style kitchen cabinet doors are a favorite for farmhouse kitchens because of their laid back and simple charm. And also, they contribute a touch of contemporary vibe to a traditional space.
For country cottage kitchen's, beadboard panel doors can be used as the main feature for the space. Beadboard panels are series of narrow wood planks that are lined up vertically and separated by little ridges called beads. This type of cabinet door design renders a rustic appeal and homelike vibe to a space.
Accent cabinet doors are also used to break of the heaviness of a country style kitchen. Cabinet doors with clear glass inserts are often used to display precious dinnerware while giving the kitchen an overall airy feel. Leaded glass inserts and stained glass can also be used for amore artistic flair. In some cases, cabinet doors are also treated with chicken wires to give them a more "country side" and farm like vibe.
Open cabinetry and shelving units can also be used for a cozy feel in the room, while allowing the homeowners to showcase antique and rustic accessories and furnishings. Decorative serving ware, dinnerware and everyday dishes are also displayed in these open shelving units.
Colors for Country kitchen cabinets design
The general color palette is generally rich and bright. It is mainly composed of earth tones and colors that can be seen in nature. Cabinet colors can range from natural light and dark wood colors and browns, to soft neutrals like white, off and white. For those who want a bit of color for their cabinets, soft and mellow colors such as pale blue, mint green, buttery yellow and other pastels may also be explored for paint.
Bright yet sophisticated tones like rose, purple, and green hues are also commonly used. Basically, it brings in any color that you find in nature. The color this cabinetry takes will greatly depend on their inspiration, as each follows a different color palette. These cabinets favor natural wood finishes or are typically painted in white, off-white or beige.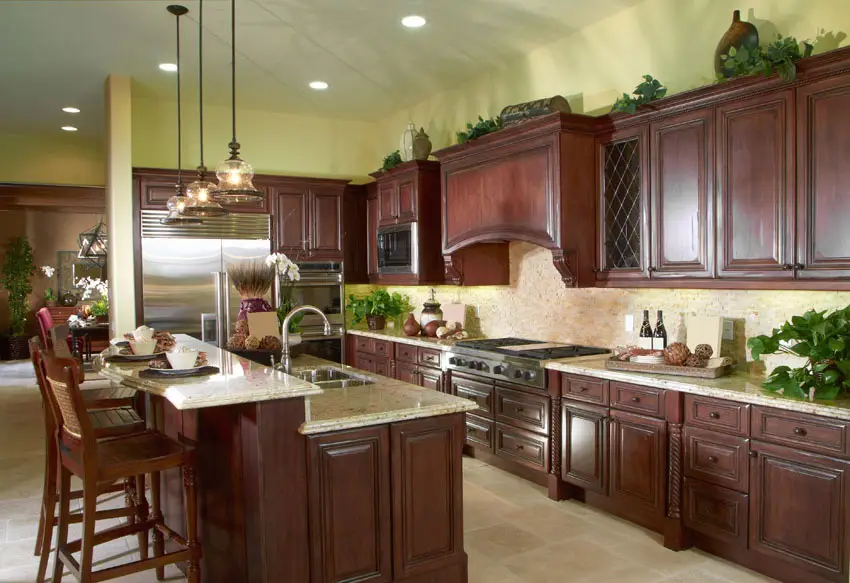 English country kitchen design favors a more ornate design, thus the colors are richer and stronger. Wooden cabinetry with an English inspiration are geared towards deep colored woods like cherry, and is often complemented with opulent nature inspired colors like deep reds, purples and greens. See our gallery of cherry kitchen cabinets here.

Country cottage kitchens, on the other hand, have more mellow and bright colors. The cabinets are typically white or beige in color. For a more cheery and charming vibe, soft pastels like pale blues, light greens, mellow yellows and powdery lavenders can also be used. Yellow is also another popular color for this cabinetry style as it gives off a cheery and relaxed vibe to a space.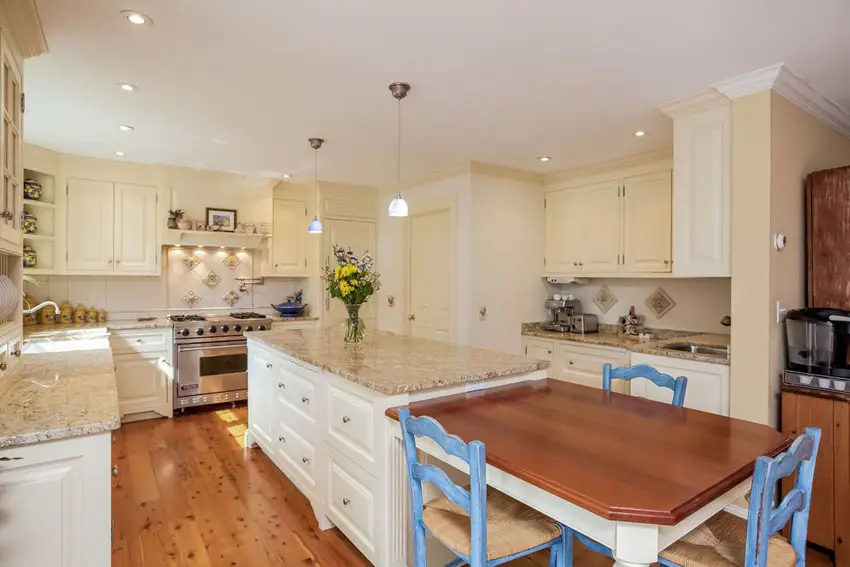 White in varying shades is also popular for country style kitchen cabinets. White cabinets project a relaxed and casual feel, as compared to dark wooden cabinetry. You can learn more about white cabinets as we go on with this article.
Mismatched colors for the base and overhead cabinets are also prevalent in country-inspired kitchens as it adds more interest to the space. Cherry and maple, for example can be combined for the center island and for the perimeter cabinets, or another option would be off-white for the overhead or base cabinets and a soft muted blue for the island.
French Country Kitchen Cabinets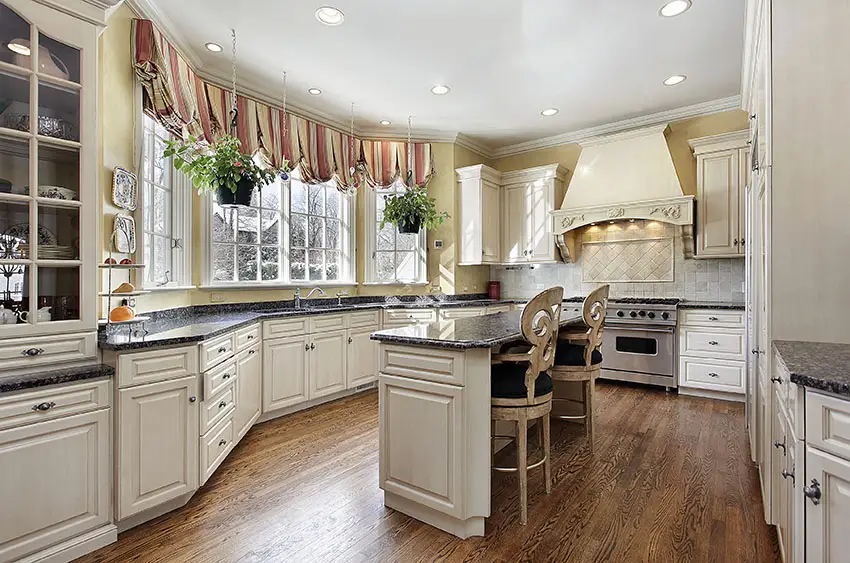 French country kitchens embody the natural character and true beauty of rural France through the use of organic elements which create a comfortable and cozy environment. It is also often coined as an "ode to countryside" living, as all of its elements are distinctively rustic and reminiscent of the outdoors. Think of rustic ceiling beams, wrought iron accessories, ornate wood carvings, wide plank floors, natural stones like terracotta and antique brass hardware.
In general, French country kitchen cabinets are characterized by a heavy, highly intricate Old world feel. Among the inspirations for this cabinetry design, they have the most ornate detail and the most warm color palette. French country kitchen cabinets also focus on fine craftsmanship and a strong. sturdy build.
These cabinets out premium on ornamentation. It typically makes use of intricate wood carvings which are reflected on the cabinet door and drawer faces. The door styles are usually raised panels, recessed panels or accented by decorative trims around the center panel. For more ornate designs, carvings of different traditional motifs are used as an accent. In addition to the decorated cabinet door faces, the design of French country cabinets are also accompanied with corbels, cornices, moldings, legs and posts, for a richer and more opulent feel.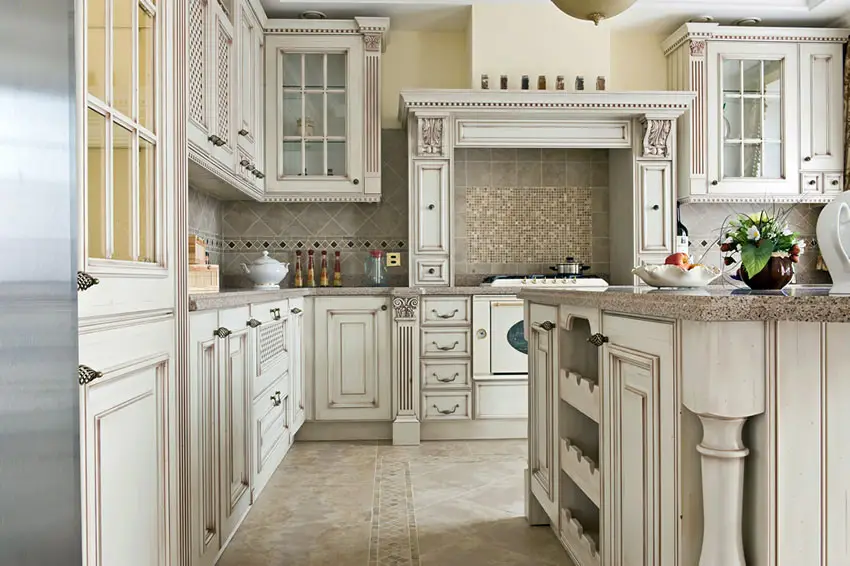 Alternatively, leaded glass and wire grill door panel inserts are also commonly used for French country kitchen cabinet doors for a more open and brighter design. In addition to this, French country kitchens are also geared towards furniture-like cabinetry for a more "lived in" feel. These cabinets usually have details that can be found in antique furniture like legs and posts for the center islands or decorative feet for the base cabinets.
And since the French country style celebrates the joy of comfortable living and authentic cooking, culinary equipment are typically displayed as part of the cabinetry design. Pots, pans, and cooking utensils are usually hung on wrought iron racks over the center island, if not displayed along the cabinets. Open shelves are also typically incorporated in French kitchen cabinetry design for showcasing tools and fine dinnerware.
This kitchen deisgn abundantly make use of natural materials like rough stones and solid hardwood to create that authentic atmosphere. The woods for French country cabinets often have rich colors which are left in their natural state or enhanced with wood stains. Some examples of common species of wood used in French country kitchen cabinets are oak, maple, cherry, and pine.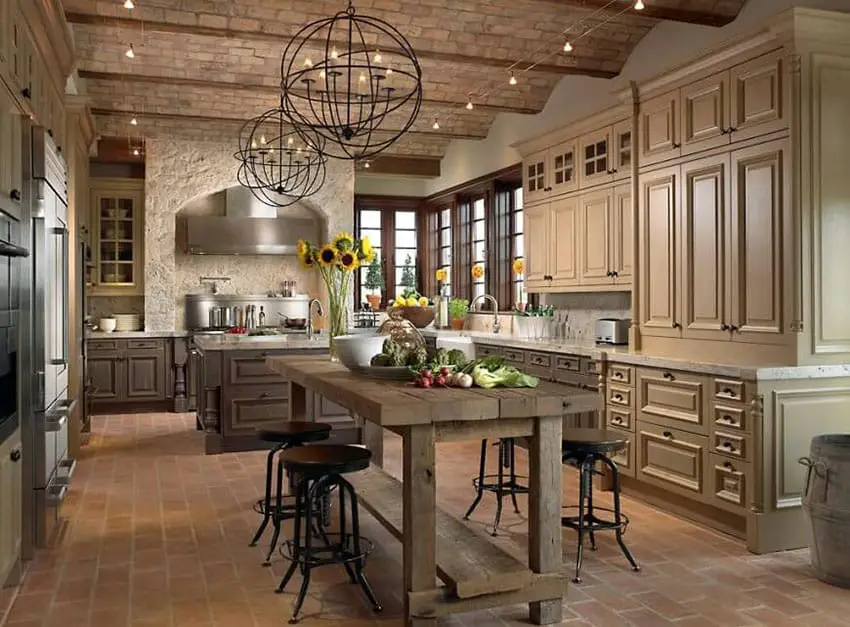 The color palette for French country kitchen cabinets are dominated by earth tones, specifically shades of brown which are often reflected through the use of deep and rich hardwood cabinetry in natural or stained finish. Other neutral colors which are substituted for natural wood are white off white and beiges.
Complementary colors for these cabinets are also derived from nature, which are reminiscent of the French countryside, so these are usually rich and bright. Charming shades of lavender, cool tones of olive green, cobalt blue or warm shades of golden yellow and deep reds are typically used as accents to add life to dark French country kitchen cabinetry.
The cabinet hardware also reflect an antique feel. It usually has a weathered finish and is adorned with decorative hand pulls or backplates. Some cabinet hardware finishes for these cabinets are black, Venetian bronze, old antique, oil-rubbed bronze, and antique brass.
To stay true to its roots and inspirations, the elegant and authentic look of this cabinet style are typically complemented with other rustic design elements such as a honed marble or granite countertop, rich floral patterned fabrics, highly appealing fabrics and decors that have a culinary inspiration like fruits, bread or wine in a basket.
Country Farmhouse Kitchen Cabinets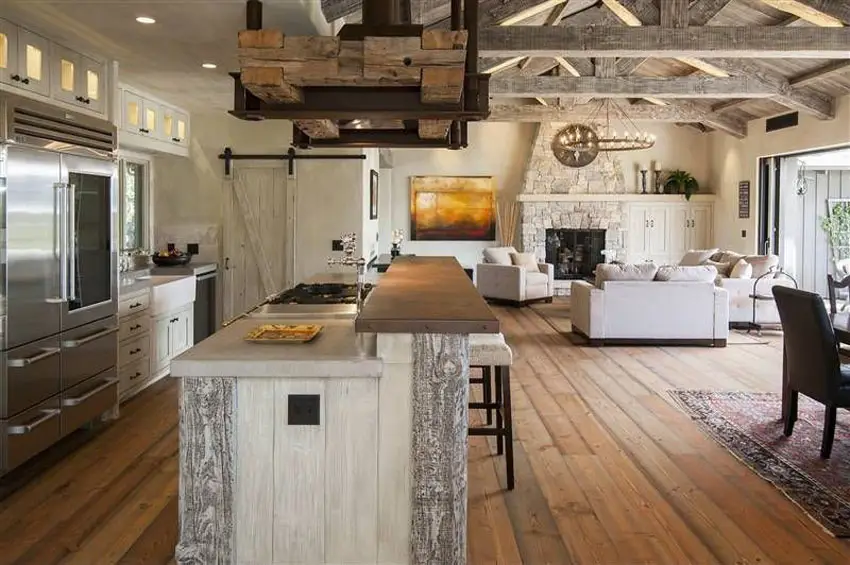 Compared to French country kitchens which are usually dark, heavy and antique looking, Country Farmhouse kitchens project country comfort through a more laid back vibe and a "down home" atmosphere. In general, it has a very welcoming feel and a strong homey or home like setting. Some common elements for Country Farmhouse kitchens are wooden kitchen cabinets, light colored natural stone countertops, reclaimed wood accents, rustic wooden utensils, mason jars, plaid and gingham cloths, antique farm equipment , farm animal decors and artworks.
Country Farmhouse kitchens are less traditional looking and have a lighter feel compared to the opulence and heaviness of French Country kitchens. It is less formal and gives guests a welcoming and highly comforting feel.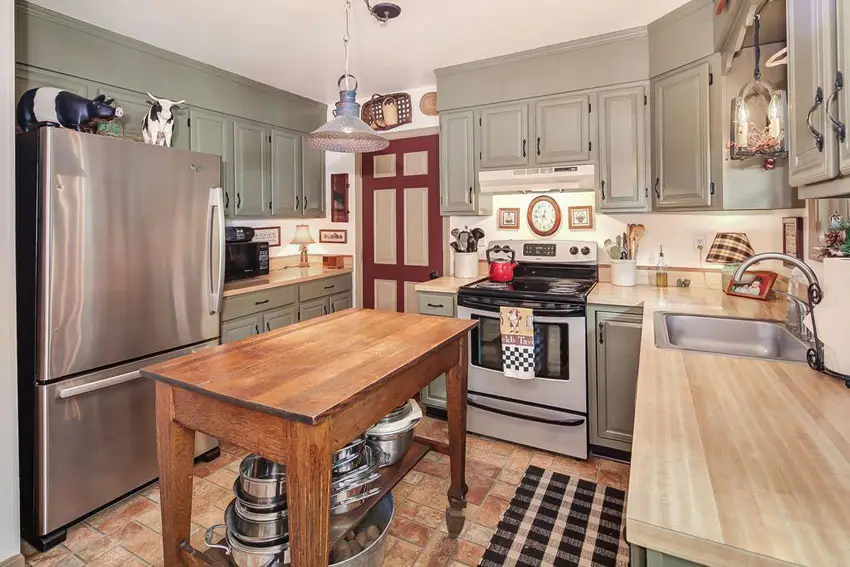 One of the main attributes of Country Farmhouse kitchen cabinets is its "unpretentious design", meaning it is straightforward and minimally decorated. It does not put premium on ornamentation, but gives priority to comfort and simple living. Some common cabinet door designs featured in Country Farmhouse kitchen cabinets are Shaker style doors, flat panel doors, raised panel doors and recessed panel doors.

Shaker style doors are trademarks for Country Farmhouse kitchen cabinets as they conform to the simplicity and casual feel of farmhouse kitchens. Country Farmhouse kitchen cabinets also focus on study construction and ensure that the natural wood components are perfectly fitted well to each other. Rich detailing and carvings featuring farmhouse scenes and pastoral settings are also added as a touch of decor to the cabinetry.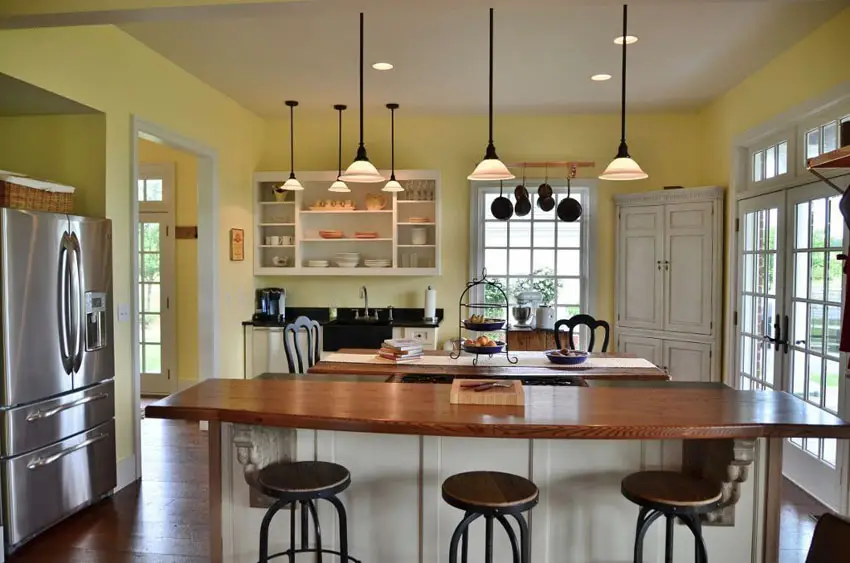 As part of country farmhouse kitchen cabinetry, cooking implements are also displayed rather than stored inside the cabinets, so open and exposed shelves are often incorporated into the design. Another important design facet is the sink.
Classic or old fashioned porcelain and stainless steel farmhouse sinks which feature a deep, wide shape are incorporated in the base cabinets. These sinks also often function as the main focal point for these cabinets. Another notable complementing decor are butcher blocks or wooden countertops which add to the natural coziness of the space.
This design also abundantly makes use of natural materials like hardwoods and stone. These cabinets are typically constructed from high-quality solid wood like cherry, oak, maple, redwood, fir, and pine. Pine is the most commonly used wood species for these cabinets because of its golden yellowish tinge and natural knotty appearance, which makes it a perfect match for the authentic feel of farmhouse kitchens.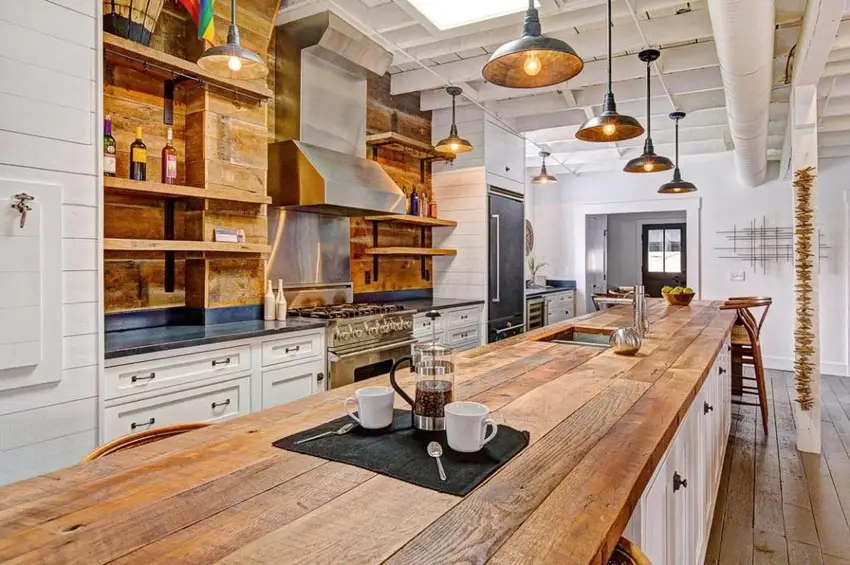 Reclaimed wood is also another popular material featured in country farmhouse kitchens. Salvaged materials bring in a time worn feel, which makes these areas feel more lived in. Old woods are upcycled and put into new use as accents, work counters, ceiling beams, flooring, shelving, hood covers or in some cases, as cabinet doors. Natural imperfections, cracks or blemishes of reclaimed wood are also prized for these spaces as they give the cabinetry a more weathered appearance.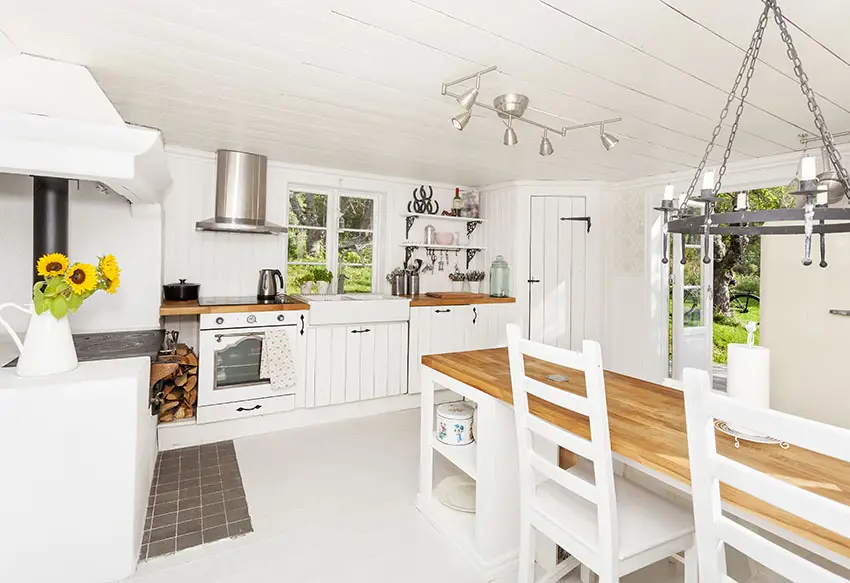 The general color palette for country farmhouse kitchens are lighter than French country, thus the ambiance is more cheery and easy on the eyes. The cabinetry used here are often left unfinished in their distinct natural colors or enhanced with wood stains.
While in some cases, they are also treated with a painted finish using neutrals like a bright white color, creamy beige, or muted colors like cool grays, taupe or light mocha. For a more livelier feel, Country Farmhouse kitchen cabinets can also be painted with bright, charming pastels like cool greens, refreshing pale blues, a mellow shade of sunny yellow or powdery lavenders.

A classic combination for wooden country farmhouse cabinets are painted crisp white walls as they stand out more when placed in a light background.
Country Kitchen with White Cabinets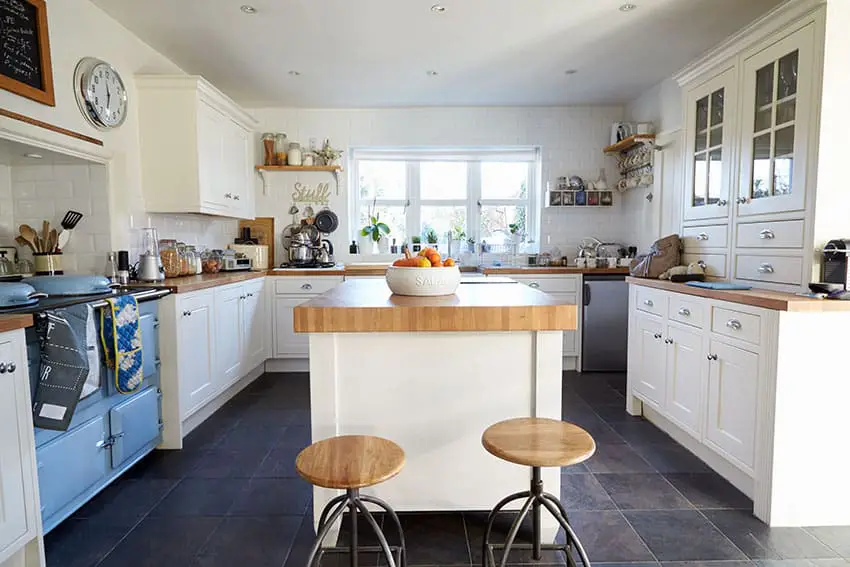 White cabinetry is another perfect alternative to stained or naturally finished wood cabinets. If you like the ornate nature of country kitchens but want to deviate from the heavy feel that traditional rich wood projects, white cabinets are the best option you can explore. Compared to dark, rich wooden cabinetry, white cabinets have a more toned-down and laid-back vibe.
Wooden cabinets can sometimes be too heavy on the eyes, and can make a small space feel more cramped, but white cabinets function the other way around. They bounce off natural light better, thus creating a more illuminated, fresher and airy feel for spaces. It can also create an illusion of a bigger space which means it works well for small country kitchens.
Crisp, white cabinetry also is a good way to make these kitchens less traditional looking. It can significantly make the space feel more transitional, and provides diversity when it comes to mixing and matching decor, accessories and furnishings. With white cabinets, you can explore a lot of options for countertops, backsplash material, flooring, wall colors and cabinet hardware. A neutral backdrop also creates a flexible setting for introducing splashes of color throughout your palette.
Another major advantage of white cabinetry is that it will never go out of style. In general, white is a timeless color and proves itself to be a classic choice which can stand up to the test of time.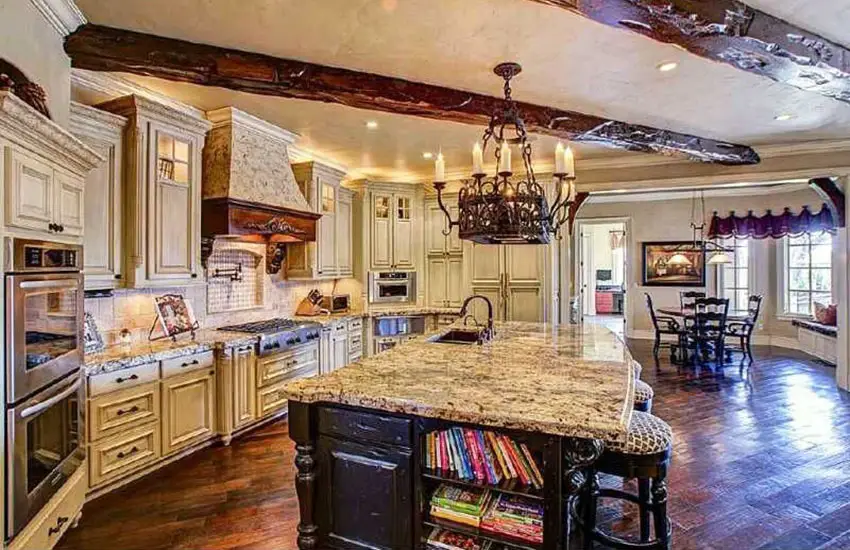 Rather than using a ultra bright shade of white for these cabinets, opt for creamier tones such as beige as brighter whites tend to fit the modern setting better. For a more old-world feel, distressed or antique finish is typically used in order to make white cabinetry appear more weathered and timeworn. Meanwhile, to fit a more casual setting, plain finishes with antique hardware are more fitting.

Contrary to popular belief that white can sometimes be boring, dull or too plain, white cabinetry provides interest and the perfect amount of balance to the heaviness of traditional settings. Their beauty is often enhanced with exquisite ornamentation and finely crafted details, thus providing more visual interest to the overall look of country-inspired space. The use of rough textures and complementing natural materials can also help enhance the rustic flair.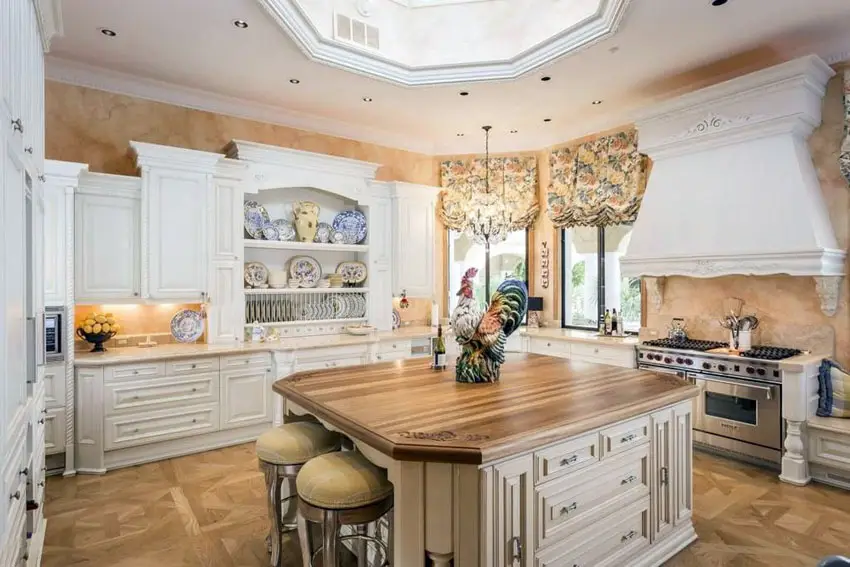 White cabinets also give off a strong country flair, especially when paired with the right type of millwork and details like crown moldings, glass inserts and decorative trims. To produce a more rustic inspired setting, pair white cabinets with light natural stone counters, such as limestone.
Country farmhouse kitchens, on the other hand, usually feature a classic white cabinet and butcher block or wooden countertop. White and brown are considered as a "favorite" in the farmhouse kitchen design scene because of the natural coziness that they render to a space.
Related Kitchen Design Galleries You May Like:
Country Kitchen Designs – White Country Kitchens – Craftsman Kitchens – Rustic Kitchen Designs