Here's our guide to the pros and cons of black kitchen cabinets to help you find out if this design trend is best for your home.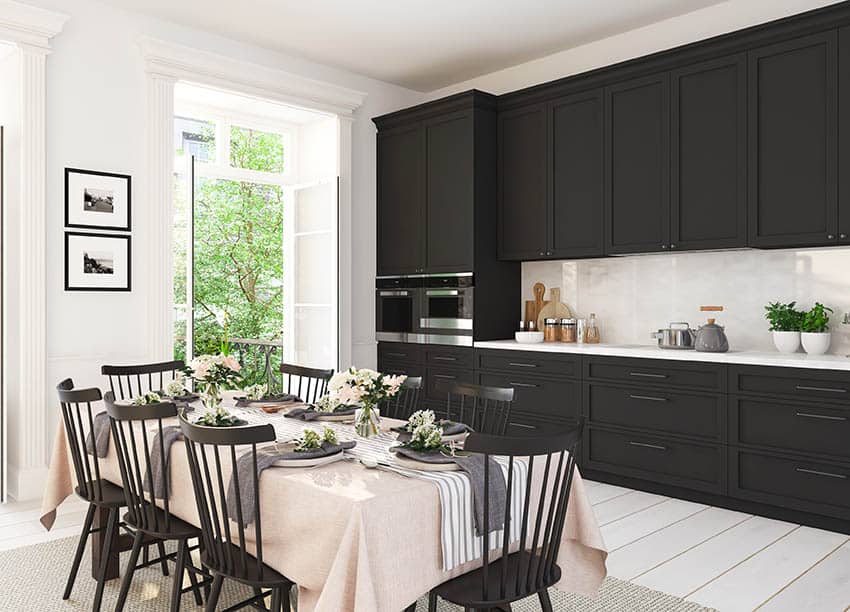 One of the most popular trends in kitchen design nowadays is the use of black kitchen cabinets. While traditional kitchens usually have light colored kitchen cabinets, darker kitchen cabinets are a design trend that you should really consider.
Kitchen cabinets are an often neglected element of kitchen design. People think a lot about how much storage space their cabinet system provides, but not many people think to hard about the color.
The color of your cabinets can affect the mood and the overall look of your kitchen. It can also affect the future resale value of your home. These are just a few factors that you should consider before installing black kitchen cabinets.
What Are The Pros And Cons Of Black Kitchen Cabinets?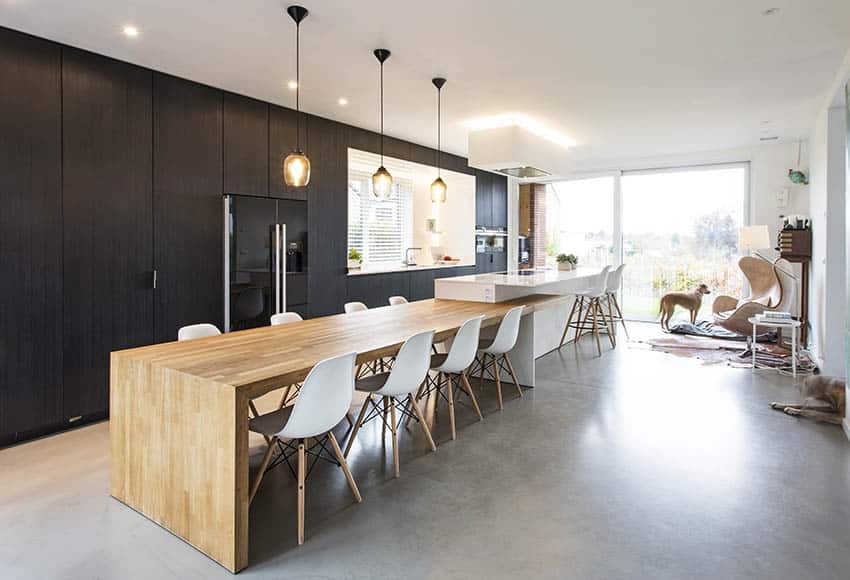 Black kitchen cabinets are an easy fit for almost any kitchen design style, but in the end, you need to come to your own decision as to whether they are indeed the direction that you want to go.
In order to help you come to an informed decision, let's break down the pros and cons of black kitchen cabinets.
Black Kitchen Cabinet Pros
Black kitchen cabinets are an essential element of a dark kitchen and dark kitchens are favored by those who want to create a dramatic and sophisticated looking space.
At the same time, dark kitchens can seem more intimate and interesting as they are less sterile then white or light-colored kitchens.
Black or dark colored kitchen cabinets don't show grease or smudges as easily as light-colored kitchen cabinets. If you are a neat freak or someone who doesn't have much time to spend cleaning, this is definitely a plus.
Black Kitchen Cabinet Cons
As we noted, dark kitchens are in right now and considered trendy and sophisticated. If you install black kitchen cabinets and other fixtures in your kitchen, you could end up "dating" your room. This could affect the resell value of your home if dark kitchens go out of style in the future.
Dark colored elements tend to make a small room look smaller. So, dark kitchens with black kitchen cabinets can seem cramped.
Another drawback to a dark kitchen is that you will need more lights or a stronger lighting system. A kitchen with dark cabinets and other design elements won't really reflect natural light so it will tend to be a little gloomy.
Are Black Kitchen Cabinets a Good Idea?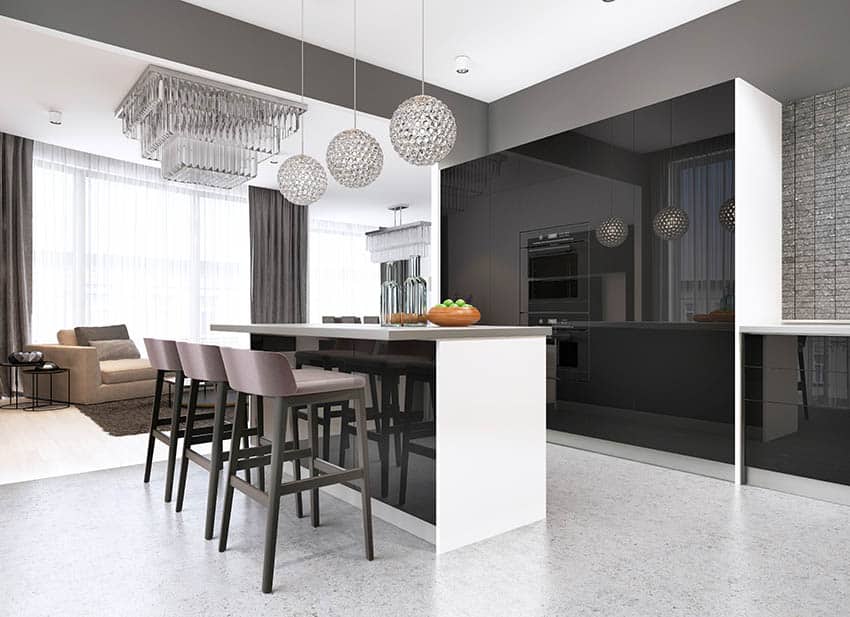 Darker cabinets are a great way to create a feeling of luxury. Dark, polished finishes add a sense of depth to a room. So if you are looking to create a sophisticated looking kitchen, black kitchen cabinets are a good idea.
Light or white kitchen cabinets are classic kitchen design element, so if you want to create a kitchen space that is interesting and unique, pairing them with black kitchen cabinets is a good idea. You can see pictures of black and white kitchens here.
At the end of the day, the decision to use black kitchen cabinets will depend on the type of kitchen space that you want to create.
Should I Get Dark Or Light Kitchen Cabinets?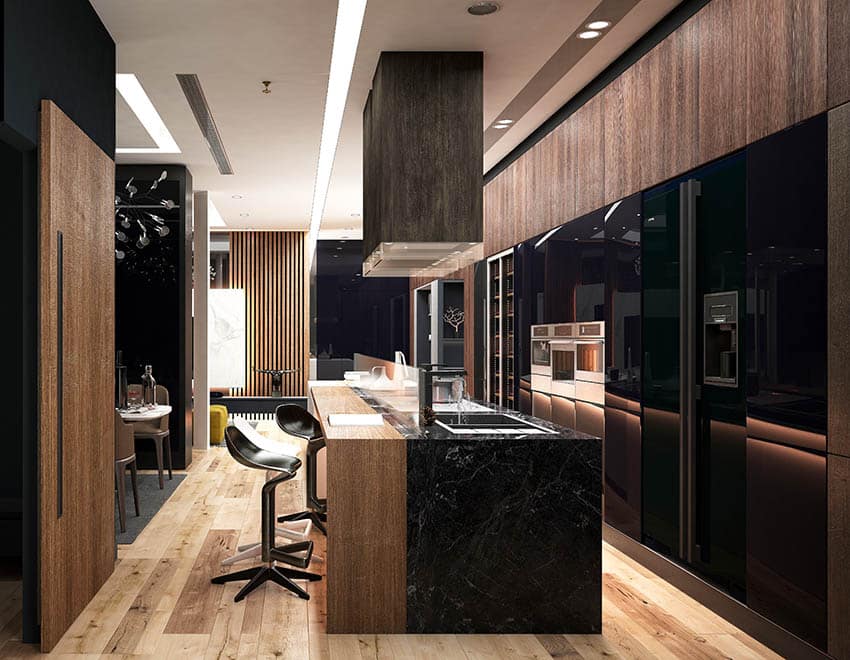 Modern kitchen with black cabinets and black quartz countertops.
When making the decision between dark or light kitchen cabinets, the three most important things to consider is the overall design, the room size, and the mood that you want to create.
Some kitchen styles will look better with light kitchen cabinets, such as if your going for a classical design such as a cottage or farmhouse kitchen. If you are going for a more modern and sophisticated style, a sleek set of black kitchen cabinets would be more appropriate.
If you have a small space, you might want to use light kitchen cabinets to make the space look lighter and airier. Dark kitchen cabinets might make a small space feel cramped and gloomy.
The color of cabinets, actually the color scheme of your room as a whole, should reflect the mood you want to create. Pick colors that you like and match your personality and will fit the overall "air" you want your kitchen to have.
Do Black Cabinets Make a Kitchen Look Small?
As we noted before, black or dark kitchen styles can make an area seem gloomy and may mute any natural light that comes in.
Black kitchen cabinets can make an area feel more cramped, especially if the lighting of the room is bad.
If you have a small space, but still really want to use black cabinets, it's probably best to have a minimalist overall look for your kitchen. Sleek black cabinets and an uncluttered design could help keep the room feeling spacious.