Welcome to our transom windows design guide including what they are, popular sizes & styles for the home.

Transom windows are very commonly found in older and historic structures due to their architectural importance dating back to the 1800s when air conditioning was not yet invented.
Transom windows served aesthetic and functional importance to the doors as well as window lintels. Back when these windows were a norm, they were usually used to allow ventilation between the outside and the inside, and also within rooms and other spaces.
However, in today's times, it is rare to find transom windows that can be completely opened, instead, fixed ones are gaining momentum.
What is a Transom Window?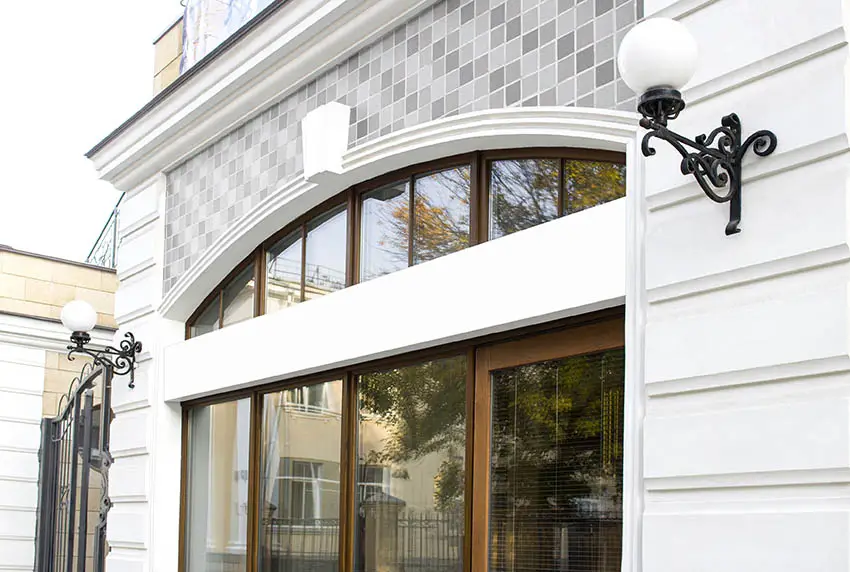 The Transom is the architectural term for horizontal beams that run across the building over the door and window frames – right above which transom windows are placed.
They come in various design styles, shapes, and sizes – however, the name is strongly based on the iconic location of the windows.
These windows are a great option if you want to invite natural light or even sunlight indoors and can be installed on the interior as well as the exterior walls. For security and privacy issues, these windows were installed up high near the ceiling.
Now, if you're wondering how these would be operated – well, there are metal rods on hinges that allow the window to be operated very easily from the ground level (not in the case of fixed transom windows).
Transom Window Sizes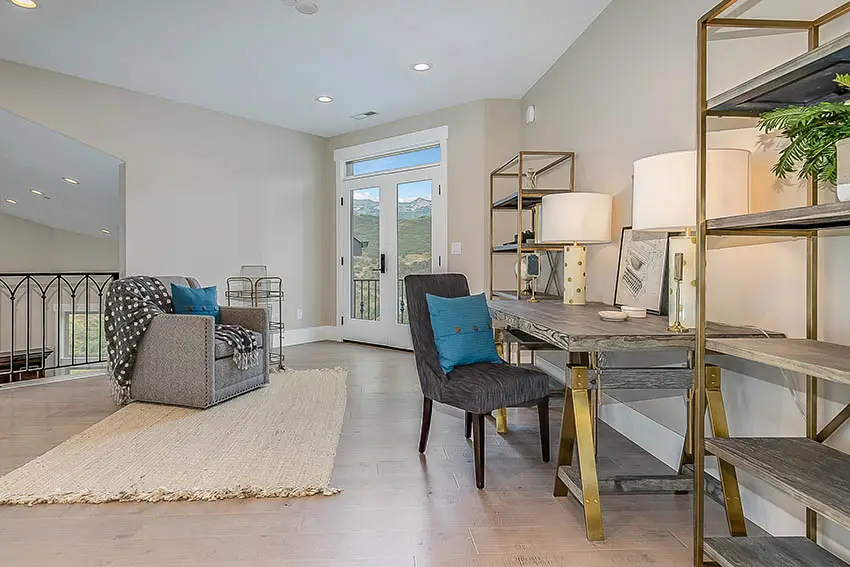 Transom windows have no one particular size and can measure as small as a few inches, to several feet in length. They could be custom-built depending on your personal requirements or simply in-built.
You could either have a rectangular, square, circular, or arched window – sizes roughly varying from 20" to 72" for the width and starting from 6" to more than 15" in the height – but that greatly varies on custom-made homes and builder homes.
The transom window casing is often between 2″ to 6″, but can be as small as 1″ or several feet in height if desired. Read more about standard window sizes here.
Types of Transom Windows
Transom windows come in a variety of types and styles. Depending on the design style, the most traditional window style is arched or semi-circular with dividers separating the panes in equal lengths and radius.
If you have a modular and modern style, you could choose from rectangular or square transom windows that can be custom-made to fit certain spaces.
In the case of angled or pitched roofs, you could even choose an A-angled transom windows or even semi-circular windows.
Another type of transom windows are fanned windows. They are fan-shaped and circular which are quite a decorative feature for traditional and transitional-style homes. These are either hinged or fixed depending on the swing directions and functions.
Highly inspired by gothic architecture, you could either choose semi-circular on the top and rectangular paneled window at the bottom.
Some windows also create a paneled frame with symmetrical-like, grid-like, or no patterns at all. Nevertheless, they look elegant, timeless, and sophisticated in each and every style.
The cost of a transom window varies depending on its size. However, the average cost runs from $200 to $600 as a set.
Fixed Transom Window
Fixed transom windows are the ones that can't be opened. These fixed windows can be either placed above the door or along the doors and windows to let in ample natural light into the hallways.
Depending on the panes and the dividers, each glass piece is fixed to create a particular decorative pattern.
Highly recommended for modern, transitional, and traditional styles, these windows can be used on the elevations, main entry hallways, backyard doors, windows, and patios. A similar design are clerestory windows which are positioned on the upper part of a wall.
Transom Window Above the Door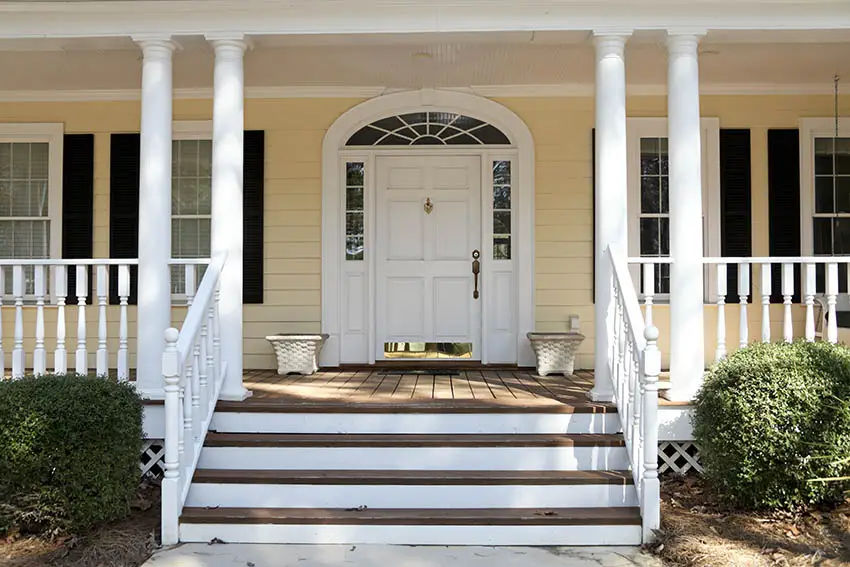 Transom windows above the door help in letting in ample natural light into the room. For security and privacy issues, these windows are used for ventilation.
In the case of garages and basements, these windows are used up near the ceiling to light up the dull and dingy inner spaces.
Arched Transom Windows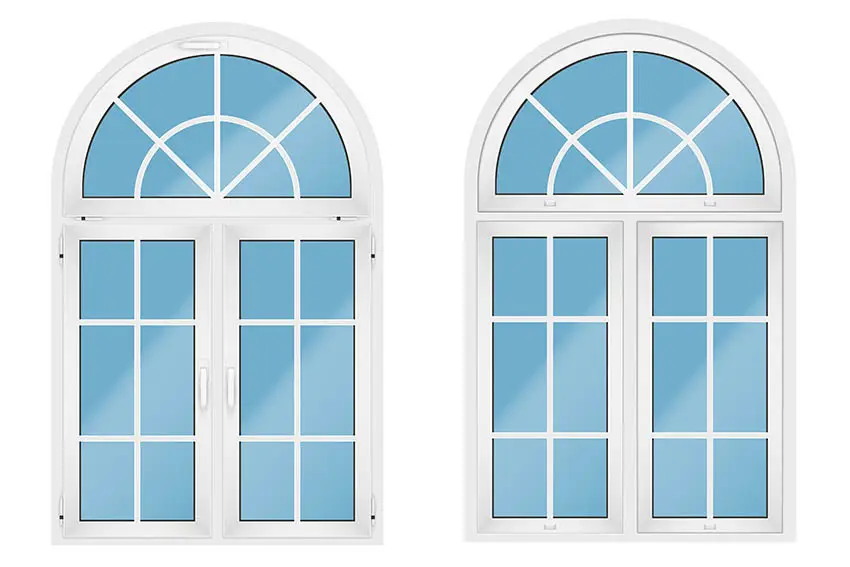 Casement windows with fixed transom windows above.
These semi-circular, arched windows are great decorative elements for your home facades. They could be used over the doors and windows or even on the gables.
For pitched roofs and homes with sloped roofs, using arched windows make a great design option. These arched transom windows could be fixed or hinged depending on your requirements. They are not recommended for modern styled homes with clean lines.
Bathroom Transom Windows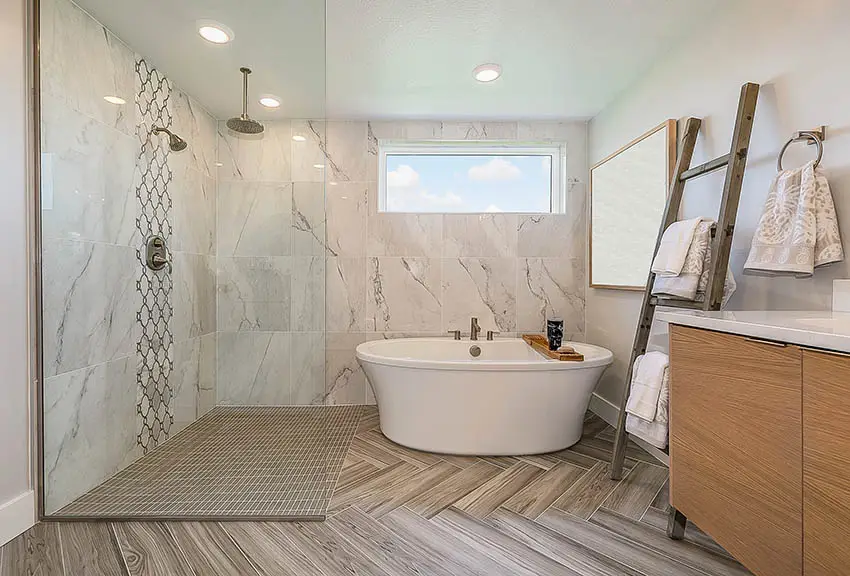 Transom windows make a great option for openings to shower stalls, shower areas, and vanity areas. Especially when using them in steamy areas, these transom windows in the bathroom are a good way to promote ventilation.
You can also use the fixed transom windows in the bathrooms and share them with the adjacent rooms.
These types of windows in the interior give the home an open and airy feel while making it look more iconic and classic.
Shed Transom Windows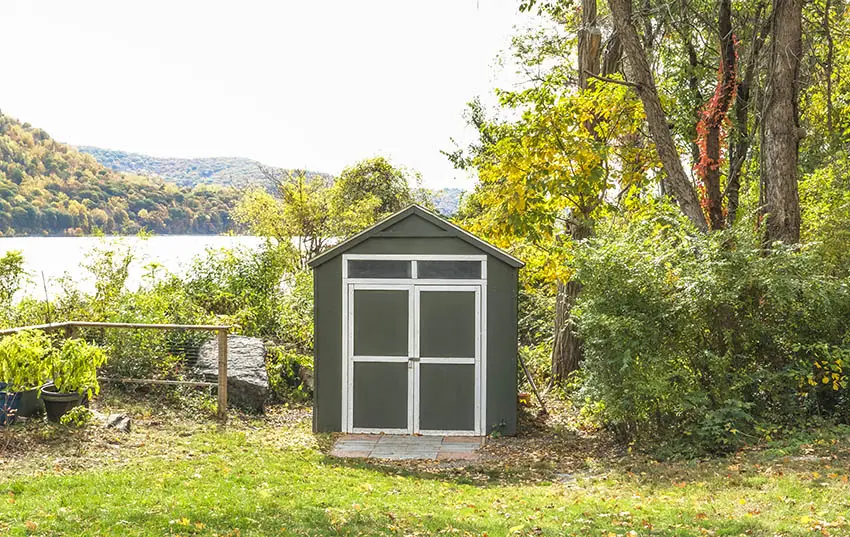 Shed transom windows are rectangular, elongated windows placed at the top of the wall near the ceiling.
They are highly used in garages as well as temporary structures to lit them bright. These windows come in a wide array of sizes and shapes – and similarly, are either fixed or hinged.
Since they are placed at a particular height, it makes a great way for privacy and security. If you crave more natural light, make sure to extend these transom windows up to the ceiling on each end.
Decorative Transom Windows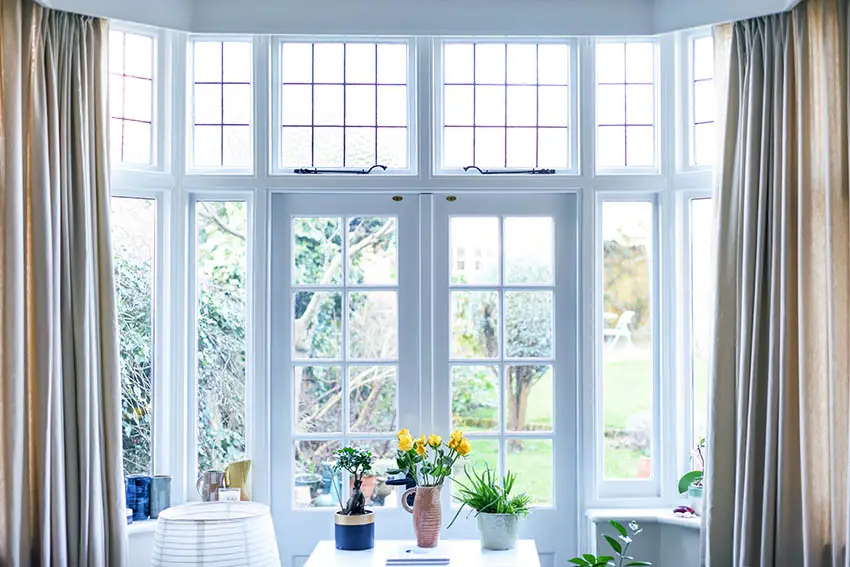 There are no limits to design styles of decorative transom windows. Depending on the variety of shapes, styles, and forms, these transom windows have been widely used in the historical as well as important architectural landmarks.
But even now, these decorative windows are used above the doors and the walls. Some decorative transom windows display stained glass or decorative window tinting, frosted, textured, or colored glass.
And on the other hand, some of the frame materials used include wood, vinyl, aluminum, fiberglass, and many more that are used in the form of panes and panels in these decorative transom windows.
Types of Transom Window Treatments
Window treatments for transom windows are one of the most challenging tasks to do – and yet they are aesthetically pleasing.
There are endless ways of treating your windows with some beautiful pair of shades. You could either use shades, sheers, curtains, shutters, moldings, or shades.
If you don't prefer to hang these, you might as well treat the glass with stains, frosts, textures, or simply use smart glass. Let's read through a few ways to use window treatments for the transom windows.
Blinds
Blinds are a great way to maintain privacy while adding architectural value if you are looking for a cleaner and crisper look.
You could use Venetian, vertical blinds, or even pleated shades. You can easily find a number of design styles, fabrics, sizes, textures, and prints to make your home look seamless and classic.
This is also a recommended option if the shape of your ceiling makes it difficult to drape a curtain rod and run through it.
For example, a sloped and gabled window makes it very difficult, hence, these blinds make a great choice in such cases.
For example, flat roman shades give your homes a colonial look so you can customize these as per the sizes and requirements.
Shutters
Shutters make a great choice if the transom windows are complicated and vaguely shaped. Shutters come in various styles, colors, sizes, shapes, and forms so there are ample choices to choose from depending on your design preference. Wooden shutters are one of the most commonly used.
Valences
In traditional styled homes, valances were used as window treatments for transom windows. These are small pieces of coverings that wraparound the windows to limit the entry of natural light indoors while maintaining privacy indoors.
These fabrics come in various styles, shades, contrasts, materials, textures, and designs so you can pick the perfect choice depending on your home's design style.
Moldings
Quite of an ornamental and decorative option, you could use carved wood frames around these windows to give a nice appealing touch. These moldings could be sleek or ornamented, as you require.
This is also a great option if you already have molding running near the ceiling as the overall look may come out to be far better than you expected. Meanwhile, this is a great way to create a seamless and unified look.
Final Word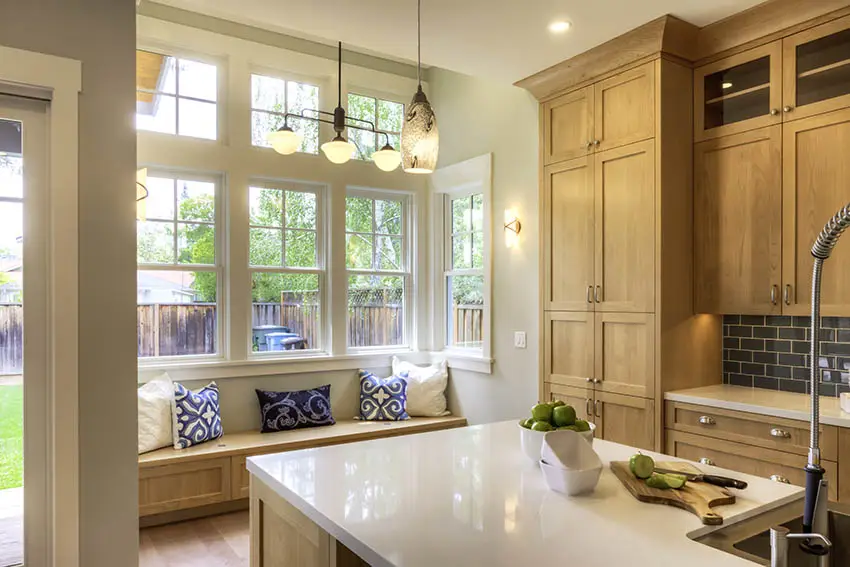 Transom windows hold a lot of importance culturally and aesthetically. These windows have been around for centuries, even though they disappeared in the middle, they seem to have made a comeback lately.
Many homeowners and builders across the world prefer these types of windows for their future projects.
They imbibe a sense of beauty to the homes that are such attention grabbing. You can absolutely use these windows in your homes without a hassle, but also keeping in mind the existing design theme running around the house.
Now, these windows are only left as aesthetic elements and their function has seemed to totally disappear.
So, are you excited to incorporate transom windows in your future projects? These windows are a great way to add that stylish element to your home. And similarly, one of the best ways to incorporate culture, history, and character all together.
Also, do let us know your comments and experiences in the comments below as we would love to hear your transom window stories.