Here are our types of floor tiles guide, including the different materials, pros and cons, the most durable, cheapest, easiest to maintain, and best color floor tile for your interior designs.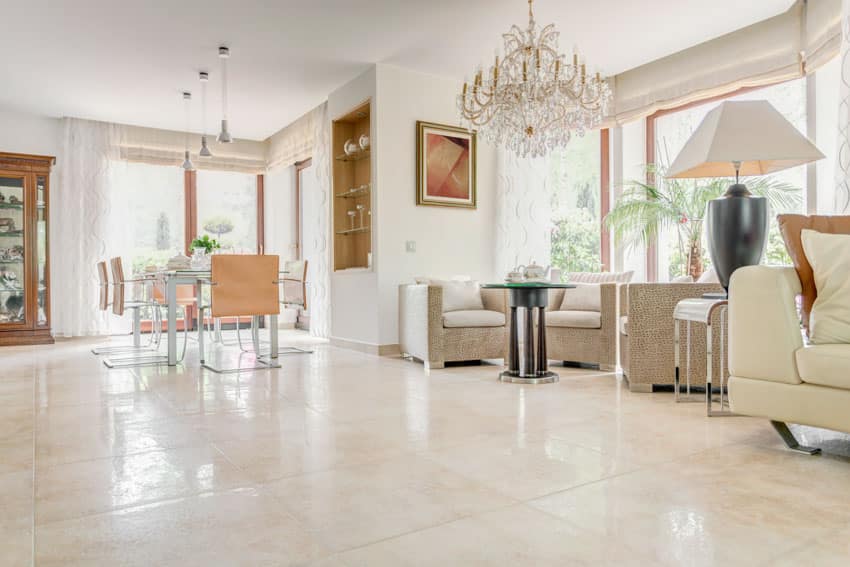 Your floor tiles can make or break the overall look and performance of your home. Not only is the flooring one of the most dominant visual elements in a space, but it also brings practical benefits to your home — from comfort, to providing protection and increasing your house's real estate value. That's why it is very significant to choose the right floor tile.
Choosing the right tile for your floor can be quite a challenging task especially if you're presented with a myriad of choices. But our ultimate guide on types of floor tiles is here to help you pick out the best one which suits your requirements, taste and style.
Floor Tile Types
If you have never done any tiling activity previously, you would be blown away at the variety of tiles currently offered. The most well-known types of tiles are porcelain and ceramic tiles. However, there are also glass tiles, stone tiles, metal tiles, and cement tiles, just to mention a few.
Not every type of tile is suitable for every application. In fact, there is a matter of your budget you have to consider. With all the choices, it's not difficult to get slightly overwhelmed.
Yes, tiles provide long-lasting beauty, practicality, and toughness, as well as significant benefits over other flooring options. Whether you are looking for flooring tiles or wall tiles for a construction job or preparing ahead of time, we have prepared some detailed information to walk you through the most frequent varieties of floor and wall tiles.
Below we give you a comprehensive overview of the different floor tiles available in the market, along with some of their best advantages, drawbacks and cost.
Ceramic Tile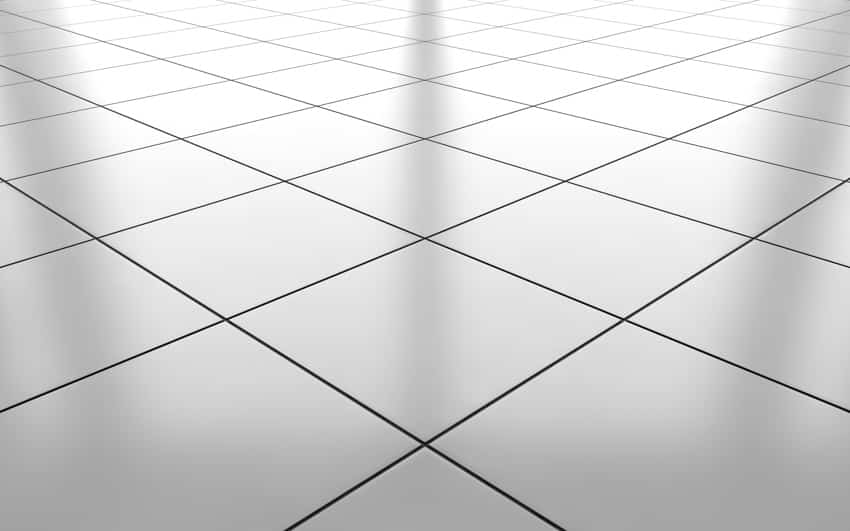 Ceramic tiles are produced by heating natural clay and other synthetic materials then covering it with a protective finish like glazing. Porcelain tiles and ceramic tiles are often interchanged because they look very similar, but they actually differ in terms of their composition, amount of water that they absorb and the way each one is made.
Ceramic tiles are one of the most sought-after tiles made from clay resources. They are mined, processed, and sculpted for use. Their capability to suit practically any interior décor you like will astonish you.
Similar to porcelain tiles, ceramic tiles are available in a wide range of colors, sizes, patterns and designs. You can also find styles which mimic the appearance of natural materials like wood and stone. Some ceramic tiles, especially those that have glossy finishes can be slippery, so make sure to choose textured tiles or "slip resistant" tiles to lessen this hazard.
Ceramic tiles' most defining features are their extended lifespan, variety of usage, and strong resistance to dents and abrasion.
Their toughness allows them to endure years of continuous foot traffic. Furthermore, they provide a wide variety of design options. Ceramic tiles, which are usually finished in a durable glaze, come in innumerable configurations, patterns, and colors.
Ceramic tiles provide a hard and substantial flooring or wall surface that will not collect or retain dirt, grime, pollen, or other contaminants.
Whenever these little elements do drop on a ceramic floor, they stand out against the surface and are easily removed with a brush or mop. This assists in keeping the air clean and clear of irritants that can endanger allergy and asthma sufferers.
Ceramic tile is one of the most economical flooring materials, with inexpensive tile and DIY setup starting at $5 per square foot.
Nevertheless, as you progress to more aesthetically pleasing tile and skilled installation, ceramic tile flooring can potentially cost more than premium hardwood flooring.
According to national industry figures, the cost of properly installed ceramic tile flooring can range from around $15 per square foot to more than $60 per square foot. It all relies on the tile's composition and the complexity of placement.
Ceramic tiles, on the other hand, must not be placed outdoors since they cannot withstand the heat and do not conform well to the extremely cold temperatures of winter. Furthermore, they have an inclination to absorb water.
Pros of Ceramic Tiles:
• Visually appealing
• Very long-lasting and durable

• Moisture resistant and stain-resistant
• Suitable for high traffic areas
• Chip resistant
• Provide more structural support compared to vinyl tiles
• Good choice for homeowners dealing with allergies
• Low maintenance and requires only mopping and sweeping for cleaning
• Affordable
• Available in a wide variety of colors, designs, styles and sizes
• Easy to install
Cons of Ceramic Tiles:
• Can be very cold in low-temperature areas
• Hard underfoot
• Extremely heavy
• Installation is difficult and time-consuming
• Slippery when wet
• Although extremely durable, ceramic tile can occasionally chip, particularly around the edges
Cost of Ceramic Tiles
The average cost to install ceramic tile flooring is $7 to $14 per square foot
Porcelain Tile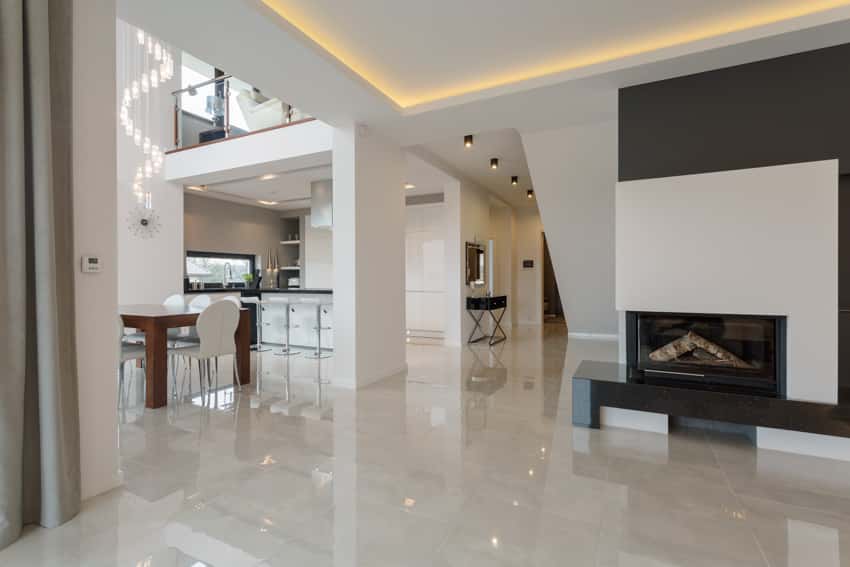 Porcelain tiles are made by heating natural and synthetic materials like white clay, sand and feldspar at very high temperatures until they harden. The curing process gives porcelain tiles density making them extremely durable and hard.
Porcelain tiles are non porous and absorb less than 0.5% of water, making them an ideal choice for rooms exposed to moisture due to extreme cold climate. You can find them in a wide variety of colors, designs and patterns — some of which mimic the appearance of real wood and natural stone.
Due to the small distinction between ceramic and porcelain tiles, porcelain tiles are frequently classified as a form of ceramic tile. In actuality, porcelain tiles are made of stronger clay and are heated to far higher temperatures than porcelain ceramic tiles that are non-porcelain.
As an outcome, the finished material is much stronger and more impervious to damages. Porcelain tiles, as opposed to traditional ceramic tiles, can be used outdoors due to their low porosity and durability to cold and high temperatures.
If you prefer the look of ceramic but live in a high-traffic or high-moisture location, porcelain would be a wise option for a long-lasting tile.
Porcelain is essentially an enhanced version of ceramic. The problem is that there is no technically consistent definition of what distinguishes normal ceramic tile from porcelain, thus producers will occasionally label floor porcelain even if it does not fulfill what several prominent certifications recognize porcelain.
Porcelain tiles, which are obtainable in both polished and unpolished finishes, are suited for a variety of household settings as well as some commercial applications with minimal foot traffic. They are also manufactured in glazed tile shapes, but they are less durable.
Porcelain tiles were once significantly more costly than conventional ceramic tiles, but this disparity has largely disappeared as porcelain has grown in demand.
The prices of porcelain floor tiles are now equivalent to those of high-quality ordinary ceramic tiles.
Porcelain floor tiles typically cost $5 to $25 or more per square foot, while big-box home renovation stores frequently have incredible deals on porcelain floor tiles.
Professional installation will cost an additional $10 to $25 per square foot. Such floors, on the other hand, can last for decades, repaying the upfront investment over time.
Pros of Porcelain Tiles:
• Durable and can withstand daily wear and tear
• Ideal for high traffic areas
• Moisture resistant and stain resistant
• Does not harbor pollen, dust mites and suitable for those with allergies
• Easy to install
• Low maintenance and requires sweeping and mopping to keep it clean
• Cost friendly
• Long lasting
• Versatility
• Visually appealing
• Available in a wide variety of colors, designs, styles and sizes
• Cheaper alternative to natural stone and wood
Cons of Porcelain Tiles:
• Can be very expensive (more expensive than ceramic tiles)

• Weighty, fragile, and prone to slipping
• Complicated installation and difficult to cut

• Slippery when wet
• Grout needs to be sealed
• Although extremely durable, porcelain tile can occasionally chip, particularly around the edges
Cost of Porcelain Tiles
The average cost of porcelain tile ranges from $12 to $19 per square foot.
Glass Tile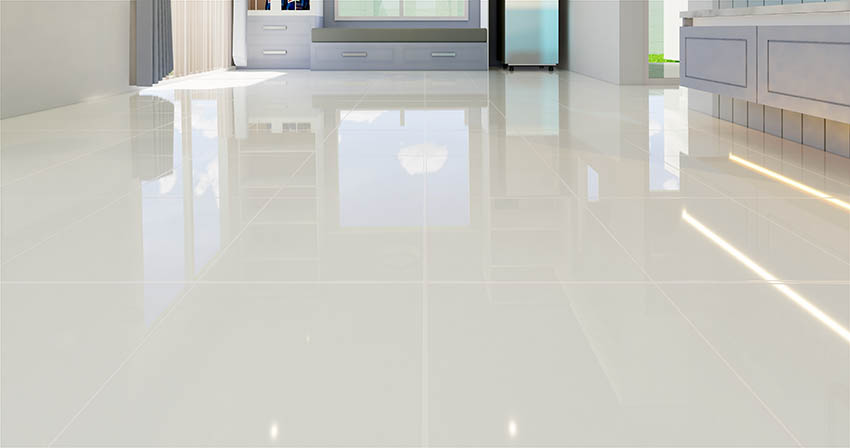 Although glass tiles are more commonly used for bathroom walls or kitchen backsplashes, several homeowners want to make statements with gorgeous glass tiles on their flooring as well.
Mosaic glass tiles are commonly seen in bathrooms because they are mold- and mildew-resistant, watertight, and easy to maintain.
Another interesting aspect is that, with the exception of the deepest colors, most glass tiles glow in the dark. They can convert a room into a beautiful, high-class spa in the proper atmosphere.
As long as the glass tiles meet the requirements for use on the floor, they must be able to withstand breakage, although a forceful impact from a fallen object could break them.
While inexpensive glass tiles range from $7 to $8 per square foot, most multicolored tiles go from $30 to $40 per square foot. The intricate mosaic glass tiles can cost up to $100 per square foot.
Because of the high cost, numerous homeowners choose to hire a professional glass tile contractor to do the installation. Extraordinary care must be taken to ensure that the adhesive does not show through the tile.
However, their expensive price and short lifespan are a detriment in high-traffic parts of the home. And because glass tiles are readily scratched, they must not be used in areas where children or dogs can touch them.
Pros of Glass Tiles:
• Unrivaled beauty
• Simple to clean
• Does not absorb moisture
• Numerous glass tiles are manufactured from recycled materials, making them environmental-friendly
Cons of Glass Tiles:
• Very expensive
• Requires professional installation; not recommended for a DIY project
Mosaic Tile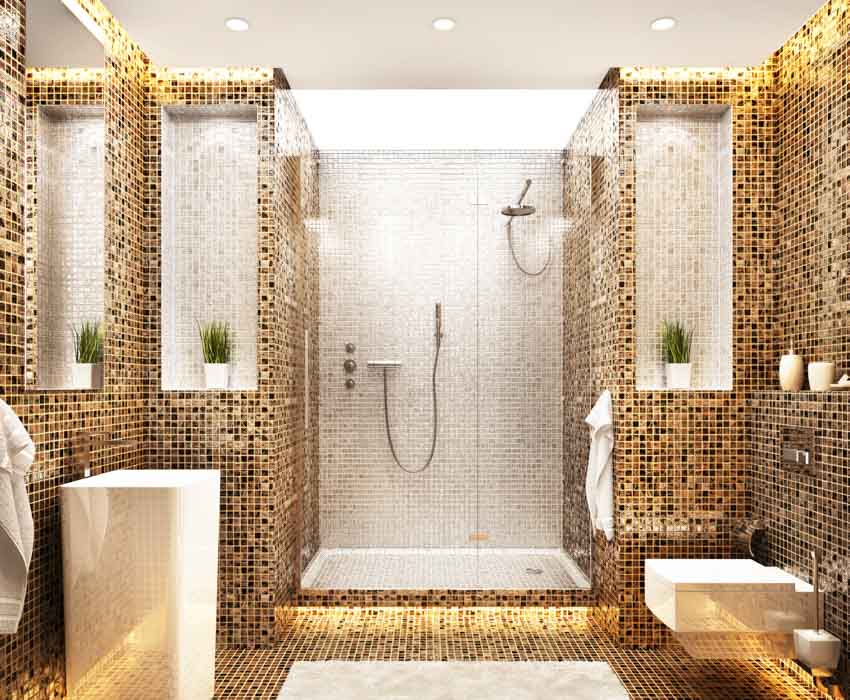 Mosaic tiles are quite popular in compact room applications like kitchenettes and bathrooms. These are essentially tiles with decreased surface areas. Each tile is less than 2 inches long and 2 inches wide.
Hence, they are more easily installed in smaller spaces. The use of the proper cutting tools, on the other hand, leads to a magnificent result. You can use a high-quality tile cutter with exceptional cutting accuracy.
Even though mosaic glass tiles on worktops, backsplashes, and walls are more prevalent, they may add a sense of rich grandeur to a room. These brilliant tiles, which evoke the luxury of a premium spa, can boost the aesthetic and refinement of any area.
The artistry that can be obtained with correct installation is probably the most significant advantage of using mosaic glass in a tile project.
There are sturdy and decorated tiles to choose from, which can then be assembled in basic or elaborate patterns. Some shops will also sell recurring tile patterns that can be utilized to make intricate graphics and themes.
Mosaic glass tiles are stain-, mold-, and mildew-resistant. They reveal dirt readily, so you will always recognize when it is necessary to clean. They are chemically resistant and non-porous, so you will not have to worry about dirt seeping into the tile.
Except for the darkest glass tiles, mosaic glass tiles will generally reflect light instead of absorbing it. This causes the mosaic pieces to appear to glow with a bright luminosity not found in any other flooring surface.
One of the most significant disadvantages of employing mosaic glass tiles is the cost. You might get a good deal for $7 or $8 per square foot, but the more appealing colors will cost around $30 to $40.
A single square foot of a recurring pattern might cost as much as $100. However, glass mosaics, unlike ceramic or natural stone tiles, are extremely challenging to install.
Pros of Mosaic Tiles:
• Exquisite design
• Simple to clean
• Eco-friendly
• Luminous appearance
• Very long-lasting
Cons of Mosaic Tiles:
• More intricate models are very expensive
• Hard to install
• Vulnerable to scratches
• Extreme dropping impact can shatter mosaic tiles
Cement Tile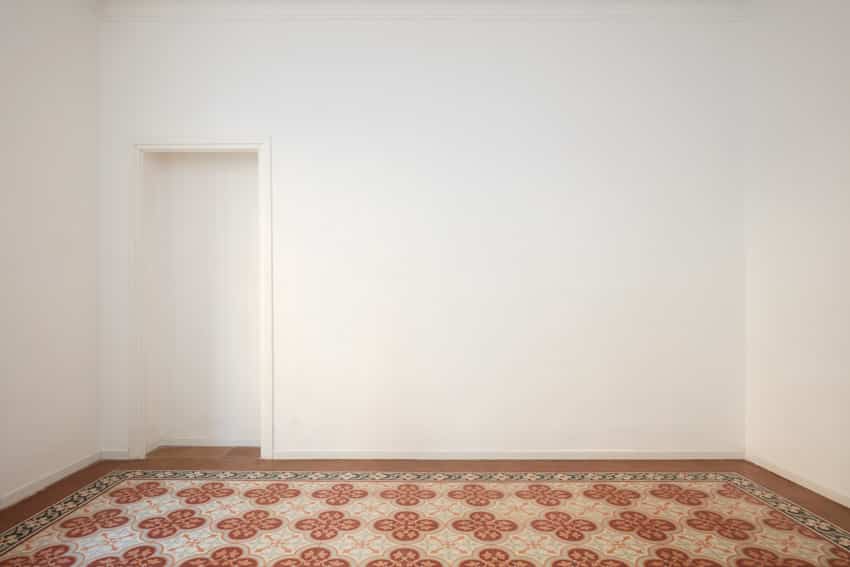 Ceramic tile typically features a layer of glazing on top and is impenetrable after getting fired at a very hot temperature in a kiln.
However, cement tile is hardened at ambient temperature rather than fired, and the pigmented layer on top is permeable.
There are a plethora of cement tile options available, ranging from cheerful florals to contemporary geometrics, and designs frequently generate a larger interconnecting pattern when four tiles are put together.
Because tiles can be created in small amounts, numerous manufacturers offer personalized patterns and colors.
Cement tile flooring develops a distinctive patina over time. If you wish to keep their new appearance, you could refinish them by smoothing down a thin surface covering and resealing it.
They can also last a lifetime in your house if properly maintained. Cement tiles must be treated with numerous coatings of infiltrating sealer during construction to last. Because cement tile surfaces are porous without sealing, the sealant must be reapplied regularly.
Cement tiles are created entirely of natural resources, from the rigid cement base to the upper layer of a specific type of cement, marble dust, and natural colors.
In addition, unlike ceramic tiles, which are fired in a kiln, cement tiles are treated using hydraulic power. This implies that no fossil fuels or hazardous chemicals are released into the environment. Moreover, cement tile can cost around $10 to $30 per square foot.
Pros of Cement Tiles:
• Comes in a plethora of patterns
• Very durable
• Uncomplicated maintenance
• Environment-friendly
Cons of Cement Tiles:
• A bit more expensive than ceramic tile
• Not as customizable as other tile types
Limestone Tile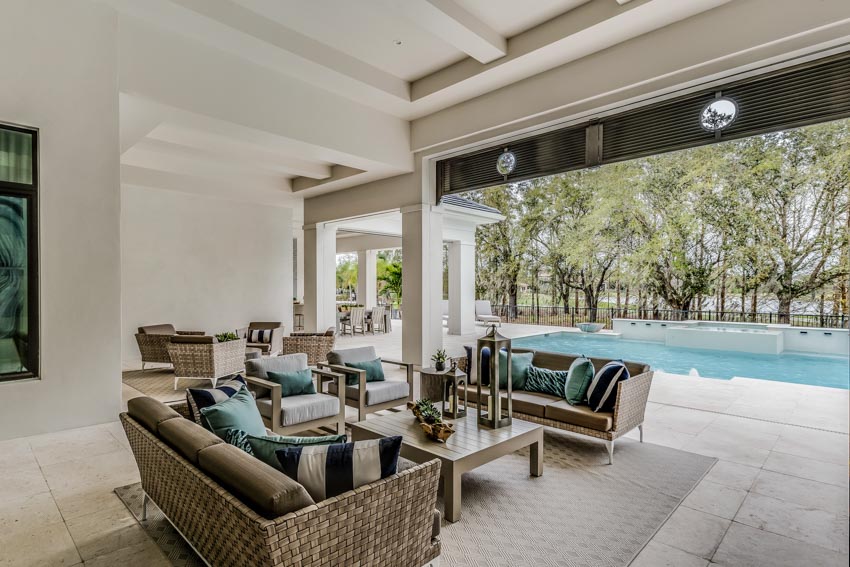 Limestone tiles are constructed of real stone and are among the most cost-effective solutions if you intend to minimize using synthetic materials for your flooring. When matched with granite or marble, limestone would be a superior value.
One of the reasons limestone is so well-known is because of its appearance. It gives a mellow ambiance, and it adds a warm, natural tone to any space where it is applied. This makes it especially desirable for application in outdoor areas.
However, limestone looks great in kitchens, bathrooms, and any other room where you want to add a touch of natural stone. Undoubtedly, limestone has been a popular building material for generations and is undoubtedly attractive.
Limestone comes in a variety of colors, including beige, ivory, white, and charcoal. There are rough- and smooth-grain tiles obtainable, as well as limestone pieces with straight or curved edges and extraordinary patterns.
Indeed, limestone is praised for its refined, rustic appearance. The look is so elegant that limestone will increase the market value of your home. You can create a pathway to your front door with these tiles, or put the money in a valuable bathroom remodel.
Furthermore, because limestone is a natural commodity, each tile extracted out of it is distinctive. If you select limestone tiles, your flooring will have a mosaic of delicate color and pattern variations.
When looking for limestone tile, you will find a range of costs, starting from under $4 per square foot to $12 per square foot.
Pros of Limestone Tile:
• More affordable than other types of natural stone
• Classic appearance and texture
• Versatile
• Improves your home's overall value
Cons of Limestone Tile:
• More expensive than synthetic tile materials
• Not that durable compared to other types of natural stone
• Hard to install
Travertine Tile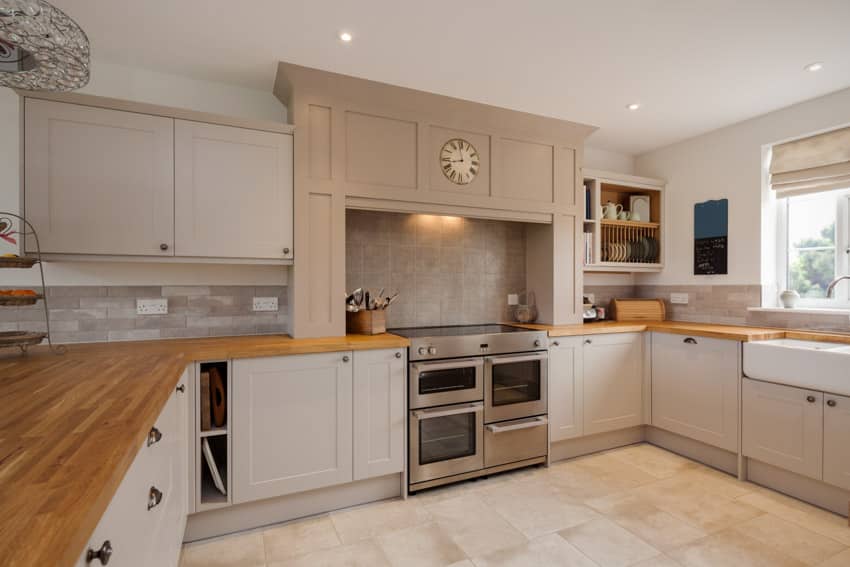 Travertine tiles are clearly constructed from travertine, a form of limestone found in thermal springs, native artesian springs, and caverns worldwide.
The material comes in a variety of hues and also has pores and a rough surface caused by air bubbles and organic materials.
The elegant surface of travertine tiles illuminates and adds a natural aspect to any interior area. The fact that many of the old Roman constructions still standing in Italy today were built with travertine attests to the material's durability.
Thus, some types of travertine are best suited for temples, statues, and theaters. It is now ideal for the development of walkways, restrooms, pool decking, and other areas where water contact is considerable.
Travertine is entirely biodegradable and is considered an eco-friendly material. It is both long-lasting and simple to fix.
Travertine tiles could be incorporated in a variety of ways around the house. The non-slip texture of the tiles makes them easier to handle and walk on. It is also highly resistant to severe conditions.
Travertine tiles are a common pick among homeowners due to their versatility. Furthermore, these tiles are easy to trim and mold. This enables homeowners to occupy small and irregularly shaped areas.
Despite being a less expensive alternative when compared to other high-end materials, travertine can still be costly, and many people cannot afford to install tiles produced from this tile material.
It costs around twice as much as other equivalent natural stones, such as marble, but it also has the same durability.
Pros of Travertine Tiles:
• Gives a timeless appearance that will last for decades
• Extremely durable
• Easy to cut and shape
• Environmentally friendly
Cons of Travertine Tiles:
• Expensive
• Porous
• Vulnerable to staining; sensitive to acid
Quarry Tile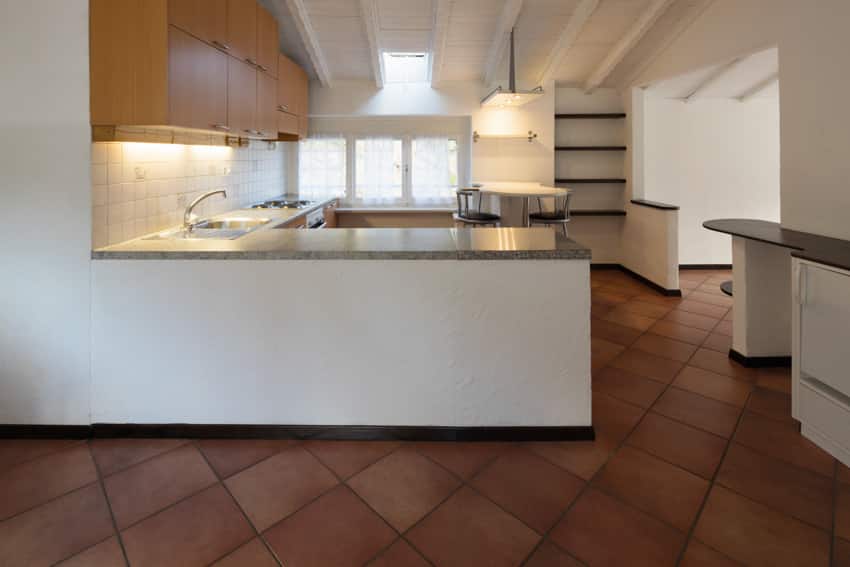 While many people believe that quarry tiles come from quarries, a few of us are knowledgeable that they are made from minerals such as clay, shale, and feldspar that are combined together and shaped into tiles. These minerals produce a tougher, low-porosity floor tile that could be utilized both outdoors or indoors.
Quarry tile is a durable, impervious flooring tile created from pulverized minerals that are molded and burned in the same way that brick is. Because of the minerals utilized and the high firing temperature levels, they are often tougher than conventional clay bricks.
Quarry tile is very simple and does not need any glazing on the topmost layer. This allows tile makers to produce tiles quickly and easily, lowering the price to the customer.
Furthermore, quarry tile is extremely sturdy and solid; it will not crack or shatter easily. This renders it an excellent choice for high-traffic areas.
One of the drawbacks of quarry tile is that it is prone to staining. Because there is no glazed coating on the tile's surface, liquids can slowly penetrate and irreversibly discolor it. As a result, even if it is a long-lasting treatment, it may appear unsightly after a short time.
Quarry tile construction is also more challenging because you will likely want to try to cover the top layer to minimize complications.
Pros of Quarry Tiles:
• Affordable
• Very durable
• Can be applied both indoors and outdoors
• A good option for high-traffic areas
Cons of Quarry Tiles:
• Prone to staining
• Difficult to install
Brick Tiles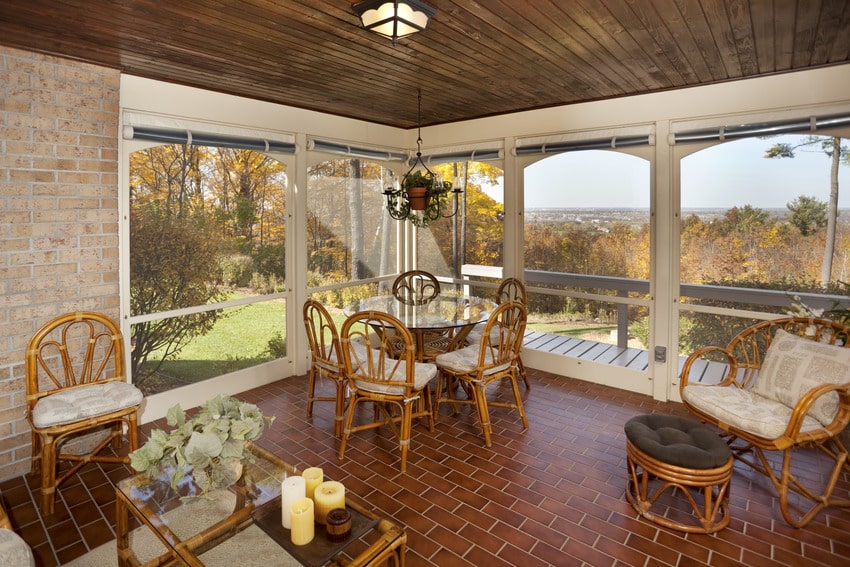 Although more commonly used as an exterior finishing material, bricks can also be used as flooring. Bricks are made of a mixture of clay, sand, lime, concrete and fly ash, that is molded and dried.
Brick floor tiles typically come in standard sizes of 200 x 100 x 40 mm for the modular tiles and 229 x 144 x 44 mm for the non modular type. While the standard thickness for this type of tile flooring is between 1 ¼ inches to 1 ⅜ inches.
Like other forms of tiles, bricks adhere to a subfloor or a concrete slab using thin-set adhesive. It can also be installed on a wooden subfloor but make sure that the framing is sturdy because of the materials heavyweight.
Once the adhesive fully dries, grout is applied in between the seams. Cutting brick tiles requires special power tools like a wet saw with a diamond blade.
Because of the rustic appeal of brick flooring, they are well suited for spaces with rugged styles and informal settings.
Pros of Brick Floor Tiles
• Soft battered look and weathered appearance
• Durable
• Fire resistant
• Long lasting
• Affordable
• Easy to maintain
• Conceals dirt and stains because of its mottled appearance
• Good insulator and remains warm during cold season
• Availability
• Ages beautifully
Cons of Brick Floor Tiles
• Lack of comfort
• Heavy load, making it more suitable for ground floor use
• Naturally porous
• Susceptible to fungal growth and staining
• Needs to be resealed periodically to add a protective barrier
• Not suitable for DIY projects
Cost of Brick Floor Tiles
Brick tiles range in cost anywhere between $3 to $10 per square foot, depending on the type. Installations add another $3 to $10 per square foot depending on the scope work, making it relatively less expensive than other types of tile flooring like natural stone and ceramic.
Terrazzo Tiles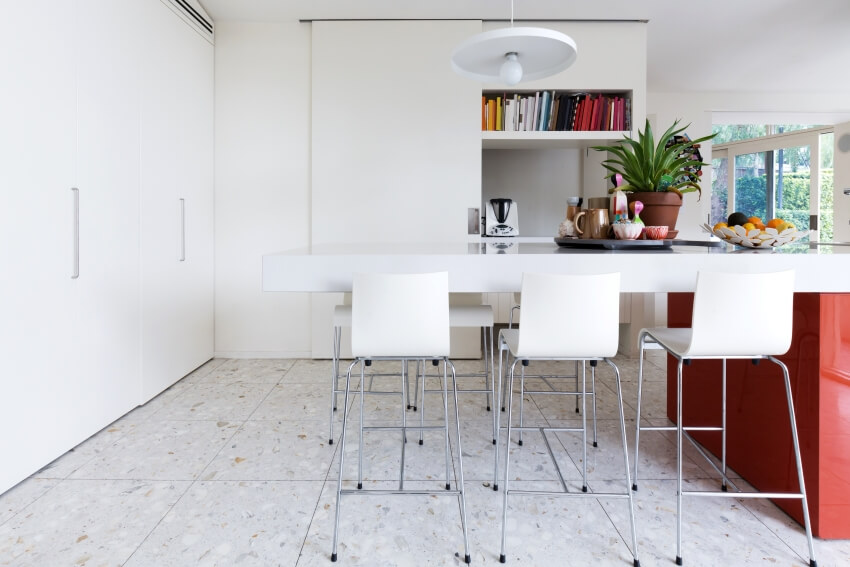 Terrazzo is a flooring material which originated in 16th century Italy as a way to resume stone off cuts. It is traditionally made by setting marble chippings on the concrete surface and polishing it until smooth. Terrazzo is available in tile form and can be easily installed on both walls and floors.
Pros of Terrazzo Floor Tiles
• Unique beauty and elegance
• Limitless design
• Durability
• Longevity
• Can be refinished repeatedly to give it a fresh new look
• Once sealed properly, terrazzo tiles are impervious to water and stain damage
• Does not chip like other tiles
Cons of Terrazzo Floor Tiles
• Slippery when wet
• Does not retain heat well during cold season
• More expensive compared to other natural stone tiles
• Naturally porous
• Susceptible to fungal growth and staining
• Needs to be resealed periodically to add a protective barrier
• Not suitable for DIY projects
Cost of Terrazzo Floor Tiles
The cost of terrazzo tiles is usually $7 to $10 per square foot. For the installation, expect to pay an additional $10 to $15 per square foot.
Terracotta Tiles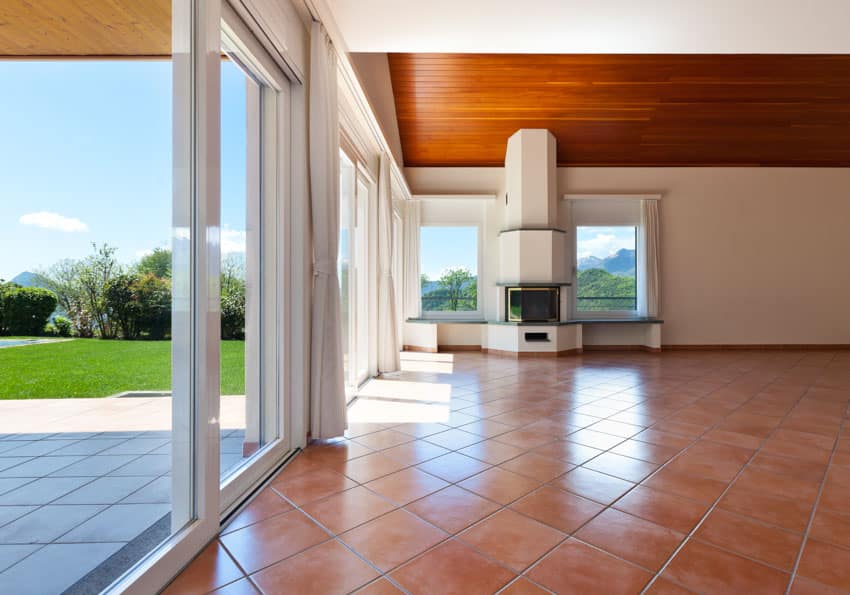 Terracotta is one of the ancient subgroups of the broad spectrum of clay-made ceramic tiles. Terracotta means "baked earth" in Italian. It pertains to ceramic tiles made from a porous and readily molded clay with a significant iron concentration that provides the tiles with their distinctive reddish-brown hue.
Indeed, terracotta is fired at a low-temperature level, and unless it is coated, the surface will stay porous. Terracotta tile is more widely accessible and less costly than many other types of ceramic tile. Its popularity is partly due to its appealing naturalistic colors, which are the essence of earthy tones.
Terracotta tiles are occasionally classified as high-density or low-density tiles, while manufacturers typically emphasize the "high density" term. High-density terracotta is less likely to crack and is a superior selection for high-traffic areas.
Low-density terracotta is typically a low-cost material that may not withstand heavy usage. Low-density terracotta is also more porous, making it unsuitable for moist or stain-prone spaces such as kitchens and bathrooms
Terracotta tile is a natural product that comes in various colors depending on where the clay is obtained. The clay used in terracotta tiles has a high iron content, giving it its distinct reddish brown to reddish orange color. Terracotta tile colors often range from yellow to brown, with a broad array of reddish colors in between.
Terracotta, like any other ceramic tile, can also be glazed—a technique in which a glass-like external surface adheres to the clay tile during a secondary firing. Standard ceramic tiles get their color from dyes that are mixed with the glazing ingredient.
The procedure also generates a waterproof surface for the tile, making it stain-resistant. However, when glazing is added to terracotta, it also conceals the elegance of the tile's earthen tones. On the other hand, Unglazed terracotta tiles would be extremely porous and prone to moisture.
Terracotta tiles are often used for houses that have Italian, Mexican or Spanish inspiration, Mediterranean styled cottages, sweet country cottages or those that have color palettes that are dominated by warm, earth colors.
Pros of Terracotta Tiles:
• Beautiful, warm and rich color
• Unique, rustic weathered look
• Tough and durable
• Very versatile
• Mold-resistant – Resistant to molds, fungus and bacterial growth

• Not vulnerable to bacterial growth
• Easy to care for. All you need is warm water, some mild soap and a mop.
• Available in different tones and patterns
• Lasts forever when well made
Cons of Terracotta Tiles:
• Unglazed variants are porous
• Can be susceptible to moisture
• Needs to be sealed to protect it from stains and damage. If left unsealed, terracotta tiles tend to crack
• Not recommended for DIY. Installation is tedious and complex.
• Wide variations in quality and color
• Difficult to replace
Cost of Terracotta Floor Tiles
The price of terracotta floor tiles ranges from $3 to $7 per square foot and is considerably cheaper than most types of tiles.
Encaustic Tiles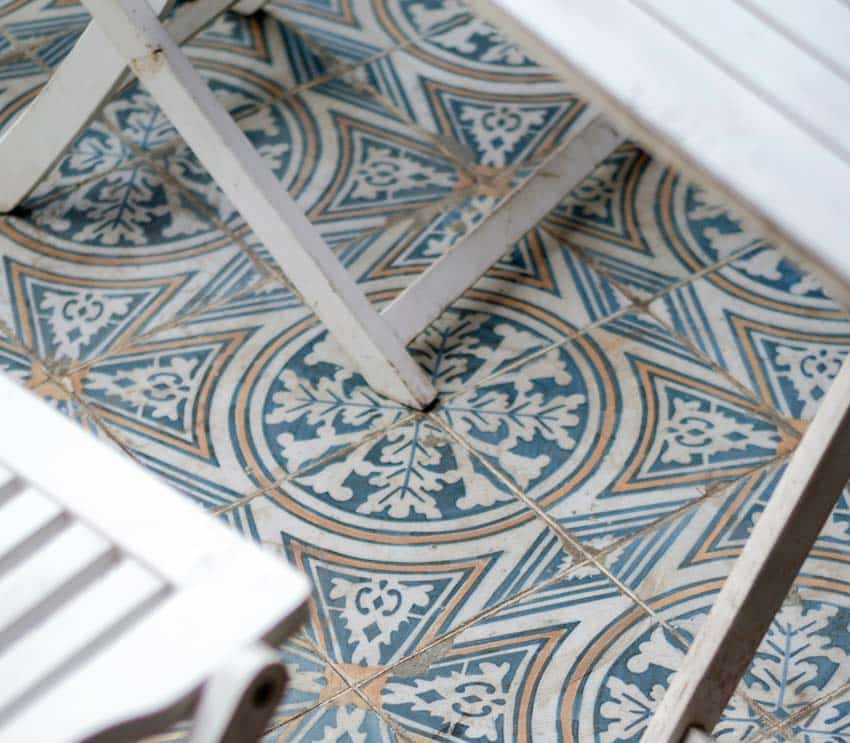 The term "encaustic" pertains to a procedure involving polishing with a beeswax-based paint and solidifying it with heat.
In the Middle Ages, multiple hues of clay were used to make what was known as inlaid tile. They were embedded in a pattern and fired in a kiln so the architecture would last as the tile wore down.
Encaustic tiles, made from layers of cement, are frequently hand-painted with designs mechanically pushed into the surface, leading to a wide selection of very creative patterns, with some businesses providing a customized design service.
They are well-known for their durability, making them a favorite floor choice. Encaustic tiles, like ceramic tiles, are often effortless to maintain and require little upkeep.
Encaustic tiles, on the other hand, are composed of cement and are micro-porous, thus, they must be sealed to prevent dirt from being stuck in the pores of the tile, making them harder to clean.
After the sealant has been applied, use only a balanced PH cleaning agent to tidy the tiles, as harsh chemicals, particularly acidic components, will shorten the longevity of the sealant.
Pros of Encaustic Tiles:
• Features a unique pattern
• Incredible durability
• Easy to maintain
• Available in a wide selection of patterns
Cons of Encaustic Tiles:
• Slightly porous
• Needs to be sealed very meticulously
Marble Tiles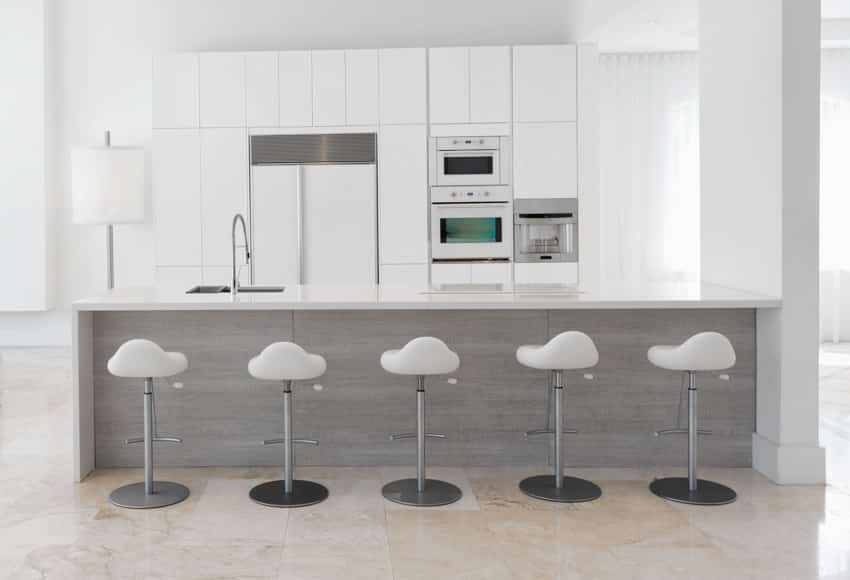 Marble is one of the most luxurious and most desirable natural stone flooring in the market. By definition, marble is a type of metamorphic rock made up of recrystallized minerals like calcite, dolomite, calcium carbonate or calcium magnesium carbonate.
Marble is well loved for its luxurious and classy feel. Characterized by distinct graceful veins that flow on a neutral colored base, marble tiles can bring in a strong elegant and stylish appeal to a space.
Marble tiles are an excellent alternative for adding aesthetic appeal and luxury to your property. They are made of real marble stone, which is quite durable. Marble tiles are best suited for classic and traditional settings but can also be used for contemporary spaces because of their neutral palette.
Marble tiles are obtainable in practically every color due to the wide variety of materials removed. Marble tiles can also be finished, polished, sanded, tumbled, and other finishes, making them suitable for any room usage.
Marble is a prevalent natural stone mined and trimmed into slabs and tiles for use in many residential and commercial construction applications such as worktops, flooring, and wall tiles.
It is a metamorphic rock generated when a sedimentary stone, like limestone, transforms heat and pressure into a firmer stone with exquisite color and grained patterns.
The process by which it is naturally made involves extreme heat and pressure, which then alters the texture and structure of the mineral and gives it a distinct veiny appearance. The purer the carbonate minerals are, the whiter the marble is. While if there are other minerals present, the resulting marble will have color variations in the veins and swirls.
The most significant benefit of marble floor tile is that it instantly enhances the appearance of a space, giving it a magnificent demeanor that is difficult to replicate.
Marble is usually a light colored stone and its purest form is white in color. It comes in different shades depending on the impurities or minerals present in the stone — some brown, black yellow, green and blue. Its most popular color is white with gray veins. Marble typically comes in a polished, high gloss finish.
It is available in various colors, including spectacular multi-color combinations, making it suitable for a wide range of artistic themes. To make intricate mosaic arrangements, marble tiles can be cut into rectangles and triangles of various sizes.
However, their porous structure makes marble tiles susceptible to stains and spills. Hence, they are rarely utilized outdoors. However, employing an adequate surface sealer before installation can reduce its porosity. The sealant closes the pores by acting as a transparent protective covering on the tile surface.
Regular maintenance of marble tiles is reasonably simple once placed; it only needs the same sweeping and wet mopping as a ceramic tile floor.
Nonetheless, marble is very porous, so you must avoid allowing water to accumulate and sit on the surface. Stagnant water can infiltrate and stain the stone.
Furthermore, marble tiles are costly, so you must consider the costs of employing them for your floors. Marble flooring normally costs around $10 to $20 per square foot for materials alone, with certain specialized marbles costing up to $40 per square foot.
The typical size is 12 by 12 inches or 12 by 18 inches. Marble tile thickness ranges from one-quarter to three quarter inches.
Pros of Marble Tiles:
• Structurally durable and will not wear and tear easily
• Greatly enhances the aesthetic appeal of your house
• Comes in high end upscale looking neutral colors
• Customizable and can be cut into different tile shapes
• Adds resale value to a home
• Very popular; available in a very wide variety of patterns and models
• Can be easily sealed
• Easy to clean and maintain
• Very long-lasting
Cons of Marble Tiles:
• Unsealed marble can be porous and prone to staining and mold growth
• Needs to be resealed on a regular basis.
• Relatively expensive
• Marble is softer than other natural stones because it is made up of calcite.
• Marble is more naturally porous and more susceptible to stains and watermarks
• Grout lines between marble tiles can also be vulnerable to stains, molds and mildews.
• Difficult to replace. If a tile gets damaged , the whole marble tile needs to be removed and finding the exact match can be hard because they tend to vary in color and appearance.
• A professional must do installation because it requires precision
Cost of Marble Tile Flooring
In general, marble tiles cost more than other types of flooring. The cost of professionally installed marble flooring runs anywhere between $10 to $20 per square foot.
The cost depends on factors like the type of marble, whether it is a custom design or not, the thickness of the material and the grade of the marble. Custom sizes add to the price and larger tiles cost more.
Basic options cost around $8 per square foot white specialty marble flooring can cost up to $47 per square foot. Italian marble flooring is about $6 to $30.
Grade A marble offers the least inconsistencies and comes with a higher price point. The thicker the tiles are, the more durable, but also the more expensive. When it comes to the finish, smooth marble tiles are more expensive than tumbled finish.
Granite Tiles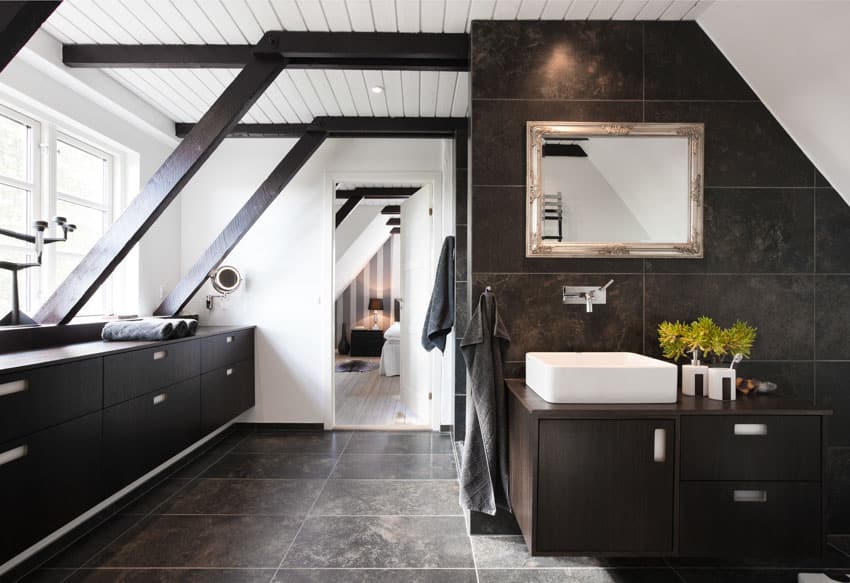 If you want to put tiles in a high-traffic location, granite tiles are the finest choice. They are formed of granite, a solid and durable igneous rock.
This rock's speckled grains and distinct texture set it apart from other components, but the mixture of the two also guarantees that no two granite surfaces are identical.
Hence, granite tiles have earned a reputable name in the tiling industry. Prestigious venues are strongly demanded since they come in a vast spectrum of colors and have a remarkable aesthetic value.
Granite is a wise choice due to its outstanding durability. One of the main reasons why people select granite tile countertops is their durability.
You do not have to fret about ruining the countertop with cutlery or kitchenware when you use granite.
Granite flooring tiles are beneficial because of their longevity. Granite tiles have been shown to outlast tiles made of other widely used materials.
Granite is a fantastic choice for your house or workplace if you want it to last a long time.
The natural and long-lasting material utilized contributes to a scratch-resistant surface. Aside from being acid-resistant, granite tiles are light and tiny in size, making them very easy to maintain.
Granite flooring tiles range in price from $2 to $10 per square foot, depending on the thickness, hue, and workmanship. On the other hand, luxury granite floor tiles can cost as much as $10 to $40 per square foot for distinctive tones or treatments.
However, like marble tiles, granite tiles are generally porous and prone to staining. However, once polished, they function well in terms of scratch resistance.
Pros of Granite Tiles:
• Very luxurious appearance
• A great option for prestigious venues
• Outstanding durability
• Long-lasting
• Scratch- and acid-resistant
Cons of Granite Tiles:
• Unsealed granite tiles can be prone to staining
• Expensive
Quartz Tiles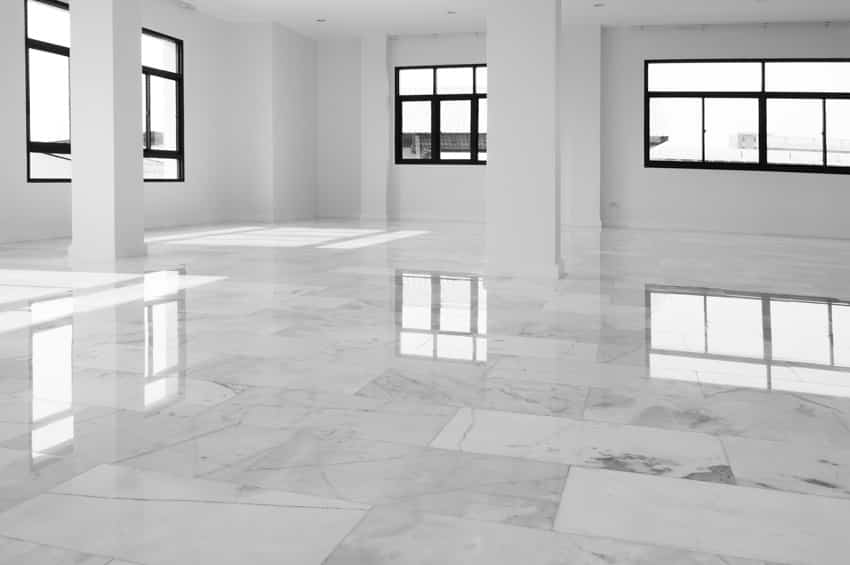 Quartz tiles, also recognized as engineered or agglomerate tiles, are a composite material composed of resins, quartz, sand, color pigments, and, in many cases, shattered mirror bits.
The quality of quartz tiles is determined by the raw material properties and the proportion of resin utilized.
Quartz does not require extensive maintenance other than routine cleaning, and this is a far better alternative when contrasted to components that must be sealed and inspected on a constant schedule.
Because quartz is non-porous, it does not retain liquid like other materials, such as granite and marble. Hence, your floor will most likely last for a very long time.
Quartz floor tiles are obtainable in a wide variety of patterns and colors, giving you plenty of options for selecting a layout that will complement your décor.
If you select a subdued or neutral selection, you will notice that regardless of how many times you rearrange the room, your floor will always be in style and will match with whatever aesthetic you select.
As the name implies, natural quartz is an original stone, which means it is extracted from the earth and retains most of its incredible strength.
However, this option is not that ideal for outdoor applications, particularly if you live in an area where it always rains. That is because wet quartz tiles can be very slippery.
Pros of Quartz Tiles:
• Very easy to maintain
• Non-porous; not susceptible to stains and moisture\
• Can be matched with any decor
Cons of Quartz Tiles:
• Hard to find
• Can be very slippery when wet
Slate Tiles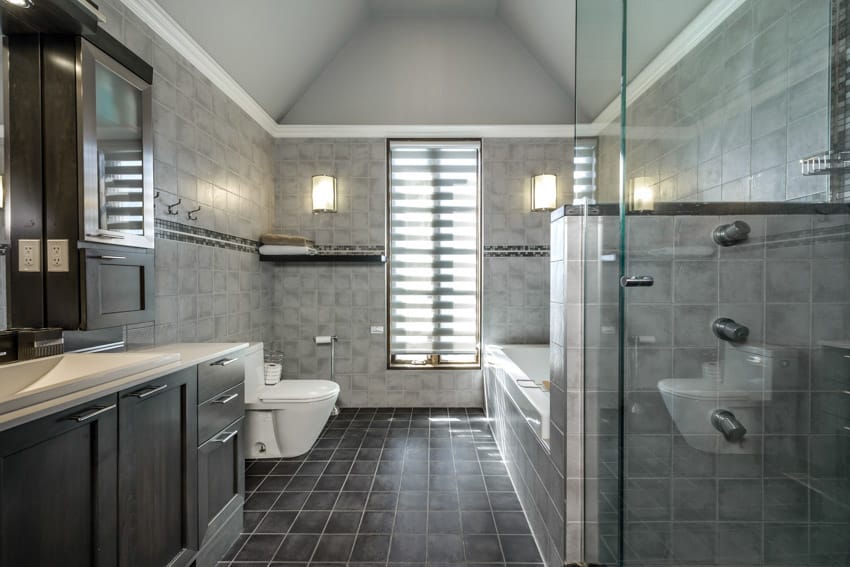 Slate tiles are a unique flooring choice, especially if you are looking for something with a different color. Slate is a type of natural stone that has a bluish gray tone. It is made up of a mixture of numerous minerals like quartz, mica, calcite, pyrite and feldspar, to name a few.
Slate is durable and finely grained and comes in a wide range of colors like black, dark green and gray. In some cases, you can find slate with accents of red, purple, gold and blue, depending on the minerals present and the location where the stone is quarried.
Slate, obtained from native mineral resources, is one of the most commonly utilized materials in the flooring field. It contributes to the production of extremely durable tiles as well as the induction of natural beauty, giving your floor a stunning appearance. The material can warm the area, and its great slip resistance makes it a safer flooring option.
Even though slate tiles are a less expensive flooring option than granite and marble tiles, they are still considered high-end and will cost you more than ceramic tiles.
Slate, as with any natural stone tile, will increase the value of your home. However, in an age when granite has become somewhat common, a slate floor will be truly one-of-a-kind.
Slate is one of the most durable typical natural stone flooring materials, with internal durability that increases the resistance to cracks, dents, fractures, and fractures.
It does need to be stain-proofed routinely, particularly in high-traffic areas like kitchens, but if properly cared for, slate can survive for decades and look fantastic without needing to be replaced or rebuilt.
The upfront cost of buying natural slate floor tiles can be fairly pricey, particularly when acquiring high-quality materials expected to last for decades.
Aside from the expensive expense of the slate itself, which normally ranges from $4 to $10 per square foot, expert construction can cost an extra $10 to $15 per square foot.
Slate tiles come in standard thicknesses that range from ⅛ inch to ½ inch. The available finishes include honed, clefted and polished finish.
Cleft slate has a rough, bumpy surface — meaning the stone is left unfinished and kept the same way it was quarried. Honed slate has a smooth , polished and flat surface. It is not perfectly glossy and is suitable for contemporary applications.
Polished slate refers to honed slate that is refined even more until it shines. This type of slate is as glossy and shiny as marble. Polished slate is rare and can be quite slippery.
Pros of Slate Tiles:
• Luxurious appearance with unique beauty
• Adds real estate value to a home
• Inherent durability that makes it resistant to scratches, dents and chipping.
• Can last for years if properly maintained
• Excellent insulation properties
• Slip-resistant; very safe tile option
• Increases the aesthetic curb appeal of your house
• Very ideal for high-traffic areas
Cons of Slate Tiles:
• Relatively expensive
• Naturally porous
• Needs to be resealed on a regular basis.
• Grout lines between slate tiles can also be vulnerable to stains, molds and mildews.
• Difficult to replace. If a tile gets damaged the whole slate tile needs to be removed and finding the exact match can be hard because they tend to vary in color and appearance.
• A professional must do installation because it requires precision,
• Material is heavy and the material can be difficult to cut without special tools.
Cost of Slate Flooring
The average cost of slate ties is around $4 to $10 per square foot. For the installation, expect to pay an additional $10 to $15 per square foot.
Metallic Tiles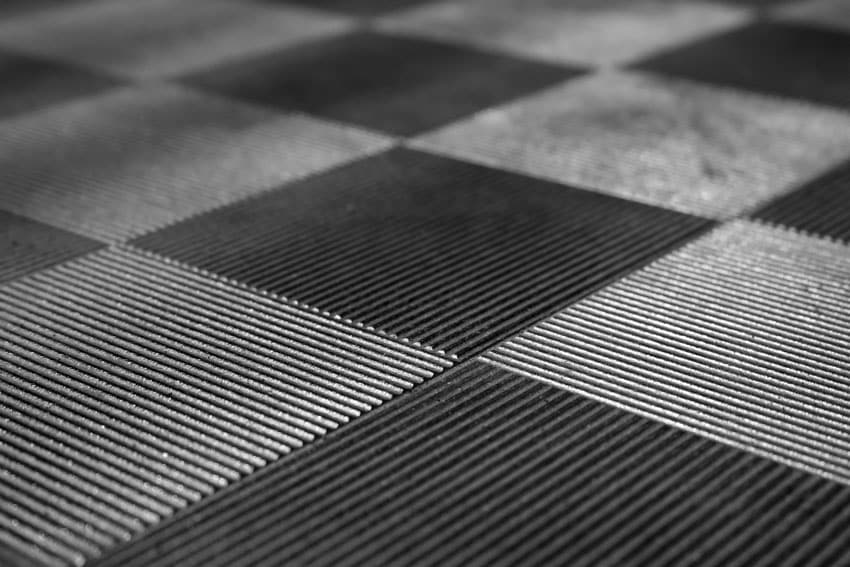 Metallic tiles are inexpensive, which benefits both builders and landowners. It means more straightforward handling and less hassle installing the tiles for contractors.
Because they are simpler to install, tasks can be performed faster and perhaps at a lower cost for property owners. Metallic tile shipments are likely to be reduced, decreasing transportation costs.
A properly fitted and maintained metal tile can last three times as long as a typical asphalt.
Durability is a key consideration when weighing the benefits and drawbacks of a metallic roof. Metal is incredibly resistant to the weather, including severe storms, making it an excellent choice.
The only problem is that metallic tiles are not common in the tile flooring industry. Metallic tiles are normally used in roofing applications. They can also be prone to denting and rusting.
Pros of Metallic Tiles:
• Simple to install
• Very inexpensive
• Lightweight
• Durable
Cons of Metallic Tiles:
• Not that suitable for tile flooring
• Can be prone to denting and rusting
Vinyl Tiles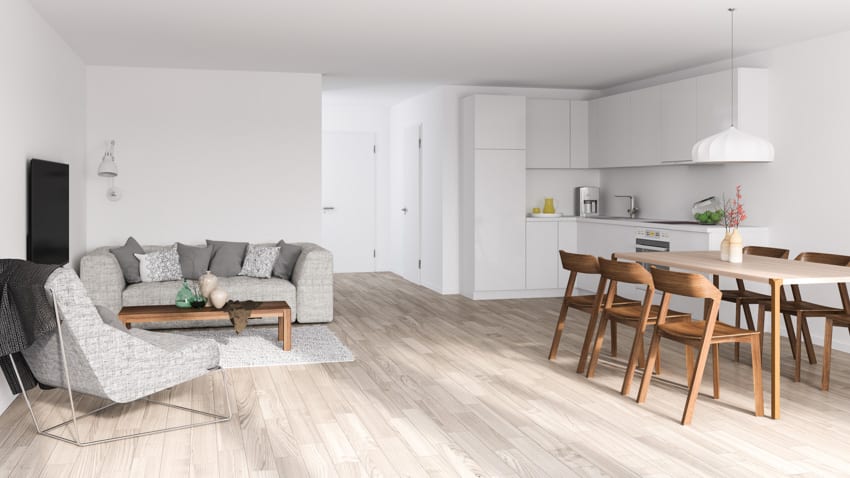 Vinyl tiles are a convenient option for those working on a limited budget. Also known as "resilient flooring", vinyl tiles are a great substitute for simulating the look of natural stone or hardwood. For a lower price tag, you also get a lot of benefits including durability and low maintenance.
Today, vinyl comes in a wide range of high-quality, beautiful finishes. One popular form of vinyl tiles is LVT or Luxury Vinyl TIles.
Considered a premium, high quality type vinyl tiles, luxury vinyl cam rivals other expensive flooring options in the market because of its realistic patterns, striking finishes and impressive textures. It comes in interlocking, floating or glue down forms.
Vinyl comes in thicknesses from 2 mm to 8+ mm. The thicker the material, the more stability and cushioning it provides.
Pros of Vinyl Tiles
• Durable
• Waterproof and suitable for wet areas like bathrooms, laundry rooms and basements
• Resists the growth of molds and mildews
• Scratch resistant.
• Stain resistant
• Very easy to clean and low maintenance
• Affordable
• Comes in a wide variety of designs, colors, styles and patterns
• Comfortable underfoot
• Easy to clean. Does not need to be waxed, polished, sealed or stained
• Easy to install and DIY friendly
Cons of Vinyl Tiles
• May dent from heavy appliances, furniture and weighty objects
• Fades in direct sunlight, however luxury vinyl flooring wont fade as much as cheap vinyl
• Difficult to remove for those which are glue down
Pros of LVT
• LVT and LVP resist scratches better than real hardwood.
• Stronger than traditional real wood floors
• More affordable compared to hardwood flooring
• Do it yourself installation
• Very easy to clean and low maintenance
• Realistic design and looks like authentic wood flooring
Cons of LVT
• Beautiful but still has a different texture compared to authentic wood flooring.
• Cannot be refurbished or sanded like natural wood flooring.
• Might be hard for to look for exact match after 5 years because the styles change
Cost of Vinyl Tiles
The average cost of luxury vinyl tile is around $2 to $5 per square foot.
Peel and Stick Tiles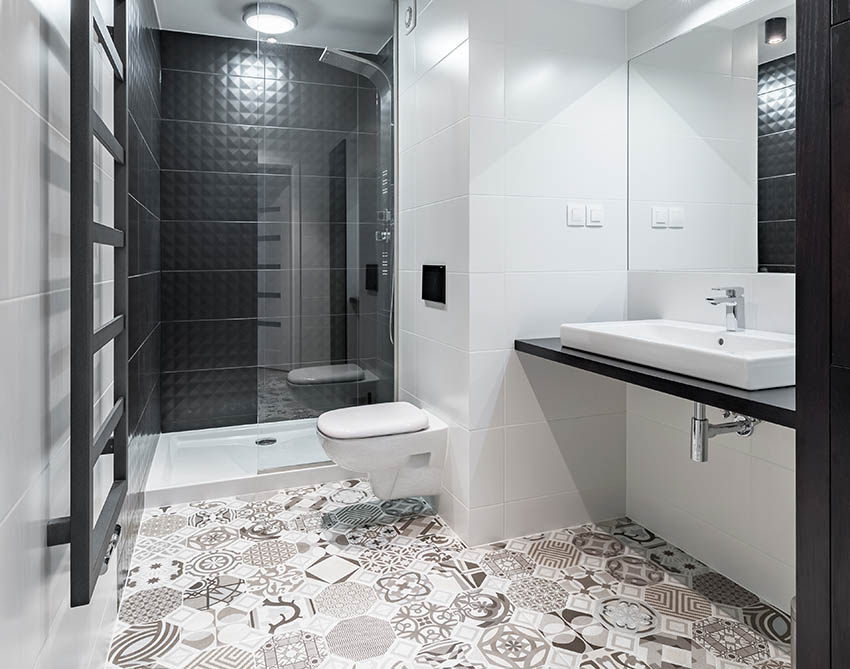 Peel and stick tiles are another form of flooring which is perfect for DIY projects. Also known as "self adhesive tiles", peel and stick tiles are commonly made with vinyl — a thin yet resilient flooring material that comes with an adhesive backing.
Installation is straightforward and would only require peeling off the paper backing, laying the tiles on the floor and pressing them down to ensure they stick to the underlayment.
To ensure proper installation, the underlayment must be smooth and clean. Dust or moisture will prevent the tiles from sticking to the underlayment properly.
Pros of Peel and Stick Tiles
• Affordable
• Durable
• Perfect for DIY projects. Quick and easy installation
• Easier to remove and replace compared to other flooring
• Perfect for rental apartments because they can be easily removed without damaging the subfloor
Cons of Peel and Stick Tiles
• Needs a smooth subfloor or underlayment. If the underlayment is not solid and clean, peel and stick tiles can become loose over time.
• Cannot be reused and recycled
• Water can seep through edges
• Prone to unsticking. In some cases, may require an additional full spread adhesive to the underlayment before installation.
Cost of Peel and Stick Tiles
Peel and stick tiles are one of the most affordable flooring options in the market –with the average cost running at a minimum of $1 per square foot. Premium peel and stick vinyl tiles cost more.
Foam Flooring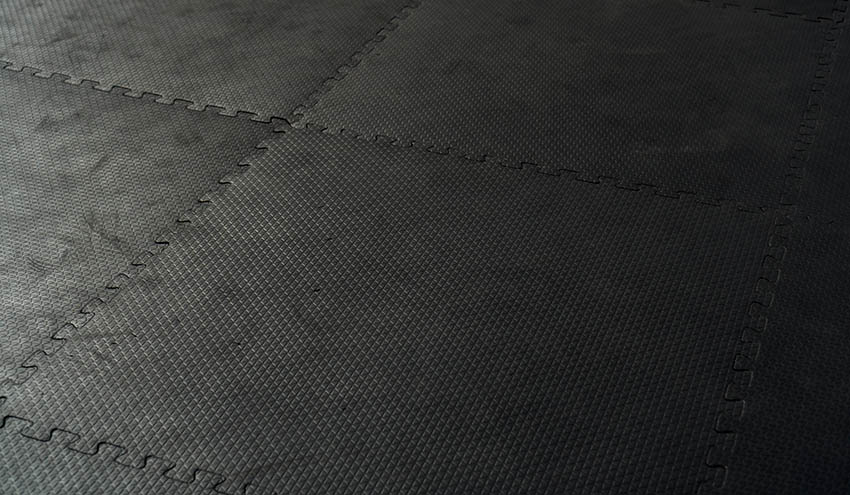 Foam flooring and rubber flooring are sometimes interchanged because they are very much alike. Most foam tiles are made of EVA foam and come in large interlocking tiles. EVA flooring is a type of elasticized closed cell foam with softness and flexibility that is similar to rubber.
Foam flooring is preferred in spaces for young children where safety and softness is top priority. When choosing foam tiles, consider the users' weight and the load of the furniture or equipment to be placed on it. This type of tile is best used for low traffic areas, nurseries and kid's rooms.
Pros of Foam Tiles
• Soft and comfortable
• Shock absorbent
• Light and easy to handle and install
• Easy to maintain. Only needs a damp mop and gentle soap for regular cleaning
• Available in a wide range of colors and styles
• Affordable
• Kid friendly
Cons of Foam Tiles
• Furniture tend to leave marks on its surface and if left for a long time, these become permanent indentations
• Can be easily punctured or scratched
• Not as durable as rubber or other flooring materials.
Cost of Foam Flooring
The cost of foam flooring varies depending on the type. Rolls are available in a wider choice of thicknesses than tile and the thicker the product, the more expensive it is. In general, foam flooring costs less than rubber at an average of $.75 to $1.65 per square foot.
Rubber Tiles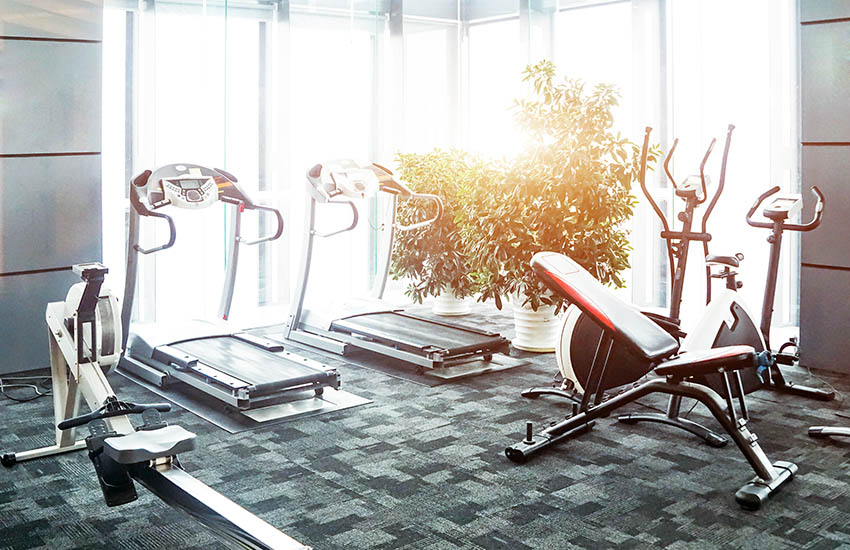 Typically found in commercial applications like gyms, rubber tile flooring has also served as one of the most viable flooring materials for residential applications.
Rubber tiles are made with synthetic, natural or synthetic rubber and usually come in square shapes with varying thicknesses and sizes. The most common sizes you can find are 30×30 cm and 60×60 cm, while the average thickness is around 8mm.
Similar to foam tiles, rubber tiles come in interlocking design and do not require any adhesive during installation.
Pros of Rubber Flooring
• Strong and resilient
• Safe and non slip
• Impressive sound and shock absorption
• Ease of maintenance. Can be cleaned using a cloth
• Aesthetic appeal
• Eco friendly option
• Numerous styles available
• Lightweight
• Can be easily replaced
• Perfect for DIY
Cons of Rubber Flooring
• The seams between the interlocking tiles are susceptible to moisture and water can seep into the subfloor
• Slippery when wet if your rubber tiles are smooth
Laminate Tiles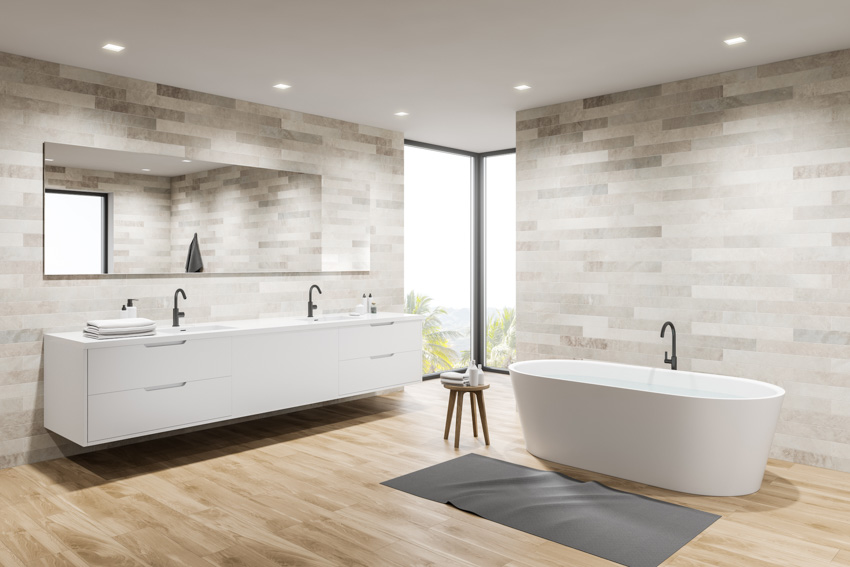 Laminate flooring is one of the best alternatives to hardwood flooring. It comes in tile and plank form and is very easy to install because the ends are designed to snap together without using nails or adhesives. It provides an inexpensive, quick and easy way to renovate or update an old flooring.
However, its visual effect makes it stand out among the rest. Laminate flooring mimics the look of hardwood and natural stone. But compared to natural materials, it has no defects and has a consistent appearance and uniform quality.
For wood like designs, the wood grains are embossed onto the surface adding a more realistic effect. You can find laminate tiles in dozens of types of wood species like hickory, oak and heartwood pine. Some manufacturers also make exotic species such as tigerwood and prado.
Laminate tiles work for most type of spaces, but they are less suitable for wet areas like sump rooms and basements because of susceptibility to moisture.
If you want to use it for such applications, you will need a moisture barrier. Typically, installation would require a thin, foam cushion underlayment.
Pros of Laminate Flooring
• Attractive and looks like real hardwood flooring
• Durable and tough
• Good stain resistance
• Easy to install and ideal for DIY projects
• Lightweight
• More stable compared to other flooring materials. The seams do not open up even with changes in humidity.
• Cleanup and maintenance is easy. Regular cleaning online requires sweeping and a bit of mopping.
• Inexpensive
• Non allergenic
Cons of Laminate Flooring
• Although durable, laminate flooring is still not recommended to be installed in wet areas like laundry rooms and bathrooms because they are still susceptible to moisture damage.
• When worn out, laminate flooring needs to be replaced.
• Looks real but feels unnaturally hard and noisy underfoot
• Does not add long term real estate value to your home
Laminate Flooring Cost
On the average, plastic laminate flooring costs $1 to $3 per square foot at home improvement centers. Designer laminate flooring is more expensive and can run as much as $10 to $12 square foot. The prices depend on the thickness of the wear layer and the quality of the print layer.
When it comes to installation costs, the average price is about $5 per square foot including labor and materials, making it one of the most inexpensive of all flooring materials.
Cork Flooring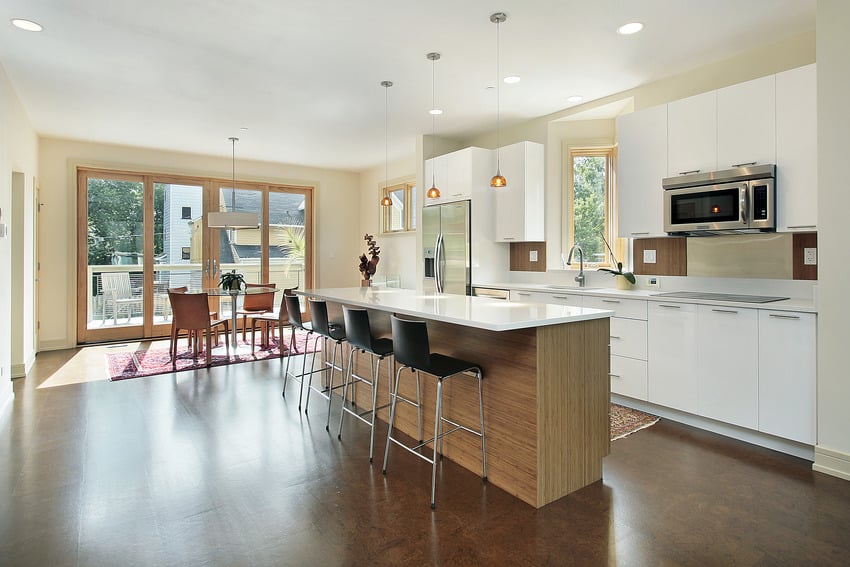 Cork flooring has been around for many decades, but it has become more popular now because it is eco friendly and sustainable. Cork comes from the bark of the cork oak tree. To produce cork flooring, cork is ground up, compressed, bonded using resins and formed into sheets.
Traditional cork flooring consists of solid cork tiles that are applied using glue or adhesives. There are newer forms of cork flooring which consists of a bottom layer of compressed cork, a core of medium density fiberboard (MDF) or high density fiberboard, then a top layer of top quality cork.
Similar to other engineered flooring materials, this type of cork flooring uses floating floor installation and is generally installed over a foam underlayment pad. It is also easier to install since the edges lock together.
Part of the process of installing cork flooring involves sealing to create an invisible barrier over its surface. This will give it extra protection against moisture and would help prolong its lifespan.
Cork flooring can also be refinished periodically to keep it from looking fresh. This involves adding the surface of the solid cork tiles and then applying stain or a finishing sealer. However, this cannot be done to engineered cork flooring because it is thinner compared to natural cork flooring.
Regarding design, traditional cork flooring has a strong, natural look that adds warmth to spaces. It works best for informal, casual interiors. Because of its soft surface, cork flooring is more suitable for children's rooms or for spaces for the elderly.
Pros of Cork Flooring
• Soft cushioned surface. Comfortable underfoot
• Good insulation properties and saves on heating and cooling bills
• Great for sound deadening
• Naturally repels insects and small vermin because it contains a waxy substances called "suberin"
• "Green", renewable resource, easily replenished and eco friendly
• Hypoallergenic and antimicrobial
• Easy to install and perfect for DIY
• Requires only regular sweeping or vacuuming to remove dirt
• Can be refinished to give it a fresh new look
Cons of Cork Flooring
• Susceptible to damage
• Soft, impressions and divots for heavy appliances and furniture
• Easily damaged by pets
• Requires periodic water sealing
• Spills must be wiped immediately to prevent staining
• Has the tendency to fade under direct sunlight
• High humidity can cause cork to curl or plump
Cork Flooring Costs
The cost of cork flooring tiles runs anywhere between $2 to $12 per square foot, depending on the thickness of the material, the quality of the cork and the quality of the finish.
Installation adds another $1 to $2 per square foot, making it a very economical choice for residential flooring. If you want to save more on installation, you can choose to DIY as it is a fairly easy project.
Resin Tiles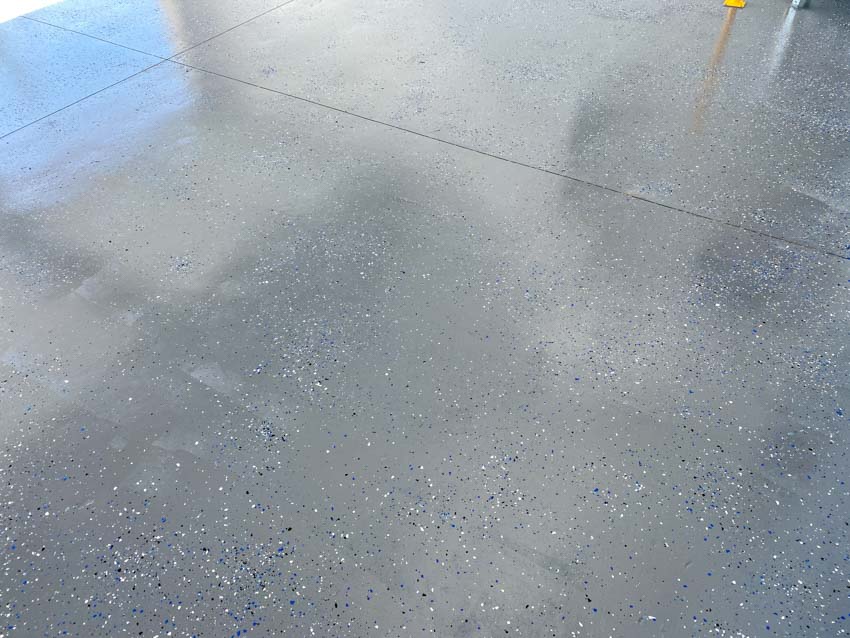 Installing resin flooring involves putting an epoxy resin onto a concrete substrate, which then cures and produces a strong layer.
It is helpful in industrial and commercial settings since it is long-lasting, easy to clean, and inexpensive. It can, nonetheless, be used in household environments as well.
When the resin hardens, it becomes exceedingly rigid. Thicker floors can endure practically continuous use from large cars, making them ideal for garages.
Resin's resilience means it can survive huge impacts, such as those caused by accidental drops or spills. The resin is suitable if a floor is subjected to heavy foot traffic because it does not deteriorate over time, even when subjected to regular use.
Epoxy floor with resin in it is a very long-lasting type of floor tile that can last for more than 10 years even with continual use. Resin flooring is a worthwhile investment as it lasts so long, thus it is so popular in commercial and residential environments.
Appropriate sealants and protective coatings can further extend the lifespan.
Resin is a low-cost substance. As a plastic counterpart, it has a fairly simple production procedure and is reasonably quick to install. Resin floors' cost-effectiveness makes them ideal for big facilities such as factories.
Extra layers, such as sealants and skid-resistant surface treatments, will increase the cost of the installation. However, at its most basic, the resin is a fairly inexpensive material.
Pros of Resin Tiles:
• A great option in residential, commercial, and industrial applications
• Can last for decades
• Very affordable
Cons of Resin Tiles:
• Susceptible to cracking
• Can be very slippery when wet
Floor Tiles Design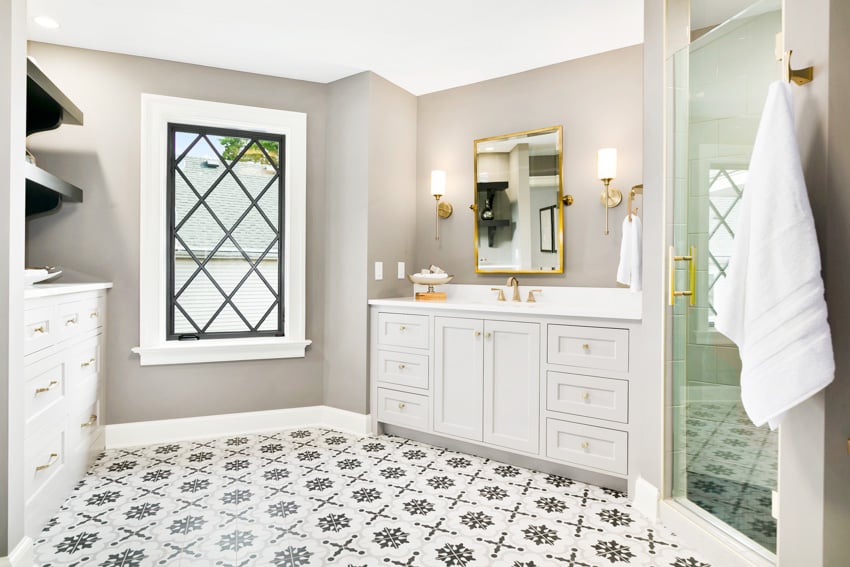 After picking out the perfect tile, the next thing you must decide is choosing the right lay-out. There are numerous tile designs and patterns which you can try out and each one can help elevate the design of your space and increase the resale value of your home.
Before choosing the floor tile design of your home, take note of the following tips:
Plan in advance – Evaluate your space and plan cuts and grout lines. This will ensure that your installation will proceed smoothly.
Make a tile layout pattern – A tile layout pattern will come in handy during installation, especially if you choose to go the DIY route, because it gives you a guide. You can ask a professional for help in making a tile layout pattern but if your project is rather simple, you can download apps and software
Dry fit your pattern – Before installing your tile, dry fit your chosen pattern. This will allow you to finalize the cuts and give you an idea of how your space will look. Once your tiles are installed, it will be hard to make any changes, so take advantage of this step.
Include contingency for the final quantity of your tiles – When ordering your tiles, make sure to include at least 10% allowance to your final quantity.
This is for any unforeseen cuts, adjustments or breakage during installation. A contingency plan will lessen unexpected trips to your suppliers and save you time and effort.
The patterns must be symmetrical with the available space – If your room is small, avoid tile designs with large prints and patterns as this will make your space look smaller.
Choosing the right size of design will bring in proportion, balance and harmony to the overall aesthetics of your room.
Types of Floor Tile Patterns & Layouts
Here is a list of the most common tile patterns and layouts:
Square-Set, Stacked-Set, or Grid Pattern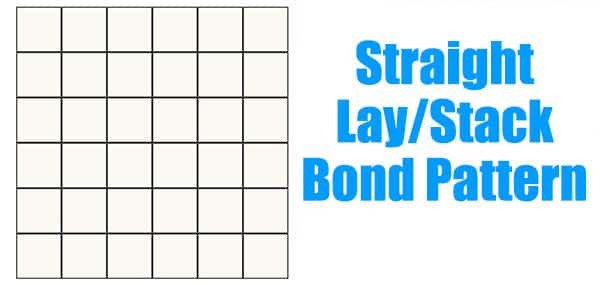 The square or grid pattern is the most common tile layout. In this pattern, the tiles are simply set in a square with corners. Aside from being the easiest to install, it also requires the least number of cuts, which in turn saves money and effort.
Unfortunately, the grid style has the tendency to look boring especially if the tiles used are too plain or neutral. However, you can make this more interesting by experimenting with color blocking, incorporating stripes, adding an accent or checkerboard pattern.
Although relatively easy to install, the grid pattern can highlight any odd angles or bad cuts so make sure that all your thinly cut tiles are placed in less visible areas. You can also offset your tiles to make the cuts more balanced throughout the room.
Diagonal or On-Point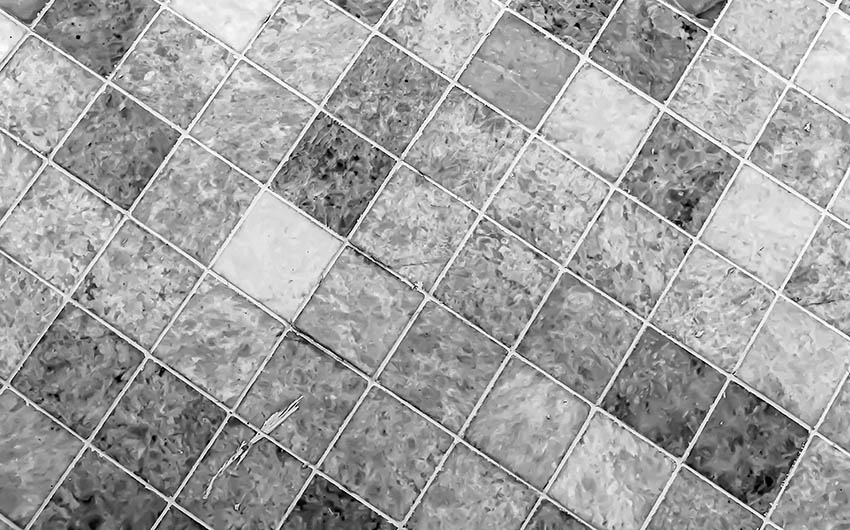 The diagonal pattern is a layout technique at which the tiles are laid out at a 45 degree angle to create a more uninteresting and dynamic look. This uses more cuts compared to a square set pattern.
The diagonal cut is more suitable for small spaces because it can make it look bigger. If your room also has walls which are not perfectly square, this tile pattern can help hide the imperfections.
Offset, Running Bond, or Brick Pattern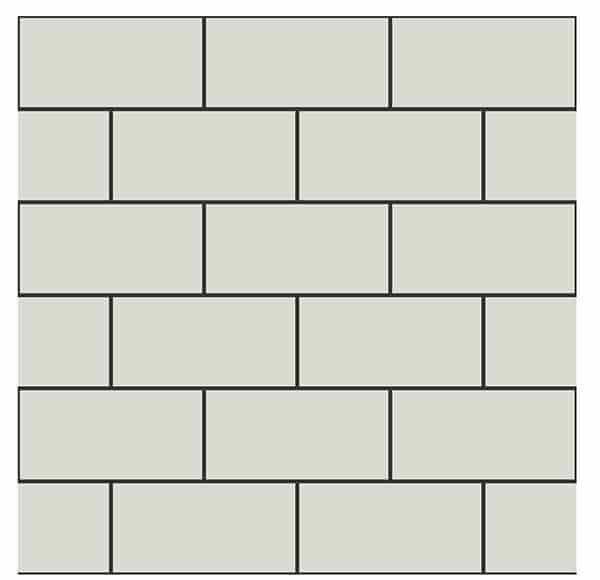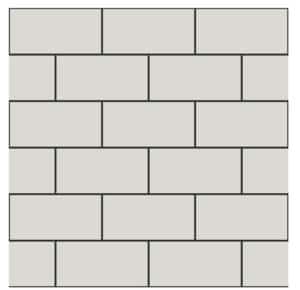 The running bond pattern pertains to the traditional way bricks are laid, that's why it is also called a brick pattern. In this design, each row of tiles is offset by half a tile width.
This results in rows of long, horizontal lines that are perfect for making your room appear wider.
You can also use this tile layout pattern if you want to emphasize sharp lines and create a strong look.
The running bond or brick pattern comes in different variations, with 50/50 offset as the most common. Varied offsets like 40/60, 30/70, etc. are perfect if you want to create a softer and more natural look.
Pinwheel or Hopscotch Pattern
The pinwheel pattern, also known as "hopscotch", is simpler than it looks! Take any two rectangles or squares of different sizes, align them on one side, and repeat.
This pattern is a great way to incorporate two different materials into the same space and create a dynamic, varied appearance.
Use two sizes of the same product for subtle movement or use a contrasting color or material for more of a decorative effect.
Herringbone
For the herringbone pattern, simply take any rectangular tile, turn one so that the two are perpendicular to each other, align them along one side, and repeat.
You are essentially creating an L-shape with your two tiles, and these L's will nestle next to each other for a simple repeating pattern.
Any size rectangle will work for the herringbone pattern, forming a dynamic zig-zag that works in both contemporary and traditional settings.
Cost To Install Tile Floor
Professional installation adds $5 to $10 per square foot, depending on the amount of prep work required, putting the total average cost to install a tile floor at $7 to $14 per square foot. Expect to pay $1,050 to $2,100 to install a tile floor in a 10×15-foot room (150 square feet).
What is the labor cost to install tile?
The labor cost for installing tiles is about $4 to $32 per square foot. Labor costs range from $4 to $14 per square foot for floor tiling, while those for a backsplash or countertop are about $25 to $32 per square foot.
How long does it take to install tile flooring?
Installing new tile is a multi-step process that typically takes 1-3 days, depending on the space and size of your project. First, you have to prep the surface, ensuring it is clean, flat, and ready for tile installation. Next, you set the tile with mortar based on your tile type.
Which Tile Size Is Best For the Home?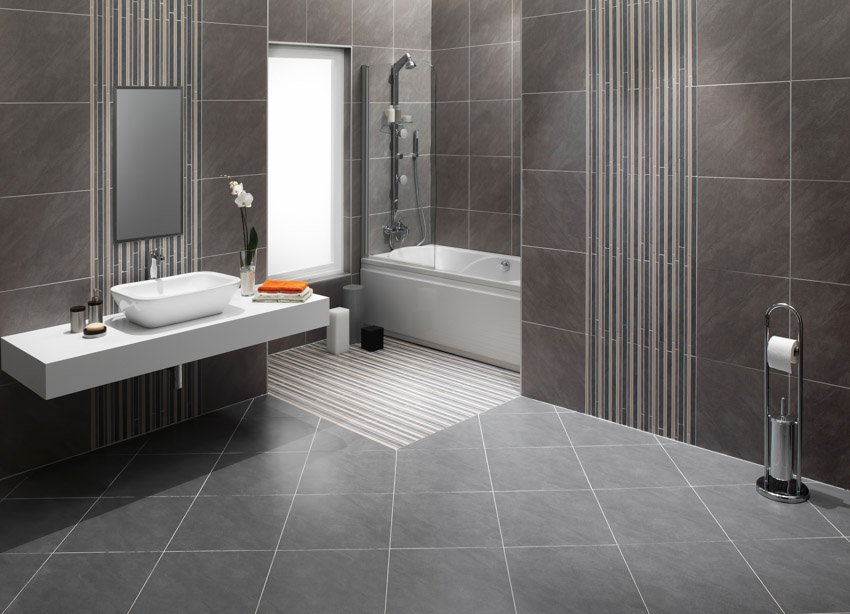 Choosing the right size of tile is important because it will impact the overall visual appeal of your home. If your room is narrow and the tile size is too big, the resulting look will be very unbalanced. Choosing too big tiles for a small area like a bathroom can overwhelm the space.
The general rule in choosing the right tile size for your home is to opt for a tile relative to your space's size.
For rooms that have an overall floor width of fewer than 13 feet or 4 meters, the best tile size to use are 12″x12″ or 30×30 cm square tiles because they help create an illusion of a bigger space.
For rooms that are bigger than 13 feet or 4 meters wide, you can choose larger square tiles such as 16″x16″ or 40×40 cm, 20″x20″ or 50×50 cm or 24″x24″ or 60x60cm in size. The larger the tile size, the lesser grout lines, the more open and clean the space would look.
Similarly, large areas like living rooms, dining rooms and open areas can handle larger tile sizes. Following the recommended tile sizes will help create proportion, balance and proper scale in a space.
What Is The Most Durable Type Of Tile?
There are so many tile options which are equally durable and long lasting. But if we are to rank the different materials based on their toughness, strength and value for money, porcelain tiles make it to the top of our list.
Porcelain tiles are very dense and more impervious to moisture compared to ceramic and natural stone tiles. Because porcelain has a through-body composition, it is extremely durable, can endure heavy traffic and is highly resistant against chipping, scratching and staining.
Runner-ups to the most durable types of floor tiles are natural stone tiles such as granite, marble, and limestone. They can survive for many decades and can withstand strong impacts.
Which Tiles Are Best For Flooring?
Here are some of the best tile options for flooring depending on the application:
Flooring for interior applications, especially heavy traffic areas and high moisture areas – Porcelain tiles are the ideal option for heavy foot traffic locations because they're less porous, heavier and extremely durable.
For outdoor applications – Concrete tiles are also extremely durable, strong, can withstand exposure to natural elements and constant temperature changes. Ultimately, they are great for any area of the home, including high traffic areas.
Which Tiles Are The Best and Cheapest?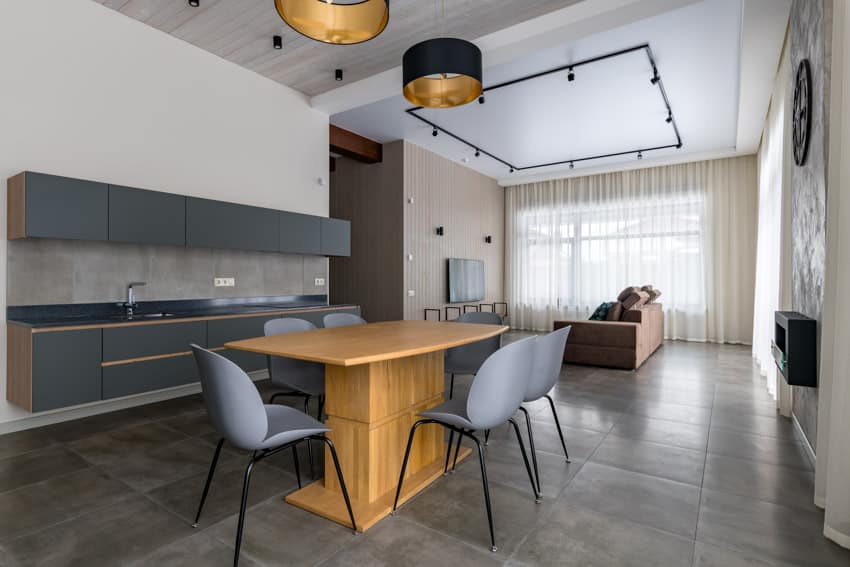 A ceramic tile is arguably the most affordable tiling option. Ceramic tile flooring must be acceptable for your application whether you are placing it in a bathroom or a high-moisture location.
Ceramic tiles are generally considered both the best and cheapest type of floor tiles. Kitchen and bathroom tiles are available in a wide range of styles, are durable and inexpensive compared to many other materials.

What Are The Best Low Maintenance Tiles?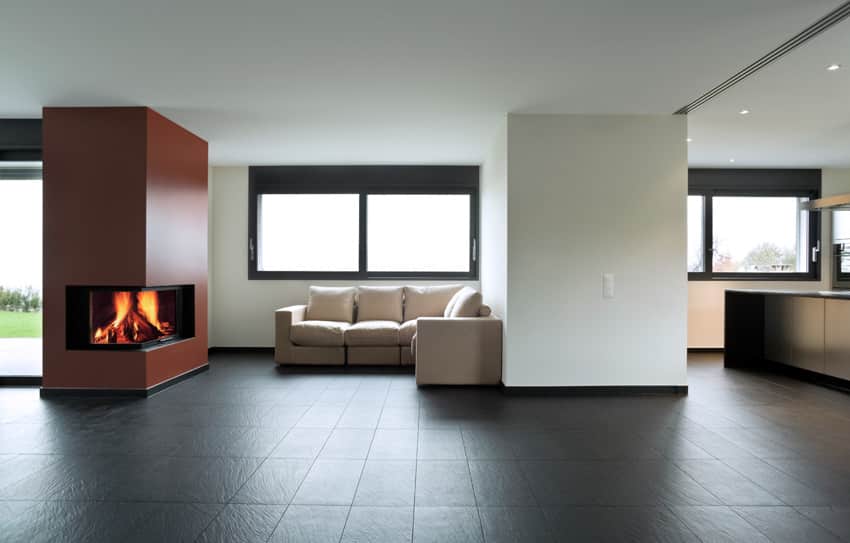 Ceramic and porcelain tile flooring are two of the lowest-maintenance tile flooring options available. Ceramic and porcelain tile floors are solid and durable, hence they will not scratch or dent.
Aside from that, they are also water-resistant, so they are very easy to clean. They are very much ideal for kitchens and bathrooms.
Which Color Tile Is Best For Flooring?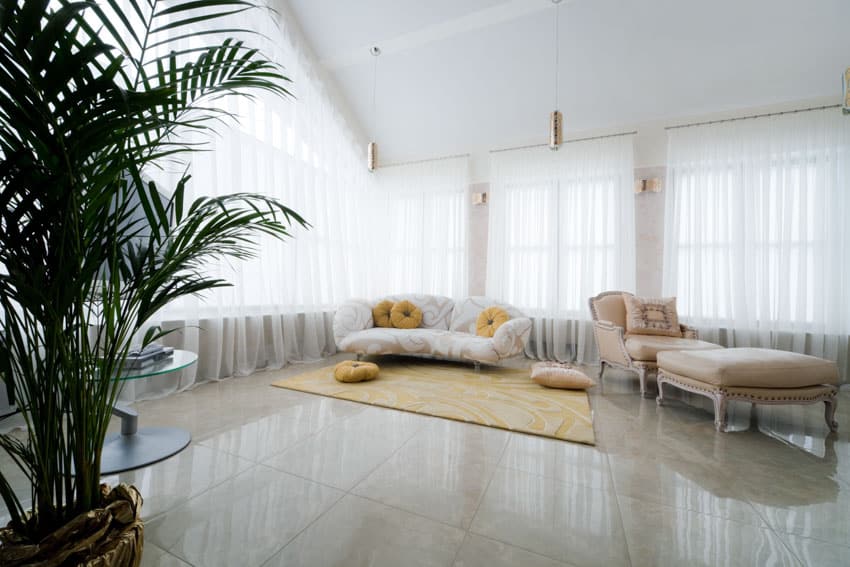 You must try your best to match the color of your floor tiles to the color of the rest of the room, not simply the wall tiles.
Consider the room's appliances, cabinets, accent colors, and work surfaces. The room design might have a style that must be followed or a color scheme that only specific colors will complement.
Since floor tiles will be around for a long time, it is better to go with neutral colors that will give a timeless appearance.
The most popular floor tile color is gray, with the latest trends opting for a gray wood style. Gray shades are an excellent neutral floor color that can go with many different types of wall paint and furnishings.
It can be light enough to be reflective and help make the room brighter overall.
The level of natural light in your space could influence whether your floor tiles should radiate light to make the area appear larger or if a darker color will suffice.
A little-known assumption is that glossy black tiles frequently show more grime than lighter-colored tiles. In fact, glossy back floor tiles seem fantastic, but this is something you should think about.
Which Tile Is Best For Bathrooms?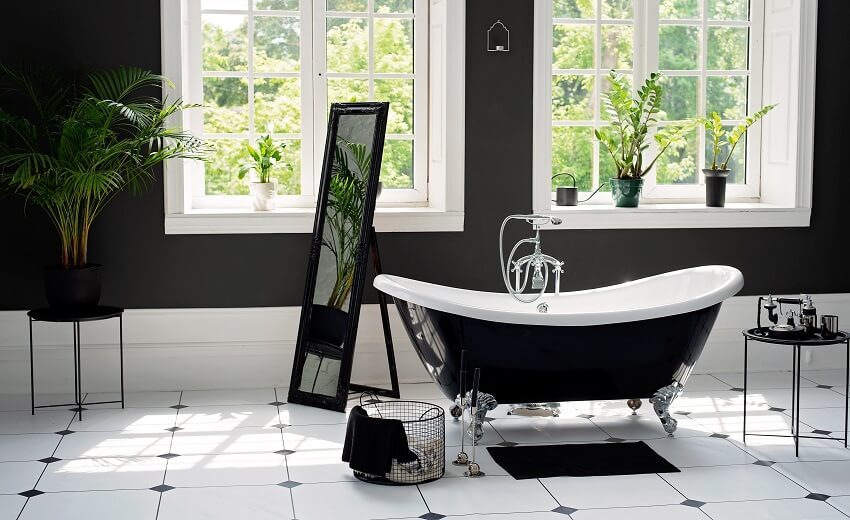 Bathrooms are constantly exposed to high moisture; thus they need a reliable flooring material that is impervious. We also recommend porcelain tiles for wet areas because they absorb the least amount of water.
Unlike natural stone tiles that need to be sealed to make them less porous, porcelain tiles have a thorough body composition, making them dense and moisture-resistant.
It is also equally important to use non-slip floor tiles, so opt for matte tiles because they offer more traction. Never use glossy tiles for bathroom floor tiles because they pose more slipping risk. However, you can use glossy tiles for the wall because they reflect more light and can help make your bathroom feel more open.
Regarding size, it is recommended to use 30x30cm, 40x40cm , 25x40cm, 25x60cm or 30x60cm for average sized bathrooms.
See more related content in our article about the different types of kitchen floor tiles on this page.