Here we share our log cabin interior paint colors, including the best options, cabinet color suggestions, and what scheme goes well with a knotty pine interior.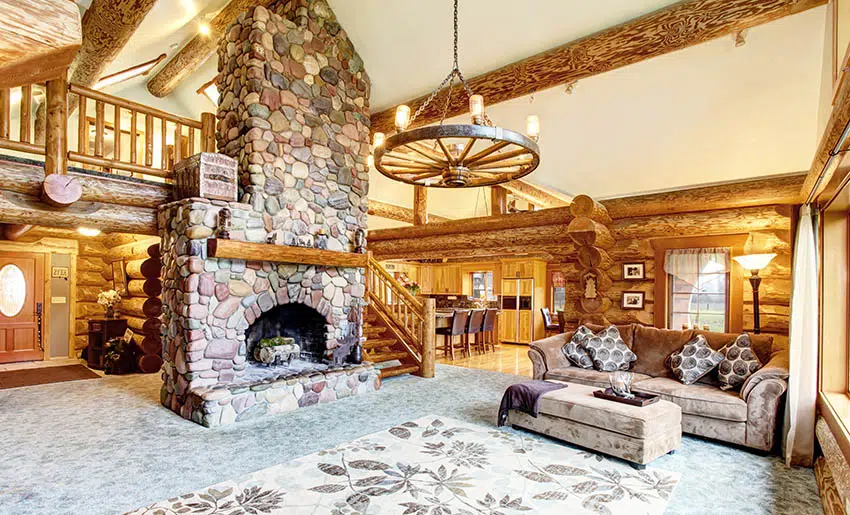 With so many paint colors available today, your log cabin doesn't need to stick with the all-brown theme. In fact, with the right shade of color, you can incorporate more vibrant hues, creating different moods for your rustic interior.
The rugged beauty of log cabins is time-enduring amid the popularity of modern aesthetics as once in a while, we long to return to a quiet retreat, a place to reset things and enjoy nature's rustic charm.
But what if you can update the look of your log cabin into an enamoring and more personalized space that works with your style while maintaining the organic look of your interior? You can have it all by adding some color to your earthen tones.
Best Log Cabin Paint Colors
| Colors | Shades | Why Use It |
| --- | --- | --- |
| Earth Tones | Browns, Beiges, Tans | Blends with wood & promotes rustic feel |
| Greens | Forest, Sage | Highlights nature & outdoor ambiance |
| Blues | Light, Grey-Blue | Calms & contrasts warmly with wood |
| Warm Whites | Creamy, Off-White | Brightens & warms the interior |
| Soft Grays | Light to Medium | Modern vibe & stylish with wood |
| Accent Colors | Burgundy, Navy, Muted Yellow | Adds vibrancy & contrast for accents |
| Natural Stains | Different Wood Stains | Enhances natural wood look |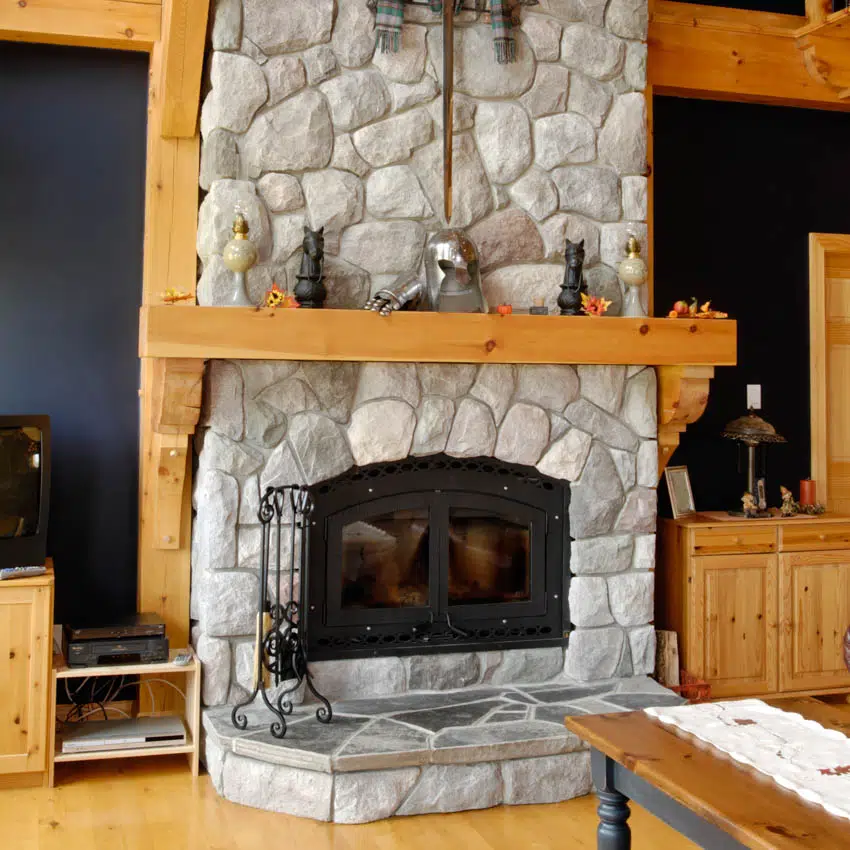 The wood textures of your log cabin dominate the overall look of your interior, and having similar browns and beige can make it look dreary and stale. The best approach to zest up your look is to add surprising pops of color as accent walls.
Neutrals are still great options, but you can also add pastel colors that won't compete with the honey tones but instead add a wisp of vigor into your interior.
What Color Cabinets Look Good In A Log Cabin?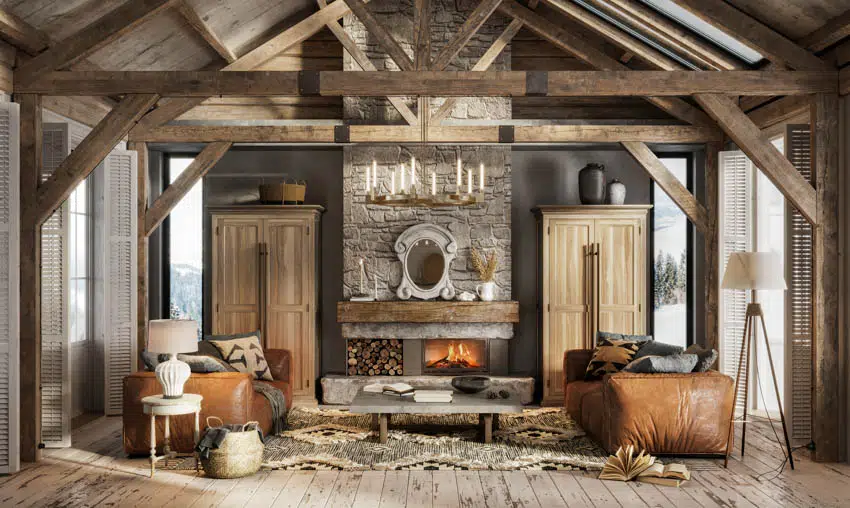 Here we share the ideal cabinet colors that will look good inside a log cabin.
Sophisticated And Somber – Black Paints Behr Charcoal Black (RAH-94)
Ideally suited for use as an accent or on non-permanent surfaces. It is the most submissive of all colors, being sophisticated, classy, and somber.
Black makes rooms appear smaller and is challenging to cover up, so use it sparingly, but don't forget to add a little to each space, somewhere! The black color acts as an anchor in the room, imparting a sense of gravity and realism.
Black cabinets in the log home pictured above stand out against the pale knotty-pine log walls, white quartz countertops, a soapstone farmhouse sink, and stainless-steel appliances round out the efficient kitchen's offerings.
Paint Brands:
Behr Charcoal Black (RAH-94)
Pantone Raven PMS (19-0000 TCX)
Hex color code: #626262

Soothing And Cheerful – Peach Paints Dunn Edwards Peaceful Peach (DE5176)
Peaches and other nude colors are fast becoming the new neutrals in interiors as you can use them liberally without overwhelming a space.
You'll find peach paints in both modern and traditional styles, and you'll love the soothing color that fits any functional room.
The peachy color can be paired with black or white accents, and you can also add stone tiles as accents to the pale hue.
Paint Brands:
Dunn-Edwards Peaceful Peach (DE5176)
Hex color code: #FFDDCD
Cozy And Clean – Gray Paints Benjamin Moore Stonington Gray (HC-170)
Gray is often overlooked as a neutral, but if the right shade is chosen, it can be cozy or clean without looking drab. Gray encourages creativity and productivity in offices and classrooms because it is not distracting.
Grays can be very stylish and sophisticated, and with a little brown thrown in, they look great in both contemporary log-style homes and the silver patina of traditional early American style.
Clear-coated white pine logs create an airy and bright backdrop for sleek gray cabinets in the above hybrid log and timber home.
Paint Brands:
Benjamin Moore Stonington Gray (HC-170)
Benjamin Moore Iced Cube Silver (2121-50)
Valspar Gravity (4005-1B)
Benjamin Moore New Hope Gray (2130-50)
PPG Paints Dover Gray (1001-5)
Hex Color Code: #9da9b4
Classic And Simple – White Paints RAL Signal White (9003)
The best way to create a contemporary look with your log cabin is by painting everything in white. The result is a relaxing space where you can layer out your textures and materials without the fear of having clashing elements.
The blank canvass induces a cool air and bright ambiance. Avoid creating a stark environment by adding exciting décor with metal and black accents.
The clean look loves botanical elements such as dried or fresh flowers or stone elements.
Paint Brands:
Pantone TPG Star White (11-4202)
RAL Signal White (9003)
Wattyl Moody White (E12W)
Laura Ashley Cloud White (40-14)
Behr Oslo (PPWC-33)
Hex Color Code: #ecece7
Dramatic And Stimulating – Red Paints Berger Red Red (AC120)
Among the colors to match up with your log cabin look, red is the most difficult color to get right. The bold color can create drama, stimulating the visual senses and sometimes tend to make people lose track of time, making them ideal for home offices, gyms, or game rooms.
Due to its strong character, it can be tricky to add them with your log cabin texture and not make it too overpowering to your already weighty log cabin color.
The key is to get the right shade, amount, and location. You can either choose it as your entire wall color and create a monochromatic scheme or have it as an accent wall.
Paint Brands:
Strong Shades:
Berger Red Red (AC120)
Scib Paints Red Red (AC120)
Pastel Shades:
Glidden Red Red Wine (PPG1049-7)
PPG Pittsburgh Paints Red Red Wine (PPG1049-7)
Benjamin Moore Misty Rose (1360)
Hex Color Codes: #eaced7, #a23550, #cc3333
Pretty And Cool – Beau Blue Benjamin Moore Jet Stream (814)
Blue paint colors are a great way to balance the warm tones of log cabins if you're looking for the perfect color for your kitchen or any space that needs more than a dab of paint.
The Beau blue is your perfect choice when you want a cross between gray and blue tints. Appropriately named, "Beau" is a French word meaning beautiful.
The cool hue is a popular shade in interior design, mostly used as a wall color and best matched with white and black accents.
Paint Brands:
3575 Benjamin Moore paint colors
1692 Dunn-Edwards paint colors
1327 Coronado
Hex Color Code: #BCD4E6
Bright And Clean – Dutch White Behr Dutch White (MQ3-31)
White is among the staple log cabin interior paint colors as it can go with any other hues. But there are a lot of white shades, approximately more than 150,000 shades.
To narrow it down, we use the most popular white shade that's available in many paint brands, the Dutch White.
The Dutch White is a popular color that belongs to the Resene Color List, a well-known list in Australia and New Zealand.
Paint Brands:
1739 Sherwin-Williams paint colors
6723 Behr paint colors
147 Limestrong paint colors
Hex Color Code: #dddcd8
Calming And Feminine – Lavander Blue Dunn-Edwards Violet Gems (1377)
For your log cabin bedroom, the lavender blue is your perfect choice when you want a serene and relaxing ambiance.
White accents and décor are a great combination with your lavender-blue such as carpet, lighting fixtures, pillows, flowers, and curtains.
Another term for lavender blue is "pastel purple" and "periwinkle," and a brighter version of your Lavander gray.
Paint Brands:
Loop Vilnius (LP-180)
California Paints Violet Gems (DE 5940)
Dunn-Edwards Violet Gems (1377)
Hex Color Code: #ccccff
Soft And Cozy – Lavander Gray Olympic Gray Violet (D34-4)
Going back to your basic color theory, the yellow-toned log cabins work well with colors across your color wheel, which includes violet and gray tints.
The gray violet helps mellow down your yellow tones, complementing your strong wood colors.
Also termed as "old lavender" or "dusty violet purple," it works well with beige, yellow, magenta, honey, and other warm browns. It is a saturated color where you create a cozy space.
Paint Brands:
Olympic Gray Violet (D34-4)
RAL RAL (020 60 05)
Hex Color Code: #998d8d
Friendly And Warm – Olive Green Behr Fertile Green (S340-6)
Either you have a beige or reddish tone on your log cabin, the olive green is a great partner to your wood texture. It helps neutralize the strong warm color while keeping a welcoming ambiance. It is the perfect wall color for your kitchen or dining area.
Paint Brands:
Behr Fertile Green (S340-6)
Resene Wilderness (G63-046-098)
Pantone PMS (5825 UP)
Hex Color Code: #8e8b5b
What Color Paint Goes Best With Knotty Pine?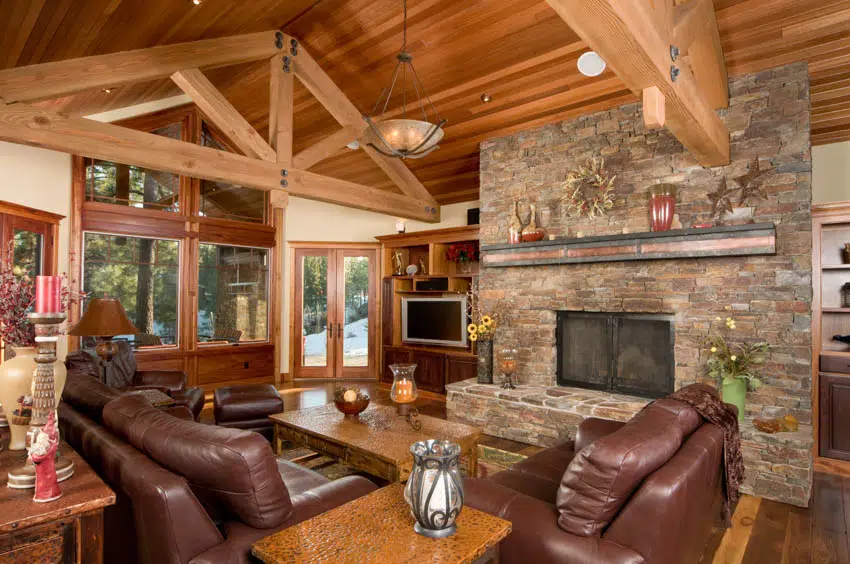 Knotty pine was a rave back in the '50s, and 60's when many homes were filled generously with knotty paneling and cabinetry.
While it has that old rustic look, the knotty pine has never gone out of the interior design scene, and you'll still find many homes inspired by the log cabin style. It is still a perennial favorite for country-inspired homes and log cabins.
The challenge is making your knotty pine interiors have that contemporary feel.
Whether you want to stay with its conventional look or have a modern take on your knotty pine home, the color you choose affects your interior's overall look and feel. Here are some log cabin interior paint colors that you can consider.
First off, consider what shade and undertones your knotty pine has:
• For yellowish or honey-colored lumber, avoid using beige, cream, or browns, as your room can look pale and lack depth. If you want a bright interior, use white instead of with a little hint of red or blue.
Paint Brands: Sherwin Williams Eider White (SW7014) Benjamin Moore Cloud White (967) Farrow and Ball Cornforth White (228) Benjamin Moore Quiet Moments (1563)
Hex Color Code: #e2ded8
• For grayish or maroon undertones for your knots, choose black colors that complement the darker knots while contrasting your light-toned wood surface.
For a classic and moody look, pair your knotty pine with dark accents that add dimension to the spaces and help dilute the strong rustic color.
Paint Brands: Benjamin Moore Soot (2129-20) Valspar Paint Deep Space Echo (T691)
Hex Color Code: #383d42
• Blues and greens require careful selection but can create striking effects when combined with knotty pine.
Traditional knotty pine is often paired with sage green or country blue, but deeper shades of turquoise or aqua add a dramatic touch to Mid-Century Modern decor.
In contemporary décor, cool, icy blues and greens complement knotty pine.
Paint Brands: Australian Standard Ti Tree (AS2700 G65) Valspar Paint Blackened Pine (5003-2C)



Pantone PMS (448 U)


Behr Passionate Plum (EBC-47) Taubmans Deeply Blue (T61-8) Dunn-Edwards Slumber (DE5860)
Hex Color: #63614e, #4e5180
• Reds, yellows, and orange can be used with contemporary knotty pine but not with the traditional red-orange shades. A light lemon yellow, meanwhile, can look nice with traditional knotty pine in a country kitchen.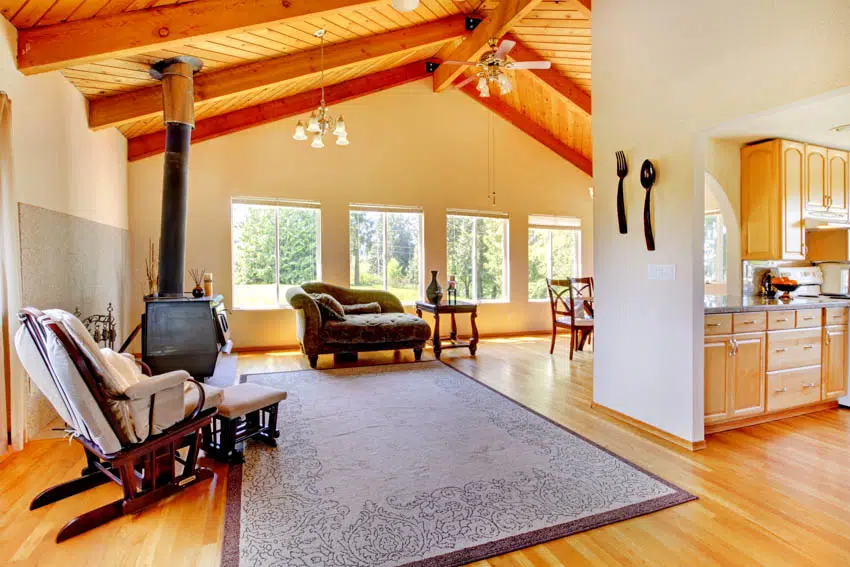 Paint Brands:

Benjamin Moore Hawthorne Yellow (HC-4) Fuller OBrien Lemon Yellow (A-79) PPG Pittsburgh Paints Lemon Yellow (PC733) Sears Lemon Yellow (CC183)
Hex Color Code: #fff700
These log cabin interior paint colors will help infuse new life into your surroundings by veering it away from the usual wood-centric look. You can use these paint suggestions, especially in the kitchen.
An alternative to painting with yellow hues, a wood tone, and a pink combination can work well for soft furniture and decoration such as artwork and accent pieces.
Opt for lighter shades in throw pillows and blankets to offset the natural wood tones without being too overwhelming. Balance the pink shade with plenty of neutral colors and natural materials to maintain that cozy, rustic feel.
See more related content in our article about the different log cabin kitchen design ideas.