Here's our guide to log-style homes including popular types, differences between home & cabin and pros & cons.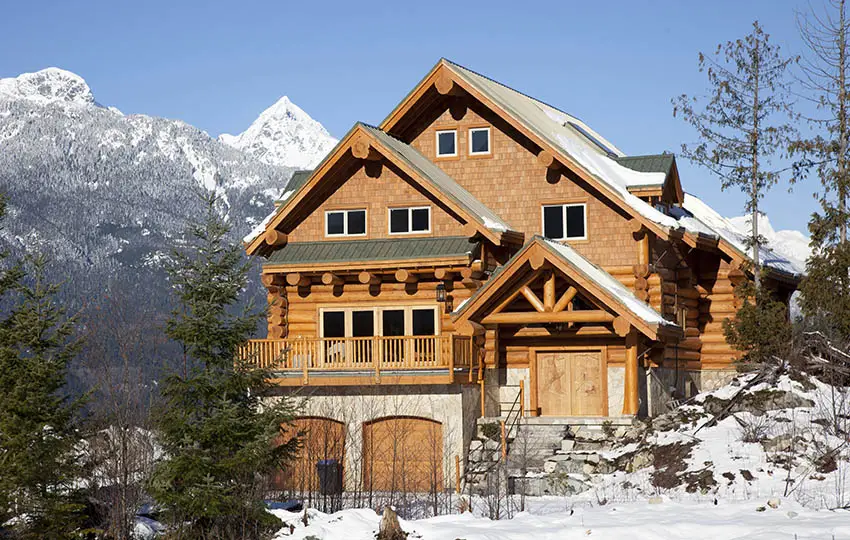 A perfect alternative to vacation homes, second homes and downsized smaller homes – these Log homes have readily proved to be an economical, aesthetically pleasing, and affordable solution.
Highly recognizable around the woods and lakes, these homes exhibit coziness while easily fitting into smaller spaces with extravagant views of the forests around.
Ever since the evolution of design styles and constant expansion of the territories, log homes began to come into the limelight as the population pushed west into heavily wooded areas. In the present era, there is a wide plethora of log homes, log cabins, cottages, retreats, and lake houses to live up to the style of log ranches.
What Is a Log Home?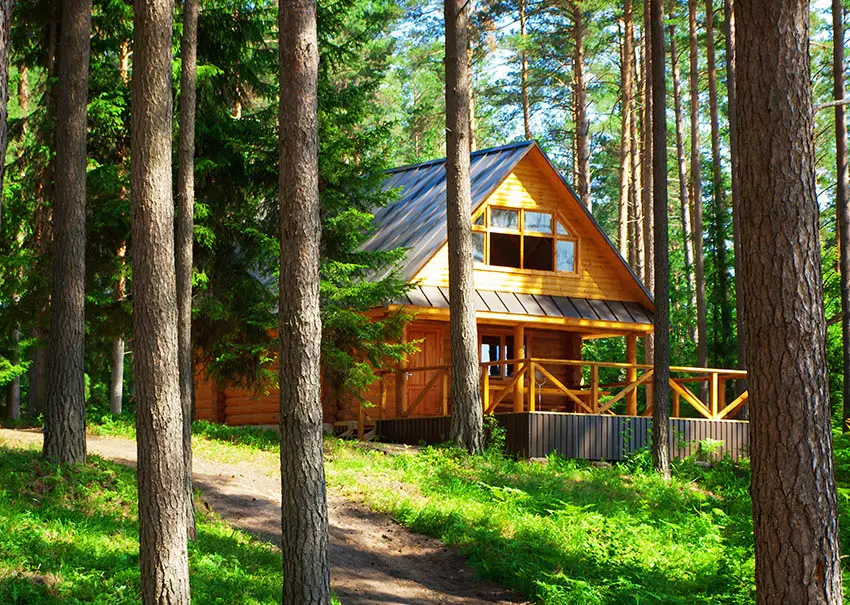 A log home or a log building is a structure built with horizontal logs interlocked towards the corners by notching. These logs come in various forms ranging from round to squared and sometimes, handcrafted or milled.
Experiencing a log home is quite unique – from the moment you enter the home – there is a subtle, cozy, and natural atmosphere created. The main idea of introducing the outdoors inside is through the use of natural wood logs that make the space feel equally warm and homely.
This architectural style dates back its roots to the Scandinavian regions of Sweden, Finland, Norway, and Russia, where the conifers are readily available.
Log and timber homes are all about getting back to the basics, living off-the-grid, somewhere miles off from the cities and metropolitan areas. Log homes have a distinctive look; hence, they are extremely easy to identify from afar.
What Is the Difference Between Log Homes and Log Cabins?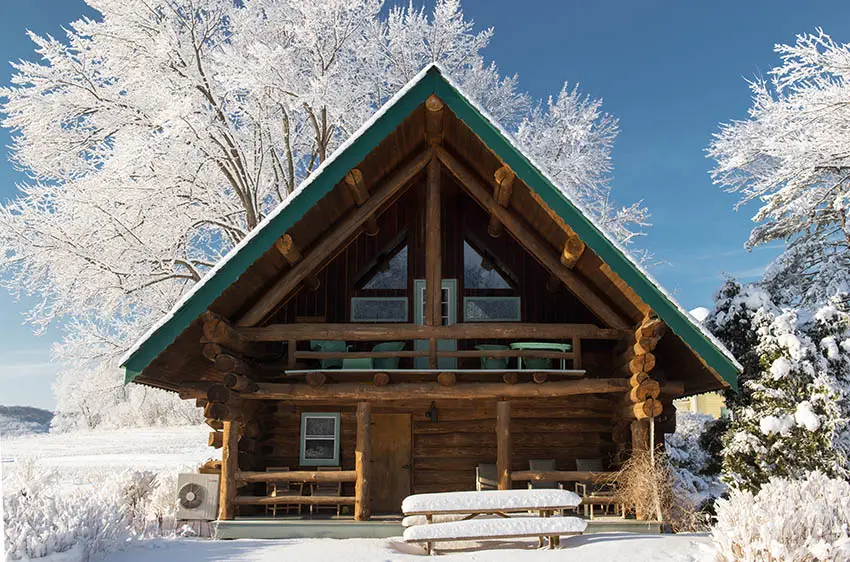 Even though the terms sound quite similar, there are still various differences that each define the characteristics between a log home and a log cabin. First and foremost, log cabins are comparatively smaller, isolated and a 'less-modern' version of the Log Homes.
Lob Cabins are known for their cozy and compact layouts, unlike the Log Homes that are known for endless design styles and larger plans.
Another striking difference between the two solely lies in the variants of architectural focal points on the building façade. This feature is highly characterized by the use of tapered logs, unusual roof forms and distinctive use of decorative motifs and moldings.
From the architectural point of view, it is also important to note the two structures display variances based on the method of construction. Log homes are comprised of horizontally stacked logs whereas log cabins are post-and-beam homes that involve a much bigger version of timber framework during production.
Types of Log Style Homes
It is always ideal to understand the type of construction and design style of these homes before planning to build one. Breaking down further, log homes can be categorized into these 5 types:
Full Scribe
One of the most authentic and attractive of all, Full Scribe homes are traditional log style homes where the logs are stacked horizontally to form the walls.
Each log has a cut groove that is fitted and secured to the one in the bottom. These types of homes offer energy-efficiency qualities with a strong, resistant structure that can be assembled and reassembled quickly – thus proving to be efficient and aesthetically pleasing.
Post and Beam Log Designed Home
As compared to the Full Scribe type, these homes utilize less logs – thus, are a great cost-effective solution.
They use logs as structural support with a number of vertical log posts that carry horizontal logs on the top.
Being an energy-efficient solution, Post and Beam homes are also highly flexible in design and construction – hence, widely used across the country.
Chink
Similar to the Full Scribed homes, Chinks were among the first ones to get built. Even though the appearances are quite similar – the main differences lie in the fact that logs are not joined and fitted together even though they are stacked on each other.
Rather, the gaps in between are filled with chink – that is a particular mortar used to fill in the voids.
Timber Frame
Sharing similarities with Post and Beam style, timber frame has a squared shape profile unlike the other that is characterized by a round profile.
In this particular type of frame, the logs can be observed from the inside of the house. Apart from flexibility, durability and esthetics, the homes are eventually affordable as well.
The overall cost is lesser than Full Scribed and almost equivalent to Post and Beam.
Corner Post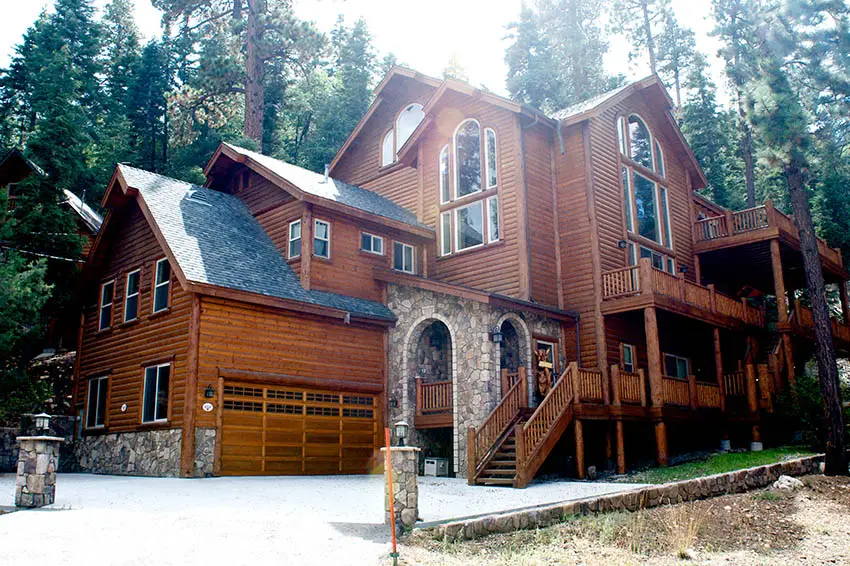 Flexible and durable, Corner Post Log homes display an authentic yet unique façade that where the vertical posts at each corner are aligned with the horizontally staggered logs.
The logs are interlocked with mortise along the length of the logs. These homes are comparatively stronger and tougher than other types.
Hybrid
This typology is characterized by modern techniques that utilize almost a half or quarter logs with an exact similar look of a Full Scribed home.
Hybrid homes offer flexibility through different use of materials while maintaining their original charm and authenticity. See more types of cabins on this gallery page.
Log House Designs
With their most charming and rustic looks, log homes have always exhibited a right-out-of-a-fairy-tale appearance. Dependent on the type of construction, façade appearances and type of logs, there are two major types of log home designs.
Frame Log Houses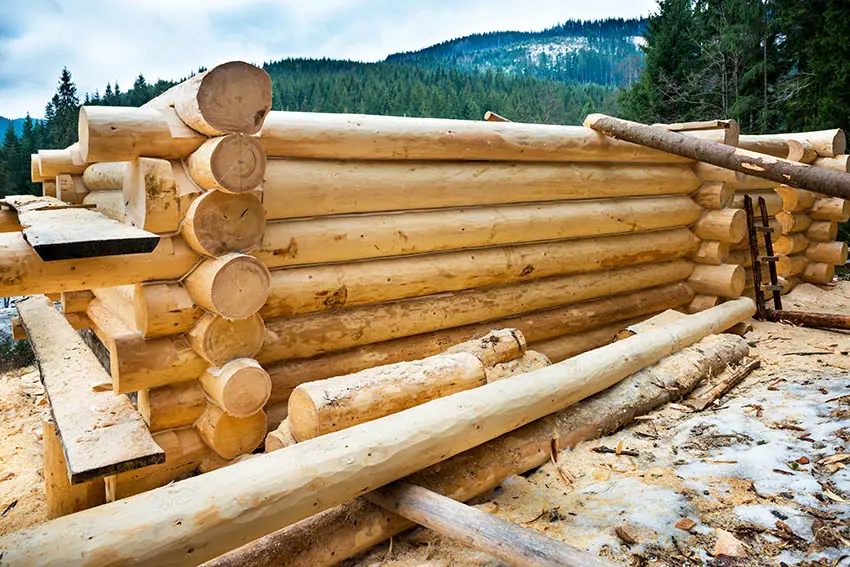 Also known as the traditional log homes, these are referred to as the 'site-built' homes which are not built in the factory, instead, are completely ground-up structures.
If you need an absolutely customized home that is unique in any and every way – Frame log homes are the ones you should be preferring.
Modular Log Type Homes
If you are looking for a quicker solution that is durable and visually pleasing as well – it is time to get an introduction to modular homes.
These are prefabricated and built-in sections in the factory and then are later assembled on the job site. However, these homes usually don't cover your customized needs as most of them are mass-produced. But overall – they prove to be a great solution!
Log Style Cabin Home Kits
An ultimate way to DIY your own house is to buy the kit and then follow the instructions. There are a variety of options ranging from green-certified packages to energy-star rated and some of them even low maintenance and completely unique based on the type of materials used and overall types of home styles.
Dependent on the needs, the houses could be one or two-leveled with multiple bedrooms and the presence of patios, balconies, and porches. You also have a variety of options to choose from when it comes to the types of construction base material and overall finishes.
Log Cottage Home Plans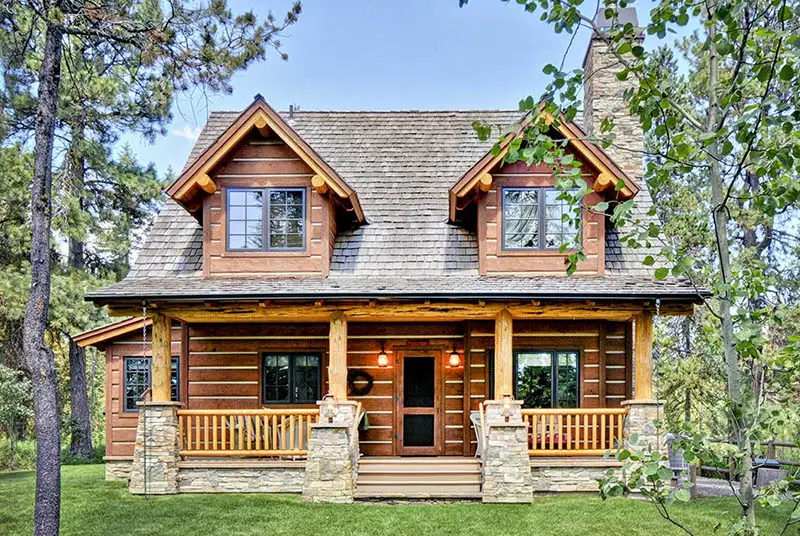 2 bedroom log home plan with covered porch. See this plan here.
A log home plan provides you with the building details that you can take to a local contractor to build. They come in a wide range of floor plans and layouts.
When you purchase a log home plan you receive the floor and framing details including building elevations, crawls space and foundation information.
Tiny Log Lodge Homes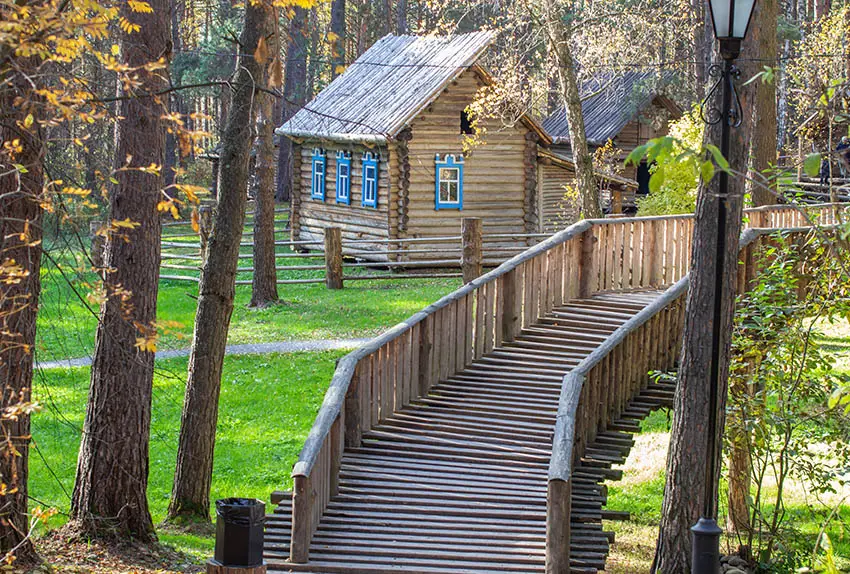 Ditching the city life to live in a wood cabin is a dream for many. And what if the homes offered an all-inclusive value and unbeatable price? Well, that's what tiny log cabins have to offer.
Tiny homes constructed from logs are durable, airtight, easy-to-maintain, code-compliant and weather resistant while still ending up leaving you dollars on the table. They have a timeless charm to them that imbibe a feeling of comfort and coziness while easily grabbing the attention of the buyer.
Since they are fine-tuned prefabricated homes, they are easy to assemble, are highly flexible and offer endless opportunities for customization. Their sizes usually range from 200-square-feet to even 400-square-feet that includes one bedroom, one bathroom, a front porch and plenty of comfortable space.
Log Hut Exteriors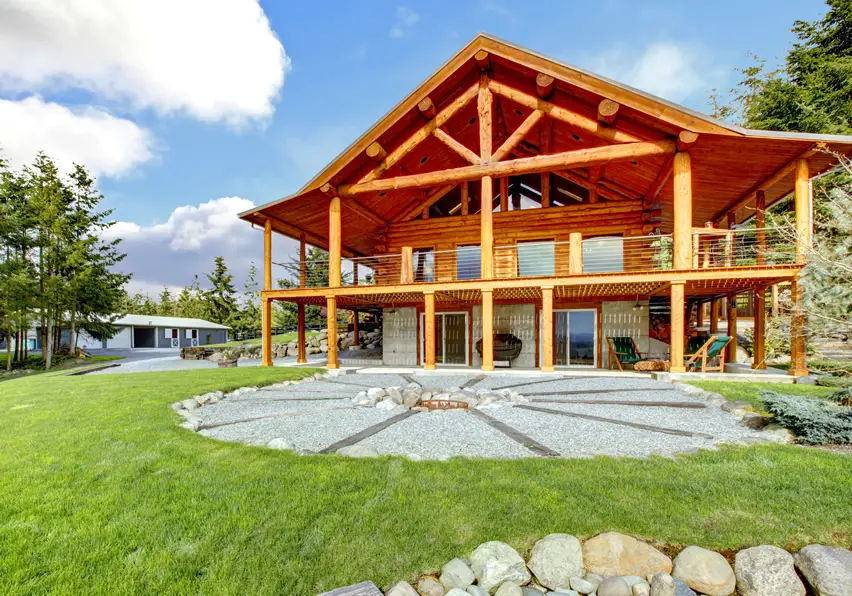 Log homes have one of the most distinguishable exteriors as compared to the other home styles. These homes can take various forms, one or two-stories with large gables and a classic wrap-around porch.
They have long, low rooflines with mixed use of materials such as square-bottomed stone-clad pillars, standing seam metal roofs and heavy timber trusses to support and accommodate the heavy log walls.
Their quintessential rustic look tends to absorb the charming atmosphere created with also a timeless touch to the overall design style.
Log Chalet Interiors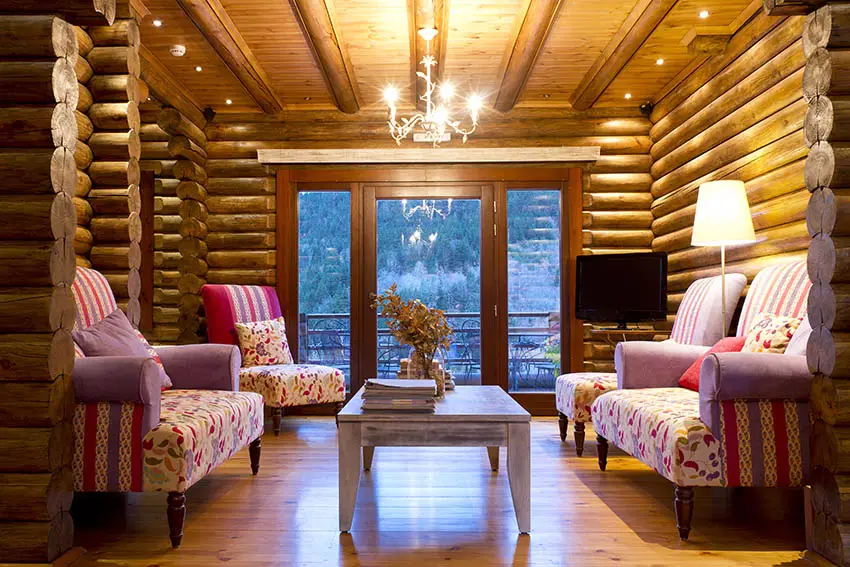 A tinge of rustic charm and utter sophistication is what defines the log home interiors. Whether you are looking for a getaway or a weekend home for the coming holidays, log homes have a touch of comfort and coziness that is well admired and craved by the homeowners.
Some of the characteristic interior features are:
1. Natural Wood Ceilings
2. Cozy Fireplace
3. Log-treaded Staircase
4. Planked Floors
5. Larger Windows
6. Unfinished Walls – Wood Walls
7. Ample of Natural Light
8. Exposed beams and columns
9. Comfortable Furniture
10. Vintage Accessories
Log Cottage Prices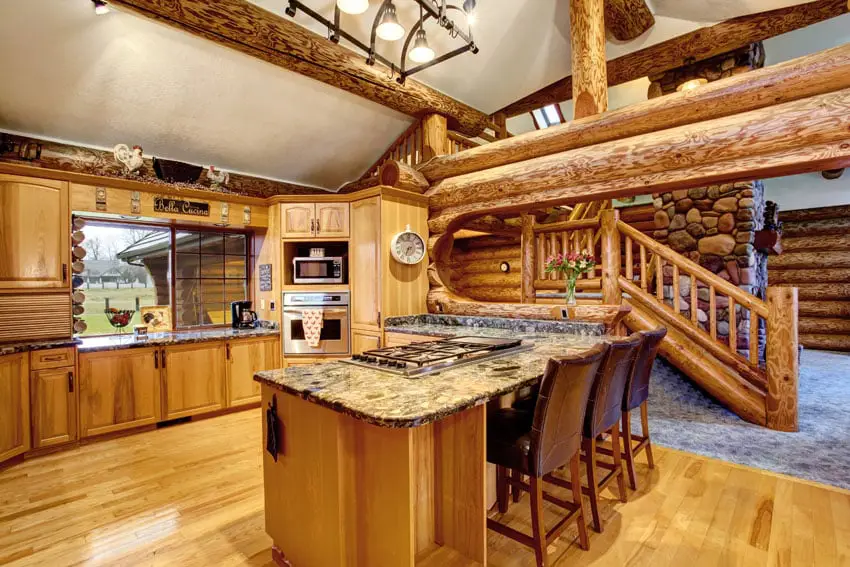 Owning a log home has been a dream for many. The cost of a log home may highly depend on specific needs and specifications, however, on an average a log home costs between $350,000 to $400,000 from the beginning to the move-in. You may want to consult your nearest providers as it also depends on the location and size.
For the above-mentioned price, you should expect the following:
1. Greater than 2,000 square-feet
2. 3 bedrooms
3. 2.5 bathrooms
4. Loft
5. Luxurious Interior Specifications
6. Medium-sized deck
How Much Do Modular Log-Made Houses Cost?
The base price for modular homes is $50 per square foot. The kit required to build a modular log home varies between $14,000 to $30,000. This cost doesn't include the furnishings, sinks and cabinets. Overall, you can expect to save 10% to 20% on modular homes as compared to traditional homes.
Pros and Cons of Homes Made of Logs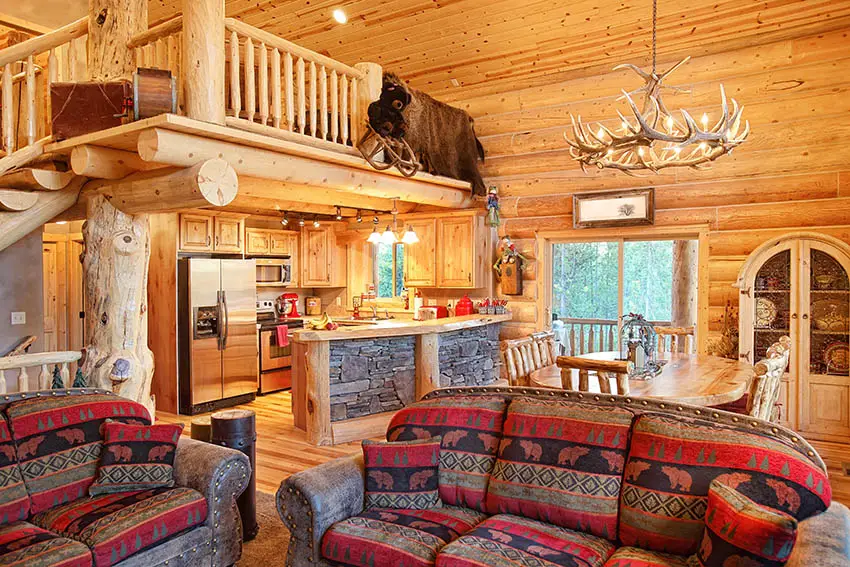 Log homes are known to offer a laid-back environment with an open and airy feel indoors. Apart from affordability and durability, there are a few other pros and cons that you might want to get familiar with – before you plan to buy the house.
Pros
1. A signal for sustainability: green material product
2. Highly energy-efficient
3. Available in kits: easy to build
4. Longer Living
Cons
1. Higher Maintenance Level
2. Hard to find Insurance
3. Not resistant to pests and insects
Are Log Homes Stronger than Regular Homes?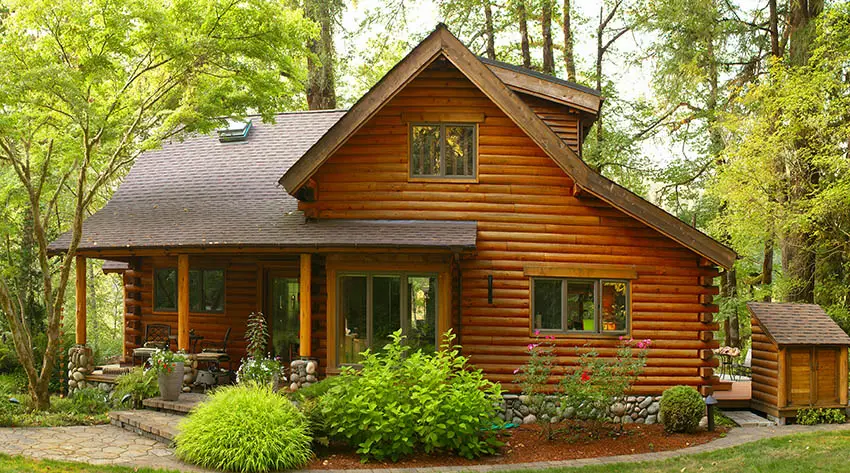 Long story short – Yes, Log homes are comparatively stronger than traditional homes. The walls of these log homes are made in exceptional quality – dense, strong, and absolutely strong! Strong enough to withstand hurricanes, floods, and other natural calamities.
Log homes are fire-resistance – hence, they are indestructible due to their strength, construction techniques and high-quality materials used.
Log homes have constantly proved to be a "go-to" solution for aesthetics, serenity, nature, and longevity. With a perfect rustic outlook, these homes are authentic, sophisticated and a blend of nature itself.
For more related content visit our log cabin kitchens gallery.