Here we share our guide to the ranch style modular home including what it is, interior & exterior features, cost and raised ranch designs.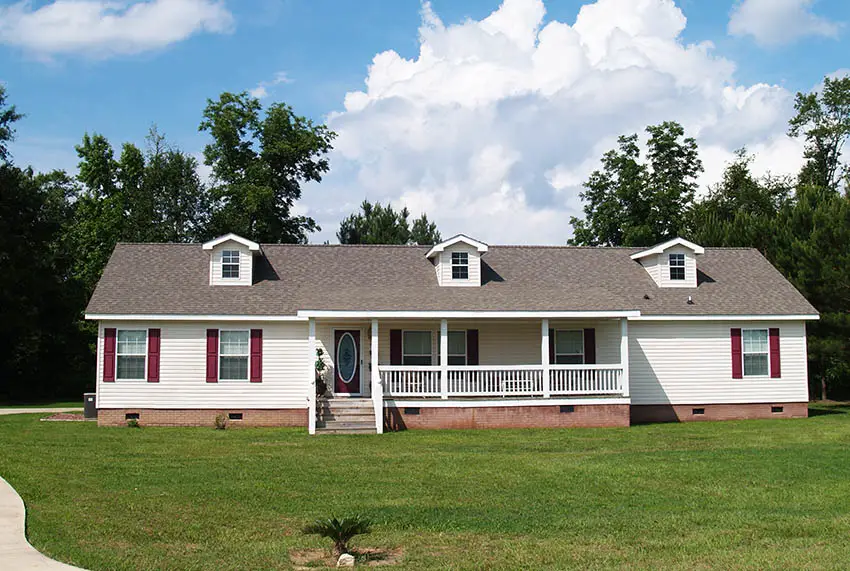 Originated in the United States, this architectural style is known for its short stature and minimal exterior decoration. For all those who grew up in a ranch home have several memories about their childhood, a feeling of cowboys, and a perfect suburban charm.
However, in the present era, you are most likely to pass by these ranch style modular homes without even realizing it. Most of these homes are typically a floor tall and usually have an 'L' shaped plan or sometimes even asymmetrical.
What is a Modular Ranch Home?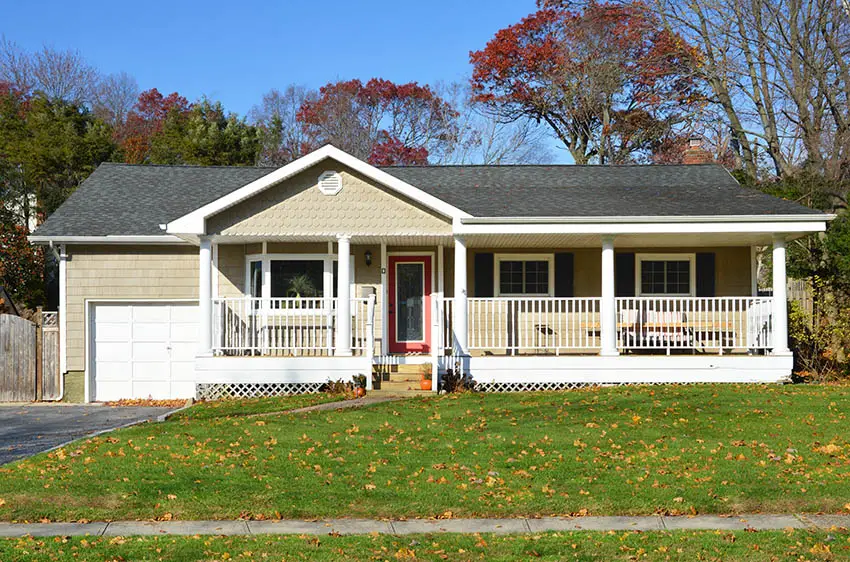 Ranch style homes have an iconic short roof that is not quite detailed as compared to other architectural home styles. This roof doesn't have the potential to withstand snowfall, and that is why it is highly used in the warmer – southern states.
However, do not worry if you like this design style and reside in a colder climate. Just simply make your roofs steep enough to easily let flow the rainfall and snow with heavy use of insulation and material base.
These Ranch Modular homes are quite inexpensive to build and one of the biggest advantages to these homes are the 'modular extensions' It is easier to add a second story or a garage/patio to the already existing home.
Generally found in the warmer areas, it is quite likely for you to spot these homes as you drive by the suburbs in the southern states.
They mostly have large lawns, minimal decoration, and make a perfect blend into the surrounding context. Seems like they are arising from the nearby landscape!
First appearing as an architectural residential style in the 1920s, they were quite popular amongst the middle class between the 1940s to the 1970s. Some of the other names of the house are American Ranch, California Ranch, Rambler, or Rancher.
A ranch style modular home is built in pieces at the factory and constructed on location. Read more about modular vs manufactured homes here.
Ranch Style Modular Home Exteriors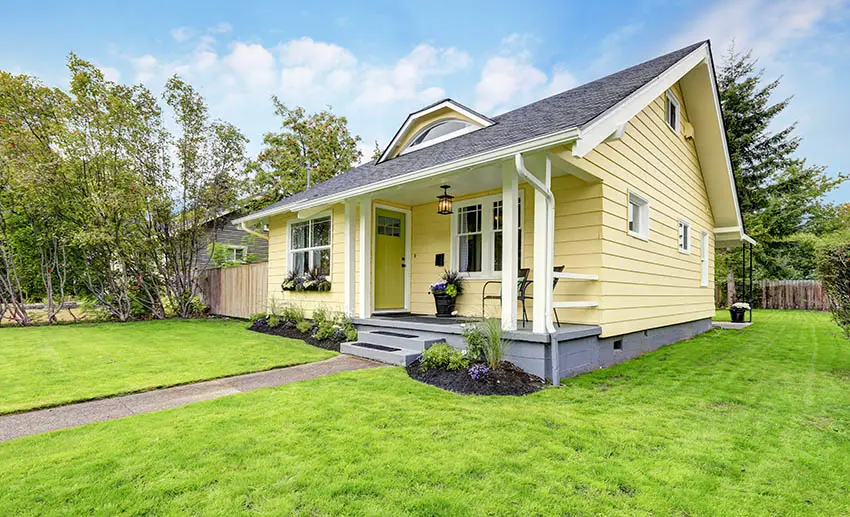 Low-key and Minimal, Ranch Style Homes are defined by clean lines and a simplistic lifestyle. There is a perfect blend of exterior materials such as stucco, wood, brick, or stone. Long, horizontal clean lines emerge from the picturesque with extravagant landscaping taking over at the edges.
Whether it is about installing the holiday lights or replacing the gutter and shingles – the low-pitched roofs are extremely flexible when working is required.
Being a distinctive architectural style of its own, they have some striking characteristics that set them apart from the rest of the movements and architectural style. To name a few are:
1. One-story Structures
2. Long, Low-pitch Roofline
3. Hipped Roof, Cross Gable, or Side Gable
4. Deep and overhanging Eaves
5. Large Windows
6. Sliding Glass Doors
7. Attach Garages
8. Back Patio
9. Devoted Patio or Deck Space
10. Finish Basement (Optional)
11. Minimum or No Ornamentation
Ranch Style Modular Homes Interiors
From a classic open floor plan to intricate detailing indoors, Ranch Homes prove to be absolutely beautiful and soothing. With a slightly rustic touch, these homes never stop looking amazing – inside and out.
Most of these homes offer a Master Suite Bedroom with a private bath and humongous walk-in closet along with two other rooms that are comparatively smaller in size.
These homes are very easy to maintain and that is why they are quite popular amongst the young homeowners who have children or older people who are avoiding staircases.
Defining the utmost definition of casual and calm, these Ranch styled home interiors are perfect examples of sociability and easy circulation. Due to the lack of staircases, there is no running up and down in the house and space looks even more airy and huge.
With an open floor plan and easy movement, the family can be with one another even from the kitchen and living room at a specific time. To name a few interior characteristics are:
1. Single-Story living
2. Open Floor Plan Living: Dining, Kitchen, and Living Rooms
3. Separated Bedrooms (Mostly three)
4. Full finished Basement
5. Simple adornments and architectural detailing
Ranch Style Modular Home Prices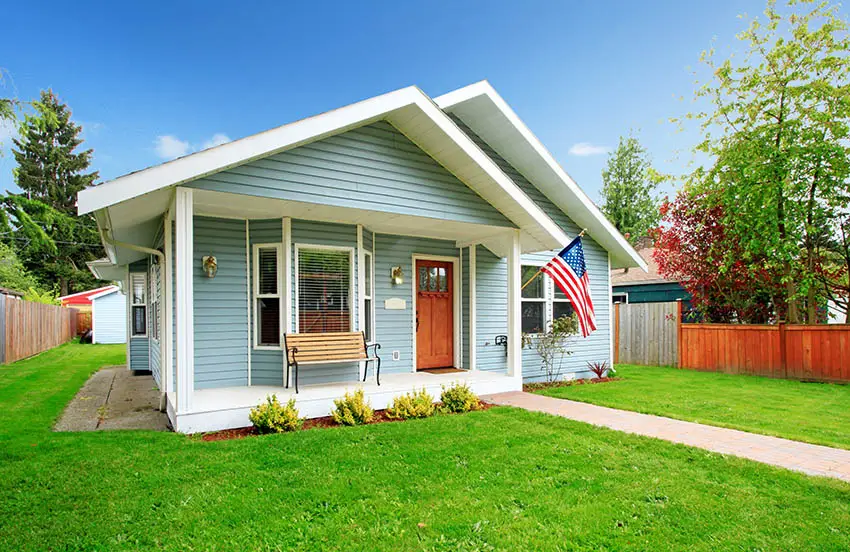 The Ranch Style homes are quite inexpensive as compared to the other architectural styles.
Typically starting at an average price of $60,000 for a home with a square footage of 1,000-2,700, these homes, in general require around 6 to 16 weeks to build.
Also, the prices may vary depending on your location, personal requirements, material finishes, and local availability.
The overall prices of these homes start at $60,000 and raise up to $200,000 for a typical 3 bedroom and 2-bathroom model. For a less expensive option with similar design and features one may consider a barndominium home.
What is Modular Raised Ranch Home?
Modular Raised Ranch homes are typically two-story homes with a finished basement that serves as an additional floor. But does these two floors make it a raised ranch home?
There are other factors as well. These homes are built on the hills to a certain degree such that the house is not evident from the curbs. And due to this irregular topography, the house requires steps that lead to the raised family room.
Consisting of two levels separated by stairs, on the topmost level are the bedrooms, kitchen, living, and dining rooms separated from the basement. The platform at the front door connects two sets of stairs, one going downstairs to the basement and the other on the upper floor.
By building a raised ranch, it is often easier to minimize excavation costs in a sloped property as the building is raised on piers and floors so little digging is required.
If this property has sufficient slope, then the lower side of the basement can be used for garages which are comparatively lesser expensive than the usual attached garages.
These modular homes are available in kits to absolutely fit your requirements. They are available in two-story, capes, chalets, log homes, and ranches meanwhile, complementary are the floor plans and DIY guidelines.
If you are planning to downsize or buying a new vacation home, purchasing your first home, or moving to a new state – purchasing a ranch style modular home is definitely a great option.
For more related options visit our gallery of pole barn house designs here.