See the types of suburban house designs including what it is, pictures of different styles, their attributes & features, and the best contemporary home ideas to consider.

A residential area that forms a part of an urban area or a city is known as a suburban house. Because they have a lower population density than inner cities, they are simpler to commute. The 19th and 20th centuries saw the beginning of the widespread development of suburbs.
They came about as a direct consequence of rail and road transportation improvements, which made it possible for people to commute to work. Only a small number of suburbs have their independent legal jurisdiction. It does not apply to the suburbs inside the boundaries of the cities they are a part of.
What Is a Suburban House?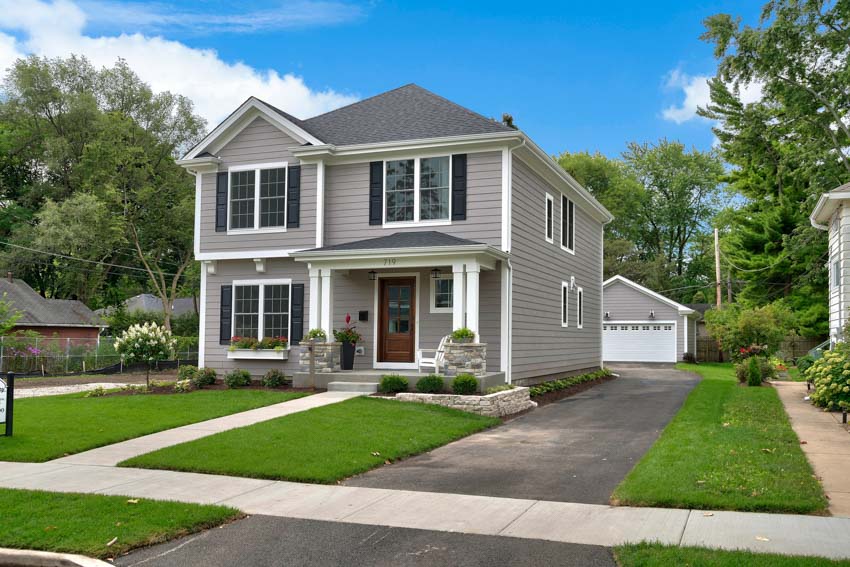 The term "suburban house" refers to residential colonies or individual dwellings situated on the city's outskirts. Imagine that you have been living in a suburban area for some time now. In that situation, you must regularly commute to the city for work, as you will likely work there.
If multiple houses have the design of being close to one another in the city outskirts, then those houses are considered to be in a suburban neighborhood.
These homes usually come from the same developer or the same set of developers, and as a result, they all share a uniform appearance and a cohesive aesthetic. Even if some are duplexes, triplexes, or even quadplexes, the vast majority are single-family residences.

Suburban House Styles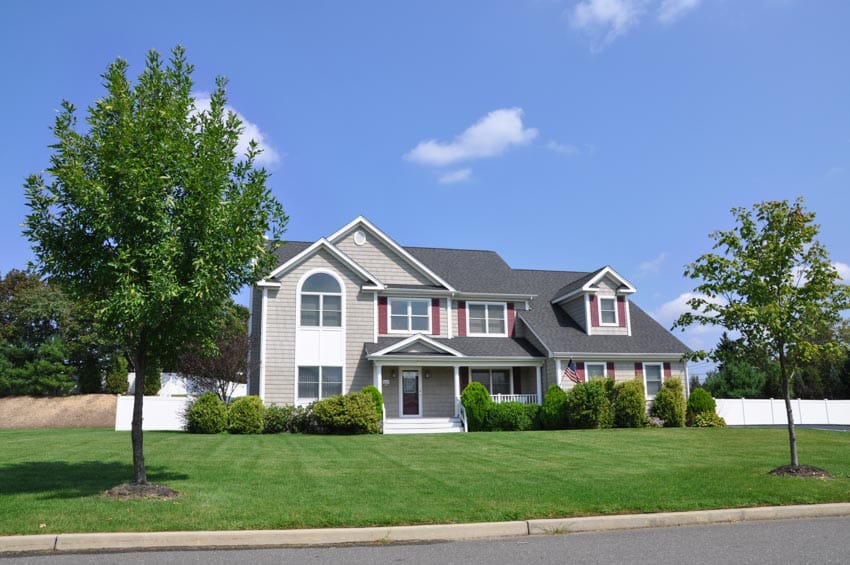 The following are typical home architectural styles in suburban areas outside major cities. Have fun looking at these lovely pictures of suburban homes.
Traditional Suburban House
Traditional houses do not have to adhere to any particular set of guidelines to be termed traditional; instead, they represent an accumulation of several architectural styles. What one individual thinks of as traditional may not be the same for another.
Most traditional houses have materials that are out of brick, have shutters (whether or not they are functional), and there is no front porch in the main house's design. These homes are entirely stripped down to their essential functions and feature few, if any, decorative flourishes.
1950s Suburban House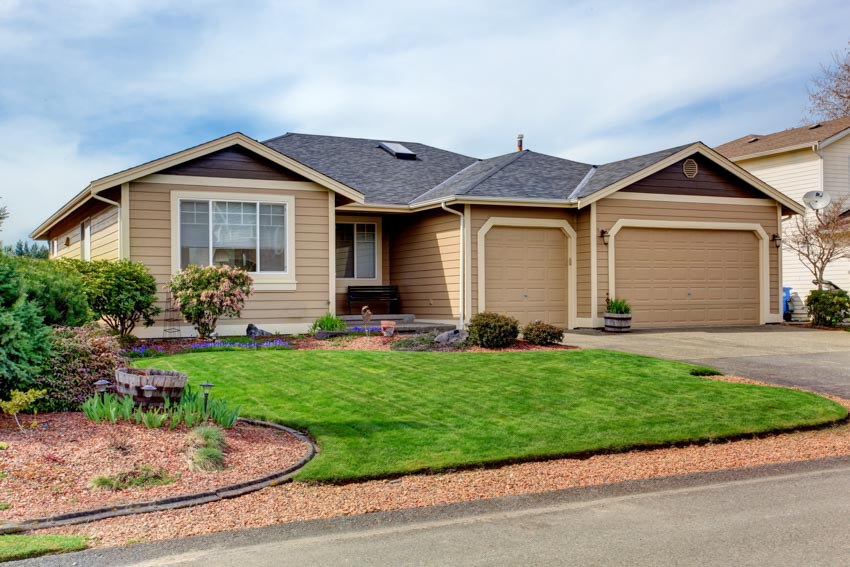 Real estate developers were ready to sell the post-World War II GI population their aspirations of starting a family and owning their own home during the 1950s. Consider why a ranch-style home continues to be a well-liked and desirable option.
Because there is no staircase leading to a second floor, a ranch home, whether new or old, can be an excellent option for homeowners who wish to remain in their homes as they age. Amid the frenetic pace of the 1950s, architects and interior designers promoted the sale of homes that might offer their occupants "tranquility."
Developers marketed their homes "for informal indoor-outdoor life" as rural populations became more urbanized and moved to the cities. Even in the field of architecture, the end goal of mass production is to create something that everyone will like.
House hunters in the 1950s had a long list of needs they were looking for in a home, including a kitchen that was up to date with modern technology, a hip interior design, and enough space for hosting guests.
The new suburban dream homes came with designs made to be just the right size, neither too formal nor too humble. It contrasts the cramped cottage-style homes and the grand Victorian-style homes that were common in the past. Both homes could need more modern kitchens or ample closet space.
Colonial Revival, ranch (or ramblers, as you also knew them), and Cape Cod-style homes were some of the most common architectural types in the United States during that period.
Vinyl siding was begun being used in the late 1950's to replace the older style aluminum siding. Due to its low cost and durability vinyl siding is still used today. See more types of house siding here.

The 1950s were a time when bold types of wallpaper, room separators, and colorful kitchens were just a few characteristics that defined the era.
The perfect home of the era was also adorned to the nines during this time. The modern style that came to dominate homes of the era became known as Mid-century Modern, a trend enjoying a vital resurrection today. Mid-century modern homes are enjoying a solid rebirth.
1960s Suburban House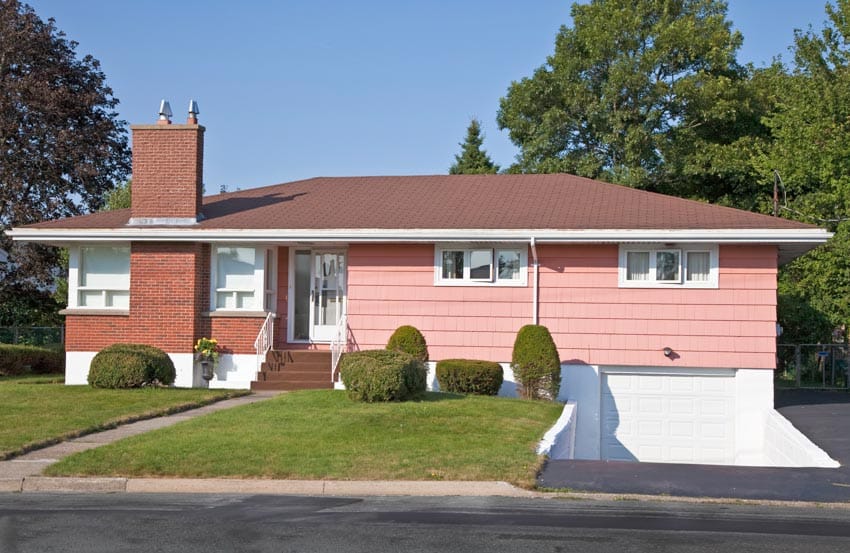 The decade of the 1960s marked an abundance of vivid hues and eye-catching patterns, and the ordinary American home during that era was no exception to this trend.
Shag rugs and wood-paneled walls outfitted A home in the 1960s to accommodate family life and entertain guests. Homes constructed in today's market may still be for families, but generally, they have a more subdued aesthetic and have designs created with the occupant's convenience in mind.
The Cape Cod and split-level Mediterranean home construction styles were famous during this period. Screened porches, attached garages, and low roofs were some additional exterior features commonplace in many homes.
Craftsman-style homes are increasingly sought after by buyers, despite the continued popularity of ranch-style homes. A broad front porch, pillars, and a pitched roof distinguish this architectural design.
The interior of a house built in the 1960s is typically in vivid, bright colors. Orange, taupe, and grass green were some of the more well-liked options for color schemes. White, black, and dark blue are examples of colors that are popular today because of their simplicity. Even if there has been an increase in demand for darkly painted walls, white is still the most popular option today.
In the 1960s, wood paneling was a common design element in many homes. Even the kitchen had wood paneling on the walls and cabinets. The entire house has paneling that is all in wood. Wallpaper was another popular alternative for adorning walls in the 1960s, particularly when the walls didn't have the usual wood paneling covering.
Wallpaper was typically very flamboyant and brilliant during that time, and paisley and floral patterns were the most popular options for pattern types. This trend in color selections was also prevalent. Walls in modern homes are usually white. However, you can opt to utilize accent walls in place of white to make a room stand out.
Some people even choose to have an entire room dedicated to serving as an accent, with all four walls painted in a vivid hue. These bright walls lend personality to the residence, much like the wood paneling and wallpaper that were popular in the 1960s.
1970s Suburban House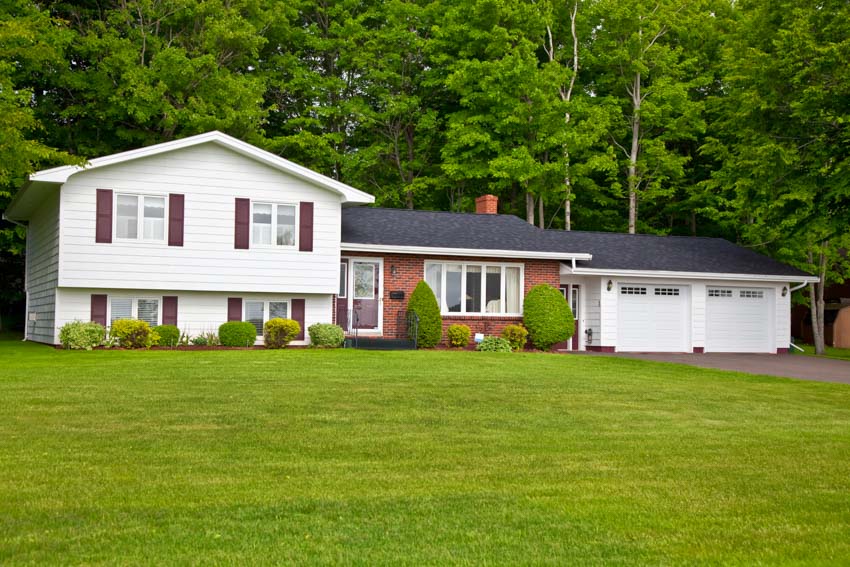 Whether you lived through the 1970s or just watched reruns of the decade on TV, some things immediately come to mind: velvet stools with fringe, shag carpeting, macrame, beanbag seats, floating staircases, rattan, and lava lamps.
On the one hand, the decade witnessed the rise of enormous designs, psychedelic prints, and neon colors; on the other hand, the decade witnessed the rise of realism, autumnal colors, and brown neutrals.
The years 1965–1975 are known as the "hippie years," and the years after 1975 are known as the "disco years." Rock-and-roll, Danish Modern, and granola were some of the genres consistently visible in this particular decade.
The now-famous colors for home appliances, avocado green, "Coppertone" (dark brown with copper border highlights), and harvest gold, were all introduced against the backdrop of a time when society was undergoing significant shifts.
When installed wall to wall, shag carpeting was frequently a vivid orange or emerald green color. Rust, deep royal purple, and hot pink were prevalent this season. The walls had designs on paper with astonishing patterns, such as whirling unconventional paisleys and robust geometric designs.
Ranches, ramblers, and split-level homes were popular design choices. On occasion, the underground living room. It is also known as the conversation pit and was represented with sophistication, while on other occasions, it appeared to be a foolish hazard. Back then, the bonus room was called a rec room located in the basement.
The walls of the entertainment room can come with panelings in faux wood with wacky grain patterns. Ceilings covered in sprayed-on popcorn and embellished with sparkle are not typically nostalgic.
The 1970s were a golden age for kitchen design. The stove, the refrigerator, and the phone are usually on the wall were not white. The countertop laminates were available in various colors, including lemon yellow, harvest gold, and orange, which were quite common. Cabinets made of dark-stained wood, flooring made of red tile, and patterned linoleum were all popular choices.
1980s Suburban House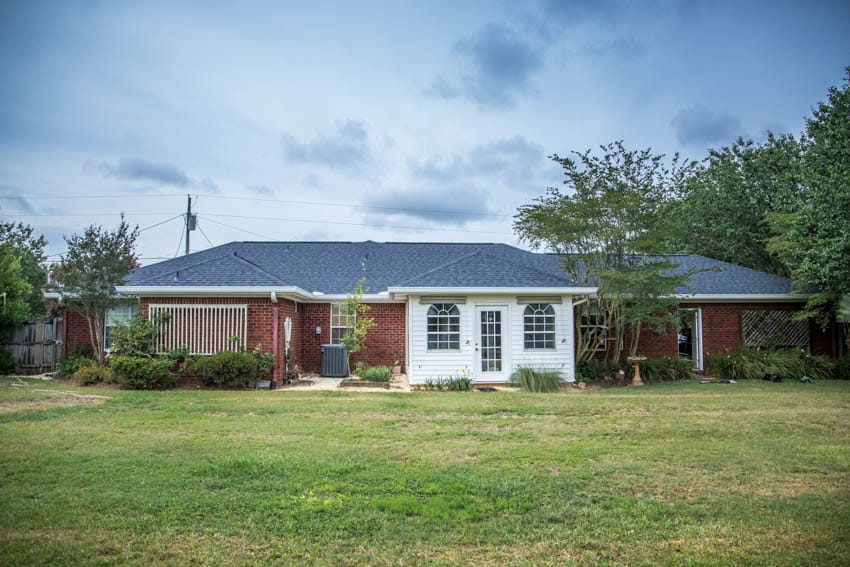 The 1980s were a very distinctive decade. During this decade, we developed the well-known concept of The American Dream. People desired a lovely house with a white picket fence and a yard that had lots of meticulous landscaping in it.
The 1980s were not the only decade in which people lived in homes equipped with contemporary conveniences and meticulously maintained lawns. On the other hand, during this period, the aspiration to "become rich" was highly prized, possibly even more so than at previous points in history (at least in the U.S.A.).
You may include at least one fireplace in most new and nearly brand-new homes acquired in this decade, a dining room, two-stall types of garage, a groomed yard, and a turning driveway. In addition, many of these residences featured an open floor plan.
A "breezeway" is the name given to the porch included in some residences' designs. These porches are covered by roofing and designed with windows or screens. These breezeways were frequently enclosed, with an additional door leading to the house's exterior.
People who possessed breezeways frequently took advantage of the space to sit on lawn or deck furniture, and some of these spaces even provided adequate barbecue ventilation. In a similar vein, sun porches breezeways.
It was not unheard of for homeowners or real estate brokers to have older homes decorated in colonial styles refurbished. It is one of the classic home types many contractors repeatedly duplicate in constructing new homes. It was a style that was very much in demand throughout the decade of the 1980s.
During this decade, there was also a rise in the popularity of more contemporary home designs. For example, ranch-style homes were widespread, and individuals frequently purchased modest lakeside cottages with two to four bedrooms for their vacations.
Of course, they also developed more straightforward housing at the same time. In addition, there were instances in which one-family residences had a trend of undergoing conversions into two-family dwellings and vice versa (one-family homes turned into two apartments).
It's possible that folks on a budget were the primary buyers of residences of this type. People with solid payment records and credit scores could apply for financing (as in many generations of home development and building).
A greenhouse porch or an outside hall with skylights would occasionally be added installations as an additional feature. Homeowners with a green thumb and people who enjoy being outside would be able to keep their homes at a comfortable, dry temperature, thanks to some of the above-mentioned characteristics.
Take note, though, that a majority of greenhouses can be pretty warm. They are also specifically for the growth of non-native plants.

1990s Suburban House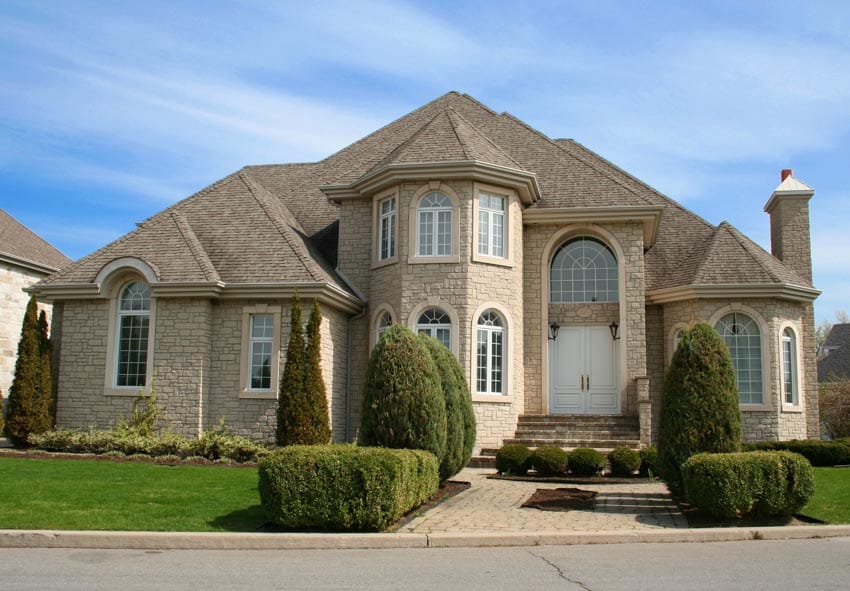 In the 1990s, as in the previous two decades, new homes were frequently a combination of traditional and modern styles, possibly so that they would blend in with the existing homes in the neighborhood.
The rise of technology resulted in the proliferation of home entertainment systems, televisions connected to satellite and cable networks, and gaming consoles in our houses. It was also the time of home makeovers; television shows inspired us to undertake larger-scale home improvement projects than ever before to add value to our homes during this period of increased demand for real estate.
In the 1990s, living rooms had designs that showcased an astonishing assortment of home entertainment equipment in specifically made shelving units. These devices included enormous televisions, CD players, and massive audio systems.
For instance, they put out IKEA's now-iconic Klippan sofa in commercial production in the 1990s, but it can be pretty standard in many people's houses. In addition, vivid primary colors saw a renaissance during this decade.
They decorated The kitchens of the 1990s with themes as diverse as an old English farmhouse to minimal concrete spaces with hidden appliances. Different styles of kitchens came out in the 1990s, and their variances appealed to different types of people as well.
Suffice it to say; there was no single kitchen design typical to the 90s. Pine and other dark woods fell out of favor during this time, giving way to lighter species such as ash and MDF, which were both more affordable. Spotlights came into development to make lighting more compact and streamlined, and the color magnolia continued to be the most popular choice despite their widespread use.
The pastel tones of the previous decade gave way to the rise of beige in the 1990s. It became so popular that they even used it in bathrooms. This room features beige tiles that contrast nicely against walls that are also beige. Another must-have home feature was a corner bathtub, and if you wanted to go all out for luxury, you might have even invested in water jets.
It is the most '90s thing you'll ever remember. The bedrooms burst with bold design choices, such as the canopies that covered the beds, beaded curtains, and inflatable armchairs. There needed to be more than a single coat of paint for any design from the 1990s.
2000s Suburban House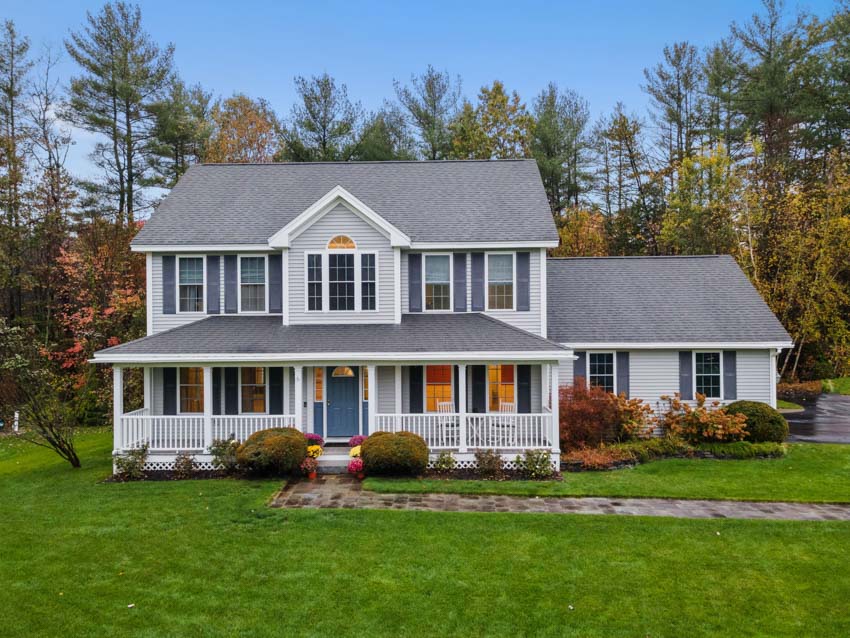 As the new millennium began, new styles began to emerge in the typical home due to the proliferation of global influences brought about by the advent of the internet.
Around this time, concerns about climate change and our collective carbon footprint transitioned from political to social, and eco-house design reflected this shift by emphasizing renewable energy sources and environmentally responsible building practices. Read more about construction and parts of a house here.

The economic crisis that occurred in 2008 brought an abrupt end to the property construction boom and led to an increase in the number of people purchasing properties for their occupancy rather than as investments.
The decade of the 2000s saw no movement away from the popular neutral color beige, which has given way to the lighter shade of gray in recent years. The carpet and sofas in the living room were typically beige, the walls were warm, and they outfitted the living room with chunky wooden furniture. The open floor plan is still top-rated, and many prefer their sofa facing a fireplace rather than a massive television.
White cabinets paired with black gleaming worktops and equipment made of stainless steel were all the rage in kitchens in the 2000s. This style is considered a classic from that decade.
The use of pendant lights above islands, typically in sets of three, became increasingly fashionable and is still a prevalent style in interior design today. The ascent of the laminate wood floor, which can be pretty standard in various inviting warm tones, also started at this point.
This decade saw a surge in popularity for Tuscan-inspired interior design, particularly in bathrooms. Common elements included ornate lighting, limestone tiles, and brown and bronze accent pieces.
Additionally, tiled dado rails were well-liked, and they frequently paired them with a tiled frieze to complete the look of an Italian house.
Even though "themes" were all the rage in the '90s, our bedrooms remained the spaces where we displayed the most daring creativity regarding our homes' interior design. The whitewashed tongue-and-groove cladding has seen quite the reintroduction onto our walls because of the growing popularity of rooms with a nautical or seaside theme.
However, they did it this time with a higher level of sophistication than in earlier decades. The wall behind the bed was common for statement wallpapers, contributing to feature walls' popularity. The resurgence of handcrafted goods coincided with the popularity of upcycling. What comes after this is sure to pique our interest.
Modern Suburban House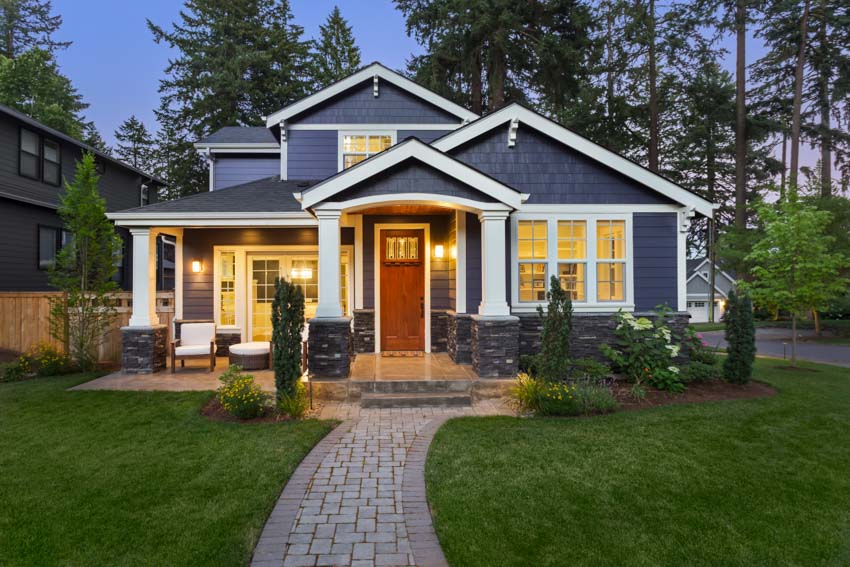 The design of a typical contemporary house in the suburbs is typically quite minimalist, featuring clean lines and corners, large windows that come with seamless integrations into the wall, and extensive use of industrial materials.
With modern homes there is a high chance you will see much white with hints of gray or black here and there throughout the home's design schemes.
Additionally, there will be a lot of square and rectangular shapes throughout the design scheme. The majority of today's new homes have floor designs that are open and airy.
Modern Farmhouse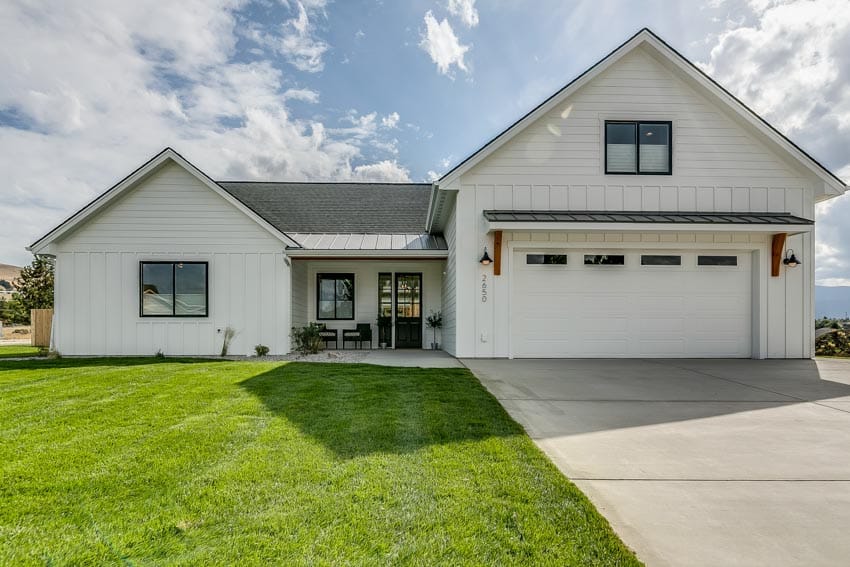 Instead, it is an aesthetic that combines parts of contemporary and modern design with features of traditional and comfortable farmhouses. Modern farmhouse suburban homes have little to do with agricultural lifestyles; instead, it is an aesthetic that utilizes both current and modern design.
The home's exterior is typically white, regardless of whether they come in materials of brick or wood, and it has a large porch, also known as a veranda, that wraps around the entire house.
Most contemporary farmhouses come with decorations in muted tones, with lots of white, gray, and other neutrals. For a modern farmhouse construction you may find repurposed wood, galvanized steel.
For decor you may find elements like little antique artifacts, tobacco baskets, horse harnesses, milk pails, and other items. Signs, antique ads, and old product signs are things that you can frequently see as decorative elements in contemporary farmhouses.
Mid-Century Modern Suburban House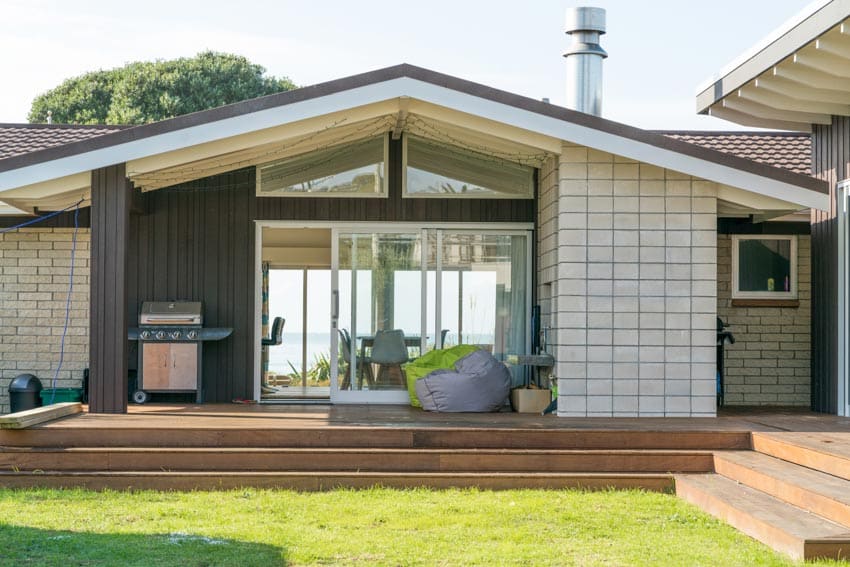 Mid-Century Modern architecture, which gained popularity in the 1930s and remained prevalent until the 1960s, is characterized by uncomplicated, plain home designs that use straight lines, functional wooden elements, and a variety of curved, sleek shapes.
The standard practice in this house is to use very few ornaments, which contributes to its contemporary and uncluttered appearance. The majority are split-level homes with windows that reach the ceiling.
Large windows, expansive patio doors, and skylights are standard features of mid-century modern architecture, which emphasizes bringing the outdoors within as much as possible.
Some homeowners take this concept further by decorating their homes with fish tanks and indoor plants. In addition, the landscaping that surrounds these residences is typically very spectacular.
Contemporary Suburban House Ideas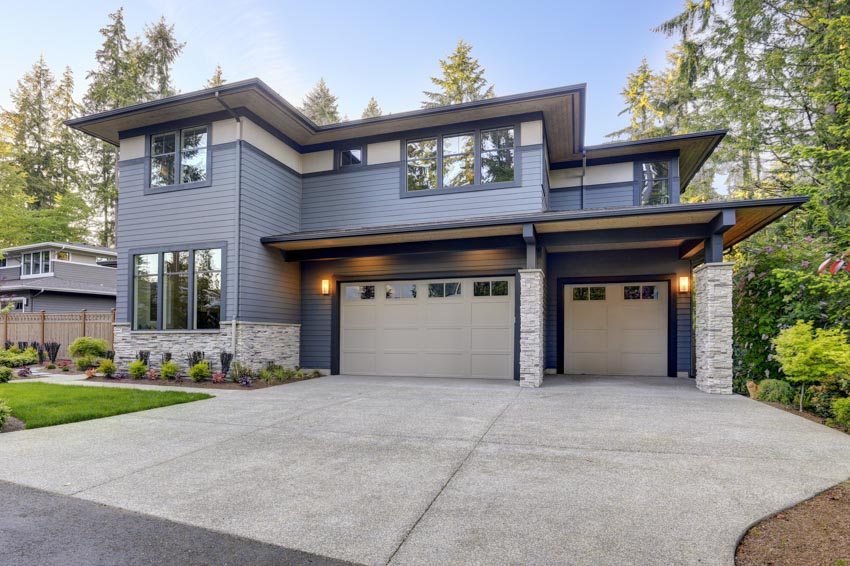 Because the word "modern house" is the best term to describe any structure built following the most recent style, its meaning constantly evolves.
Any home designed in the manner of a modern farmhouse, mid-century modern, or modern boho might be considered a contemporary home in today's world.
Ranch Suburban House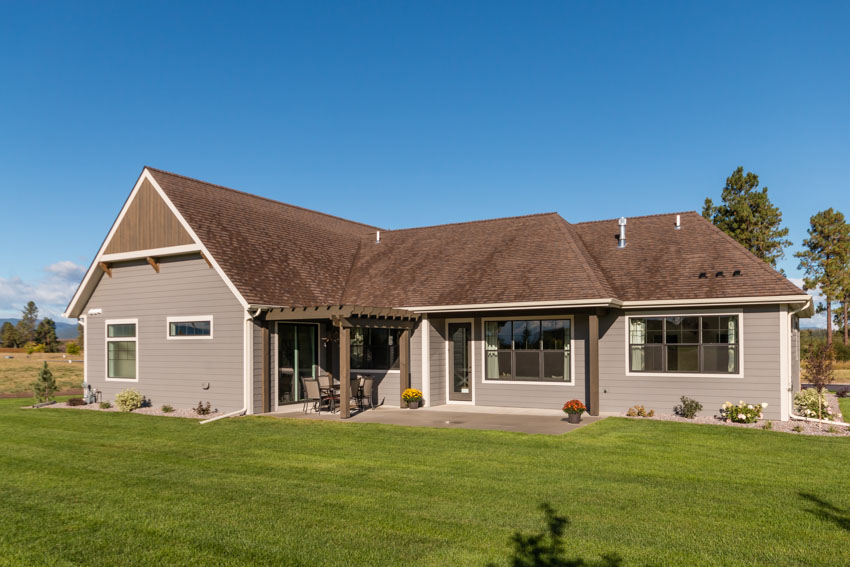 Single-story dwellings, often rectangular, U- or L-shaped, are called ranch houses. This real estate category typically features an open floor plan and a basement that is left unfinished.
Large windows, sliding glass doors, a patio area just outside the back door, a steeply pitched roof, wide eaves, and multiple gables that are typically not symmetrical are all distinguishing characteristics of the façade. This is among the ranch style house types that are prevalent throughout the United States, particularly in Texas and Florida.
Because a ranch house only has one level, it is ideal for families with younger children and senior citizens who want to make the most of their living space. The vast majority of ranch-style homes found in suburbia feature an attached garage that is accessible from the street.
Cottage Suburban House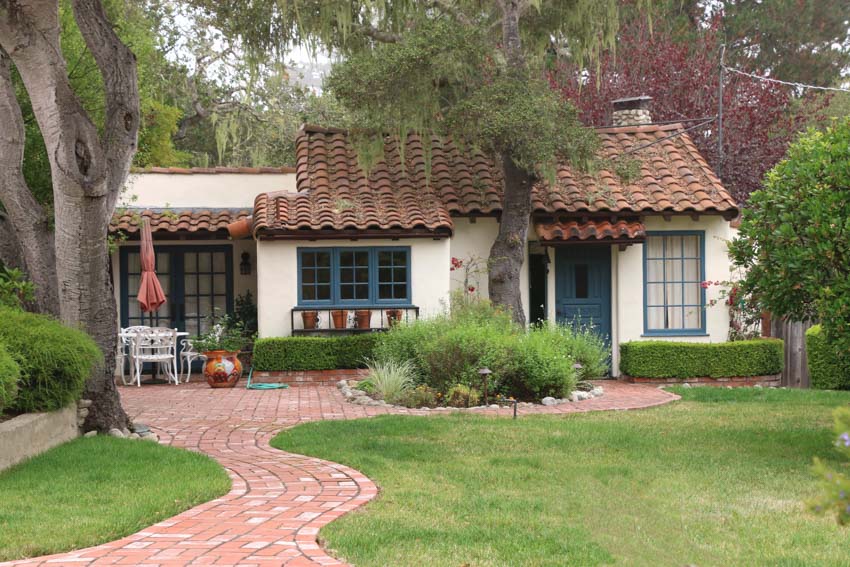 Although cottages are often a favorite structure in rural settings, it is possible to come across examples of this home style in suburban or even urban environments. Even though they are most commonly associated with beaches or forests, these tiny homes offer a whimsical charm to urban and suburban settings.

Cottages are interchangeable terms and synonyms for smaller bungalows, but bungalows are only sometimes appropriate for larger cottages. Most cottages have modest-sized front porches, bay windows of medium to negligible proportions, shingled and stuccoed walls, and little balconies or patios just outside their back doors.
Even if it's not strictly necessary, most cottages try to bring the outdoor world and a breezy look inside. It is something that you can accomplish by using natural components. Vacationers and people in second homes often choose cottages as their primary or secondary residence.
Split Level (Raised Ranch) Suburban Home
The floor plan of a split-level home is asymmetrical, with one half of the house having a single-story layout and the other half having a split-level layout. The bedrooms come at the top of the split, and the garage and basement are below.
However, in some instances, the space below amazingly transforms into a second living area or more bedrooms. As soon as you enter the main door and stand in the entrance or living room, you will often get a clear view of the divide.
The word "split-level" is intentionally vague to embrace various architectural styles and aesthetics. Split-level homes can be classified as other styles as well. The value of split-level homes is often high because they efficiently use the space available on the lot.
In a split level home the foundation is usually has part concrete slab on one side of the home and a raised foundation with a crawl space or a full or partial height basement.
Although young children may have difficulty navigating the numerous little staircases found throughout the home, these homes are a favorite of many families because of the large amount of types of rooms and people they can house.
California Suburban House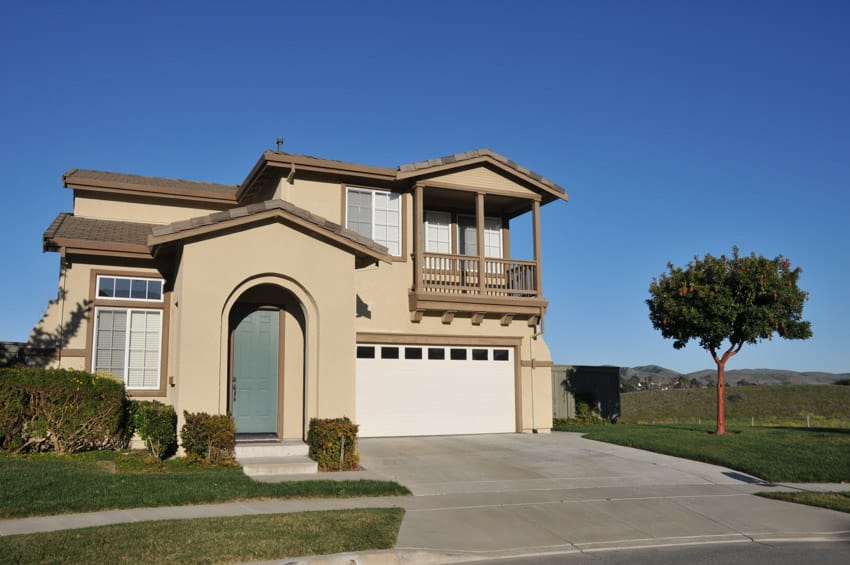 The typical components of a California bungalow are stucco and wood, and they frequently have shingle siding. A sloping roof, a sizeable porch with overhanging eaves, and an open floor layout are some of the distinguishing characteristics of this one-story bungalow-style home.
Bricks are not frequently used by builders when constructing homes following this architectural style. The most famous building materials are stucco and wood, which can come in combination with shingle siding.
Architects Charles Sumner Greene and Henry Mathis Greene are pioneers of the California bungalow type of home design, which they developed to accommodate the environment of Southern California.
Chicago Bungalow House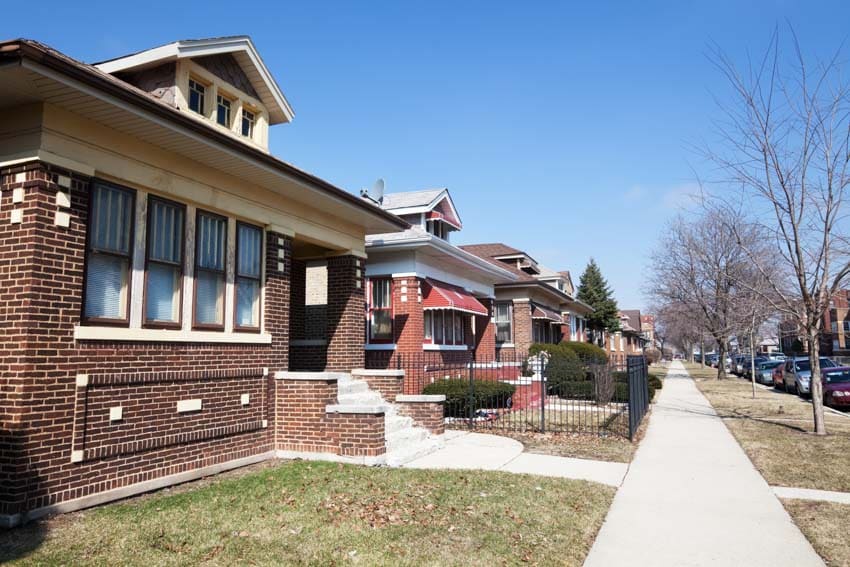 Brick-built Bungalows in Chicago typically have one and a half stories on top of a basement, and some stairs lead up to the porch from the street level.
Bungalows in Chicago may have dormer windows and an enclosed front room, but the stairway entrance is typically on the side of the house. This type of home is typically laid out with a rectangular design and includes a basement of adequate size.
Mission Bungalow House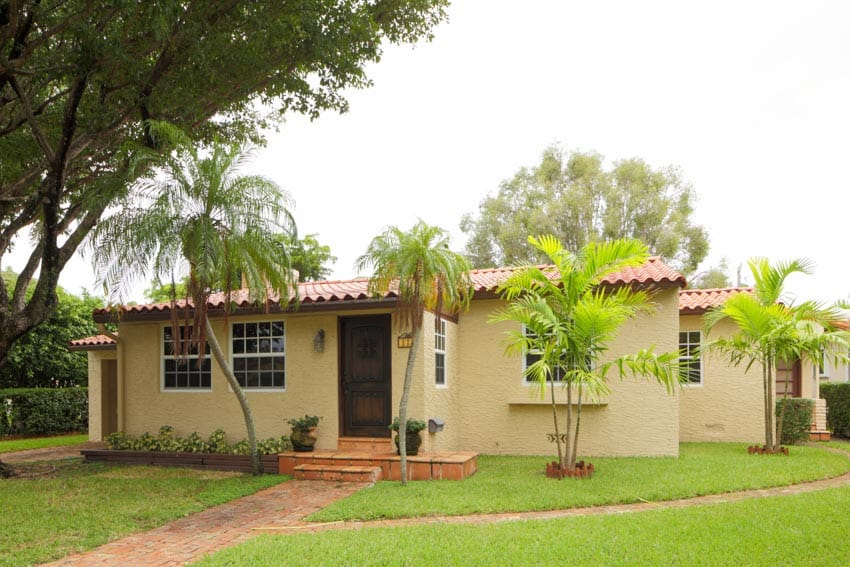 A hipped or gabled-type roof is typical of a Mission-style bungalow, which also features broad eaves that overhang the building and exposed rafters. In addition, they might have plastic or stucco cladding and a tiled roof like in Spanish architecture.
Victorian Suburban House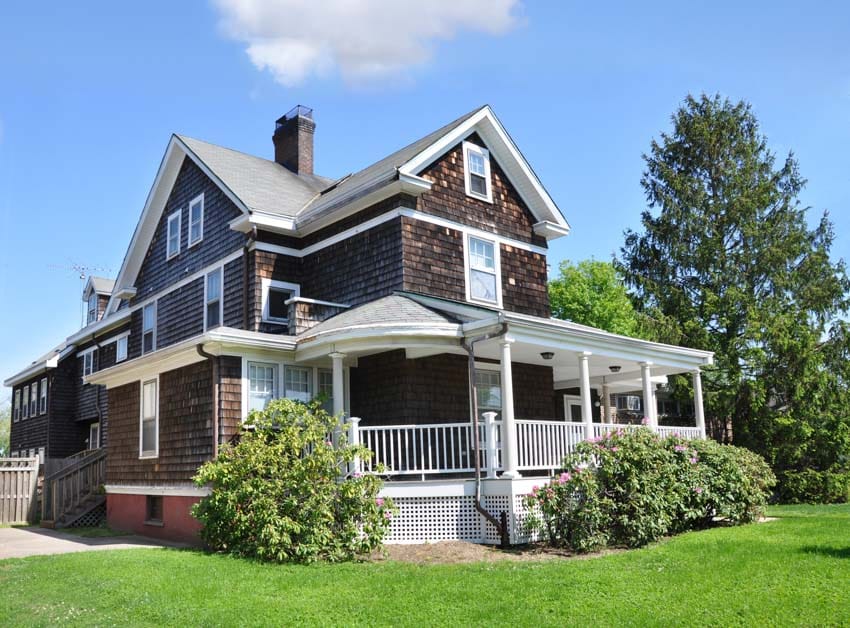 A rare and colorful treat, Victorian homes in a suburban setting can evoke feelings of both gothic and whimsical whimsy at the same time.
Bright paint colors, towers, turrets, and a profusion of dormers are the telltale signs of a Victorian house, which you can recognize even from a distance. The majority feature steep gabled roofs and range in height from two to three or even sometimes four stories.
There are numerous rounded corners, bay windows, windows with stained glass, and staircases with beautiful railings. Ornate would be the word that best describes Victorian-era homes if we had to choose just one.
Inside, most Victorian homes have high ceilings, intricate designs, molding, chandeliers, and ornate and sometimes even odd woodwork. There are also fascinating nooks, high ceilings, molding, and chandeliers.
Colonial Suburban House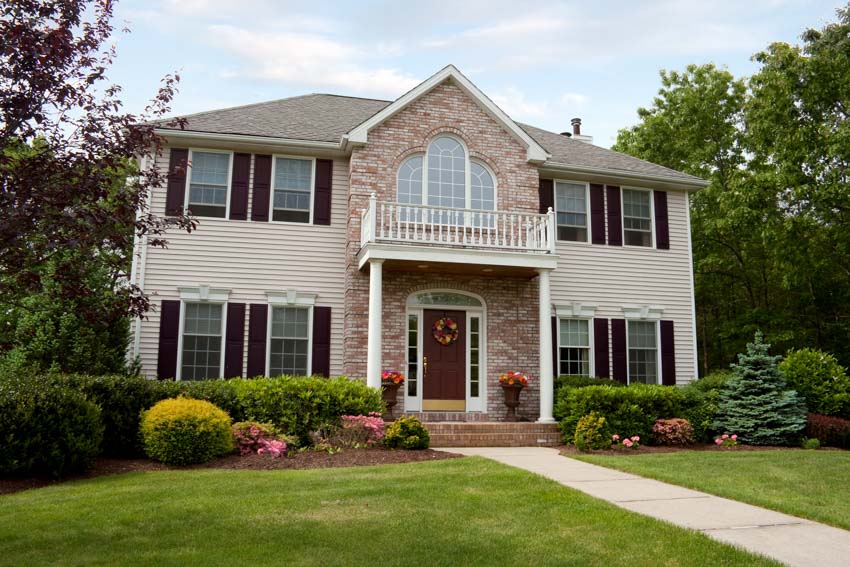 It is a magnificent and exquisitely designed structure. Colonials are among the most typical house styles found in suburban residential regions. It is a straightforward, rectangular home with two or three levels.
The majority are made of brick, although others can be out of wood. Colonial homes are most popular in the eastern part of North America, more notably in the United States. This home style is typically referred to as a conventional residence and features a generous amount of living space.
Craftsman Suburban House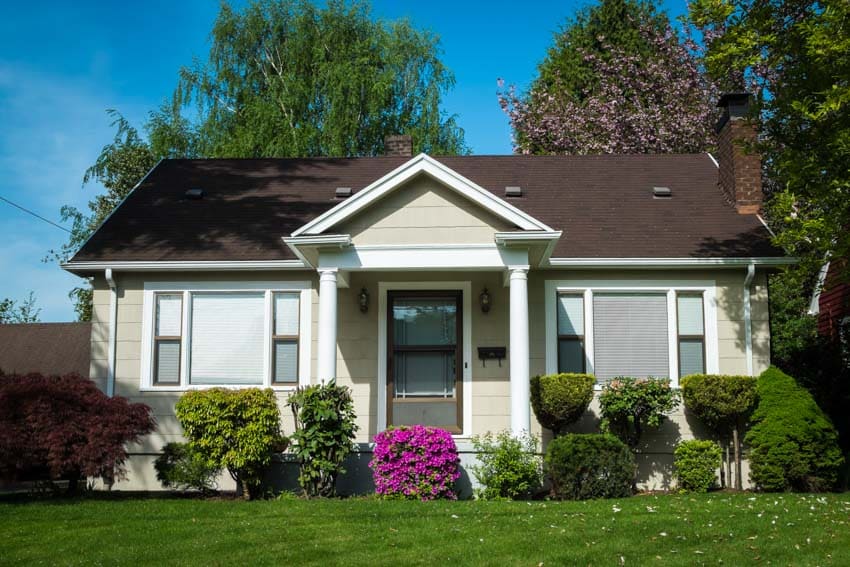 As is the case with traditional dwellings, the term "craftsman" can refer to a variety of different architectural styles. These houses came into development because of the convenience they offered.
And because many families desired to move away from the elaborateness of the Victorian home. While developers may become sick of seeing the same design repeatedly, they adore how simple it is to construct them.
A covered front porch that is sometimes efficiently integrated into the house itself is required for a home to be a "craftsman" style. In addition, their roof eaves must have a significant amount of overhang, and their peaks must be prominent but have a shallow pitch.
The front doors of many craftsman-style homes come with vivid colors and paintings, while the homes' interiors have primary lines and tapered columns.
Cape Cod Suburban House Ideas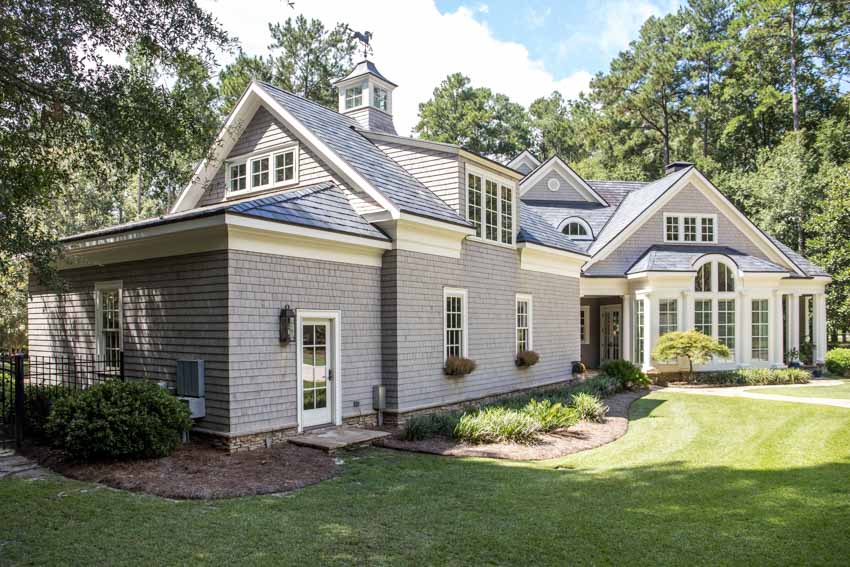 The east coast of the United States influenced Cape Cod's architecture. They are one-story structures with gable roofs with a steep pitch, shingle shingles, and massive brick chimneys (necessary for their sizeable central fireplace in the home).
In most cases, there is little adornment on them; window shutters are the most aesthetic feature they have. Most of them do not even have porches or patios.
The importance of symmetry in the construction of these homes is worth mentioning; for this reason, the front facades of many Cape Cod-style homes feature two windows on each side of the central entryway.
French Country Suburban House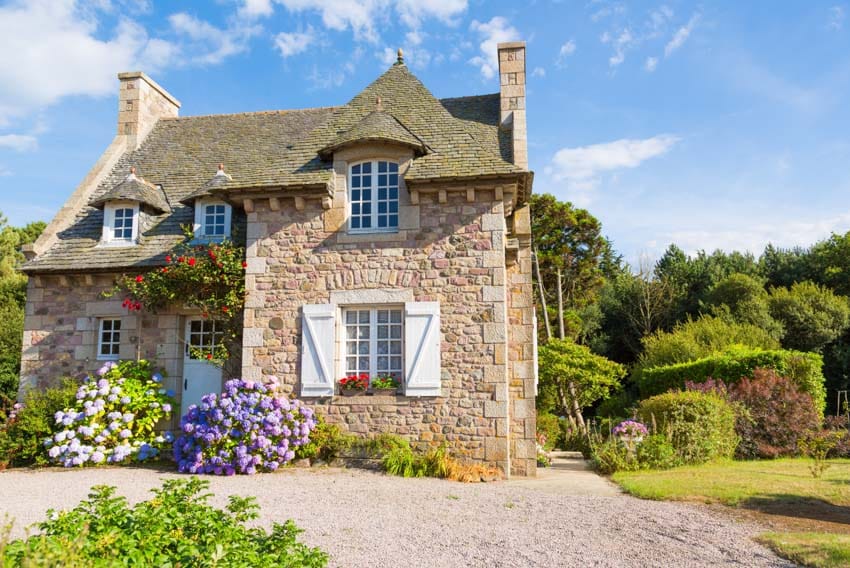 Although French Country Homes give the impression that they were put together without effort, this look results from painstaking attention to detail.
These French style houses have designs that include many elements of their natural surroundings, such as rock exteriors, exposed wooden beams and beams, hardwood flooring, elegantly worn walls, and large stone fireplaces in the main room or dining room.
Mediterranean Suburban House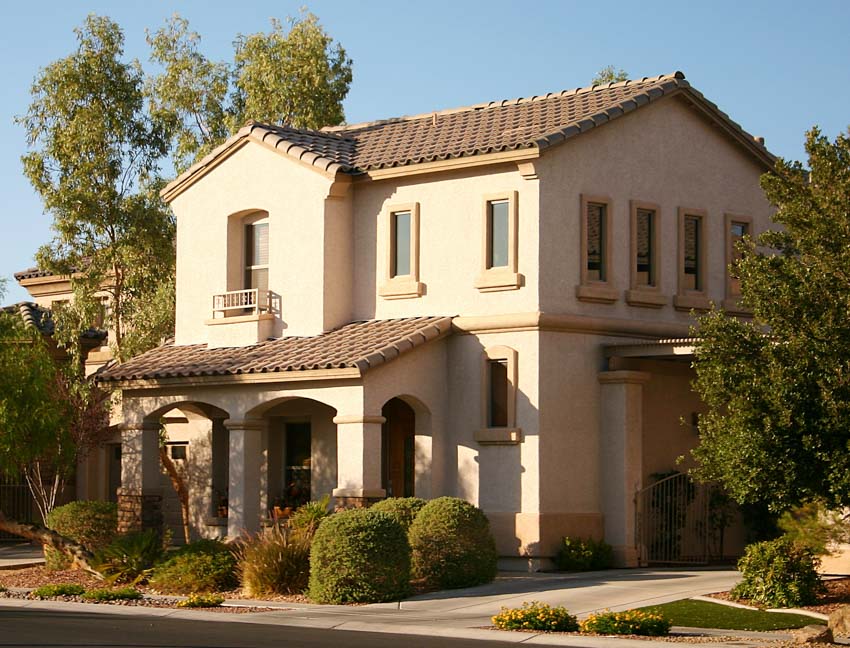 The architecture of the Mediterranean region is immediately recognizable and stunning. These houses have distinctive stucco exteriors, typically white or warm neutral color. They also have circular dormers, magnificent archways, and roofs covered with red clay or copper tiles.
The fronts of many Mediterranean villas are extraordinarily ornate and symmetrical. Wrought iron is also frequently utilized in constructing the company's balconies, window grilles, patios, terraces, and handrails.
Because these homes have designs meant to fit in seamlessly with their outside living areas, Mediterranean suburban homes typically feature verdant gardens, trees, and bushes of substantial size as their immediate surroundings.
Tudor Suburban House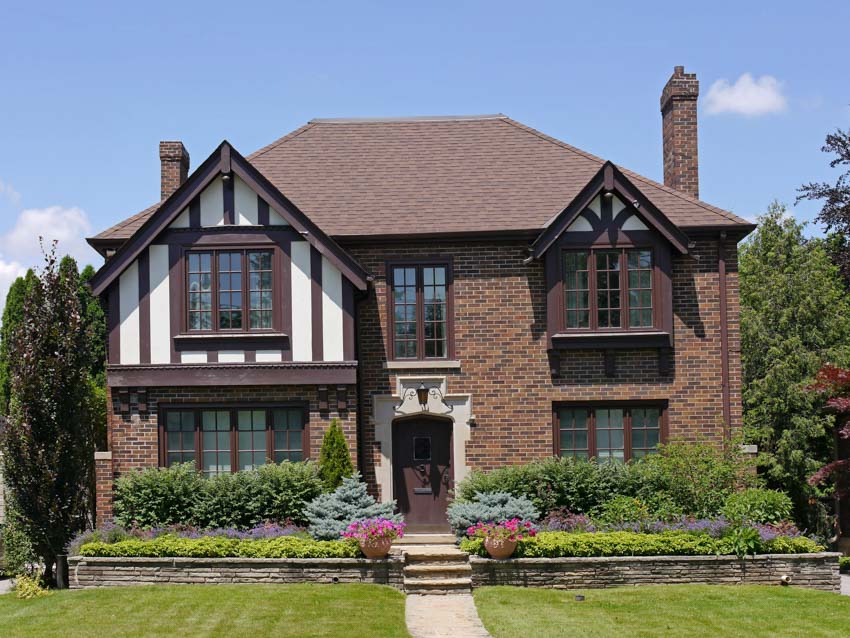 These houses have a very recognizable appearance and are simple to spot. A Tudor home is an old-world structure; smaller Tudors have the impression of storybook cottages, while bigger Tudors have the appearance of an English country mansion.
These houses have sloping roofs with many gables, brick fronts, and half-timber accents, typically on the gables or the façade of the structure's second floor.
Many of their windows come in with compositions of smaller panes, or they have wood accents that give the impression that the windows have several smaller panes. It is not unusual to find flower boxes for windowsills placed directly below them.
The Tudor-style bungalow has more sophisticated architectural work than the traditional bungalow, such as ornate chimneys, detailed entrances, and wall cladding, which may appear to be in direct opposition to the traditional bungalow aesthetic.
Tudor bungalows are typically identifiable by their steeply pitched gabled roofs, tall, narrow windows, and half-timbered doors and windows. The straightforward architecture of a traditional bungalow is combined with the ornate details of a medieval architectural style to create a Tudor bungalow.
Prairie Suburban House
This architectural style was developed in Chicago by a group of architects called the Prairie School (Frank Lloyd Wright was a member of this group).
It is characterizable by piers that support the porch's roof, flat chimneys, contrasting wall materials, and windows designed in the Prairie style. The interior may have horizontal woodwork and ceiling beams.
See more related content in our article about bungalow style house design on this page.