Below we discuss the French Country house including what makes this style home and its exterior & interior design features.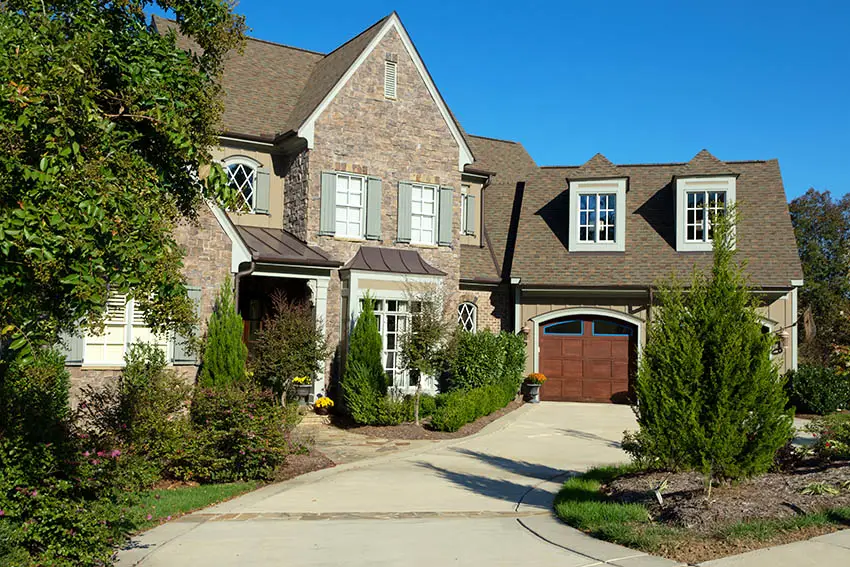 Taking inspiration from the French Countryside, these houses exhibit a more relaxed, luxurious, and rustic outlook.
Reflecting upon the European-style architecture, the French Country Houses come with a package of cozy expansive mansions that are distinctive in look and carry the charm of elegance and timelessness.
French Country Architecture and décor is still inspired by the builders and designers across the world with their extravagant exteriors and delicate, fragile interiors.
What is French Country Style?
French Country Style Homes are highly influenced by their context – they tend to subtly blend in with their surroundings leaving a seamless panorama.
Also known as the Provencal Homes – the design inspiration is more inclined towards ornated and decorated Parisian homes.
Ranging in size from compact humble cottages to enormous chateau, these homes have continued to inspire the delicate Shabby Chic and whimsical Modern Farmhouse style.
French Country House Exterior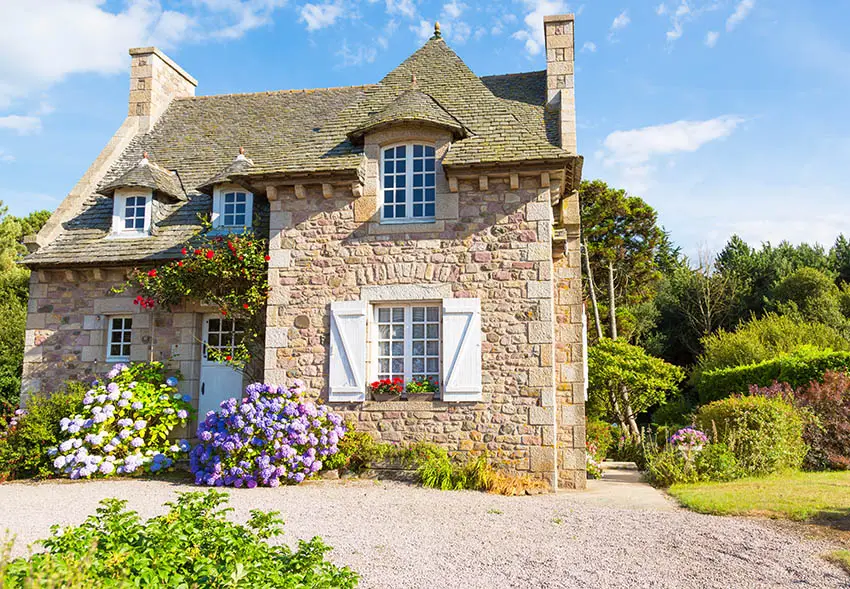 French Country Exteriors are easily recognized and are extremely appealing. They exhibit a fairy-like look from the movies that are straight-out-of-a-dream. The authentic charm is appreciating and definitely prove to be worth a glance!
Some distinctive characteristics of a French Country style exteriors are:
The roof styles could be traditional hip, mansard, or simple gable. French homes feature a tall, sloping roof with all four corners pointed to the ground. Mostly tiled with clay, or barrel-shaped tiles, these roofs are highly influenced by earthy tones such as brown, red, and beige.
Symmetry is the key element of these homes. Thus, they clad the facades with natural exposed stone or brick. Meanwhile, some of the French Country homes can be also be seen in Stucco.
Windows make a distinct character on the French Home Facades. They are rectangular and tall to purposely make the façade look even taller. These beautiful multi-paned windows are perfectly aligned on both the floor levels creating a sense of symmetry.
It's likely that a house showcasing two tall chimneys on the opposite ends is a French Country Style House.
One of the most aesthetically pleasing and distinct character trait in every French Country home – intricate detailing and Corner Quoins that exhibit a soft-like appearance to the exteriors.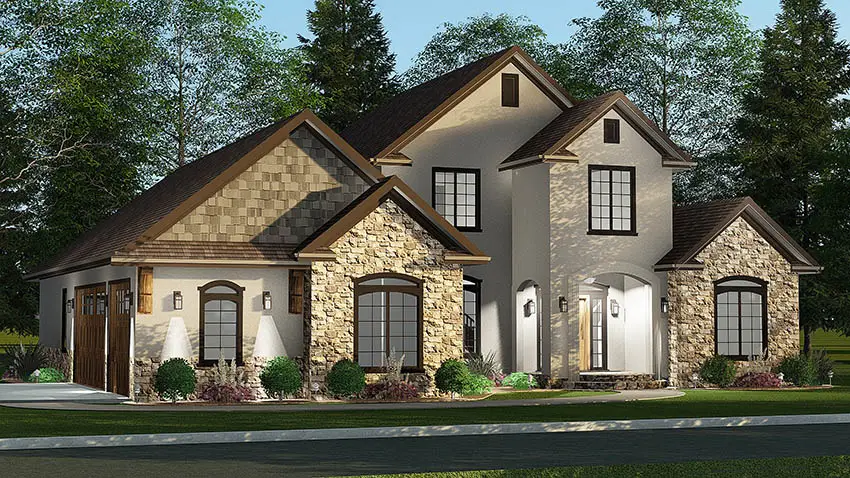 What Colors are French Country?
Considering the high admiration of the design style with its context and surroundings – French Hillside and Countryside Living, lavenders and earthy tones like soft greens, beige, browns, and counterparts are the most characteristic of the exteriors of this design style.
French Country Style exhibits a rich-looking space with defined patterns and elements to take inspiration from. Diving deeper into the interior details, the most prominent hues are red, white, and blue that define a Classic French style.
These brighter tones energize the romantic spirit of the design style. The reds could vary from tomato to raspberry, blues from aqua to midnight blue and whites could vary from off-whites to various depending on their undertones.
The color palette could also vary from subtle neutrals to gilded embroideries. Touches of gold in picture frames, fancy china, wall stencils and glass are basic elements of a French Country Style. French bedrooms are often kept light and use neutrals and lighter color wall paint.
The idea of juxtaposing the luxurious feel with a welcoming aura is what defines the typical French Country House.
French Country House Interior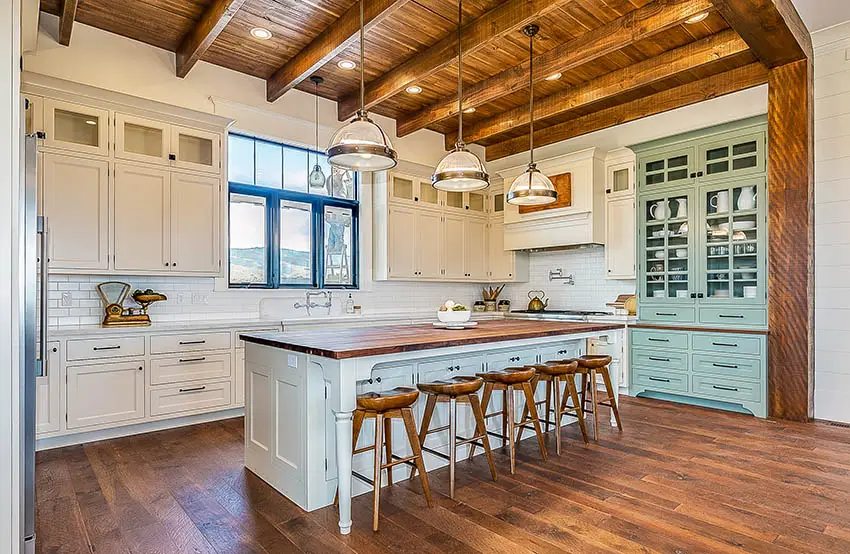 There is something so magical about the French Country style that cannot be replicated easily. The rustic and natural feel keeps one tucked away in the French Village, with its creative moldings and classical fabric, floral, tapestries and motifs highlighted.
This chic, French-inspired space got two rules – go for eclecticism and never overdo! To complement a few, some of the striking characteristics of the interiors of a French Country House are:
Unlike the clean and crisp lines of the modern style, French adheres to a softer, curvy, and comfortable setting that is meant to be cozy, simple, and plush.
Beautiful French doors are sure to be a primary feature in these types of homes. With their lovely glass panes extending the length of the door they allow an abundance of natural light in, helping to keep the interior light and airy.
Wood or natural stone is highly appreciated in French Country Style homes. Natural wood flooring laid in a parquet or herringbone pattern is a classic example. Meanwhile, limestone is another specification that the French loved.
You would likely observe exposed wooden beams or even wood-planked ceilings that are painted in lighter hues to streamline the design.
White plastered walls are the primary characteristics. Some even feature textures and decorated wallpapers.
French Country design exhibits utter luxury and royalty with a subtle charm to it. Hence, distressed painted wood surfaces that are unfinished and textured highly speak of the design style. Rustic tables featuring reclaimed wood are often a focal point in French style dining rooms.
What's the Difference between French Country and Farmhouse Style?
It might be very easy to confuse between the two styles as they both are inspired by natural materials, light and brightness, airiness, wood, and multiple antiques, however, they are absolutely different when carefully analyzed.
French Country features soft, delicate, feminine, and delicate elements whereas Farmhouse adheres to a much cleaner look, crisp and sleek edges, simplicity, and more casual outlook.
The material specifications too might vary at certain points. Farmhouse style is more inclined towards a warm and rustic charm meanwhile, French Country style makes use of contrasting hues, silver and gold accents and decorative motifs added to a rustic style.See examples of farmhouse kitchen ideas here.
French Country Décor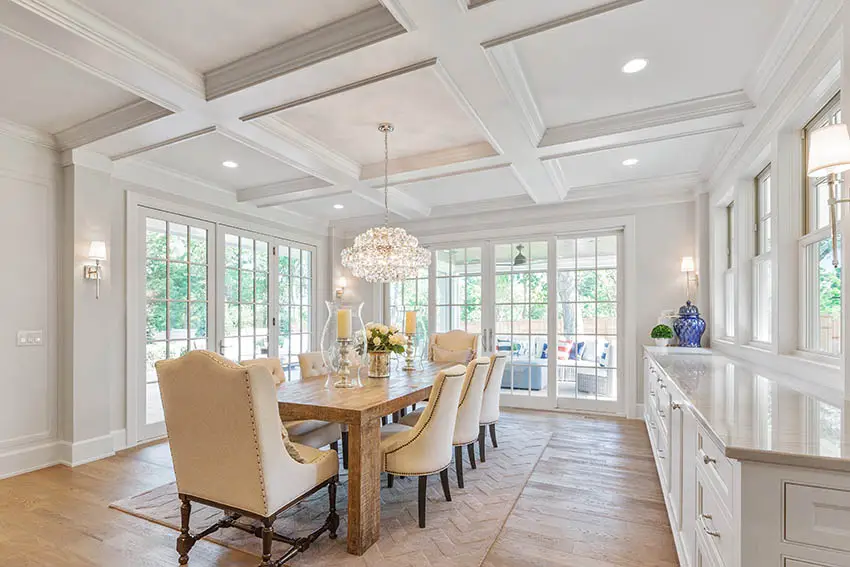 If you plan to redecorate or re-style your homes into a French Country Décor style, you should get used to living with a rustic and an elegant vibe.
Though it is not very typical, you might need to focus on the following to convert your space into a Country charm. Let's have a look!
When shopping for furniture, choose the ones that are slightly distressed or weathered out.
Add more layers of antiques, vintage decorative objects, accent mirrors, and ornated ceramics
Ensure the furniture to be naturally upholstered and with comparatively low-sheen
Add patterned or textured tiles, motifs, wallpapers, and baskets
Remember to adhere only to warmer shades along with a neutral backdrop. Accent them with cooler shades like blues and greens to balance it out.
By now French Country homes should picture a feminine setup with rich details in your mind. Quality materials, intricate designs and a comfortable environment are all that French Country style asks for!