Welcome to our guide to floating stairs design including popular types, materials, cost and ideas for your home.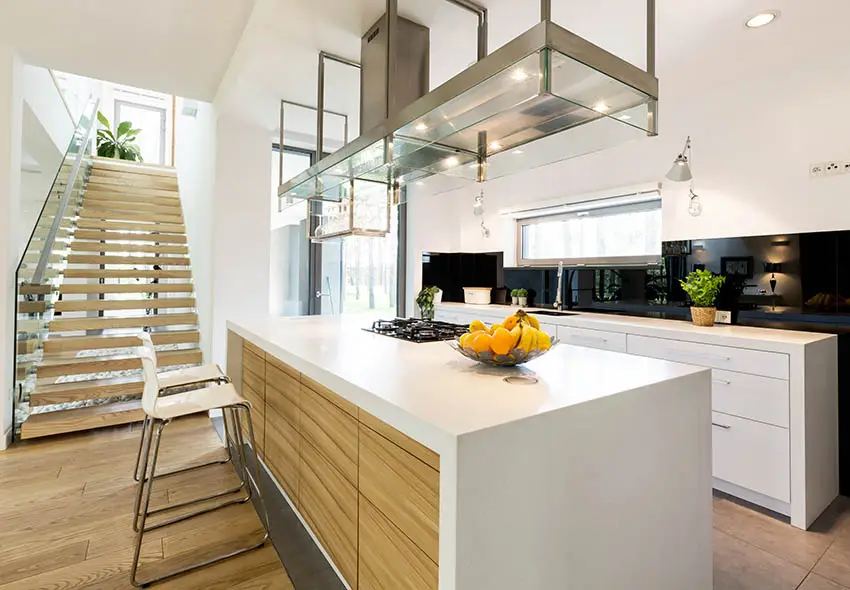 Floating stairs are basically designed to appear like they are "floating" by appearing not to have any structural support or a solid foundation. There are a number of ways to build a floating staircase, and it all depends on the existing structure of your house.
How Do Floating Stairs Work?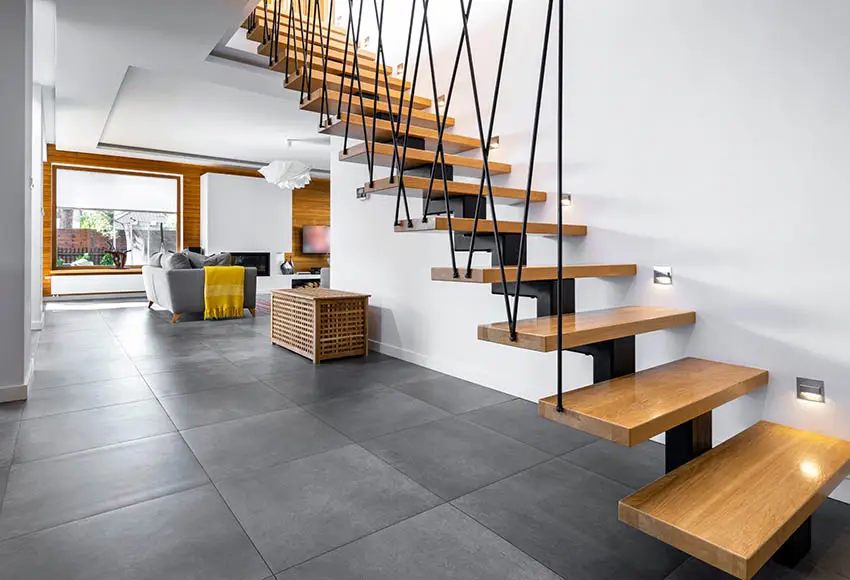 In most types of floating staircases, a load-bearing or structural wall is important, as it will be the one to provide support for your stairs.
Cantilever floating stairs, the most popular style, tend to rely a lot on the structural stability of the wall, as it does not have any additional supports underneath to create a clean modern look.
In the case of a non-load-bearing wall, however, there are still design alternatives that can be used to achieve this. The overall supporting structure of stairs will entirely depend on the wall structure and the engineering of your stairs will be designed accordingly.
If you're worried about the stability of floating staircases, or your wall doesn't provide enough support, you can also explore using central-spine staircases.
These stairs also have a floating look to it, but it has an additional central spine (usually steel, wood or concrete) to support its load, so you don't have to worry about your wall.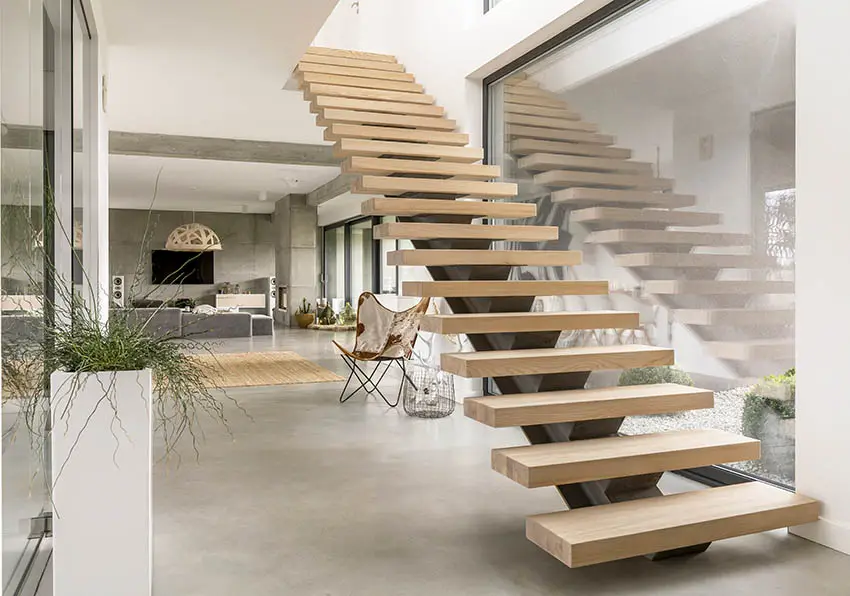 The modern house shown in the picture above uses a floating stairs design that has a metal central spine. Its minimalist interior has a gorgeous wooden quasi-floating staircase that is slightly offset from the wall. The small gap further emphasizes its "floating" look, and keeps the walls free from damage.
One great advantage of quasi-floating stairs is that there will be no damage done to the walls, as the stairs support is attached to the floor and the ceiling slab.
There are many material options if you want to install floating stairs into your home. But always consider safety above all. If you have small children or pets in your home, free-floating stairs is definitely not a safe option as they usually don't have railings.
Choose a design with utmost consideration to the safety of the users & the safety of the structure above all, and it will surely be worth it.
Cantilever Stairs
Free-floating stairs, also known as cantilever stairs, usually have a very slim and minimalist look. They usually require a load-bearing wall for support and their maximum stair width would depend on the design of its support.
Ideally, free floating stairs design (also known as cantilever stairs) should not be too wide to ensure stability, especially when using wood or other materials that easily bend.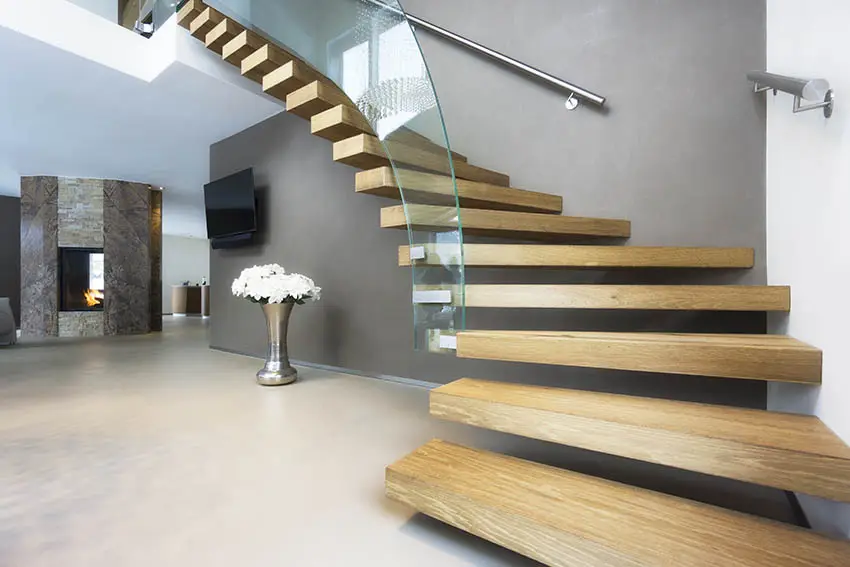 For added safety and to enhance the modern look, the floating stairs design above uses tempered glass stair railings with stainless steel handrails.
Floating Wood Stairs
There are a couple of ways to install floating wood stairs. The most popular is cantilever wood stairs, you can also use a quasi-floating staircase (or central-spine) with wooden treads.
Always make sure you're using the right type of wood, because not all wood species are made equal, and some are easier to warp and bend than the others. Choose the appropriate type of wood depending on the support structure of your stairs.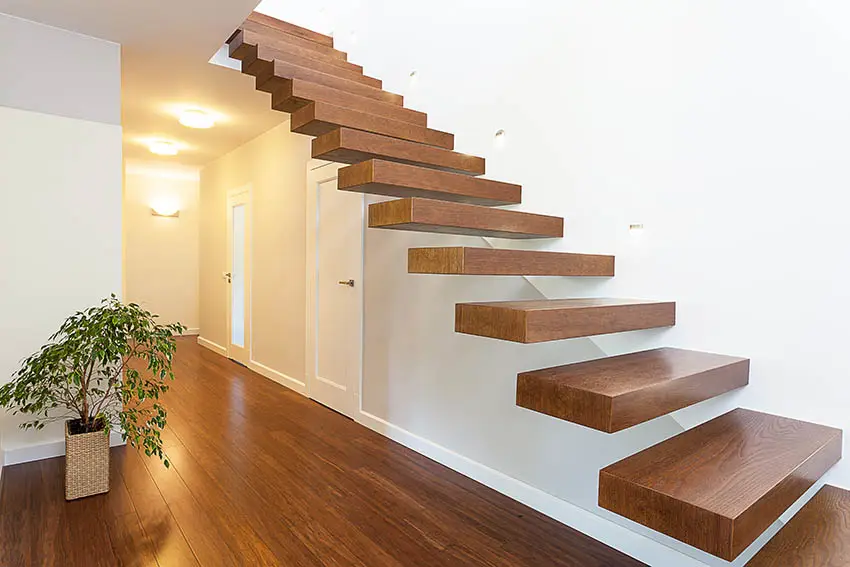 This your classic minimalist cantilever stairs with wooden steps. The support structure is concealed inside the wall and the wooden steps to ensure stability. As you can notice, the wooden treads are very thick to enable it to support more weight to avoid bending and warping.
For a more lightweight look, consider using thinner wood treads for your floating stairs. Just make sure that you also use wider metal stiffeners underneath the treads so the wood doesn't break or bend.
Floating Metal Stairs
Recently, there have been many creative techniques to use metal for stairs. Traditionally, they're only used for structural support, or for railings. However, recently you'll also find metal treads made from metal sheets, metal frames, and many other creative applications.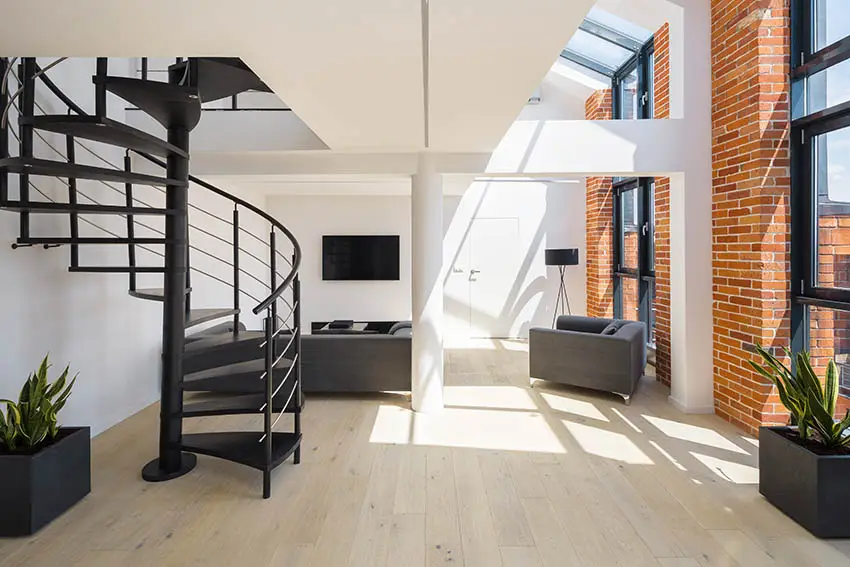 For these spiral staircase, it uses a metal column to support the structure. The stair treads are made from wood painted in black stain, and the hand rails bolted to the floors, walls and ceiling provides additional stability to the steps.
Black stairs are very in vogue right now, and because black is a very versatile color, you can easily use it for your stairs without any worries that it will not match the current look of your space.
Floating Concrete Stairs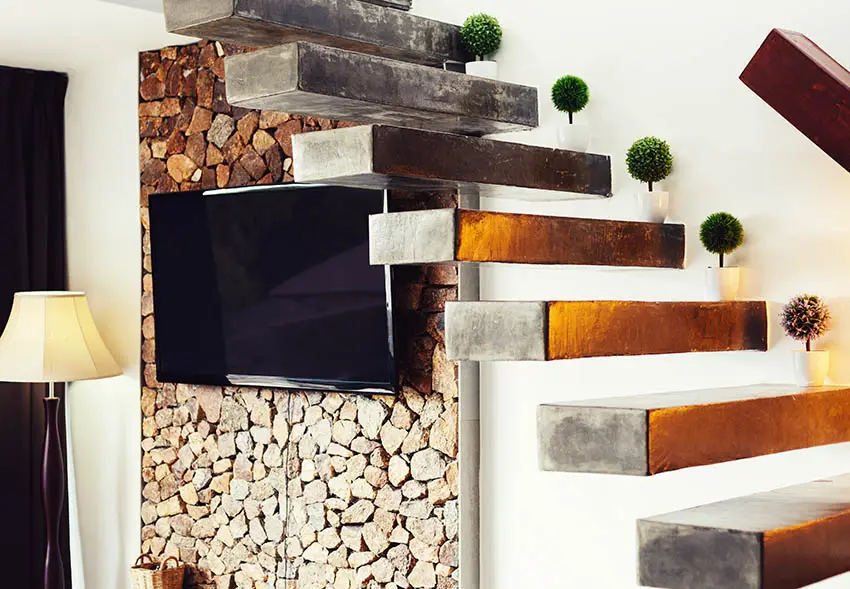 Concrete floating stairs design is popular in modern homes. It gives a raw look and feel, and is also a very durable material, and can take a higher load than most other materials.
Aside from the look & durability, concrete stairs are also popular because of their lower cost. You can easily repaint, refinish, or leave it as is.
Modern Floating Style Stairs
The modern era brought about a new selection of technology and materials into construction, hence new ways to build stairs were developed. Modern floating stairs often combine a number of construction materials and techniques to achieve a certain design or look.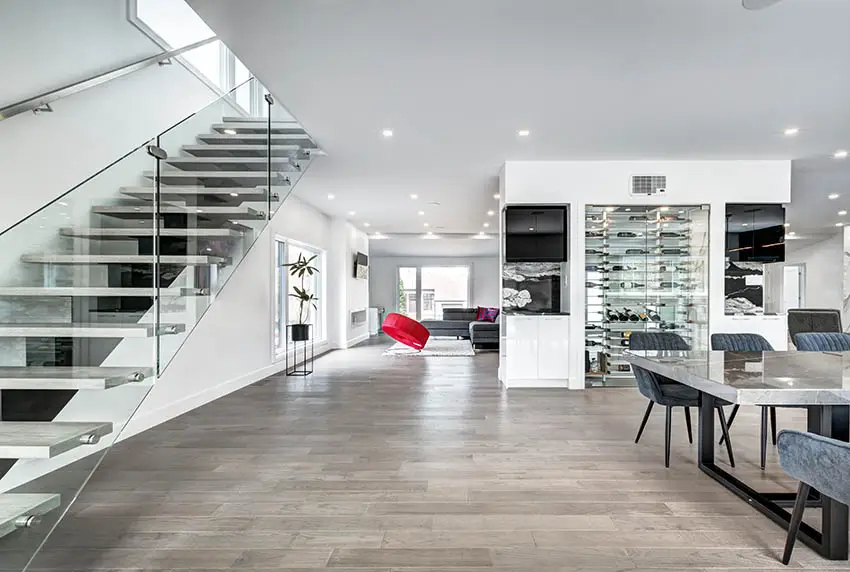 These modern stairs has a clean, smooth look with its concrete stair treads and frameless glass railings. The steps are supported by a central metal spine, while the glass railings are bolted on the side edges of the concrete steps. See more modern living room designs here.
Floating Type Stairs with Glass Railing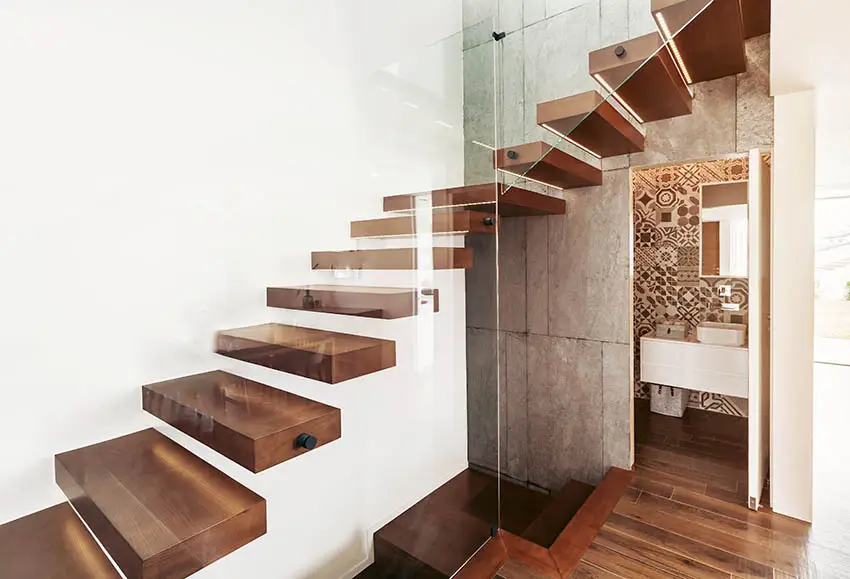 Adding glass railing not only enhances the modern look of your floating stairs, but it can also help add stability and make it safer if you have kids or pets at home.
If you use frameless clear glass, you can still retain that floating look without obstructing the illusion. Additionally, you can use glass that connects from floor to ceiling slab to help add stability to your floating stairs.
Floating Staircase DIY
While DIY stairs is completely possible, it is recommended that you have prior knowledge & experience in building/construction, as it requires a lot of technical know-hows.
If you're confident with your skills, however, just take note of the following important points:
Check the building code – make sure you take note of the minimum and maximum measurements and load requirements to ensure the safety and functionality of the stairs you are building.
Asses support structures – are you building off a concrete wall? Drywall? Or is there no wall beside your stairs? These are all factors that will narrow down your choices for floating stairs supports and style.
Determine the users of the stairs – if you have small children, pets, and elderly that will also use the stairs, ensure that the stairs you are building will be safe for them. Add railings for extra support, and if your kids or small pets like to run around a lot, perhaps a stair riser will also need to be added to avoid accidents.
Choose the right material – all the above-mentioned factors will also help you narrow down the material choices for the stairs. Make sure you select appropriate materials and support hardware.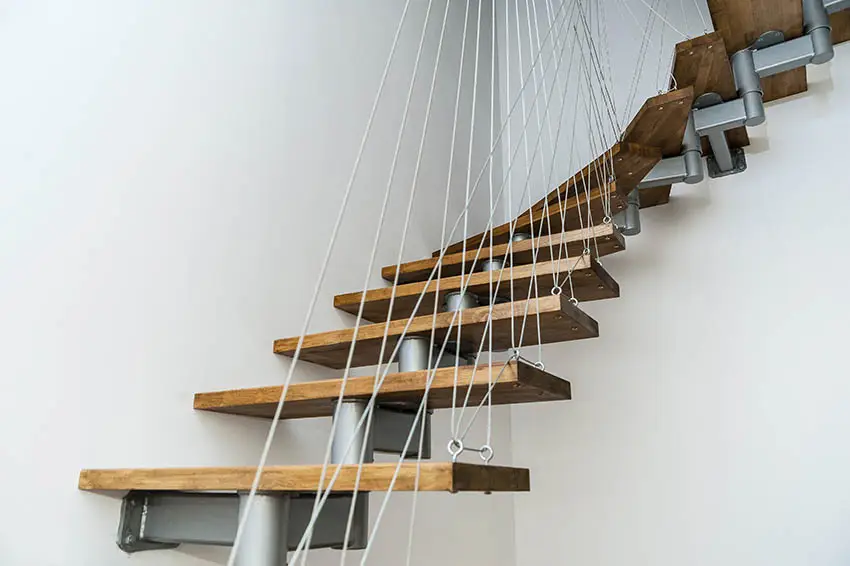 In this angle, you can clearly see the metal central spine of this DIY stairs kit which are bolted to the concrete walls to support their weight.
The unique feature of these stairs would be the metal wires crisscrossing on the outer edge of the stairs, which acts both as an artistic feature, as well as a barrier to the edge of the stairs.
Floating Outdoor Stairs
If you want to add floating stairs feature in your yard, garden or front porch, it is also possible! There are a number of ways to build one, and a couple of materials to choose from, but the most popular is of course, concrete.
You can add terrazzo or texture to make it safer for outdoor use, but concrete by itself is an easy low-maintenance choice for outdoor use.
floating deck stairs
Central-spine supports are typically used for floating deck stairs. The chair steps materials are usually matched to the material used on the deck itself, so if you're using wood decking, using the same for your stair treads would be recommended for a seamless look.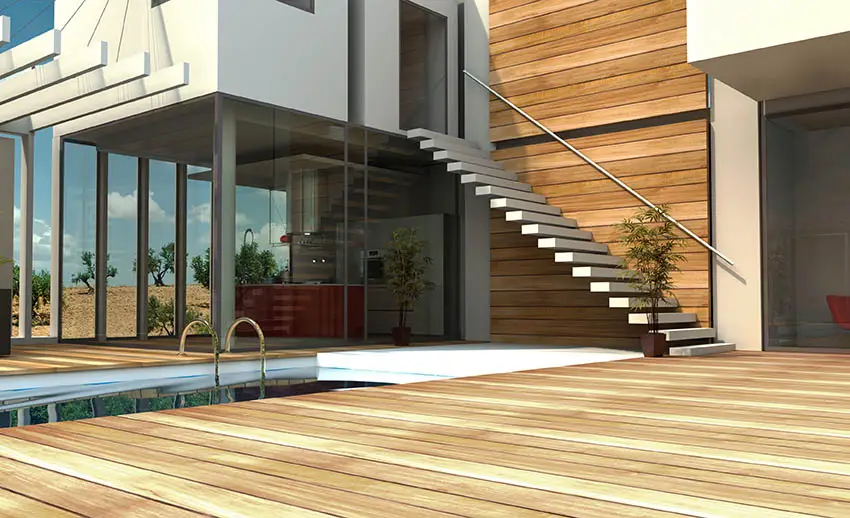 These gorgeous outdoor stairs are made from concrete treads cantilevered on the walls. A metal framing/hardware are concealed inside the steps to add stability, and because these are concrete, this is a durable outdoor-grade material that can withstand any weather.
Is the Floating Stairwell Expensive?
It might be surprising to hear, but floating stairs can go anywhere between $3,000 to $100,000. The cost will be determined by a lot of factors, and as mentioned earlier, a lot of engineering and building knowledge is required to build one successfully.
These types of stairs are highly customizable, so the cost will entirely depend on what you have (structurally) and what you want.
Design Ideas for Floating Staircases
Below are great examples of floating stairs for your inspiration: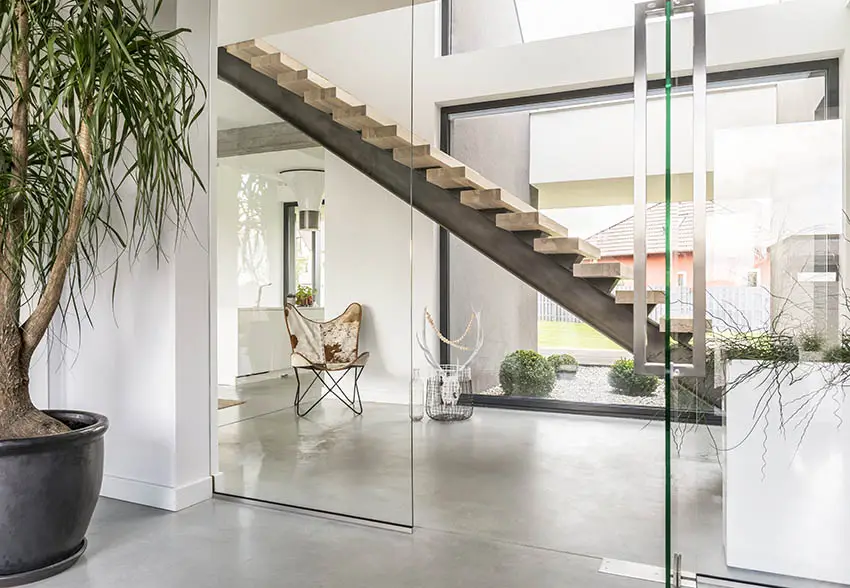 These industrial style stairs combine metal framing and railings painted in black with salvaged wood steps to give it a natural, raw look. Because the condition of reclaimed wood may vary, additional metal plate supports were screwed underneath the wooden treads to ensure stability.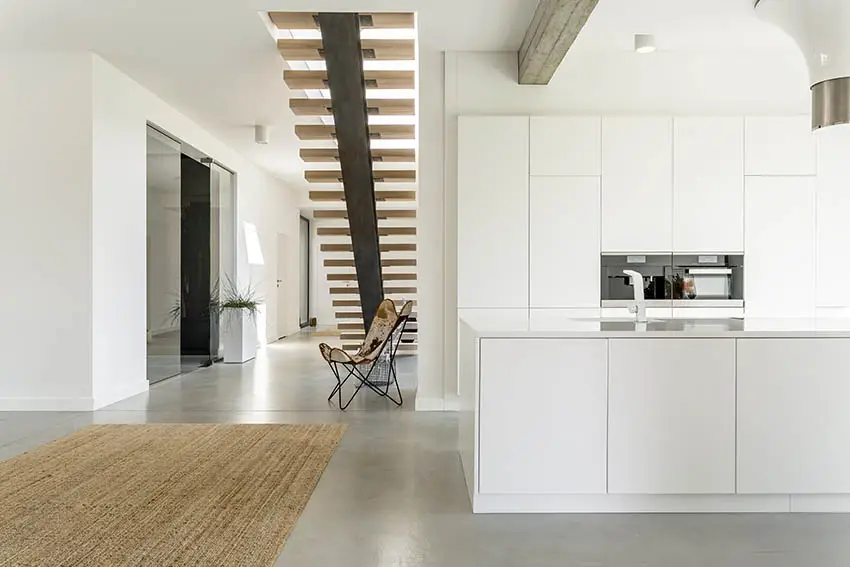 One great advantage of quasi-floating stairs is that there will be no damage done to the walls, as the stairs support is attached to the floor and the ceiling slab.
This minimalist interiors has a gorgeous wooden quasi-floating staircase that is slightly offset from the wall. The small gap further emphasizes its "floating" look, and keeps the walls free from damage.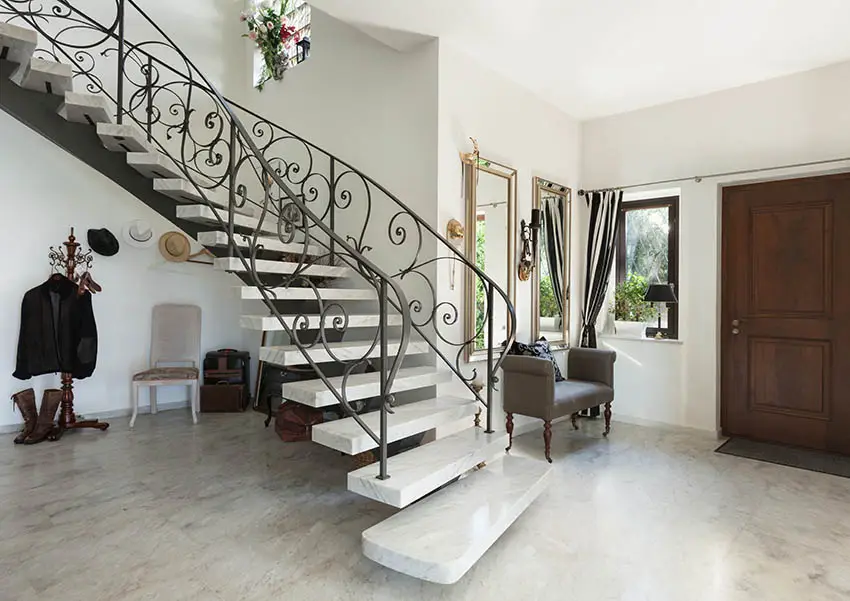 This gorgeous spiral staircase is made from metal frames and railings, with marble steps. The metal framing and wrought iron hand railings provides enough support, so you can be at ease that the staircase will provide the necessary strength and durability you need for long term use.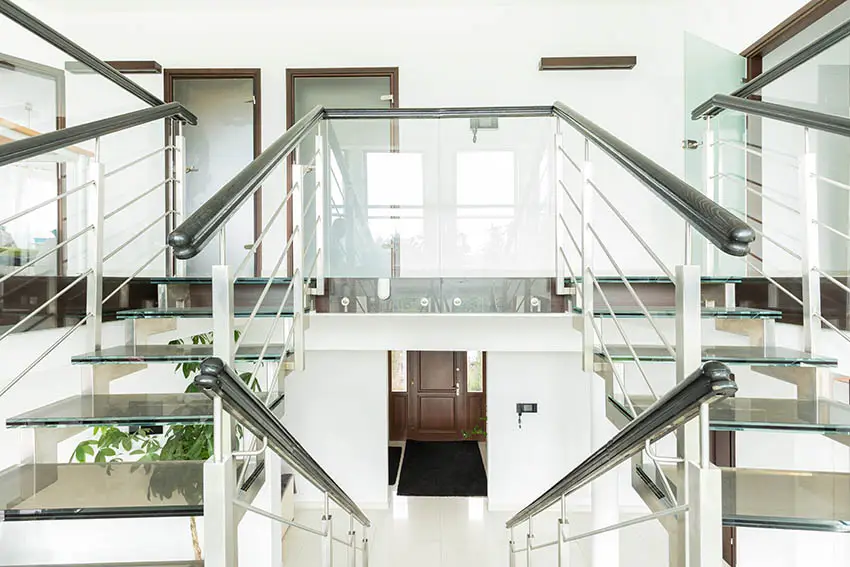 Since both sides of these glass stairs have no wall beside it, two railings were installed to ensure safety. The metal railings are in stainless steel so that it blends in and help reinforce the modern design.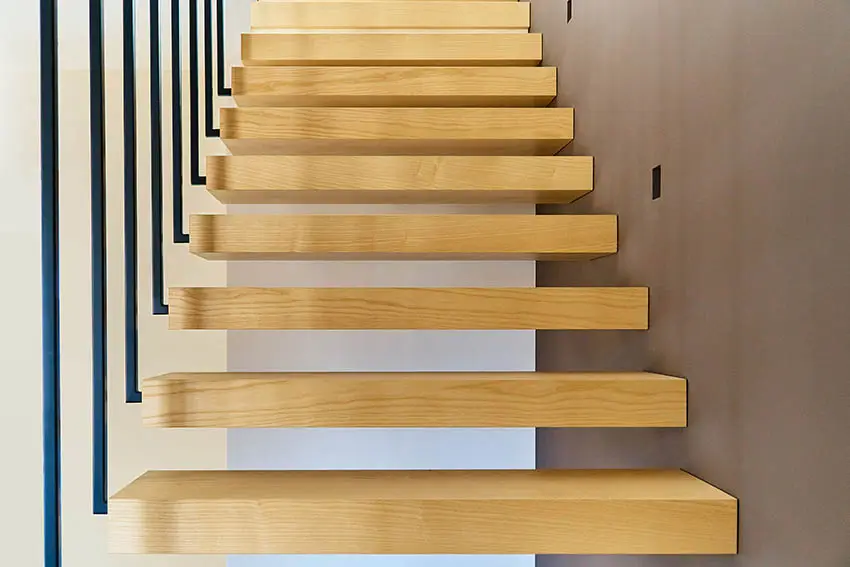 A great example of industrial style modern floating stairs. These steps connect to the basement, hence the solid walls can help support the load of the stairs.
Since the wooden steps used in this design are thicker, vertical metal poles attached to the beams and connecting to the end of the stair treads help add stability and load support to the steps.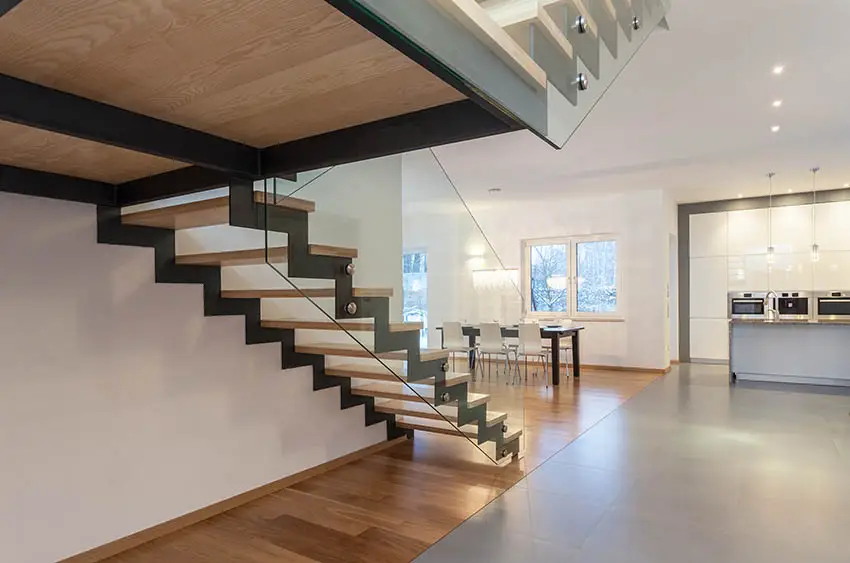 Another way to construct floating stairs is to use support braces on its sides, leaving the center of the stairs open. This example uses solid wood steps with metal braces on both sides of the stairs.
Tempered glass side railings were also added for extra safety and to compliment the modern look of the open concept kitchen design.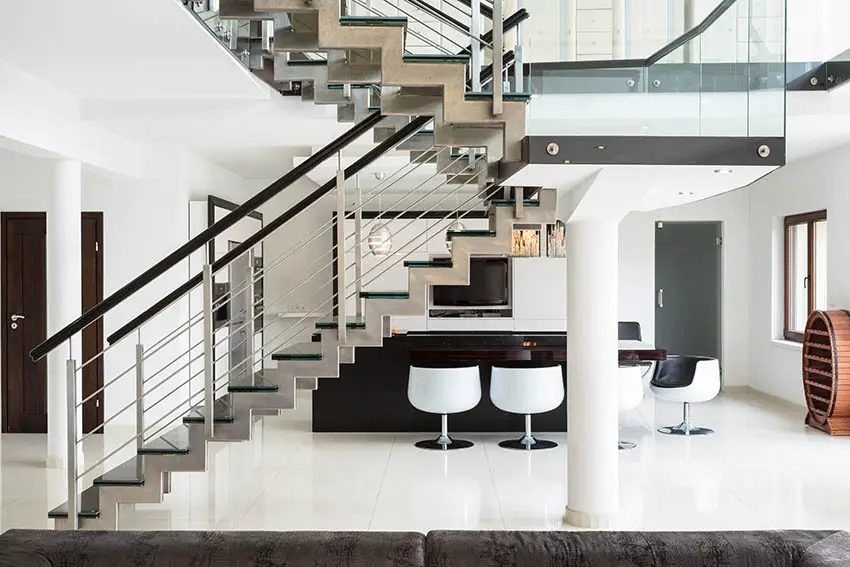 These modern floating stairs have a very unique design. It features a one-piece metal frame that is in the shape of the stair riser and treads, but because the metal has a slimmer profile, even with the presence of a riser, it still looks like it is "floating".
Glass treads were added to the steps to enhance visuals, while metal tension wires were installed horizontally up to the 2nd floor ceiling to serve as the side railings with black hand rails, creating a very unique design.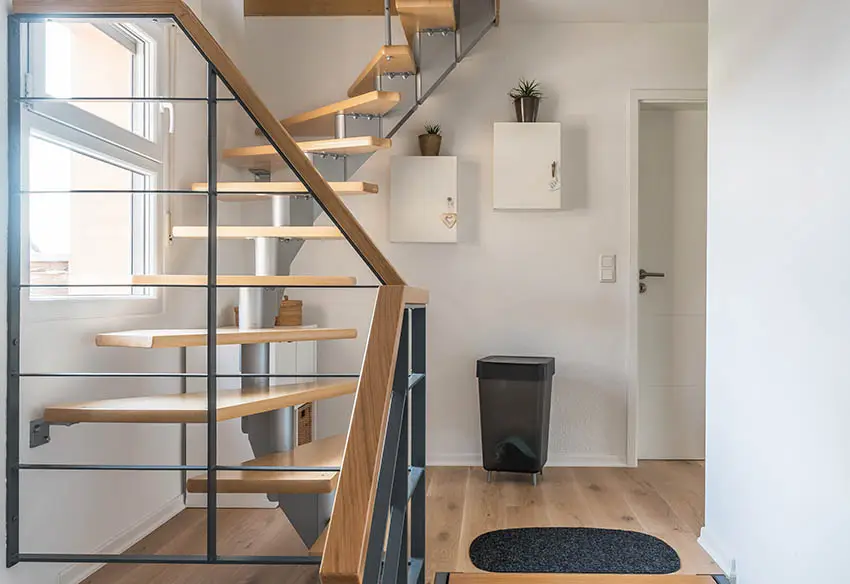 Floating stairs can also be applied to spiral staircases. It takes a little more skills and expertise to be able to achieve this, but it is completely doable.
In this example, the floating spiral staircase is made from wood, and also has railings with decorative metal designs on the sides.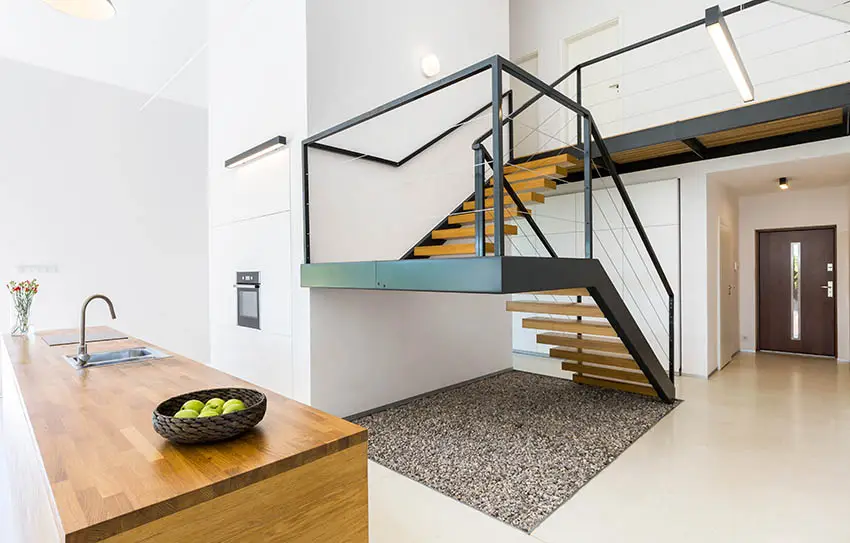 For these contemporary stairs, a combination of wood and metal supports were used to construct the stairs. Wooden floating frames support the treads, while metal column provides the overall structural support, and also doubles as a railing support.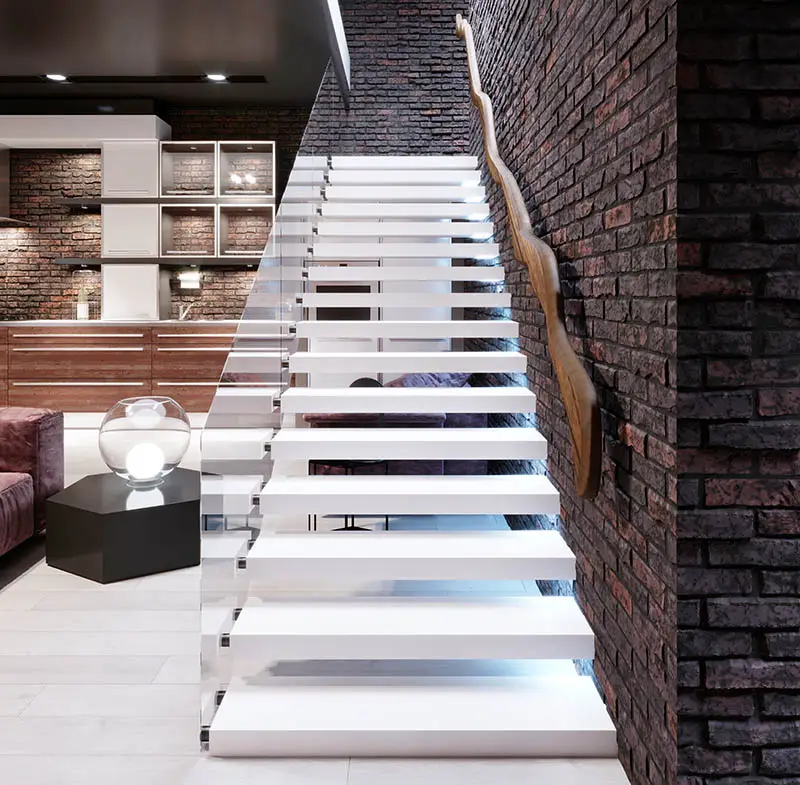 The concrete stair treads used here is very thick, so the metal stiffeners/stabilizers are inside the treads, concealing them from sight for a cleaner look. Glass railings were also added, as these stairs span multiple floors throughout the home.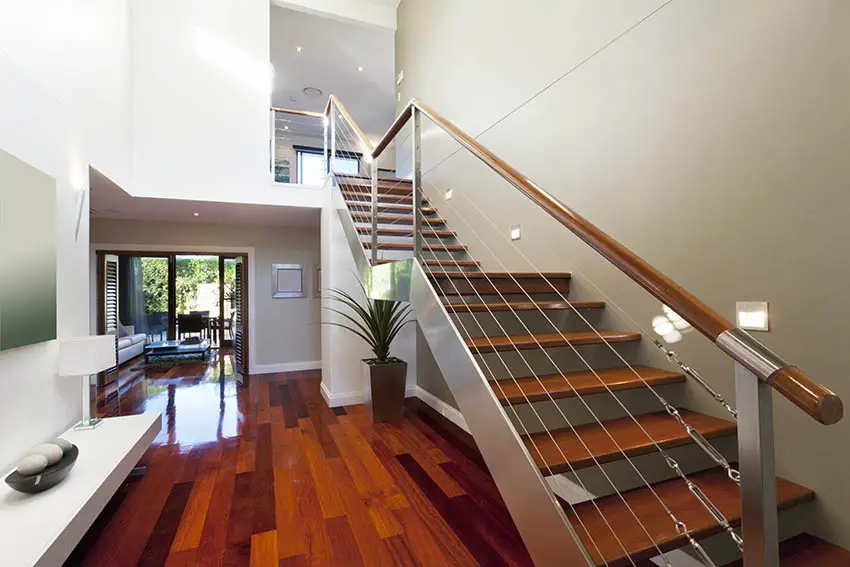 A beautiful example of a rustic modern staircase that uses a brushed stainless steel support and cherry wood treads for its design. The medium grain finish of the wood and the metal features & railings adds a nice contrast against the light colored walls, artwork and decor materials.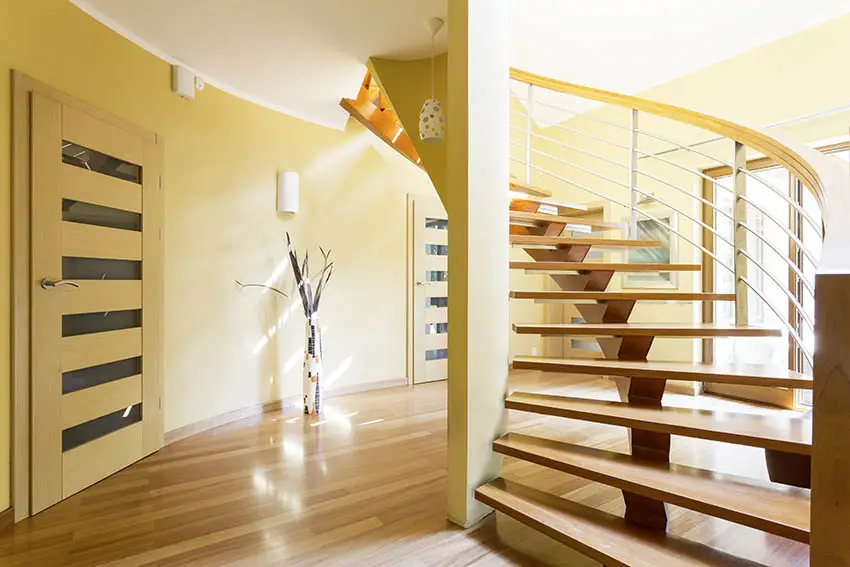 Floating stairs can also be applied when you have spiral or U-shaped stairs. These modern rustic stairs uses metal central spine for the wooden treads to ensure it doesn't bend and warp. It also provides stainless steel metal railings with additional horizontal and vertical support that is also welded into the tread supports, adding stability.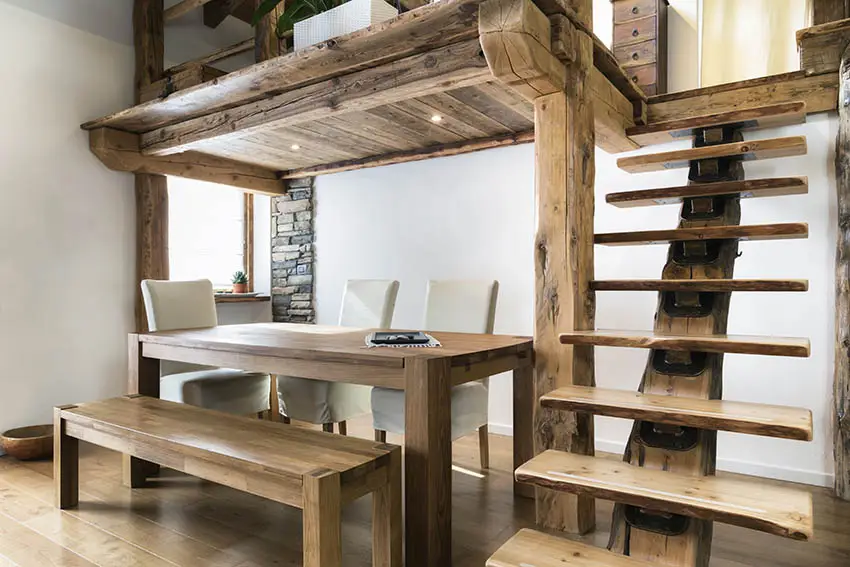 These small rustic loft stairs highlights the beauty of natural wood, as it uses unsmoothened wood beams and live wood edges for its stair treads. To add stability, it uses metal braces and stiffeners which are screwed onto the steps and the solid wood central spine.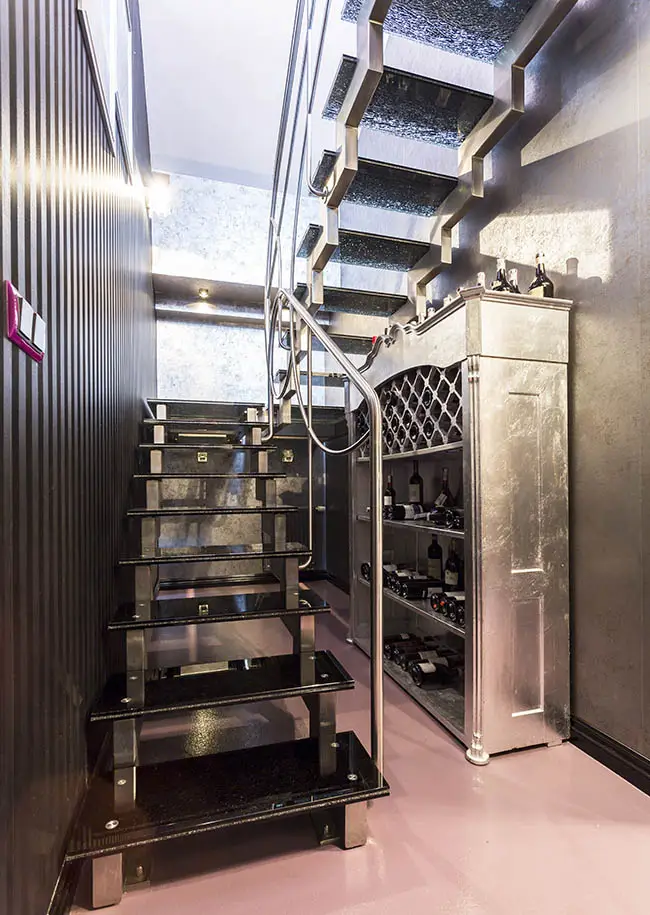 These floating stairs has unique solid steel railings and tempered glass with steps finished in black powdercoat, making them seamlessly blend with the walls. At certain angles & lighting conditions, it may even look like the railings are not there at all, so this is a great option if you really need railings.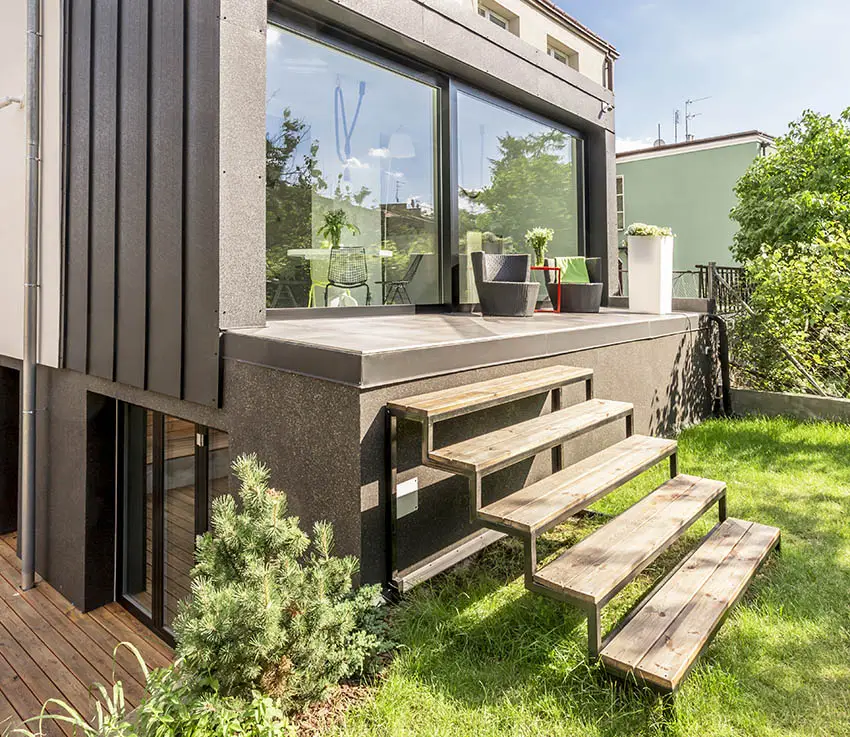 This is a really simple patio stairs design that is easy to DIY. It is made from tubular metal frames to support the treads and structure of the stairs. Outdoor-grade wood planks were used to ensure it can withstand the outdoors.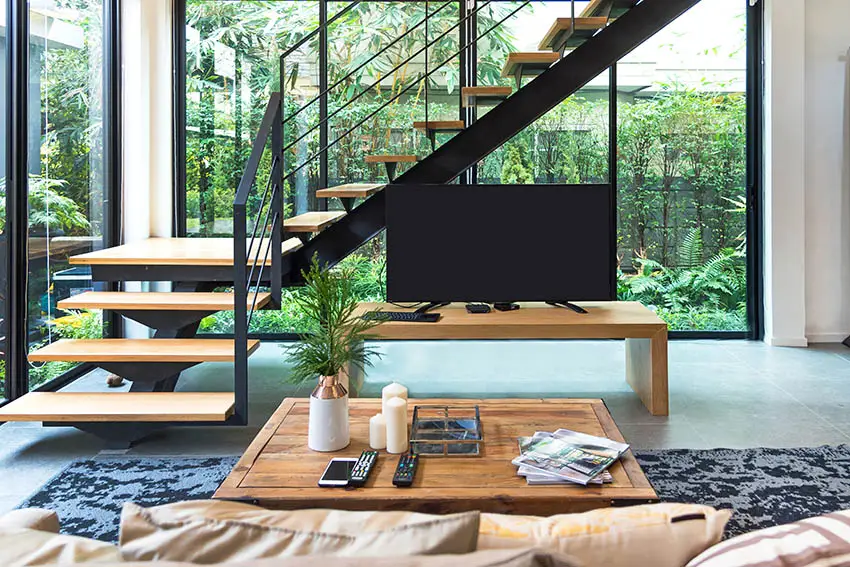 Light beechwood veneers give these wooden stairs a modern Scandinavian vibe that perfectly complements the furniture pieces and architectural features of the space.
These thick wooden treads are supported by a metal central spine, and metal stiffeners are also attached underneath the wooden treads to help avoid warping. Black powder coated steel handrails were also installed, helping add safety while maintaining a clean aesthetic.
For more related designs check out our gallery of under stairs ideas.