Welcome to our gallery of under stairs ideas including a variety of creative designs for this often overlooked space.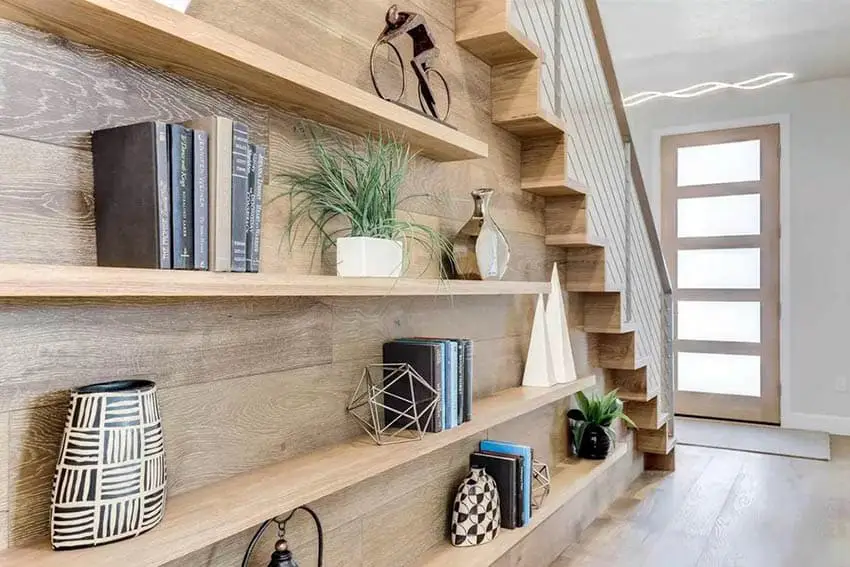 Every multilevel home has a set of stairs to travel from one level to the next, some even have more than one. A good portion of those staircases have so much wasted space underneath them!
There has to be some way to use the space, doesn't there? Unfortunately, the way the ceiling of whatever is going to occupy the space is slanted and not a particularly huge space, thus organization plays a key role here.
For this, inventive accessories perfect for such spaces are the need of the hour so this is where the creativity needs to be sparked.
After racking our brains for the best solutions to using the space wisely, storage became the prime choice, with a few other creative contenders. An interesting mix of careful organization and an assortment of products fit for such spaces, such as under stairs closets or a range of other accessories transforms the area.
Now when you initially think storage you probably imaging just shoving a bunch of old boxes that you will never need again under the staircase (because that is what we used to do in our basement!). This does not need to be the case.
Under Stairs Storage Ideas

An under stairs closet, meticulously crafted to accommodate various products and accessories, adding on to the aesthetics as well as functionality.
However, there are many alternatives. For those with an existing closet under the stairs, try upgrading the closet door for a quick way to spruce up the look.
Custom Shelving and Cabinetry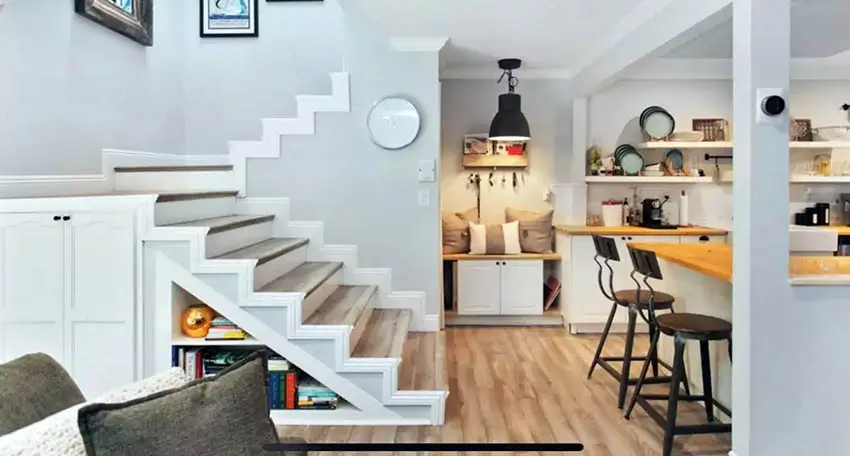 Creating a custom storage space under the stairs with shelving and cabinetry is an effective design. When located near the entryway to the home, cabinets can be used to store shoes or jackets in an easily accessible area.
Shelving can be used to store your favorite books or other decor items you'd like to display. The integration of closets and accessories makes the best use of such spaces.
Built in Home Bar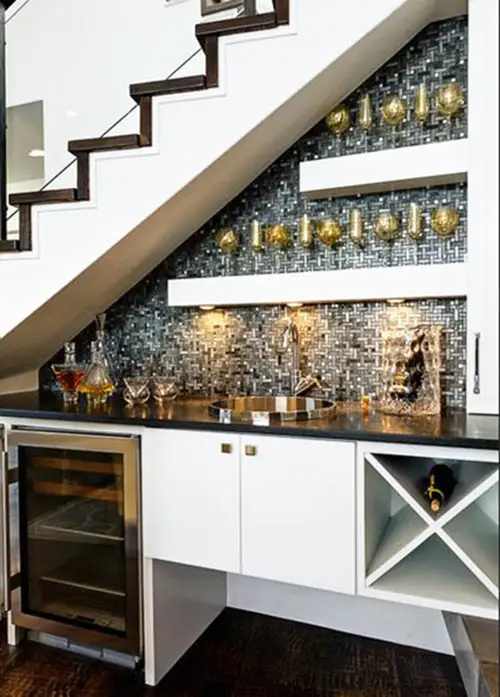 Who says you only need to store things that you do not use regularly? Incorporating a built in home bar to the underneath of the stairs is a great way to bring a living or dining rooms class level up.
It may help transform this previously unused space into an extremely convenient space to store and alcoholic (or non alcoholic) beverages and glassware. This can act as both a china cabinet and a bar, storage and usefulness.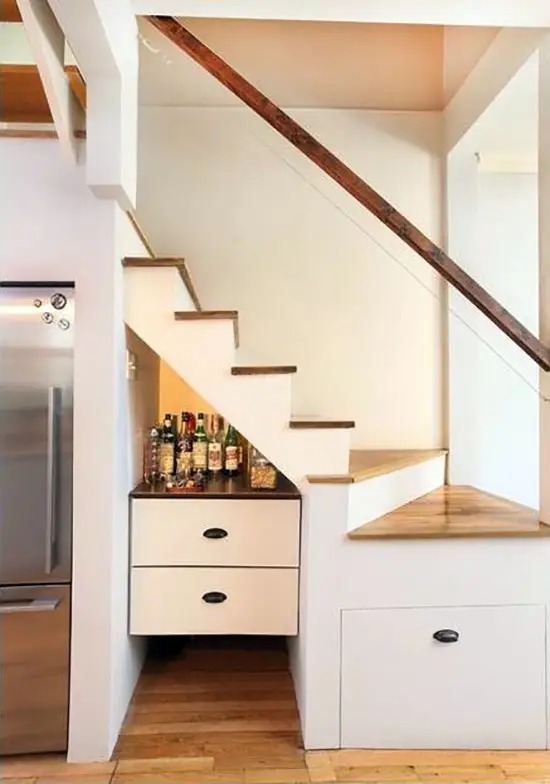 This small under stairs nook was equipped with two drawers and a small counter to make a home bar area.
Bar Under Stairs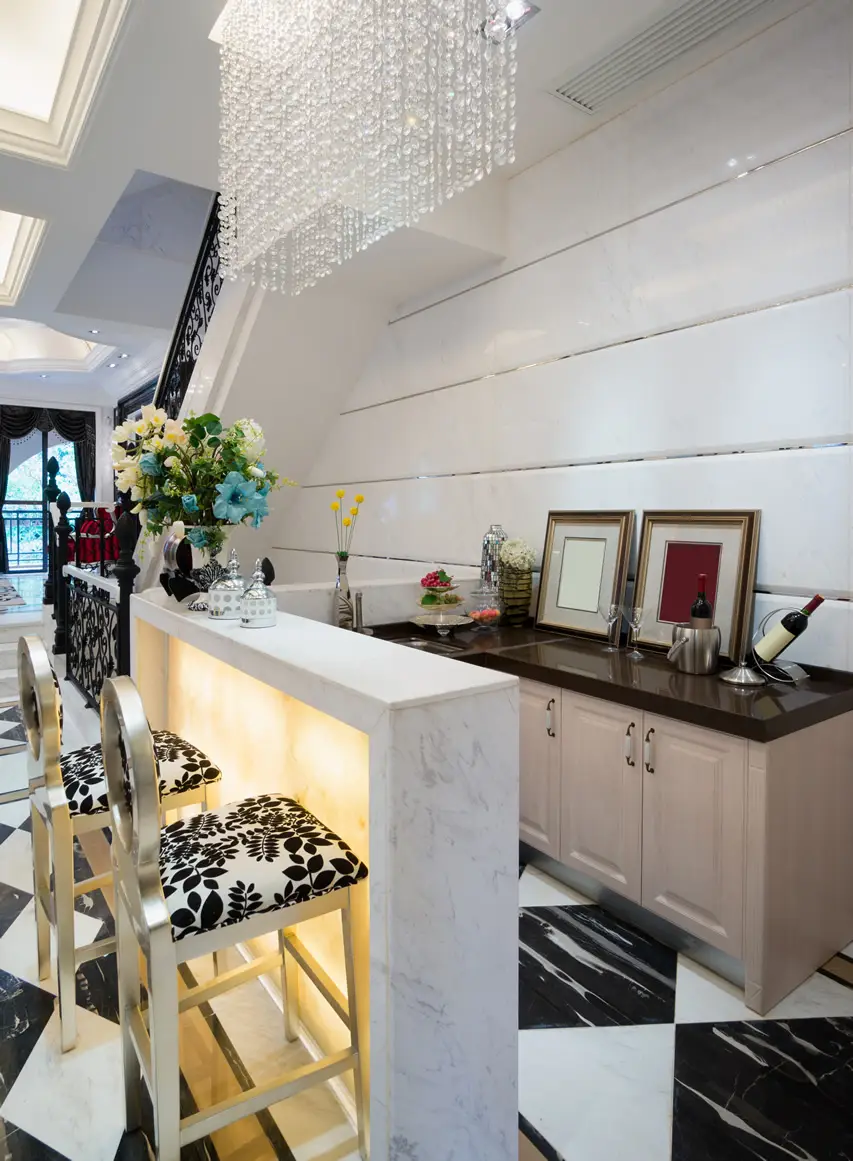 A full wet bar with sink, cabinet and countertop was installed below this staircase to create a great entertaining area.
Portable Bar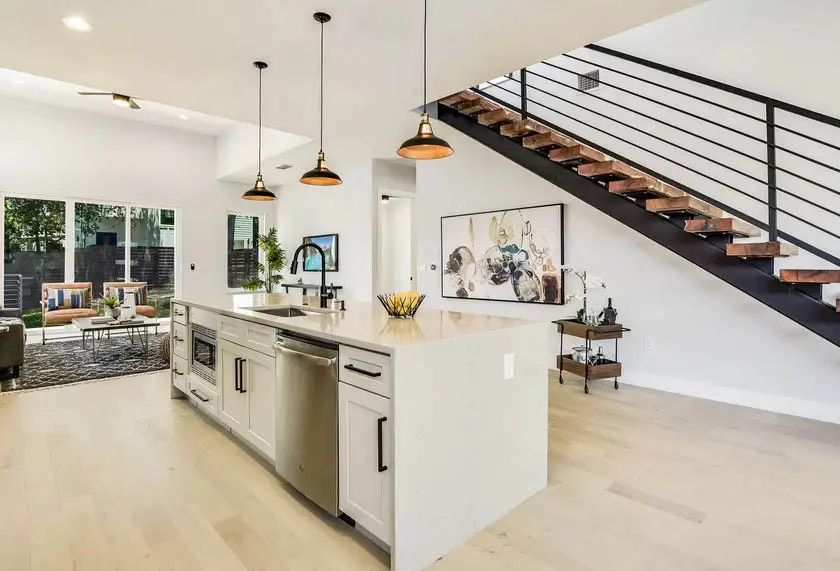 A portable bar cart is an easy solution that is especially useful for those who like to entertain guests.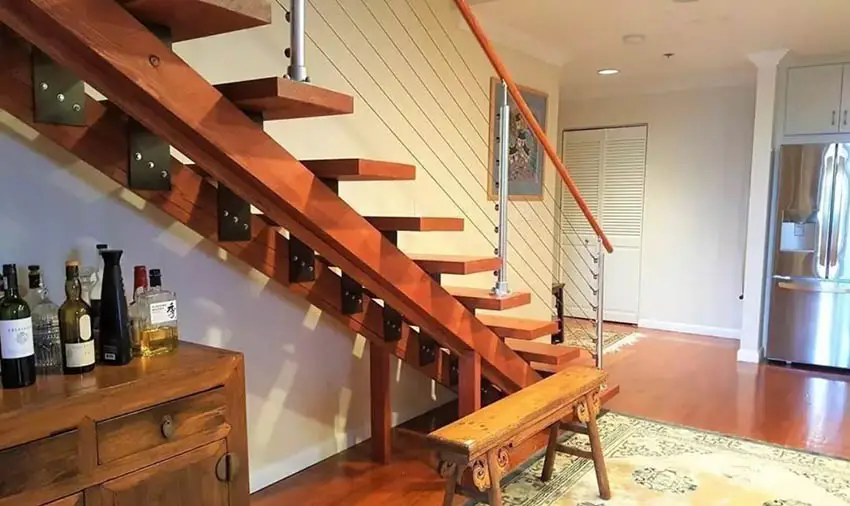 For this home bar a wood cabinet was used as a countertop for mixing drinks.
Storage Drawers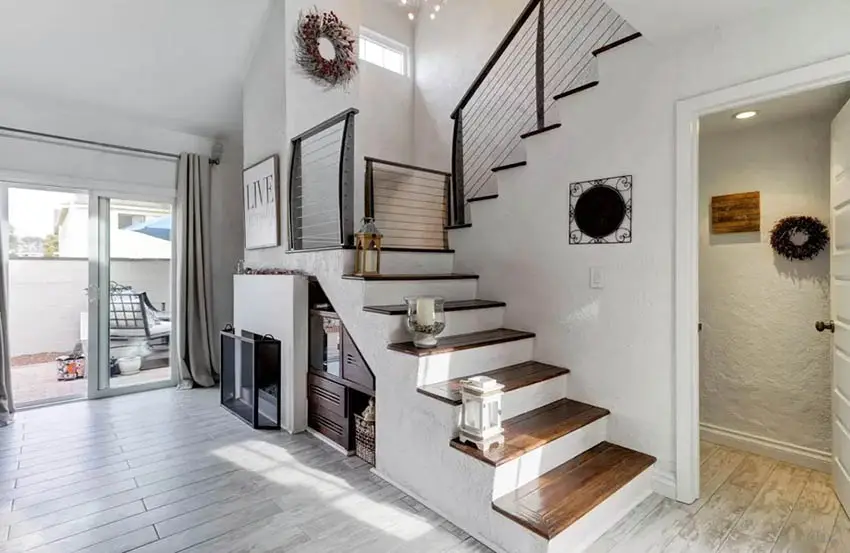 Initially thinking is to have shelves underneath the stairs, or cut it out and make it into a room, but what about drawers?
Custom make some drawers to fit the height, width and depth of the underside of the stairs and you get oodles and oodles of space. These drawers, or even pull out cabinets can hold a ton of things, whether it be shoes, tools, games, cleaning supplies, you name it, you can store it.
Under Stairs Bike Storage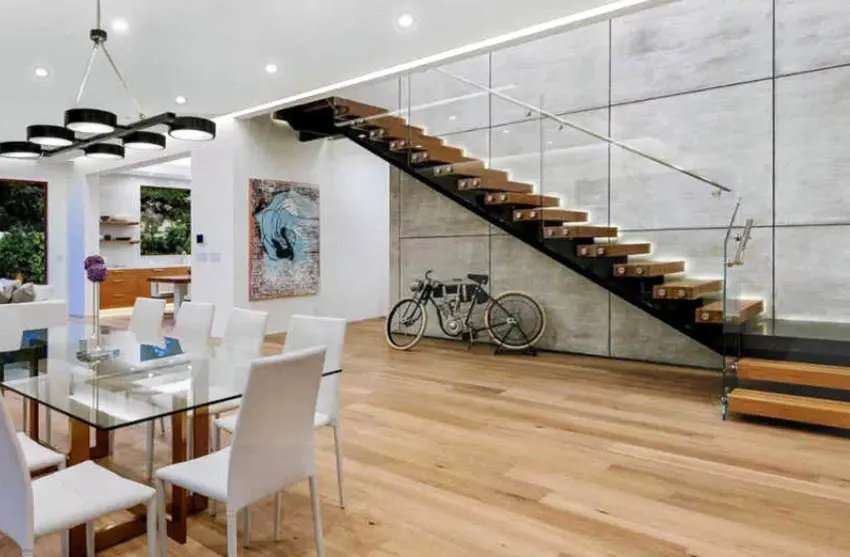 The space under these floating stairs is ideal for bike storage for those who don't have a garage. It makes a perfect spot for those with an active lifestyle who want to grab their bikes and go. See more staircase railing ideas here.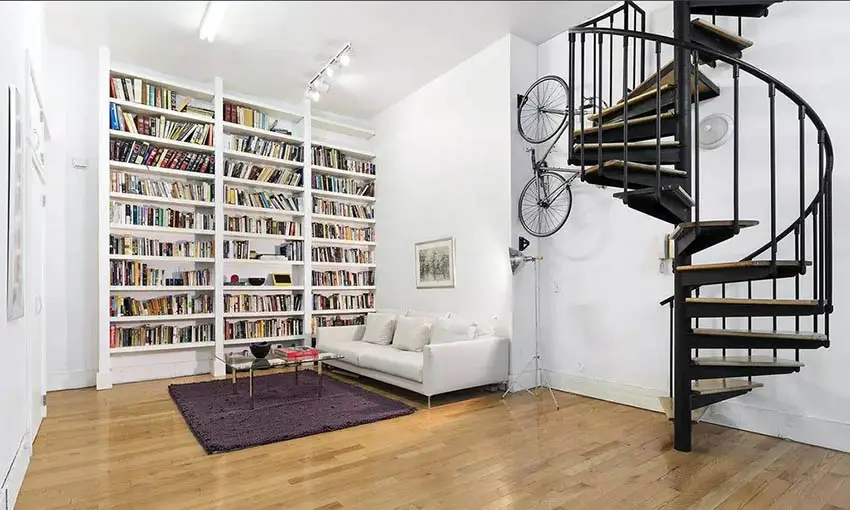 If you have a basement that the stairs come up from, and a project in mind to house a lot of outdoor equipment, you may have just found the solution.
Turning the area under the stairs into a bike rack saves floor space and keeps the bikes out of the garage during the off seasons. It can also act as an artistic example if the bikes are nice enough and hung correctly.
Dog House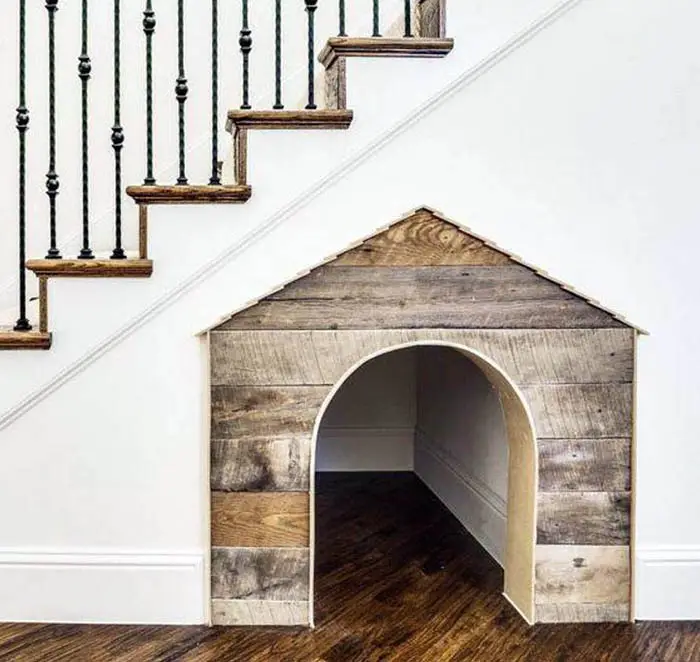 You should never send your significant other to this dog house, but if you have small enough pets, under the stairs could be a perfect place for them to have their own room.
Just like the kids play room add a few adjustments to make the space livable for a pet, and maybe even add a lock or places for food and water and your dog will have a nicer set up than Harry Potter did under the stairs.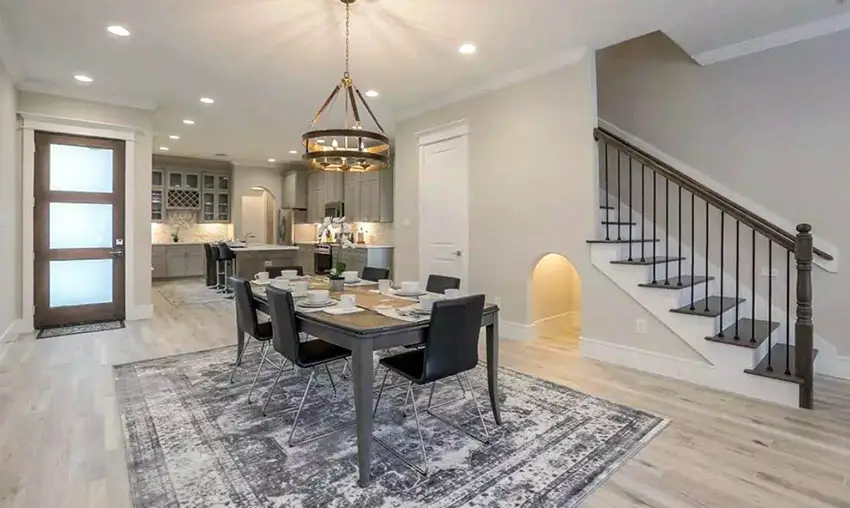 This custom built in dog house design under the stairs provides plenty of room for a dog bed with its own light.
Decoration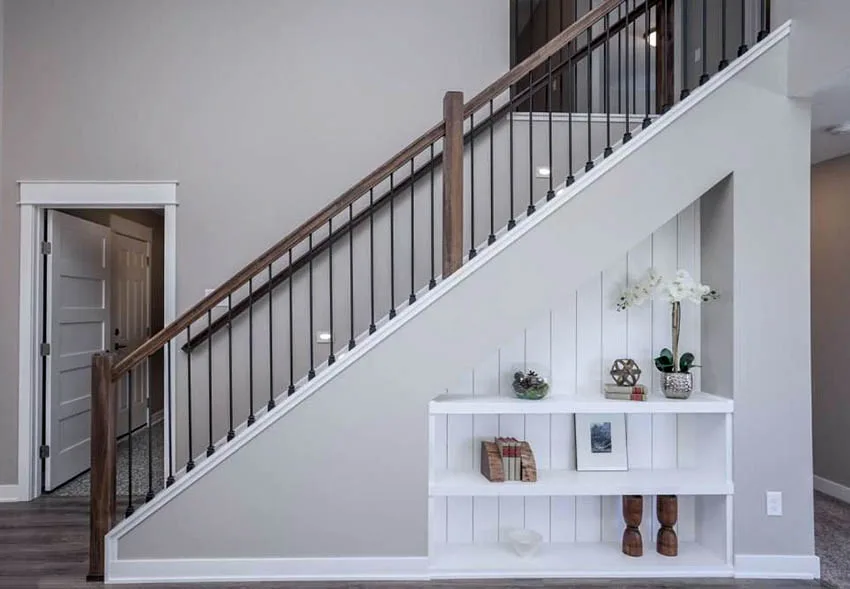 What is to say this space has to be something you go into? Here are LIMITLESS options of ways to decorate the space to make it an art piece versus just a blank wall.
You could add bookshelves, art, faux cabinets and drawers (or even real ones!), plants etc. Having a decorative wall that is three dimensional makes a home seem unique and shows the dedication to the design! Not many people do this so everyone will be in awes with a built in wall décor feature.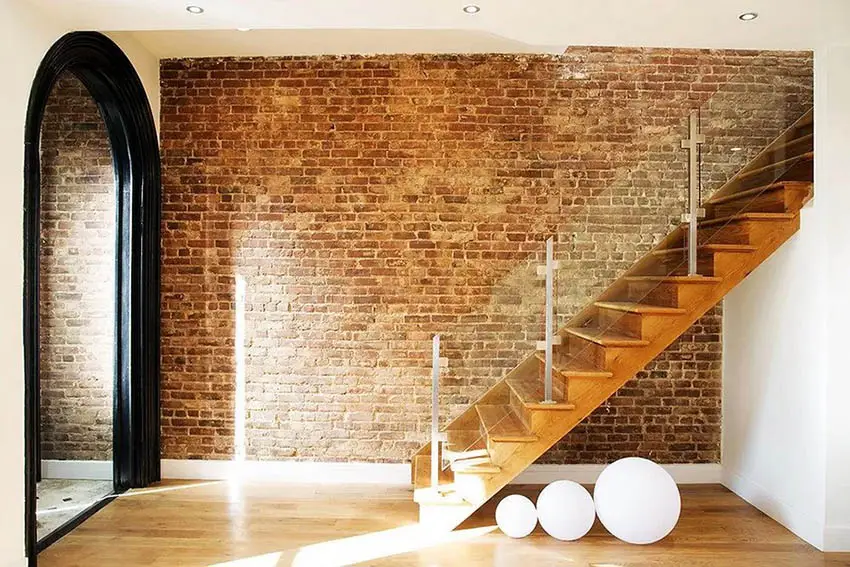 This space could be ideal to show off modern art and make a statement and elevate the overall experience of the room.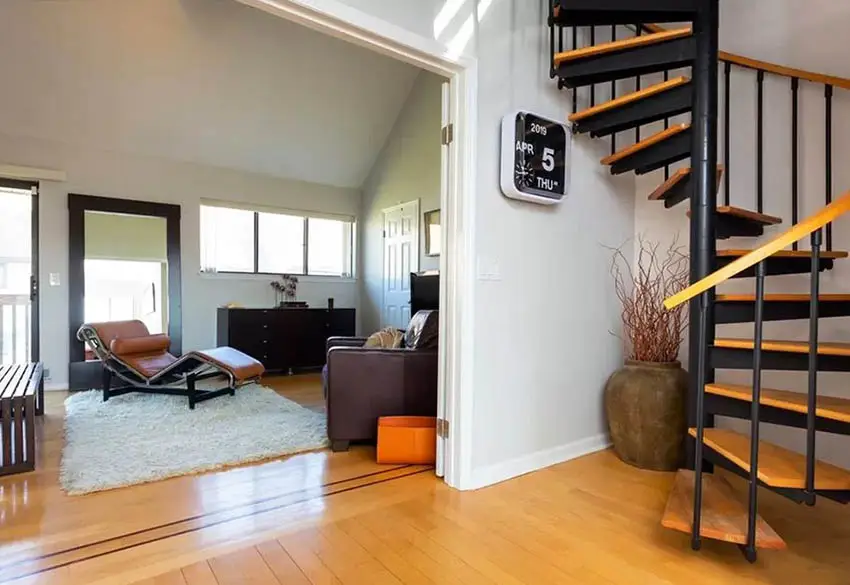 This spiral staircase offers room for a large decorative vase to fill up the empty corner space. For more ideas see different types of stairs on this page.
Table and Lamp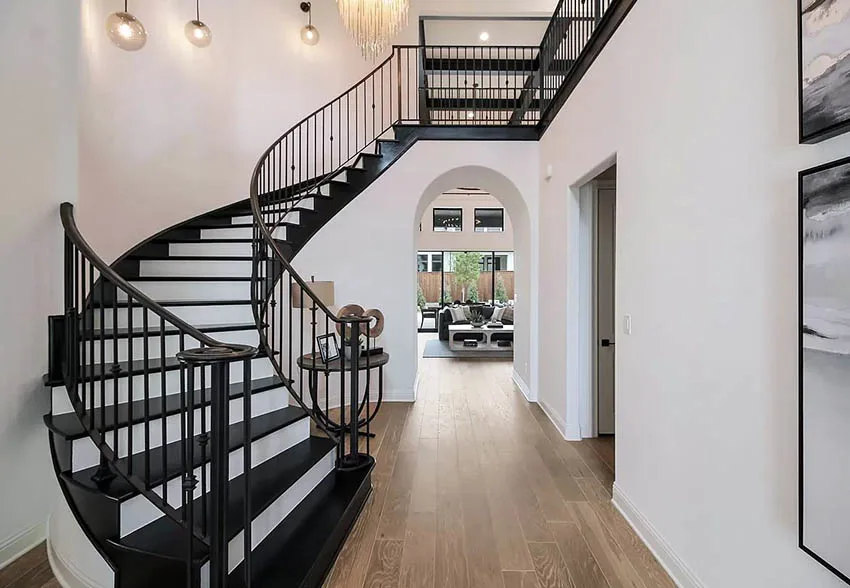 Perfect for a foyer entryway a table and lamp can fit this space well and provide the touch of decor and functionality you need.
Under Stairs Office Nook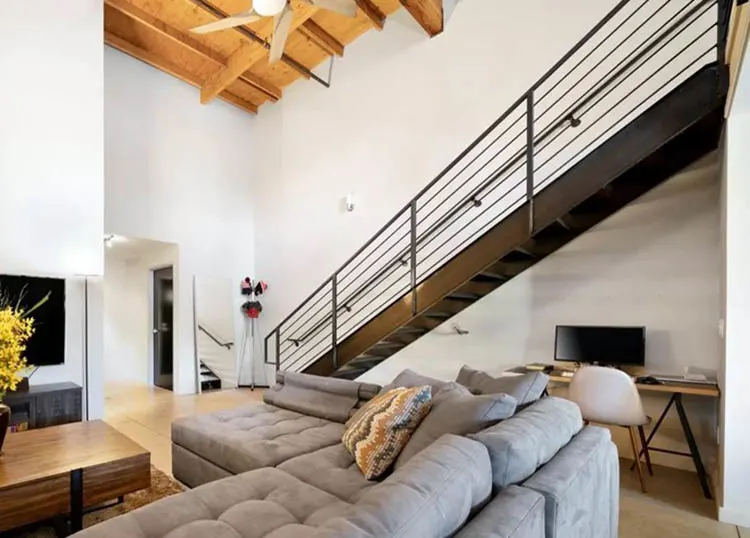 A lot of people benefit from a work station, and what is to say that it cannot just be a small nook under the stairs? This can be a place that you keep mail and things that need to go out or come in, a computer, and maybe even some items you use every day.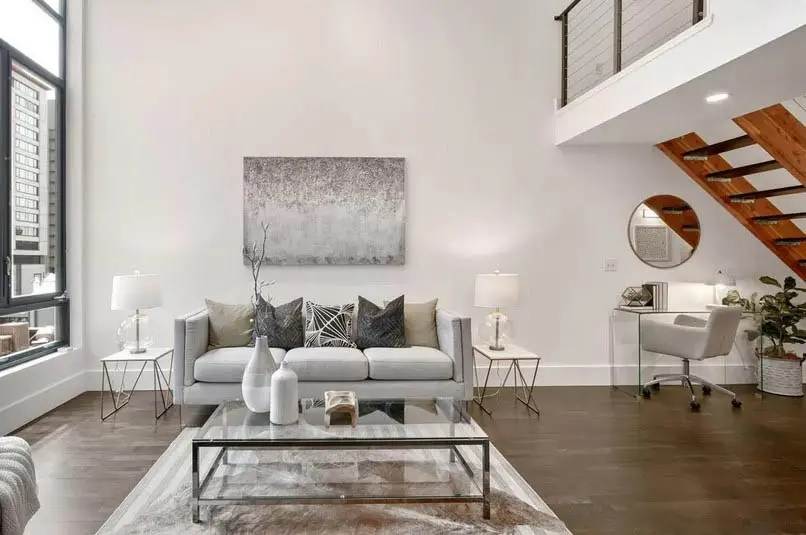 This contemporary glass desk with swivel chair take up very little space and don't clash with the overall design of the space.
Built-In Under Stairs Office Desk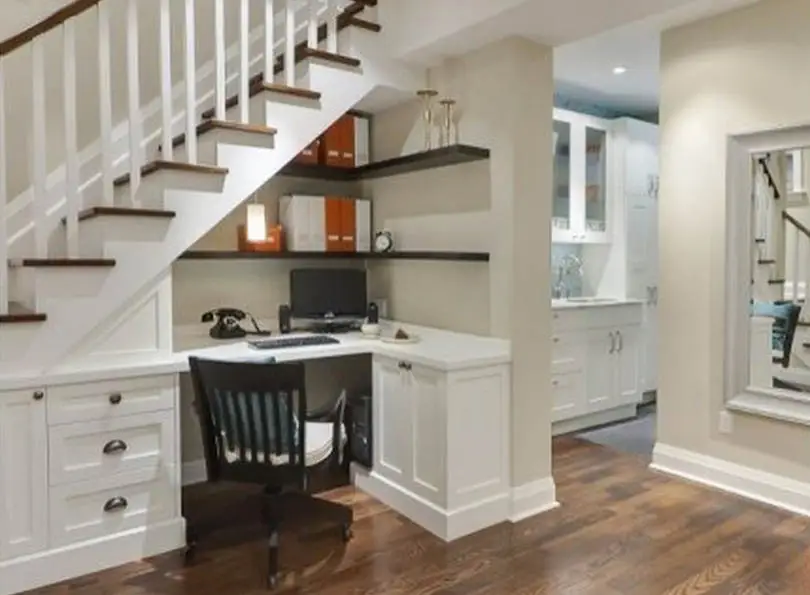 With a smaller more tucked in area you do not need to take up an entire room as a whole office when all you really need is a touch down center.
Even if there is only room for a small table countertop it can still be a good place to drop mail or leave your keys so that you pass it on your way out the door without forgetting anything.
Bookshelf Under Stairs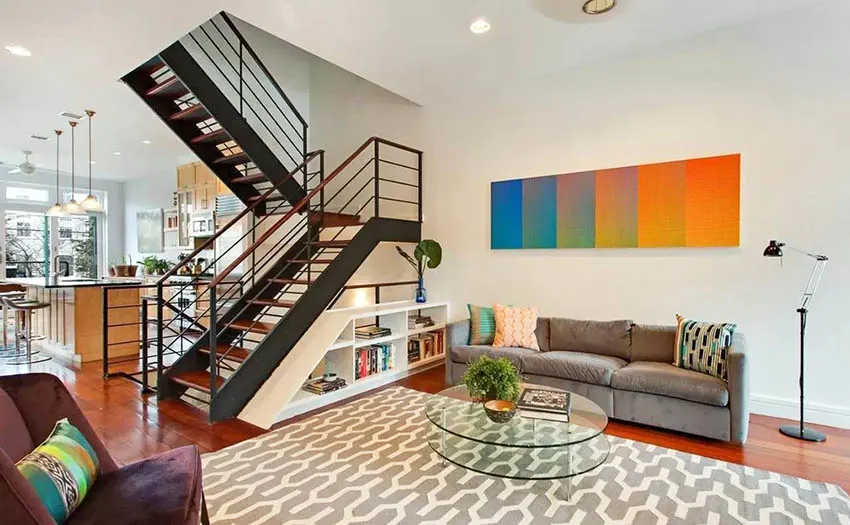 Understairs bookshelf storage is another intriguing project for this space. The empty area below a staircase makes an ideal area for a bookshelf, adding functionality and style.
This works especially well when it is within easy reach of a comfortable reading area, creating an immersive reading experience, surrounded possibly by a decoratively jazzed up wallpaper.
Reading Nook Under Stairs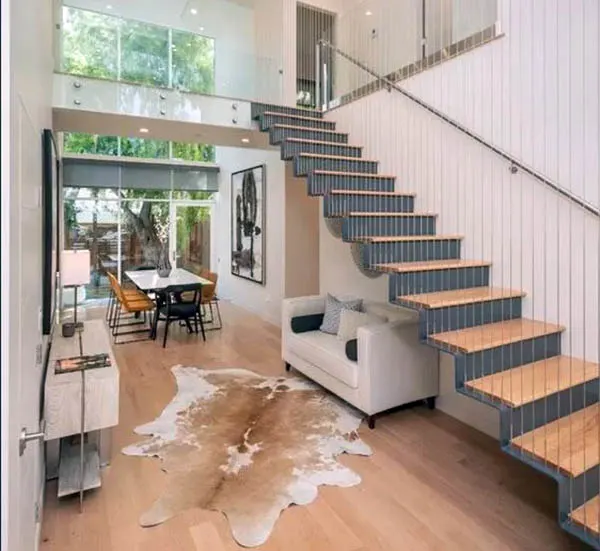 A reading nook can be created under the stairs by bringing in your favorite cozy couch with comfortable cushions.
Cozy Sitting Area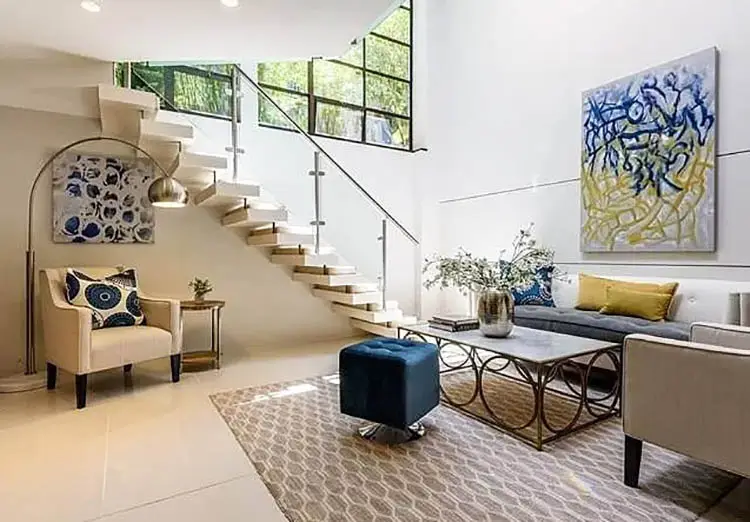 A cozy sitting area is always a plus for a living room. Add a floor lamp and small end table to complete the design.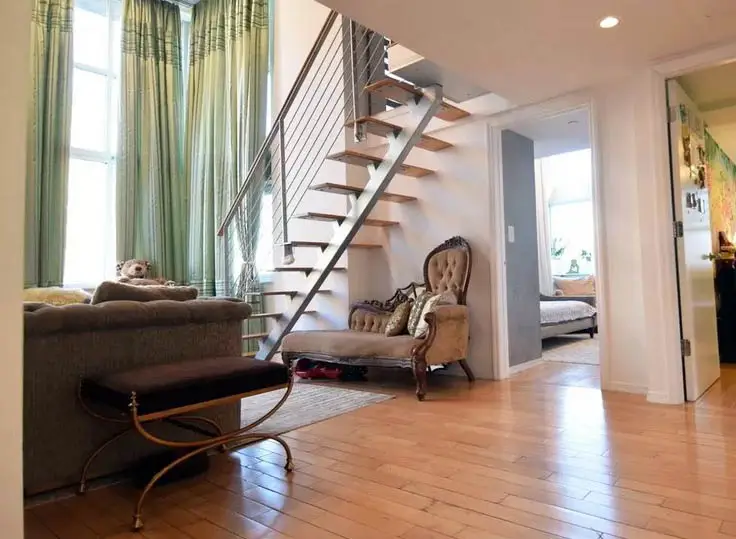 This French inspired chaise lounge makes a comfortable spot to sprawl out and relax, it certainly enhances the overall experience of the room.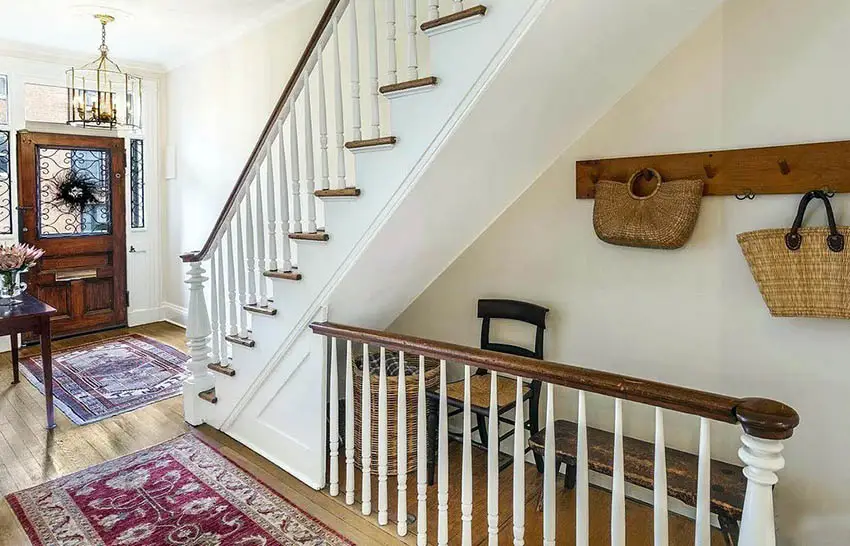 This space has several options for sitting as well as a coat rack and a practical coat closet for storing shoes and other items.
Sitting Bench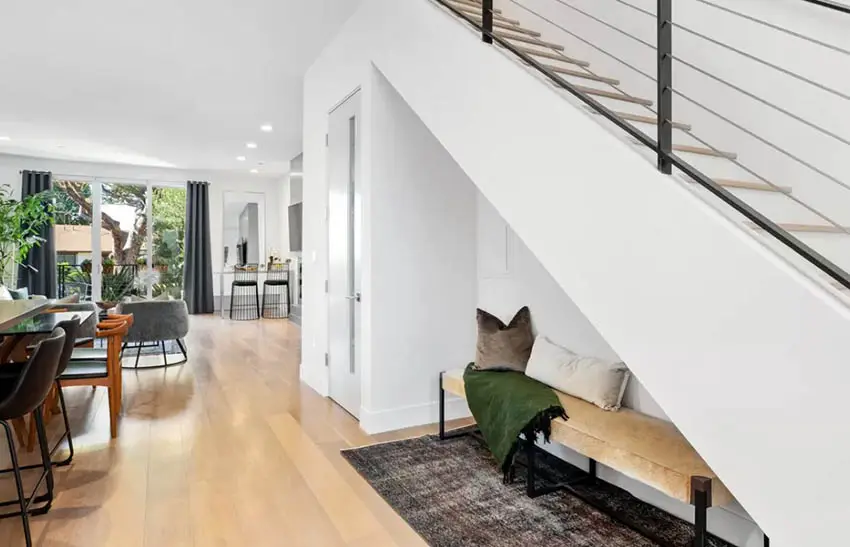 A plush sitting bench with comfy pillows and a throw are an attractive way to maximize your under stairs interior design space.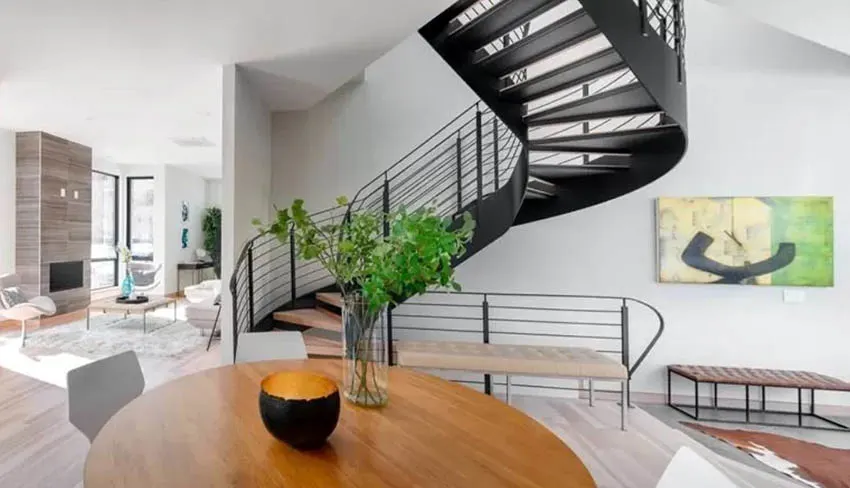 Sometimes small and confined spaces are not too bad! Building in a bench to the underneath of the stairs and adding wallpaper for additional aesthetic appeal, along with some comfy cushions, blankets, and pillows makes for a great little reading nook for you!
Adding built in storage for books or your ipad, (and maybe an outlet too in case you need to charge up) makes the space multi-functional as storage and a place to hang out.
Built-In Bench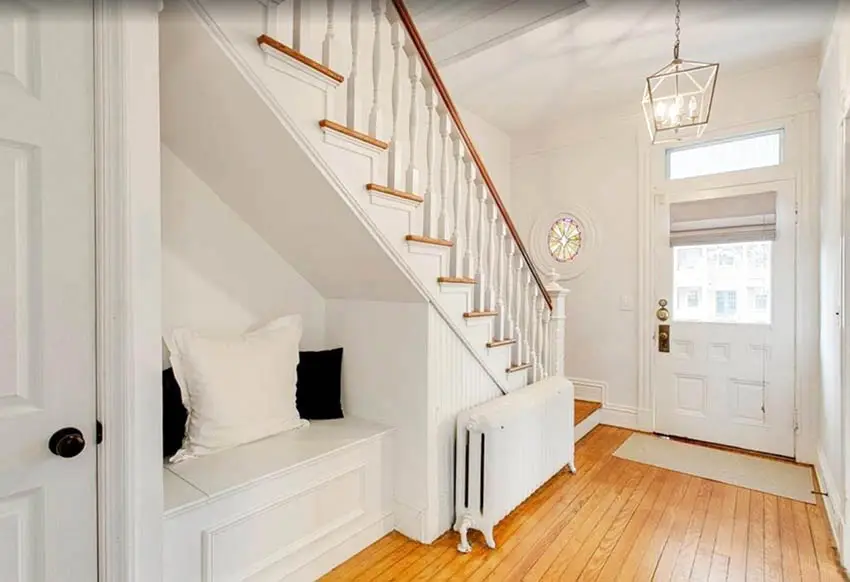 This custom built-in bench with comfy pillows makes a perfect sitting nook.
Kids Play Area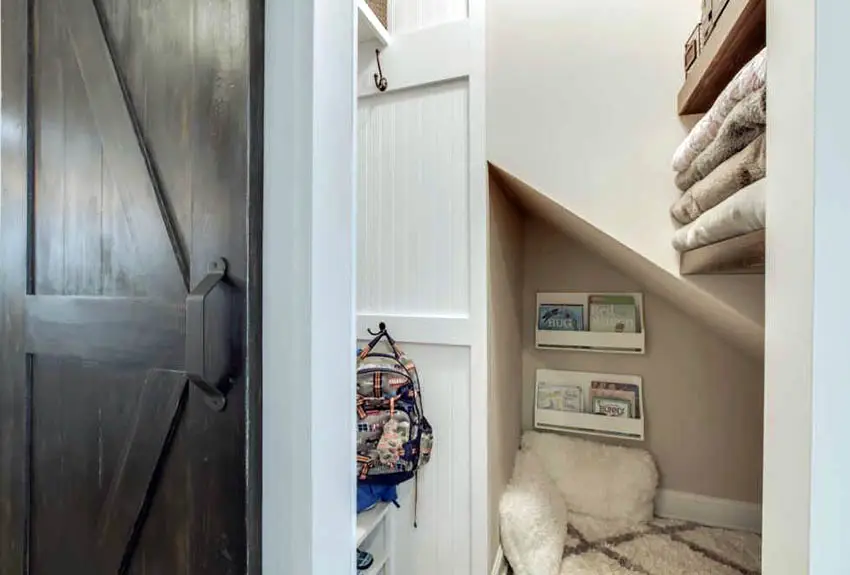 While the low, slanted ceilings are a pain for people 5 feet tall and above, small children will be unbothered by a small area to hide out in!
Depending on the size, add some lights, ventilation, a door and throw a few toys in there and kids will eat up their new play room, until the grow out of it (literally and figuratively)
Performance Piano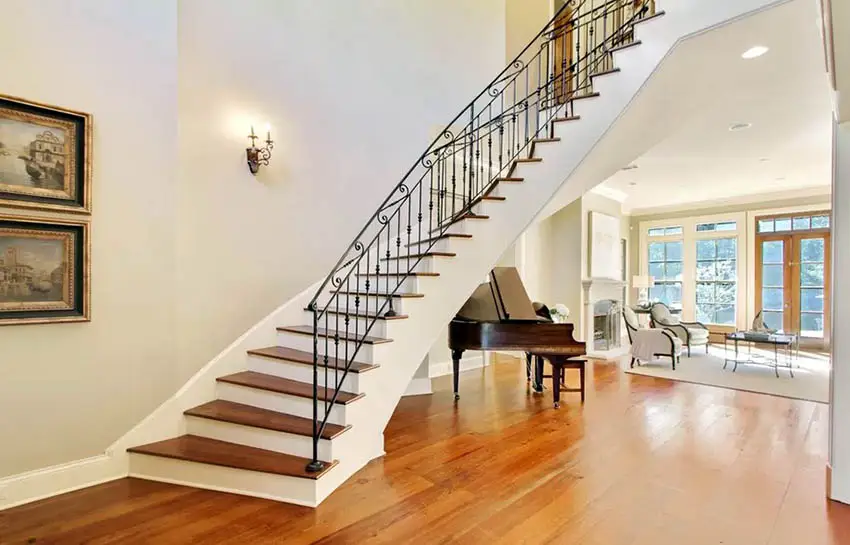 For those with a large enough space this spot could work for displaying your piano.
Under Stairs Chalkboard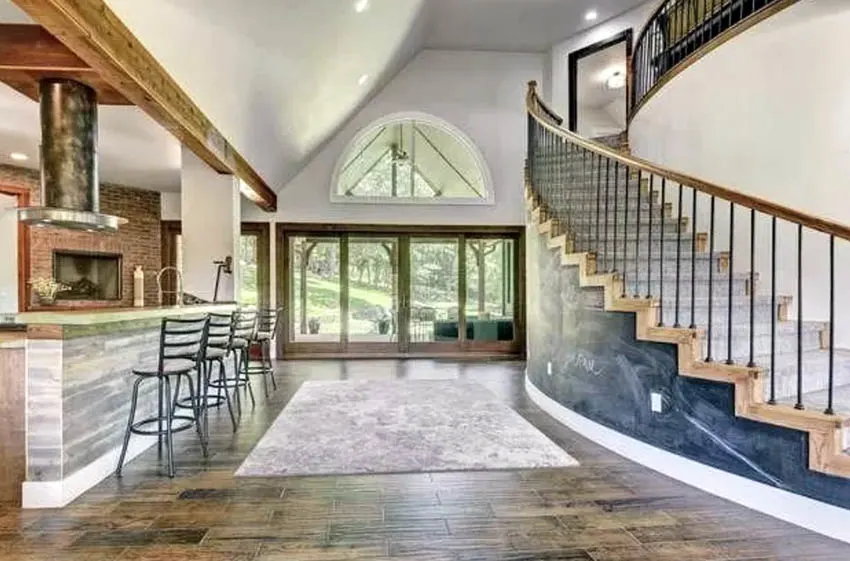 For this interesting staircase design the wall was equipped with a custom chalkboard to allow kids to draw and express their creativity.
Display Storage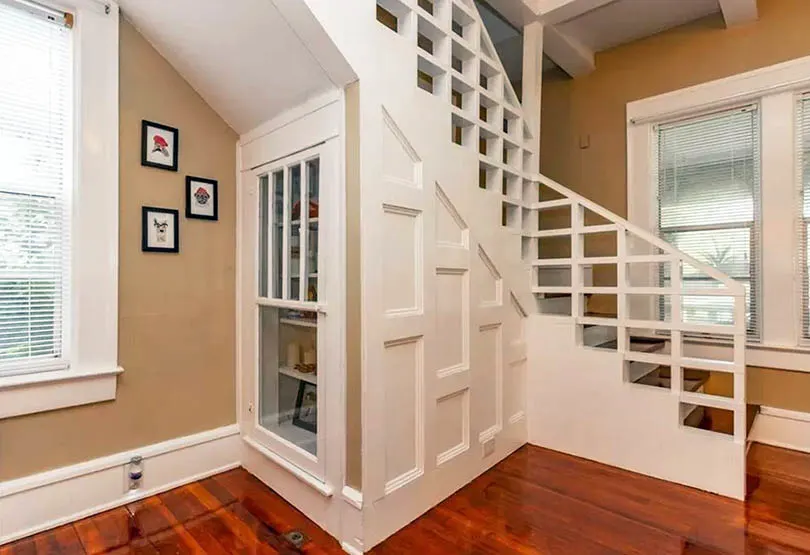 This craftsman design uses the area under the stairs as a display case to show off pictures and other decor items. The items are safely stored behind a glass window to help keep hands and dust away.
Under Stairs Pantry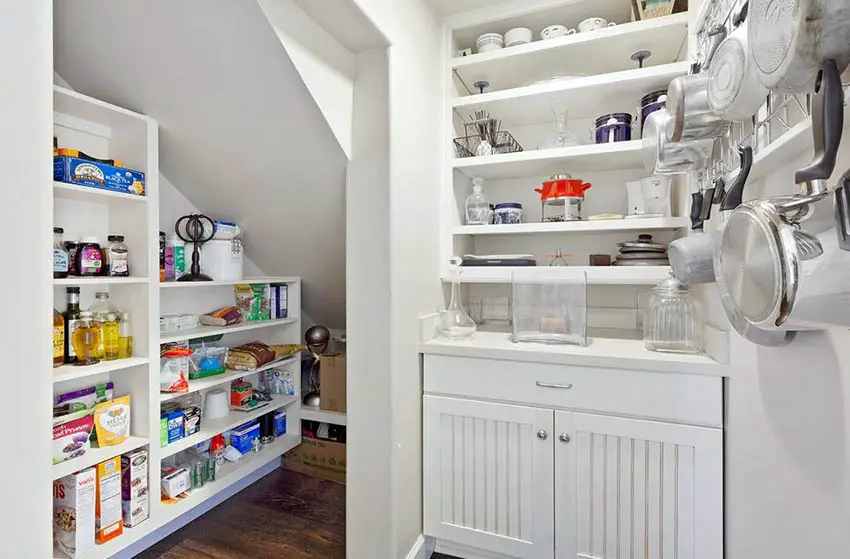 An under stairs pantry located near the kitchen could be useful for storing all of the food, dishes and household items you need space for. With the addition of a shelving unit you can organize the items so they are easy to find when you need them.
Wine Cellar Under Stairs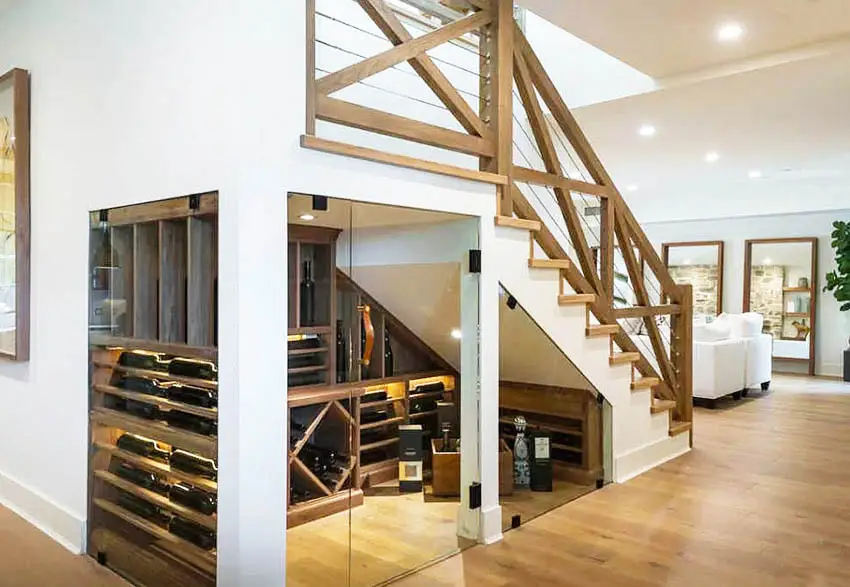 Under stairs ideas with a wine cellar with glass walls can create visual interest and be an excellent way to utilize this space.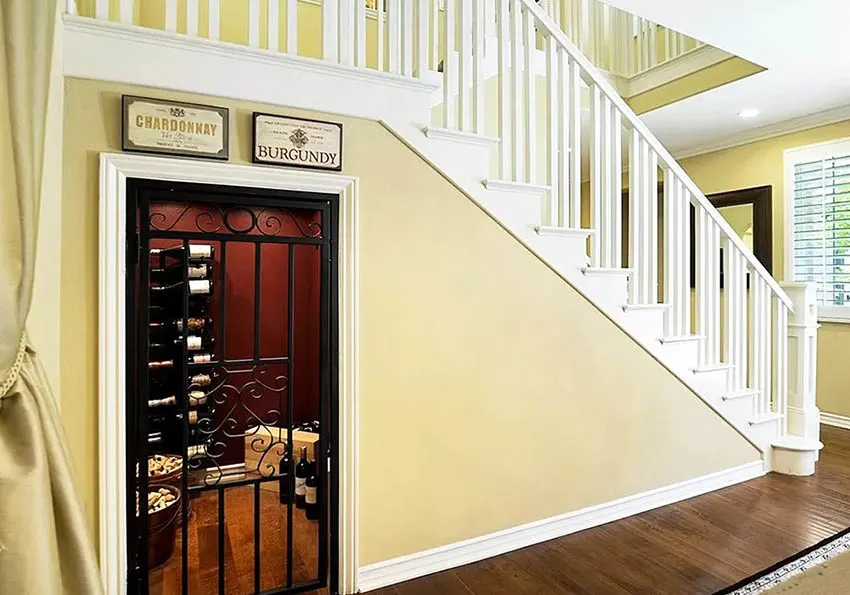 The space under this staircase was effectively used as a wine cellar equipped with a decorative wrought iron door, wine racks and storage for other essentials.
Under Stairs Wine Rack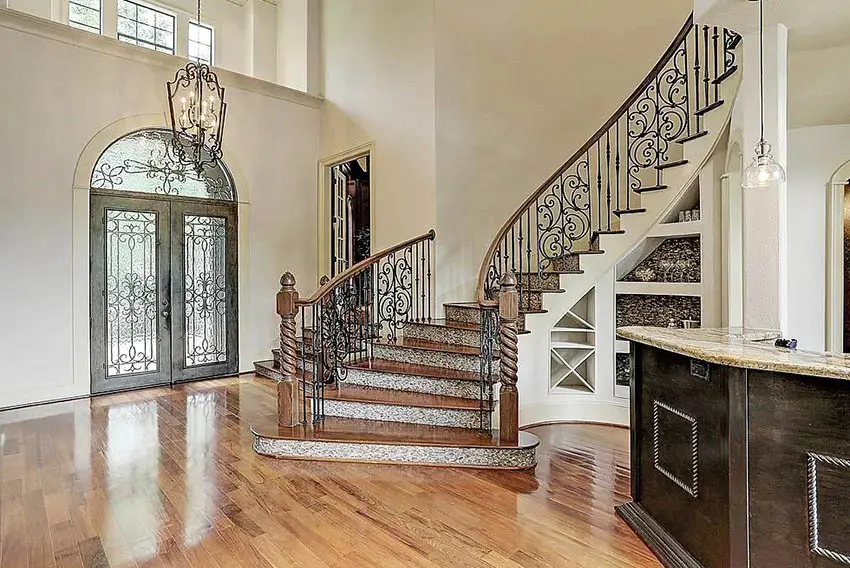 This custom wall niche is being used as an extension of the home bar for storing glassware and has a built-in wine rack.
Seasonal Decor Storage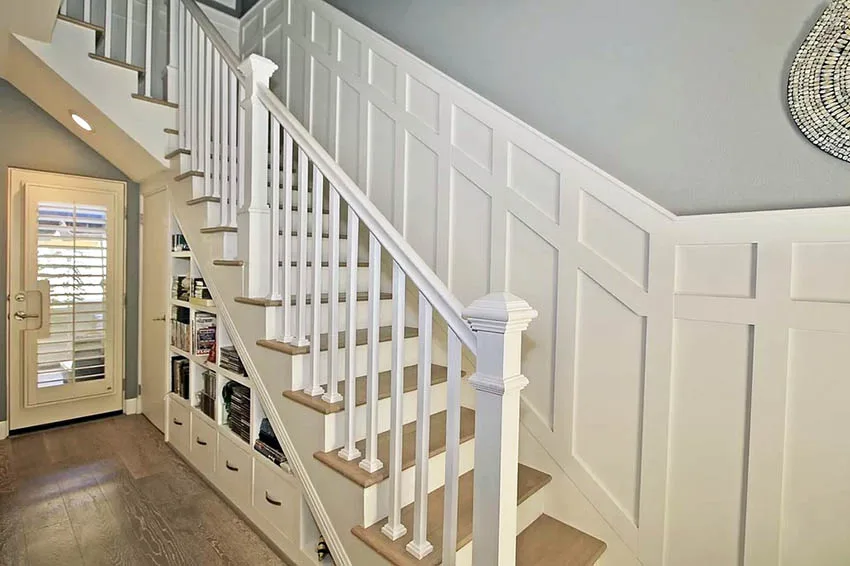 Most places have seasonal items, whether it's because of the weather or holidays! Having an easy, organized under-the-stairs storage solutions can take out most of the hassle of having to move things in an out of season.
With the under the stairs area you can build shelves or special bins for each season or holiday that you have items for. These can be color-coded, labeled or you can just remember what is in there, whatever works for the user.
Under Stairs Dog Wash Station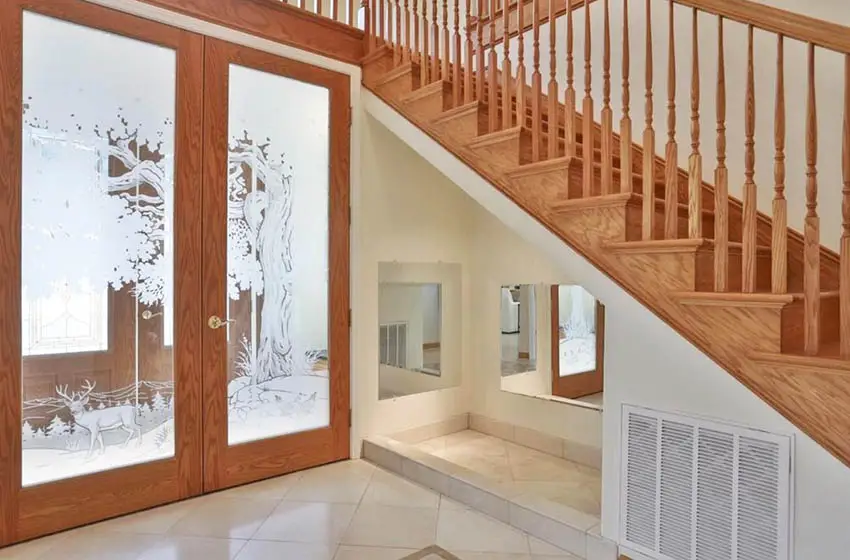 An under stairs dog wash station is especially useful to clean off dog paws to keep dirt from being tracked throughout the home.
Another benefit is that rather than cleaning off the dog outdoors or in the garage, one could do the job inside the home.
Small Basement Kitchen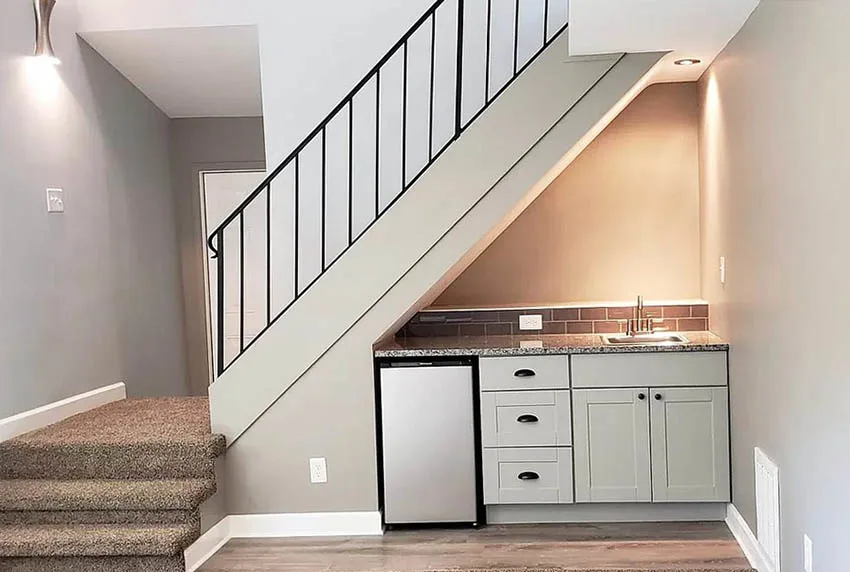 A small basement kitchen with refrigerator and sink is great for an inlaw suite and can make the best use out of this tight space.
Built-in Wall Niches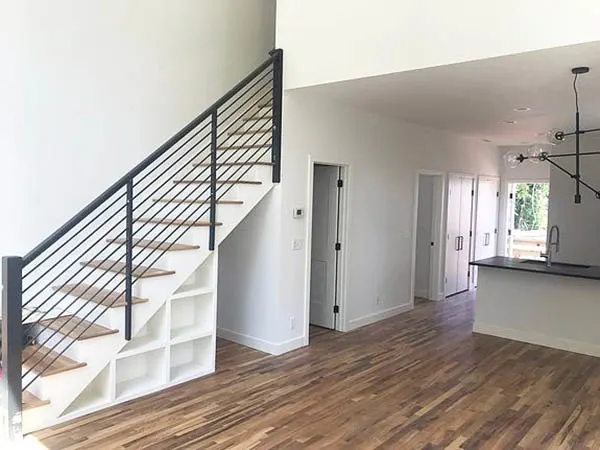 A built-in wall niche can allow you to showcase some of your favorite decorative items, be used as storage or even equipped with cubbies for storing shoes or other items needed when leaving the house.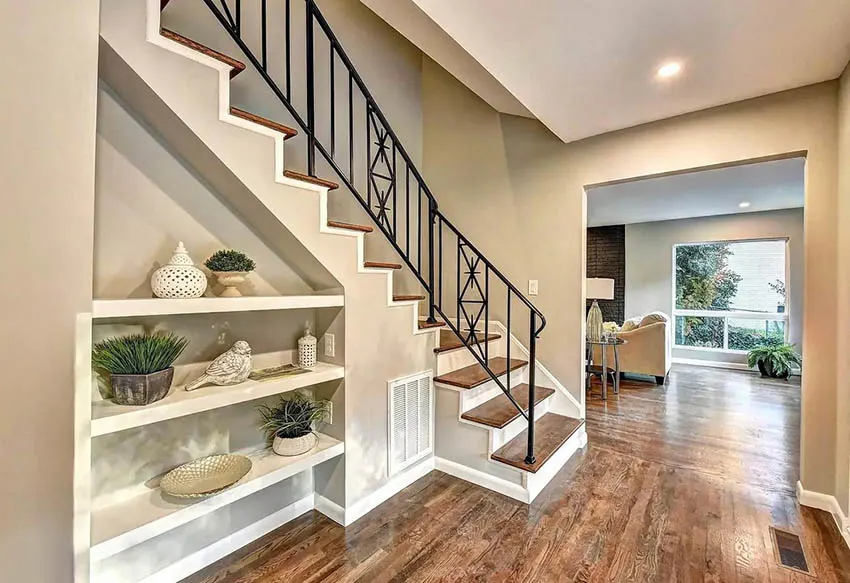 DIY shelving can be added to a wall niche without much cost.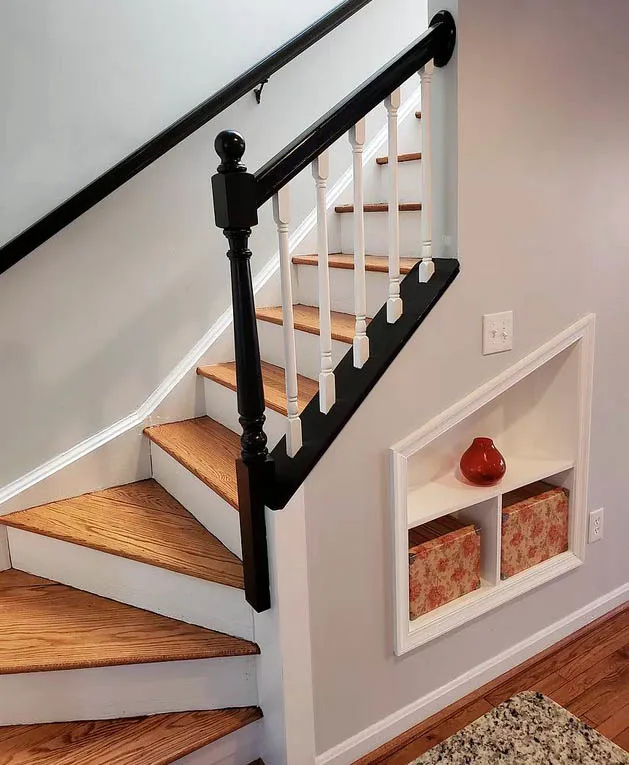 Decorative boxes can be used to keep things from looking too cluttered.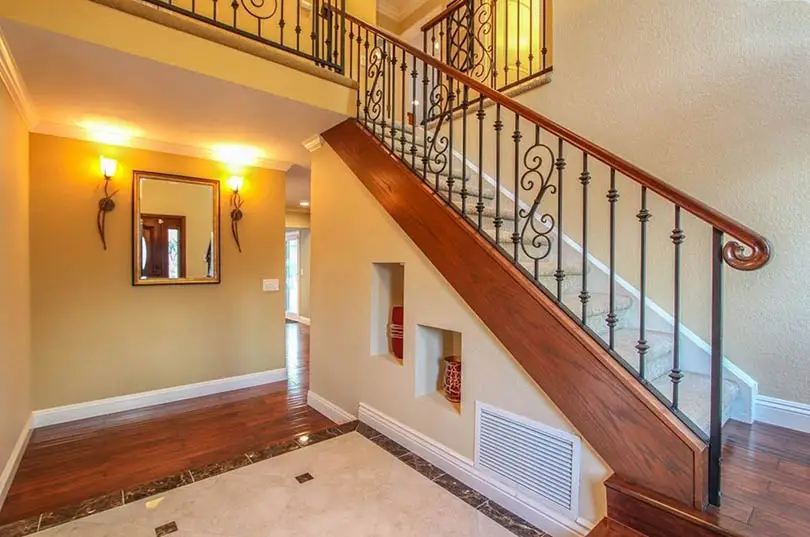 This wall niches are used to display large vases and protect them from being easily knocked over.
Laundry Area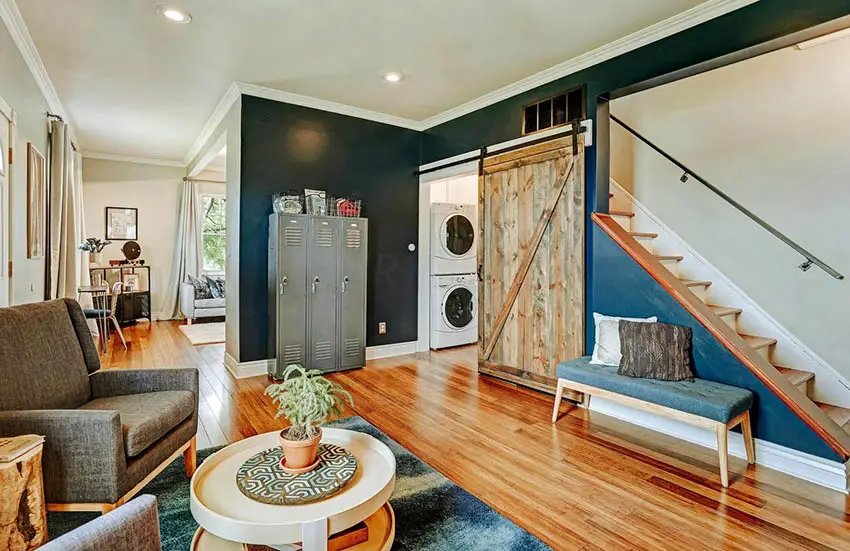 This laundry room under the staircase is tucked behind charming wood sliding barn doors.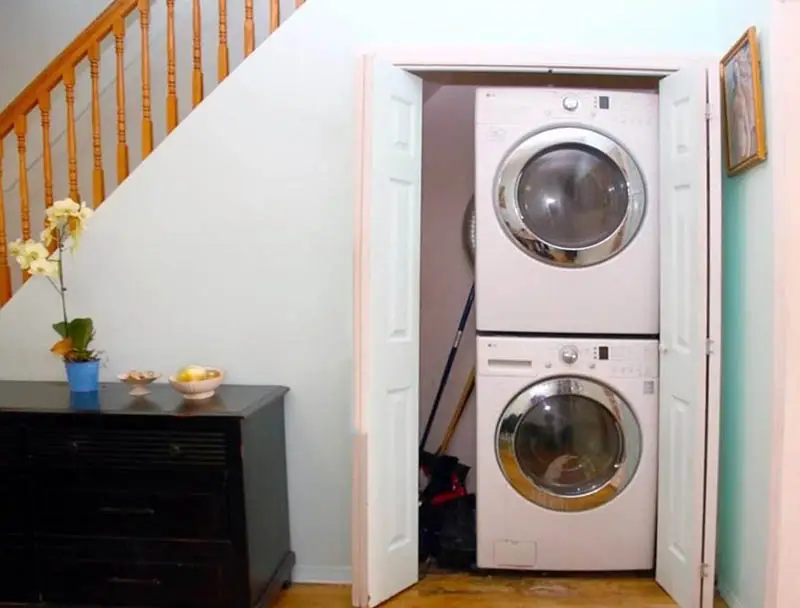 Some under the stairs areas are big enough to have appliances like a washer and dryer, but not all of them. If there is space, and the right water and HVAC hookups available, this could be a tremendous use of space.
After installing all the necessary parts an piece, a louvered door, and some shelves or baskets for your laundry soap and other laundry needs, you will be all set.
DIY Under Stair Storage
An easy DIY under stairs storage solution is to buy some wicker baskets.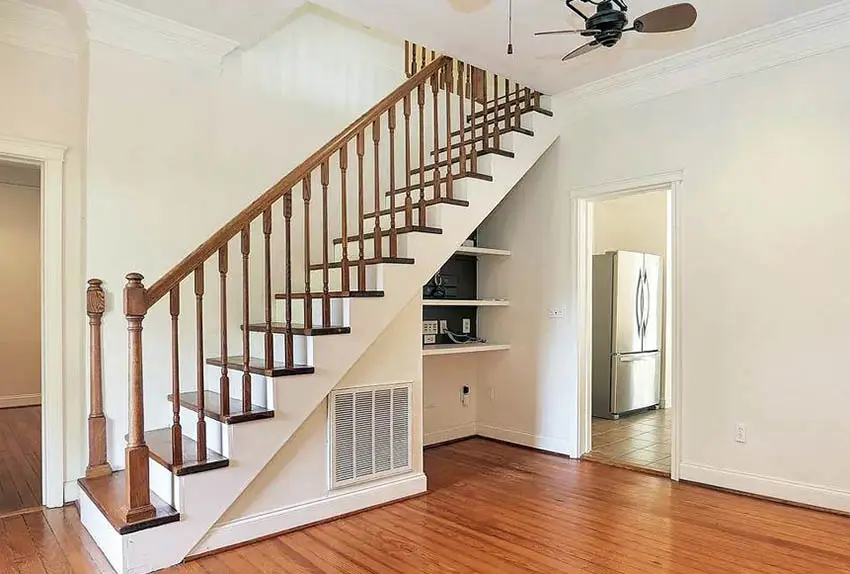 Adding shelving is easy and inexpensive and provides a lot of opportunities for using this space however you desire.
Under Stairs Closet Ideas
There are plenty of clothing storage designs that can be done beautifully and usefully. Here are some of the best under stairs ideas.
Shoes Storage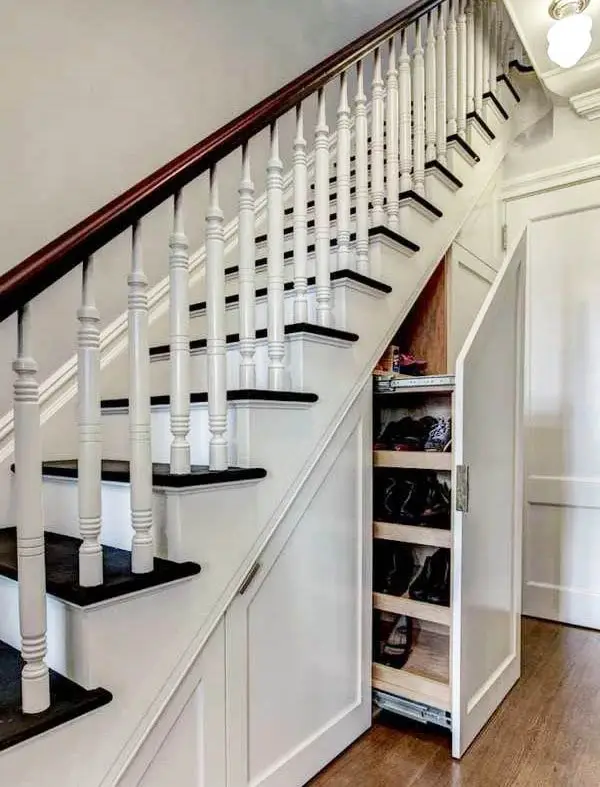 As typically one of the areas neared to an entrance or exit of the home the underneath of the stairs can be transformed into the shoes closet of your dreams.
Even if the ceiling of the space is really low, the shoes don't mind, they are usually on the ground anyways. You can build in shelving units or get racks that fit the space. Adding a door to make the space look clutter free is another really great option.
Daily Use Closet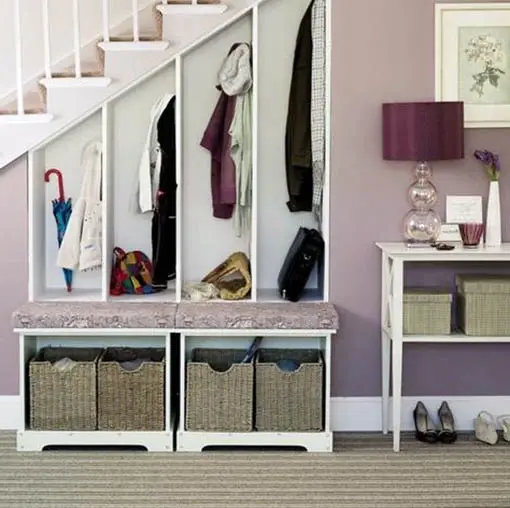 Having a closet for any daily use items like jackets, shoes, scarves, gloves, etc is a great way to keep things organized as well as avoid too much clutter. Utilizing the space underneath the stairs can be a great place for these items!
Having a rack or bins and the bottom for shoes, a rod for any jackets that need to be hung and a few baskets for gloves and scarves keeps everything in check.
Throw a door on there and some hooks to hang your keys and you will never be late for work because you forgot where you left something essential again!
Overflow Clothing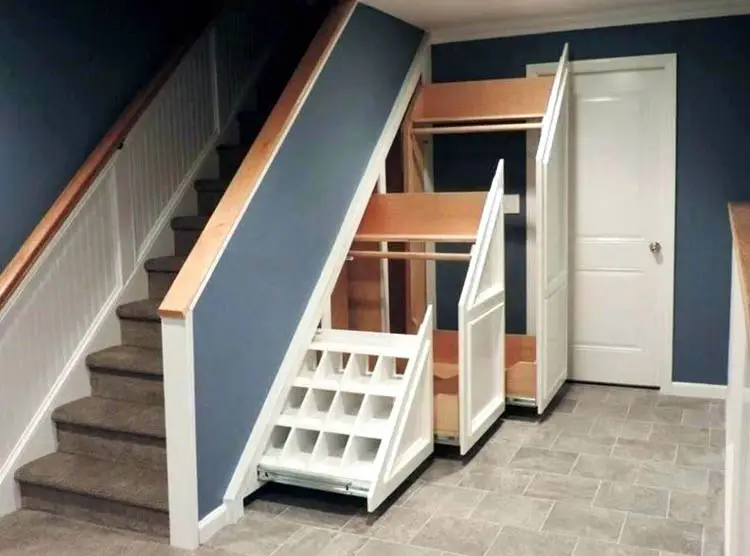 Now maybe you have A LOT of clothes! Creating a little extra closet in a previously unused space gives you more room without kicking someone else out in the family.
Keeping your less utilized or more formal attire in the extra closet opens up room in your main closet to get some new favorites.
Make sure to add a lock to the bonus closet if you are afraid of someone sneaking through and 'borrowing' something, you may never see it again.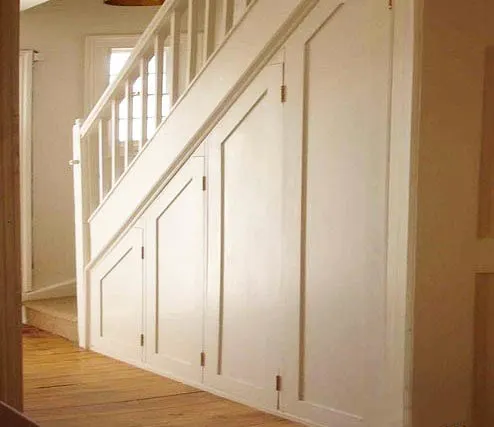 This creative design uses individual custom closet doors to allow for an abundance of storage in what would other wise be an unused space.
Stair Wall Design Ideas
So what do you do with that wall area under the staircase? Here are an assortment of under stairs ideas with furniture & decor designs for inspiration.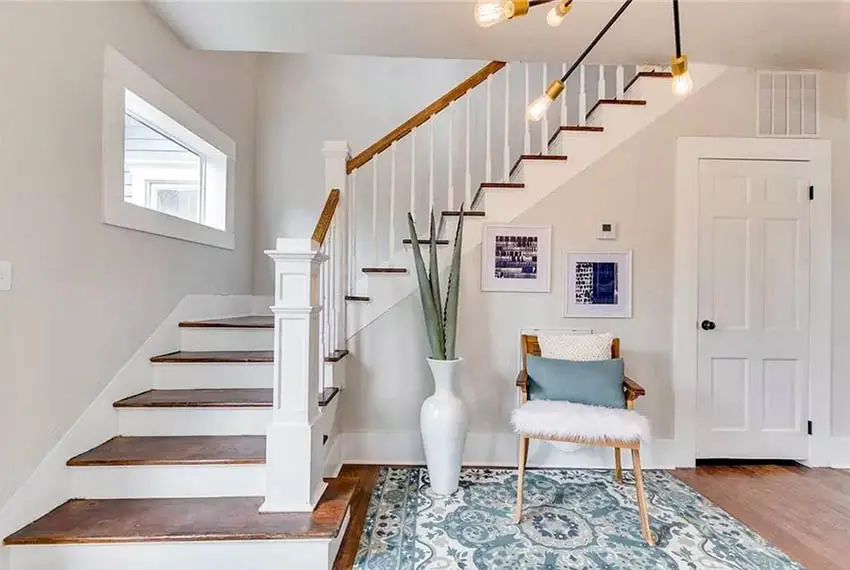 Adding a chair to your entryway is effective for creating a place where guests can wait. Other decor pieces such as pillows, vases and an area rug can be used to tie the design together.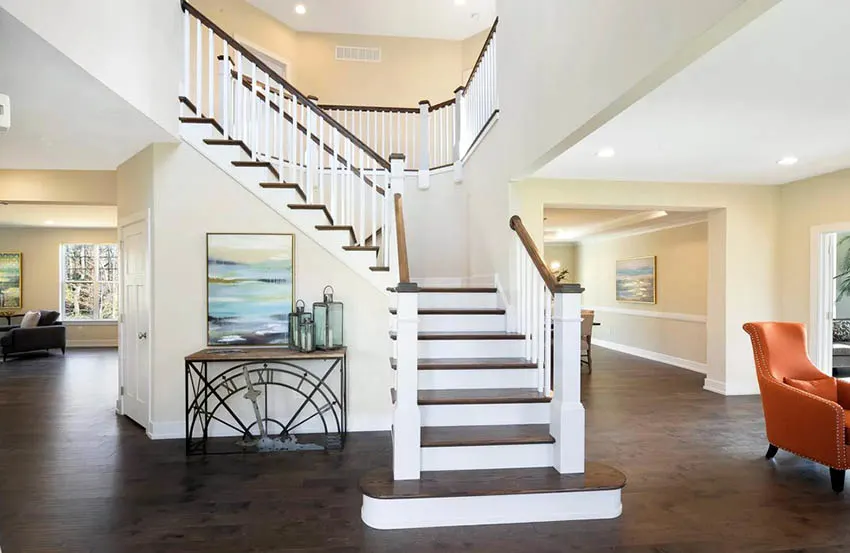 The addition of a table is a good choice as it allows for you to display decor pieces and can be used to match the overall theme of the room.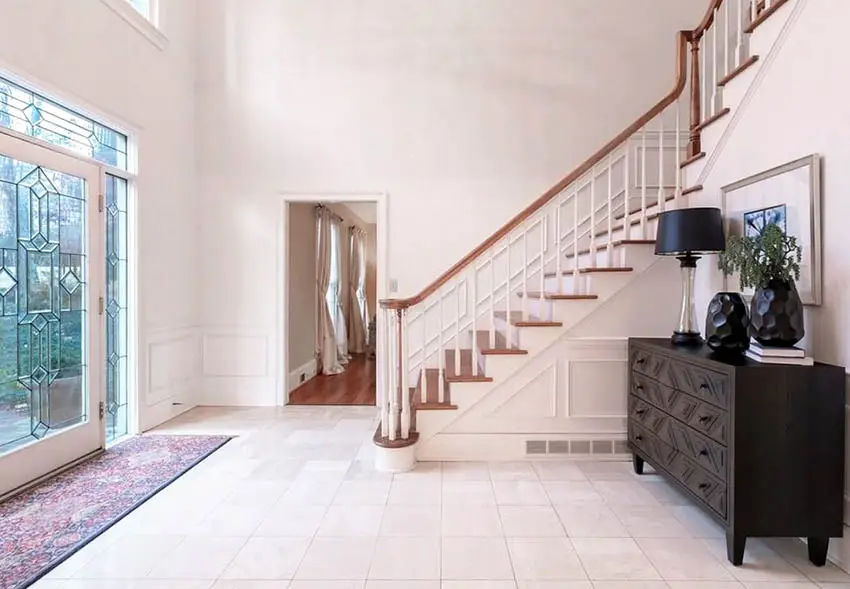 This large cabinet has plenty of space for storage as well as counter real estate for lamps and decor pieces.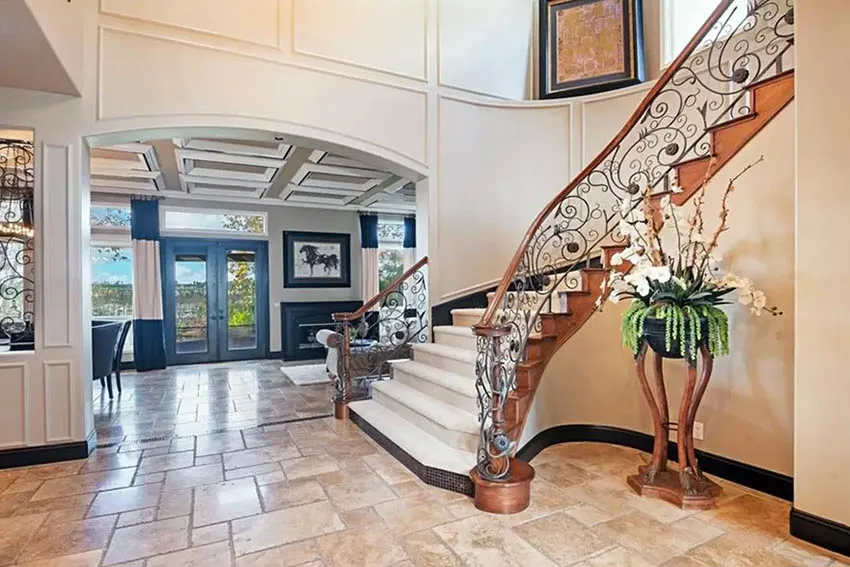 A large plant or floral arrangement can help add a touch of color and brighten the space.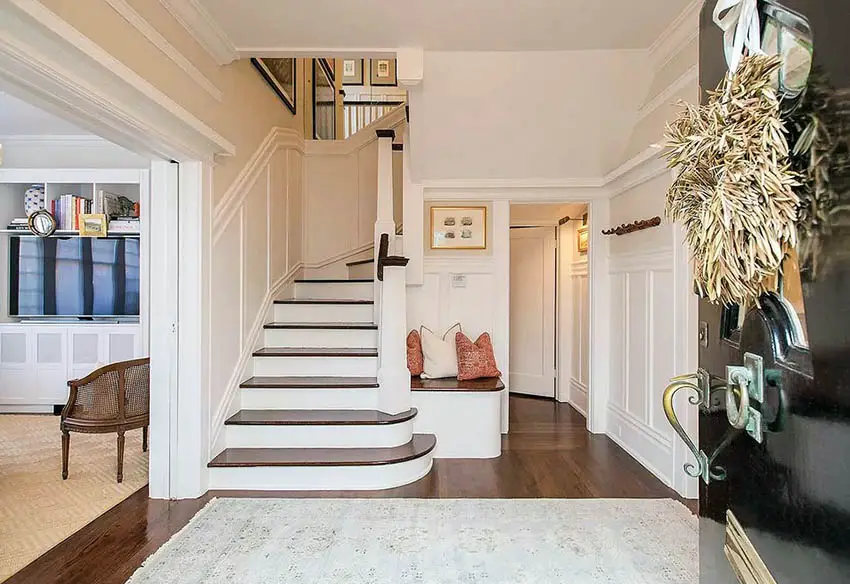 Creating a custom built-in bench with storage compartment can be a good use of a staircase wall and give your interior design a lot of character. A bench in the entryway can also be a useful spot for guests to sit.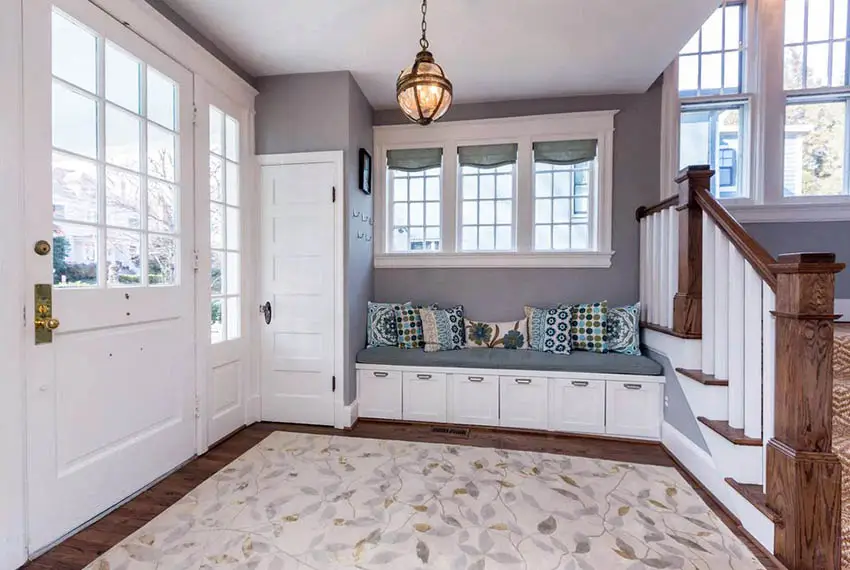 Under stairs ideas with windows can utilize the space to create a custom window seat bench. This design features a bench with color coordinated cushions and under seat storage to add utility and plenty of character. The drawer compartments make a great spot to store shoes out of sight.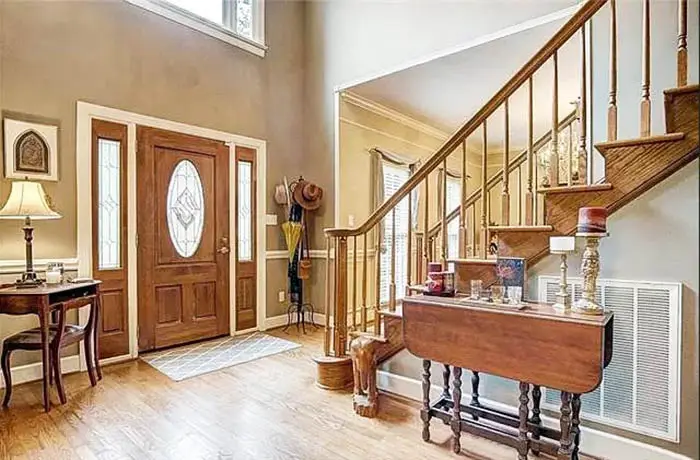 An antique folding table works for those wanting a rustic or craftsman style design.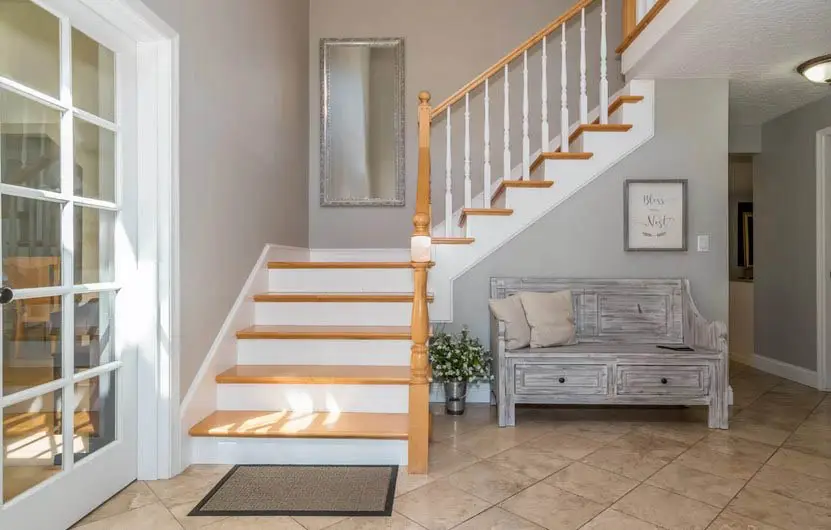 A wood bench for foyer entryway with under drawer storage.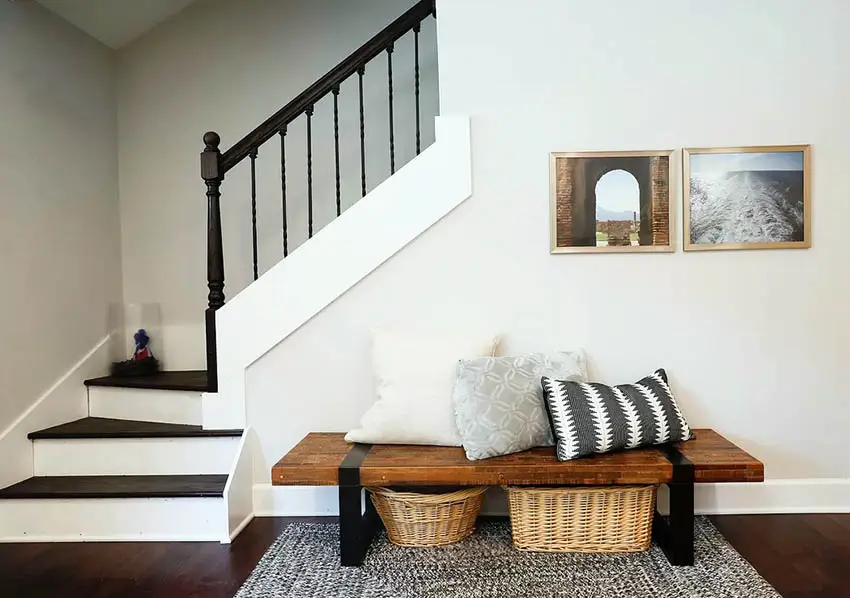 A sitting bench with basket shoe storage underneath is a useful combination. Add some decorative pillows that match the rooms color scheme for an added touch. To see more indoor staircase railing designs visit this page.