Welcome to our gallery of wall niche ideas, including living room, bedroom, kitchen, and bathroom designs.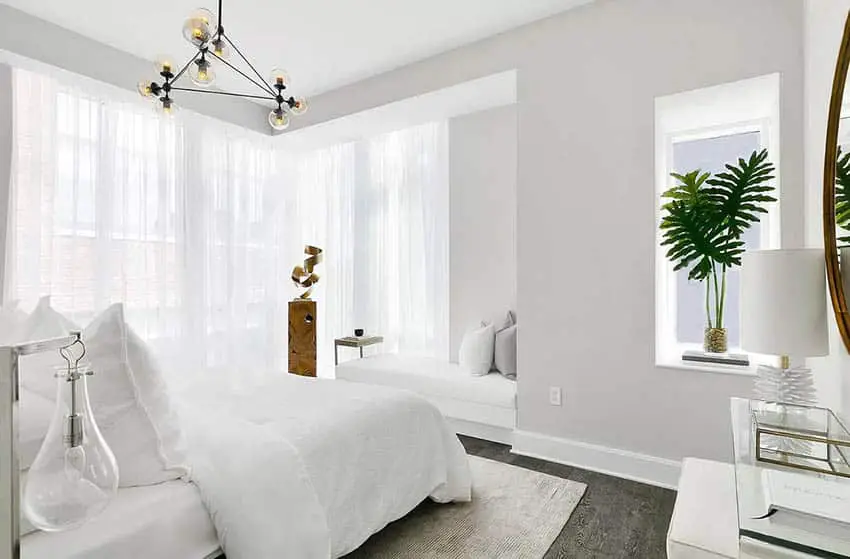 Wall niches work as a built-in shelf in your home. They can be installed pretty much anywhere and can be especially useful in homes that don't have a lot of floor space to add shelves or cabinets.
Aside from storage, they can also help to reduce clutter or work as a way to display possessions you want to use as a focal point in your home. There are plenty of different ways to use wall recesses, and today, we're going to take a look at how you can get the most out of these displays in your own home.
Wall niches come in various sizes, styles, and designs. So, there's an option for any environment that you want to use them in and the purpose that they will serve. The most obvious idea is a functional display shelf. These areas can be used to store items like books or decor items. We'll get into recessed niches in a minute, but for now, let's focus on wall niches that aren't recessed.
There are a few ways that wall niches can be used when recessing isn't an option. Simple options can include small shelves in the corner of a room. More ornate options can include molding on a wall extending slightly to create a shelf. You can purchase recessed wall shelves for as little as under $100.
Recessed Wall Niche Decorating Ideas
Recessed wall niches come in a few different styles. For a straightforward storage option, you can install inset shelves. These are great for storing items like books and towels.
For a more elegant look, you can install more shallow recesses with a light positioned above the alcove. This is a great way to display art.
These can be installed as a DIY project to save money. You can purchase the alcove insert for about the same price as an external recess shelf.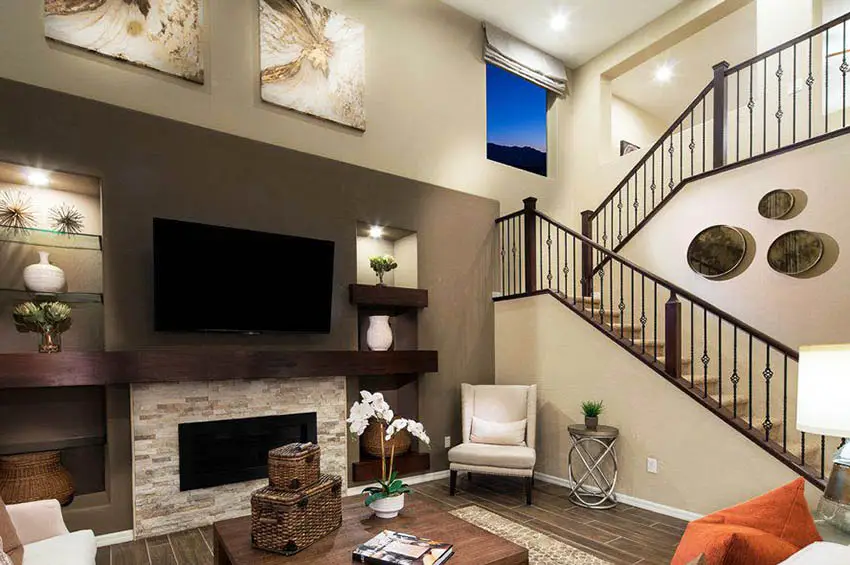 Your favorite decor items are a good candidate for displaying in your living room wall niches. This design features both glass and wood shelving along with recessed lighting to add visual drama to the space.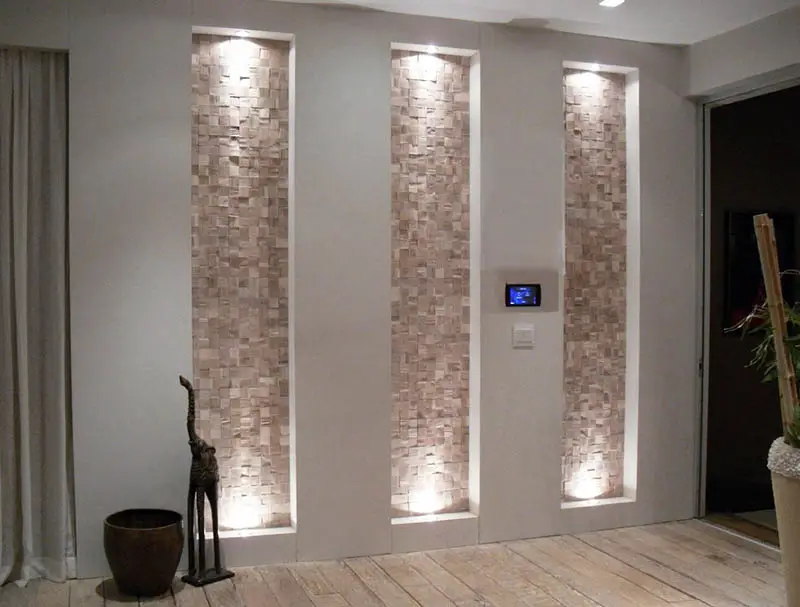 A hallway entryway with recessed niches can be an impressive design element. These recessed rectangles have a small stacked stone accent wall with back lighting to create an inviting ambiance.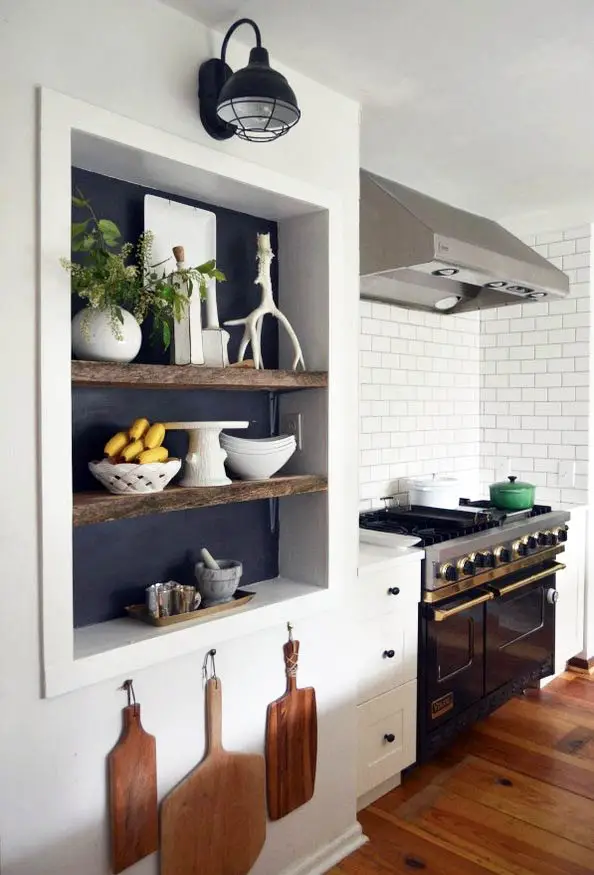 This kitchen with a recessed wall niche displays some of the homeowners favorite cooking and decor items. Things like fruit bowls, mortar and pestle, serving bowls and cookbooks all make good items to display prominently in this space.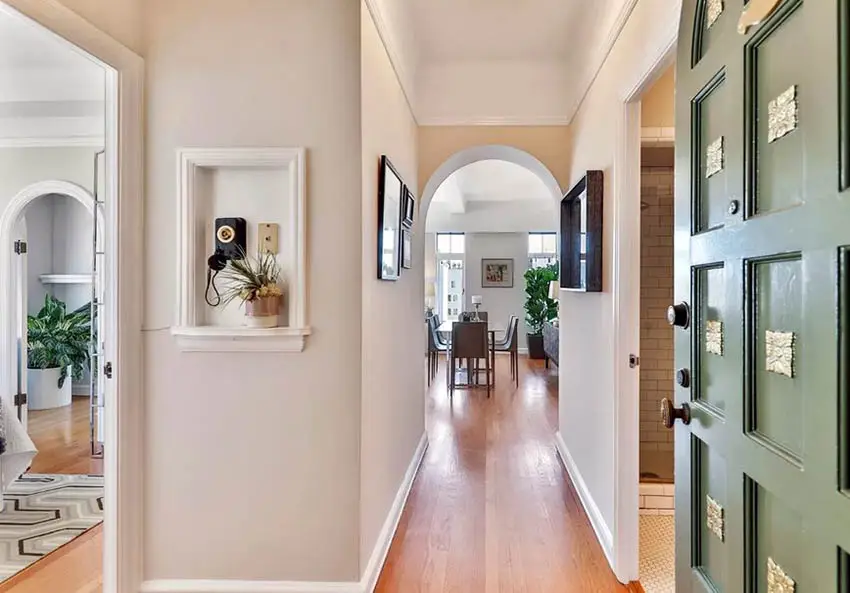 This framed recessed wall niche is used exactly as originally intended with an antique rotary dial phone.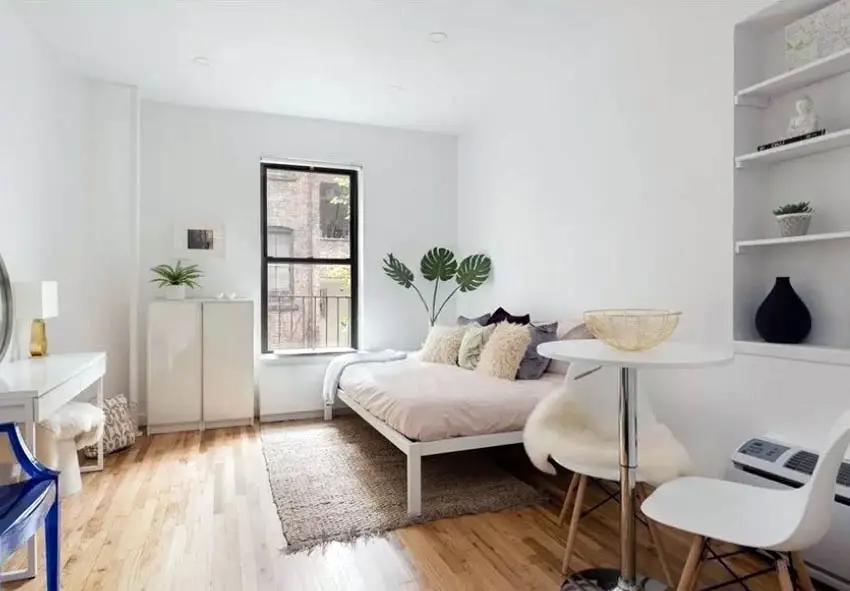 Recessed walls with shelving can be a great place to show off your favorite decor and bring your unique style to the room design. This can also be an excellent way to incorporate matching color decor to tie in different design elements for a cohesive look.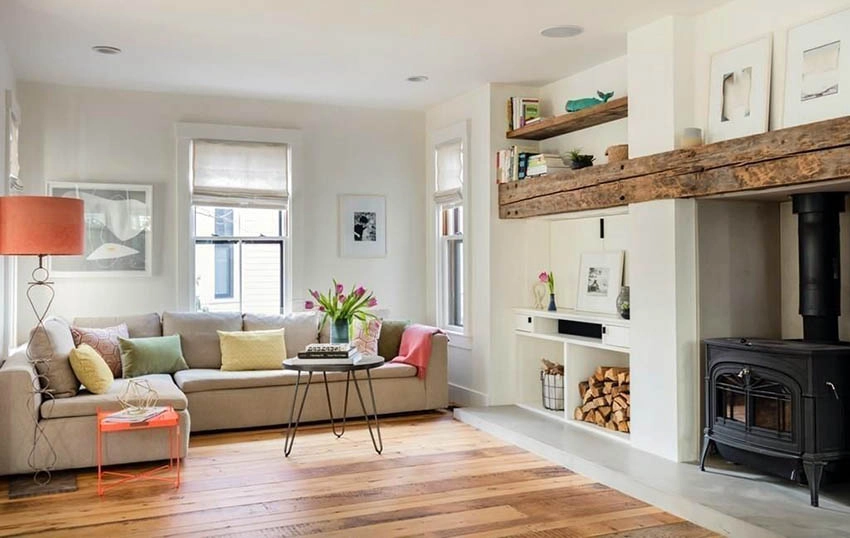 A fireplace mantle can create an interesting wall nook to store various things. Above books, baskets, plants, and even firewood utilize the functional space.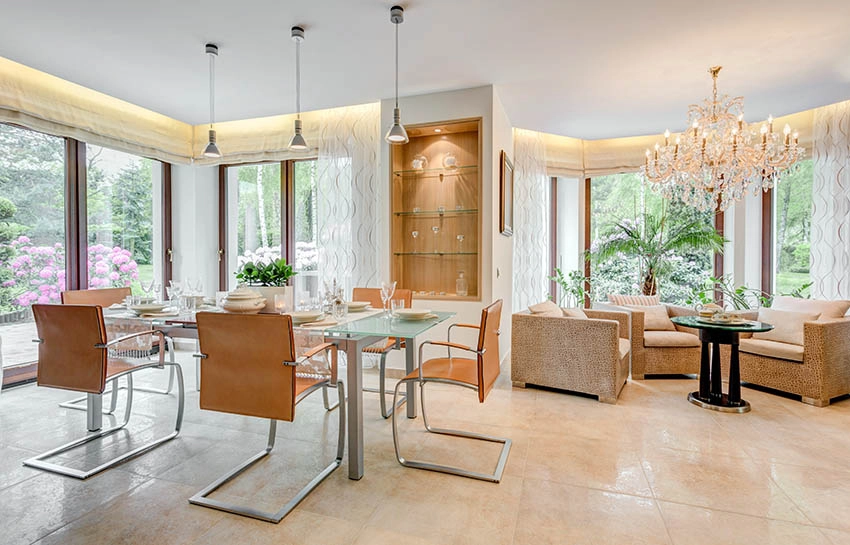 This dining room with an alcove niche makes an ideal place to display crystal glassware and decor pieces. The lighting above helps create a focal point to add further attention to the accent wall.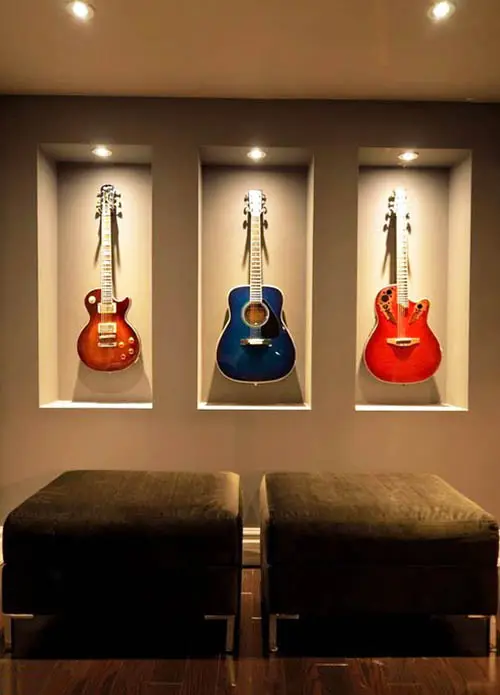 What better way to display your collection of guitars than in an illuminated wall niche with recessed lighting?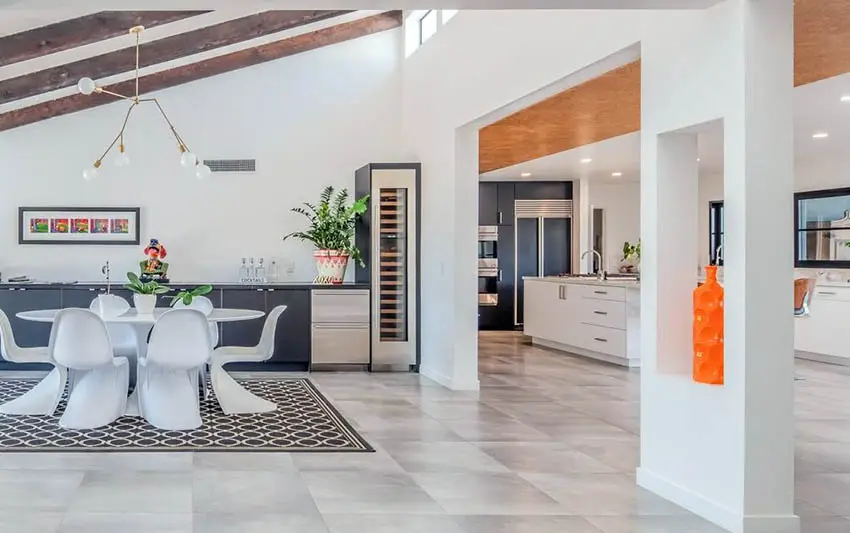 This living room's support wall has an interesting open cavity design feature that is used to highlight a colorful glass vase.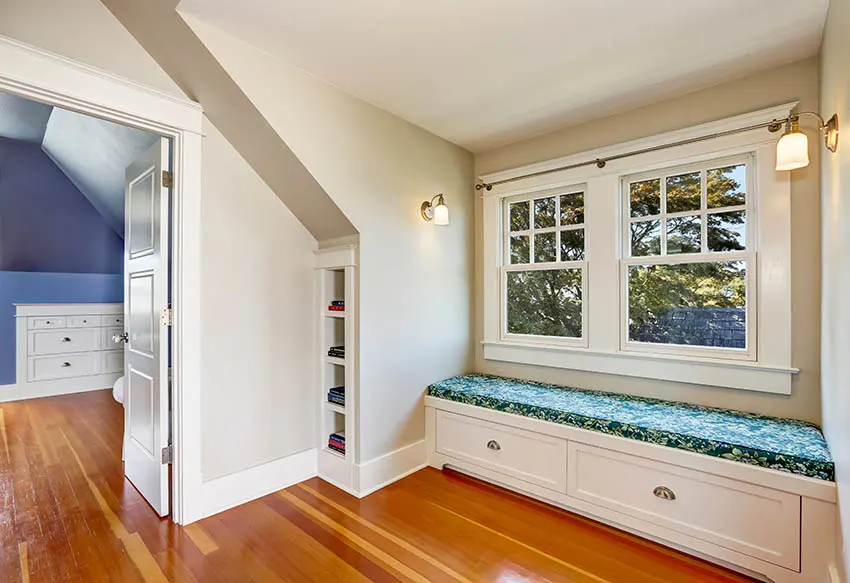 A girl's bedroom with multiple wall shelving is perfect for a chest of drawers and a bookshelf. The window seat with storage underneath is another design feature that gives this room plenty of personality. This built-in recess is the perfect use for that extra space behind a stairwell and adds character to the room design.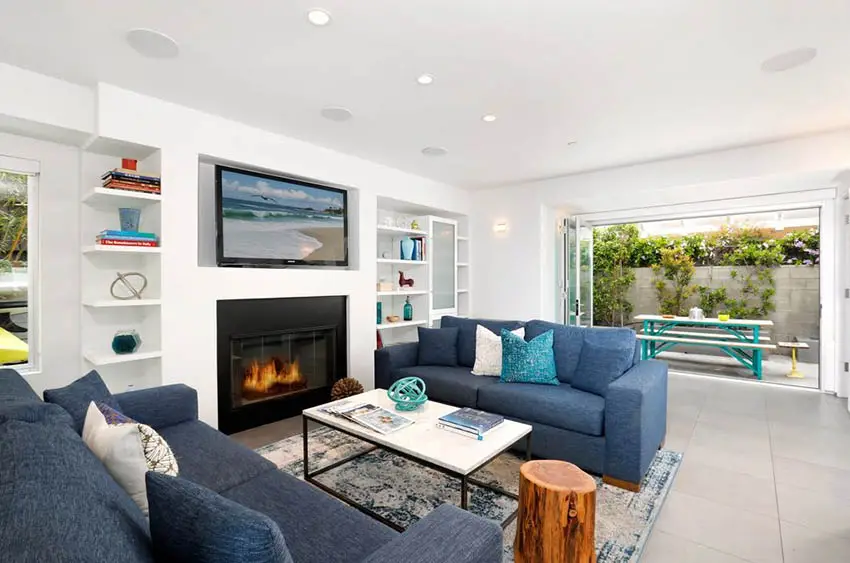 This inviting living room design features a built-in wall shelving that provides the ability to show a variety of decorative items and art collectibles.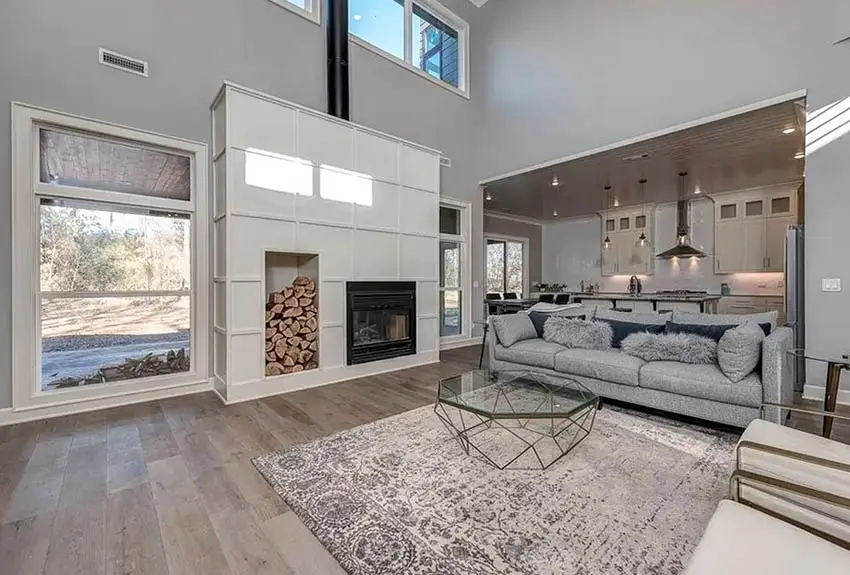 A niche situated next to the living room fireplace is an ideal location for storing wood and brings a natural element to the space.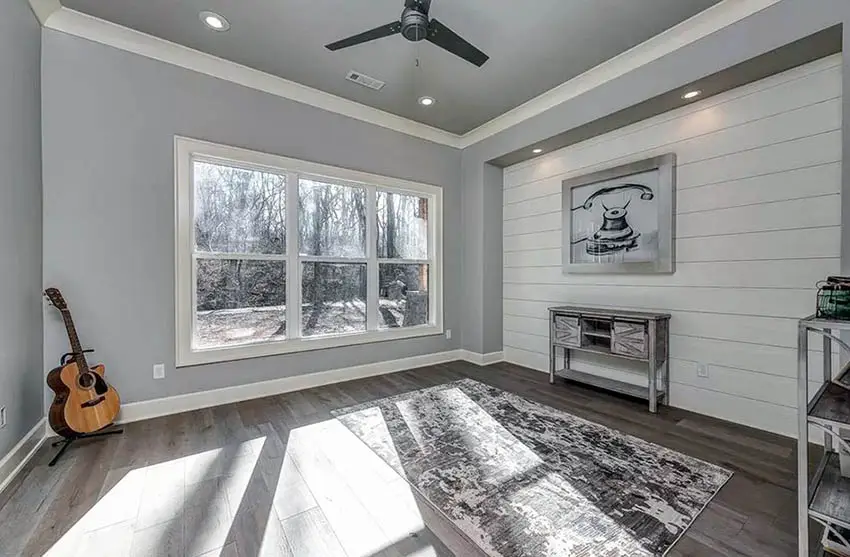 A recessed niche accent wall constructed from shiplap planks creates a warm backdrop to accommodate art or decorative furniture pieces you wish to showcase.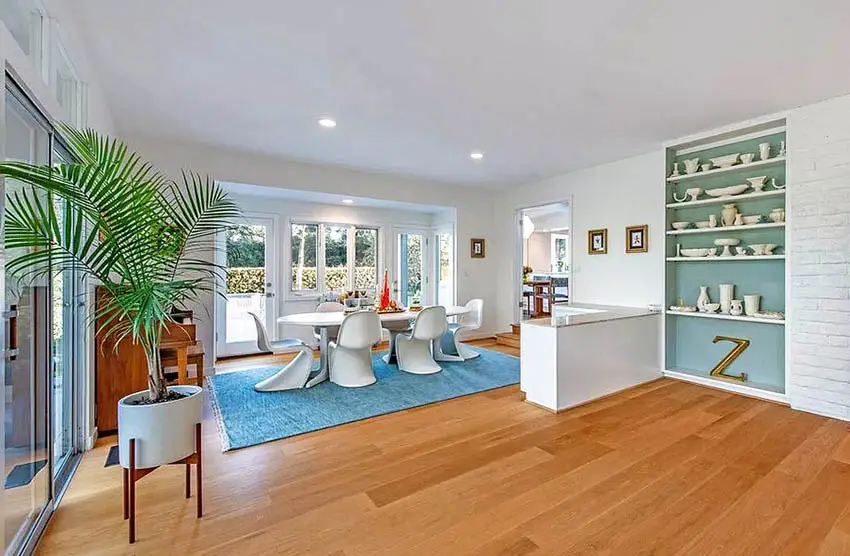 This mid century modern style living room has a painted wall niche to better highlight the all white pottery and decor.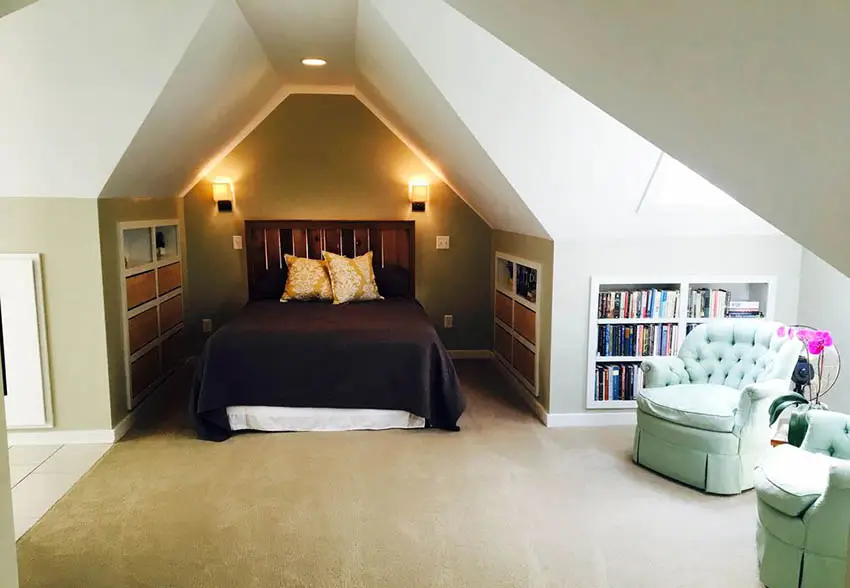 An attic bedroom is a great place to build built-in niches for various storage needs. This bedroom design utilizes its alcoves as bookcases and multi-use pull-out bin storage.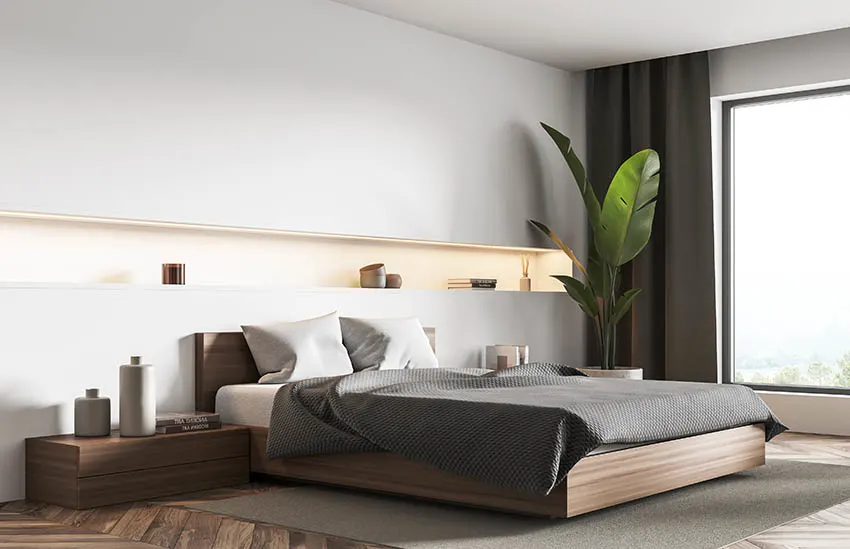 This modern bedroom features a long horizontal wall niche with lighting, creating an alluring ambiance for its design.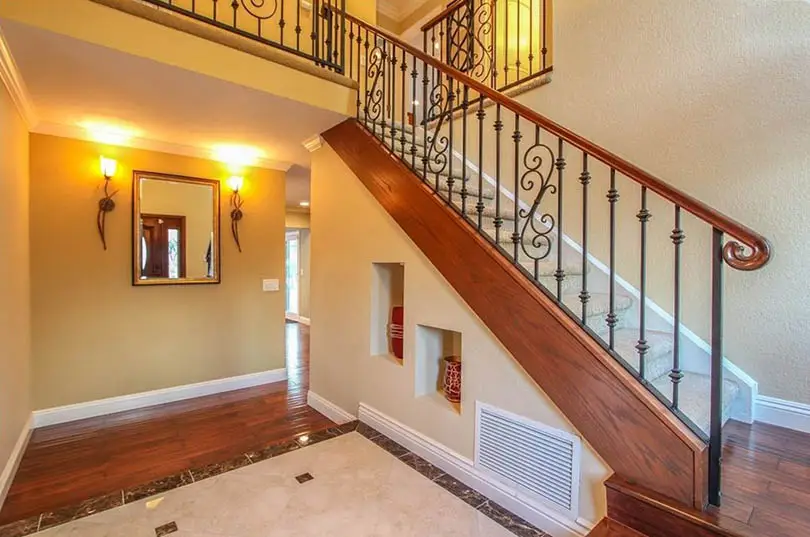 An under-the-stairs niche creates an interesting place to show off decor items like vases.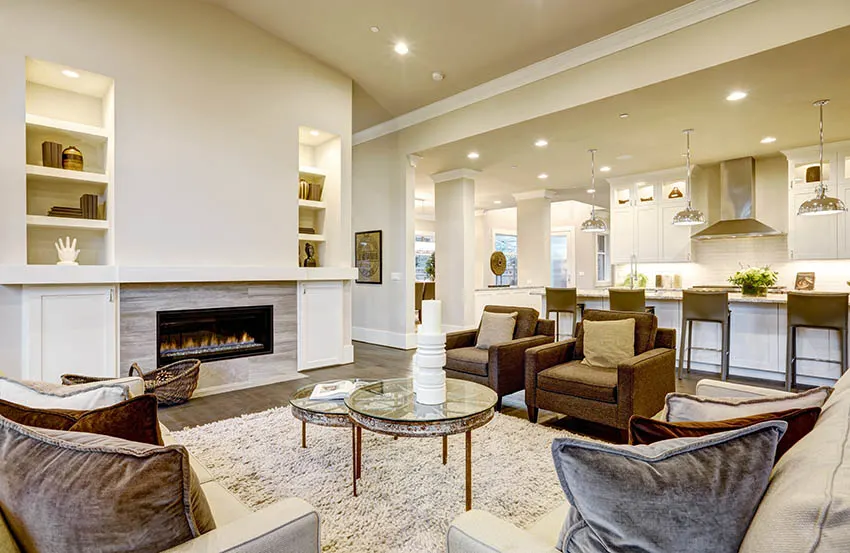 Adding lighting to built-in nooks creates a focal point in the room to showcase items better and create ambiance.
Living Room Wall Alcove Design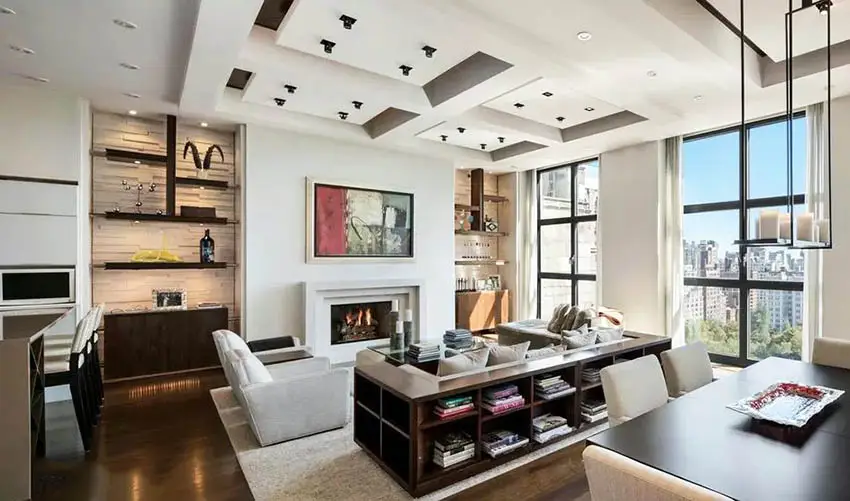 The living room is one of the places where people primarily display their possessions, including items like art and photos. A wall niche in the living room is an excellent way to display these possessions without worrying that a guest or pet may accidentally knock over a shelf. It also helps to avoid a cluttered appearance.
Living room alcoves work well in large or small rooms as long as the lighting helps accent the recessed part of the wall.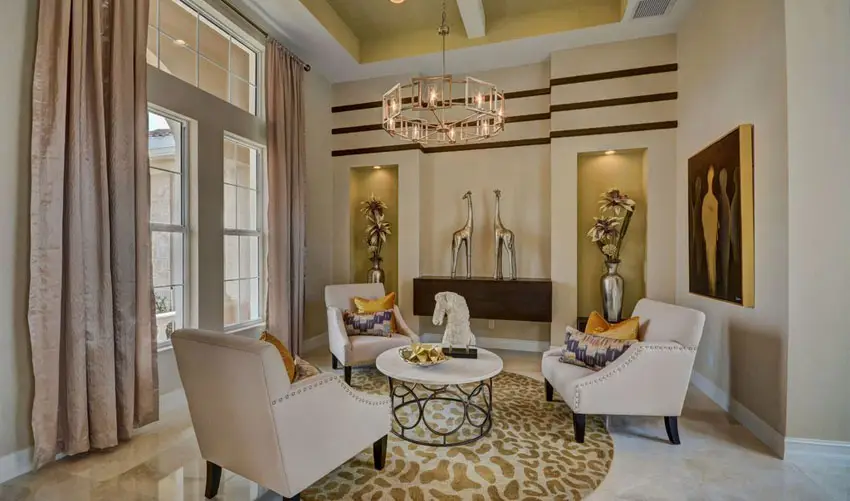 This formal living room design has two large rectangular wall niches with painted dark yellow backdrops and down-lighting to promote the large decorative vases. In addition, there is a recessed center design with a built-in shelf that contains large animal statues.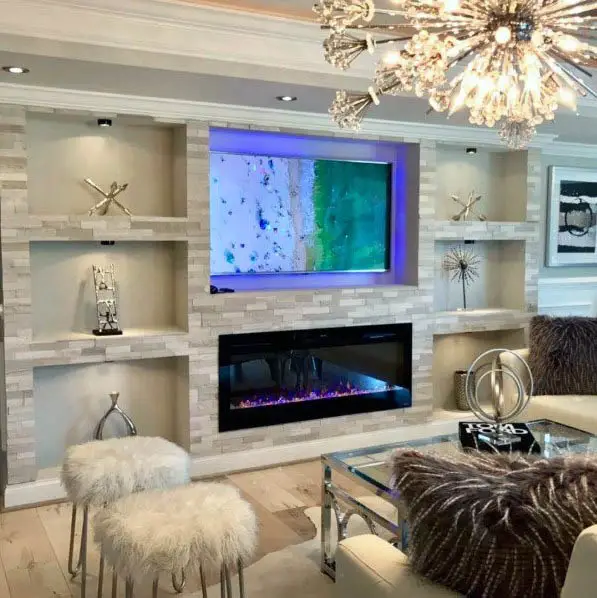 This contemporary living room with a stacked stone accent wall with fireplace and recessed display shelving adds visual interest with its ability to show off a variety of art decor.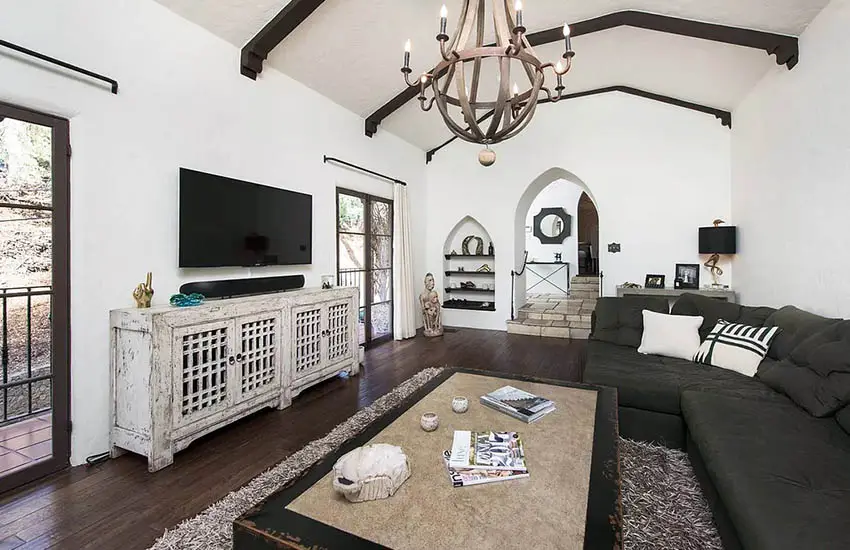 This Mediterranean style living room features an arched niches with wood shelving for showing off small statuettes and decor.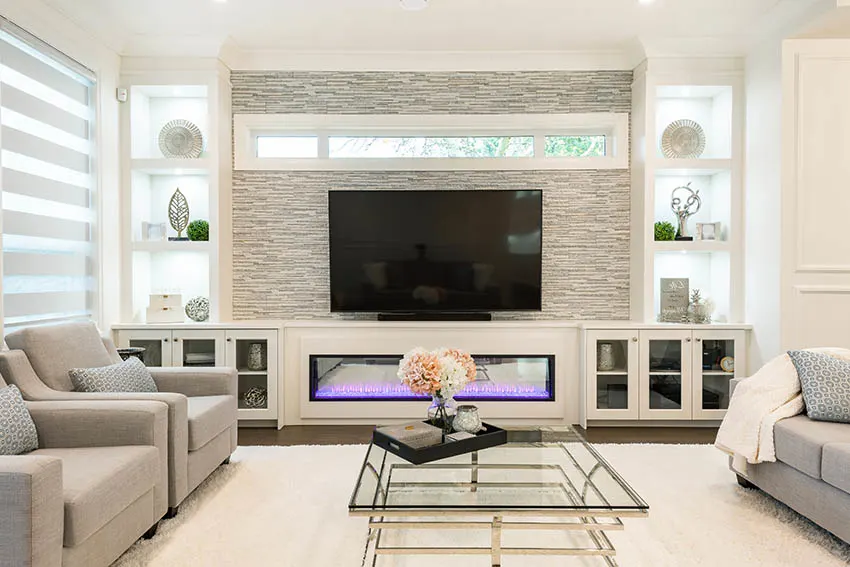 This gorgeous living room sitting area has two shelving niches on either side of the large stacked stone fireplace. The architectural recesses feature bright background alcoves with dramatic back-lighting and silver decor.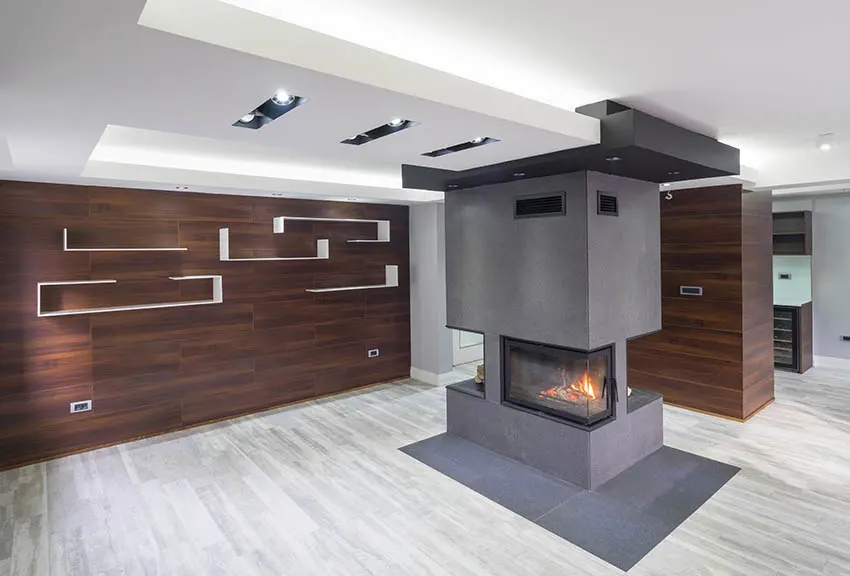 This modern fireplace's central location is a great spot for displaying unique items in its wood-paneled recessed geometric wall niche.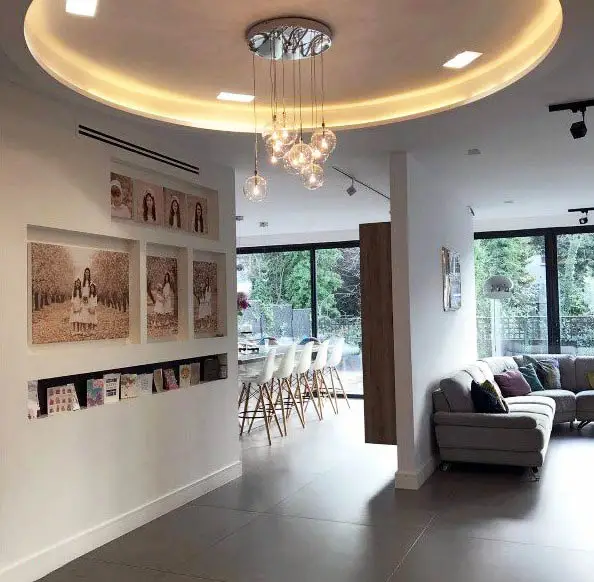 This long rectangular niche displays greeting cards and small family pictures.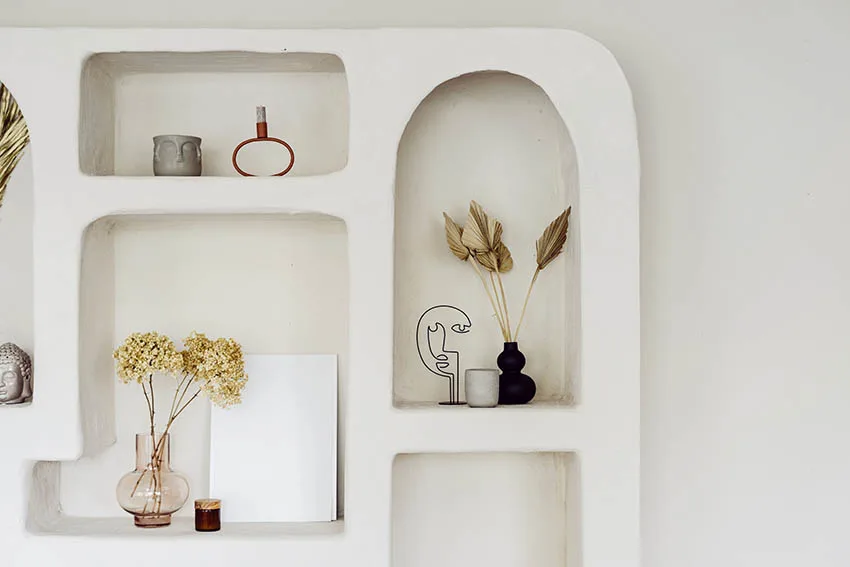 Many older homes have interesting plaster nooks and alcoves that add much character to the space. These Spanish-style plaster wall niches feature a variety of decor items.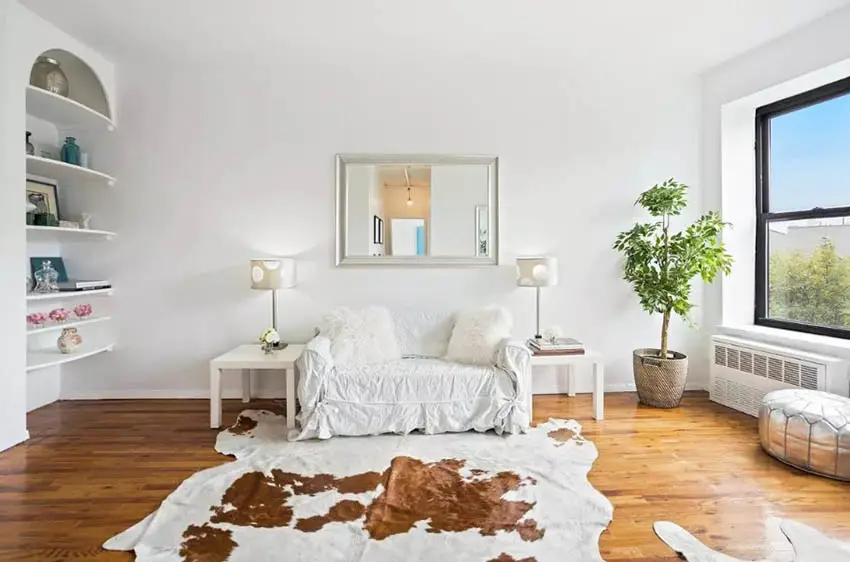 Many older homes have interesting Craftsman-style niches with shelving in their walls that offer the ability to get creative with what you wish to showcase. This room shows off a variety of colorful pieces.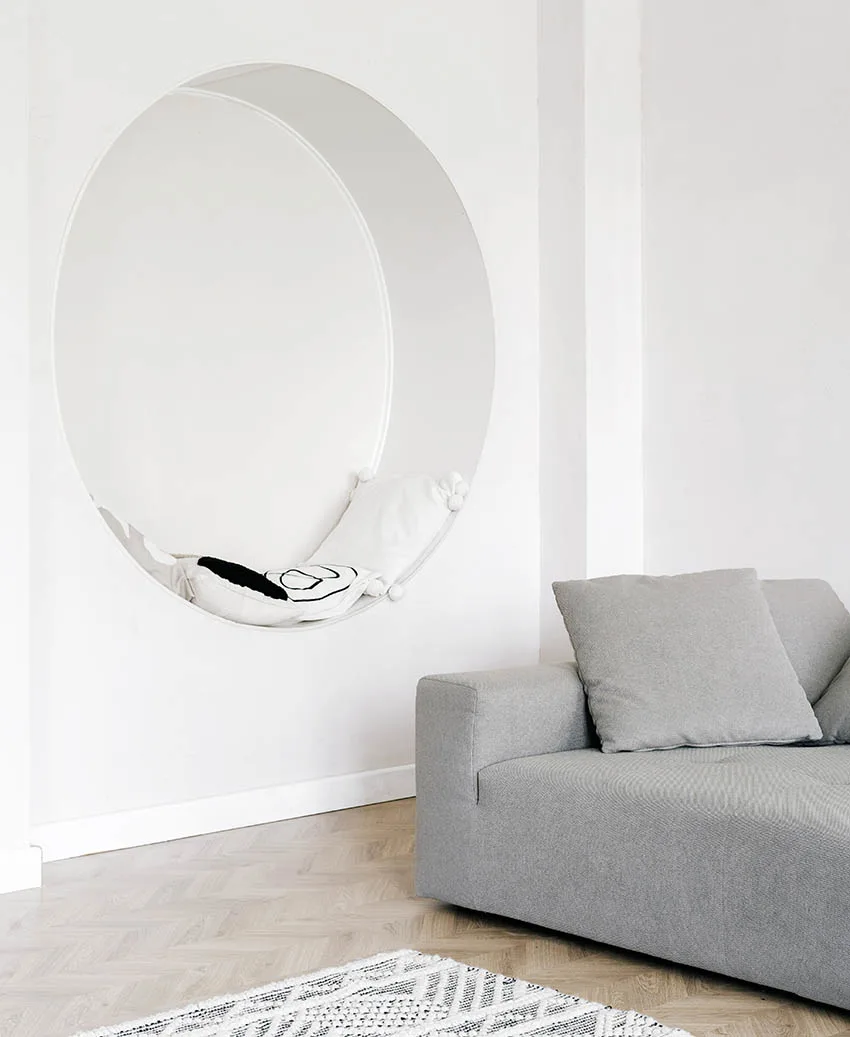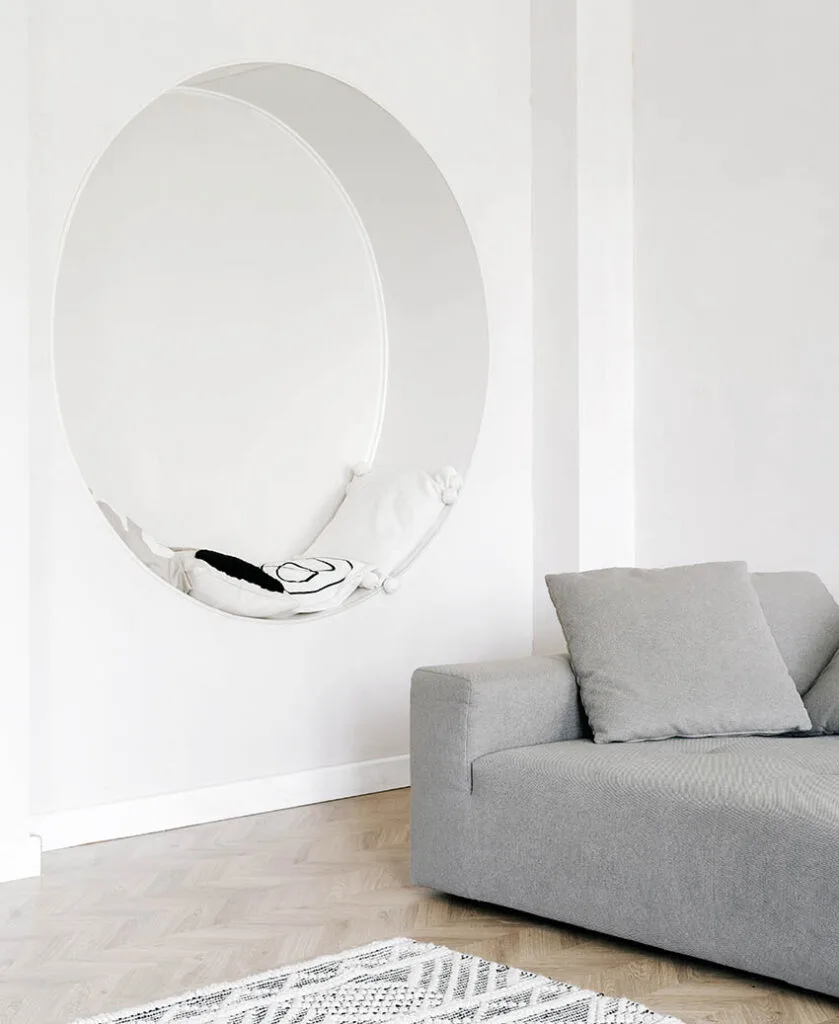 This living room offers a custom circular wall alcove with comfy cushions to create a unique sitting area.
Prefab Recessed Niche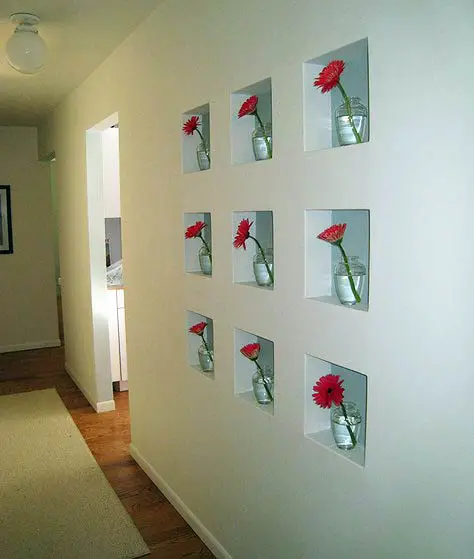 Construction of a wall niche can be completed in two basic ways. One way involves knocking out the drywall in an area and creating a recessed box with wood.
Once created, this box can be covered with drywall and paint or any other material appropriate for the design. The other method of completing a recessed cavity is utilizing a prefabricated niche.
A prefabricated niche is an insert installed after the drywall is removed from the desired area. The prefab display is designed to fit snugly into the hole in the drywall, such that the niche can be finished easily after the prefab is inserted. Prefab shelving products, as discussed before, can be found for under $100.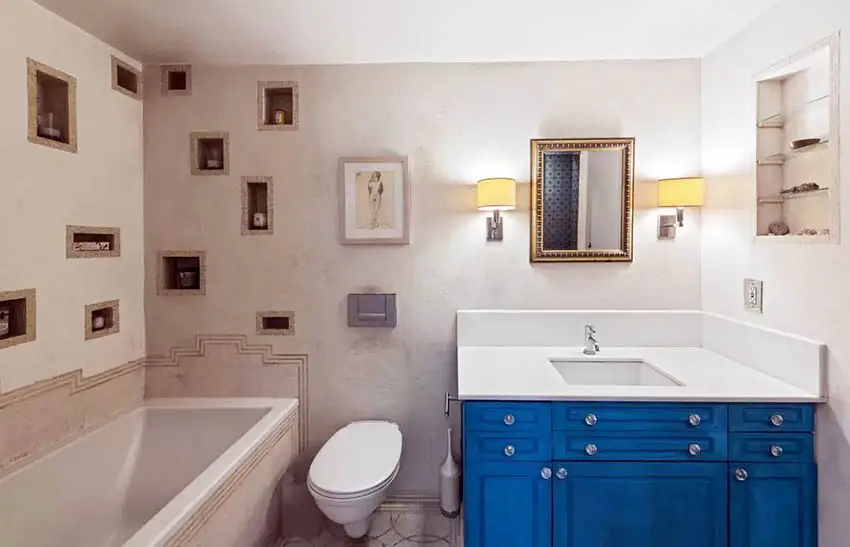 Wall candle niches can provide an inviting ambiance for those who like to luxuriate in the tub.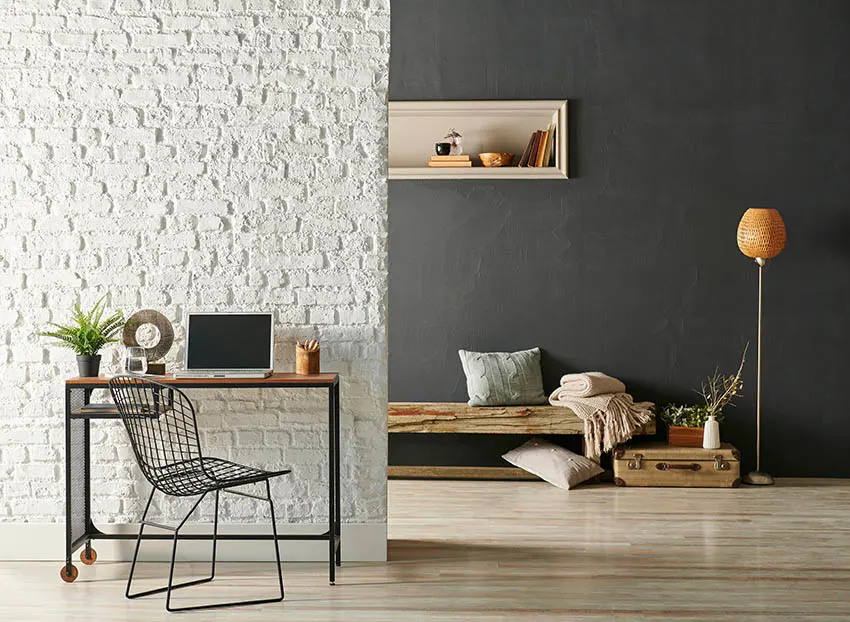 Another easy DIY niche alternative to get a similar look is to hang external containers for your decor. These have the advantage of not requiring any large holes in your walls and can be easily positioned within your home.
Shower Niche
Unlike recess designs in other rooms, the shower niche does not function primarily as a design element. The recessed shower shelf typically serves a more functional role, allowing for the storage of hygiene items with the use of external shelving. You usually see these as a space to store shower items such as soap and combs, or even larger ones can hold shampoo and conditioner bottles.
A shower shelf does add a cost compared to a standard shower installation. When you're installing your shower, it can add a cost between $75 and $300. This large range is controlled by the space you want the shower cutout to have.
If you're looking for a small space to store your soap, you will likely stay at the lower end, while a custom indent closer to a full shelf will cost more. It's important to note that this cost is added to the installation cost of your shower, which normally ranges between $1,500 and $10,000.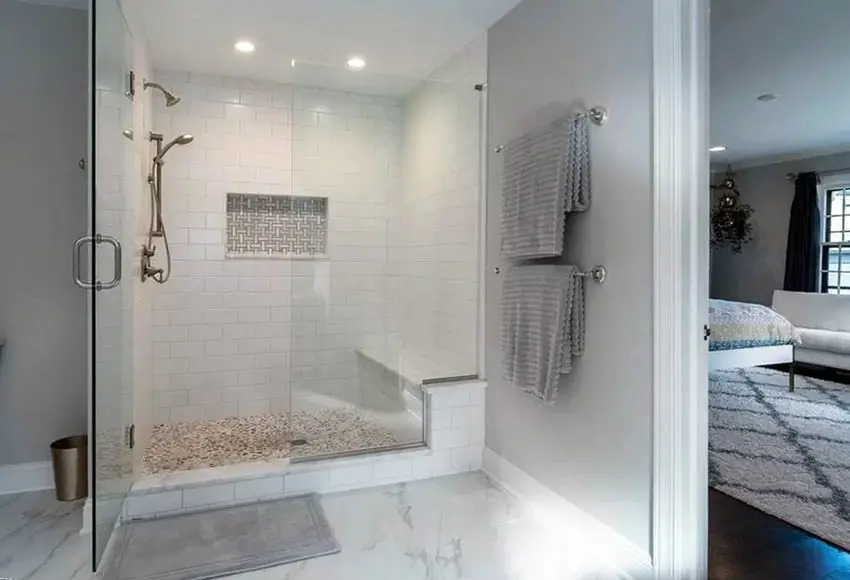 Another factor in the cost of your niche in your shower walls will be who you work with to install it. Different contracting companies usually have varying prices. Remember to look at each contractor and their estimates carefully – just because one offers the best price doesn't necessarily mean they'll be the right option.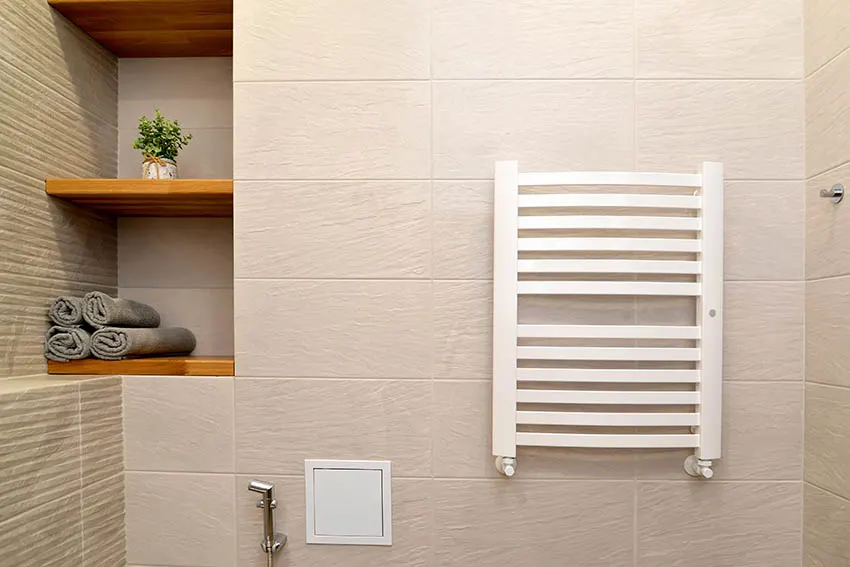 Shower Shelf Niche Inserts
While a shower wall recess can be a helpful way to maximize storage space in a shower, it can be troublesome to install correctly. If the cutout is not completely water-tight, moisture will leak through the cracks, creating serious problems within the walls.
This is why many shower niches are installed when the entire shower is installed. If everything is one large piece, there's less likely to be a problem with leakage or loose seals.
However, that doesn't mean all shower recesses are installed with the shower itself. You also have the option of purchasing shower wall niche inserts. Just because these aren't installed initially, though, doesn't mean that they aren't high quality.
Cost of Shower Insert Niches
The cost of these products can vary greatly because there are many manufacturers, styles, and sizes available. For wall niches themselves, you can find the inserts online for as low as under $100.
If those products are recessed into the walls of your shower, there may be an extra installation cost that is, once again, dependent on the style, size, and contractor you work with if you choose this method over a DIY.
Various independent inserts for shower wall niches can be purchased and installed. The idea behind these inserts has the same idea behind them as prefabricated wall alcoves. These inserts help to create a watertight seal, preventing moisture from accumulating in the walls.
Shower wall niche inserts can be purchased in sizes and configurations to fit almost any walk in shower stall. Some are designed to fit in corners, while others fit in the walls.
A wall niche is a great way to maximize room space without sacrificing other design elements. With the proper construction and lighting, a recessed shelf is the ideal way to display the items that are most beloved by homeowners.