Here's our guide to corrugated metal fence pros and cons including different types, cost and DIY design ideas.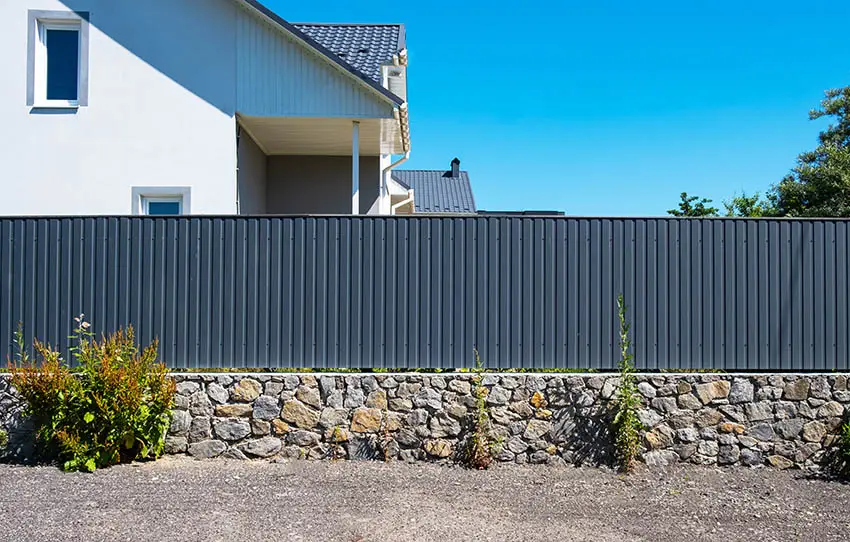 A corrugated metal fence can be an attractive and modern-looking property enclosure with features that make it a versatile option for property owners.
A lot of work has gone into advancing the manufacturing process of steel. The ability to approach higher temperatures during the refining process allows us to mix higher-grade steel with amazing properties.
Today, you'll see beautiful corrugated metal fences with attractive frames and gorgeous colors that can be mixed and matched to suit the theme of your home along with your backyard, garden, or patio. See other types of fences here.
What is a Corrugated Fence?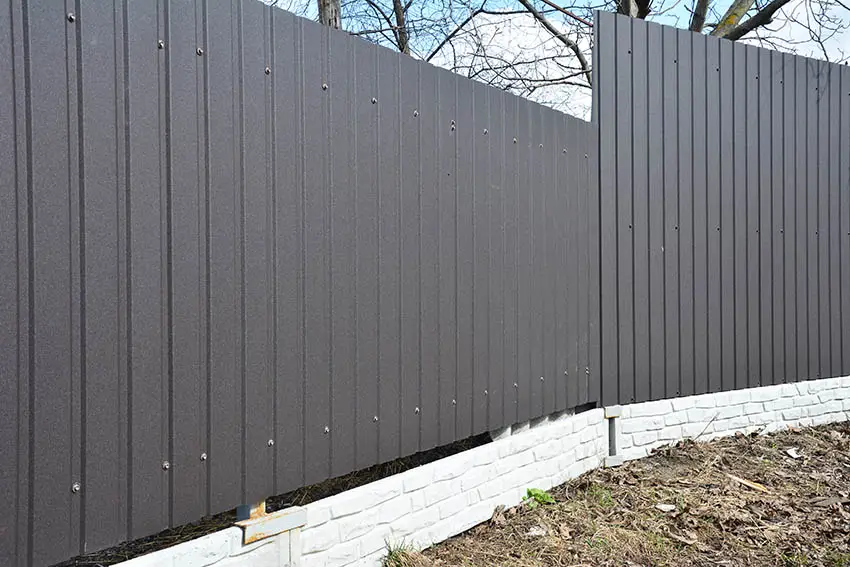 A corrugated fence is made from a corrugated metal sheet that has ridges and valleys; it's basically a metal sheet that is bent and stretched to create corrugations, creating a defined profile. The traditional profile, when you look at its sectional view, has a series of waves with equal heights,
Today, there are a variety of profiles for corrugated metal. The peaks and valleys across the surface of a corrugated sheet are for added strength.
The valleys act as channels for water, too, which is why these sheets are found on rooftops. The water flows down the channels and onto the gutter.
With this type of configuration and the roof angle, the architect can figure out the optimal combination to ensure that debris and water will not collect on the roof.
Excellent use can be made of corrugated steel sheets for fence construction, especially in combination with reinforced concrete posts. – Public Works and Journal of Civil Engineering, 1915
As far as the chemistry of the metal is concerned, a coating of different materials is added to resist corrosion; types like zinc and copper can be found as a common treatment.
Metal sheets are also friendly to the environment. Old and battered sheets don't have to be thrown away. These are recycled for other purposes, like building a chicken coup or to use as a roof or walls for dog houses or other kinds of shelters that do not require a fully functional covering.
Unusable metal sheets are sent to the recycling plant to be melted and made into a brand sheet again.
Now we'll break down the corrugated metal fence pros and cons so you can see if this type of fence is best for your needs.
Advantages of Corrugated Metal Fencing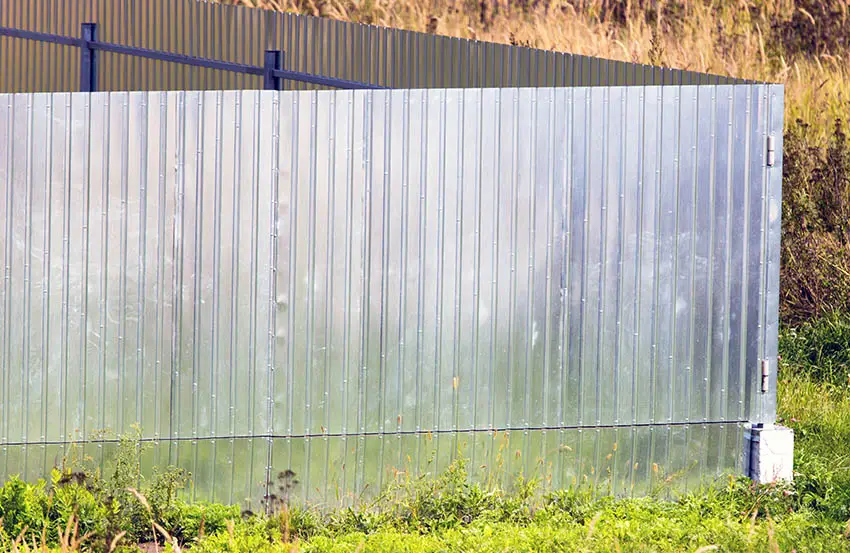 Long Span. The great thing about corrugated metal fences is that panel kits are available from 6 feet to 12 feet and 24 inches (2.1 feet) in width, making it possible to have solid fencing on large properties.
Regular corrugated fencing sizes are typically 24, 26 or 36 inches wide and 48 inches, 72 inches, or 96 inches high. You may find some manufacturers who do offer customized lengths as well but can cost more than the standard lengths.
Fast and Easy to Install. Because it is a lightweight material, you can easily handle the metal sheet on whatever terrain or conditions you have on your property. Its straightforward installation allows homeowners to undertake their metal fence installation as a DIY project.
It's Long Lasting. With an average of 25 to 30 years of service life, it's a practical investment. There are also mid-range corrugated metal fences that can last from 30 to 40 years. For the thickest panels, you can expect the fence to last from 50 to 75 years with the best coating and care.
Versatile. You can easily cut the corrugated metal fence with tin snips or a circular saw for the thicker grade and long sheets in any direction.
The easy handling and customization of the metal material make it possible to integrate it with other materials, such as wood or vinyl. It is also easy to install in slanted terrains since there's no complicated groundwork needed to install the panels.
Readily Available. These building materials are available in building and hardware stores, and there is always a local contractor who can undertake the installation. The metal panels come in a wide range of quality options, so you will easily find the right profile, color, and gauge for your needs.
You are unlikely to come across metal fences that already come with the necessary framing materials. The sheets, frames, bolts, nails, cement, etc., must be purchased separately. The project's requirements will determine which materials and how much will be needed. The sheets are typically painted on only one side unless it is a bulk order.
Striking Appearance. While wood and UPVC are undeniably gorgeous fencing materials, these sheets rival traditional fencing with their modern look and versatility.
Depending on your fencing design, you can achieve a minimalist look with a sleek and simple profile or get the rustic or industrial look of unpainted or matte black metal panels.
Affordability. A corrugated metal fence is an affordable option for homeowners, and since it is so easy to install, it's a great DIY project. The easy transportation, DIY installation, and availability make it a cheaper option than most conventional fencing materials.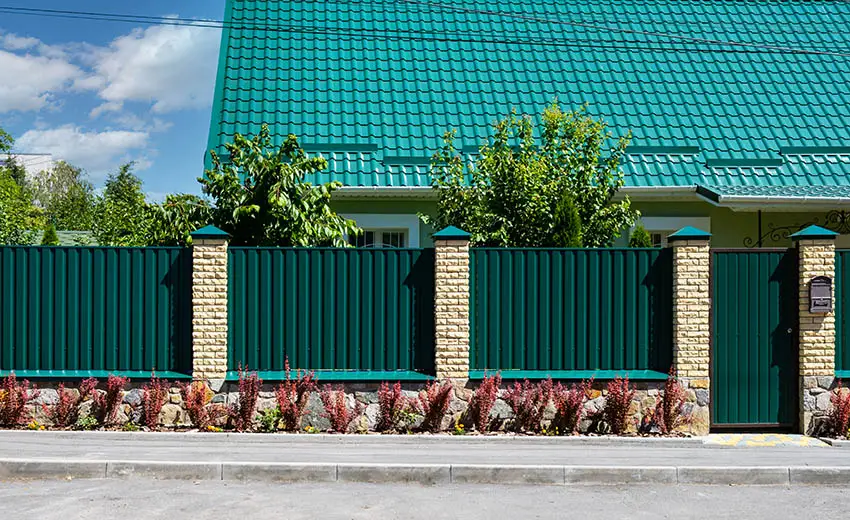 Disadvantages of Corrugated Material
Flimsy. A corrugated metal privacy fence is generally durable and can withstand extreme weather conditions, but if installed with a poor framing design, it can get knocked out by strong winds.
Six to eight feet is the standard spacing between your posts. One way to mitigate this flimsiness is by cementing the posts permanently.,
Sharp Edges. The sharp edges of the thin metal sheet, especially when installed at a lower height, are hazardous. The edges of the panels should be framed to prevent children or pets from reaching and cutting themselves on these edges.
Potential of Rusting. Like any metal material, corrugated metal sheets can rust and corrode over time if unattended, so you'll need to repaint and recoat for the worn-off coatings.
Use the same galvanized material for your screws, bolts, and other fasteners on your metal fence to prevent rusting. However, if you like the rustic look of the metal fence, you can go for the non-galvanized metal sheets.
Corrugated Panel Fence Cost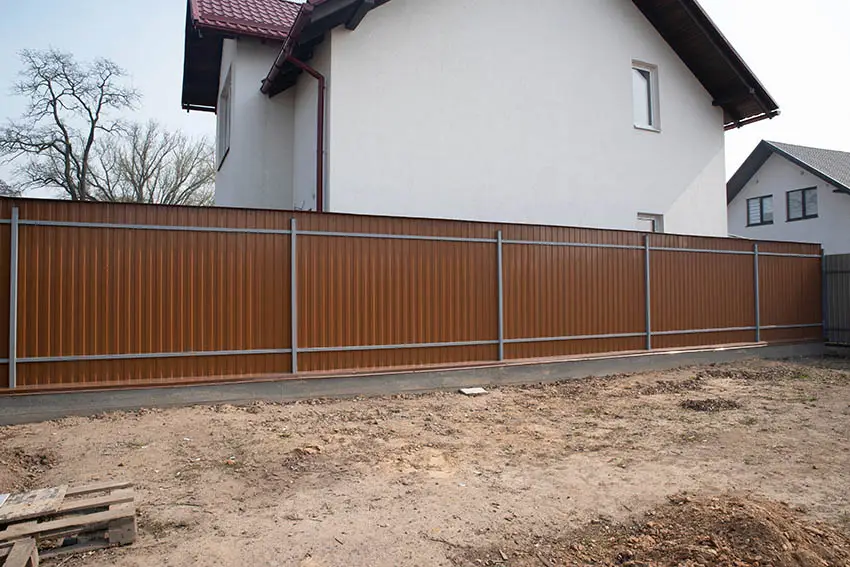 A corrugated metal fence is an affordable option because of the low material, labor, and maintenance costs. As cost is relative to its quality, the thicker your metal gauge, the pricier it gets, even with thicker gauges such as 26 or 29.
On average, corrugated metal fence costs $10-$12 per linear foot compared to vinyl, can cost around $20- $35 per linear foot, and wood is about $10- $18 per linear foot.
With that being said, it's best to budget $4 to $8+ per foot while factoring in labor costs.
Corrugated Steel Fence Ideas
Here are some of the best corrugated metal fence ideas for the home.
Go Horizontal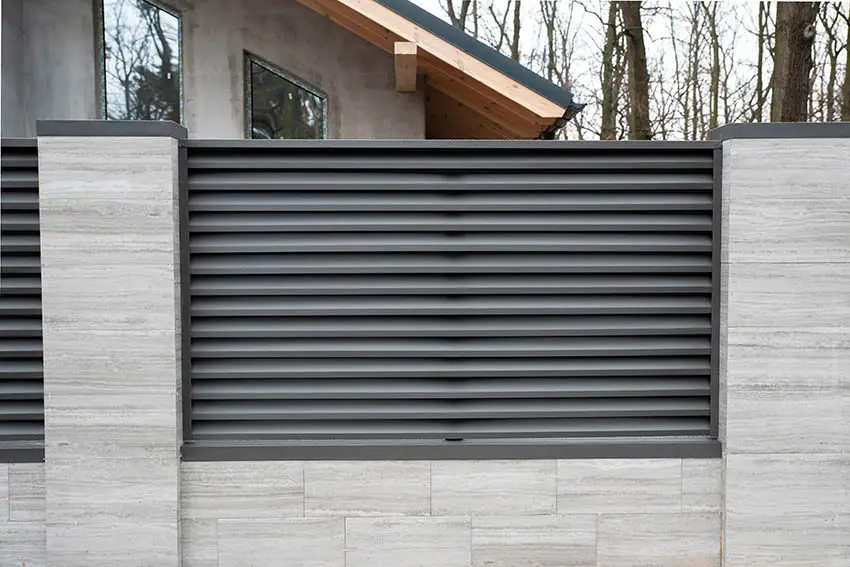 When you need to cover a lengthy perimeter, a horizontal panel can be visually impactful instead of the typical upright installation.
You can leave it without framing or install wooden framing for stability and create a vernacular look for your backyard.
Combine with Brick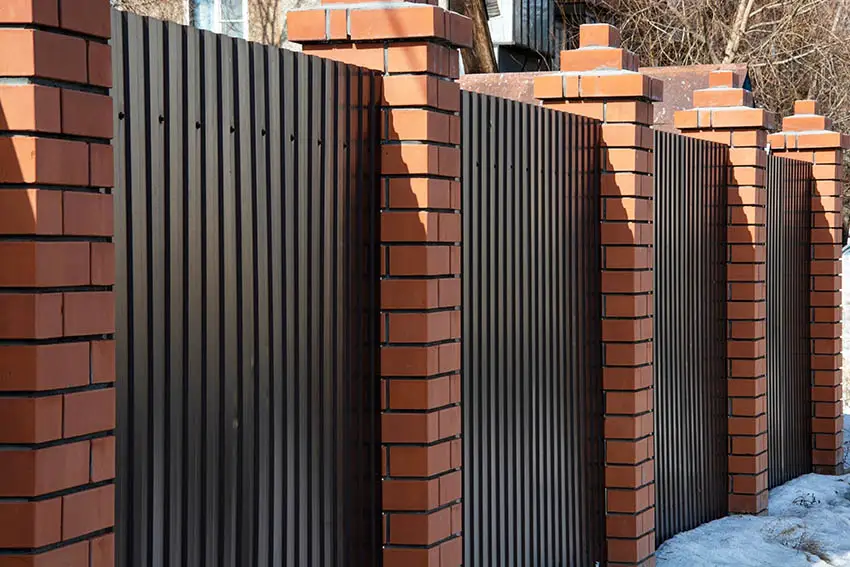 Use bricked or stoned posts in equal intervals through a bare corrugated metal fence to create an earthy appearance. The natural rust color combined with natural stone is a gorgeous backdrop for any garden.
Wood Plank Style Corrugated Fence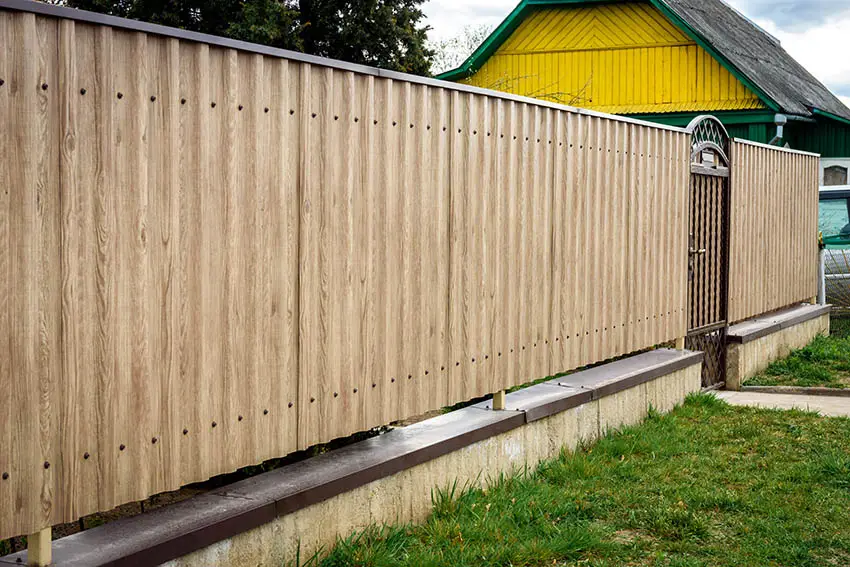 A wood plank style corrugated fence can provide the look of natural wood. This type of fence can look more natural than a raw metal fence and offer a more harmonious feel for your backyard.
Combine with Wood
Using a corrugated metal and wood fence is a popular option because of how the two materials look good together as they complement their qualities. Wood and metal complement each other very well. Metal can appear cold and unnatural, while wood looks natural, so having it gives it an organic look.
Corrugated Metal Fence on Sloped Terrain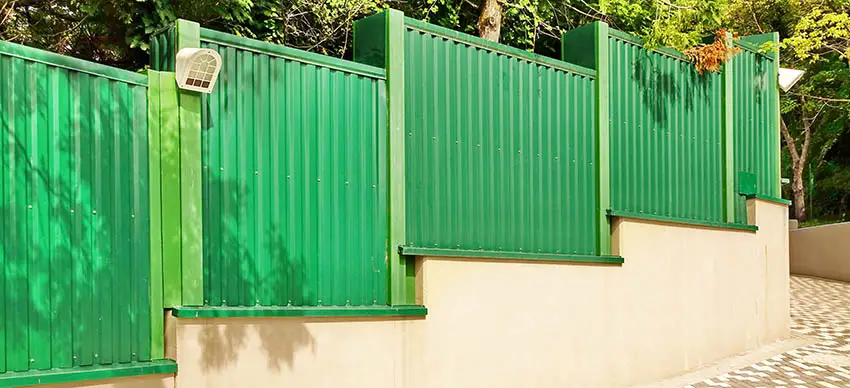 Corrugated panels are sold by the sheet, are readily available, lightweight, and easy to work with, making them ideal for fencing on sloped terrain. The fence is easy enough to install that if errors were to occur, adjustments are easy.
Custom Corrugated Fence
You can turn your custom corrugated fence into an eye-catching work of art with varying materials of corrugated metal, wood, and stone arranged alternately like a checkboard piece. The result is an interesting mix of materials.
Privacy Fences With Corrugated Sheets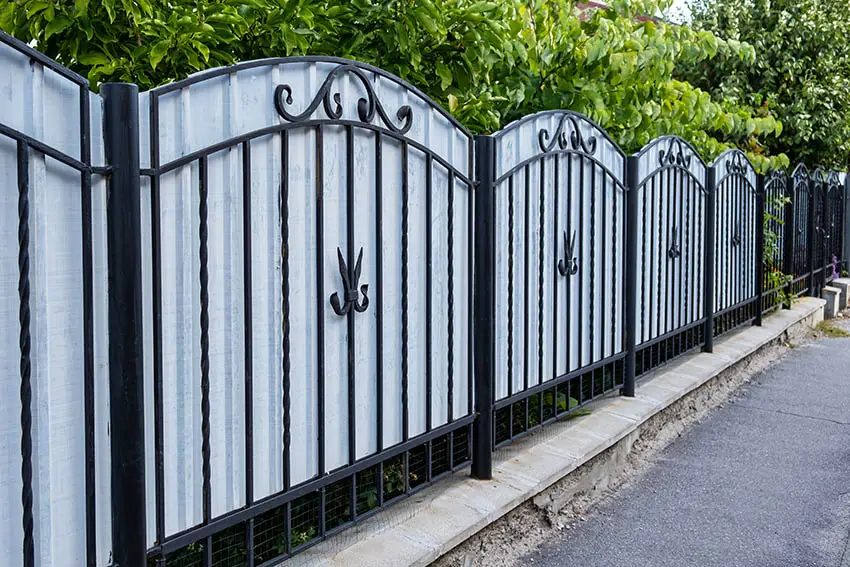 Residential and commercial markets found use in using privacy fences with corrugated sheets. Professionals like architects, builders, and homeowners prefer these products over other alternatives like wood or vinyl.
Privacy fence metal is durable enough to withstand a harsh environment. The longevity is improved by painting them with an additional protective coating, and they will last even longer.
Metal fences are low maintenance, and if it needs replacement, a new sheet can be easily installed. See more privacy fence ideas here.
DIY Corrugated Options for Fences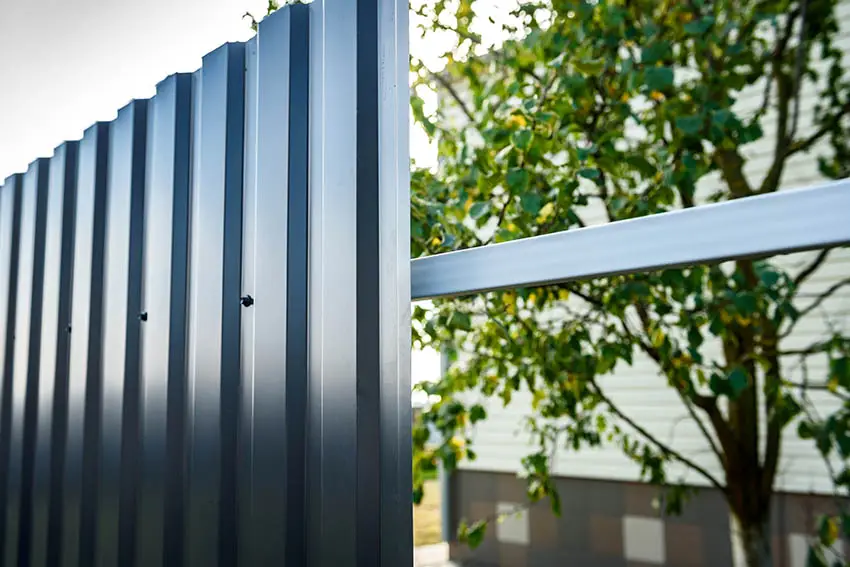 Corrugated metal is low maintenance and does not need to be stained or treated (painting is optional). A fence of this type is pretty much free from maintenance for a year if you purchase good-quality, thick sheets.
Now, before deciding to install your fence, check with your local laws regarding installing fences. Make sure to secure the proper permits (if required). Once approved, the fun begins.
Follow proper procedures, such as ensuring your posts are 18 inches deep. Of course, this depends on the height of the fence and other conditions. If you are unsure how to proceed, hire a professional to help you with the building process.
To help with creating your fence, there are different fence design software programs. Many of these programs can help layout your fence, determine the amount of materials you need, and estimate the total cost.
Steel Vs. Aluminum Fencing
If you're in the market for fence materials, you may have come across steel and aluminum corrugated sheets and panels. They both offer excellent benefits depending on your needs.
An aluminum product will offer superior corrosion resistance, while a product made from steel coils will offer much better durability but will require maintenance to prevent rust.
Here is a detailed breakdown of the pros and cons of corrugated steel and aluminum materials:
Comparison: Aluminum vs. Steel Corrugated Fencing

| Feature/Property | Aluminum Fencing | Steel Fencing |
| --- | --- | --- |
| Advantages | | |
| Corrosion Resistance | High (due to protective oxide layer) | Moderate (Depends on treatment; galvanized and stainless steel have higher resistance) |
| Weight | Lighter | Heavier |
| Flexibility | Higher malleability | Less flexible |
| Maintenance | Lower (doesn't rust) | Higher (potential rusting) |
| Strength | Generally lower (thicker sheets might be needed) | Very strong and rigid (better security) |
| Cost | Generally less expensive (cost effective) | Typically higher (depends on the type of steel used) |
| Finish/Design Options | Standard finishes | More options (can be painted and powder coated) |
| Disadvantages | | |
| Strength | May need thicker sheets for strength | N/A |
| Cost | Generally more expensive | N/A |
| Scratch Visibility | Scratches are more visible (shiny underneath) | Scratches can lead to visible rust spots |
| Corrosion | N/A | Can rust if not treated or if the protective layer is damaged |
| Weight | N/A | Heavier weight and more difficult installation |
| Maintenance | N/A | It needs more maintenance to prevent corrosion |
Corrugated Metal Fence Takeaway
Fencing your property is not the only function of a metal fence. It is used as a wind barrier in agricultural applications. It can act as a barrier against strong winds and snow to protect livestock in places experiencing winter.
If you need a low-cost, and easily installed fence, whether it is for a permanent or a temporary one, you can bet your money that this product is the best way to go.
There are companies that do offer their services for people who need professional help with decisions such as determining the size, thickness, or color of your fence.
What did you think of our list of corrugated metal fence pros and cons? Let us know what you think below.