Here's our guide to privacy fence ideas including popular types and design pictures.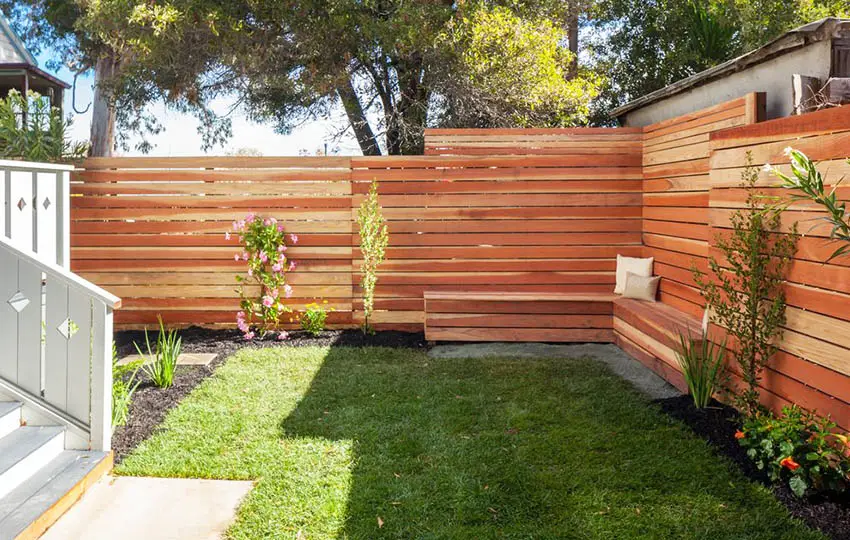 By their name alone, you can tell that privacy fences are made to give you, well, privacy. Typically, you put these around the entire perimeter of your yard or even just around your deck or patio to give you a little separation between your property and the outside world.
However, not all privacy fencing is made the same. There are a lot of questions to answer when you are trying to find the best privacy fencing for your home. For instance, do you want wood or metal fencing? Maybe natural fencing? Do you want a lattice structure or maybe a horizontal privacy fence?
Don't get overwhelmed by your choices, though, because it isn't a decision you can't come to. The first step to choosing your perfect privacy fencing is understanding your options in the first place. That's why, in this article, we are going to take a look at your options and see a variety of privacy fence ideas. (This page is part of our larger fence designs gallery located here)
Types of Privacy Fences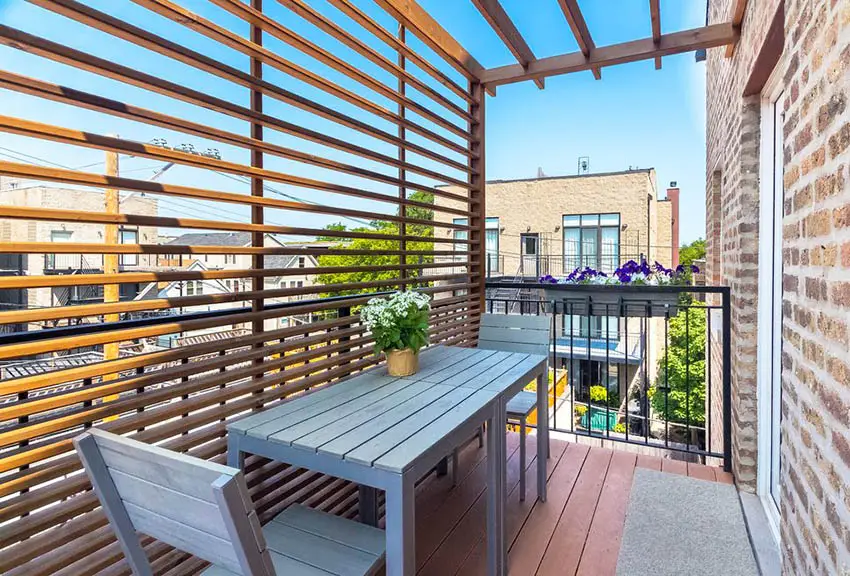 There are a few different types of privacy fencing that you can choose from. Not only in the materials you choose, but by the design of the fence itself. Here, we will take a look at some of the common options you will come across when you are deciding on your best privacy fence.
Board-on-Board [Shadowbox] – A board on board design is the most popular style of fence do to it being one of the easiest to build and for its low cost. This type has boards which are places at alternating sides from the center rail which creates an overlapping look.
Other popular types include:
Lock board
Horizontal
Dog-eared
Convex
Stockade
Lattice
You can find pictures of the most popular types of privacy fences below.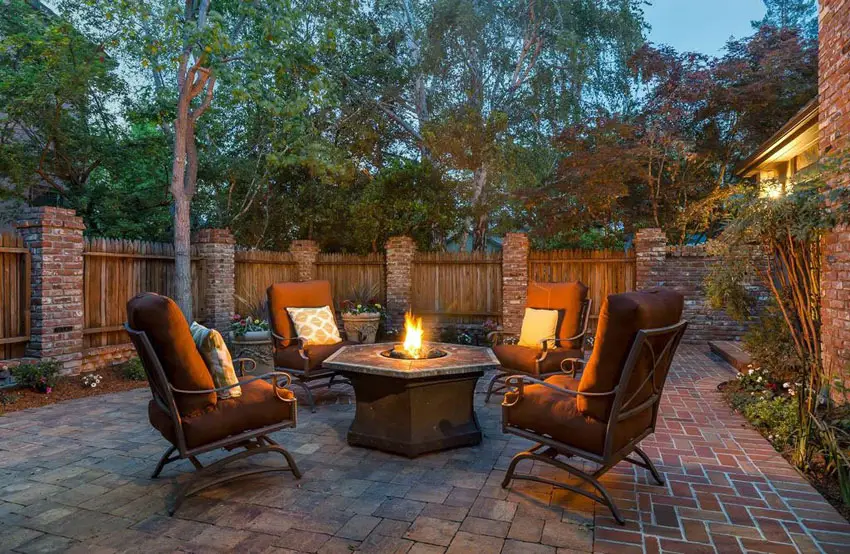 Border privacy fences can be simple or as intricate as you would like and, as you could guess from the name, sit on the border of your yard. By definition, they don't need to to be intricately designed. You can, though, add design features such as a lattice design or other decorative touches.
If you are going with a basic border fence, you should lean toward a gate design. With a simple border fence, this is the focal point of your privacy fence. So, one option would be to choose a plain fence and adorn it with a more distinctly designed gate. This is a popular choice because it is obscures an outside view of your yard and gives you the choice to either have a simple design or a more decorative piece.
What's the Standard Size of a Privacy Fence?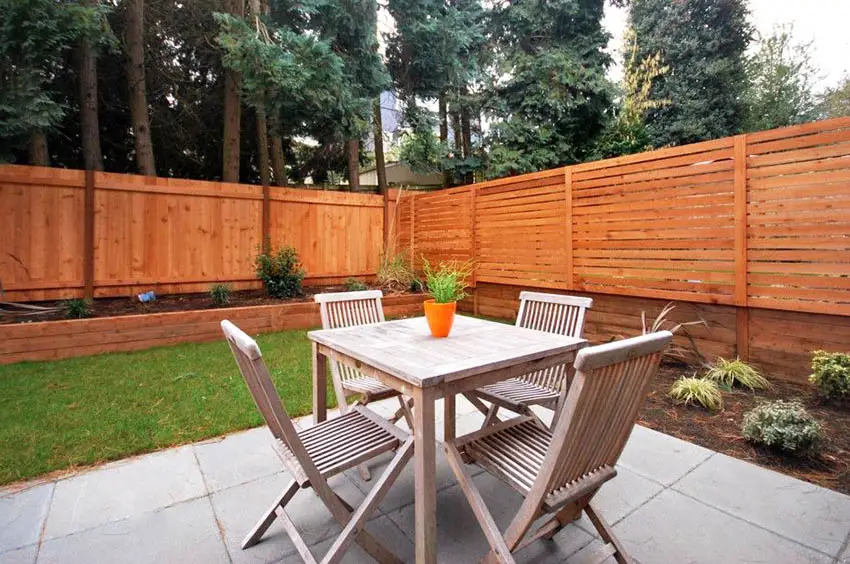 Another question that many people have is how large is the standard privacy fence. Well, when it comes to length, it depends on the size of your yard. In the case of the most privacy fences, homeowners usually choose to put up the fence around the perimeter of your yard.
With a fence, though, you also have to consider the size of the fence in reference to height. The first thing to note is that you can alter the height of your fence to fit your preference. The backyard is where most families spend most of their time outside. Namely because the backyard is where most people have a pool, deck, patio, or, generally, a place to sit. That's why you want a little more privacy and you want your fence to be a little higher in your backyard.
The standard size for a backyard privacy fence is six feet. For those with a swimming pool there is a requirement to have a minimum size fence of at least 48″ in height. However, for added privacy and safety, a 72″ fence or higher is used. For more about swimming pool fence ideas visit this page.
In your front yard, you may not want quite as much privacy because you don't want to block every visitor out. In addition, most homeowners don't spend as much time in their front yard, you don't need quite as much coverage. The average height for a front yard privacy fence is about 3 feet.
Privacy Fence Cost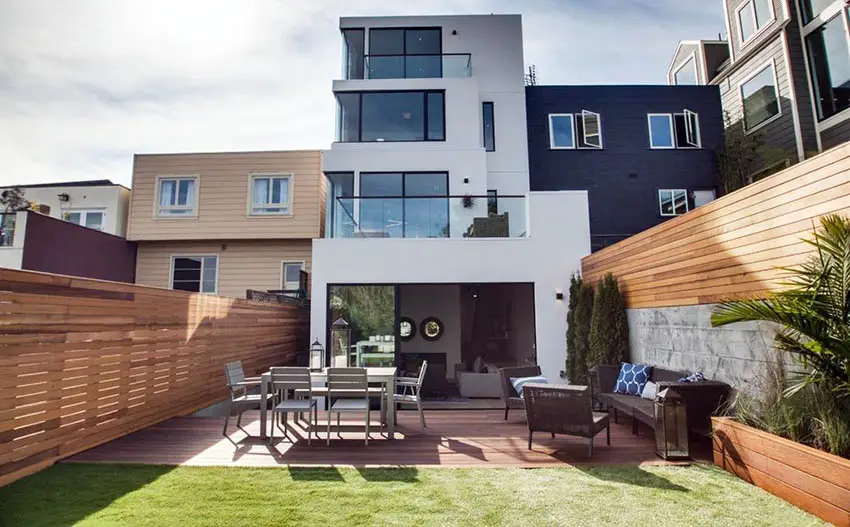 Another obvious question is how much does a privacy fence cost. Well, in truth, it depends on quite a few factors. For one, what type of material will you be using? After all, some materials cost more than others. For instance, metal fencing isn't always as expensive as hardwood fencing, depending on what you buy.
Then, there is the consideration of how much fencing you need. Someone with a smaller yard, for instance, won't need as much fencing as someone with a bigger one. There is also the idea of how much of your yard do you want fenced in? Fencing in only the patio, for instance, won't cost as much as fencing in your entire yard.
Finally, you will need to consider the cost of installation. If you know how to install your own fencing or are doing a DIY fencing, you can save on the cost. On the other hand, if you need an installation done, you will incur a varying cost depending on who installs the fencing.
To give you an idea, installing a fence can cost anywhere from $100 to over $5,000 depending on the size and materials used. The average cost for a home privacy fence sits at around $2,400 as of 2018. Inexpensive options can be found for as little as $3 a linear foot for mesh options, while wood or vinyl fencing can cost $20 to $30 per linear foot.
Privacy Fence Panels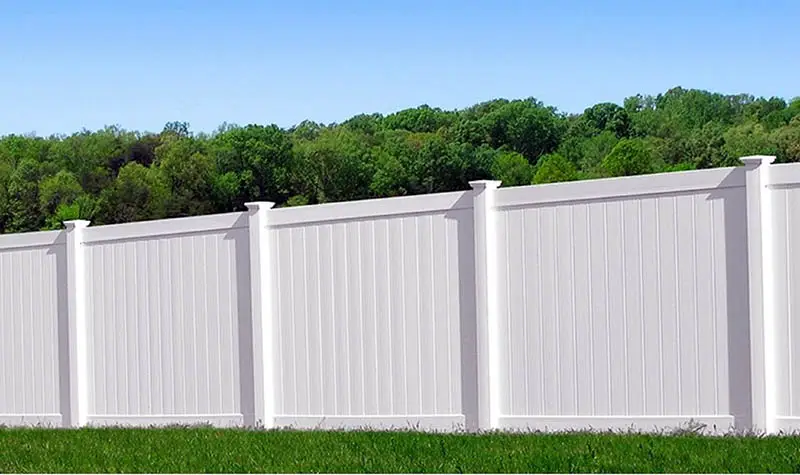 6 x 6 Vinyl privacy fence panels – See at Wayfair
Most fencing is sold by the panel. This is rather true for most types of fencing whether it be decorative or solid, wood or vinyl. There are two measurements you should look out for when you are purchasing panels of privacy fencing.
The first is height. We have already gone over how tall privacy fencing is usually but you can choose whatever height works best for you. For instance, you might not mind a purely decorative fence being shorter than a solid, practical fence.
The next measurement you need to pay attention to is the length of the panel. To find the length of fencing you need, you will want to measure the perimeter of the area you are fencing in. Then, you will divide that length into panels. When you are purchasing panels, it is better to get a little more fencing than you need than a little less. This gives you some room for error and won't accidentally leave you with too little fencing to enclose the area you have in mind.
As you shop for privacy fence panels, you will often see sizes shown as X feet by X feet. This measurement typically displays in the form of the first measurement being the height of the fence and the second number being the length per panel.
Wood Privacy Fence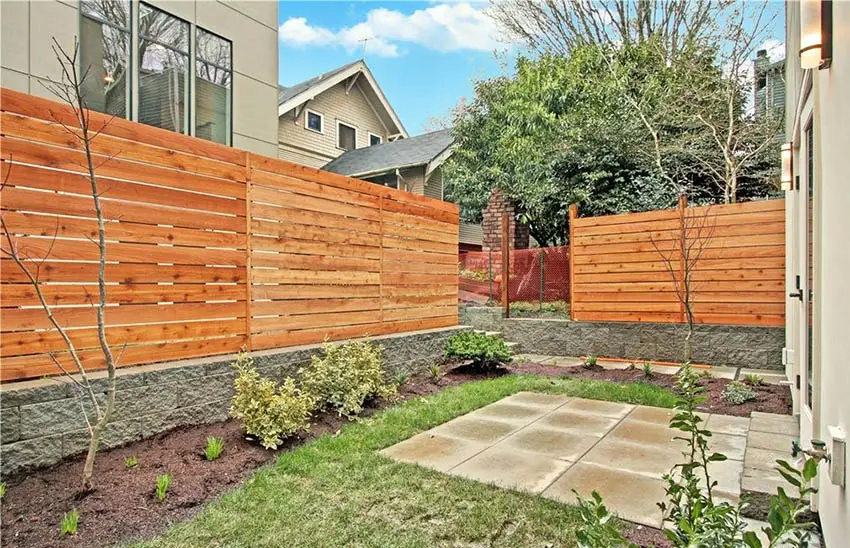 A classic option for material for your fence is wood privacy fencing. For this, you are looking to spend around $10 to $20 per foot on average. However, this price does depend on the type of wood you use – some woods are far more valuable and expensive than other options.
The great thing about wood privacy fencing is that it's durable. You don't really have to worry about it easily breaking or getting irreparably damaged. In addition, you can stain and paint wood to have whatever appearance suits your design preference at the time. Unfortunately, this staining and painting will need to be done periodically to keep the fence looking in shape but on the bright side, if you tire of a color you can try something new without having to replace the entire fence.
Wood fences are made out of a few different types of wood. These include woods such as cedar, pine, redwood, and more.
Cedar Privacy Fence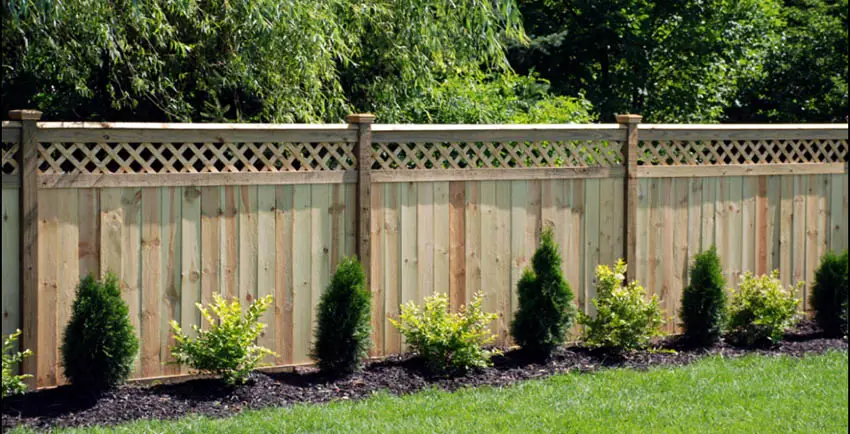 As we noted, wood fences can be made of a few different types of wood. One of the more popular options is cedar fencing. When it comes to cost, you can expect to pay around $7 to $15 per linear foot of cedar fencing.
Cedar is a popular choice because it naturally has a beautiful tone and grain. In other words, even before you stain it, you won't just be looking at a boring, bare plank of hardwood as if you bought a 2×4.
On top of that, cedar has some natural oils in it. This might sound like nothing but it means a lot for the lifetime of your fence. That's because these oils are great at helping cedar to repel insects and resist rotting.
Finally, it is worth noting that cedar has some soundproofing qualities to it. This makes it a great choice for homeowners who live in a loud neighborhood or are just generally worried about high noise level. It won't make your backyard perfectly silent but it will help to block out and absorb some of the excess.
Wood Privacy Fence Panels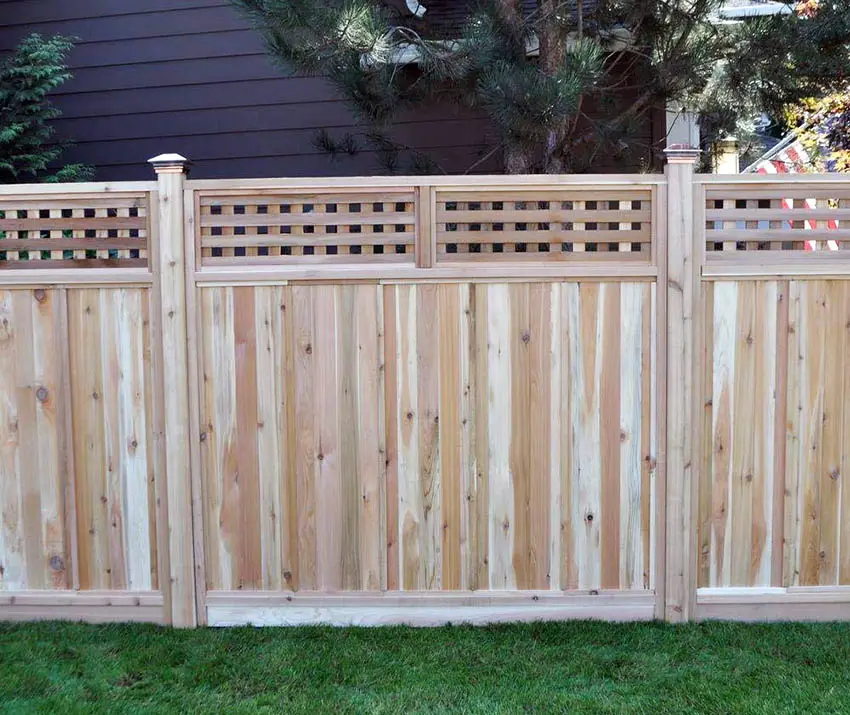 Wood privacy fence panels – See at Amazon
As we noted, you will pay different prices for wood panels depending on the type of wood you decide to use in your fence. The lowest end sits at buying plain, standard wooden lattice panels while higher end pricing sits with more valuable woods like cedar and redwood. These higher-end planks usually end up lasting a bit longer and have more natural beauty. You can currently purchase 6×6 wood privacy fence panels for between $120 to $150 dollars each.
It should also be noted that while you can use solid wood planks, a decorative option isn't out of the question just because you choose wood. For most owners of wooden fences, decorative fences usually mean hybrid fences meaning they work as solid fences up to a point then the top is adorned with a more intricate design. Fortunately, if you are looking for more detailed woodwork, the option is available but the delicate work will probably come at a higher price.
Vinyl Privacy Fence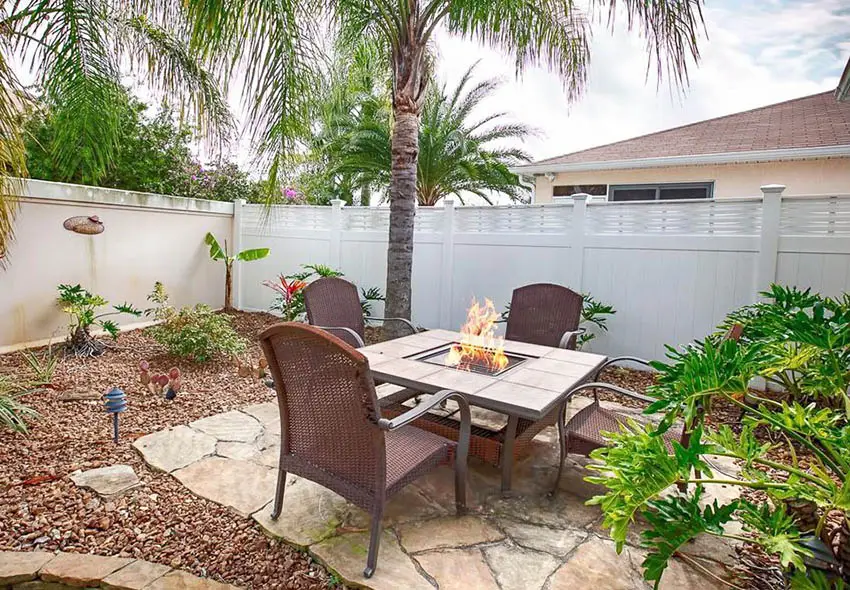 Another popular option when it comes to privacy fencing is the option of vinyl privacy fencing. This type of fencing is unique because it can be used in a way that mimics hardwood fencing but left on its own, vinyl fencing resembles plastic more than anything else.
Some find this type of fencing easier than wood. That is because you can get this fencing in almost any color that you want without the need to paint or stain it. In addition, the colors on vinyl fencing aren't as prone to fading as on wood fences. It is also a popular choice for it's non-porous service that makes it easy to clean even if paint is splashed on it or, in the worst case scenario, it is vandalized. Generally, it is a rather low-maintenance choice when it comes to privacy fencing.
Vinyl Privacy Fence Panels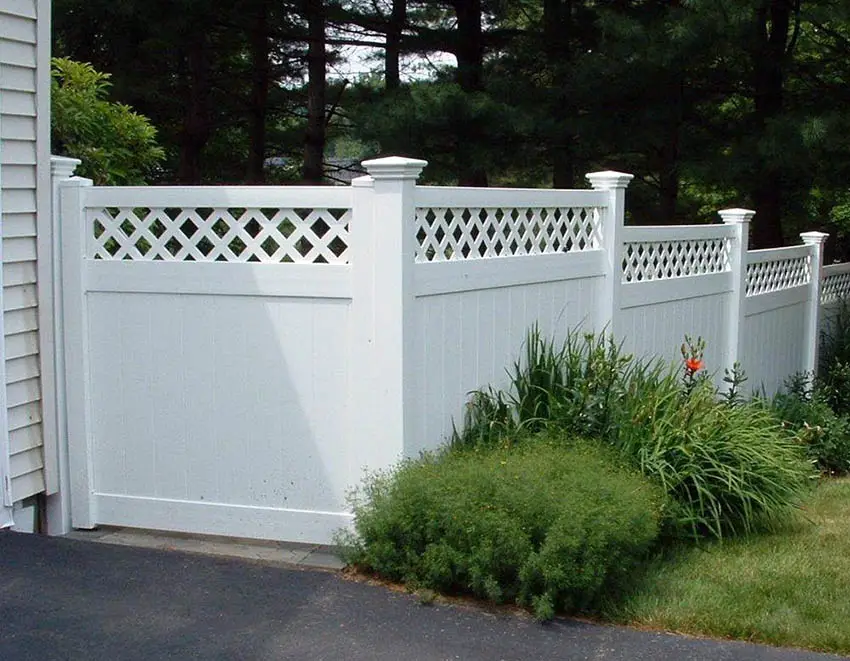 Vinyl privacy fencing is durable and requires little maintenance. the downside is they are by far one of the most expensive options you have when it comes to fencing. The average price of panels sits at around $20 to $25 per linear foot installed.
However, you are paying for a great deal of good things when it comes to vinyl fencing. As we already stated, the finish on vinyl fencing lasts a long time. Not only that, though, but the vinyl fencing itself will last you a long time.
Unlike an option like wood, you don't have to worry about termites, fungus, or dry rot and unlike metal fencing you don't have to worry about rusting. Unfortunately, though, these panels aren't as durable against weight and breaking as they are against the weather meaning that if you are looking for a privacy fence for security, you'll have to look elsewhere.
PVC Privacy Fence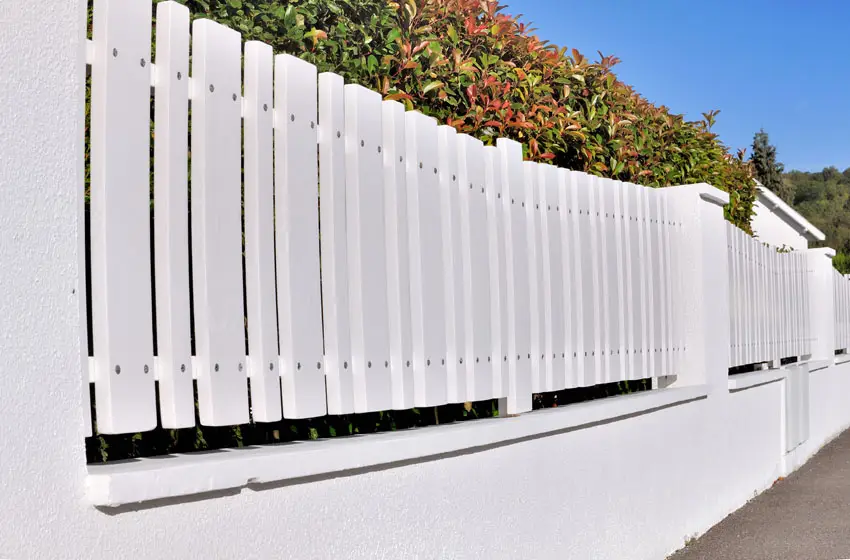 A popular type of vinyl fencing is PVC vinyl fencing. Just because it's popular, though, doesn't mean you should choose it without looking. Instead, you need to look at the pros and cons and see if this type of fencing suits you.
The pros of PVC vinyl fencing are pretty much the same as any other vinyl fencing. These types of privacy fences are durable and aren't prone to rotting or most other deterioration by the forces of nature. They are also a great choice for families with kids because these types of fences are splinter free.
On the down side, there are some drawbacks to PVC privacy fencing – some of which, we have already take a look at. For instance, remember how we said "most other" deterioration by the forces of nature? Well, a big caveat to that is the fact that PVC expands and contracts depending on the temperature. While this doesn't mean damage in and of itself, it can cause the fencing to be more brittle and susceptible to damage in the winter.
Fence Privacy Screen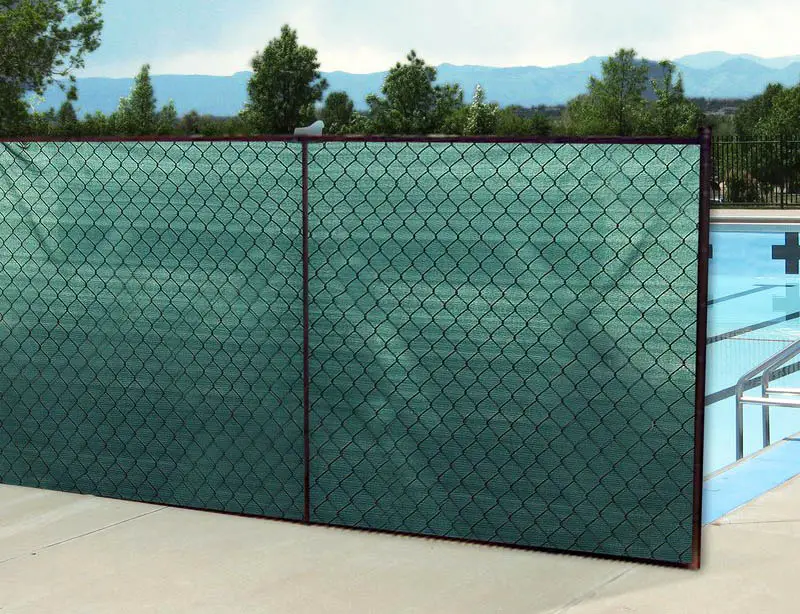 Mesh privacy screen – See at Wayfair
If you have a fence that you can see through, such as a lattice or chain link fence, you can always use a privacy screen to keep your yard or patio obscured from the public eye. A privacy screen is a rather cheap addition – sometimes costing you less than a dollar per linear foot.
These privacy screens are usually dark in color. This way, you won't see through to the other side and those on the other side can't see in. Screen material can also make an effective sun shield, providing needed shade. Moreover, you can remove privacy screening much easier than more permanent options.
The downside of screen privacy fencing is that it isn't as durable as more permanent fencing. It might not stand up to the test of weather and general wear as, say, a wooden or metal fence.
Mesh Privacy Fence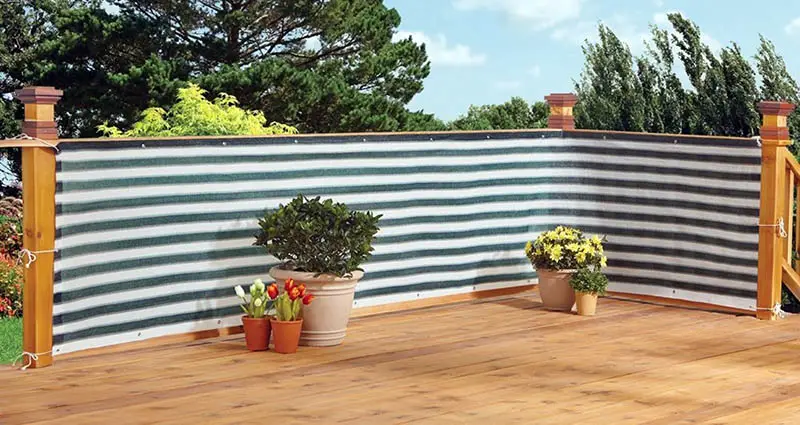 Mesh privacy fencing – See at Wayfair
The most popular choice for temporary privacy fencing is to use mesh privacy fencing. The cost for mesh fencing is particularly low with prices hovering around $4 to $10 per foot, depending on the type and quality of mesh fencing you buy. It's a rather flexible material too, so you won't have to worry about it ripping while you install it.
On the other hand, the posts can rust rather easily and it isn't difficult for the mesh to be torn or frayed. So, if you use this type of fencing, you will have to keep an eye on it. The main difficulty this comes from, though, is that this isn't meant to be a long term fencing solution. With that in mind, it isn't made to be as durable as most permanent fencing solutions, even if you buy higher end.
Metal Privacy Fence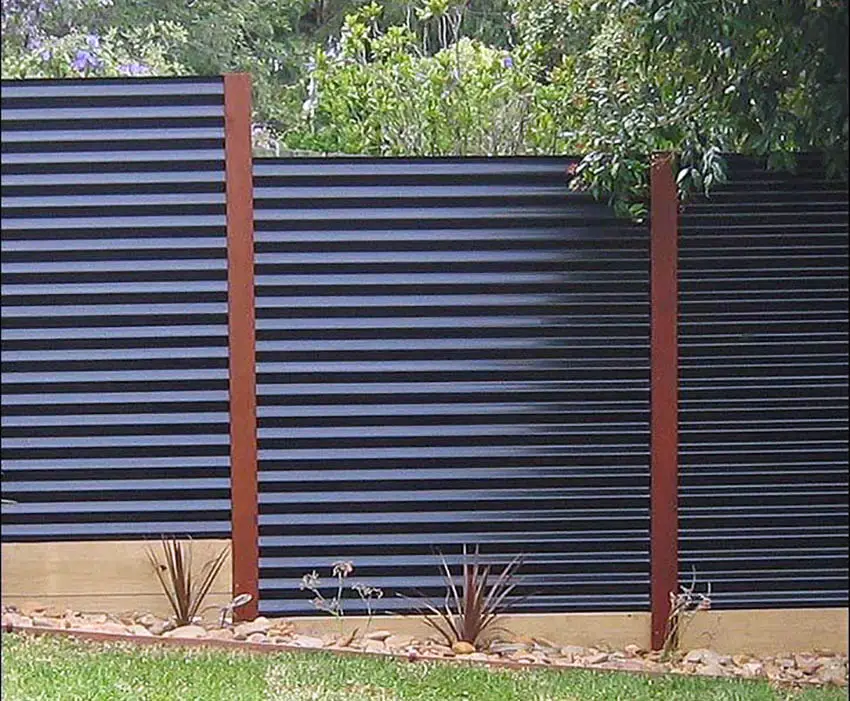 Metal is a unique choice when it comes to fencing because despite the name, metal actually comes in a variety of types. For example, a wrought iron fence is much different from an aluminum fence.
A major concern with metal fencing is the idea that rust or corrosion will hurt your fence. After all, it is constantly out in the elements and exposed metal usually leads to rust. Well, you aren't exactly dealing with exposed metal. Most metal fencing – no matter what kind – is usually covered in a protective coat that keeps it safe from the elements and the damage they can cause bare rust. This helps your fence to last longer. When it comes to wind, though, metal won't bend or break as easily as other fencing option.
Chain Link Privacy Fence
When most people think of metal fencing, their minds automatically go to chain link fences. These are often used both on public and private property. Chain link fences are usually made of metal and hold a cross hatched design. If you want a different color, you can even get vinyl covered chain link fencing in black or green.
You can frequently see these types as temporary fencing in worksites. For example, temporary privacy fencing is often used in construction sites, mostly to mark where construction areas and public access area separate, to keep individuals not working the construction site safe. They are also often used on farms in areas where animals need to be kept temporarily in an area.
There are a lot of pros to having a chain link fence. For one, it is an affordable option. In fact, it can cost as little as $5 per foot of chain length. In addition, it is also low maintenance – once it's up, you don't have to do much to make sure it stays up and stays as attractive as the day it was put in.
Unfortunately, you aren't going to have much privacy with a chain link fence because it's so full of gaps. It also isn't great for security because it is thin and typically easy to climb. If you are really worried about security – as many people who put chain link fencing around public and industrial properties are – you can add something like barbed wire to the top.
Metal Privacy Fence Panels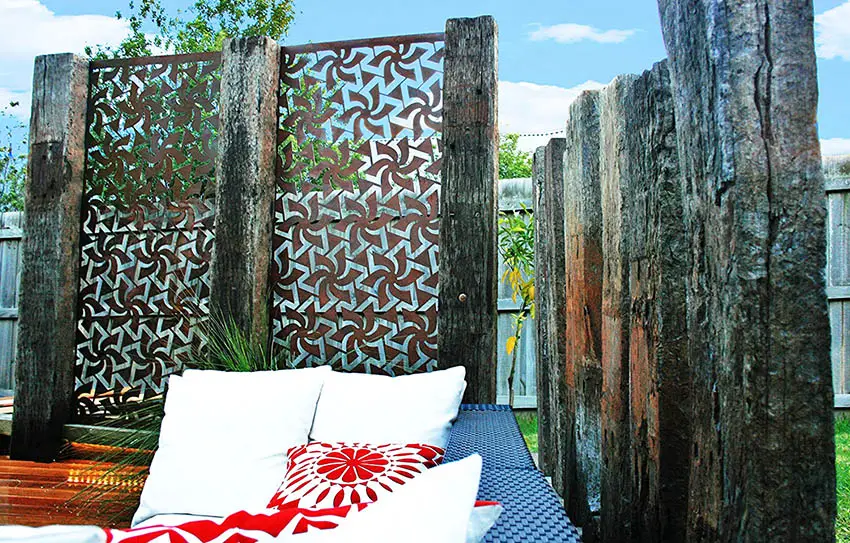 Decorative metal privacy fence panel – See at Amazon
When you are looking for metal privacy fence panels, there is one thing you need to keep in mind – even in the category of metal fencing, you have plenty of subcategories to choose from. In other words, there are many types of metal you can use to fence in your yard such as wrought iron, steel, and chain link fencing.
You also need to remember that each of these options comes with its own price tag. Wrought iron, for instance, is a more expensive option at about $20 to $35 per linear foot installed. Chain link, on the other hand, can prove relatively cheap at as little as $5 per linear foot installed.
Aluminum Privacy Fence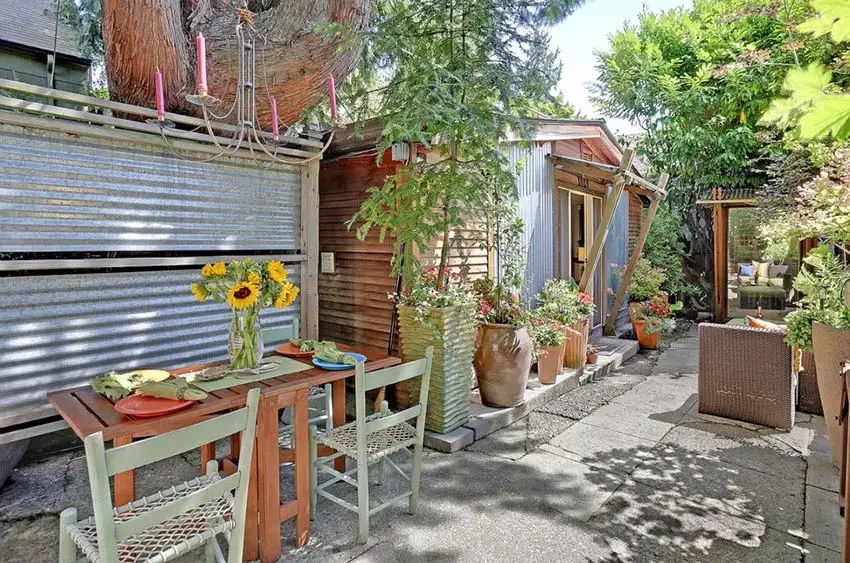 One option you have when it comes to metal fencing is aluminum fencing. The first thing that you will notice about aluminum fencing is that it is one of your cheapest metal fencing options especially compared to steel and wrought iron.
In addition, the installation and maintenance of aluminum fencing is easy. As far as maintenance, you are in luck because of the fact that you don't need to paint and repaint aluminum fences and they don't rust. For installation, you can benefit from the fact that aluminum can be installed on both flat and uneven ground.
The first drawback of aluminum fencing is a drawback of almost all metal fencing; it won't offer much privacy. Additionally, aluminum isn't as strong as steel or wrought iron, so you'll have to be careful of damaging it and keep in mind that it isn't great for security fencing.
Bamboo Privacy Fence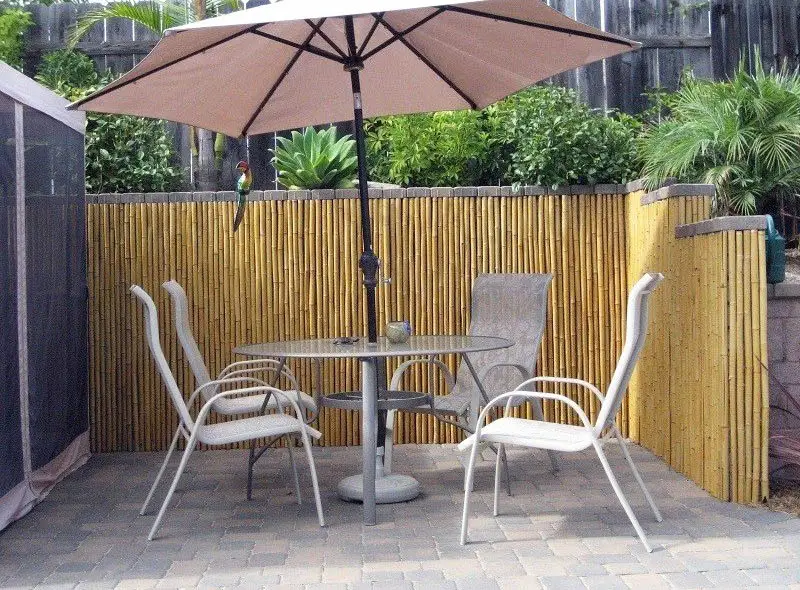 Backyard patio bamboo partition privacy wall – See at Wayfair
A unique option when you are looking at privacy fencing types is a bamboo fence. Once again, though, you have to consider the benefits and drawbacks of this option in addition to deciding if this type of fencing is an attractive choice for your yard.
The best thing about bamboo privacy fencing is that it is environmentally friendly. This is because wood fencing aids the speed of deforestation because it is, of course, made from trees. Bamboo, on the other hand, grows rapidly. So, it's being grown back closer to the rate that it's being used.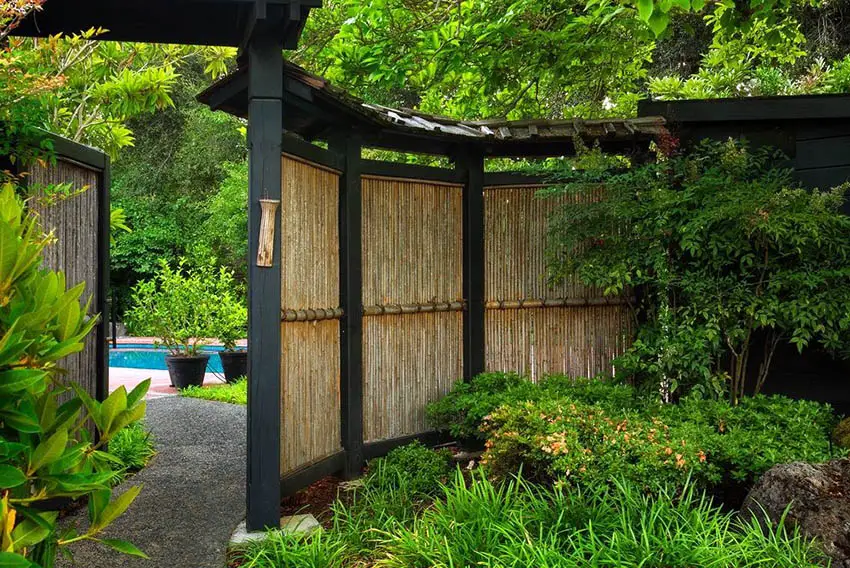 There are downsides, though. The main one, just like vinyl fencing, bamboo privacy fencing can be expensive. By some estimates, getting natural bamboo installed can cost up to $24 per linear foot. This price only increases if you want treated bamboo such as black bamboo fencing.
Lattice Privacy Fence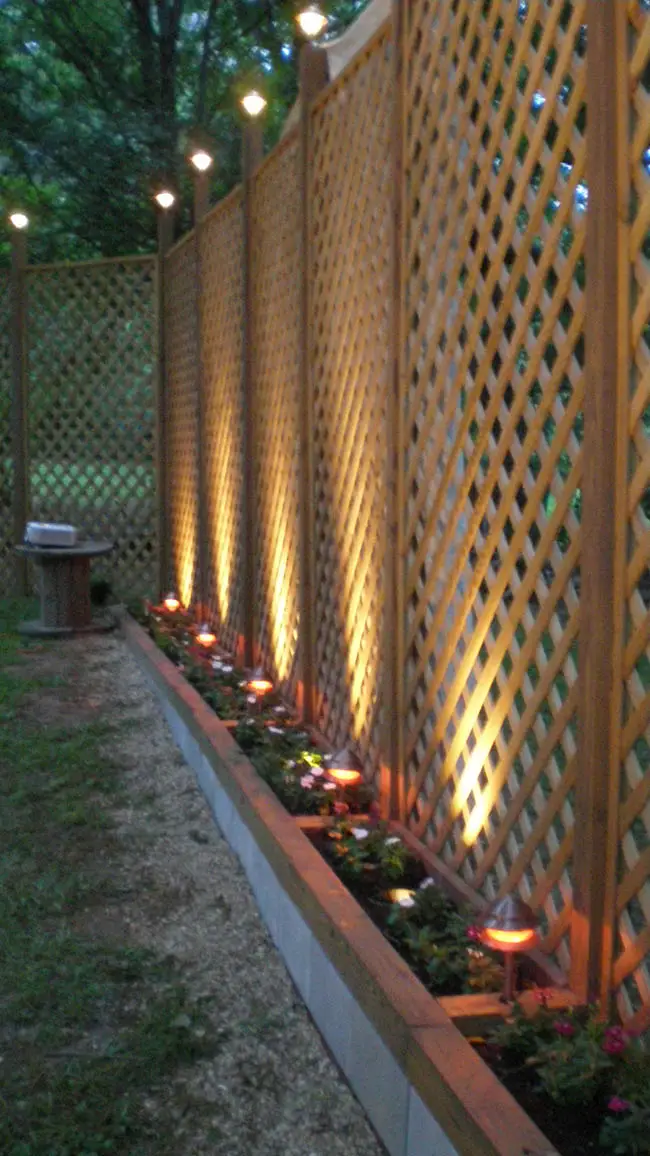 Lattice fencing is a type of decorative fencing that isn't restricted to a specific type of material to accomplish. Although, wood and vinyl fencing are some of the most popular options if you want a lattice design. The design looks like a cross hatch or woven pattern in your fence.
The obvious benefit of lattice fencing is that it's attractive. It offers you a fence that is interesting to look at with a classy, simple touch. On top of that, you don't need to pay as much for lattice fencing as a solid fencing because it is such as simplistic design and you don't need as much material to make it. Visit our lattice fence designs page for more on this topic.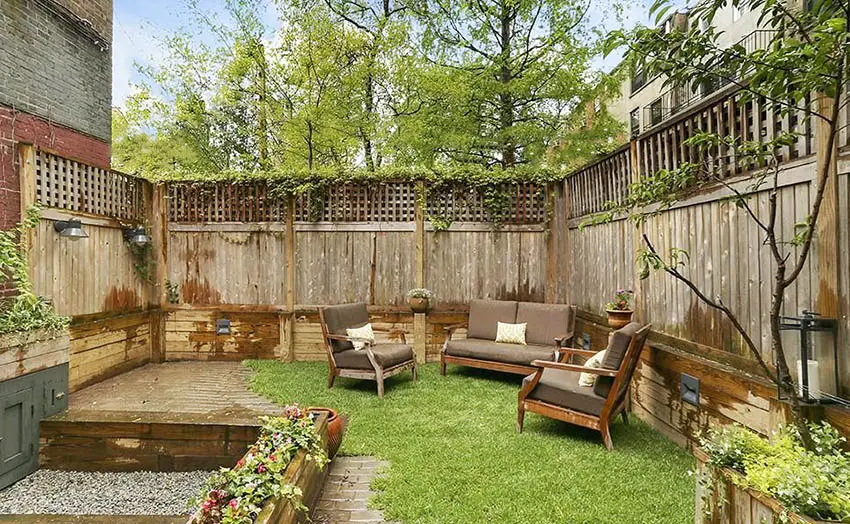 The downside to bare lattice panels is they don't offer much in the way of privacy. Due to the design of the fence, it is easy to see through the slats so as a "privacy" fence, it isn't your best bet by definition. You can combat this by having a solid fence with a lattice top or add creeping plants to help create a natural barrier.
Patio Privacy Fence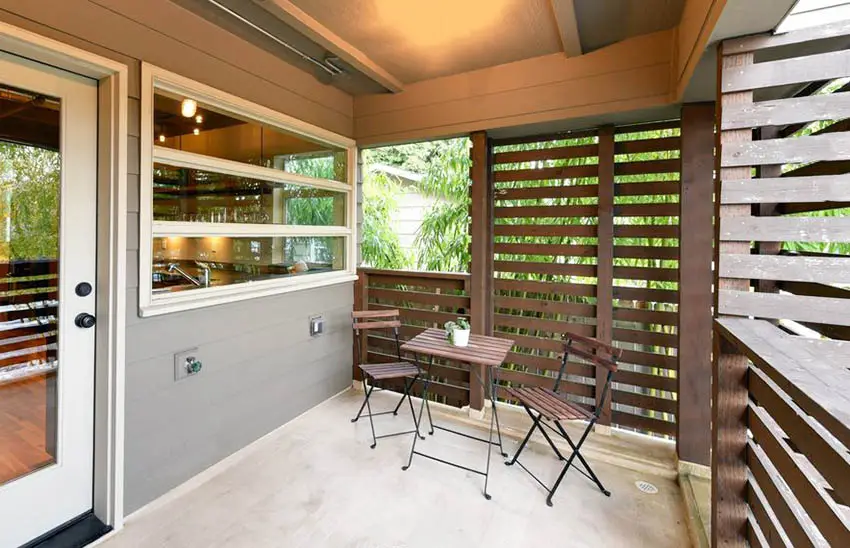 As we've mentioned once or twice over the course of this article, sometimes you don't need to provide privacy fencing for your entire yard. Sometimes, you just want a little privacy while keeping your yard open. During these times, it is best to use a patio privacy fence.
A patio privacy fence usually serves simply as a wall that gives you some privacy and shade when you sit on your patio. A patio privacy fence can be an excellent DIY project which can be constructed with wood slats , bamboo, or lattice panels to provide privacy while still letting in some natural light.
Deck Privacy Fence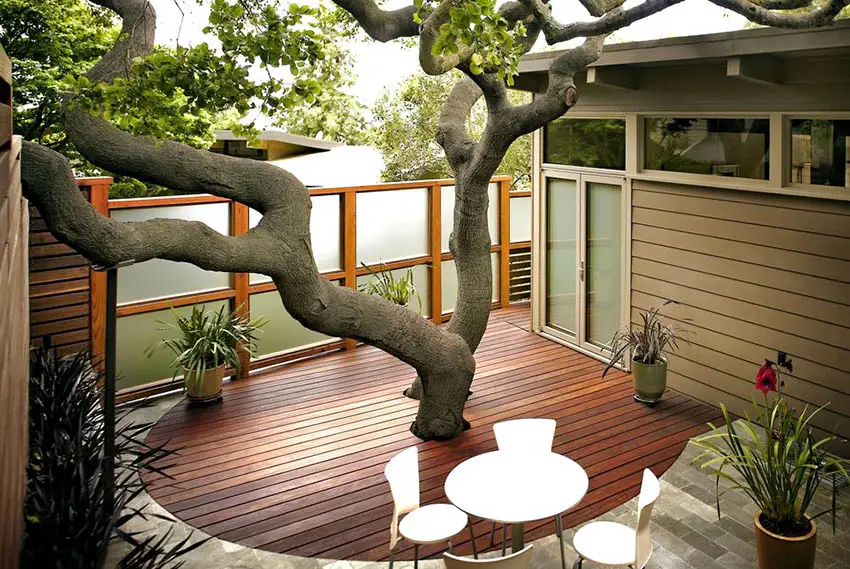 Privacy fences for decks pretty much follow the same rule of thumb as patio privacy fences. You can invest more in a material because you aren't paying for the length you do if you were to fence in your entire yard.
Horizontal Privacy Fence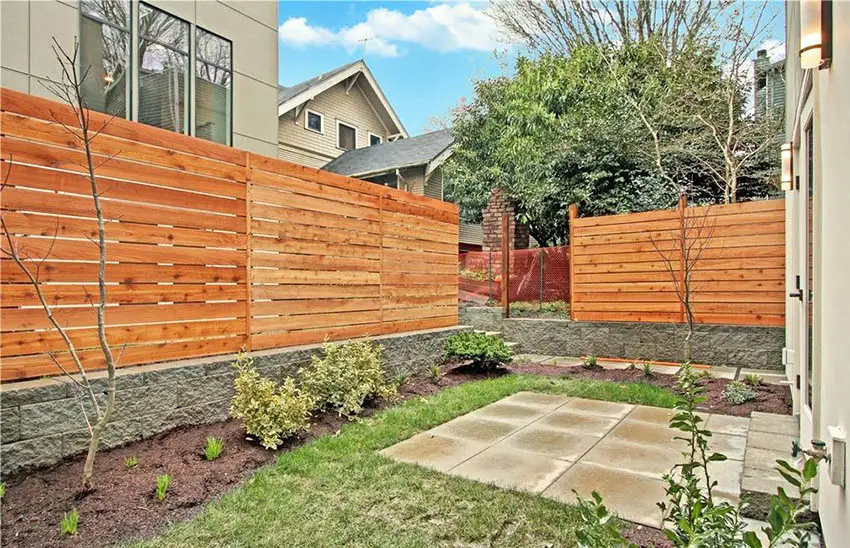 A unique choice for privacy fencing is to have a horizontal privacy fence. In this type of fencing, the slats of the fence run horizontally rather than vertically. In other words, the slats will lie longways rather than standing straight up and down.
This is a far more modern style when it comes to privacy fencing. It's so unique because privacy fencing is usually, traditionally positioned so that the slats stick straight out of the ground.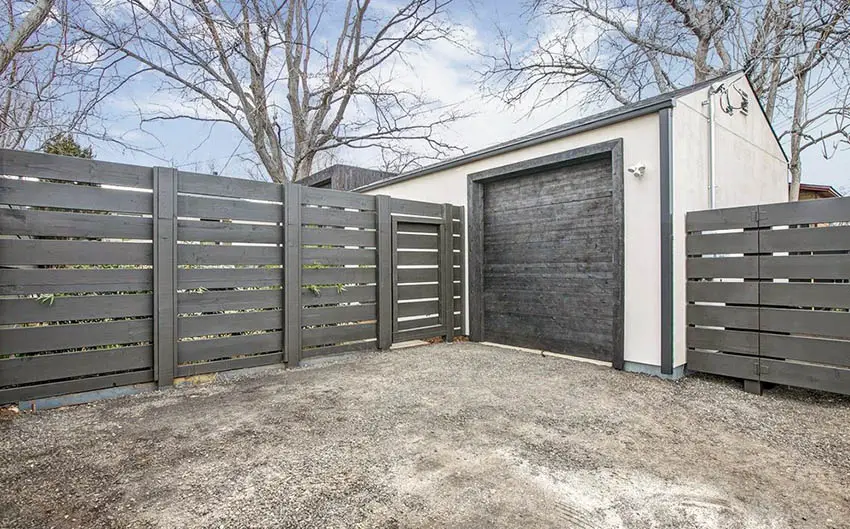 Don't think that you are sacrificing any decorative measures when you choose horizontal privacy fencing. You can still add a decorative top or gate when you have a horizontally positioned fence. You can also still use whatever material you like – you are just a free to find a design that you find pleasing just as you would with a vertical privacy fence.
Privacy Fence Plants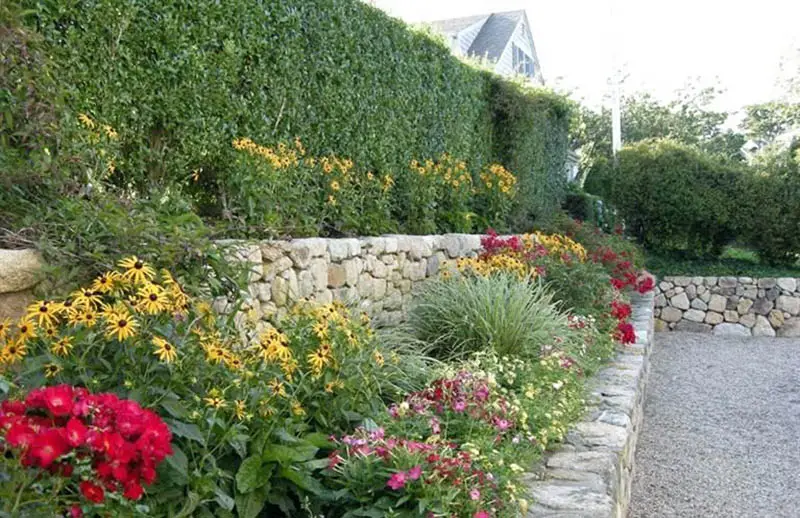 Another option you have when it comes to privacy fencing is to opt out of traditional fencing at all. Instead, you could grow plants that form a privacy fence for you. A big part of being able to do this this, though, is not only taking cared of these plants but which plants are best for privacy.
Boxwood is a classic choice – this is the plant most people mean when they usually simply refer to a hedge. These are easy to grow and easy to maintain, so even if you don't have a green thumb you shouldn't have a problem keeping this alive for your privacy. The nice thing about these is that boxwood can easily tolerate heavy pruning. So, you can keep your privacy hedge as simple or as decorative as you want and it won't affect its health.
Privet is another popular choice for maintaining privacy. Like boxwood, it's relatively easy to grow but you have to be careful pruning it – especially during the first year of its life. If you don't , it may not grow into the shape you need to work as privacy fencing. Additionally, during the summer months, this plant grows white blossoms that add a beautiful, decorative touch to your yard.
If you are a little more advanced gardening and plant care and want something a little more unique, you could always try Japanese holly. This plant is great for privacy fencing because it grows to be 6 to 10 feet tall. The reason you want to be careful with this plant, though, is because it can be invasive if it isn't pruned and maintained properly. During the winter, it grows dark, berry-like fruits for added visual interest.
Buckthorn is another option that is deciduous plant that can be used for privacy fencing. It is slightly shorter than the Japanese holly, growing only 5 to 7 feet tall. However, this still puts it in the range for the average height of a privacy fence. This is an interesting option because it does turn yellow in autumn but, being deciduous, it won't die in the winter like other plants whose leaves turn.
For those living a warmer climate that want a more tropical plant to keep their privacy, you could always try the fan palm. This is a great privacy plant for beach houses or homes in warmer climates. These grow up to 15 feet – the largest plant we've covered here. If you want them a little smaller, though, you always prune them. Not pruning them is always an option but be aware that they will grow more like a shrub than a hedge.
Temporary Privacy Fence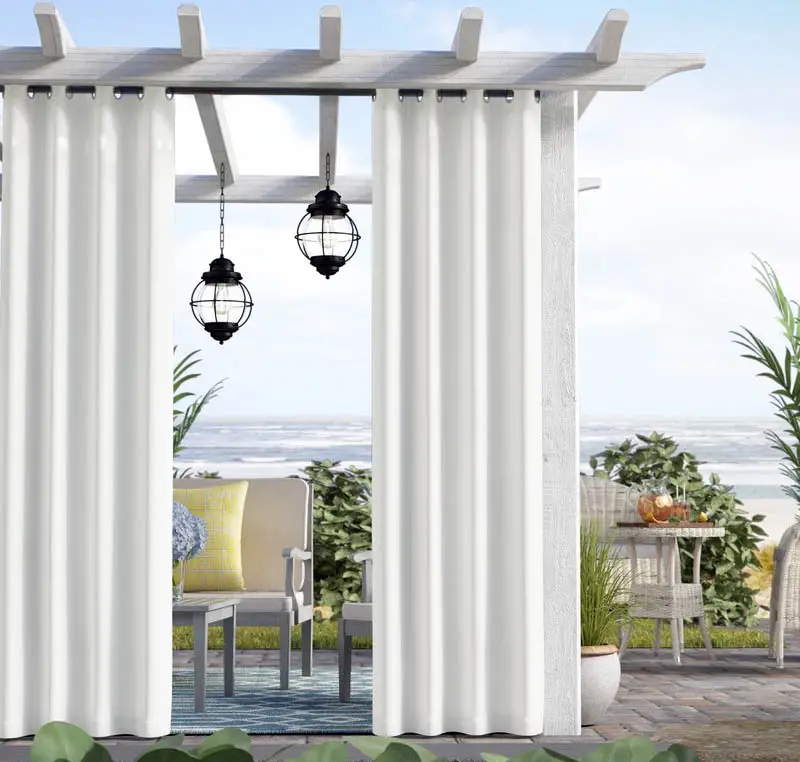 Outdoor privacy curtain for pergola – See at Wayfair
Temporary fencing is another idea that comes in many different forms. All in all, though, temporary fencing is exactly what it sounds like – something you put up where you want to keep fencing temporarily. It's easier to take down and usually less costly than standard privacy fencing.
A backyard privacy partition wall is great way to implement a temporary fence at an affordable price. There are many different kinds of outdoor partition walls such as synthetic resin wicker, awning material or bamboo that can look attractive, require little maintenance and most importantly provide privacy for a deck or patio area.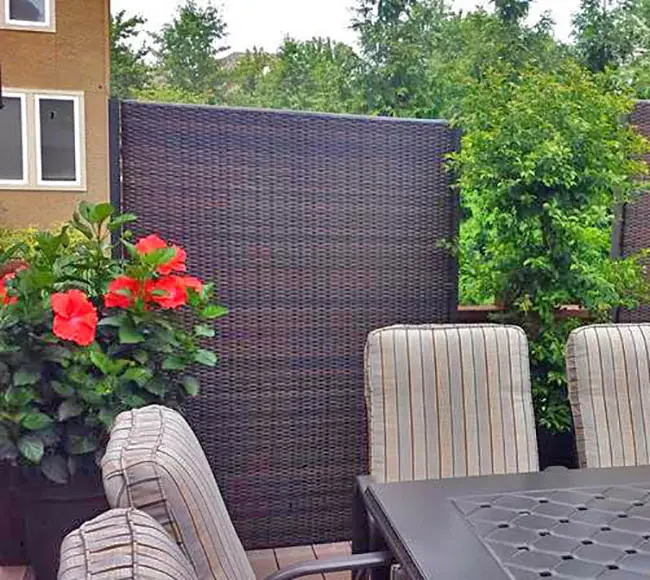 Backyard resin wicker privacy partition fence – See at Wayfair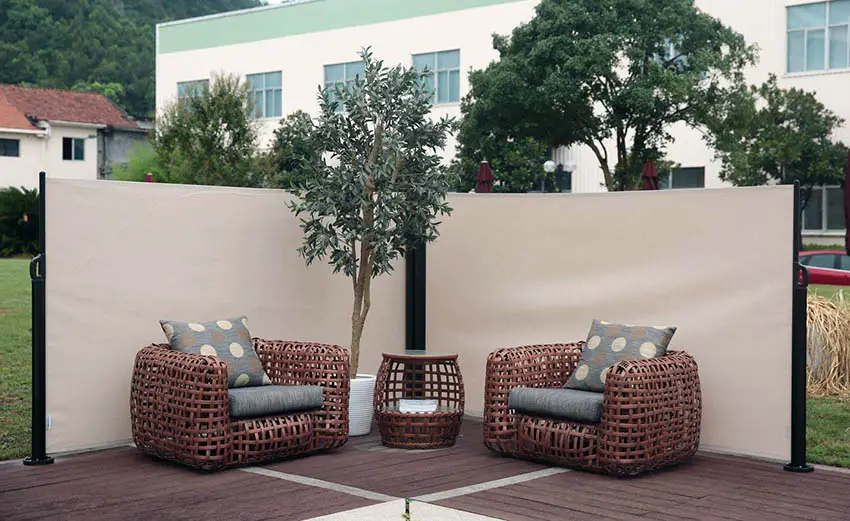 Retractable awning material privacy fence – See at Amazon
One great use around your home for temporary privacy fencing is to put it up where you want your permanent privacy fencing. After all, it does the job until you have the resources to put a permanent fence up. It can also be useful if you are in a house you can't make major changes in such as if you're renting your house, for example.
DIY Privacy Fence Ideas
In this article, we have covered a lot of options for purchasing fencing but if you are interested in a more demanding DIY, you could always make your own fencing.
One of the easiest but time consuming ways to get a privacy fence you are responsible for from the beginning is to use plants. As we went over earlier, you have plenty of options when it comes to plants for privacy. However, you also have the option of building your own fence.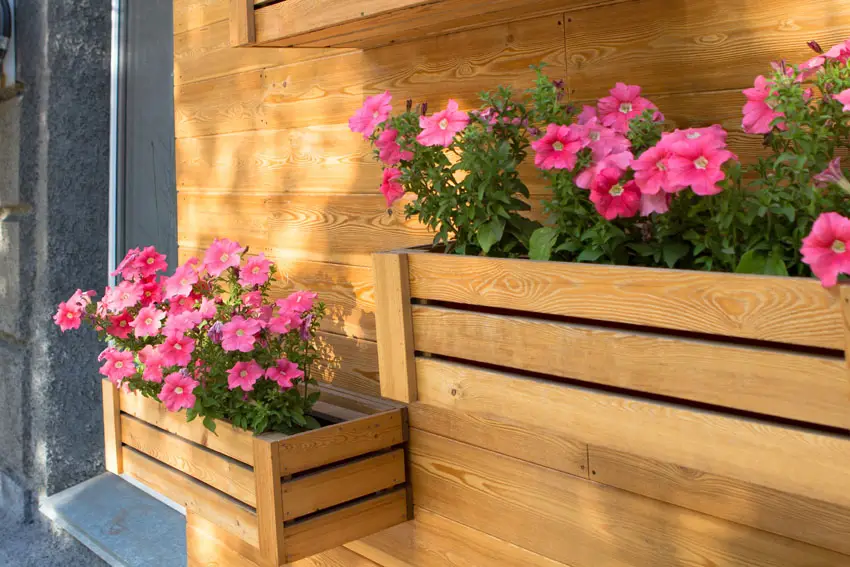 When you are building your own fence, wood is usually the best material to work with. Then, you should decide the length and height of your fence, just as if you were buying panels instead of wood to make your own fence. You might also want to check and make sure there aren't any laws – such as about the size of your fence or rules about post holes – and that you don't need any permits to build a fence where you live.
Next you will want to put the posts in. The distance between posts will be the length of a panel. You can use a post hole digger to help you with placement. To make sure your fence is straight and built properly, you will want to measure straight lines on the edge of the area you are fencing in. The best way to keep your measurements visual is with white spray paint – don't worry, it'll wash away the next time it rains! You should also put gravel in the bottom of your post holes for proper drainage. After that, add around 6 to 8 inches of concrete to hold the post in place.
Once the concrete dries, you can start adding the panels to your fence. This is the part that really allows for some creativity. If you are a good woodworker or used to working on complicated DIY home projects, you could even create your own decorative fencing.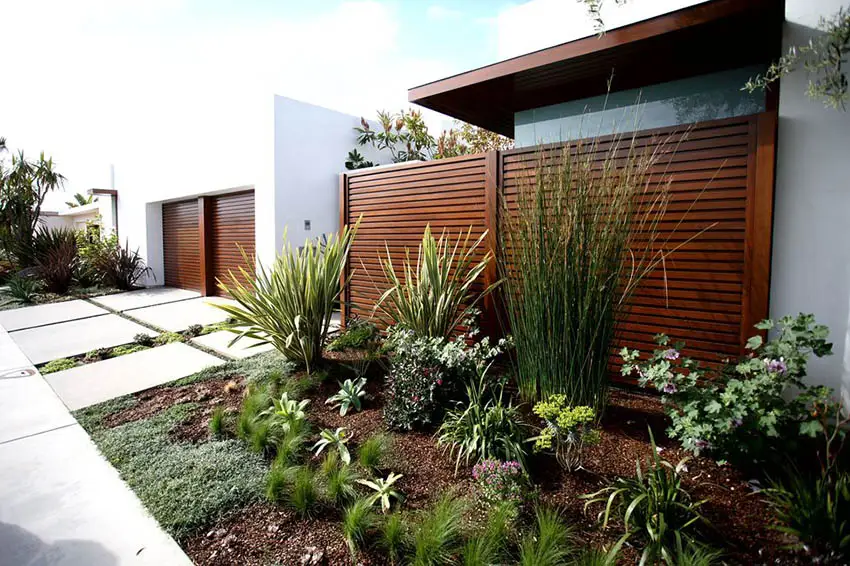 The easiest option, though, is to use a horizontal design. This way, you can simply attach each end of a plank of wood to a post to make your panel.
You also might want your fence to not be just bare wood. If you do, there is an easy solution – simply refinish the wood. If this is what you want, though, you might have an easier time refinishing the wood before you build the fence rather than trying to go back and do it after. This is because before the fence is put together you don't have to worry about trying to get finish into the corners of your fence.
For vertical fencing, you should start by adding supporting horizontal beams between posts to give you a place to attach your panels. You can attach panels with screw or nails and a drill or nail gun is probably the fastest way to get this done. Alternatively, an old-fashioned set of hammer and nails will do the trick in a pinch.
Privacy Fence Gate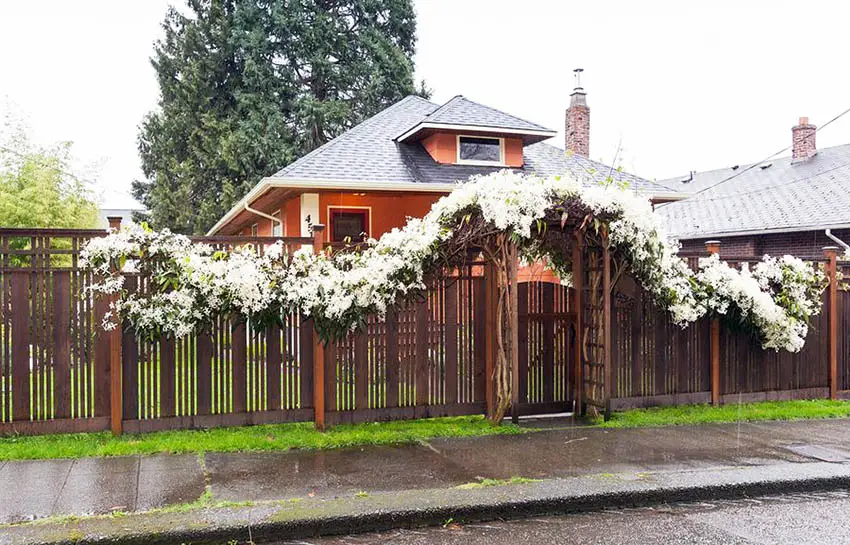 As we stated earlier, though, the type of gate you use with your privacy fence is important. So, let's take a look at a few of your options. A solid gate is the simplest choice. In addition, it offers the most privacy because it is set up so that there is no gap in the gate itself or in between the gate and the rest of the fence.
On the other hand, there is the option for a more decorative gate. These designs are visually appealing but they don't always offer much in the way of privacy or security. For instance, a picket gate would be aesthetically pleasing but it wouldn't give you any additional seclusion from the world beyond your yard.
You could also have a two door gate as a unique option as well. With this option, instead of a single door opening toward or away from you at a gate, two doors would much like french doors in a home. These can be made more decorative with techniques such as having your gates slope up to meet at a higher point than the rest of the fence.
Another option is a hybrid gate. This is a great option if you can't decide if you want a simple, solid gate or a full-on designer gate, you can go for an in-between option. These are the fences you see that are solid until you get to the top of the fence where they have a decorative design.
There are more options to know about as well. For instance, there is a cantilever gate which slides instead of swings open. There is also the idea of a semi-private gate wherein the gate is more leaning towards a decorative place while the fence itself is used to ensure privacy.
Privacy Fence Installation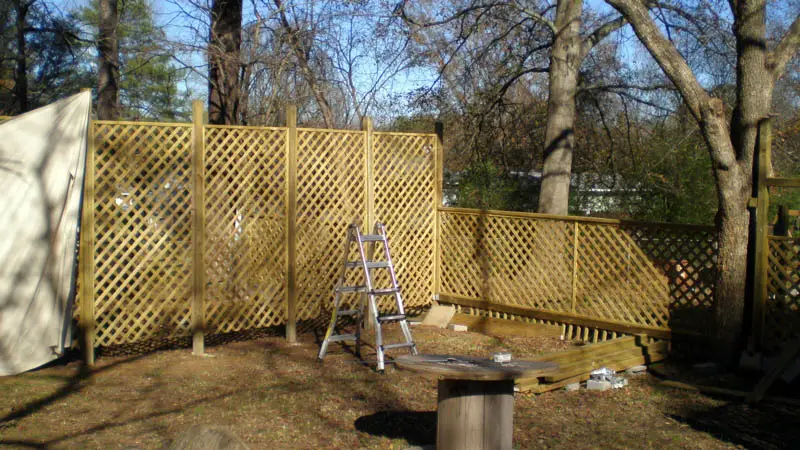 Setting up a privacy fence on your own is a good option for those with some experience using hand tools. Materials such as lattice is relatively inexpensive and building a privacy fence can be a great weekend project.
On the other hand, there are plenty of people who would rather have their fences installed. This could be out of a lack of expertise in putting up a fence or you could just go with the convenience of having a professional install your fence.
The easiest way to find someone to install your fence is to get it installed by the hardware store you bought it from. Some smaller hardware stores may not offer this but larger, chain hardware stores such as Home Depot and Lowe's do offer installation services for those buying fences from them. There are also companies that will install your fence for you if you're looking for the service.
To see more garden fence ideas visit this gallery page.