Here are our best lattice fence design ideas. A lattice fence can offer privacy, security and help your backyard look more inviting to family and friends. Looking for a way to enclose your yard but hate the restrictive feel of tall privacy enclosures? Do you want security within your property but feel that stockade style fences are too plain for your landscape? Then lattice fences may be the right fence style for you. Below we share a variety of types of lattice fences using materials such as wood, metal and vinyl.
Lattice fences offer the best of both worlds – functionality and aesthetics. Some homeowners may not prefer picket fences because they do not offer much privacy due to their short height, while 6 foot tall privacy fences give a sense of too much confinement because they are too high and closed. But lattice fences are the perfect alternative as they offer attractive garden style confinement for your property. (For more popular types & styles see our Fence Designs Ultimate Guide)

What is a lattice fence? A lattice fence is a structure made up of wood, metal or other material which is composed of thin slats arranged in a criss cross or diamond pattern with spaces in between. It may be used to enclose the full perimeter of a property, as garden walls, patio screens, veranda enclosure, archway, deck skirting or as a freestanding divider. It is also commonly added as a decorative accent feature for landscapes or as a trellis for gardens where vines and other trailing plants may climb into as they grow.
What are the advantages of lattice fences? Lattice fences are well loved primarily because of their decorative aesthetics. It is an ornamental alternative for other types of fences and provide a multipurpose function in terms of cultivating cascading flowers and trailing vines. Compared to other fence types, it adds a strong curb appeal and visual interest to any home. It can be used to define boundaries and provide semi privacy whether in a porch, deck or backyard. It also works as a divider to conceal unsightly views such as an air conditioning system or a garbage disposal unit.
The unique design of a lattice fence provides privacy but gives little separation from neighbors, permitting both to enjoy a view of the surrounding area. The tightly woven slats of lattice fences allow little sunlight to pass through and improves ventilation giving a space an open atmosphere and an airy feel.
In terms of design application, it is flexible as it offers a variety of sizes and styles which suits different needs and preferences. The spaces in between lattice fences also provide a place for attaching decor or for growing plants freely. Lattice fences are also easy to install and can be a two day "Do it Yourself" project. It is easy to work with and is not as labor and time intensive as other fence designs.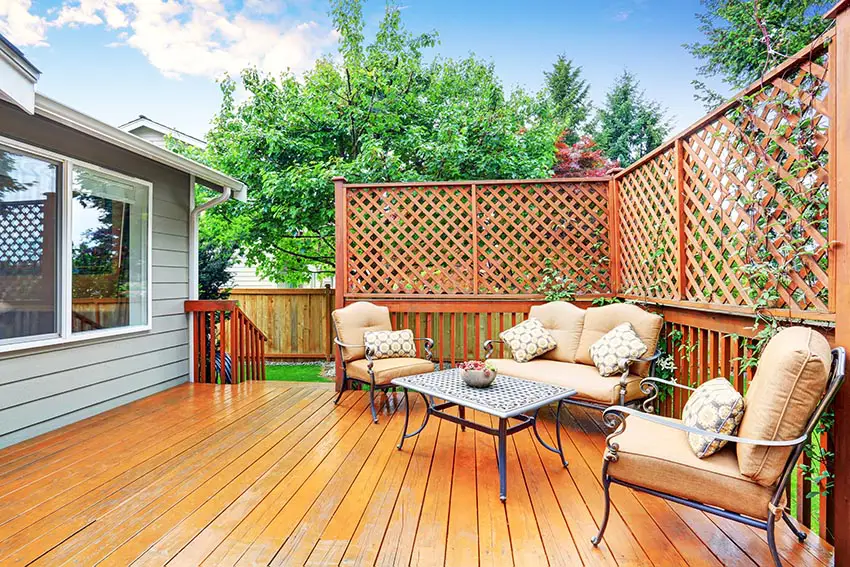 What are the disadvantages of lattice fences? There are very few drawbacks of using lattice fences, but the positive ones still outweigh these negative points. There are also available solutions to each of the "cons". One is that, when it comes to complete privacy, this may not be the best option because it has visible holes in its design. However, you can still enjoy the decorative flair of a lattice if you use it as a topper for a privacy fence.
Lattice fences are also not that durable compared to other fence types, so make sure to review the material option you have to get the most out of your investment. If using it primarily for security or you want it to withstand extensive strain, you can opt to increase the thickness of the slats or have a customized tall metal lattice fence instead. The key guideline to lattice fences is actually choosing the right material based on your needs and preferences.
Lattice Fence Cost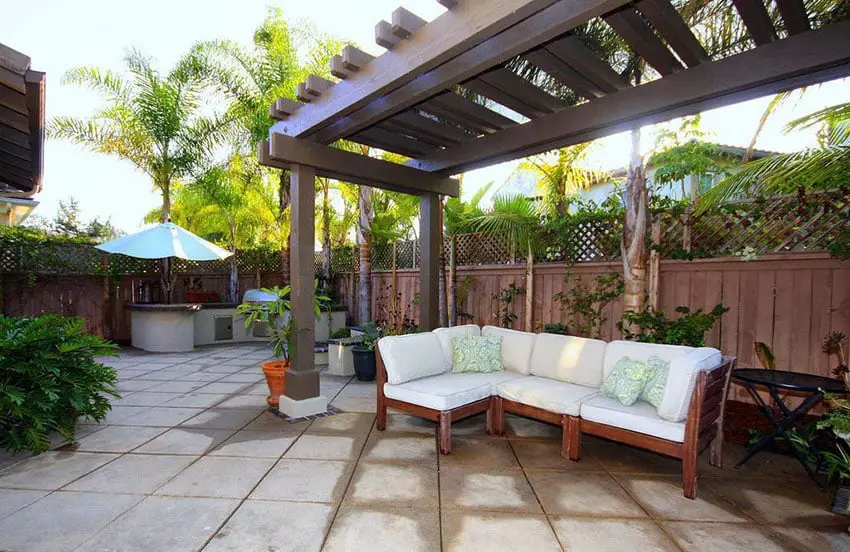 Lattice fences are a budget friendly fence option as they are usually two times cheaper than other fencing materials. Typically costing an average of around $8 to $60 per linear foot, compared to the $100 per linear foot coverage of solid board fences. Custom made lattice panels do not really have a standard price because it depends upon the type of project. Additional costs may also incur if a gate or doorway is added to your lattice fence.
Low end wood lattice fences typically cost $2 to $5 per linear foot while quality wood lattice fences cost $8 to $20 per linear foot. Low end plastic fences can cost anywhere from $1.50 to $3.50 per linear foot while high quality vinyl fences costs around $12 to $24 per linear foot.
Types of Lattice Fences
Lattice fences usually come in different styles namely the criss cross, square hatch, spindle, horizontal and open weave design. The crisscross lattice is the most common design which is characterized by thin slats are arranged in a diagonal or diamond pattern.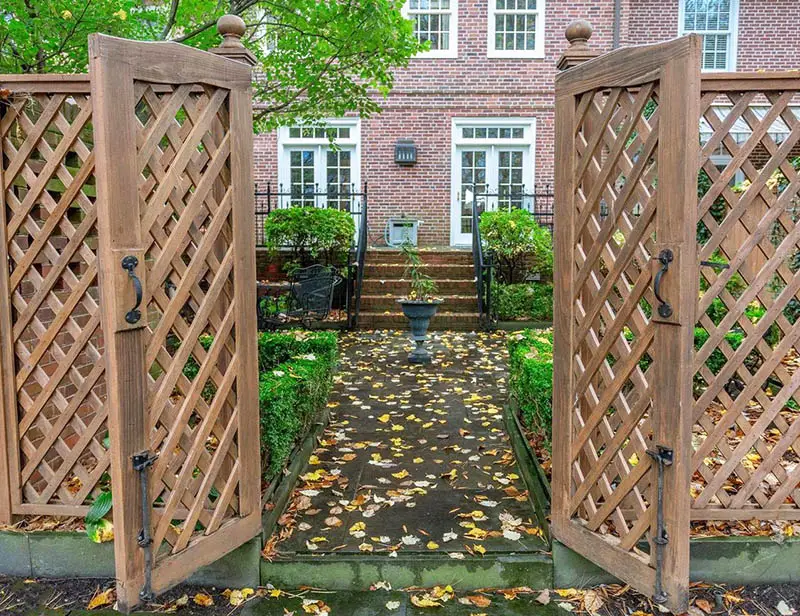 Diamond style lattice fence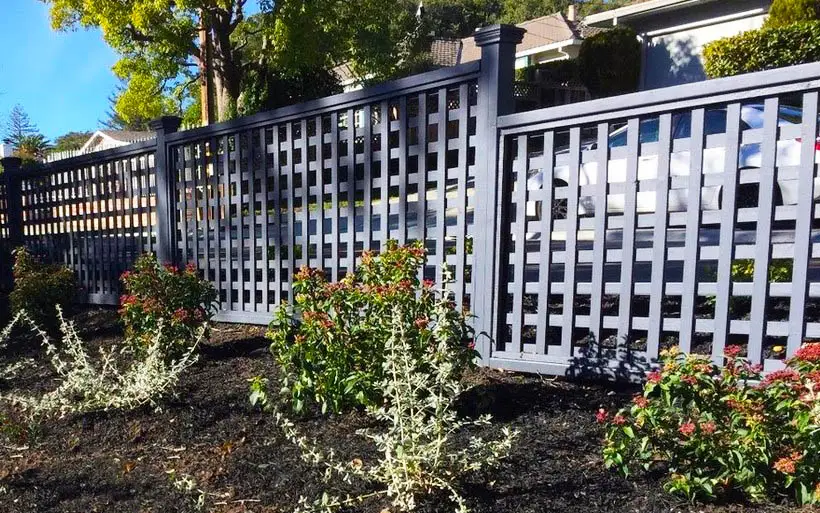 The square hatch on the other hand, is another classic with square open spaces in between the slats.
Another type is the spindle lattice design which is composed of "spindles" or vertical slats in an upright pattern, while the horizontal lattice has slats which lay flat The open weave lattice has a bigger design which makes it highly appropriate as trellis for climbing vines and flowers in gardens and gazebos.
Lattice fences may either be framed or unframed, may be a full screen or a topper for an existing fence. Other design options include straight, scalloped or arched. Its size may range anywhere from 3 feet to 8 feet in height and 4 feet to feet wide, while the spacing in between the slats can go anywhere from 20 millimeters to 68 millimeters, with a typical average clearance of 40 millimeters. Finishes usually depend on the type of material used but it is usually painted, stained, unfinished (for wood) or powder coated (for metal).
To summarize, here is the overall assessment of the significant factors and features of a lattice fence:
Design and Aesthetic Appeal – Good

Durability – Limited

Privacy – Limited

Cost – Average

Security – Average
Lattice Fence Materials. Lattice fences are also available in a wide range of materials which vary in terms of their looks, maintenance, durability and cost. If you want to know more about each type, read on as we give you a comprehensive overview of its characteristics, maintenance requirements and pros / cons. In addition to that, here is our gallery of lattice fence design ideas to help you get inspired in choosing the right style for your house.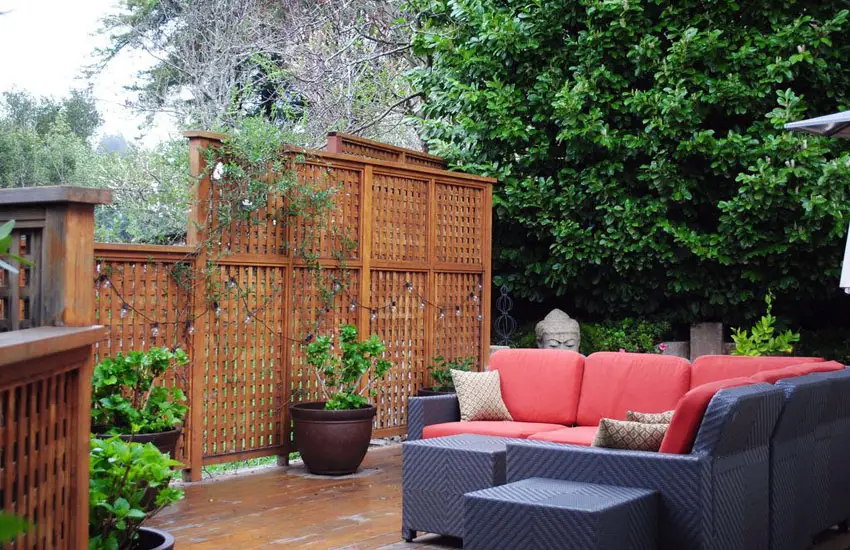 Lattice fences may be used as patio screens which separate outdoor living spaces from a backyard or garden. This wooden lattice fence design also serves as a stunning decorative design feature for this Contemporary Asian inspired patio.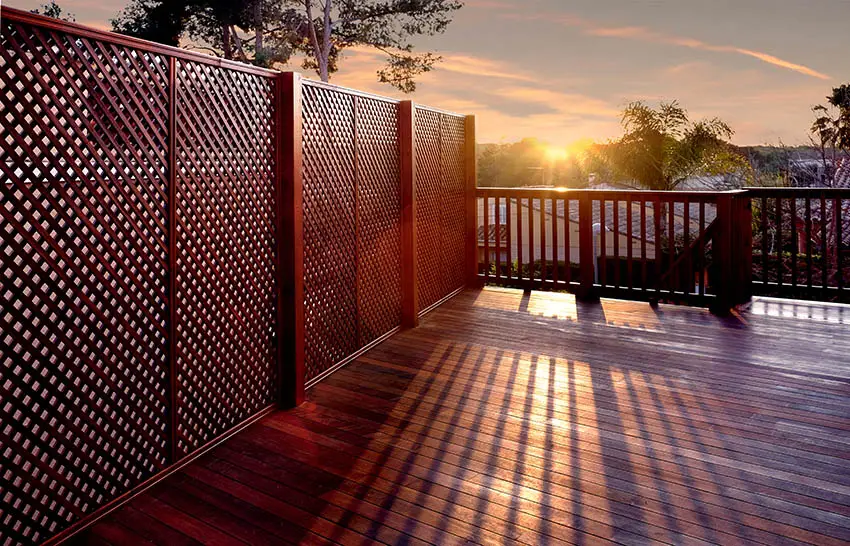 This raised wood deck design makes the perfect spot for a lattice privacy fence for creating an attractive backdrop while still offering some privacy from nearby homes.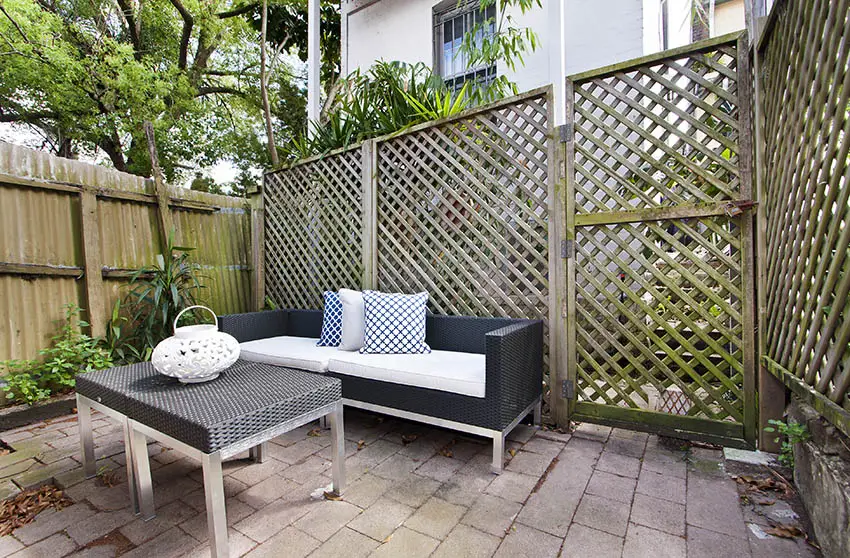 This charming backyard patio with diamond style lattice privacy fence offers a relaxing retreat.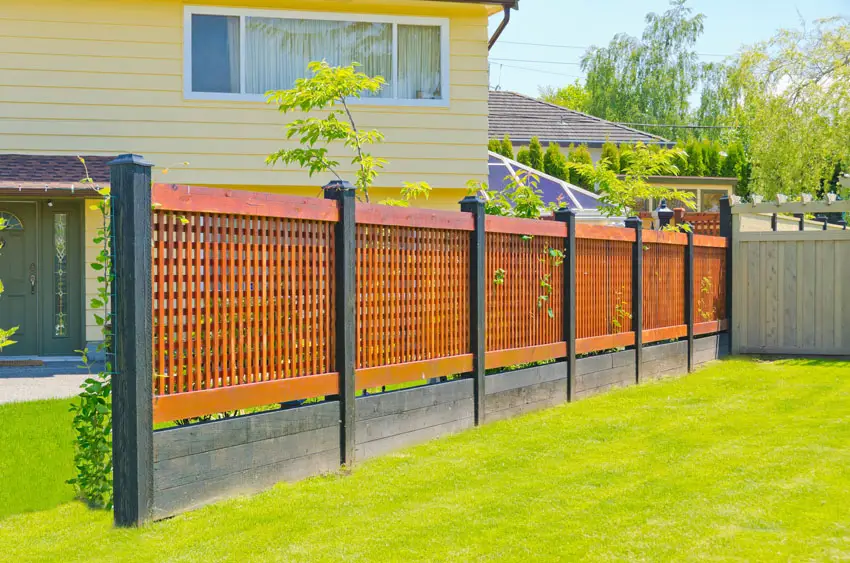 Lattice fence panels may be incorporated into other fence types, such as the one shown above, wherein a criss cross woven wood panel is affixed on top of three vertical panels in between posts.
Panels
Lattice fence panels are individual prefabricated fencing sections which are sold separately. This ready made panels are usually 3 to 8 feet high by 4 to 8 feet wide and are available for purchase in local home improvement stores and fencing material suppliers. Common materials for lattice fence panels are wood and vinyl. They are very handy because it can be installed in any location, may be used to enclose the full perimeter of a house or to replace a small section of an existing fence. In terms of installation, they require no assembly and are usually just set onto the ground without digging. It is also considered to be cost effective since it only requires minimal labor costs and installation.
Diagonal or square weave lattice screen fence panels are also common in the market. Typically in 4 feet by 8 feet size panels, it is commonly used as screens, dividers or small partitions. Lattice screen panels are also ideal for covering unpleasant views within the yard such as an HVAC system or garbage cans. Aside from that, it can also be used as garden fence borders to protect plants from small animals or vermin. Since it is highly decorative, single lattice screen panels can also be added as a visual component to landscape features.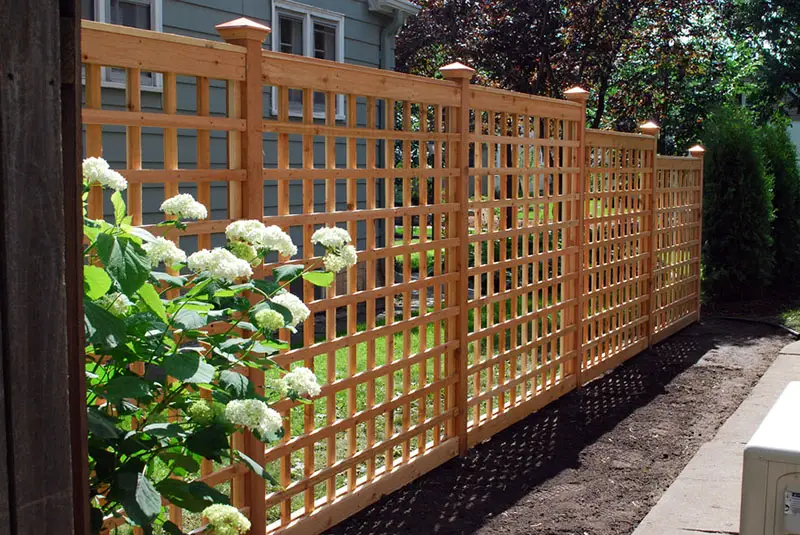 The unfinished look of this wooden lattice fence panel is a natural beauty in itself. It separates the boundaries of a home while eliminating the restrictive feel of a full privacy fence.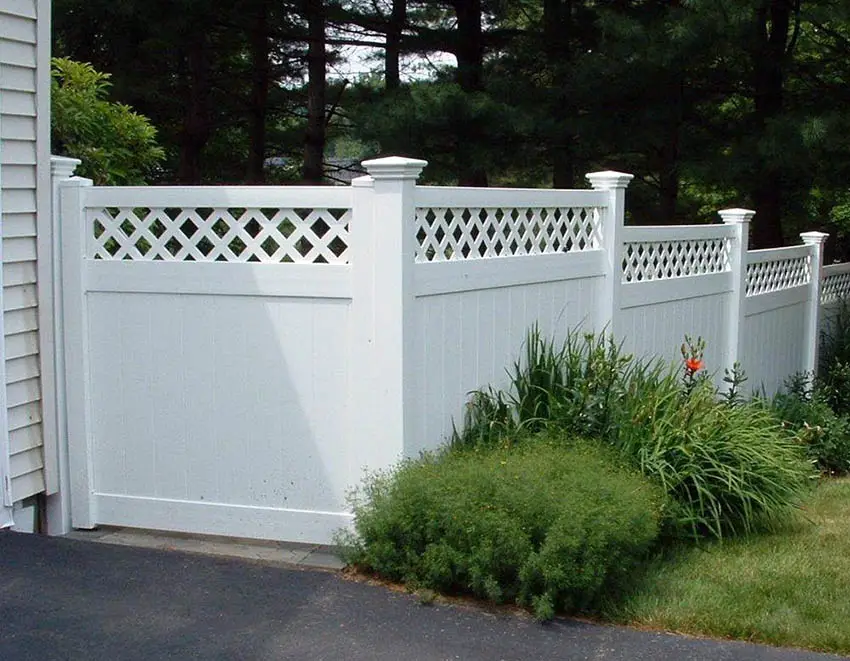 White Vinyl Fence Panel 6ft x 8ft – Wayfair

Vinyl fence panels are not only easy to install but also highly durable and resistant to any outdoor elements. This design closely resembles the appearance of a white painted wooden privacy fence with a lattice top – offering the same beauty that wood has but with a more long lasting quality.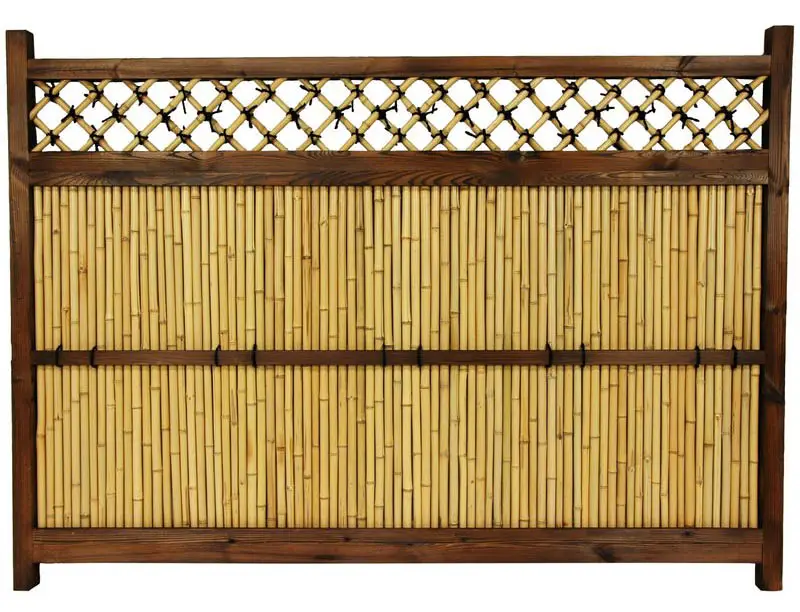 Bamboo Fence Panel with Lattice Top

Bamboo fence with lattice top panels are perfect for adding an oriental flair or tropical feel to patios, gardens and verandas, or if you want to be creative, this design can also be used as a divider for spaces providing both functional and decorative uses.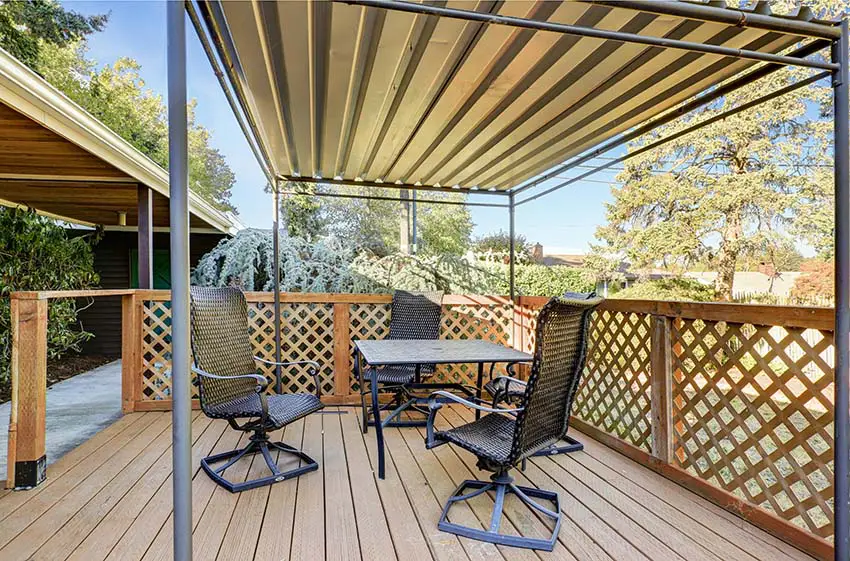 This backyard deck features a DIY fence using lattice panels attached to a wood frame, with an aluminum canopy and outdoor dining set.
Lattice Top Fence Panels
Lattice top fence panels are "latticed" headers or extensions which are affixed to the top of existing fences. These are long panels which are usually made up of pressure treated wood or vinyl. Purely decorative in use, these are optional additions to other fence types. It is available in variety of designs and styles such as arched, curved, slatted, picketed or circled. Some suppliers allow for custom made options which also make it versatile in terms of use.
This "topper type" fencing material is perfect for homeowners who love the detail of lattices but needs more privacy. Since it can be easily attached on top of flat board privacy fences, you get to enjoy the beauty of the charming woven design without having to compromise the exclusivity of your outdoor space. Aside from being an interesting fence decor, they also serve as an ornamental addition along sun decks and plant boxes.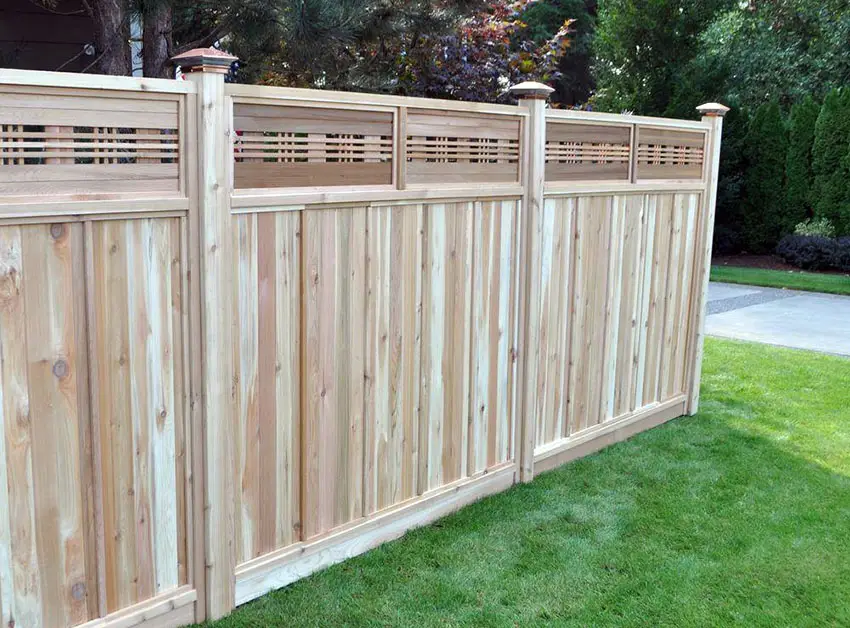 Aside form the common "criss cross" and diagonal pattern, lattice top fence panels may also be customized into other designs. This unfinished wooden lattice top privacy fence panel shows the intricate details of knots and grains which make this design ooze with a distinctive and interesting appeal.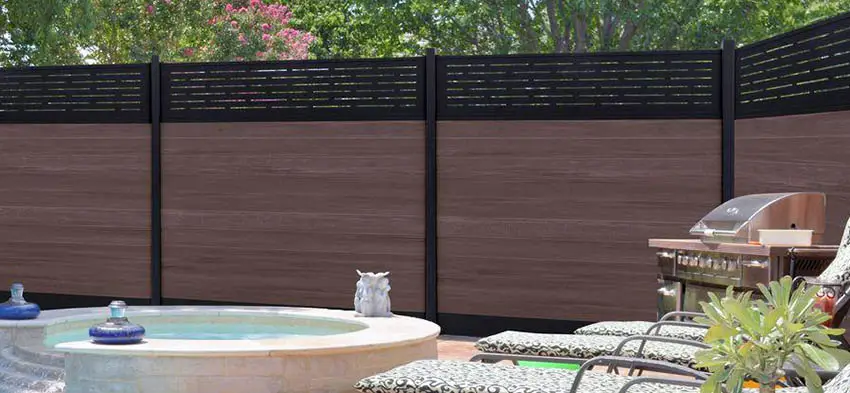 Cedar Fence with Aluminum Lattice Top

This privacy fence composite panel is made up of a mix of Cedar wood for the fence walls and powder coated aluminum for the lattice top and posts. Incorporating two materials together do not only give the fence more stability but it is also a plus in terms of aesthetic appeal. Its streamlined look is perfect for modern minimalist homes.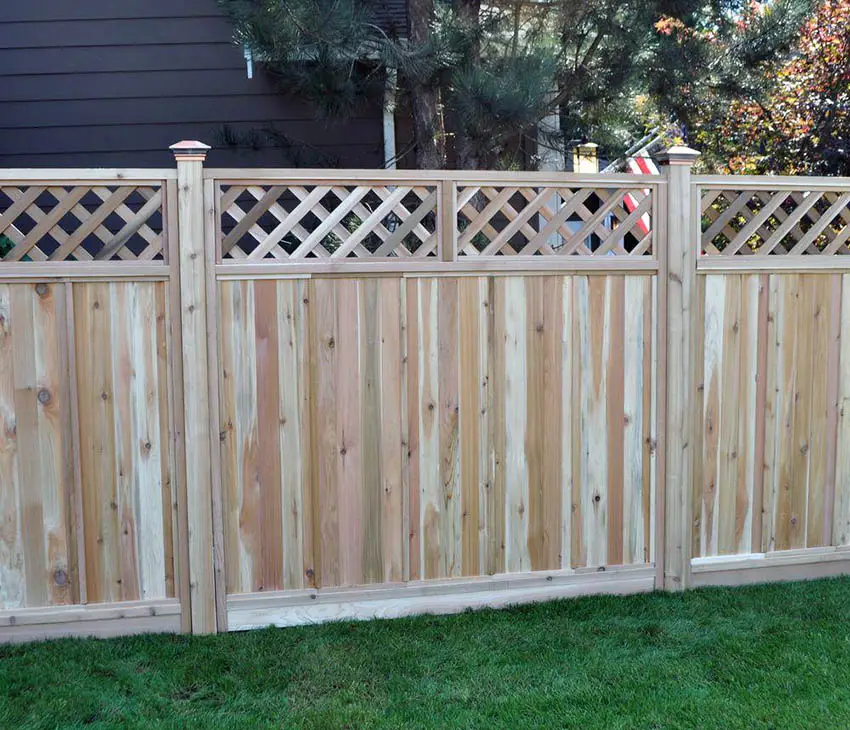 Western Red Cedar Fence with Lattice Top

There is something about the distinctive appeal of unfinished wood which makes it highly desirable and well loved by many homeowners. This Red Cedar fence with a lattice top is not only naturally resilient and resistant to rot but also brings a rustic charm to any outdoor space.
Vinyl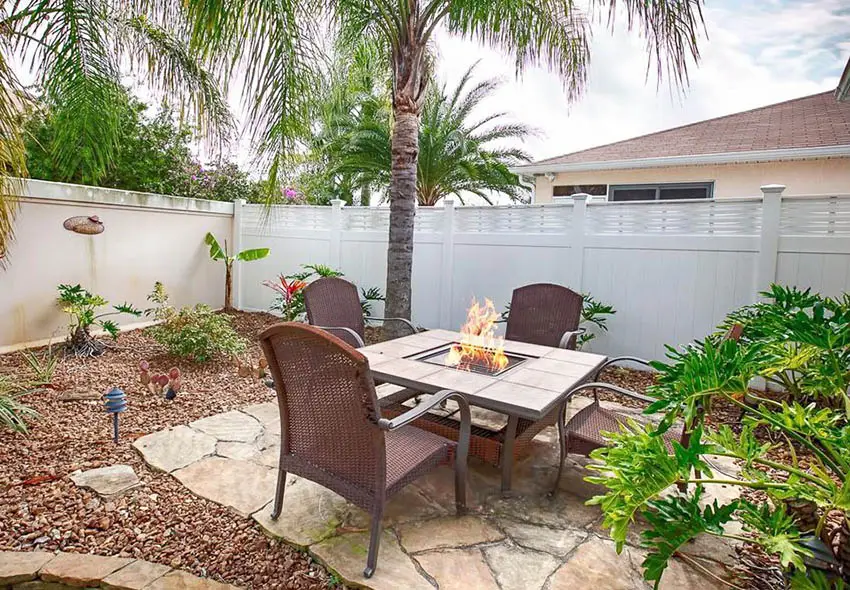 Vinyl is a practical and cost effective modern alternative to traditional materials such as wood and metal. It is a lightweight material which has impressive positive features. Vinyl lattice fences are highly durable and can withstand all weather conditions. It does not rot and is resistant to harsh elements such as mold, mildew, insects and decay. Unlike wood, vinyl lattice fences do not warp, splinter and crack. Maintenance wise, all you need is to hose it down with some water to keep it clean. Since the color of vinyl lattice fences are molded into the material, chipped paint is one of the things you do not have to worry about. There is also no need for regular upkeep such as periodic treatments, sealing and repainting. Relocation comes with ease and installation only requires minimal effort.
In terms of design, vinyl lattice fences are very versatile because they come in a wide variety of styles and colors. Although the usual criss cross lattice fence is commonly used for traditional and classic inspired gardens, vinyl makes a way for it to be more suited to contemporary or modern application because the look can be updated. Some suppliers allow for customization too, which makes it suitable for any theme. You can go with a simple square or diamond pattern, or if you want something more ornamental, have it custom made with an intricate pattern. It is also proven to be a wise investment, costing only $12 to $24 per linear foot, plus the guaranteed lifetime warranty it comes with is a winning bonus.
Vinyl Lattice Panels
Vinyl lattice fence panels are ready made fence panels, composed of vinyl, and sold in sections. They have the same resilient properties mentioned above and are practically maintenance free – needing only a quick rinse of water to clean. Vinyl lattice fence panels may be installed vertically or horizontally and are also very easy to install. It can be used as a series of panels to secure a space, or as a single piece to add accent to gardens, patios or verandas.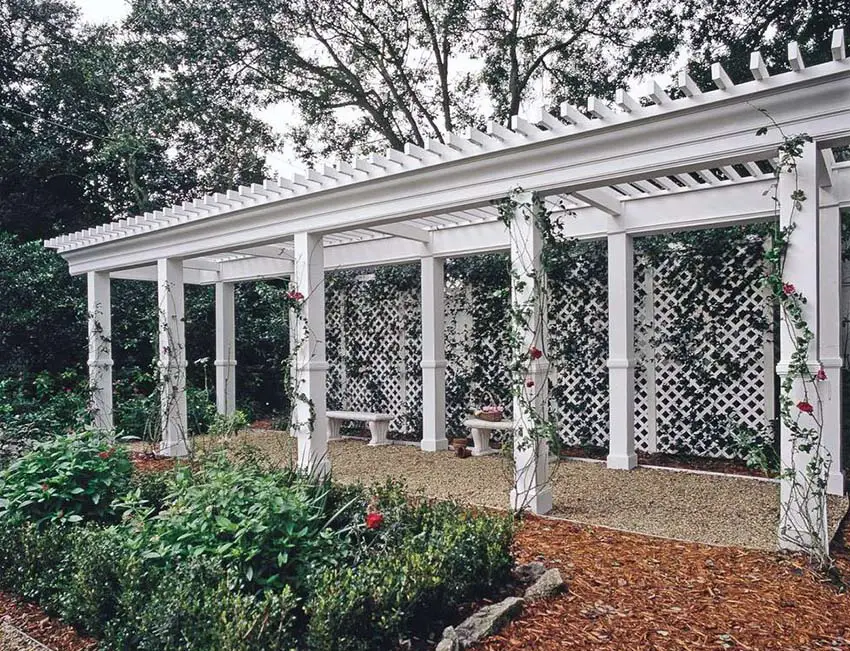 White lattice fence panels – Source
White vinyl lattice fence panels complement the design of this Classic English inspired garden while giving trailing vines and plants a place to grow in.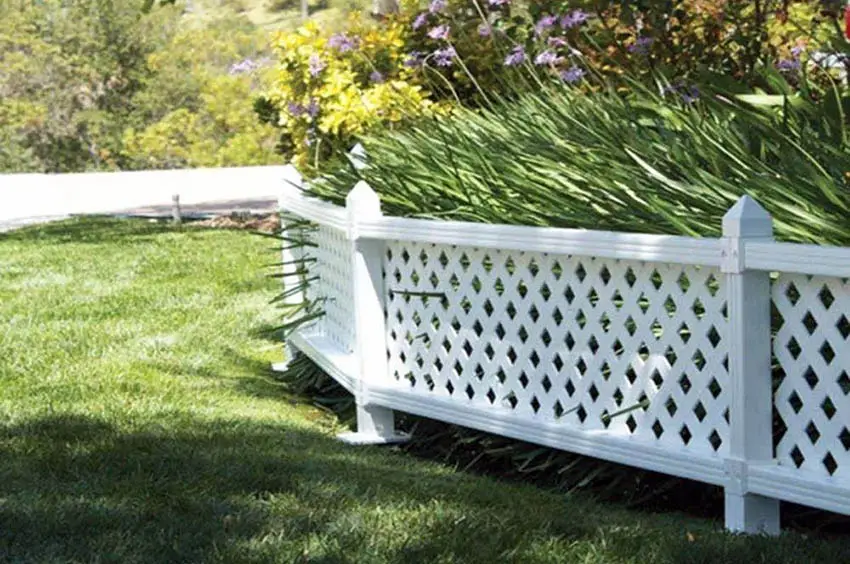 Short White Vinyl Fence Panel in Garden 1ft x 4 ft – Source

Modular vinyl lattice fence panels serve dual purposes as it can either be fixed on top of an existing privacy fence as a decorative extension, or it may be used as is – as a plant or garden border. Durable and long lasting, this design is also ideal for protecting pants and serving as ornamental elements for any landscape.
Plastic
Plastic lattice fences are almost similar to vinyl lattice fences. It is also a lightweight material which is insect and rot resistant. It does not require any treatment to protect it from moisture because it is waterproof. Commonly available in neutral colors such as white, brown, beige, green, earthy hues and wooden finishes. Plastic lattice fences are usually molded to simulate the appearance of natural materials like wood. Since it is sometimes pressed with a texture, it is prone to collecting mold thus requiring additional cleaning.
They also have limited color choices because paint does not adhere well to them. If you want to change the color of your plastic lattice fence, you have to purchase a special kind of spray paint that is a bit expensive. Aside from that, another one of its drawbacks is it has the tendency to retract and expand, given that it is a continuous piece molded as a whole lattice. So installation requires a substantial amount of gap to allow for thermal movement. Plastic lattice fences also crack when exposed to extreme cold temperature.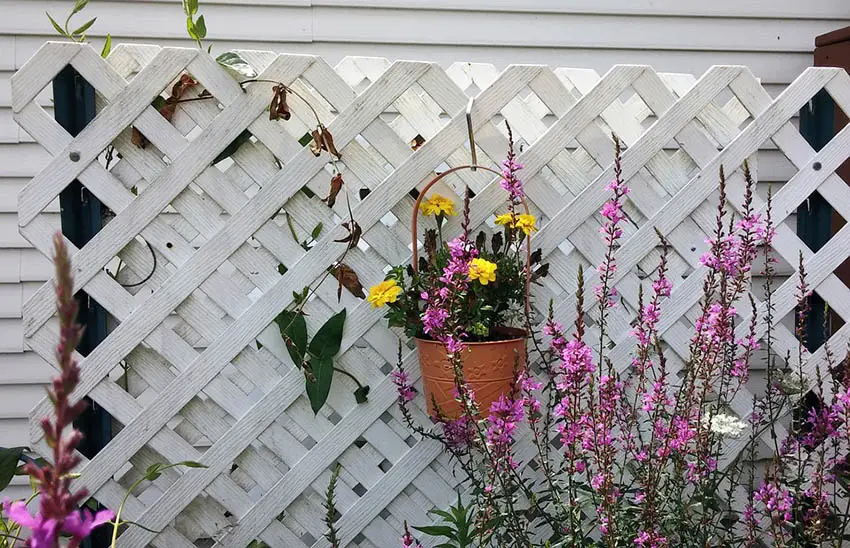 Plastic fence panels are commonly pressed with textures and molded into different styles to simulate the appearance of natural materials. This plastic lattice fence has a diagonal open weave design which is highly suitable for hanging planters , displaying flower containers and for growing trailing plants.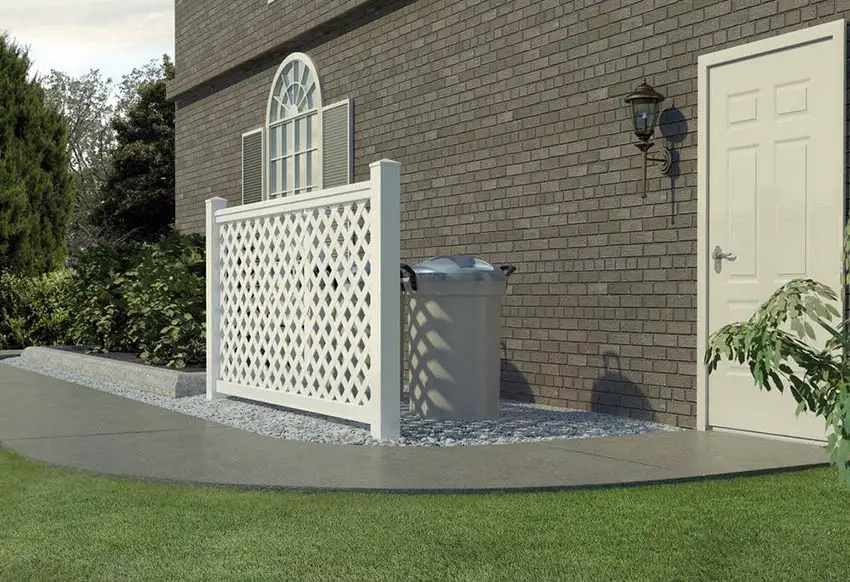 White Plastic Lattice Fence for Trash Cans – Source

One of the unique purposes that lattice fence panels can offer is that it can be used to conceal unsightly views in a backyard. Hate the view of large trash cans, pool equipment or other eye sores in your yard? Then this might be the perfect and easiest solution for you.
Wood
Well loved for its natural beauty and versatility, wood is considered to be the most popular material for lattice fences. Aside from being a sustainable material, wood is also manageable in terms of construction because it can be cut easily into different sizes and shapes, making it highly appropriate for lattice works. It has a distinct natural look and feel which can not be matched by any other material. As wood ages, its aesthetic appeal also increases because of the unique tints and graining patterns which change dramatically upon weathering. In addition to that, wood can be easily painted or stained with any color finish desired. Decorations are also easy to affix, making it highly flexible in terms of design application. Wood lattice fences can also last for years as it is very durable. It is also generally inexpensive costing around $8 to $20 per linear foot.
Its drawbacks include requiring regular upkeep and maintenance. To be kept in good shape, wooden lattice fences must be periodically maintained with treatments, termite proofing and repainting. Wooden lattice fences are susceptible to insects and termites, which means it requires prior treatment before use. It has the tendency to crack, warp or expand when exposed to harsh outdoor elements. Because wood also decays ,it also means that it need to be replaced eventually. However, these negative features may be avoided if the proper type of wood is used for your lattice fence.
The most common types of wood used for fences are redwood and cedar as both of these species are naturally resilient when wet and insect resistant too. Birch and pine are also other options but they require pressure treatment first before use.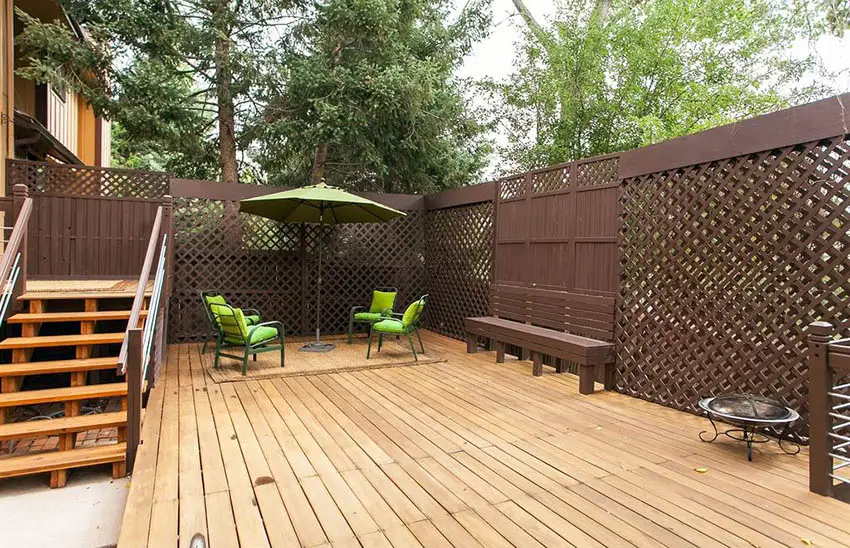 Wooden lattice panels are highly customizable according to one's specific tastes in style. There is no general rule that lattice fence panels must always follow a diagonal weave pattern, you can be creative in exploring patterns and combining existing fence designs.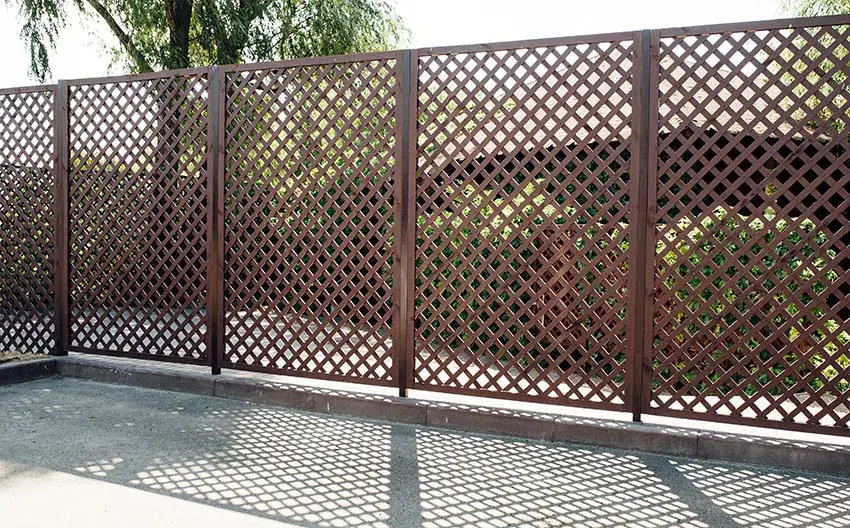 This classic wooden diagonal weave lattice fence delineates the outdoor space of this home without obstructing the view and allowing the homeowners to enjoy the sight and permitting the refreshing wind and sunlight to pass through.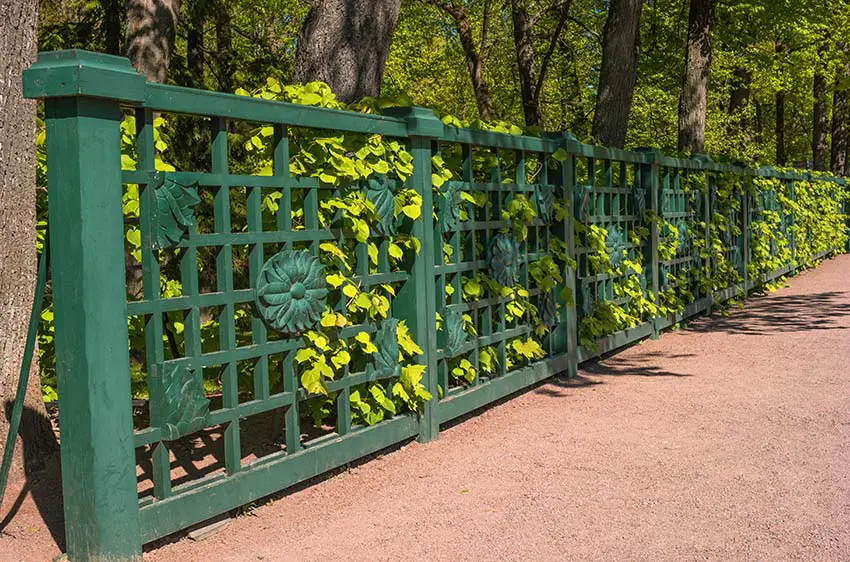 The design of this green wooden lattice fence panels is fused with decorative floral motifs and ornaments and its invigorating green color matches the surrounding verdant foliage. Lattice fences can be used as perimeter borders not only for residential areas but for any type of outside space.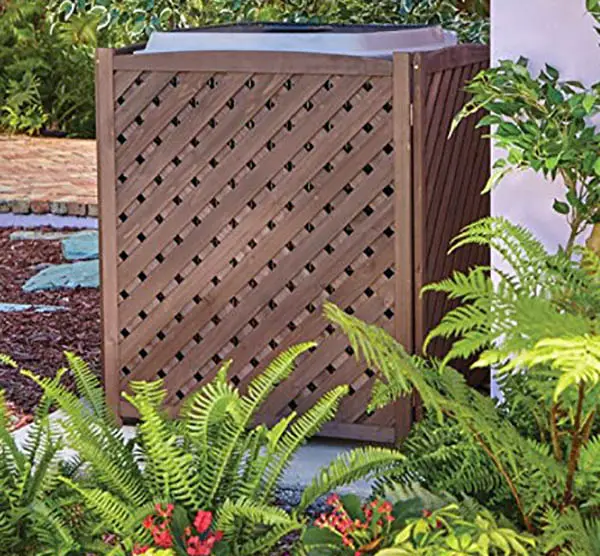 Wood lattice air conditioning screen – Source

This ready made three sided wooden lattice screen is used to hide the unpleasant view of air conditioning systems in a stylish way. It is a quick , affordable and very tasteful solution for treating common undesirable sights and large equipment in the home.
Cedar
Cedar is a type of soft wood which is usually grown in areas with a damp weather, which makes it naturally adaptive to harsh elements such as moisture, molds, fungus and insects. Cedar, along with Redwood, also develop natural oils which gives it the inherent ability to resist rot and insects. Unlike other wood species, it does not need to be chemically pressure treated and sealed before use. Its resilience and ability to withstand changes in weather makes it a top material for outdoor construction. It has long been a popular choice for fencing material.
Cedar lattice fences are proven to be stable, extremely durable and does not easily, split, warp or crack. It is also guaranteed to last longer than other fences which are made up of soft wood such as pine. Not only will it be able to resist weather, but it also tends to retain its shape and maintain its straight alignment over time. In terms of aesthetics, Cedar lattice fences have a stunning visual appeal.
Cedar lattice fences do not have to be stained or painted as they are beautiful enough on their own – turning to a distinct gray color as it ages. Although Cedar costs more compared to other wood fences, it is proven to be a cost effective solution considering that it will last for a very long period of time. In general, it is still known to be one of the most affordable material for lattice fences. Maintenance wise, it does not need staining and sealing, but requires a little upkeep in order to preserve its good condition.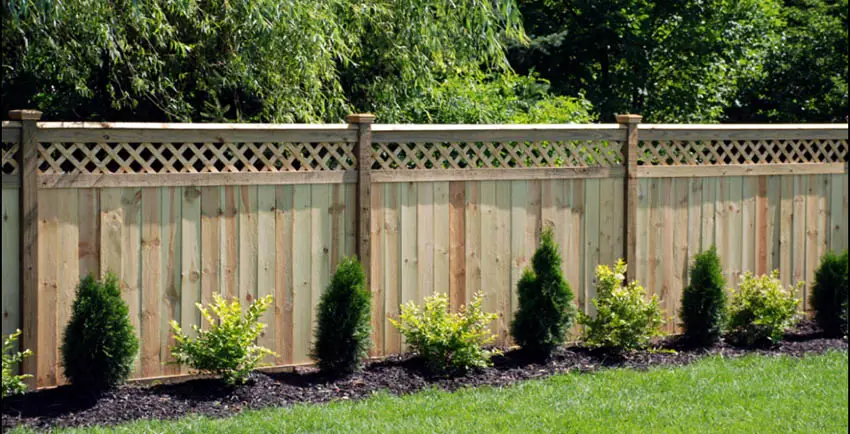 Cedar is the best option for wooden lattice fences because of its natural resilience and its exquisite beauty. This solid bottom lattice top fence design gives privacy to this backyard while adding a rustic charm to the garden.
Cedar fence with gate and lattice top
The look of lattice fence designs may be enhanced by a matching gate or doorway. This wooden lattice fence has a solid cedar flat board bottom with a simple rectangular lattice header in a natural finish.
Metal
Metal is a heavy duty material which has extreme strength and resilience. It is known for its sturdiness and ability to last for years. Common types of metals used as fencing materials are wrought iron, steel or aluminum. Because it is hard to break, metal lattice fences make an excellent choice for homeowners who want to ensure security and protection without sacrificing the look of a lattice fence.
Metal lattice fences can be customized in any design, allowing to choose from a variety of intricate ornamental patterns, however some homeowners still find it lacking in versatility. Although it won't rot, warp, decay or become termite infested, metal lattice fences are prone to rusting when exposed to outdoor elements. It requires regular maintenance such as resanding and repainting to ensure its good condition. Some of its negative features also include less ease in material handling due to its heavy weight. It is not appropriate as a "Do it Yourself" project because it is laborious to install. It is also more expensive than other lattice fence materials.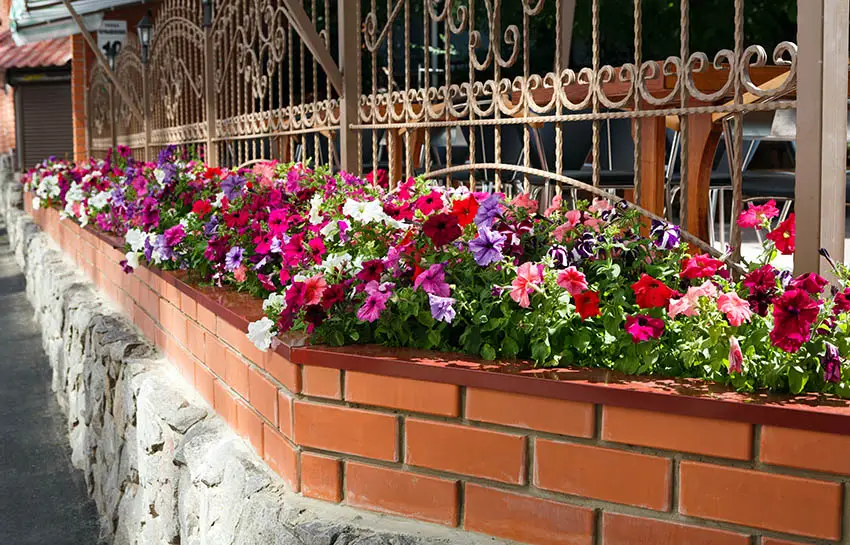 Metal lattice fences can be custom made into intricate patterns, such as the one shown above. This design incorporated a metal lattice fence with a brick and stone perimeter wall. A built-in flower box with a myriad of colors and luscious blooms is used to add contrast to the texture and overall look of this space.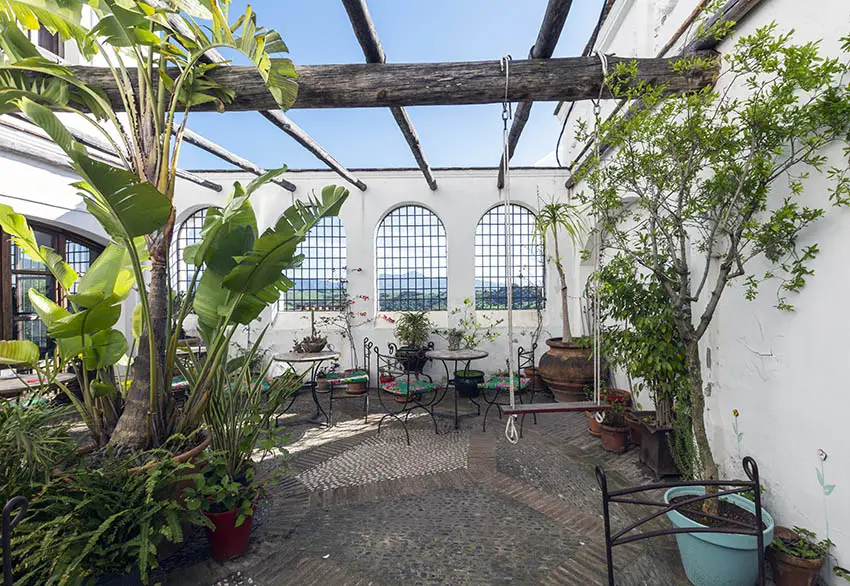 This gorgeous Spanish style enclosed patio features large curved windows that utilizes metal lattice as a security fence while still allowing you to take in the hillside views.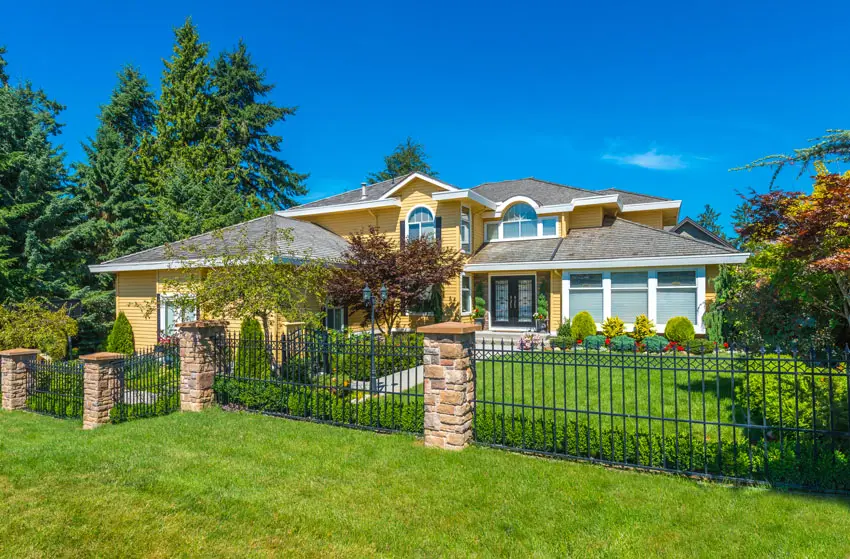 Metal lattice fences do not only provide security but it also shows off the beauty of your home and backyard. A great way to define perimeters without covering the view.
Fence with Lattice Top
Fences with lattice tops are usually privacy fences which are adorned with lattice headers. Four to 6 feet long flat boards are treated with 1 foot lattice toppers in arched, straight or scalloped designs. These type of lattice fence is ideal for homeowners who love the looks of lattice but prefer the isolation of privacy fences.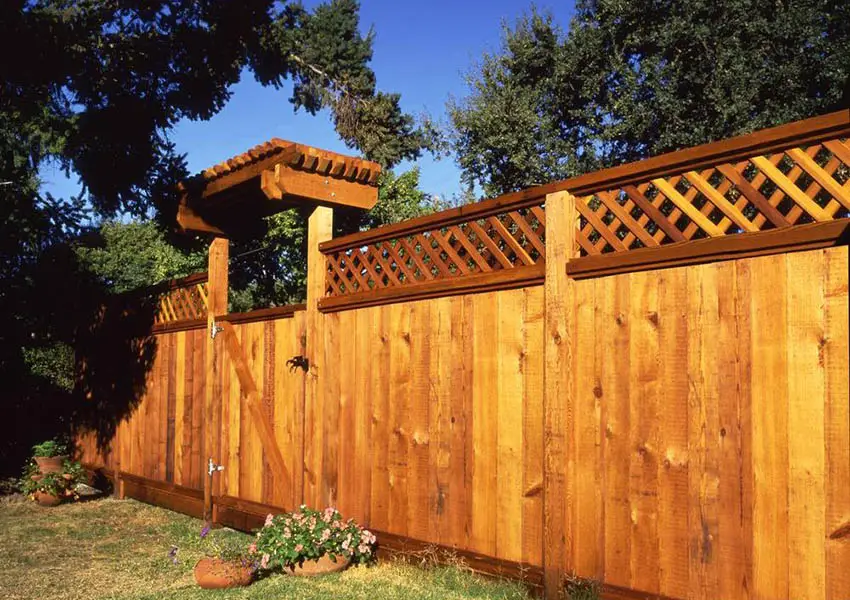 Redwood lattice fence with gate – Source

Redwood is another top option for wooden lattice fences because of its distinct rich reddish color which makes it stand out and adds a warm inviting feel to houses. This privacy fence has a full flat board bottom panel with a diagonal lattice top, matched with a full wooden pergola gate in a natural clear stain finish.
Good Neighbor Redwood Fence with Lattice Top
Typically, wooden privacy fences are used to create boundary lines between two properties, but lattice fences provide an alternative solution to this by delineating spaces without too much restriction. This wooden diamond lattice top fence is used as a decorative element for dressing up this plain space.
Lattice Privacy Fence
Lattice privacy fences are both ornamental and functional in terms of blocking the line of sight in a yard or property. This type of lattice fences are usually 6 feet tall and may either be comprised of long boards with a lattice header, or a full lattice panel with a tighter pattern than the usual lattice screen. Lattice privacy fences typically have a 20 millimeter spacing in between the slats. The stretched weave pattern makes it difficult for people to look into a property as it tends to obscure everything within your yard.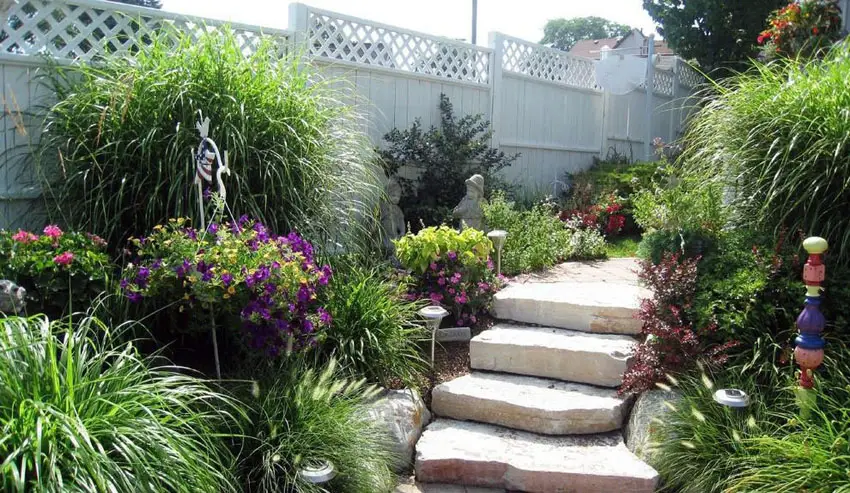 White wooden fence boards with a diagonal lattice top have a touch of classic flair that harmonizes well with traditional cottage gardens. They work as a perfect background and canvass for lush blooming flowers and abundant plants.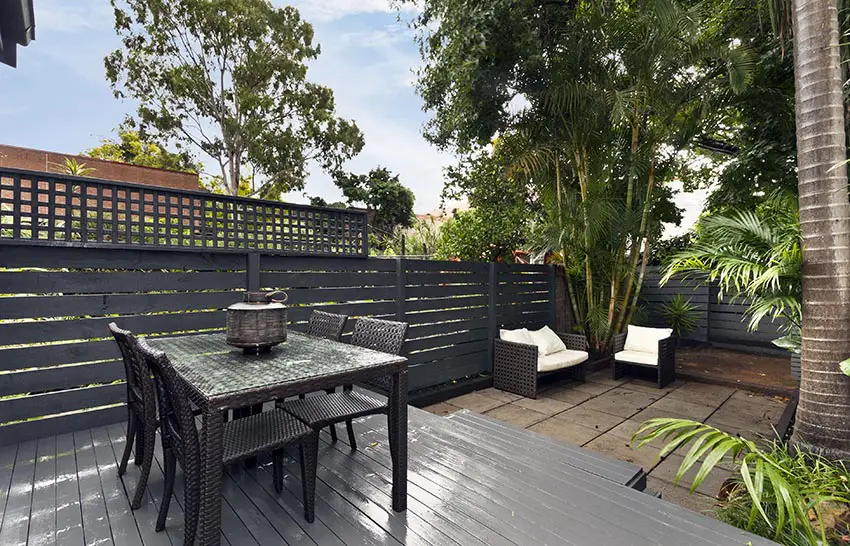 This tropical style backyard has a wood deck with dark stain and matching horizontal fence with a lattice top. the addition of the lattice panels at the top of the fence help provide privacy from nearby neighbors.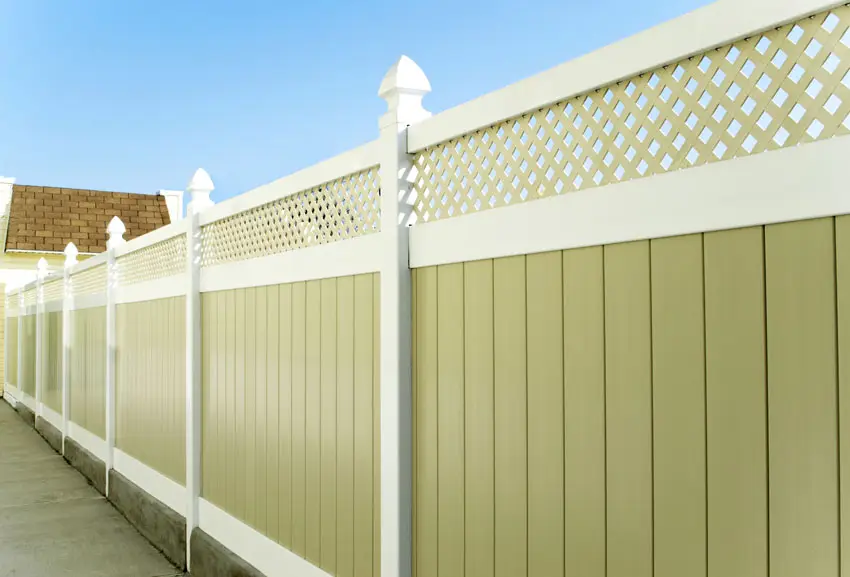 This composite flat board fence with a diagonal lattice top is accentuated with French Gothic finials on each fence post. Finished in a muted olive green and white paint, this design is a contemporary take on the traditional lattice fence.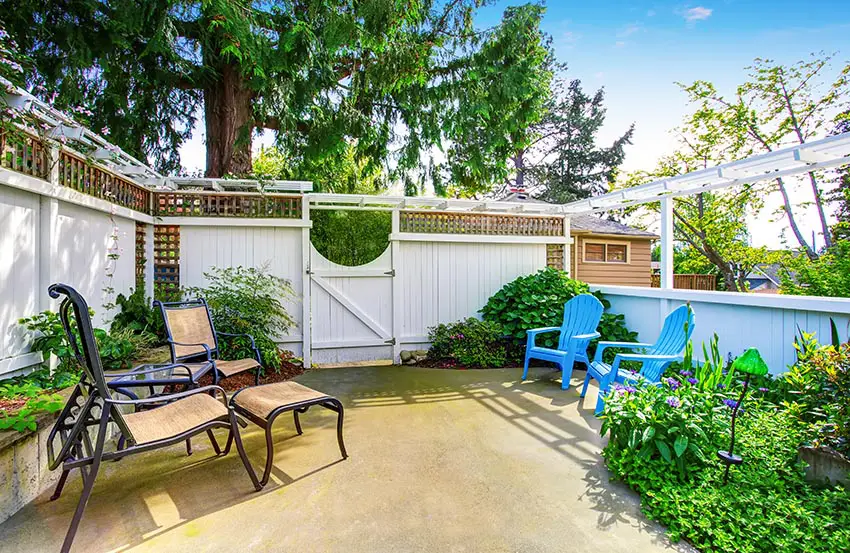 This backyard patio with small garden area is surrounded by a white fence with a vertical slat lattice top and curved gate. A narrow pergola is positioned above the fence and provides shade as well as an appealing design element.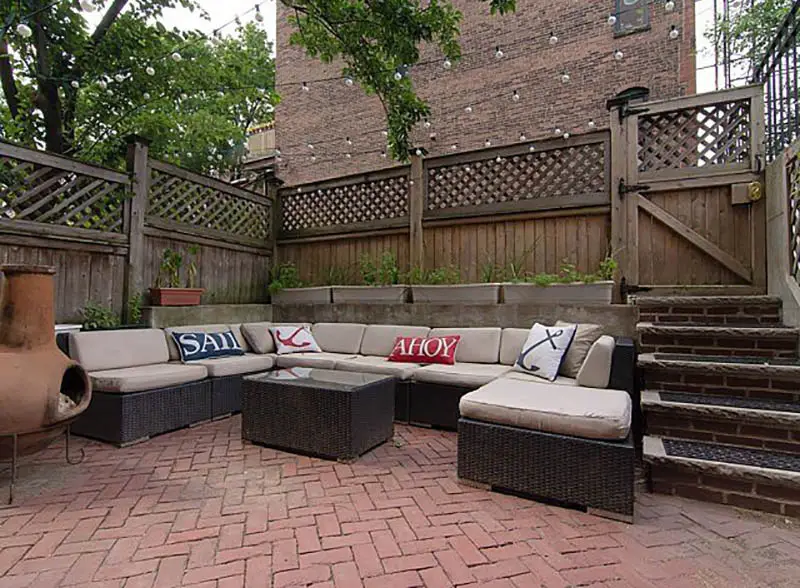 The weathered look of this wooden flat board with a lattice top fence gives off a rustic charm as it secludes this patio into a relaxing outdoor den for entertaining friends and gathering family members.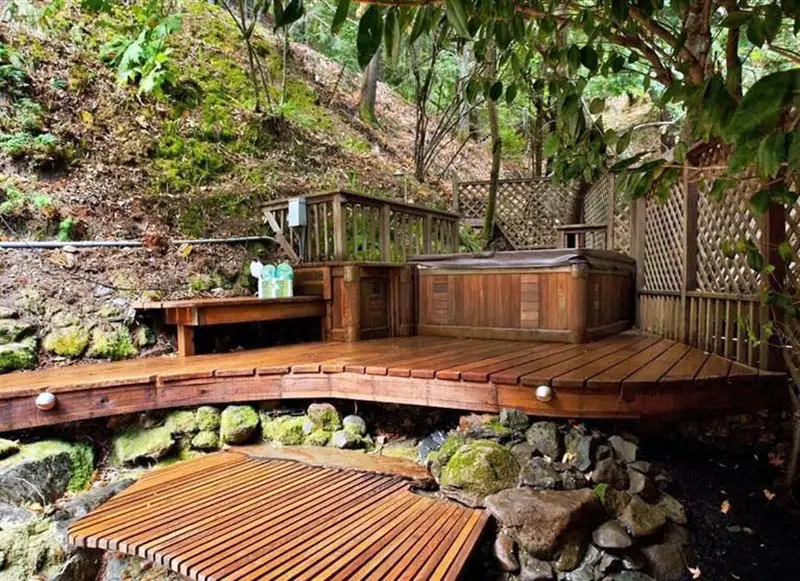 Lattice fences are also commonly used as spa enclosures. Shown in the picture above is a warm , cozy outdoor Jacuzzi and relaxation spot which is enclosed with wooden diagonal lattice fences that perfectly match the decking materials.
Square
Square lattice fences have a traditional style and is commonly used as garden fences or landscape features. The spaces in between the vertical and horizontal slats make it highly appropriate as a trellis for climbing plants and trailing vines.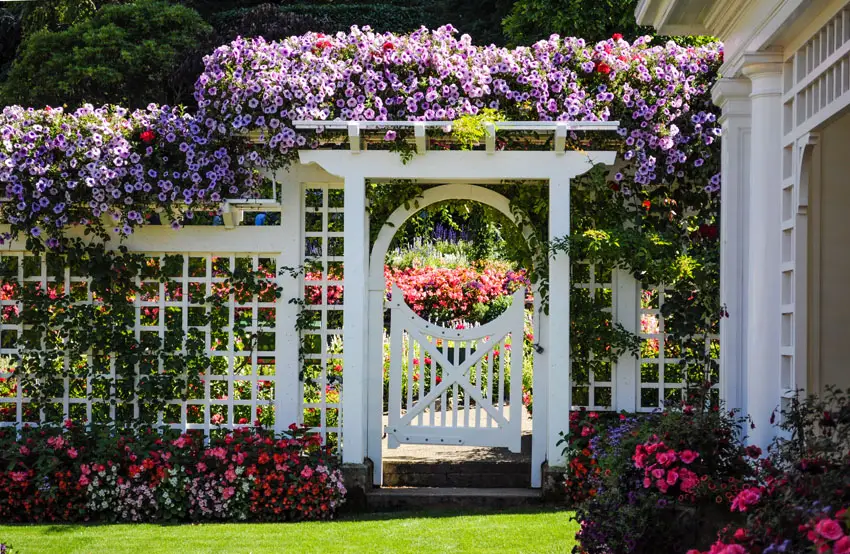 Blend lattice fences harmoniously with surrounding landscapes for that organic feel. This design features a white square lattice fence with a scalloped pergola gate which is adorned with bright petunias and flourishing vines. Talk about a lovely feast for the eyes!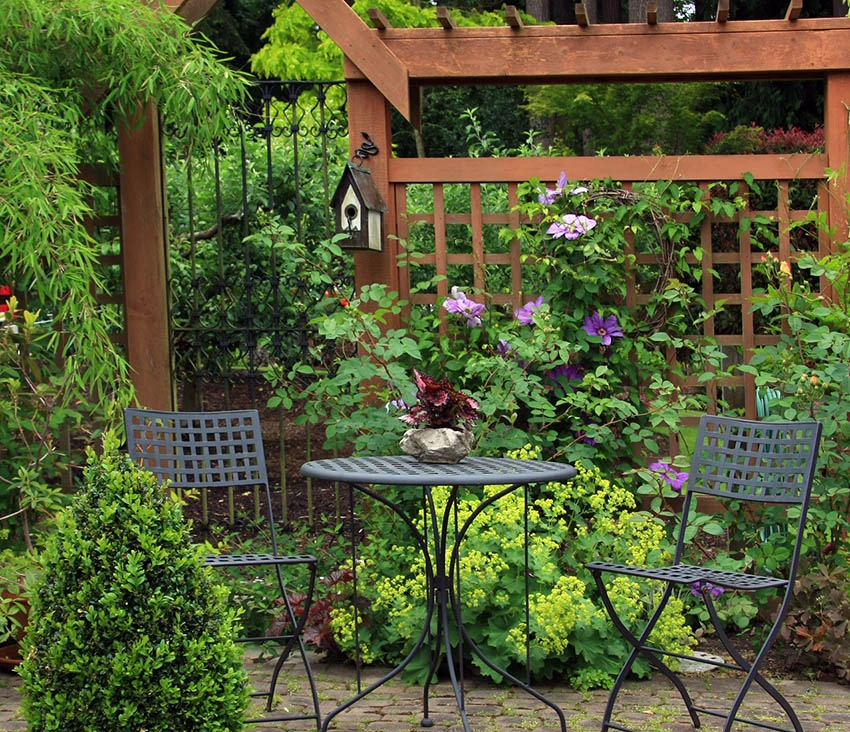 This cozy paver patio benefits from its redwood lattice fence and small pergola to provide privacy and shade. The addition of a metal wrought iron fence and metal outdoor furniture give it a classic ambiance.
Wood Lattice Fence with Gate and Hanging Vines
Extend gardening spaces with the use of a lattice fence. The spaces in between woven slats are ideal for vertical gardening and for growing climbing vines and trailing plants.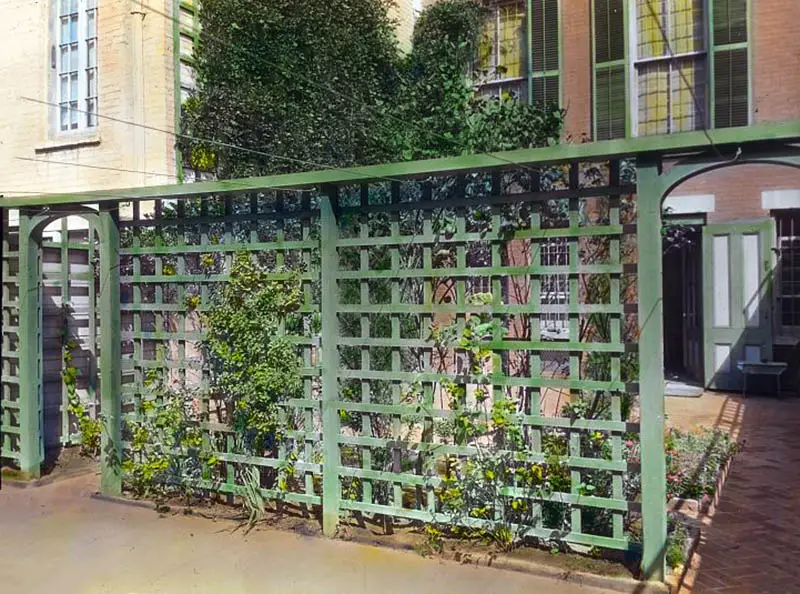 An open square weave has thicker slats which provide a more durable version of a lattice fence. Here we see it as a doorway and border for the front yard of a house.
White Fence
White lattice fences are a favorite for classic inspired landscapes and cottage gardens. Just like picket fence designs, they provide a classic charm to outdoor spaces.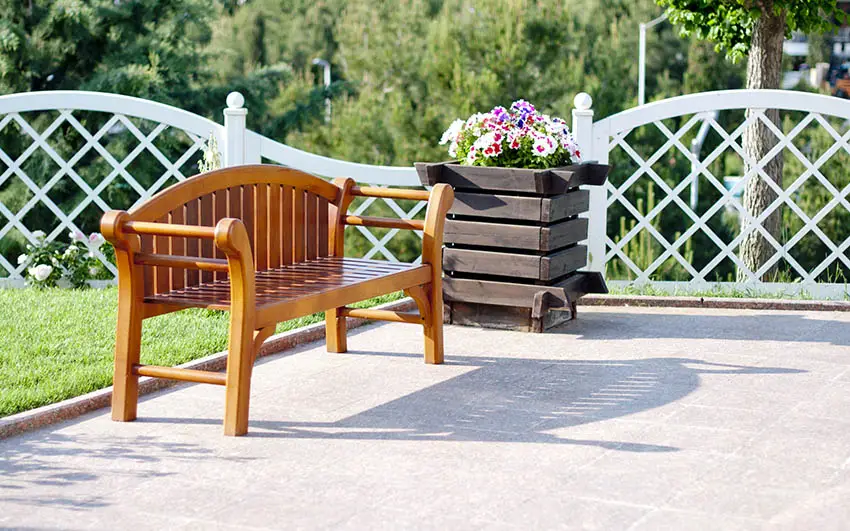 This graceful white scalloped diagonal lattice fence surrounds this dainty patio. White fences have a classic timeless charm which suits traditional or cottage inspired outdoor spaces.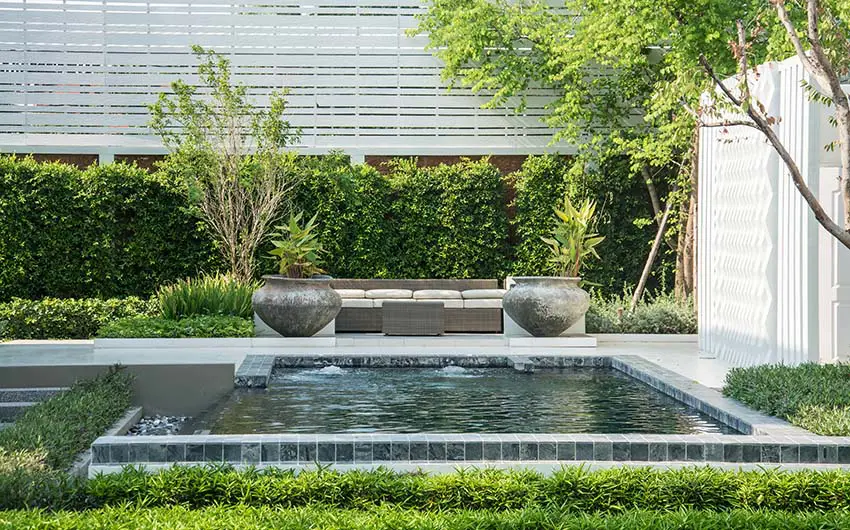 Beautifully landscaped backyard with small swimming pool and modern lattice fence for security and privacy. Lattice is a great choice for those looking to create a more private place for sunbathing. See more pool fence ideas here.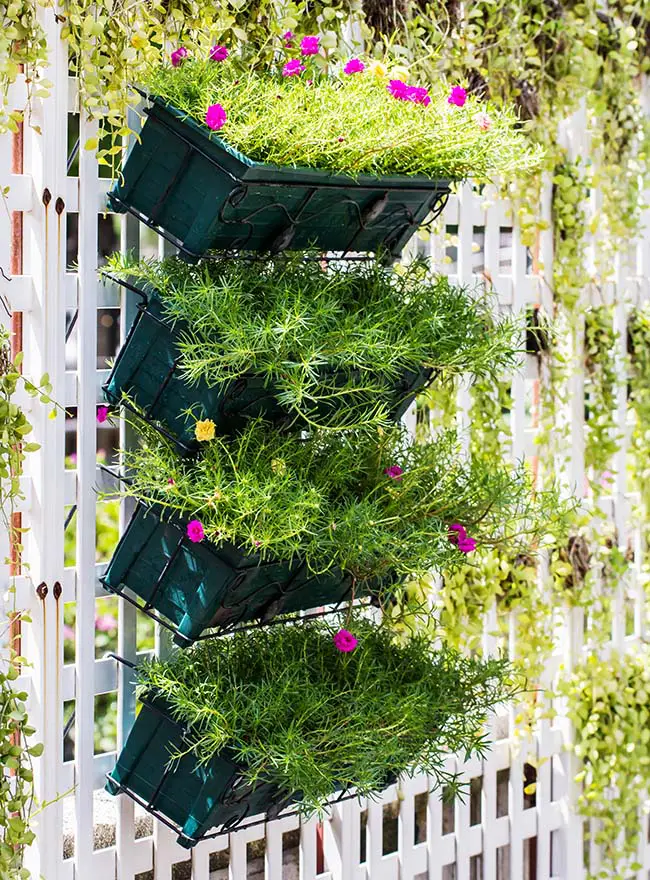 A white lattice fence with flower boxes makes an attractive addition to the garden and can be further enhanced with climbing flowers to help create a serene backyard environment.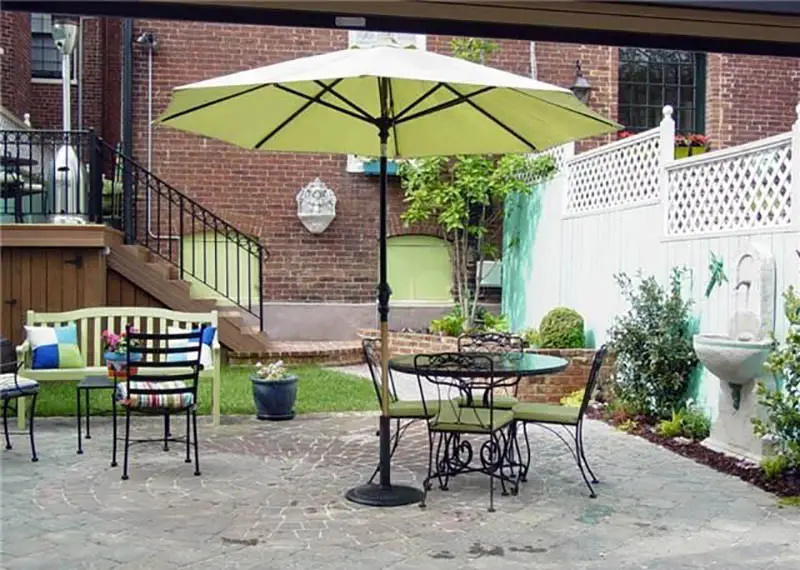 Here is another example of a white privacy fence with a lattice top which separates this quaint patio space from the neighbor's yard. Lattice fence designs may be enhanced with the use of an outdoor water feature or small fountain such as the one shown above.
White diagonal lattice fences with trailing vines add an appealing visual component to the look of this luscious contemporary garden.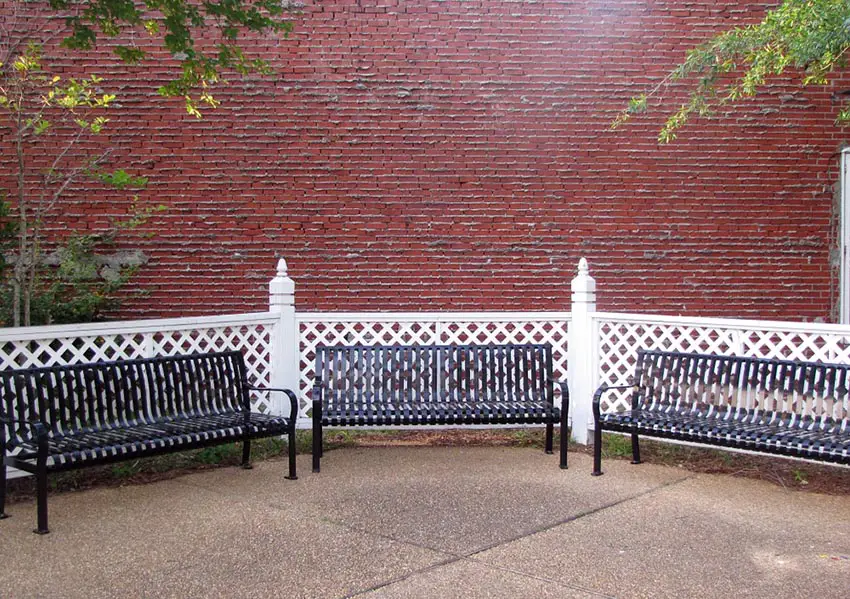 Low and short diagonal lattice fence panels outlines the border of this property and provides a decorative backdrop for the metal benches too.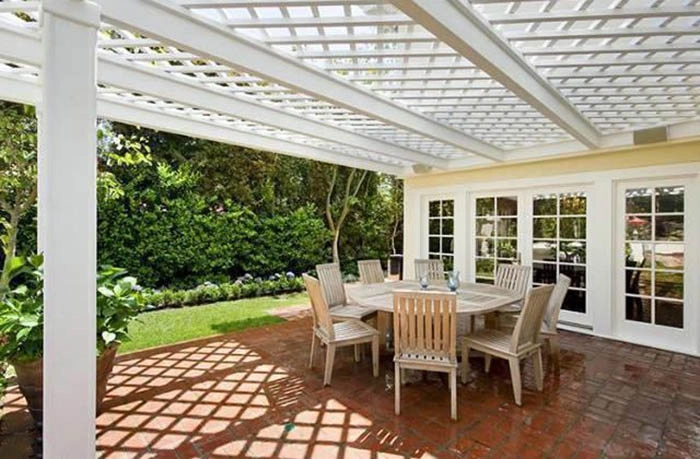 A white lattice ceiling can provide shade for a sunny backyard patio and create a more enjoyable experience for entertaining and socializing with friends and family.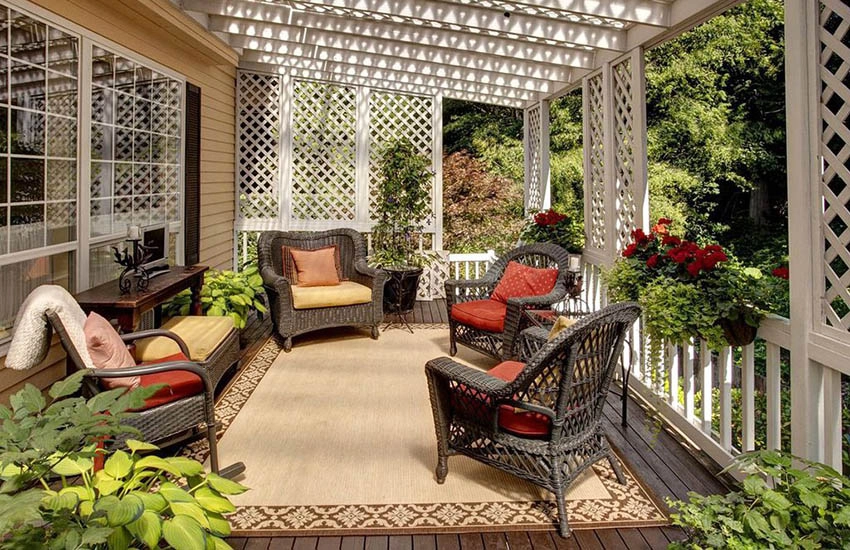 This attractive backyard deck provides white lattice fence panels as well as a lattice ceiling to create an inviting refuge. Fence panels are ideal for area where you would like additional privacy such as blocking the line of sight from a neighbors window, or the street.
Gazebo with Lattice
A gazebo with lattice can provide a romantic backdrop that will enhance your backyard or patio. Adding lattice panels to a structure is relatively easy to do and can provide shade and privacy to help you create the ideal area for sitting and relaxing.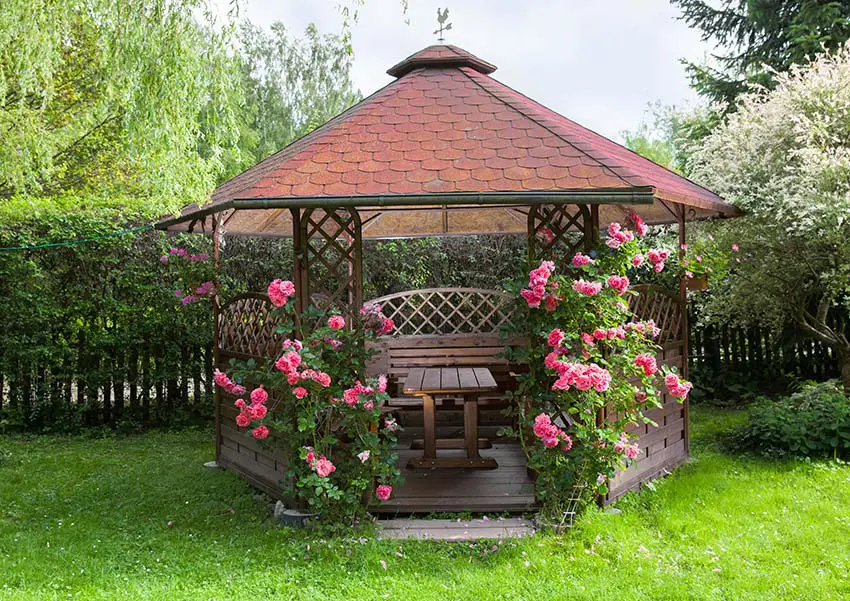 This beautiful wood gazebo offers the perfect spot to relax with climbing flowers and interior bench seating. A decorative wood lattice adds visual interest and helps to allow the flowers to climb up the structure.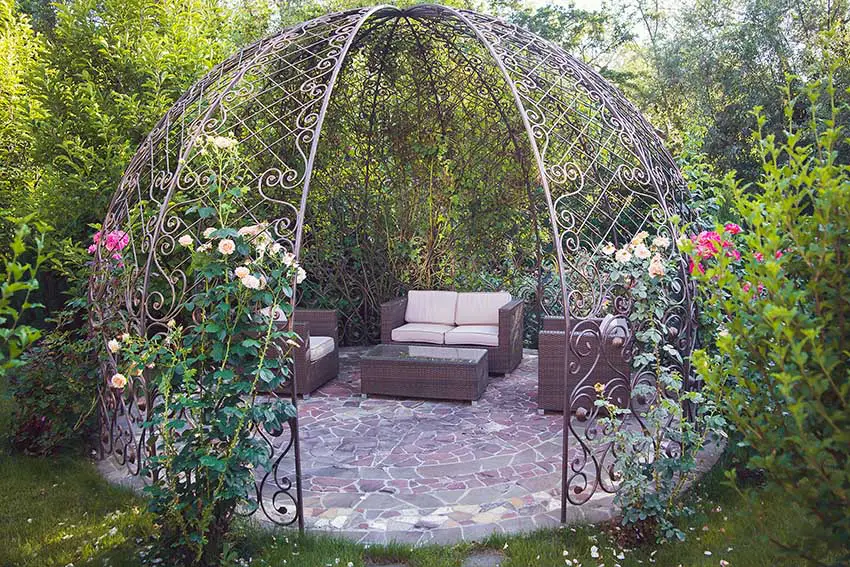 Imagine sitting in this gorgeous garden surrounded by this decorative metal dome with intricate lattice work and enjoying the day. The outdoor furniture including two chairs and a loveseat provide ample spots for entertaining and socializing with friends and family.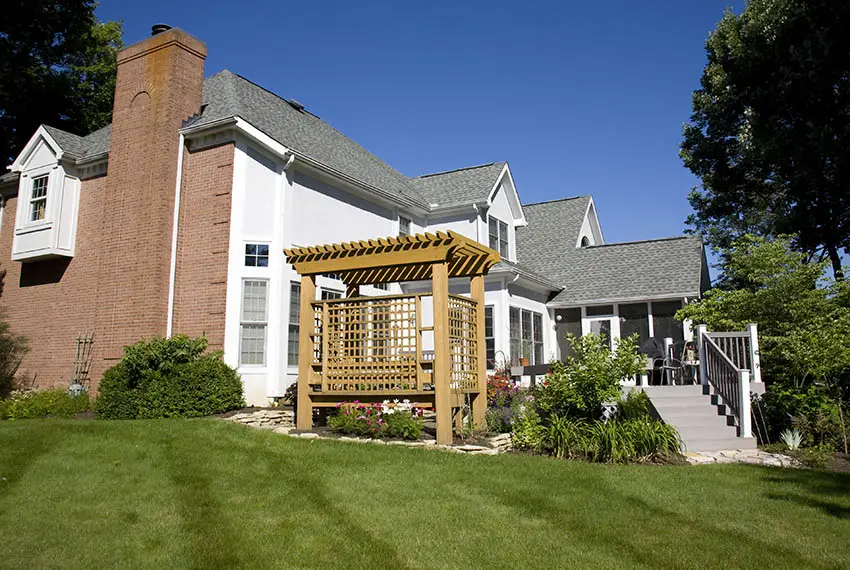 This wood pergola with lattice sides creates an attractive focal point for this large backyard. Colorful flowers and a large lawn give this pergola a serene setting for enjoying the outdoors.
DIY Fence
Aside from buying ready made lattice panels or ordering a custom made panel from a local supplier, lattice fences may also be taken on as a "Do it Yourself" project. Lattices are easy to fabricate as it only requires cutting thin slats from a piece of wood using a circular saw, then the ends of each piece is cut at an angle, nailed or stapled at a meeting point. It may be square or diagonal in pattern and a rectangular frame may be added to complete the look.
The beauty of building your own lattice fence is that it allows you to customize freely depending on your taste. The design becomes more personalized and decors may be added according to one's preference. It also allows you to create a lattice fence out of new or old materials. Lattice fences may also be integrated with other materials such wood, concrete or stone. It may also be incorporated in landscape features or used as an accent for plant borders, deck skirting and railings.
Weathered Redwood Fence with Lattice Top
Wooden diagonal lattice fence tops provide a decorative way to extend the height of privacy fences. The weathered look of this lattice fence design complements the rustic appeal of the shingles on the house's siding.
However, for those who would like to help preserve the wood and give it a facelift one could apply a stain finish with great results. One trick to avoid the tedious work of staining between the slats is to use a spray on stain product such as Thompson's WaterSeal. It comes in a traditional brown and is a stain spray that will save you a lot of time and energy with it comes time to bring the fence back to looking new.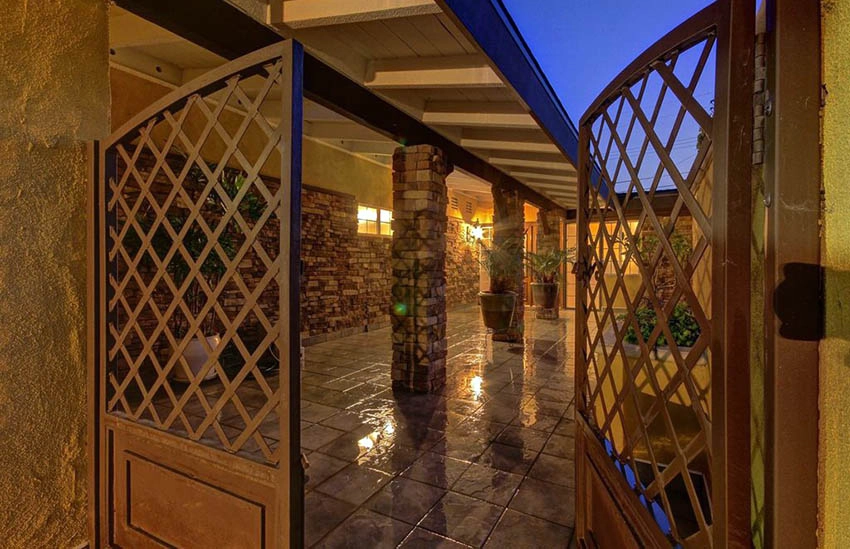 Installing a wood lattice gate is another way to get the decorative look of this style. These types of gates can be purchased at larger hardware stores and installed yourself using the included hardware kit in an afternoon.
How to Build a Latticed Fence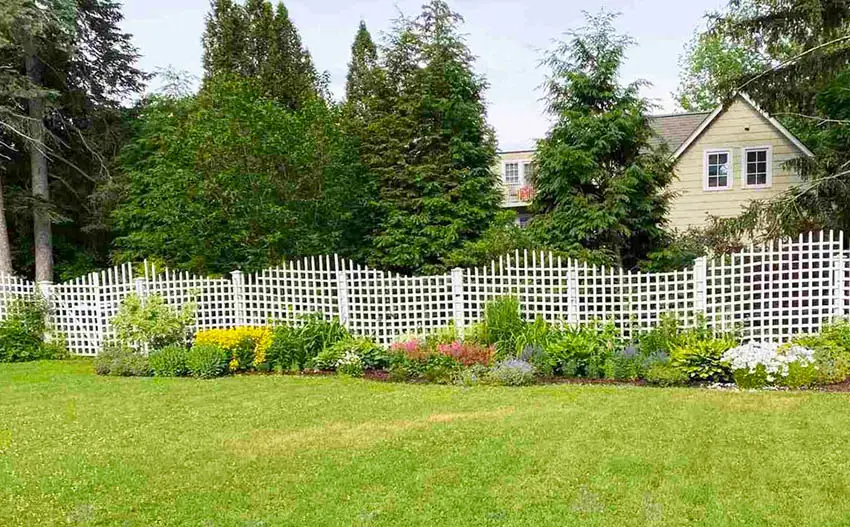 If you have the time and would like to try your hand on simple construction, then building a lattice fence may be an ideal project for you. Requiring only a little assembly and relatively much easier to construct than other fence types, it usually just takes 2 to 3 days to accomplish and wouldn't cause much of a hole in your pocket. In addition to that, "Do it Yourself" projects allow you to customize your design according to your specific needs and style preference.
In this tutorial, we will be teaching how to build your very own wooden lattice fence. This design makes use of ready made wooden lattice as it eliminates the need to assemble all pieces together from scratch, saving you a vast amount of time. Here some of the materials and tools needed to build a wooden lattice fence, plus the steps you can follow to create one:
What you need:
Wooden stakes
Twine
2-inch galvanized screws
Galvanized nails
4" x 4" treated posts
4' x 8' pressure treated wooden lattice (ready made and available at local home improvement stores)
Cement mix (you may use "quick setting" concrete)
Crushed Gravel
Sand
Water
What to Use:
Tape measure

Carpenter's Level

Mason's string

Post hole digger

Shovel

Electric Drill

Hammer

Circular saw or jigsaw

Wheel barrow
Installing Lattice Fence Panels
Steps in building a wooden lattice fence:
• Determine the design, purpose and layout of your lattice fence. The first step to probably any project is to determine the purpose of what you intend to build, because this dictates all the other factors that you need to consider such as dimensions, height and lay-out. Know the purpose of your lattice fence – will it be used to cover the whole perimeter of your property, will it be used for privacy, or do you just want to use it as a decorative accent? Naturally, a lattice fence which will be used for privacy would require taller panels and a tighter weave pattern. Consequently, the size, layout and design you aim to achieve will follow. Once you decide on these factors, then it is time to prep the area for your lattice fence.
• Measure the area. Using a measuring tape, measure the perimeter of the space where you intend to put your lattice fence. It is important to accurately measure because this will ensure minimal adjustment in the cutting size of materials as you go along the project. This will also give you an idea of the exact number of wood posts and lattice panels you will be needing.
• Locate the starting point of your fence. Mark this point by tapping a wooden stake on its place at the ground, then layout the rest of your fence line using a mason's string. The length of your lattice panels may be used as a guide for the spacing of the posts. It is up to you whether you want to install the panels vertically or horizontally. But the maximum spacing for this is 8 feet between each post. Add stakes to mark each position of the post. Continue this until you finish the whole fence line. Make sure that you maintain an equal spacing all throughout.
• Run twine along your fence line. Tie the first stake (your starting point for the fence) with twine and run into each stake. Ensure that that twine is running straight, if ever you see any discrepancies, you may adjust the stakes accordingly.
• Dig a hole for your posts. Remove the first stake on your starting point, then using a post hole digger, dig a hole which is at least a third of the post plus six inches. You can also use the height of the lattice panels to adjust the height of the posts. If planning on adding decorative post caps, you need to allot at least 12 inches of clear space above the lattice panels. At least ⅓ of the posts should go below the ground to ensure a strong foundation. Dig a hole for each stake along your fence line. Repeat until you reach the end.
• Pour 6 inches of crushed gravel or stone into the holes. Fill then pack down firmly.
• Place a post on each hole. When the gravel is in place, carefully set each post in their respective holes.
• Run twine and place stakes along each of the standing posts to ensure that they are standing upright. Use a level to check if they are straight. Make sure that they are exactly plumb before setting them in their permanent place.
• Use the top of the lattice panel as a guide to check the height of the posts. Cut the panels if adjustments are needed but as mentioned earlier, if measurements are carefully taken and noted during preparation of the materials, then this wouldn't be a problem. Also, adjust the alignment again if needed.
Building Lattice Fence in Backyard
• Mix cement mix according to package instructions. You may do this is small batches so that it doesn't try up too easily. You can also ask your supplier for the the "quick setting" type that just gets poured directly from the bag, dry and without mixing, then soaked with water. This type of concrete will save you the effort and time as it eliminates the need for mixing and it reduces the curing time to overnight.
• Add dry concrete mix to the holes. Fill completely and then allow to dry for 24 to 48 hours. As soon as the cement is fully cured, remove the twine and the stakes.
• Prop lattices into posts. Mark the area in the posts where you want to screw the lattice panels. This must be on the side of the posts which faces the inside part of your yard. Pre-drill holes along these marks, then attach the lattice panels using an electric drill and some galvanized screws. Continue the process until you reach the end of the fence line. Double check if everything is straight with the use of a level.
• Add finishing touches. Apply paint or cover with a coat of wood stain. You may also leave the lattice fence unfinished if you prefer the natural look of wood. Affix decorative post caps or decorate according to your preference.
Lattice Panel Fence with Mood Lighting
Give emphasis to the beauty of wooden lattice fences with the use of warm white accent lights. Any backyard or garden will surely look more cozy with the addition of ambient lighting.
Lattice Fence Ideas Infographic: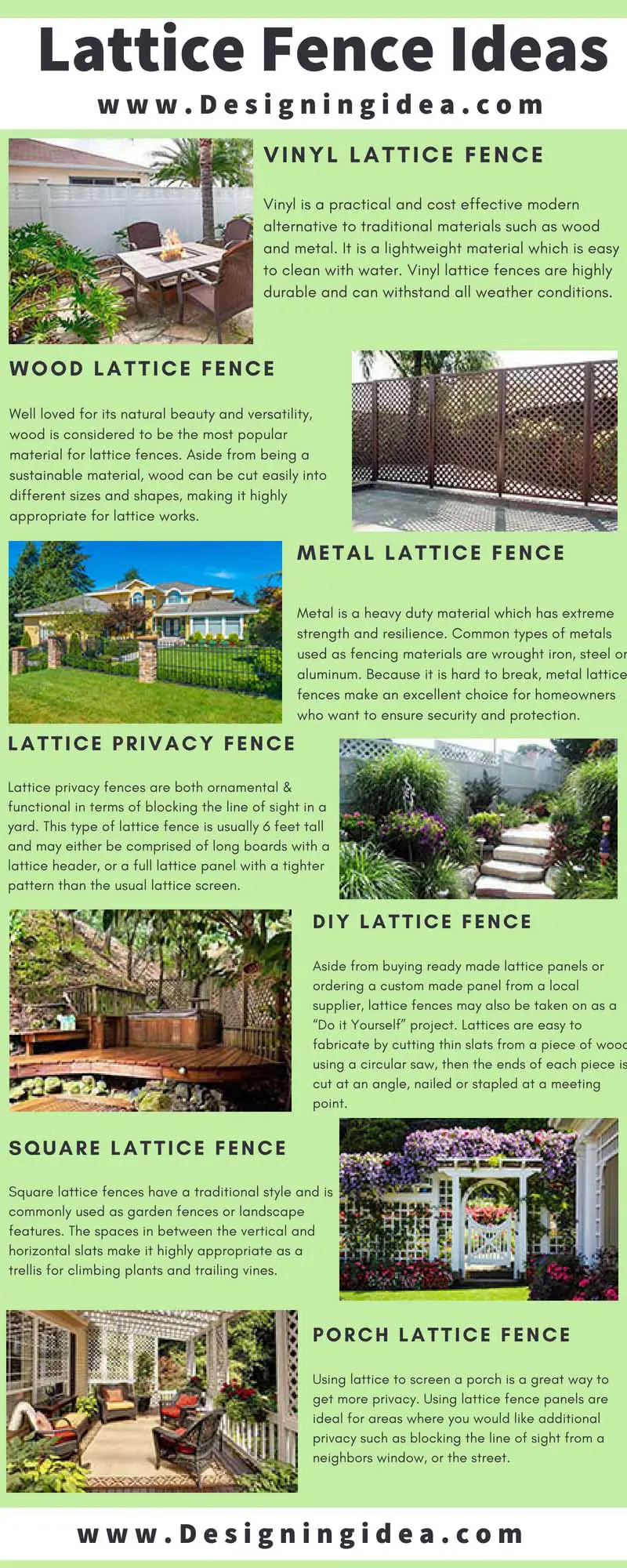 [expand title="Show Image Sources" swaptitle="Hide Image Sources"]
#1 Cedar fence and gate from Flickr (Creative Commons License)
#2 san francisco lattice fence from Flickr (Creative Commons License)
#3 TristanFerne from Flickr (Creative Commons License)
#4 pb3131 from Flickr (Creative Commons License)
#5 TimFuller from Flickr (Creative Commons License)
#6 TimFuller from Flickr (Creative Commons License)
#7 TimFuller from Flickr (Creative Commons License)
[/expand]
Visit our picture gallery of garden fence ideas for even more ways to enhance your home's backyard.