Below we share stone kitchen island designs including granite, quartz, marble, soapstone, veneer & stacked stone ideas.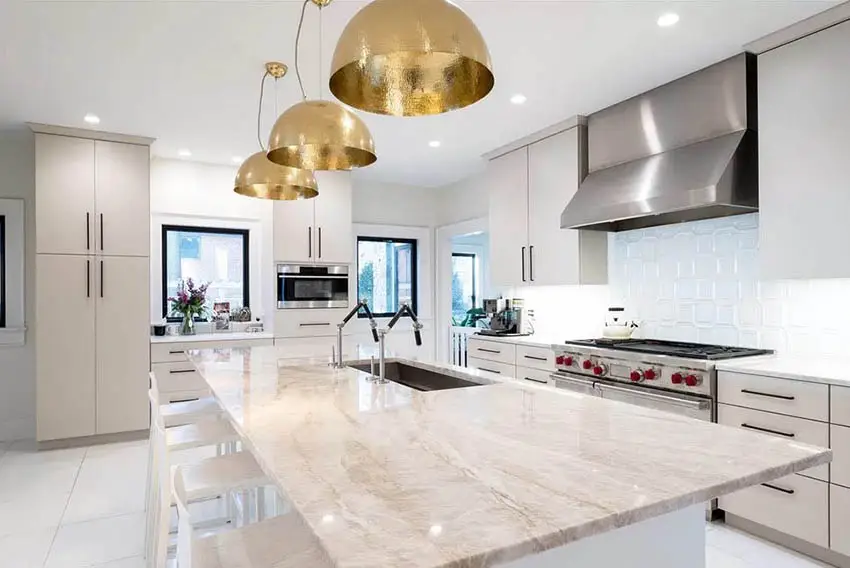 When it comes time to add a center island to your kitchen, there are many design ideas to choose from. An important consideration when choosing stone countertops for your kitchen island are its characteristics, such as heat resistance, how porous the stone is, durability, and design options. Each type of stone material has specific pros and cons that influence your decision.
Granite Kitchen Island Counters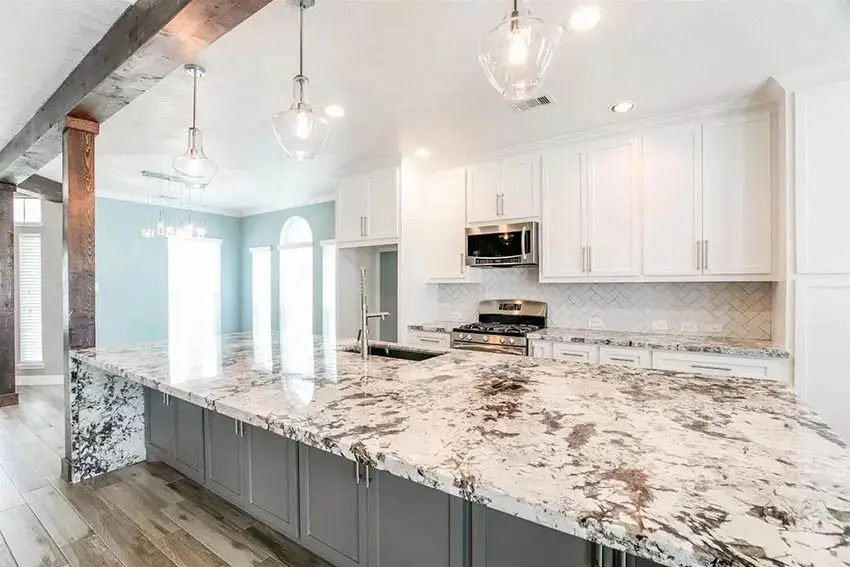 Granite is a natural stone formed from molten rock that is compressed under the earth's surface. Because of the mineral crystals, typically feldspar, quartz, and other minerals, each piece of granite is completely distinct. When you choose granite for your kitchen island countertop, it will be unique. And that's some of the beauty in using granite as part of your décor.
Granite is extremely heat resistant, can hold a lot of weight without fracturing, and is known for being durable and long-lasting. Although granite countertops are resilient, it is porous, requiring regular sealing and care to prevent stains and keep your surfaces looking beautiful.
Quartz Counters for Kitchen Islands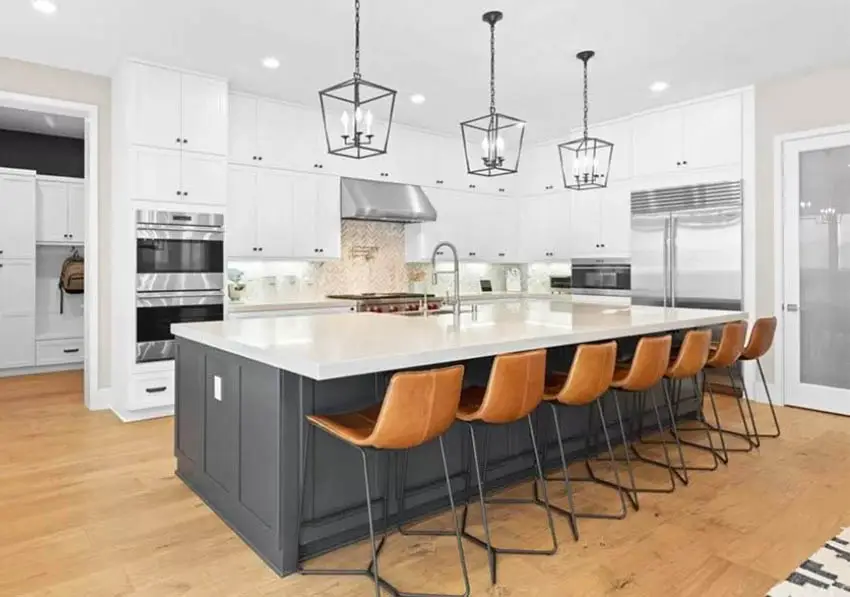 Naturally occurring quartz doesn't form pieces large enough to cut slabs needed for a kitchen island countertop. Quartz countertops are made from engineered stone consisting of ground-up particles of leftover granite pieces, marble pieces, and waste materials from manufacturing ceramic, silica, glass, and mirrors.
These ground-up particles are then bound with plastic resins or cement-based binders. The process used to create quartz countertops results in a surface exceptionally resistant to heat, stains, and acid. Sealed with resin, quartz counters require no resealing or maintenance. And unlike granite, engineered quartz allows for predictable patterns and colors.
Quartz Waterfall Kitchen Counters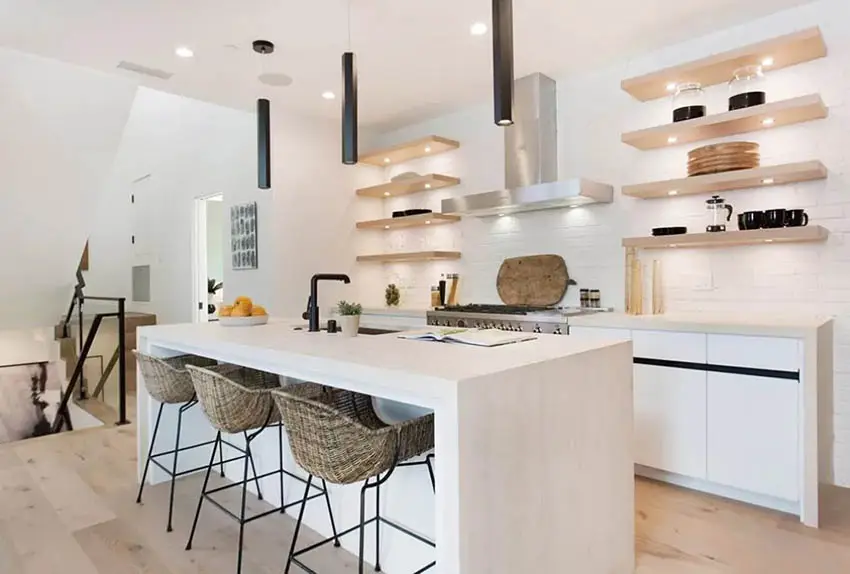 During manufacturing, quartz can be fashioned into different shapes and forms allowing for many applications including countertops with a waterfall edge. This design incorporates a 90-degree angle at the end of the island's countertop, continuing the slab of quartz to the bottom. A waterfall edge creates a dramatic effect of the quartz pouring over the edge like water over a precipice, forming a stunning look. See our gallery of waterfall kitchen islands here.
Marble Island Counter for the Kitchen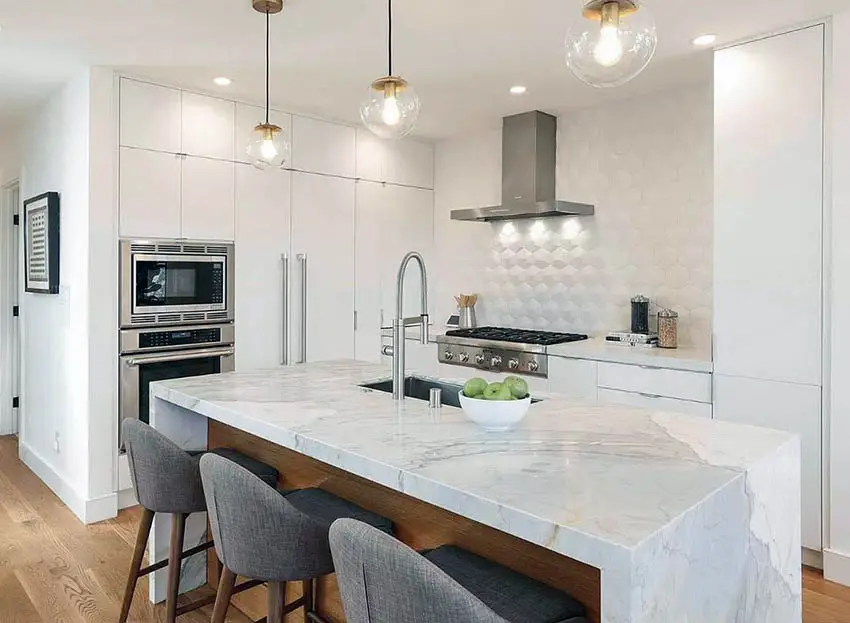 Intricate veining and designs make marble an elegant and timeless selection for stone kitchen island designs.However, the higher price for this prestigious stone typically limits its use in the kitchen. Reserving marble stone countertops to a kitchen island provides the opportunity to distinguish the island from the rest of the kitchen.
Marble is long-lasting but needs regular care. Marble countertops are porous and susceptible to stains by liquids that are acidic such as coffee, wine, or juice. Marble needs to be sealed approximately every three months to protect the stone.
Soapstone Kitchen Countertops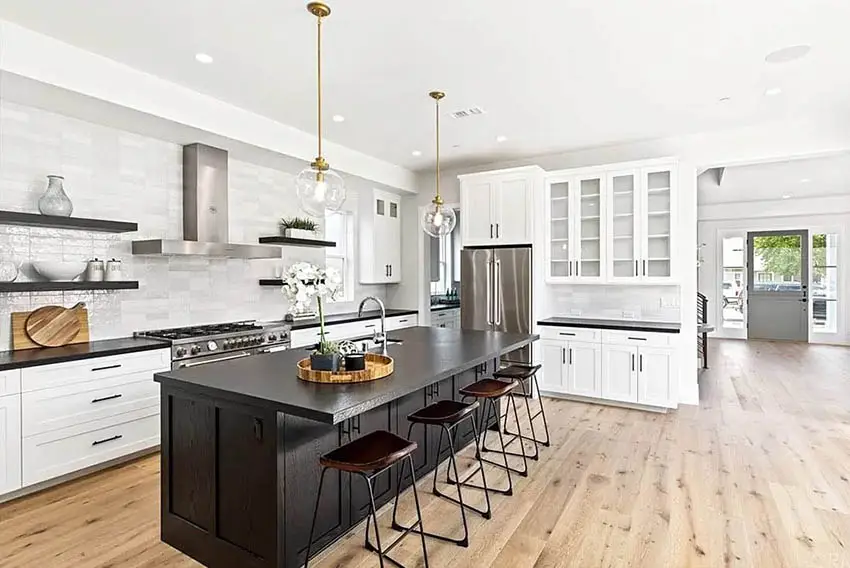 Soapstone has a smooth, silky-feeling surface and was often used in older historic homes. Although it may seem to be a softer stone, it's very hard and stain-resistant. Soapstone is typically found in deep, rich colors that may darken more over time such as dark grays with hints of greens and blues.
As a kitchen island countertop, soapstone can tolerate heat and scratches and damage can be sanded out. But the wear over time does create a sought after patina, which naturally creates an antique appearance. Applying mineral oil to soapstone countertops can speed up the process of darkening the tones.
Stone Veneer for Kitchen Countertop Islands
Stone veneer is an alternative to heavier, higher-priced natural stone when you need to finish the sides of your kitchen island. Stone veneer is made from shaped molds filled with a mixture of concrete and iron oxides to create colored patterns that replicate natural stone. Using stone veneer for a kitchen island's sides means more design choices, less cost, and the ability to easily replace the sides if your décor changes.
Brick Veneer Islands with Countertop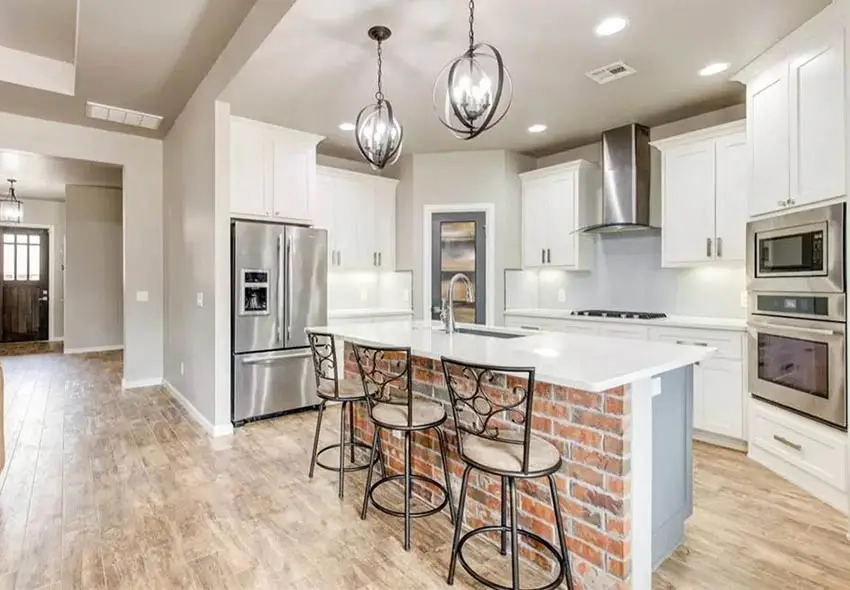 Brick veneer is typically made of a polymer that creates a seamless, natural look of real brick, minus the hassle of the upkeep. Brick veneer panels come in multiple color schemes making it easy to match the design of your kitchen is easy for a homeowner to install.
Brick siding is durable and resistant to damage, making it a long-lasting design component with the appearance of more costly and difficult to install brick. Brick veneer also comes as individual "faux bricks," which are single bricks the same size of real bricks, but much thinner and light-weight. See more brick kitchen island ideas here.
Stacked Stone Veneer Islands for Kitchen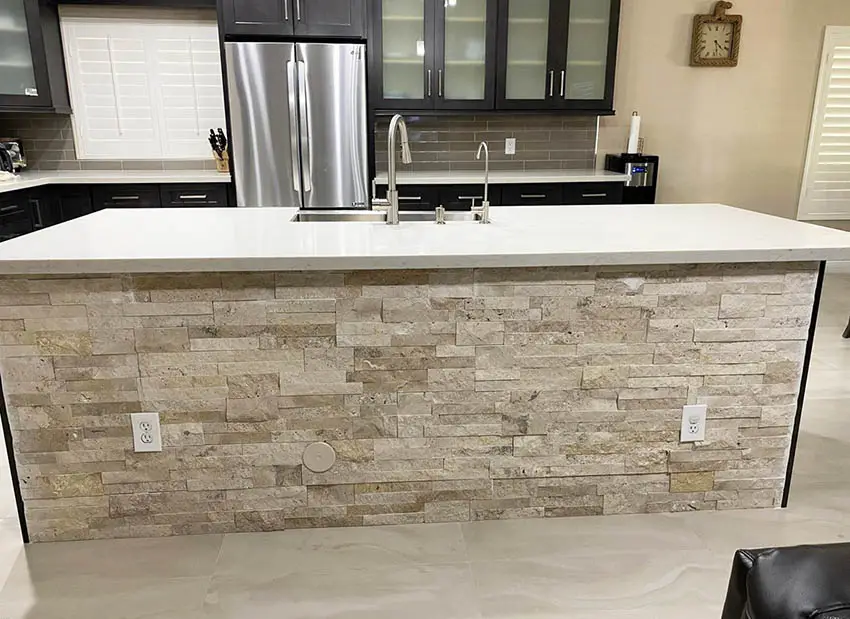 For a three dimensional look, stacked stone veneer offers a three-dimensional profile with variations in thickness, height, and texture. This adds visual interest to a kitchen island.
Stacked stone countertops are veneer panels that are made from horizontal pieces of stone tightly fit together with different colors, surfaces, and sizes. There is no grout joint so the stone is more natural-looking and the design adds focus to the stone itself. These random strips of stone are glued together on a panel to adhere to the side surface of your island. A sealer can be used to prolong the natural colors and texture of the stone.
Whichever stone kitchen island designs you consider for your space, both stone countertops, and stone veneer allow you a multitude of choices for a stunning and functional island.
Considerations When Planning Your Island Design for the Kitchen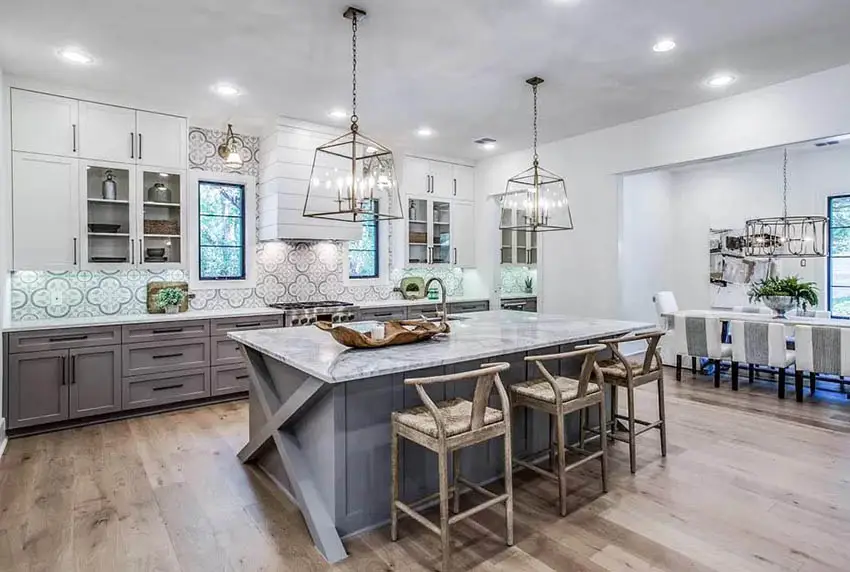 When you consider a kitchen island for your home, think of its use; for extra storage and counter space, a kitchen island with cabinets and shelves below will create a convenient workstation.
If you want more casual space for people to gather, be sure the island can accommodate barstools. If space allows, you can design a kitchen island that accomplishes both needs by combining cabinets and shelves below, with one end cut out for seating. Kitchen islands can be simple or more elaborate with a sink and electrical outlets.
The next thing to consider is the design and materials for the kitchen island and how it will work with your existing kitchen theme. Mixing materials used for the countertops and the sides of the island results in a striking centerpiece with intriguing textures.
Visit this gallery for more pictures of kitchen island designs.