Turn your outdoor living into a feast of the senses with these stunning deck railing ideas.

Whether you have a new deck or want to replace your deck railings, choosing the right railing design for your property can be an important task, especially as there are numerous design options available. That's why we came up with a list of railing materials as well as the different design options describing each pros and cons and what to expect from these various designs.
Cable Deck Railing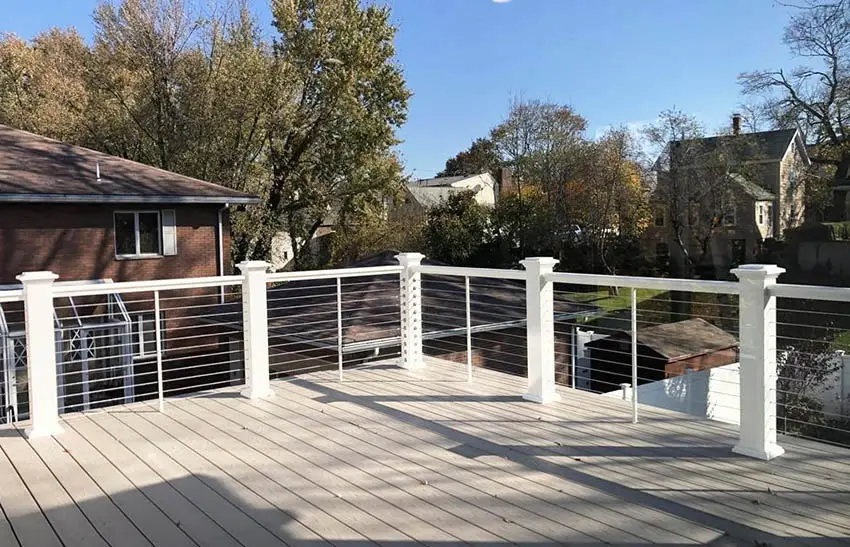 Cable deck rails or rope railings are an excellent choice to get unobstructed access to surrounding views, natural ventilation, and sunlight. Cable material can be more expensive compared to other types of deck railing since you'll need strong framing that the tension cabled should attach to.
The cable deck railing works well with modern and contemporary themes.
Pros: Maximum Vistas
Cons: Tedious Building Codes Requirements, Need
The white cable and aluminum deck railing is just the perfect decking material. The whole look features cable deck rails that follow the directionality of it surrounding.
Wood Deck Railing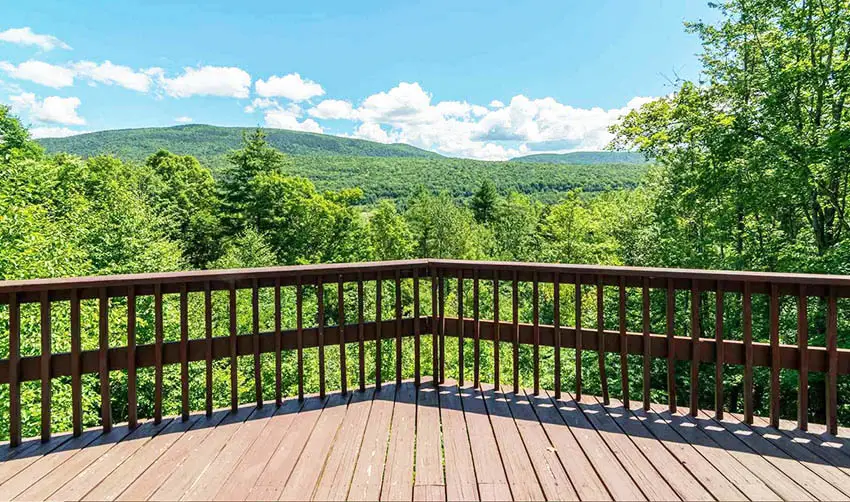 Despite the rise of new railing materials, wood is still king when it comes to deck railing materials. The reason, the unmatched warm quality and versatility of organic materials. When you have natural views like this what better than to match it through wood materials. See more wood deck designs here.
Pros: Aesthetic Value, Design Versatility
Cons: High Maintenance, Expensive
Stained Wood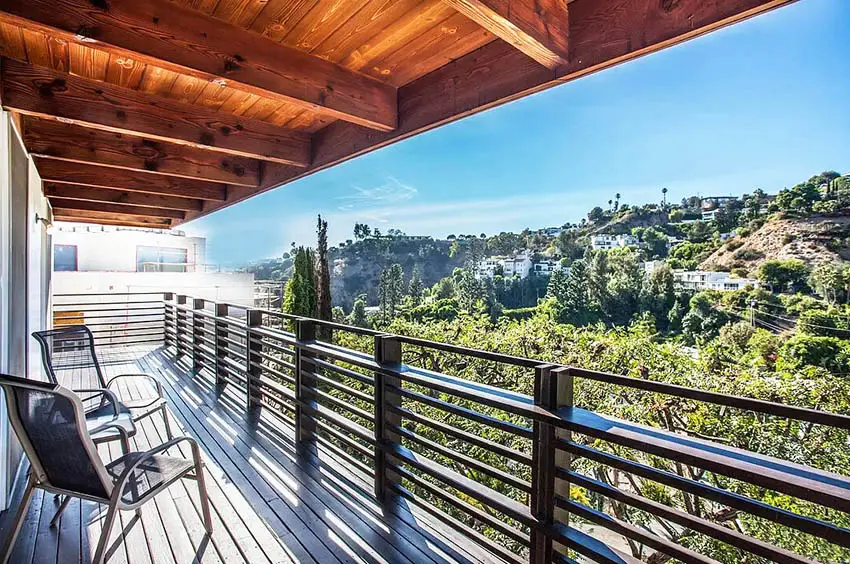 Wood staining is effective if you want a different tint for your wood railing or if you need to even out the graining yet still keep it visible on the wood surface.
Pros: Cheaper alternative, retains the warm character
Cons: With substandard or inferior wood stain, color may fade overtime.
Painted Wood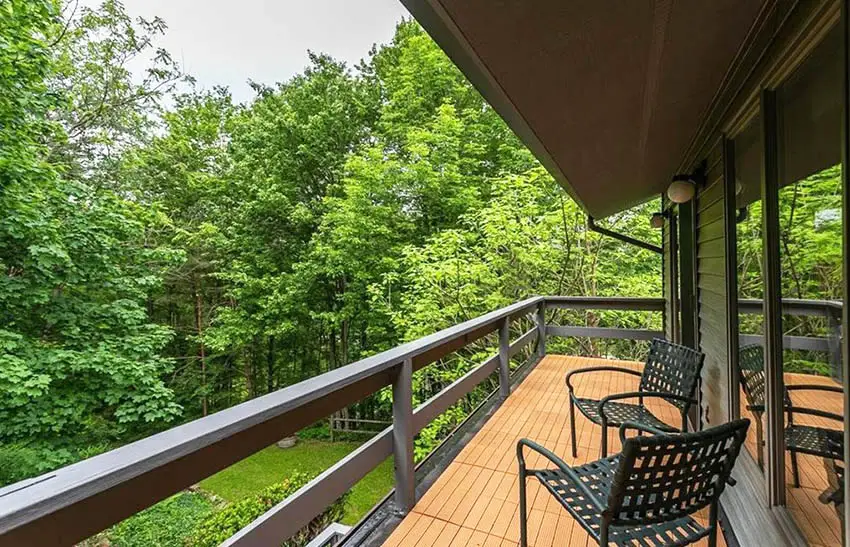 To preserve the structural integrity of your wooden railings, painting wood can be a great option. If you have an old deck railing, placing putty formula on dents and uneven surfaces before painting can give you a new-looking deck railing.
Pros: Varied color selection, cheaper alternative than installing new railings
Cons: Higher maintenance
Metal Deck Railing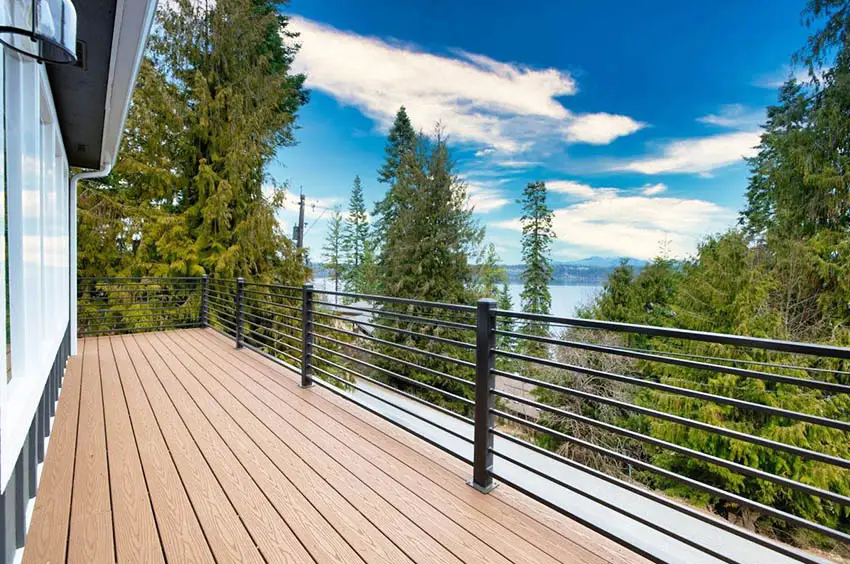 Metal deck railing is an effortless way to amp up your deck area to match your modern lifestyle. The versatile deck material ranges from steel to wrought iron. Metal can be easily worked on so you can achieve whatever design you have in mind. They are malleable but highly durable and can be put together with any material such as wood or glass.
Pros: Ease of Maintenance, Inexpensive, Versatile
Cons: Need Treatment to Prevent Rust (except for steel)
Aluminum Deck Railing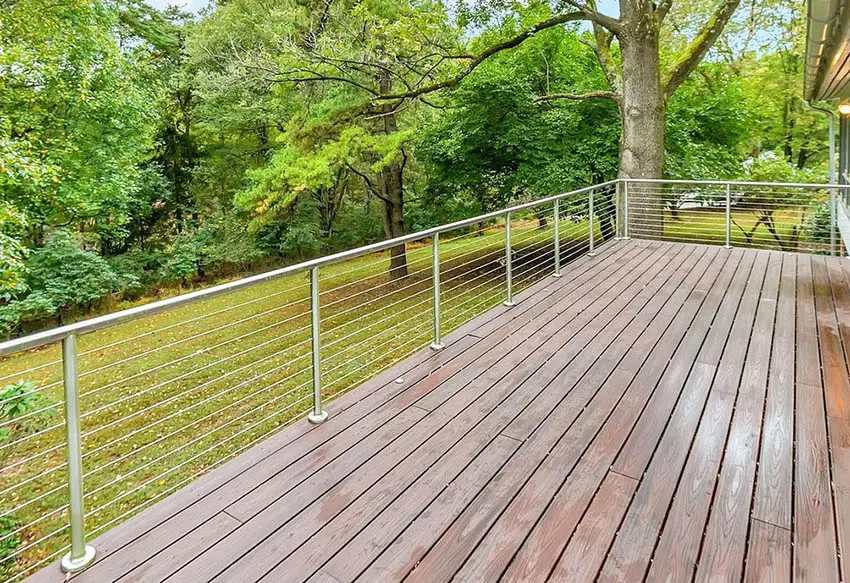 The non-ferrous material is a popular choice for outdoor use because of its high resistance from corrosion and can withstand harsh environmental elements such as UV rays, rain and snow.
The variations for deck railing area numerous coming with different colors and designs, and powder-coated aluminum decking is a great choice when you want a maintenance-free material.
Pros: Rust free, Variations, Resistant to weathering, Inexpensive, Recyclable, Lightweight
Cons: Heat and electric conductor
Wrought Iron Deck Railing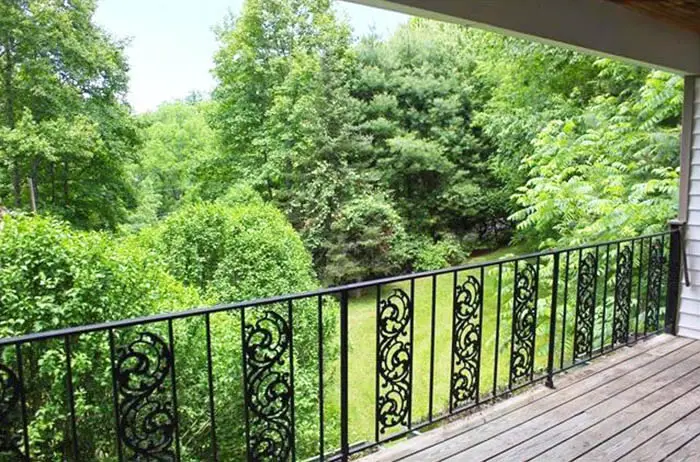 Primarily made of iron and part carbon makes wrought iron strong yet flexible. This workability makes it a perfect deck material is you want to have a custom-made railing design. The wrought iron deck railing is so durable it can withstand the added weight of planters and other types of vegetation.
Pros: Strong, Durable, Variety
Cons: Expensive, Cannot take sudden impact.
The wrought iron railing in the picture above features intricate designs added to its vertical posts. Another display of how wrought iron can be flexible enough to be made to any type of shape.
Composite Deck Railing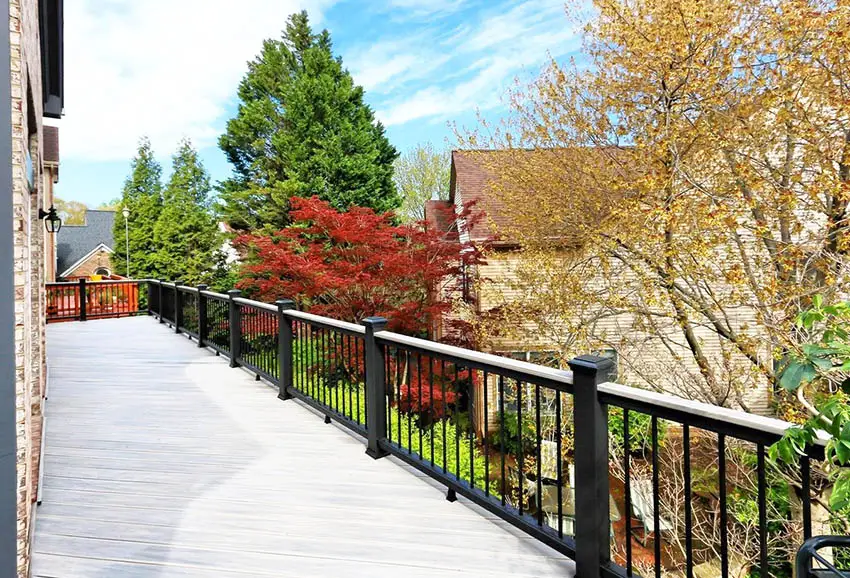 A blend of the beauty of wood material and the high strength of thermoplastic, the composite deck is a superb deck material for any type of deck style or theme.
The composite deck comes with variations of colors and designs to choose from. You can opt for composite deck railing kits that come in a complete set with all the needed items for your decking. They are easy to assemble and can be dismantled when needed as well.
Pros: Won't rot, Durable, Low Maintenance, Reusable
Cons: Higher price tag, Dark colors can fade overtime.
Vinyl Deck Railing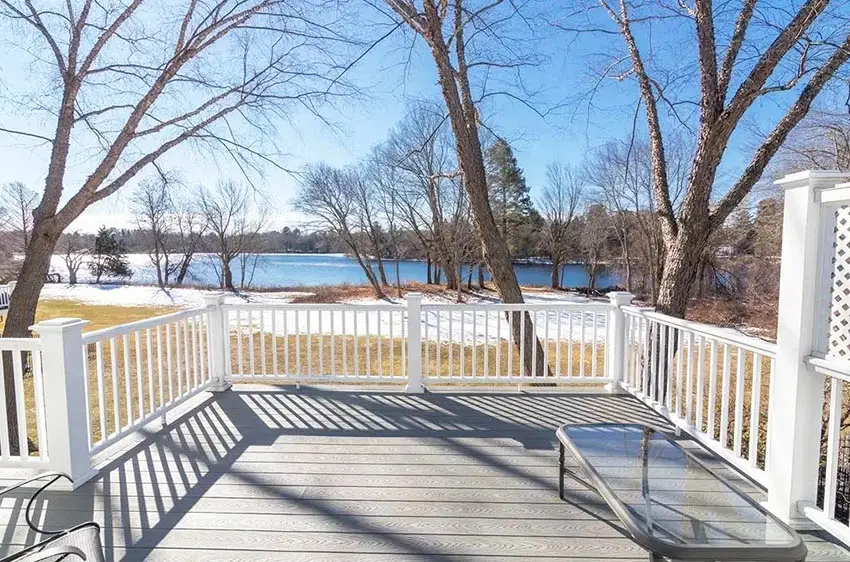 If you need a quick fix without splurging thousands of dollars on your deck, then the vinyl material is your best match. Vinyl deck railing's greatest advantage is that it has the appearance of wood, but it won't rot or burn like one. The smooth surface with no splinters makes it an ideal choice when you have small children often around on your deck area.
Pros: Stronger than wood, fire resistant, low maintenance, afffordable
Cons: Unlikely to match with traditional style decks, limited color variations, prone to cracking
When choosing the right color or design for your deck rails, it is best to observe the views throughout the season and how can it match perfectly with your desired decking material. You may get a hint or two on the surrounding vista.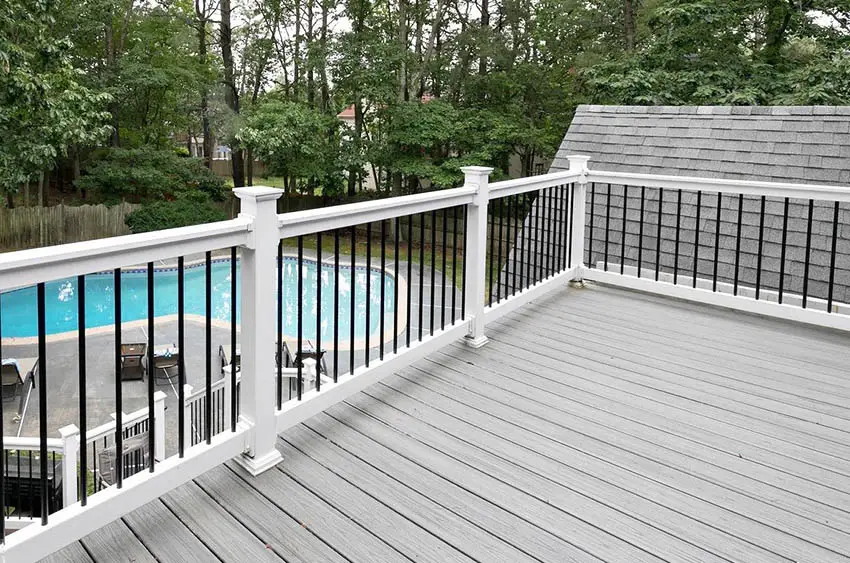 White vinyl combined with wrought iron or steel makes an interesting contemporary design. True to its monochromatic theme outdoors, white and black colors where used to match the light gray deck flooring.
Glass Deck Railing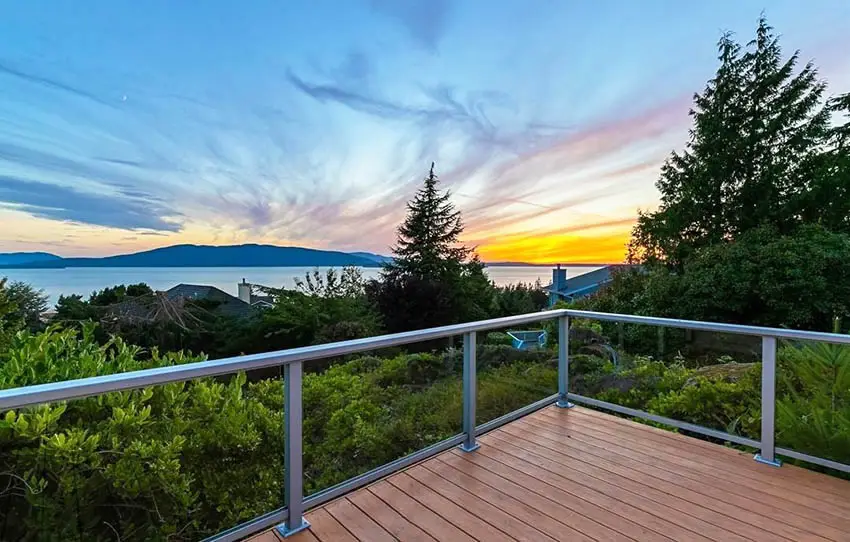 Glass deck railing allows one to get maximum views from a backyard deck. Nothing compares to glass deck railings when it comes to catching the best views of your surrounding vistas.
Framed glass decking generally uses metal, where aluminum is the most popular. The great thing about aluminum frames is the easy maintenance, variations, and re-usability of the material. If you want maximum views through your deck, the frameless glass railing is an excellent choice.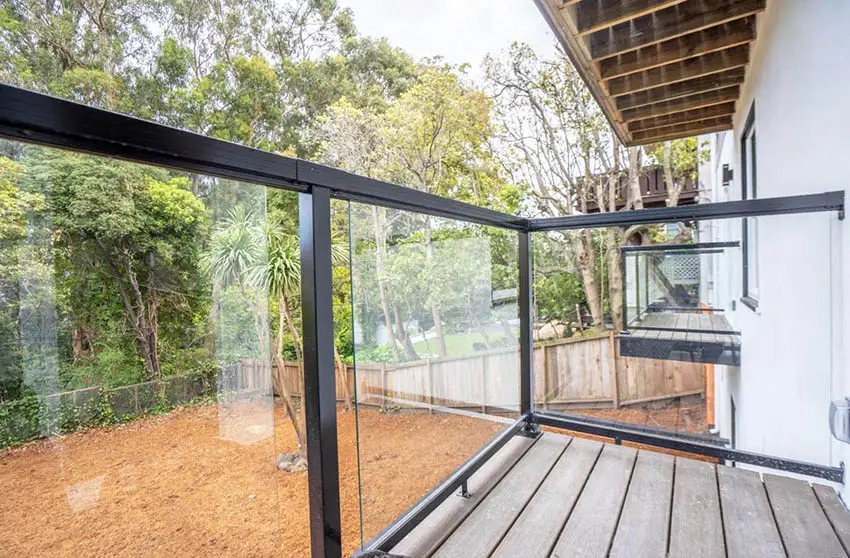 Make sure to check your state's building code and wildlife protection issues to make sure you can legally build your glass deck railing.
Pros: Maximum Views, Relatively Easy To Maintain
Cons: Security and Privacy Issues
PVC Deck Railing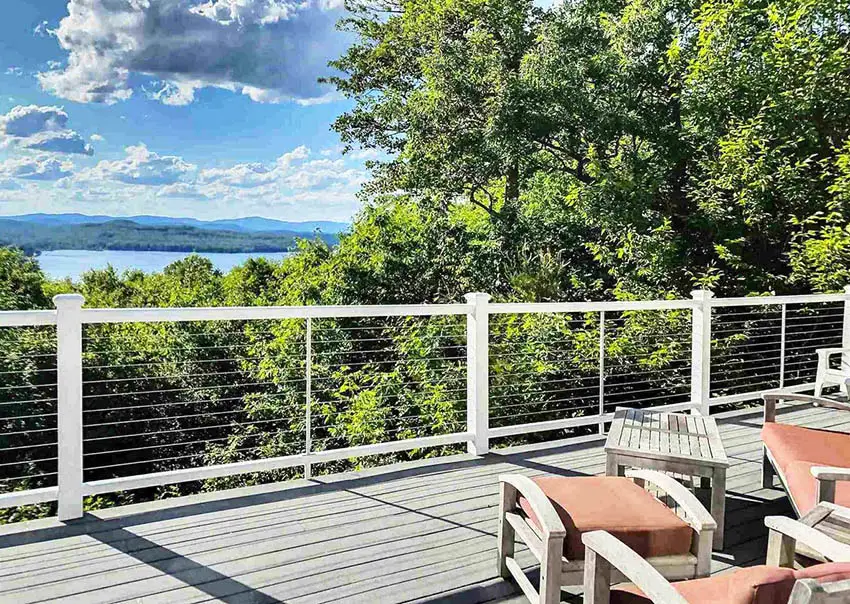 With a harder composition compared to the composite material, the scratch-resistant PVC deck railing is an ideal choice when you have pets around your deck. With many options from customized or prefabricated radius sections, you can easily match them with your target or existing deck style.
PVC deck railings typically come with warranty offers to reach up to 25 years. You can opt for the powder-coated PVC material for longer life use and low maintenance.
Pros: Highly durable, Easy to install, Variations, Deflects heat
Cons: Expansion and contraction can occur with sudden change in temperature
Hog Wire Deck Railing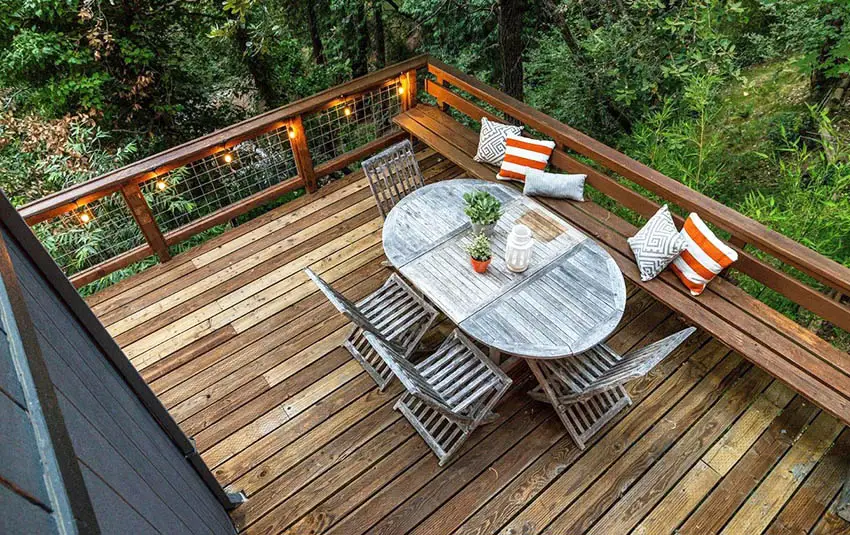 If you want a low profile and affordable option to your cable wire deck railing, the hog wire is your best alternative. Suitable for rustic, country-themed, and industrial-inspired decking, they are also an acceptable variation for achieving a modern or contemporary look.
There's a certain charm of hog wire deck railings that are present in other types of materials. Discovered as a cheaper alternative in designing fences by landscape designers, it is now a mainstay for modern themed decks.
Pros: Durable, Allow views, Flexible, Easy to install
Cons: Does not provide privacy
Trex Deck Railing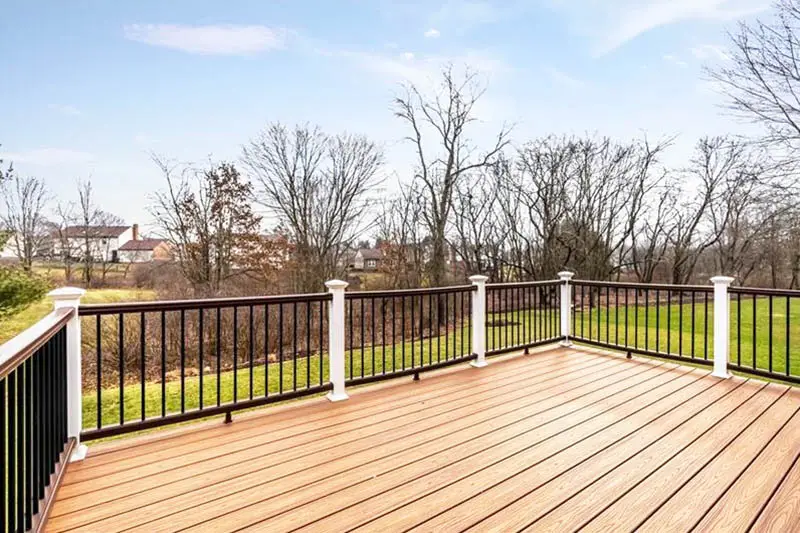 As a composite material, the Trex Deck Railing infuses 95% recycled wood chips, pallets, sawdust, and a number of plastic materials. The eco-friendly material is manufactured by Trex Company, Inc., a major manufacturer of wood-alternative decking specializing in materials for outdoor use.
The Trex railing boasts many advantages such as the stain and fade resistant properties as well as its ability to withstand warping or peeling. The variations provide clients a wide array of colors and designs to choose from with Trex deck railing kits for easy quick and easy installation.
Pros: No lifelong maintenance, environmentally-friendly, fade resistant, lower heat absorption
Cons: Expensive initial cost
Timbertech Railing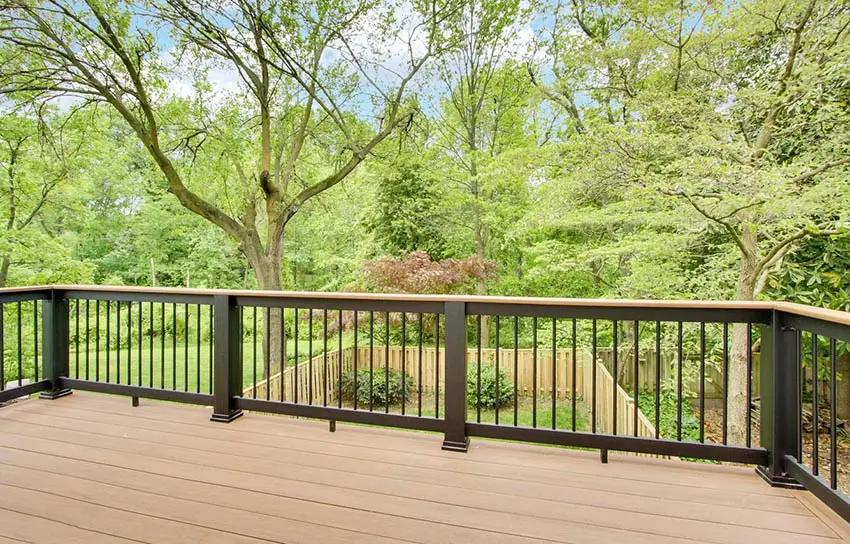 Timbertech is an alternative to Trex which also offers composite decking and railing systems. Timbertech offers several different styles or railings in colors such as white, black, slate gray, brownstone and Kona (rusted brown).
Pros: Strong & durable, weather resistant and low maintenance.
Cons: Higher cost.
Deck Railing Designs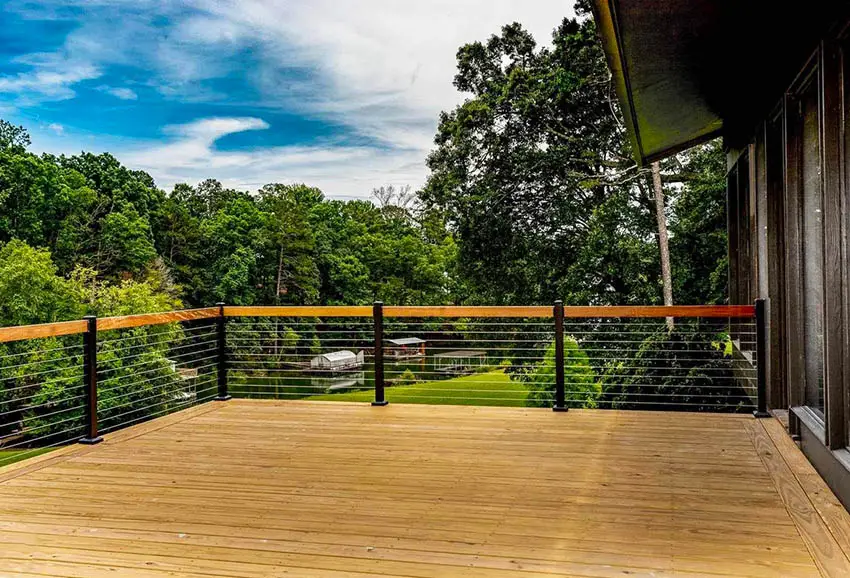 Above we've covered the materials used for many different types of deck railings. Now we'll take a look at a variety of different railing designs to show you an assortment of options for your deck.
Horizontal Deck Railing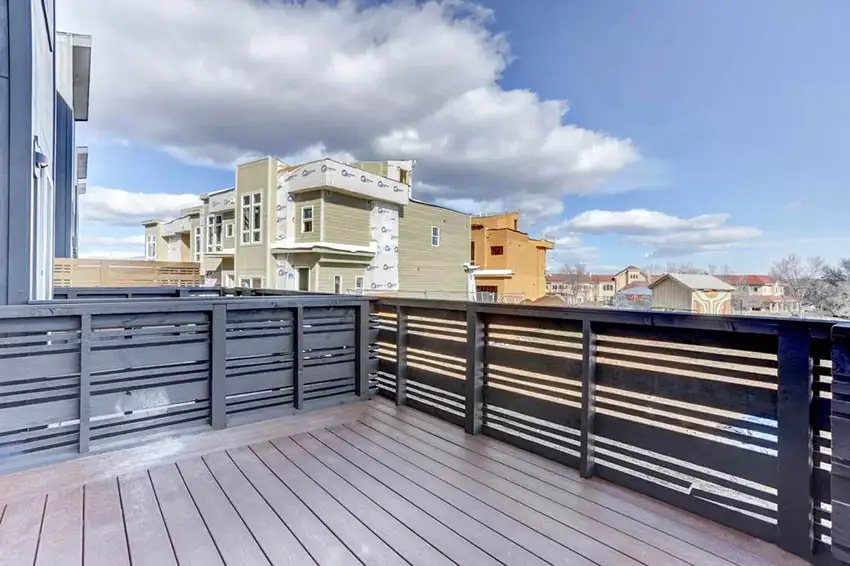 Achieving a modern look for your decking is easy with horizontal deck railings. They don't use much fasteners and hardware compared to vertical installations. Horizontal deck rails leave a clean, easy-on-the-eyes overall look.
Almost all decking materials can be made use using the style. Wood, metal, cable wire, PVC, and composite railings can create an attractive horizontal decking perfect to match contemporary and modern decks.
Pros: Cheaper to install, Design flexibility
Cons: Issue on Safety
Contemporary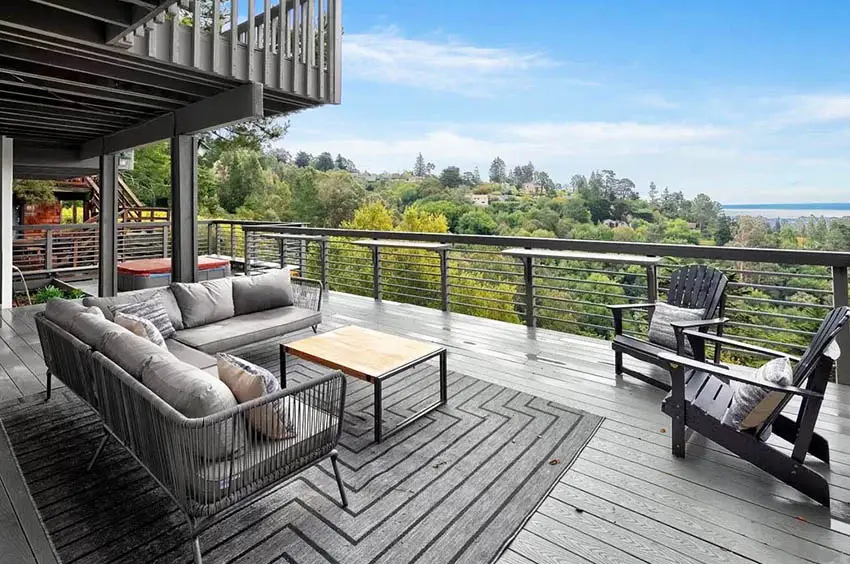 Elements such as horizontal decking, clean lines, incorporating metal, glass, and plastic materials give way to a contemporary look. Contemporary decks are great options because you don't have to worry about cleaning irregular nooks and crannies found in most traditional decks.
This style is a great option when you a simple and updated design that works well with your modern furniture and other decking elements.
Pros: Easy to maintain, Match modern materials, relatively cheaper to traditional decks
Cons: A design that stands out can be hard to come by.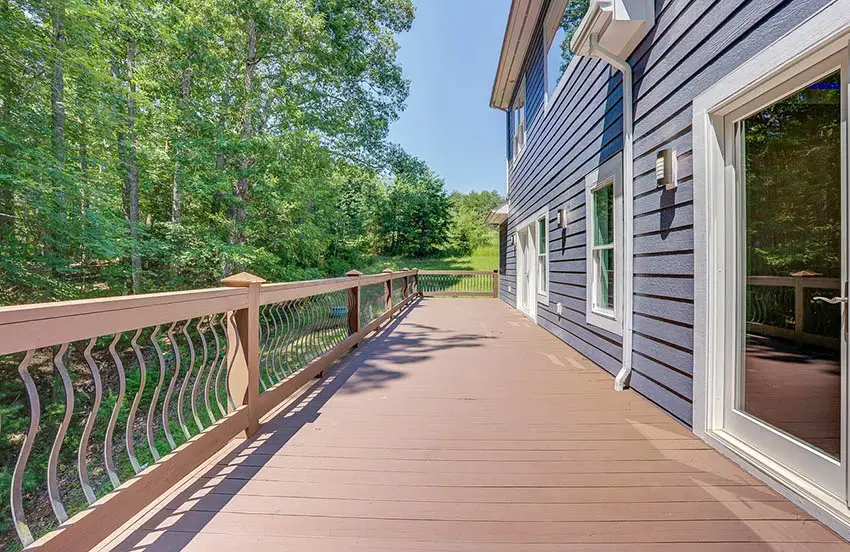 A contemporary deck railing with composite posts and stainless steel railing.
Modern Deck Railing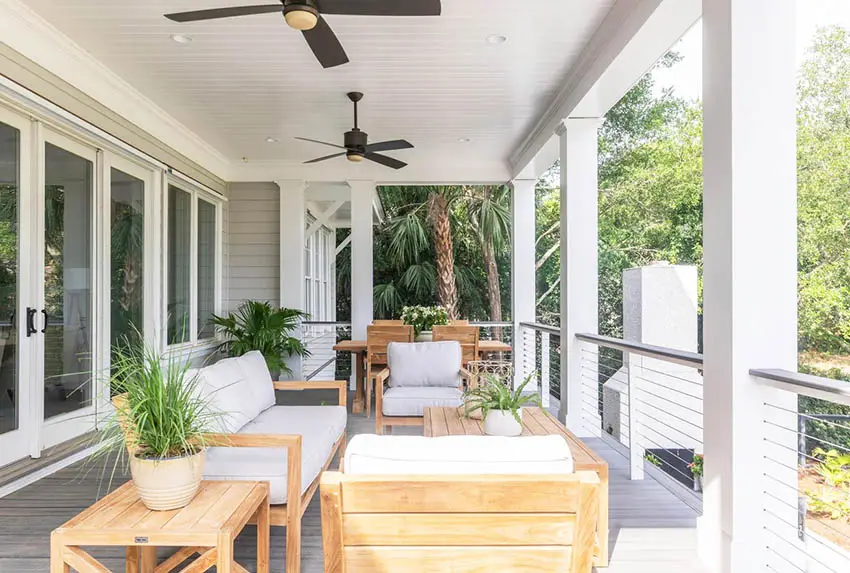 Like any modern interior, modern deck railing offers a simple, functional yet appealing overall look. And, with a modern deck railing you can tie up the overall look of your home into an up-to-date and attractive outdoor living.
Pros: Updated look, easy to maintain, works well with modern elements
Cons: Design limits the use of ornamental features, may look monotonous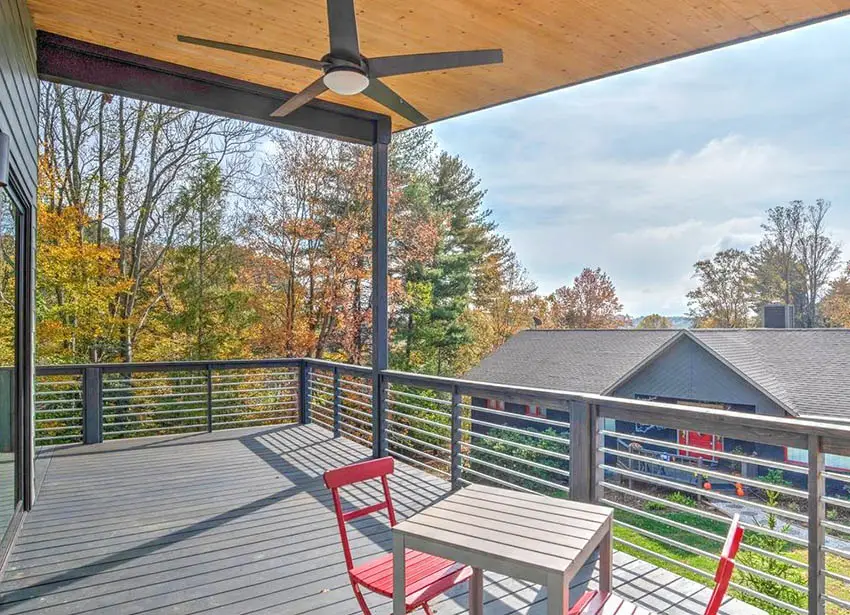 This deck uses wood posts and horizontal aluminum railing to create a modern design.
This modern geometric design deck railing provides visual interest for this wood deck with outdoor dining table.
Rustic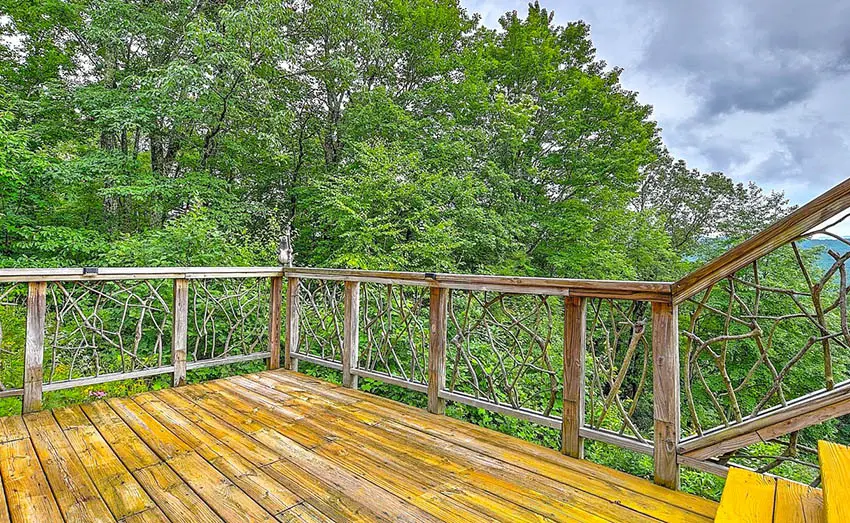 The rustic style highlights the organic look of natural materials. You can showcase the natural beauty of exotic wood with all its knots, dents and other rugged features. With its nature-inspired textures and earthly-colors, rustic deck railing is a great option if you want to achieve the unpretentious charm and homely atmosphere.
Pros: Creates character, Unique Aesthetic Appeal
Cons: Untreated materials can deteriorate overtime
Decorative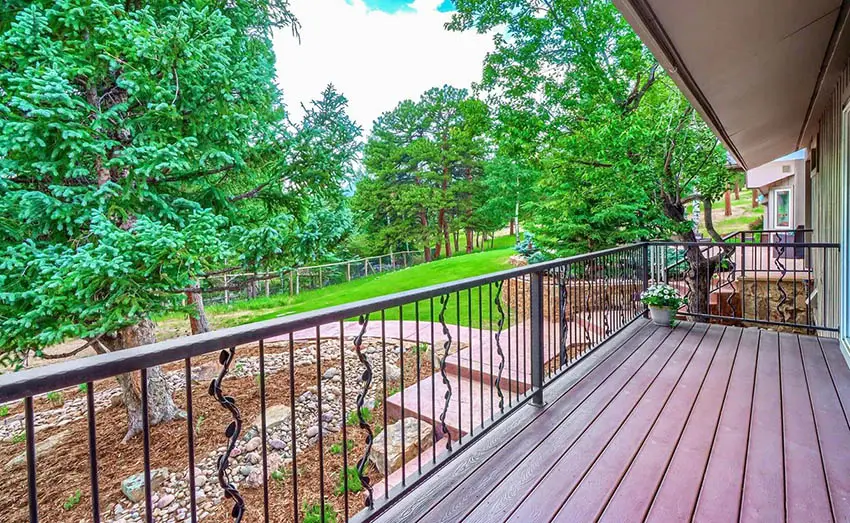 Install a customized decorative railing, to get a dynamic and personal look for your deck railings. Typically wrought iron is favored material for the personalized railing designs because of its easiness to be bent and shaped into any desired design. Although you can do with other materials such as wood and aluminum creating a more modern and geometric patterned railings.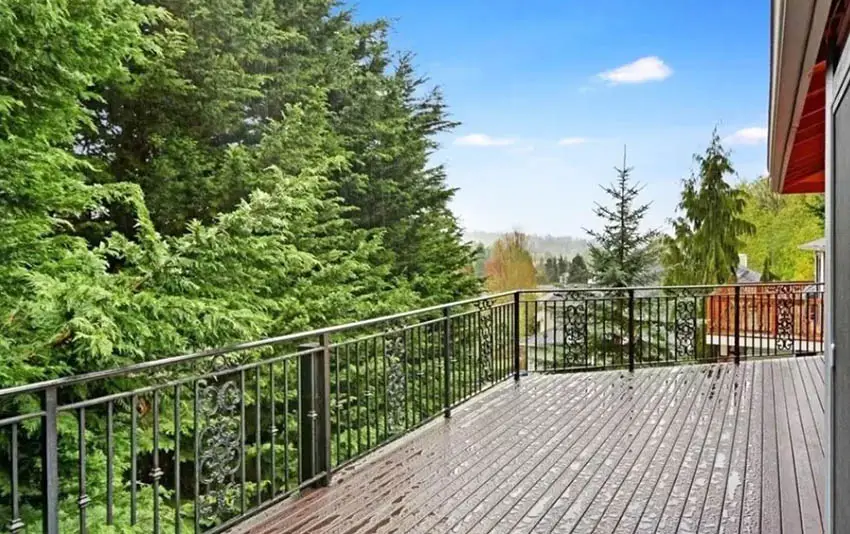 Decorative metal railing
White Picket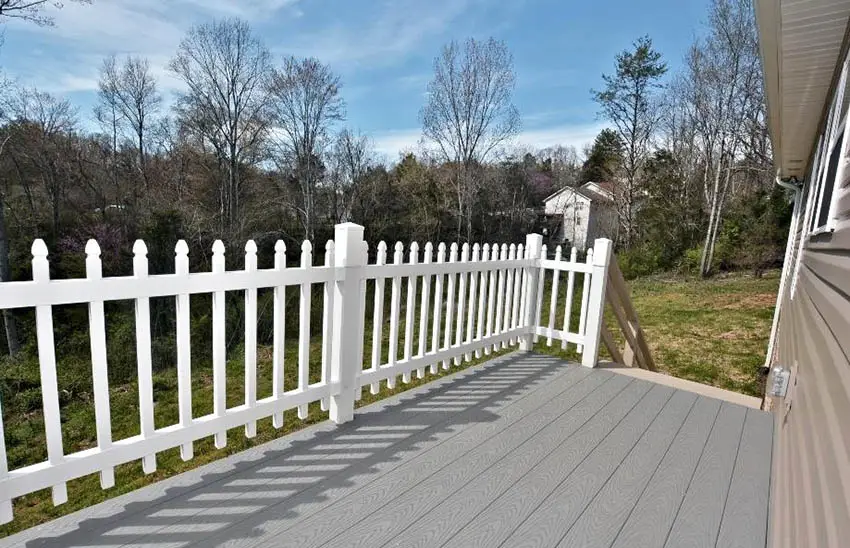 An epitome of suburban living, white picket fences adds charm and a homely feel to any outdoor space. To add a modern twist to the traditional rails, you can change modern elements into the design. Choose a rounded or squared picket top instead of the old-style pointed/arrowed head. You can create an alternative design with the post caps to add interest to the white silhouette.
Wood with Copper Posts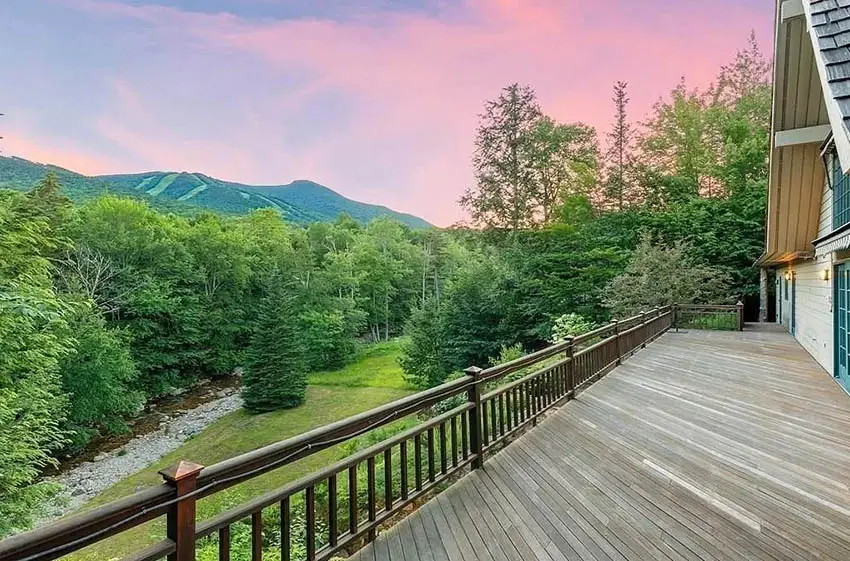 Whatever theme or style you want to achieve for your deck railings, wood, and copper combination can own it all. Depending on the design of your wood and copper deck rails, vintage, modern, rustic, or one of the classic styles, the combo can accommodate all.
This wonderfully designed deck railing utilizes the copper as rail posts and leaves the rest of the rails with the wood material, creating that vintage and rustic styled deck.
Wood and Lattice
Latticework has always been an attractive design for fencing and rails. They're functional as well as they are attractive especially when you have stunning views to add.
Lattice fence design can be used in many ways when it comes to deck railings. You can choose the full coverage of your railings or combine it with other railing patterns to create a unique effect.
Deck Rail Planters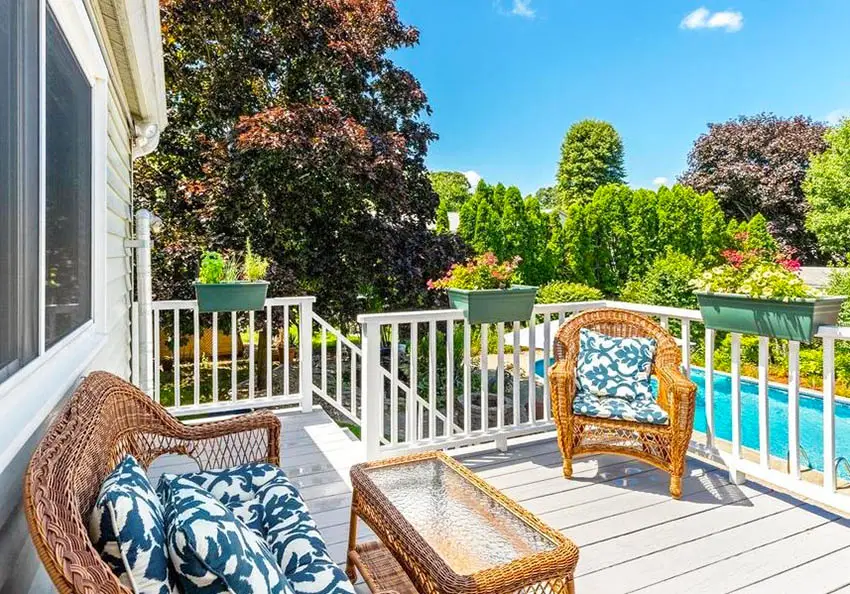 A verdant touch on your decks can go a long way, especially when you designed your deck rails to accommodate planters for display. Wood and metal are flexible materials to create matching rail planters along your deck area. These types also work as fence planters which can be another way to further enhance your garden space.
Sitting planter boxes along the deck railing is another way to create a larger garden area on your deck.
Wood with Sitting Bench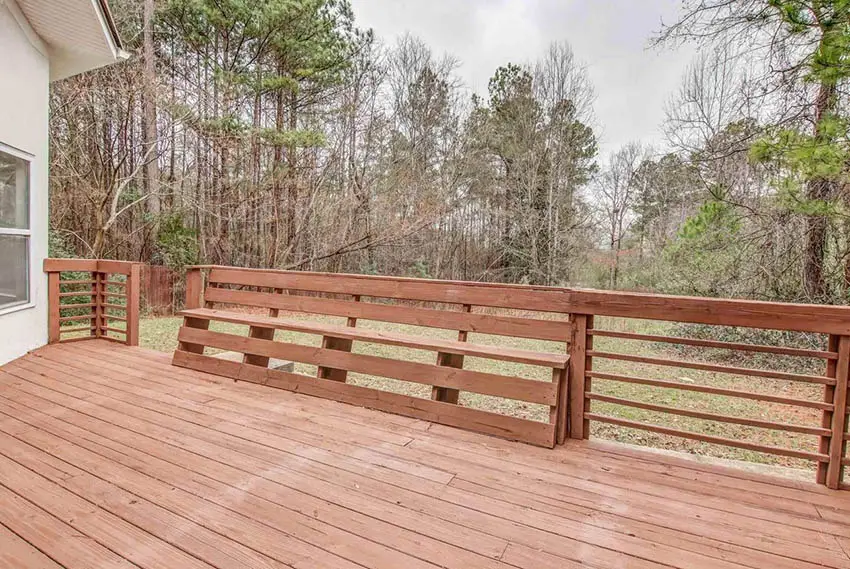 Adding a custom outdoor bench is a great way to incorporate a useful design feature to your wood deck. This can be constructed at low cost as a DIY project.
Metal Pipe Railing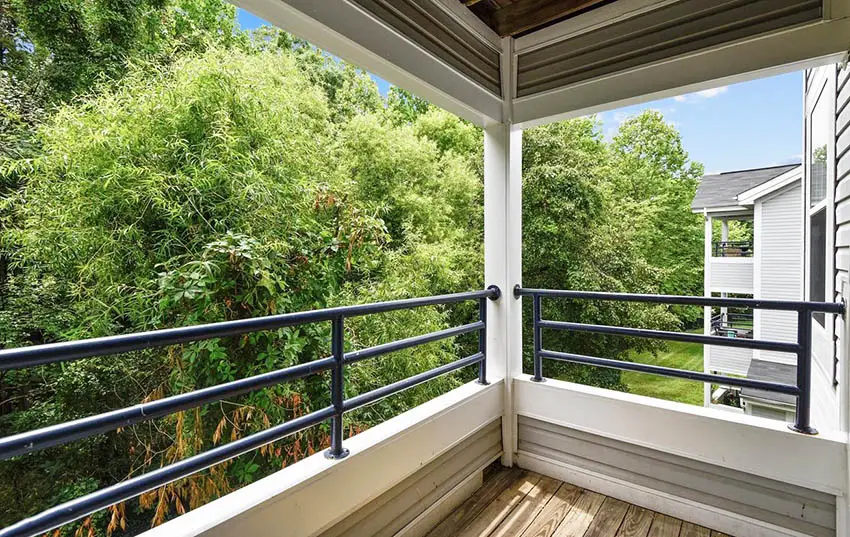 Aluminum or stainless steel pipe railing are both commonly used for interior and exterior stair and deck railings. Some homeowners use steel conduit as a DIY railing project to create their own low cost system. However, conduit generally will rust after a few years making it unsightly.
Deck Stair Railing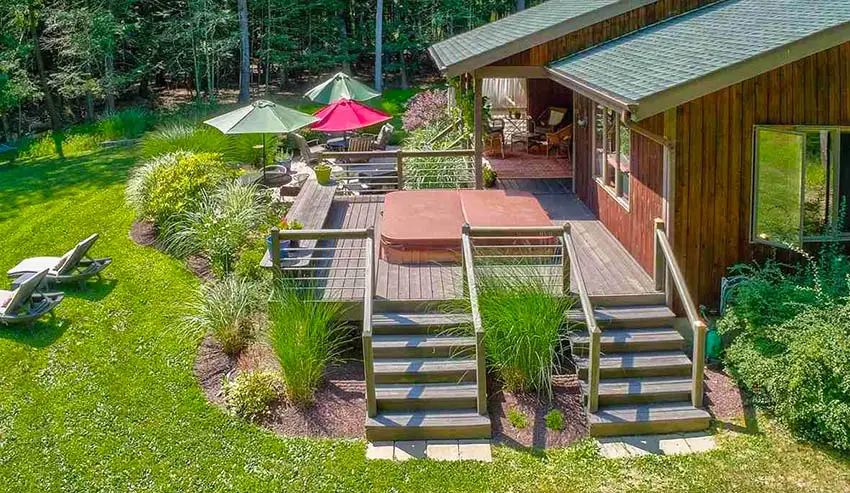 Following local building codes for your stair railing will ensure that safety standards are being followed. The international building code (IBC) and International Residential Code (IRC) suggests a stair rail height of 34-38 inches while 36 inches for the guard rail. Check local codes in your area to make sure you don't miss out on any important measurements for your deck stair railing.
Constant exposure to the outdoor elements requires a material that impervious to water and moist absorption. Added waterproofing may be needed for wood and metal deck materials.
For related designs take a look at our gallery of interior stair railing here.
Deck Rail Lighting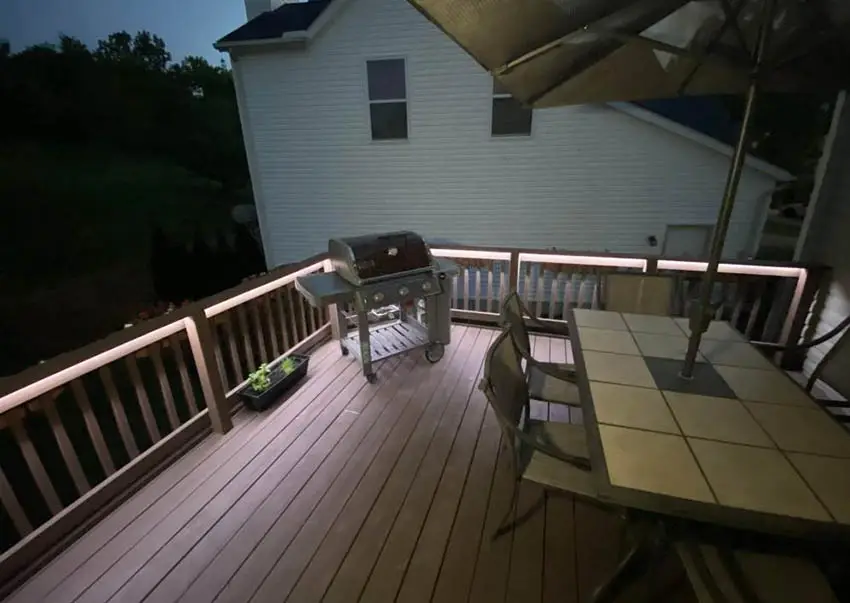 Adding lights on your deck can easily set the mood of your property and illuminating your deck rails not only adds curb appeal to your overall design, but it is an important safety feature as well. The effectiveness of your lights will rely on the color and illumination you choose.
Adding lights on your deck can add drama and set the mood. Post cap lights along with stair lights are popular choices for any type of deck railing lighting. You can also save energy by using LED and solar deck lights.
Privacy Deck Railing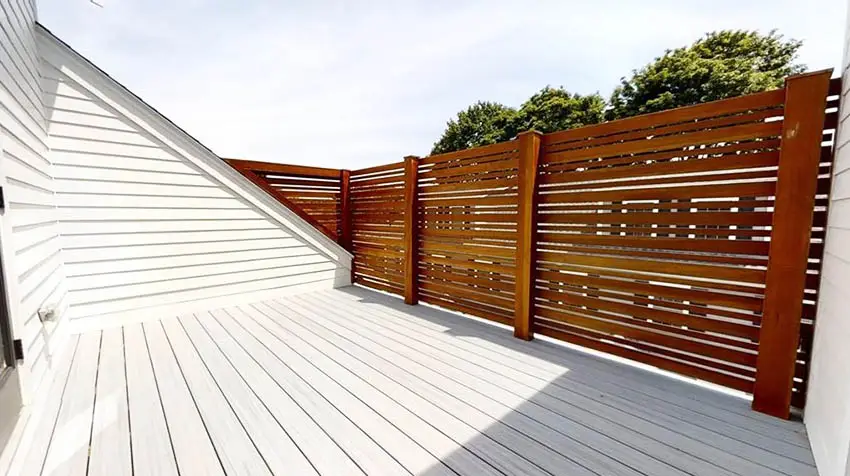 When privacy is of utmost importance, a privacy deck railing can provide you with maximum coverage inside your property. A minimum of 2 meters high will get you the needed concealment, but you do need to secure fencing permits. Where the requirements for your privacy deck railing will depend on your locality.
Your functional fencing rails need no to be all utilitarian. To ease up the look, you can choose to use horizontal wood slats to create a warm and appealing look. A trellis topper is also a good alternative as you can get both security and curb appeal in one wall.
For the trellis topper, choose an enclosed design on the lower part where at least 2/3rds of the height desired for your private deck. Then, integrate the trellis topper on top to create a semi-private partition.
Deck Railing Height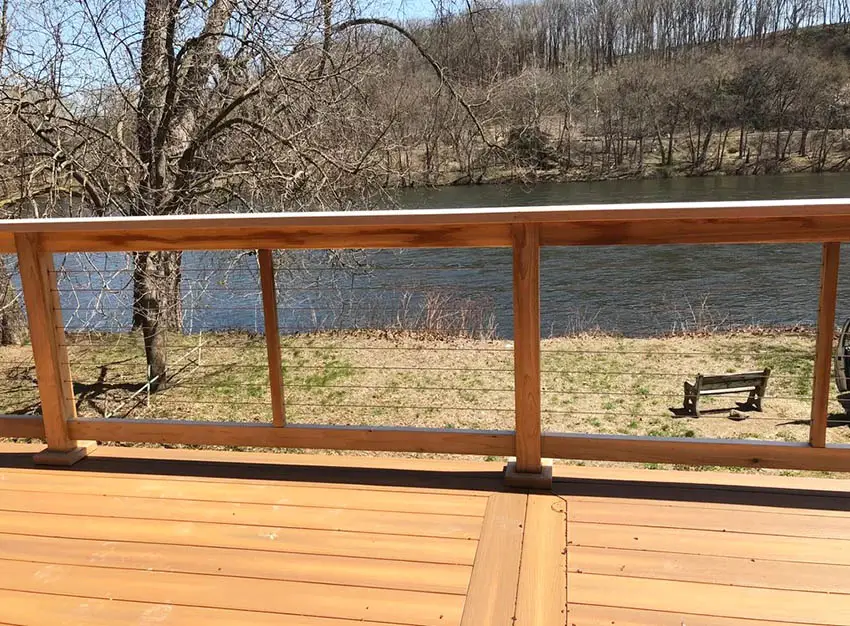 The International Building Code and International Residential Code can be used as your initial references when planning for your deck rails. Although the local code will eventually govern over the International Building Code, the standard measurements reiterated in the International Editions are not farfetched from the standards of local versions.
The IBC and IRC both lists 34" to 38" as the minimum and the maximum stair rail height for outdoor decks.
Deck Railing Post Spacing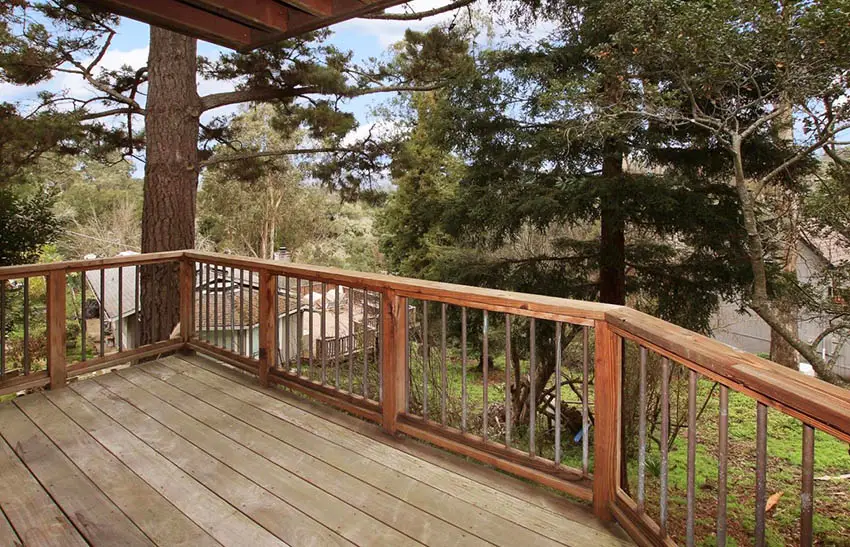 For deck guard railing, 36 inches is often used for post spacing. When it comes to how far apart posts should be its recommended to have 30" or more between (platforms) guard rails. Rails should also have a maximum of 4" space between the railings and can withstand a load of 50 pounds per square foot.
To create your own designs try using a deck design software program which allows one to experiment with a variety of different types of railing systems and layouts.