Create the ultimate outdoor living experience with these creative & practical outdoor TV ideas.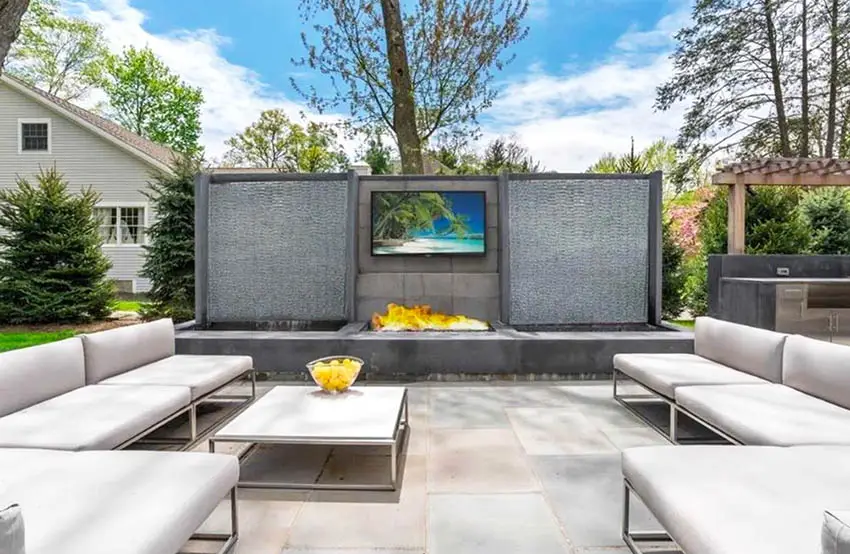 Not only does outdoor spaces provide an added venue for entertaining guests, but also a great place to encourage your family to enjoy that much-needed vitamin D, fresh air, and scenic views.
As an extension of your living room, why stop at furniture. Beef up with audio and visual entertainment to further bring-in the comforts of your interior living to your outdoor areas.
A big screen matched up with sound surround systems is a great way to update your patio, deck, garden, or pool space, in a big way. But, with modern technology, bringing in the comforts of your interior spaces to your backyard has never been conceivable and easier. Smart TV, for instance, makes it possible to control viewing settings such as voice commands or through mobile applications.
In addition, locating your TV is so convenient. Thanks to wireless HDMIs, Bluetooth, and wireless settings, you don't have to worry about exposed cables. Plus, with flatscreen TVs and high-quality projectors, your outdoor design possibilities are endless.
Patio with TV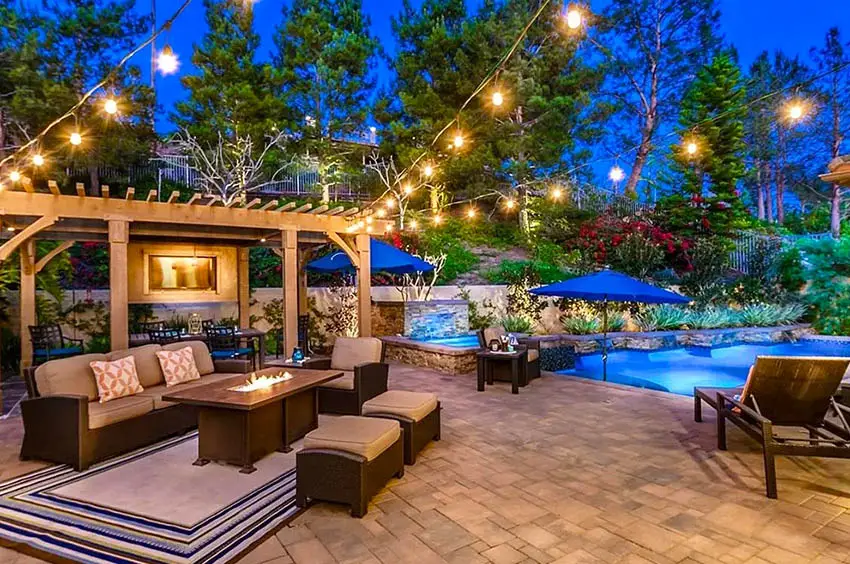 Modern patio with outdoor TV mount inside a pergola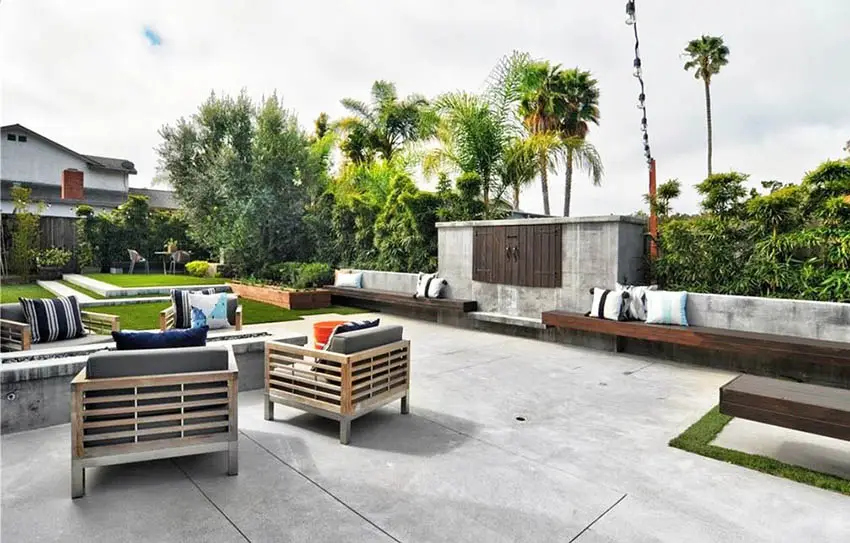 Protect your TV from weather and moisture by providing an enclosed TV cabinet. This patio design uses a concrete enclosure to house the outdoor television. The concrete enclosure goes well with the overall patio design, with its horizontal elements, and uses similar patio material. The modern patio has the perfect focal point
Covered Patio with TV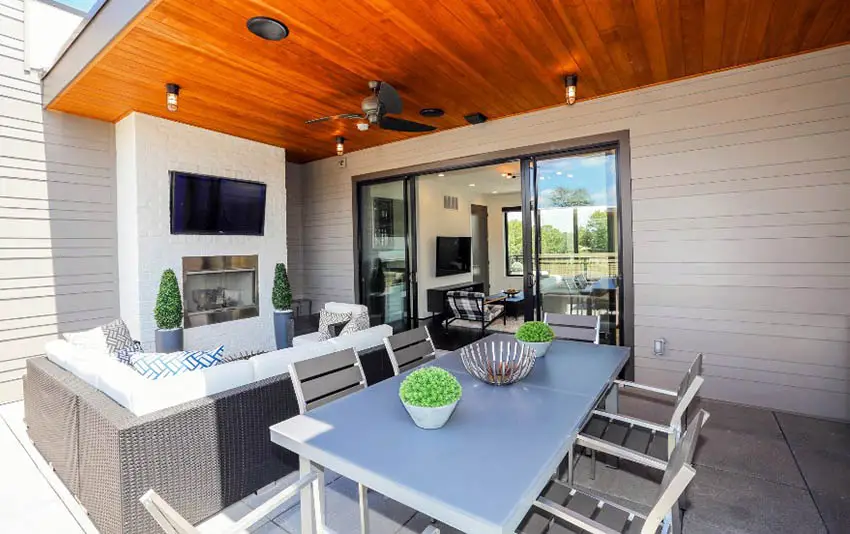 This covered patio is a cozy place to enjoy binge-watching with the family. Perfect for eating or lounging out on a Sunday afternoon.
Installing your outdoor TV screen just above the fireplace creates an undivided focal point. In addition, the simple mounting of the flatscreen on top of the fireplace without added décor helps to maintain the contemporary style.
Deck with TV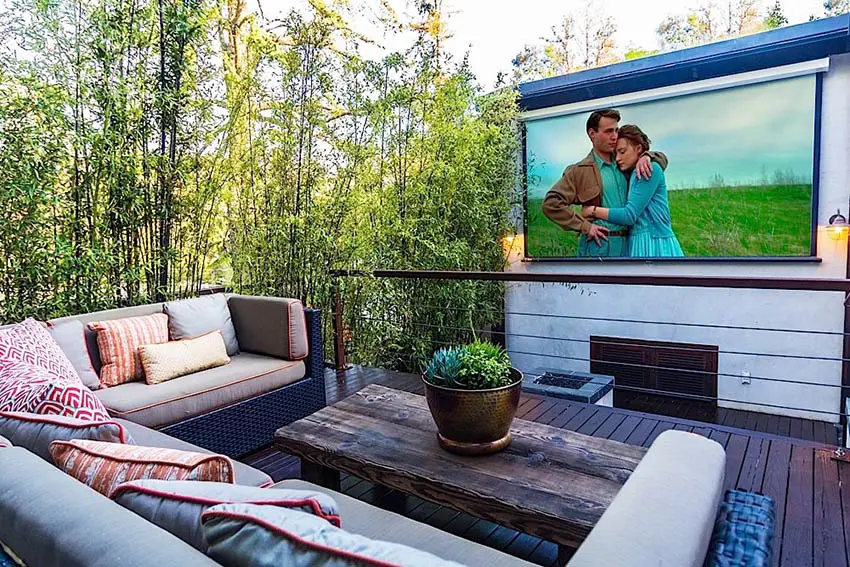 A modern deck amidst the surrounding greenery is lovely as it is, but with an outdoor TV or a projector screen, you can bring so much more to your lounge area. Flatscreens make it convenient to mount up anywhere in your patio or deck area, but a projector is also a practical option when you want a larger screen.
Outdoor TV in Barbecue Area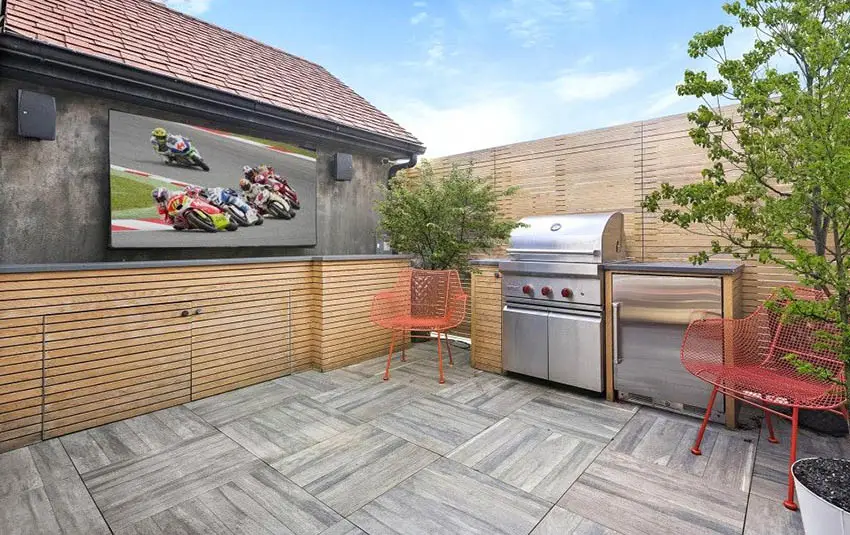 Pair up your outdoor barbecue area with a TV screen, and you'll get an irresistible hangout spot and you'll no longer miss out on the winning moments while you grill. This mounted flatscreen TV has the perfect spot for live streaming of your favorite sports games or TV shows.
Complete your outdoor entertainment with a weatherproof surround speaker to enhance your outdoor viewing experience up a notch.
Outdoor Fireplace with TV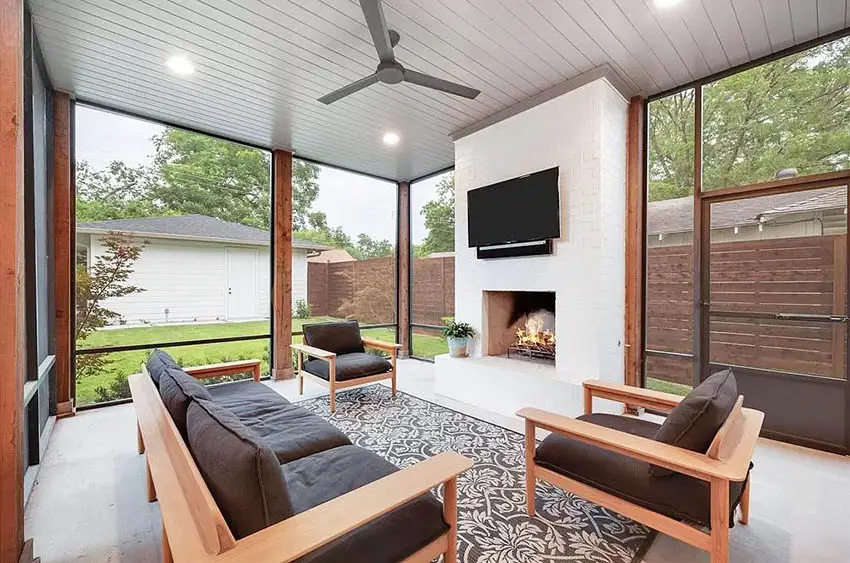 The day room is another perfect venue for your mounted TV as it is a practical and secure to place your big screen. No need for a weatherproof version for your TV, since the enclosed patio area protects your audio and viewing devices while still enjoying the views and natural light from outdoors.
Mounting your TV screen on your fireplace buildout enhances the day room's central attraction. It's also the best placement since it fills in the void on the large surface. You can extend your fireplace chase or hearth on the sides to create a hollow space to discretely hideaway wiring and cables.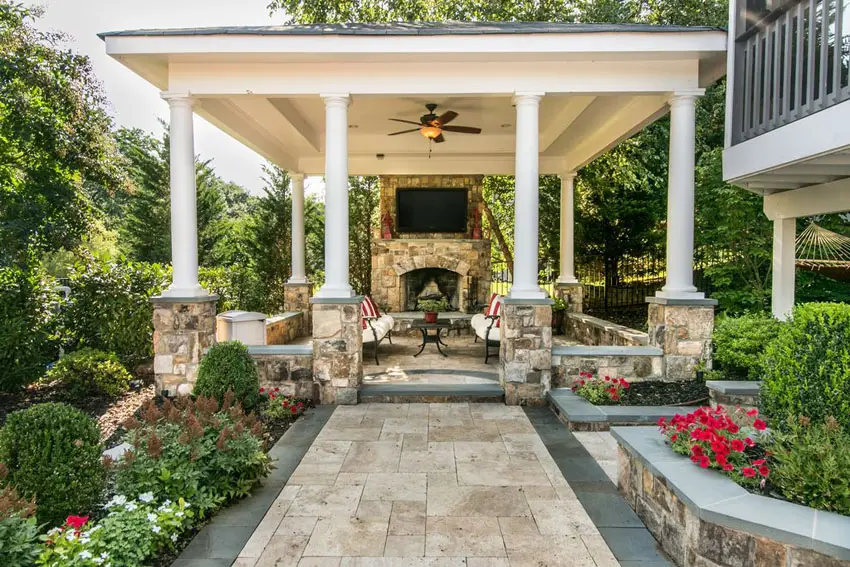 The stunning stone cladding on this hearth is the perfect backdrop for your TV viewing time. Undoubtedly the focal point on this outdoor living, the TV placement on the mantle, makes it more prominent and allows spectators to enjoy the full view wherever you are in the covered garden patio. See more stone patio ideas here.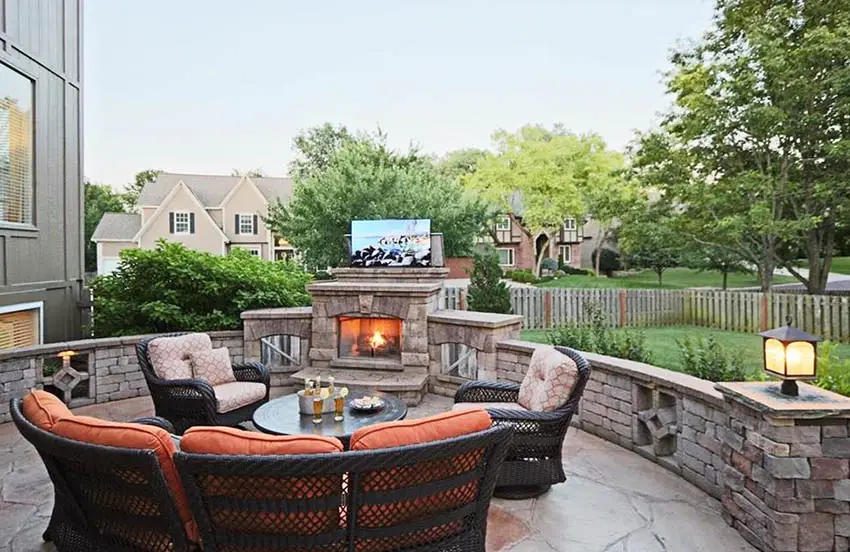 With a low-profile deck, placing a TV screen might be more challenging. Create unobstructed views of the surrounding by choosing a TV with just the right ample size for viewing in a distance.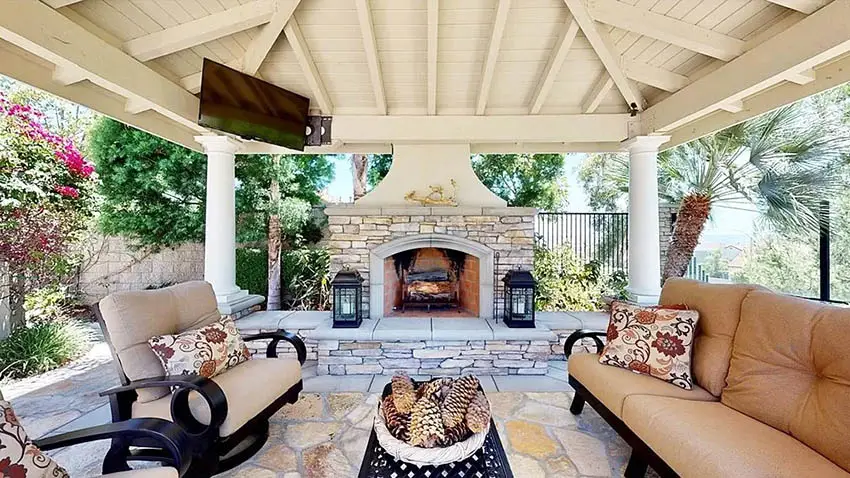 Wood burning fireplaces makes the chilly spring and autumn night more enjoyable. As it is functional, the fireplace has always been the focal point in outdoor spaces, but installing a television is a delightful addition to make your outdoor living even more entertaining.
Cabana with TV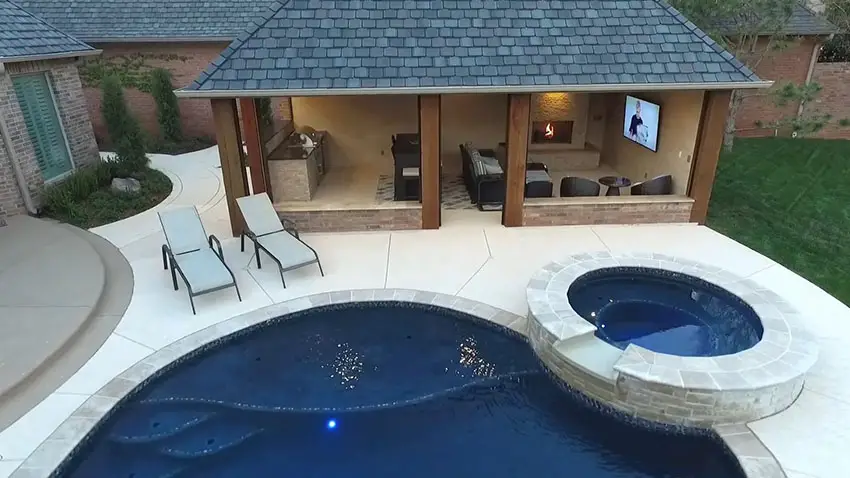 The perks of having a Cabana is that you can have the convenience to add extra features such as outdoor sofa set, kitchen and dining area. With an added protection against the elements, you are at ease to install that big screen you've always wanted.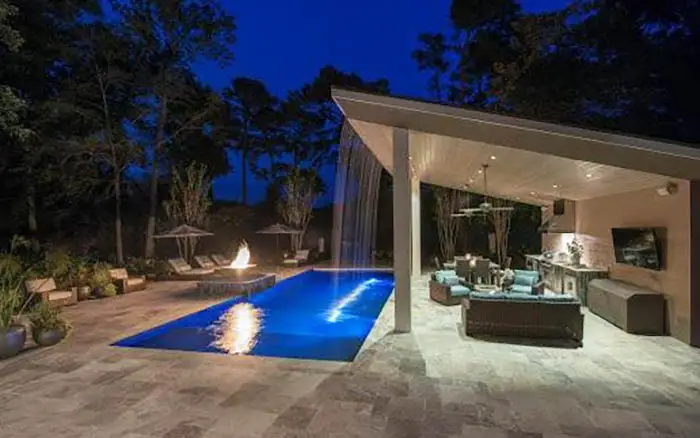 With a gorgeous waterfall cascading down from a modern cabana rooftop, what else can you ask for? Well, you can get an outdoor TV of course. The mounted TV completes this stunning outdoor area, a fitting feature that completes this relaxing outdoor Zen. Visit this page to see more patios with water features.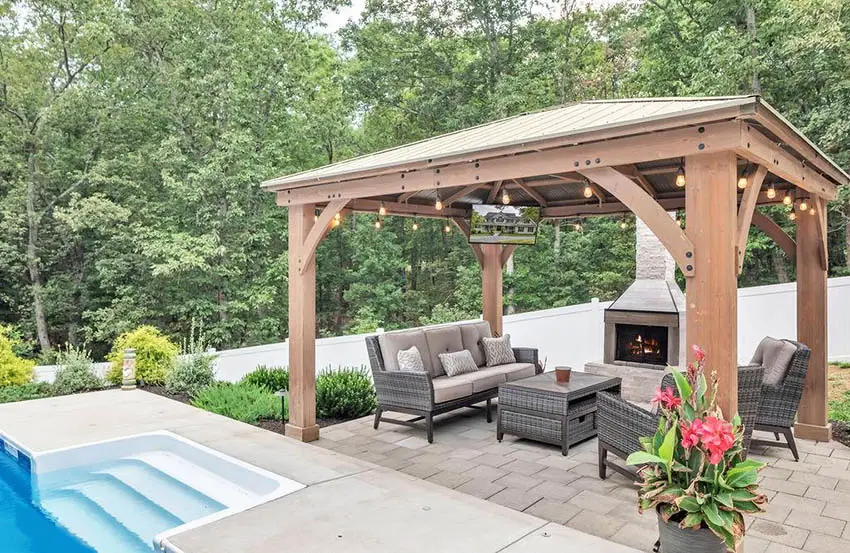 Unwinding through the leisure hours is never complete without viewing your favorite show from your ceiling mounted flatscreen tv.
Installing a TV monitor doesn't need to be complicated. With a sound structure, your cabana is the perfect place to mount your flat screen.
With a superb outdoor sound system to match, you can now enjoy your outdoor garden pool while listening to your favorite music next to your outdoor gas fireplace.
Outdoor Home Bar with TV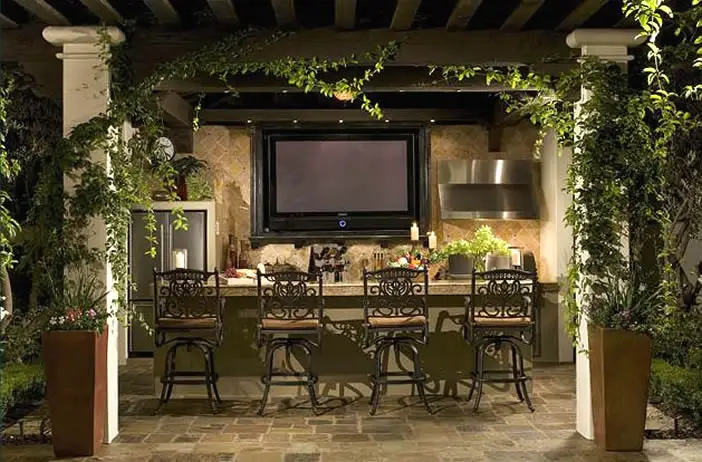 This outdoor home bar is a testament that modern elements when properly designed can go along well with your classic elements. The large TV is perfectly mounted on a sill with dentil moldings and is beautifully framed with rustic wood, is attuned to the vintage style. Now, you can enjoy food and drinks served hot or cold while viewing your favorite movie or TV shows at the bar.
Rooftop Patio with TV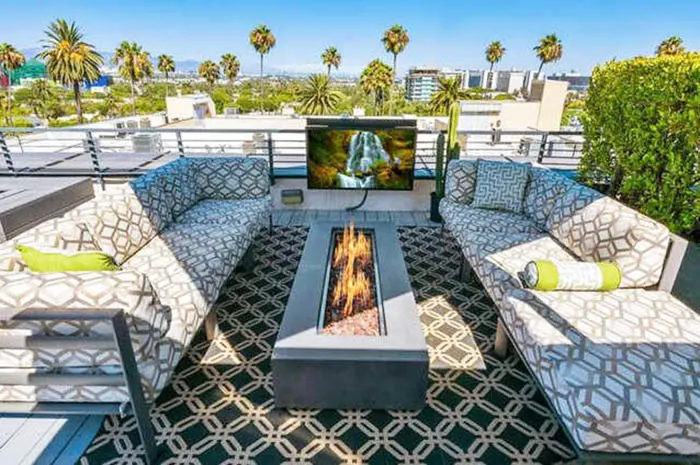 With stunning views and richly detailed design what else can you ask for from this rooftop patio with TV? Since flat screens are lightweight and won't take up much space, you can conveniently install it anywhere. It's also wise to install a roof covering. For a modern twist a white canopy roof will look good on any rooftop area plus it acts as an extra layer of protection for your outdoor television.
Outdoor Movie Watching Area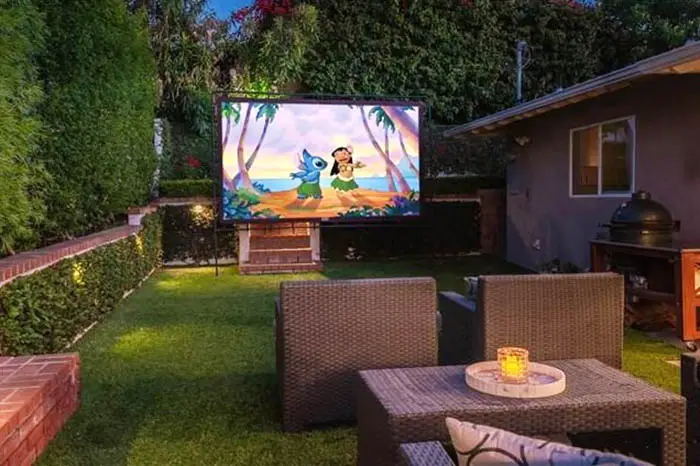 If you have a large backyard space, a television is a great feature for your kids to view their favorite cartoon characters or even watching educational shows. You can either choose a projector or an outdoor TV and have it running during a kids' sleep-over party. By installing artificial grass over the patio one can create a cozy ambiance for laying down a blanket or sleeping bags at night.
Pergola with TV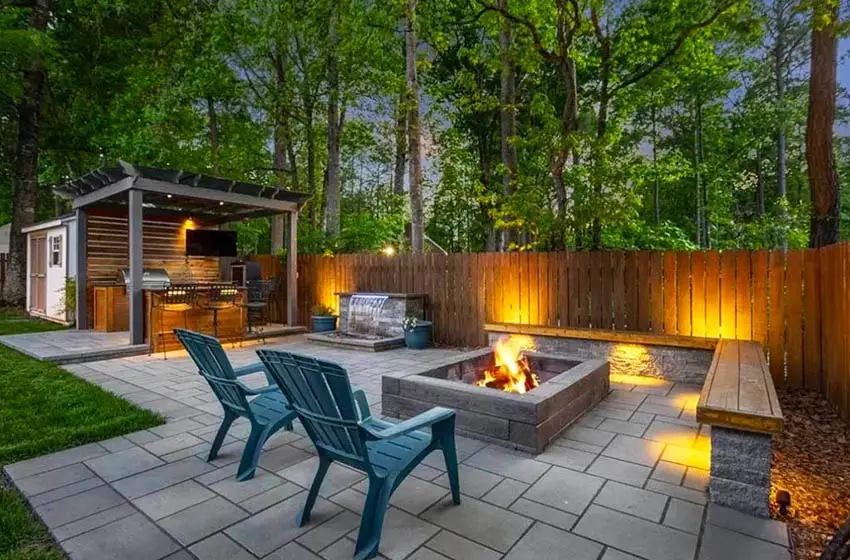 Complete your backyard entertainment by mounting your outdoor TV underneath your pergola. With great features, this summer entertainment and hangout spot is ready to entertain guests.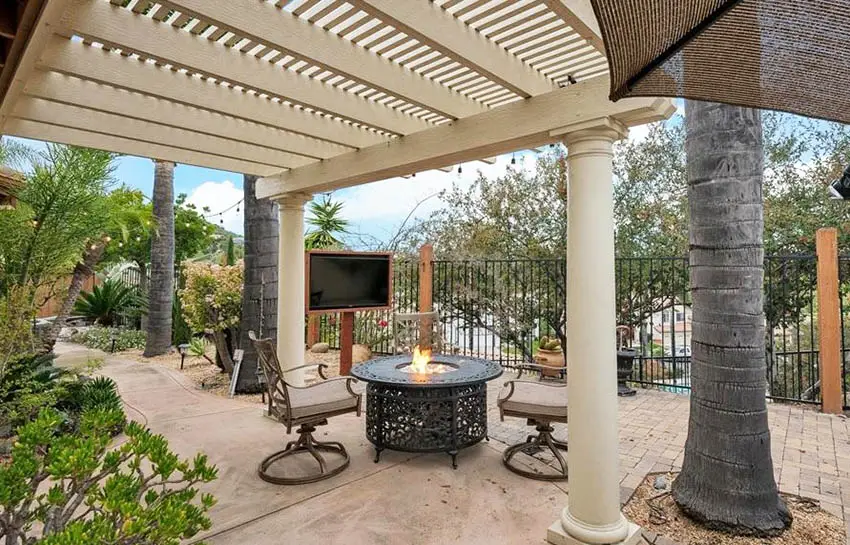 An outdoor TV pedestal enclosure is a practical option when you want to move your viewing screen around your patio and get that right viewing spot. This classic pergola is a romantic place to enjoy a quiet meal with your significant other.
Pool House with Projector TV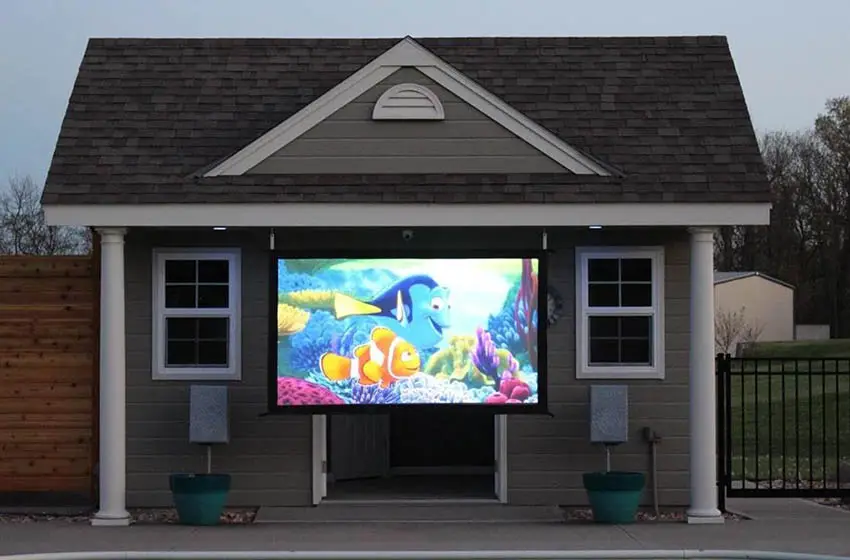 The advantage of a rollout projector TV is that's its lightweight and you don't have to worry about any beams falling apart once installed. This charming pool house makes most of its overhang roof, as it conveniently protects the viewing screen.
Outdoor TV Attached to House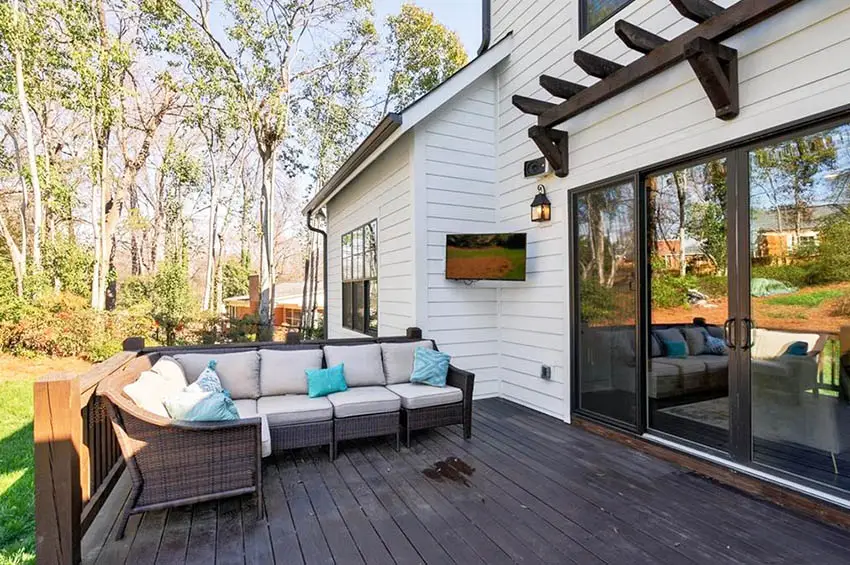 For an uncovered deck space one can purchase an outdoor TV with weatherproof features. In some cases finding the best spot for your outdoor TV can be a challenge. You're lucky if you have a long roof overhang, just like this deck area, which utilized its corner space with a revolving tv mount. This way you can adjust the television to the exact viewing angle you like.
How Do You Weatherproof a TV Outside?
There are a lot of outdoor TV models out there, but no matter what time of year it is, you'll need added protection to ensure your outdoor TV is weatherproof.
A layer of protection to your big screens allows you to enjoy your outdoor viewing all year round. Certainly, you don't want the wildlife damaging your entertainment center or have local opportunists snatching away your investment. Weatherproofing your TV will make you at ease as you get the protection and security for your outdoor television. Read more about tips for putting a TV outside here.
Ways to Weatherproof your TV: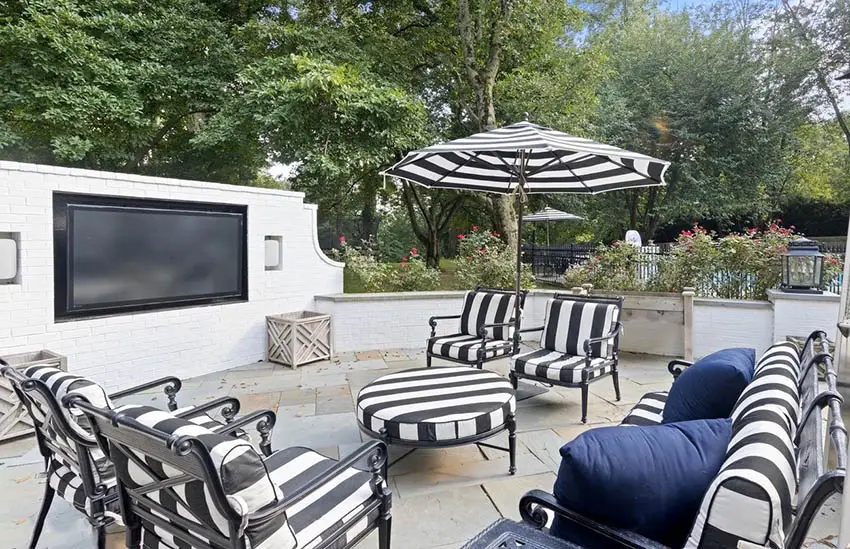 Built-in Cabinet Enclosure: Creating a built-in cabinet dedicated to your outdoor television allows you to get accurate dimensions from the right spots. You can also customize it according to your preferences.
The cabinet type allows you to have extra space underneath or choose to have pocket doors or flip lift that can reveal and conceal your TV screen. A track or sliding doors are also practical when you want a sleek and modern look on your enclosed cabinet.
Pros: Can match existing outdoor living design style or theme, Extra storage, Sound Structure, Full Protection
Cons: Costly, takes time to build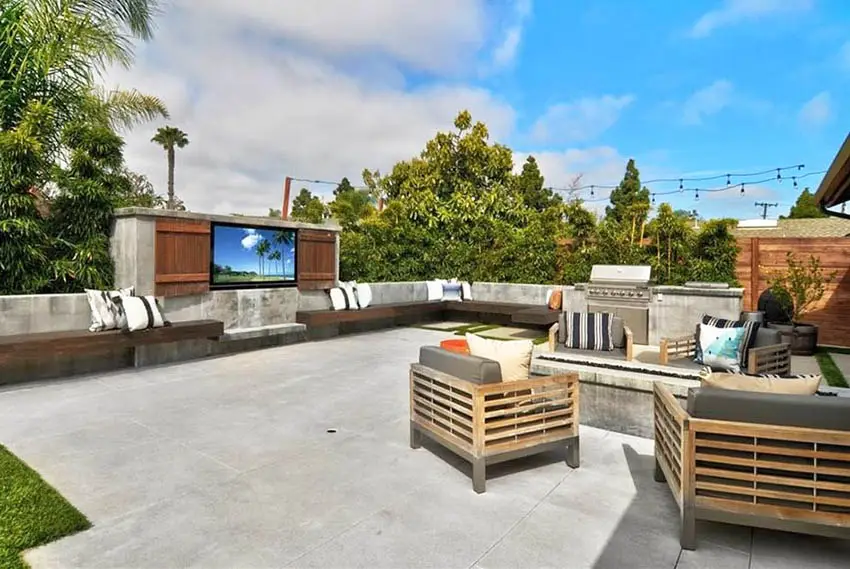 Purchase an Outdoor TV Enclosure: There a myriad of commercial TV enclosures you can choose from. The most popular features are shatterproof, locks, and UV protection.
Pros: Variety, Ease of installation
Cons: Expensive
Buy a Weatherproof TV Cover: Commercially available, an outdoor TV cover is a quick and easy way to protect your screen. You can choose the antistatic copolymer that has better quality over vinyl covers. There are also covers with front flap features, built-in clear front film fully covered bottom, and scratch-resistant versions.
Pros: Affordable, Quick Fix, Lightweight
Cons: Material to Deteriorate Overtime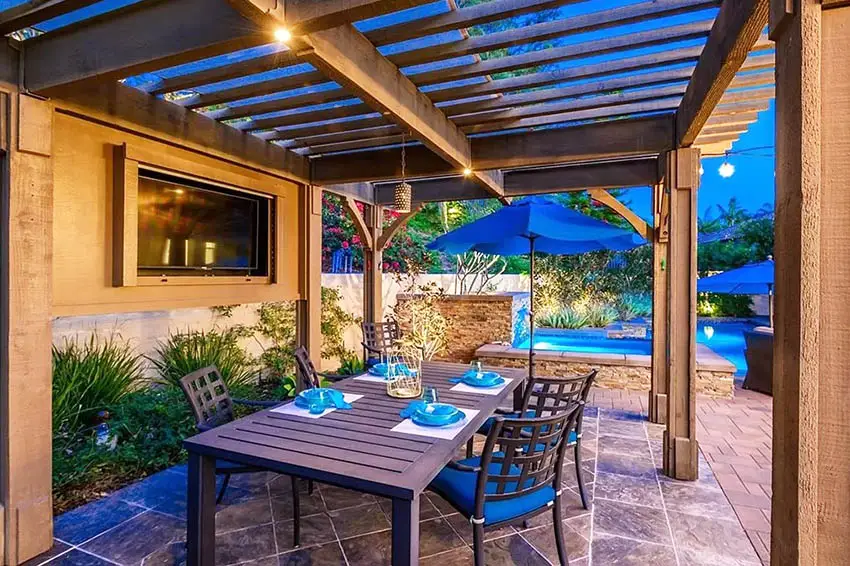 Build a Covered Structure: Although you'll not be getting the full-protection you need, a covered structure such as a pergola, trellis, patio cover, and pool house can serve as a secondary protection for your outdoor TV.
Pros: Added space, Sound structure
Cons: Costly, Need Additional Space
Takeaway: Bringing in the comforts of your living room to the outdoor area is a great way to add value to your deck or patio area. But the difference is that everything should be weatherproof. From your throw pillows to your sofa lounger, choose materials that can withstand UV rays and that can air dry quickly when dampened.
For your TV, an outdoor model is the only option you have, whether you'll be installing it on a covered or open space. Add an enclosure to your Television for extra protection from the elements. You can either have it bespoke or order premade TV enclosures. The advantage of bespoke made is that you can customize the design to suit your current outdoor theme.
To create your own designs there are several deck design programs you can use to bring your ideas to life.