Here's our hammock sizes guide including different types, how to measure a hammock, space needed and hammock stand dimensions.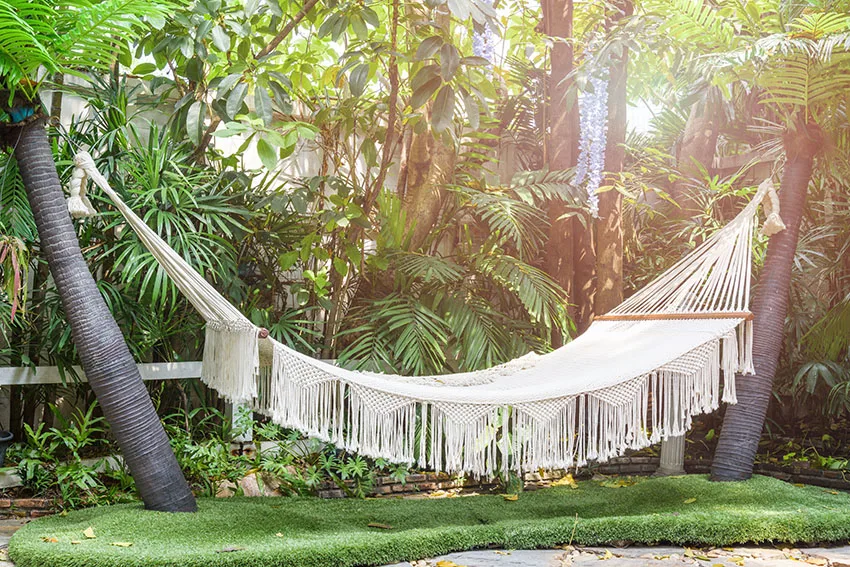 When you think of outdoor furniture, hammocks are usually on top of everyone's list, and for good reasons. A hammock invites users to unwind and relax while lounging in their favorite spot.

Aside from the style, material, or the hanging method of your future hammock, one of the most important factors to consider is the size.
If you have the space for any size of hammock, then there are no boundaries to the hammock size you can get since the general consensus is picking the largest one within your budget.
Standard Hammock Dimensions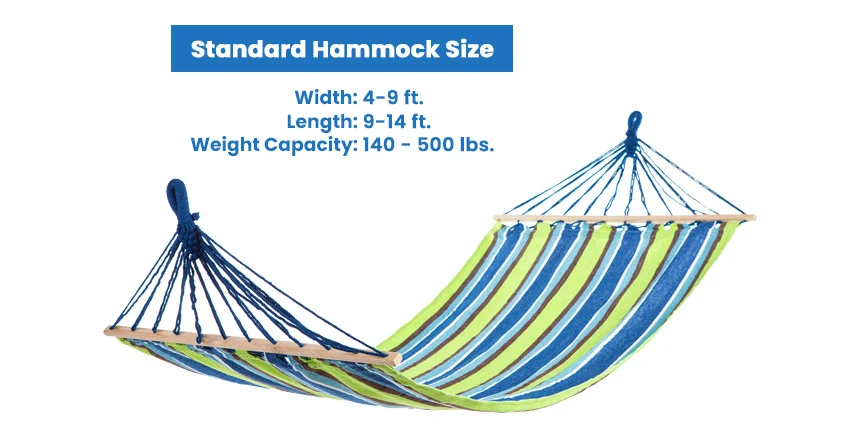 The weight capacity of different types of hammocks will vary according to the size you are planning to get, although they range to support weights from 150 to 500 pounds.
For the widths, anything from 4 to 9 feet is available. Wider hammocks can accommodate up to four persons, and the smaller ones will be enough for a single to a couple of people using it at one time.
The hammock length will generally range from 9 to 14 feet. The taller you are, the longer the perfect hammock for you will be.
Single Hammock Size

The first hammock size to consider is single. A single is small and lightweight, perfect for an average person with an average size or children to lounge in. They are also space-efficient, so closer posts or trees distance will still work to hang them.
The size will vary according to each manufacturer, but generally, a single hammock will have a width that ranges from 39 to 50 inches or 99 to 127 centimeters. For the length, it will range from 76 to 79 inches or 194 to 201 centimeters.
Double Hammock Size
A double hammock would be perfect for 1 to 2 people to relax in. Choose this hammock size for your home if you could use a little more space to sprawl in. A double hammock will be longer than a single, both width and length.
If you are planning to acquire this hammock size, their widths will vary at 52 to 60 inches or 132 to 152 centimeters, according to each manufacturer. This is also true for the length, which can range from 74 to 79 inches or 188 to 201 centimeters.
Queen Hammock Size

A queen hammock size which can also be called a matrimonial hammock in some cases is rarer, and only a few manufacturers hold them. Unlike the single or a double hammock, queen hammocks have a specific size.
For a queen hammock, the size is 69 inches or 175 centimeters from side to side. The length would be 79 inches or 201 centimeters from top to bottom.
Family Hammock Size
To do right by its given name, a family hammock will be big enough to support the whole family. It is large and roomy enough that kids will have no problem joining you in the hammock.
A single person can also really enjoy this option, and it is comfortable enough that they can sleep the whole night in it.
This is the biggest hammock size you can own, with a width and length of 79 inches or 201 centimeters. It is also the safest in the weight capacity this hammock can support.
How To Measure A Hammock?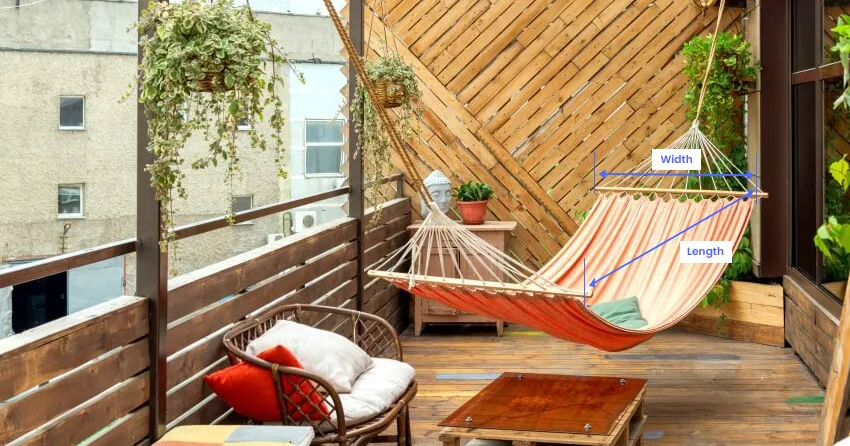 Knowing how to measure a hammock will come in handy even if you are not a ranger, mountaineer, or adventurer. Comfort coincides with the measurements making it integral for measuring.
The first thing to do is lay out the entire length and sides of the hammock flat on the floor or table. Take note that no rope or suspension straps will be included in the final measurements, but the look and holes to which the hammock will be attached to are included.
You must measure from top to bottom if you are measuring for the length. At the same time, measure from left to right for the width.
How Much Space To Hang A Hammock?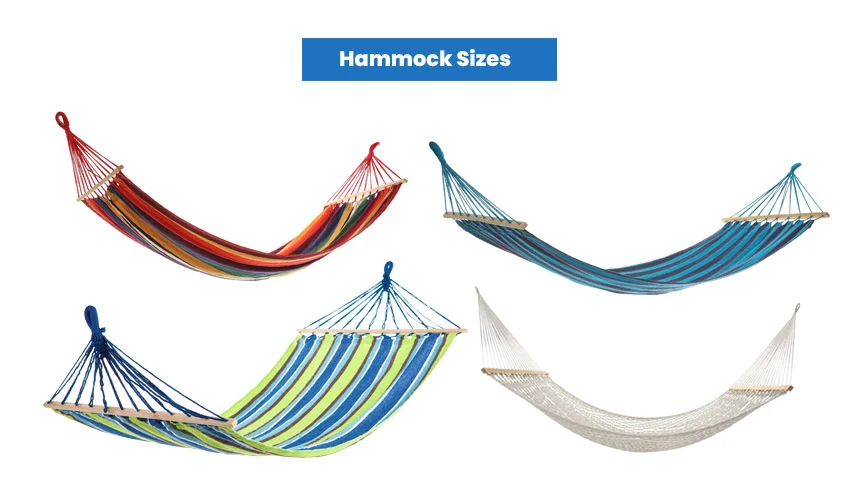 The hanging distance for a hammock is two feet or 24 inches greater than the length of the hammock itself, from ring to ring.
In general, a homeowner will need at least 15 feet of open space to be able to hang a hammock. Sometimes, this amount can be as low as 13 feet for a single hammock or more significant than 16 feet for a family size hammock.
It is important to note that the closer two posts or two trees are to each other, the more curvature your hammock will have.
Hammock Tree Distance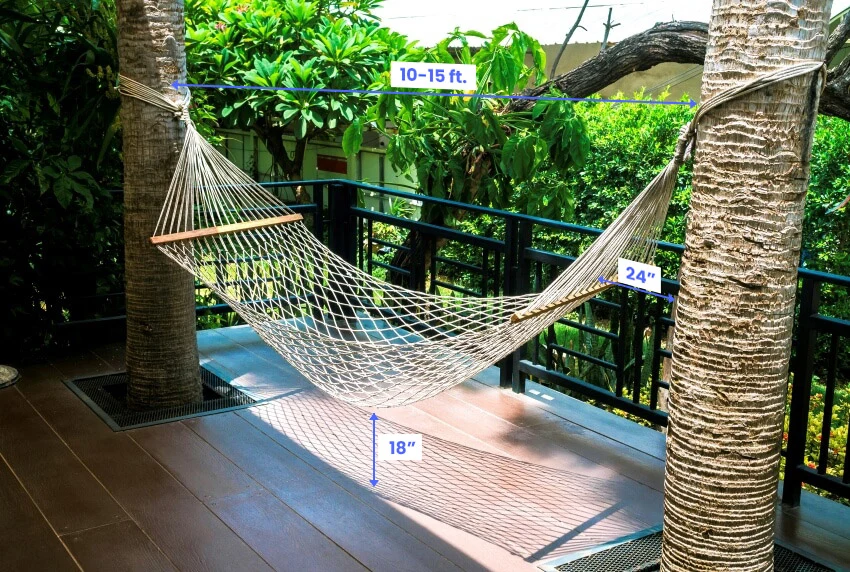 If you live someplace with access to many trees, then there's no need to buy an individual hammock stand since the tree trunks would do, but what is the ideal tree distance for cases like hanging your hammock?
Ideally, when hanging a hammock there should be at 10 to 15 feet or 3 to 4.6 meters of space between two trees. This length depends on your hammock size, but adding two feet or 24 inches on each side of the hammock to gauge the tree distance is also helpful.
How High Should Hammock Be Off The Ground?
The recommended "sag" for a hammock to have above the ground is 18 inches or 46 centimeters. This is if you are using a set of posts or two trees to hang your hammock.
For hammocks hanging from a spreader bar, there is a height of 4 to 5 feet or 1.25 to 1.5 meters from the ground to the "sag" of the hammock when seated or laying down.
What Size Hammock Stand Do You Need?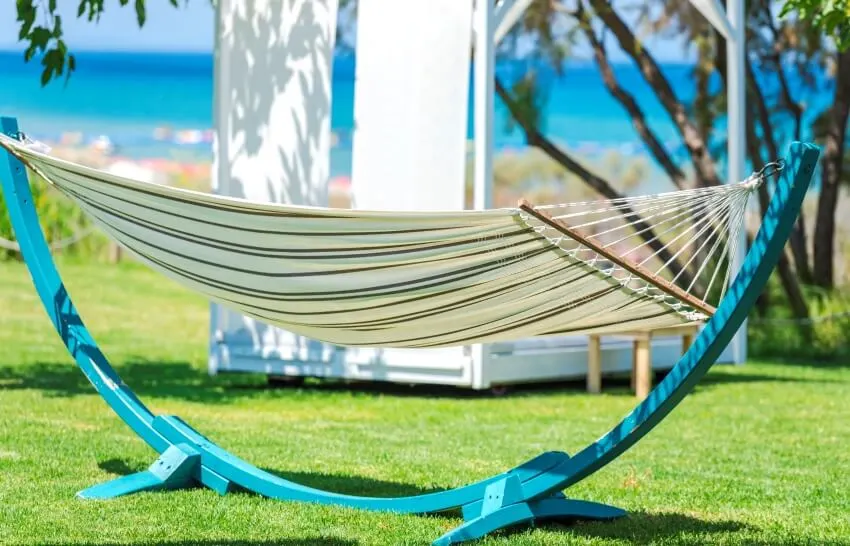 The hammock stand you will need for your hammock will vary in different categories like maximum weight capacities or materials used to make them. Generally, you need to ensure that your hammock stand will support at least 450 pounds.
As for the size, hammock stands should at least be 2 feet or 24 inches longer than the length of the hammock you won. For example, if you have a hammock 12 feet in length, you would need a stand that is 14 feet long to support your hammock efficiently.
Visit our backyard essentials guide for more related content.