Here are our top picks for the best pergola design software to help create your own structure and visualize it within your backyard.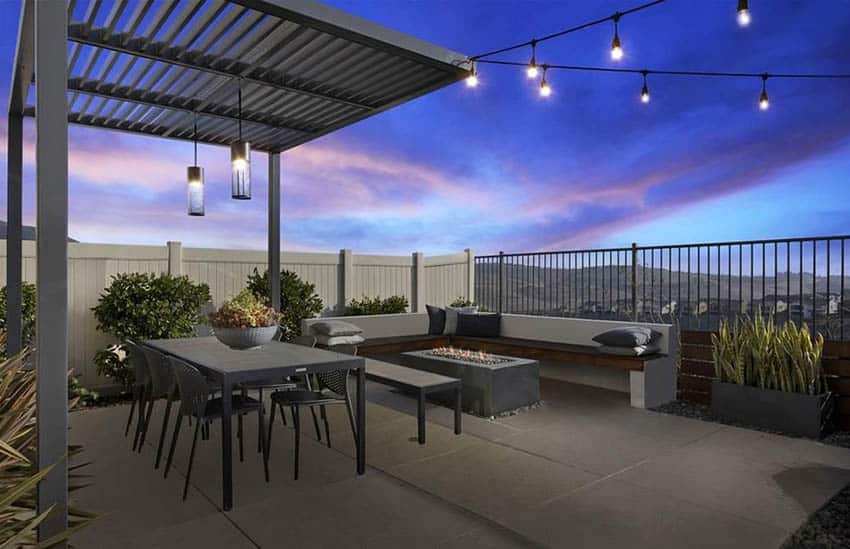 Homeowners are constantly looking for ways to revamp their home. Whether you're looking to enhance your outdoor living areas or add some value to your yard, landscaping is a great place to start.
Landscaping can be complicated and expensive, and many people aren't sure how to start such a big project. We're going to make this a little easier for you and give you some information on pergolas, a type of landscaping structure, and how you could go about designing one for your yard.
Below we've listed the best pergola design software to help you create the backyard of your dreams.
SketchUp (Free)
The SketchUp software is easy to use and it has multiple plans to cater to anyone who might need a design software program. The three main programs they suggest for personal use are their SketchUp Free, SketchUp Shop, and SketchUp Pro programs.
Their goal is to deliver a program to consumers that's just as easy as drawing but create a 3D model while doing so. Of course, the free version doesn't have the same features as the paid programs but you can still create almost anything you can think up.
The SketchUp Free is also an online program. In other words, you only have to log in to get started – you don't need to worry about downloading large files. This is also handy because you can access it from anywhere including using standard model viewing on both Android and iOS devices.
You can also search in the SketchUp 3D Warehouse for items to use in your design. This includes simply looking up pergolas to find basic models to work with. This program also works great as shed design software.
Website: https://www.sketchup.com/plans-and-pricing#for-personal
Vizterra (Free Trial)
This software package is another great choice for professional landscape designers. While AutoDesk was limited in terms of presentation, this is where Vizterra excels. This program is able to quickly render presentations that can be used in meetings with clients or contractors. There are plenty of landscaping objects and plants in the program's catalog for almost any landscaping project. Users can also choose to utilize GIS integration or social media integration if the need arises.
With pricing beginning at $95 per month, Vizterra is a great option for businesses that need to maximize their presentation potential at a low monthly cost. Negative reviews for this program are few and far between, with the main complaint being that this program requires a lot of RAM to install. This can take up a lot of storage on work computers, but typically isn't a major issue for users.
You can also try a 1-month free trial of Vizterra. If you're a homeowner working on a one-time project, this could be a great solution for you.
Website: https://www.structurestudios.com/software/3d-landscape-design-software
AutoDesk (Free Trial)
This software is perfect for professionals who are willing to put out some money for a quality product. There are options for 2D drawing and 3D rendering, making it great for landscape designers trying to better their business. There are loads of features in this program, including the ability to create hand-drawn sketches.
In the realm of professional landscape design software, this program does have its limitations. You'll find that this program doesn't have quite as many marketing and presentation features as some other software packages, which can be a negative for some designers. Despite this, the affordable price of this program is worth the slight limitations that are present. For landscaping businesses with some room in their budget, AutoDesk is a great choice for pergola design with pricing starting at $195 per month.
This is another option with a short free trial that homeowners can try out. Even better, AutoDesk has programs that are free for students. So, if you're studying to learn to use these programs and achieve the plans made in them, you can start designing your own pergola for free.
Website: https://www.autodesk.com/
Idea Spectrum Realtime Landscaping Plus (Paid)
This program is a great choice for anyone, regardless of experience in landscaping design or computer skills. This program is both easy to use and easy to navigate, making it perfect for amateurs who are new to landscape design. It does have more in-depth features that are suited for professionals using the software.
With over 5,000 lawn objects to include in the design, as well as a similar number of plants, this software has a combined over ten thousand items you can add to your design. There are a large number of tools that you can use in your design, but there is no online support if you aren't sure how to use them.
This program allows you to view your design in either 2D or 3D, depending on your preference. With the use of the 3D view, you can take a virtual reality look through your design as if you were actually able to walk through it yourself.
This software does come at a cost of $79.95. This makes it a little more expensive than the average home-owner-directed design software. However, it makes up for the cost with its wide variety of features. This large selection of options helps you make a detailed model of what you want your pergola and the landscape around it to look like.
Another handy feature that this program has is their Realtime Walkthrough. This will help you see how the living parts of your design will grow over time. This helps you get an idea of how the plants you've chosen will grow over time. This way, you'll know if you've planted a tree or plant too close to your pergola that would throw off the design. A feature like this also aids you in gauging how much work will go into maintaining the area around your pergola.
Website: https://www.ideaspectrum.com/home-landscaping-software/
Total 3D Landscape and Deck Deluxe (Paid)
Another great choice is Total 3D Landscape and Deck Deluxe. This program is definitely aimed at amateurs, but it serves this purpose well. This software is very basic, with poor graphics and only a few features. Despite this, its value as a learning tool cannot be overstated. There are tons of tutorials that show how the software works and how to use it. The tutorials include step-by-step guides, as well as videos that help to explain the process of designing various landscape elements.
Total 3D Landscape comes at a remarkably low cost, making it easily accessible to homeowners and others who are new to landscape design. While you wouldn't want to rely solely on this software, it makes a great stepping stone that you can use to learn the basics before moving on to a more complicated software package.
Website: Individual Software
Virtual Architect Home and Landscape (Paid)
If you're looking for a great semi-professional choice, look no further than Virtual Architect Home and Landscape. It's a bit more expensive than Total 3D Landscape and Deck Deluxe, but still significantly cheaper than Realtime Landscaping Plus. With over 7,500 items and plants to include in your design, this program has enough features to make it worth the cost.
There is a helpful building wizard that is great for users that have some knowledge or experience to draw on. If the building wizard is not enough, however, this software may not be the best choice. There is only a limited amount of online support that is available to users, but this is not a huge problem for users who have some experience in landscape design. With pricing less than $100, Virtual Architect and Landscape is a great choice for amateurs looking to improve their landscape design skills.
Website: See on Amazon
Home Designer Suite (Paid)
This package is another great middle-of-the-road choice for landscape design. There are fewer objects in the library than Virtual Architect Home and Landscape at 6,500. Despite this, there is an online forum that can offer a wealth of knowledge and support to users.
This online forum gives Home Designer Suite an advantage over Virtual Architect Home and Landscape, that lacks such a feature. Another interesting feature allows users to view the shadows that objects will cast. This is good for users looking to maximize the amount of shade in their yard or patio. There are many users who use this program for deck design software alongside their pergola creation needs.
This program does have a bit of a steep learning curve, so it will take you some time to adjust to using it. With the help of the online forum, though, anyone can overcome this learning curve to get the most out of Home Design Suite. With pricing around $100, this program has no monthly fee which can make it very enticing for designers on a budget.
Website: See on Amazon
If you're looking to transform your yard through landscaping, designing a pergola is a great project to consider. The benefits of having a pergola are numerous, with the only downside being the remarkably low cost. Now that you've got a better understanding of landscape design software, you've got all the information you need to design the pergola that will bring new life to your yard or patio space.