These types of outdoor structures include popular outdoor living, shade & canopy options, their features, materials, and important design details.

Outdoor structures are multipurpose and seasonally appropriate expansions to your outdoor living space. These structures provide homeowners with protection against outdoor elements. They also give a haven from the worries of everyday life.
Integrating these tremendous elements into an outdoor layout has become a part of the routine for those architects, designers, and residents looking for new methods to enhance the convenience of outdoor pleasure.
There are numerous ways that you can do to revamp your property, and building structures in your outdoor space can create the ambiance you desire. Here are a few popular types of outdoor structures to consider when you are planning to improve your outdoor space.
Pergolas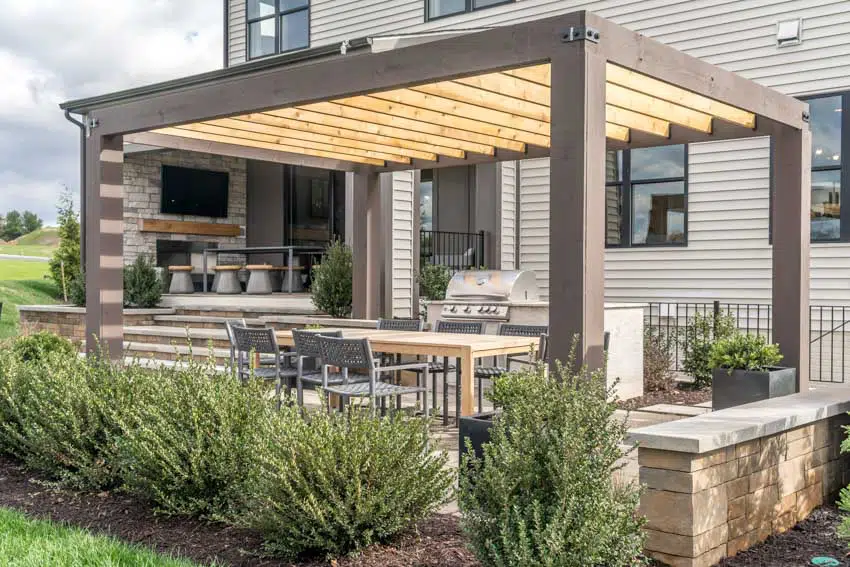 A pergola is one of the most well-known types of outdoor structures that is normally made up of columns that hold a beam as well as a rafter roofing system. This roofing grid can be left exposed or covered to provide a weather-protected area.
Even though arbors and pergolas are frequently interchanged, they are, in actuality, distinctive structures. A pergola is a bigger structure that may stand alone and is supported by four posts attached to a home, typically pillars or columns, as previously mentioned.
Moreover, it can be linked to a structure on another side, which is common when they stretch over patios. Since pergolas are often much bigger, they provide greater shade and seclusion than arbors. As a result, they are a more popular and multifunctional outdoor structure.
Nowadays, amazing modern pergola designs are often made out of vinyl, fiberglass, aluminum, CPVC (Chlorinated Polyvinyl Chloride), and purely weather-resistant wood. They are less costly yet more widely known than pergolas that are made out of stone or brick columns.
Modern materials such as fiberglass, vinyl, CPVC, and aluminum could be utilized as low-maintenance alternatives to wood. Such materials do not necessitate periodic painting or staining like a wooden pergola, and their construction can render them significantly stronger and endure longer.
Gazebos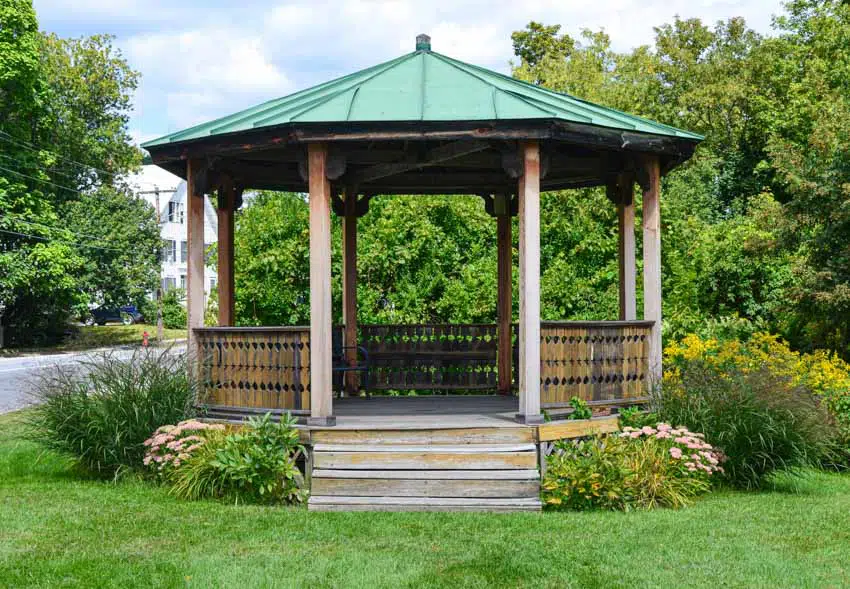 A gazebo is a standalone, uncovered outdoor construction with a roof that is often hexagon or octagon in form. The majority of gazebo designs are made out of metal or hardwood and have built-in seats within the shaded space.
Latticework or exterior curtains or panels are frequently employed to provide a sense of seclusion and security. A gazebo in a landscape arrangement can function as a central focus to be seen and recognized. It can also be placed at a spot on a property such as hills that can provide scenic views while offering protection from the sunlight.
A gazebo is one of the most sizable and permanent types of outdoor structures. They are adaptable because there are numerous gazebo design ideas and they may be constructed in a vast range of sizes, dimensions, and styles.
Furthermore, gazebos are reinforced by pillars, feature a substantial roof that provides sun and weather shielding, and could be customized with various design features. Several gazebos include a cupola as an architectural point of view, while others have built-in benches or a patio swing.
A gazebo helps you achieve the desired style and ambiance in your garden, and you can utilize it for a variety of purposes. Furthermore, you can be imaginative with what you incorporate and establish fascinating outdoor living areas within or around it.
Gazebos are often available in wood, vinyl, or aluminum-based constructions. With customized gazebos, you can also select from a multitude of flooring and roofing selections to suit your preferences.
Pavilions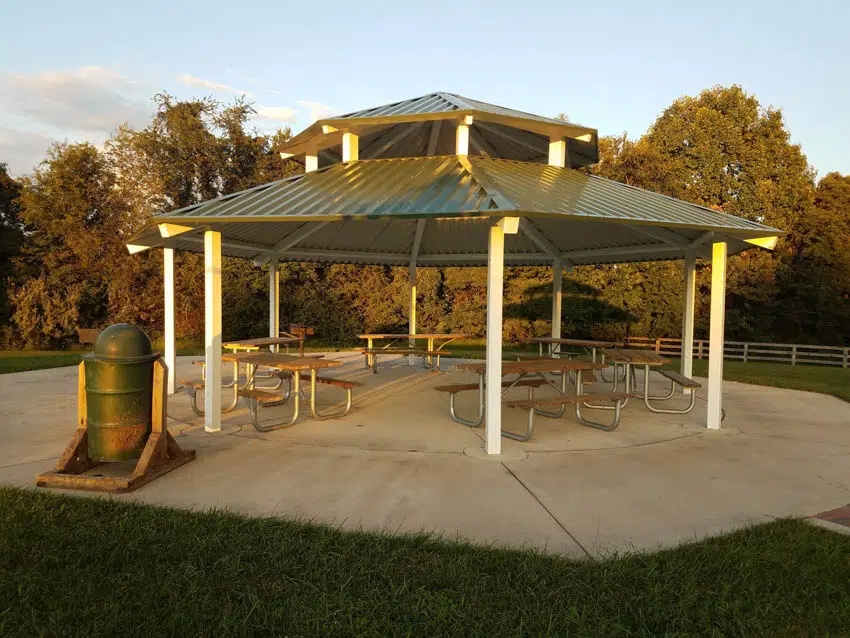 A pavilion is a versatile architectural open-air location that welcomes visitors to spend quality time there. It may be transitory or permanent, and its appearance and purpose could shift over time.
A pavilion can be used as a shelter, resting and meeting place, café, theater, or can be used for seminars, gatherings, exhibits, sports, amusement, relaxation, work, and many other things.
Pavilions are often larger than pergolas as well as gazebos. Such types of outdoor structures usually feature enclosed roofs and adequate space for larger gatherings. Mild summer rain will not disrupt your plans for socializing, and the outdoor area design will allow you to savor refreshing summer breezes.
Moreover, pavilion designs are often made out of wood. But nowadays, you can see pavilions that are also constructed of modern materials like metal.
Patio Cover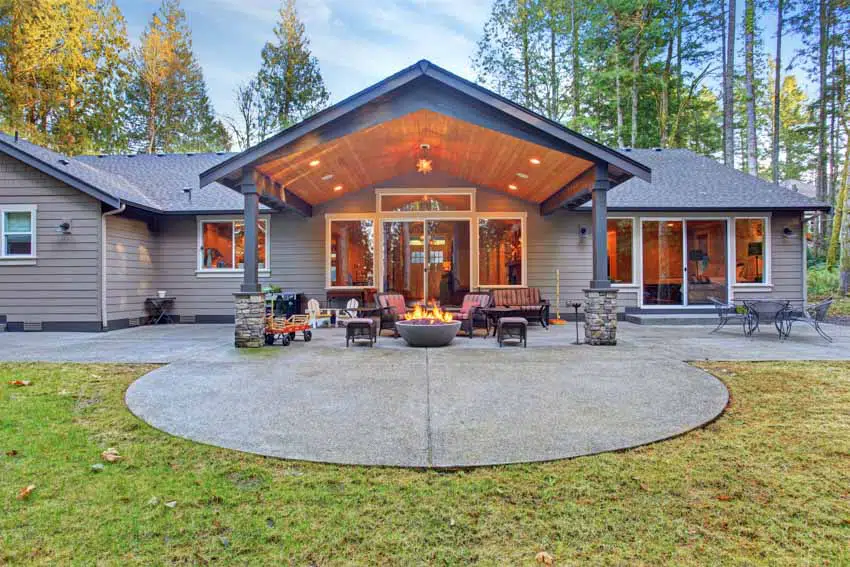 A patio cover is indeed one of the most prevalent types of outdoor structures. It can be made with simple, solid roofing or with partial coverage only. It is a single-story shelter construction that protects a patio or deck area from the outdoor elements.
It is either connected to or separated from the main house and has a firm and ventilated roof as well as structural supporting components. It is frequently used for entertainment and other outdoor activities. It does not serve as a parking area, garage, storage area, or dwelling space.
A pergola could be viewed as among the different types of patio covers. Patio covers can alternatively be constructed using lattice to form a trellis that spans the patio area.
They are extremely versatile constructions that can be designed to fit your preferences and aesthetic demands, and they are one of the outdoor patio layout ideas you can take into account.
In addition, if you have a patio cover, you can accommodate your guests very well and enjoy the outdoors throughout the year, incorporate outdoor enhancement to your property, and save money on electricity during the scorching summer seasons by keeping solar heat from penetrating your house.
Garden Trellises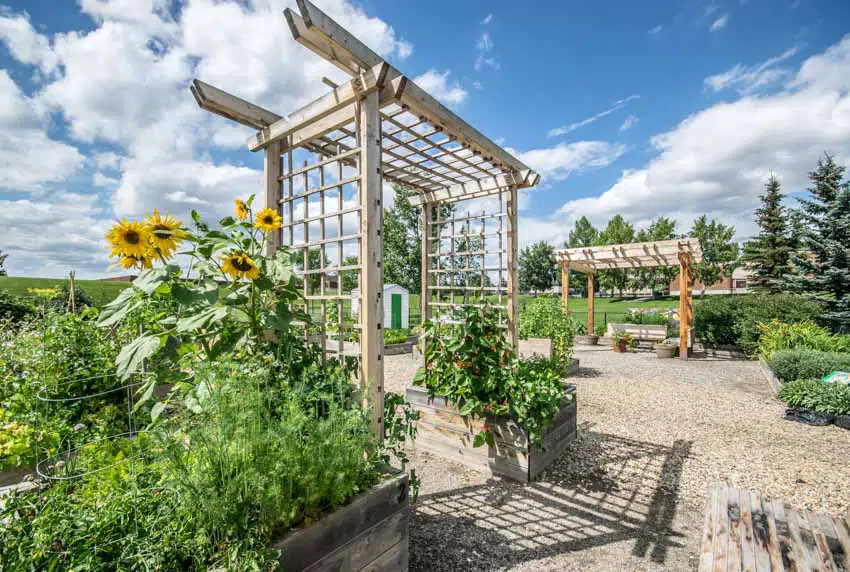 A garden trellis is a flat structure containing upright supports and horizontally placed crosspieces that are used to train plants such as shrubs, tiny or seedling trees, as well as vines to develop over and against an element.
Furthermore, a trellis is among the basic and multi-functional types of outdoor structures. It is typically a geometrically designed structure that is intended to create a platform and guidance for growing plants. A trellis can also be installed to give support to fruit-bearing trees.
A trellis can function as an independent structure in a garden. This can help you develop and manage plant divisions, as well as keep your garden orderly. A trellis can be combined with other outdoor structures.
They are frequently installed on fencing, arbors, and even pergolas. You may even install a garden trellis to a section of your gazebo to provide additional shading, functionality, and seclusion.
Additionally, a garden trellis can be utilized as an accentuating element in the yard or as a privacy barrier when it grows up. A trellis is often composed of an exposed framework through which plants can be sustained or layered.
DIY enthusiasts believe that garden trellises are easy to build using lightweight timber that could be already resting around in a source barn, carport, or backyard.
A trellis, whether purchased or built, must be sturdy enough to hold the mass of plants as they age and should be resilient in terms of surviving harsh weather elements like a strong wind, rain, and snowfall.
Wood, wrought iron, durable synthetics or plastics, monofilament or fishing wire, and wire are frequently the most recommended materials for a structurally sound garden trellis.
Garden Arbors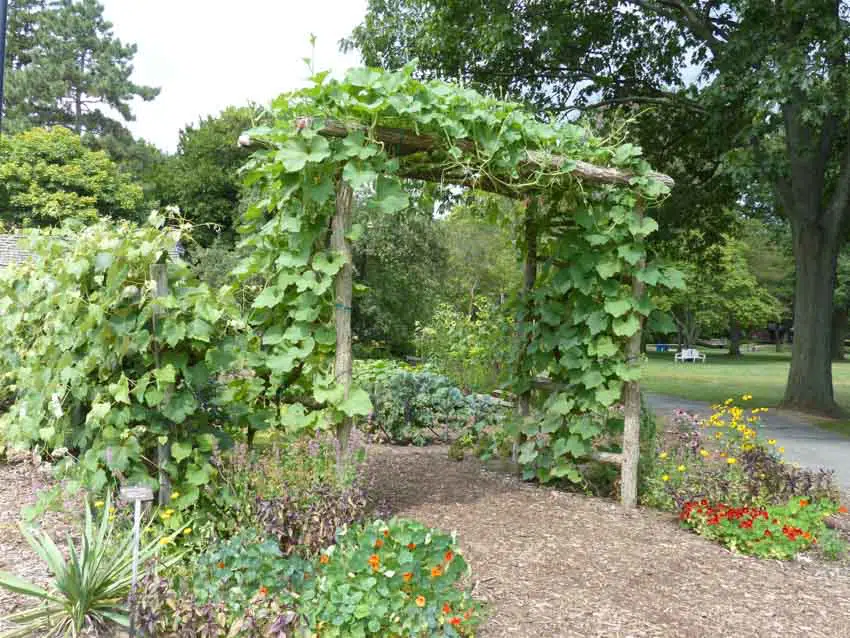 A garden arbor is a vertically built construction in a garden or landscape that offers protection, seclusion, and privacy, and can also be used as an ornament. It can integrate into the scenery or be used to divide and control traffic between different garden zones. Its walls and roof are made up of an uncovered framing that holds vibrant and aromatic vines.
Aside from that, a garden arbor can either be connected to a fence, wall, or another architectural building, or it can stand alone. In comparison, an arbor is a primary structural feature, but a trellis is smaller and more vulnerable to harsh outdoor elements. Beautiful arbor designs can be built from wood or wrought iron as a DIY activity or purchased from a garden store.
You can take into account recreating the architectural aspects of your home when creating a garden arbor for your outdoor space. This will allow you to connect your house to your garden.
An arbor's average height is around 8 to 10 feet, which provides plenty of space to stroll under while keeping plants or flowers ascending and spreading overhead.
An arbor, regardless of whether it is freestanding or connected, is reinforced by pillars or columns that sustain horizontal rafters, joists, or arches. Rafters made of wood can be simple or intricate, including scroll work and perforations.
Ultimately, garden arbors can be constructed with conventional wood. However, you must ensure that it is durable enough to accommodate vines, which could develop wood and become heavy as they mature. They can also be purchased as packages or pre-assembled, and are sometimes made of materials including metal, bamboo, and iron.
Sheds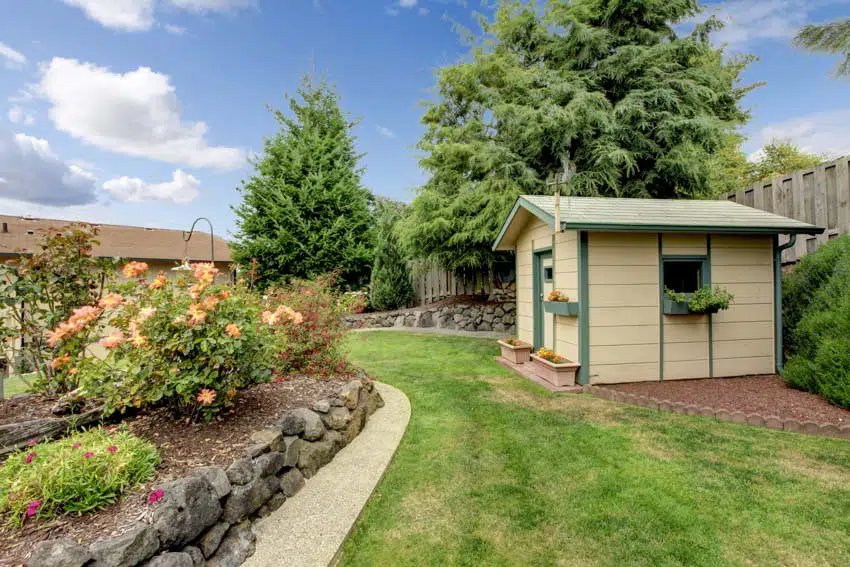 A shed is a compact structure used for storage or as a workshop or workspace, typically located in a household property's garden or side yard. Sheds can either be minimalistic or sophisticated, large or small, store-bought, or a DIY effort.
Even though basic pre-designed models can be placed at the rear or side of a house, distant from the view of the home, the materials and styles commonly resemble the appearance of their primary residences.
Sheds are intended for a variety of reasons such as potting and storing gardening supplies including pots, soil, seedlings, and other gardening equipment. It can also be used to store lawn mowers and other yard tools, or simply for general storage.
A shed can also serve as a studio or office, apart from the main residence. See our guide to shed design software for more details on how to plan one of these structures.

Pool House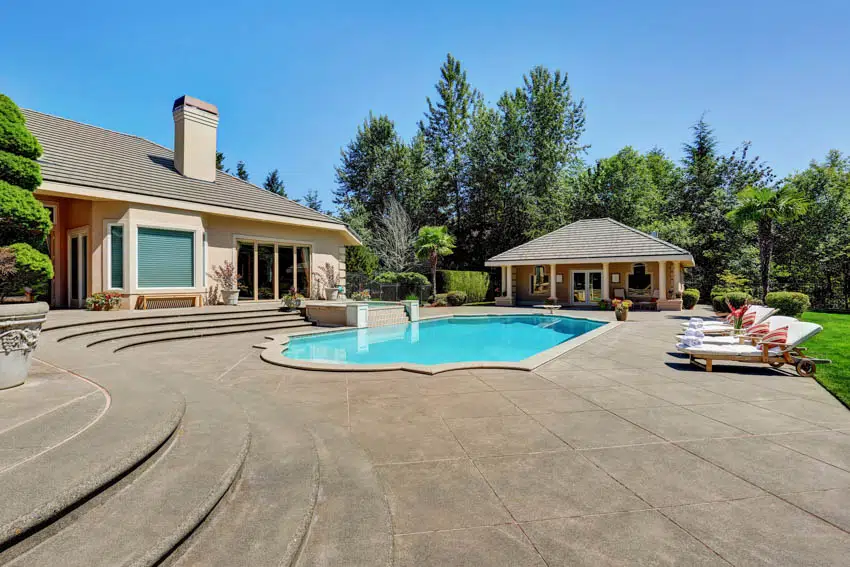 A pool house can range from a minimal shed for storage to substantial living spaces. It is typically a standalone outdoor structure positioned beside or adjacent to a pool, and it is frequently referred to as a cabana. Compact pool houses are frequently used to store pool equipment, chemicals, as well as other pool-related materials.
Entertainment rooms, extra bedrooms, outdoor kitchens, guestrooms, and other conveniences can be found in larger and more modern pool houses.
Contingent on how much you invest in your pool house and how it is constructed, it can be recognized as a distinct living space on your property and utilized as a guest home or perhaps a rental unit.
Greenhouses
A greenhouse design is the ideal backyard construction for experienced gardeners. These are self-contained constructions with an insulated roof as well as multiple windows.
They are designed to generate their own microclimate on the interior, allowing flowers, veggies, and other plants to grow independently. This provides for a robust garden or consistent production year-round.
Canopies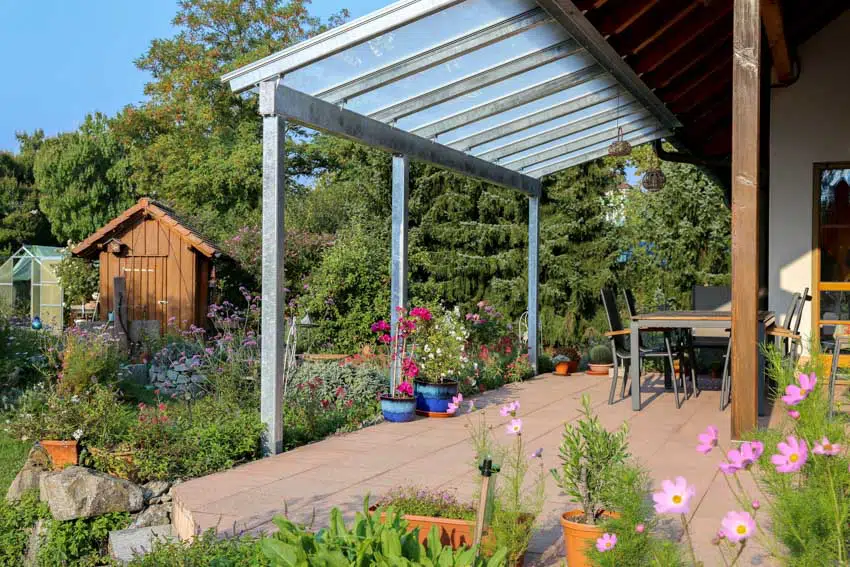 A canopy is an open-sided overhead roof construction. Canopies are often used to supply protection from rainfall or sunlight, but they can also be employed for aesthetics or to highlight a pathway or part of a structure.
Moreover, a canopy was a protruding hood or coverage that hung above an altar in ancient architecture and was often used in cathedrals during medieval times.
Canopies nowadays may stand alone or protrude out from a house or building, generally giving shelter at the entryway. They usually have a fabric, glass, or steel covering. Their appearance can either be opaque, transparent, or translucent. See more pergola canopy ideas here.

Awnings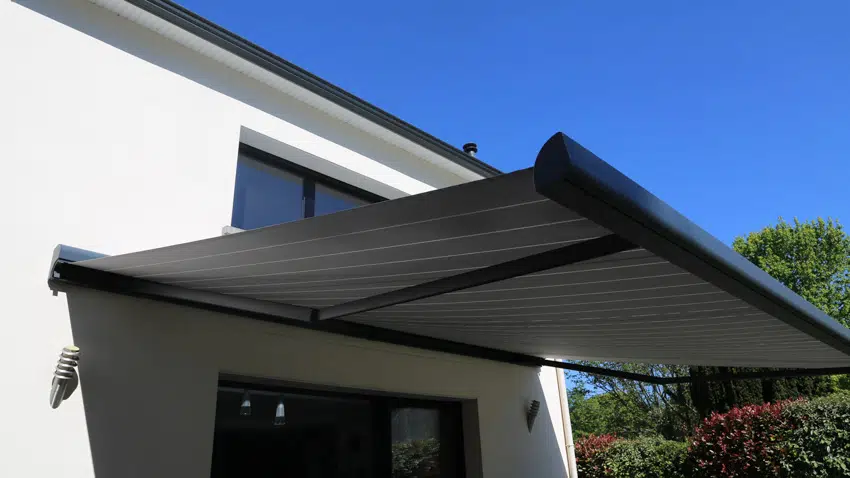 Awnings are pieces of a particular material that are affixed to the outside of your house, usually over a window or door and covering a patio, deck, or pathway.
They can provide protection and shelter from the sunlight both outside and inside by reducing lighting from coming via windows, protecting artwork and furnishings from deteriorating, and keeping the interior space temperate.
A variety of colors, patterns, and styles are obtainable to complement any home's architecture. Awnings are a permanent construction, thus select ones that suit the present design and décor of your garden.
Ramada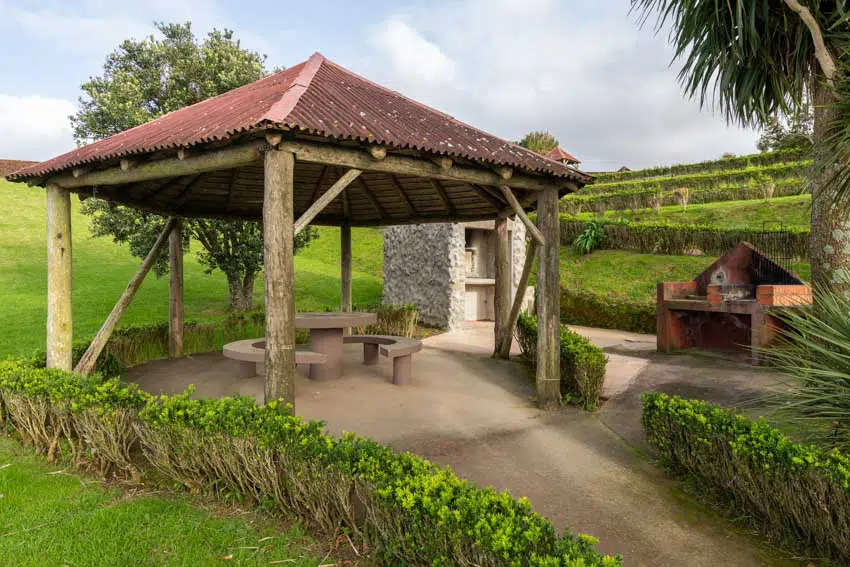 A Ramada, also referred to as a pavilion, is comparable to a pergola in a way that it can be standalone and reinforced by four posts. It can also be linked to another construction on another side. Plus, it has an enclosed roof.
This outdoor structure provides full shade as well as modest weather coverage. Hence, it is a preferred choice for complete coverage on patios as well as other outdoor living areas. They are frequently constructed to give shade near an outdoor fireplace or to shelter an outdoor kitchen.
Privacy Walls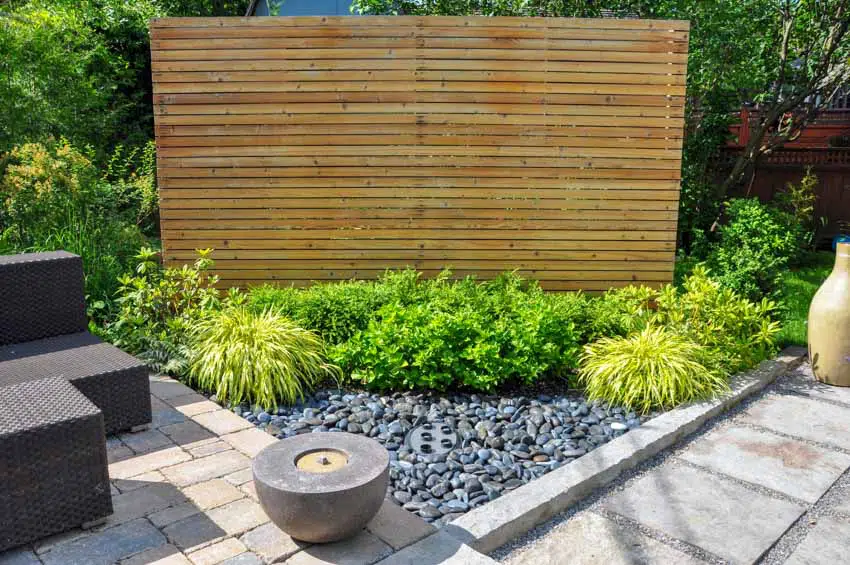 A privacy wall is a barrier that is intended to supply a covering that provides seclusion for a home or office. Others who live in urban areas may establish privacy walls to feel more at ease, while individuals who live in more rural locations could also benefit from these walls for added security.
​​See more related content in our article about the best backyard essentials on this page.