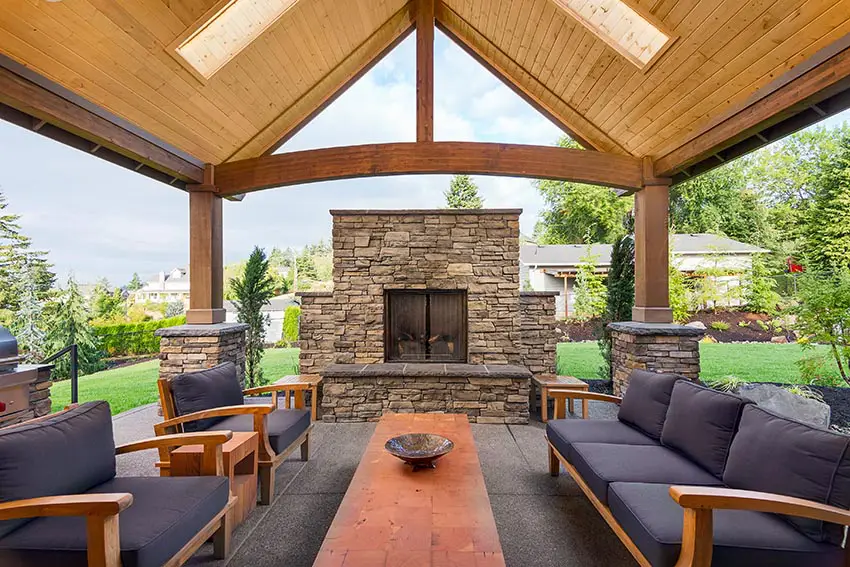 Welcome to our beautiful gallery of backyard pavilion ideas. Do you want to spend more time outside of your home without having to worry about the weather? As they say, the weather doesn't always cooperate and it sometime prevents you to enjoy relaxing outdoor activities in your backyard. Fret not, because we have just the right solution for your problem – a beautiful backyard pavilion.
The massive pavilion shown above has a complete living room setup which can gather a great number of guests and family. The dominant wooden roof gives off natural coziness, while the stone fireplace and matching stone pillars serve as the accent and focal point this outdoor living area.
A backyard pavilion extends your outdoor living experience all year long as it provides protection from outdoor elements like rain or snow and gives you shade from the heat of the sun. But what is a backyard pavilion?
A pavilion is an open framed structure that is equipped with a closed roof. Simply put, it is a covered pergola. A pavilion is also a temporary or permanent freestanding architectural open space that is flexible and can be used in a variety of ways – from lounging, to dining, cooking or gathering people. It is normally situated in a backyard, in gardens, patios, pool sides or decks. It is almost similar to a gazebo, differing only in size as a pavilion is typically larger, depending on its purpose. Typically rectangular in shape,but it can be designed in any way you want according to any need you have.
The primary purpose of a backyard pavilion is to provide a protection to weather changes and offer shade from the sun and keep you dry during the raining season. It gives shelter and coverage while you enjoy different outdoor activities. Aside from being functional, it is also decorative as it adds an interesting visual element to outdoor living spaces. Backyard pavilions easily spruce up a yard, especially if designed well according to the surrounding landscape. It extends your living area, allowing you to entertain friends and spend time with your family while basking in the view of your yard. Outdoor structures like pavilions encourage you to come out of your home and spend more time outside.
This type of outdoor structure has multiple purposes – an addition of a fireplace allows you to keep warm and enjoy rainy days while curled up in a lounge chair. Setting up a kitchen in your backyard pavilion gives you ample room to prepare meals and enjoy eating with family. Likewise, a grill gives you the perfect opportunity to host barbecues with friends. Furnishing a backyard pavilion with a cushion gives you the perfect spot to enjoy some quality rest and relaxation. While placing a pavilion near the pool provides an area to take breaks during afternoon dips. Whether your activity is personal or with a group of people, a backyard pavilion is the ideal place to be.
What are the different types of backyard pavilion? A backyard pavilion comes in a variety of design, shapes and styles. Design wise, the possibilities are endless as it can be constructed using different materials and finishes.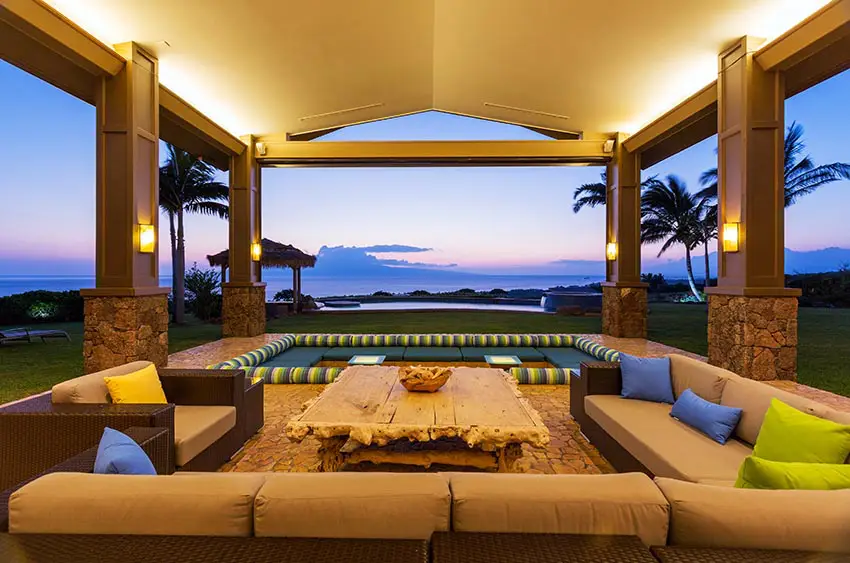 This wood and stone backyard pavilion looks extra cozy because of warm ambient lighting placed on the pillars. The addition of an outdoor sectional sofa and a stunning wooden center table makes this the perfect spot to enjoy sunsets and peaceful nights while enjoying the serene and breathtaking view.
Here are some of the most common types of backyard pavilions according to their material together with their positive and negative features:
Wood – Wood is the most common material used to build outdoor structures. It is well loved by most owners because of the natural distinctive beauty it possesses that can not be matched by any other material. Aside from that, wood backyard pavilions can be finished or stained in so many colors. However, wood is prone to termite infestation, warping and decay when exposed to harsh weather elements. So for outdoor structures like a backyard pavilion, make sure to go with a wood species that is resilient when wet. Cedar, redwood and pressure treated pine are the most popular types of wood used for backyard pavilions.
Cedar or Western Red Cedar has natural oils which make them resistant to decay, rot and insects. In addition to that, it is durable and is guaranteed to last for years. This type of wood turns gray when weathered, giving it a timeless beauty and visual appeal. It is also abundantly available and is also less expensive compared to California Redwood.
California Redwood, on the other hand, is the most expensive type of outdoor wood. Unlike cedar, this wood species has a limited supply. It has a rich reddish hue and a tight grain pattern which appeals to most homeowners. Among all the three types of outdoor wood species, this is the most resistant to decay and is guaranteed to last for years without rotting. A redwood backyard pavilion is guaranteed to last for 15 years, making it a wise cost effective investment.
Lastly, Pressure Treated Pine is another wood species that can be explored in building a backyard pavilion. It is the least expensive one because it is not as sturdy as the first two outdoor wood types. Unlike cedar and redwood which are inherently resistant to certain elements, pressure treated pine is subjected to harsh chemicals to gain these properties. Though not as beautiful, it is more suited to be painted, giving you more options in terms of finishes.
Vinyl or Plastic – This is a modern alternative to wooden backyard pavilions. Usually used for kits, this material is decay resistant and is not prone to insect damage. It is lightweight yet durable and comes with as long as 25 year warranties. Maintenance wise, vinyl pavilions are practically maintenance free and just needs some mild soap and water for cleaning. Traditionally, vinyl pavilions come in white, but there are more available finishes in the market now. From faux finishes and colors which simulate the appearance of natural wood, this material provide a broad spectrum of choices to choose from.
Fiberglass – Also known as composites, are also prefabricated backyard pavilion kits. Another modern alternative to wood, this material is perfect if you want a more modern or contemporary look. It is lighter than wood but is stronger than steel. In addition to that it won't rot, decay, rust or get infested by insects. Fiberglass pavilions are highly customizable in any color, shape or size. Cost wise, a fiberglass backyard pavilion is more expensive compared to wood and vinyl.
Metal– Metal pavilions do not have the same versatility as wood in terms of design, but it is durable and heavy duty. This material is not prone to insect damage but has the tendency to rust when exposed to varying elements. Another downside of using metal backyard pavilions is that its look cannot be easily altered, so when you get one, you're gonna have to stick with it for a while.
Stone– Natural stone, cement or concrete – these backyard pavilions are perfect for rustic inspired spaces. It has a natural beauty which gives off warmth and coziness to a space. Permanent and very sturdy, stone pavilions have a strong base which can last for years. When it comes to design sensibilities, there are a lot of decorative stones which one can explore to express different characters in a space.
In this article, we also explore some of the most stunning backyard pavilion ideas. We hope you get inspired as much as we did.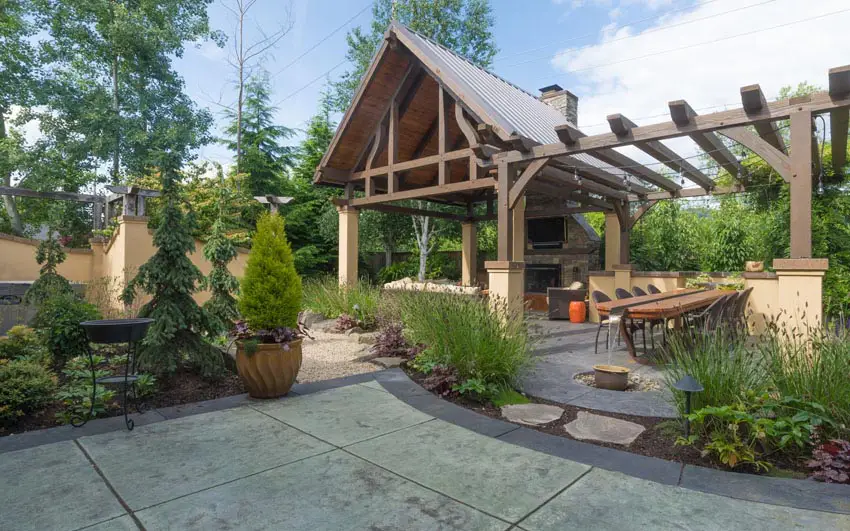 This backyard pavilion has wooden pillars and a metal roof which extends to a pergola. Complete with a fireplace, a full living area set up and ten seater dining table, this outdoor living space can hold small family gatherings and intimate parties with friends. If a backyard is big enough, a backyard pavilion can be expanded with the use of other architectural structures which are both decorative and functional, just like in this example.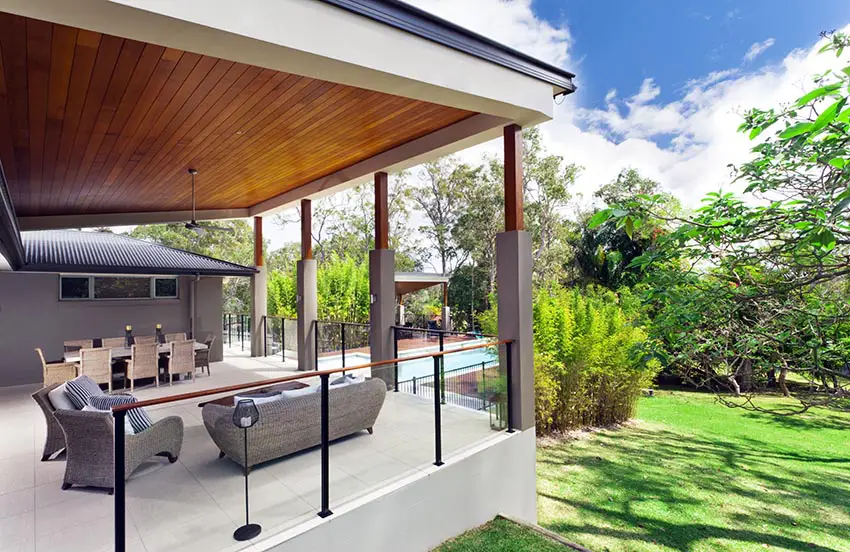 Sleek, modern and simple, this backyard pavilion is constructed raised above the existing floor level of the surrounding lawn. It enables the homeowners to get a full view of the encompassing landscape and swimming pool. Complete with a seating and dining area, this is perfect for taking breaks during afternoon swims.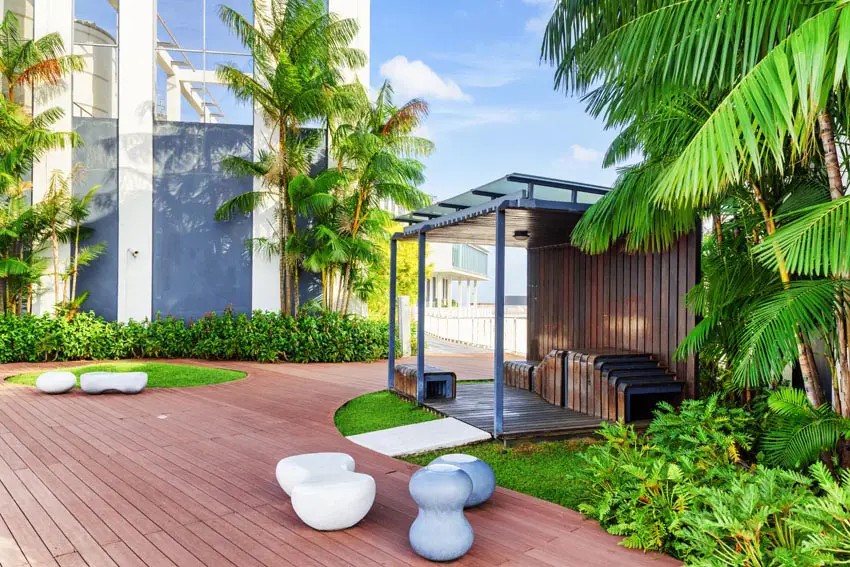 A backyard pavilion doesn't always have to be massive. In this example we see a simple and streamlined wood and metal structure with poly carbonate roofing placed in this wooden deck. This modern inspired backyard pavilion blends well with the minimalism of the adjacent architecture and landscape. Bold shaped seating are used along the decking to give this area a simple variation in form.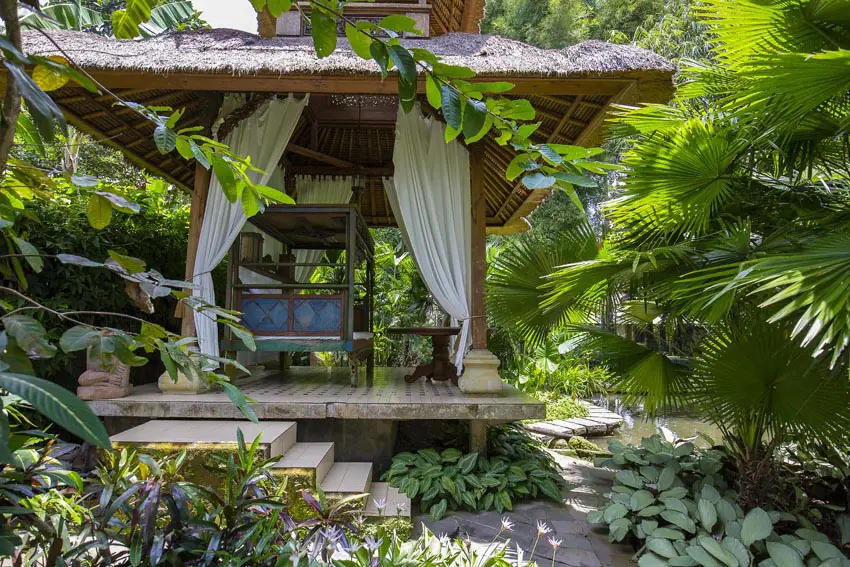 This backyard pavilion exudes tropical beauty and a natural appeal which blends organically with the ambient garden. Made with a thatched straw roof, wooden posts and a raise concrete flooring, it is accentuated with a canopied daybed and a carved wood table. A true reflection of Asian flair indeed!
A grand statement of modern architecture, this backyard pavilion reflects continuity of design as it mirrors the same architectural details found on the adjacent house. Made with sturdy wooden pillars and a wooden roof and ceiling, it emanates natural coziness and a strong welcoming feel. This backyard pavilion also looks extra warm and inviting at night because of the ambient lighting.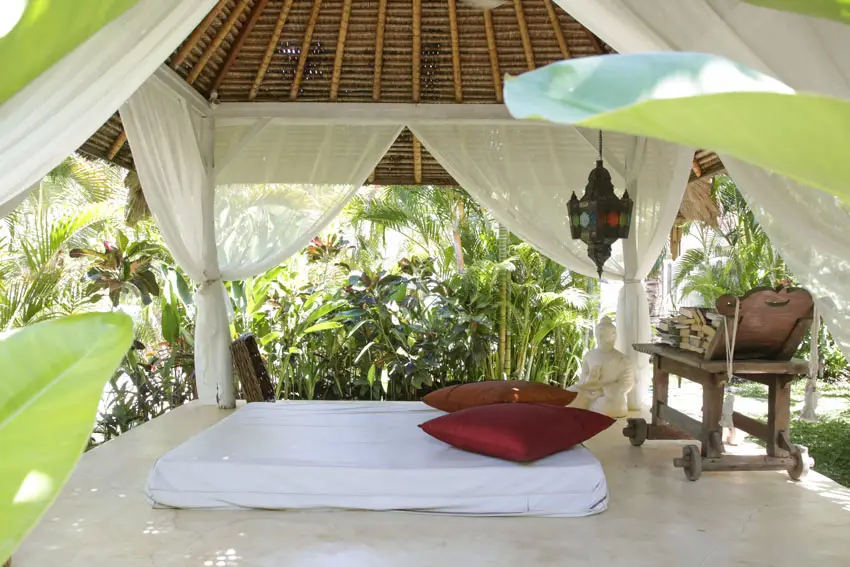 This Asian inspired backyard pavilion casts shade over a simple relaxation spot. For small areas like this, a mattress works well as a sleeping and seating area as it is more proportional in terms of size, compared to a sofa or daybed. The thatched straw roof, wooden posts, carved wooden furniture and Asian inspired furnishings reflect a tropical setting. Sheer white curtains tied over posts, just like shown in this picture, are perfect for adding shade without having to fully enclose the area and obstruct the surrounding view.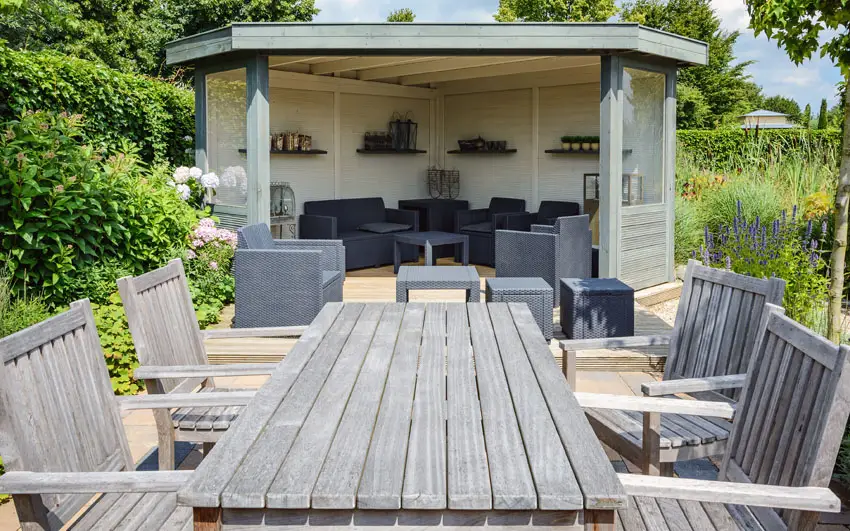 Relaxed and homey, this wooden backyard pavilion houses an outdoor living room with gray seating and some interesting furnishings. Beautifully set at the corner of this garden, it offers a view of the dining area and is a great place to hold family gatherings and enjoy an eat out with friends. In terms of design, the use of weathered wood dining chairs and a matching table complete the neutrality of this space.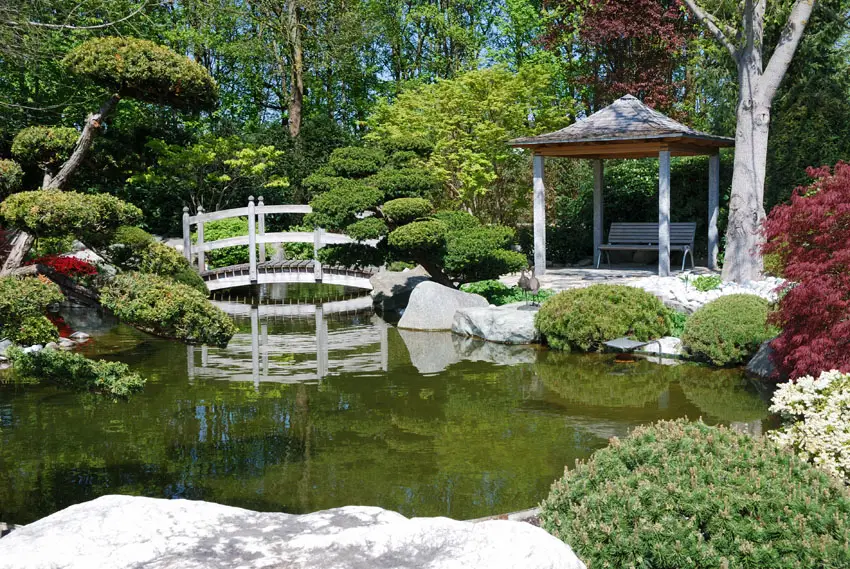 Pavilions do not always necessarily need to be big. Working as a design feature for this garden, this small pavilion connects to a bridge and provides a small shade to a single outdoor bench . It gives the pond a small relaxation spot to meditate and enjoy the calm water.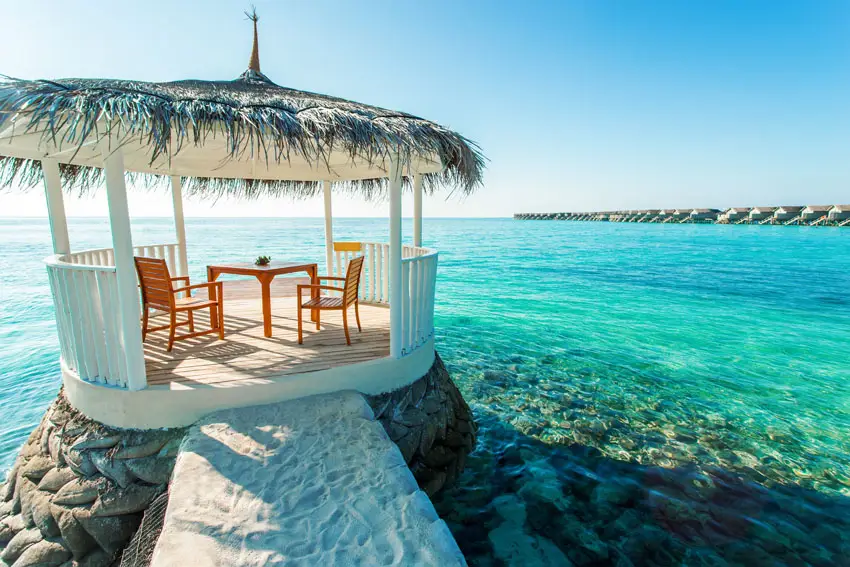 This small pavilion is located near a beach and gives a refreshing view of the turquoise blue waters. Made with a straw roof and wood posts, it gives shade to a seating area for two. Whether to delight in the cool sea breeze while having breakfast or to bask in awe of starry skies during night time, this pavilion is perfect to be enjoyed anytime of the day,
Patio Pavilion
A patio pavilion is a covered outdoor living space, or simply, a roofed patio. Typically furnished with an outdoor sofa set or a dining table with chairs, its primary purpose is to extend your indoor living and dining experience to the outdoors, without having to worry about the exposure to harsh weather elements.
Some patio pavilions are equipped with a fireplace to serve both functional and ornamental purposes. Typically, these are upright fireplaces made up of stone or bricks and they look similar to traditional fireplaces found inside your home. Aside from using a permanent built-in fireplace, a portable fireplace can also be used.
Built with a rich stained wood vaulted ceiling and natural stone foundations, this backyard pavilion gives shade to comfy contemporary furniture that is perched around a stone fireplace. The warm color palette of this outdoor living area gives off a warm inviting feel. It is also interesting to see the contrast of textures in materials used – just as how small uniform patterned interlocking bricks are placed against the large irregular rough stone background.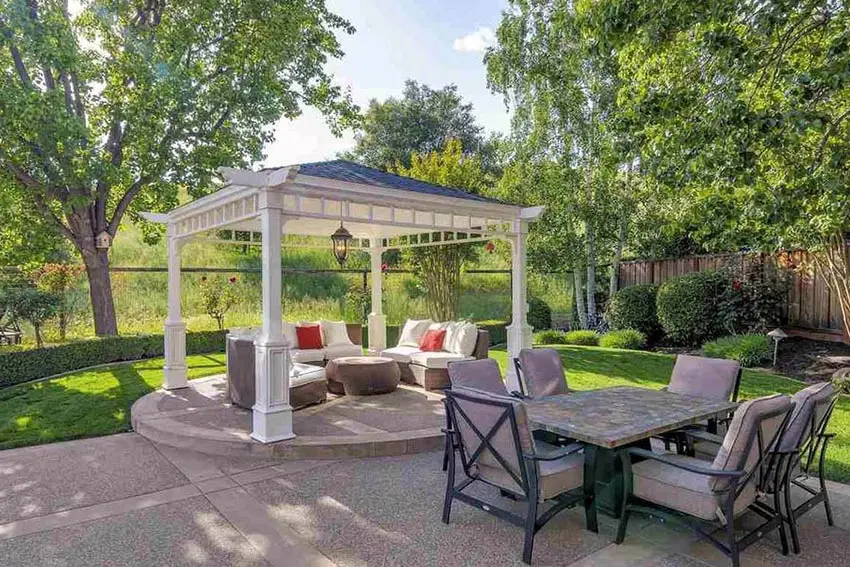 This white wood pavilion protects this raised patio from the heat of the sun and the pouring rain. Furnished with a semi circular sectional sofa that is accentuated with bright red pillows and a matching wooden circular table, this backyard pavilion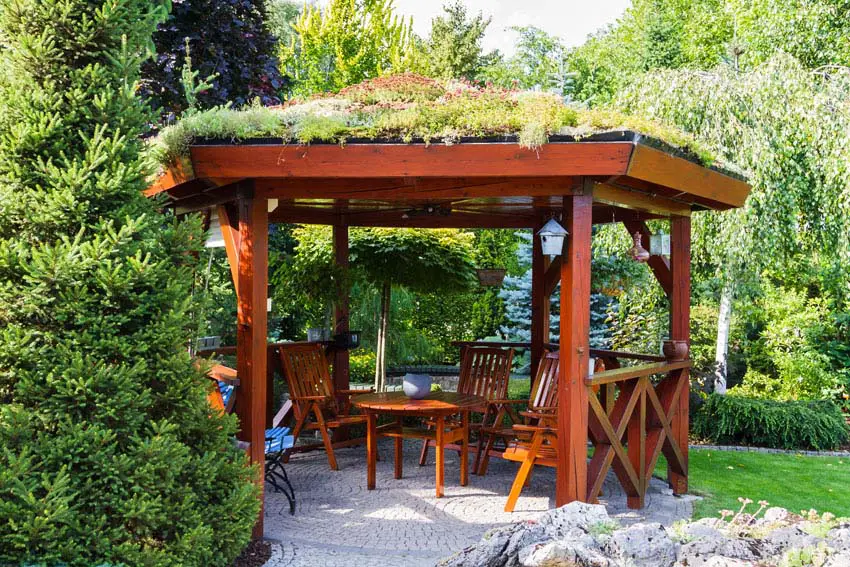 Set on top of this backyard pavilion's roof are beautiful climbing plants which softens the overall look of rich dark stained wood and stone patio flooring. This backyard pavilion design blends harmoniously with the organic landscape and at the same time, serves as the main focal point of this garden.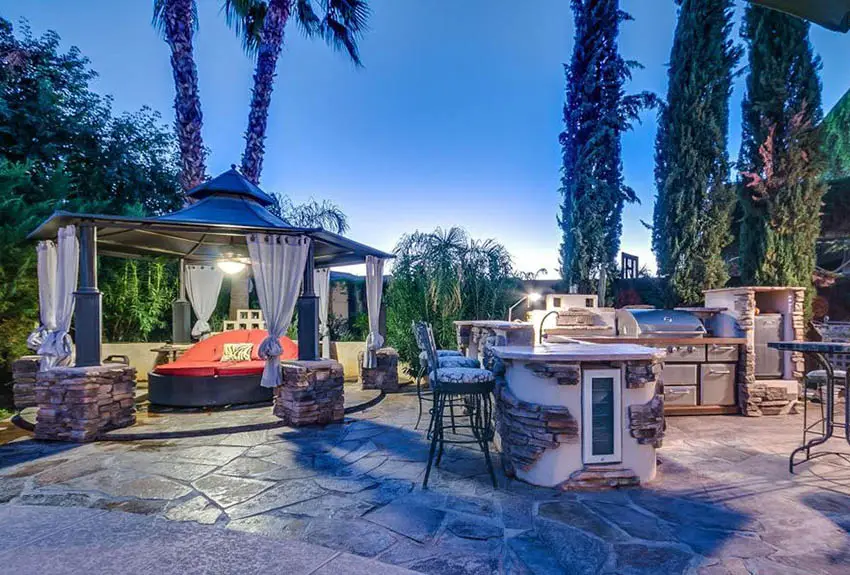 This expansive patio is complete with an outdoor kitchen, a bar dining area and a relaxation corner. The daybed is covered by a pavilion which has a tiered metal roof, steel posts and stone foundations. Curtains add a soft decorative touch while acting as a cover for semi privacy. The red cushions also provide an unoverhwelming splash of color to keep the overall look of this space more lively.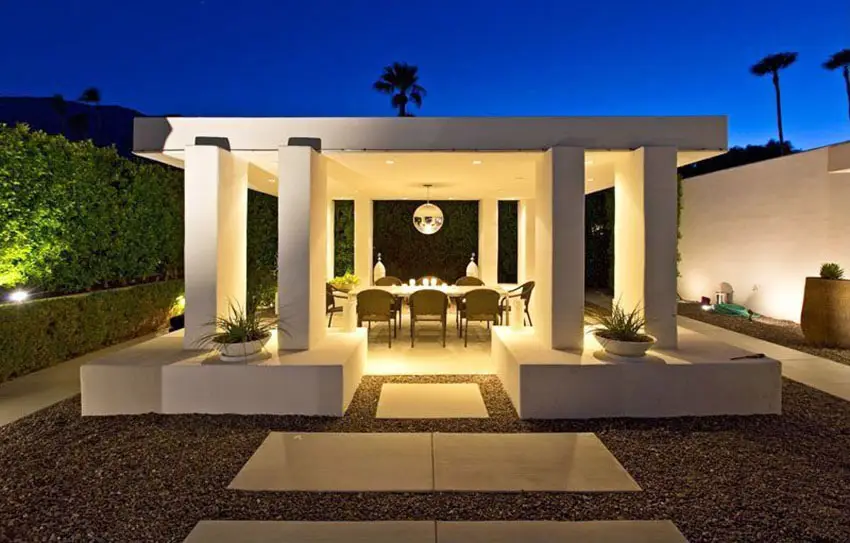 The design of this backyard pavilion screams modern and streamlined , as all of the minimalist architectural features and sculpted landscaping elements blend harmoniously with each other. A full concrete structure composed of eight sturdy pillars, a wide base and a flat roof, this outdoor dining area makes a stunning focal point despite its simplicity. The fully furnished dining area which is set at the center is highlighted with a circular drop light and some warm accent lights.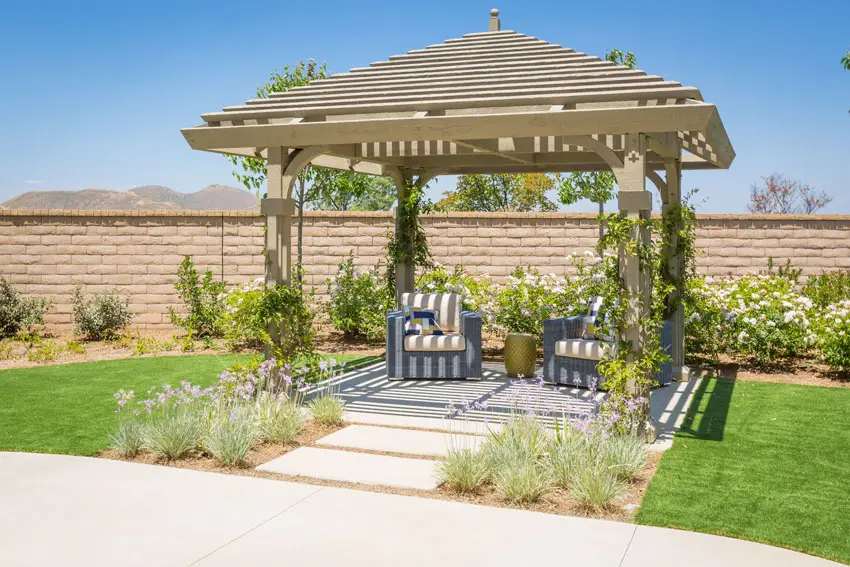 This charming patio pavilion has an open roof and wooden posts which are covered in lush trailing vines. Providing partial shade to a seating area, the wooden roof also gives an interesting visual component to this garden. Flowers and foliage also complement the mellow color scheme of this outdoor living area.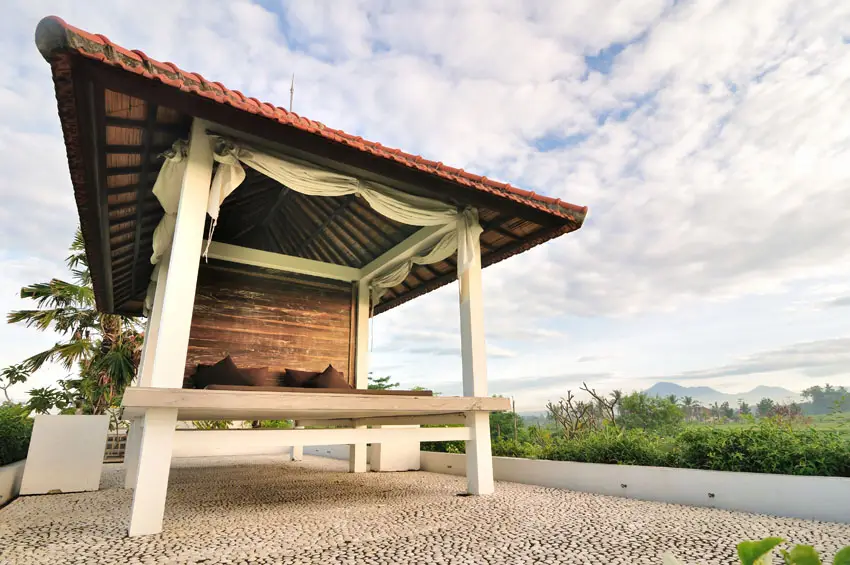 Terra cotta roof tiles, wooden posts and a thatched ceiling make up this lovely patio pavilion. Sheltering this daybed from the heat of the sun, this is the perfect place to unwind and take a break from a long tiring day. Its warm color palette and balanced off just with the right amount of white, rendering an airy and inviting feel to this space.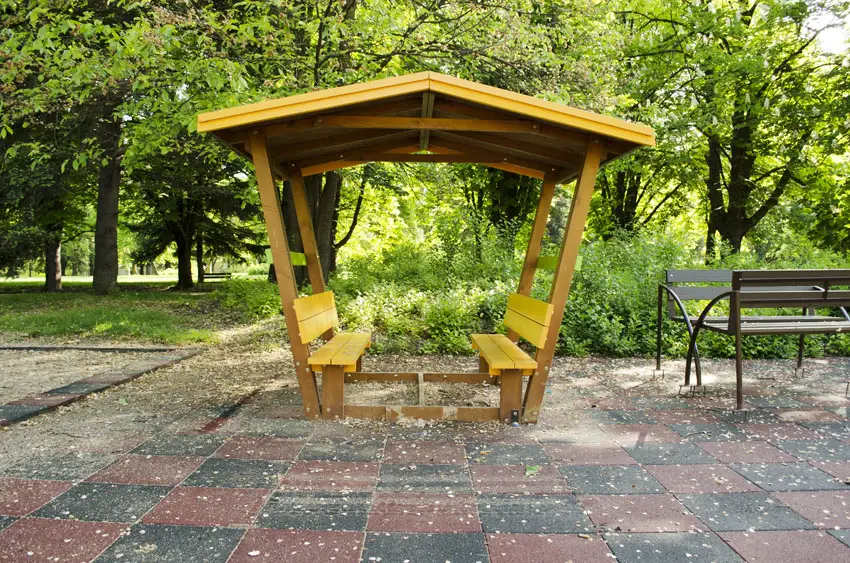 This small patio pavilion has wooden seating incorporated within its design. This design is ideal for houses with limited spaces as it enables you to maximize the area effectively, eliminating the need for separate freestanding bulky outdoor furniture.
Swimming Pool Pavilion
Swimming pool pavilions are shaded, open walled structures which are found in a patio near a pool, or sometimes over a raised ledge within the pool. This is typically used to take shelter from the sun, to rest in between swims or to simply enjoy a refreshing view of the pool. The design possibilities it offers are endless as it can be used in more ways, depending on how you furnish it. For example, if planning to use your swimming pool pavilion as a place to lounge and rest, a mattress or cushion works well to serve this purpose.
If planning to utilize this as a changing room, add opaque curtains to serve some privacy. Set up a couple of lounge chairs if you want to entertain guests or to simply enjoy some relaxing time for yourself. Just make sure that you use the appropriate type of outdoor furniture as this is constantly exposed to moisture.
Another added benefit of a swimming pool pavilion is that in aids in the flow of wet traffic. Since this structure can be conveniently accessed from the pool, guests or homeowners can dry up themselves before entering the house.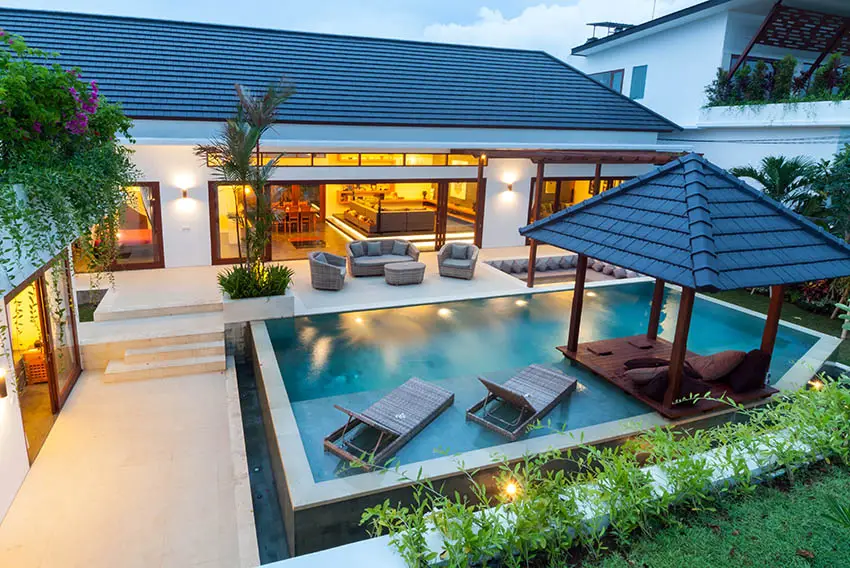 The shady pavilion in this picture sits above a ledge in the swimming pool where homeowners and guests can lounge and rest while enjoying a dip. The minimalist design of this patio pavilion also harmoniously blends with the modern style of the house and the streamlined formality of the pool. The strategic location of the pavilion also allows the users to enjoy a full view of this delightful residential area.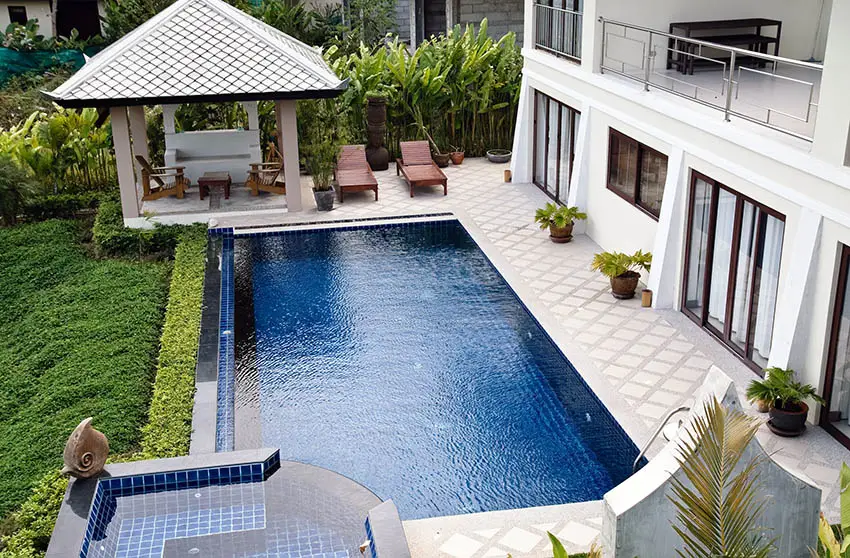 This concrete and metal pavilion overlooks the pool and also gives the users a place to relax without being exposed to the sun. In this picture we also see how the pool pavilion's design is coordinated with the main house's architectural style – both following a neutral palette and contemporary inspiration.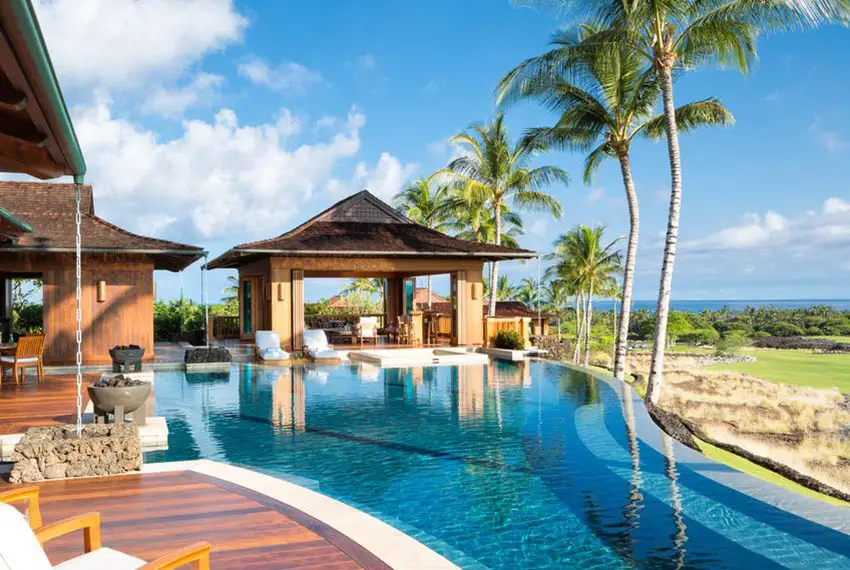 Pavilions are a true luxury when set out beside a pool, looking over a stunning view. This wooden pool pavilion is truly a shaded oasis where guests can enjoy the tranquility of water and the picturesque scenery. It also gives this pool side area a stunning visual appeal.
A pool pavilion is also the ideal place to set up a grilling station and outdoor eating area where people can congregate and enjoy a barbecue together. This simple design features concrete columns and a metal roof which is perfect for the modern architectural style of this residential area.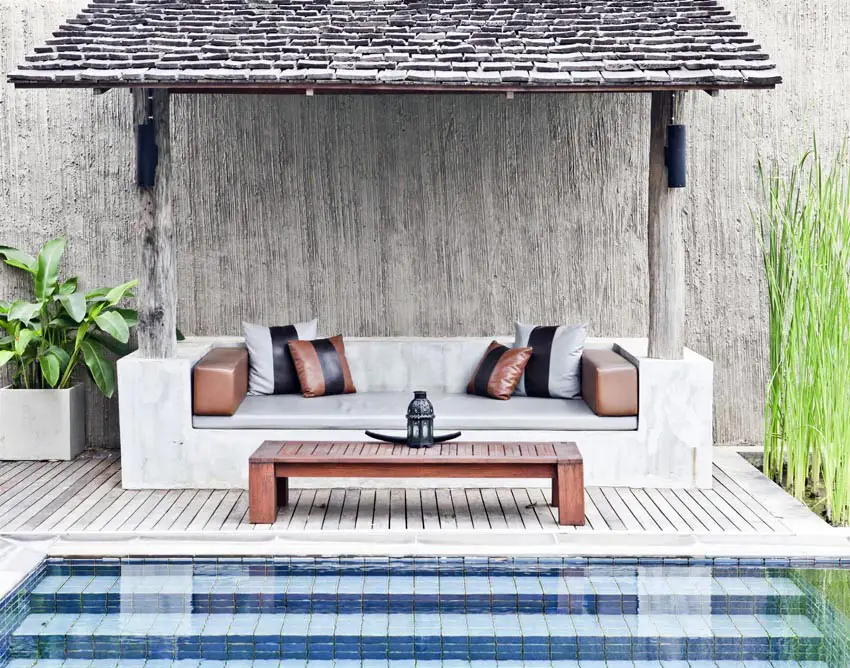 This small backyard pavilion makes use of a shaded seating area placed beside the swimming pool. A concrete base with loose cushions and accent pillow serve as the seating area and it is protected by a thatched roof. This pool pavilion is ideal for houses with limited yard area as it won't take up much space.
Backyard Pavilion Kits
Backyard pavilion kits are "do it yourself" kits which are easy to assemble. This are usually free standing and are not anchored to the ground. Compared to conventional pavilions which are constructed from scratch, this type of gazebo eliminates the need to dig holes for posts. just laid
Most backyard pavilion kits are just laid on top of the ground. These are also known as "covered pergola kits" and can be placed anywhere in the yard – whether near the pool, on a deck, in a patio or in the middle of a garden.
Backyard pavilion kits also have two different types: the permanent type and the portable type. Permanent backyard pavilion kits are designed to be not moved around because of their heavy weight. Usually made up of wood, metal, vinyl , fiberglass or plastic, these pavilion kits are very durable and sturdy. However, wood backyard pavilion kits still remain to be the most popular type because of its unmatched natural beauty. Wood pavilion kits are also typically made up of Cedar, a species of wood which is commonly used for outdoor construction because of its natural resilience to harsh weather elements and its resistance to rot and insects.
The portable type, on the other hand, is perfect for homeowners who have limited space and have a minimal budget. This is is also an ideal alternative if you are not yet ready to commit to building a permanent structure within your yard. Portable pavilions are easy to set up and can be transported anywhere within your yard without much effort. This is also very affordable and less pricey compared to spending separately on materials and labor costs for construction.
Backyard pavilion kits also always come as ready to start assembly. The materials, like lumber are already pre cut and pre drilled. All hardware and roofing materials like shingles or a metal gable roof are also provided. It also comes with a complete set of instructions and all you need is a hammer, wrench, electric drill or screw gun. Installation wise, pavilion kits do not require much effort and can usually take 10 to 20 hours to assemble, depending on its size.
In terms of price, backyard pavilion kits may be more expensive compared to ready made unroofed architectural structures because of the extra material, skills and craftsmanship required to build them. Aside from that, their roofs are also an added weight and cost a lot to ship. It usually costs a minimum of $1000 per pavilion kit.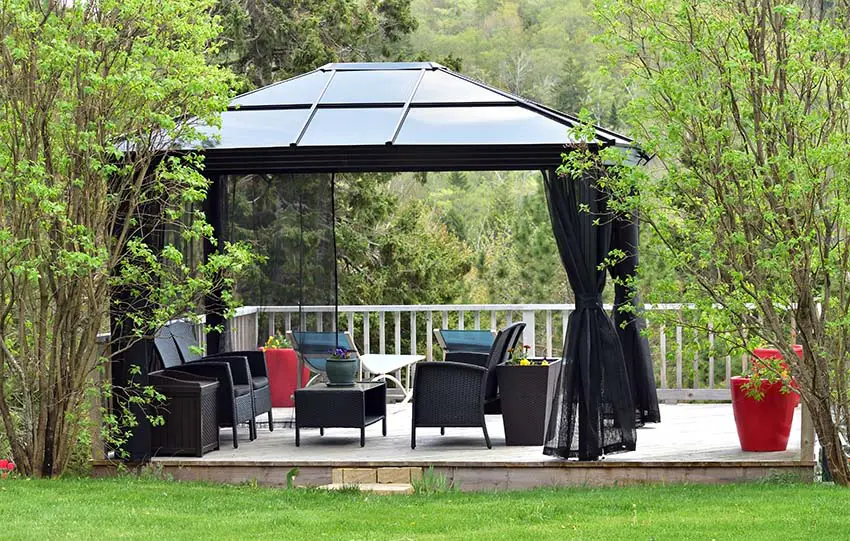 Shown above is a simple portable metal pavilion with a sunshade and sheer drapes. This pavilion design can be placed almost anywhere, whether in a patio, deck, garden or by the pool. Its size is also able to hold an adequate amount of seating furniture which is perfect for entertaining a small group of people.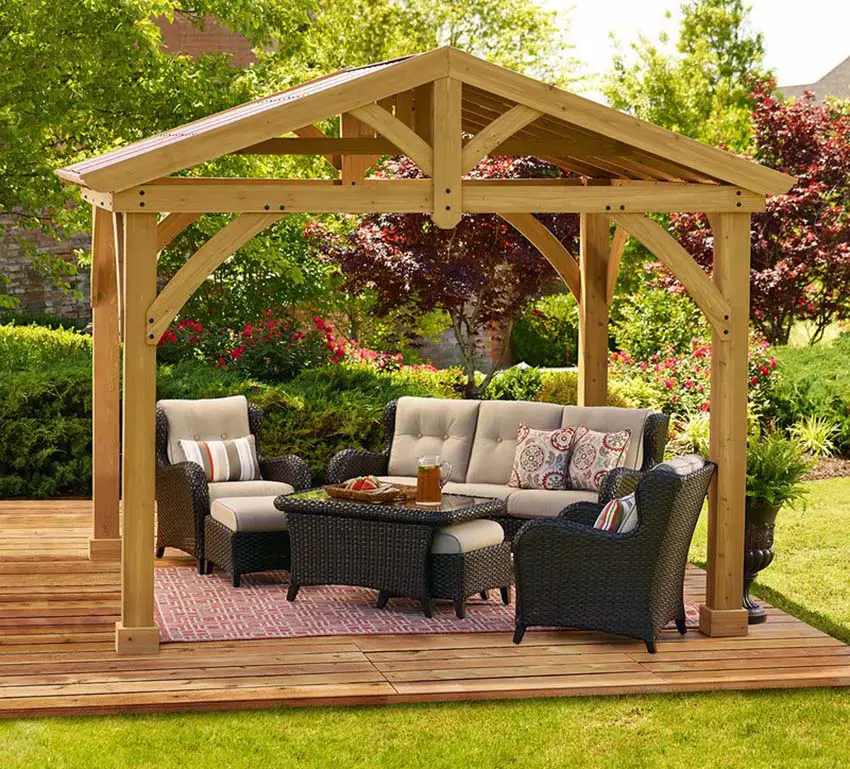 Backyard Pavilion Kit – Wayfair
This pre fabricated wooden pavilion is easy to assemble but is not meant to be moved around as it is a permanent structure. The raw unfinished look of wood gives off a natural beauty and coziness. It also has just the right size to accommodate a three seater sofa and two arm chairs. This design is also versatile as it can be matched with different outdoor furniture styles.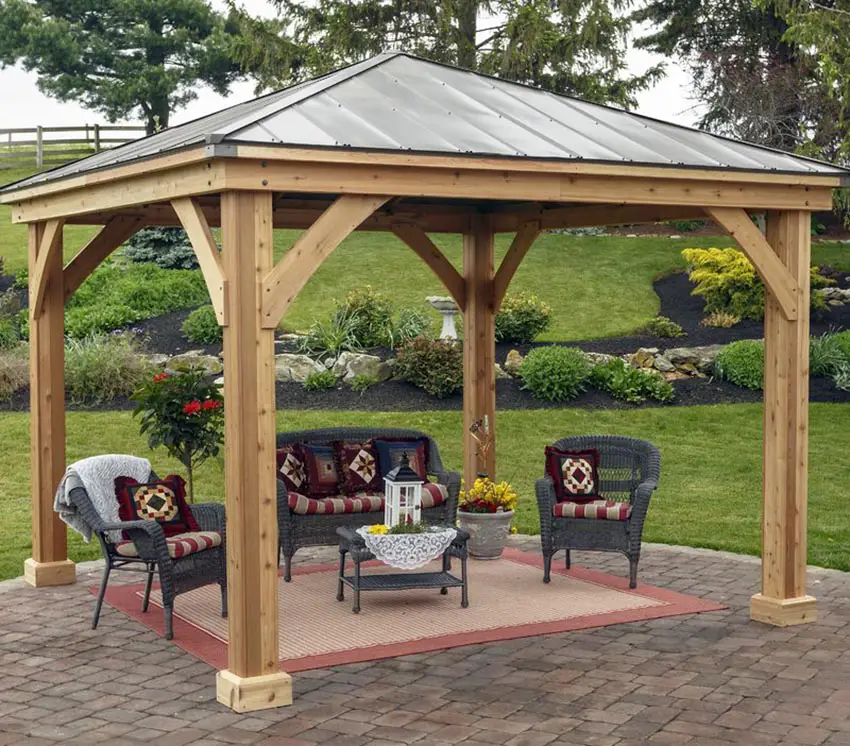 Cedar Pavilion Kit for Patio 12×12
Another example of a wooden pavilion kit, this design features Cedar wood which is naturally insect and rot resistant. In addition to that it is also guaranteed to last for years because of its durability. The design of this Cedar backyard pavilion is also simple and easy to assemble, making use of four posts and a steel hip roof. Perfect to be used anywhere within the yard and ideal to hold either a small dining set or a some lounge chairs.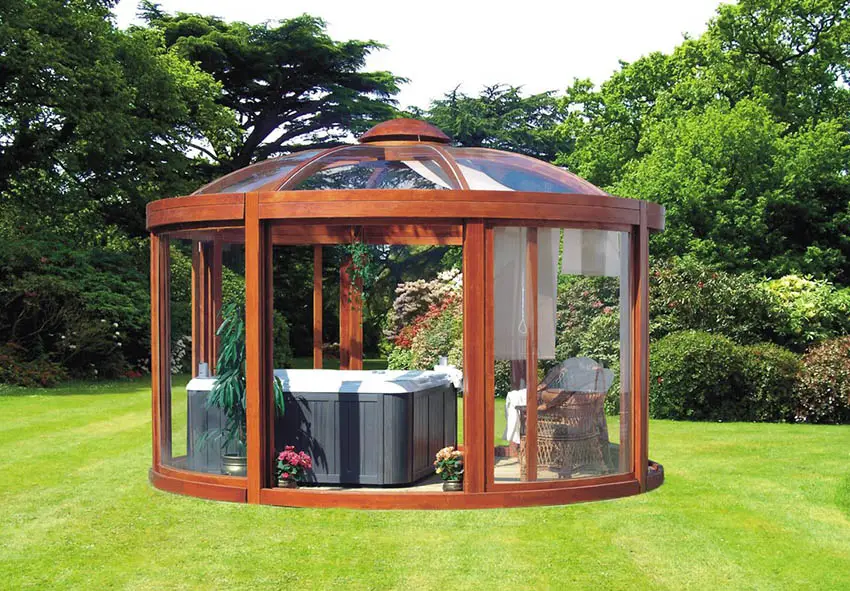 Pavilion Kit for Hot Tub
This dome shaped pavilion kit is made up of natural stained wood and four millimeters thick poly carbonate glazing. This can be placed directly onto the ground without the need for a foundation. Designed ultimately for a relaxing hot tub experience, the advantages of this design is that the clear panels allow the users to enjoy a full 360 degree view of the surrounding, while the four sections which can slide open provide cool natural ventilation.
Garden Pavilion
Garden pavilions are roofed outdoor structures which are placed in a garden for both ornamental and functional purposes. Although most homeowners use garden pavilions as decorative landscape elements, it can also be used to house a small vignette perfect for enjoying cup of morning coffee, or it can be utilized to hold a small bench for enjoying the view of the surrounding landscape.
Garden pavilions also look extra appealing when combined with other architectural features like a small bridge which connects to a manmade pond, or a water feature. Another option is to incorporate it into the landscape, by allowing trailing plants and climbing vines to grow in the posts, giving a more organic feel.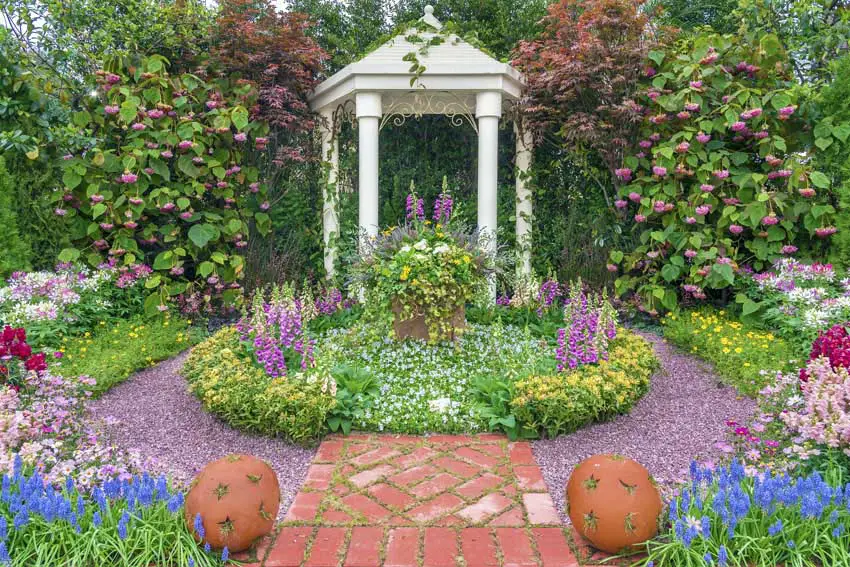 This dainty garden pavilion is purely a decorative element for this charming landscape. Its classic design blends well will the surrounding luscious blooms of pink and purple flowers and flourishing plants. In this example we see how pavilions can act as an interesting ornamental focal feature for backyards.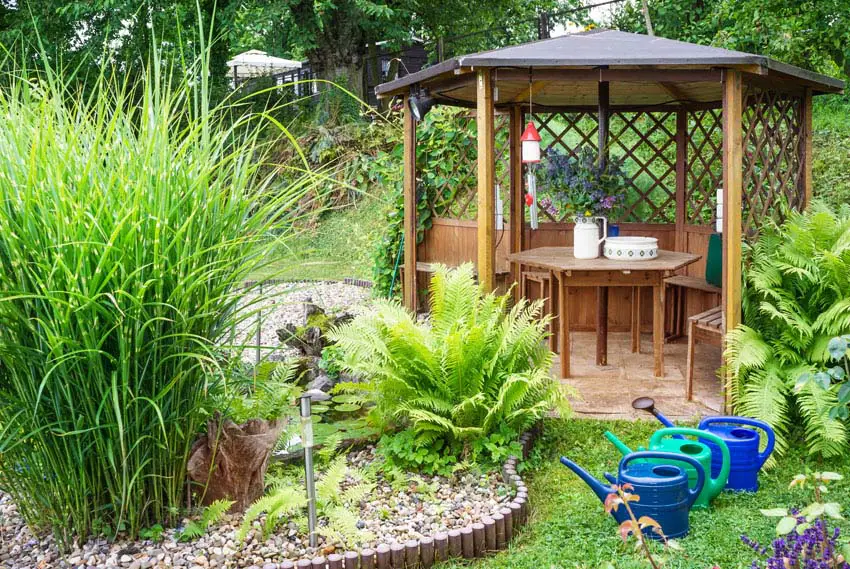 This rustic inspired pavilion has wooden pillars and lattice screen panels for walls. Furnished with matching wooden seating and a dining table which is ideal for spending afternoons while overlooking the garden, or for accomplishing small gardening tasks like potting plants and flowers.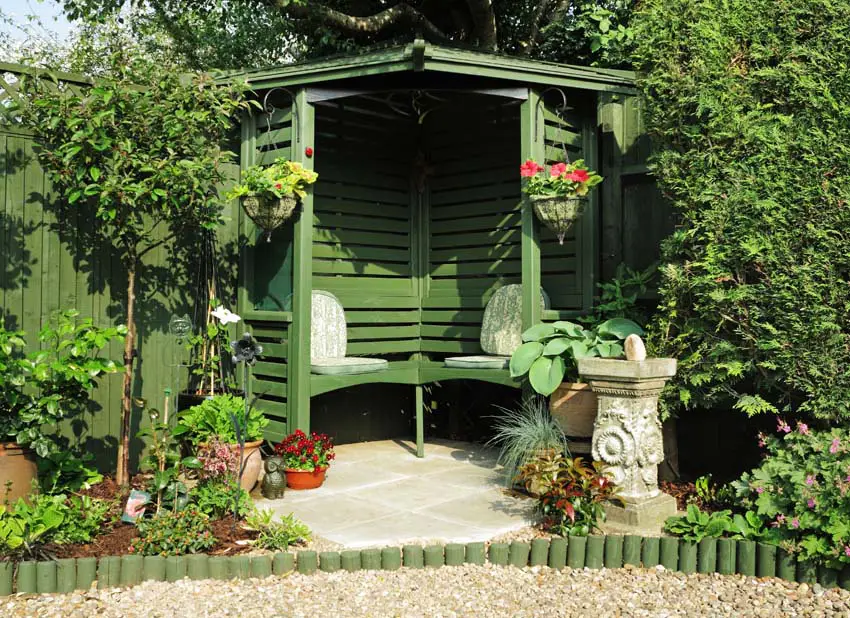 The design and color of this garden pavilion blends organically with the verdant plants surrounding it. In this picture we see how a corner space is effectively utilized as a covered seating area which is not only functional but decorative as well.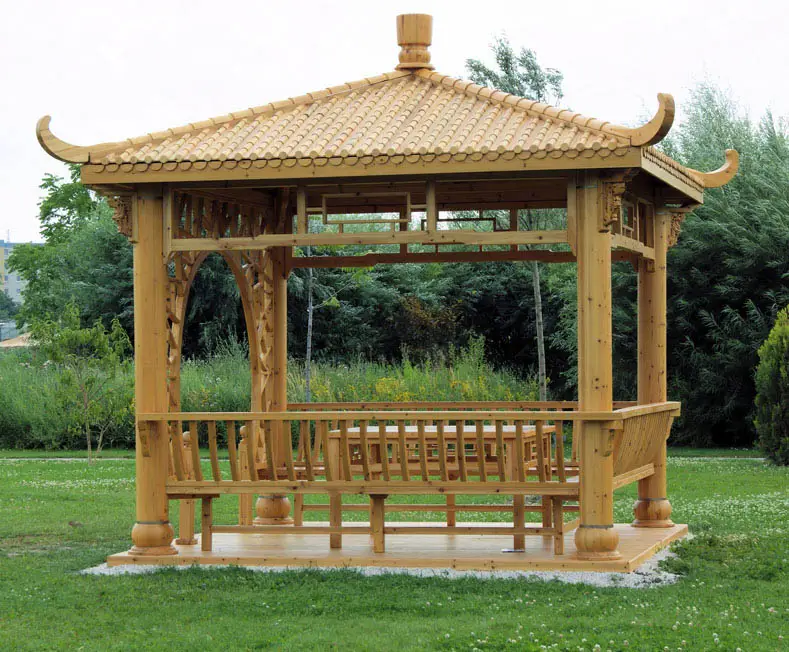 Reflecting an oriental design flair, this wooden garden pavilion has all the makings of an Asian inspired outdoor structure. From the roof finial to to the decorative motifs, the desing details of this backyard pavilion make it a visually interesting element in this outdoor space.
Outdoor Kitchen Pavilion
A pavilion with an outdoor kitchen is perfect for homeowners who love to cook and find delight in enjoying a sumptuous meal with friends or family in the backyard. What could be more relaxing than a grill out in your very own yard while enjoying a cooling afternoon dip in the pool?
An outdoor kitchen pavilion may either be furnished with a simple barbecue area -with a set up of some comfortable outdoor seating and a grill, or a full kitchen with complete facilities and functionality. A full outdoor kitchen pavilion is similar to an indoor kitchen, offering a complete cooking area, washing area, dining area and some built in cabinets. The only minor difference is that an outdoor kitchen concentrates more on food preparation, as compared to an indoor kitchen which has full overhead cabinets and storages. However, you can design it in whatever way you like, using any material you prefer.
It is usually furnished with a sink, a cooktop or grill and some opt to put appliances too, like a bar refrigerator or an oven. When it comes to design, an effective outdoor kitchen pavilion has a ample space for food preparation and proper storage for dining utensils and dry ingredients. Stainless steel is one of the most common materials for outdoor kitchen pavilions as they are very durable and heavy duty. Stone, concrete, bricks and tiles are also recommended finishing materials for the structure as they are not sensitive to heat. Also take into consideration safety measures without compromising your design aesthetics.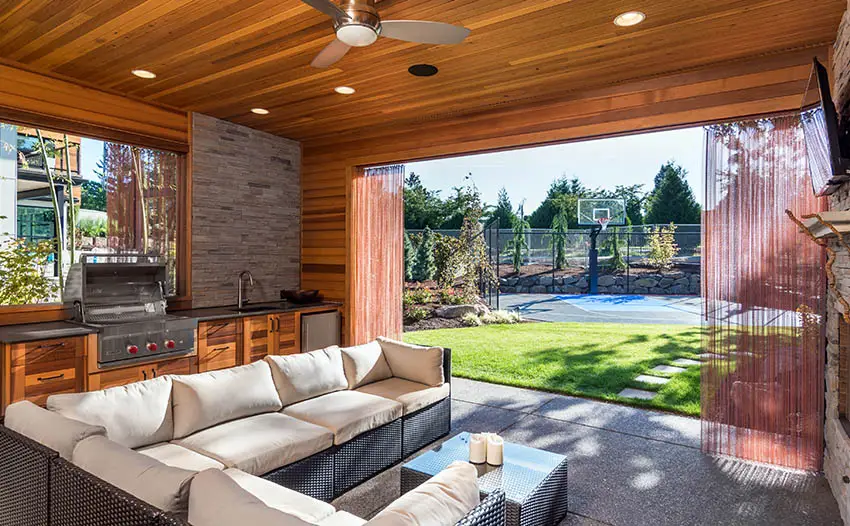 Here is a massive luxury pavilion with a small kitchen, some contemporary outdoor furniture and sun shades. Unlike other pavilion designs, this one even comes with a ceiling fan and a TV, it's as if you are already in a small guesthouse.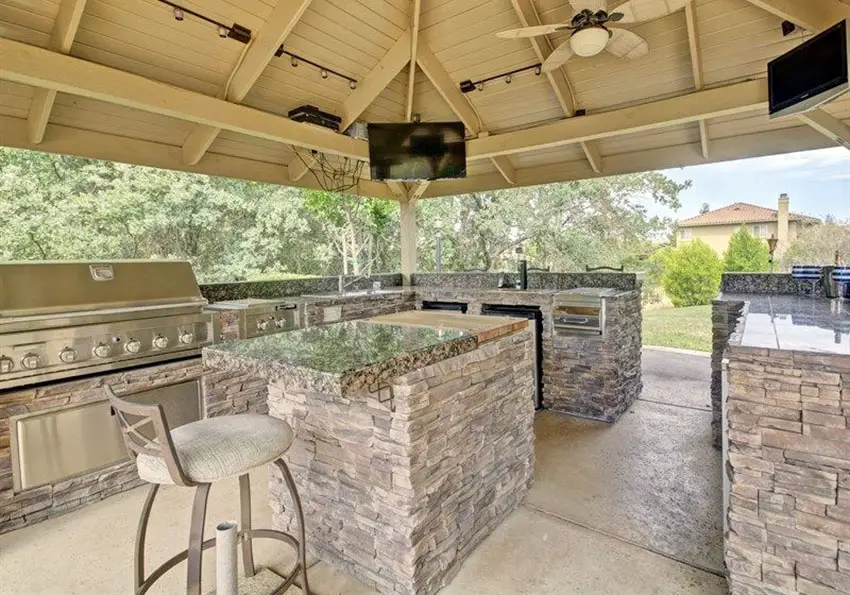 This backyard pavilion houses a full kitchen with an island counter and a grilling station. This design is perfect for homeowners who love to regularly invite friends for gatherings.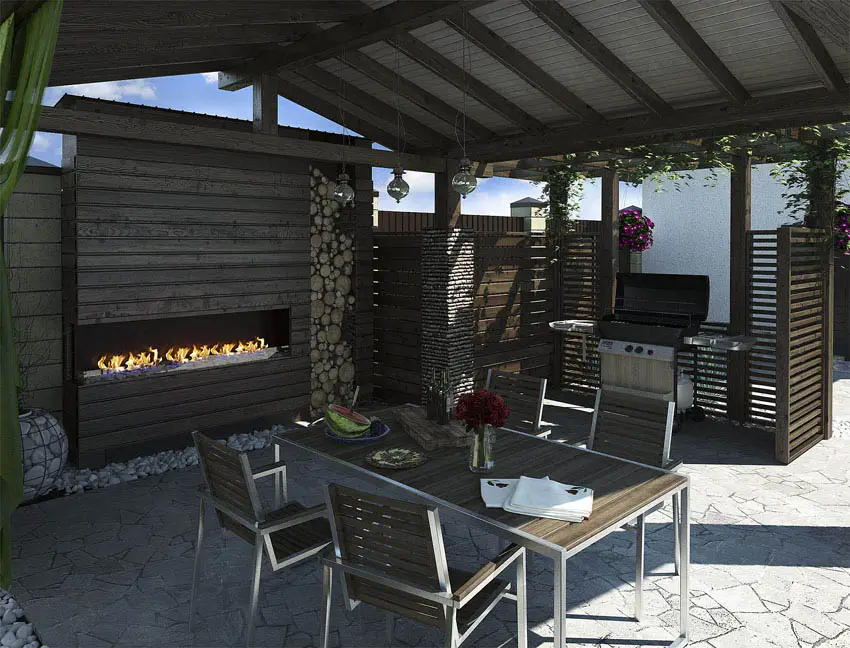 This modern kitchen pavilion has a grilling station and fireplace. The sleek slatted wood design and simple horizontal wood panels are perfectly matched details for the design f the dining table and chairs.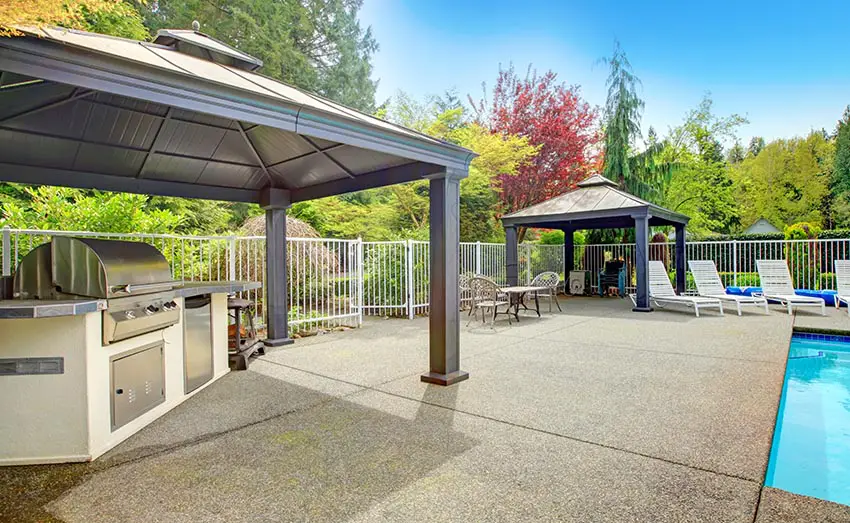 Pavilions with kitchens are also great ways to utilize spaces near a pool because you can easily enjoy cook outs and pool parties without having the need to go back and forth the main house just to prepare the food and refreshments.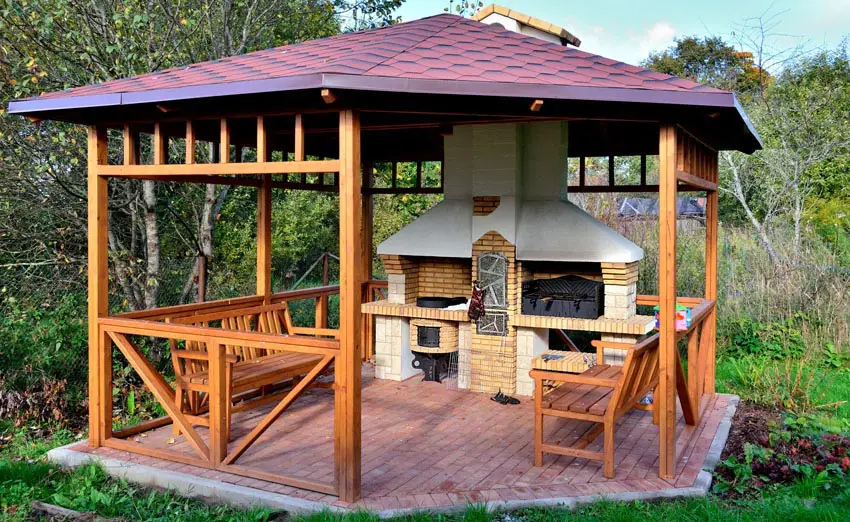 This open backyard pavilion comes with matching wooden benches and a stone fireplace and cooking station.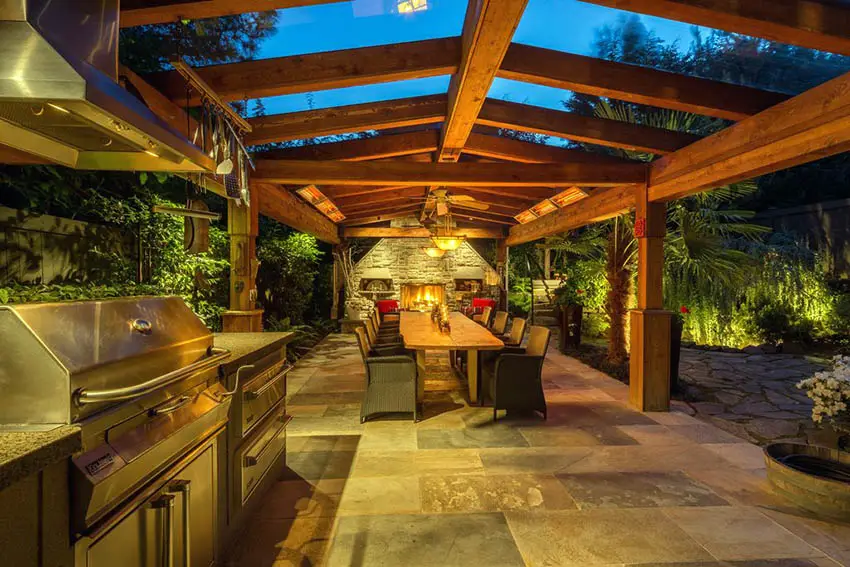 Many backyard pavilion ideas focus on providing a spot to truly enjoy outdoor living and increase the amount of time you can enjoy your outdoor areas. This luxury pavilion gives everything a homeowner needs to enjoy a relaxing gathering with friends and family. Designed with a kitchen, dining set and a fire place it offers a relaxing place for friends and family to eat and socialize. The natural coziness of wood, warm white drop lights and natural stone surfaces contribute to the class and elegance of the area.
Related Outdoor Living Design Galleries You May Like:
Gazebo Designs – Beautiful Patio Ideas – Outdoor Kitchen Ideas – Pergola Ideas