Here we share our louvered roof pergola guide including what is, how it functions in an outdoor space, cost, and the different manufacturers that produce this louvered pergola roof system.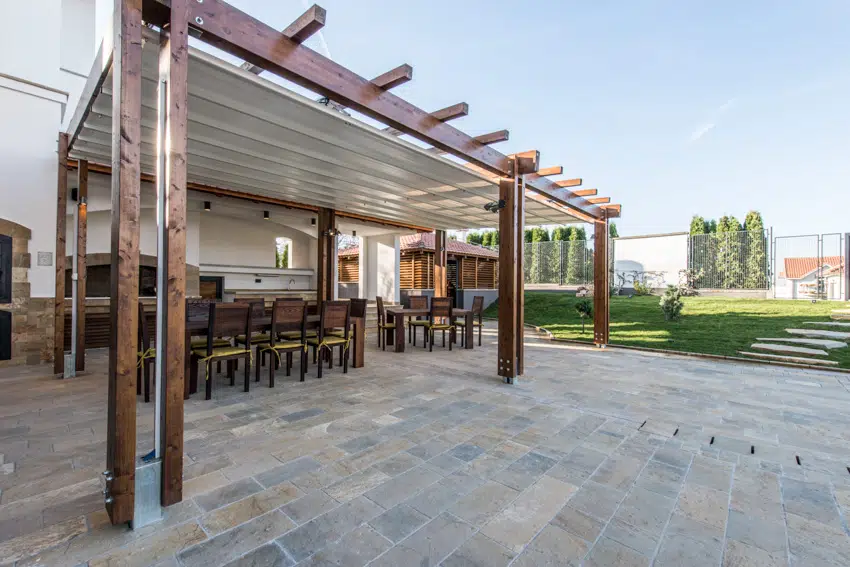 Having a louvered roof allows homeowners to make their backyards functional, attractive, and eye-catching. To make your house a very safe and relaxing haven, you wouldn't only enhance your indoor space; it's also about revamping your outdoor space.
By incorporating a louvered roof pergola in your outdoor space, you'll experience much fresher air and you'll get to appreciate nature. It can also protect you from light rain and excessive sunlight.
However, what then, is a louvered roof pergola? Are there various types of louvered roofs? How much will it cost if you'll install one in your outdoor space? Let's discuss all of these questions in this article.
What is a Louvered Roof Pergola?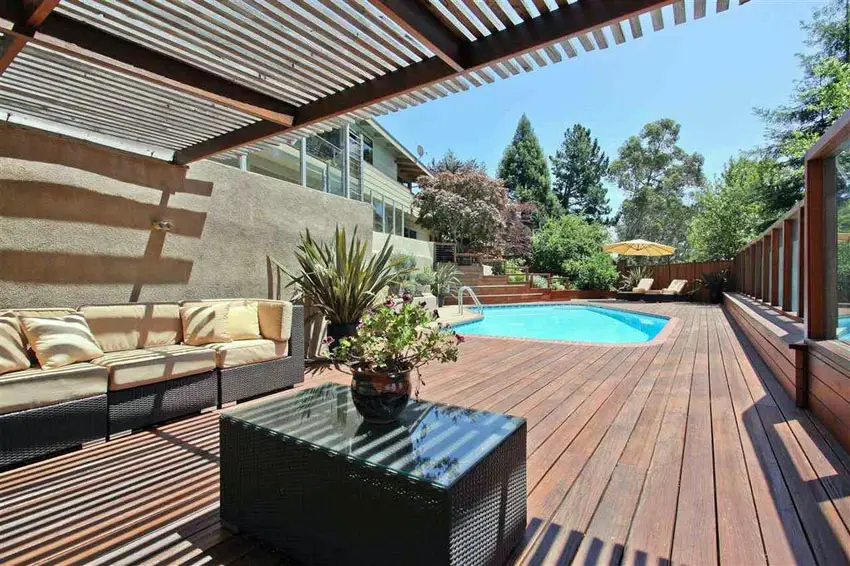 A louvered roof pergola is an adjustable and innovative roofing system that allows homeowners to take pleasure in the fresh air, relaxing rays of sunlight, and other several beneficial qualities that nature has to offer. This type of roof can easily be adjusted to give sufficient protection against snow, drizzle, rain, or immoderate sunlight.
Moreover, a louvered roof pergola can be equipped with appliances such as ceiling fans to make the outdoor space extra-comfortable, relaxing, and mosquito-free. This type of roof allows homeowners to select how much sunlight they'd like to experience at any specific time of the day.
A louvered roof pergola offers a convenient and user-friendly control system that will let you adjust it when it's raining or snowing. No wonder it's a perfect choice for families as it can help them fully enjoy their outdoor spaces! Read more about our guide on modern pergola designs here.
Louvered Roof System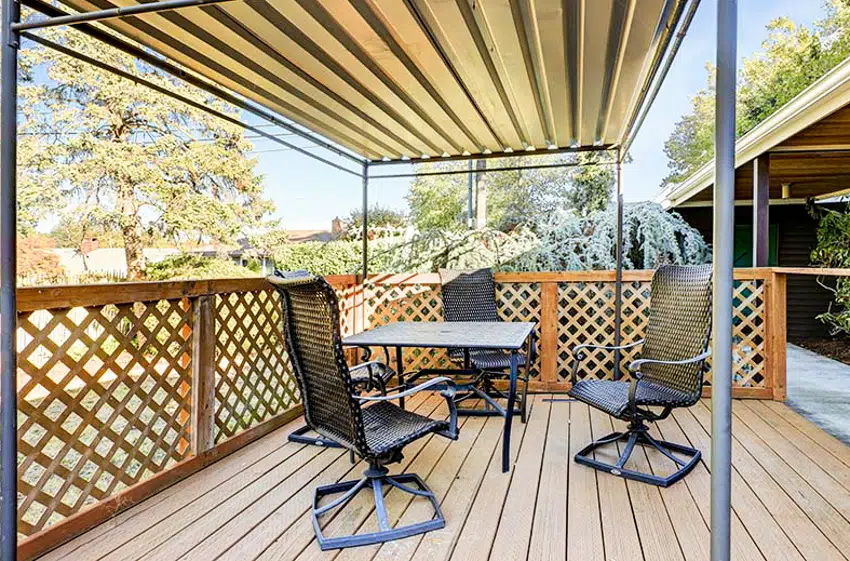 A louvered roof system is a multifunctional and adjustable motorized coverage that merges elegance and functionality. This roofing system revamps outdoor spaces like swimming pool areas, outdoor kitchens, courtyards, patios, guest areas, etc.
Moreover, every louvered roof system can be created using different kinds of materials, paint colors, and finishes. It usually depends on the homeowner's needs and predilections. Generally, louvered roof systems are made out of steel, wood, aluminum, and coated with the user's selected paint and finish.
Several louvered roof systems are adaptable enough to fit in with various architectural methodologies. Most of them can accommodate constructions with bay windows, pitched roofs, or angled walls.
Additionally, they can be built and designed for a pergola installation. Read more about our guide on pergola dimensions here.
Louvered Roof Cost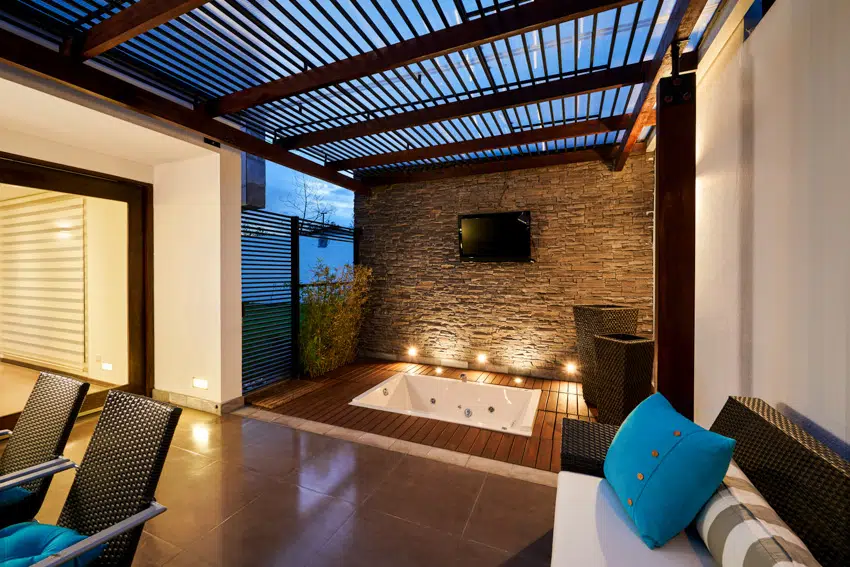 Commonly, the average cost of a standard-quality louvered roof (roll-formed) can range from $20 to $25 per square foot. Furthermore, the average cost of a stronger-quality louvered roof (extruded) ranges from $40 to $97 per square foot.
The price may vary according to the quality and brand. Virtually all of the louvered roof systems are modifiable. They can be customized according to the homeowner's needs.
If you're interested in applying a completely loaded louvered roof system in your outdoor space, it can cost you around $100 to $110 per square foot. Read more about our guide on the different pergola canopy ideas here.
Louvered Roof Pergola Manufacturers
Here we share the different companies that manufacture louvered roofs for pergolas.
Equinox Louvered Roof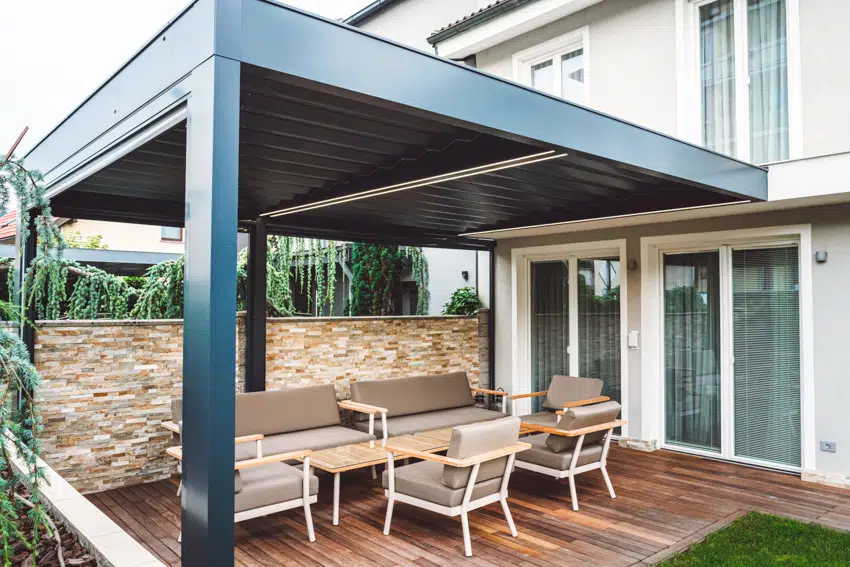 Equinox is a superior brand under OmniMax International which is a worldwide manufacturer of roofing products, patio constructions, lawn drainage, windows, transportation products, and many more.
Equinox louvered roof systems are made out of extruded aluminum. This means, their louvered roofs are all more durable and long-lasting than other typical fabric or plastic patio coverages.
It also offers a smart and user-friendly design that allows homeowners to control the roof without any hassle. Their louvered roof system can be adjusted to either a fully solid or open roof according to your choice.
If you want some sunlight, you can easily control the roof to give you enough rays of sunlight. If it's raining, you can control it to prevent you from getting wet. The Somfy system allows you to control your outdoor roofing conveniently.
Sundance Louvered Roof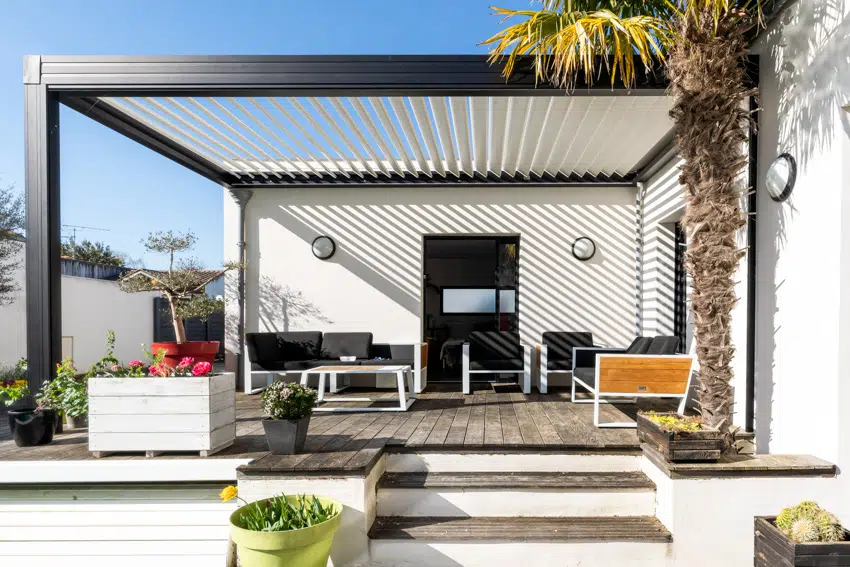 Sundance has been in the industry for 13 years. Undoubtedly, they create and design innovative roofing systems that will truly enhance not only the outdoor appearance of your house but also its safety and function.
Their louvered roof systems are all engineered to withstand all types of weather. Each system is made out of extruded aluminum, so no doubt they're all top-quality, robust, and genuine.
A lot of homeowners have enjoyed their outdoor ambiance because of Sundance louvered roof systems – giving them a feeling like they're having a sweet getaway. Their elegant motorized pergola allows homeowners to effortlessly control their roofs so that they can receive sunlight whenever they want.
However, if there's too much sun, the Sundance louvered roof can provide you with sun-blocking protection and rejuvenating ventilation. Additionally, their louvered roof systems are all durable enough to withstand different climate situations.
They are all built to resist rain, snow, and strong winds. You'll stay worry-free even if the strongest storms are happening in your area.
Arcadia (Struxure) Louvered Roof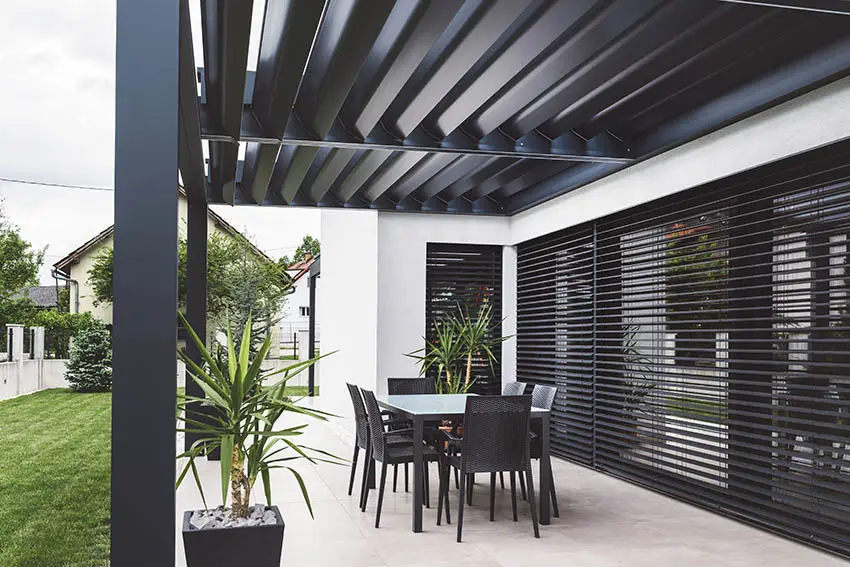 Arcadia was founded by CEO and architect Scott Selzer in 2011. The current name of the brand is Struxure. It was changed last 2018. Struxure offers extraordinarily designed louvered roof pergolas to enhance the functionality and appearance of every homeowner's outdoor space.
Struxure offers one of the best and longest warranties in the industry. They offer the best-louvered roof systems that will truly serve their clients for a very long period. They also have the most reliable dealer networks that will assist customers whenever they need it.
Under the Pergola X roof technology, they have these models:
1. Pivot 6 – this is the most famous model under the Pergola X. This pivoting louvered roof enables you to fully control the amount of sunlight you want. It provides a convenient roof control system
2. Pivot 6 XL – this model is engineered to handle 3x more rainwater. It's much better for commercial use than the Pivot 6. This is perfect for larger projects.
3. Pivot 6 Slide – this model allows you to fully open or fully close your louvered roof. It allows you to enjoy the full sky.
4. Pan 6 – this model is ideal for bigger projects with multiple zones. It allows you to switch between pans and louvers.
(Kuert) American Louvered Roof Systems

These louvered roof systems by Kuert are all made in America and they're all made out of aluminum and powder-coated structure. Each roof system incorporates a remote control that lets you freely adjust how much shade you want.
All of their louvered roof systems can highly protect your outdoor furniture against the strong sunlight. It stops the glare from getting through your eyes with its huge glass windows and sliding doors.
Their roofs are all 100% made of extruded aluminum and they're all durable enough to resist all types of weather.
Apollo Louvered Roof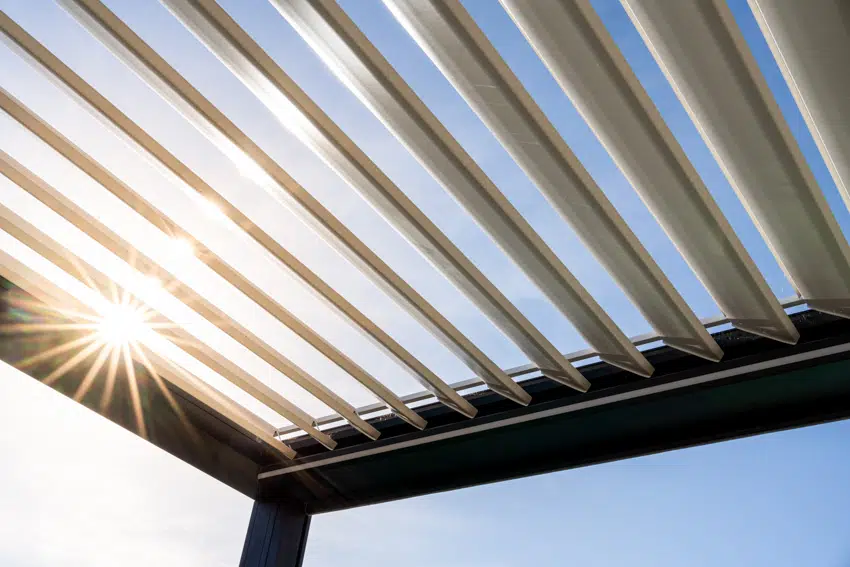 With Apollo, all of the louvered roofs are designed innovatively. No doubt the users will enjoy their outdoor spaces as these louvered roof systems by Apollo can be controlled only by keypad, mobile device, or voice control.
Their louvers and framing elements are all created to withstand intense wind, rain, and snow. They're all made for lifetime use. All of the louvers are applied with a maintenance-free finish, and the majority of the louver projects can be accomplished by the Apollo designers in just 3-4 days.
See more related content at our article about the differences between an awning and pergola on this page.