Here we share our outdoor kitchen lighting ideas guide with different light types such as downlights, task, pendant, string and under counter lighting.

Many homeowners have outdoor kitchens perfect for weekend barbecues and open-air get-togethers. While there is no issue when having the feast in the day, it can be a concern when done at night; unless one has the correct lighting for their outdoor kitchen.
Choosing the best outdoor kitchen lighting not only makes food preparation more convenient and less stressful. It can also set the mood for a lovely evening while keeping everyone at the party safe. Here are some outdoor kitchen lighting ideas homeowners must know.
Types of Outdoor Kitchen Lighting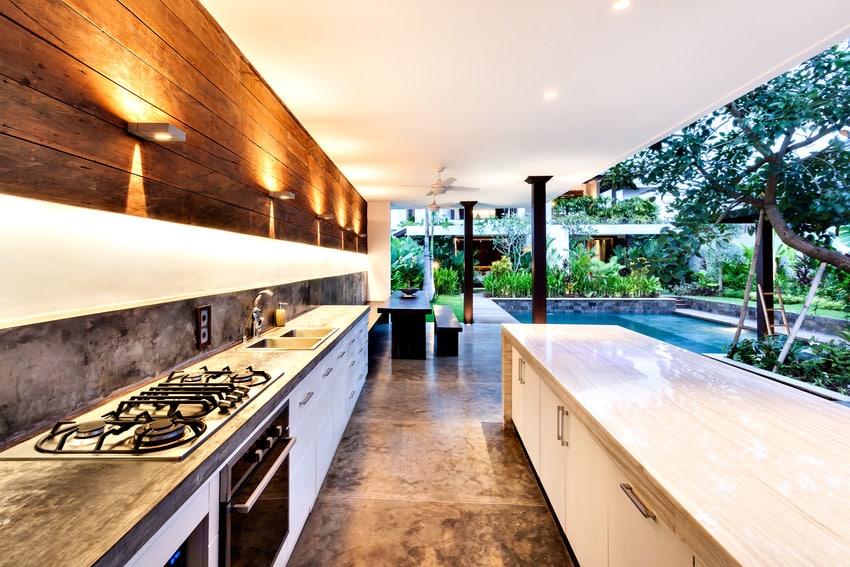 Almost any lighting fixture can illuminate an outdoor kitchen. However, nobody wants a straightforward light bulb that does nothing to improve the outdoor kitchen's appeal. After all, setting the right ambiance is essential when cooking for others in the evening.
Downlights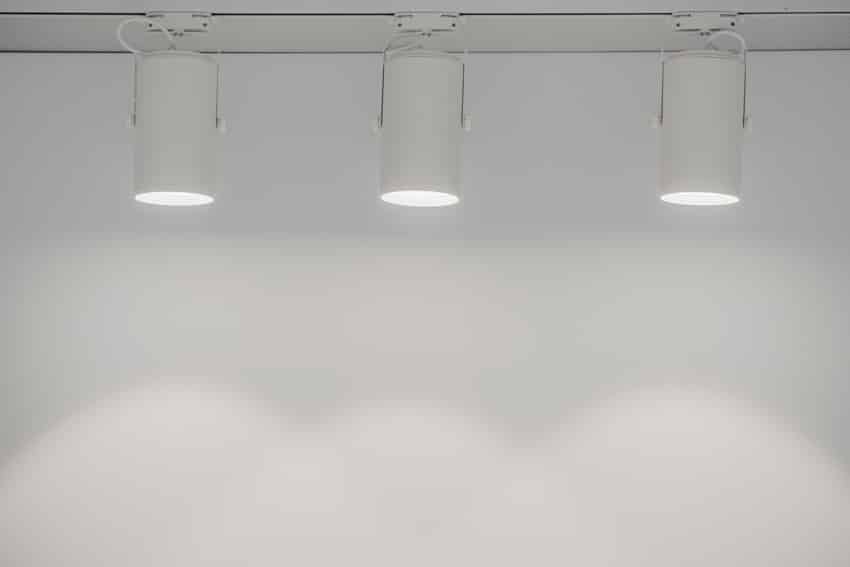 Downlights often come as recessed lights – fixtures flushed through the ceiling or an elevated horizontal structure. It points straight down, which is its main differentiating feature from a spotlight.
This outdoor kitchen lighting idea is suitable for illuminating general areas, especially when installed several feet apart along a line. It is perfect for lighting the passageway to the outdoor kitchen, allowing guests to reach the backyard safely.
If one has a covered outdoor kitchen, downlights can be excellent countertop lighting, too.
Task Lights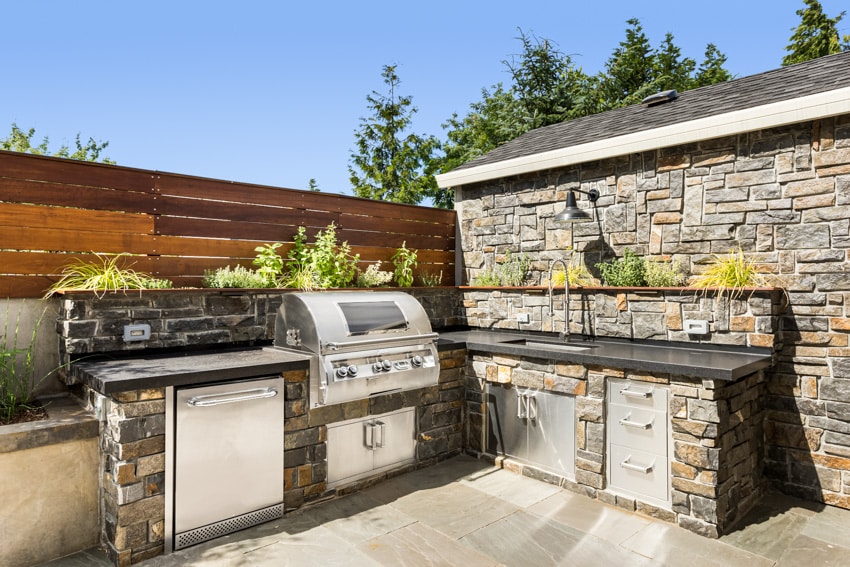 Perfect for the kitchen counter, task lights project an intense light beam over a small area. It allows cooks and kitchen preppers have an excellent idea of food preparation chores.
Most people call task lights spotlights because they are like downlights, except for their adjustable angles. One can position the fixture to project light on a specific outdoor kitchen area.
For example, homeowners can showcase their grill mastery by shining the spotlight into the grill area. Once done grilling, they can adjust the spotlight's angle to illuminate another part of the outdoor kitchen.
Pendant Lights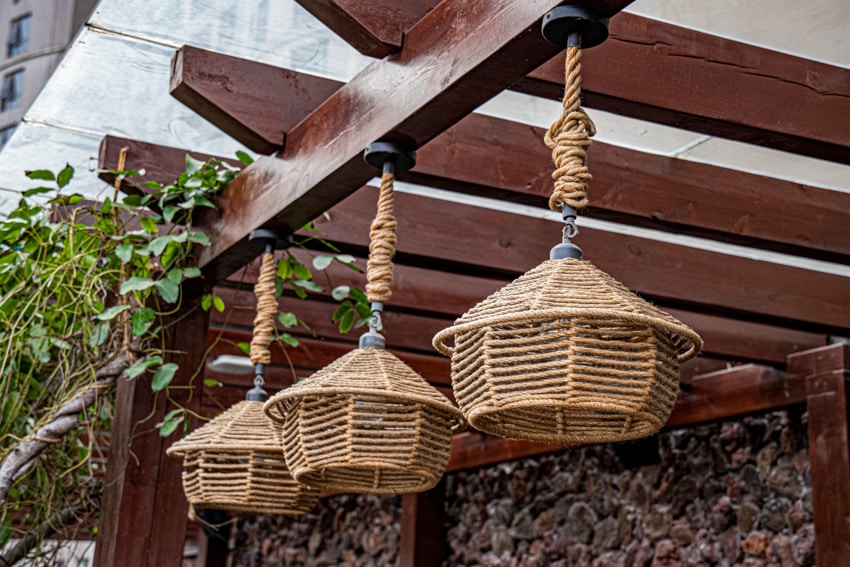 Part spotlights and part décor, pendant lights are a brilliant idea for illuminating the outdoor kitchen countertop.
It is like a task light while adding a touch of elegance to the outdoor space. One can think of pendant lights as a scaled-down chandelier.
Pendant lights are perfect for illuminating outdoor kitchen workspaces, such as cooktops, grill areas, and countertops. If one has a bar or an island, pendant lights can also provide ambient lighting and set the mood for a lovely evening. Read more about our guide on the top drum pendant lighting ideas here.
Pathway Lights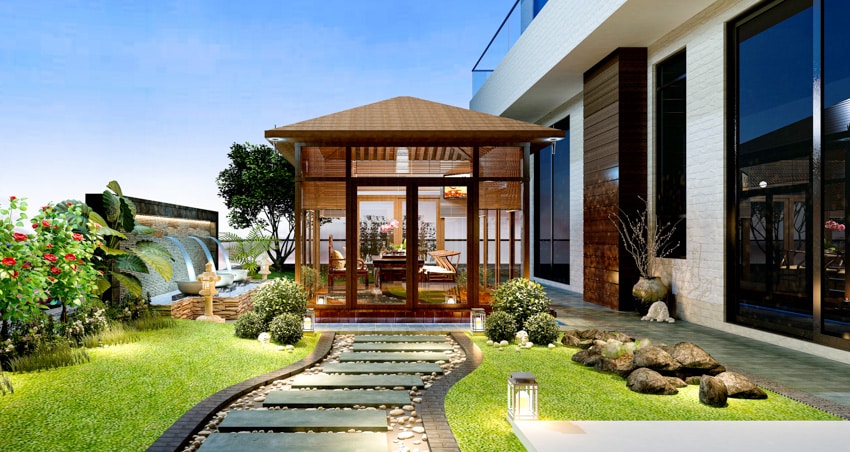 Homeowners have many options for illuminating their pathways leading to and from the outdoor kitchen.
For instance, lanterns hanging on hooked stakes can provide a clear path for guests to walk from the outdoor kitchen to the dining area or from indoors to the outdoor kitchen.
At least, homeowners will never worry about other people trampling on their flowerbed or freshly cut grass when they head to the outdoor grill or bar.
Step Lights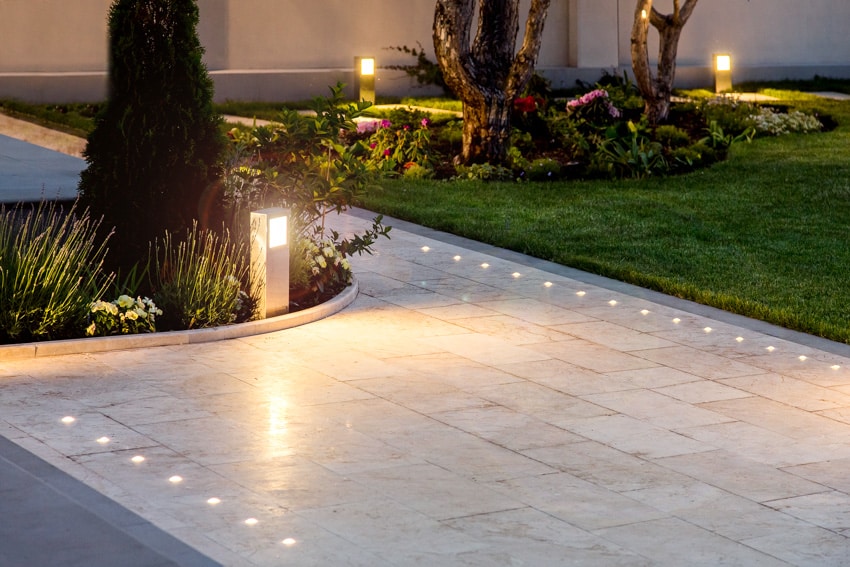 Some backyards have an elaborate landscape, complete with ponds, other water features, flowerbeds, rock formations, and more.
These features require the correct lighting to showcase them at night. Heading to these areas while waiting for the food requires illuminated steps. Lighting the stairs and steps minimizes, if not eliminates, the risk of tripping and falling.
Guests will have a safer and more enjoyable time in the outdoor kitchen, relishing good company, excellent food, and refreshing drinks.
String Lights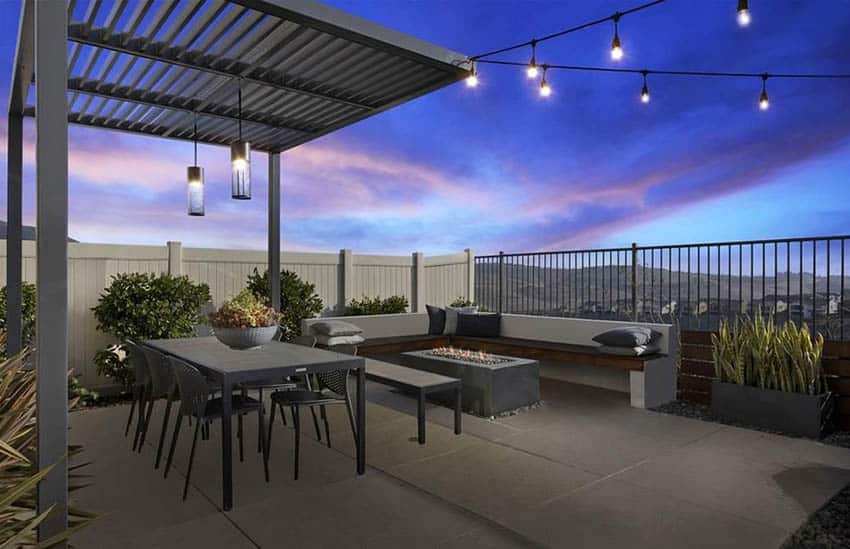 Perfect for bringing a festive atmosphere to any home, string lights are always a fabulous idea for lighting any outdoor kitchen. One can run several wires from a focal point, radiating towards the property's peripheries.
String lights are suitable for creating a relaxing, warm, and inviting ambiance. Whether cooking for the family or guests, having these lights overhead can ensure a memorable evening.
This outdoor kitchen idea is also inexpensive. If one is not afraid of climbing a ladder, it should be a cinch to get these lights propped up. Read more about our guide on how to hang string lights here.
Chandeliers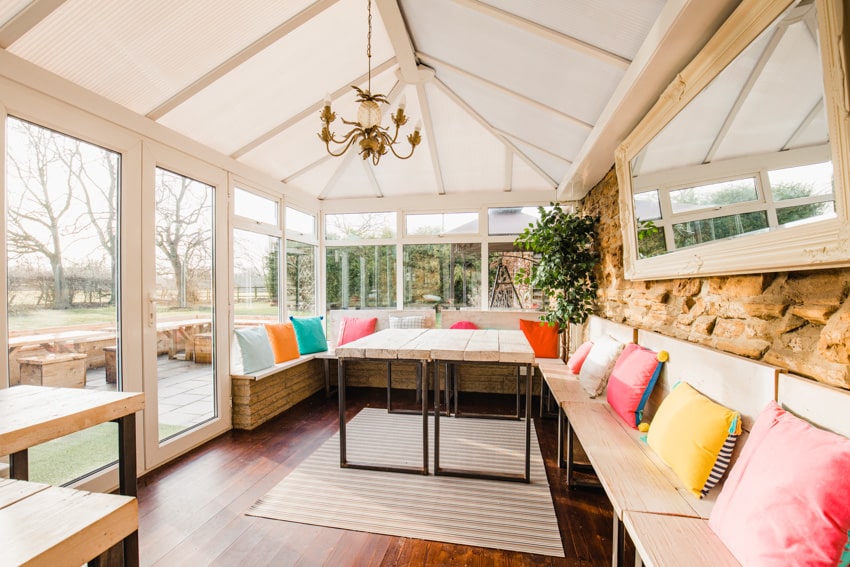 It may seem out of place, but chandeliers are always excellent lighting options for one's outdoor kitchen. It works best with homeowners who are passionate about playing the ever-gracious dinner party host.
One does not need to be extravagant, although a chandelier with dimmable light settings will be an excellent choice.
Lighting the chandelier at full intensity is perfect for board games, chit-chats, and food preparation. Tone the lights down will set the mood for more intimate conversations and formal dinner parties.
Outdoor Kitchen Under Counter Lighting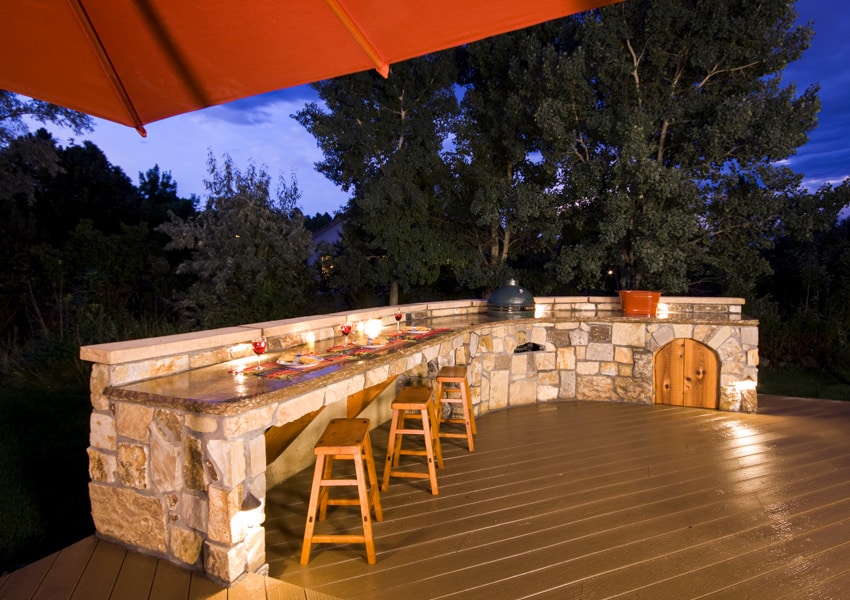 Having task lights, downlights, or pendant lights above the counter can make food preparation safer and more enjoyable. Unfortunately, the counter can also cast a dark shadow underneath, hiding the under-counter space from view.
The goal of illuminating the outdoor kitchen is to keep everything safe while inviting attention to the kitchen's unique features. One may not have something to showcase under the counter, but illuminating this space can make kitchen work more efficient.
Suppose one drops a utensil under the counter, it will be unsafe to grope in the dark. A well-lit under-counter can make such a chore easy and safe. Read more about our guide on outdoor kitchen countertops here.
LED Candles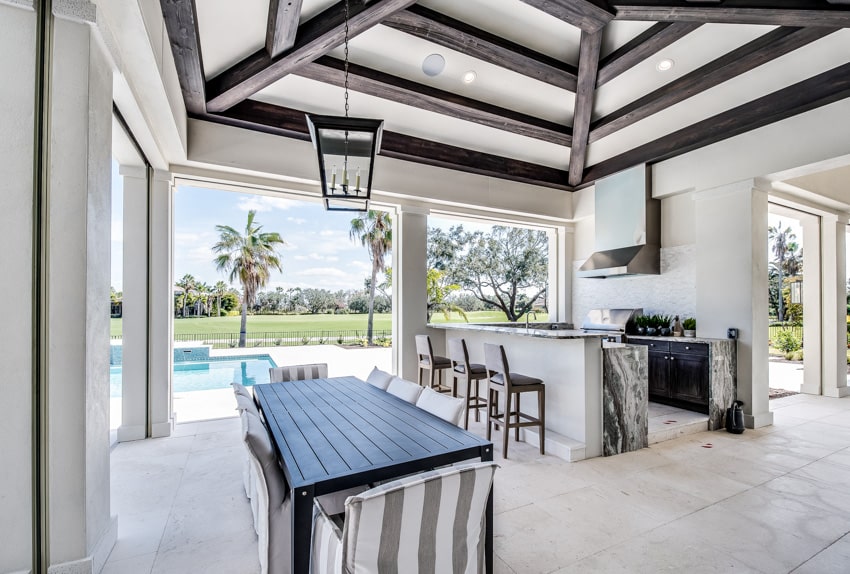 Candles are never a great way to illuminate outdoor spaces because their luminosity is not bright. However, LED candles are perfect for setting the mood, especially at the dinner table.
Placing several LED candles on the kitchen countertop's edge can also create a spectacular ambiance, particularly for grill masters. These fixtures' flickering flame effects should complement the fire in the pit.
One can also place LED candles in lanterns or mason jars and hang them in a series like string lights.
Tiki Torches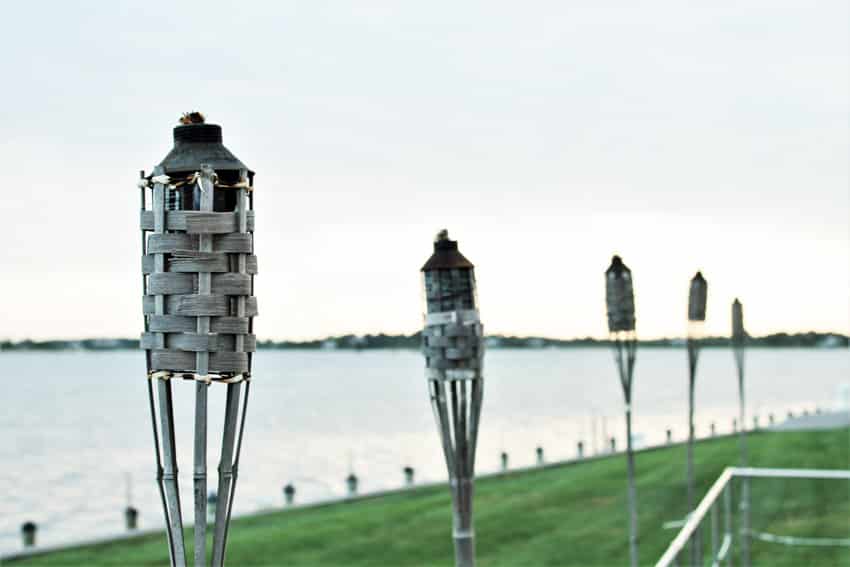 Like LED candles, tiki torches will never flood the outdoor kitchen with bright light. Instead, these lighting options can create a warm and cozy vibe, perfect for setting the mood for a pleasant evening.
Homeowners can place tiki torches in strategic locations to highlight a landscape feature. They can also use this lighting to guide guests when walking pathways, stairs, and other backyard sections.
The tropical paradise feel that tiki torches convey is enough to make this lighting option excellent for outdoor kitchens.
These outdoor kitchen lighting ideas underscore the importance of one's principal purpose for adding lights in the backyard kitchen. One can pick brighter lighting options for safety and security purposes.
Small and soft lighting fixtures are perfect for setting the mood and drawing attention to a unique landscape feature. See more related content at our article about the different outdoor kitchen must-haves on this page.