Here we share our outdoor kitchen must-haves design guide including what it needs, what everyone wants, and what appliances it should have.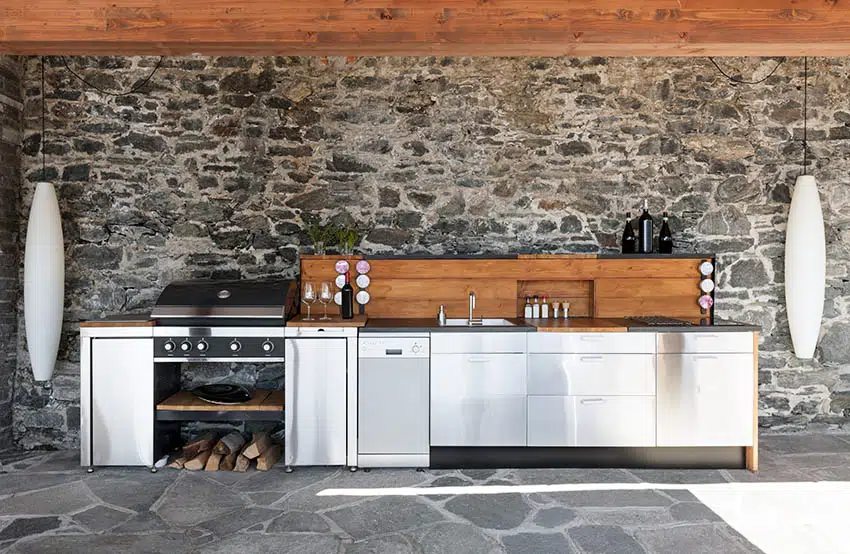 If you're going to install an outdoor kitchen, there are a few things you need to know. This article will cover the most important things for every outdoor kitchen, as well as a few extras that can take your enjoyment of your new kitchen to the next level.
What Does Every Outdoor Kitchen Need?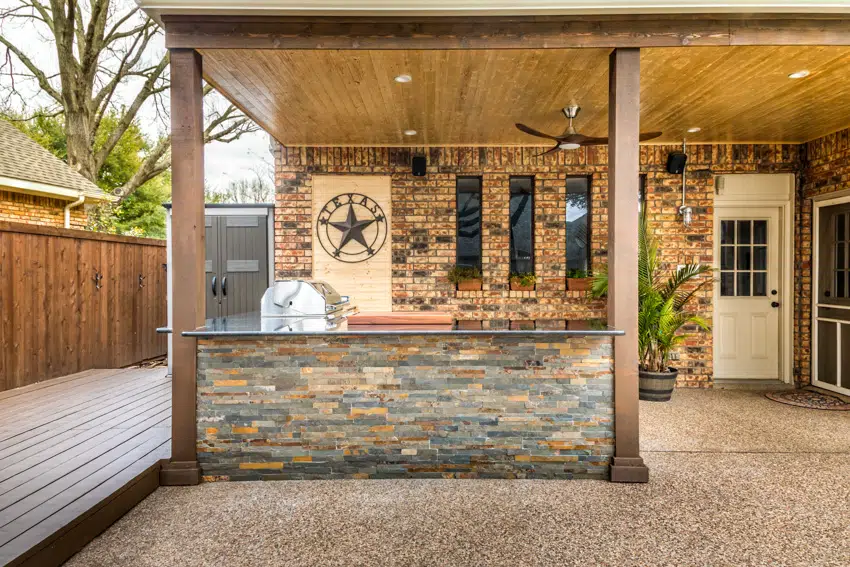 When looking for outdoor kitchen must-haves, you need at least three things: a source of heat with a cooking surface, a place to keep things cool, and a source of water.
A fridge of some kind is a necessity, to store food and keep beverages cold. To cook, you can use an open flame, flat-top grill, barbecue, or smoker. When it comes to water, you'll need to install a sink with proper drainage.
Built-in Grill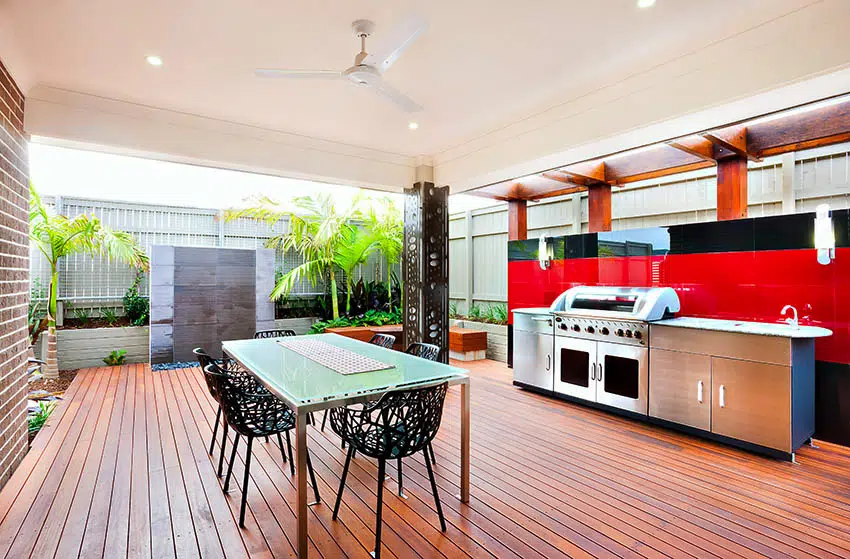 A grill is usually the main cooking element in an outdoor kitchen. Installing a built-in grill or modifying a roll-in grill to be stationary is the first step to making your kitchen feel like a permanent installation rather than a makeshift area.
Stone veneer can be used to cover the body of the grill, or the grill can be set directly into a countertop, similar to an oven.
Storage Cabinets & Shelving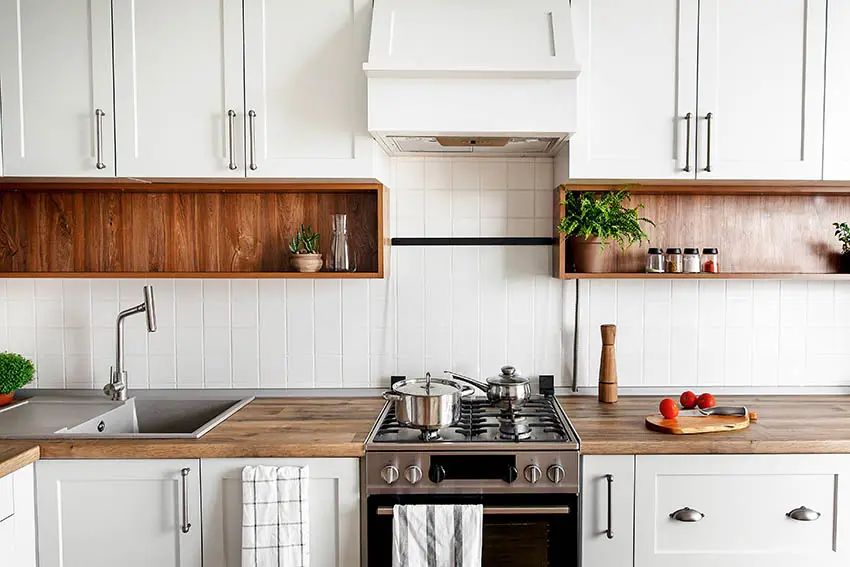 Lugging your dishes from the house to the backyard is an extra step that keeps you from enjoying your outdoor kitchen as often as you'd like.
If you want to get to complete your outdoor kitchen must-haves, go the extra mile. A full set of extra plates, bowls, utensils, flatware, and serving dishes that live outside will make entertaining so much easier.
Open shelving isn't the best fit for an outdoor kitchen unless it's very sheltered. Dust and dirt stirred up by the wind will coat the contents of the shelving as well as the shelves themselves. Instead, look for cabinets or hutches with doors to keep the dust out.
Outdoor Fridge & Beverage Cooler
For keeping beer, soda, and wine at the perfect temperature, invest in a dedicated, glass-front beverage cooler. For general food storage, make sure to choose an outdoor-rated fridge.
Due to the larger range of temperatures outdoors compared with interior fridges, outdoor refrigerators must work harder to keep the internal temperature consistent.
Lighting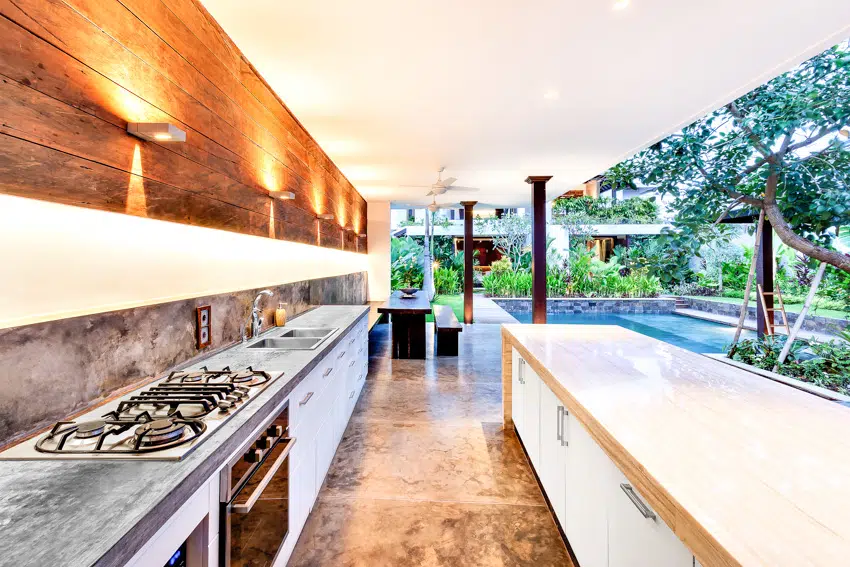 Most of the time, ambient lighting in your outdoor space will be provided by the sun or the moon. However, it's a good idea to have overhead lighting of some kind for dark nights or cloudy days. Strings of bistro lights shed light evenly and have a warm glow.
Wall sconces on the exterior wall of your home can be hard-wired, battery-operated, or even solar-powered. If your outdoor kitchen is covered by a ceiling, consider a ceiling fan with a built-in light. This can help disperse smoke from cooking, discourage insects, and keep you cool.
Insulated Jackets with Vent Panels
While most of the things on this list of outdoor kitchen must-haves are appliances or storage solutions, there is one item that you'll want to purchase for your body. An insulated jacket with vent panels makes it easy to control your body temperature while cooking, even in cooler weather.
Outdoor Kitchen Essentials (Everything One Could Want)
Here we share the most essential appliances and accessories for an outdoor kitchen design.
Built-in Grills
A roll-in grill can be used in an outdoor kitchen but has a bit of a temporary or make-shift feel. Instead, consider a built-in grill station.
Purchasing a grill enclosure or having one built for your existing grill seamlessly integrates your grill with the other parts of your outdoor kitchen, such as sinks and prep areas.
Side Burners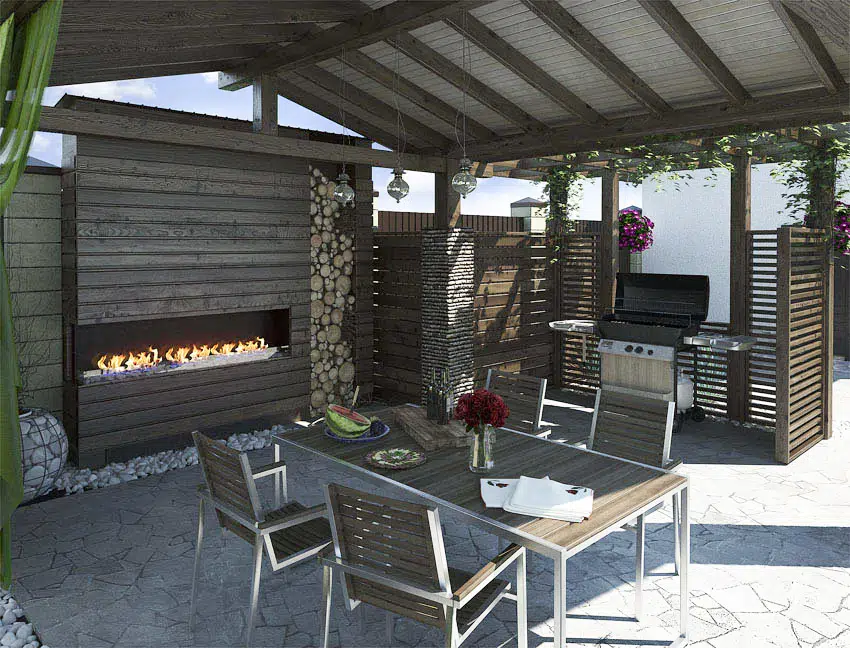 A grill with side burners for warming buns or crisping vegetables may seem like a luxury, but it will quickly become essential. It's very helpful to be able to control the cooking temperature in different zones of your grill, enabling you to prepare multiple dishes for a full meal.
Flat Top Griddle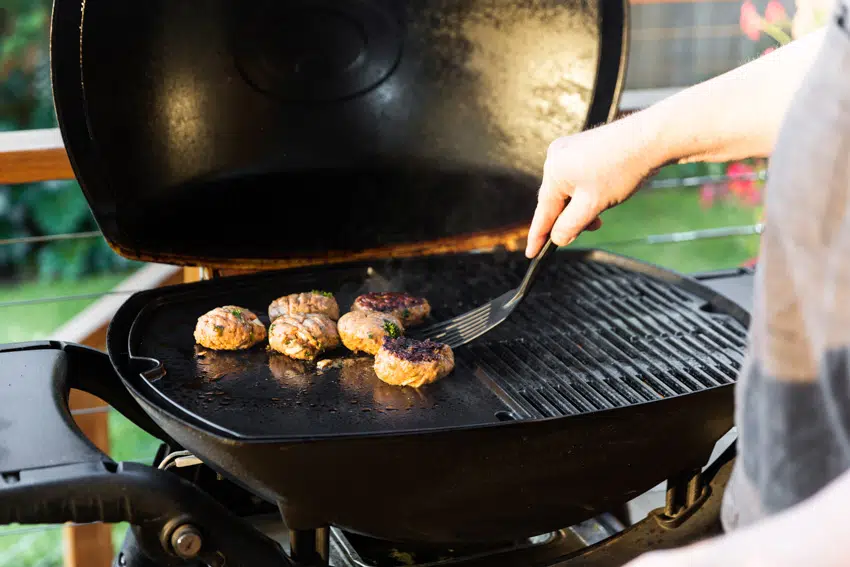 A flat top griddle can easily be used to feed a crowd of people. Also, it does not require the same level of attention and skill as grilling over an open flame.
If you're not a dedicated griller, flat tops are a great replacement for gas-powered grills. They can be powered by propane tanks or even connected to your home's main gas supply.
BBQ Grill Hood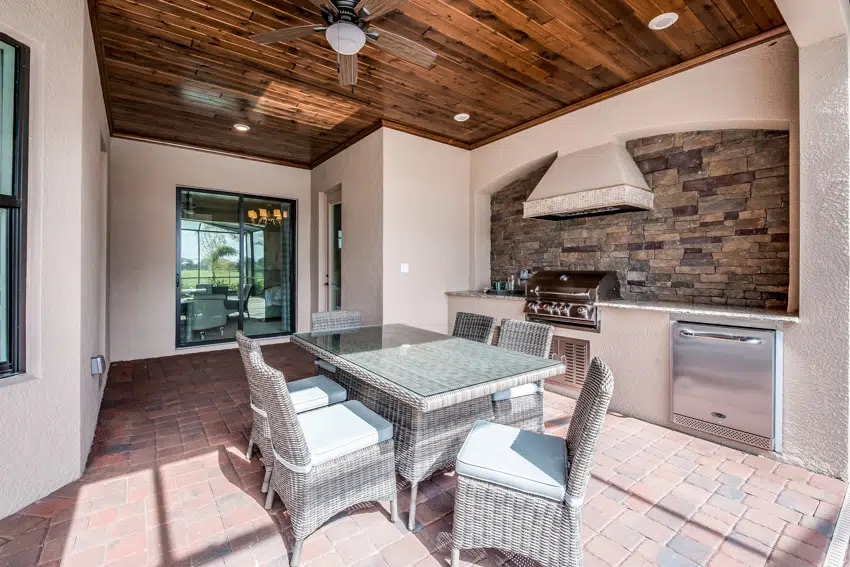 If your outdoor kitchen is completely open-air, you don't need a hood over your BBQ grill.
If you have a canopy, rain shelter, or roof of any kind, you must vent the smoke from your grill outside of the covered area. A BBQ grill hood quickly and efficiently whisk away smoke, keeping your eyes and lungs clear.
Smokers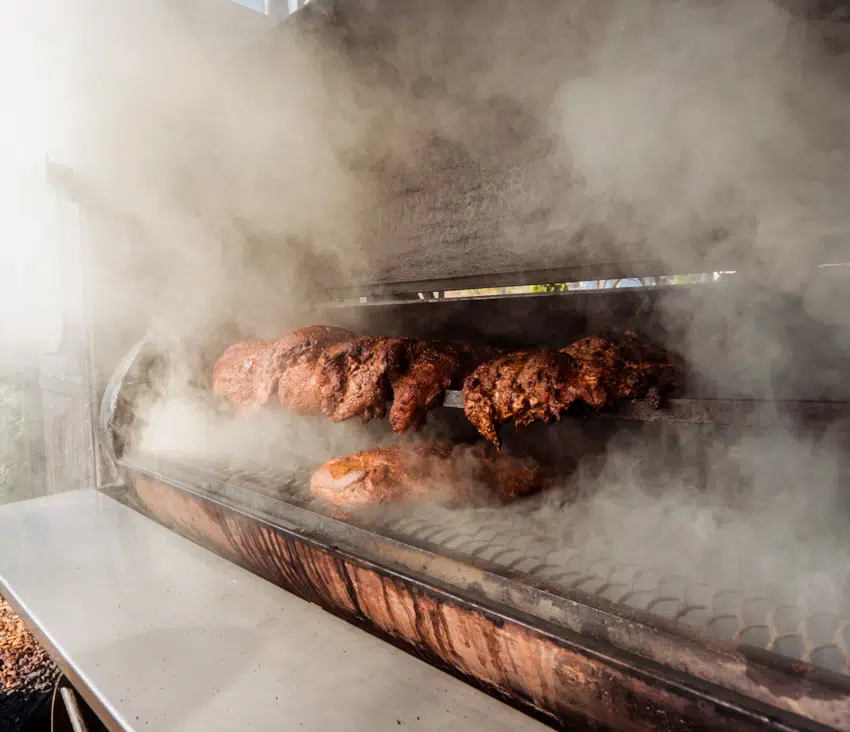 Grills use high heat to cook food quickly. Smokers use low heat over a long time (hours to days), to flavor and cook meat. If you can only choose one, a grill is a more versatile appliance. However, if you have room for a smoker as well, you may never go back inside to cook!
Warming Drawer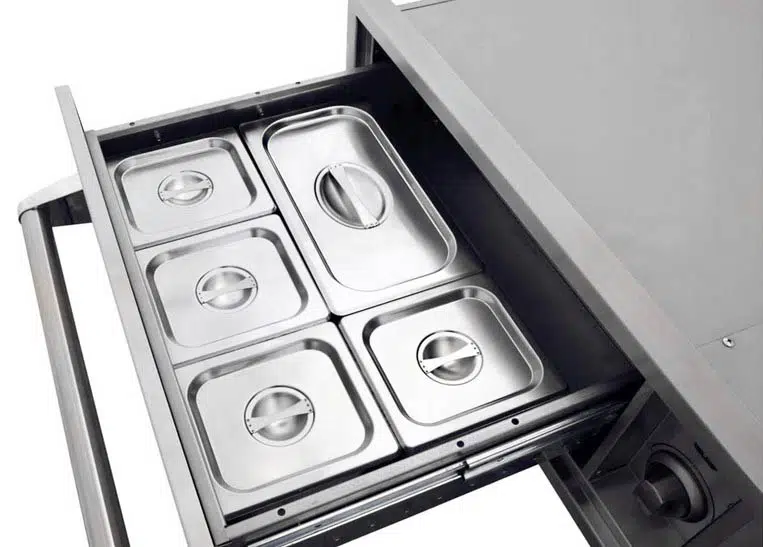 See this warming drawer at Amazon [sponsored link]
On cooler nights in the spring and autumn, you may have elements of the meal that you want to keep warm while you finish cooking the main dish. Some warming drawers come with container sets that allow you to serve food directly out of the warming drawer.
This is a great solution if you have lots of people to feed or want your guests to be able to self-serve over a longer period of time.
Countertops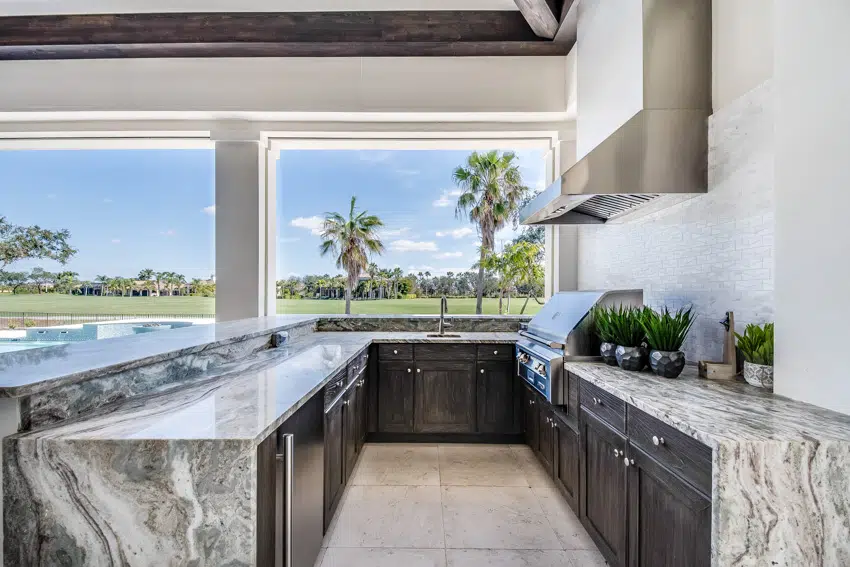 If you plan to do all prep and cooking outside, plan for three feet of unbroken counter space. No appliances should be stored here, and it cannot double as an eating area.
If you plan to prep inside and simply cook and serve meals from your outdoor kitchen, you can get away with a foot and a half of counter space, but it may feel cramped. Read more about different types of outdoor kitchen countertops here.

Sink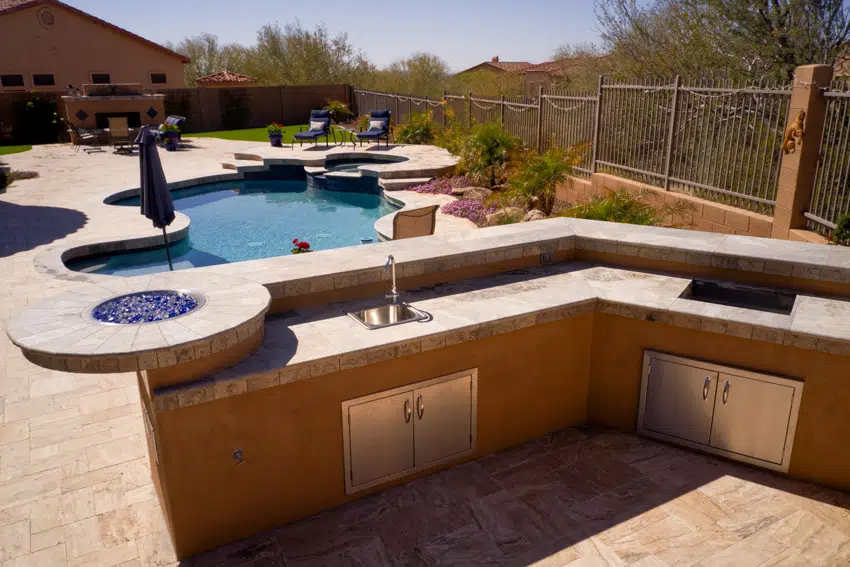 From washing vegetables to rinsing dishes, a sink is essential when planning your outdoor kitchen must-haves, whether in or out of doors. In an ideal world, you would have two sinks — one large and deep basin for filling pots, washing dishes, and soaking anything that gets encrusted with food.
The other sink could be a bar sink or prep sink — just large enough to wash your hands, scrub some potatoes, and fill a glass of water.
Task Lighting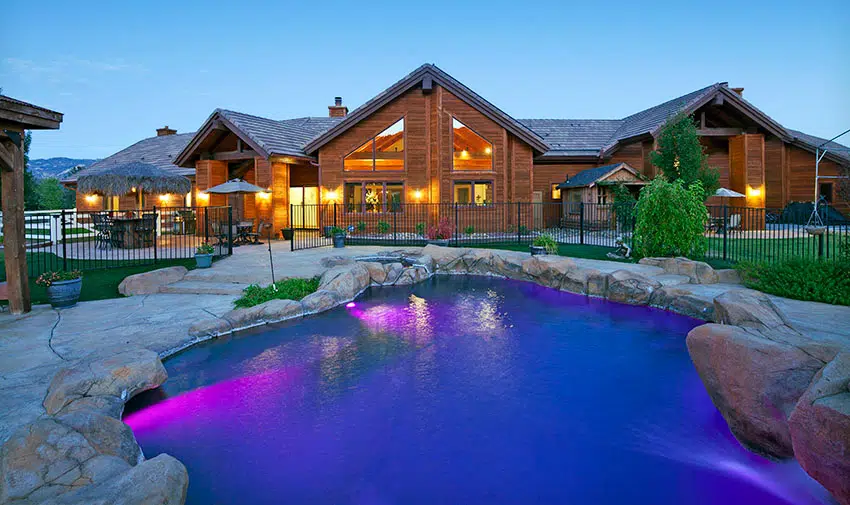 In your home, the walls and cabinets reflect light around the room. Lights from the hallway or surrounding rooms may spill into the kitchen. You have overhead lights and task lighting, too, so it's easy to see what you're doing.
Outside, there are no walls to catch and reflect light. Part of the charm of dining outside is the low lighting, but that charm doesn't extend to dimly lit food preparation or clean-up areas.
Pendant lights shed light directly downward, illuminating your task area with minimal light pollution. Choose a shaded version to keep the glare of a bare bulb from shining in your guests' eyes.
Outdoor Fridge
If it doesn't have a fridge, is it really a kitchen? When you buy the ingredients for meals to cook outside, you can place them directly in the fridge, encouraging you to cook in the outdoor kitchen.
Small, undercounter models are convenient but quite limited in how much they can store. A full-size refrigerator is great if you cook for large groups or have a sizable family. For most people, a ¾ size fridge is a perfect size for their outdoor kitchen.
Pull-out Trash Cabinet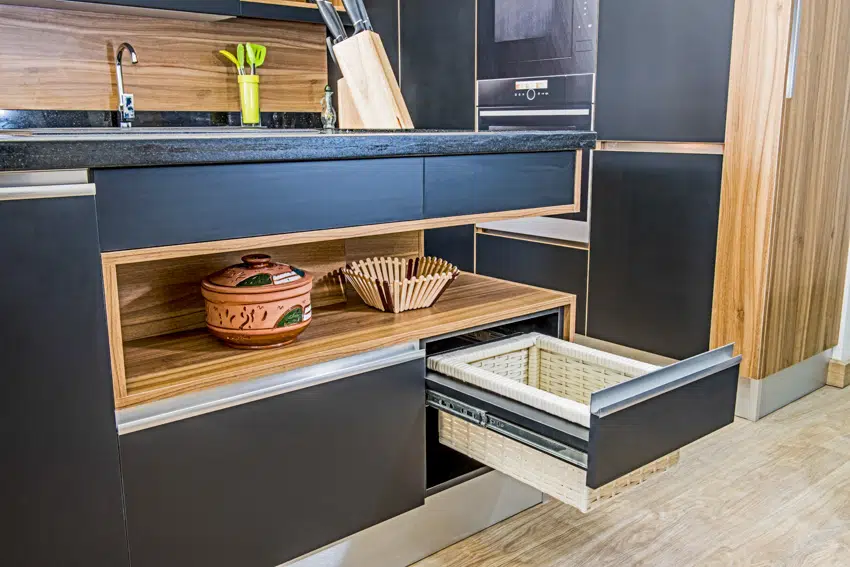 The great outdoors is full of creepy crawlies who would love to feast on your trash. Aromas emanating from the garbage can may attract unwanted wildlife to your yard. Both problems can be easily solved with a pull-out trash cabinet.
The garbage can and liner are mounted on a sliding rail and fully enclosed within a container made from wood, metal, or plastic. When the door is opened, the trash bin can be pulled out along the rail to deposit garbage, then pushed back in.
There are also models that can accommodate two receptacles, allowing you to easily keep garbage separate from recyclables.
Storage Cabinets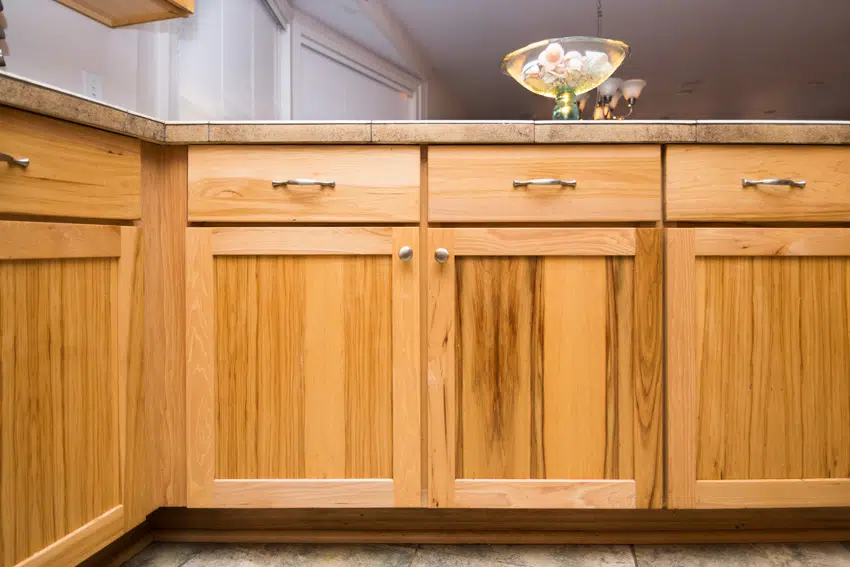 Nothing turns fun to frustration like continually running back inside to get the salt, or paper towels, or a pair of tongs. Storage cabinets can be as simple as plastic free-standing cabinets from your local big box store, to professionally installed and beautifully finished wooden cabinets.
The advantage of installing permanent cabinets is the workspace provided by the countertop. Temporary or mobile cabinets provide increased flexibility if you're still determining the best layout for your outdoor kitchen.
Glassware Cabinet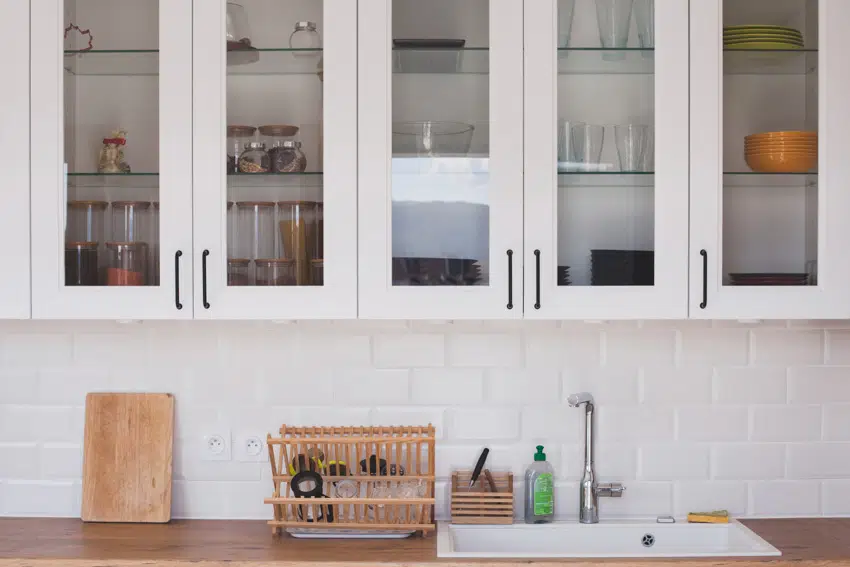 Depending on your patio or outdoor flooring, you may want to skip glass altogether and choose plastic cups for your outdoor kitchen so you don't have to worry about breakage.
Whether you ultimately choose glass or plastic, you'll need somewhere to store your drinking vessels. A hutch or cabinet with an under-shelf wine glass rack is a handy solution for keeping your wine glasses safe from tipping over.
An added benefit is that dust and dirt cannot collect inside them, as they are stored upside down. We advise choosing a cabinet with glass-fronted doors.
Shelving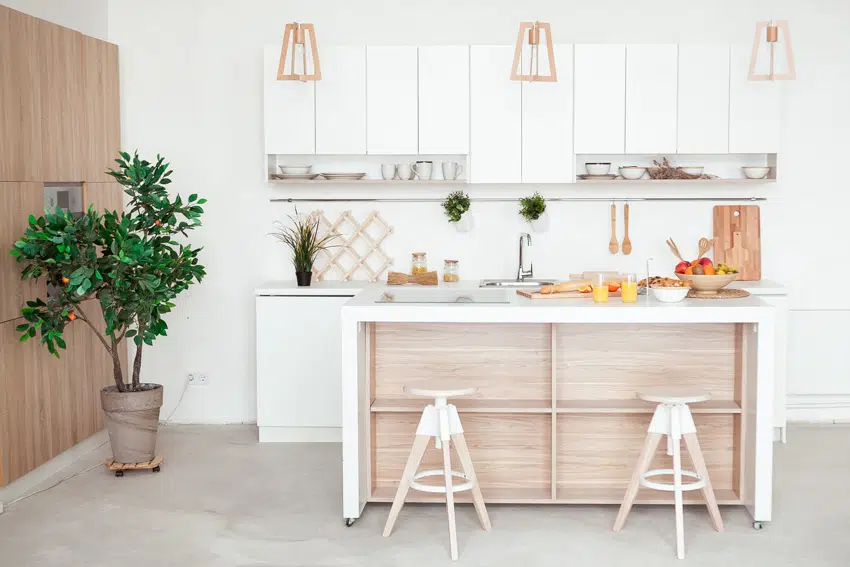 Larger items, such as serving platters, awkwardly shaped kitchen wares, and all the accessories needed to maintain a grill can be stored in plastic tubs. This can be seen as a simple, short-term solution. For anything longer, install shelves.
Open shelves aren't great for outdoor kitchens, as they tend to attract bugs and dust. Enclosed shelving behind a cabinet door is the best option. If you have built-in shelving, use a spring-loaded rod and a curtain to provide at least some protection.
Ice Maker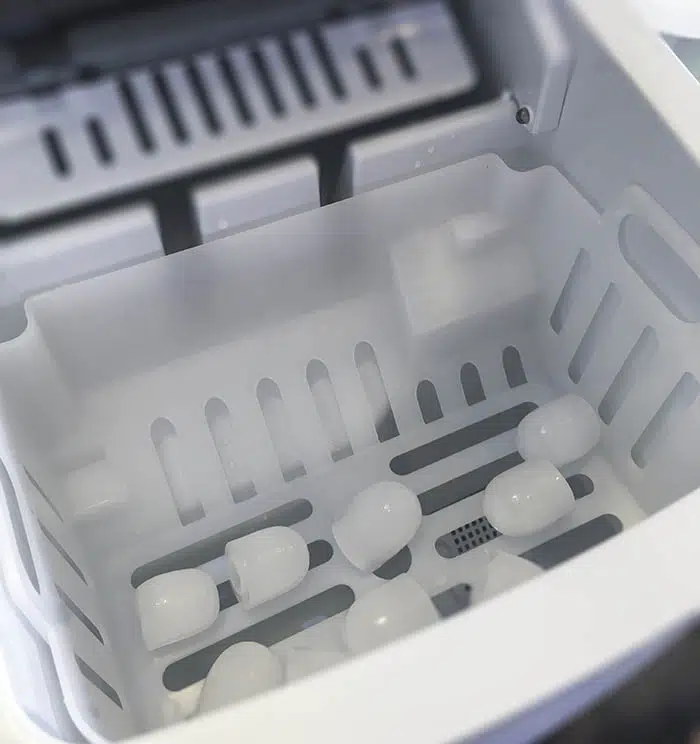 Fridges and freezers may contain a built-in ice maker, and this can be a good solution, as long as you are able to connect the fridge to the main water line.
However, many people choose to repurpose smaller or older fridges for outdoor use rather than buying the latest model. It may not be convenient for your kitchen layout to connect the fridge to water.
Instead, purchase a stand-alone, portable ice maker. These devices can sit on a countertop, are powered by a standard voltage outlet. Plus, they do not need to be permanently connected to a water or drain line.
Wine Cooler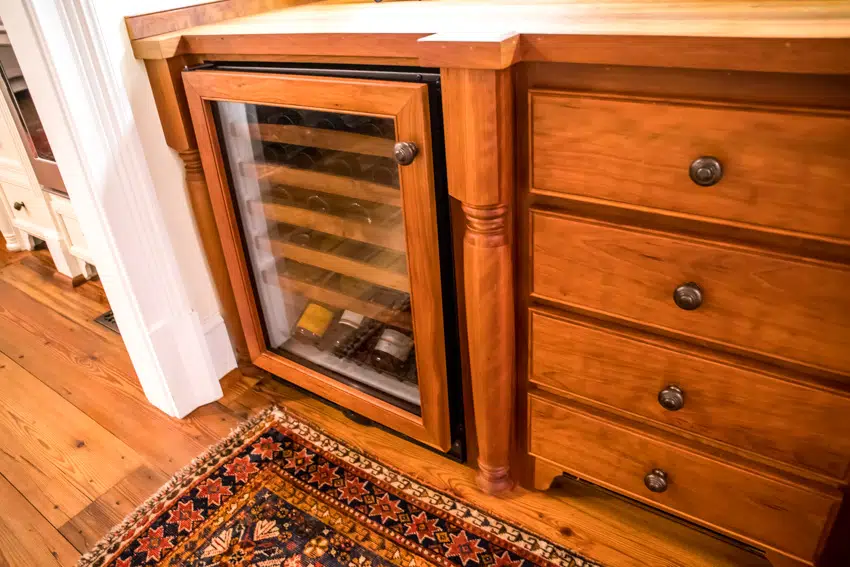 Also known as a beverage cooler, a wine cooler is a special kind of fridge. The temperature can be set precisely.
A wine cooler stores bottles horizontally which keeps the liquid in contact with the cork, ensuring it doesn't dry out and shrink, introducing unwanted air to the bottle. Usually, they include wavy wire shelving to keep the bottles from rolling around.
Beverage Cooler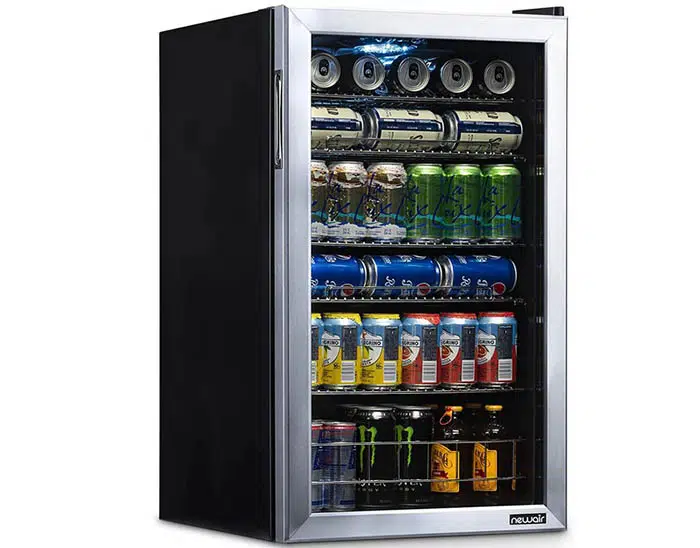 See this beverage cooler at Amazon [sponsored link]
You can certainly keep beverages in your outdoor fridge, but they take up valuable storage space that you may need for food. Especially if you want to have large parties or avoid the hassle of restocking, a beverage cooler should be on your list of outdoor kitchen must-haves
Similar to the displays you see in convenience stores, beverage coolers are generally internally lit and have glass doors to display their contents.
Soda and beers can be stored in the same compartment, using the adjustable temperature settings to ensure they get properly cold. Beer is generally served between 39 and 55 degrees Fahrenheit. If you want to store wine and beer in the same cooler unit, make sure it has separate compartments.
Kegerator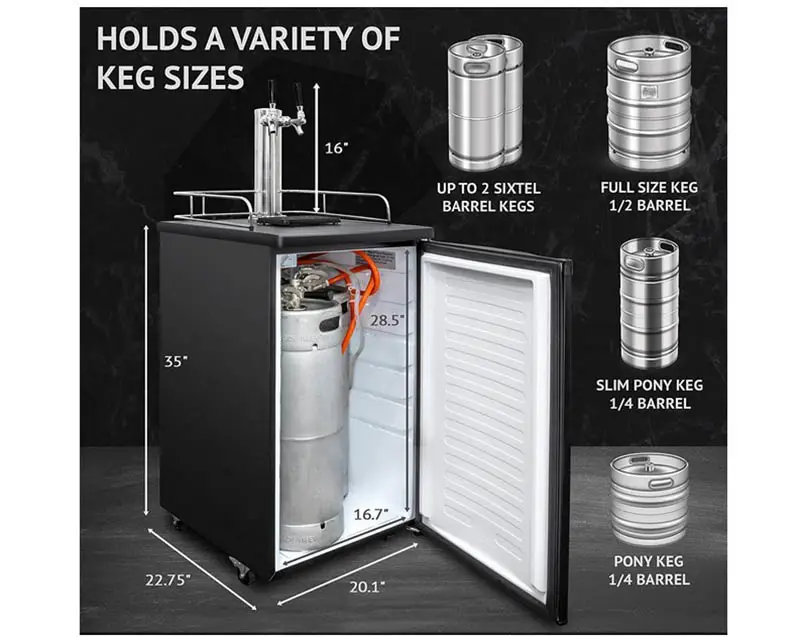 See this dual tap kegerator at Amazon [sponsored link]
A kegerator is the ultimate addition to your outdoor kitchen must-haves, turning it into a small bar. No longer do you need to visit a commercial establishment in order to drink beer from the tap. Instead, you can purchase it by the keg and put it in your kegerator.
A kegerator is usually about the size of a mini-fridge and has been modified or designed to store a keg of beer. A line of tubing runs from the keg to the tap handle, which is mounted on the top of the fridge.
Pizza Oven

Imagine being able to make fresh pizza with a crust exactly how you like it, whenever you want. Plans for DIY pizza ovens are easy to come by, but use an extraordinary amount of wood and can take hours to fully heat up.
Wood pellet, gas-powered, and multi-fuel pizza ovens are much more fuel-efficient and can make your custom pizza in as little as three minutes from the moment you turn on the power.
Bar Stool Seating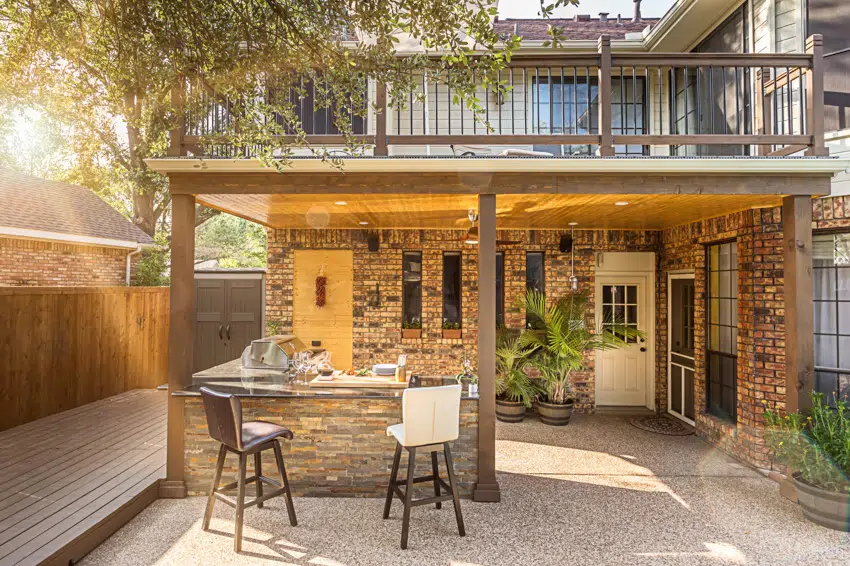 One of the most convenient and space-saving features you can choose for your outdoor kitchen is bar stool seating. Standing food prep requires a counter height of about 34 or 36 inches.
With clever design and adequate legroom, you can place stools on the opposite side of a large prep area to provide seating for your guests.
Outdoor Dishwasher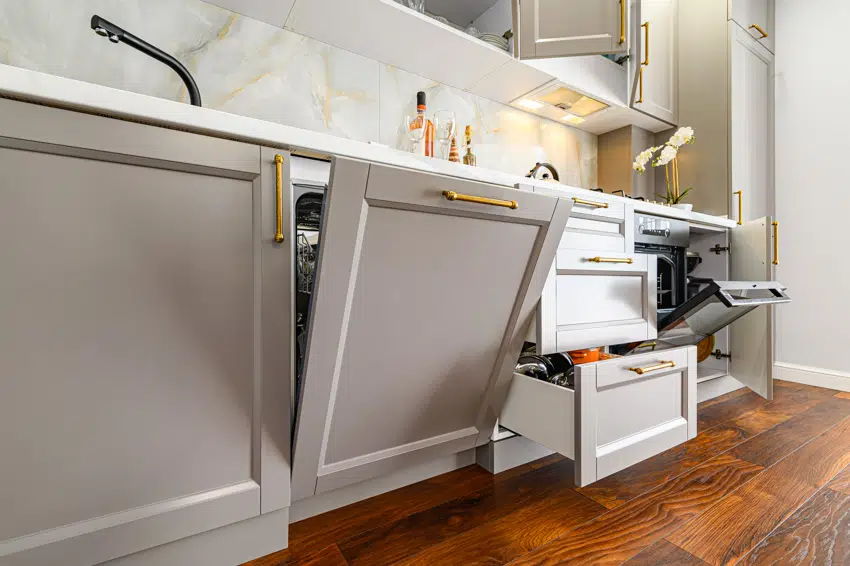 When you've just finished a delicious meal al fresco and the fireflies are coming out for the evening, the last thing you want to do is leave your outdoor oasis to go back inside and wash dishes.
Splurging on an outdoor dishwasher for your kitchen might be one of the smartest design choices you can make. Depending on the size you have available, you can install a full-size dishwasher.
Mini, compact, and under-sink versions are just as effective. These smaller-capacity models are perfect for retired couples or smaller families.
Canopy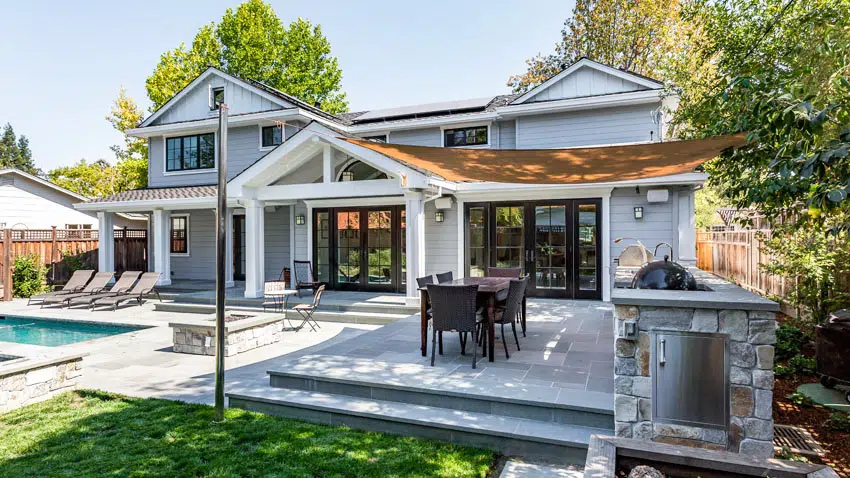 A retractable canopy can be mounted on a garage or exterior wall, providing optional shade or cover from the rain. This convenient solution can be easily stowed away during the winter months to avoid the burden of heavy snow.
For smaller areas, consider a triangle shade sail. Due to their shape, these sun shades retain their tautness without the sagging or billowing that is common with square sun shade sails.
Ideally, the canopy would cover your prep and cooking area as well as the area where you will sit to eat. This can be done at a separate table, around the fire pit, or on stools at a bar area.
For an even more attractive design consider adding a wood pergola with a canopy to provide shade when you need it and a way to frame your outdoor dining area.
Outdoor Dining Area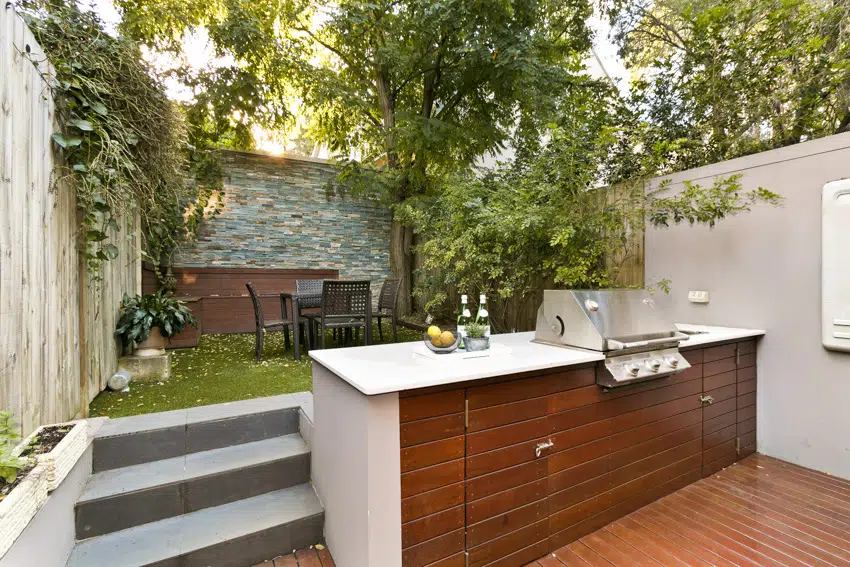 Once you've cooked up a delicious meal, where are you going to eat it? Picnic tables are flexible and inexpensive seating options for outdoor dining. Wrought iron patio furniture is sturdy enough to stay in place during even severe weather.
Plastic dining tables and chairs are the least expensive and most portable option. However, they degrade quickly and often aren't the most comfortable.
Consider furniture covers for your outdoor dining area to keep it safe from dirt, moisture, and any birds that live in shade-providing trees.
Fire Pit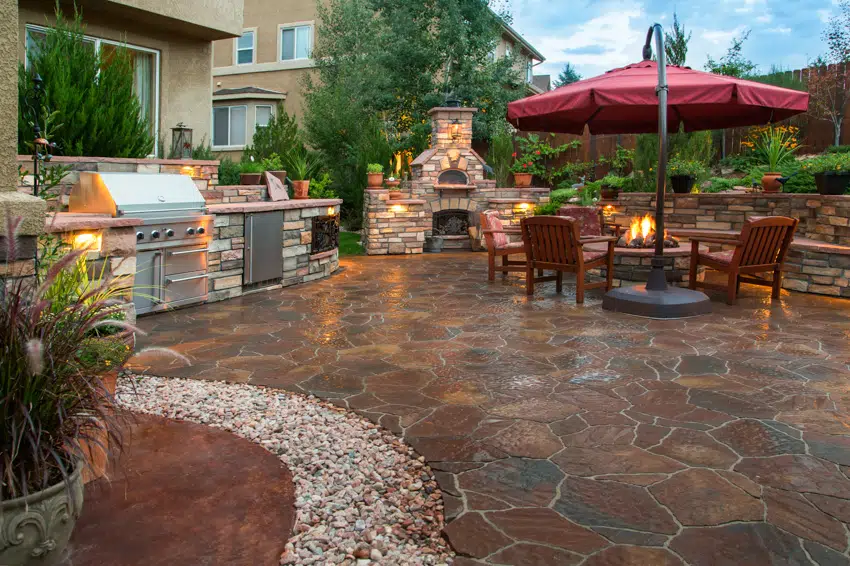 Not only is a fire pit design a beautiful addition to an outdoor space, but you can also incorporate it into your outdoor kitchen must-haves. Skewers can be used to cook kebabs, bacon, and hot dogs.
And there's no better dessert activity than roasting your own marshmallows for s'mores. If you're really ambitious, consider installing a spit over the fire pit so you can roast larger cuts of meat.
What Appliances Do I Need In My Outdoor Kitchen?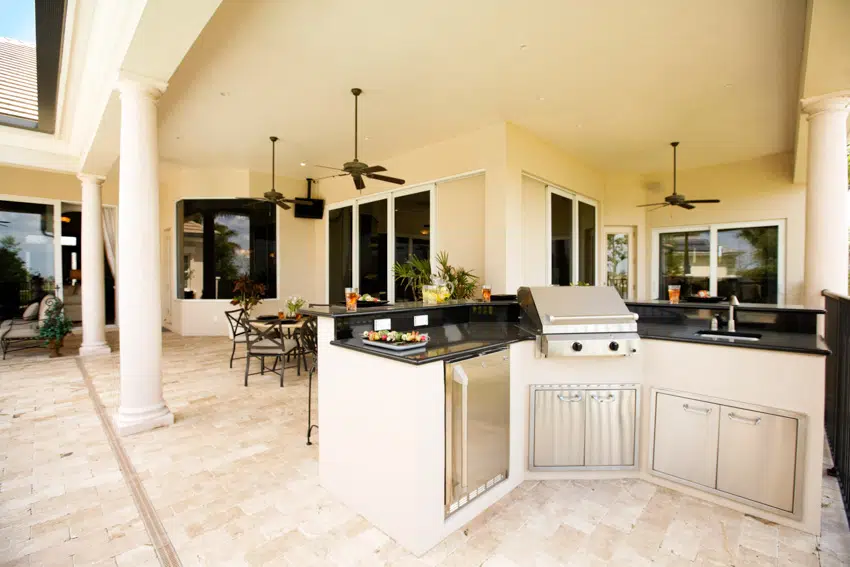 A source of heat, a source of water, and a place to keep things cool. As long as you have those three elements, you'll be well on your way to enjoying al fresco dining in your outdoor kitchen.
However, with a wine and/or beverage cooler, pizza oven, kegerator, and outdoor dishwasher, you can get the maximum amount of use and enjoyment from your outdoor kitchen investment.
More more like this, see our gallery of outdoor kitchen ideas on this page.